Dwelling in the gorgeous Aegean and Mediterranean Sea, Turkey is an incredible travel destination that definitely has something for everyone! After visiting Turkey a couple of times, it was time to share with you all here on the Broke Backpacker my favorite places to stay in Turkey. It's one of the most exotic countries that really delights all the senses. And there is so much in Turkey that you don't want to miss!
Whether you are seeking a cosmopolitan experience in Istanbul or a hefty dose of chill vibes in Bodrum, I'm geared up to share all the top places to stay in Turkey with you.
No matter what you're looking for, it's likely that Turkey has it. Turkey is where adventure awaits, beautiful beaches call your name, and mind blowing architectural wonders stand tall and proud.
Ready to learn about where to stay in Turkey? Let's get to it.

Unlock Our GREATEST Travel Secrets!
Sign up for our newsletter and get the best travel tips delivered right to your inbox.
Quick Answers – Where to Stay in Turkey
Map of Where to Stay in Turkey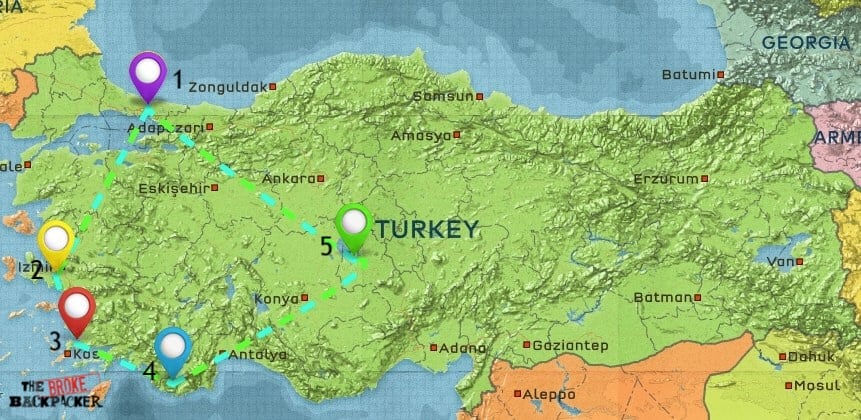 Istanbul – The Overall Best Place to Stay in Turkey
Istanbul is undoubtedly the overall best city to stay in Turkey. Since some of Turkey's absolute most famous landmarks call Istanbul home, a backpacking trip to Turkey really isn't complete without visiting Istanbul.
Istanbul is a bright, cosmopolitan city that is divided by the Bosporus strait. If you're backpacking Istanbul, you'll want to take a boat trip along the strait, to catch some great views of the city, while you soak up some relaxation on the water.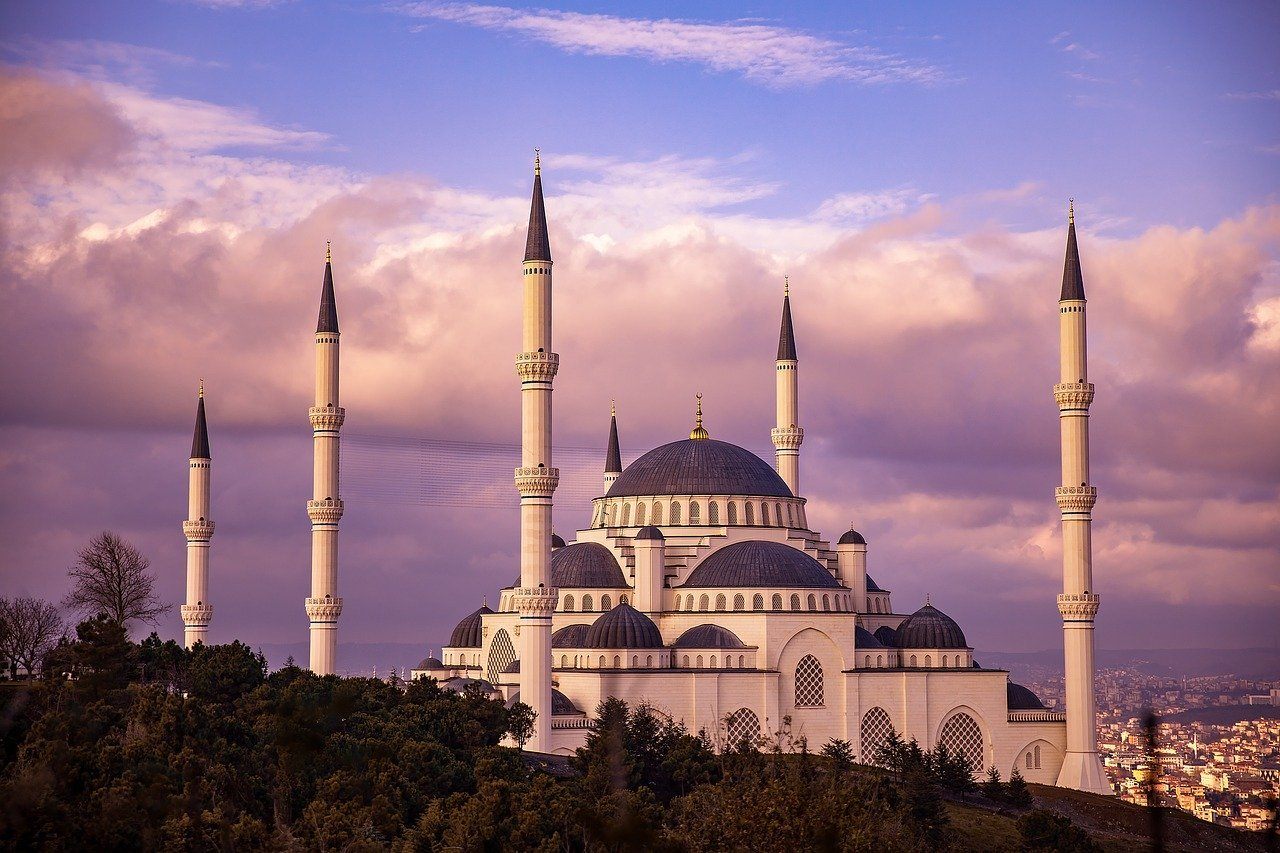 Of course, seeing the mind-blowing Hagia Sophia is a must. While the entrance tickets do cost a pretty penny, it's worth every cent. When you walk in, it's like you can feel the power of an awesome being or the power of history. You will truly feel awe.
You also can't miss the Grand Bazaar. The Grand Bazaar is a place to get lost in for a few hours. Just make sure to go with a buddy so you don't get actually lost! The Blue Mosque is an amazing place to visit as well. If you're a woman, make sure you have a scarf to cover your head and shoulders, appropriate coverings for both men and women can be rented free of charge when you visit.
There are also heaps of amazing day trips in Istanbul to take too.
Best Places To Stay in Istanbul
Since Istanbul is such a huge city that is fairly spread out, it's important to pick the right neighborhood to stay in. Sultanahmet is the best neighborhood to be centrally located and close to the top tourist spots. The area of Taksim Square and Istiklal Street are also great options to stay at because they're lively tourist areas that are filled with restaurants, bars, and cafes. You can find quite a few of Istanbul's budget hostels too, making it the perfect location for backpackers as well.
Sitting just outside of Taksim Square, this bright and beautiful apartment is yours for the taking. It's a one-bedroom and bathroom apartment that is beautifully decorated. It's crisp and clean and up and even has a beautiful chandelier!
With both dorms and private rooms available, Second Home Hostel is the place to be. It sits in the Sultanahmet area and is therefore within easy walking distance to everything from the Hagia Sophia to the Blue Mosque to the Galata Tower! The hostel vibes are very chill and they also host dinners and activities for hostel guests.
Best Hotel in Istanbul: Grand Hotel Palmiye
Sitting right off of the vibrant Istiklal Street, the Grand Hotel Palmiye is a steal! Rooms come at around the same rate as private rooms in hostels yet have all the elegance and privacy you could possibly desire! There is a divine breakfast prepared daily and served in the hotel's salon. Get ready to stay in style at the Grand Hotel!
Grand Hotel Palmiye is one of our favourites in Turkey but they're not taking guests right now. We're not sure if they're closed for good but we hope they'll come back soon.
Izmir & the North Aegean – Best Place to Stay in Turkey for Families
Wondering where the best areas to stay in Turkey are for those traveling with their families? The answer is clear! Izmir and the North Aegean are the way to go. Izmir is the third most populous city in Turkey, with a population in the Izmir province of nearly three million people.
The main sights of Izmir are the Agora Open Air Museum, the clock tower, the Asansor Tower, and the Kemeralti Bazaar. And the kids are sure to love visiting the Izmir Bird Paradise bird sanctuary. The sanctuary spans across 80 square kilometers and you can see a bevy of beautiful birds! Also, in the same district, there is also the Sasali Park of Natural Life which is a large open-air zoo. Stop by for some family fun!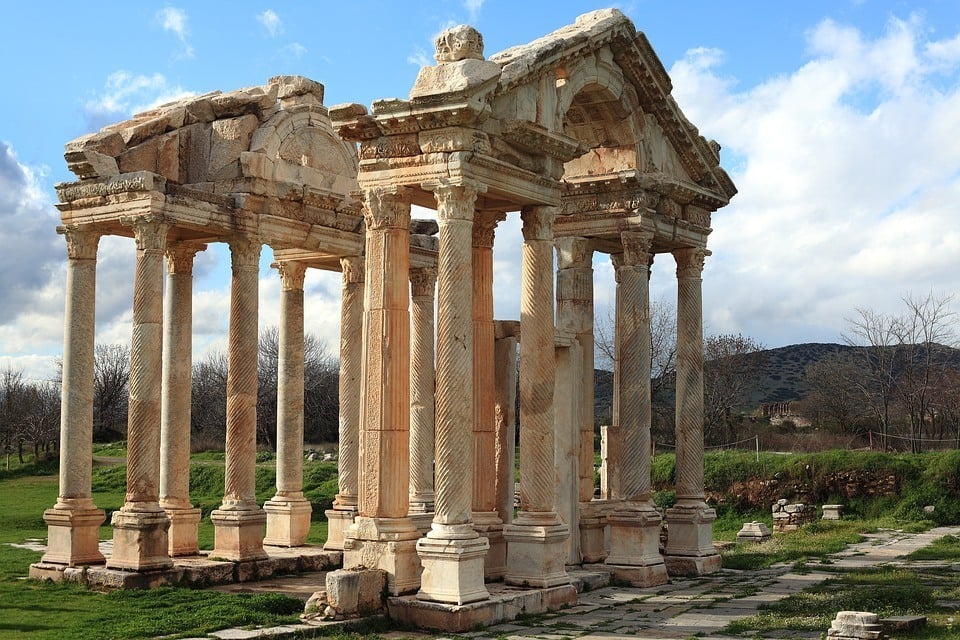 When traveling the North Aegean Coast, you are going to want to see more than just Izmir. Definitely don't miss visiting the city of Cesme with its beautiful 14th century castle or the old town of Assos where you can see Greece from a rocky outcrop! If you and your family are seeking a relaxed beach spot, head on over to Altinkum.
Best Places to Stay in Izmir & the North Aegean
While there are lots of great places to stay in Turkey along North Aegean, the best Turkish accommodation options is in Altinkum along the beautiful sandy beaches. However, if you're seeking a less beachy and more cultural experience, stay in Izmir.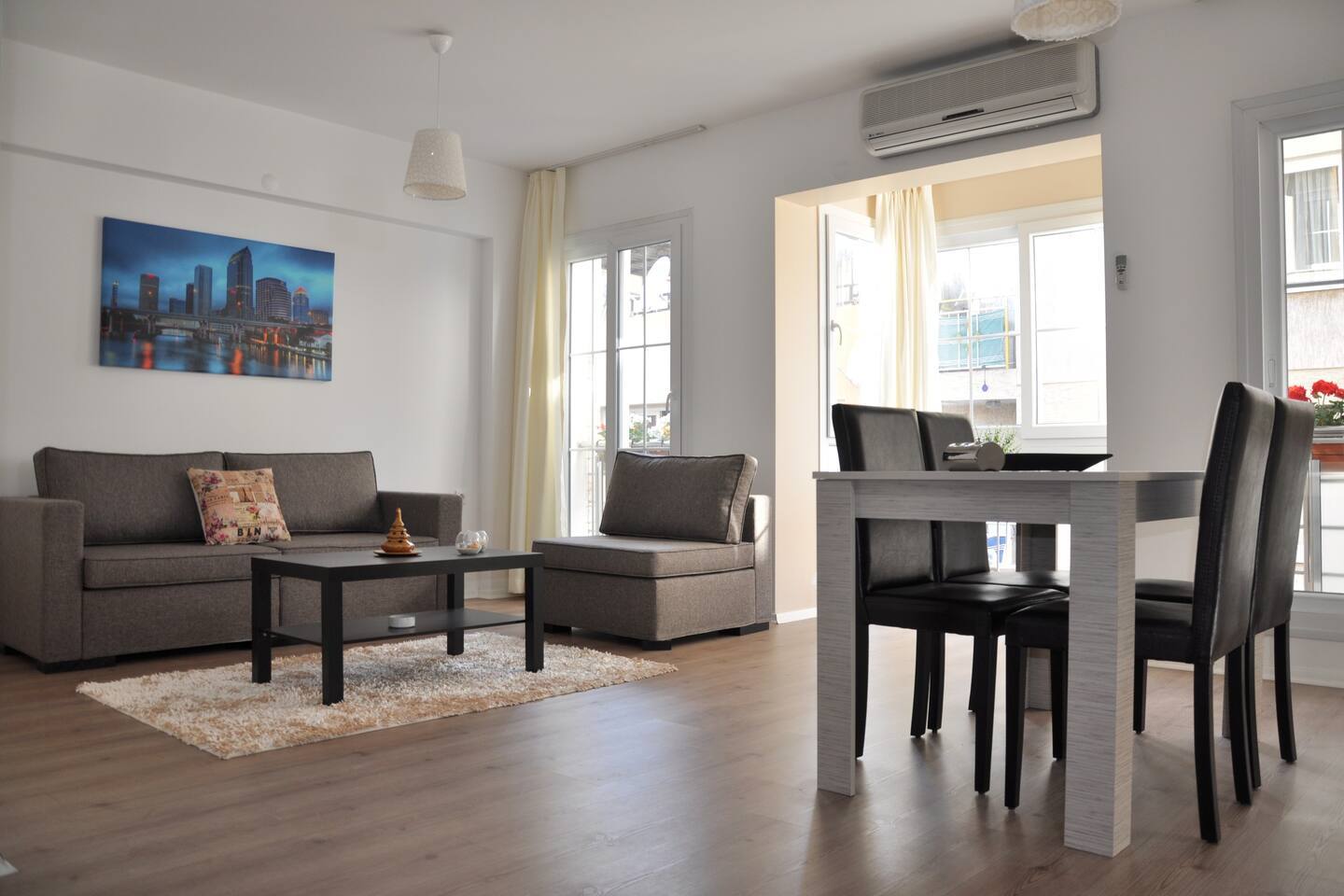 Best Airbnb in Izmir & the North Aegean: Spacious Townhouse
This private townhouse in Izmir comes with two bedrooms and one bathroom. There are a total of three beds inside, though! It's situated in a quiet residential area, just a few minutes walk away from the seafront. There are plenty of restaurants and cafes nearby too.
Best Hotel in Izmir & the North Aegean: Key Hotel
The Key Hotel is an all-inclusive resort that truly comes with all the bells and whistles! Sitting just a minute away from the Lara Halk Plaji beach in Izmir, you and your family will stay in luxury at this 5-star resort. There are also three on-site swimming pools to take advantage of! Why swim in just one when you can swim in three…
Best Guest House in Izmir & the North Aegean: Tas Konak
This bed and breakfast styled hotel comes at a steal! And it is just 1.6 miles away from Altinkum Beach. It's a charming guest house that sits close to Dolphin Square and is known for whipping up huge, complimentary Turkish breakfasts for their guests! There is a swimming pool to enjoy as well, if you don't feel like walking to the seaside.
Tas Konak is one of our favourites in Turkey but they're not taking guests right now. We're not sure if they're closed for good but we hope they'll come back soon.
Cappadocia – Where to Stay in Turkey for Couples
The name Cappadocia does have a beautiful ring to it, doesn't it? Your romantic getaway in Turkey is already off to a good start! Cappadocia is a region in the center of Turkey. It's renowned for its unique rock formations in Monks Valley called "fairy chimneys. Also, there are canyons to explore and great hiking to be had. So if your significant other happens to be an outdoor enthusiast – you are in luck.
There are also underground cities and cave churches, not to mention houses carved into rocks. It's recommended to find out where to stay in Cappadocia before you start your travels. If you're able to splurge a little, take a hot air balloon ride to really see all the beauty of this moon-like landscape that will leave you and your partner positively breathless!
Best Places to Stay in Cappadocia
In Cappadocia, the most popular town is Goreme. It's filled with good energy and lots of restaurants, as well as a vibrant nightlife scene! It's also a town that is nestled right among the fairy chimneys. Plus, it is a popular hot air balloon launch site. If you'd rather stay in a more remote location, consider staying in Uchisar or Ortahisar.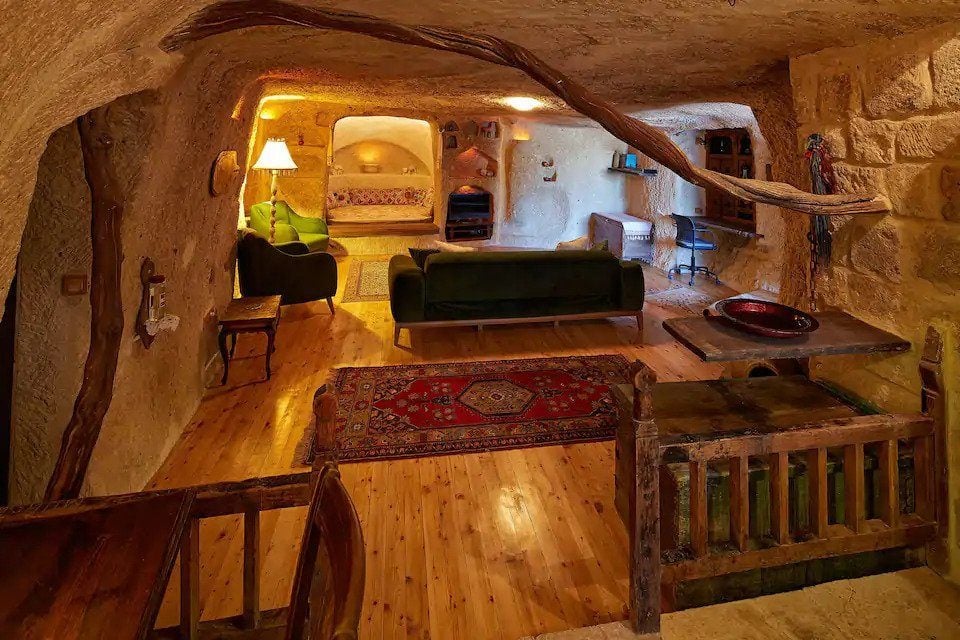 Ready to make some incredible memories? This cave house Airbnb is one for the books! True to its name, it's an underground cave home, complete with two bedrooms, a bathroom, living room, and a well-equipped kitchen. There's also an outdoor terrace to catch the sunrise right over the Erciyes Mountain. Located in the center of Ortahisar village, it's just one kilometer away from the Goreme National Park and the two large castles in Ortahisar.
The Royal Stone Houses in Goreme is operated similarly to a bed and breakfast and is known for providing guests with a first-class stay. Coming in at an affordable price, paired with a fantastic breakfast, guests are sure to love staying in the Royal Stone Houses.
The Karlik Evi Hotel in Uchisar offers unparalleled views of the fairy chimneys and of the sweeping landscape. It's a wondrous hotel that will dazzle you with its radiant views and luxurious amenities. In fact, the rooms are even styled in accordance with the principles of feng shui. What's more, is that guests receive a complimentary bottle of wine upon arrival!
Is This the Best Backpack EVER???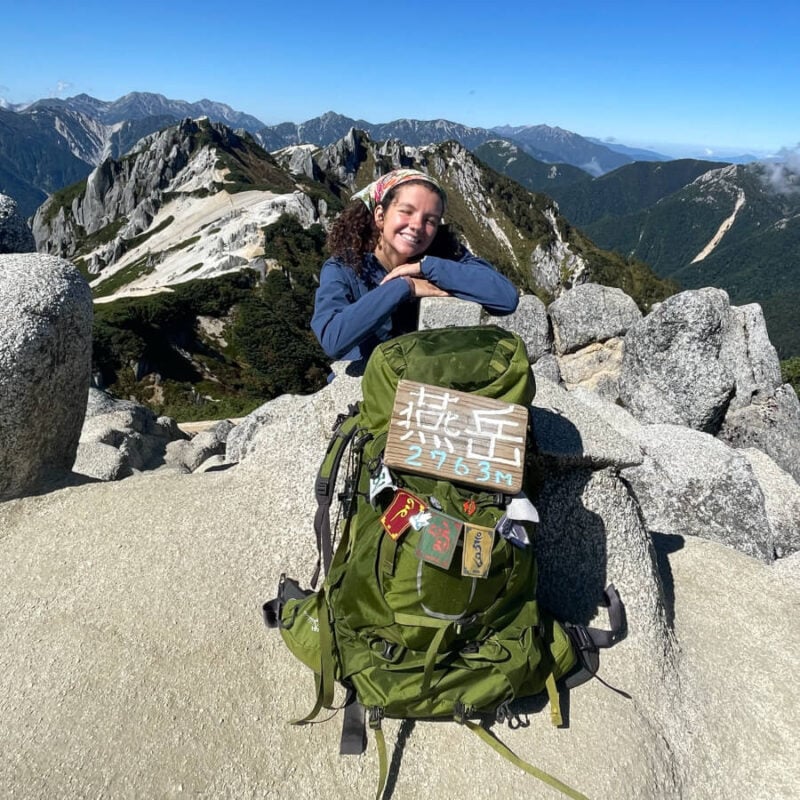 Istanbul – The Coolest Place to Stay in Turkey
Ready for some hardcore honesty? Istanbul is super cool. And I love it. There is so much to see and to do in Istanbul that I visited two times in two years just to fit it all in! Making a solid list of things to do and staying organized in your trip planning is crucial to make sure you don't miss out on any of the cool things Istanbul has to offer.
Of course the top tourist sites are beyond cool, given their history and honest-to-God majesty. You absolutely cannot miss visiting the Blue Mosque, the Hagia Sophia, Topkapi Palace, and the Grand Bazaar. Additionally, there are some very cool things that are a little more off the beaten path like wandering through the Tate Modern Art Museum, catching a sunset from the Galata Bridge, or taking a cooking class!
Craving a good bear? Definitely check out Bosphorus Brewing Company, also called BBC brewery. Expect affordable prices and a vast array of local and international beers to choose from.
Best Places to Stay in Istanbul
Wondering where should I stay in Turkey's capital city of Istanbul for super cool vibes? Look no further than Istanbul's super safe Beyoglu neighborhood. This up-and-coming district is filled with cute restaurants and plentiful boho vibes. Also, you can't go wrong with staying in Taksim Square!
Galata West Hostel is in the fabulous Beyoglu district. It's a great hostel in the best location. There is a kitchen that guests are allowed access to, that is complete with all the classic kitchen amenities. My favorite aspect of this hostel is that there is an outdoor terrace to enjoy.
The New Taksim Hotel is just 1,200 feet away from the historic old town. It's a wonderful new building with new facilities. Some of the rooms even come with views of the sea. You'll be just a quick ten-minute walk to Galata Tower and to Taksim Square. There's a lot of charm to this hotel, even though it's newly built!
Best Airbnb in Istanbul: Modern Wooden Flat
Ready to swoon? This Airbnb is a gem! Located in the heart of the Beyoglu neighborhood. It's a one-bedroom and one-bathroom apartment that is decked out to the nines with amazing decor. You're sure to love the modern art pieces and the hanging star-light fixtures.
Modern Wooden Flat is one of our favourites in Turkey but they're not taking guests right now. We're not sure if they're closed for good but we hope they'll come back soon.
Bodrum – Where to Stay in Turkey on a Budget
Bodrum sits along the Mediterranean Sea of Turkey's coastline and is renowned for it's crystal clear waters and plentiful beach activities — including an underwater archaeology museum!
If you're dying to figure out where to stay in Turkey to not break your precious piggy bank, head on over to Bodrum! There are a ton of affordable hotels, guesthouses, and Airbnbs. In fact, some of the cheapest hotels in Turkey are in Bodrum!
Plus, you can always opt for not spending a dime by reclining on the beach all day. You don't have to pay a single admission ticket if you don't want to! However, if you do want to see a few things, I recommend heading over to St. Peter's Castle or checking out the Bodrum Amphitheatre.
Want to hear about some free things to do? How about checking out the Bradski Cove or wandering around the cobbled stone streets of Gumusluk? Or why not meander around the Palmaria and take a stroll under the palm trees!
If you're wondering whether Bodrum is safe, have no fear. It is perfectly safe as long as you take precautions just as you would anywhere else.
Best Places to Stay in Bodrum
Definitely head to Bodrum Town, also known as Downtown Bodrum, to stay close to all the action. But if you want to truly save a pretty penny, then stay in Bitz, which is located just outside of the downtown area, but not so far that you can't easily walk to all the best restaurants and cafes.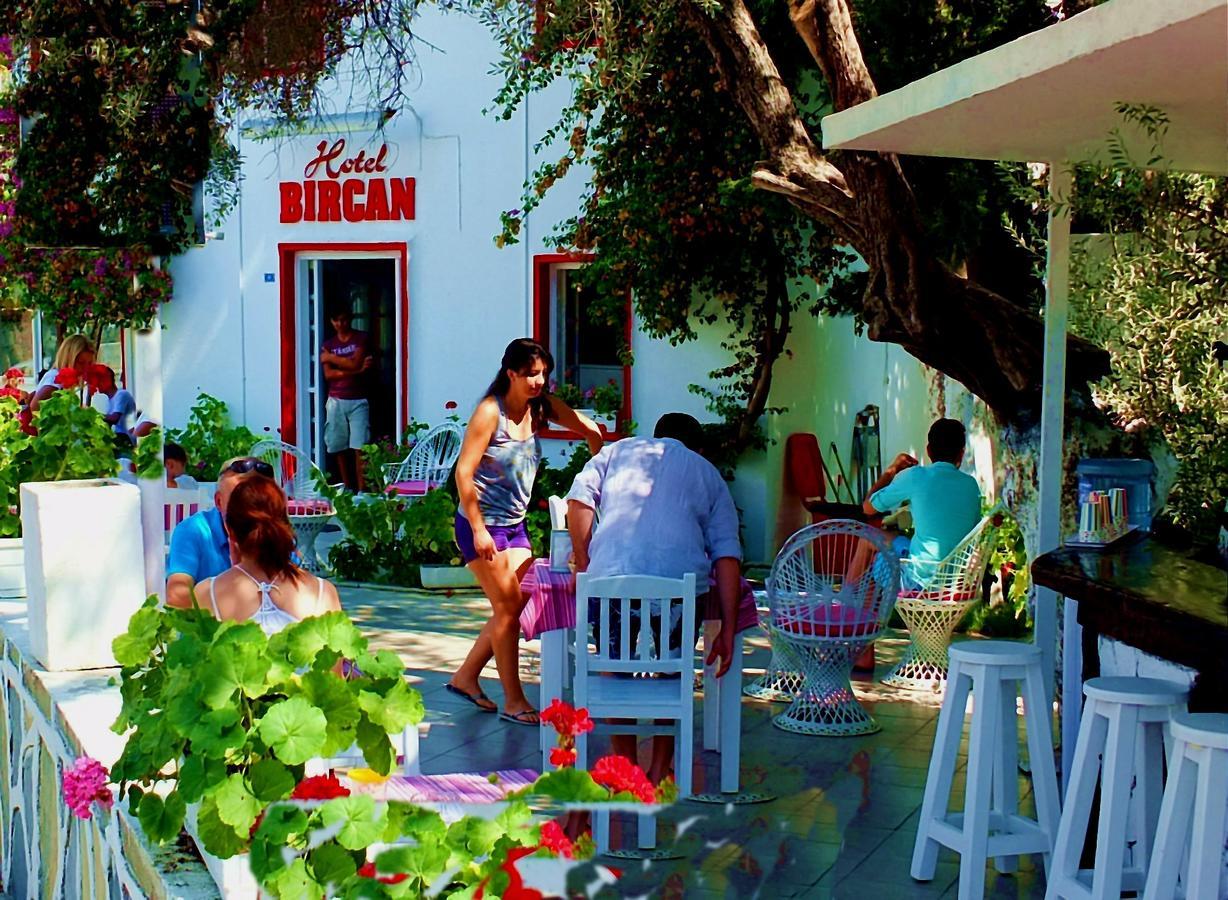 Bircan Hotel is a great budget-friendly Hotel in Bodrum that puts you nearly directly along the shoreline! It's just 1,700 feet from Bardakci Bay Beach and just 3,250 feet from Gumbet Beach. Also, make sure to help yourself to the generous Turkish breakfast served daily.
Best Airbnb in Bodrum: Small, Private House with A View
This small house is a one-bedroom and one bathroom home that actually has a total of four beds inside. There is also a living room and a small kitchenette, as well as a beautiful terrace to soak up some sun on. Best of all, there is also an Olympic sized swimming pool on-site that guests are invited to enjoy. How about the price tag? Get ready to book because it's around $20 a night!
Small, Private House with A View is one of our favourites in Turkey but they're not taking guests right now. We're not sure if they're closed for good but we hope they'll come back soon.
Best Hostel in Bodrum: Eskici Hostel
For around $10 a night you can call Eskici Hostel your home away from home. With a swimming pool and a rooftop bar, the Eskici Hostel has an awesome atmosphere. Keep in mind that the rooms are small, but coming in at such a low price for either a private room or for a dorm room, you'll be close to the beach and not breaking the bank!
Eskici Hostel is one of our favourites in Turkey but they're not taking guests right now. We're not sure if they're closed for good but we hope they'll come back soon.
The Future of the SIM Card is HERE!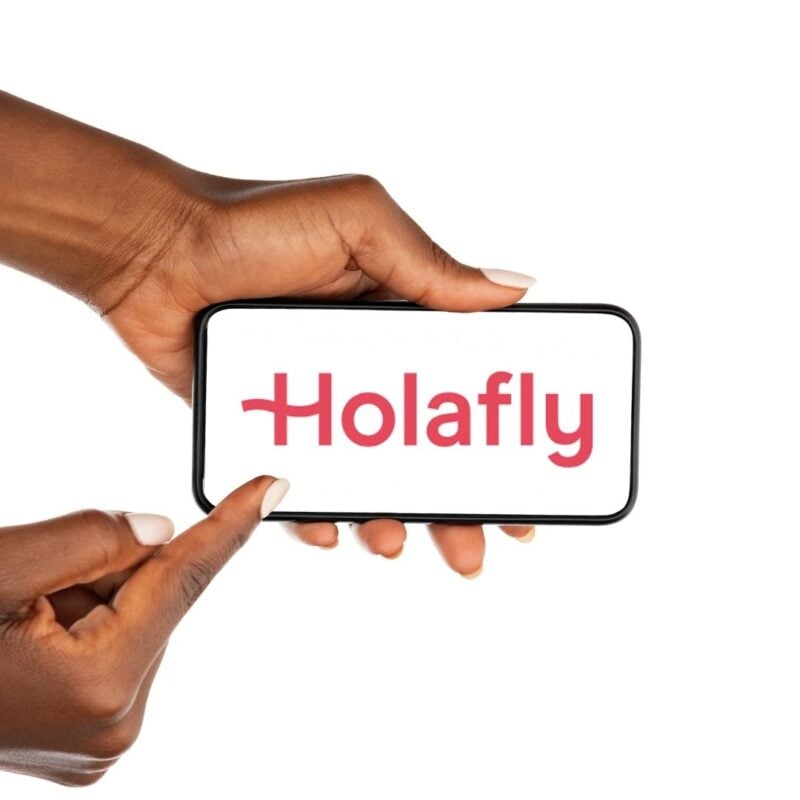 A new country, a new contract, a new piece of plastic – booooring. Instead, buy an eSIM!
An eSIM works just like an app: you buy it, you download it, and BOOM! You're connected. It's just that easy.
Is your phone eSIM ready? Read about how e-Sims work or click below to see one of the top eSIM providers on the market and ditch the plastic.
Grab an eSIM!
Cappadocia – One of the Most Unique Places to Stay in Turkey
While we already covered why Cappadocia is one the best city in Turkey for couples, it definitely is one of the most unique places to stay in all of Turkey too. With the moon-like landscape, and wildly bizarre rock formations called "fairy chimneys," there's a lot to see and do in Cappadocia that is downright strange but completely marvelous!
Hike underneath Cappadocia's rock formations and check out all 36 of the underground cities! And if you feel like taking a break from hiking, why not take a horseback ride on an Arabian house? Or why not take a pottery workshop in the historic town of Avanos known for its exquisite handmade ceramics.
Lastly, while Cappadocia has some amazing nightlight, bars, and dance clubs, a trip to Cappadocia wouldn't be complete without catching a belly dancing show!
Best Places to Stay in Cappadocia
When staying in Cappadocia, staying in Goreme means you're close to all the hustle and bustle and fun! Moreover, staying in Uchisar promises the absolute best views as it's the highest point in the Cappadocia area. Or you can stay in Ortahisar for a more laid back, authentic Cappadocia experience.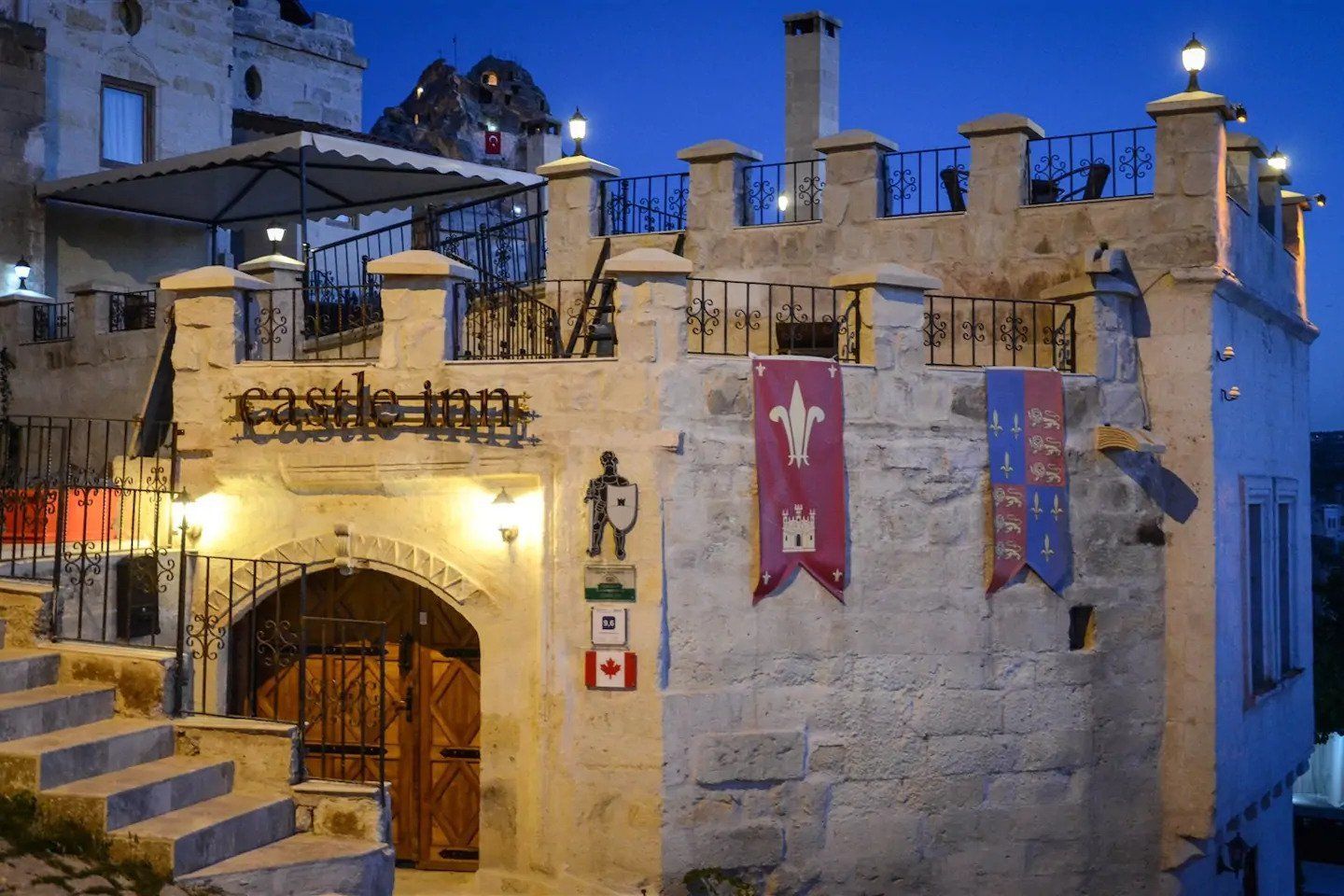 This Airbnb is run a bit more like a bed and breakfast. It's a newly restored and renovated 150-year-old home that rents out five unique rooms. Nestled on the hillside in Ortahisar, you'll have a true Cappadocia experience! Expect charmingly decorated rooms and a delectable breakfast.
Talk about unique experiences! Why not stay in a stone house? This guest house is filled with underground stone rooms that provide guests a once in a lifetime experience. There is an outdoor rooftop that provides stunning views of the landscape. Situated in Goreme, you'll be right next door to the delicious Dibek Restaurant and the wonderful Oneway Cafe.
Best Hotel in Cappadocia: Ansia Hotel
Ansia Hotel is one of the most affordable hotels in Cappadocia that still is brimming with history and charm. From the rooftop, you'll see panoramic views of the mountains and valleys below. Also, you'll be situated just 650 feet from the Uchisar castle. Start the day off right with a traditional Turkish breakfast served to guests free of charge.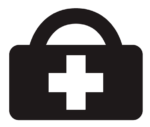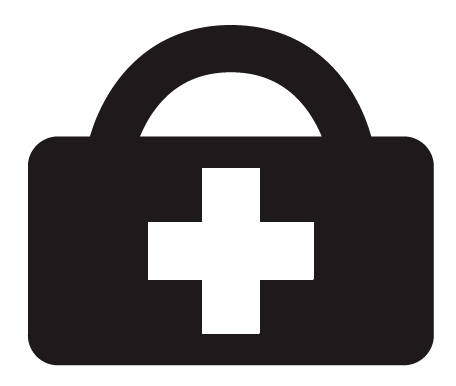 Turkey is a very fun place and one could easily get carried away while visiting. It's important to remember that no country is perfect though.
Read our safety guide for Turkey before planning your trip so you will be extra prepared when you arrive.
Save $$$ • Save the Planet • Save Your Stomach!
Drink water from ANYWHERE. The Grayl Geopress is the worlds leading filtered water bottle protecting you from all manner of waterborne nasties.
Single-use plastic bottles are a MASSIVE threat to marine life. Be a part of the solution and travel with a filter water bottle. Save money and the environment!
We've tested the Geopress rigorously from the icy heights of Pakistan to the tropical jungles of Bali, and can confirm: it's the best water bottle you'll ever buy!
View on REI
Read the Review
Kas – Where to Stay in Turkey for Adventure
Kas is a darling seaside town perched on the Mediterranean coast. It's actually a historic fishing village that was once the ancient city of Antiphellos. Lucky for visitors, there are still incredible ruins to explore including the majestic Lion Tomb that dates back to the 4th century BC.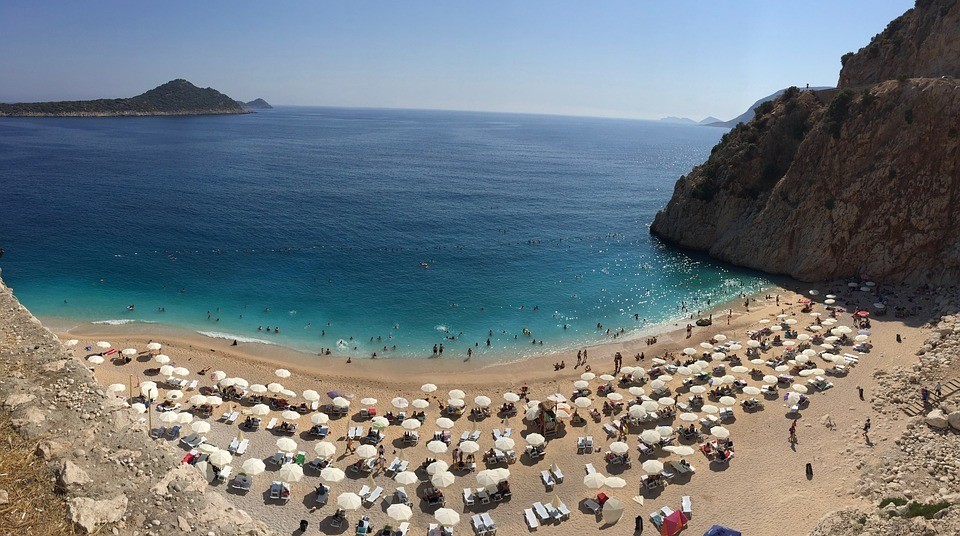 Make sure you check out Kaputas beach, which is tucked away in a mountain cove. It's one of my favorite beaches— ever! It actually has a stunningly unique color of water as it's where freshwater meets the sea. Snorkeling or scuba diving in Kas is a must. Under the turquoise blue water, you'll get to check out underwater shipwrecks and even a plane wreck.
You know what else makes Kas the best city in Turkey to visit for adventure? Paragliding! If you are looking to get a huge hit of adrenaline, paragliding in Kas is the way to do it.
Best Places to Stay in Kas
Since Kas is a relatively small town, everything is knitted pretty close together. Staying close to the beach is always a good idea though!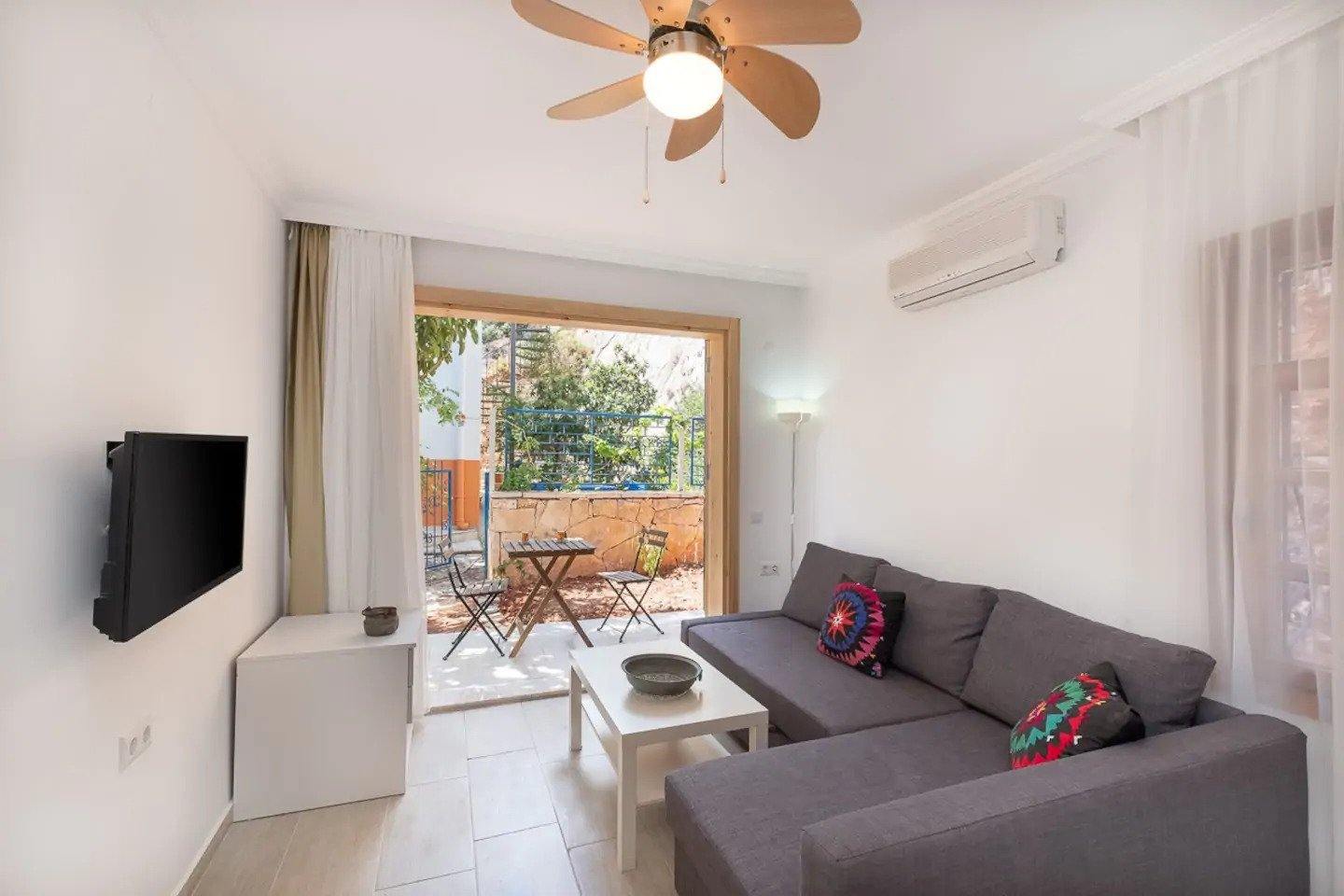 The Ani Motel and Hostel is just 100 meters away from the seaside! It's a quaint hostel that comes at bottom basement prices. This hostel is full of old-world charm and gives guests a complimentary drink upon arrival.
This seafront hotel is just a mere two minutes walk away from Little Pebble Peach, known to be the perfect spot to watch the sunset! If you're in the mood to collect seashells, it's the perfect place to do it. Linda Beach Hotel also has an outdoor pool, and a huge continental breakfast to enjoy each morning.
Best Airbnb in Kas: Yoga House with Garden
This beautiful home in Kas is yours for the taking. It's in a nice, residential neighborhood that leaves you just a few minutes walk from the center of Kas. This apartment is part of a yoga complex, where yoga classes are held daily. There's also an outdoor garden that will be your own little slice of paradise.
Yoga House with Garden is one of our favourites in Turkey but they're not taking guests right now. We're not sure if they're closed for good but we hope they'll come back soon.
Bodrum – Where to Party on the Beach in Turkey
Bodrum is a beautiful beach town that is perfect for a relaxing holiday getaway. It's one of the best areas to stay in Turkey if you're looking to soak up some sun, and still save some bucks! Feeling like being a beach bum? Head to Bodrum.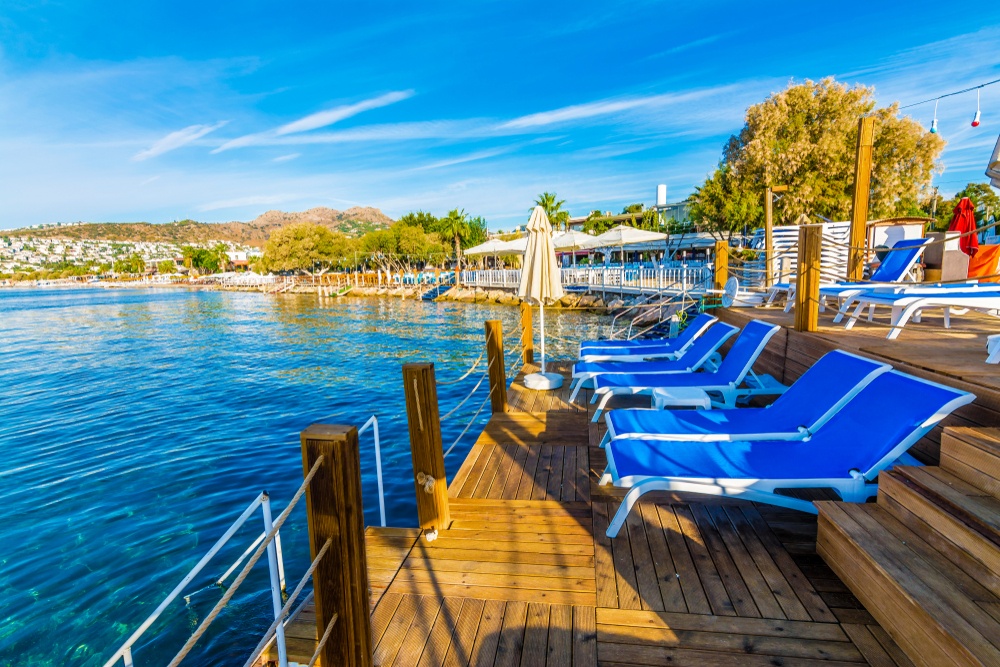 Recline on the white sandy beaches in Bodrum like Yahsi, or strap on a snorkel and check out all the bright, colorful marine life! Or why not rent a jet ski or do some water sports on Gumbet Beach?
If you're looking to party on the beach in Bodrum, then you are in luck! There are lots of excellent bars right on the shoreline, from Reef Beach Bar to the White House Bar to the Mandalin. There certainly are plentiful options that range from chic and classy to wild and raucous!
Best Places to Stay in Bodrum
Well, if you're looking for where to stay in Turkey on a beach vacation and you're off to Bodrum then absolutely, positively, without a doubt… stay close to the beach!
This one-bedroom apartment is yours for the taking. It has a beautiful view and is situated right in the heart of Bodrum. It's just 100 meters away from the Mausoleum of Halicarnassus, and a mere 225 meters from the marina! This Airbnb is cute and cozy. It's the perfect spot to base yourself for a relaxing beach getaway.
La Luna Hostel is a small, family-run hostel right in the heart of Bodrum. It's just a 100-meter walk to the beach and a quick few minute walk to the bus station. You'll be nestled amidst wonderful cafes and bars, and will love staying in this eco-friendly hostel! There are both dorm rooms and private rooms available, all of which come at an enormously affordable price.
Best Hotel in Bodrum: Bodrum Skylife Hotel
The Bodrum Skylife Hotel is a beachfront hotel that is all-inclusive. Best of all? It comes at a ridiculously cheap price. Why add stress and worries to your relaxing beach getaway, when you can have unlimited buffets and drinks? Trust me. This is the hotel for you.
Bodrum Skylife Hotel is one of our favourites in Turkey but they're not taking guests right now. We're not sure if they're closed for good but we hope they'll come back soon.
Top Places to Stay in Turkey
Since there are so many amazing Turkish accommodation choices to choose from, selecting my top three was no slice of baklava—or pie.
Best Airbnb in Turkey – Anitya Cave House – Cappadocia
This is one of Turkey's accommodation options that really takes the cake. It's an underground cave house that has three beds, two bedrooms, and one bathroom. It's filled with rustic furniture, rich Turkish rugs, and a spacious living room. There's also a fully equipped and well-stocked kitchen to use. When you climb out of your cave house, you'll have an outdoor terrace to bask in the sunrise over the Erciyes Mountain. Talk about an unforgettable Airbnb!
What's better than a hostel that is close to absolutely all the top tourist sites while also having chill vibes and lots of planned activities for guests like tours and pizza dinners? How about being affordable on top of it all? In one of the best cities to stay in Turkey, the Second Home Hostel in Istanbul sure doesn't disappoint!
Best Hotel in Turkey – Bodrum Skylife Hotel – Bodrum
Have you dreamed of staying at an all-inclusive beachfront hotel but could never break the bank to pay for the huge price tag? The all-inclusive beachfront Skylife Hotel in Bodrum is one of the best hotels in Turkey for a reason, it's lavish and luxurious and has rooms for well under $100 a night! With unlimited food and drinks, plus being situated right along the popular Gumbet Beach in Bodrum, this hotel is one for the books.
Bodrum Skylife Hotel is one of our favourites in Turkey but they're not taking guests right now. We're not sure if they're closed for good but we hope they'll come back soon.
Books to Read While Visiting Turkey

Our GREATEST Travel Secrets…
Pop your email here & get the original Broke Backpacker Bible for FREE.
Don't Forget Travel Insurance for Turkey
ALWAYS sort out your backpacker insurance before your trip. There's plenty to choose from in that department, but a good place to start is Safety Wing.
They offer month-to-month payments, no lock-in contracts, and require absolutely no itineraries: that's the exact kind of insurance long-term travellers and digital nomads need.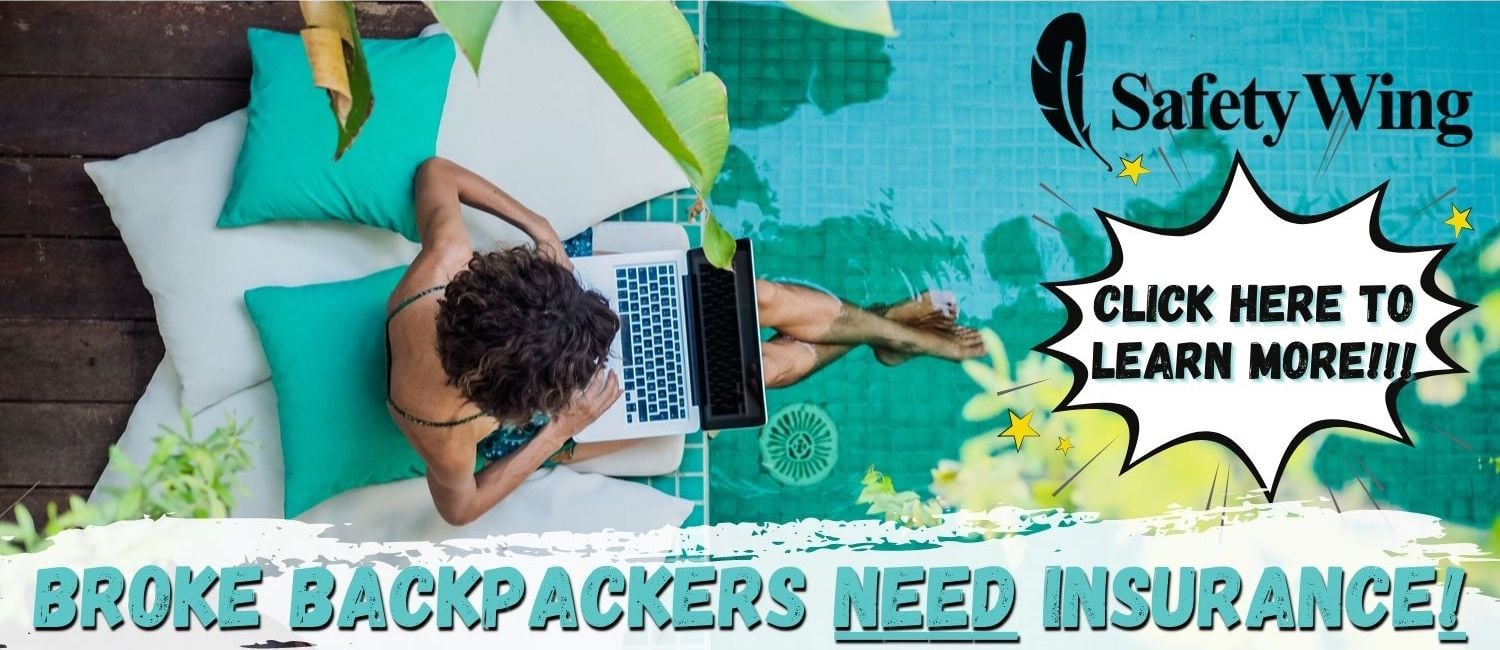 SafetyWing is cheap, easy, and admin-free: just sign up lickety-split so you can get back to it!
Click the button below to learn more about SafetyWing's setup or read our insider review for the full tasty scoop.
Final Thoughts on Where to Stay in Turkey
Filled with wonderful delights and plenty of adventures to be had, there are lots of top places to stay in Turkey that will tick all your boxes. If you are thinking of visiting Turkey, I hope my guide to all the best places to go and things to see helped you plan the ultimate Turkey trip!
If you want to visit the whole country but you're worried about the cost of accommodation, don't be! There are numerous affordable hostels all over Turkey, each offering a cozy place, a comfy bed to rest your head, and the chance to meet like-minded travelers from all over the world. Make some new friends while keeping the costs low!
Do you own or run a kick-ass hostel? Want to be featured on this list? Get in touch at [email protected]
---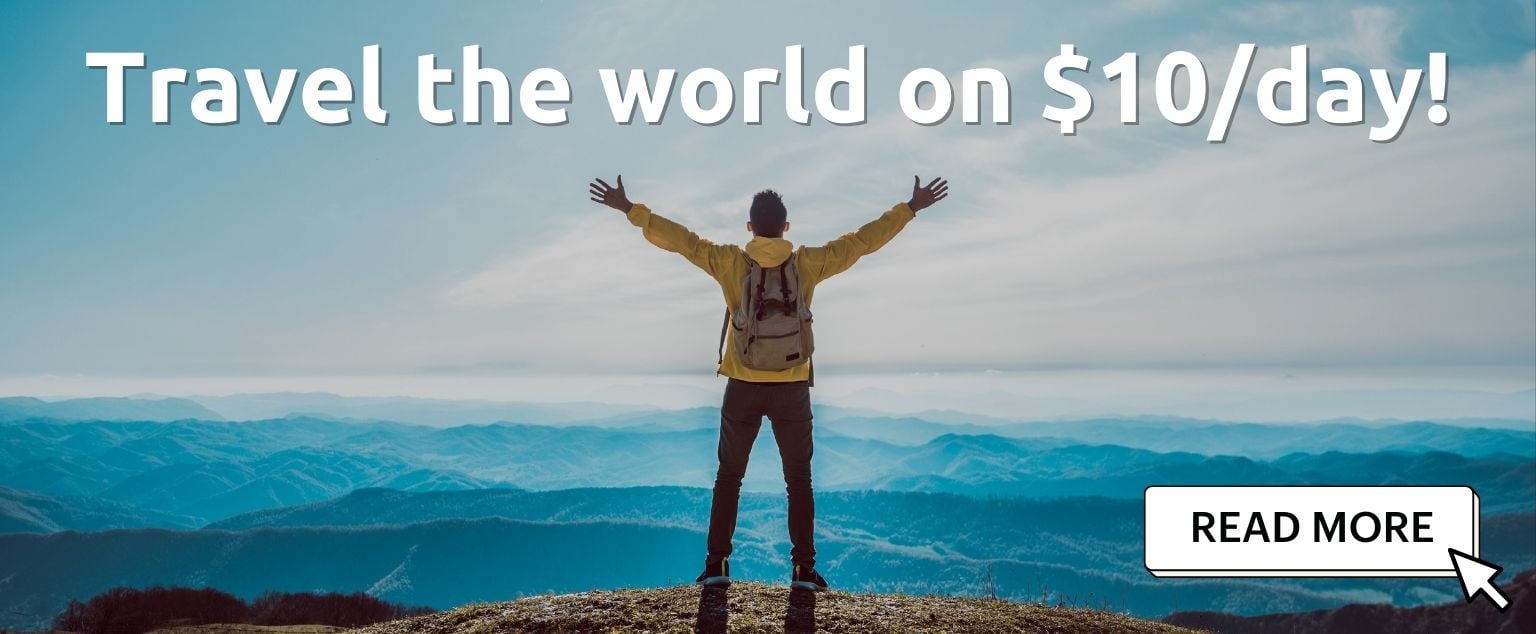 And for transparency's sake, please know that some of the links in our content are affiliate links. That means that if you book your accommodation, buy your gear, or sort your insurance through our link, we earn a small commission (at no extra cost to you). That said, we only link to the gear we trust and never recommend services we don't believe are up to scratch. Again, thank you!