Oh man, I hate packing.
Is that you right now? I bet that's you right now. You're about to head off backpacking and it's just like "What do I bring to a hostel?"
Yeah, it's a bore. Packing is also a game though! You do it a few times and you just keep getting better and better. Soon, your packing list will be second nature – no thinking required.
Until that day though, you need a kickass list of the necessities for the hostel goodness.
Enter the one-stop ultimate hostel packing list: this list! Variables will, of course, vary (as they often do). However, inside this list, you're going to find a suggestion for just about every hostel essential, gadget, and goodie your brain could fathom. Plus, some it probably couldn't.
So forget your packing woes because I have the perfect hostel checklist for you, oh dear student of the hostel life.
The ESSENTIAL Hostel Packing List
Don't Let Snorers Keep You Awake!
Don't Let Snorers Keep You Awake!
Ear Plugs
Snoring dorm-mates can ruin your nights rest and seriously damage the hostel experience. This is why I always travel with a pack of decent ear plugs.
Keep your laundry organized and stink free
Keep your laundry organized and stink free
Nomatic Toiletry Bag
Trust us, this is an absolute game changer. Super compact, a hanging mesh laundry bag stops your dirty clothes from stinking, you don't know how much you need one of these… so just get it, thank us later.
Stay Dry With a Micro Towel
Stay Dry With a Micro Towel
Sea To Summit Micro Towel
Hostel towels are scummy and take forever to dry. Microfibre towels dry quickly, are compact, lightweight, and can be used as a blanket or yoga mat if need be.
Make Some New Buddies…
Make Some New Buddies…
Monopoly Deal
Forget about Poker! Monopoly Deal is the single best travel card game that we have ever played. Works with 2-5 players and guarantees happy days.
Reduce Plastic – Bring a Water Bottle!
Reduce Plastic – Bring a Water Bottle!
Grayl Geopress Water Bottle
Always travel with a water bottle! They save you money and reduce your plastic footprint on our planet. The Grayl Geopress acts as a purifier AND temperature regulator. Boom!

Unlock Our GREATEST Travel Secrets!
Sign up for our newsletter and get the best travel tips delivered right to your inbox.
What to Bring to a Hostel
I'll reiterate – the variables are gonna vary. How you travel and the style of backpacker you are is going to greatly affect what you consider a 'hostel essential'. Similarly, where you're travelling to is going to change the packing; hostels in Europe vs. hostels in Southeast Asia are two very different experiences.
Generally, though, don't pack too much. The age-old adage is to take your packing and then cut it in half – your clothes for the hostel in particular. You can definitely under pack on clothes because you'll never need as many as you think and the likelihood of finding free clothes left over at a hostel is pretty high regardless. The most expensive pair of clothes I own is a pair of underwear that my mum bought me; everything else was free.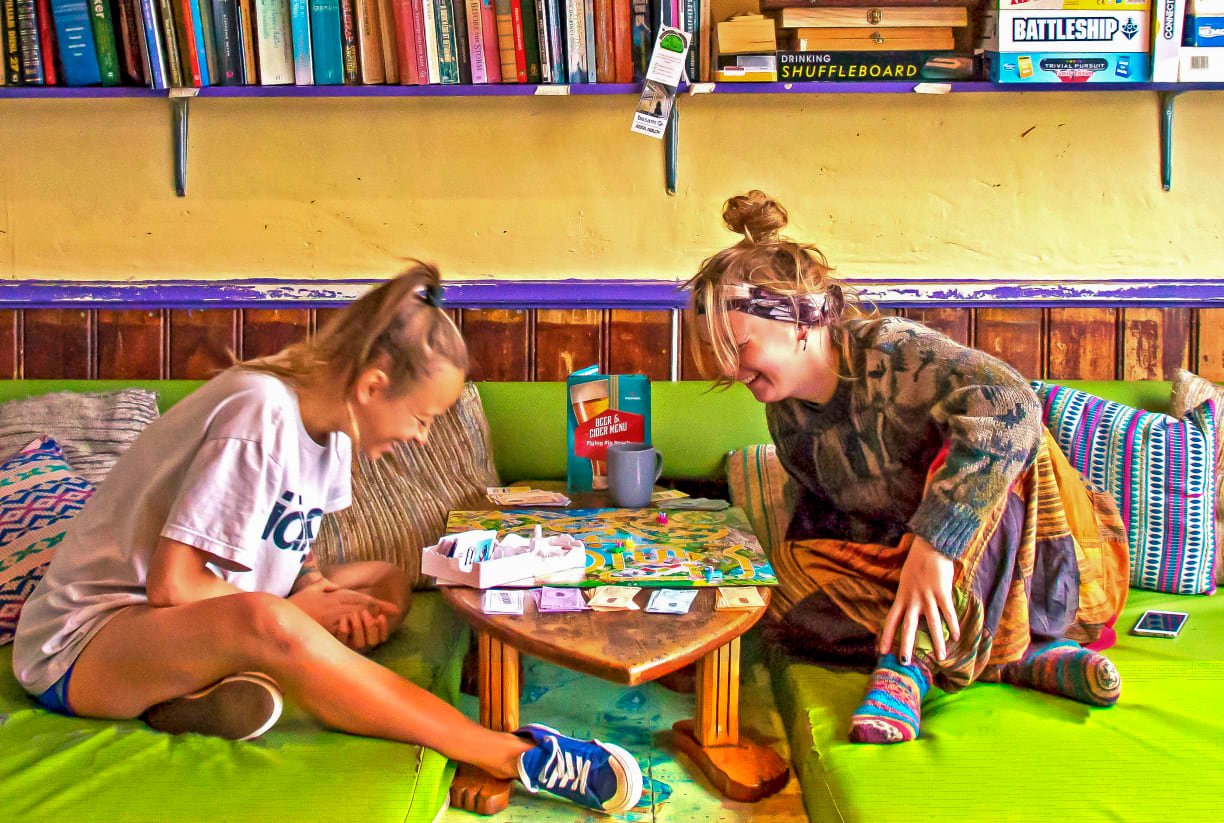 Hostel Packing Tips
How does one become the best like no one ever was? Generally, it's just about making a habit of things. The more frequently meticulous you are about your packing for the hostel, the quicker you'll master the art of packing:
Again, don't pack too much!
Maximum organisation is the name of the game. Keep your bits in logical places and remember where those logical places are.
Prioritise placement. If you're only passing through and staying at the hostel, leave your toothbrush, towel, clean underwear, and other necessities easily accessible.
Wondering how the pros keep their stuff so neatly packed? Bum-ba-da-buummm: packing cubes! They're like bags inside your bag… except they're cubes. You could even label them!
And don't bomb the place, keep your liquids, creams, and the like safe (again, placement!) — the last thing you want in a close-quarters shared living space is a cheeky little bag explosion.
Hostel Tricks
Trickery of the finest calibre. I'll reiterate a few of these as we move through but here's a list of awesome tricks and tips for staying at hostels, either for saving a few bucks or just for an easier stay:
Turn your dorm bed into a home. Keep it organised, hang up something for a privacy curtain, put up a dreamcatcher… just do something! Express your wonderful self.
Learn some good recipes before you start hostelling. Pack them in your brain – budget but healthy – and cook up a storm at the hostel. You can either make friends serving dinner or make cash selling it.
I didn't add Tupperware to this hostel packing list because it honestly is kind of annoying to travel with, but you may still want to consider it, especially if you're the mad chef type.
You can sometimes save cash at a hostel by offering to sleep elsewhere on the premises like in the hammock or outside somewhere (foreshadowing).
I'm not saying you should steal someone else's toiletries, but I am saying they often get forgotten in the bathroom or shower. Think of it like borrowing… FOR LIFE.
VIPs get goodies… like PRINTABLE PACKING LISTS!
Sign up below and we'll email you EXCLUSIVE ACCESS to the Broke Backpacker VIP area with printable packing lists, guides, and more!
The Absolute Hostel Essentials
Is that enough hostel trickery for you? Are you ready for the main course? Bon appétit!
First up on the hostel packing list are the essentials. You definitely most certainly DO want to bring these things no matter what types of hostels you're staying in. They're gonna make your stay a lot more sweet and most of them are pretty essential for any backpacking trip regardless.
I mean, this isn't a list of things required for hostel packing. I'm not your mum; I can't tell you what to do! But if I was your mum, I'd nag ya silly until you put these things in your pack.
A Smile
Wait, you can't pack a smile…
Sure you can; you can pack it right on your face!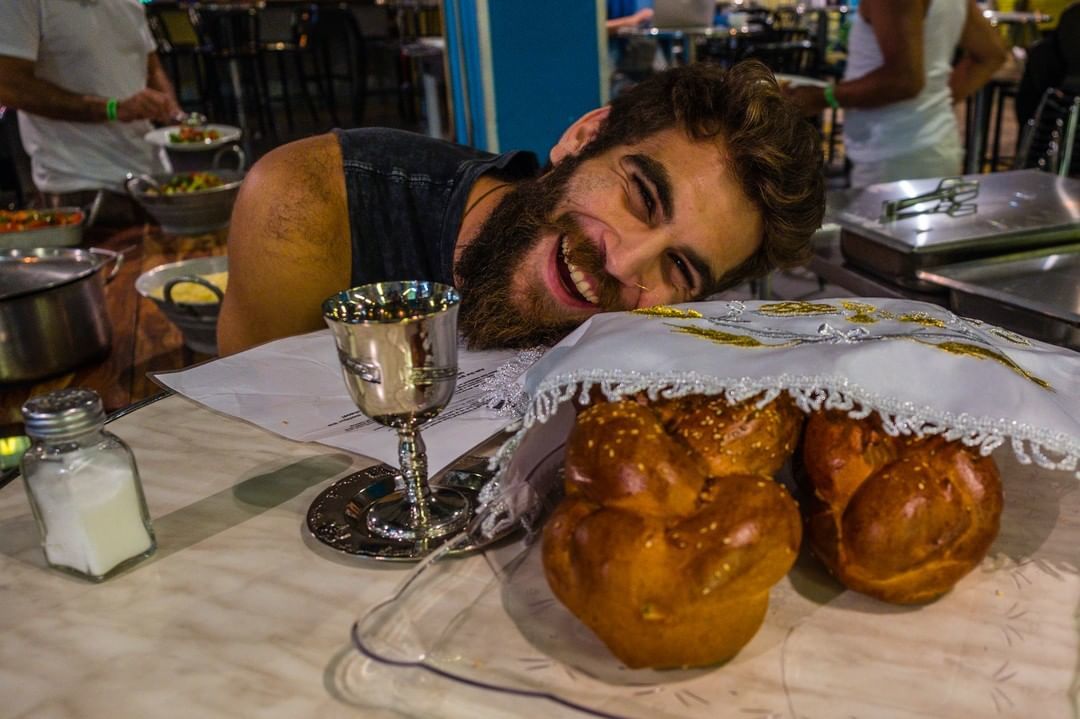 Bring a smile and be ready to flash those pearly whites; it's a necessary thing for travel. You're going to be meeting lotsa wonderful folk while staying in hostels and the best way to connect with them (and don't forget the staff too) is to just smile and be warm. Never underestimate the power of a good smile.
Always pack a towel. A towel is the most massively useful thing an interstellar hitchhiker can have… I mean, backpacker.
Do hostels provide towels? Weeell, sorta sometimes maybe? The good ones do! Others will provide you with gank hostel towels that you certainly don't want touching your junk while others will make you pay a fee.
Regardless, microfibre towels are absolutely kick-ass and never escape my hostel packing list! Or any of my travel packing for that matter. They're so damn small, dry so damn quick, and the infinite uses for a towel in our homey little galaxy are simply overwhelming.
Earplugs and a Sleeping Mask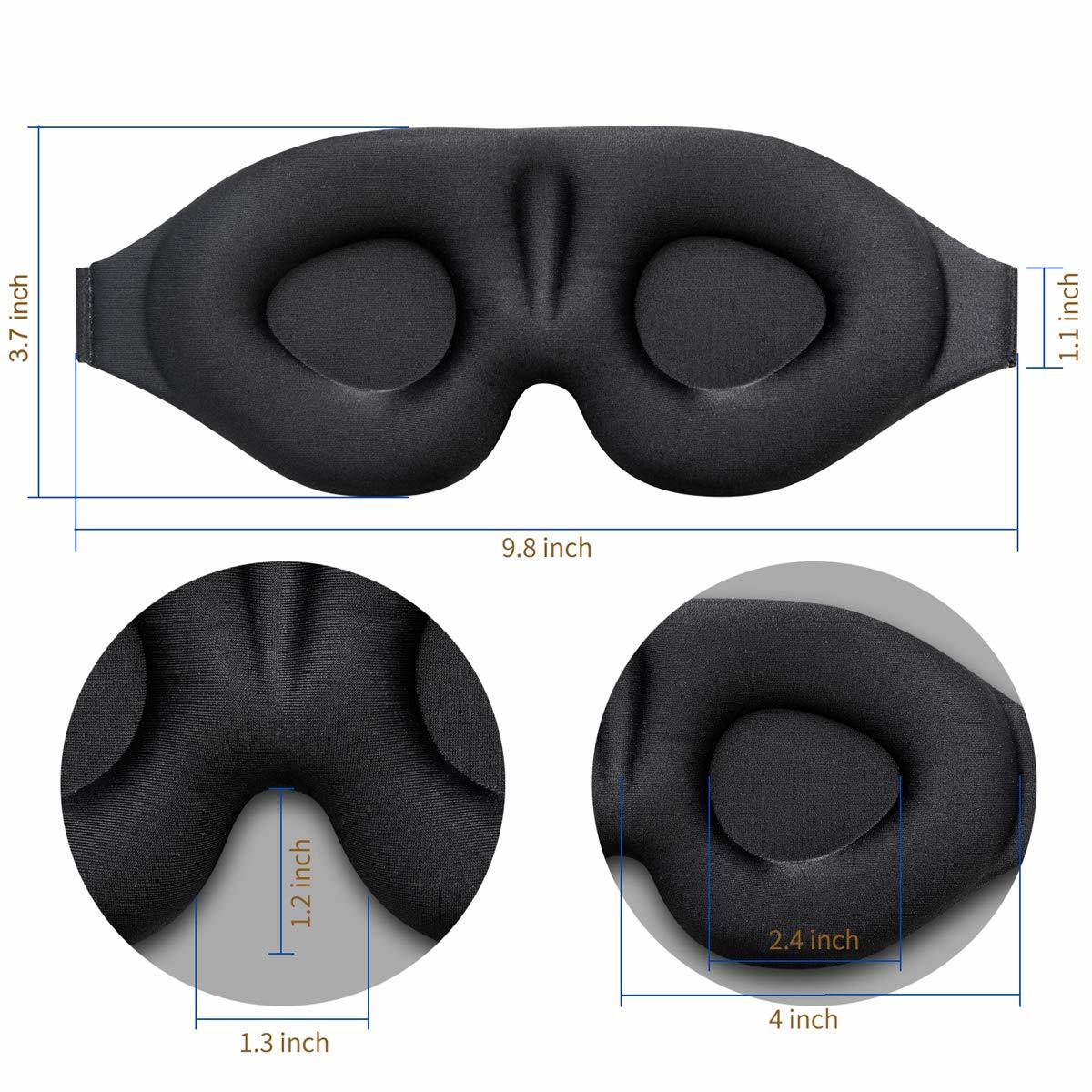 Oh yeah, these are definitely necessary things for hostels. Earplugs for sure and a sleeping mask depending on how sensitive you are to light.
Some hostels actually provide free earplugs which is sick! But then, why take the risk? Considering that it's more than likely people will either be coming back blind-drunk from partying or committing unspeakable acts in the bunk beside you (or both), pack some earplugs and an eye mask for the hostel.
Even if you can't sleep, at least you won't have to witness… things. Ugh…
Padlock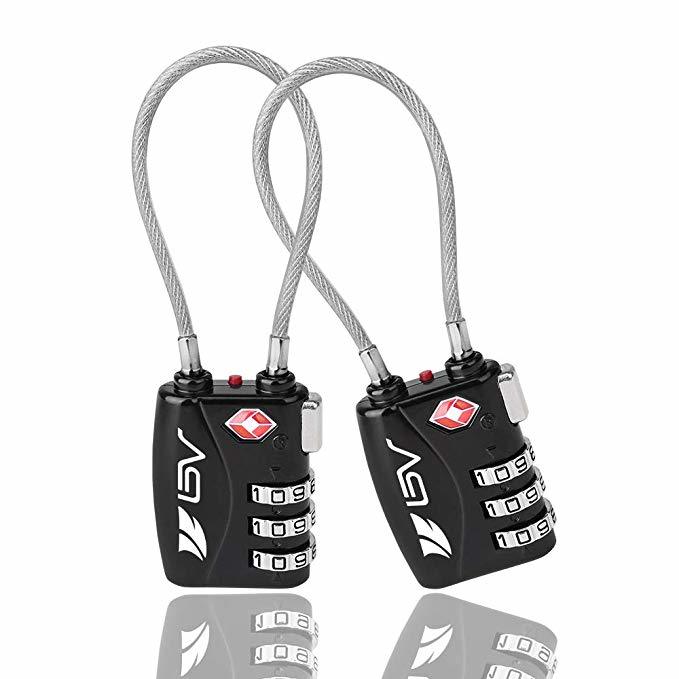 Another hostel necessity and yes, you do definitely want to pack it. Much like hostel towels, sometimes locks are provided, but it's rare and it usually costs extra.
Here's one of the best locks for hostels. It's a number lock which is way better than a key because you can't lose it (try not to forget the code though) plus, if later down the line you're sharing a room or locker with someone, you won't have to navigate that whole "I only have one key" annoyance. Especially if they're mega-anally protective about their key.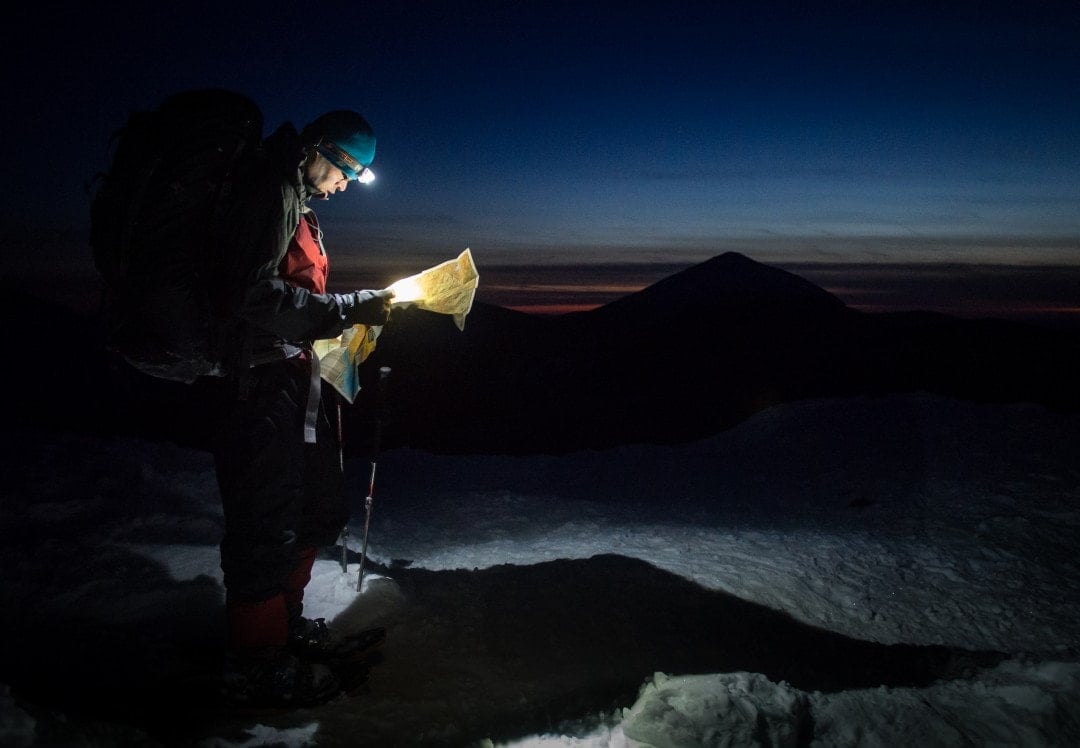 Why bring a headlamp to a hostel? BECAUSE IF YOU TURN THE GODDAMN LIGHT ON I WILL HUNT YOU DOWN AND BAKE YOU INTO A PIE!
Back again. A solid headlamp is a hostel travel essential. You will never need to turn the light on in the dorm and also if someone is banging, maybe you can try and deter them with some disco-strobe lighting effects. Plus, it's great for adventures!
If you need help choosing, you can check out our roundup of the best headlamps for travel.
Headphones (Noise-Cancelling or Otherwise)
Sleeping in dorms with headphones in is obviously a nice alternative to earplugs but the fun doesn't stop there. Wanna watch Youtube while you poop? Pop those suckers in!
Wanna completely ghost someone over breakfast? Well, pop those suckers in!
In all seriousness, headphones are super important hostel packing; some days when staying in hostels, you really just don't feel like talking to anyone. We've got a sweet roundup of the best travel headphones but as for me personally?
I travel with headphones with replaceable cords. Before I leave the country I buy like 10 extra cords (the cheapest and most Chinese knock-offs, of course), and that keeps me set. I've had the same headphones for years now!
Book or Kindle
You'll always find books in hostels – that's a given. Leaving, taking, and swapping books is a traveller tradition as old as the game itself. That said, sometimes you'll find shitty books (or books not in your native language).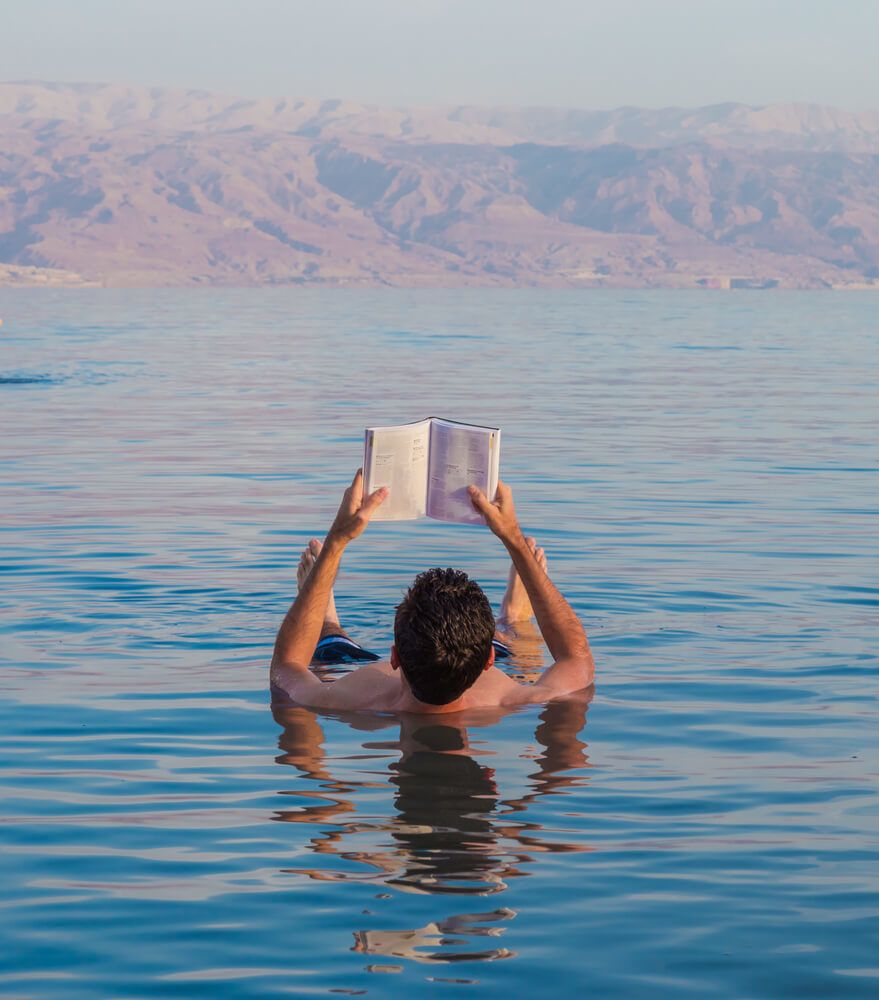 Hostel packing list 101: a good book. Nothing beats the feel of a book that smells like Gramps when you open it. That said, books are not the most practical travel item and that's why a lot of people have made the switch to a Kindle.
Yeah, it's not a book, but they are pretty goddamn awesome!
Hostel Gadgets
Go, Gadget, go! Look at you with you helicopter-head and extendo-arms and dope theme song: you got all your hostel gadget packing perfectly sorted.
Or do you? Go go gadget hostel packing list!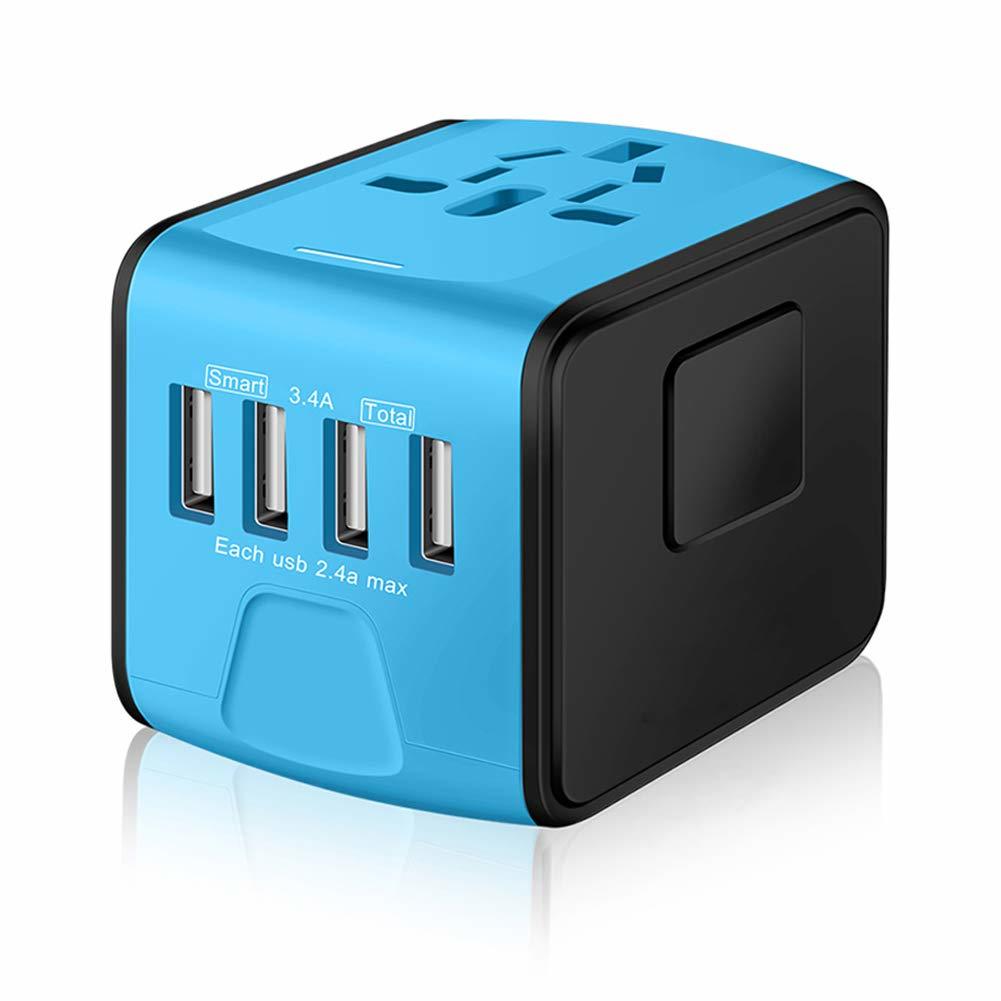 Unless you're not travelling internationally, add this to your list of things to pack for a trip. No strangely-shaped power outlet will ever dare defy you again. All holes shall be filled!
…Ahem.
Yeah, pretty much anywhere you go, a universal travel adapter is gonna have you covered. As an added bonus, it's got some USB charging ports built-in too!
Listen up, there are a LOT of Universal Travel adapters on the market and a lot off them are cheap trash. It is worth paying a bit more to get a good one that will last a good few years of hard use.
Multi-Port USB Charger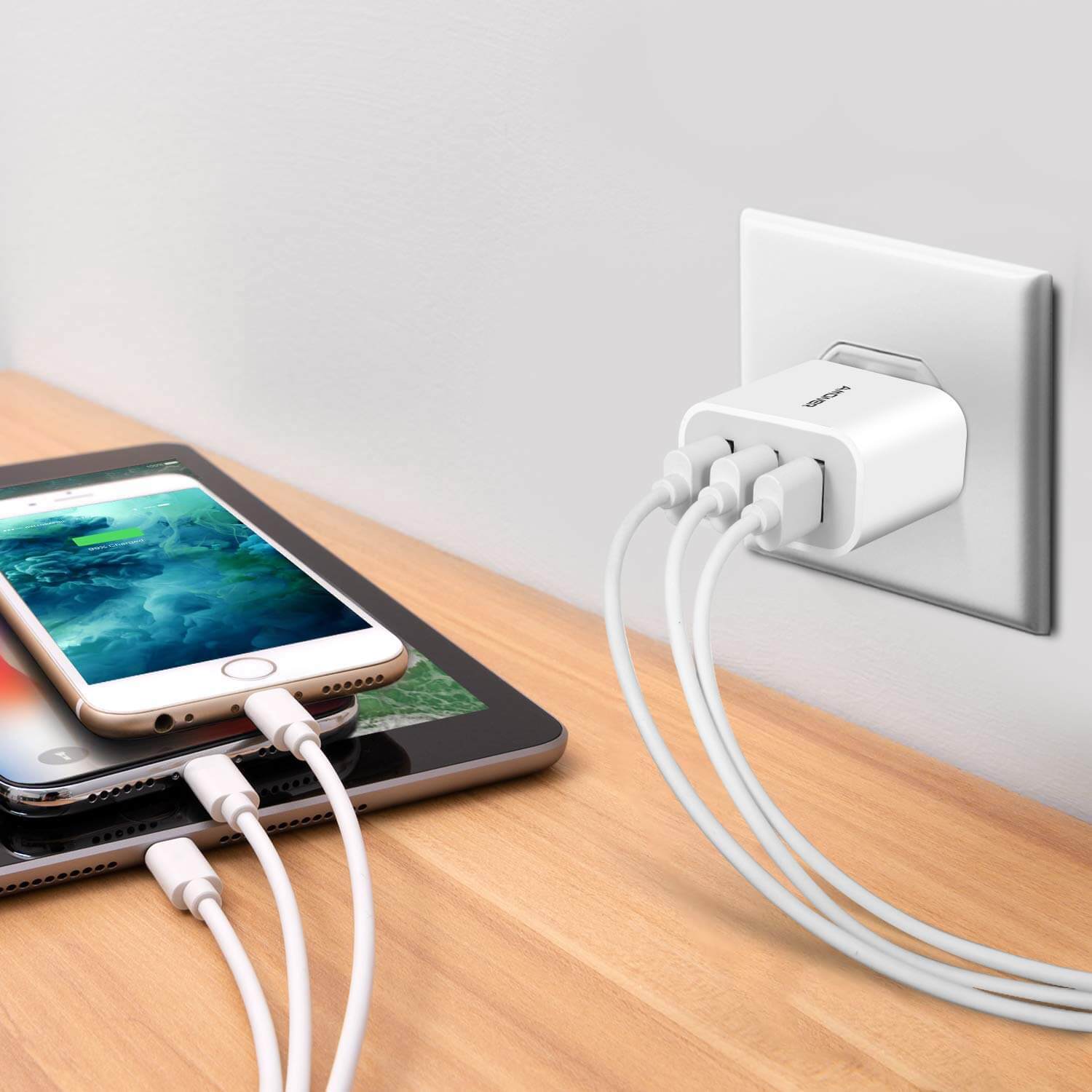 Speaking of, whether it's a separate charger or a universal adapter with lots of slots, the more holes the better. Maximum slots.
Travellers like to share things and our holes are no different. When all the outlets are occupied and someone really needs a hole, share yours with them. The best way to make a friend is by sharing your slot with them.
…What?
Multi-Charging Cable
It's like a hydra; USB, Micro USB, Lightning – everything is covered! You may or may not need to bring this to a hostel, however, a multi-charging cable is so light and easy to carry that there's no point in not just chucking it in!
Eventually, someone is going to need a charger they don't have and that's when you swoop in being all brave and heroic providing power to the masses.
Just be sure to keep an eye on it. Cables are easy to lose and easy for other people to accidentally take.
Extension USB Cord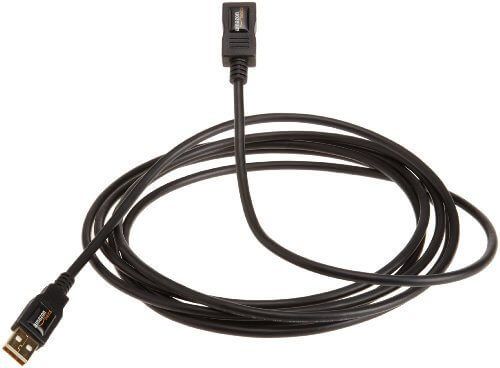 This actually is incredibly useful packing for a hostel and something of a trick too. It's also super simple so I'm always surprised I don't see more people bringing it to a hostel.
It's just a USB extension cord for charging your phone and other USB-charged gadgets, but when your bed doesn't have a power outlet next to it, it's gonna be so damn handy.
Power Bank
Ok, last chargey thing, I swear! We do so love to charge things.
Perhaps only superseded by a towel (and a backpack), a power bank is top of the list of what to bring backpacking. It's never, ever wasted space – curse you, 46-hour bus rides in Nepal!
Always bring this gadget to a hostel. It's just what you need when all available slots are occupied.
Speaker
In the land of tuneless, the speaker-bearing human rules! Another worthy addition to any list of packing for hostel living is the speaker. Become the DJ… just, please play good tunes.
Breaking down the best speakers for travel is another journey, but my recommendation is the JBLs: they're tough as a brick, not exceedingly pricey, and the sound quality is on-point.
The JBL Flip 5 is bigger and heavier with more of a punch.
The JBL Go 2 is light and convenient.
The JBL Clip 3 falls somewhere in the middle but with a built-in clip. Perfect for hiking or long walks into town to buy beer.
Headphone Splitter
Not one of my personal hostel necessities but it's keeping with the whole 'sharing is caring' theme.
When you want to share some tunes with your friend, science that shit with a headphone splitter and then you'll both be rockin' out together! Actually, a headphone splitter would be super useful for watching Netflix together.
Pocket WiFi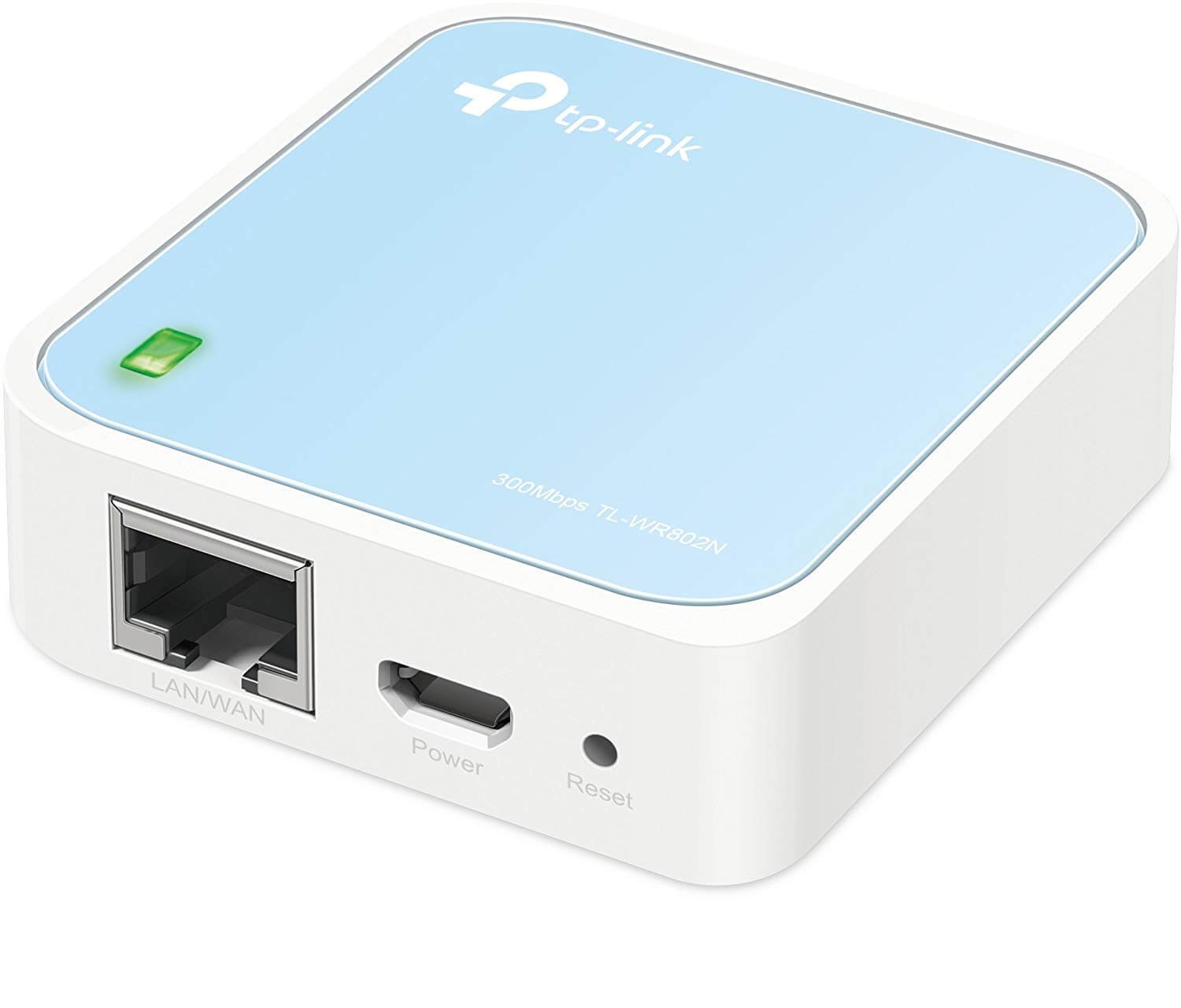 A pocket Wifi comes in super handy for a digitally nomadic hobo. Take your WiFi on the go!
If you don't have roaming coverage and don't plan on getting a local SIM card, this can also be useful to access the interwebz on the go.
Is This the Best Backpack EVER???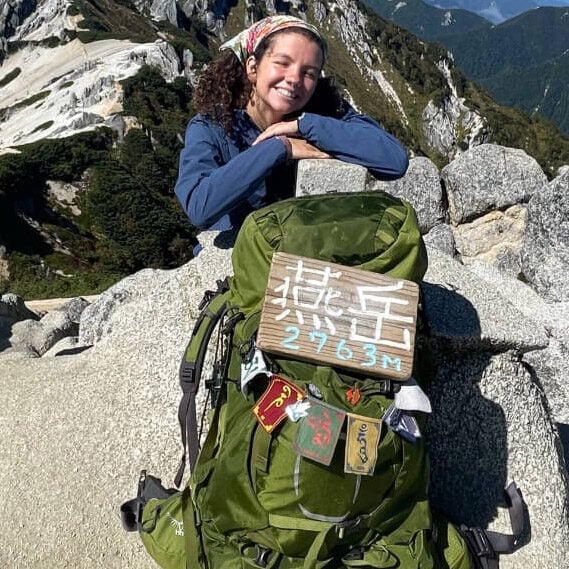 Hostel Clothes Packing List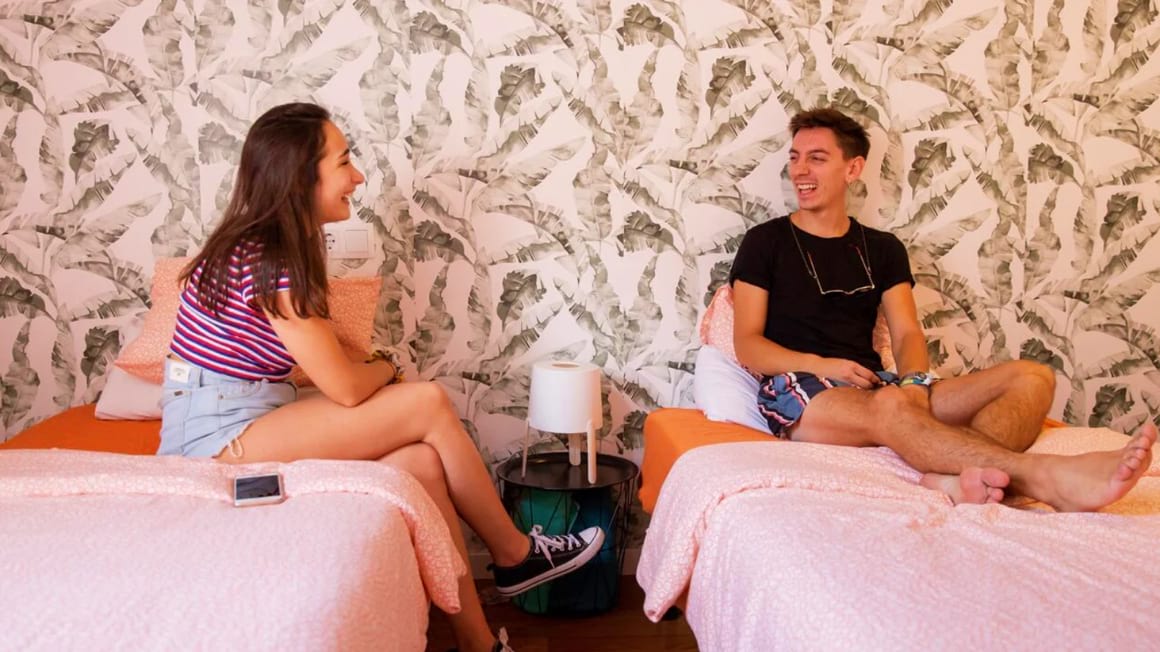 Here is once again a firm reminder that I'm not your mum. You gotta pack your own clothes for the hostel, mate!
We've got several reviews for the best travel clothes, so here are a few:
Do your research and get your clothes packing for hostel travel right! All the same, here's a few additions not to forget.
Clean Underwear
Ok, I'll mum you a bit. You get one mum moment. The road to successful interpersonal relationships is paved with freshly-cleaned underwear.
Shawl
Shawls – they have all the uses of a towel but look way cooler if you wrap them around your head like a hood! I have so many hostel packing tips for shawls:
Hang it over your dorm bed to make a privacy curtain.
Wrap your dirty clothes in it like a bag when you go to do the washing.
Share it with other cold humans – shawls are for sharing.
Extra blanket!
A pillow.
A picnic blanket.
An excellent tool for rolling a joint over.
If the hostel has a dog, tie the shawl around its neck so it can be Super-Dog.
Bag some stuff in it and tie it on the end of a stick so you look like an actual hobo.
Go and find your own shawl in your adventure. A shawl chooses you. One day, after many countries and many travels, you will gift your shawl to your aspiring dirtbag kid.
This is the circle of life.
Sandals / Thongs / Flip-Flops / Slippers / Feet Thingies
Sandals or thongs are backpacking essential at the best of times. Accessible shoes, easy to put on, and great in the hotter climates.
They're also excellent to pack for hostels. Taking your shoes on-and-off is a pain in the ass but also there are many hostels with rank surfaces that you may not want to step on (looking at you, suspiciously coloured shower tiles). There are also hostels where people will look at you funny if you walk around without shoes on but fuck those places.
Slap some thingies on your feet no matter where you're from and what you call them.
Mesh Laundry Bag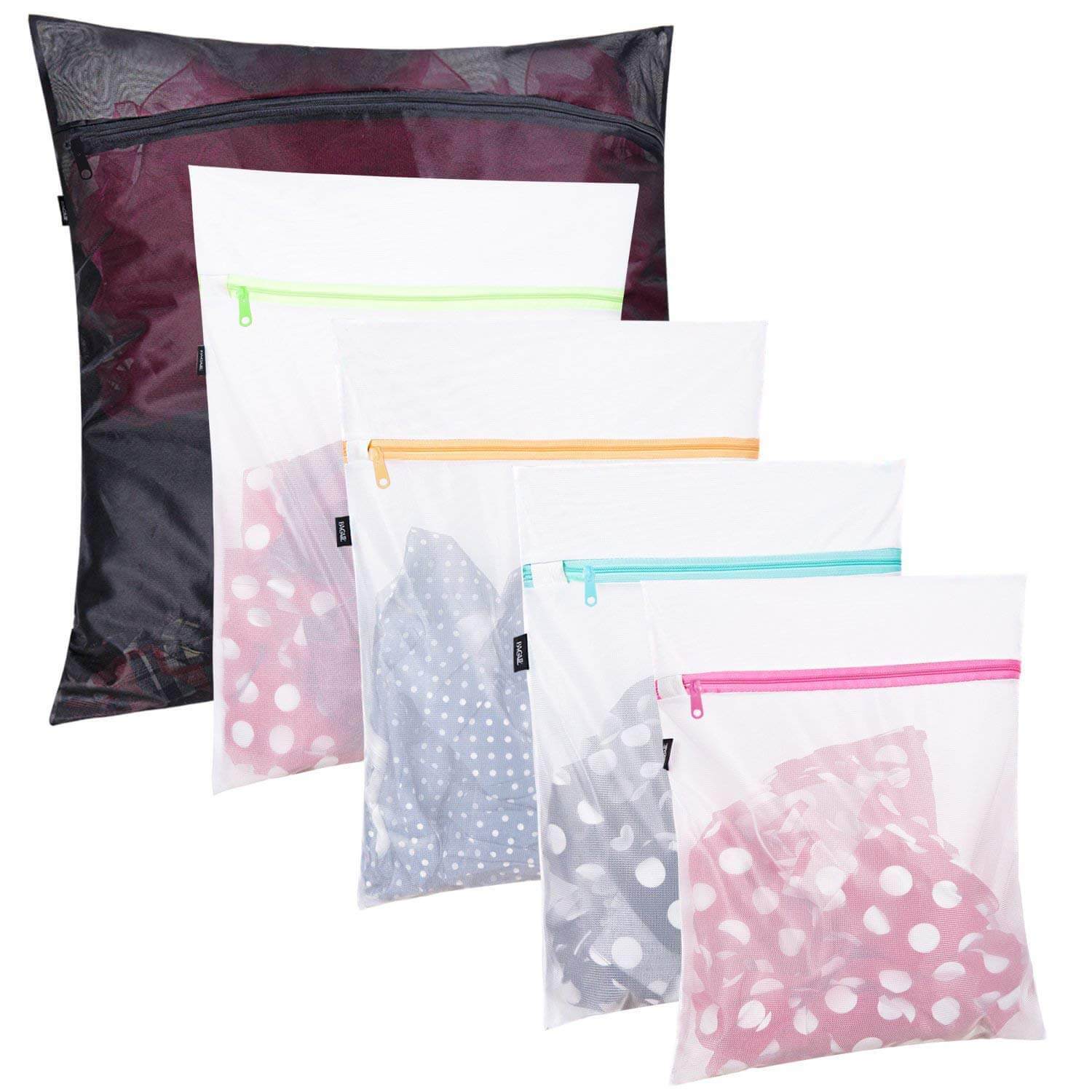 The next few entries aren't strictly hostel clothes but the umbrella category still applies. You know those laundry bags made of mesh with holes in them? That's because you keep all your washing inside of it in the washing machine and it all stays together. Genius!
Now, maybe you already knew that but I didn't. I generally just wash my clothes by hand cause it's free (sometimes in an empty bin because the hostel won't lend me a bucket).
Washing Powder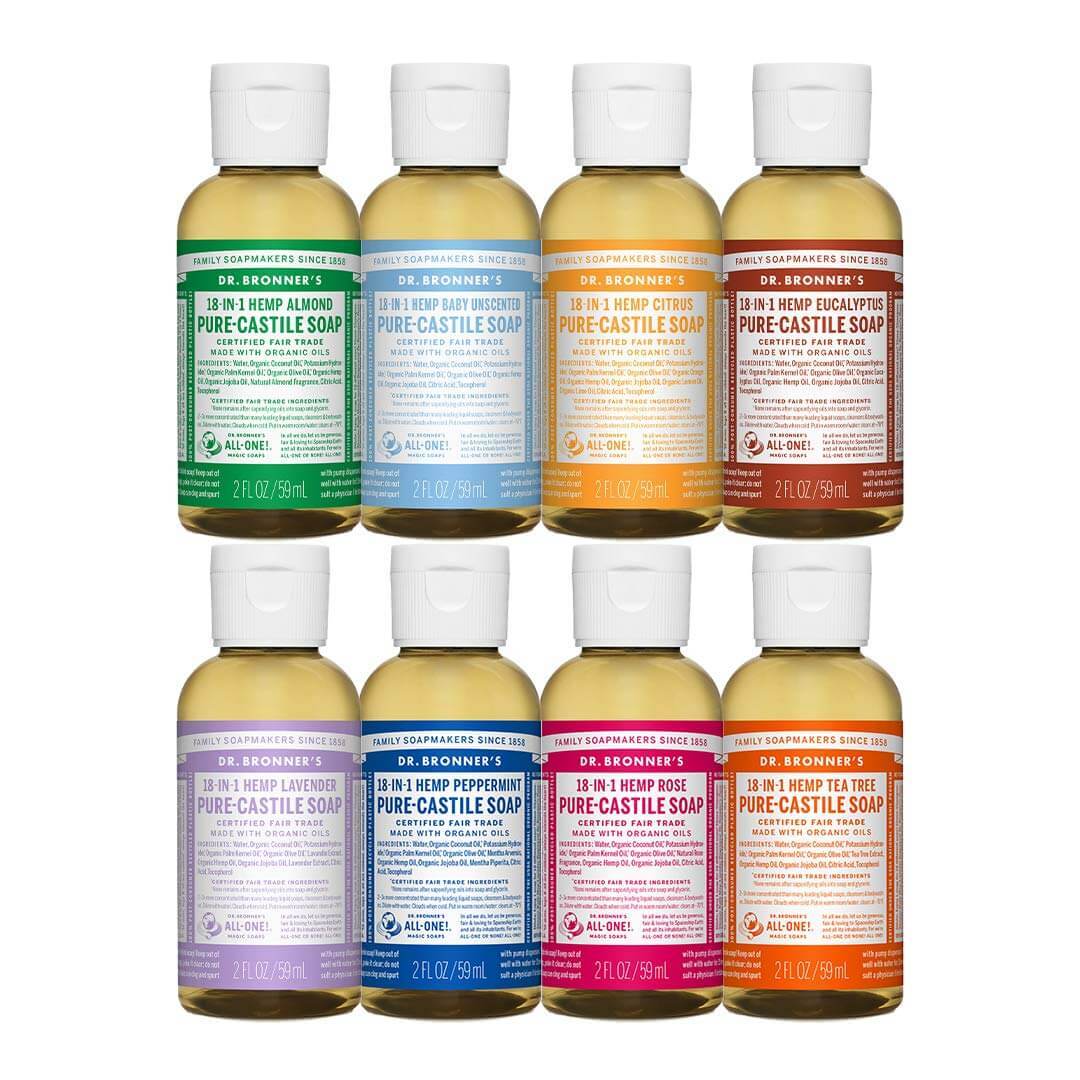 Saving money: that's the name of the game! If you like paying hostels to use the washing machine and then paying again for the washing powder, go ahead and be a Captain Sillypants. Meanwhile, we'll be over here washing our regular sensible pants with the washing powder we brought from home.
The best part is, you can bring one that's totally biodegradable. And multi-purpose. And smells lovely! Have you met Dr. Bronner?
Scrubbing Brush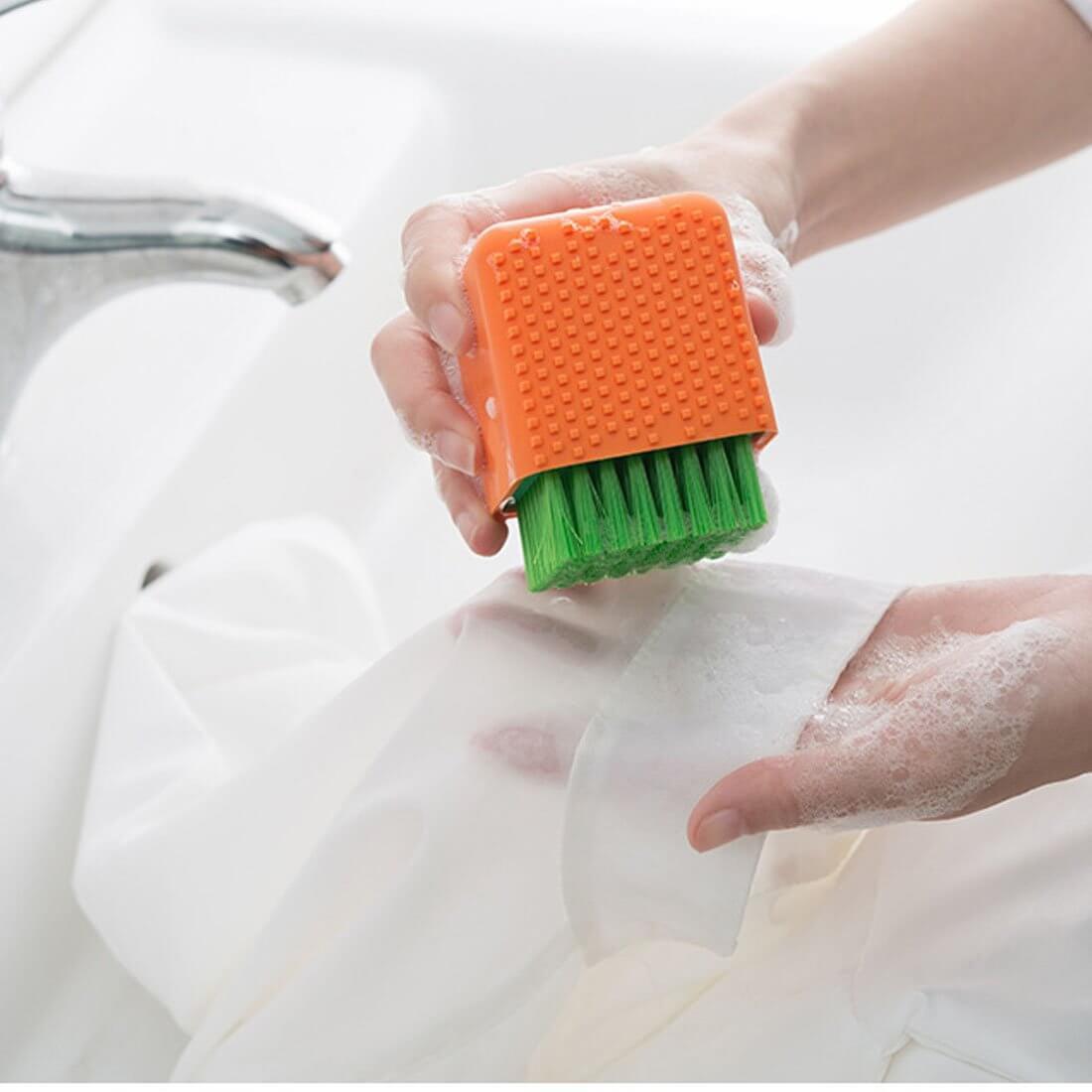 Ok, the last hostel travel essential for keeping your clothes fresh and sparkly. If you really wanna be a true broke backpacker, you gotta scrub your clothes yourself! (And repair them, never buy new ones… and only replace your clothes with clothes you find in a dumpster…)
Ok, so this probably isn't relevant to everyone but I'm actually serious. If you wanna save some cash, wash your clothes in the hostel yourself at the very least intermittently. You can also get one of these laundry bags that washes your clothes inside and probably makes your breakfast too.
Hostel Packing for Fun
Your whole packing list for a hostel stay can't just be essentials and necessities. It's a hostel. You're there to have some fun!
A Badger
Rocking up a hostel with your own personal badger will earn you epic kudos.
Seriously man, chicks dig badgers…
Journal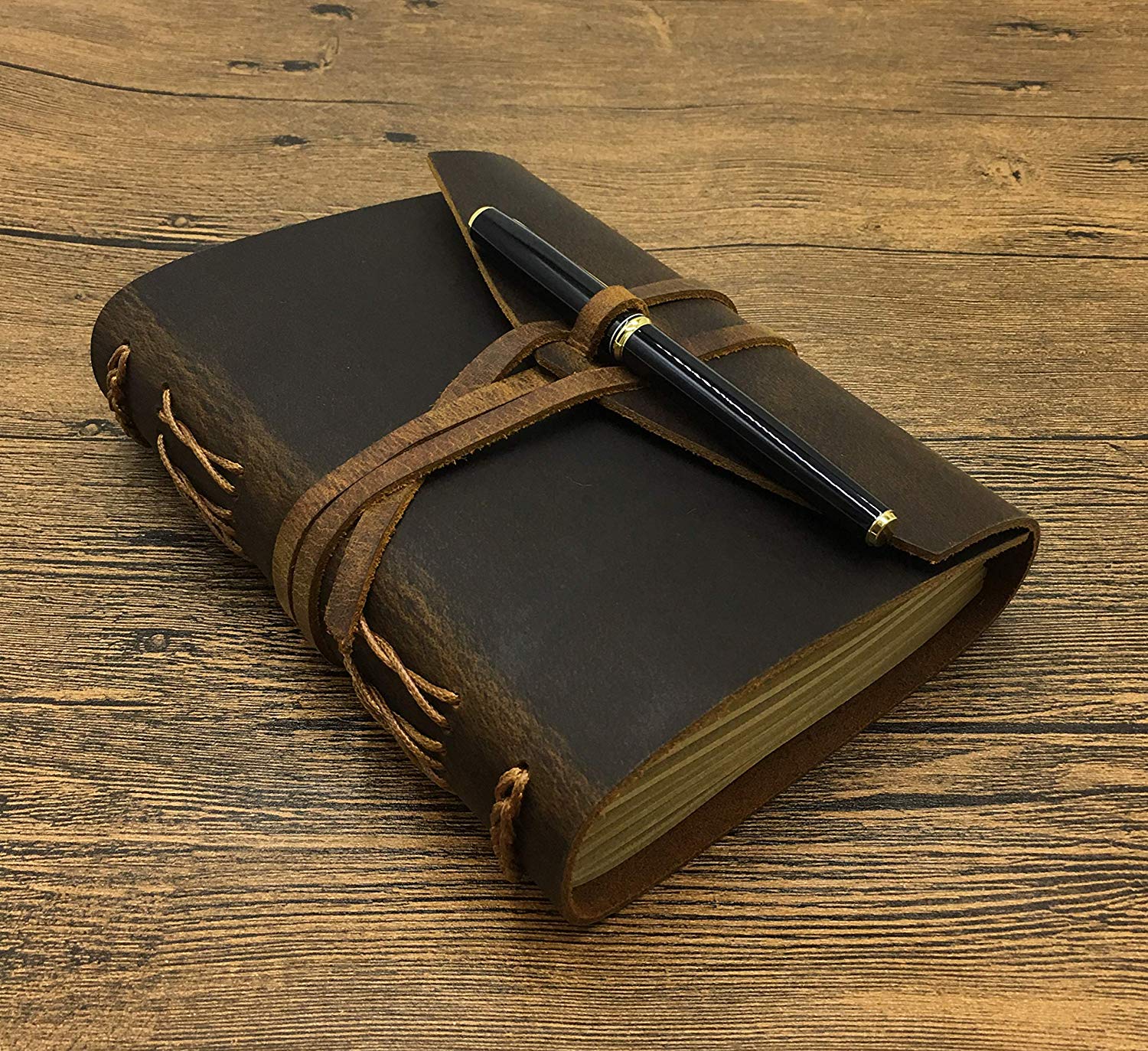 Another thing that should at the top of any list of things to pack for a trip. Every traveller should pack a journal. One day when you're old and wrinkly, you'll read over your entries and smile.
Sometimes amazing things happen, sometimes your mind gets busy; either way, write about it.
When it comes to choosing which journal to buy, you can either buy a cheap paper note book and you can spend a bit more and pick an actual journal which feels like an event everytime you use it.
Long Papes
The true hero of any hostel is they who still provide the skins when everyone else has run dry. Be the hero we need. Answer the call.
Condoms
It's what to bring to a hostel in case you get lucky! You could not pack them but then things happen and people aren't prepared and the end result is a mediocre night of lacklustre hand stimulation and unfulfilled desires.
Or you do something stupid in which case…
World Nomads Travel Insurance
But travel insurance isn't fun…
Yes, it is! What's more fun than reading long insurance policies and paying large sums of money while answering a bunch of questions!
Ok, yes, maybe it's not technically 'fun hostel packing', but you may forget those condoms and then one thing leads to another, the four-out-of-ten hand-work isn't cutting it, and boom! You gotta get tested.
Or you might just fall down the stairs or something. One way or another, don't be a dope – always consider top-notch travel insurance coverage!
Members of The Broke Backpacker team have been using World Nomads for some time now and made a few claims over the years. They're an easy to use and professional provider that the team swears by.
ALWAYS sort out your backpacker insurance before your trip. There's plenty to choose from in that department, but a good place to start is Safety Wing.
They offer month-to-month payments, no lock-in contracts, and require absolutely no itineraries: that's the exact kind of insurance long-term travellers and digital nomads need.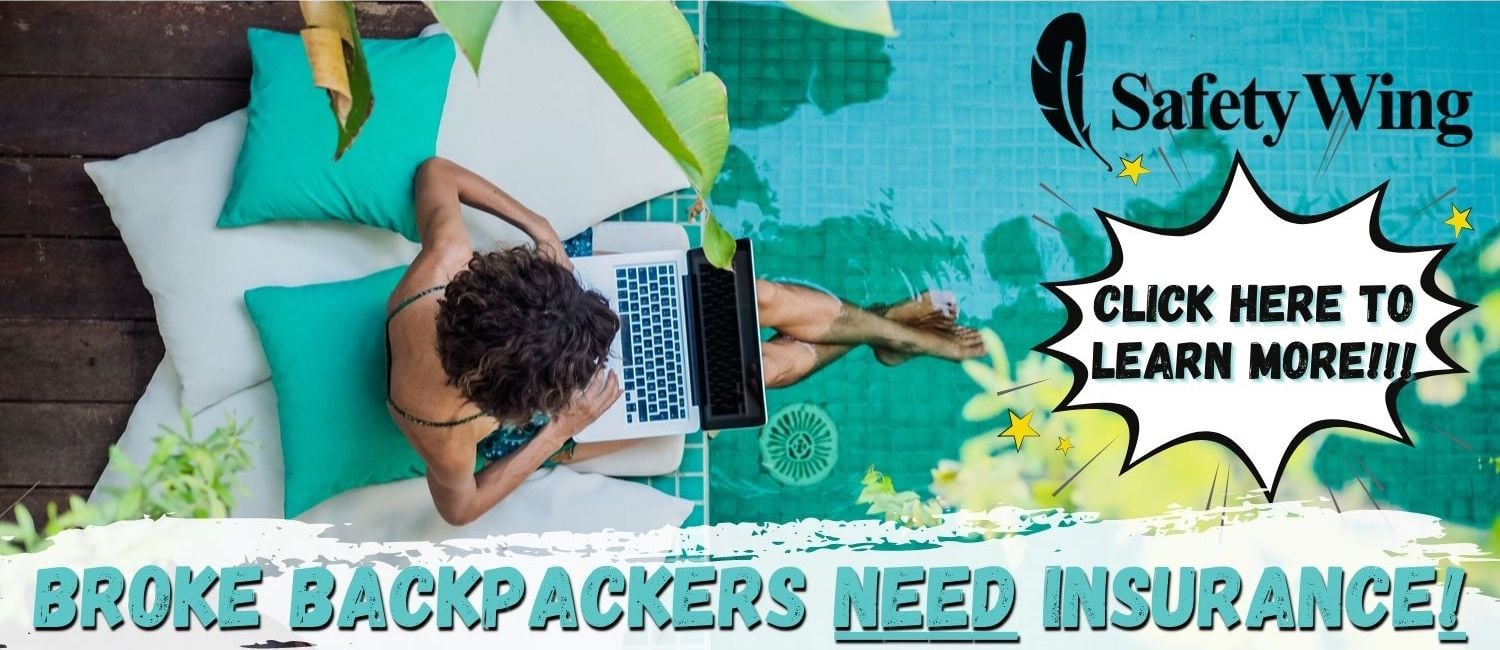 SafetyWing is cheap, easy, and admin-free: just sign up lickety-split so you can get back to it!
Click the button below to learn more about SafetyWing's setup or read our insider review for the full tasty scoop.
Instrument(s)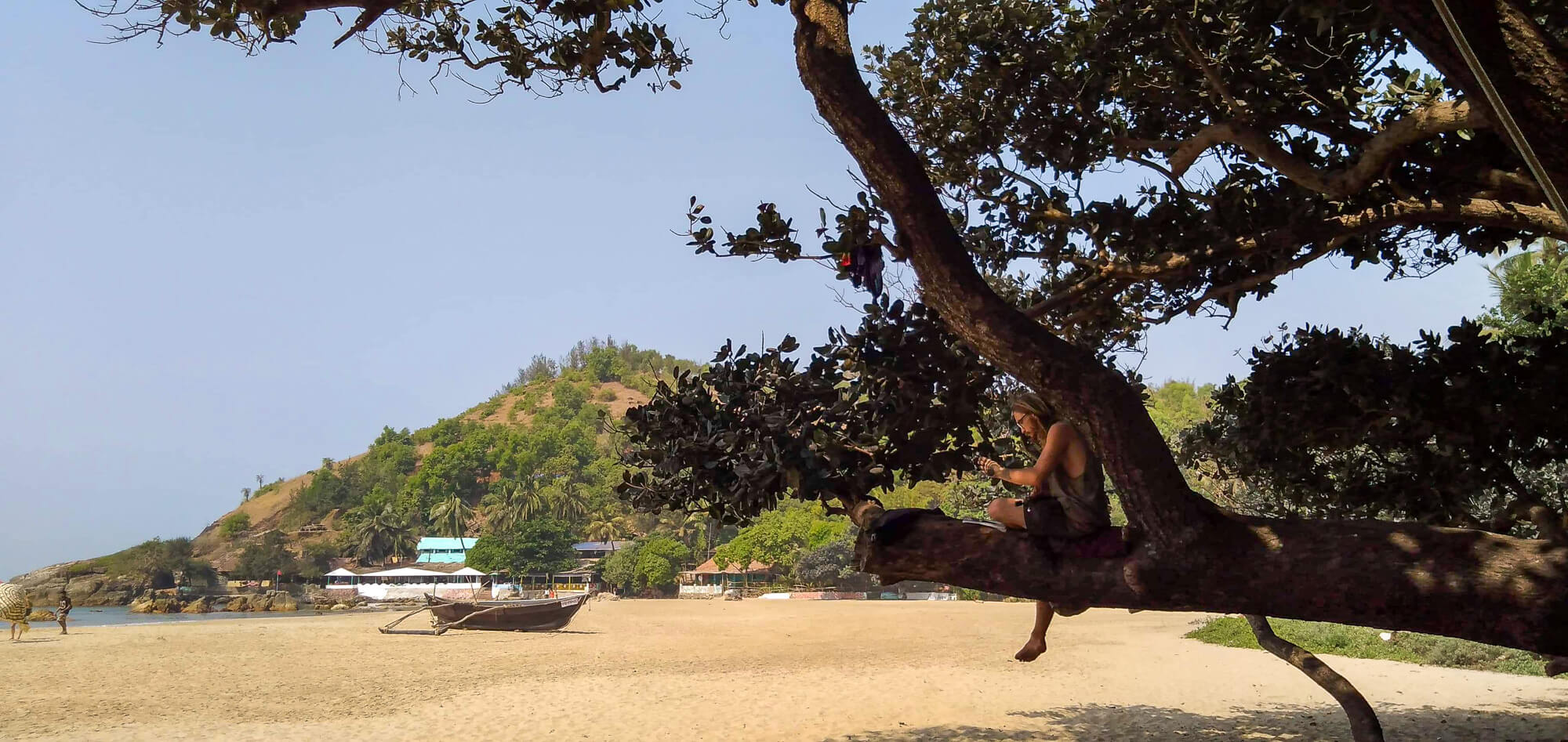 Many hostels you stay at are probably going to have some instruments. Generally, those instruments will be in pretty bad nick. Many hostels won't even have any instruments. And music is good.
Travelling with a guitar or a ukulele… a djembe, harmonica, bloody triangle – it's all good! Just travel with something. If you're a muso, this is a required thing for your hostel packing.
Games/Cards
Much like instruments, a lot of hostels come equipped with games and cards. It still ain't a guarantee. So why not travel with a game?
UNO is always a classic, a deck of cards is the versatile choice, or check out our roundup of the best travel games for more ideas.
Yoga Mat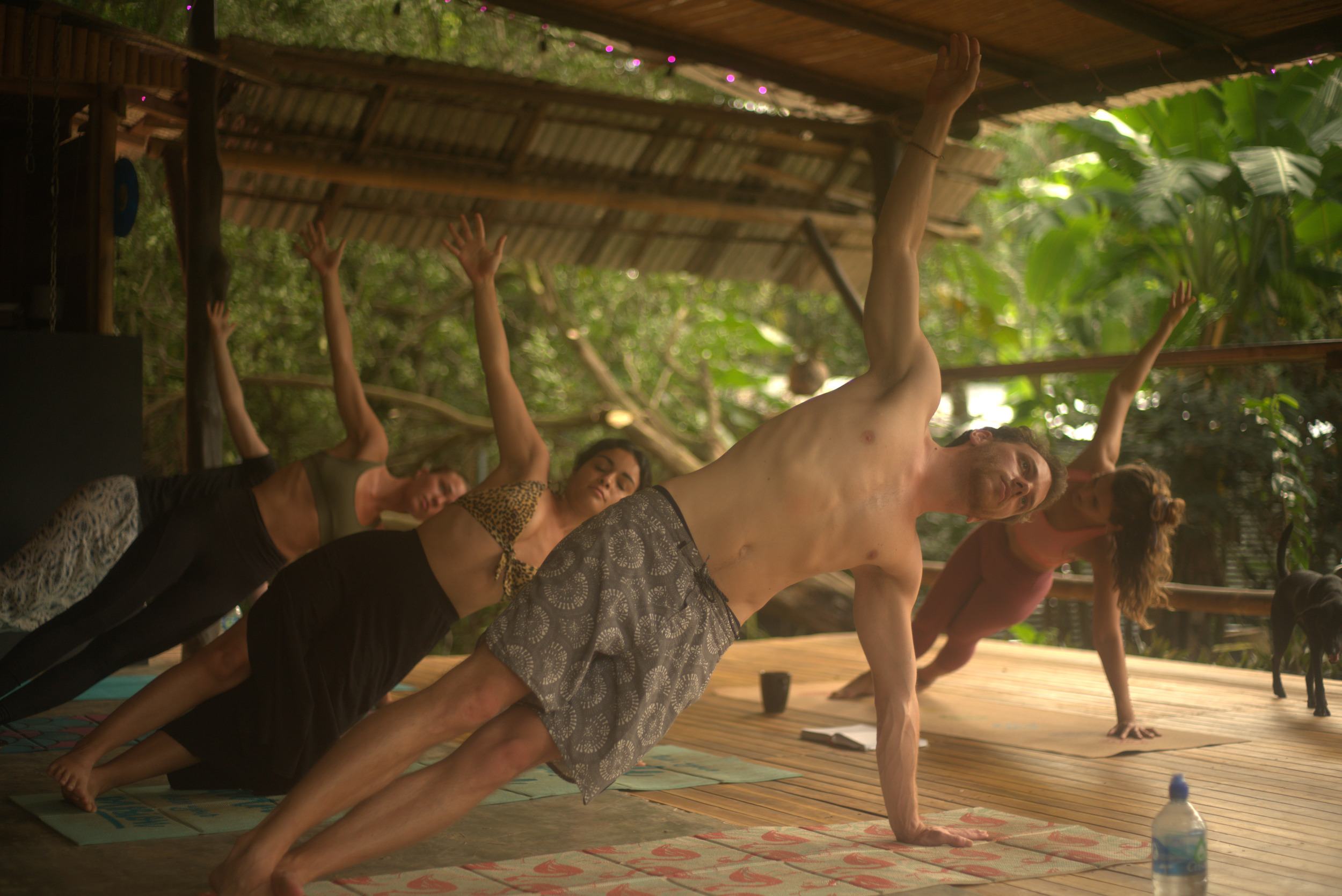 Some have heard it said that wherever there is a hostel, there is yoga. Besides, yoga mats have so many uses! It's nice just to sit on with a mate while you're watching the sunset.
If you're an avid enthusiast of Asanas, however, a solid travel yoga mat is a necessary thing for hostel adventure. Not all hostels will have yoga mats (believe it or not).
Polaroid Camera
I've met a couple of people in my travels who carry a polaroid camera and simply bless them. They're real tangible photos you can give someone at the moment as a present. Pure whimsy.
Backpacking Travel Essentials
The last section of the hostel packing list more covers some of the crucial basics of what to bring backpacking. These bits and boodles you could argue aren't hostel packing but they are going to be super nice to have for any international hosteling escapades.
If you're looking for a much more comprehensive list of things to pack for a trip – babow.
Backpack
Well, duh. Can't go backpacking without a backpack. We've got a whole host of yummy content on backpacks for you to peruse – yay for savvy consumerism!
I will still, however, point you towards the TropicFeel Shell Backpack and our review of it. It's a modern-day backpack custom-designed with a different type of backpacker traveller in mind. It may or may not be right for you, but it's still worth a look.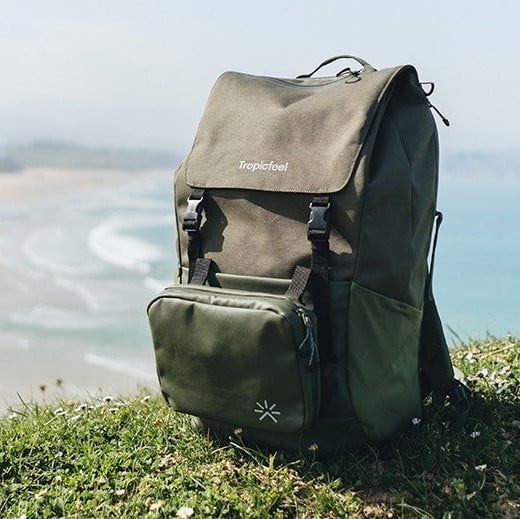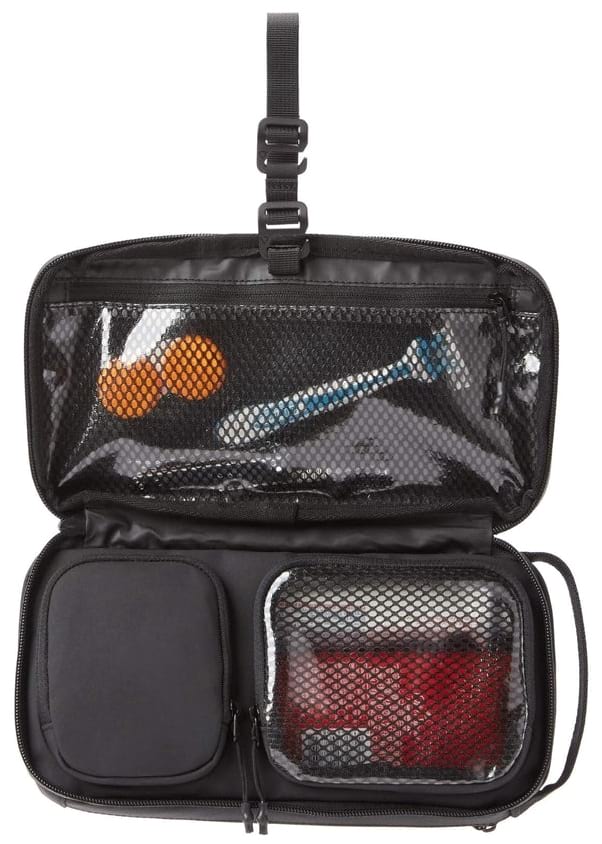 Toiletries and Hanging Toiletry Bag
Packing toiletries for travel is an absolute bore. What goes with you? What can you buy on the road? Ehhhh…
But just like magic, you have the ultimate toiletries packing list in your exquisitely-moisturised hands. Is there anything else you're missing though?
Yes, a hanging toiletry bag. Pockets, organisation, the ability to hang it anywhere it can hook on: it's a type-A's wet dream! Pick yourself up one of these and you'll never forget your toothbrush. That's a lie; the toothbrush always gets forgotten.
Backpacking Tent
Why the hell would I take a tent if I'm sleeping in a hostel?
Hold your horses; I have a mean hostel trick! Often (contingent on numerous variables), you'll be able to haggle yourself a better price at a hostel if you ask to pitch yourself a tent outside. Plus, sleeping outside by yourself is honestly infinitely more preferable to sleeping in a dorm with nine other peoples' sleep-gases.
You don't need an expensive tent either; for most climates, a budget backpacking tent is more than suitable. In fact, here's the top pick from our resident backpacking expert himself.
First Aid Kit
Yeah, so any half-baked hostel should definitely stock first aid supplies. However, a lot of fully-baked hostels still don't. It's also highly-contingent on where in the world you are.
The number of backpackers I've met that don't carry a first aid kit truly astounds. "I'm gonna go travel far-flung lands but not take any sort of medical supplies with me!"
Pack a bloody first aid kit for the hostel and any backpacking adventure of any sort. Don't be the dickhead that travelled 10,000 km across the globe without so much as a bandaid on-hand.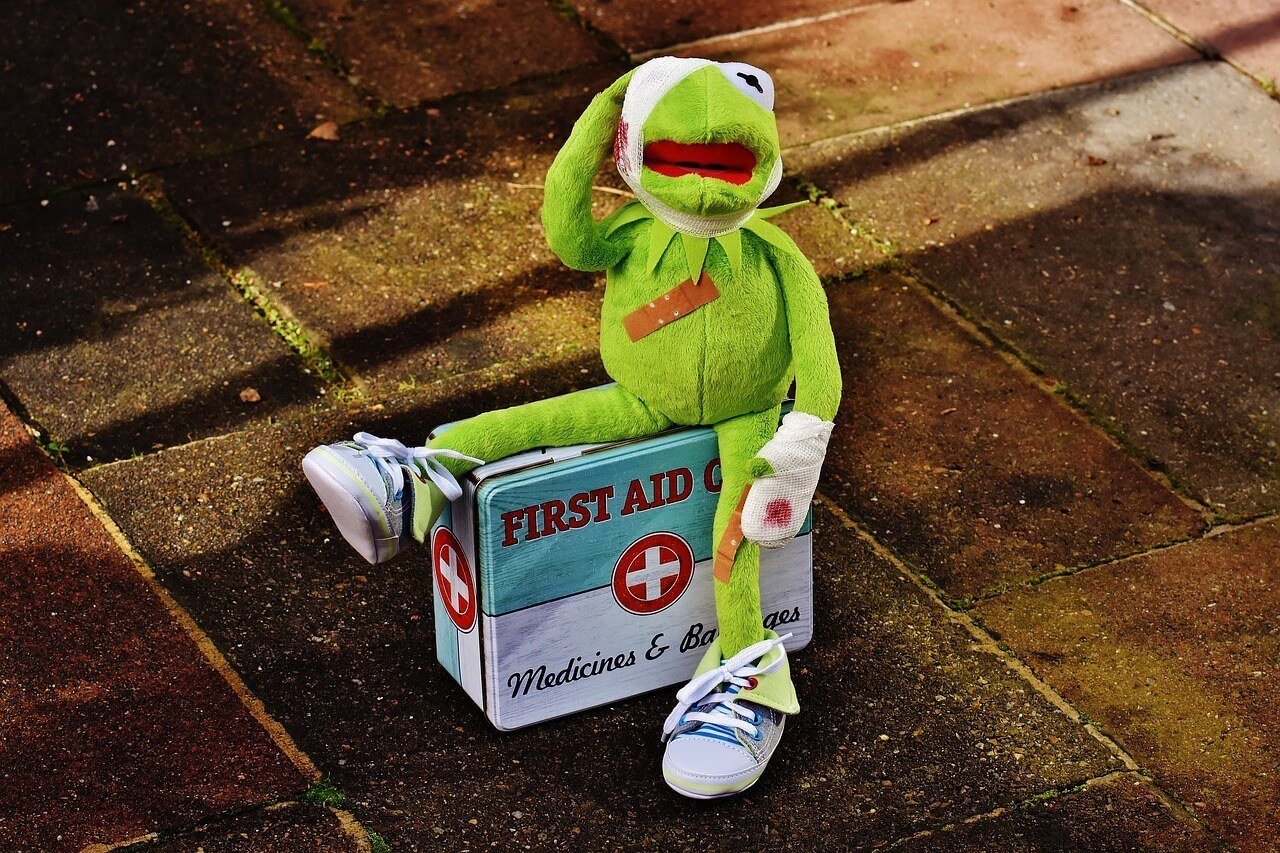 Mosquito Net
Yes, yes, a thousand times yes. It's not a necessary thing for travel in all climates but when it is, oh man, you'll be so glad you packed it.
Generally, hostels in climates that require a mosquito net tend to have them. They also tend to be shit and full of holes. That's where adding a mosquito net to your hostel packing list comes in handy.
Seriously, fuck mozzies.
Travel Water Bottle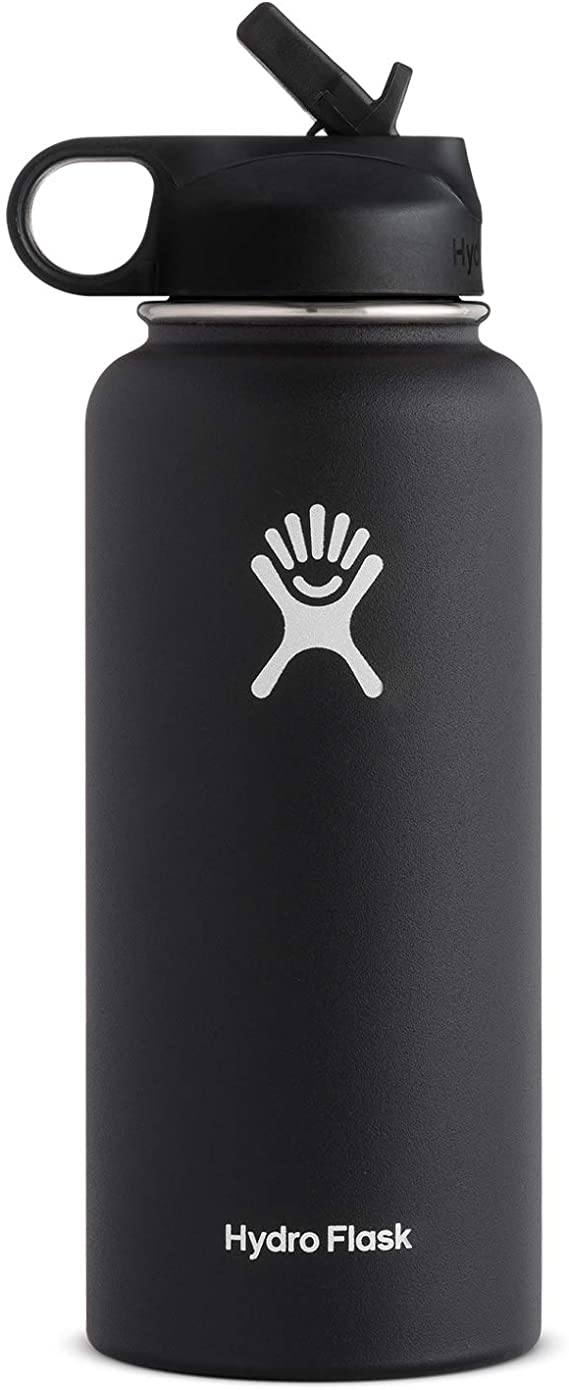 Say no to plastic! Plastic is dumb. Even dumber than mosquitoes.
Travel with a reusable water bottle and never buy another plastic bottle again. That makes you part of the solution.
Hell, Grayl Geopress water bottle is pretty bangin' and it's insulated too. Forget water; water is for losers! Fill dat shit up with steaming hot mead instead. The Vikings didn't use plastic.



Filtered Water Bottle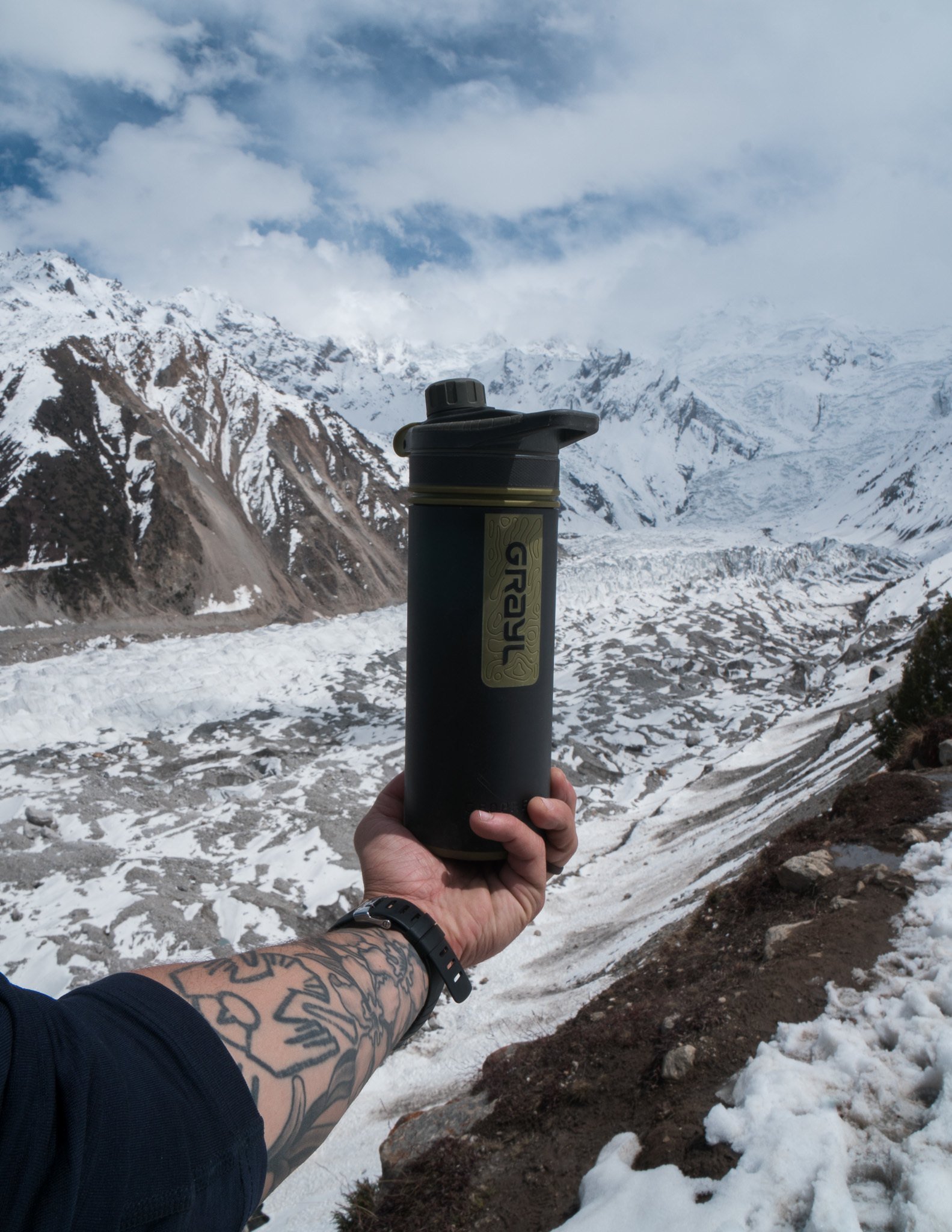 The ultimate backpacking travel essential not to overlook, particularly for backpacking in any country with hazardous drinking water. Seriously, between the money you'll save buying water and the plastic you'll avoid, a solid filtered water bottle is an absolute essential to bring to a hostel.
We always recommend the Grayl Geopress because it's the absolute badass premium choice. That aforementioned backpacking gear expert even reviewed it right here.
Money Belt
Ahh, money belts are so damn useful! They're a kickass way to keep your money safe not to mention you always know where your passport is. It's right there, silly!
I'm a fan of the ones with multiple pockets to maximise storage (again, condoms and weed). You've also got nifty and intuitive secret spy belts that will hide yo' cash real well. Either way, some sort of belt-themed pouch to keep your valuables close is a super necessary thing for a hostel stay.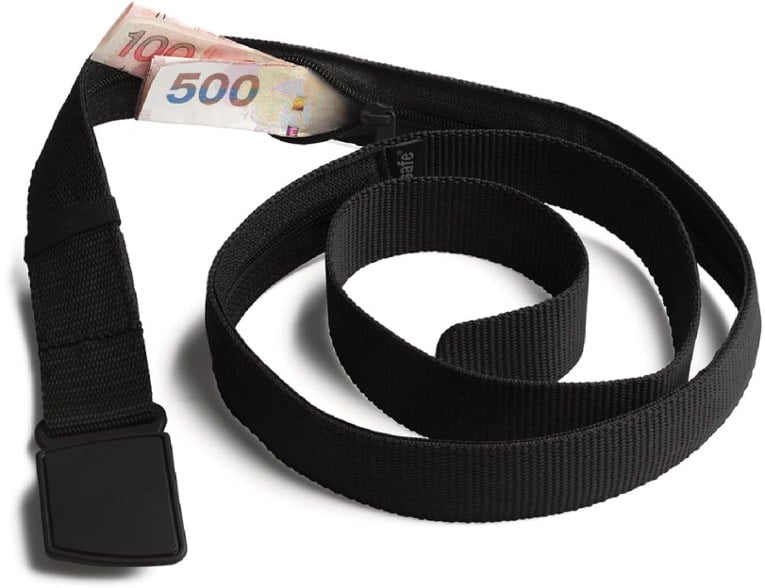 Sleeping Bag Liner
Much like the tent, there's a trick to packing this for a hostel. Hostels provide bedding – I'm yet to encounter one that didn't – and travel sheets for a hostel is just silly.
That said, sometimes the hostel bedding is dank and not in my favourite way. Also, sometimes it's just not enough and you'll be cold. In either case, a sleeping bag liner is supreme. Here's the liner I've been travelling with for years.
It's like a portable bed sheet but way more widely usable than just packing for hostels. Just, uhh, remember to wash it. Speaking from experience there.
Hammock
Yeah, ok, so at this point, you could probably just skip the hostel with this packing. You may as well just sleep outside at this point. Actually, backpacking hammocks are excellent for that!
But they're also excellent for smoking joints in, or chilling with buds (heh), or banging in! Maybe, probably not actually… I dunno, I've never tried.
Still, hammocks are always awesome and bringing one to the hostel just means that you're the awesome guy that brought the awesome hammock. Be awesome.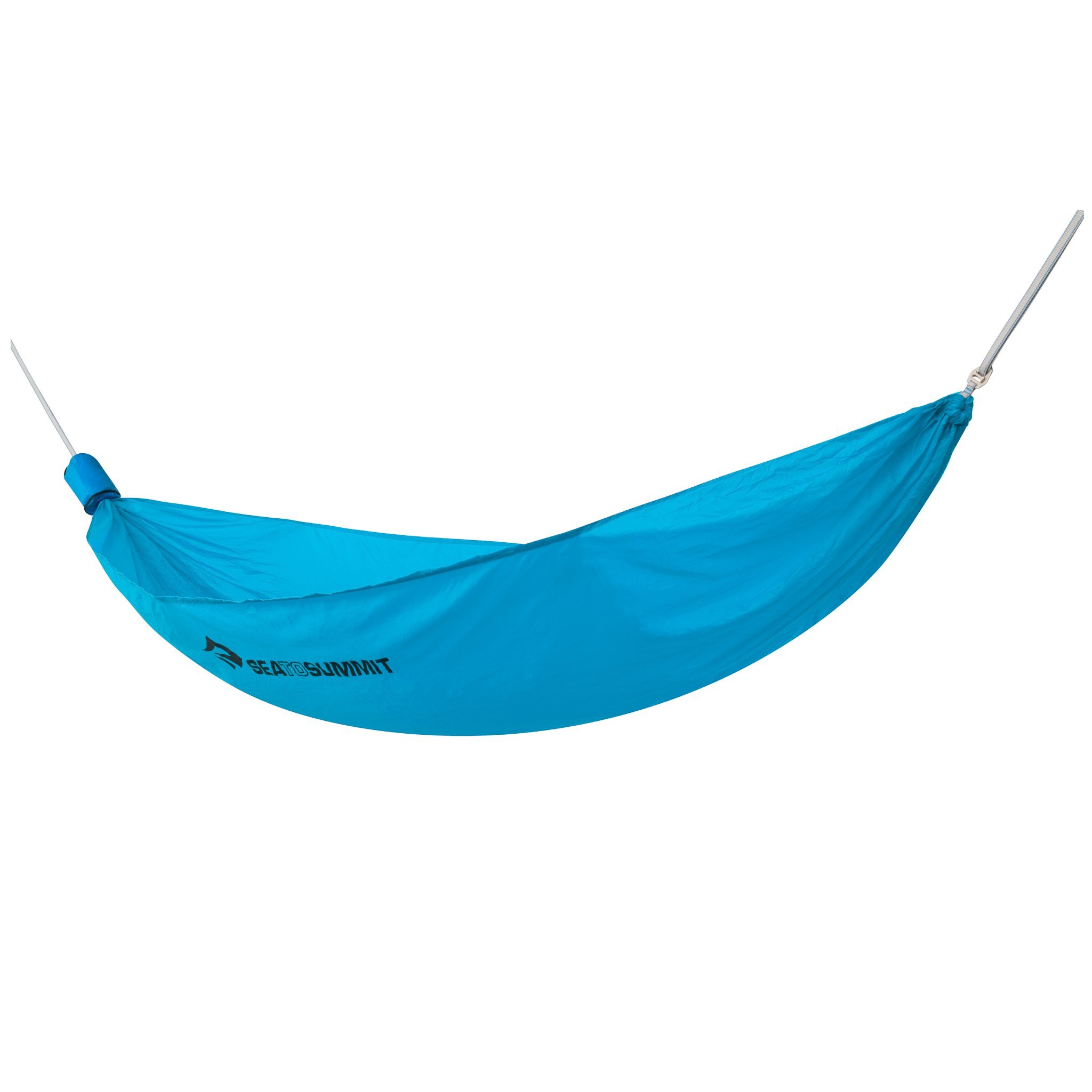 Our GREATEST Travel Secrets…
Pop your email here & get the original Broke Backpacker Bible for FREE.
Hostel Packing List Complete!
Yay, what a darling list! It's probably not the perfect hostel packing list specifically for you but that's half the fun! Take what works, grab a pen and paper, and write out your own.
All that said, the most important thing to remember to bring to a hostel is a good vibe. Generally, if you're down on your luck and have forgotten one of your essentials, someone at the hostel will be able to cover for you. That's what's great about hostels.
Everyone is a traveller. Everyone gets it. So remember to smile, share your joints and your slots, and keep an open heart to all the people you'll meet. So be a good hostel guest!
And don't forget the bloody toothbrush.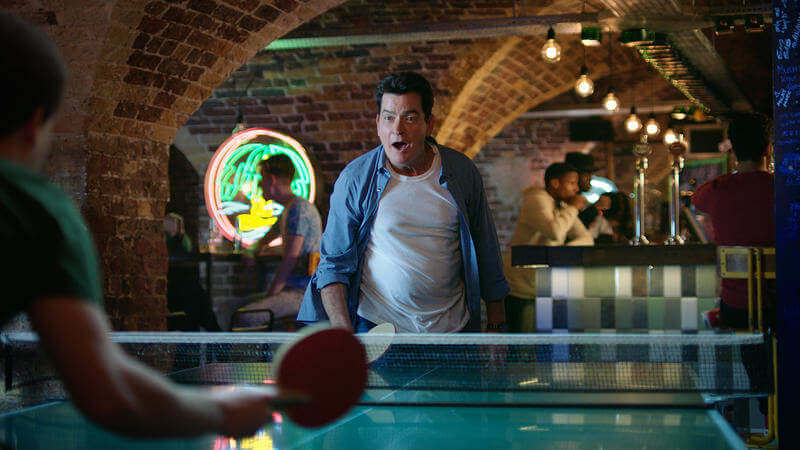 ---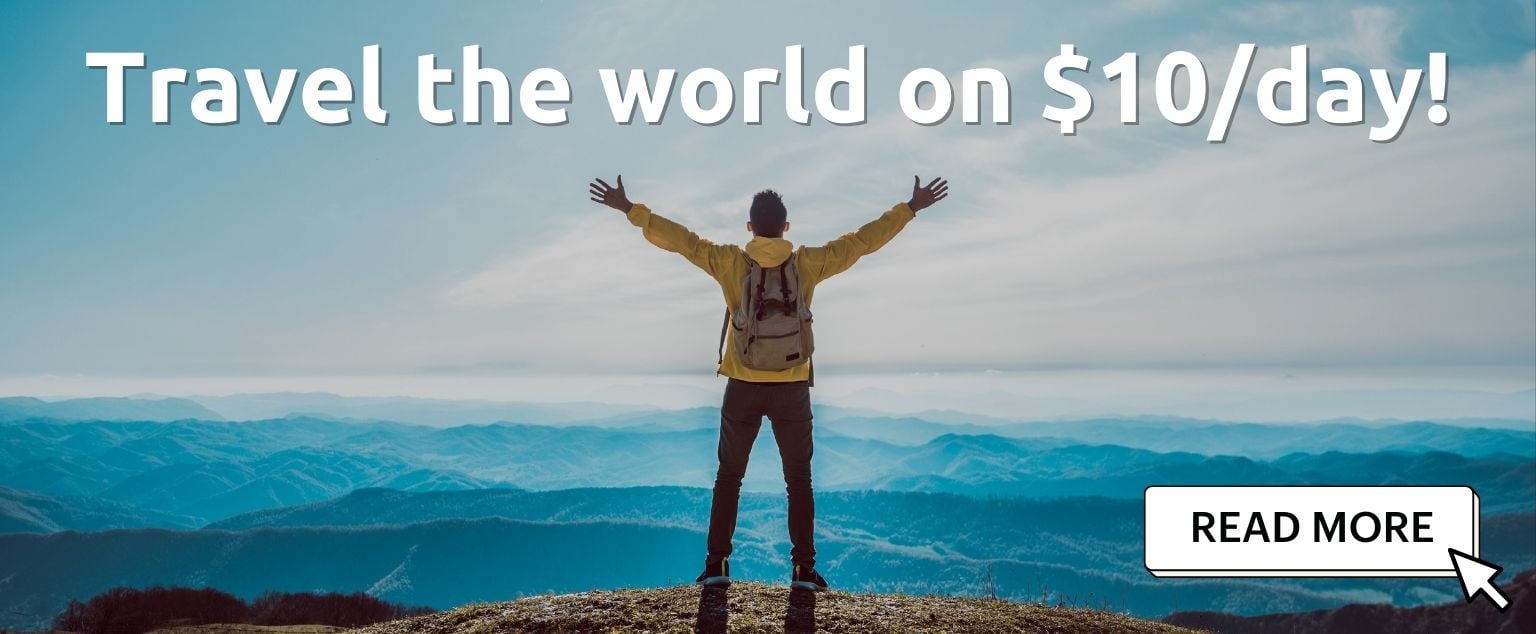 And for transparency's sake, please know that some of the links in our content are affiliate links. That means that if you book your accommodation, buy your gear, or sort your insurance through our link, we earn a small commission (at no extra cost to you). That said, we only link to the gear we trust and never recommend services we don't believe are up to scratch. Again, thank you!