This is my travel packing list for toiletries and essentials. It is an honest guide that covers all of the toiletries I use on a daily basis and bring on all of my trips.
Not too long ago, I was a young professional preparing for my very first backpacking trip. I scoured the internet in search of advice from nomads and wise travelers. I read quite a few backpacking packing lists, and I remember many of them advising their readers to pick up toiletries along the way.
Now, you could pick up toothpaste, deodorant, and other toiletry essentials on the road, but I rarely travel without my favorite toiletries already packed.
Why? Well, for one, it can be annoying to track things down. Backpacking is stressful as it is; when you're travel prepared, however, you can to streamline all of the difficulties. Plus, if you're pressed for time or don't feel like running errands on your short trip, the obvious solution is to pack what you already use every day.
Secondly, if you're like me and particular about certain brands – I try to avoid toxic products – then you should pack the travel toiletry essentials you already trust and approve of.
Thirdly, while the world IS changing, many feminine products are not as readily available around the world…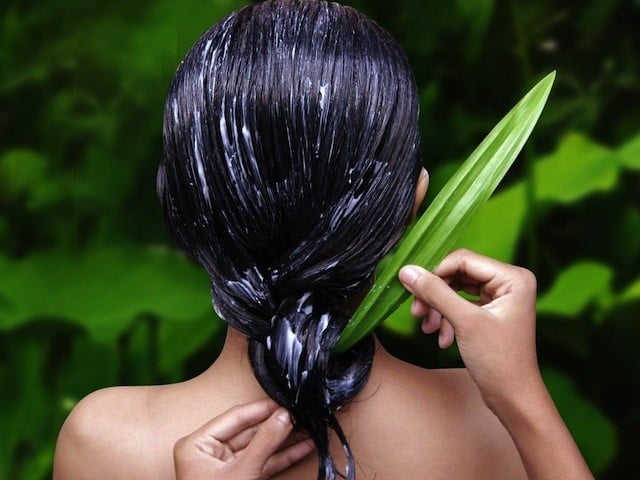 Don't stress about bringing every single toiletry item on your backpacking trip – I'd say that is a recipe for overpacking – but do plan accordingly and bring the essential toiletries you already use on a daily basis.
While this list is going to vary depending on your gender, hygiene maintenance, preference, and more, I've listed the most important travel-size items to add to your toiletries packing list.
At the end of the day, there is no magic one-size-fits-all list for the best toiletries for travel, but traveling with the essentials is key. As a woman, I'll be including many woman-specific toiletries, but I'm also not ignorant to the needs of men since I live with one, so I've got you boys covered too.
To satisfy both parties, I'll be listing gender-neutral travel toiletry essentials FIRST, and then have separate lists for the nice-to-have toiletries and more gender-specific toiletries.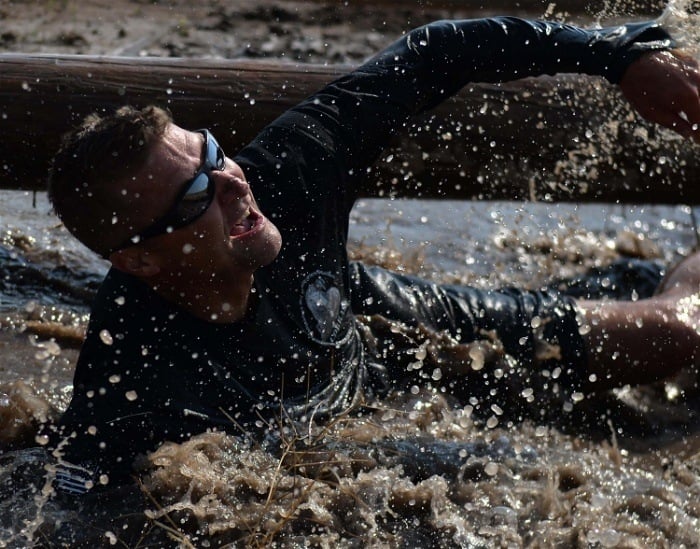 What are toiletries? (For the purpose of this packing list.)
Let's call them 'hygiene products'. Toiletries are anything used to maintain your hygiene: soap, toothpaste, hairbrush, nasal douche… (For the record, nasal douche is NOT on this toiletry packing list, but I just really wanted to say 'nasal douche'.)
Generally, as a rule of thumb, if they make you cleaner or prettier than it's a toiletry. The difference here is that this is a toiletry list primarily for backpackers. That means two things:
They need to be travel-size appropriate i.e. not too heavy, compact, and good for airport security.
Ideally, they need to be eco-friendly. Now, I know that doesn't matter to everyone but it's something we take seriously and we try to impart on the glorious globetrotting masses. Take care of Mother Nature: you only get one mom.
I feel that sums it up best. That's the general view of what is considered toiletries and what items you'll find on this packing list. Ready then? Let's get clean!
The BEST Travel Backpack?!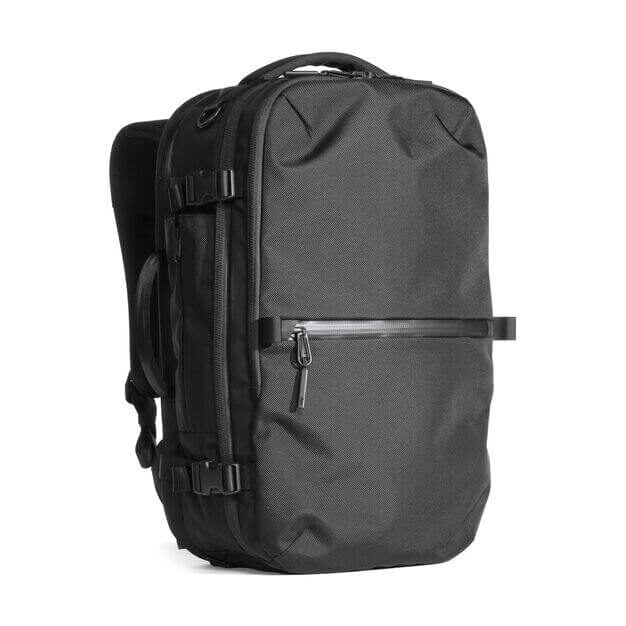 Pssssst! Not picked the perfect travel backpack yet? The Broke Backpacker team has tried out over thirty backpacks this year! Our favourite travel backpack is the Aer Travel Pack 2.
View on AER
Travel-Size Toiletries Packing List – The Essentials
Toiletries can be heavy and take up a ton of space. It's important to try to eliminate anything you won't be using daily. Fortunately, there are plenty of affordable, lightweight alternative toiletries designed for travel.
Below, I have listed the essential toiletries everyone should bring on their trip. Don't forget these when you're crafting your own personal toiletries packing list!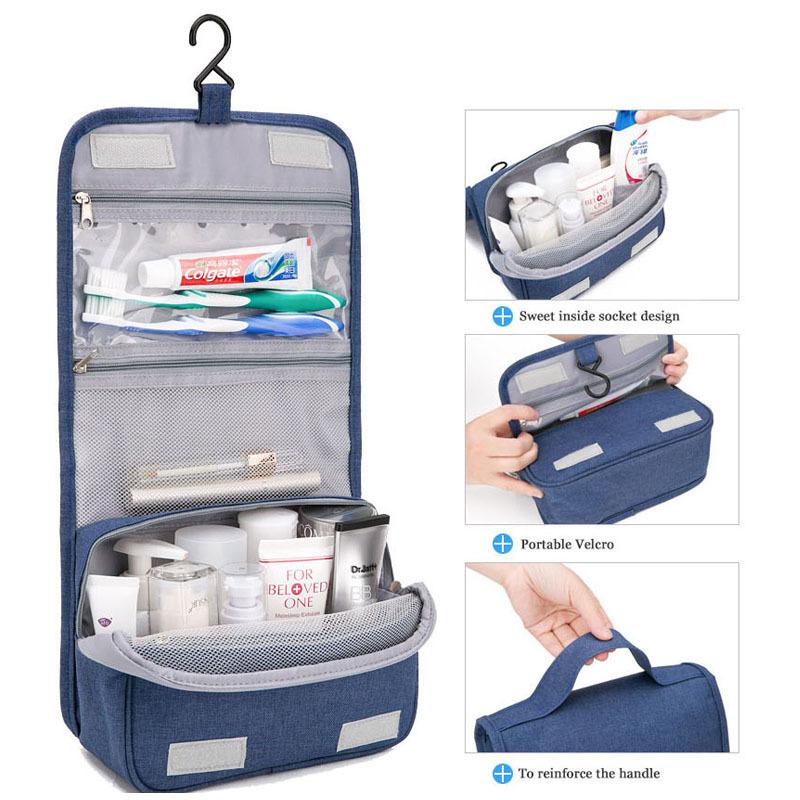 You'll want a waterproof toiletry bag to keep your toiletries organized! There are SO many styles and types of bags these days… it's pretty crazy. But it is a must-have organization accessory. Look for a water-resistant bag that can stand on its own but also hang from your dorm bed or shower!
Keep all your travel toiletries tidy and organized to make your daily life easier! We love Active Roots travel toiletry bag, so check them out. Active Roots donates a portion of each sale to one of several environmentally-friendly organizations that they work with. It's nice to know your purchase is going to a good cause 🙂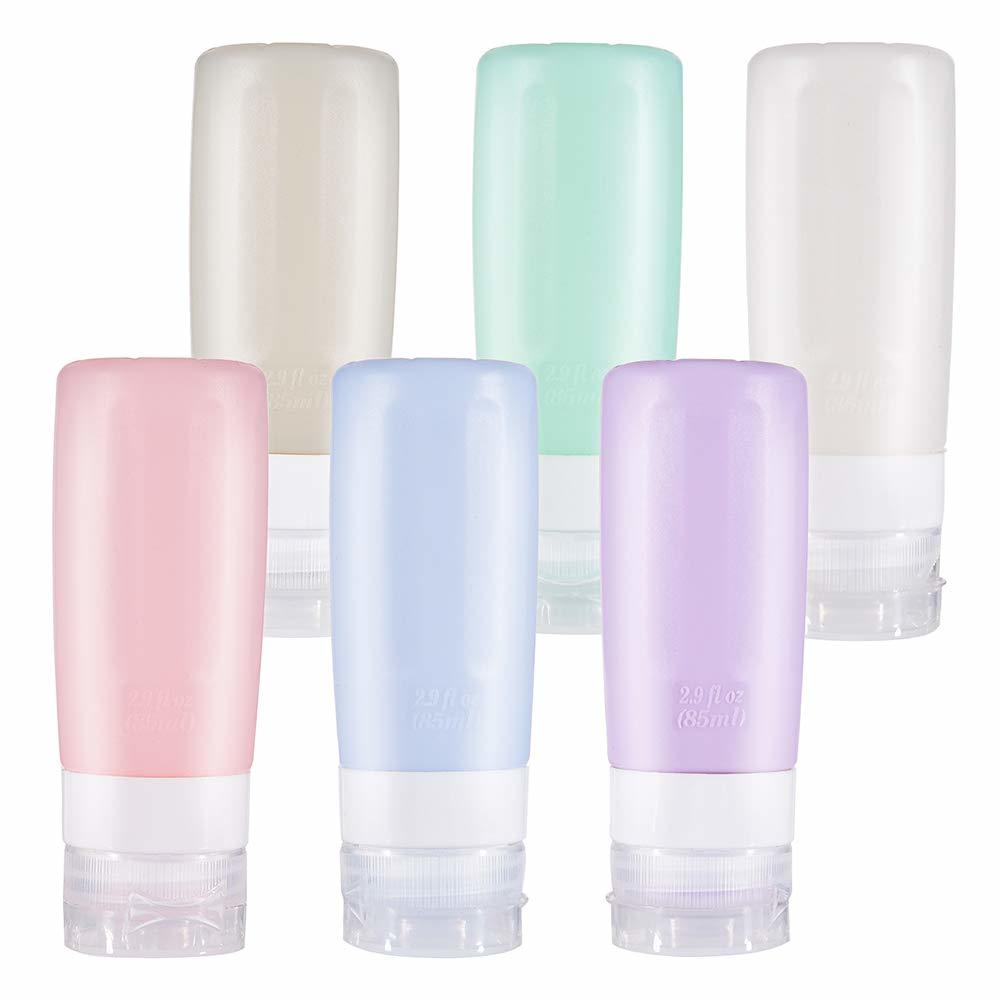 I suggest carrying your travel toiletries in your carry-on luggage for a couple of reasons. One, you may want to freshen up mid-flight or after you land. Two, exploding shampoo bottles tend to be a regular occurrence in check-in luggage.
For this reason, you're going to want to invest in a few reusable travel-sized bottles. Buying one-time use travel-sized toiletries is a low-key waste of money and a waste of plastic.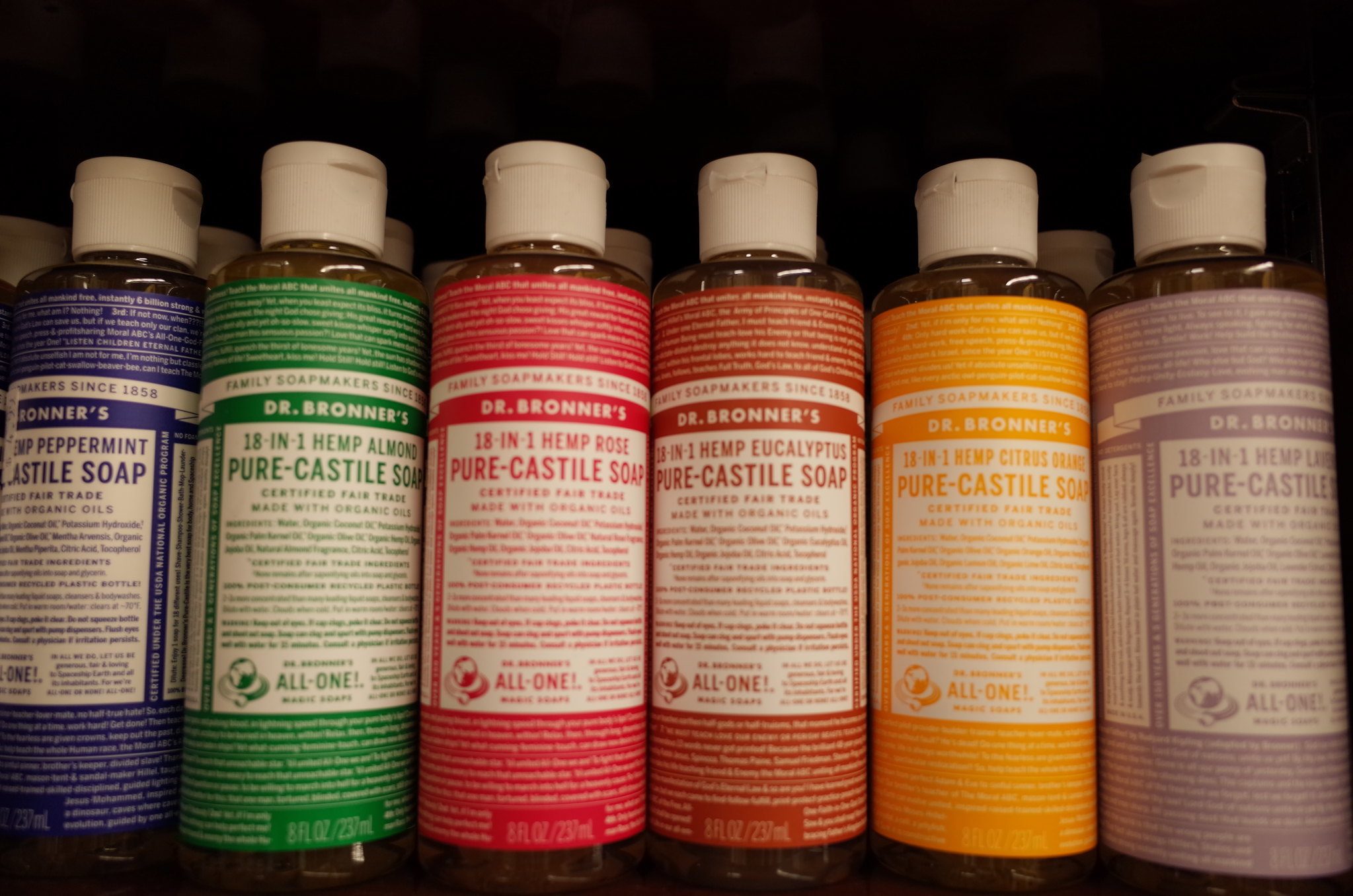 I never travel without Dr. Bronner's. If I am checking in my luggage I make sure to bring a good-sized bottle because it can be used as non-toxic laundry detergent and dish soap too! Dudes, you can even use it as your shampoo as my boyfriend does.
Dr. Bronner's is a godsend company doing good in this world. Their products are entirely bio-degradable, and their soaps smell and feel amazing! No more having to travel with multiple types of soaps or buying expensive ones on the road. Just use this all-in-one soap and go minimal.
You can also get their soap bar. I love traveling with bars because you don't have to deal with liquid restrictions, and they last way longer for backpacking trips! You can still use the soap bar for those days you do your laundry at the hotel room.
Shampoo (+ Conditioner)
If you're traveling for a few months, then I highly recommend a shampoo and conditioner bar! They last 3+ months and take up way less space. Plus, you don't have to worry about liquid restrictions. If you go this route, invest in a soap bar container too.
ALWAYS use a toothbrush cover to protect your toothbrush.
Toothpaste can be slightly annoying to pack as carry-on regulations are strict. You may have to get paste in a 3.5 oz bottle, though many times I've been able to carry-on my half-used paste.
Another suggestion is to try out "Unpaste Zero Waste" toothpaste! I haven't used these tablets yet (because I just discovered them), but they sound like another solution to long-term travel + less plastic waste. A win-win and perfect for toiletries packing!
While not a toiletry essential, a small roll of floss and heck, even a tongue scraper fall onto this list since they barely weigh a thing.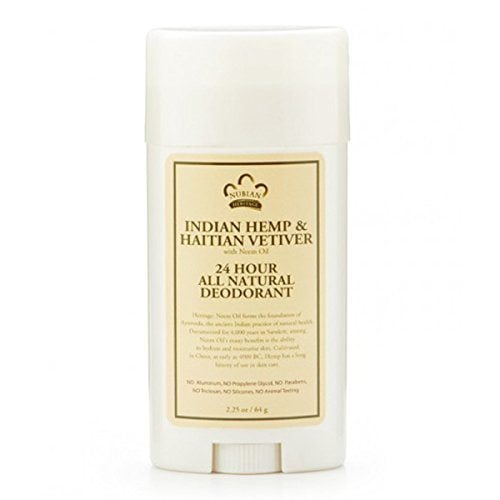 You'll want to go for the solid kind rather than the spray to avoid those liquid restrictions and spills! Generally, you never have to worry about running out, which your new friends will thank you for.
In a nutshell, microfiber travel towels were created for backpackers and travelers. I typically travel with a large towel for drying off after a shower and a smaller face towel.
You can get the Active Roots Travel Towel set for an affordable price. They pack up tightly and only weigh a few ounces! I dig Active Roots because their towels come up with snap loops for drying and mesh carrying bags. Active Roots offer a 100% lifetime guarantee so if you're not happy with the product, you can send it back for a full refund.
If all of the specs weren't cool enough, your purchase helps support a Great Cause: A portion of each microfiber towel sale is donated to the Elephant Conservation Center in Laos, who are dedicated to protecting and rehabilitating the endangered Asian elephant population.
Seriously, microfibre towels are the absolute best and, Active Roots or not, they should never escape your toiletries packing list.
Facial Cleanser and Moisturizer
Having a facial cleanser and moisturizer is KEY, especially to refreshen after long layovers and flights. Don't bother bringing your entire bathroom routine. Leave the toners, serums, and fancy kits behind as they take up way too much weight and space in your bag.
While I'm not a germaphobe or crazy about it at home, hand sanitizer easily makes the list of necessary toiletries. There will be plenty of times you'll come across soapless bathrooms, or less-than-hygienic bus and train stops. Trust me on this one.
I love Dr. Bronner's non-toxic spray. (The lavender also smells delightful.)
If you're going to be spending hours and hours in the sun, then you're going to need protection. While I'm a fan of high-tech modern inventions, such as the hat, long sleeve shirt, and shade, I always bring sunblock in my toiletry bag.
Bear in mind, places like Hawaii, Key West, Florida, and Palau are banning many sunscreen brands because they harm and bleach coral reef and aquatic life.
Furthermore, there is a lot of research on endocrine disruptors and carcinogens found in sunscreen… YIKES! Generally, a Non-Nano Zinc Oxide is perfectly safe, effective, and doesn't harm aquatic reefs, which is why I'm recommending Raw Elements.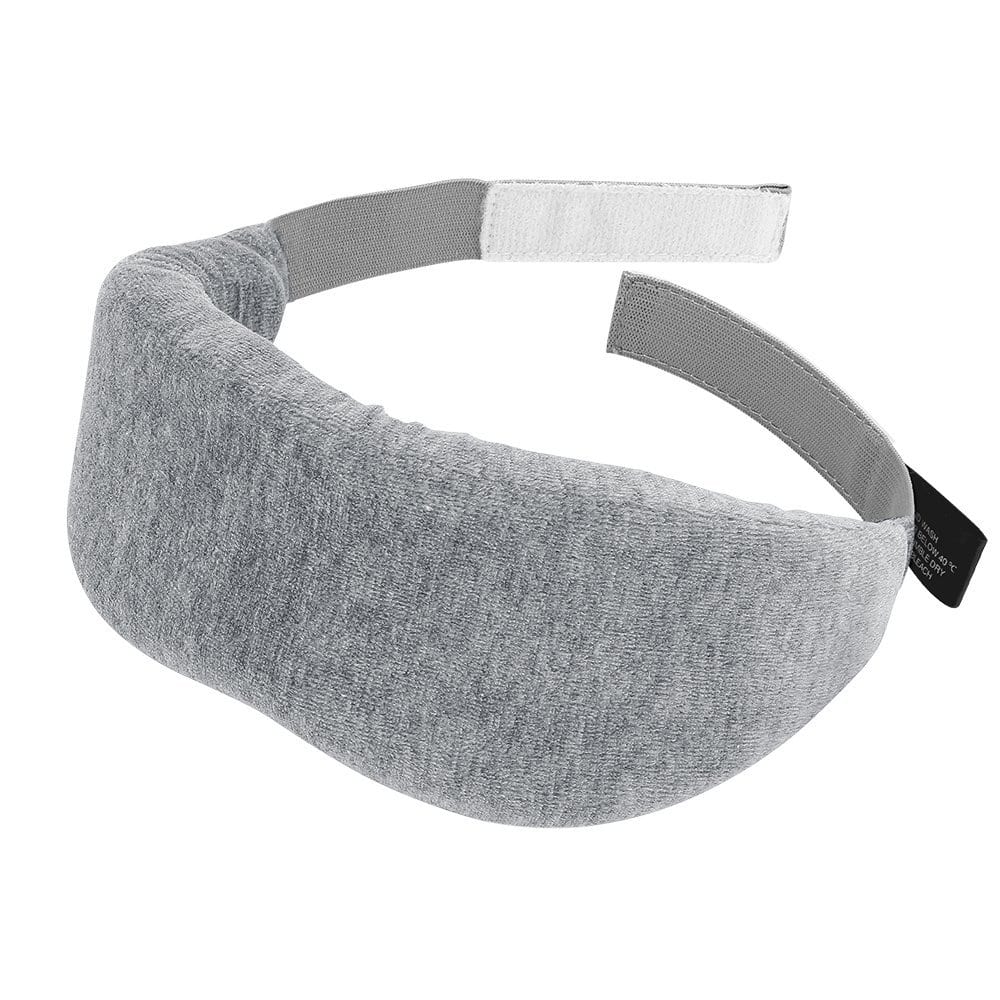 I always add a few extra pairs of earplugs and my favorite eye mask to my toiletry list for a vacation. You'll use earplugs and your eye mask in noisy hostels, on flights, bus rides, getting shut-eye in cities, etc. I never leave home without them.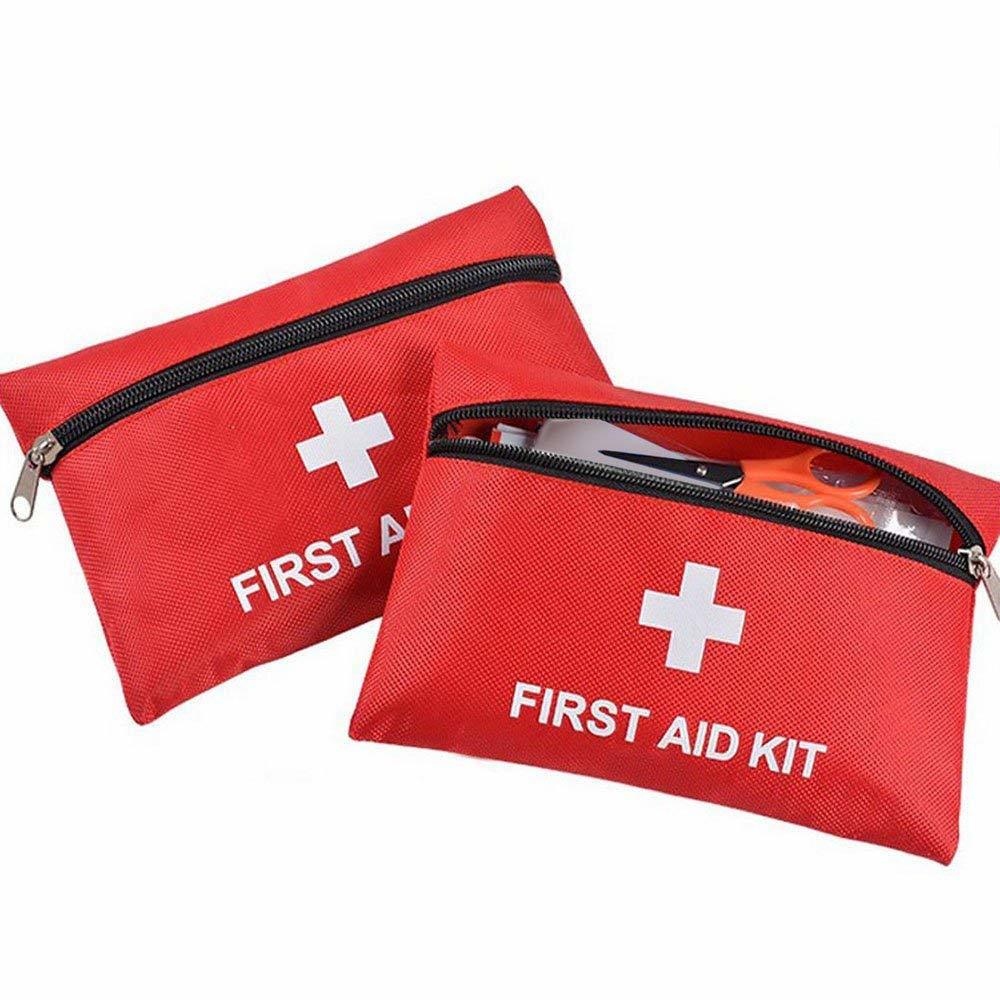 You need to check each country's rules and regulations for traveling with medication. CBD might be federally legal in the US, but you would NOT want to end up in an Indonesian jail cell because of it. Get all the necessary Doctor notes and prescription refills you may need too!
Also, having a small first-aid kit is necessary for travel! You may only need to bring tape (an absolute necessity), moleskin if you're hiking, a couple of gauze pads, alcohol wipes, a few band-aids, and Neosporin. It's always better to be safe than sorry!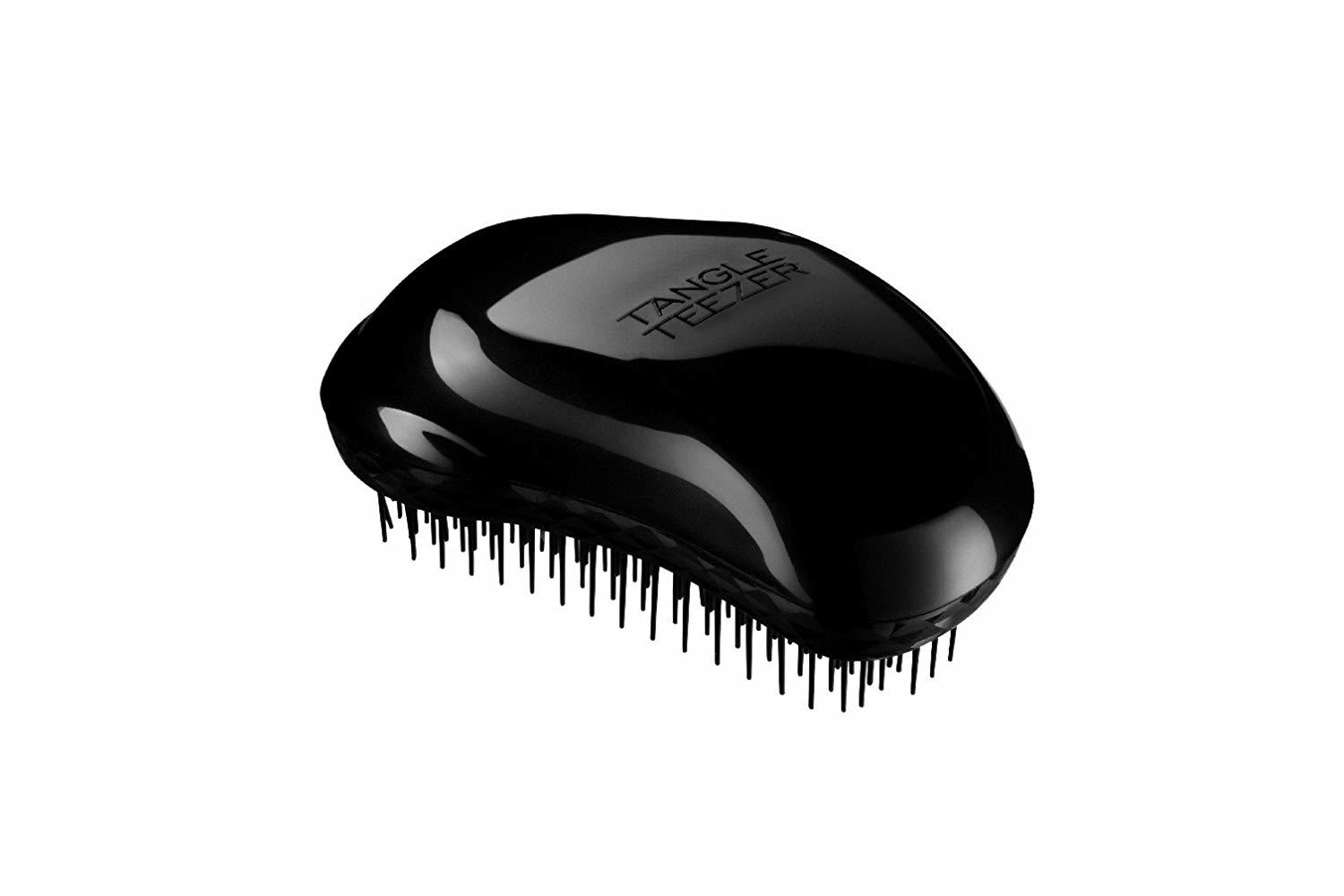 If you have long hair, then this is probably a necessity for you. Consider grabbing a Tangle Teezer if you're hair is manageable because they are so tiny. Remember, small and lightweight is the key!
Although not a necessary toiletry for all travelers (you may wax or just let it all hang out), for many, this is still essential toiletry packing for any trip. Grab some high-quality razors that'll last several weeks while you travel. Or better yet, get a reusable razor like the Weishi for the closest shave you'll ever get from a hand razor.
While you can find razors pretty much anywhere in the world, picking up disposable razors can be annoying.
Other Nice-to-have Toiletries
Moving along to the next section; this part of the toiletries packing list aren't strictly necessary items but they are creature comforts. Sometimes, when you're on the road, all you need is your baby blanket!
Uhh, I mean favorite nail clippers.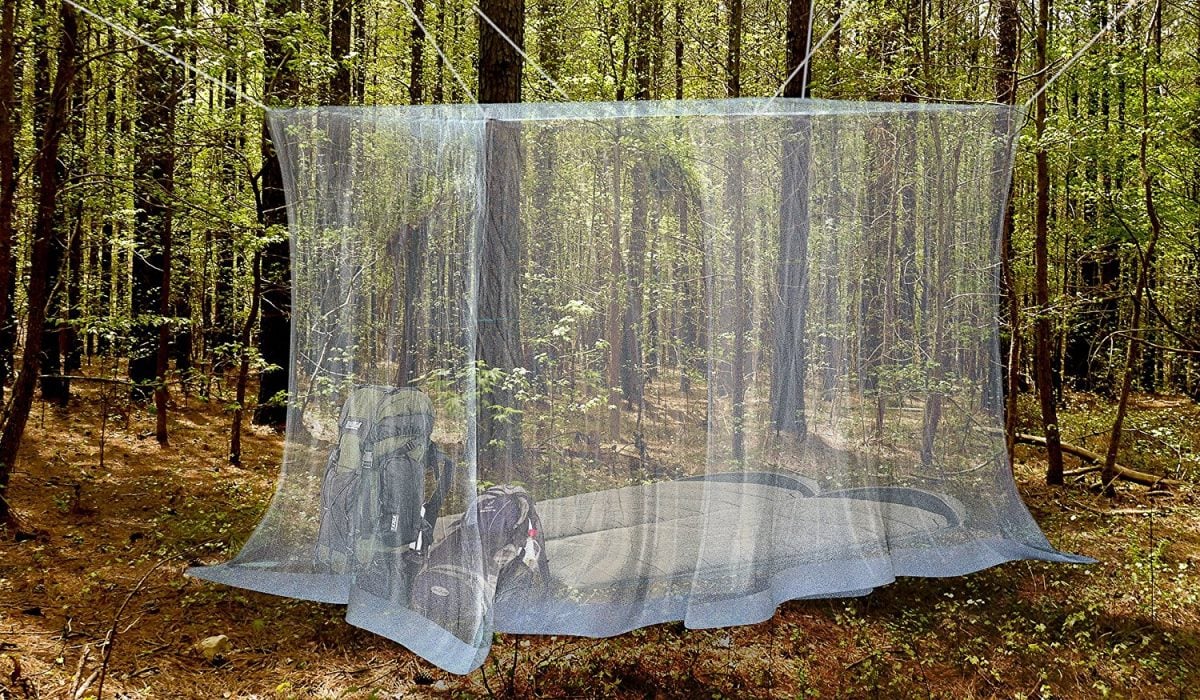 This may be considered part of your first-aid kit, but since you put it on your skin, I'm including it in the toiletries list! Depending on where you are visiting, you are going to NEED repellent. Don't forget to get a travel-size bottle for your carry-on!
Another multi-purpose item! And don't worry – these are fine to carry in your carry-on.
Some people can't live without chapstick, so this might be essential for you. If you're going anywhere with extreme cold or hot weather, then it's good to have.
Not a necessity, but it's nice to have several and they don't take up much space. I'm a fan of the tea tree oil and mint ones.
Q-Tips
Same explanation as above: not a necessity, but it is easy to pack a few and they don't take up much space.
Roll of Toilet Paper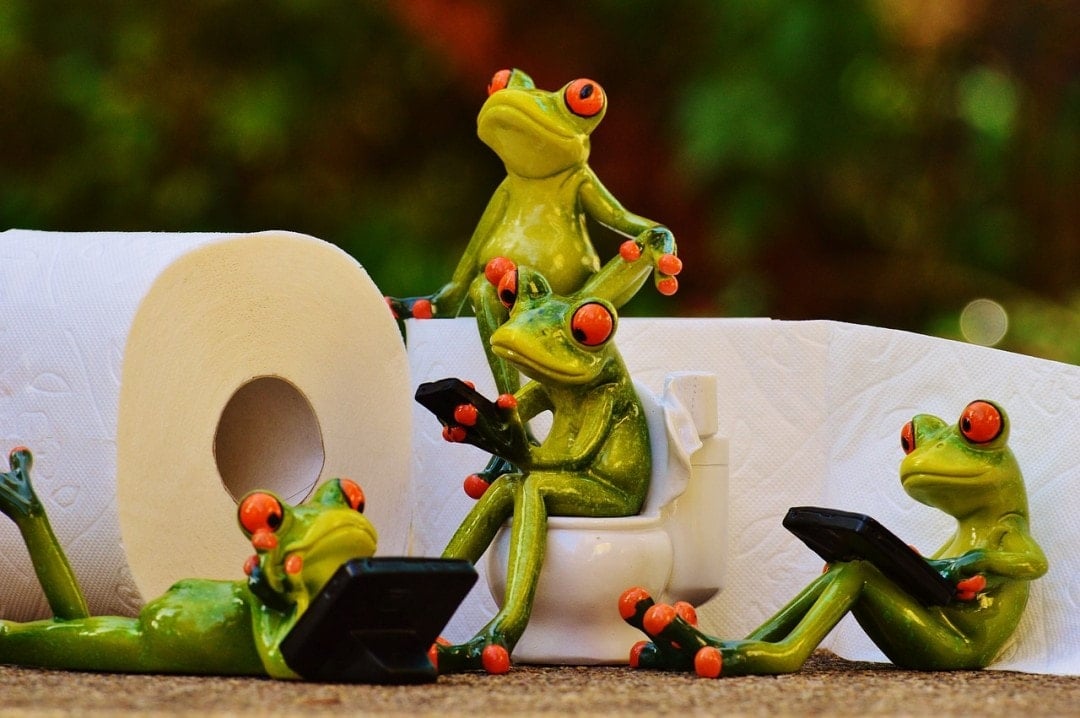 Carrying toilet paper is a necessity if you're backpacking… less so if you're only staying in hotels. If you are traveling in places like Pakistan, Southeast Asia, and so on, you will come across bathrooms without TP. Pull out the cardboard roll if you want to save space.
TP is also great to have on hand to clean a quick spill, blow your nose, or for getting a campfire started. Tissue paper is obviously more plush and fancy.
Contacts and Prescription Glasses
If you need 'em, don't leave them at home! That being said, daily contacts can take up a lot of space if you're traveling for more than a month! I don't like using monthly due to hygiene, so if I'm traveling for a long time, I just pick up contacts every couple of months with my prescription on hand.
Health Supplements
There are a few supplements I choose to travel with that help me on the road to keep my immune system in check! Vitamin supplements are also awesome toiletries packing for countries where you may be eating a more meagrely spread diet then you're used to, however, generally in sountries like that, buying supplements can be super cheap.
Want to save the world?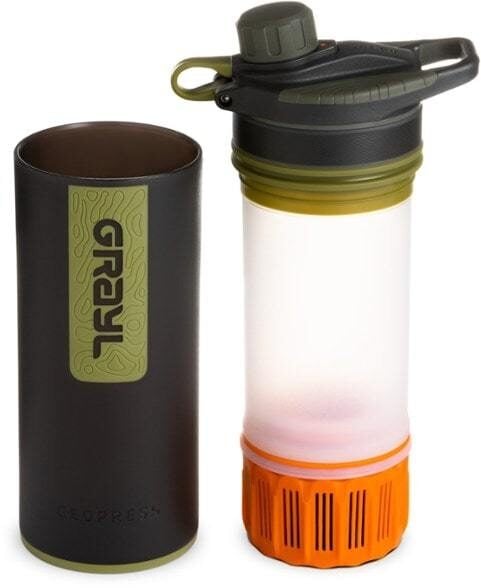 Single-use plastic bottles are a huge threat to Marine Life – Be a part of the solution and travel with a filter water bottle.
The GRAYL GEOPRESS water bottle is the ONLY all-in-one filter water bottle setup you'll need. Whether you need to purify the water from a hostel sink in Kathmandu or a stream trickle in the Andes, the Geopress has got you covered.
Read our full review of the GRAYL GEOPRESS!
Women Specific Toiletries Packing List
For the ladies and the men packing for their ladies, this is the list of toiletries you'll either definitely need (see below) or at least want to consider.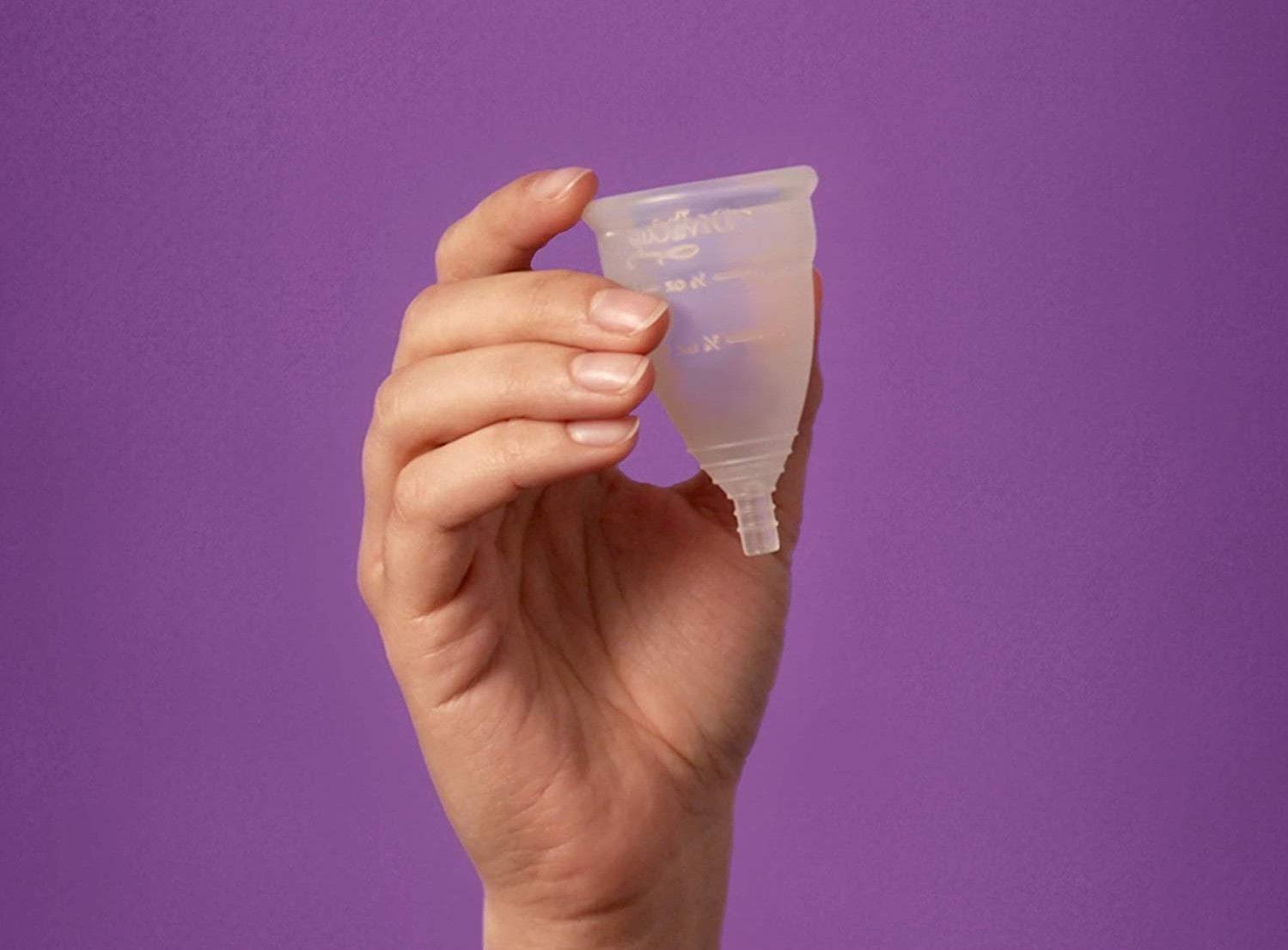 Stock up on your feminine care products before your trip because they can be hard to find in some countries.
Consider a Menstrual Cup. I used to travel with tampons because they are pretty difficult to track down in certain countries. I finally made the switch to the Diva cup a few years ago and never looked back. It's WAY better for the environment and they take up way less space!
Make-up
Honestly, my cosmetic bag has shrunk significantly over the years. If you're on a long backpacking trip, I can guarantee you'll stop wearing most of your make up.
When you're traveling in humid countries, lounging on the beach, hiking in the mountains, or taking overnight buses, the last thing on your mind is blending your foundation.
That said, it's nice to dress up once and a while, so feel free to add your go-to mascara and blush to your list of toiletries. Just remember that it will be difficult to replace your favorite brands on the road. It's the perfect excuse to give your skin a break and go au natural.
But if you do bring make-up you have even more toiletries to pack. My life changed when I realized I started to use carrier oils (like argan and coconut oil to remove my make-up.) Now, I just carry a couple of bamboo make-up remover pads (less waste, better for the environment), and use whatever oils I have on hand.
Extra Hair Ties
I guess this one goes out to you long-haired men too.
Tips for Packing Less & Better
I tried to keep this list short and sweet. The toiletry essentials should cover most people's bases, and then from there, you can add a few things depending on your type and length of the trip.
As someone who has packed for more trips than I can count, I am so happy that my toiletry bag has shrunk over the years. Toiletry packing truly takes up so much space and weight, and then you rarely end up using half of them when you're on the go-go-go.
Here are my top tips for packing less!
Go through your daily routine and make note of each thing you use. Pack nothing else.
Always choose multi-purpose items. Dr. Bronner's is a great example of this.
Girls, ditch the make-up and straighteners. I promise you won't use any of these things (unless you are on a business trip or weekend out on the town).
Invest in a versatile toiletry bag to keep your things organized. If it doesn't fit in this, it doesn't come on your trip!
Use liquid containers for carry-on but also checked bags to save space and weight
Choose solid over liquid whenever possible. This includes soap and deodorant.
Plan accordingly!
What NOT to take in your toiletry bag
Unsealed Liquids
Bottles larger than 3.5 oz in your carry-on
Anything you don't plan to use every day.
Need some extra energy?
One of the best investments you can make is a worldwide travel adapter that will work anywhere! The one featured here is tough, reliable and a solid buy – Don't leave home without one.
Buy your travel adapter on Amazon now.
Final Thoughts on my Travel Toiletries Packing List
I have covered all of the essentials you should include on your toiletries packing list and then some!
My main advice remains this: take a hard look at your daily routine and bring ONLY those items.
Furthermore, bring your favorite essentials with you, for the most part. Many areas may offer convenience and cheaper local prices where you can buy things on arrival. On the other hand, many destinations won't carry your favorite brands, or pricing can be far higher.
For example, buying that sunscreen you forgot in an airport or a small island store will be more expensive!
Do a little bit of research before you go – which you're doing right now (yay for you) – and pack your travel-size toiletry essentials in your toiletry bag. Heed my advice and you're well on your way to traveling efficiently and comfortably!
Oh and one last tip for any toiletries packing list: write that sucker down!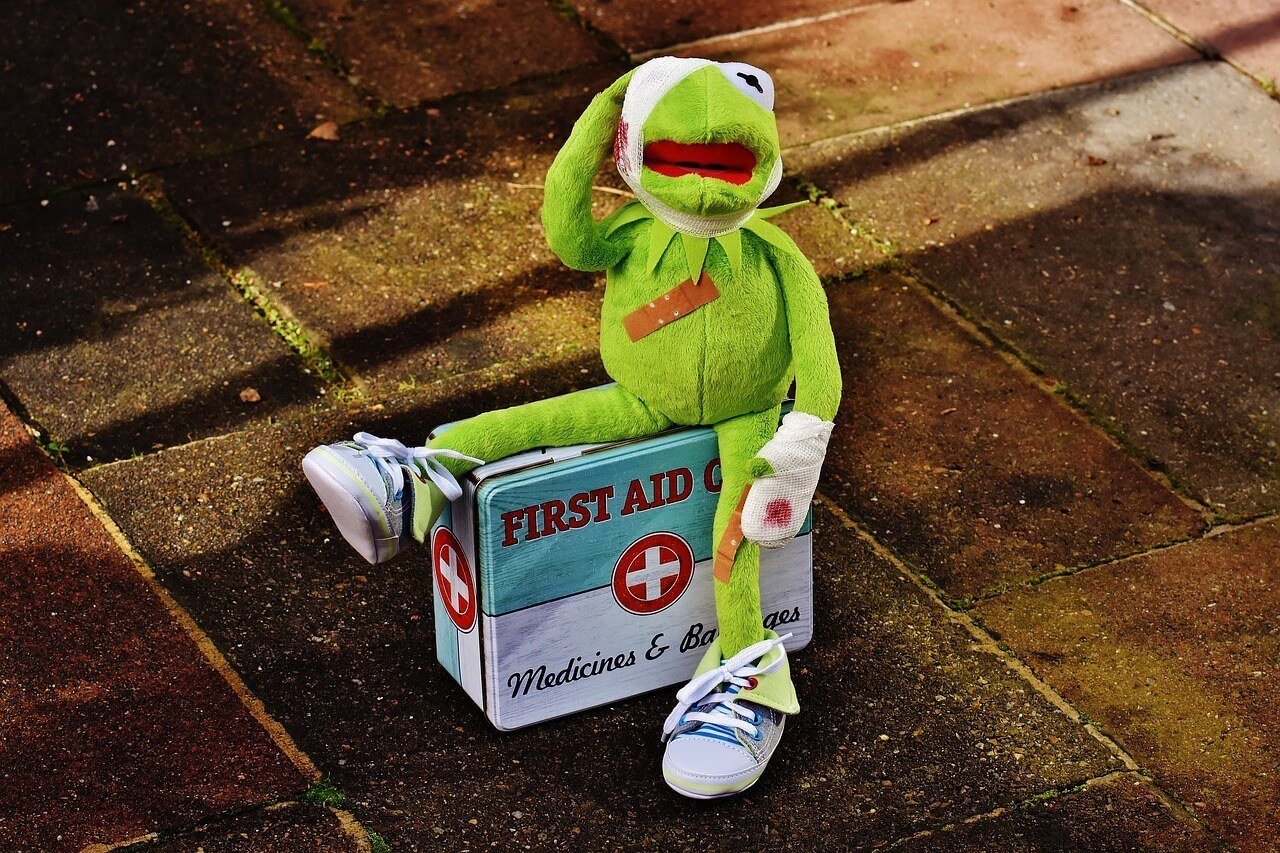 "Find out how YOU can support the site. We work hard to put out the best backpacker resources on the web, for free! It's all about helping out our tribe of awesome backpacker readers [that's you!]. Please visit the link to find out how you can help keep the site going 🙂
For the sake of transparency, some of the links in our content are affiliate links. This means that if you book your accommodation, buy a book or sort your insurance, we earn a small commission at no extra cost to you. I only link to stuff I've actually used and never endorse products or services that are not up to scratch. Thanks for your support.