Take it from someone who has partied and traveled around the world – Europe has far and away the best party hostels on the planet. It's not even a competition.
But there are tons of hostel-options, and while a hostel might party hard, it doesn't mean it's a great hostel. Unfortunately, a lot of party hostels spend too much time partying and not enough time cleaning their facilities or changing their bed sheets.
Which is exactly why I made this list of the best party hostels in Europe.
These are the coolest party hostels in all of Europe, and to top it off, these hostels are well-maintained and well-reviewed. With the help of this list, you'll know exactly where to get your delicious dose of debauchery while traveling in Europe, all while traveling in style and comfort.

Do You Want to Travel FOREVER??
Pop your email in below to get a FREE copy of 'How to Travel the World on $10 a Day!'.
Quick Answer: The Best Party Hostels in Europe
The 27 Best Party Hostels in Europe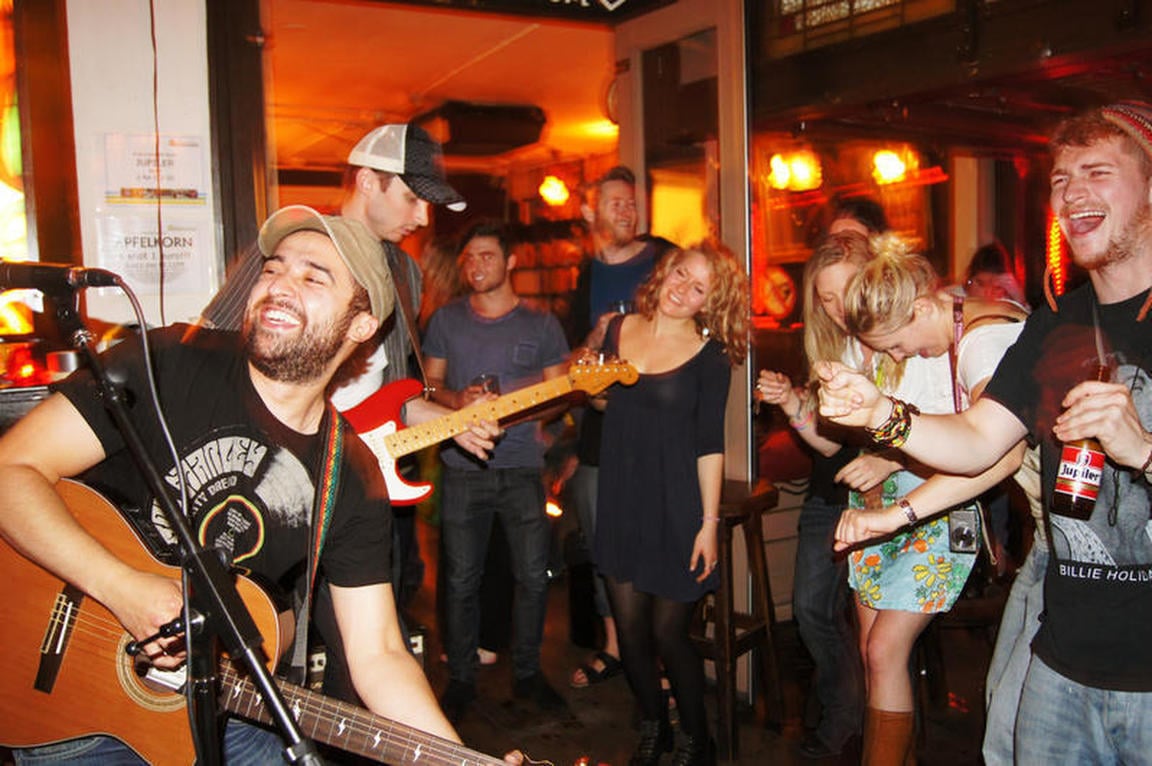 $$
Outdoor Terrace
DJ Nights
Bar/Cafe
Spend your nights in Amsterdam partying and socialising in the centre of the city. Of course, a Hostel called Flying Pig would be THE place to party (and also to sleep), in Amsterdam. This place is chill central in the daytime, there's plenty of space to kick back, relax and meet new mates. As the nighttime antics start to kick off, the vibe turns up a gear. Twice weekly DJs play and don't stop 'till the early hours: the bar's open until 4am and the drinks are pretty cheap too. Flying Pig is massive: hundreds of beds mean plenty of room for everyone. Chill out and watch a movie in the TV room, play a game of pool and maybe, if you fancy it, see some of the city sights – all nearby.
Is This the Best Backpack EVER???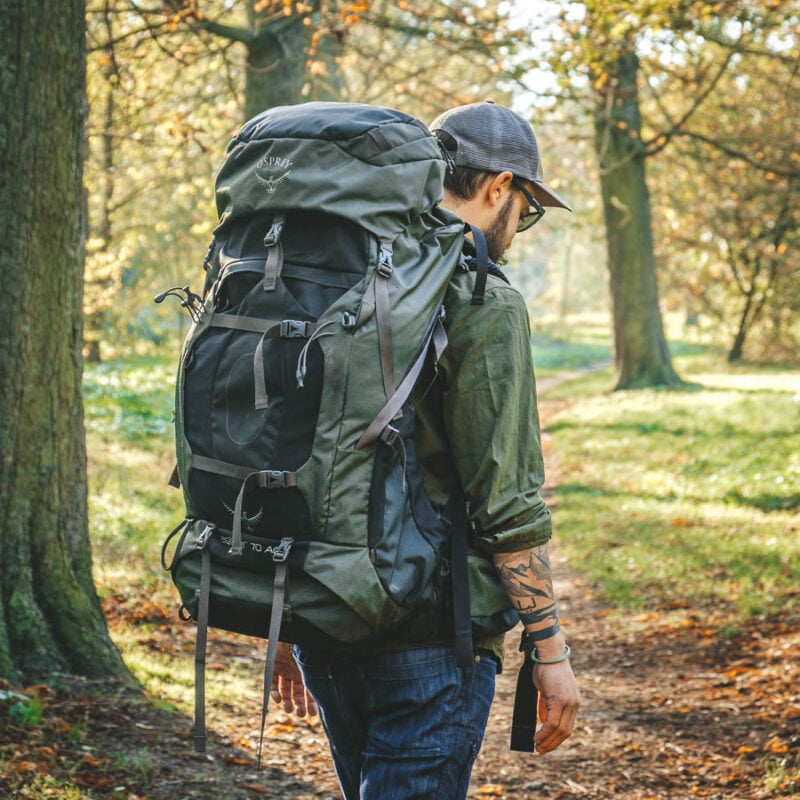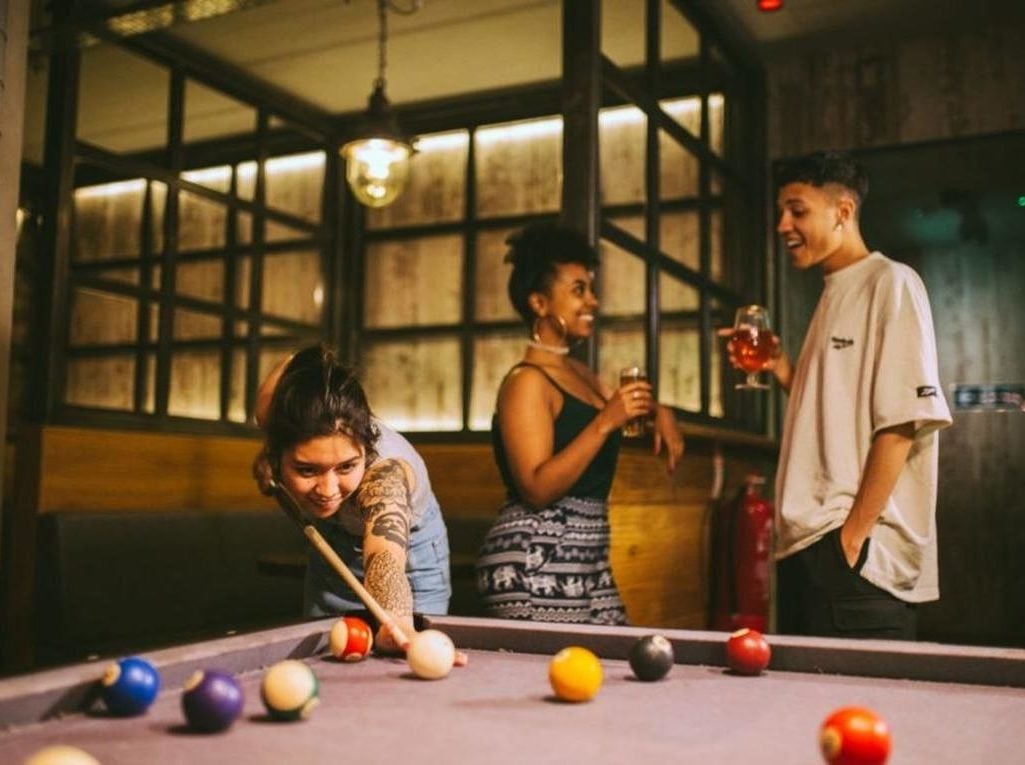 $$$
Games Room
Nightclub
Restaurant/Bar
London is one of the best cities in the world when it comes to drinking, partying and having late night adventures. This is a city packed with pubs and a drinking culture that goes back literally hundreds of years. Generator Hostel P much takes that drinking culture and ramps it up 100%. The hostel has its very own nightclub (for real), trendy bar and has cool decor like massive London buses attached to the walls and stuff. Not to mention that it's right next to Russell Square, so the best of London's famous nightlife is all there for the taking.
Full Review –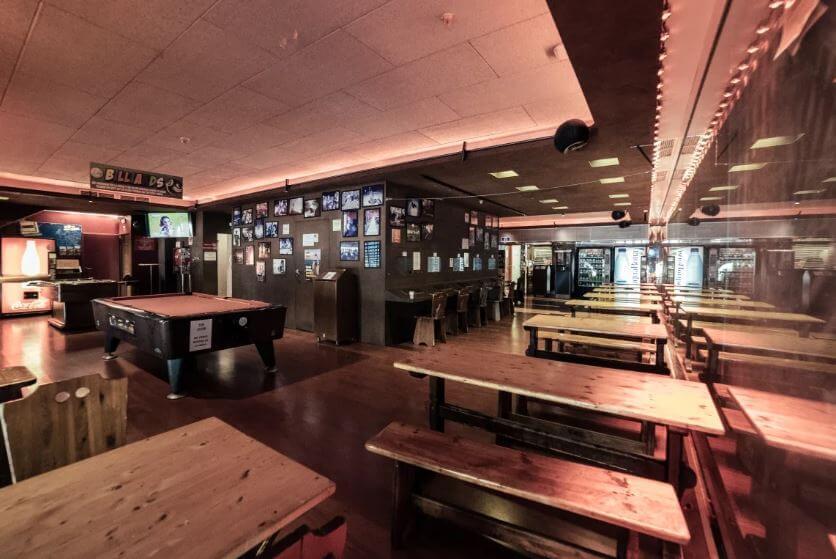 $$
Free breakfast
Onsite bar and lounge are
Rooftop terrace
Chill on the rooftop terrace while listening to the DJ, meet travellers from all over the world in one of the comfy lounges or challenge your friends to a pool-battle, the Kabul Party Hostel offers everything from crazy parties to great entertainment and most importantly, a great night's sleep. Once you've risen from the dead after your night out, you'll get spoiled with an amazing free breakfast.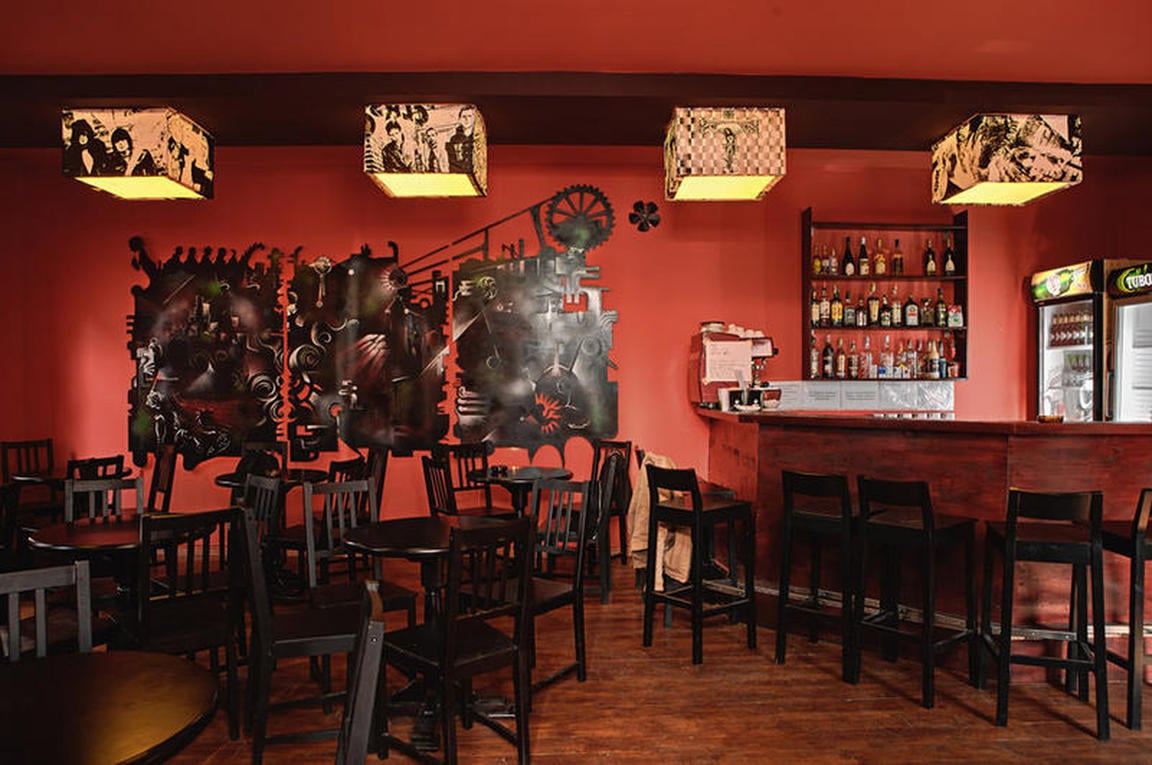 $
Bar/Nightclub
Foosball
Cable TV
Wonderland Hostel is like one of those ideas you have with your mates: to set up a hostel where you all can live your best lives, surrounded by beautiful people and you can all live wild and free. Well, the three mates that set up this Wonderland Hostel actually went and did just that and now they have themselves the best party hostel in Bucharest. There's a really good mix of people here and you can find yourself having a beer in their indie-style bar with a chilled local or a traveller from South Korea. It's potluck. You can find this place in the Lipscani area, which makes seeing the sights on foot (if you can manage that on a hangover) pretty easy.
Full review – The top hostels in Bucharest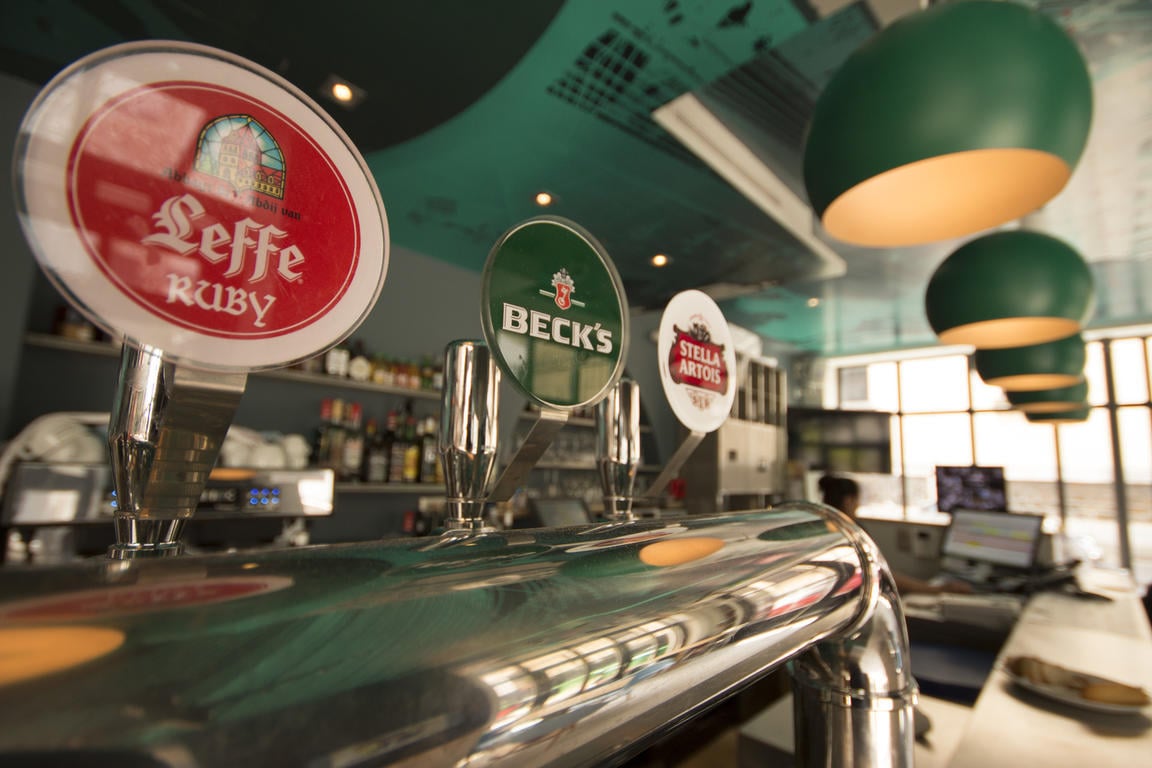 $$
No Curfew
Bar
Free Storage
Paris might be the city of chic style and romance, but it's also one of those cities with an incredible nightlife – you just have to know where to go, innit. But the Parisians know how to drink and the people who run this hostel know how to party, which we reckon should be a law for the best party hostels in Europe. Don't concern yourself too much with that thing called sleep when you stay at 3 Ducks: the party atmosphere will keep you going and, for when the sun starts to come up, take a dawn stroll to the Eiffel Tower cause it's just around the actual corner!
Full review – Best hostels in Paris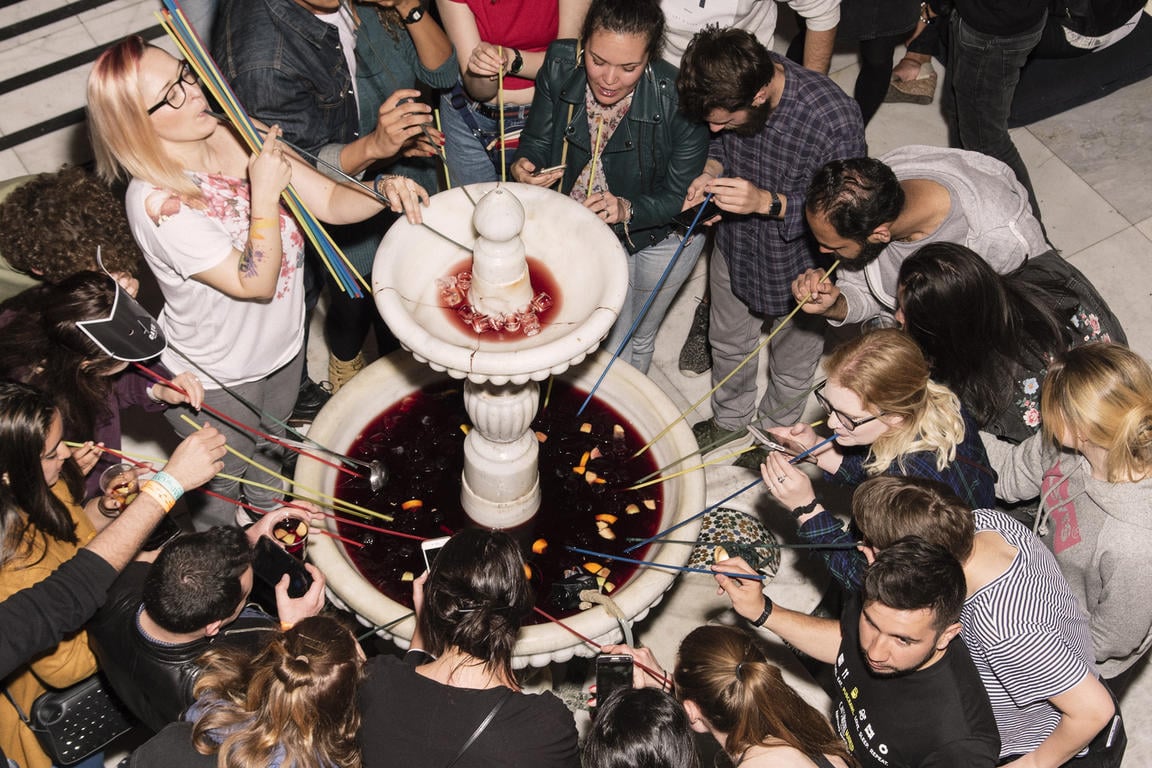 $
BBQ
Wheelchair Friendly
Bar
Famous as being the best party hostel in the whole of Madrid, Cats has got itself a reputation. Its properly (like, PROPERLY) cheap drinks are a magnet for travellers on a budget and their cave bar is a dark and fun place to get chatting to people. Other than being party central, the building dates back to the 17th century, which is dang cool: this means it's got a chill courtyard with beautifully tiled walls, perfect for having a couple of pre-drinks before going on one of the hostels free daily tapas bar tours. The staff that run Cats are well friendly and, even though it actually advertises itself as a party hostel, the rooms are actually clean and well maintained – bonus.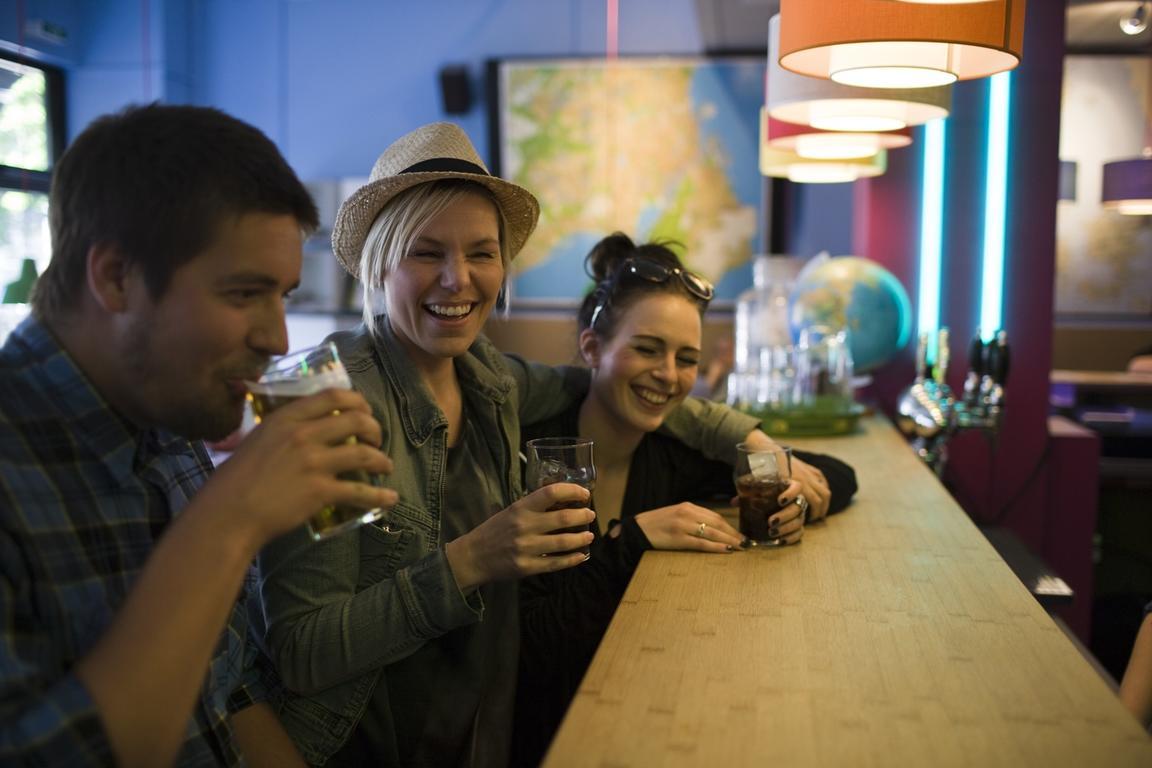 $
Bar
Bicycle Hire
Common Room
Right in the middle of the action, this hostel makes sure that its guests are having a good time. We like that about a party hostel. Its great location close to the best bars and clubs in Copenhagen and its 24-hour reception means you can party all night long and then stumble back to your bunk for a bit of shut eye. Win. The hostel is decorated in a kinda cool, retro-urban style and its bar downstairs has a really good atmosphere. No wonder it's been voted the best hostel in the city about a million times – no really, it has. Prob one of the best party hostels in Europe, too.
Full review – Best hostels in Copenhagen
Best Party Hostel in Interlaken – Balmers Hostel
$$
Outdoor Terrace
DJ Nights
Bar/Cafe
We continue with our jaunt into the world of the best party hostels in Europe with Balmers: the one and only party hostel that you should stay at in Interlaken. Firstly, they have nightly activities like real-life dance parties and drinking games and, if that's not enough to convince you that this is the best party hostel in Interlaken then, well, you should know they also have a nightclub – and then you can make up your mind. Balmers is really chill in the day: most people head out to the hills to try out skiing or kayaking. The surrounding scenery is typically Swiss and thus really beautiful: you can soak it all up whilst having a soak in the hot tub or kicking back in the garden in a hammock.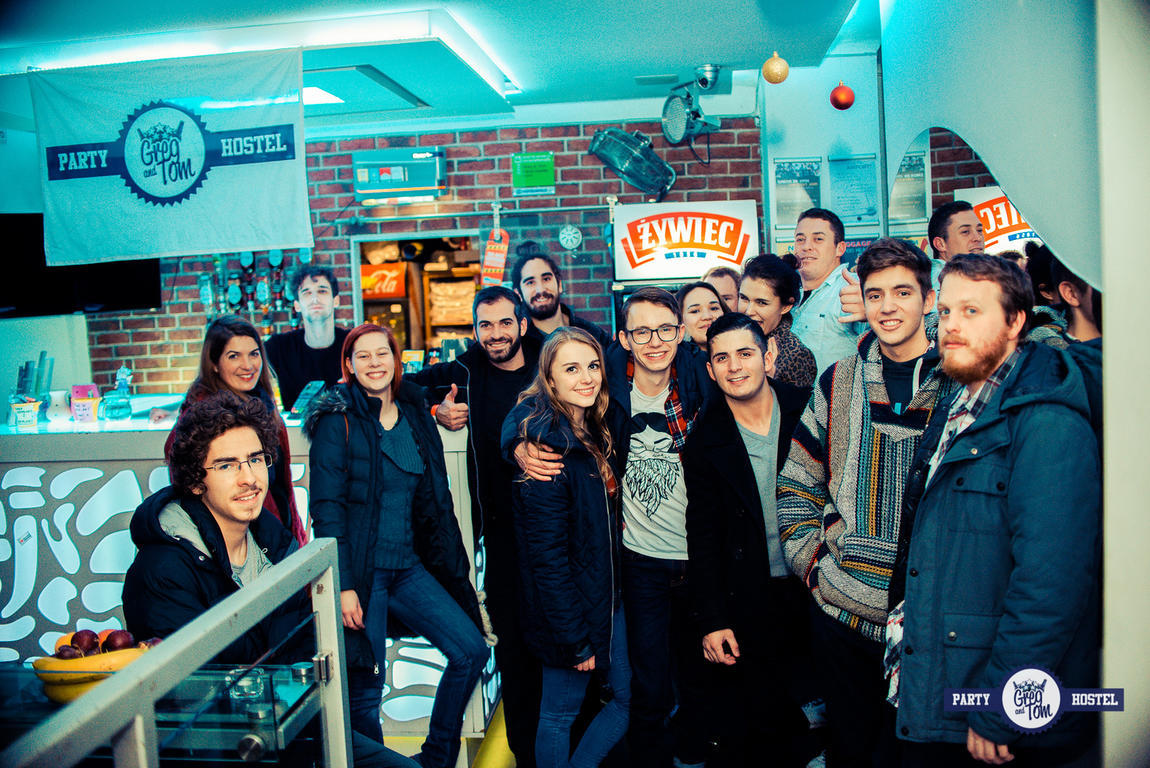 $
Free Breakfast
Free Dinner
Events
From what we can infer from the name, some cool kids called Greg and Tom set up a hostel and only went and made it the best party hostel in Krakow. In fact, the whole of Poland and one of the best party hostels in Europe. If you are interested in sleeping at all, then we heartily recommend that you don't stay here. The party vibes are strong: as the vodkas flow so does the chat and you'll find yourself making best mates with the random next to you. The hostel claims it 'parties hard' every night, so… you have been warned. Serious partygoers only. Serious.
Full review – Top hostels in Krakow
Best Party Hostel in Berlin – Circus Hostel
$$
Live Music
Cafe/Brewery
Free Tours
Yep, this hostel is fairly wild – but is it like staying in an actual Circus? Well, the name would have you think that but, nah there's no evidence of clowns anywhere (or maybe there will be after a few too many drinks – wheyyyyy). Just good times and fun people. The Circus Bar is a lively, vibrant place to hang out and enjoy a few drinks before heading out with some of the guys who work here on a tour of their favourite bars in the area. Sounds good to us. Did we forget to mention that, as well as an onsite restaurant, Circus, has its very own microbrewery in the basement!
Full review – Best hostels in Berlin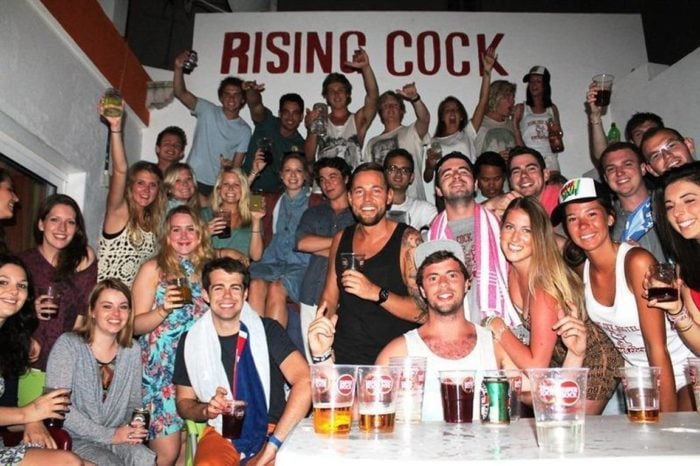 $$
Outdoor Terrace
Pub Crawl
Common Room
It's called The Rising Cock, yes LOL. Get it? Partying, drinking, meeting new girls and boys and letting your hair down is the name of the game here. It's run by two Portuguese-American brothers, who actually really care about their guests enjoying their stay and having a good time. There's a funky booze cruise to go on and a sister hostel just up the road which caters only to sisters (all girls, yeah?) and they carry out environmental programmes too. So many people who have stayed here have raved about this place being the best party hostel in Lagos, and it ain't hard to see why.
Full review – Top hostels in Lagos, Portugal
Best Party Hostel in Florence – PLUS Florence
$$$
Swimming Pool
DJ Nights
Roof Terrace
Florence is a chic and stylish city and PLUS hostel has all of the cool style and good vibes to match. Attracting a steady stream of travellers, PLUS isn't the cheapest place to stay but it is definitely the most fun. There's a vibey roof terrace, featuring a DJ that plays out nightly tunes to the crowd while people sips on cold beers. Enjoy days kicking back and recovering from the night before around the hostels pretty poolside that's surrounded by the amazing scenery of Florence. This is a great hostel for meeting other travellers to hang out with and dance the night away.
Full review – Best hostels in Florence
$$
Bar
24 Hour Reception
Pool Table
This properly fun party hostel where you can just spend your time socialising with new people and having nights out you will never forget. Or forget completely. The hostel bar is always busy with people drinking, eating and chatting and there's usually some kind of event going on. Not your normal party hang-out, Wombats is actually clean and well looked-after and you can stuff yourself silly with their tasty buffet breakfast, which should cure any hangovers. It's located really close to Munich's main train station too which makes it easy to he to top city sites and it's also close to the famous Oktoberfest – just make sure to book well in advance for that time of year cause it gets BU-SY.
Full review – Coolest hostels in Munich, Germany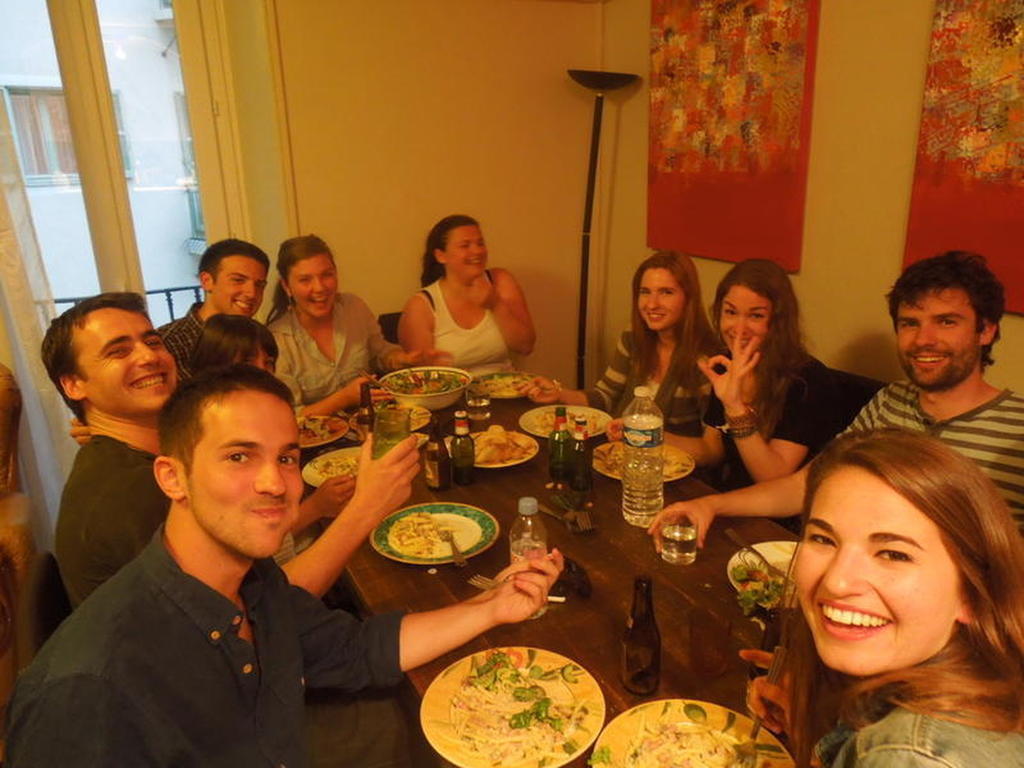 $$$
Pub Crawls
Beach Trips
Common Room
No matter how many times we see it, Nice always just looks like… Nice. Nice. Nice one. But with that aside firmly out of our system, we can tell you that Open House Hostel is ALMOST like its name suggests. With its regular pub crawls, hype beach parties, tasty dinner nights – plus an incroyable (that's French for incredible) location near to some of the toppest nightlife the city has to offer, Open House is P much the best party hostel in Nice. Plus with all the money you'll be spending on booze, there's a kitchen for you to cook a load of cheapo one pot dinners. Nice one.
Full review – Best hostels in Nice, France
Best Party Hostel in Liverpool – Embassie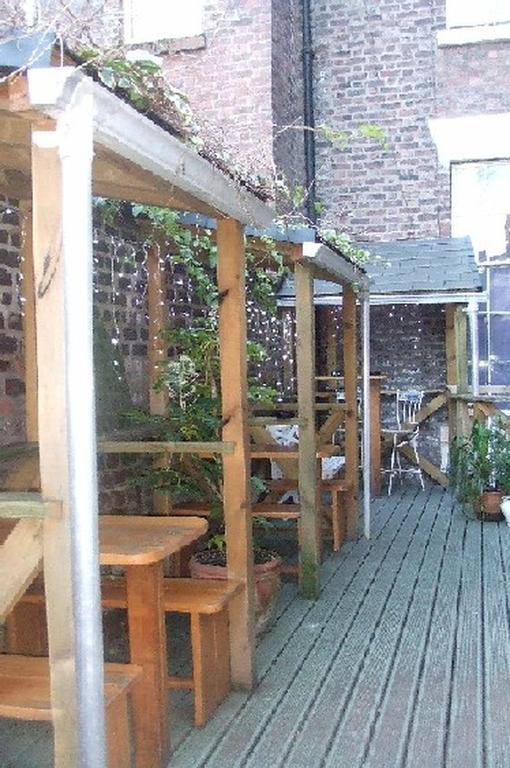 $
Free City Tours
Free Breakfast
Common Room
Guess where the pub crawl offered up at the best party hostel in Liverpool ends up? Yep: the Cavern Club, the iconic venue famous for playing host the Beatles 7,657 times during the 1960s. That's definitely something. As for stuff going on at the hostel itself, well, there are a range of activities and theme nights to keep the vibes up: cheese and wine night, sports night – plus free food – whenever Liverpool (or Everton – the cities "other" club) play, games and quiz nights. And the party-person's best friend, the elusive free breakfast, is yours to claim in the bleary-eyed mornings at Embassie.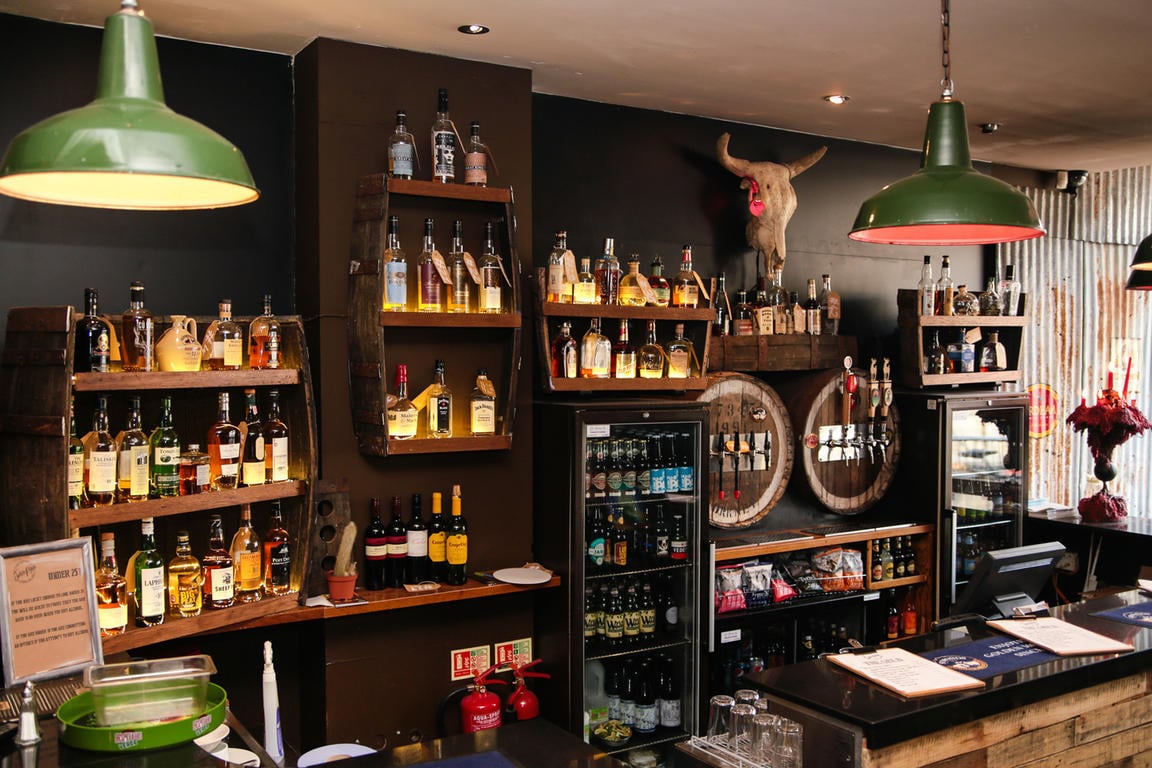 $
Bar/Restaurant
Pub Crawls
Common Room
Ah, St Christopher. If you're a regular frequenter of hostels you probably already know this is a famous global chain of hostels. And the best thing, or one of the best things anyway, about these places is that each one has an on-site bar which is always called Belushi's – why the name? We dunno. They're great places to drink and meet people and drink some more and the Edinburgh iteration is no different. You also get 25% off food at the hostel restaurant – more importantly, you also get drinks discounts, which definitely helps it pip everything else to the post when it comes to the best party hostel in Edinburgh.
$
Bar/Cafe
Outdoor Terrace
BBQ
If you were looking for a quiet hostel – well, firstly why are you even on this page? But what we're trying to get at is don't come to Oasis Backpackers in Granada expecting a quiet night's sleep. Well, actually, sleeping will probs be easy: the nice on-site bar will see to that. And so will the surrounding nightlife. Being the best party hostel in Granada, prospective guests can expect to find a suitable atmosphere for merrymaking at Oasis Backpackers – plus a decent breakfast in the morning to cure what ails you.
Best Party Hostel in Rome – The Yellow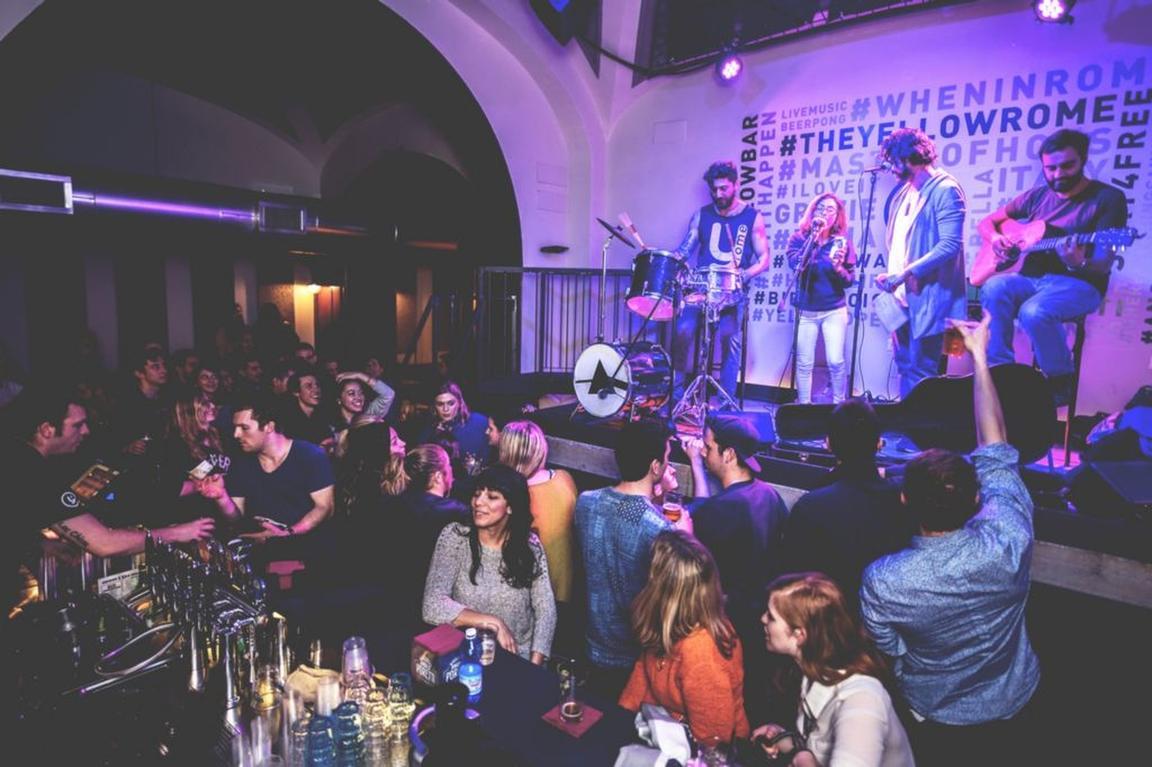 $$
Common Room
Nightclub
Bar/Restaurant
The decor at weirdly named The Yellow is pretty cool, bright, graffiti-style – but who are we kidding, that won't matter since this is the best party hostel in Rome so you probs won't be seeing this place well lit all that much, y'know? The reason why The Yellow (that name though) is so good as a party place is the hostel bar, which is cheap, social and a great place to pre-drink before heading out into the Eternal City itself. The pub crawl on offer from here is also very, um, extensive, so you may begin to see why we this is on our list of best party hostels in Europe.
Full review – Top hostels in Rome
Best Party Hostel in Prague – Hostel Elf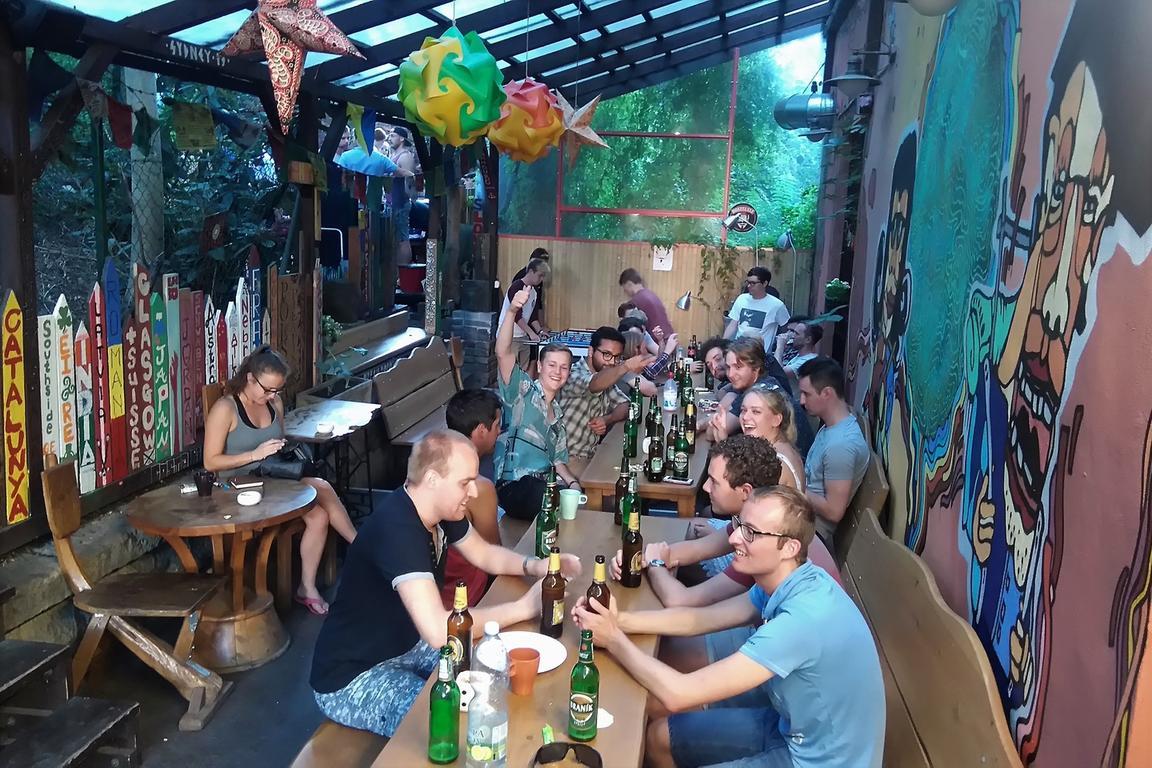 $$
Free Breakfast
Bar/Terrace
Happy Hour
When it comes to the best party hostels in Europe you'd definitely expect Prague to be up there, right? This is one of the main capitals in Eastern Europe for stag-and-hen parties, which makes the city itself well equipped for catering to peeps who wanna party. And, yes, that includes the hostels too. Out of those, the best party hostel in Prague has to be Hostel Elf. HAS to be. First off the fridge is full of beer (cheap) – great. Secondly, there's a bar, which also happens to have a great atmosphere. Thirdly (and fourthly?) the free breakfast buffet and there's a chilled terrace – both good for contemplating life the day after the night before.
Full review – Best hostels in Prague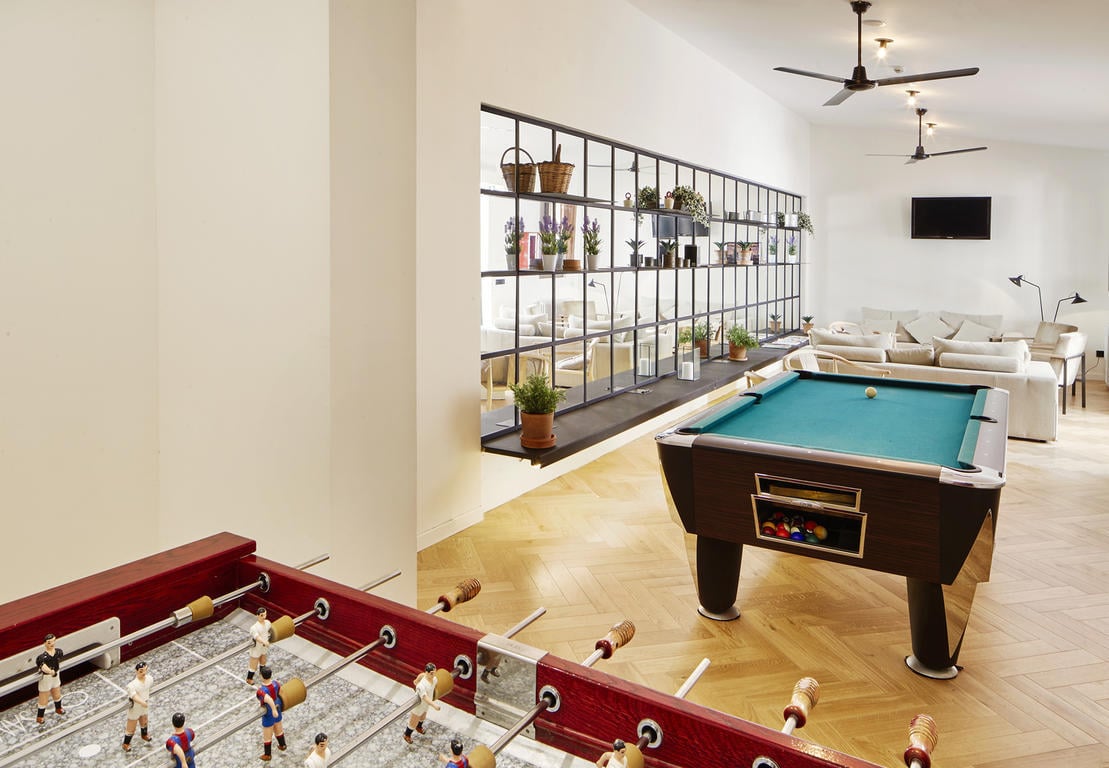 $$
Bar
Common Room
24 Hour Reception
One thing we will say about the best hostel in Palma, Mallorca: if noise late into the night bothers you just don't. Don't even. However, if YOU'RE the sort of person to be making noise late into the night when you're in a hype hostel that's good for a party, then please join us, have a cup of beer and sink into the good vibes. One thing we do like here is that there's ALWAYS hot water (a big deal for Mallorca, don't laugh you heathens) – perfect when you need to get ready and start looking amazing for your night on the town. PLUS the bathrooms are super clean; no one likes a grimy hostel – even if it is a party place.

Our GREATEST Travel Secrets…
Pop your email here & get the original Broke Backpacker Bible for FREE.
Best Party Hostel in San Sebastian – Surfing Etxea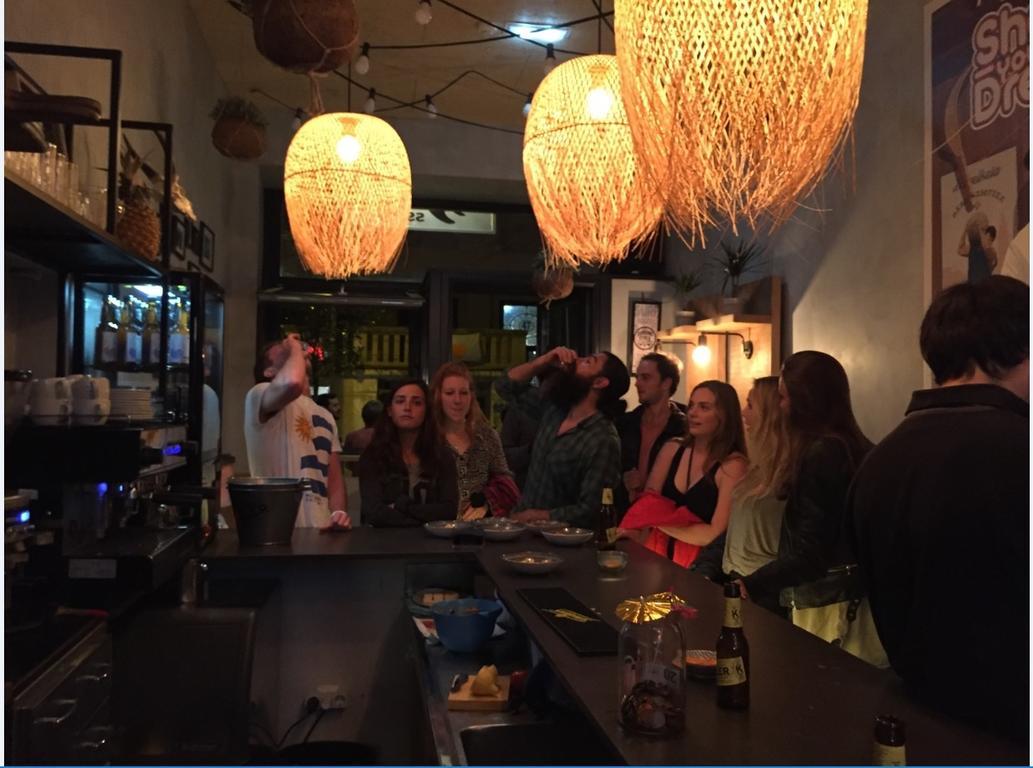 $$
Outdoor Terrace
Bar/Cafe
Surf Lessons
Secondary to this being the best party hostel in San Sebastian, Surfing Etxea is also all about surfing (duh – it's in the name). So if you're a surf fan or even if you dig that surfing culture – um, who doesn't? – this is DEFINITELY the place for you. Plus it's like in the best neighbourhood of town too, which really helps since the food options around here are amazing – and so is the nightlife. On top of the that, the guys that run this place really give you a taste of amazing Basque hospitality. Basically, you'd be a fool not to stay here – a fool!
Best Party Hostel in Budapest – Retox Party Hostel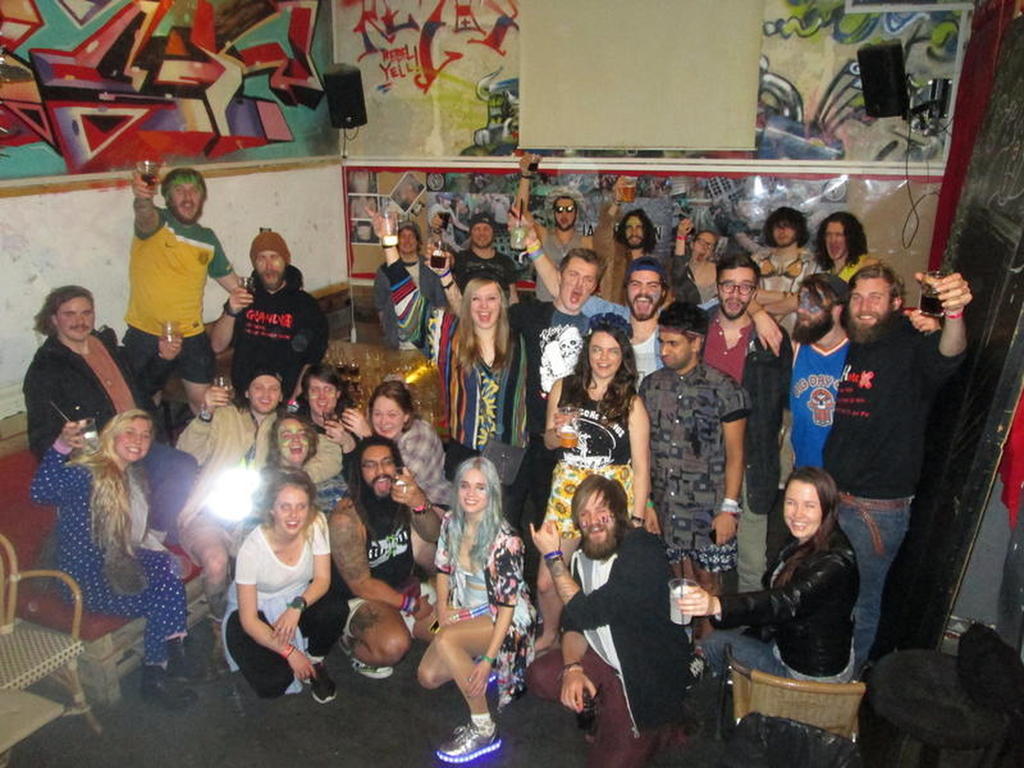 $$
Bar
Pool table
Luggage Storage
Yeah, it's called Retox which is pretty clever… because you prob won't be doing any detoxing with all of the partying and drinking you'll be doing here. Anyway. It's got a bar called Neverland (fun) and there's a lot of booze and people frequenting this place that live life wild and fancy-free. It's Budapest, so costs here are fairly cheap, too. A couple of cool things about this hostel are its graffiti: well-known street artists have covered the walls with their creations; that, and allegedly there's a stripper pole here, too. Not that we know. The party-central O Street is just around the corner which makes the hostel a PRIME starting point for a pub crawls too – which are practically a must when it comes to the best party hostels in Europe.
Full Review – Best Hostels in Budapest budapest
Retox Party Hostel is one of our favourites in Europe but they're not taking guests right now. We're not sure if they're closed for good but we hope they'll come back soon.
Best Party Hostel in Corfu – The Pink Palace
$
Bar/Nightclub
Free Breakfast & Dinner
Free Pick Up
We are really not sure what the Pink Palace is inferring with its name. Is it some sort of dodgy innuendo that has gone over our heads or…? Oh no, it's just painted pink – really, really pink. Don't let that put you off though: if you want to find the best party hostel on Corfu you, my friend, have found it. Located on the beach (think beach parties), Pink Palace also organise those crazy booze cruises where everyone ends up burnt and wild – you know the ones – and… AND (most importantly) the essential hangover breakfast is free, dinner is only 6 euros and the drinks are really very cheap. It's just very pink.
The Pink Palace is one of our favourites in Europe but they're not taking guests right now. We're not sure if they're closed for good but we hope they'll come back soon.
Best Party Hostel in Ios – Francesco's
$$$
Swimming Pool
Bar
Outdoor Terrace
Looking to meet new mates and other travellers? Then Francesco's is the party hostel for you. The atmosphere is all about the fun-packed, drink-fuelled, good times. They ply guests with free shots in the evening and then let the mayhem ensue. There's a nicely chill pool area, which is surrounded by stunning Greek landscape and seems to be the ideal spot to sweat out the sins of the night before and remember (or try to forget) what went on. It's the best party hostel in Ios AND it's in the middle of the town and the beach is in easy walking distance. What more do you need?
Francesco's is one of our favourites in Europe but they're not taking guests right now. We're not sure if they're closed for good but we hope they'll come back soon.
Best Party Hostel in Varna – X Hostel Varna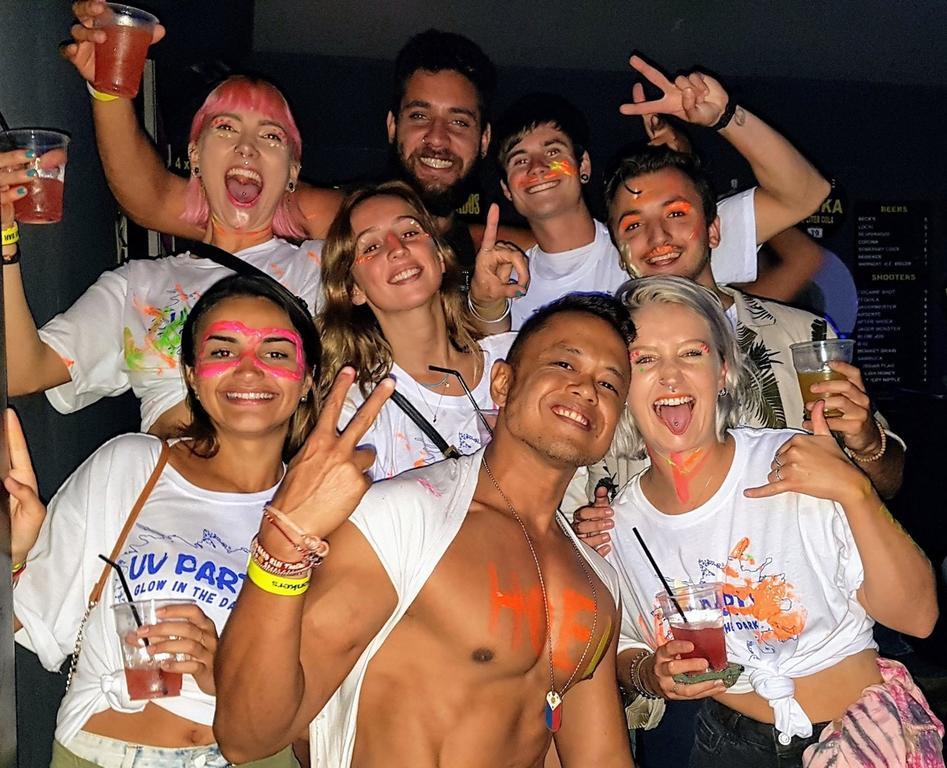 $
Outdoor Terrace
BBQ
Free Transfers
X Hostel Varna is one of those crazy notorious places where you hear of past guests getting Xs tattooed on them to remember their EPICCC stay. Also the kind of place where the managers are referred to as 'absolute Legends!' – all we hope is that it continues to live up to the hype of being the best party hostel in Varna and apparently it really, really does. Foam parties, beach parties, bar crawls, beach crawls, beach drinking, a bit of eating, a little bit of sleeping and then much, more partying. You get the idea. All the activities you'd expect from one of the best party hostels in Europe. Staying here is about going hard, but surprisingly for a party place, it is happily clean and safe as well.
X Hostel Varna is one of our favourites in Europe but they're not taking guests right now. We're not sure if they're closed for good but we hope they'll come back soon.
Best Party Hostel in Dublin – Barnacles Temple Bar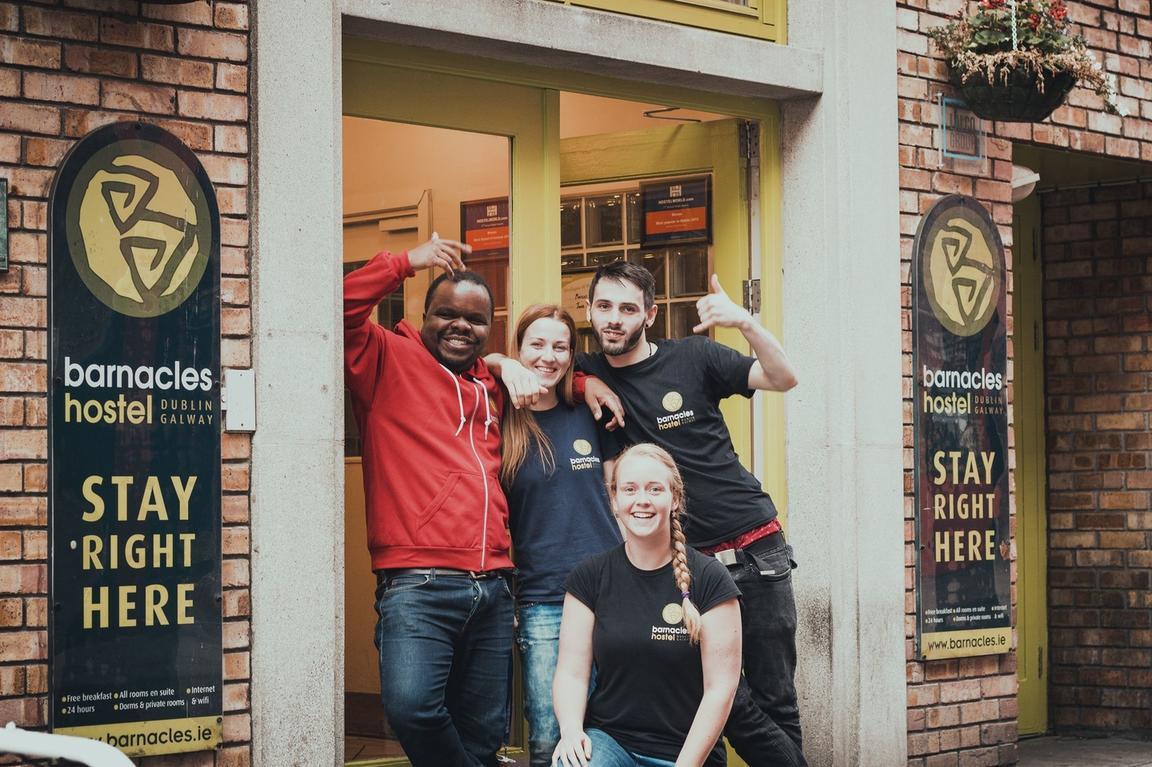 $$
Free Tours
Free Breakfast
Common Room
Oh Dublin. Yes, we all know that the Irish like a drink and good craic (which is Irish for fun or something, we don't know) which is why you should stay at Barnacles, the best party hostel in Dublin. It's situated in the middle of the notorious Temple Bar where Dublin's drinking culture comes out in full force. You can get to know other guest and the forever-friendly people of the city in the hostel's bar and then head out to the buzzing streets to discover the madness of Dublin. Breakfast is brilliant and free, which makes it brilliant-er, and if you haven't partied too hard the night before there are free walking tours for guests.
Barnacles Temple Bar is one of our favourites in Europe but they're not taking guests right now. We're not sure if they're closed for good but we hope they'll come back soon.
Best Party Hostel in Alicante – X Hostel Alicante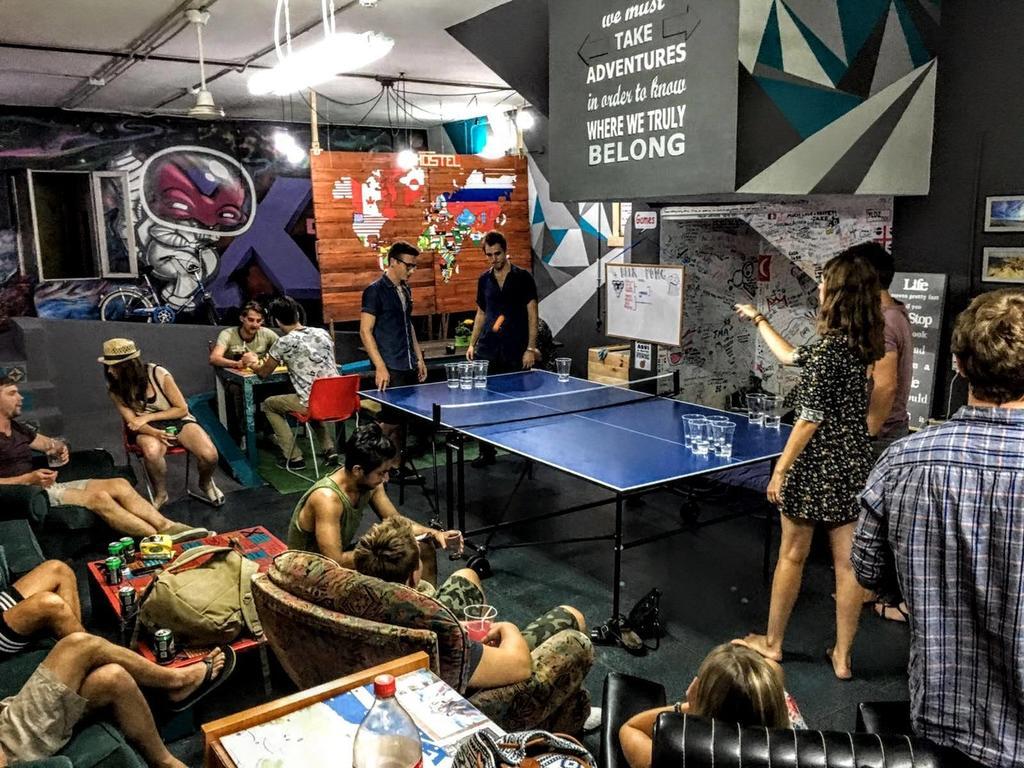 $$
Communal Kitchen
No Curfew
Common Room
Let's face it – a lot of people are in Alicante to party, so why not stay in a hype hostel to match? That's where X Hostel comes in. Since there are so many bars and pubs in town to explore it's genuinely great that the fun and helpful staff here organise pub crawls so you can, err, get to know the nightlife before you head out into it all for yourself. And if you fancy a night off from the madness of the town, you can always stay in for one of X Hostel's famous tapas nights. Easily the best party hostel in Alicante.
X Hostel Alicante is one of our favourites in Europe but they're not taking guests right now. We're not sure if they're closed for good but we hope they'll come back soon.
What to Pack for your Europe Hostel
Pants, socks, underwear, soap?! Take it from us, packing for a hostel stay is not always quite as straight forward as it seems. Working out what to bring and what to leave at home is an art we have perfected over many years.
Check out our definitive Hostel Packing list for our top packing tips!
Travel Safety Tips for Europe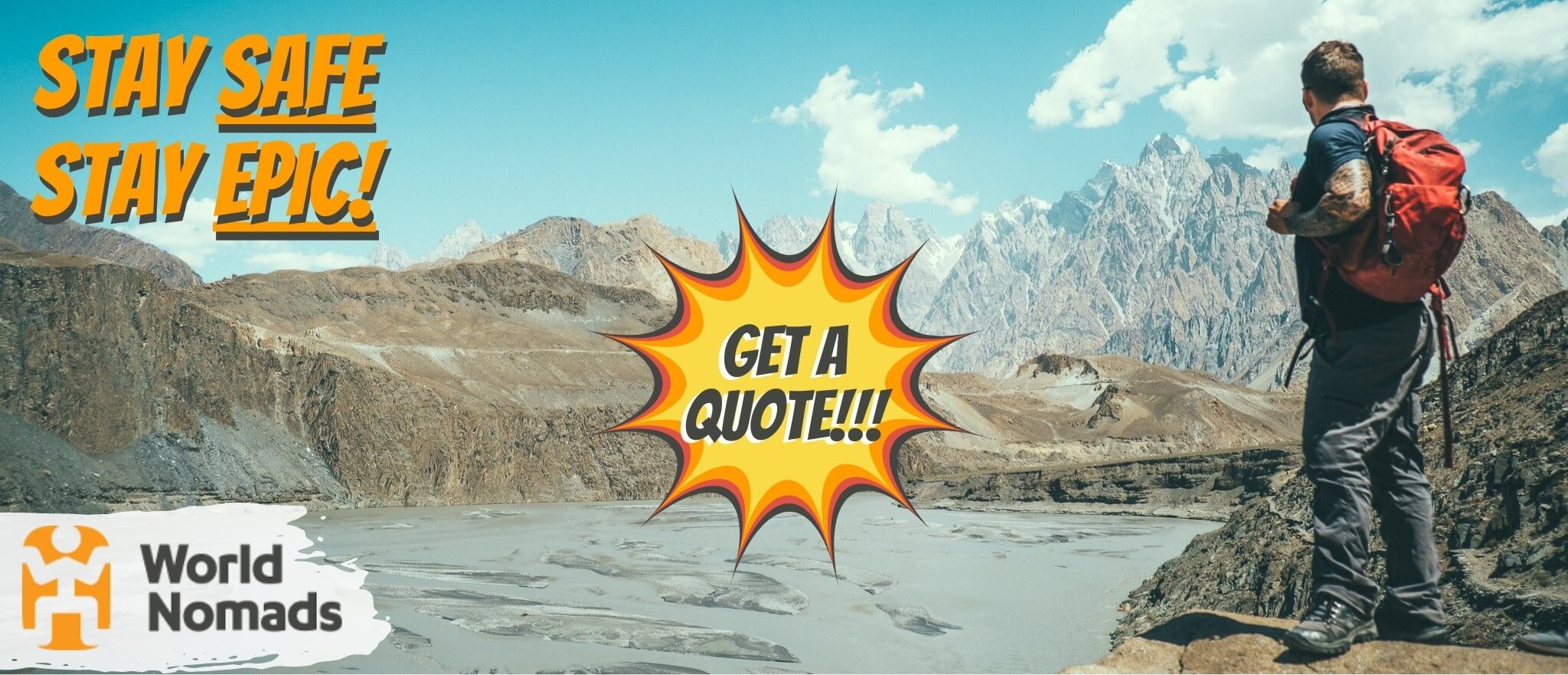 World Nomads' mission is to support and encourage travellers to explore their boundaries. They offer simple & flexible travel insurance, and safety advice to help you travel confidently.
They've been doing it since 2002 – protecting, connecting, and inspiring independent travellers just like you.
Get a quote below or read our in-depth review!
World Nomads provides travel insurance for travelers in over 100 countries. As an affiliate, we receive a fee when you get a quote from World Nomads using this link. We do not represent World Nomads. This is information only and not a recommendation to buy travel insurance.
Over to you
By now, I hope our epic guide to the best backpacker stays for partying in Europe has helped you choose the perfect hostel for your adventure! If not, or if you'd prefer something a bit more relaxed, then check out our mega-guide on hostelling in Europe (complete with a roundup of the absolute top backpacker pads).
If you think we've missed anything or have any further thoughts, hit us up in the comments!
---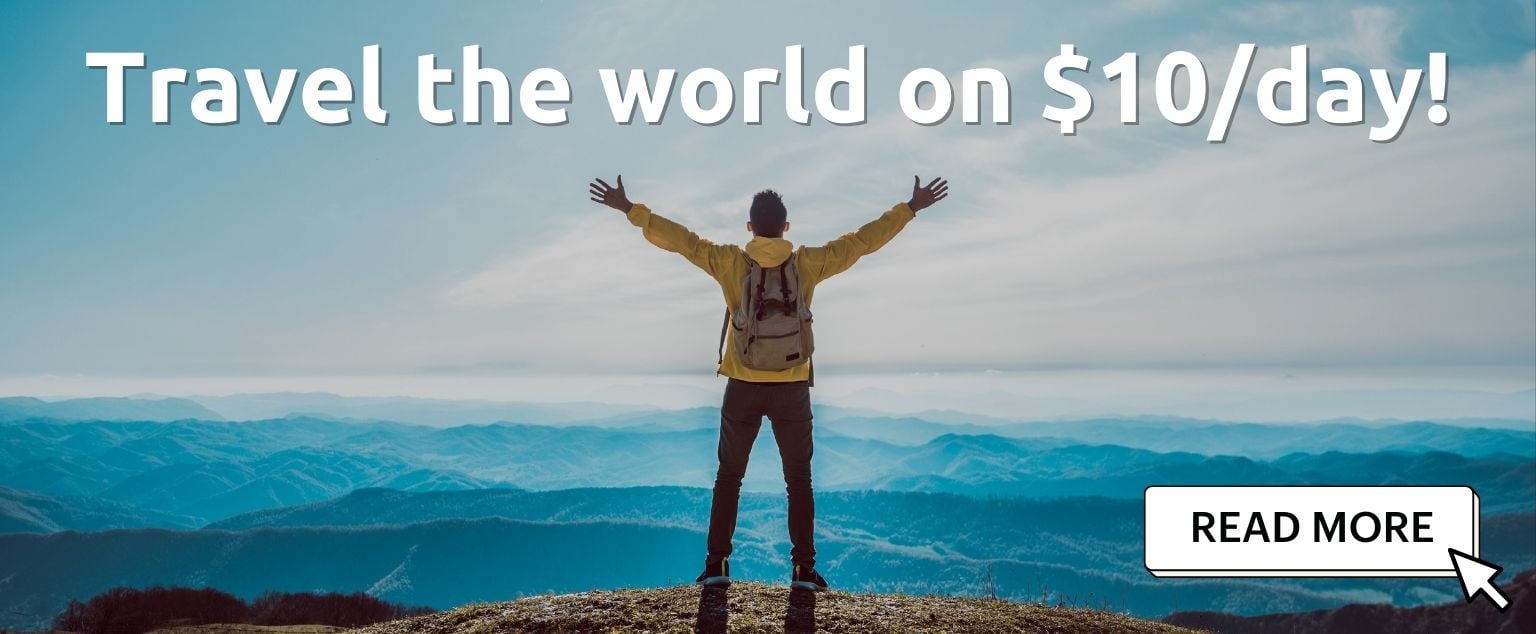 And for transparency's sake, please know that some of the links in our content are affiliate links. That means that if you book your accommodation, buy your gear, or sort your insurance through our link, we earn a small commission (at no extra cost to you). That said, we only link to the gear we trust and never recommend services we don't believe are up to scratch. Again, thank you!