I'm just going to get right into it: if you've never heard of the Italian city of Rome, you must be an alien entity from another galaxy (in which case we have much more interesting things to talk about).
Seriously, though. At its peak, the Roman Empire controlled 21% of the entire world. That's about 40–50 modern-day countries. The history, culture, and food in this metropolis are some of the most well-known (and beloved!) in the world. If you're planning a trip to Europe, and especially to Italy, you simply must give Rome a top spot on your list.
But here's the issue: assuming you're older than 10, you know that the plans you put on paper tend to be more complicated than the plans that arise inside your dreaming, idealistic brain. You've probably heard through the grapevine that the Eternal City can be pretty dang expensive. It's true—my brother and his wife spent an obscene amount of money here during their week-long honeymoon. But don't sigh, shake your head, close this tab, and immediately assume that all you can afford is a trip to Southeast Asia.
Is Rome expensive? It can be—but those of us who've spent significant time on the road know that, within limits, it's more than possible to travel cheaply to literally any destination in the world. While Rome will never be as cheap as the cities in places like India or Southeast Asia, some key decisions and just a little bit of travel discipline go a long way in this bustling cultural giant.

Do You Want to Travel FOREVER??
Pop your email in below to get a FREE copy of 'How to Travel the World on $10 a Day!'.
So, How Much Does a Trip to Rome Cost on Average?
Traveling to incredible Italy and the city of Rome is a dream for most travelers. Rest assured, we will help you get there! Peep this guide that covers all your basic Rome travel costs. These include:
Airfare
Accommodation
Transportation
Food & Drink
Activities
Now it's time for the mandatory disclaimer: I'm not an ancient Roman oracle, so all of these prices are estimates. They're accurate, but I can't predict the future—so they're subject to change. I always recommend doing your own research to confirm prices just before you book a trip.
All prices in this guide are listed out in USD. But in case you were wondering, Italy's official currency is the euro. As of February 2023, $1 USD = €0.94 euros.
The table below is your one-stop shop for getting a general idea of how much you should expect to while backpacking Rome. This will help you get a sense of an answer to the question: Is Rome expensive?
3 Days in Rome Trip Costs
Is Rome Expensive

| Expenses | Estimated Daily Cost | Estimated Total Cost |
| --- | --- | --- |
| Average Airfare | N/A | $700 |
| Accommodation | $30–$500 | $90–$1,500 |
| Transportation | $5–$65 | $15–$195 |
| Food | $20–$180 | $60–$540 |
| Drink | $5–$25 | $15–$75 |
| Attractions | $18–$50 | $54–$150 |
| Total (Excluding Airfare) | $78–$820 | $234–$2,460 |
| A Reasonable Average | $100–$250 | $300–$750 |
Cost of Flights to Rome
ESTIMATED EXPENSE: $700 USD for a round-trip ticket
First off, you will have to figure out when is the best time to visit Italy. The high season in Rome is during the summer months: June, July, and August. As such, flight prices will be the highest if you choose to visit at this time. Here's the good news, though: I actually recommend you visit during shoulder season (March–April and October–November). First of all, the airfare will be lower. Second of all, the summer months can be brutally hot; if you're like me and prefer not being covered in sweat five minutes after stepping out of the shower, you'll like Rome during the shoulder season. Finally, there will be fewer crowds, which is always a win.
Another thing to keep in mind (and this is an obvious one) is that the airfare depends heavily on where you're flying in from. I used Skyscanner to find some average round-trip flight prices to Rome from a few of the biggest international flight centers. Expect the following rates but actual prices will be higher or lower, depending on when you choose to visit:
New York to Rome: ~$600 USD for a round trip
London to Rome: ~£80 GBP for a round trip
Sydney to Rome: ~$1,900 AUD
Vancouver to Rome: ~$1,150 CAD
All of these prices are based on the assumption that you're flying into Leonardo da Vinci–Fiumicino Airport, which is the biggest, busiest, and cheapest in the city.
Price of Accommodation in Rome
ESTIMATED EXPENSE: $30–$500 per night
My main purpose in writing this article is to honestly inform you of how much it will cost to visit Rome. I'm not a travel agent, and I won't get a commission if I convince you to go to Rome, so I won't beat around the bush: accommodation in Rome is a bit expensive.
First of all, Rome is in Italy, and Italy is in Europe. The high standard of living in most European countries naturally means prices will be higher. Secondly, this is Rome we're talking about. Nearly 10.5 million tourists visit every year. If you know anything about supply and demand, you'll understand why prices are on the higher side.
However, if you know what to look for, there are plenty of amazing places to stay in Rome. and if you're okay with staying in hostels (trust me, hostels are the best!) you will be able to get by without breaking the bank.
As you can imagine, accommodation plays a key role in determining the answer to "Is Rome expensive?" If money isn't a big issue, you'll also want to check out Rome's amazing selection of Airbnbs and hotels. Airbnbs are special because you'll feel just like a local, living in a fully furnished Roman apartment. Hotels are the way to go if you want a hassle-free, luxury experience in exchange for a bit more money.
Hostels in Rome
Hostels are by and large your best option for budget-savvy travel in Rome. There is a wide range of epic hostels in Rome. Expect a minimum price of $30 per night, with some of the nicer ones costing closer to $60.
I know this might sound like a lot considering you'll be sharing a room with 5–10 other (smelly) travelers. But here are two things you need to keep in mind:
Pricing is proportional to where you're staying. If you're used to traveling in Southeast Asia, then yes, $30–$60 per night is expensive. But in Rome, you could easily be paying 3–4x that price for a single hotel room. Think about it: you'll be staying overnight in one of the world's most famous cities for less than the cost of a tank of gas. Considering how expensive Rome is in general, this is a heck of a deal!
I was very nervous the first time I stayed in a hostel, but now you'd be hard-pressed to find me willingly choosing a hotel instead. There's a certain magic that happens at hostels; the people you meet, the stories you hear—I'm not exaggerating when I say it all has the potential to change your life for the better. If you've never stayed in a hostel before, get out of your comfort zone and go for it!
There are a tonne of great hostels in Rome. For now, I've put my top 3 favorites below.
Freedom Traveller: This hostel is right next to Termini station, which is a great starting place for getting around the whole city. Plus, they hand out free coffee in the morning. C'mon!
YellowSquare Rome: Featuring its own (cheap) bar, YellowSquare has "redefined the meaning of what a hostel is." In 2011, it was voted the #1 hostel in Rome, at some sort of hostel award ceremony. Yeah, that's a thing!
The RomeHello Hostel: This hostel is a bit more on the expensive side (but for good reason). It's clean, modern, and the place to be if you want to meet tons of travelers from all over the world and walk to all the major sights.
Airbnbs in Rome
Is Rome expensive if you're going the Airbnb route? While there are many stunning Airbnbs in Rome which will surely cost you more than the hostels will, they also come with many more of the comforts of home. A typical Airbnb in Rome will cost you $80–$300 per night—it really just depends on how much you want to indulge.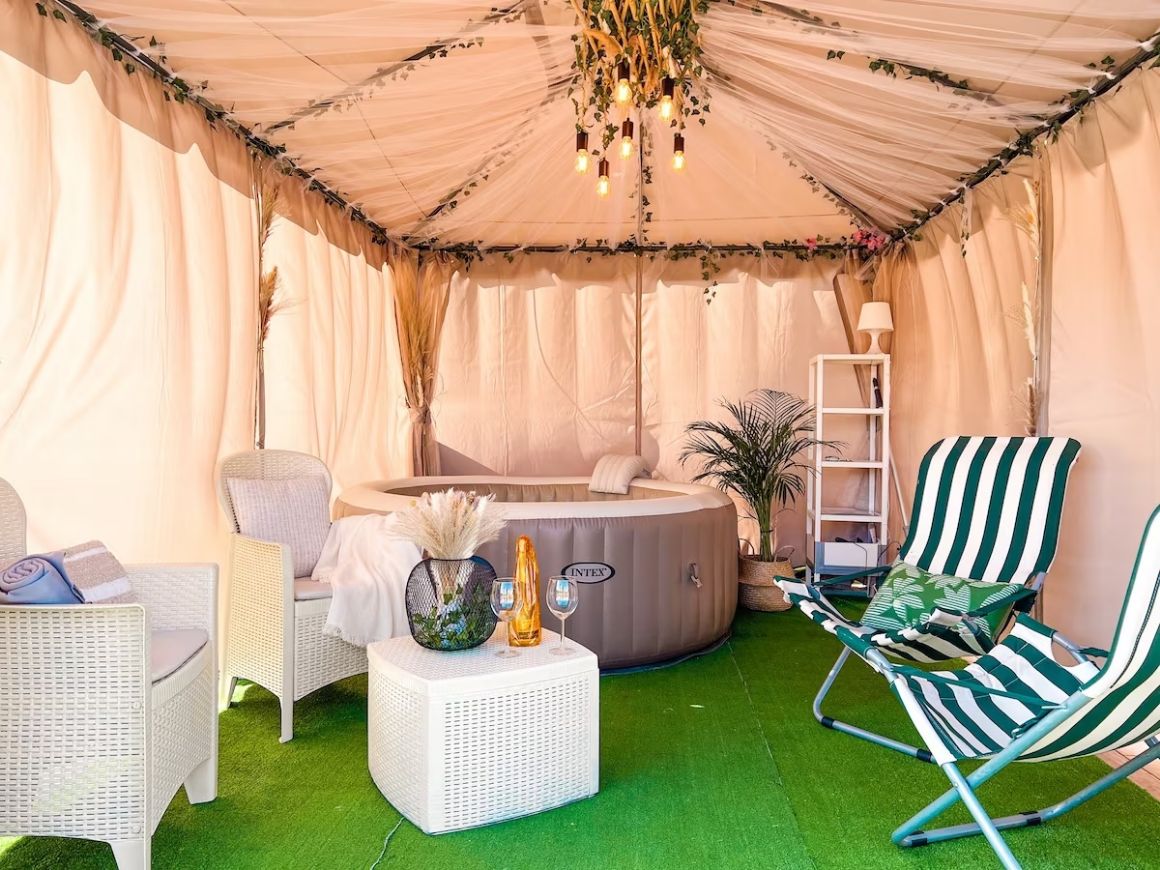 If you like to cook, if you're traveling as a family, if you want a taste of authentic local living, or if you just want the most privacy, Airbnbs are the way to go! For the most part, you'll have an entire apartment to yourself, complete with a kitchen, private bathroom, and sometimes even a laundry room, balcony, rooftop terrace, etc.—the list goes on and on.
Of course, you could look for an apartment through a travel agency or a traditional rental website, but Airbnb is undoubtedly the easiest and cheapest method. The list below should give you an idea of what your options are:
Charming Apartment with a Terrace: Featuring traditional European decor, this space has a beautiful outdoor terrace with a table (the perfect spot for a romantic homemade dinner for two!) and a great location.
Enchanting Mini Accommodation in Prati: This apartment is an excellent budget option. It's tiny but stylish, with a nice little kitchen—and it's only a 15-minute walk to Vatican City.
Stylish Apartment with Roof Terrace (and Jacuzzi!): A true luxury apartment, this Airbnb features pretty much anything you could want, including a private indoor pool and jacuzzi. And it's within walking distance of the Colosseum!
Hotels in Rome
At the top of the accommodation-cost pyramid, we have the crown jewel: hotels. I'm sure pretty much everyone reading this has stayed in a hotel before, so you know what the deal is: they're expensive but for good reason. A hotel in Rome will cost you around $80 at the very least, with $500 being a reasonable ceiling before you start to get into the ridiculously high-end, I-also-own-three-yachts type of places.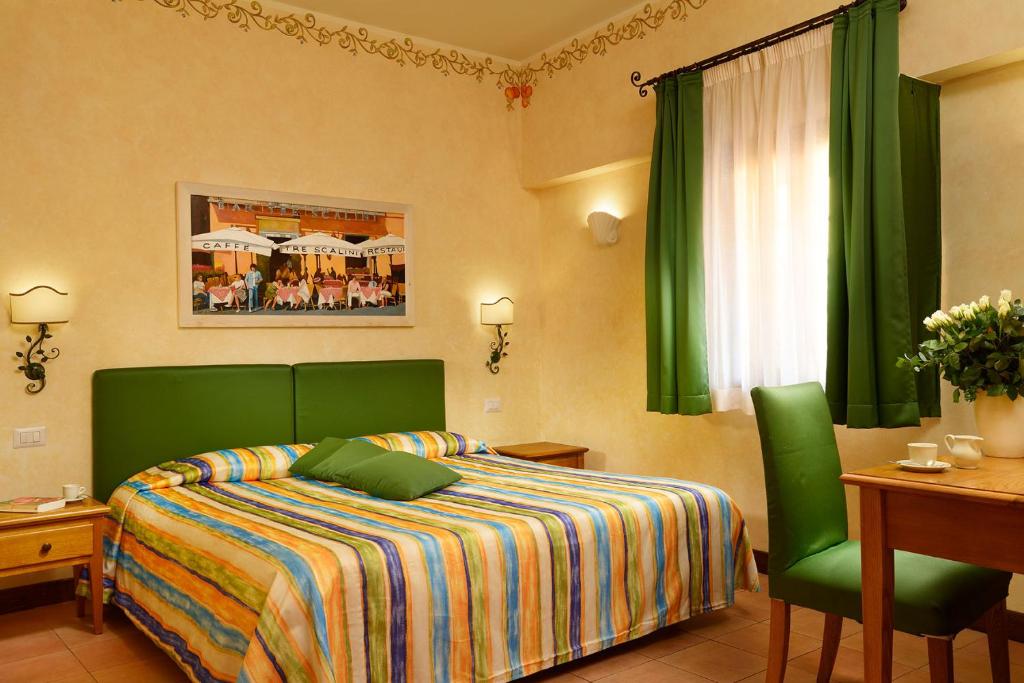 Even if you're a broke backpacker like me living the broke backpacker lifestyle, hotels are sometimes just what the doctor ordered. Many hotels in Rome include breakfast, with some also offering access to pools and fitness centers. Housekeeping is also a thing, so you can come back from a long day to a perfectly made bed and tidied-up room. In short: hotels are expensive, but rightly so.
Now we're at that part where I'm supposed to tell you about my 3 favorite hotels in Rome. So, without further ado, here below are my three favorite hotels in Rome. They all are located in the most convenient locations which would help you to easily tick things off your Rome itinerary!
Hotel Charter: This is a modern hotel in an excellent location, for a steal of a price. Solo travelers especially love this place, so if that's you, get on it!
Hotel Santa Maria: Set right next to the Tiber River, this hotel is an excellent mid-range budget option. The decor is picture-perfect Mediterranean-style, and Piazza di Santa Maria square is right next door!
Sentho Roma: The cream of the crop. This hotel is utterly spotless, a modern luxe haven for travelers with the highest standards (and the highest budget!). It's only 1 kilometer from the city center, and all the bathrooms have bidets (if you don't know what a bidet is, you're missing out on one of life's greatest secrets!).
Is This the Best Travel Pack EVER???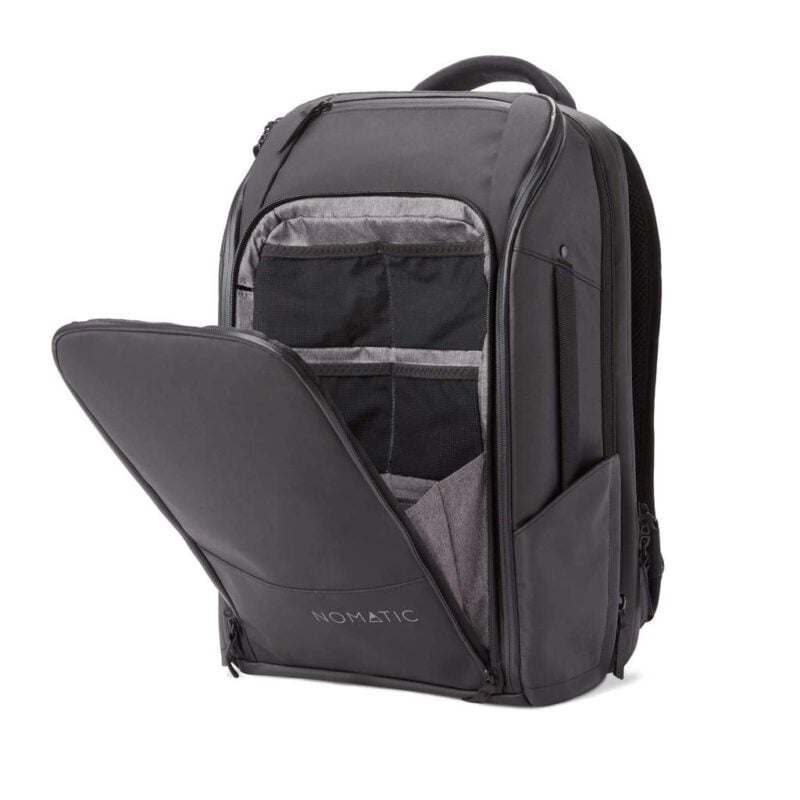 Cost of Transport in Rome
ESTIMATED EXPENSE: $5–$65 per day
All things considered, transporting yourself to and from places in Rome is pretty dang easy. Rome is a teeming, highly developed European city, and its public transportation methods are similarly highly developed. Overall, you'll be able to get around the city fairly efficiently and enjoy yourself while doing it. (Just make sure you don't decide you're going to figure out the entire metro system single-handedly two hours before a concert, then realize too late that you have no phone service, and end up desperately asking locals for directions while nervous sweat dribbles down your lower back, like I did my first time in Paris—and you should be fine.)
When in Rome (lol) you're going to want to travel mostly by metro and bus. Not only are these the cheapest options but they're also usually the most convenient. You could also rent a scooter or bicycle for a different type of experience. Let's get right into it!
Metro Travel in Rome
Rome's metro system is actually the smallest in Europe. If you're a bit concerned hearing that, so was I—especially considering Rome is the eighth-largest city in Europe. But don't worry; Rome's metro system still reaches nearly every top sight in the city, and in a way, the fact that it's so small actually makes it easier to understand.
Technically, Rome has a metro system and an urban railway system. Both of these transportation systems operate in the same general area (the main city center) and work together to get people around. Because the same company operates both systems and they use the same ticketing process, I'm going to discuss them below together, using the word "metro" to describe both. When you visit Rome, don't let this confuse you—just use the metro and the urban railway together, as needed, to get where you need to go. Easy? Good.
A standard one-way ticket on the metro is going to cost you ~$1.60. As long as you don't leave the metro station in between, you can transfer as many times as you'd like for a full hour and 15 minutes. So yeah, it's a pretty good deal.
Unlike other cities where a prepaid metro card will get you a per-ride discount, Rome offers MetroBus tickets based on time frames. After the one-way ticket discussed above, you can purchase a 24-hour ticket ($7.50), 48-hour ticket ($13.30), 72-hour ticket ($19.20), or weekly pass ($25.60). Each ticket allows you to travel on the metro as much as you want during that time frame. As for which is the most economical, it really depends on how often you're planning on using the metro. If you're staying for three days, don't just assume you should get the 72-hour ticket for $19.20; it might be cheaper to buy one-way tickets as needed.
All ticket types and MetroBus cards can be purchased from metro station ticket machines and sometimes convenience stores. You can register with myAtac to top up your MetroBus card online, if you're cool like that.
Bus Travel in Rome
Did I say public transportation in Rome was simple? As far as the metro is concerned, maybe … but figuring out the bus routes here can sometimes feel like trying to solve a complicated maze, while also playing chess, while also trying to get the sun out of your eyes, while also feeling stressed you're running late and wondering if you're actually at the right stop after all.
It's safe to say that the complexity of Rome's bus system makes up for the simplicity of its metro system. And of course, as with public buses anywhere, they're beholden to traffic patterns and not always perfectly on time. But the trade-off here is that buses can get you anywhere you need to go in Rome. Seriously, if you're trying to get somewhere more off-the-grid, don't even bother with the metro—take the bus instead.
But here's some more good news, for me and for you: the ticketing system for buses is exactly the same as the ticketing system for the metro. That's good news for you because it's one less headache to deal with on your trip, and good news for me because I can stop typing this section!
Renting a Scooter or Bicycle in Rome
I can promise you one thing: exploring Rome by scooter or bicycle will be an unforgettable experience. While it definitely won't be as efficient as using the metro, it's hard to beat the feeling that comes with complete freedom of travel. Anywhere you want to go, you can go. Unless the police stop you. Yeah, to drive a scooter in Rome you need a driver's license and an international driving permit. Don't worry, though, you can usually get the latter pretty easily online, before your trip.
For scooters, I recommend using Bici & Baci (they also rent bicycles), BikesBooking, or Roma Rent Scooter. The rental process for all of these options is straightforward and can be completed largely online. For bicycles, I recommend Easy Bike Rent (they also rent scooters) or Top Bike Rental.
In general, you should expect to pay around $50–$65 per day for a scooter rental, and $10–$25 per day for a bicycle rental. Given these prices, it should be obvious that both of these methods will probably end up being more expensive than public transportation. My advice is to rent a scooter or bicycle in Rome for the experience and the freedom—not for the savings.
Use Bookaway to find the best deals on transport – buses, planes, trains, and ferries. It'll save you a load of time when organising transport and you'll probably nab an EPIC DISCOUNT too!
Book your transport on Bookaway NOW. Get the best price for the best ride… then use those savings to buy the best feed in town!
Book Your Transport Here!
Cost of Food in Rome
Estimated Expense: $20–$180 per day
Ohh baby—now we can get into the fun stuff! I'm sure every year there's a huge amount of crazy people who visit Rome literally just for the food—and no other reason. The thing is, they're actually not crazy. The food in Rome is just that good. And like all good things in life, it comes at a bit of a high price, especially if you like to eat out at restaurants all the time.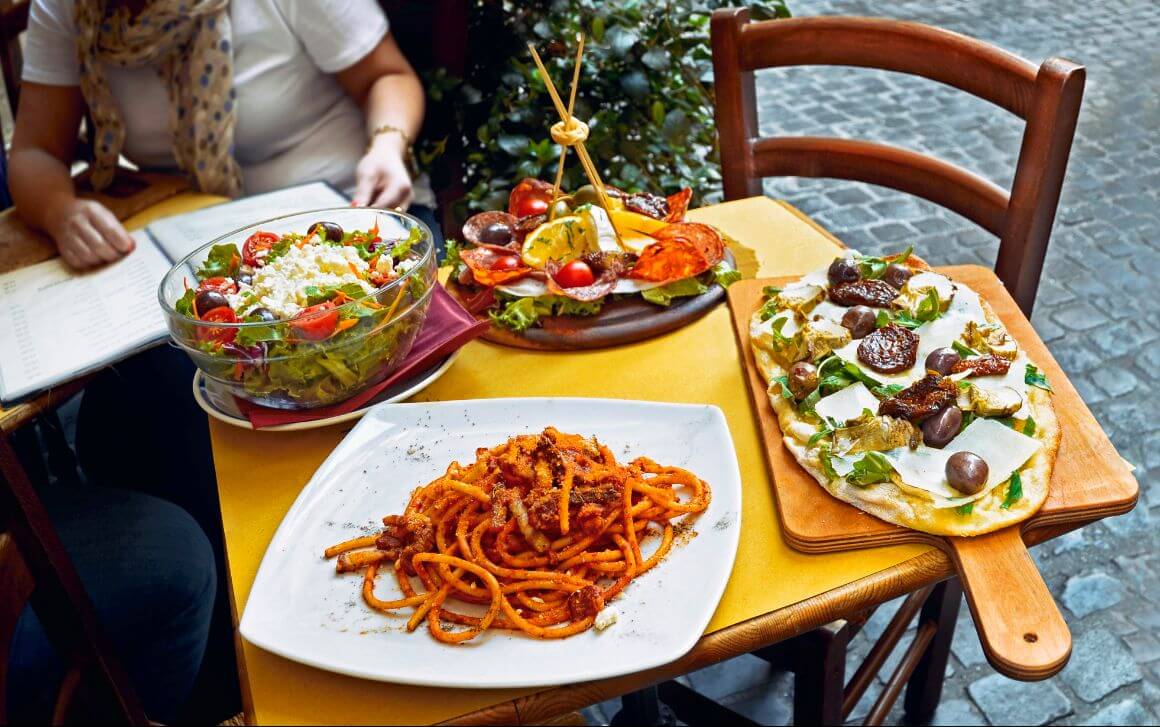 But as always, we broke backpackers know how to find ways around everything. Below I'll talk about the best tips and tricks for saving money on some really, really delicious food. For now, here are some typical prices you should expect when eating out in the Eternal City:
Large pizza: $15–$20 (of course this is the first on the list)
Pasta and a drink: $15–$19
Panini or sandwich: $5–$7
Lunch in a casual restaurant: $12–$15
Dinner for two at a fancy restaurant: $75–$125
Honestly, if you're really keen to save as much money as possible, you're going to want to buy your own ingredients and cook for yourself. Check out these prices:
Loaf of bread: ~$2
1 liter of milk: ~$2
A dozen eggs: ~$3
1 pound of potatoes: ~$1
Where to Eat Cheaply in Rome
All that being said, if you're like me and you'd rather beg on the street than cook for yourself, there is hope yet. Here are some more secrets about where to eat for the budget-savvy foodie:
Eat street food, often. In Rome, street food isn't going to be found at roadside stalls like it is in Southeast Asia, but you'll frequently find restaurants with windows where you can order right from the street. Not only is street food bound to be the cheapest it's also just molto delizioso *followed by a chef's kiss.* It costs only ~$3 for a slice of pizza, ~$2 for gelato.
Pasta Chef runs like a fast-food restaurant with its service and prices, but the food is anything but! There's one in Monti and another in the Jewish Ghetto. You can get yourself a nice plate of pasta here for around $8, which is a heck of a deal.
Mercato Centrale is a high-end food court open every single day from early morning until midnight. It has over 20 separate stalls, serving a huge variety of unreal Italian food. Some of the dishes can go up to around $20, but if you're smart with your choices, you can eat here for much less.
Eat the free breakfast if your accommodation offers it. Seriously. I don't care if it's stale croissants and leftover macarons. It's food, and it's free, so EAT IT!
Shop at grocery stores or convenience stores. Of course, buying ingredients here and cooking for yourself will save you the most. But many stores of this kind also offer sandwiches, salads, pasta, and other meals for a fraction of the price you'd pay at a restaurant.
Also, always keep an eye out for meal specials. In Rome, 6 to 9 pm is the sweet spot for those.
Price of Alcohol in Rome
ESTIMATED EXPENSE: $5–$25 per day
When in Rome, one of the best places in Italy, I'm sure you'll want to splurge a bit on some nice wine-paired candlelit dinners, wine tastings, or just some nights out at local bars. As usual, beer is the city's cheapest drink, with wine coming in second. Alcohol prices in Rome are definitely bearable; it's totally possible to enjoy some drinks on a budget.
You shouldn't be surprised to learn that wine is the most popular drink in Rome. Especially popular are the local Frascati wines—definitely give these a taste when you visit. Here's what you should expect to pay for a night out on the town in Rome:
A pint of beer at a bar: ~$5 (~$2 from a supermarket)
A bottle of wine at a restaurant: $12–$20 ($6–$10 from a supermarket)
Always be on the lookout for happy hours, which can be quite good in Rome. Don't hesitate to ask locals for the best spots; they'll be more than happy to point you in the right direction. And of course, if you don't need the bar or restaurant experience, buy your alcohol from the grocery store—it's always cheaper.
Cost of Attractions in Rome
ESTIMATED EXPENSE: $18–$50 per day
This section could end up being as long as a short novel if I'm not careful. There is so much to do in Rome that your biggest concern is going to be figuring out what not to do. Especially if you're here for only a few days—you'll inevitably miss out on some attractions. But that's always better than not having anything to do, and I promise that will not be an issue in Rome. There are hundreds of unique things to do in Rome, but I've listed below some of the most popular attractions, along with their average prices, to give you a broad idea:
The Colosseum: $17
The Vatican Museum: $18
The Sistine Chapel: $18
Castel Sant'Angelo: $16
Obviously, this list hasn't even scratched the surface of what you can do in the Eternal City, but it's a pretty good start. As you can see, most of the major museums and historical attractions center around a $17–$18 price point. If you really take your time and choose to see only one or two attractions per day (which is what I recommend), the costs are reasonable. If you feel the need to hurry around and check as many "when in Rome" boxes as possible, not so much!
Even so, here are some tips to help you save that dough even on the busiest days:
The Sistine Chapel is technically part of the Vatican Museums collection, so your $18 ticket will get you into both, assuming you do them on the same day.
The Roma Pass is a literal godsend; for $55, you can get a 72-hour pass that gives you VIP access to many of the main attractions. Some museums are free, others are heavily discounted, and the pass includes free public transportation—as much as you need!
The one thing the Roma Pass doesn't give you is access to the Vatican Museums or Sistine Chapel. For those, you're going to want an OMNIA Vatican & Rome Card. At $138, it's pretty expensive, but it doesn't just give you access—it also allows you to skip the main line, bypassing the constant hordes of sweaty tourists and gaining fast access to the exhibits. Some of the attractions included in the Roma Pass are also included in the OMNIA card, so if you're thinking of buying only one, I recommend the OMNIA.
The Future of the SIM Card is HERE!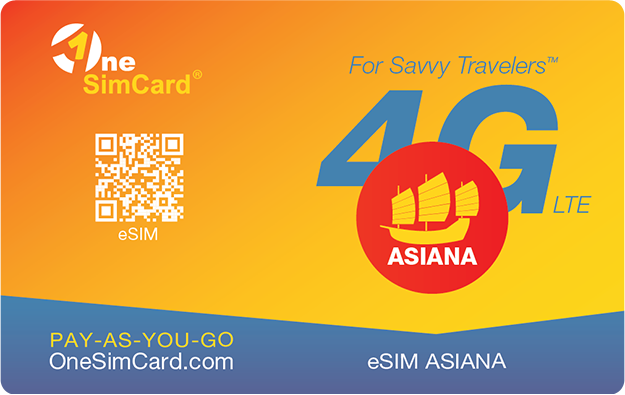 A new country, a new contract, a new piece of plastic – booooring. Instead, buy an eSIM!
An eSIM works just like an app: you buy it, you download it, and BOOM! You're connected. It's just that easy.
Is your phone eSIM ready? Read about how e-Sims work or click below to see one of the top eSIM providers on the market and ditch the plastic.
Buy an eSIM!
Additional Costs of Travel in Rome
Whether you are in Rome for a weekend or a month, always beware of additional costs that can creep up on you when you least expect it. Whenever you travel, there are bound to be unforeseen expenses. When I first started backpacking, I was shocked at how much I spent on books. Yes, books. The road can change a man's heart! Things like water, souvenirs, luggage storage, and random fees can also carve a hefty chunk out of your savings if you're not careful.
I recommend you set aside at least 10% of your budget to account for these "hidden" expenses. Even if you don't end up using all of it, it can't hurt. It's always better to be safe than sorry, especially when you're far from home.
Tipping in Rome
Tipping is a perfect example of a random expense that most people don't think to account for in their budgets.
In Rome, tipping culture is the same as it is in many other parts of Europe: tips are not expected, but they're gratefully accepted. If your restaurant service was exceptional, feel free to tip around 10%, but anything more than that is not necessary. Many locals leave behind their extra change as a way to tip at bars. In general, the same rules apply to other services, like bell service in a hotel or driving services.
Get Travel Insurance for Rome
Traveling is by and large very safe in Italy. Many places that sound far away and scary end up being incredibly easy to navigate and filled to the brim with good-hearted locals. That being said, it's impossible to protect yourself from the unexpected—precisely because it is, in fact, unexpected. If you're taking a trip of any significant length, you should think about buying travel insurance.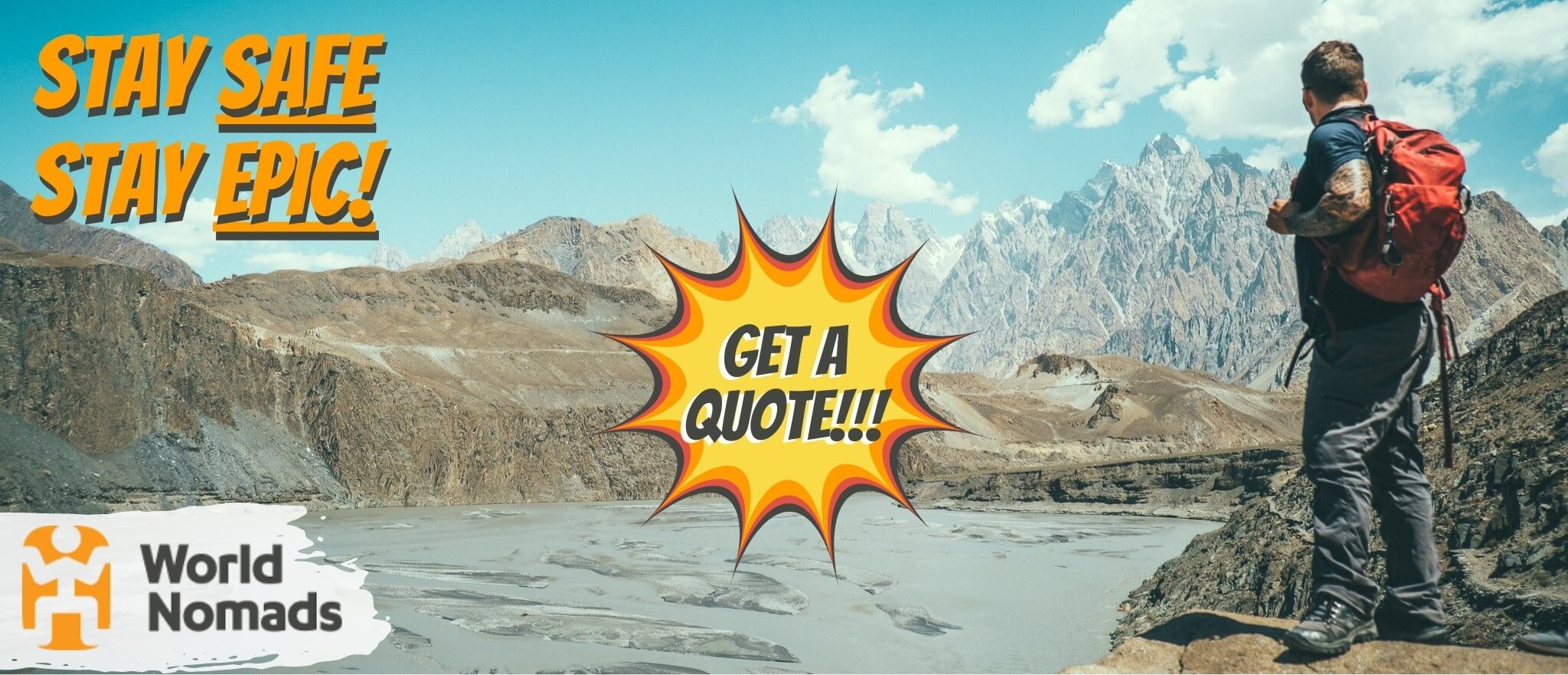 World Nomads' mission is to support and encourage travellers to explore their boundaries. They offer simple & flexible travel insurance, and safety advice to help you travel confidently.
They've been doing it since 2002 – protecting, connecting, and inspiring independent travellers just like you.
Get a quote below or read our in-depth review!
World Nomads provides travel insurance for travelers in over 100 countries. As an affiliate, we receive a fee when you get a quote from World Nomads using this link. We do not represent World Nomads. This is information only and not a recommendation to buy travel insurance.
Some Final Tips for Saving Money in Rome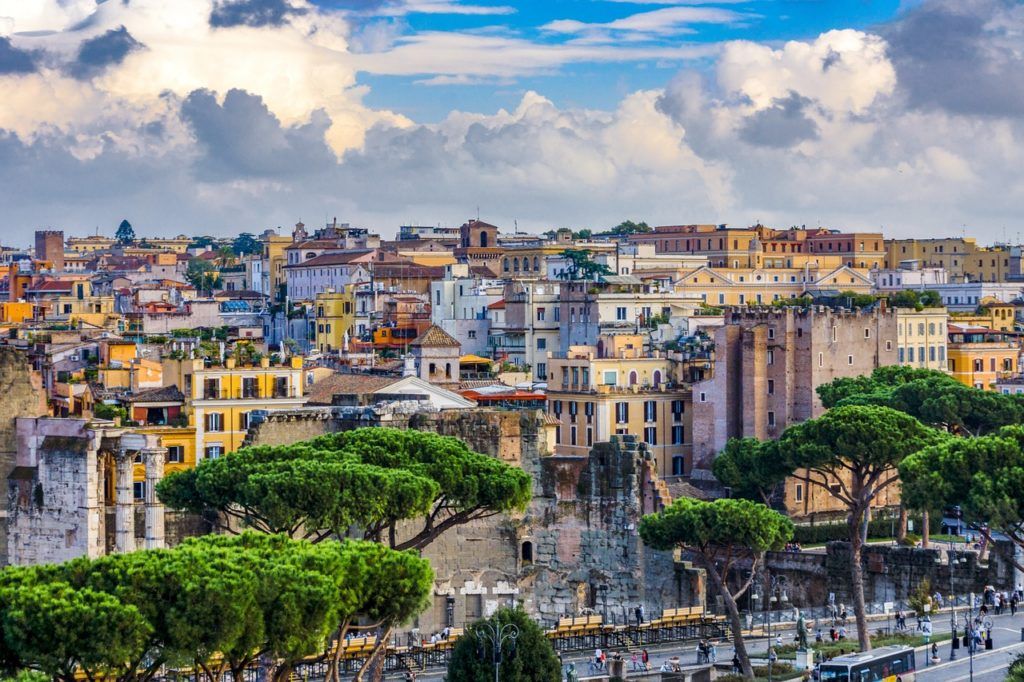 Here are some final, juicy, money-saving knowledge nuggets:
Don't be afraid to walk! In big cities like Rome, attractions, restaurants, and accommodations are often very close together. Walking is free, and I've found it always leads to the best spontaneous adventures.
Have a water bottle: Don't waste money on plastic bottled water; carry your own and refill it in the fountains and the tap. If you're worried about potable water, get a filtered bottle, like the GRAYL, which filters out 99% of viruses and bacteria.
Earn money while you travel: Teaching English while traveling is a great way to make ends meet! If you find a sweet gig, you may even end up living in Rome.
Stay in hostels. I already made my case for hostels above, so I won't put you through that again. Just take my word for it and book one! There are plenty of amazing cheap hostels in Rome.
Use public transportation. The metro and bus network will get you anywhere you need to go in Rome, for a cost that's pretty much immaterial.
Become a volunteer with Worldpackers: Give back to the local community and, in exchange, you're room and board will often be covered. It's not always free, but it's still a cheap way to travel in Rome.
Get the Roma Pass or the OMNIA Vatican&Rome Card. If you know you want to visit the places supported by these passes, save money and time by buying one.

Our GREATEST Travel Secrets…
Pop your email here & get the original Broke Backpacker Bible for FREE.
So, is Rome Expensive, in Fact?
It should be blindingly obvious at this point that, by all European standards, you can have an amazing time in Rome on quite a small budget (regardless of Italy, expenses-wise). If you're someone who's always dreamed of visiting Rome but constantly pushed it off for "later" because of money concerns, reread that sentence.
You really can visit Rome, the Rome, without breaking the bank! Go ahead and question my price estimates if you want; some independent googling will show you they're all accurate!
What we think an average daily budget for Rome should be: $100–$250
I hope this guide has helped you make up your mind to pack your bags for Rome at the soonest.
Now I have a question for you: What on earth are you waiting for?!?!
Ciao, e divertiti in Roma!
---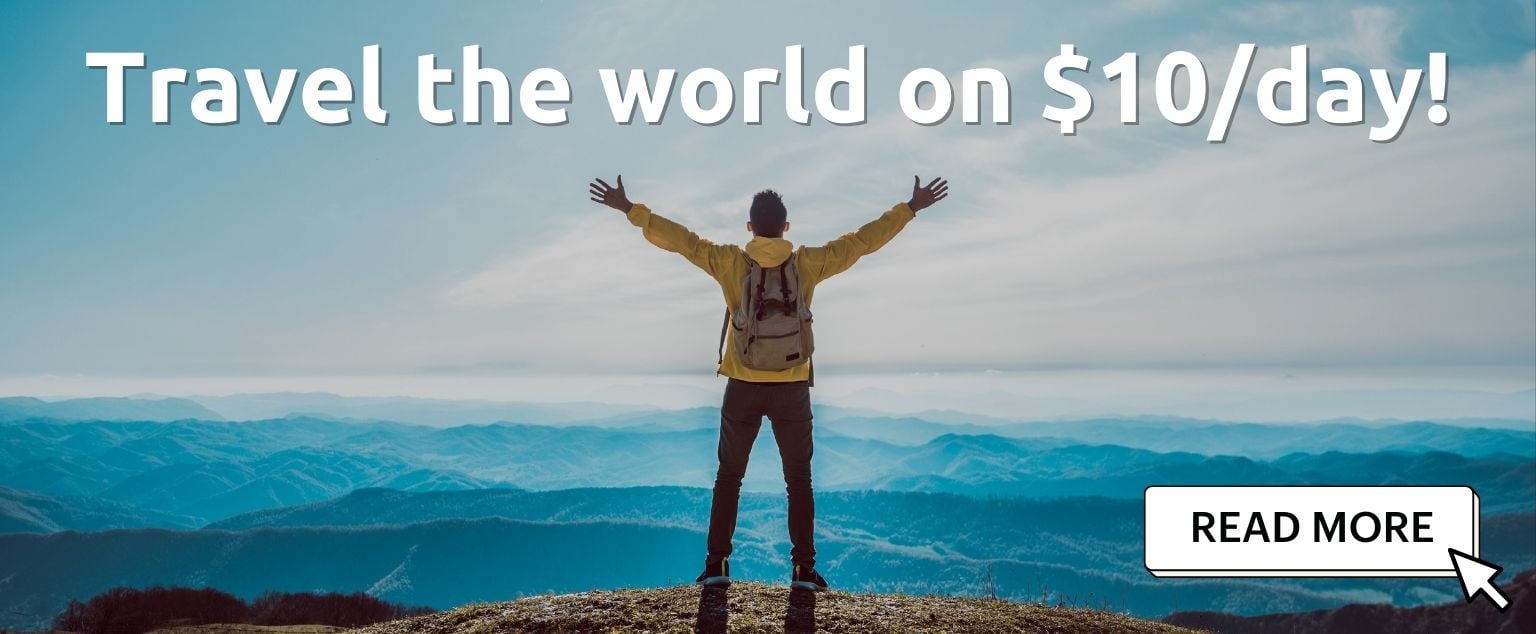 And for transparency's sake, please know that some of the links in our content are affiliate links. That means that if you book your accommodation, buy your gear, or sort your insurance through our link, we earn a small commission (at no extra cost to you). That said, we only link to the gear we trust and never recommend services we don't believe are up to scratch. Again, thank you!