Italy is arguably one of the most bucket-listed travel destinations in the world, and for good reason. Whatever your interests and preferences, there's something on offer in this uniquely boot-shaped country. Choosing the best time to visit Italy really comes down to the experience you wish to have.
Whether it's art and history you're after or idyllic beaches, world-class shopping, and gastronomical delights, you'll not be left wanting. With so much on offer, it's no surprise that travellers have been falling in love with Italy for generations.
As one would expect from such a popular destination, larger crowds, long queues, and higher prices are to be expected in the summer months. Conversely, the winter months can be significantly more affordable, but the weather at this time is likely to be wet and cold, more so in the northern regions.
Finding the sweet spot that balances all your needs can be tricky, but this guide should make it easier to find the right time to go to Italy for you based on your budget, interests, and preferred weather.
Best Time To Visit Italy – April and May, September and October
Best Time To Go To Rome – April and May, September and October
Best Time To Go To Tuscany – Autumn (September and October)
Best Time To Go To Venice – September and October
Best Time For Sightseeing – Spring (April, May)  and Autumn (September, October)
Cheapest Time To Visit Italy – January
When is the Best Time to Go to Italy?
Choosing the best time to holiday or backpack Italy will depend heavily on what you're hoping to see and do in Italy, your budget, and when you're able to travel.
Italy's busiest season is the high summer, from May to August. August is a holiday month in Italy when locals and tourists flock to the beaches to make the most of the very hot weather. 
This leaves the cities almost entirely deserted by locals, meaning it's just the tourists left to enjoy the sights. It also means that some shops and businesses will be closed altogether as the owners head off to the coast with everyone else for their summer holidays. 
Sightseeing between June and August will most likely involve larger crowds of tourists shouldering each other in the heat at major attractions. Along with the Christmas and Easter holiday periods, this is the most expensive time to visit. 
If you're looking to pick up an epic bargain, then the winter months are highly recommended. Most flights and accommodation options will be slightly cheaper at this time, except, of course, the ski resorts in the north that amp up their pricing.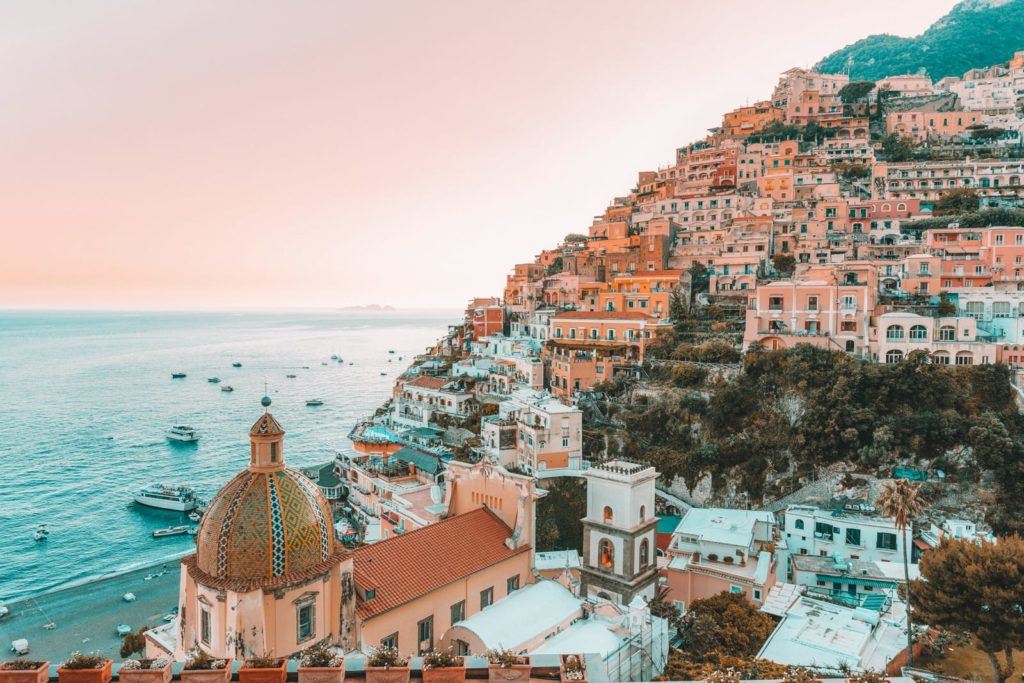 If you're hoping to visit the many museums and galleries without the jostling crowds, then the winter months between November and March are preferable. However, it does mean you'll need to brave the rain and cold, and sometimes even snow. Beach locations and seaside towns all but shut down over the winter months. 
The southern regions of Italy generally experience much warmer temperatures. Winters are milder and less gloomy and the summers much hotter and drier. 
The in-between seasons of spring and autumn bring slightly unpredictable weather but fewer crowds and sometimes good deals on accommodation. This is arguably the best time to visit Italy, in terms of weather.
The spring season between March and May is a good time for food lovers wishing to attend many food-related festivals and celebrations. This is also a good time for hikers and outdoor enthusiasts to head out into the lush countryside to enjoy the mild weather. 
September and October can still be quite warm, especially in the southern regions, and offer much cheaper rates than the high season. It's also the harvest season, so a good time for gastronomic tours and wine tasting. 
Best Time to Go to Rome
Rome, the eternal city, is generously sprinkled with historic ruins, galleries, museums, and sights. The sheer romance and charm of this vibrant city ensure it's perennially popular with tourists. Yes, there is a hell of a lot to see and do in Rome as well as there being many day trips from Rome to take too.
From the awe-inspiring Colosseum, the Vatican City, the Roman Forum, and the iconic Trevi Fountains, the city boasts art and history clout unrivalled by other destinations. The entire city can sometimes feel like a big museum/art gallery that simply cannot be fully explored in just one trip.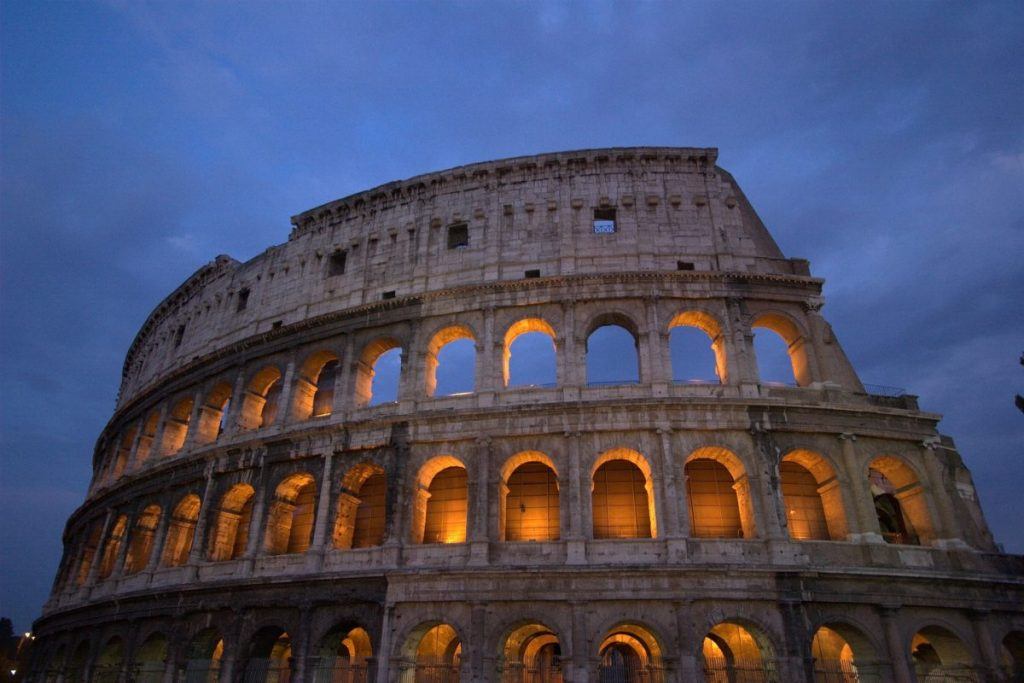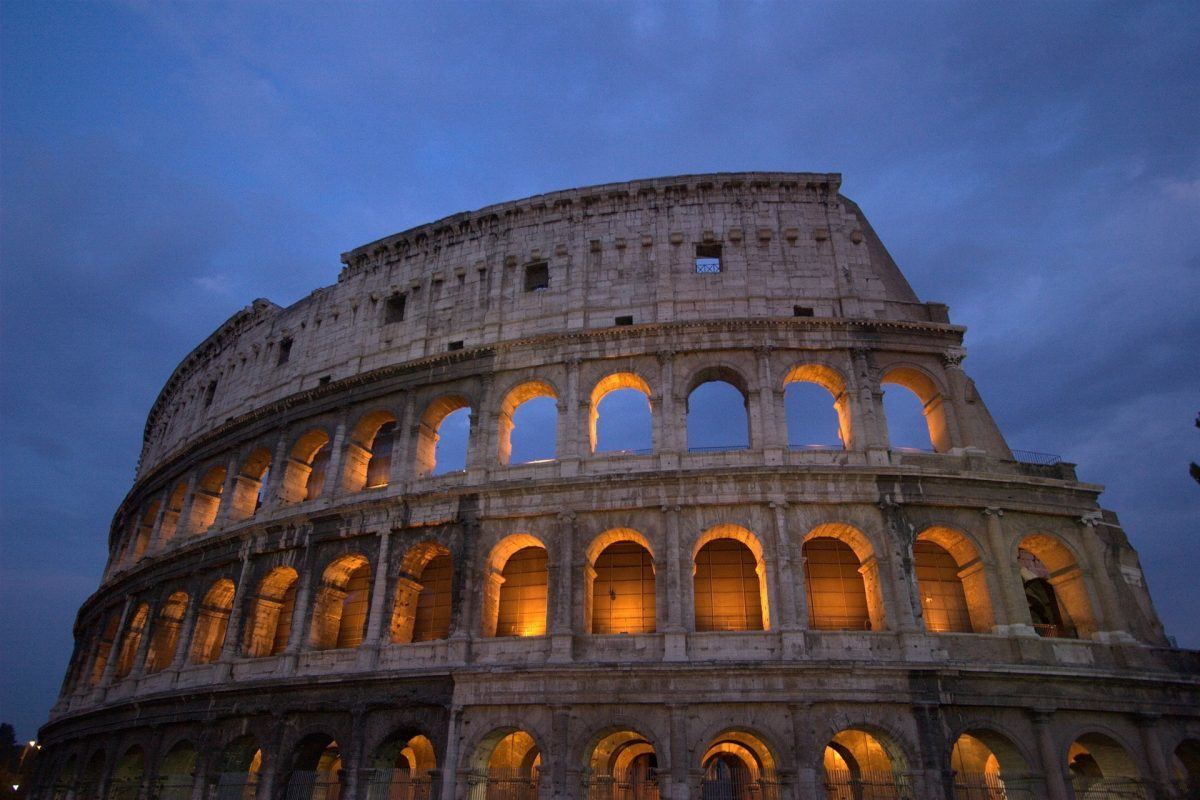 There's never really a bad time to visit Rome, but the Goldie Locks times would be the spring (April to June) and autumn (September to October) when the weather is warm but not too hot. These times of year are perfect for Roman holiday itineraries – walking along the cobbled streets and across the many picturesque bridges over the river. 
The least desirable time to visit would be August – it's almost unbearably hot, and most of the locals have left the city and headed to the coast.  That said, accommodation in Rome can be cheaper during this period.
The winters in Rome are milder than in the far north of Italy, so if you're not afraid of a little chill, you'll get to experience the city's many attractions without hordes of other tourists. Be aware that popular attractions shift to shorter operating hours in winter or close completely for maintenance. 
Best Time to Go to Tuscany
Outside of the rich historic urban areas like Pisa and Florence, Tuscany is also known for its rolling hillsides blanketed by cross-hatched farmlands and vineyards. The region is also blessed with over 230 km of scenic coastline.  Note that you can quite easily stay in Florence and do Pisa as a day trip – or visa versa if you wish. In fact, there are heaps of day trips to do in Florence whilst you're there.
Like in other regions in Italy, the month of August is when the locals enjoy their summer holiday, meaning that a lot of shops, eateries, and attractions are closed altogether. It's also extremely hot and humid at this time. 
The summer months between May and July are the busiest in terms of tourists. The cities can feel crowded, and the weather can be stifling. In the countryside, this is a rewarding time to see field upon field of sunflowers and enjoy heaps of fresh produce.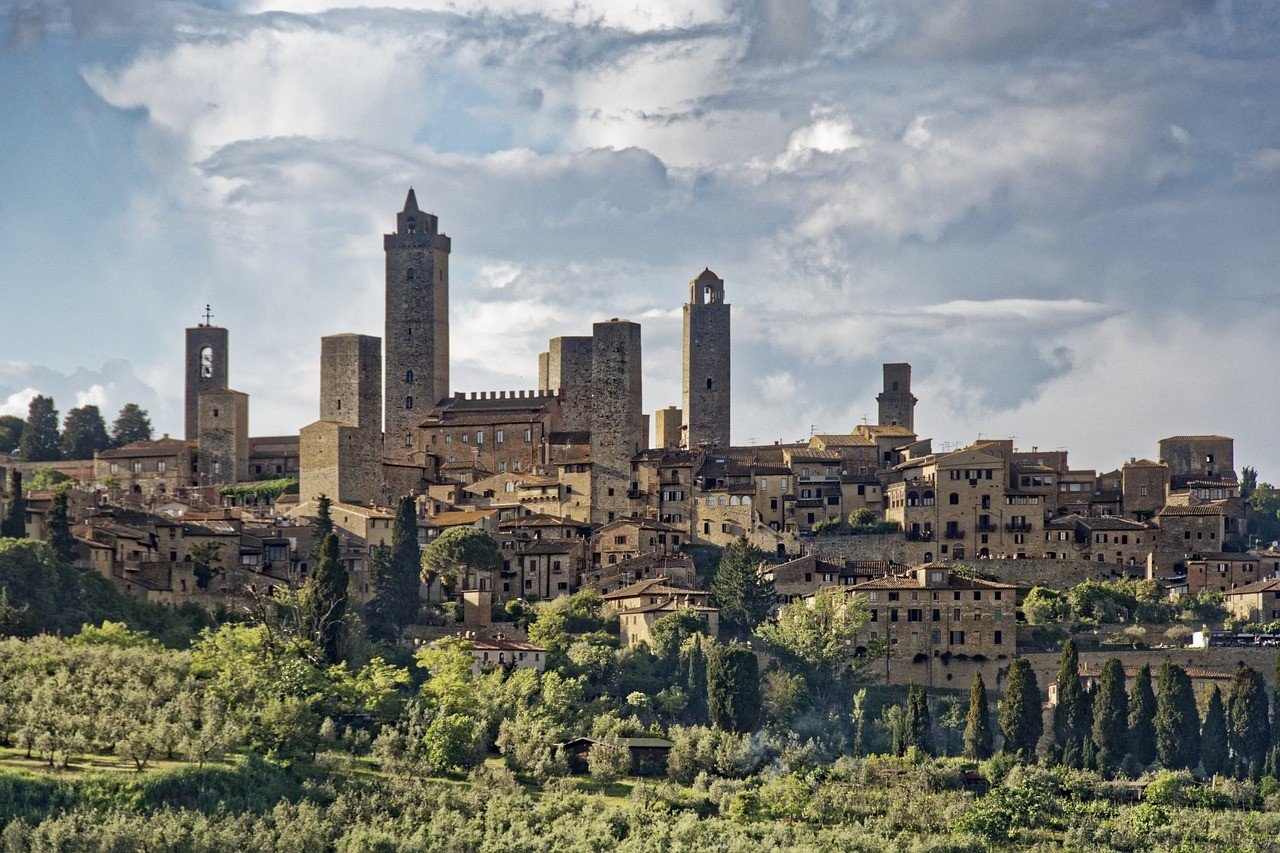 The ideal time for a visit to Tuscany is in the spring between April and May, and the autumn between October and November. This is when the temperatures are less oppressive and other tourists less abundant. 
The winter months are cold, grey, and rainy. However, if you're planning to visit the many museums and galleries in Florence, the winter months are ideal. 
You'll be able to pick up some discounted fares on accommodation at this time and see various attractions without the bustling crowds. It's a good idea to check opening hours as these can be shorter than during the summer. 
Best Time to Go to Venice
Is there a more typically Italian image than that of a gondolier punting lovers through the quaint network of canals in Venice? The Floating City is a favourite with tourists for its many historic sites, elaborate architecture, quaint bridges, and opulent palaces. 
Whether you're planning to attend Carnevale in February, purchase ornate glass creations in Murano, hang out on the beaches of the Lido or take a day trip here from Milan, chances are you'll be doing so alongside masses of tourists no matter which time of year you choose to visit.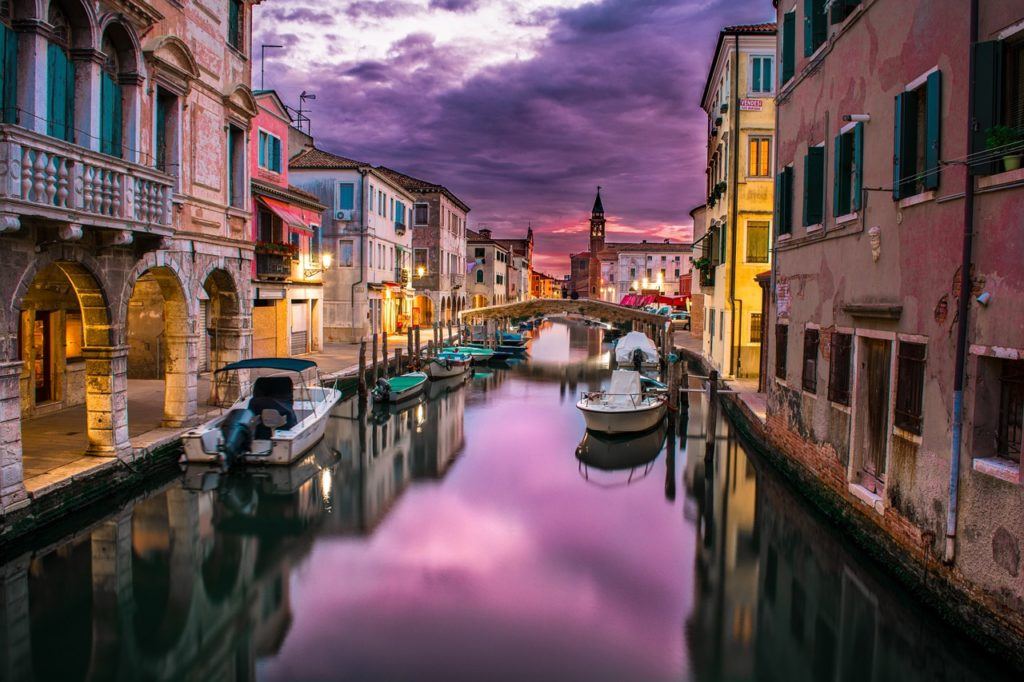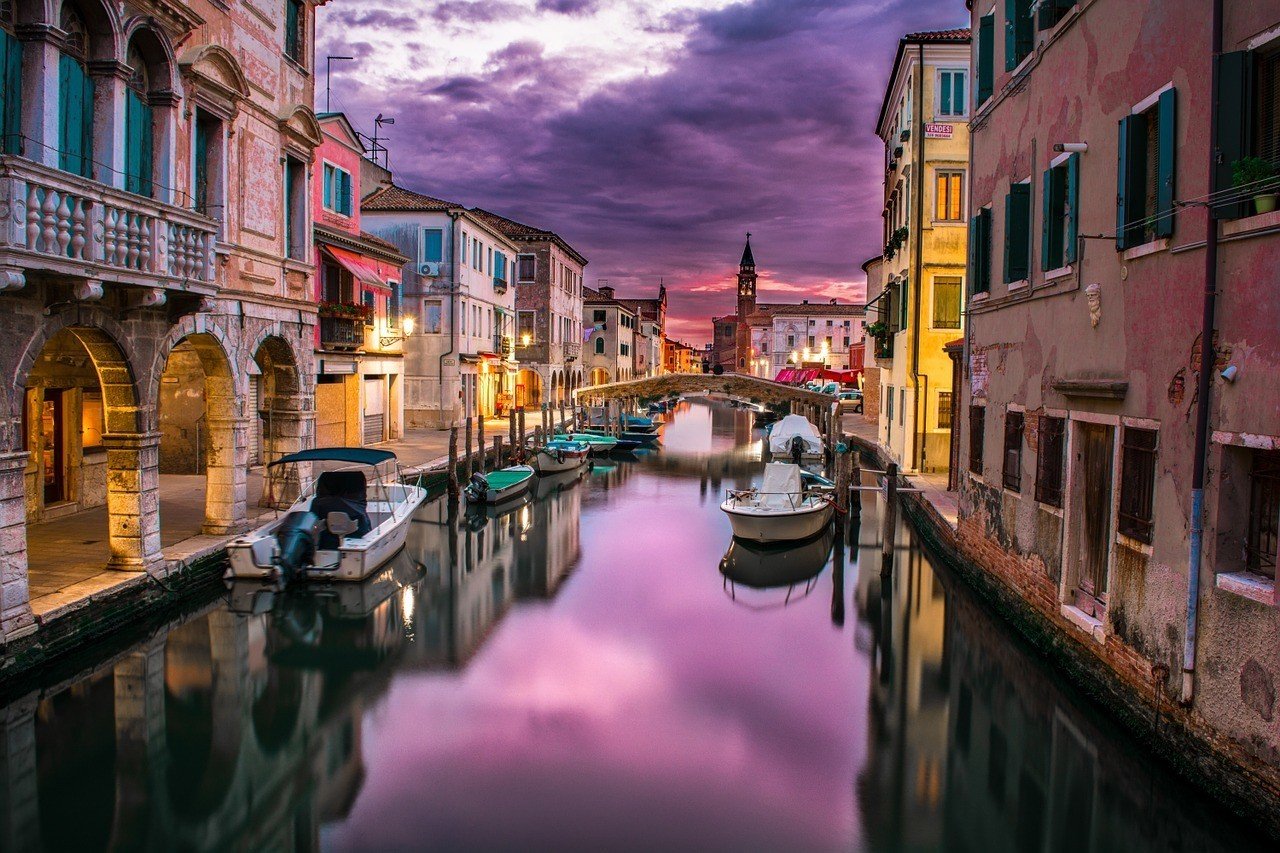 The summer months are hot and humid and attract hordes of tourists. While Venice is generally a more expensive destination, the summer months can see prices dramatically rise.
By contrast, the winter months are cold and wet. Flooding is not uncommon. It's not impossible to get around and still see the sights as the city is well prepared for this in the form of temporary raised walkways. There are somewhat fewer tourists at this time, with February being the exception when a wave of colourfully costumed revellers take to the streets for the carnival or Carnevale. 
The shoulder seasons offer fewer tourists but can be unpredictable in terms of the weather. Spring is often still rainy and damp, making outdoor activities less appealing. Autumn is warm and can yield some great deals on Venice accommodation.
Where to Stay in Italy
Deluxe Apartment in Rome
Lovely Airbnb in Rome
Airbnb Plus is a collection of apartments that have been hand picked for their excellent interior design and customer service. This apartment draws inspiration from classic Italian art – with beautiful frescoes on the ceilings and ornate furnishings. It is only a short walk from the Pantheon, giving you quick access to all of the main historic attractions in the city.
Excellent Location
Get a Touch of Luxury in Your Stay
Top Rated Airbnb Host
Best Time for Sightseeing in Italy
With a long and rich cultural history, Italy is generously endowed with ancient ruins, churches, museums, historic sights, and architectural marvels. There is plenty to warrant more than one trip to fully appreciate it all – don't try to pack too much into your Italy itinerary.
Spring (April to June) and Autumn (September and October) are arguably the best times to visit Italy, both in terms of climate and costs. In addition to picking up the occasional bargain, you'll also have fewer crowds to contend with and a chance to visit one of Italy's many festivals.
The summer months from May to July are popular, making this time of the year more crowded and expensive. The weather can be oppressively hot and standing in long queues at main attractions is unpleasant, not to mention having to jostle your way through thick crowds inside galleries and museums. 
Winter can be a good time for sightseeing – fewer crowds and more bang for your buck in terms of accommodation and flights. The weather between November and March is cold and wet, which is fine if you're hitting the museums and galleries, but less so if you're hoping to see outdoor attractions. Keep in mind that as daylight hours are shorter, many attractions operate on shorter hours too.
Small Pack Problems? 😉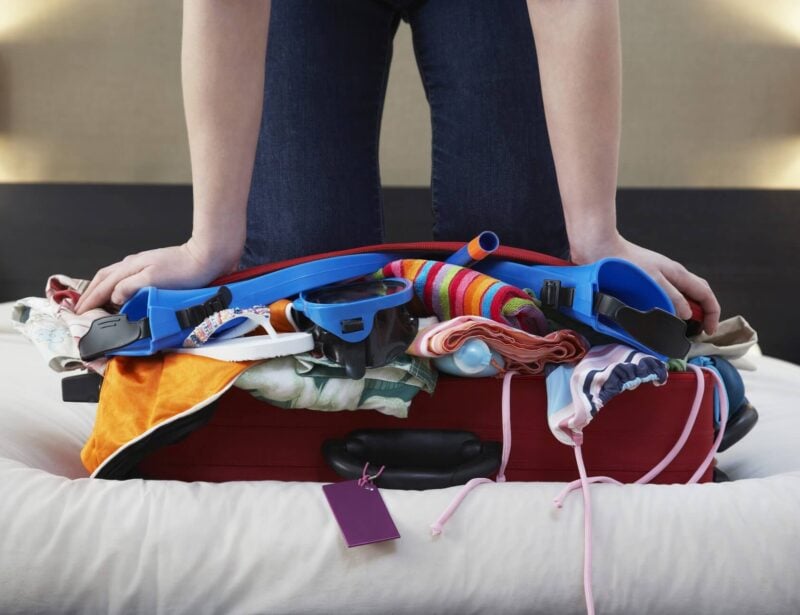 My missus travels with all her clothes in ziplock bags: don't be like my missus. UP YOUR PACKING GAME!
Packing cubes for the globetrotters and compression sacks for the real adventurers – these babies are a traveller's best kept secret. They organise yo' packing and minimise its volume too so you can pack MORE.
Or, y'know… you can stick to ziplock bags.
View Our Fave Cubes
Or Check Out the Sacks!
Best Time for Visiting Tuscany
Dramatic coastlines, undulating farmlands of the countryside, and historic cities burst with art, architecture, and history. There's something to see and do in Tuscany in every season. 
While the beaches are best between May and July, hitting the coast in August should be avoided as this is when the beaches are at their most crowded with locals. In the winter months, many of the small coastal towns shut down altogether.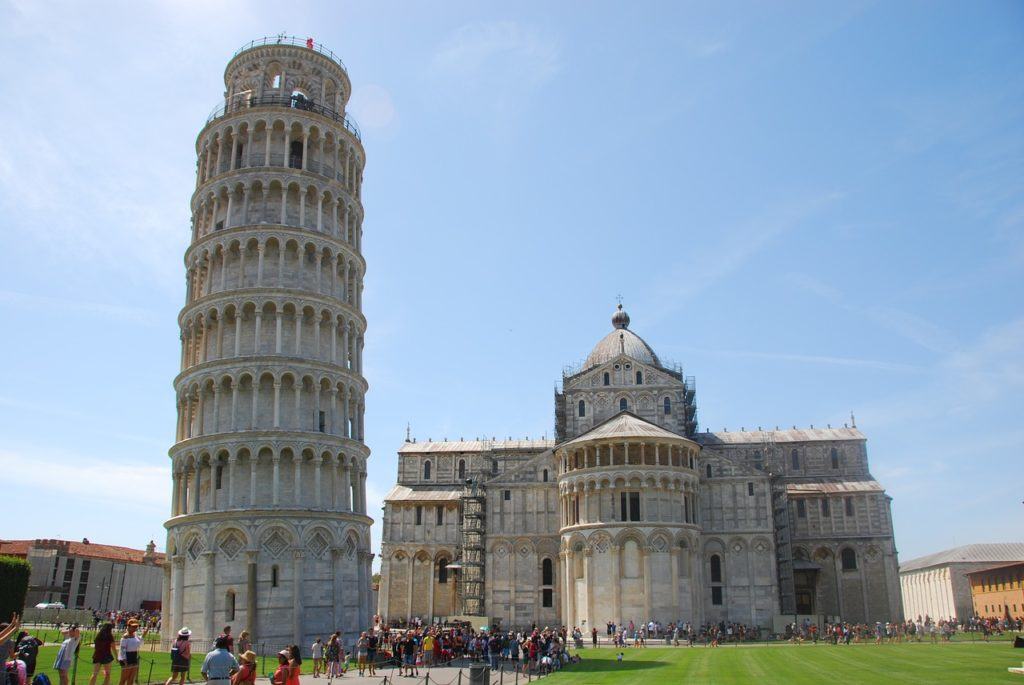 The Tuscan countryside is best experienced in the spring between April and May when the landscape reawakens in bright hues. The autumn months on the other hand offer a bounty of food and wine festivals, mild weather, fewer other tourists, and some great value deals on accommodation. 
Visiting the churches, museums, and galleries in the cities is good in most seasons outside of the high summer period. With the weather being chilly and wet between November and March, it's a good time to be indoors taking in the history and culture. You'll spend less time waiting in long queues and benefit from reduced accommodation rates. 
Cheapest Time to Go to Italy 
As such a universally popular destination, it Italy can get pricey. Especially in response to peak times such as the summer months between May and August.
Regionally, prices fluctuate in response to festivals, celebrations, and events that attract visitors, but this can be offset somewhat by booking well in advance.  
In the shoulder seasons of spring and autumn, it's possible to snap up some good deals on accommodation, especially if you're willing to risk waiting until last-minute deals become available. Trying to snap up a last-minute deal is not recommended if you're wanting to visit any of the highly touristed spots and cities. 
Cheapest Time To Go To Italy

| Expense | Oct - Feb | Mar - Jun | Jul - Sep |
| --- | --- | --- | --- |
| Hostel | $19 | $27 | $28 |
| One way flight to Rome from Europe | $38 | $37 | $45 |
| Private hotel room | $141 | $156 | $143 |
| Colosseum Tour | $20 | $20 | $20 |
Busiest Time to Visit Italy
As you'd expect from a destination as diverse as Italy, there's never a time throughout the year that isn't busy. There are, however, other factors to consider, such as weather and cost which might swing your vote in either direction depending on what is most important to you. 
The busiest time to visit Italy is during peak season during the summer months, between May and August, with July being extremely busy. Because this is the peak time, you'll likely pay significantly more for accommodation, especially along the coast. Expect to wait in long queues to see the sights along with masses of other camera-wielding tourists.
Beach destinations in Italy in August are inundated, not just with holidaymakers, but with locals taking their annual summer holidays and escaping the oppressive heat in the cities. As a result, prices of seaside accommodation spike at this time.
There are also brief peak periods around the holidays at Christmas and Easter. Ski resorts in the Dolomites and Alps peak from December to March to make the most of the guaranteed snow periods. 
Weather in Italy
Italy's topography and unique shape mean that the weather can vary significantly from region to region. The country is bordered on the north by the Alps and the Dolomites and has a spine of mountains, The Apennines, running the length of the boot. These mountains cause a significant impact on the climate. 
While the country lies in a temperate zone, the length of the peninsula means there's a great deal of difference between the climate in the north and the south of the country. 
The north of Italy experiences a cooler climate generally, with colder, wetter winters, and milder summers when compared to the south. The southern regions have milder winters and much hotter and drier summer months.  Just make sure you pack for Italy in line with the season you are visiting.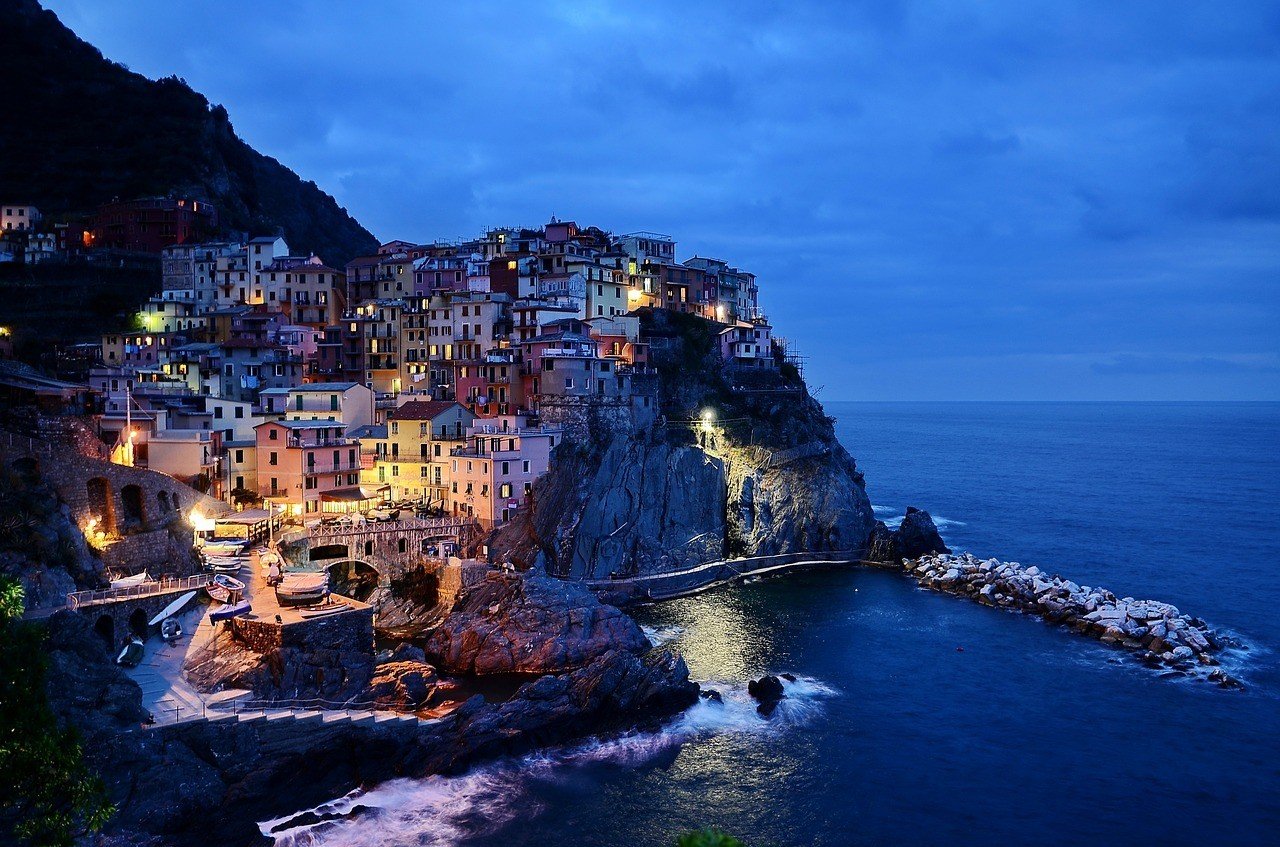 Generally, Italy has a winter rainfall pattern and dry summers (which can be extremely humid along the coast). The west coast of the country receives significantly more rainfall than the east overall. The elevated altitudes experience cooler temperatures and commonly snow in mountain regions like the Alps and Dolomites – perfect for skiing. 
The months of April and May (spring), and October and November (autumn) offer the mildest temperatures of all the seasons, although somewhat unpredictable.
The weather in Italy in April is pleasant in the north with occasional showers, and warm and summery in the south. By May it feels more like summer than spring in the south. Cooler temperatures arrive in October, much sooner in the north, and by November the rainfall has picked up.
Best Time To Visit Italy Weather

| Month | Average Temperature (Highs) | Average Temperature (Lows) | Average Rainfall (mm) |
| --- | --- | --- | --- |
| January | 55 °F (13 °C) | 37 °F (3 °C) | 61.4 |
| February | 61 °F (16 °C) | 43 °F (6 °C) | 65 |
| March | 66 °F (19 °C) | 46 °F (8 °C) | 58.4 |
| April | 73 °F (23 °C) | 54 °F (12 °C) | 70.4 |
| May | 73 °F (23 °C) | 54 °F (12 °C | 70.3 |
| June | 81 °F (27 °C) | 59 °F (15 °C) | 69.6 |
| July | 86 °F (30 °C) | 64 °F (18 °C) | 48.4 |
| August | 86 °F (30 °C) | 63 °F (17 °C) | 65.2 |
| September | 81 °F (27 °C) | 59 °F (15 °C) | 82.2 |
| October | 72 °F (22 °C) | 52 °F (11 °C) | 94.4 |
| November | 61 °F (16 °C) | 45 °F (7 °C) | 101.1 |
| December | 54 °F (12 °C) | 54 °F (12 °C) | 73.9 |
Where is the Best Weather in Italy?
Italy boasts a temperate climate. However, there can great variations in local climate due to the unique shape, length, and topography of the country. 
Generally, the further south you travel down the boot, the warmer and drier it becomes. That said, the summers in the south can be extremely hot and dry, while the winters in the north can be a bit wetter and colder. 
Italy features such a range of topographies, from mountains and valleys to coastal regions, and city microclimates. This cause dramatic climate variations from region to region. The mountains offer respite from the oppressive heat in high summer and snow-capped peaks in the winter – the best weather in Italy for skiing. 
The coastal regions on the east of the country experience less rainfall than those on the west. During the summer, the coastal regions along the west coast can get extremely hot and humid. 
Because of these variations in climate, it's best to plan ahead and do your research before making any decisions about when to travel to Italy. Overall, the best time to visit Italy is in the spring and autumn. 
Festivals in Italy
Italians love a good celebration and need little reason to get together and have a great time. Celebrating ancient festivals in Italy and religious holidays is common, as are food and art festivals.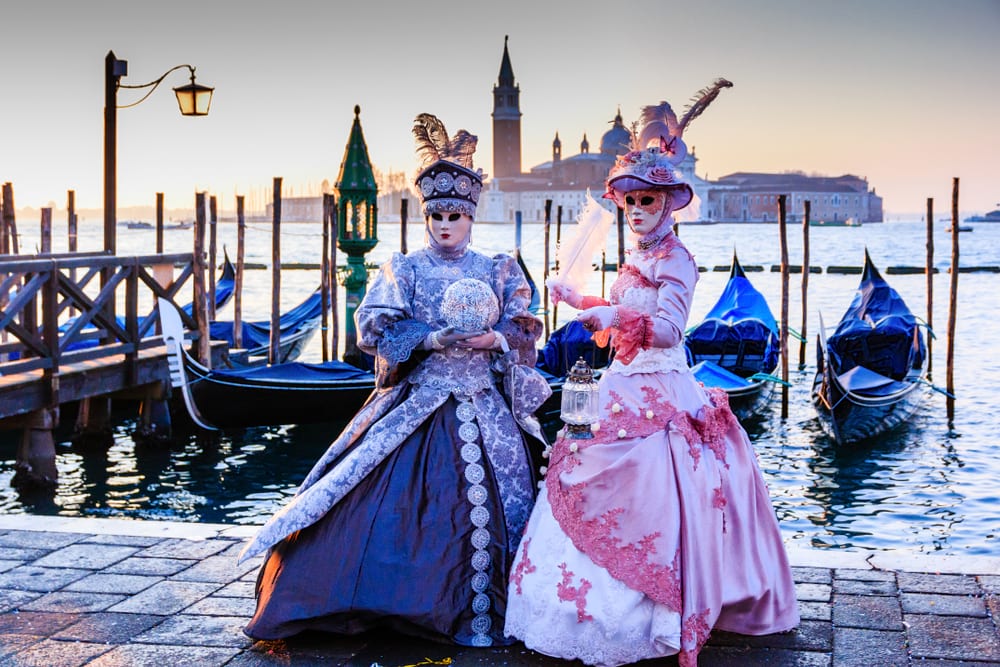 One of the most well-known of Italy's festivities is the carnival or Carnevale in Venice. Held just before the beginning of the sombre religious period of lent (usually falling in February), Carnevale is a popular street festival. People wear masks and colourful costumes, and visitors come from all over to celebrate. It's usually still quite chilly in Venice at this time, but that doesn't dampen spirits one bit. 
The Vatican City, the seat of the Catholic faith, lies within Rome, and the city celebrates Easter extravagantly. From the Pope's Easter mass at St Peter's Basilica to the Stations of the Cross procession at the Colosseum, Holy Week (the period from Palm Sunday to Easter Sunday) in Rome attracts visitors from around the world.
May brings cyclists to Italy in their droves for the Giro d'Italia, Italy's answer to the Tour De France, while June 2 is the country's Republic Day – a national holiday celebrated with parades, festivals, and concerts. This day usually sees a lot of attractions and restaurants closed for the day. 
One of Italy's most popular festivals is the Palio di Siena, an historic horserace that takes place twice a year (July 2 and August 16) in the main square in Siena. It is at its heart a battle between the different city districts and can get quite spirited. The tradition has changed very little throughout the centuries, from the outfits to the rules of the race – it's like taking a step back in time. 
Regata Storica di Venezia
Another historic event that attracts visitors from all over, is the annual Regata Storica di Venezia. Held annually on the first Sunday in September, the boat race is staged on the main canal in Venice and pits participants against each other in four races. It's a spectacular sight to see the Grand Canal dotted with boats of all shapes and sizes. 
Venice International Film Festival
Also in Venice in September is the Venice International Film Festival which is the world's oldest film festival. It's a celebration of film that attracts A-list stars on the screen to the red carpet and many related events. 
Foodie delights can be celebrated at the Alba White Truffle Festival, the biggest of its kind in Italy. Another highlight is the Boccaccesca – a Tuscan food festival celebrating the region's most popular dishes and wines. 
When to Visit Italy – A Month by Month Breakdown
By now, you probably have a good idea of when you'd like to experience Italy. If you're still in any doubt as to the best time to visit Italy for the experience you'd like to have, we've broken down each month of the year and what you can expect to experience at that time.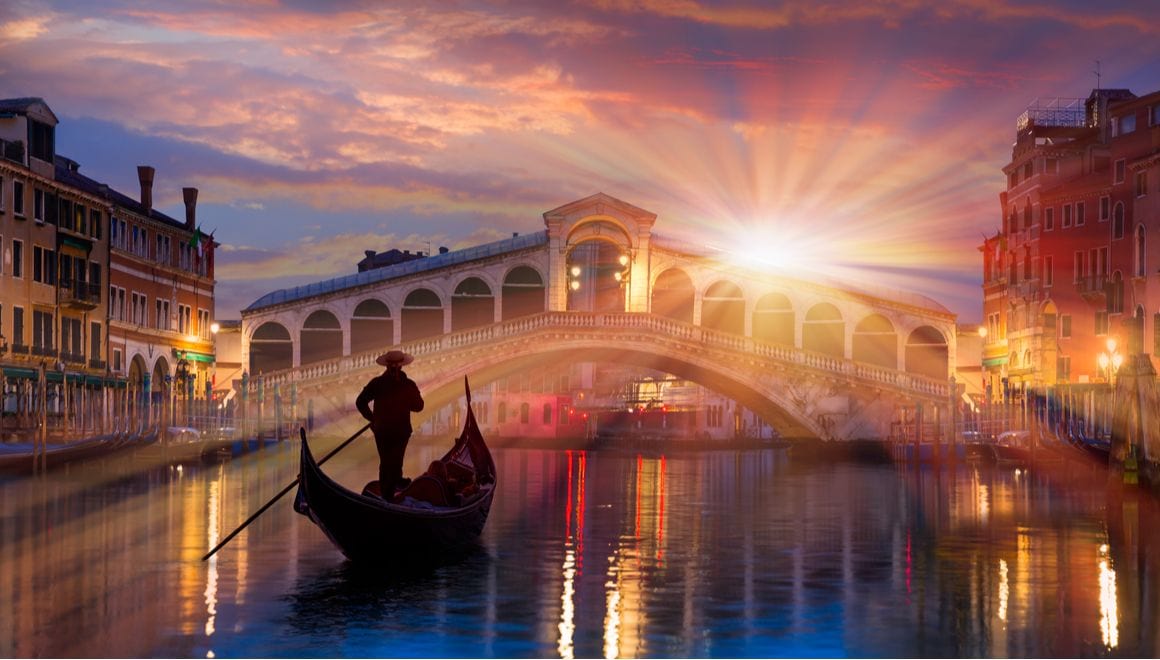 Italy in January
January in Italy is cold, wet, and grey. The northern parts of the country are more prone to snow than the slightly warmer south.
There are far fewer tourists at this time, which means you're likely to benefit from some attractive pricing on accommodation. Some sights and attractions are likely to be closed for maintenance or will be operating at shorter hours due to shorter daylight hours. 
The post-Christmas winter sales kick off during January, so if you're hoping to do some shopping, you're likely to pick up some great deals. 
Italy in February
February is still fairly cold for the most part. The mountain regions in the north receive plenty of snow, making this the most popular (and expensive) time to go skiing.
The south of Italy will begin experiencing greater temperature fluctuations throughout the day – while still fairly cold in the mornings and evenings, it can get nice and warm during the day. 
There are fewer tourists at this time and prices are still fairly low. Venice will see a spike in tourist numbers for the spectacular carnival, which is something to take into account when planning a visit at this time.
Italy in March
While certainly getting warmer, the weather in March can be unpredictable at best. Make sure to bring a mix of warm clothing and a few lighter items, especially if you're visiting the southern regions which can be highly variable. 
The days are getting longer which means more time to explore and longer operating hours at main attractions. The not-too-hot, not-too-cold temperatures and still reasonable prices make this a really good time to visit Italy for great value. Although the visitor numbers start to increase, attractions don't feel crowded.
Depending on when Easter falls, this may impact your trip with many holy days and holidays when some attractions may be closed. This is particularly true of Rome at this time, which also attracts many people coming to attend the Pope's Easter Mass.  Think carefully before you book your Italian weekend break!
Italy in April
Weather in Italy in April is still variable – mostly mild and warm, with the chance for showers still present. The south offers higher temperatures, less rainfall, and can feel decidedly more like summer is on the way.
As temperatures climb and days lengthen, most attractions are open and operating longer hours – the country is fully ready for the summer influx of tourists. Visiting at this time is still largely uncrowded and less expensive than high summer. 
Outdoor pursuits, in general, pick up from April, including popular hiking trails and coastal towns.
Italy in May
May is a great time to visit Italy – the weather is warm, but not stiflingly hot, and the tourist numbers are climbing but it's not overly crowded. You might still experience the occasional shower and some cooler weather, especially in the north. 
If you're heading to the countryside or planning to visit the many gardens or outdoor attractions, May offers the best weather in Italy for this. 
Because of the good weather, this is also cycling season, with the Giro d'Italia cycle race taking place. The race route changes annually, so it's a good idea to check ahead of time and plan around this. It can cause prices to increase dramatically in affected towns and cities.
Italy in June
Summer and peak season arrive in Italy along with large crowds of tourists. Consequently, prices at this time can skyrocket. 
It's the ideal time for outdoor activities and catching open-air festivals and concerts. 2 June is a national holiday – Republic Day – so expect restricted trading and operating hours at major attractions and sites. 
Temperatures reach the high 20s (Celsius) and rainfall is minimal – bring a light jacket just in case.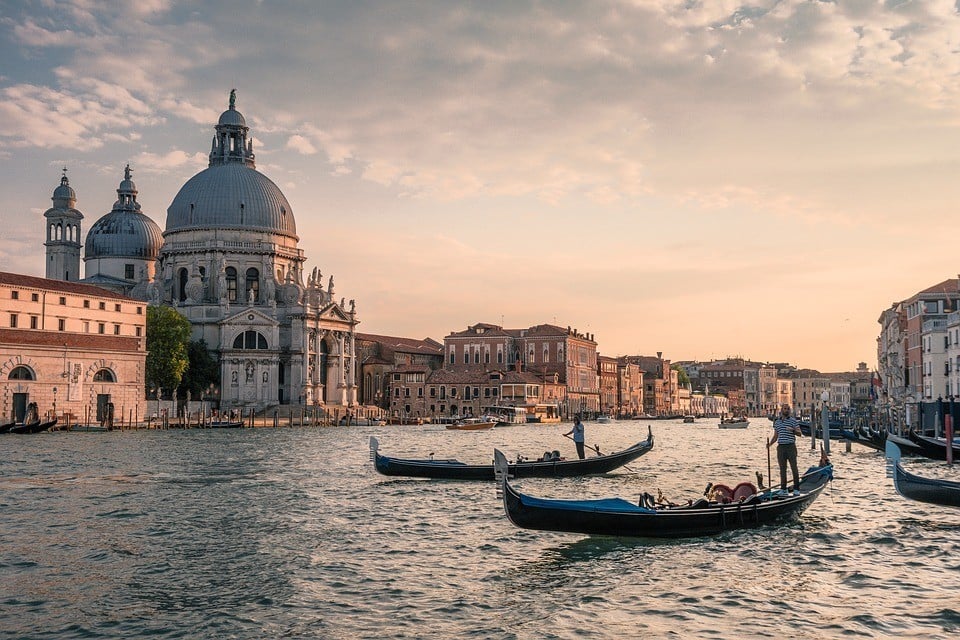 Italy in July
This is one of the hottest months of the year, second only to August. The heat in the cities can be stifling, and when combined with the increased crowds of tourists, it can make sightseeing challenging.
This is the most expensive time to visit generally, with prices rising to meet the increased demand for accommodation and flights. If you are hoping to travel to Italy in July, make sure to make your arrangements in advance. 
Italy in August
August is the traditional summer holiday period for locals. This means you're not only competing with other tourists for accommodation along the coast but locals too.
It's unbearably hot, especially in the cities and the southern regions. 
Be aware that if you're visiting the now decidedly empty cities to benefit from less crowded conditions, there is the chance that some attractions, restaurants, and services aren't operating at this time. 
Italy in September
Summer begins to wind down in September. Days are still hot, but the evenings can get cooler. Beach holidays are more pleasant at this time and less crowded. 
If you're heading to Venice, expect busier conditions as this is the month of the Venice International Film Festival as well as the famous Regata Storica boat races.
Food lovers will delight in the many harvest celebrations and food-related festivals. This is the best time to try all the local delicacies and sample Italy's gastronomic delights.
Italy in October
The weather is mild at this time, considerably cooler but still pleasant. Pack for variable conditions as you're likely to experience some rain, especially further north. 
Sightseeing is easier at this time too with shorter queues and smaller crowds than during July and August. You can still catch the many food festivals and harvest celebrations, especially as you move outside of the major cities. 
Italy in November 
Grey skies and rain become more frequent as temperatures decline, making it less enjoyable to be outdoors. You may encounter snow in the higher altitudes. 
As the tourist season winds down, prices follow suit making it easier to pick up a better deal on accommodation. Outside of the major cities, tourist attractions and beach accommodation close up altogether for the off-season. 
The daylight hours are much shorter, so if you're planning on sightseeing, take that into consideration. This is likely to impact the operating hours of major sites.
Italy in December
As with most destinations, expect an increase in prices and tourist numbers around the holiday period. While this technically isn't peak season for most of the country, it is the beginning of the busiest time in the Italian ski resorts where snowfall increases as you head into January. 
The Future of the SIM Card is HERE!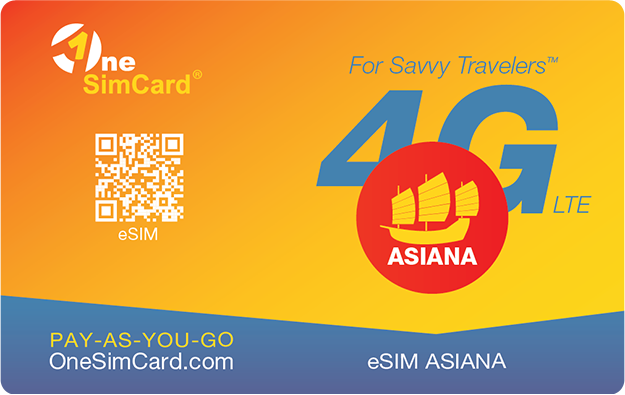 A new country, a new contract, a new piece of plastic – booooring. Instead, buy an eSIM!
An eSIM works just like an app: you buy it, you download it, and BOOM! You're connected. It's just that easy.
Is your phone eSIM ready? Read about how e-Sims work or click below to see one of the top eSIM providers on the market and ditch the plastic.
Buy an eSIM!
FAQ About the Best Time to Visit Italy
Don't Forget your Italy Travel Insurance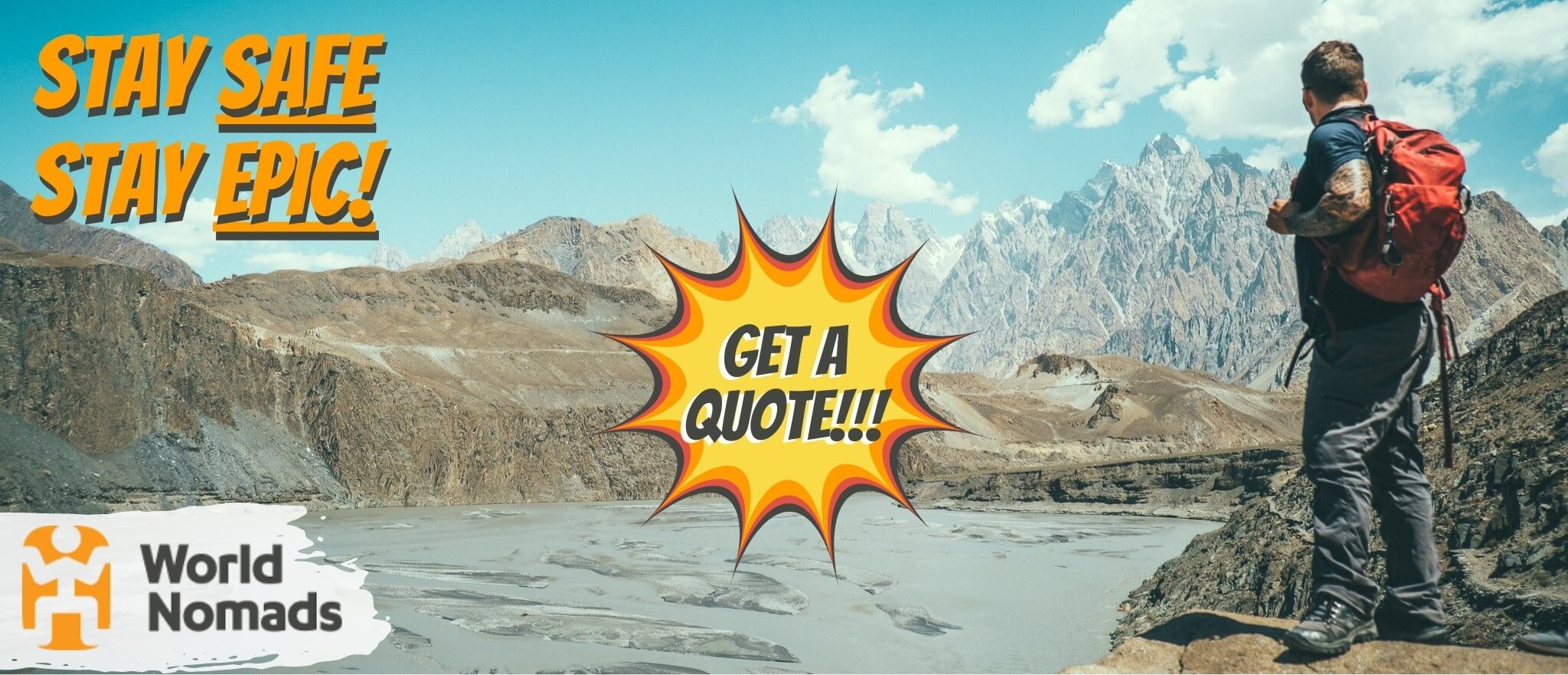 It's good to get lost sometimes, but it's also good not to get too lost. There are people that want you home in one piece.
There's one travel insurance provider The Broke Backpacker trusts for all his wildest shenanigans… World Nomads!
Click the button below to get a quote on your insurance or read our in-depth review of World Nomads' coverage. And then… let the shenanigans begin. 😉
Final Thoughts on the Best Time to Visit Italy
If you've made it this far, you've probably identified the best time to visit Italy that ticks all the right boxes for you. 
If you're planning on travelling to Italy in the high season, it's best to plan well in advance to help you save a bit on accommodation and to avoid disappointment. For travel outside of the high season, holding out for last-minute deals is risky but potentially very rewarding.
Whether you're planning to museum hop, go skiing, or eat your way from north to south, there's something for every season and every traveller. Italy is such an incredible place to visit that no matter when you visit, you'll bring back amazing memories and be planning your return to see more.
Happy travels, and arrivederci.
---
Bye for now, but not forever!
If you want MORE top-tier Broke Backpacker content like this, then sign up for our weekly newsletter below to get the latest and greatest!
And for transparency's sake, please know that some of the links in our content are affiliate links. That means that if you book your accommodation, buy your gear, or sort your insurance through our link, we earn a small commission (at no extra cost to you). That said, we only link to the gear we trust and never recommend services we don't believe are up to scratch. Again, thank you!