Ahh Italy, home to the dolce vita lifestyle. Its buzzing cities are positively littered with history and laid-back 'sit around drinking espresso all day' vibes.
With picturesque villages, expansive national parks, gorgeous beaches, ancient ruins, glistening lakes, and craggy mountains, there are so many reasons to visit Italy.
One thing that often puts travelers off though, is the price. Italy is not known for being a budget backpacker's location, especially the romantic city of Venice.
But is Italy expensive? And are there ways to keep costs down without cutting out the adventure level? From my experience, exploring Italy on a budget is possible, but it certainly takes some know-how.
Luckily that's what this guide is here for. I'll be taking you through the best way to travel to Italy on a budget and show you how much you'll need to save to have an unforgettable Italian adventure.
Affordability Rating: Moderate
While a visit to Italy is certainly not coming to come cheap, its not all that expensive for travel either. Sure, everything costs a lot more than it does in South-east Asia and even Eastern Europe, but many travellers are still surprised by how much value for money can be found in Italy.
While accommodation prices in Rome and expensive Milan get silly in summer, they drop in low season and cities like Leece and Bologna are just as charming at half the cost. Homegrown wine is cheap and there are plenty of trattorias selling delicious meals for €8.
Finally, right now with the Euro being in a weak position, visitors coming from the US may even be able to have it large in Italy.
How Much Does a Trip to Italy Cost on Average?
The cost of a trip to Italy is going to depend on how much you have to spend, so knowing your budget for the trip is really going to help. You will, of course, need to factor in the cost of flights, accommodation, food and a few souvenirs to take home too.
All the travel costs listed in this guide are estimates and are subject to change. Prices are listed in US Dollars.
Italy uses the Euro (EUR). As of August 2022, the exchange rate is 1 USD = 0.98 EUR.
2 Weeks in Italy Travel Costs
For some guideline prices, you'll find a summary of the average costs of a two-week trip to Italy below.
ESTIMATED EXPENSE: $46 – $1,719 USD for a roundtrip ticket.
The first thing you probably want to know is: is it expensive to fly to Italy? Flights to Italy can actually be very affordable, especially if you're departing from another European airport. Travel from somewhere further afield (i.e. Canada) and you can expect to pay a lot more to fly.
But there's more to getting cheap airfares than where in the world you're flying from. There are ways to get cheaper flights to Italy and that includes being flexible with the time of year you travel.
For example, plane tickets to Italy tend to be way more expensive in the summer months, and peak again over Christmas and again at Easter. The low season is November and January.
The busiest airport in Italy is Leonardo da Vinci–Fiumicino Airport Rome (FCO). The capital city's main airport is located 32 kilometers (around 20 miles) from the center of town. It can take anywhere from 30 to 45 minutes to travel to Rome from the airport.
The transport between the two will also be something you have to budget for.
Here are the average costs of a flight to Italy from a range of international air travel hubs:
New York to Leonardo da Vinci–Fiumicino Airport Rome: $466 – $724 USD
London to Leonardo da Vinci–Fiumicino Airport Rome: £45 – £186 GBP
Sydney to Leonardo da Vinci–Fiumicino Airport Rome: $1421 – $2,430 AUD
Vancouver to Leonardo da Vinci–Fiumicino Airport Rome: $963 – $1,540 CAD
The cheapest flights to Italy are from London; the British capital is only a quick flight from Italy and airfares can drop super low, especially in the low season. Compare those low costs with the prices to fly to Italy from Australia and you might be put off the trip altogether. But remember: you can save on those costs, too.
Make sure to spend time checking out flight comparison websites like Skyscanner. You might actually be surprised about how much you can save. Sites like this make it easy to compare different rates once you can see the price offered by all the major airlines in one place. It basically saves you time and money.
ESTIMATED EXPENSE: $18 – $120 per night
Accommodation is another factor in your trip that is bound to take up a sizable chunk of your travel budget. Luckily, Italy's accommodation comes in all shapes and sizes, so even though the country has an image of being a luxury destination, you don't have to spend a ton of cash on high-end hotels.
The price of a night in a budget hotel, awesome Rome Airbnb, or hostel will vary depending on where you are planning to visit in Italy.
Rome can be quite expensive, and in the high season, the city's seemingly endless list of accommodations raises their prices exponentially; in Venice, room rates soar. It's best to avoid the high summer season if your budget is modest, but earlier on in the spring or later in autumn will have lower prices.
You can also save money by staying in a more suburban neighborhood in Italy rather than the city center. Places to stay outside the city are usually way cheaper, even when you add in the cost of transport.
Here's a little more info on the selection of accommodation on offer in Italy…
Hostels in Italy
Backpackers will rejoice at the fact that Italy has a vibrant hostel scene. You'll find these budget digs in historic city centers, in cool beach-side locales, and even overlooking Venice's famous canals.
The cheapest hostels in Italy start at around $18 per night.
Italy's hostels come in all sorts of shapes and sizes. You could book yourself a bed for the night in a polished flashpacker hostel in Milan or opt to bunk down in a basic bed in Rome.
There really is something for everyone. Usually, the hostels are safe, clean, and run by a professional bunch. You can even expect communal kitchens, bike rentals, and group activities.
If you're looking for ways to make a trip to Italy cheap then you should seriously consider staying in a hostel. Here are some of the best hostels in Italy for you to take a look at:
Ostello Bello – This centrally located Milan hostel is an award-winning place to stay. It offers excellent value for money and has a great atmosphere, and plenty of amenities to make full use of.
Anda Venice – Recently awarded "the most popular hostel in Venice", this contemporary accommodation option has a buzzing atmosphere and a good selection of rooms to suit you (and your budget).
Yellow Square – A lively place to stay with a bunch of activities going on: live music, tours, and even a hair salon. It's a great place to meet fellow travelers. Another bonus is the proximity to Termini station.
Airbnbs in Italy
With all of its incredible old buildings and charming architecture, Italy has some pretty dreamy Airbnbs to stay in. Airbnbs in Italy have become an increasingly popular option for tourists in recent years who have been swapping costly hostels with cheaper, more local apartments and homes turned into vacation rentals.
The choice of vacation rentals in Italy is truly vast, so you shouldn't have trouble finding a place for your trip. You can usually find budge-friendly apartments in places like Rome for less than $100 a night. The cheapest can be priced as low as $70-130.
It's not just about having somewhere to stay for the night. In Florence, there are bucketloads of Airbnbs that directly overlook the Cathedral, and there are chic country houses in the middle of the Tuscan countryside. Booking into an Airbnb doesn't just make a trip to Italy affordable – it makes it totally memorable too.
Staying in self-catering accommodation also means you can save cash on food by making your own meals. Something that really helps with the daily budget. You can also save on other things like laundry and bike rental as some places come with the use of bicycles.
Still, thinking that Italy is expensive? Take a glance at these affordable Airbnbs:
Tiny Home Rome – This modern apartment, overlooking the Vatican itself, is perfect for a couple or solo traveler in Rome. It may be small, but it has everything you need, including a small kitchen, dining area and your own balcony.
Chic Milan Apartment – Packed full of charm and elegance, this Milan apartment feels more like a boutique hotel than an Airbnb. There are all sorts of antique furnishings within, plus it's close to plenty of sights in the city.
Charming Florence Studio Apartment – This old-world apartment, with its high-beamed ceilings and large windows, is a charming place to stay. Even better is the location, being just a five-minute walk from the Duomo.
Hotels in Italy
Hotels in Italy can be pretty pricey. That is if you want to stay in one of the country's numerous high-end hotels, which are geared up for the rich and famous. If that's not what you're looking for then the hotels in Italy aren't particularly expensive at all.
In general, you can get a clean and reliable budget-friendly hotel in Italy for around $70 per night. You may even find that the price is cheaper in more rural destinations or outside of peak tourist season.
Staying in hotels comes with a lot of perks. For one thing, hotels are usually located in the most convenient places for transport and sightseeing. You also get the added bonus of housekeeping, on-site restaurants, hotel bars, and maybe even breakfast included in the room rate.
To help you out with your accommodation search, here's a choice of some top affordable hotels in Italy.
Hotel Delle Nazioni – Offering fantastic value for money, this hotel is a mere 50 meters from Florence's main railway station. The rooms are clean and contemporary, and the location puts a bunch of top sights within walking distance.
Spice Hotel Milano – A 19th-century building that's been renovated for modern-day living, this three-star hotel features many a perk including continental breakfast, room service, and the convenience of 24-hour reception.
Hotel Nord Nuova Rome – This 1930s-style building has a great location, being a stone's throw from Termini station. Amenities include a spacious sun terrace and a fully-equipped gym, while guest rooms boast marble bathrooms and air-conditioning.
Unique Accommodation in Italy
Italy has almost no end to simply amazing accommodation. What else do you expect from a country with such a rich history? But when it comes to unique accommodation, you can't get much more incredible than staying in an actual castle.
Italy's vast countryside is littered with castles that were built over the centuries by noble families and high-flying individuals. Today many of these charming castles have been converted into stylish hotels so guests can live the life of a celebrity of yesteryear.
Castle hotels in Italy can be found in numerous locations across the country. These stately structures have thankfully survived the years intact, but have been updated with all of the modern amenities for 21st-century guests.
They're often carefully curated affairs with interiors that have been selected by hand to complement the history of the building. All this adds up to luxury accommodation with a price tag to match. But you could choose to splash out for a weekend in Italy and spend an unforgettable part of your trip living the rags to riches dream.
If you're tempted to stay in a castle hotel in Italy, here's a little selection to help you plan your trip:
Castello di Gabbiano – This 14th-century castle is surrounded by 100 hectares of olive groves and vineyards in the Tuscan countryside. The grounds feature a manicured garden and swimming pool, while the rooms are charming and elegant.
Castello di Vicarello – A boutique resort set in a 12th-century castle. What more do you want? It has views of the Tuscan countryside and a long list of amenities that make it a super luxurious place to stay including swimming pools, terraces, and a restaurant.
Castello di Petroia – Here you get to stay in one of several medieval buildings that surround a 12th-century castle (yep, another one). It's located between Gubbio and Perugia, giving you ample opportunity to lap up some Italian landscape beauty.
ESTIMATED EXPENSE: $0 – $60 per day
Italy is a fairly sizable European nation with a land mass that takes up around 294,000 square kilometers in area. The nation's famous boot shape boasts a long Mediterranean coastline that provides the ideal backdrop to road trips and train journeys.
Travelers might be pleased to learn that getting from destination to destination in Italy is a breeze. There's a wide choice of options when it comes to trains, and even the most remote locations can be reached by road or bus.
Ferries also provide essential transport along Italy's long coastline to islands. On lakes (i.e. Lake Como), ferries connect up communities and tourist sights to make getting around super simple.
There's also the option to hop on a short-haul flight, which could be a good idea if you're tight on time and want to see more of the country. Flights can be affordable and there are usually some special offers to take advantage of, too – just make sure you try to book as far in advance as possible.
Italy has a vibrant cycling scene with an exciting choice of routes that are popular with keen cyclists. Cycling in Italy is very popular and you can find hotels and hostels that are geared up for looking after those on long-distance bike trips.
But is Italy expensive to travel around? Here's how much it costs to travel to all of Italy's best places to visit.
Train Travel in Italy
Jumping aboard a train is one of the best ways to explore Italy. Spanning 24,227 km (15,054 mi) of track, the Italian train network is modern and efficient. Trains in Italy are run by a combination of the government organization Ferrovie dello Stato Italiane, as well as private companies.
There is a selection of different train options in Italy to choose from. The Regionale trains offer the lowest prices fares but journeys can be slow. One plus point is that no reservations are needed in advance.
Is Italy expensive for train travel? Absolutely not, in fact, its trains are some of the most affordable in Europe.
There are the high-speed trains which are a dream to use and still very affordable. The high-speed trains are overseen by companies such as Le Frecce. Connecting up all of the major cities, stitches can cost as low as $10, it's to book well in advance to secure the lowest fares.
An example of train fare on a high-speed train is the popular journey between Rome and Milan which takes about three hours and costs approximately $45. If you're planning to do a lot of traveling around Italy by train then a rail pass might be a good idea, although they don't always save a huge deal of money.
The Trenitalia Pass is one option to consider. There are a number of different options for passes, including reduced rates for seniors and students, here's an example of a pass and how much it will set you back.
Trenitalia Pass
3 trips in 7 days: $136
4 trips in 7 days: $161
7 trips in 15 days: $253
There's also the choice of a month-long pass which could be a good option for long-term travel in Italy. The Trenitalia Pass is valid only for consecutive days of travel, meaning that once you activate your pass on the first day, you'll have seven days in which to make the most of train travel in Italy.
Another good idea for those who are planning to include other European countries in their itinerary is to opt for the Europe-wide InterRail passes. These are accepted on the Italian rail network.
Bus Travel in Italy
If you thought train travel in Italy was cheap, then wait until you see the price of the long-distance buses. Yes, getting around by bus may not be as glamorous as the train, and the journey time will be considerably longer, but you can save a ton of money.
Buses in Italy are also great for those looking to explore more off-the-beaten-track locations. Bus tours connect smaller towns and villages that aren't served by trains and help to open up more places for tourism.
The main bus companies in Italy are Marinobus, Marozzi, and the European favorite, Flixbus. Tickets are easy to buy online in advance but you can also (usually) buy them on the day at bus stations, in local bars and shops, or aboard the bus. The only time you really need to buy tickets in advance is on popular routes in the high season.
Prices vary depending on the length of the trip and the company but they are cheap. For example, buses from Naples to Venice cost $23, while bus tickets from Milan to Venice start from $8.
You can also choose overnight buses in Italy which can help to save money on accommodation, arriving at your destination early in the morning.
Ferry Travel in Italy
With that enormous coastline, multiple islands, and lakes, it's no wonder ferry travel is so important when it comes to getting around Italy. The country has a modern and reliable ferry network which is easy to use – and often very affordable, too.
The islands of Sicily and Sardinia are served by large ferries called Navi; prices for these start at around $19, but can reach up to $100 depending on which port you are sailing from. For Sicily and Sardinia embarkation points include Rome's Civitavecchia port, Genoa and Villa San Giovanni.
There are also Hydrofoil boats which are run by a range of different private companies. Usually only available for foot passengers, these start at around $30 per trip but can. During the high season it's a good idea to book ferries in advance as they can get booked up quickly.
And if you're thinking about exploring Italy's lakes then you'll be happy to know that ferry travel is affordable. Trips around lake Como, for example, start as little as $2.50 which means you can enjoy luxury decisions for a snip!
Getting Around Cities in Italy
One of the best ways to get around cities in Italy is by using public transport. Luckily Italy isn't expensive for public transport – not at all. In fact, it's best to leave the hire car at home and make the most of the low-cost and efficient transport network.
Italy's cities are served by a combination of metros, buses, trams, ferries, and light rail services. In big tourist destinations like Rome, public transport is straightforward for visitors to use.
Rome's comprehensive collection of public transport includes a modern metro system and a bus network. Being such an old city, the metro network isn't able to connect up everywhere in Rome, but the bus network does a good job of making sure all areas are covered.
A one-way ticket on Rome's public transport lasts for 75 minutes and can be used on the metro, buses, trams, and commuter trains. A single ticket costs $1.50; a 24-hour ticket offers unlimited use of public transport in Rome and costs a very affordable $7. You can also get a 48-hour ($12.50), a 72-hour ($18) ticket, and a weekly pass ($24).
Rome is also very much a city for walking. Getting around on foot is also possibly the best way to see Italy's top attractions in the cities. You'll be able to save on the cost of public transport, plus you'll get to soak up the sights and sounds of the city as you go.
And for when the sun isn't shining, taxis in Italy are usually affordable and tourist-friendly. They just aren't always the quickest way to get around – especially in rush hour.
Renting a Car in Italy
A lot of people choose to hire a car during their trip to Italy. Train travel may be cheap, but having your own means of transport means you have complete freedom to go where you want when you want. You can see far-flung destinations, take dreamy road trips, and take the time to soak it all in.
Hiring a car in Italy isn't always cheap, especially if you're visiting during the peak tourist season. Thankfully, in big cities, you should have the choice of all of the well-known international car-rental companies.
To secure the lowest prices you should always book in advance, prices for a basic compact car can start at around $150 per week.
Make sure that Collision Damage Waiver (CDW) is included in the quoted price and keep in mind the cost of additional insurance that can be priced at around $11 per day. Another cost you will also need to factor in is the cost of parking, which can be around $20 per day in a city.
If you want to get anywhere quickly, you will want to use Italy's Autostradas. The 6,758-kilometre-long motorway network isn't too expensive, however. A 100 km trip costs an average of $7.50. The cost of fuel can add up in Italy – it's around $1.93 per liter.
Want to save some cash and explore Italy by rental car? Use rentalcar.com to find the best deal possible. There are some great prices on the site and they aren't difficult to find.
ESTIMATED EXPENSE: $10 – $60 USD per day
Italy and food go hand in hand. You cannot take a trip to this famous foodie nation without delighting in all of its culinary goodness.
Food and drink are a really important part of Italian culture, and there's a noticeable difference depending on location. With a focus on seasonal ingredients, you can expect plenty of fresh vegetables, fish, fruit, bread, and olive oil.
Wherever you travel in Italy, you can expect a number of traditional eateries serving home-spun dishes, old-world local bars, and easy-going cafes. While more upmarket restaurants serve menus laden with more polished dishes.
So what food should you eat on your trip to Italy?
Pizza – We all know what pizza tastes like, but have you ever eaten freshly-made pizza in Italy? You just can't take a trip to Italy without eating pizza. Expect thin-based with a simple selection of toppings, usually served up at lunchtime. The best pizza is wood-fired and with big bubbling crusts. Costs around $10.
Pasta – Another Italian staple. From lasagne to creamy Carbonara and everything in between. You will be able to discover seasonal and regional variations on different pasta dishes and often for a very affordable price at local eateries. Priced at about $8.
Polenta – This hearty staple is one you should make a beeline for if you're in the north of Italy. Made from mashed-up corn, it's usually topped with a fresh sauce or served alongside meats and stews. Costs approximately $11.
We all know about Italian cuisine, but where can you eat for cheap in Italy? Here are a few tips for tucking into tasty food and keeping to your travel budget in Italy.
Eat sandwiches at lunch – Paninis are the perfect lunchtime staple, made fresh and picked up at sandwich bars called paninoteca. You'll usually be able to opt for all sorts of hunger-inducing fillings for just $5. Elsewhere, bars called tramezzi serve a selection of ready-made sandwiches alongside drinks for $1.50-$3.
Make the most of markets – Italy's markets are the places to shop for flavorful produce. Most towns and cities will have their own daily markets which sell everything from cheese and meats to olives and bread; it works out to around $5 for a meal.
Go to the beach with a picnic – In the heady heights of summer, there's nothing Italians like to do more than to pack a picnic and head out into nature. On sunny days beaches and parks will be thronging with locals enjoying picnics, join in with your own spread of local treats for much less than the cost of a meal at a restaurant.
Where to Eat Cheaply in Italy
So is Italy expensive for food and drink? Actually, you can enjoy Italy's culinary scene fairly cheaply. It all just depends on where you choose to eat and what kind of places you opt to dine in. Here are a few helpful pointers…
Bakeries – Panetteria is the place to go for delicious fresh bread. These bakeries don't just serve loafs, they often sell single pizza slices and filling bread like olive-oil-laden focaccia topped with olives for as low as $1.50.
Pizzerias – Decent pizza joints offer the best value pizza going. You can grab yourself a slice of Margherita pizza for around $3, or at somewhere a little more high-end, prices are around $6.
Trattoria – These family-run establishments will usually have a menu or local staples. This kind of home cooking is where you get the chance to enjoy real Italian food that showcases the culture and traditions of the region. Don't miss out on eating at these kinds of places; meals are usually around $12.
When in Rome (or Italy…) you simply can't miss the chance to eat real Italian food. But sometimes you may need to save a bit of cash. And that's where local supermarkets come in.
Shopping at a supermarket can help to make sure you keep to your trip budget. Here are some famously cheap supermarket chains in Italy to look out for.
Lidl – The well-known European supermarket chain sells an interesting selection of products. You might not be able to find everything here, but the prices are some of the lowest going.
Conad – With thousands of stores all over the country, Conad is a reliable and affordable option. Here you can buy a range of different products as well as regional specialties. There are often different offers taking place to keep costs low.
ESTIMATED EXPENSE: $0 – $28 per day
For those of you who are looking forward to having a few drinks on your trip to Italy, then you're in luck. This is a nation of wine-lovers after all, and it's not unusual to see people ordering a carafe of house wine to accompany a lunchtime meal.
The drinking culture in Italy is pretty laid-back and you'll be able to buy alcohol from all kinds of establishments. There's a large selection of alcohol on the market too and it's usually very affordable.
Most towns and villages will have their own bars – these are the social hub of the local community and good for grabbing a cold beer and doing some people-watching. Don't expect these kinds of places to have regular opening hours though; they often don't open late into the evening.
The cheapest option for drinking at a bar in Italy is to choose to stand up at the counter, from where you can check out the price list on display in the bar and choose accordingly. An osteria is another affordable option and a good place to enjoy wine with bites to eat.
Beer is readily available in Italy and is either sold in small bottles or on tap. Affordable brands that are sold everywhere include Peroni and Moretti (expect to pay $3).
Wine is also very affordable, costing as little as $5 per liter. You can choose to order by the glass ($3), by the quarter, or half a liter. The price of a bottle of wine varies but is usually priced anywhere between $10 and $20. Even winery tours in Italy are reasonably priced for Europe.
For those of you who like to drink spirits, you can find pretty much all standard spirits in Italy. There's also a good choice of Italian spirits to sample too. Most bars will charge upwards $1.50 for a single serving.
Here's a selection of local specialties that you should try when ordering a drink in an Italian bar:
Aperol Spritz – This refreshing Italian drink has become fashionable around the globe in recent years. It was actually invented in Venice as an aperitivo to accompany pre-dinner bites to eat. A cocktail of orange, herbs, and rhubarb, it's the ideal start to an evening out, and costs around $5 for a glass.
Prosecco – This delicious fizzy wine is Italy's answer to Champagne, but a whole lot more affordable. Produced in the Veneto region, it's relentlessly drinkable. Also served as a light pre-dinner refresher. A glass costs around $5.
And for when you have finished eating a delicious meal, there's the digestivo. The classic drink of choice at this point in the evening is a limoncello. A sweet, yet refreshing lemon-based liqueur, it's usually around 25% proof.
Traditionally drunk in the south of Italy, you will be able to find the yellow drink all over the country. It's a great souvenir to take back home, too.
ESTIMATED EXPENSE: $0 – $24 USD per day
There's quite literally no end of things to keep you entertained on your trip to Italy. This is the nation that's home to epic historical sights such as the Colosseum, Pompeii, the canals of Venice, and the Duomo in Florence. There's just so much to see and do.
Add to this the quite frankly jaw-dropping Italian landscapes and countryside, and anyone planning a trip to Italy is in for a real treat. You'll be able to kick back at beaches, go skiing, hike ancient trails, and wander around the grounds of lakeside villas.
And when the sun isn't shining? You can fill your vacation with trips to visit the Vatican with its awe-inspiring art-works (or any number of museums across the nation) or go underground in Rome and step back into the city's ancient past.
One of the best things about visiting Italy is that a lot of the top sights are free. The beaches and coastal areas as well as national parks are also pretty much all free of charge. And many churches don't charge an entrance fee – even those which have world-famous artworks on display.
For the attractions you do have to pay for, there's normally a tourist pass you can purchase which will help to make your trip to Italy cheaper. The Roma Pass, for example, gets you access to a long list of Rome's attractions and is available for 48 hours ($32) and 72 hours ($52).
Even though there are many cheap attractions in Italy, the cost of tickets can quickly add up. Here are a few helpful tips to keep costs low when you're out exploring Italy:
Take yourself on a walking tour – Italy's cities are bursting with sights, but you don't always need to pay to go inside to take in their majesty. Take yourself on a walking tour of the most impressive monuments, hidden gems, and architecture instead; you'll still learn a whole lot and save money, too.
Do as the locals do – It can be so tempting to rush around a new destination desperately trying to tick off all of the "must-do" sights. Give yourself a break and try to take things a little more slowly. Sit in the town square and watch the world go by, spend the afternoon sunning yourself at a famous city park and catch the sunset. All of these things are free and will add to your enjoyment so much more than cramming in expensive museums, just because you think it's what you should be doing.
I've almost covered all of the major costs for your Italy travel budget, from flights to food. But there are a few more things you might want to factor in to make sure you know exactly what's in store for your bank balance.
There are always added little costs that are usually unforeseen. You might want to buy your friends and family back home some gifts, or you might want to buy yourself some souvenirs to remember your amazing Italian adventure.
There might be a charge for storing your luggage or a few euros spent on buying a can of Coke at the beach.
All these seemingly insignificant costs do add up, so I think it's a good idea to set aside around 10% of your travel budget for these off-the-cuff purchases.
Tipping in Italy
When it comes to tipping in Italy, the main thing you need to know is that it is completely optional. You don't need to tip anywhere and leaving some money at the end of a meal should only be done if you feel like you enjoyed the meal and received good service.
That said, in some places, it's common to leave some loose change as a tip. If you're at a bar having a drink or a coffee, then it's normal to leave a euro or two on the bar for the waiter. Once you've paid the bill at a restaurant you can leave a cash tip of around 10% of the bill or tell the waiter to keep the change.
One thing to watch out for when dining out in Italy is servizio. This is a service charge that should always be stated on the bill at the time; if a servizio is included in the bill, then you do not need to leave a tip.
There's also the sticky issue of a coperto. This old-fashioned fee is not a tip but more of a charge for dining-in that comes from centuries ago. It's a controversial charge that has actually been banned in Rome.
When it comes to tipping for other services in Italy such as hairdressers and drivers, if you have been grateful for the good level of service you could round up the bill or leave a tip. Tipping at these kinds of places is not expected, however.
If you're staying at a high-end hotel, then you could leave a couple of euros for the concierge or the bellhop. It's also fine to leave some cash in the room for the housekeeping team to show thanks.
Tour guides, especially those who are providing a free city tour, would usually always be grateful for receiving a small tip as a token of appreciation.
Overall, tipping in Italy is all about showing thanks for a good service. You don't have to leave anything if you don't want to, but it's a nice gesture.
Get Travel Insurance for Italy
Another thing to think about is travel insurance. It's not usually at the top of the budget list for your travel plans, but this sort of thing is perhaps something to take into consideration for your trip.
You never know when something might happen – life is unpredictable after all. Travel insurance can help make things a whole lot easier when disaster strikes. It can even cover smaller things like stolen items or cover unplanned flight delays. It's just something to think about.
ALWAYS sort out your backpacker insurance before your trip. There's plenty to choose from in that department, but a good place to start is Safety Wing.
They offer month-to-month payments, no lock-in contracts, and require absolutely no itineraries: that's the exact kind of insurance long-term travellers and digital nomads need.
SafetyWing is cheap, easy, and admin-free: just sign up lickety-split so you can get back to it!
Click the button below to learn more about SafetyWing's setup or read our insider review for the full tasty scoop.
I've pretty much covered all of the major costs for a trip to Italy and hopefully helped a bit with some money-saving advice. Here are some last little budgeting tit-bits for your trip.
Be flexible with dates – If you can, play around with the dates and time of year that you travel. You might be able to save hundreds of dollars on your trip. Summertime is always the most expensive time to visit, but spring offers an abundance of beautiful nature and autumn plenty of delicious local food. Italy is gorgeous year-round.
Stay in local areas – Accommodation in local areas is usually much cheaper than those close to tourist sights. Not only that but the nearest bars, shops, and restaurants are going to be charging normal local prices, too.
Have a water bottle: Don't waste money on plastic, bottled waters; carry your own and refill it in the fountains and the tap. If you're worried about potable water, get a filtered bottle, like the GRAYL, which filters out 99% of viruses and bacteria.
Check out hostels – Even if you think your backpacking days are behind you, hostels are places for people of all ages and travelers. They're very budget-friendly and most of them have the option of private rooms as well.
Book trains in advance – Trains are the quickest way to get around Italy, and although tickets are already fairly affordable, booking in advance is always the best way to secure the lowest possible price.
Earn money while you travel: Teaching English while traveling is a great way to make ends meet! If you find a sweet gig, you may even end up living in Italy.
Go off the tourist trail – In the big tourist cities, you're basically always going to be paying more for everything. Take yourself to a lesser-known part of the county and spend your vacation lapping up the local culture away from the high prices and tourist crowds.
Take a hike – Whether it's in the mountains, on an island, or in a city center, getting around on foot is completely free and can sometimes allow you to discover things you wouldn't have the chance to see otherwise.
Become a volunteer with Worldpackers: Give back to the local community and, in exchange, you're room and board will often be covered. It's not always free, but it's still a cheap way to travel in Italy.
Italy isn't that expensive at all. This European nation, with its centuries of history and culture, is a very affordable place to travel.
Of course, you could splash the cash and stay in five-star hotels, dine out every night, and hit up every expensive art gallery there is and, yes: it would be a really expensive trip.
But this is a destination that is very much an option for budget travelers. There is a wealth of options for low-cost places to stay, a really affordable transport network, and a rich food scene that you can sample even with a modest budget.
What we think the average daily budget for Italy should be:
As long as you keep in mind roughly what you're spending each day, opt for budget accommodation, and choose low-cost lunches (plus the occasional splash out), a reasonable budget per day is around $65.
---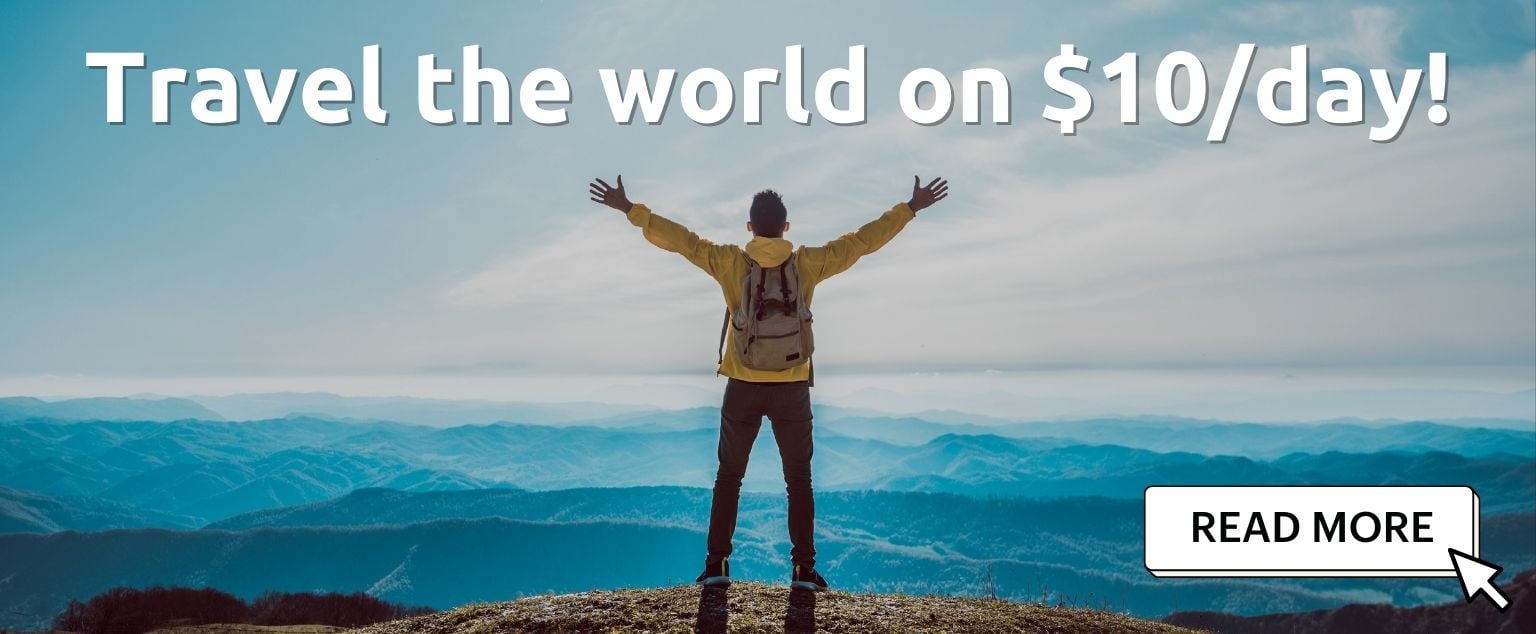 And for transparency's sake, please know that some of the links in our content are affiliate links. That means that if you book your accommodation, buy your gear, or sort your insurance through our link, we earn a small commission (at no extra cost to you). That said, we only link to the gear we trust and never recommend services we don't believe are up to scratch. Again, thank you!