You are about to embark on the adventure of a lifetime to one the world's most vibrant countries, with an array of attractions and some of the suavest locals in Europe! Every step you take in this fabulous country will be filled with beauty, art, and fresh excitement. Italy is an absolute hub for tourists, and it is easy to see what brings so many people from around the world to this country!
Italy has become known for its luxurious villas, delicious wines, Mediterranean seas, white sand beaches, and genius architecture. There is so much on offer in this country, and so many marvelous places to visit, that it can become difficult to plan your trip to such a country thriving with scenic adventure! It might be easier to ask yourself what not to do, instead of what to do – as every stretch of Italy is inviting and waiting to be explored!
Our Italy trip planner will ease the stress of navigating your way and finding the best spots to enjoy during your travels to this cultural and magnificent part of the world! From ancient temples to luminescent blue seas, you will be spoilt for choice!
When is the best time to visit Italy? has some of the most welcoming weather in the world! Every season is magnificent for a vacation in Italy, and this is something that makes the country even more beautiful. There are sunny and dry summers that can reach high temperatures, but the cool Mediterranean seashores are just so exquisite, making summer still very enjoyable.
Winters are wet and cool, and the mountain landscapes get lots of snowfall. The Dolomites, as well as the whole of the Alps, become a dream come true to snow-sport lovers. It is the perfect time to visit for one incredibly scenic ski trip!
Some of the best seasons to visit are between April to May, and September to October. During these phases, the sun is out but moderate, making it ideal to chill and sightsee! June to August is the peak visiting season, so prices skyrocket as do the temperatures.
Do check out our Italy packing list which will help you to pack and dress effectively whatever time of year you decide to visit.
Italy's neighborhoods still encapsulate so much of this country's rich heritage! There are so many upbeat, scenic, and often romantic cities to stay in when you go to Italy. Every neighborhood has something different to offer, but the most common theme is olden-day buildings, unique structures, friendly people, and lots of funky restaurants!
Choosing where to stay in Italy obviously depends on what exactly you want to see.
Trastevere is found in Rome and is a historical city that has become known for having narrow, cobblestone alleyways, as well as beautiful medieval structures. This neighborhood has a calm atmosphere and is found along the banks of the Tiber River. The streets are full of boutiques, old-fashioned stores, eccentric cafes, and breathtaking architecture! Nightlife in this part of Italy is very vibrant and breaks the more relaxed mood of daytime. Rome is home to some of the best festivals in Italy. One of the best historical things to see whilst venturing Trastevere is the famous basilica churches! Some of the best hostels in Rome are found here.
Piazza Delle Erbe is an extremely charming part of fair Verona! Buildings from the Renaissance line this popular neighborhood, and there are many Greek-God statues to be admired during your visit here. If you want to know where life is happening, then you will find your answer in Piazza Delle Erbe's Plaza, where there are shops, restaurants, and plenty of stalls! Here you get the unique opportunity to experience a cup of delicious coffee whilst viewing the 13th-century Madonna Verona in the center of this plaza.
Cannaregio is located in 'the sinking city' of Venice, and is one of the most populated neighborhoods in the city! Here you can walk through Romanesque-style narrow streets, purchase the best-baked goods, enjoy the markets and check out some of the local churches. As Venice was one of the first Jewish ghettos in Europe, it is fascinating to take some time out to see the Museum of Jewish Art and the Judaica shops!
Check out one of the following neighborhood guides for some of our favorite Italian cities!
One of the very best hostels in Italy is the Generator Rome. Discovery historical and ancient backstreets, and find yourself close to hubs that offer street culture, art, and amazing food! The Generator Rome is only a short walking distance to the Roma Termini station, as well as one of the best attractions, The Colosseum. The interior design of this hostel is outstanding and adds a special touch to your stay.
As well as being affordable, this hotel has a swimming pool, and the staff have lots of insider information which they offer at the reception desk. You can buy your fresh groceries at the store on-site, and even lounge for a drink at the bar after a long day or have yourself a tasty ice cream. If you feel peckish at night, then the à la carte restaurant is perfect for you to have an easy dinner!
Situated amongst some of the most gorgeous mountain landscapes, and also opposite the Greek Theatre, the Belmond is in one of the most perfect places for a lavish trip! Taormina's Belmond Grand Hotel Timeo has mesmerizing panoramic views of Mount Etna and the Sicilian Coast.
You can also treat yourself at the spa, and sunbathe at the pool. It features an outdoor pool, and spa. Some of the suites also have magnificent views of the sea! Other suites have a view of the hotel gardens so you can capture the essence of paradise whilst looking out at the magnolias, cypress and palm trees. Everything you can dream of is provided here at this 5-star hotel!
Curious to learn more? You can find epic accommodations in Taormina neighborhoods. You're sure to have the best stay!
Using trains is by far the cheapest and most easy way to travel in Italy, and many of the major cities are connected to one another. Italian high-speed trains are operated by both Trenitalia and Italo. These trains link Turin, Bologna, Florence, Naples, Salerno, Milan, and Rome.
You can also rent a car during your stay. EU driving licences are valid but otherwise, you will need to get your hands on an International Driving Permit, and it's a good idea to keep your original Driver's License with you too. If you want to rent a bike instead, then that's also a good idea and your permit will work for those too!
Considering that Italy is made up of 116,000 square miles, with 20 regions (two of which are islands, Sardinia and Sicily) then flying from either north to south, or south to north is much more time saving and sometimes even cheaper! Air Italy is one of the more affordable flight companies that you can use
When walking around Italy, just be sure to have your camera and comfortable walking shoes. The streets are remarkably scenic, so walking from place to place will be an adventure in itself! This is a really awesome way to enjoy the street stalls and meet locals.
The Sistine Chapel | The Pantheon | The Siena Cathedral | The Leaning Tower of Pisa | The River Arno
OK so this Day 1 itinerary is very ambitious and has been designed for people who are short on time but not on cash. To get this itinerary done you will need to start early and finish late. You will need a personal car to get you from Rome to Sienna to Pisa and will need to pay to skip the line to get to the Sistine Chapel. To complete it, you will need to keep moving.
Ideally, you would split this over 2 days.
Stop 1 – The Sistine Chapel
Why it's awesome: Michelangelo created jaw-dropping paintings on the large ceilings and the tall walls of this Vatican site!
Cost: Entrance Fee is €15 ($17)
Food Recommendation: Get yourself a wonderfully crispy pizza from Alice Pizza! You will get value for money and enjoy premium square slices. As the originators of the phenomenon of pizza, no other country does it better.
The world-famous chapel showcases commissioned art pieces from Pope Julius II, and Michelangelo himself painted the vault of the chapel! The creative genius is responsible for most of the in-depth and awe-inspiring paintings that adorn The Sistine Chapel, and he took years upon years to complete them, from 1508 to 1512 to be exact.
Michelangelo presented original and unprecedented art that understandably revolutionized the world of western art from that day forward! These frescoes are extraordinary and capture the soul of Italy's religious history, whilst beguiling viewers from all over the world! Art critics have declared Michelangelo's iconic work as being one of the top works in the history of painting. The massive size of the figures painted on the ceiling and the challenge of applying paint to a curved surface have made these frescos an astounding and exceptional creation!
High Renaissance artwork, a breathtaking chapel, and insurmountable historical lineage all make The Sistine Chapel a treasure trove of brilliant site seeing and a perfect way to begin your unforgettable journey of Italy!
Day 1/Stop 2 – The Pantheon
Why it's awesome: The Pantheon shows off Rome's most incredible and genius interior architecture!
Cost: Free entrance
Food Recommendation: Have a lovely and hearty meal at The Pantheon Restaurant, Di Rienzo. Sit and relax whilst enjoying a glass of wine, we suggest ordering the Spaghetti with Clams for an authentic taste of Italian flavor!
Roman architecture has been renowned for its ability to withstand the years while maintaining the original structure, and The Pantheon is a prime example of the brilliance of Roman architecture! This monument has been standing for over two thousand years and, despite its ancient age, it is still standing tall – even though the gilded bronze roof tiles were removed by Pope Gregory III to be used for cannons and to create an altar in St Peter's Church!
The Pantheon has also survived a fire in 80 AD and was rebuilt in a way that provides us with an insight into the complex and high technical mastery of Roman builders. The most prevalent feature of The Pantheon is its 43-meter dome, which is a superior accomplishment in Roman interior architecture and is suspended from supports that are hidden inside the walls. Talk about mysterious!
The 9-meter central opening in the dome is The Pantheon's only light source, creating an ambient atmosphere. The Romans created this structure in a way that both the height and the diameter are the same proportion, creating a sort of architectural harmony in the building.
The gardens have been used as a burial place for the Italian kings and other famous Italians, such as the painter Raphael.
You will be immersed in an endless display of ancient Roman beauty and architectural prestige!
Insider Tip: Be careful of the floors when it's been raining, as they get very slippery!
If you need some ideas for accommodation in Rome, consider checking out our guide on the best vacation rentals in Italy.
Day 1/Stop 3 – The Siena Cathedral
Why it's awesome: The Siena Cathedral is a marvel, built entirely of marble and complete with golden touches!
Cost: Entrance fee is €5 – €8 ($6-$9)
Food Recommendation: The Ristorante Numero Unico offers scrumptious meals and scenic settings. Have yourself a meal packed with different flavors, served with a beautiful presentation! The T-bone steak is one of their best and most popular dishes.
A visit to Siena's ancient and gothic cathedral is an adventure in itself! Otherwise known as The Duomo di Siena and this temple has become one of religious fervor to the people of Siena. The interior is breathtaking and covered with incredible works of renaissance-themed artwork. From the roof of The Siena Cathedral, you can experience an awe-inspiring view of Siena!
From The Cathedral Square, the Duomo's presence is imposing and lavishly decorated, dominating the square with its sheer elegance and light! Made entirely from black, white and pink marble, and decorated with the rich golden decor, The Siena Cathedral is a marvel to behold! This building is one of the most important gothic edifices of Italy, and it took over two hundred years to be fully constructed.
The Siena Cathedral is beautiful inside and out, featuring work of Italy's most famous and acclaimed artists from that era, such as Nicola and Giovanni Pisano, Donatello, Pinturicchio, Lorenzo Ghiberti, and Bernini. One of the most famous paintings that are showcased here is the Museo dell'Opera del Duomo. This magnificent cathedral is fascinating and by far one of the most impressive features in Siena!
Day 1/Stop 4 – The Leaning Tower of Pisa
Why it's awesome: This tower was built by a team of different architects over many years, and still stands even though it continues to tilt!
Cost: Entrance fee to walk to the top is €18 ($24)
Food Recommendation: Have a light meal at The Ristoro Pecorino, a quint and local cafe found close by. Their food is delicious and savory. They also happen to serve some of the best-brewed coffee!
The leaning tower of Pisa has gathered attention from the world, and has such an effect that makes this building look like it is defying the very nature of gravity! The 'leaning' has been due to the fact that after the first of the three floors was built by the architect Bonanno Pisano in 1178, the tower has begun to bend 5cm to the southeast.
100 years later, another architect by the name Giovanni di Simone began his attempts to compensate for the inclination of the structure. He built four vertical floors, but unexpectedly the bell tower still bent – and so the construction stopped again!
Lastly, came in Tommaso Pisano to complete the work of the bell tower is 1372, despite the continuation of the sideward plummet. A remarkable building expert named Alessandro Gherardesca then made the first restoration of the tower's foundation and replaced it with marble.
Thanks to all of these creative and innovative thinkers, we now have the tremendous Leaning Tower of Pisa! This structure is a spectacle and insanely beautiful on the inside, with marble finishes and white pillars. Explore a building that took years to be completed, and continues to stand even though it tilts about 1 cm every year!
Insider Tip: Lines can be crazy, so make sure to book your ticket in advance!
Day 1/Stop 5 – The River Arno
Why it's awesome: It is one of the primary and most important rivers in the whole of Italy!
Cost: Free
Food Recommendation: Caffe Dell Oro (Gold Coffee) is an Italian bistro that specializes in traditional Italian cuisine, so you are in for some really diverse and new meals. We suggest going for the seafood options, especially the grilled sea bass. Whatever your stomach feels like, each meal is cooked to perfection!
The River Arno is one of the main rivers in Italy, even the city of Pisa was built around this waterway! The part of the River Arno that runs through Pisa provides a captivatingly beautiful landscape, and is an amazing place to simply walk along at night! Under the stars, watch as the moonlight reflects off the river surface, along with the lights from cafes and cars driving by.
Five absolutely gorgeous bridges cross over the Arno from central Pisa, and both the Lungarno Mediceo and Galileo Galilei are found parallel to the river. The local old-school houses and renaissance-themed architecture create a marvelous backdrop and this part of Pisa is truly picture perfect!
You will remember the magic from this moment forever, there is no better way to end of your first day traveling in Italy!
Insider tip: Learning some basic Italian, such as Ciao for hello and goodbye, will be incredibly helpful during your trip! The locals are some of the most welcoming people in Europe, and they really appreciate it when tourists show that they have attempted the home language.
The Uffizi Gallery in Florence | San Petronio Basilica in Bologna | The Gardens Of Giardino Giusti in Verona | The Grand Canal in Venice | Lido Beachfront in Venice
The day 2 itinerary is just as hectic as day 1. Whilst these 3 cities are relatively close together, traffic congestion can make the journeys longer than we would like. Again, you will need to start very early, have a private car and skip the line at Uffizi. You will have no time to hang around Bologna and may have to cut the gardens of Giardino Giusti.
Stop 1 – The Uffizi Gallery in Florence
Why it's awesome: This gallery hosts the most famous and beautiful artworks all the way from the Middle Ages to the present Modern Day!
Cost: €6 – €12 ($7 – $13)
Food Recommendation: Vinaino Fiorenza offers simple, yet gourmet Tuscan style food, specializing in special bread and rolls. The Panzanella is a great dish to have for a breakfast that is jam-packed with different tastes!
The Uffizi Gallery entirely takes up the first and second floors of a large building constructed between 1560 and 1580, originally designed by Giorgio Vasari. The architecture of the building is art in itself, but when you embark on your adventure inside the gallery you will be lost in a world of fine art and ancient history!
The gallery is famous worldwide for the outstanding collections of ancient sculptures and paintings that it keeps, some that are dated back to the Middle Ages and some from the days we now live.
There is already so much splendor encapsulated from the paintings, but the gallery also prides itself on its collections of priceless ancient statues and busts that decorate the corridors! The Uffizi Gallery is a must-see landmark attraction in Italy. For an in depth review of Florence, read our Florence travel guide.
As this itinerary is intense, you will need be there by 9am to restrict yourself to seeing the masterpeices only. This can be done in 2 hours so you can out and on the road by midday.
Day 2/Stop 2 – San Petronio Basilica in Bologna
Why it's awesome: It is the 10th largest church in the entire world!
Cost: Entrance is free and it is €2 ($3) to take photos
Food Recommendation: Botanica Lab Cafe is the first Bistro in Bologna, and is striving to create healthy meals for a healthy body! Enjoy all of their vegan food and shakes. We recommend tasting one of their fresh croissants.
This immense structure stands and presents a domineering presence in the center of the Piazza Maggiore. San Petronio Basilica is dedicated to Saint Petronius, the patron saint of Bologna.
San Petronio Basilica in Bologna, ItalyThis outstandingly beautiful church has a Gothic design, and its most famous features are the sheer enormity of the building and its ancient unfinished front facade. Originally, the church was constructed in 1388 through to 1479, but it has never been truly finished, so the front facade is rather bizarre. The lower half features brilliant colored marble stonework, in contrast to the top half that remains bare and made of exposed brown brickwork.
The church's inside atmosphere is truly epic, with large brick columns that are adorned with decoration and seem to stretch on forever! The San Petronio Basilica's main altar is magnetic and will draw your attention as you walk down the central aisle in wonderment!
Insider Tip: On the weekends you can take an escalator trip to the viewing platform!
Day 2/Stop 3 – The Gardens Of Giardino Giusti in Verona
Why it's awesome: These gardens are those of a famous royal palace in Verona!
Cost: Entrance fee is €8,50 ($10)
Food Recommendation: Enjoy a laid back and fun meal at the Café Carducci! The setting is vintage, and so are the wines. We suggest having a wine and cheese sitting with a light meal.
The Giusti Gardens are professionally designed and landscaped to capture the essence of the Italian Renaissance, and the style in which it does so is magnificent! The gardens are some of the very finest in Verona, providing a stunning contrast to the waves of architecture that is most present in the city!
You will walk along and find yourself feeling like royalty as you enjoy the eight different squares, and each section has its own unique design and theme with a central fountain or sculpted centerpiece! Maintaining a high-class standard, it is easy to see the care and attention put into every inch of this garden.
Rich flowers, bright colors and indigenous bushes decorate these gardens – and you can even find yourself in an iconic hedge maze!
Note that unless you have driven between cities like a stunt driver, the gardens may be closed by the time you arrive. Or, you may be running out of daylight and wanting to get straight to the Canal's and Lido.
Day 2/Stop 4 – The Grand Canal in Venice
Why it's awesome: The Grand Canal is huge, and along the expansive waterways are some of the most outrageously beautiful places in Italy!
Cost: Entrance is free, and the gondola hire is €4,30 ($5)
Food Recommendation: The Restaurant Terrazza Danieli is an upmarket rooftop restaurant on The Grand Canal that has views overlooking the city! The restaurant serves classic Venetian cuisine, and one of the best bets for a tasty meal is the traditional pasta.
What should one know about the Grand Canal? Perhaps, that it the greatest avenue in the world! It may be a little strange considering it is an entire street that is made out of the water, but it is lined with some of the greatest and most beautiful buildings on earth! Riding along the Grand Canal is a truly enchanting adventure.
This used to be "the" prestigious place to live back in Venice's heyday, and it is still one of the most aristocratic addresses on the block! All the merchants that have really 'made it' in the world of business have had a shop on the Grand Canal at some stage. On a humorous note, most of the beautiful buildings along the canal originate from this contest had by the Venetian rich to outdo the neighbor's place next-door – how little things have changed today!
Whimsical and glamorous, the Grand Canal with have you falling in love with the enigmatic nature of Venice!
Insider Tip: Palaces in Venice were literally built to be seen from the water so keep your eyes peeled!
Day 2/Stop 5 – Lido Beachfront in Venice
Why it's awesome: This beach stretch is famously the best in Italy!
Cost: Entrance fee is €22 ($24) for non-residents
Food Recommendation: There is such a vibe at the Essentiale Restaurant & Lounge Bar at Hotel Villa Laguna that it can't be missed! Enjoy 5-star style and fantastically decadent traditional food cooked by world-class chefs. Spot famous Italian actors and musicians whilst having one unforgettable culinary experience!
Lido has some of the very best beaches in Italy, and has a sandbar that elongates over 7 miles long that sits in the Venice Lagoon and the Adriatic Sea! This stretch of beach has the well-earned nickname of "Island of Gold", due to the stunning golden-brown sands and magnificent shores.
The loveliest beaches are in front of Lido's historically grand hotels, they are lined with thatched beach huts or sporting elegant white cabanas. The beaches are open from May through September for travelers to bask in the Italian sun and enjoy the atmosphere!
In all probability, the sun will have set by the time you arrive. Hopefully, there will be a full moon casting a serene reflection over the water. This is an amazing and remarkably scenic way to end your 2 days in Italy.
You will be tired out by this point so make sure you book one of the best hostels in Venice to ensure a good nights rest.
The Montecassino | The Cinque Terre in Liguria | The Colosseum in Rome | The Roman Forum | The Chianti Wine Route in Tuscany
Our Italy trip planner will give you plenty of fun ways to spend your next few days! Visit ancient sites and historical landmarks all whilst traveling the beauty of this country and learning more about what Italy's heritage is all about. Come with us on this adventure!
The Montecassino
The Montecassino was first built in 529 AD and attracts lots of tourists worldwide due to the significant historical background of the Abbey.
The surrounding gardens are vast and full of indigenous Italian wildflowers!
The entrance to this magnificent site is entirely free, but the monks do accept donations to the monastery.
Italy's steep and rocky hills are home to a rebuilt Monte Cassino Abbey, and it is one of the most popular abbeys in the world! Despite being destroyed during World War II, it has been remade and kept its original structure. This is a unique site that is filled with lots of history from the days of worship and meditation. It is still in use as a religious venue for Christian monks, and it is breathtaking!
The remaining ashes of Saint Benedict, as well as his twin sister Saint Scholastica, are preserved and kept in bronze urns. The urns are found under the basilica's high altar, and you can also admire other relics that are on display in the Chapel of Relics.
If you venture under the church, you will see a16th century crypt, adorned with an endless amount of fine art mosaics, as well as the tomb of St Benedict and his sister.
Monte Cassino used to be the wealthiest known monastery and is filled with old relics from St. Benedict. To see these old paintings, frescoes, and mosaics, you can go into the abbey's museum. This adventure is full of new knowledge and stunning religious artifacts!
The Cinque Terre in Liguria
Cinque Terre is a UNESCO World Heritage Site and has also been designed as a national park. Italy has a bunch of national parks to visit.
The Cinque Terre is nestled in Liguria, and the 'Five Lands' is made up of five prominent villages that are located at the top of the rugged cliffs. overlooking the famous Italian Riviera.
€105 ($119) is the average cost of traveling this famous coastline.
Cinque Terre's villages are all overlooking the famous Italian Riviera, so no matter which of these villages you are in, at any given time you will be astounded by the landscapes!
This popular string of centuries-old seaside villages has 5 distinct towns that each have their own uniquely charming sites – Vernazza, Corniglia, Manarola, Riomaggiore, and Monterosso.
These humble villages are overflowing with marvelous vineyards, vibrantly colored houses, steep terraces, abundant fishing harbors and plenty of local seafood specials. Most of the food here will be served with Liguria's famous sauce, pesto.
The romantic area of Cinque Terra is sprawled between La Spezia and Levanto. It offers olive groves, azure sea views along the long coastline and a bevy of traditional restaurants.
If you want to have a hike, then The Sentiero Azzurro cliffside trail is the best! This hiking trail connects all of the villages and provides some of the most amazing sweeping sea vistas!
The Colosseum in Rome
Pre-book tickets before you come. Lines are very long and sometimes it can take half a day just to get in.
This site is one of the biggest attractions, and when you see how the building still stands and preserves so much of Ancient Rome's splendor, you will understand why!
Entrance fee is €12 ($13,50)
You simply can't visit the ancient city of Rome and not visit this most well known and very famous attraction! The mighty colosseum retains a remarkable stature and captures what it was like in Rome during the empire's day. Walking amongst the wreckage, you can almost feel yourself time traveling to see the gladiators readying themselves for a fight to the death, as the hierarchy watched and eager fans cheered!
This colossal amphitheater was once able to host 50 000 spectators and has now become one of the most important historical relics in the world! The Colosseum still retains a hell of a lot of grandeur, and you can get a very good idea of what it must have looked like in its prime.
This site is both entertaining and reflective, as we realize how far humanity has come from such barbaric times (we now have X Factor….). The ruins are beautiful, and seeing these broken down structures under the clear skies of Rome is perfection.
The Roman Forum
The Roman Forum is one of Italy's biggest attractions and lies between the Capitoline and the Palatine hills of Rome.
The Forum was the center of the whole Roman Empire!
Entrance fee is €2 ($2,24)
The Roman Forum is an essential part of any Rome itinerary. It is so big that it can be seen from most terraces in the wider city and enchants everyone who visits with its tall pillars, aged domes and amazingly well-kept structures with infinite detail and depth.
The ruins of The Roman Forum are made up of breathtakingly impressive temples, arches, and houses. This expansive labyrinth of history is home to both The Temple of Saturn and The Via Sia. Walking in the footsteps of Julius Caesar, in these remains you can still feel the power from Italy's most prominent and ancient empire!
A guided tour of the Roman Forum offers you an authentic chance to gain insight into the politics, beliefs, and lives of the Ancient Romans themselves, helping you to understand so much more about this lost civilization!
The Chianti Wine Route in Tuscany
Chianti is the most famous wine estate in Italy and churns some of the best plonk in the world!
Touring this route offers you a very unique view of the landscapes and villages that you won't find on other wine routes or tours.
The route is free to drive or walk through.
The Chianti road connects Florence to Siena, and is probably the most beautiful driving route in Italy! It passes through acres and acres of pristine arable land which has produced some of the best wine ever!
Just like it's wines, Chianti has become more beautiful with time! This route will take you through enchanting old villages, rolling green hills and flowing streams. Stop off to have a wine tasting, or simply even have a picnic in one of the many beautiful spots along the way.
Italy is a strong contributor to the world of wine and this is one of its prime, wine regions. Winelovers simply cannot go to Italy without exploring the magnificently beautiful and expansive vineyards!
You'll also find plenty of Italian yoga retreats in this part of Italy.
Here of some of the best Italian trips for you to enjoy on your journey that will add heaps of zest and fun to your days! Whether you're spending the weekend in Italy or more than 3 days in Italy, we've got your back with these amazing tours.
Capri Boat Trip To Visit The Blue Grotto
This adventure is a true must for those wanting to experience all of the magic that Italy's waterways have to share! The mystical Blue Grotto is an ancient sea cave just off the coast of Capri Island, and the effect that the sunlight has on the cave water is mesmerizing!
The ocean water turns a bright luminescent blue color, and while you are touring through the cave you will not only feel the calmness and fantasy-like essence, but you will also feel as if you are floating on an electric blue wave that lights up the whole underwater cavity! The cave is a true gem, and boating through is a once in a lifetime experience!
Rome: Pompeii Sightseeing Trip
Pompei was famously suddenly and totally destroyed by a volcanic eruption in 79AD. On this group excursion, you will explore these artistic and historical sites, ranging from old bathtubs, halls, and marble statues! Exploring Pompei's history is eerrie and fascinating.
The buildings are surprisingly well-preserved for their age, showing how ingenious Roman architecture was. These ruins are beautiful and have remained standing even after a huge volcanic eruption destroyed most of the castles and temples. Some parts of Pompeii still remain covered in volcanic ash, making these ruins a massive archeological landmark!
Tuscany: Canyoning Adventure Day Trip
This is a fun day trip that is sure to curb your undying craving for adventure! On this energising excursion, you will have a full day of wet and wild canoeing on the beautifully scenic countryside of Tuscany!
As you navigate the way, you will be immersed in gorgeous waterfalls, and slide down completely natural water slides. Maneuvering on the sometimes tricky Tuscan waterways, you will have a great day learning how to conquer the waves. The whole way is full of gorgeous Renaissance buildings, colorful vegetation, birdlife and views that will make your soul soar!
Naples and Amalfi Coast Full Day Tour from Rome
Having the opportunity to see one stunning place is magnificent enough, but on this tour, you will get to see two in only one day!!
Dirty Naples shows another side to Italy's charecter and yet never fails to charm visitors.
To make your day even more unforgettable, you will be traveling past the exquisite coast of Amalfi. This coastline is lined with colorful old-school villas, fishing villages, stunning cliffs, and rocky shorelines.
Ischia Day Trip with Lunch from Naples
On this day trip from Naples, you will be provided with one otherworldly kind of adventure! Travel from Naples to one of the most beautiful islands in Italy, and lunch with your travel companions. This volcanic island is surrounded by the Mediterranean sea, with ocean views that stretch as far as the eye can see!
The waters are known for being mineral-rich and enjoyably warm for you to have a dip and swim with fish. There are also volcanic natural spas for you to treat yourself to on this alluring island.
From the beach of Ischia, you can walk along a stone bridge to the medieval Aragonese Castle. Nearby, you will find the 18th-century Palazzo dell'Orologio that houses the Sea Museum, where you can learn more about the area of Ischia and its fishing tradition.
Italy is very safe for travellers and violent crime is rare. However, you do need to take some precautions. Italy is generally safe, we will help prepare you for your visit so that you can keep yourself and your important things safe when in Italy!
Rome, in particular, is known for petty theft and pickpocketing as are other major tourist destinations.
Never travel with your bag out in the open or with an unlocked backpack. Keep your bag in front of you and keep it zipped. For extra precautions, get a handbag with a wire strap, so that it cannot easily be cut and run away with.
In the Metro subways watch for young children who may be working as pickpockes and bag thieves. Stay aware of people wanting to bump or get too close to you, and watch where their hands are going. Pickpocketing happens in the busy lines and within big tourist groups.
Don't Forget Your Travel Insurance for Italy
ALWAYS sort out your backpacker insurance before your trip. There's plenty to choose from in that department, but a good place to start is Safety Wing.
They offer month-to-month payments, no lock-in contracts, and require absolutely no itineraries: that's the exact kind of insurance long-term travellers and digital nomads need.
SafetyWing is cheap, easy, and admin-free: just sign up lickety-split so you can get back to it!
Click the button below to learn more about SafetyWing's setup or read our insider review for the full tasty scoop.
Find out what people want to know when planning their Italy itinerary.
Conclusion
This complete travel guide will ensure that your days in Italy are well spent! We have covered the best trips for your Italy vacation, where to find the most mouth-watering traditional cuisine, and more! This beautiful country is a favorite, so be prepared to fall in love with the history, culture, and people as you explore endless magic!
This Italy travel itinerary will have you enjoying the best parts of Italy, and soaking up your time in this country to the fullest! Backpacking through Italy can be inexpensive, and truly one of the best adventures you will ever go on. We sing Italy's praises loud and clear!
---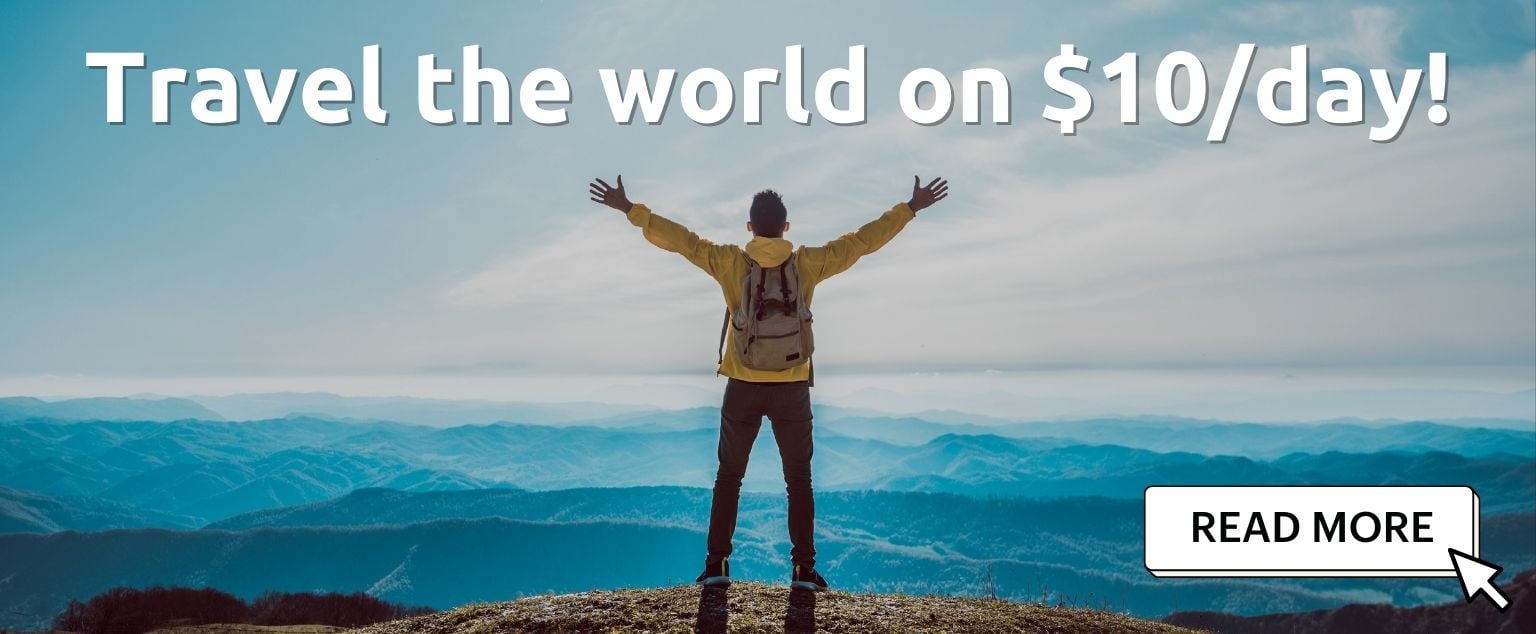 And for transparency's sake, please know that some of the links in our content are affiliate links. That means that if you book your accommodation, buy your gear, or sort your insurance through our link, we earn a small commission (at no extra cost to you). That said, we only link to the gear we trust and never recommend services we don't believe are up to scratch. Again, thank you!