Florence is one of the most popular cities to visit in Italy and for very good reasons: its Renaissance architecture, superlative art, and unwavering devotion to food have all made Florence an international sensation. People travel from all over the globe for a chance to experience Florentine culture, regardless of how much it may cost.
Yes, Florence can be pretty expensive these days, not to mention, very crowded. In the summer, the city is sometimes completely overrun by tourists and there are times where you'll see more college students than actually Florentines.
BUT Florence is still worth visiting! You just have to know what to do, when to go, and what is really essential to the city.
This Florence travel guide is designed to help you get the most out of your trip and, at the same time, save a buck or two. We'll cover an array of subjects from lodging to dining to what to see in Florence on any budget. It is my goal to show you a different side of this city and to give the means to really appreciate its splendor.
So let's not waste time; this is the real way to experience Florence next time you visit!
Visiting Florence on a budget is 100% possible. You just gotta know where to look for the best deals, how to spot a potential rip-off, and how to make your own pasta every now and then. Easy, right?
Florence, like the rest of Italy, can be expensive if you're reckless with your money. Booking lavish hotel rooms, eating out every night, and buying expensive drinks at the bar will deplete your funds if you're not careful enough.
If you plan on visiting Florence on the cheap, you could probably do so for around $40-$60/day. You will need to be a tough backpacker though. Here are some things to consider:
Lodging: Lodging in Florence can be pretty expensive, especially when it's located in the historical center. Even hostels in Florence can be more than than $20/night, at least for the decent ones. Hotels and apartments will obviously be more ($60-$100/night).
Transportation: You can easily see Florence on foot so don't worry much about transportation expenses. When you do use the bus, buy from a local tobacco shop instead of the driver – you'll save a euro doing so.
Food: If you eat in restaurants near the city center, you will get overcharged. If you stick to the cozy, hidden osteria and trattoria, dishes can be as low as 8-9 euros. Also, groceries and produce are cheap in Italy.
Drink: Beer, wine, and cocktails are about 5-8 euros when bought in the touristy neighborhoods of Florence. You can buy booze much cheaper in the local shops.
Attractions: It's never cheap to visit the museums in Florence. If you want to see David at the Accademia Gallery or the Birth of Venus at Uffizi, both cost you 20+ euros each.
Average Costs of a Trip to Florence
Here's a breakdown of individual costs when formulating a daily budget in Florence:
Florence Budget Travel Tips
Buy cheap booze at the shops: Drinking in public is legal in Italy and everyone does it. You've never really been to Italy either until you've drank a Moretti on some church steps.
When eating out in Florence: Stick to local osterie (taverns) and trattorie (informal restaurants) where prices are usually more reasonable. Avoid eating in the center of Florence at all costs.
Find free walking tours in Florence: Or just make your own tour using this Florence travel guide!
Cook your own food sometimes: Hostels and some apartments come with kitchens; use them. Your own special spaghetti will be way cheaper than that mediocre one in a restaurant. (Just don't leave the pasta sitting on the table without the sauce; rookie mistake!)
Buy a Firenze Pass: If you intend on visiting a lot of galleries and museums in Florence, you're probably better off with one of these. It allows free entry to many of the best museums in Florence and you'll save more money in the end. Note that you will still have to make reservations for the top sights in Florence, like Bruneleschi's Dome.
Stay outside the historical center : It may seem inconvenient walking the extra 5-10 minutes, but it may be worth the extra money saved on hotels in Florence. The city isn't that big either so you shouldn't be too far away from the main attractions.
Take advantage of aperitivo: you can get some really good deals on wine and snacks with these. I myself have been known to make a dinner out of two or three.
Have a water bottle: Don't waste money on plastic, bottled waters; carry your own and refill it in the fountains and the tap.
Why You Should Travel to Florence with a Water Bottle
Plastic washes up on even the most pristine beaches… so do your part and keep the Big Blue beautiful
You aren't going to save the world overnight, but you might as well be part of the solution and not the problem. When you travel to some of the world's most remote places, you come to realise the full extent of the plastic problem. And I hope you become more inspired to continue being a responsible traveller.
Plus, now you won't be buying overpriced bottles of water from the supermarkets either! Travel with a filtered water bottle instead and never waste a cent nor a turtle's life again.
Florence is not a big city. Most of the city's top attractions are located within 15-minutes walk of one another. No matter which neighborhood in Florence you choose to stay in, you'll never be too far away from the action.
The central areas of Florence – San Marco, Duomo, and Santa Croce – are where the grand majority of tourists stay. Many of the best things to see in Florence are located in these districts as well. This means that prices will be highest in these areas.
If you want to stay in Florence on a budget, try looking for accommodation in the outer districts. Santo Spirito, Santa Maria, Annuziato, and Sant'Ambrogio are all more affordable than staying in the center.
Hotels in Florence will obviously be the most expensive choices. I don't much care for hotels but, that being said, there are still some hidden gems in the city.
I prefer staying in a local Airbnbs over hotels – they usually have more character and nicer hosts. Just remember to check the terms of the apartment and to see if you have to pay extra city taxes.
The cheapest places to stay in Florence are still hostels. There are several good ones in the city although most are located on the edges of the city center.
If you wanted to spend even less money, you may find success by staying at one of the campgrounds outside of Florence. Some, like the glamping site at Firenze Camping in Town, are easily accessible thanks to nearby bus lines. Others may be in the middle of nowhere, which means you'll probably need a car (or be good at hitchhiking).
Refer below for some suggested places to stay in the city. If you need more information, then head over to Florence accommodation guide for more information!
Although it's located a bit further away from the city center than other hostels, the Hostel Gallo d'Oro is still a great place to stay in Florence. People rave about the vibes here. The rooms are bright, spacious, and very comfortable. The Duomo is not really that far anyways (15 minutes walk).
Best Hotel in Florence – Alfieri9
For those looking for what I call" fancy-fordable" accommodation, Annuziato is a great neighborhood in Florence to stay in. One of the best hotels in the area is Alfieri9. It's a cozy spot and offers a humble 3-star service. That being said, it still has everything that you could possibly need to enjoy Florence.
Airbnb you dog; how did you know about my love for exposed brick in tastefully designed historical spaces? You know I can't resist! Aside from its chique design, this apartment also offers an amazing location and, crucially, air conditioning. All key to enjoying Florence.
1. Find a calcio fiorentino match and brace yourself
I guarantee that you will not see one of these on ANY casual sightseeing tours of Florence. Calcio Fiorentina is the original sport in Florence and is very rough to watch. The game, which is a cross between rugby and football, involves a lot of hard physical contact and there is almost always blood. For a real Florentine experience, try and visit one of these in the summer.
2. Have a sundowner at Piazzale Michelangelo
This is my – and probably a lot of other people's – favorite way to end their day in Florence. The Piazzale Michelangelo has, unquestionably, the best view in the city as the Duomo is literally smack dab in front of your face. Sitting on the steps and drinking a beer with friends makes the experience truly worthwhile and really puts the icing on your trip.
3. Eat some more at the Mercato di San Lorenzo
The Mercato di San Lorenzo is the largest market in Florence and probably the coolest as well. Inside this cavernous space, you will find all kinds of local products from fresh prosciutto to fruit to leather goods and more. Conveniently, there is a large, modern bar located inside as well; take a break from shopping with a glass of wine whenever.
4. Get in line early for All'antico Vinaio
There are people that travel to Florence just for this establishment. The sandwiches at All'antico Vinaio are legendarily delicious. This place is so well-regarded that it was actually voted one of the most reviewed restaurants in the world. So it goes without saying that you'll need to arrive early if want to eat here.
5. See everything at the Cathedral of Santa Maria del Fiore
No Florentine travel guide would be complete without mentioning the all-mighty Doors to Paradise and the cathedral attached to them. The Cathedral of Santa Maria de Fiore hosts probably the most iconic dome in the world and experiencing it is practically a rite of passage for those backpacking in Italy. It would be a tragedy to miss visiting this landmark.
6. Yes, you have to walk across the Ponte Vecchio
Among the most iconic sites in Florence, the Ponte Vecchio ranks up there near the top. It is a symbol of the city, which means that it is very popular and very touristy. Whilst it is a really cool bridge, the crowds here can be horrible and the local shopkeepers can be overly adament. You should still visit the Ponte Vecchio, but do so once and then move along to other things.
7. Visit the Cappella Brancacci – one of the most underrated attractions in Florence
This chapel isn't on most people's must see in Florence, Italy list. Hell, I'm sure most people don't even know what it is! The Cappella Brancacci is a hidden gem; one of the most underrated and unknown Renaissance masterpieces in the world. It's half the price of most museums in Florence and attracts a fraction of the crowds. To me, both those qualities are winning.
8. Have a drink in Santo Spirito
By day, Spirito Santo is a calm area that is composed of little more than a church and a piazza. By night though, it's a totally different scene. Santa Spirto is the place where all the locals go to drink late-night and is full of energy at this time. Even if I only have three days in Florence, I always make an effort to go here.
9. Take a Medici tour
If you really want to understand Florence, then you need to understand its most important family: the Medici. As rulers of Renaissance Florence, the Medici were responsible for many of the city's greatest achievements, including but not limited to Santa Maria de Fiore and the Palazzo Vecchio. See all the Medici sites in Florence and will become a master of the city yourself.
10. Visit at least one museum (just be careful of the prices)
Some of the most significant art in the Western World is housed in Florence. The Uffizi, Bargello, Palazzo Vecchio, San Marco, and Accademia all have excellent collections and all are worth visiting. But going to all of these institutions will also be expensive, especially for those backpacking in Florence.
I suggest doing some research and choosing one or two museums that you really want to see. For example, I find the Uffizi to be more worth the investment than the Accademia where the Statue of David is found. I figure that if I wanted to see a white dude with a small dick, I'll just look in the mirror and save twenty euros.
Editor's Note: Yes, the author really did write this last part himself and, yes, I don't think he gives a shit.
Day Trips from Florence
One of the best parts about visiting Florence is the fact that you're actually in Tuscany. Though it's been the center of attention for a while and can seem overrun with wine snobs at times, Tuscany is totally worth the hype. It is, without a doubt, one of the most beautiful places in Italy and is totally worth exploring.
Here a couple of ideas for day trips from Florence:
Sienna: Former independent republic and everyone's favorite Tuscan town. Sienna is most famous for its Paleo races in August, which put the Kentucky Derby to shame. If you visit during this time, get ready for a madhouse. You'll also find plenty of Italian yoga retreats in this part of Italy.
Pisa: Famous for the Leaning Tower (partake in selfies at your own risk) but Pisa is so much more. The Duomo de Pisa, located literally next to the tower, is way cooler. May favorite panineria in Italy, Il Porci Comodi, is also here. Finally, being a student town, the nightlife ain't too shabby either.
Viareggio: If you're visiting Florence in February, you HAVE to make a trip to Viareggio to see the local Carnival. The townsfolk make giant, intricately crafted floats for the festival and there is almost always a Donald Trump themed one.
Val d'Orcia: This is the place that everyone imagines Tuscany to look like. Winding roads, rolling hills, rows of trees; Val d'Orcia is the poster child for the region. Montepulciano is lauded for its brunello wine while Bagni San Filipo as some awesome travertine hot springs.
San Gimignano: Probably the prettiest village in Tuscany, thanks to its many delicate towers and crumbling medieval fortifications. San Gimignano also has its own local vernaccia grapes soooooo there's a good excuse to get drunk at the wineries!
Need help deciding between Florence or Venice? Check out our helpful guide.
Wondering how many days to spend in Florence? Three days should be more than enough! Refer below for our suggested itinerary on how to see this city in a reasonable amount of time.
Day 1: The First Things to See in Florence!
Most people will arrive in Florence around mid-day – either by train or by flight. This means that the mornings will be quick and that you'll have to hit the ground running to see the top sights in Florence!
On the first day of this Florence travel guide, we'll visit many important locations. Much of the day will be for wandering, which I believe is one of the best ways to see Florence!
Morning: Check into your accommodation and drop of your bags. Pack a daypack and then head to the nearest cafe for a jolt of energy. Buy a cafe, a snack, and get ready; today is the first of three awesome days in Florence!
Early-Afternoon: Start off by visiting one of the city's many museums. There are a lot to choose from and, unless you have a Firenze Pass, I suggest you stick to one or two. The Uffizi and Academmia are good choices – the former has the Birth of Venus and the latter has the Statue of David. Don't forget to make reservations for these though!
Late-Afternoon: Take a break and grab some Florentine street food. The local favorite is lampredotto – a sandwich stuffed with tripe (it's better than it sounds.)
Evening: Spend the early-evening wandering amongst Florence's many piazze. Visiting the Piazza della Signoria is an absolute must do in Florence as you'll see many of the most iconic locations in the city, like the Palazzo Vecchio and Loggia dei Lanzi. Finish with an aperitivo.
Night: Head to a local Tuscan osteria for dinner. Order something hearty, like a bistecca fiorentina, because you'll need a fortified stomach for the evening. After dinner, head to Santo Spirito for drinks and the chance to immerse yourself in Florence's best nightlife!
Day 2: The Best of Florence!
The second of our three days in Florence is focused on one place: the glorious Duomo and Cathedral of Santa Maria del Fiore. No trip to Florence is complete without seeing these religious and architectural wonders!
Morning: There are tours of the Duomo in Florence throughout the day. If you're feeling a little haggard, wake up at your leisure and then head out when ready. Note that on Sundays the church is only open after 15:00.
Early-Afternoon: Spend the whole afternoon exploring the Cathedral of Santa Maria del Fiore. Gawk at the gilded frescoes in the baptistry; climb to the top of Brunelesci's Dome (there are over 450 steps!); see former Florentine remains in the crypt; spend as much time as you want here! All of these places are accessible with a Cumulative Ticket.
Late-Afternoon: Take a leisurely walk south towards the Arno River. On the way, be sure to drop by the Fontana del Porcellino, home to the bronze statue of the Porcellino Little Boar). Rub its snout for good luck! Once you reach the river, head across the iconic Ponte Vecchio and window shop along the way – the hawkers will be in full force here.
Evening: Make for the Giardino delle Rose and Piazzale Michelangelo. The former is a lovely rose garden while the latter offers the best views in Florence. Having a beer and watching the sun go down at the Piazzale Michelangelo is a must do in Florence! Be sure to get there early to grab a seat.
Night: Relax, have a nice meal in a quiet spot, and don't go crazy. Tomorrow is a long day so it may not be a good idea to go out to the bars in Florence tonight.
Day 3 in Florence: Let's make a daytrip!
Florence is not such a big place; by day three, you may have seen most of its biggest attractions. Granted, there is always something to do in Florence but I think it may be a better use of your time to explore the surrounding area.
Tuscany is a gorgeous region and there are lots of cool places to visit here. We've already broken down some of our favorite day trips from Florence; in this section, we're going to stick to just two: Siena and the Val d'Orcia.
Morning: Pick up a rental car in Florence and get ready for a road trip. Whilst some backpackers may hesitate to spend money on a car, having one is really the best way to appreciate the Tuscan countryside.
Early-Afternoon: Make a b-line for Siena, which is located about 90 minutes south of Florence by car. Once you arrive in the city, be sure to visit the Duomo of Siena and the Piazza del Campo – both are close to one another. Have some lunch at a local osteria or eat a packed one before leaving town.
Late-Afternoon: Depart from Siena and continue south for another hour to reach the Val d'Orcia. This is quintessential Tuscan scenery, which means lots of rolling hills, tree-lined country roads, vineyards, and tourists. Just drive around and find your favorite spot. Here are some tips for taking photos in Tuscany.
Evening: After sunset, make your back to Florence. If you have the time, make a detour into the Monti del Chianti region, which is famous for the eponymous chianti wine. Drop by a local winery for some samples and dinner though please remember not to drink too much. Drinking and driving is frowned upon in Italy.
Night: Return to Florence, pack your bags, and reflect upon an amazing trip!
Learn more about what to expect when visiting Florence by reading the following sections!
Best Time of Year to Visit Florence
Florence has a very ideal climate, even by Itailian standards. Winters are short, summers are long, and spring and autumn are absolutely perfect. Rain comes and goes but is never around for too long. Those planning a trip to Florence will have a very large window to visit the city so don't feel pressured!
Summer is the most popular time to visit Florence. Lots of people imagine Florence to be in top form during this time; with long days and balmy evenings, the mood in Florence should be heightened.
In reality, summers in Florence are horrible. The crowds are massive, prices are high, and the temperature is sometimes unbearable. Florence is actually one of the hottest Italian cities and temperatures regularly go above 100 degree F in July and August.
The absolute best time to visit Florence is in the spring. During this time, the temperature is mild and the city is bursting with bloomage. The hills of Tuscany are lush as well and during this time they take on their quintessential green color. Prices are also reasonable up until late-May.
Autumn is also a great time to travel to Florence. September is the month of the harvest, which means there will be lots of wine and food festivals both in and outside the city. Temperatures are still mildly warm as well and stay so until around November.
Florence in the winter can also be fun! This is a great time to bury yourself in the local osterie and to keep yourself warm with a good glass of chianti or some porchetta. The museums will also be less crowded although they're never really quiet in Florence.
For information on what to bring, be sure to refer to our Italian packing list guide.
Want to Study Something in Florence?
Studying can be expensive, but with Global Work and Travel, you can pay in instalments and it'll fit nicely into any itinerary. You can study either coffee making or cooking in Florence for a week or two weeks. Then, take this new skill home with you to impress the neighbours or woo your future spouse.
Getting In and Out of Florence
There are several ways to travel to Florence:
By plane – Florence has one major airport (Peretola) located about 20 minutes outside of the city center. Regular buses connect the airport with the city. Note that not many people actually use Florence's airport – most fly into more well-connected ones like Rome and Bologna and then transfer to Florence. As such, airline tickets for Florence may be more expensive than necessary.
By train – Train travel is, hands-down, the best way to get around Italy. Florence's primary train station is conveniently located close to the historical center as well so you can start exploring the city in no time. Just be sure to buy your train ticket ahead of time – prices go up quickly as the departure date approaches.
By car – We'll go into this in more detail in the next section, but if you're driving to Florence then you'll need to leave your car in the outer areas of town. Driving is restricted in the historical center so there's no point in trying to park there. The best parking in Florence can be found near the outer metro stations, like Scandicci.
By bus – Traveling to Florence by bus is cheaper than trains and is pretty similar in comfort. Italian buses are modern, comfortable, and convenient. Taking a bus to Florence is ultimately very convenient and highly recommended. Check out prices on Flixbus using the link below.
How to Get Around Florence
Much to its credit, Florence is one of the few European cities to ban motorized traffic in the city center. The no-car zone is called the ZTL Zone in Florence. In these areas (refer to this Google map for more info) cars will either not be allowed to drive or will be fined heavily for doing so. For those drivers who think they can sneak by: there are cameras everywhere so don't think you're not being watched. Touristy areas also mean more cops that can spot you.
If you have a car and are wondering then where to park in Florence, you have two options:
Stay closer to the city center but pay to park.
On the outskirts of the city near the tram lines where parking is usually free.
The metro station at Scandicci has a large parking lot where you can leave your car overnight. If you're spending three or so days in Florence, park your car here and then take the tram into the city. Trust me, you won't need a car in Florence, ever.
Once you've actually made it to the center, the best way to see Florence is just by walking. The city center is pretty small and all of Florence's must-see attractions are fairly close to one another. You could maybe even walk across the entire center if you make a b-line.
The only kind of vehicles that are allowed in the heart of Florence are taxis and hotel transports. Most of the drivers have an annoying habit of sneaking up and then scaring the shit out of you with the horn. To avoid the ire of the dickish drivers, try not to stand in the middle of roads aimlessly while taking photos and just be aware of any subtle beeping sounds behind you.
Safety in Florence
Florence is not a dangerous city by any means. Violence rarely, if ever, happens here and if it does it's completely removed from tourists. Not having to worry about traffic makes Florence doubly safe and frankly I can't think of any situation where your life would be in danger (besides drunkenly jumping from the Ponte Vecchio).
That being said, the pickpockets in Florence are particularly talented. A good thief will be able to open your backpack, grab your wallet, and get away without you even noticing. All of Italy suffers from this problem unfortunately so don't feel like you're putting yourself at any more risk than usual.
Pickpockets prey upon stupid and unsuspecting tourists. The key to beating them is to a) not look a victim and b) have a backup plan just in case. If you look confident and like you have your shit straight, a lot of thieves will leave you alone and look for easier targets. Some might still go for you, in which case having a money belt would be the ultimate deterrent.
Not all cons come from crooks either – a lot of reputable businesses may also try to rob you and by that I mean overcharge for something as basic as a coffee or bread bowl. Shady taxi drivers, dickish restaurant owners, souvenir hawkers; not all of these people live to make sure you have the best trip in Florence.
Not everyone in Florence is necessarily out to get you though! The grand majority are lovely! The key to avoiding the bad ones is simply doing a little online research and checking your bill before you pay.
Travel Insurance for Florence
Traveling without insurance would be risky so do consider getting good backpacker insurance sorted before you head off on an adventure.
I have been using World Nomads for some time now and made a few claims over the years. They're easy to use, professional and relatively affordable. They may also let you buy or extend a policy once you've started your trip and are already abroad which is super handy.
If there's one insurance company I trust, it's World Nomads.
World Nomads' mission is to support and encourage travellers to explore their boundaries. They offer simple & flexible travel insurance, and safety advice to help you travel confidently.
They've been doing it since 2002 – protecting, connecting, and inspiring independent travellers just like you.
Get a quote below or read our in-depth review!
World Nomads provides travel insurance for travelers in over 100 countries. As an affiliate, we receive a fee when you get a quote from World Nomads using this link. We do not represent World Nomads. This is information only and not a recommendation to buy travel insurance.
Tips for Saving Money on Accommodation in Florence
Sometimes you need your own roof above your head – we know the feeling. Other times, you're doing everything you can save a nickel and dime.
If you're trying to the cut the costs of travel to Florence, then maybe it's time to stay somewhere besides a hostel or apartment. If you need to save money, try one of these:
Couchsurf! – Couchsurfing is the best way to save on cash when it comes to accommodation since most of the time you're crashing for free. Staying with a local host is also a great chance to experience a more authentic side of the city and to visit hidden Florence.
Problem is couchsurfing is really popular (duh, it's free) and demand often outstrips supply. Hosts are picky as well so you'll need to impress them with an eye-catching message. Definitely try couchsurfing but be ready to be rejected.
Tap into your backpacker network – You never know when you have a friend in a foreign city! If you've traveled a lot, you may have met someone from Florence or know someone who knows someone.
Reach out to people! Ask to stay with people for a night or two in exchange for cooking dinner or a bottle of wine. If you don't know anyone in the city, ask your friends if they do – travelers understand the struggle and are usually more helpful than you think.
Camping – Urban camping is a growing trend in many cities. These campsites are comfortable, sociable, safe, and cheap. They are often located on the outskirts of town, which means they are quieter too. Research to see if Florence as any and be sure to bring your own tent too!
Some Extra Free Things to Do in Florence
If you intend on visiting Florence on a budget, you will need several tools at your disposal. Taking advantage of the many free activities around the city is one such method that will you help you save lots of cash. Here are some potential free things to do in Florence:
Go on a free walking tour in Florence: Whilst technically you could do this yourself if armed with the proper guidebook or travel guide for Florence (nudge, nudge), reaching out to a local expert would also be good. The people at Florence Free Tour offer four walks per day in both English and Spanish.Go on a free walking tour in Florence: Whilst technically you could do this yourself if armed with the proper guidebook or travel guide for Florence (nudge, nudge), reaching out to a local expert would also be good. The people at Florence Free Tour offer four walks per day in both English and Spanish.
First Sundays: Many museums have free entry on the first Sunday of every month between October and March. Check out the list here!
Visit the original Last Supper(s): Few people know that Da Vinci wasn't the first to paint the legendary scene depicting Jesus and his acolytes. There were several Florentine painters who attempted this first. Refer to VisitFlorence's page to see them all. (Kudos to them for bringing this to my attention.)
See the chapel of Santa Maria de Firenze: Whilst many of the facilities at Santa Maria de Firenze require paid-entry, the main chapel is still free to enter. From the inside, you will be able to see the marvelous fresco of the dome still.
Admire the statues at Loggia dei Lanzi: It's not the Uffizi, but the selection of sculptures at the outdoor gallery of Loggia dei Lanzi is still impressive. The statues are reproductions but damn good ones at that.
The sweet smells of Santa Maria Novella's pharmacy: Pop in for a moment to get a whiff of the tonics and tinctures at the church's private pharmacy. This place has been creating remedies for over 400 years!
Books to Read Before Visiting Florence
If you need a little extra info to supplement our Florence travel guide, try reading one of these books on the city!
The Prince: The groundbreaking essay about socio-political dynamics as outlined by the original master manipulator, Niccolo Machiavelli. To this day, The Prince is still one of the most relevant pieces of literature concerning politics and how to take advantage of them. Machiavelli was born and died in Florence during the era of the Florentine Republic.
The Divine Comedy: One of the most important pieces of literature ever written in the Western World. The Divine Comedy was the first to ever describe in detail in the supposed levels of Hell, Purgatory, and Heaven. It's author, Dante Alighieri, is perhaps the greatest Italian writer in history and lived in Florence most of his life.
Under the Tuscan Sun: A travel novel that is partly responsible for Tuscany's massive tourist appeal. Concerns a couple who spend a summer renovating a villa in the countryside.
The History of the Renaissance World: Florence helped give birth to the period of the Italian Renaissance – a period of history that served as a pivot from the Medieval era to the Modern one. Though there are lots of books about the Renaissance, this one comes highly recommended.
The House of Medici: The Medici Family and the city of Florence are practically synonymous – you cannot understand one without knowing the other. This book does a good job explaining the Medici's role in Renaissance Florence.
As the capital of Tuscany, Florence takes gastronomy very, very seriously. Pork is treated with the utmost respect and wine is as revered like a holy saint. Those looking to go on a food tour in Florence should have no problems finding their way.
Breakfast in Florence usually starts with a caffe normale (espresso) and a cornetto (croissant). Most Italians eat and drink whilst standing at the bar and you should do the same – some cafes in Florence may charge extra if you sit down at a table and order there.
Lunch is usually heavy on the carbs e.g. pasta, bread, and other things that keep people's energy up. Following a big meal though, many Italians will take a 1-hour sonnellino (nap/break), especially on a hot day. Be prepared for shops to remain closed until 4 or 5 in the afternoon.
Early evening is the time for the aperitivo. An aperitivo is a light snack usually accompanied by a glass of wine or spritz. Aperitivo prices are usually lower than normal; the best comparison I can make is that they are like the Italian version of happy hour.
Dinner in Florence is late, usually around 9 in the evening. This is when you start to see many of the staples of Florentine cooking. Bistecca alla fiorentina, which is essentially a giant steak, is widely advertised on most menus in restaurants. Florence is also known for lampredotto or tripe. Though it may sound gross at first, it's better than you think when served in a sandwich.
Desert is, of course, the most important part of the meal for Italians and in Florence, it usually comes in the form of pastries or biscuits. Schiacciata fiorentina is a particularly beloved treat in Florence.
Nightlife in Florence
When I last visited Florence in summer, my girlfriend and I used to play a little game: every time we heard a foregin accent, we would pop into a cafe and take a shot. To this day, that is probably still the stupidest game we ever invented – within an hour we were wasted.
Now, that game was not much a testament to how many foreigners there are in Florence (there are a lot) but more to how easy it is to drink in Florence. There are little cafes and bars in every corner of the city; having a drinking is just a matter of popping into one for a moment! The fact that you can take your beer or negroni to-go in Florence is also really awesome.
The biggest nightlife in Florence is generally found in the city center. Much talked-about joints like Moyo, YAB, and The Blob are all found around Santa Croce and the Piazza del Republica. Whilst I personally don't go for clubs myself, I can recommend visiting local-legend Lion's Fountain. This is one of the most notorious college bars I've ever been to and is, for me, like a blast from my very hazily-remembered college past.
If you want to be with locals, then the best place to drink in Florence is Santo Spirito. During the day, this Florentine neighborhood is a quiet, unassuming area. At night though, the piazza erupts with natives and the mood becomes quite rowdy. Bars emerge from cracks in the walls and table magically appear in the square, although a lot of people choose to sit on the church steps instead.
If you've reached this point and are still wondering whether or not Florence is worth visiting, then I can only say at this point: "GO!" Florence is totally worth the hype. Yes, it is crowded with tourists and, yes, almost every single corner of this city requires a ticket to see. That being said, none of these things should deter you.
Florence is one of my favorite cities in Italy. It is gorgeous, hopelessly romantic, and imbued with an energy that you can't really find anywhere else. I often remark that the feeling I get from Florence is what I expected from Paris in that this is one of the most culturally unmatched cities in the world.
It doesn't matter how many days you plan to spend in Florence – one, two, seven, twenty, whatever – just make sure you visit at least once in your life. You won't regret it.
Before signing off, I wanted to share some last bits of information regarding responsible travel in Florence and how to possibly stay here for longer periods of time. Take a moment to consider the following…
Volunteering in Florence
Long term travel is awesome. Giving back is awesome too. For backpackers looking to travel long-term on a budget in Florence whilst making a real impact on local communities look no further than Worldpackers. Worldpackers is an excellent platform connecting travelers with meaningful volunteer positions throughout the world.
In exchange for a few hours of work each day, your room and board are covered.
Backpackers can spend long periods of time volunteering in an awesome place without spending any money. Meaningful life and travel experiences are rooted in stepping out of your comfort zone and into the world of a purposeful project.
Worldpackers opens the doors for work opportunities in hostels, homestays, NGOs, and eco-projects around the world. We've tried and approved them ourselves – check out our Worldpackers in-depth review here.
If you're ready to create a life-changing travel experience and give back to the community, join the Worldpacker community now. As a Broke Backpacker reader, you'll get a special discount of $10. Just use the discount code BROKEBACKPACKER and your membership is discounted from $49 a year to only $39.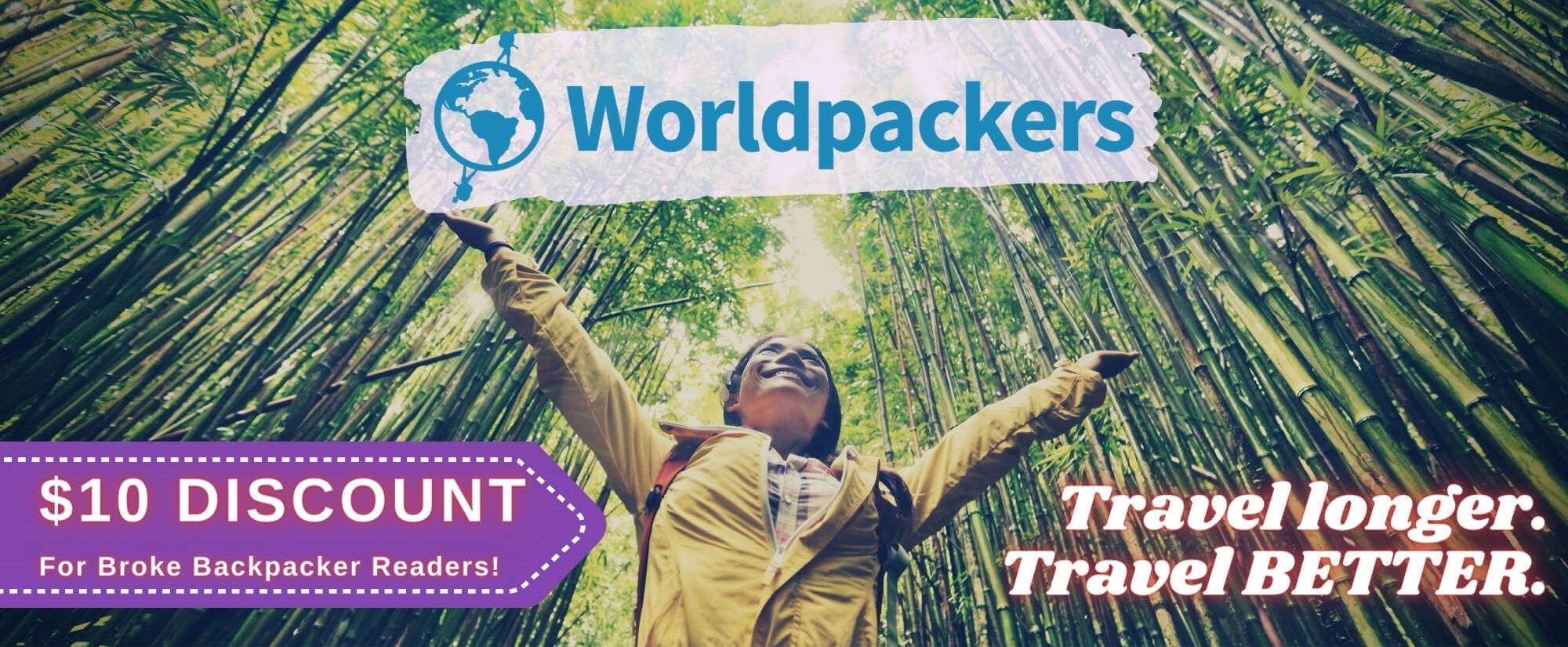 Worldpackers: connecting travellers with meaningful travel experiences.
Make Money Online While Backpacking in Florence
Traveling in Italy long-term? Keen to make some cash when you are not exploring the country?
Teaching English online is a great way to earn a consistent income—from anywhere in the world with a good internet connection.
Depending on your qualifications (or your motivation to obtain qualifications like a TEFL certificate) you can teach English remotely from your laptop, save some cash for your next adventure, and make a positive impact on the world by improving another person's language skills!
It's a win-win! Check out this detailed article for everything you need to know to start teaching English online.
In addition to giving you the qualifications to teach English online, TEFL courses open up a huge range of opportunities and you can find teaching work all over the world. To find out more about TEFL courses and how you can teach English around the world, read my in-depth report on teaching English abroad.
Broke Backpacker readers get a 35% discount on TEFL courses with MyTEFL (simply enter the code BACKPKR), to find out more, please read my in-depth report on teaching English abroad.
Whether you are keen to teach English online or looking to take your teaching game a step further by finding a job teaching English in a foreign country, getting your TEFL certificate is absolutely a step in the right direction.
Being a Responsible Traveler in Florence
Reduce your plastic footprint: Perhaps the best thing you can do for our planet is to make sure you do NOT add to the plastic problem all over the world. Don't buy one-use water bottles, the plastic ends up in landfill or in the ocean. Instead, pack a tough travel water bottle.
Go and watch A Plastic Ocean on Netflix – it'll change how you view the plastic problem in the world; you need to understand what we are up against. If you think it doesn't matter, get off my fucking site.
Don't pick up single use plastic bags, you're a backpacker – take your daypack if you need to go to the shop or run errands.
Bear in mind, that many animal products in countries you travel through will not be ethically farmed and won't be of the highest quality. I'm a carnivore but when I'm on the road, I only eat chicken. Mass-farming of cows etc leads to the rainforest being cut down – which is obviously a huge problem.
Need more guidance? – Check out our post on how to be a responsible backpacker.
Visiting Florence, Italy will bring you ample opportunities to participate in debauchery, and it is very important to have fun, let loose, and get a bit wild at times. Most trips I have been on across the world have included at least a few mornings where I wake up knowing I went too far.
But there are some things that will put you in the category of a straight up jackass if you do them. Being super loud and obnoxious in a tiny hostel at 3 AM is a classic rookie mistake. Everyone in the hostel will hate you when you wake them up. Show your fellow travelers respect whilst traveling in Florence and anywhere else for that matter!
Florence is a beautiful place that has touched countless people, so let's not mistreat it. It clearly inspired the makers of this video, which, not gonna lie, has made me cry (only) a few times.
---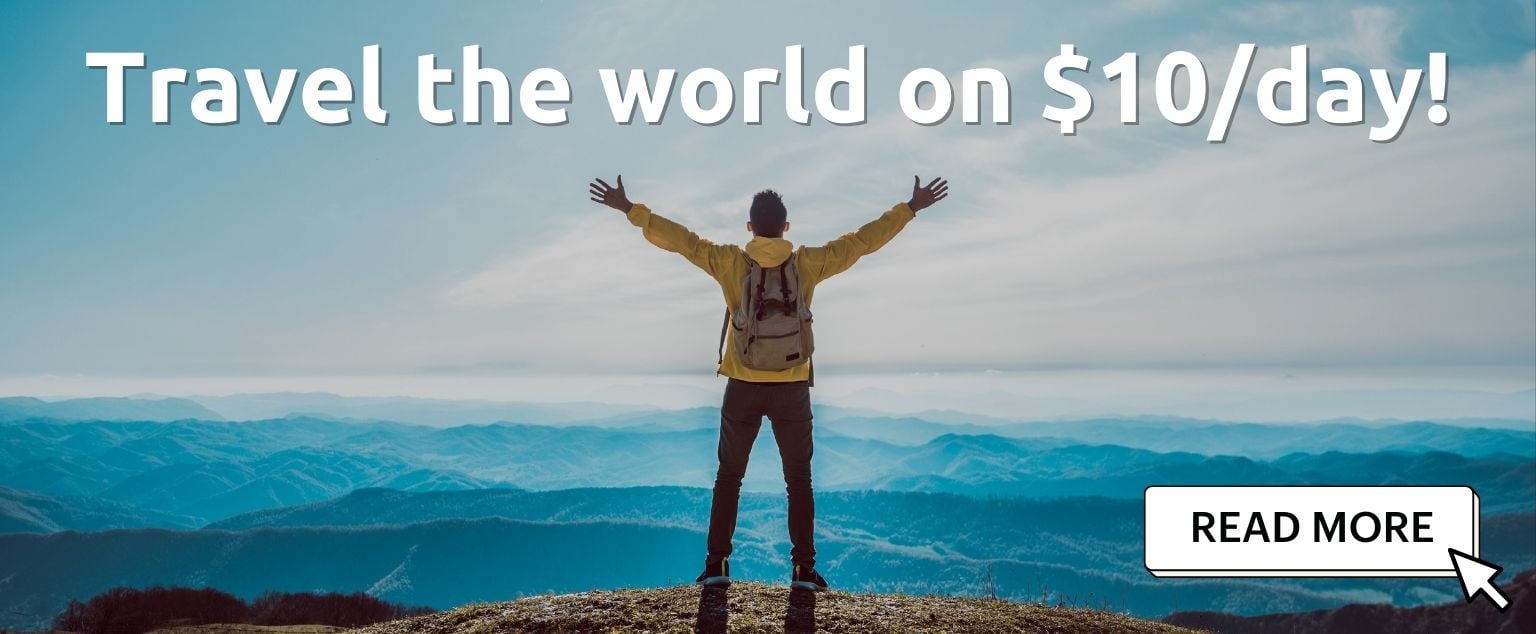 And for transparency's sake, please know that some of the links in our content are affiliate links. That means that if you book your accommodation, buy your gear, or sort your insurance through our link, we earn a small commission (at no extra cost to you). That said, we only link to the gear we trust and never recommend services we don't believe are up to scratch. Again, thank you!