Florence, or Firenze as it is locally known, is one of the most beautiful cities to visit in Europe. This is the capital city of the Tuscany region in Italy, and it is one of the most historic and cultural places in the world!
Any traveler will fall in love with this ancient city straight away! Our ultimate Florence itinerary will help guide your stay in Italy's gorgeous capital city. We know it will guide you on an amazing trip!
The moment you arrive in Florence, life slows down and you seem to be taken back in time. The cobblestone streets are lined with charming medieval buildings that hold an olden-day ambiance. The city is loaded with important historical and cultural sites, iconic renaissance architecture, incredible food, wine, and a one-of-a-kind Tuscan appeal!
Florence is has many well-known landmarks, but it also has modern touches from the newest generation of locals creating new life in their beloved city. This place was made for exploring.
Best Time To Visit Florence
Wondering when to visit Florence? This city, and Tuscany as a whole, generally has pretty mild weather conditions. While it is possible to enjoy magical Firenze at any time of year, the best time to go would be when the sun is still shining, but the heat and crowds are not too intense.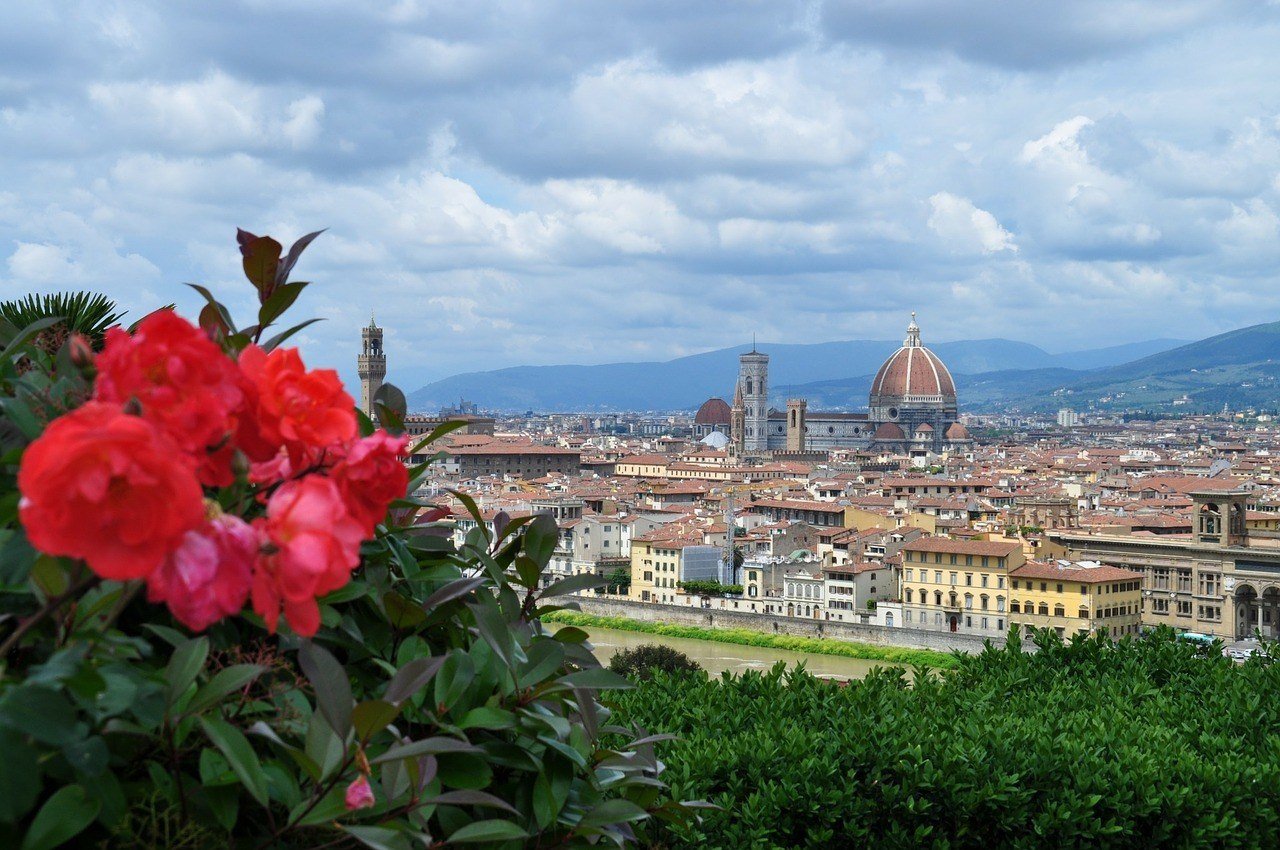 Weather-wise, the ideal time to plan your itinerary for Florence would be between April to June and September. This is when the summer heat is not too grueling, but you can still enjoy outdoor dining, cultural events and experience the typical Tuscan dream holiday! July and August are when the city gets incredibly hot.
However, these summer months bring large amounts of tourists every year. Florence is a popular destination, and if you want to experience it in perfect weather, you will need to be prepared for crowds! If you prefer to avoid other tourists, consider planning your itinerary in March to April or September to October, when the weather is still pretty pleasant but the streets are quieter!
| | Average Temperature | Chance of Rain | Crowds | Overall Grade |
| --- | --- | --- | --- | --- |
| January | 7°C/45°F | Average | Calm | 😐 |
| February | 8°C/46°F | Low | Calm | 😐 |
| March | 10°C/50°F | Average | Medium | 🙂 |
| April | 14°C/57°F | High | Medium | 😀 |
| May | 18°C/64°F | Average | Busy | 😀 |
| June | 22°C/72°F | Low | Busy | 🙂 |
| July | 25°C/77°F | Low | Busy | 🙂 |
| August | 24°C/75°F | Low | Medium | 🙂 |
| September | 21°C/70°F | Average | Medium | 😀 |
| October | 16°C/61°F | High | Calm | 🙂 |
| November | 11°C/52°F | High | Calm | 😐 |
| December | 8°C/46°F | Average | Calm | 😐 |
Where To Stay In Florence
Your Florence itinerary will be loaded with walking between attractions. This is why it is important to stay somewhere central. In order to get the most out of your vacation, base yourself around the hub of the old city.
Duomo is the historic and geographic center of Florence. This is one of the best and most popular areas to stay! The Duomo neighborhood is where the cities most famous sights and attractions are all found. There is also an amazing buzz on the streets and authentic Firenze charm around here. Besides the convenient location, Duomo has got to be one of the most attractive areas!
The main hurdle when staying in Florence is that it can get expensive! If you want to stay somewhere a little bit more removed from the hustle and bustle (and a bit more affordable), consider the San Marco neighborhood. This residential area is still an easy walk of the city center, and it offers some great Florence points of interest.
The main (and possibly only) way to get around this city is on foot. Most things to see are all located within a relatively compact area, making them easy to reach through walking. Staying somewhere central is very important to your Florence itinerary!
For the best place to stay, check out our top picks below!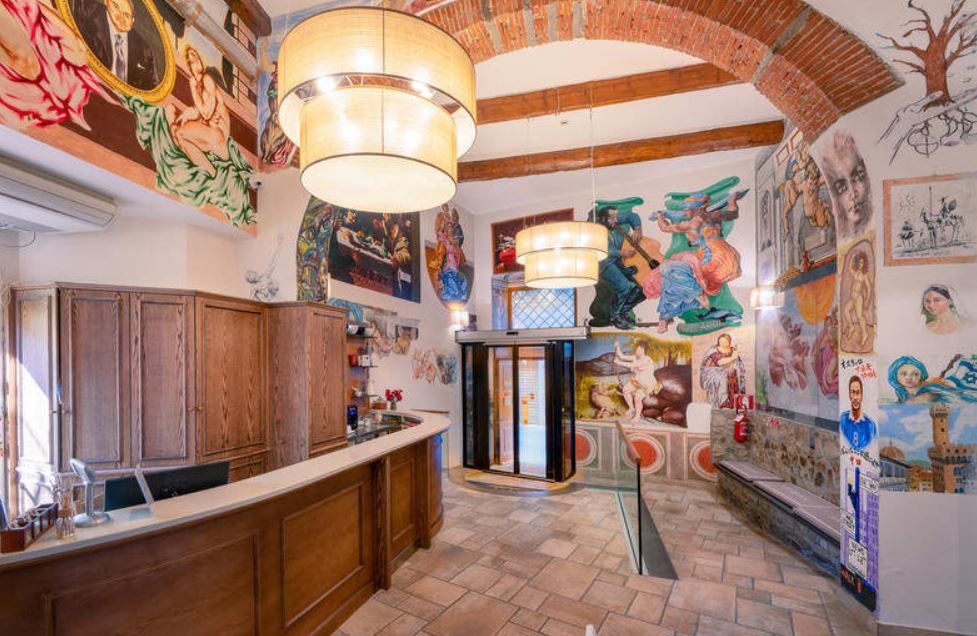 Archi Rossi Hostel offers the perfect central location for all travelers to Florence! This hostel is clean, comfortable, and loads of fun. Archi Rossi has highly recommended breakfasts and affordable dinners, as well as their own walking tour! Due to its proximity to the city center, great rooms, tasty food, and overall vibe, Archi Rossi is an unbeatable hostel choice!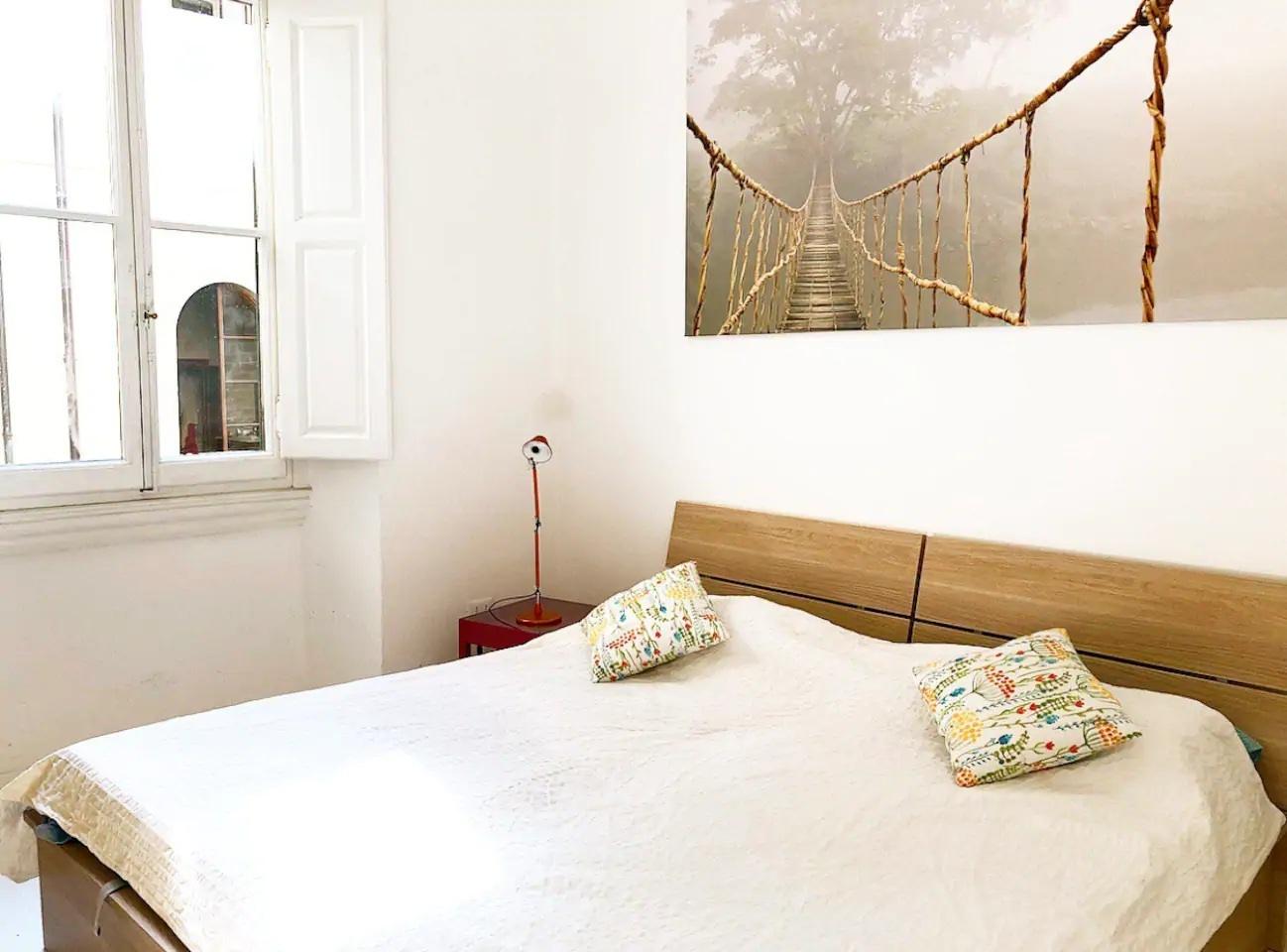 This ultra-cozy room is just the place you want to stay when you get to city – it's easily one of the best Airbnbs in Florence. It's light and bright, making it feel spacious with a window overlooking the scenic neighborhood. Just what you would expect to see staying in an apartment in the city of Florence. Love to walk? Great! The museums, shops, and restaurants are just minutes away on foot.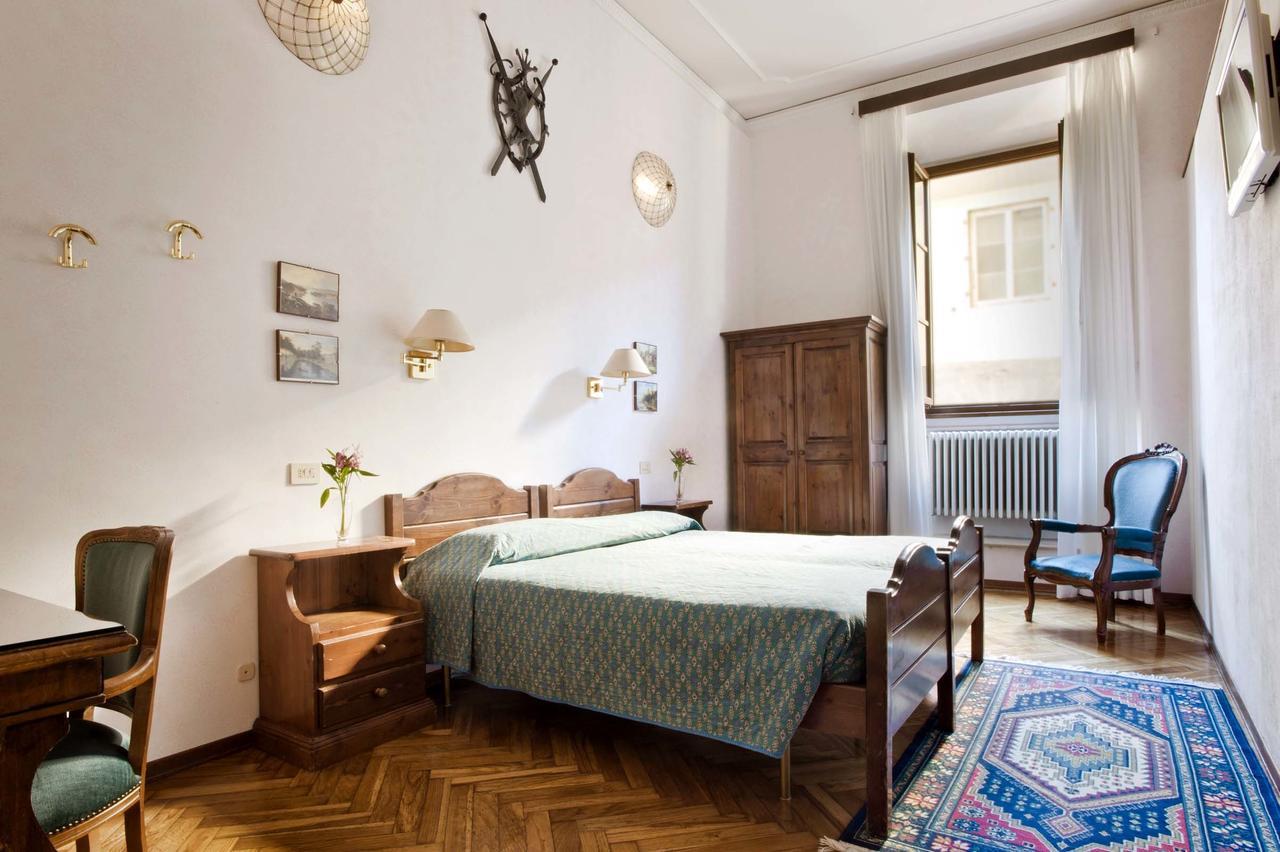 For the best in location, value, and comfort, consider a stay at Hotel Alessandra. This hotel is just down the road from the Uffizi gallery, offering an ideal central location! The rooms are well equipped with a TV, wifi, and private bathrooms. Your stay in this beautiful city couldn't get any more convenient.
Best Luxury Hotel in Florence – Villa Cora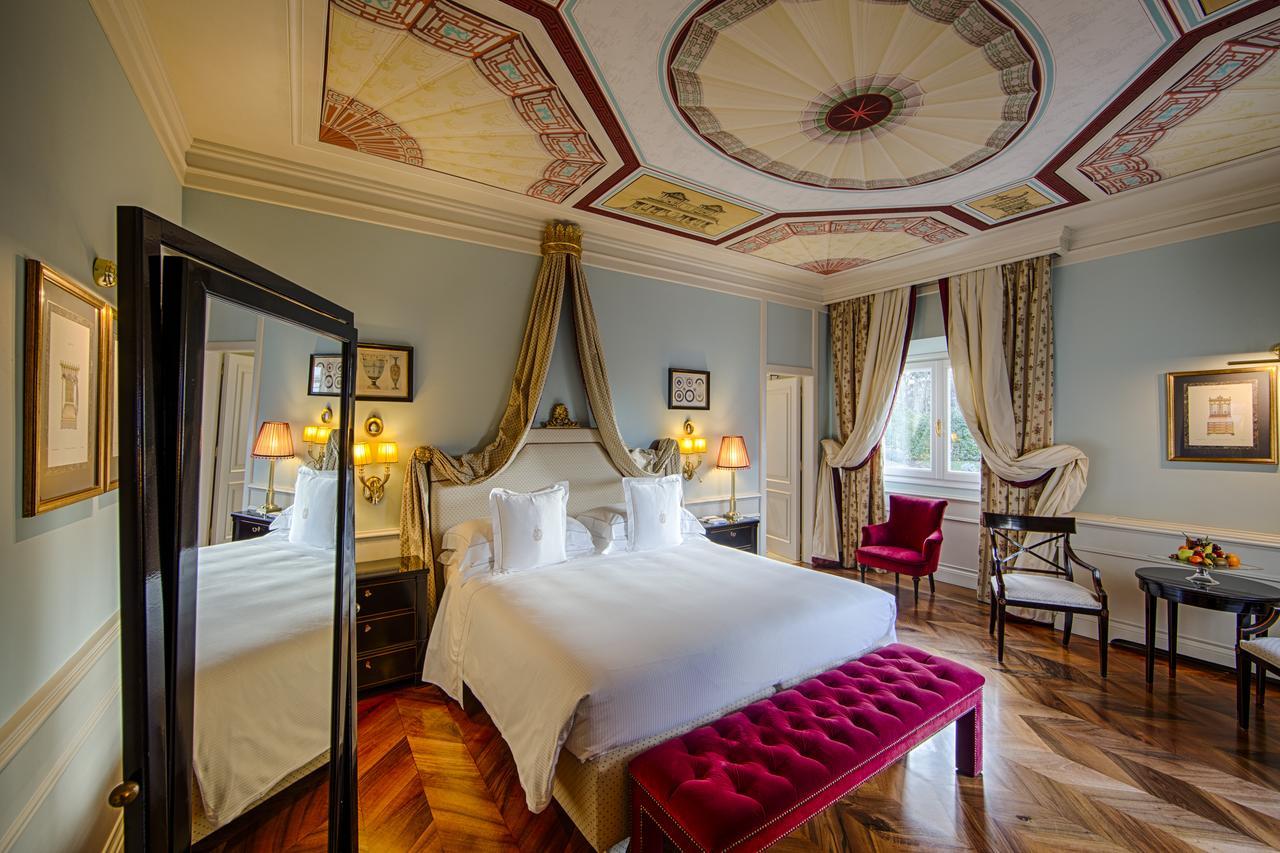 Set in an incredible 19th-century building, surrounded by gardens, this hotel is the ultimate base for your Florence itinerary! Located in a convenient, walkable neighborhood, Villa Cora is the ideal gateway to Florence. The hotel has an outdoor swimming pool, modern facilities, and all the comforts one could wish for!
Florence Itinerary
Before you start planning and packing for your trip to Florence, it is important to know how you will be getting around! Even though it is the major city of Tuscany, it is still a pretty compact place. As most of the attractions in the city are within close proximity, getting between them is easy!
In terms of public transport, Florence has a good bus and taxi network. These would be the best choices for traveling long distances in the city. Busses may be cheaper, but they do not operate overnight and can be a little tricky for first-timers. Ask a local if you'd like to take a bus and need some guidance. There is also a tram line that runs efficiently past fourteen stops.
However, chances are you won't need to use public transport during your Florence itinerary! The best way to see this city is by walking around. The narrow streets and cobbled lanes are most easily accessible by foot, and you will enjoy all of the sights and happenings around you this way. Renting a bicycle in Florence is another fun and efficient way of getting around!
Florence does have an airport, as well as a central station for trains from around the country.
Now that you know how to get around, it's time to start planning your three-day itinerary in Florence
Day 1 Itinerary in Florence
Cathedral of Santa Maria Del Fiore | Palazzo Vecchio | Basilica di San Lorenzo | Galleria dell'Accedemia | Boboli Gardens | Piazzale Michelangelo
For day one in Florence, you will be doing a great deal of important sightseeing, learning, and experiencing the city's beauty. Here is the start of your itinerary in Florence.
Day 1 / Stop 1 – Experience the Cathedral of Santa Maria Del Fiore
Why it's awesome: This dome of this massive cathedral can be seen across Florence, making it one of the most iconic and impressive buildings in the city.
Cost: Free/$20.
Food nearby: Caffe Duomo- located right next to the cathedral- is a great place to refuel. This cafe/restaurant is the perfect place for lunch, coffee, or a drink between sightseeing. The sandwiches and pasta are great choices!
When you get to Florence, one of the first things you will see is the impressive dome of the Santa Maria del Fiore Cathedral rising over the skyline. This cathedral, also called the Duomo, is found in the heart of the city. Visiting it is the perfect way to start your Florence itinerary!
You can simply visit the cathedral for free where you will be able to explore the amazing old building. This cathedral is full of detail, and wandering around inside of it is an amazing experience.
Keep in mind this is a fully functioning church. Plan to arrive when worship is not in session. Ladies can keep a scarf on them to cover yourself before entering. They may turn you away if you're showing a lot of skin.
If you would like to see more, you can buy a ticket for access onto the dome. Climbing up the dome is well worth the views from the top. You get to stand above the city and look right across Florence.
Appreciating the history, architecture, and cultural importance of this building is a great first stop.
In case you're interested in learning a bit more about the Dome and its history, you should think about booking a guided tour. Don't worry, you won't have to stand around for hours while listening to an equally tired guide – this express tour is only going to take 30 min, and it offers the best and most professional guides. The ticket also includes free access to the Museo della Misericordia afterwards.
Day 1 / Stop 2 – Visit the Palazzo Vecchio
Why it's awesome: This impressive building was once the palace of the Signoria of the Republic of Florence, and it became a town hall.
Cost: $40.
Food nearby: Caffe Rivoire is located just next to the Palazzo Vecchio, and it is the perfect place for a great coffee or a tasty meal! This restaurant offers brilliant local Italian food in a lovely outdoor seating environment.
Originally built in 1299, the Palazzo Vecchio is a historically significant building in Florence. The Palazzo Vecchio looks like a castle with its rising belltower and crenulations. If you love medieval architecture and want to appreciate a spectacular building, then this is a must-see stop.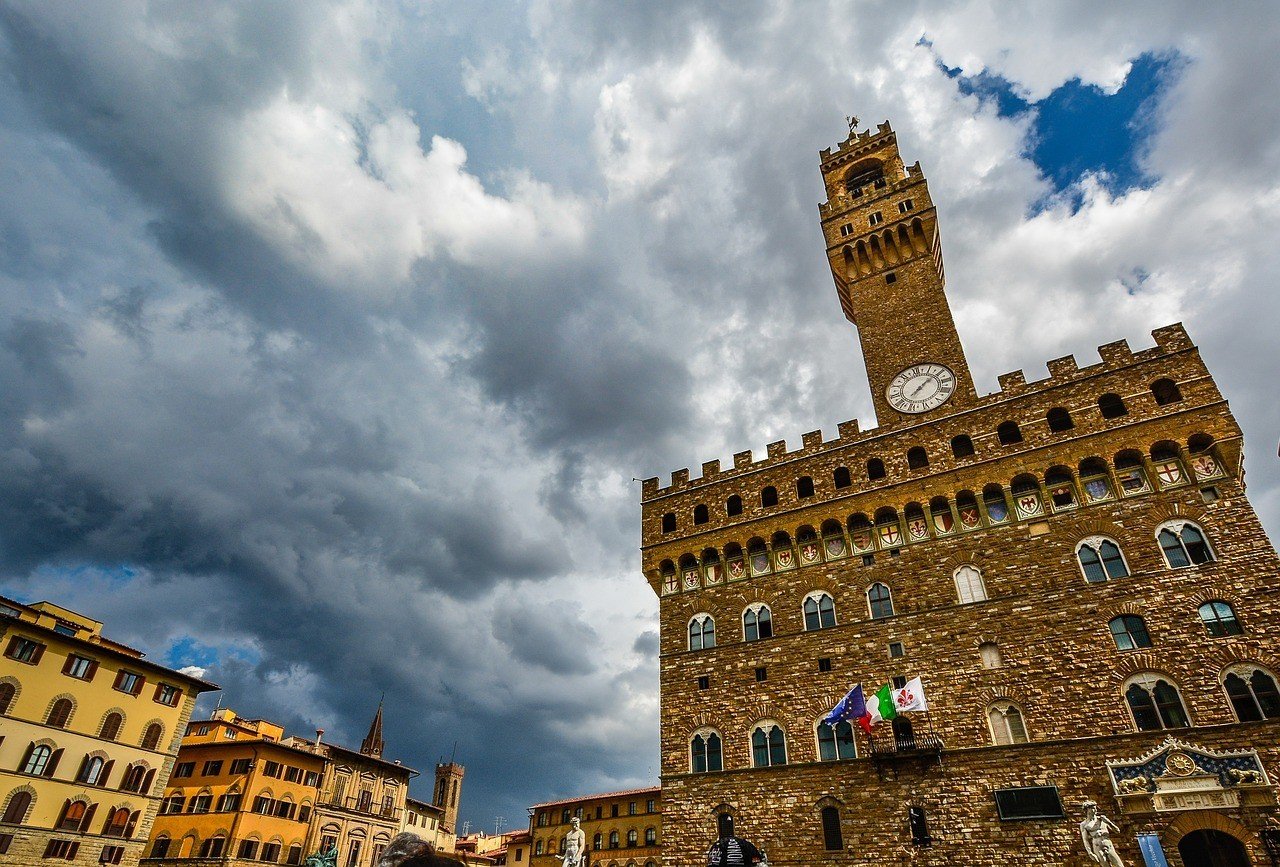 Tours are available of the Palazzo Vecchio which are informative and interesting. You will get to experience some of the incredible rooms inside the building, as well as learn all about the age-old history. A tour here will have you much more clued up on Florence as a whole.
This is a beautiful, interesting, and famous attraction in Florence!
Day 1 / Stop 3 – Witness the Basilica di San Lorenzo
Why it's awesome: An ancient domed church filled with beautiful artworks
Cost: $9
Food nearby: Trattoria Toscana Gozzi Sergio is a traditional Tuscan restaurant near this cathedral. If you would like to experience a true taste of Florence in between sightseeing, then a visit here is a great idea!
The Basilica di San Lorenzo may not look as impressive as the Duomo at first glance, but this church has just as much beauty to share! This is believed to be the first cathedral of Florence, and it was built under the designs of the powerful Medici family that ruled the city for many years.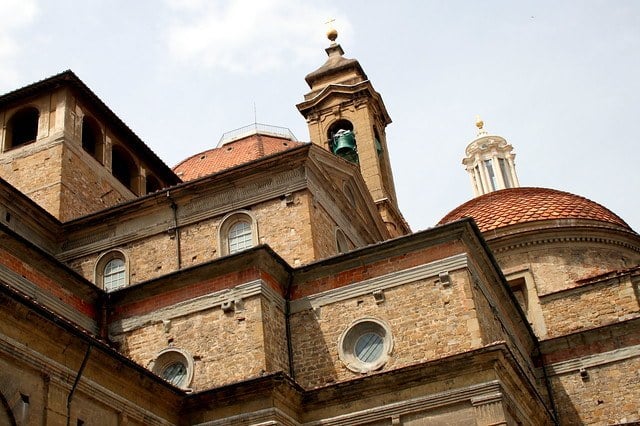 A tour of this church will allow you to witness all of the incredible art, details, and frescoes inside the ancient building. Between the amazing art, you can find the highly decorated tombs of the buried Medici family.
This is an interesting historic stop, as well as a great place to enjoy some old art and architecture. It's an important addition to your weekend in Florence!
Is This the Best Travel Backpack EVER???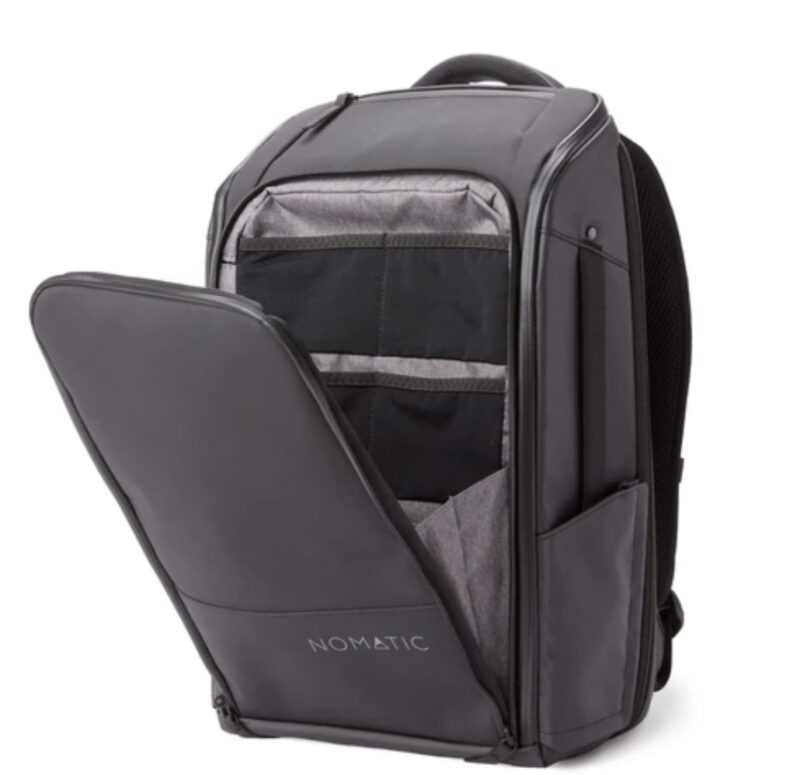 Day 1 / Stop 4 – Visit the Galleria dell'Accademia
Why it's awesome: A gallery containing Renaissance art masterpieces
Cost: $22
Food nearby: Gelateria Carabe is close by to the Galleria dell'Academia, and it is the perfect place to grab some authentic Florentine gelato! You can't visit this city without indulging in some gelato- a local specialty. Gelateria Carabe is one of the best places to go, with excellent flavors and fresh ingredients being used.
Florence is known as the birthplace of the Renaissance. To learn more about this, and to experience some of the most famous Renaissance art in person, be sure to add the Galleria dell'Academia to your Itinerary.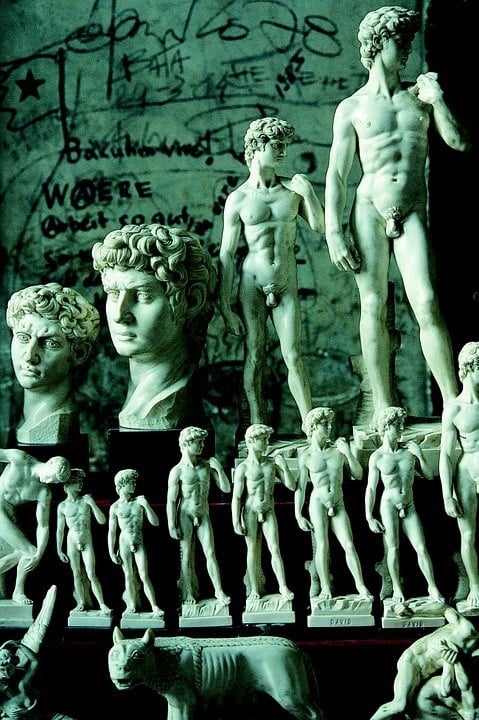 Most famously, this gallery houses Michelangelo's sculpture of David. There are plenty of other Michelangelo sculptures here too, as well as loads of paintings! The gallery is divided into several different halls, each displaying historical art from 14th and 15th century Florence. For more ideas on how to plan your trip, check out our Florence travel guide.
You're interested in learning more about the history behind each piece of art? Then how about you book a guided tour? This tour offers fast access to the gallery too, meaning that you won't have to wait in line to get your tickets. All of the guides are very professional and extremely passionate about their work – you'll enjoy every second of the tour!
Day 1 / Stop 5 – Wander Around the Boboli Gardens
Why it's awesome: 45000 square meters of beautiful 16th-century gardens!
Cost: $7
Food nearby: Pop into Gino's Bakery next to the gardens for a tasty refuel. This place has great espresso and loads of tasty treats and sweets. The wines here are also a good idea!
The Boboli Gardens are so much more than just a green space in the city. These gardens are a kind of outdoor museum, showcasing many amazing sculptures, fountains, and of course, well-kept gardens! For more ho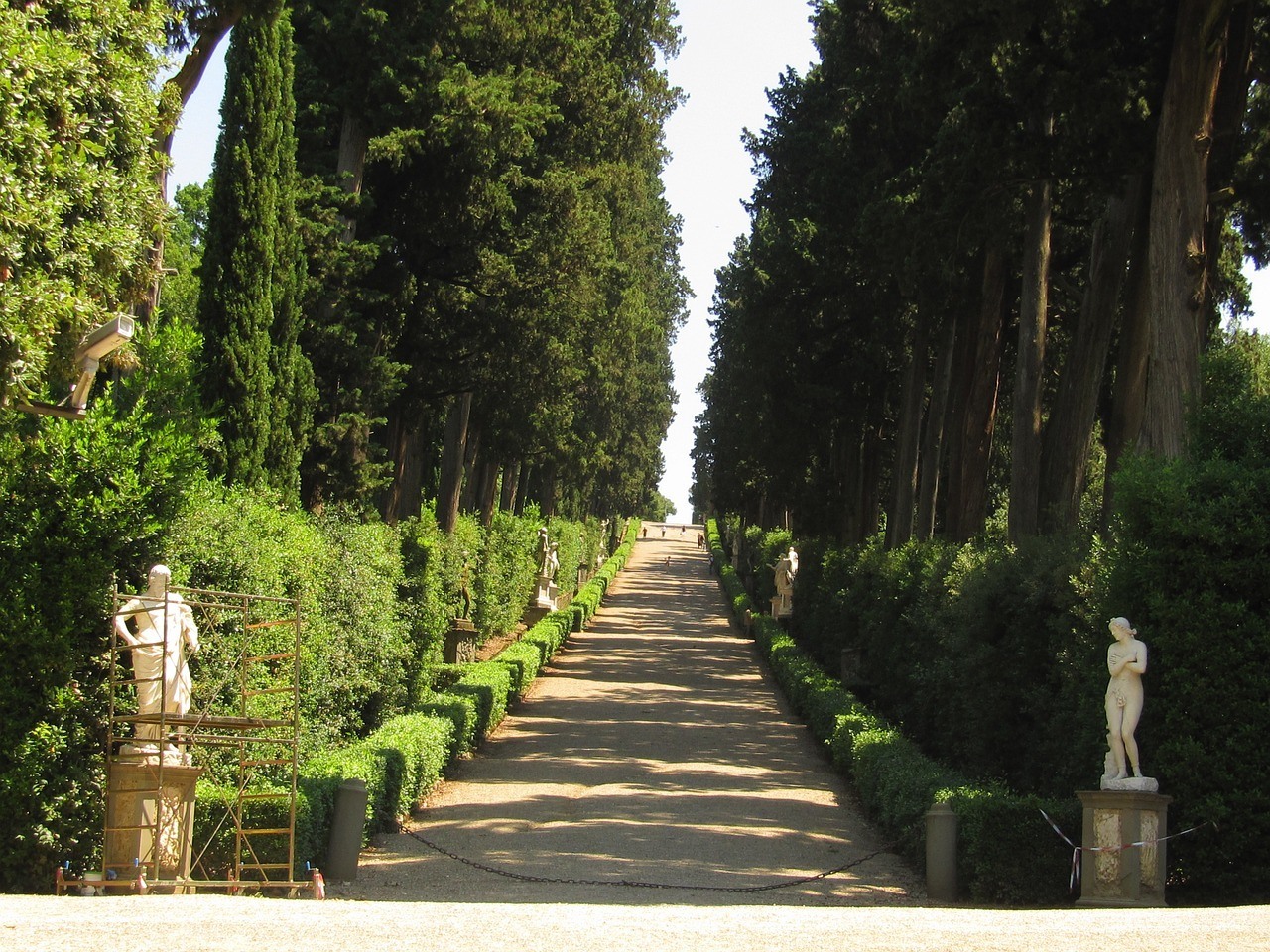 The gardens are next to the Pitti Palace – another important site in the city. These gardens have been regarded as one of the best examples of royal gardens in Europe, and they have inspired places such as the Gardens of Versailles.
Take some time to enjoy the fresh air and walk around. You will get to see all kinds of significant sights along the way. Not only are the Boboli Gardens historically interesting, but they also offer an enjoyable break from the busy city streets.
Day 1 / Stop 6 – Enjoy the View at Piazzale Michelangelo
Why it's awesome: This square offers you the best views over the entire city.
Cost: Free!
Food nearby: Hostaria del Bricco is a restaurant located nearby the square. This traditional Tuscan trattoria serves delicious food in a warm and friendly environment. The perfect place for a meal after a long day of sightseeing.
The Piazzale Michelangelo is found on a hill above the city. From this popular square, you can get the ultimate views across Florence. The entire city's skyline can be admired here.
Take some time to appreciate the magnificence of Florence from Piazzale Michelangelo. You will have amazing panoramic views of the Arno river, as well as the Duomo.
This square has a bronze replica of Michelangelo's famous sculpture David. There are also various food trucks and vendors around here. If you are looking for the best place to enjoy a sundown drink or photo opportunity of Florence, then a visit here is essential.
Insider Tip: Arrive in the early evening to end your day of touring Florence with the most beautiful view possible.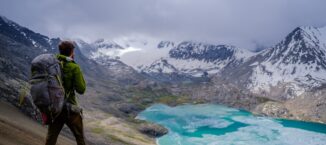 Do You Want to Travel FOREVER??
Then pop your email address in below and we'll send you a FREE copy of 'How to Travel the World on $10 a Day!'
Day 2 Itinerary in Florence
Uffizi Gallery | Ponte Vecchio | Mercato Centrale | Museo Stibbert | Window Shopping | Basilica of Santa Croce | Piazza Della Signoria
With two days in Florence, you will be able to experience more of the city's interesting museums, galleries, and points of interest. Here is what to do in Florence on your second day.
Day 2 / Stop 1 – Visit the Uffizi
Why it's awesome: An astonishing collection of Renaissance art is on show in this gallery.
Cost: $22.
Food nearby: Canottieri Firenze is a brilliant restaurant near the Uffizi. This place has unbeatable views of the Ponte Vecchio, and the menu is fantastic too. This is a great location for a memorable meal.
The Uffizi Gallery is an essential stop on your itinerary. Due to its large collection of famous renaissance art, this gallery is one of the most popular Florence attractions.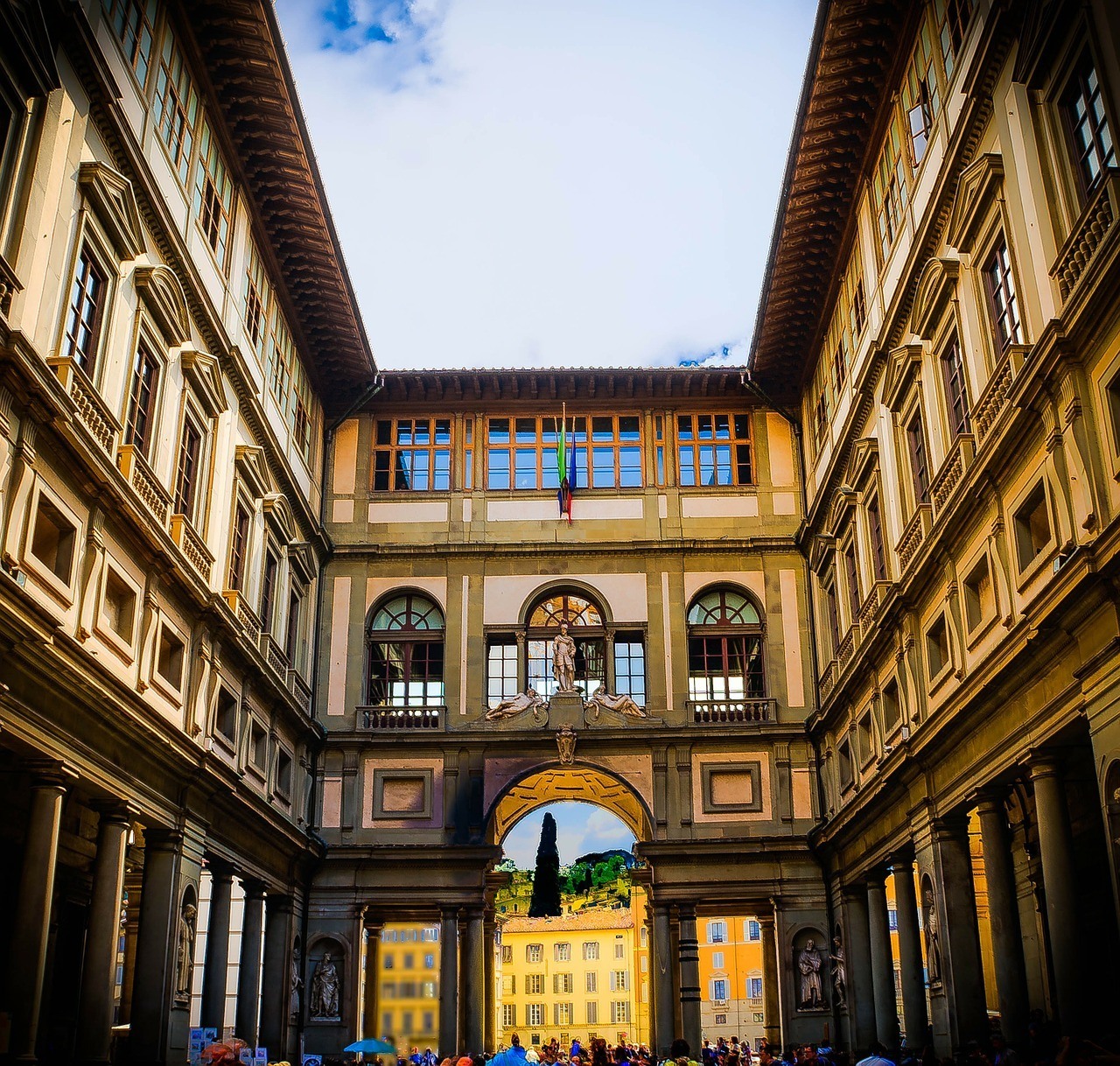 The most famous artwork in the gallery is Botticelli's The Birth of Venus. While crowds gather to ogle at this incredible work, there are so many other amazing pieces of art across the gallery. The 16th-century building is also well worth admiring, as the details and design here is a work of art itself!
To learn about Renaissance art and experience some of the worlds finest paintings and sculptures, be sure to pay the Uffizi Gallery a visit!
Insider Tip: You can book skip-the-line tickets and enjoy a professionally guided tour, fast access to the gallery, and lots of information about the most beautiful artwork you can find there.
Day 2 / Stop 2 – Cross the Ponte Vecchio
Why it's awesome: A landmark bridge across the Arno River with shops built on it.
Cost: Free!
Food nearby: For possibly the best panini in Florence, head to La Schiaccia Della Signoria. This simple shop offers absolutely delicious local paninis for the perfect meal on the go. This is a great way to experience local street food.
The Ponte Vecchio is the most famous bridge in Florence, and it can be seen as a symbol of the city. This medieval bridge is beautiful to look at, with its stone arches and shops along the top of it.
Take a walk across the Ponte Vecchio bridge to experience one of the great Florence landmarks up close. The little shops along the bridge are worth visiting. Be sure to appreciate the age and detail in this old bridge, as it really is a structure like nothing else!
Day 2 / Stop 3 – Mercato Centrale
Why it's awesome: A two story floored market showcasing the incredible foods and produce of Tuscany.
Cost: Free!
Food nearby: The upstairs area of the market has various different foods, coffee, and drinks. This is a great place to sample some truly local foods in a casual setting.
If you want to dive into an Italian foodie heaven, then a visit to the Mercato Centrale is a must! This massive 19th-century market place sells a wide range of local produce, and it is a great way to explore the different foods and products of the region.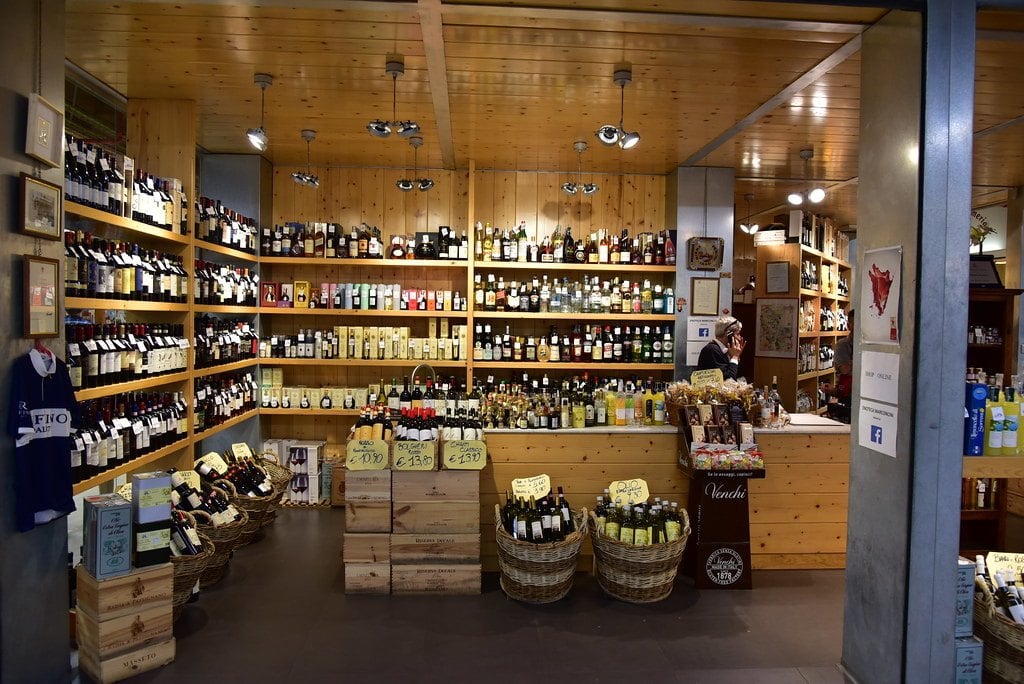 Spend some time browsing all of the different stores and sampling the products. This is also the ideal place to buy a gift or souvenir to bring home. You could even learn how to make fresh pasta at the big pasta stall downstairs!
The first floor is all about selling fresh produce, wine, meat, cheese, fish, oils, pasta, and more! While the second floor offers an extensive food court with options for nearly every way of eating.
Insiders Tip: The market can get really busy during normal eating hours, so try to arrive at a different time if you want to avoid the crowds.
Day 2 / Stop 4 – Museo Stibbert
Why it's awesome: One of the most interesting museums in the city, hidden away from the tourists.
Cost: $9
Food nearby: When in Florence there's no such thing as too much gelato! Head to Lerta del Bau near the museum for some of the best, fresh gelato in the city. This really is a special place.
Museo Stibbert is located outside of the city center, which makes it rather unknown by most tourists. However, this shouldn't stop you from visiting! This museum offers one of the most fascinating collections in the city.
The museum is full of amazing armor from around the world, and all of it is very well kept. A highlight of this place is the original cloak that Napoleon wore when he was coronated! There is also a great deal of fantastic art.
This museum used to be a private collection, but it was then left to the city. An interesting stop on your Florence itinerary for history lovers.
Day 2 / Stop 5 – Go Window Shopping
Why it's awesome: The city of Florence is well known for its amazing shopping opportunities and locally made goods.
Cost: Free!
Food nearby: La Luna is a casual restaurant located near the city center – the ideal place to try some truly authentic food! This is the kind of place where all the locals come to eat, so you know it's good. Try the gnocchi or the pici pasta.
One of the best things to do in Florence is to simply wander around the ancient streets and alleyways, admiring all the shops and buildings around you. This city is stunning, and the only way to really experience this is through walking or renting a bike .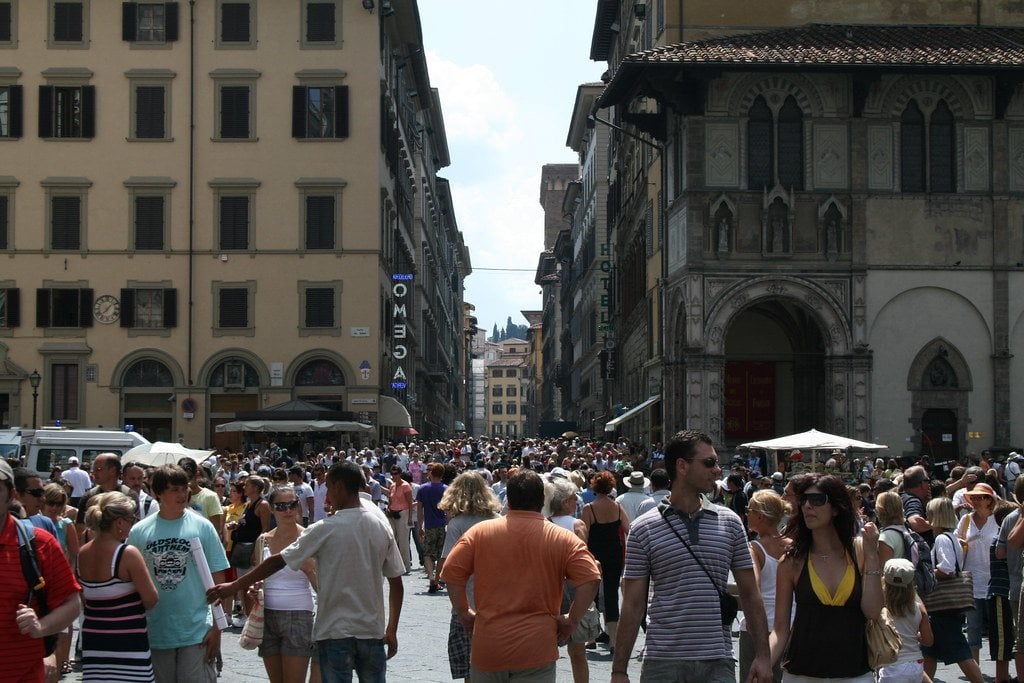 Florence is world famous for its leather goods- so why not treat yourself to a new jacket! There is a vast amount of shopping to be done, so be sure to allocate some time in your Florence itinerary to simply walking around and looking into the many different shops.
Insiders Tip: Start at the Piazza del Duomo for a central location, and move your way outwards from there.
Day 2 / Stop 6 – The Basilica of Santa Croce
Why it's awesome: A truly beautiful church with an interesting interior
Cost: Free!
Food nearby: Trattoria Osteria Da Que' Ganzi can be found close to the Basilica, and it is an ideal stop for a delicious meal. This place serves up authentic Florentine food in a charming setting. The local wine here is brilliant, as is the seafood, meat, and pasta!
The Basilica of Santa Croce was built during a similar time to the Duomo, and so its white, green and pink marble facade looks familiar. While this church may not match the Duomo in size, it makes up for it with beautiful detail.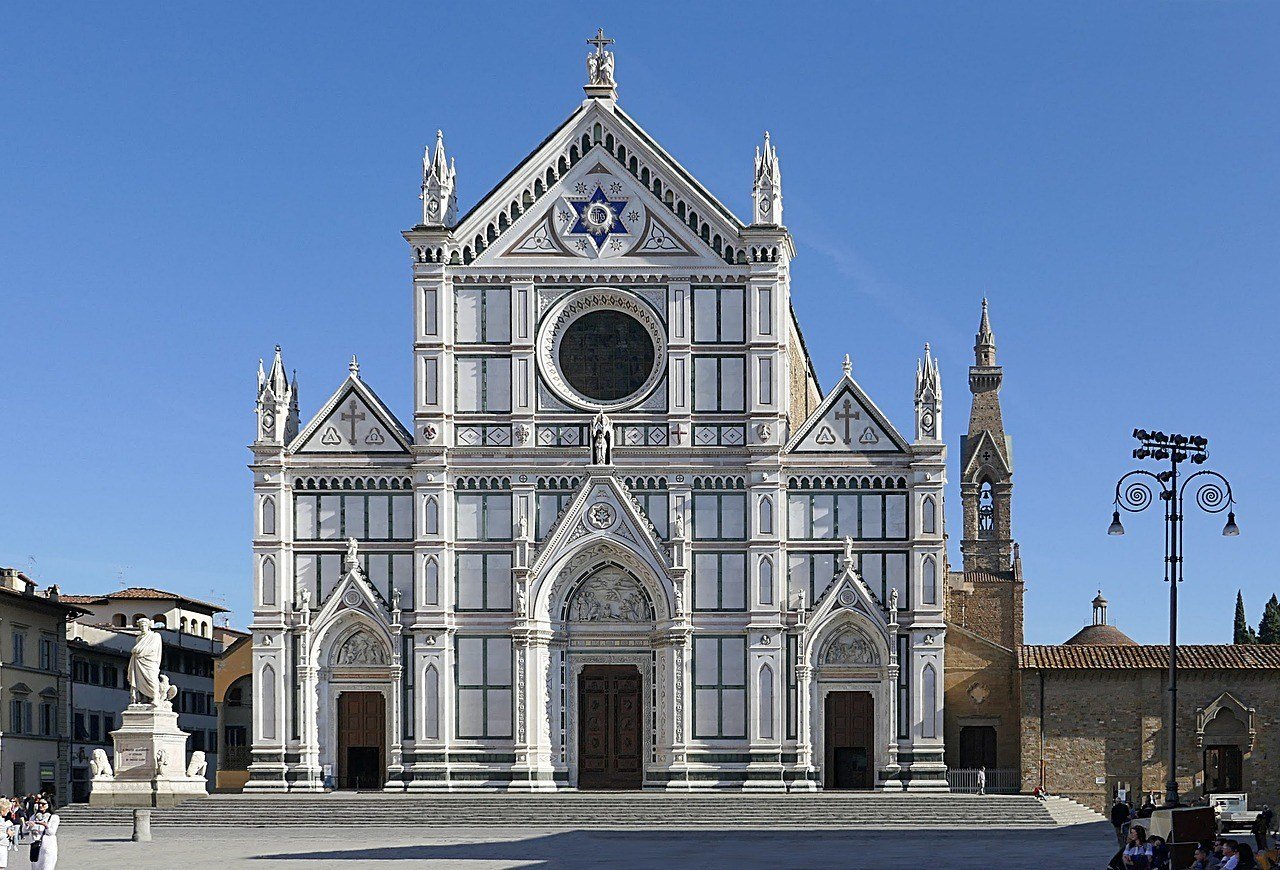 This church is an amazing place to explore. Take a moment to appreciate the beauty in here, as well as enjoy a moment of quiet peace away from the busy streets. Inside the church, you can also find the tombs of famous Renaissance artists and scholars, such as Michelangelo and Galileo!
Day 2 / Stop 7 – Visit the Piazza della Signoria
Why it's awesome: An important square surrounded by fantastic buildings and significant sculptures.
Cost: Free!
Food nearby: For unforgettable food, or a fun place to enjoy a drink at the end of the day, head to Vini e Vecchi Sapori near the piazza. This place has such a great atmosphere, with delicious food to match! A visit here is a truly authentic Florence experience!
During your trip to Florence, be sure to make a stop at the iconic Piazza Della Signoria. This major piazza in the city is surrounded by important old buildings that are worth appreciating – most importantly the Palazzo Vecchio.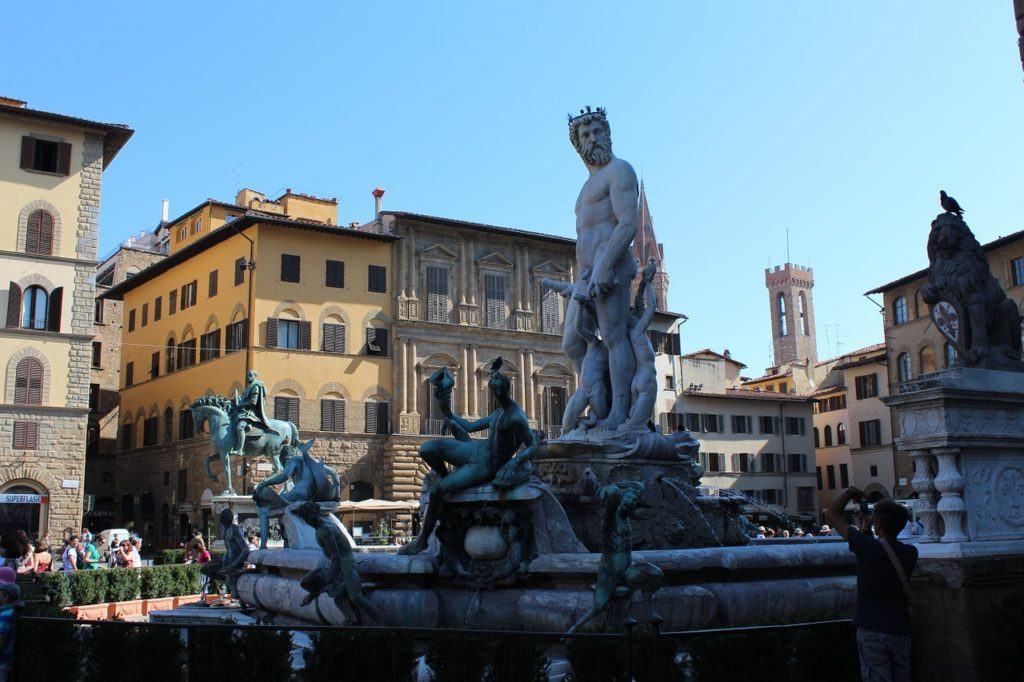 The fountain of Neptune can be found in the piazza, and it is a real masterpiece. You can also see statues of Hercules, Perseus, and Menelaus. There is also an impressive statue of Cosimo Medici here.
Visit the piazza to enjoy some of the amazing Renaissance sculptures and buildings! There are also some high-end shops surrounding the square.
IN A RUSH? THIS IS OUR FAVORITE HOSTEL IN FLORENCE!
Florence Itinerary: Day 3 and Beyond
Fiesole Hills | Paddle Down the Arno River | Pitti Palace | Giotto's Campanile | Forte di Belvedere | Pizza and Gelato Cooking Class
If you will be spending more than three days in Florence, there will still be a great deal for you to see and experience! With all that is available to do around here. Here are some more places to visit!
Explore the Fiesole Hills
Easily accessible from the city by public bus.
An example of what life is like in the beautiful Tuscan countryside.
You could make an entire day out of visiting this place as there are hiking trails, historic sites, and breathtaking viewpoints around the Fiesole Hills.
If you would like to escape the busy city for a while in order to enjoy a piece of the true Tuscan countryside, consider paying a visit to the Fiesole Hills. A short bus journey from Florence will take you to Fiesole – a hilltop town that is well worth visiting!
This town offers incredible views out over the valley of Florence and the Arno River. Take some time to explore the little town for a bit of an insight into life in the Tuscan countryside. The main piazza of the town has a fair amount going on, with some great tours departing from here. You could visit an interesting Roman theatre or see the San Francesco Convent.
If you love nature, then doing a hike from Fiesole is a great idea! Bring your best hiking shoes, because there are a number of hiking trails in Monte Ceceri – a stunning nature reserve area around here. This is one of the best ways to witness just how beautiful Tuscany is.
A visit to Fiesole is the perfect way to add some country variety into your Florence itinerary, and it makes for a refreshing escape from the city.
Paddle Down the Arno River
A fun and active way to experience Florence.
The Arno River provides totally unique views and perspectives of Florence.
All kinds of paddling options are available.
One cannot visit Florence without experiencing the iconic Arno River. This river stretches for 240km before reaching the Tyrrhenian Sea, making it a highly important river in Italy!
For a fun experience while in Florence, take a paddling tour down the Arno River. Depending on what appeals to you, you could choose to kayak, go on a boat, or even a stand-up paddle tour! For something completely unique, river rafting tours are also available.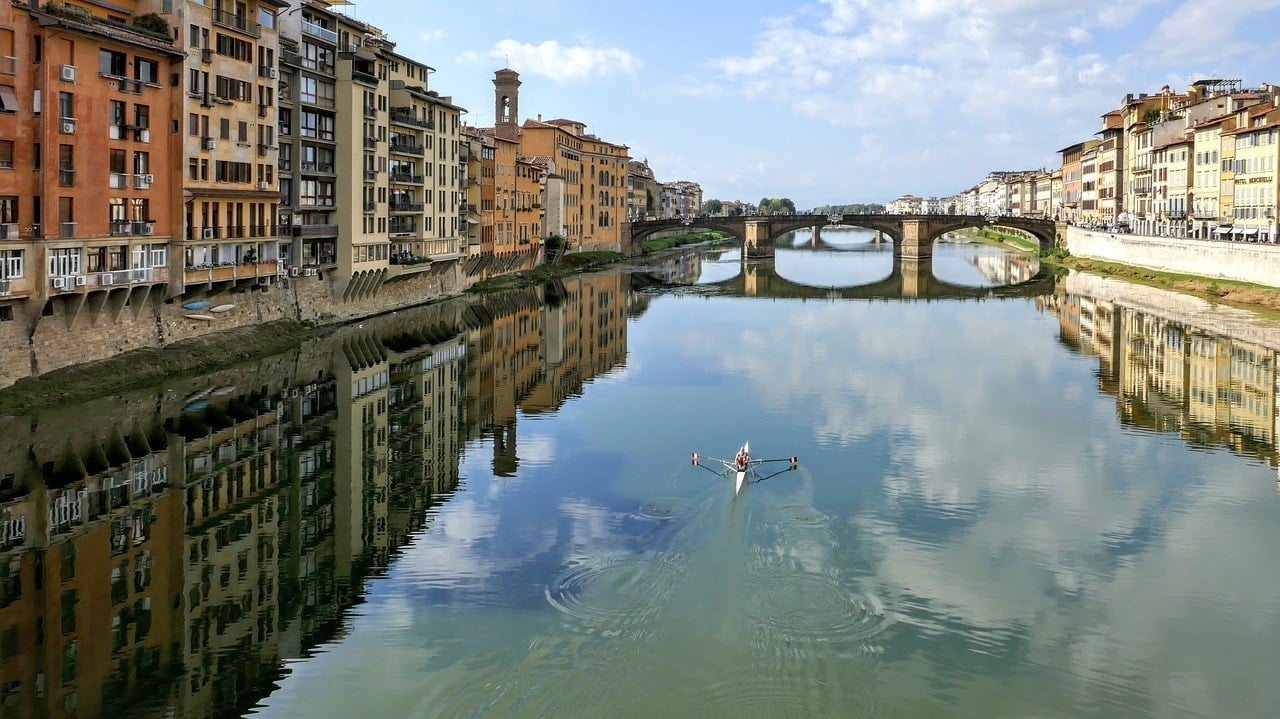 These tours are seriously fun, because they give you a completely new perspective of the city. They are also very informative, as you will be taken along by a professional guide that will teach you about your surroundings as you pass them.
For those that are less active, leisurely boat tours down the Arno are also available. These provide just as many stunning views of the city, but from a more relaxed setting. However you choose to experience the Arno River, it is sure to be an experience that will stay with you for a long time!
Visit the Pitti Palace
An impressive 15th-century palace.
The Pitti Palace houses many important museums and is the perfect stop for taking in culture and history!
The palace has an interesting royal history which can be learned about during your visit.
Florence is full of incredible museums, and the Pitti Palace is definitely one of the best! The palace was built in the 15th century, and it has a fascinating history. The enormous building has been home to some of the most influential characters in the history of Florence!
The building is divided into four different museums – each one is unique and interesting. On the ground floor, you can find the Treasury of the Grand Dukes. This includes a decorative collection of arts from the Medici's summer apartments.
The first floor houses the Palatine Gallery – an impressive display of the Medici's collection of paintings. The Imperial Apartments are also found on this floor.
The Modern Art Gallery and the Museum of Costume and Fashion can both be found on the second floor. These are both very interesting collections that are well worth exploring. The Pitti Palace is an essential cultural stop on any Florence itinerary.
Giotto's Campanile and the Baptistery of St. John
Two separate buildings next to the Duomo that are highly important sites in their own right.
Both buildings are world famous examples of Florentine design and architecture!
These buildings are iconic Florence landmarks, and they contain so much important history of the city.
The Duomo may be the main attraction on its piazza, but there are also two other extremely significant buildings on the site – Giotto's Campanile and the Baptistery of St. John. These three buildings are all designed and decorated in the same style. Together they make up the most celebrated piazza in Florence!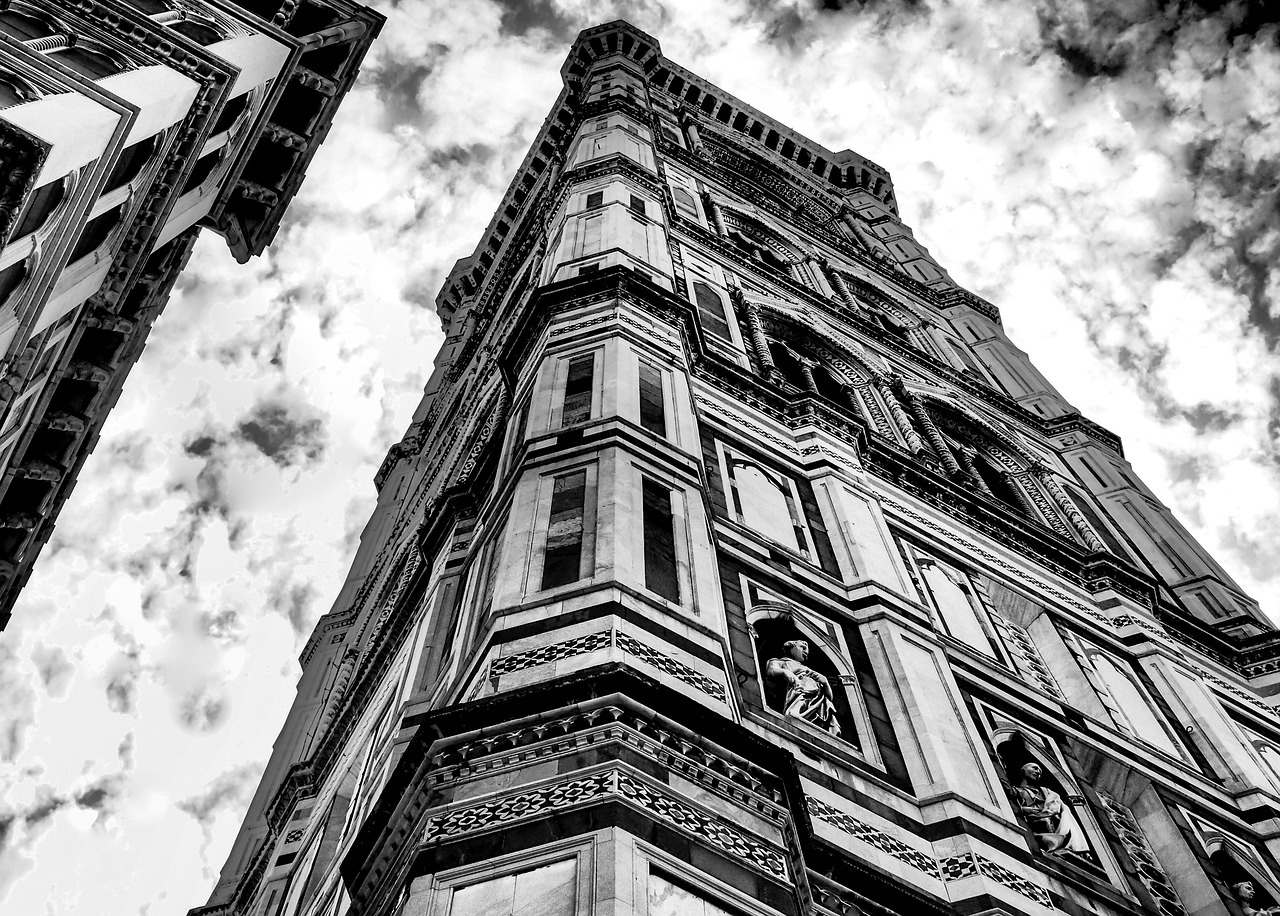 Giotto's Campanile is a towering gothic building that was constructed between 1334 – 1359. This tower is covered in incredible artistic detail and sculptures, making it an impressive sight to behold. Climbing to the top of Giotto's Campanile is highly recommended, as you get incredible views of the city skyline.
The Baptistery of St. John is one of the city's oldest buildings, and its marbled design matches the Duomo and Giotto's Campanile. This building is of great religious importance – something which can be seen in its three sets of bronze doors and incredible fresco.
The Forte di Belvedere
An ancient fort located in the Boboli Gardens.
This is the second largest fort in Florence!
Besides its historical importance, the fort also offers great views of the city.
The Forte di Belvedere was built in the 1500's, and it can still be explored today! This fort was built to show off the power and wealth of Florence at the time, which is why it is such an impressive site to visit.
The fort is strategically placed on the Southern banks of the Arno River. From here you can get some brilliant views of the city. This is a great place to appreciate the age-old beauty of Florence.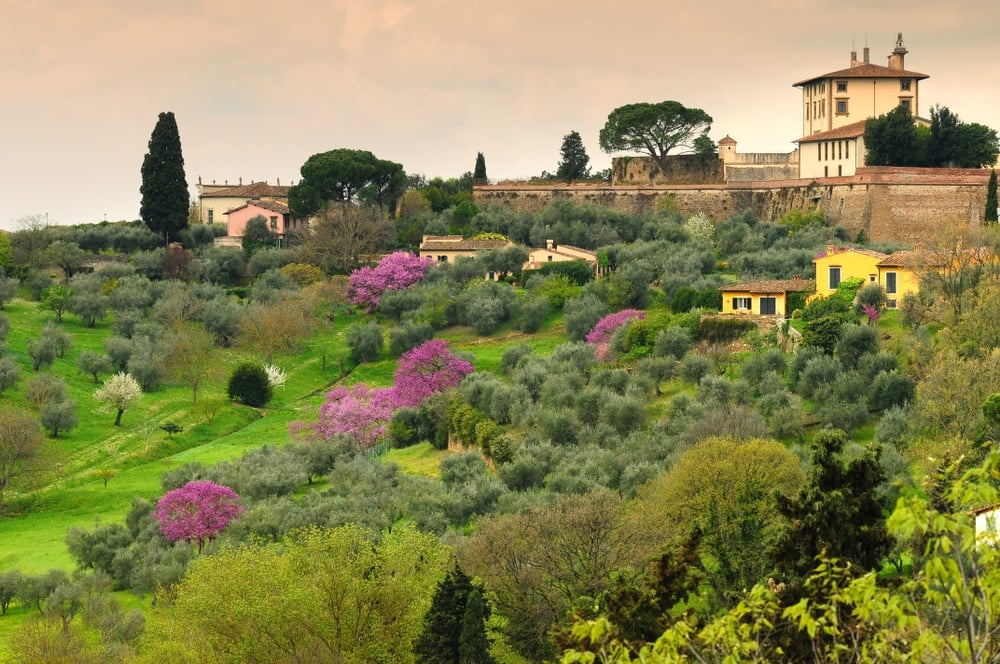 Forte di Belvedere has a long and interesting history itself. Take some time to wander around this fort and appreciate its Renaissance style architecture. This is an important historic landmark to add to your extended Florence itinerary!
Pizza and Gelato Cooking Class
learn how to make our own ice cream and pizza with an Italian chef
enjoy your creation with a glass of wine
impress your family back at home with your new-earned skills
Sometimes, having a break from all the sightseeing and doing something unique and different instead, is a good alternative. This cooking class in the centre of Florence is perfect for everyone that wants to improve their pizza and gelato skills. Learn from a professional Italian chef, get to know the secrets of the probably simplest but most delicious meal and treat yourself with a self-made dessert afterwards.
The class will take around 3 hours and you'll be going home with some of your creations as well as a full stomach! If this sounds appealing to you, you can book it here.
Travel with peace of mind. Travel WITH a security belt.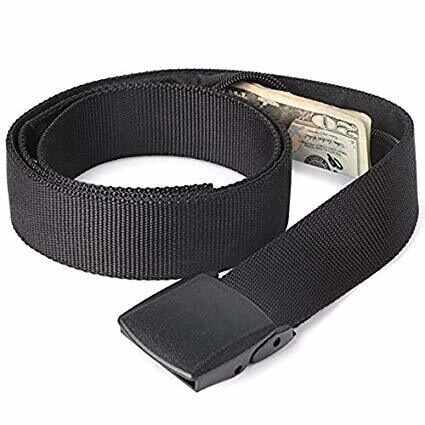 Custom-designed BY the Broke Backpacker FOR broke backpacking, the Active Roots Security Belt will keep your valuables safe no matter where you go.
It looks exactly like a normal belt except for a SECRET interior pocket perfectly designed to hide a wad of cash or a passport copy. Never get caught with your pants down again! (Unless you want to.)
Check on Amazon
Staying Safe in Florence
Now that you know about what to get up to in this beautiful city, it is important that you stay safe! Luckily, this shouldn't be an issue during your trip to Florence!
Florence is a very popular destination for tourists, and it has become a safe place in order to accommodate this. While walking around, your safety should never really be an issue, as this city is certainly not a dangerous place.
Like any city though, you will need to exercise caution where necessary. Tourists can often fall into traps in Florence when purchasing overpriced goods or food. Typical touristy shops will often take advantage of people, so be cautious of this.
You will also need to be aware of pickpockets and scammers in crowded areas. Tourists are often seen as easy targets by thieves, so make sure that you are vigilant with your belongings.
Other than following general safe practices and common sense, you shouldn't need to worry. Florence is a very safe destination to visit!
And have you thought about getting Travel Insurance for your trip? We've put together a roundup of Travel Insurance for backpackers – check it out here, or if you're low on time, get a quote from World Nomads, our favorite travel insurance provider.

Day Trips From Florence
Florence is an amazing destination, but it also acts as an ideal base to explore Tuscany. If you will be doing more than a three-day itinerary, then escaping the city is a brilliant idea. Here are some of the best day trips from Florence.
Tuscan Wine Tour From Florence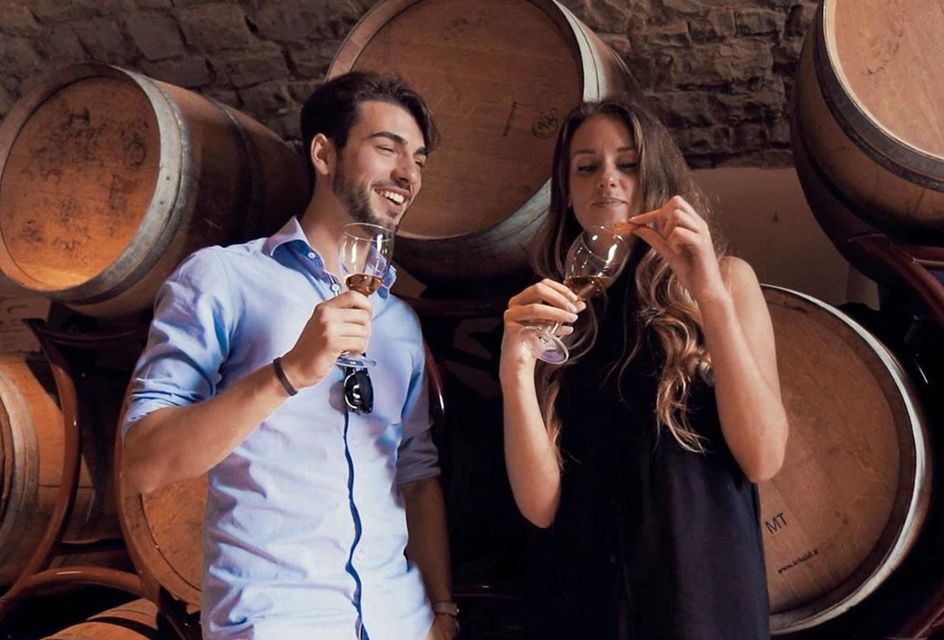 Tuscany is a wine lovers paradise! To discover more about this world-famous wine region, take a seven-hour tour from Florence out to the vineyards. This small group wine tour allows you to visit three different wineries in the Chianti region. Here you will learn all about the different wines of the area, and the history of Tuscan winemaking.
Of course, your tour will include tastings of the delicious wines! This will all be guided by an informative expert. The tour also includes tasting some unique local foods that are traditional to the area.
Tour of Pisa From Florence
Take a day tour to Pisa for an unforgettable experience! The Tuscan town of Pisa is world famous for its iconic leaning tower, but there is so much more to this place than just a strategic photo opportunity! It is full of incredible places to visit, and this tour is a great way to fit them into a day trip from Florence.
You will get to visit the Piazza dei Miracoli, Pisa Cathedral, the Baptistery, the monumental graveyard, and of course the famous tower! This tour allows you to experience so much more of beautiful Tuscany, as well as learn a great deal about the area and its history.
Siena and San Gimignano Day Trip From Florence
For the ultimate Tuscan experience, take a private day trip out to Siena and San Gimignano. These picture-perfect towns offer the ultimate insight into what the region is really all about!
A guide will meet you in the towns where you will be shown around to all of the important sites. These medieval towns both have such unique characters, and they are the postcard picture that one dreams about when thinking of Tuscany!
During the tour, you will get to experience the lush countryside. Between the stunning old towns, the significant points of interest, along with the beautiful Tuscan countryside, this tour will show you a side of Italy that you will definitely have you planning your next trip back!
Full Day Tour to Cinque Terre From Florence
The southern arm of the Italian Riviera, Cinque Terre is made up of five magnificent villages along the coastline! These villages are all set against dramatic hilly backdrops, and they are connected by a hiking trail through the surrounding vineyards.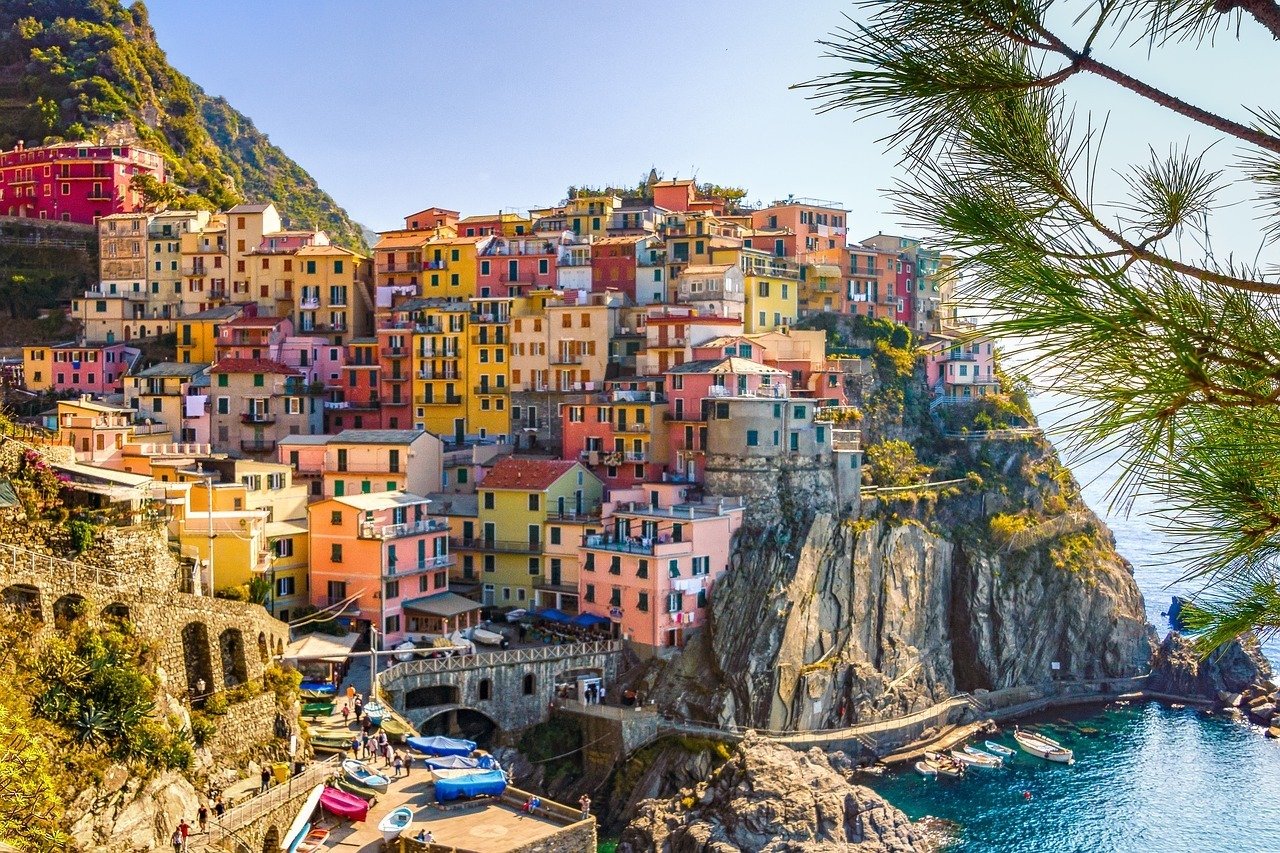 Take this full-day private tour from Florence to experience the true beauty and charm that Cinque Terre has to offer! You will get to explore the unique pastel-colored towns, walk between two of them along "the path of love", and then catch a boat to Vernazza! For a look into one of the prettiest destinations in Italy, take a trip out to the famous Cinque Terre.
Electric Bike Tour Through the Florentine Hills
If you would like to experience something new during your Florence itinerary, consider this tour by electric bike through the stunning hills surrounding Florence. The tour includes an evening ride where you will get to marvel at some of the best natural scenery in the area!
Your tour will then take you to an organic farm where you will get to witness an exciting live cooking demonstration! This will then be followed by a memorable dinner prepared from the farm's local produce. This is a brilliant way to see and understand the surrounding area a bit better.
Conclusion
Whether you will be spending a weekend in Florence or a month, you won't get tired of all that there is to see and do around this magical city! Florence is rich with history, culture, delicious food and amazing sights. It is a city that will have you falling in love each time you walk around a new corner.
Due to its Renaissance heritage, medieval architecture, and Tuscan flair, Florence is a destination completely unlike anywhere else in the world. Its wide range of things to do is also suitable for any kind of traveler!
We hope that this guide will help you to understand this wonderful city a little better and allow you to plan the ultimate trip!
---
Find out how YOU can support the site.
We work hard to put out the best backpacker resources on the web for free! It's all about helping out our tribe of awesome backpacker readers (that's you!). Please visit the link to find out how you can help keep the site going 🙂
For the sake of transparency, some of the links in our content are affiliate links. This means that if you book your accommodation, buy a piece of gear, or sort your insurance through our link, we earn a small commission at no extra cost to you. We only link to stuff that members of the Broke Backpacker team has actually used and never endorse products or services that are not up to scratch. Thanks for your support!