The birthplace of the Renaissance, Florence is a living monument to one of the most glorious times in European history. Packed with stunning architecture, priceless works of art, and delectable cuisine, you can't miss it off your Italy itinerary. The surrounding Tuscan countryside is quite spectacular too!
Though it has several four and five-star hotels, you might want to look at vacation rentals in Florence. They will offer decadent luxury without the eye-watering price tag (in most cases, at least). And with a wide range of properties on offer, there's sure to be something to suit you.
With so much on offer, it can get confusing trying to decide the right place for you. That's where we come in. Here is our guide to the best Airbnbs in Florence, sorted by budget and style. Not only that, we've found five cool Airbnb Experiences you can enjoy when you arrive too!
Quick Answer: These are the Top 5 Airbnbs in Florence
Overall Best Value Airbnb in Florence
Overall Best Value Airbnb in Florence
Luxury Apartment with Duomo Terrace
> $$
> Four guests
> Incredible location
> Exquisite cathedral views
Best Budget Airbnb in Florence
Best Budget Airbnb in Florence
Accademia Muse
> $
> Two guests
> Awesome location
> Access to kitchen
Best Airbnb for Couples in Florence
Best Airbnb for Couples in Florence
Casa di Delizie
> $
> Two guests
> Breakfast included
> Original fresco on roof
Best Airbnb for Families in Florence
Best Airbnb for Families in Florence
Family home with a view in the heart of Florence
> $$$
> Eight guests
> Incredible location
> Fully equipped kitchen
Over-the-Top Luxury Airbnb in Florence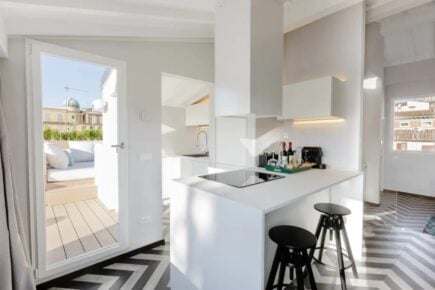 Over-the-Top Luxury Airbnb in Florence
Boutique penthouse near the Duomo
> $$$$$$
> Four guests
> Private rooftop terrace
> 360 views including Duomo
What to Expect from Airbnbs in Florence
If you're looking for individuality and character from your accommodation, you've come to the right place. Airbnbs in Florence are all manner of shapes and sizes – from private rooms in bed and breakfasts, to romantic studios under original frescoes.
What you get from your Airbnb depends on your budget and type of accommodation. In private rooms, bed and breakfasts, and farm stays, it's more like a hotel or a hostel – though your welcoming hosts may invite you to share their kitchen or dining room. In apartments or flats, you should have access to a fully equipped kitchen and/or living area.
Some flats offer terraces with panoramic views, which are particularly sought after!
For the most part, you'll be dealing with local hosts, though in expensive properties, you may deal with a business instead.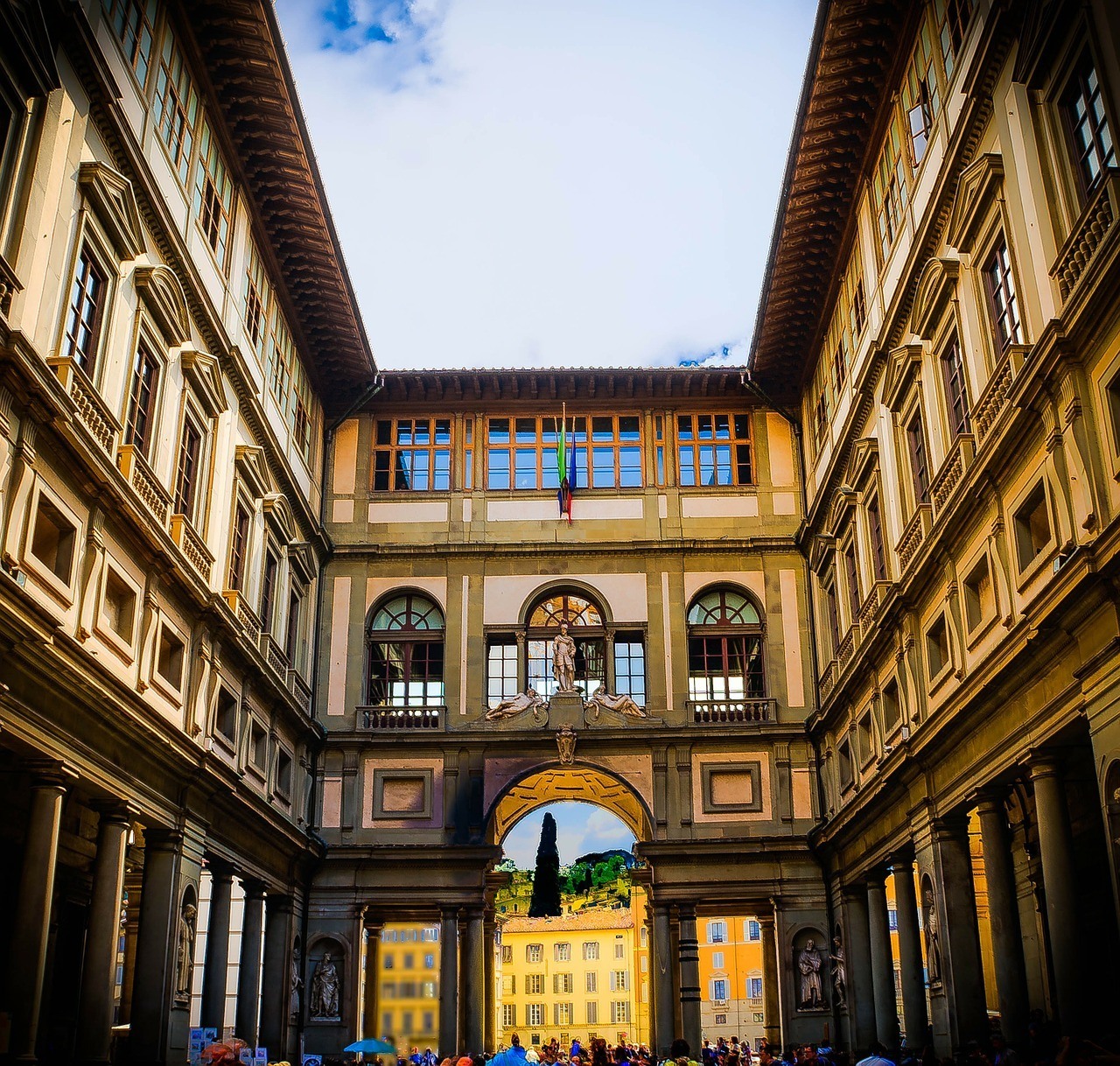 Palazzo
Palazzo literally translates from Italian as 'palace.' While the architecture is palatial and based on wealthy Renaissance families' properties, you'll find that these three or four storey homes may have now been converted into flats or apartments. There are quite a few in central Florence!
And they are much more affordable than you might think from the grandiose name. Palazzos will often have a fully equipped kitchen, living area, and multiple bedrooms – often with king or queen beds. They're the epitome of Italian luxury!
They can be an awesome romantic retreat for a couple, but they will just as easily accommodate a larger group if necessary.
There's no search function for palazzos on Airbnb, but if you search for entire places, you will spot the name in listings.
Bed and Breakfast
Situated somewhere between a hostel and a budget hotel, bed and breakfasts are usually locally owned establishments bursting with character and charm while being easy on the wallet.
Local hosts not only provide you with a comfortable private room and en-suite bathroom, but your breakfast is included in the price – great news for solo travellers who don't want to share their sleeping spaces every night!
Bed and breakfasts are common in the historic centre of Florence (the main tourist area). However, you can also find them in the surrounding areas, a great way to experience the Tuscan countryside, should you want to.
Sometimes, bed and breakfasts will have multiple rooms, so bear that in mind when searching.
Farm Stay
Usually, we wouldn't encourage you to stray too far from the city centre when it comes to staying in a new city. However, things are a little different in Florence. Throughout the whole of Italy, farm stays (or agriturismos) are a common way to travel.
Often farmhouses repurposed for tourism, you'll get to see a slice of real Italian life, as well as do fun activities like cooking classes or going on bike rides in the countryside. As Tuscany is arguably Italy's most beautiful region, we couldn't miss those off!
Agriturismos often have swimming pools, hiking trails, and lots of cool outdoorsy activities nearby. The one downside is that you'll probably need a car to get to them.
Why Stay in an Airbnb
By now, you're probably loading up the site to see what you can get. But in case you're still not convinced, here are five reasons why you should stay in an Airbnb.
Local Experience: With a local host, you can get recommendations on how to fill up your Florence itinerary with attractions that are off the beaten tourist track. Leave your guidebook at home!
Unique Properties: As you're about to see, there are unique properties all through Florence. You'll be feeling like a star throughout your trip!
Affordability: Next to equally priced hotels, Airbnbs offer a lot more for your money. And who doesn't love a good bargain? It's a great way to explore Florence while staying on a budget.
Safety: Airbnb's review system vets host and guest, so you can both have peace of mind for the duration of your stay.
Airbnb Experiences: It's not just about having awesome places to stay; Airbnb Experiences offer you a way to see places from a local's perspective. More on that later, but first…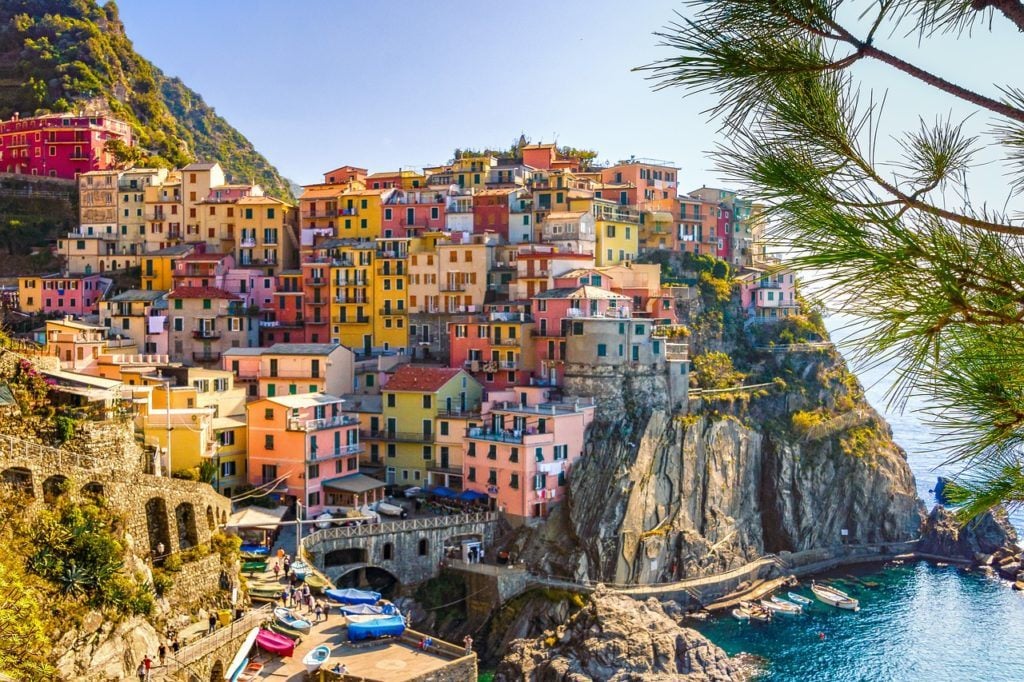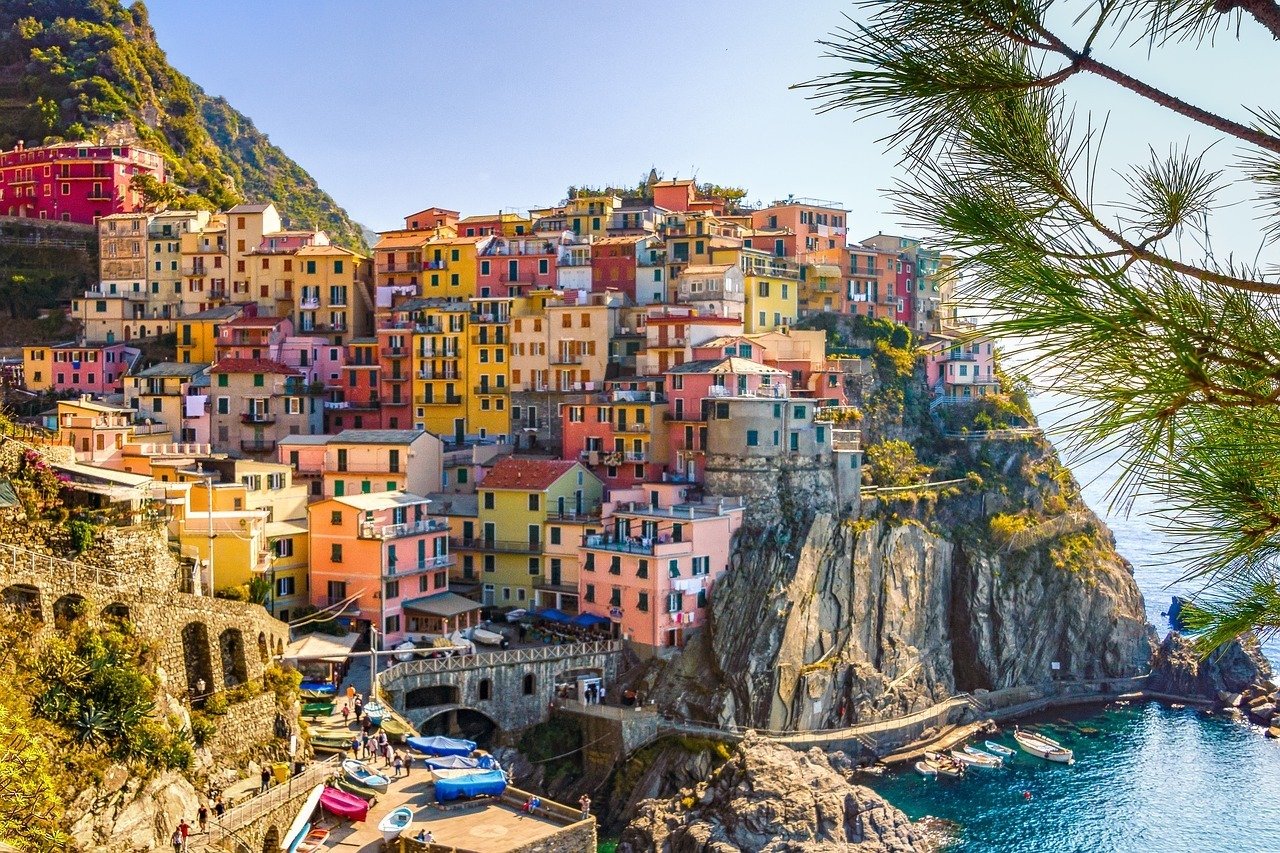 Travel with peace of mind. Travel WITH a security belt.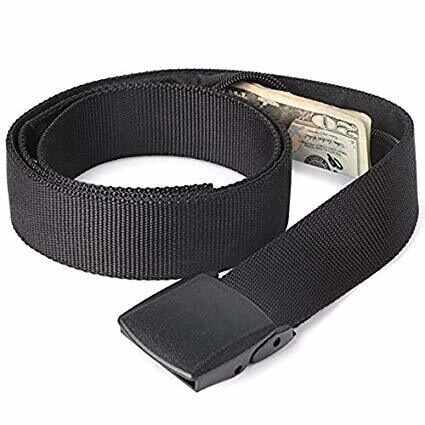 Custom-designed BY the Broke Backpacker FOR broke backpacking, the Active Roots Security Belt will keep your valuables safe no matter where you go.
It looks exactly like a normal belt except for a SECRET interior pocket perfectly designed to hide a wad of cash or a passport copy. Never get caught with your pants down again! (Unless you want to.)
Check on Amazon
The Top 15 Airbnbs in Florence
You've seen why you should stay in an Airbnb and what's on offer, so now let's get to what you've been waiting for. Here is a list of the best Airbnbs in Florence – curated with you in mind!
Four guests
Exquisite cathedral views
It's all about location, location, location at this third-floor Florence apartment. Head out onto the shared panoramic terrace on the sixth floor, and you've got exquisite views of the Duomo and Giotto's Campanile. You could spend hours up there! The suite has a basic kitchenette, a bathroom, and a living area in addition to the double bed. While the sofa pulls out into an extra bed, we'd say this place is perfect for a couple. Four could be a tight squeeze!
Best Budget Airbnb in Florence | Accademia Muse
Two guests
Access to kitchen
Despite being one of the most popular cities in Italy and having a higher cost of living than most, it's not hard to find budget accommodation in Florence. This light and bright private room is located opposite the Accademia Museum, and there are fabulous views across the city's rooftops. In the apartment itself, you've got a comfortable bedroom and access to the kitchen. Budget travellers will love it!
Two guests
Quiet neighbourhood
For solo travellers, it's easy to just look for the nearest Florence hostel. But why would you stay in a noisy sweaty dorm when you can have a room like this?! Located in a historic building, it's in a quiet neighbourhood a little out of the main tourist haunts, so you'll get a glimpse of real Italian life, too. The charming room has its very own private bathroom, and you've got access to the living room and fully equipped kitchen. What more could you want?!
Best Short Term Rental for Couples | Casa di Delizie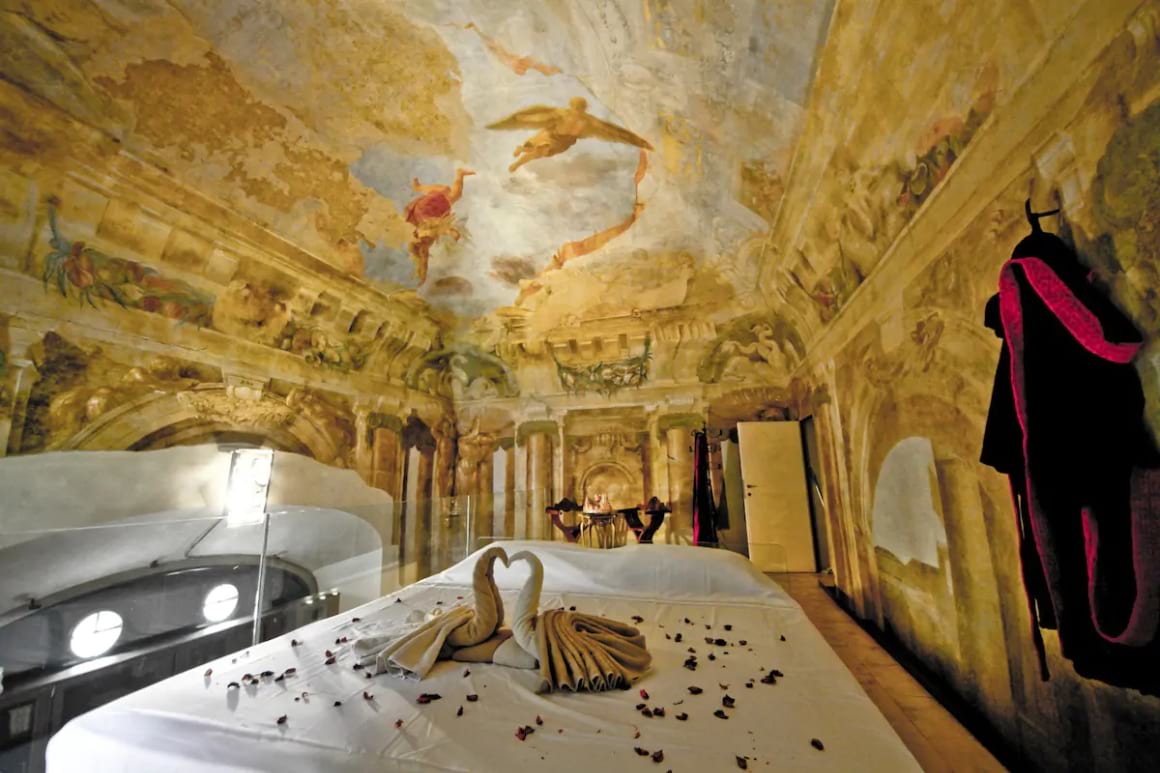 Two guests
Original fresco on roof
Want to sweep your other half off their feet? If an original fresco in a private Medici tower won't do that, we're not sure what will. The king-sized double bed is right under said fresco on a raised mezzanine level, while underneath, there's a jacuzzi where you can rest your tired muscles after a long day of exploring the best places in Florence. All of that, and breakfast is included too!
The BEST Travel Backpack?!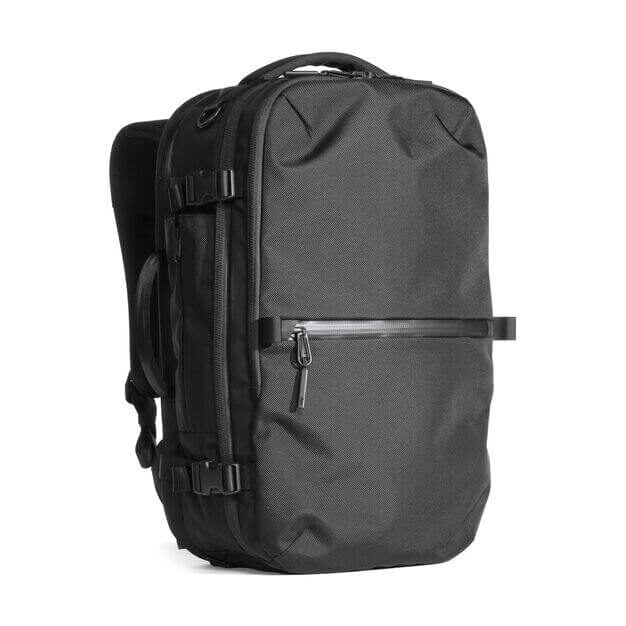 Pssssst! Not picked the perfect travel backpack yet? The Broke Backpacker team has tried out over thirty backpacks this year! Our favourite travel backpack is the Aer Travel Pack 2.
View on AER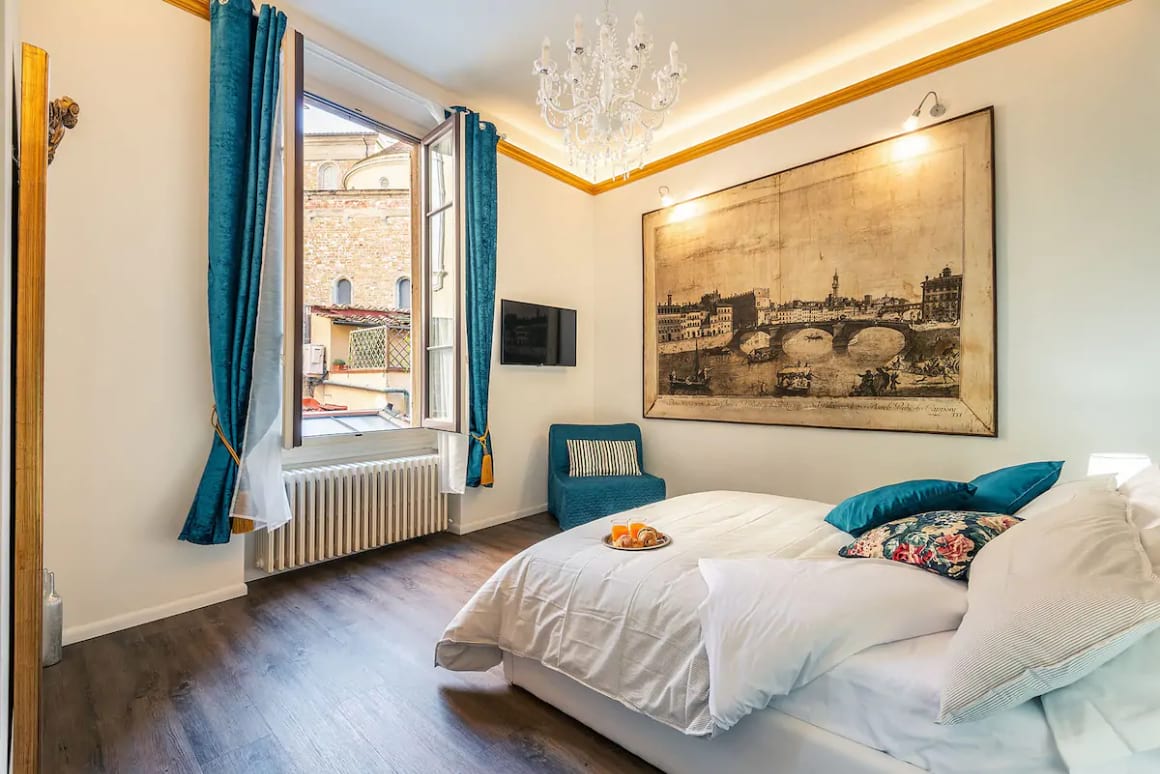 Eight guests
Fully equipped kitchen
This stylish and luxurious home is the ideal base for families of any age visiting Florence. There's space for up to eight guests across two bedrooms. And though there are only two bedrooms, there are five beds in that space! Its location means it's easy to get to and from the nearby museums, and there are a whole host of restaurants on your doorstep. If you don't fancy going out, there's a fully equipped kitchen where you can cook up a family favourite.
$$$$$$
Private rooftop terrace
Four guests
360 views including Duomo
This beautiful home has an absolute showstopper of a private terrace where you can enjoy your morning coffee with a view of the Duomo under the warm Tuscan sun. But that's not the only thing you'll love. From the moment you come in and receive a thoughtful welcome kit, you'll know that in you're in one of Florence's top Airbnbs. Other lovely touches include Ferragamo toiletries and luxury towels and linens!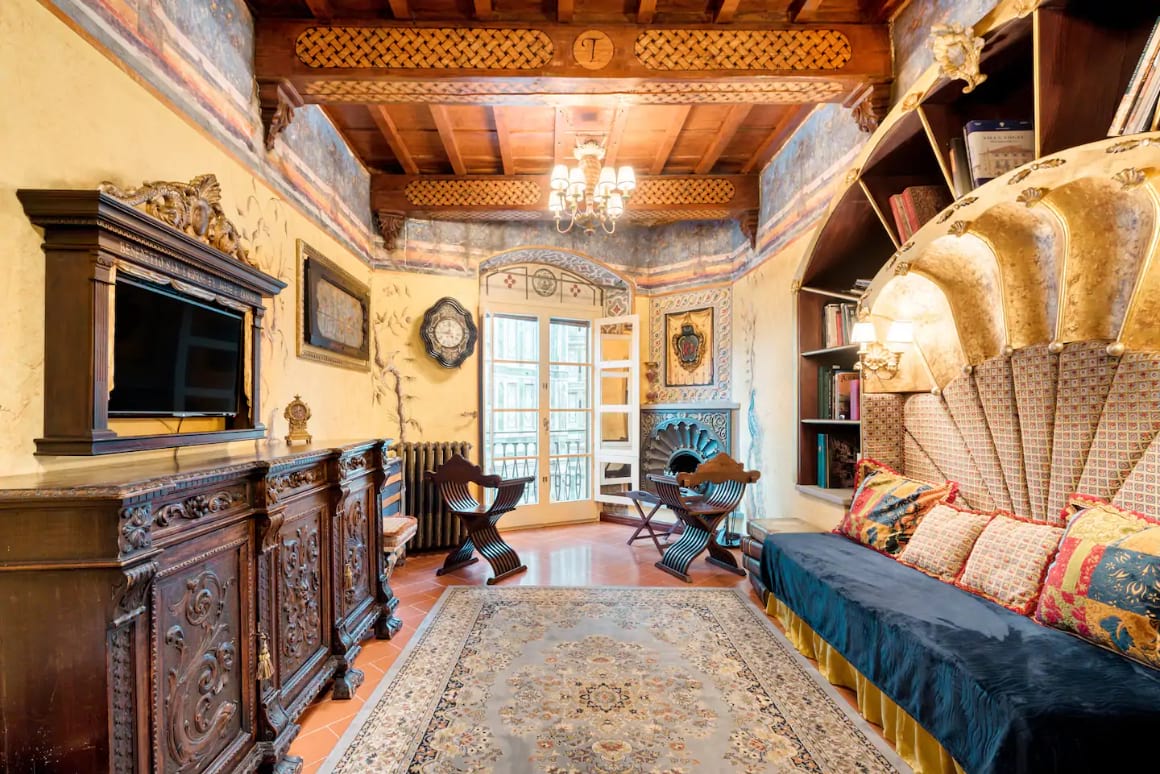 Three guests
Incredible antique furniture
This eccentric Italian apartment is exactly the kind of place you come to Airbnb for. It feels like you're right inside a painting! Though the listing says three guests, we'd suggest this is better for a couple. Despite being packed with antique furniture, there are some subtle mod cons, such as air conditioning and a flat-screen TV. All of that, and it's slap bang in the historic centre with epic Duomo views. Perfect!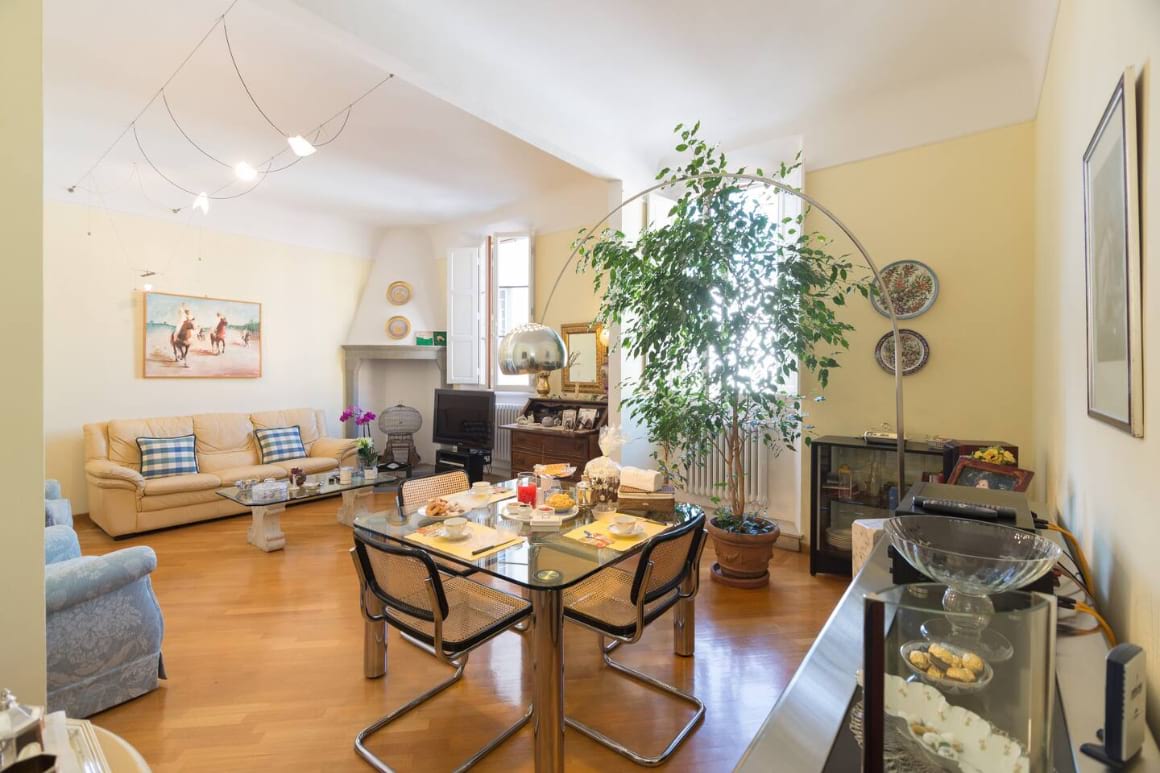 Two guests
Warm and welcoming
This warm and welcoming Florence Airbnb offers budget travellers the chance to save some money. The two single beds setup means this is perfect for two friends travelling together. Breakfast is served between 8 and 10 in the morning, the perfect fuel for getting out and exploring for the day. You've got air-conditioning, Wi-Fi, and a TV – which will keep you from getting bored when you're at the B and B.
Five guests
Tuscan country house
Located close to nearby town Fiesole, this Tuscan farmhouse is less than 10km and half an hour from Florence by car. While you won't be in the city centre, you can console yourself with the swimming pool, outdoor dining space, and communal farmhouse kitchen table in the communal area. There's a choice of five apartments here, each offering superb views of the Chianti Hills. In the nearby town of Fiesole, you'll be able to enjoy bars, restaurants, and shopping.
Two guests
Breakfast included
If you need to inspire your creativity, there are few better places to do so than Florence. All you need is to find somewhere to stay that has a dedicated workspace and reliable Wi-Fi. Job done… with interest! This beautiful artsy room in the centre has your very own en-suite bathroom, and breakfast is included in the price of your stay. It's at a very reasonable price too.
Six guests
Overlooking river
Airbnb Plus properties are the real cream of the crop. They're handpicked for this badge thanks to consistently excellent reviews and attentive hosts. With this one, you can take your pick of terraces overlooking the Arno River. Other cool features include the vintage gramophone with vinyl records, original artwork, and an open plan kitchen and living area.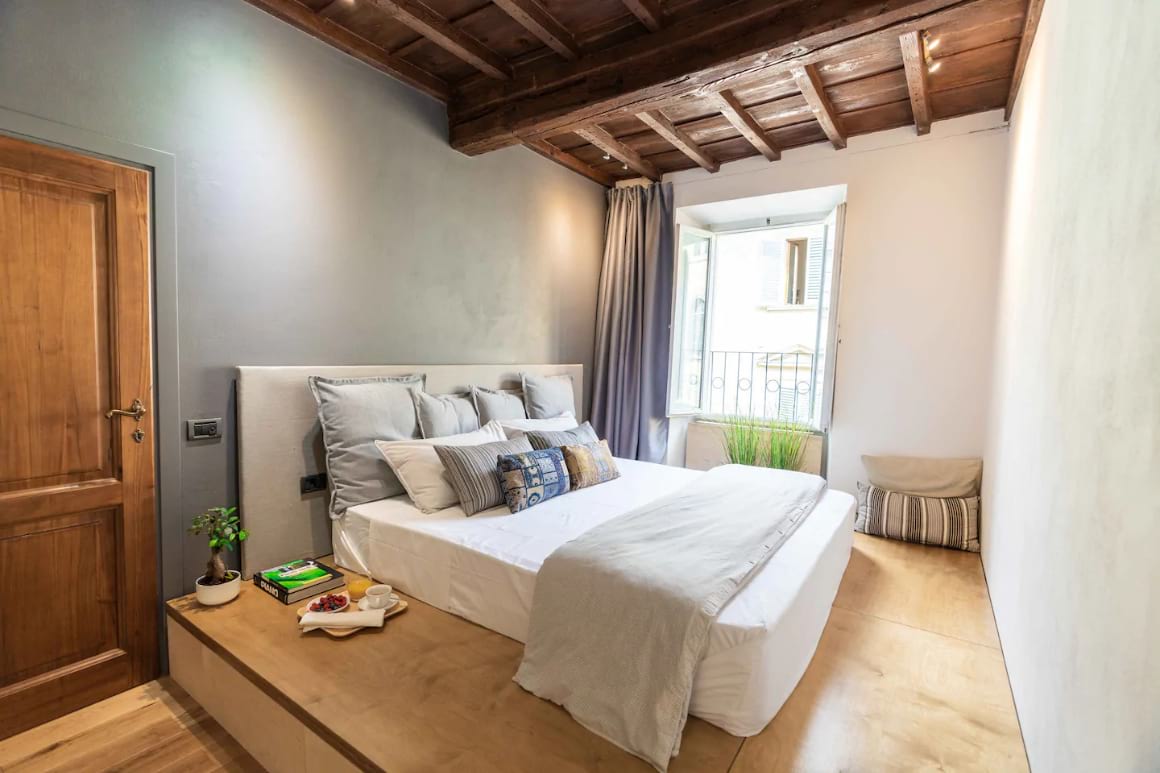 Four guests
Renovated ancient monastery
If you're only staying in Florence for a weekend, you'll need a superb location to pack everything in. Thankfully, this apartment in a renovated monastery is within walking distance of the Uffizi Gallery, Duomo Cathedral, Ponte Vecchio, and more restaurants than you can shake a stick at. When you need to catch some rest at the apartment, you can do so in the outdoor living room!
Best Airbnb with a Rooftop in Florence | Rooftop Statuto 19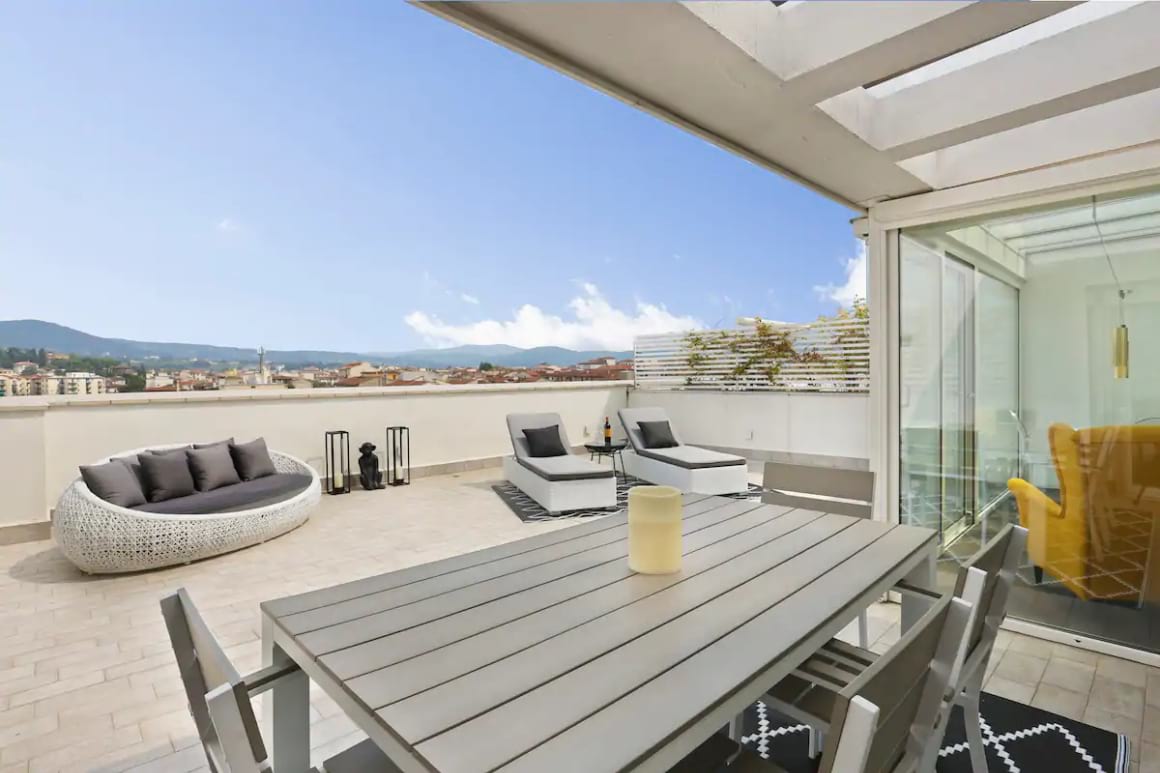 Two guests
Air conditioning
The only thing that makes this panoramic rooftop even better than it looks in the photos is when you find out how much it costs to rent this apartment. With sun loungers, a couch, and a dining table, you could spend your whole Florence vacation up here admiring the view! The penthouse also boasts a complete kitchen with air conditioning and a flatscreen TV inside – for the limited time each year when it's too cold to use the roof terrace.
$$$$$$$$$$$$$$$$$$$$$$$$$$$$$$$
18th century palazzo
Six guests
Popular with celebrities!
A little warning before you get your heart set on this place; it's seriously expensive! Airbnb Luxe is the very top level of properties from the platform – and this suite has been frequented by A-list celebrities. The 18th-century palazzo is one of the largest luxury apartments in Florence and boasts original artworks, parquet floors, and vaulted ceilings.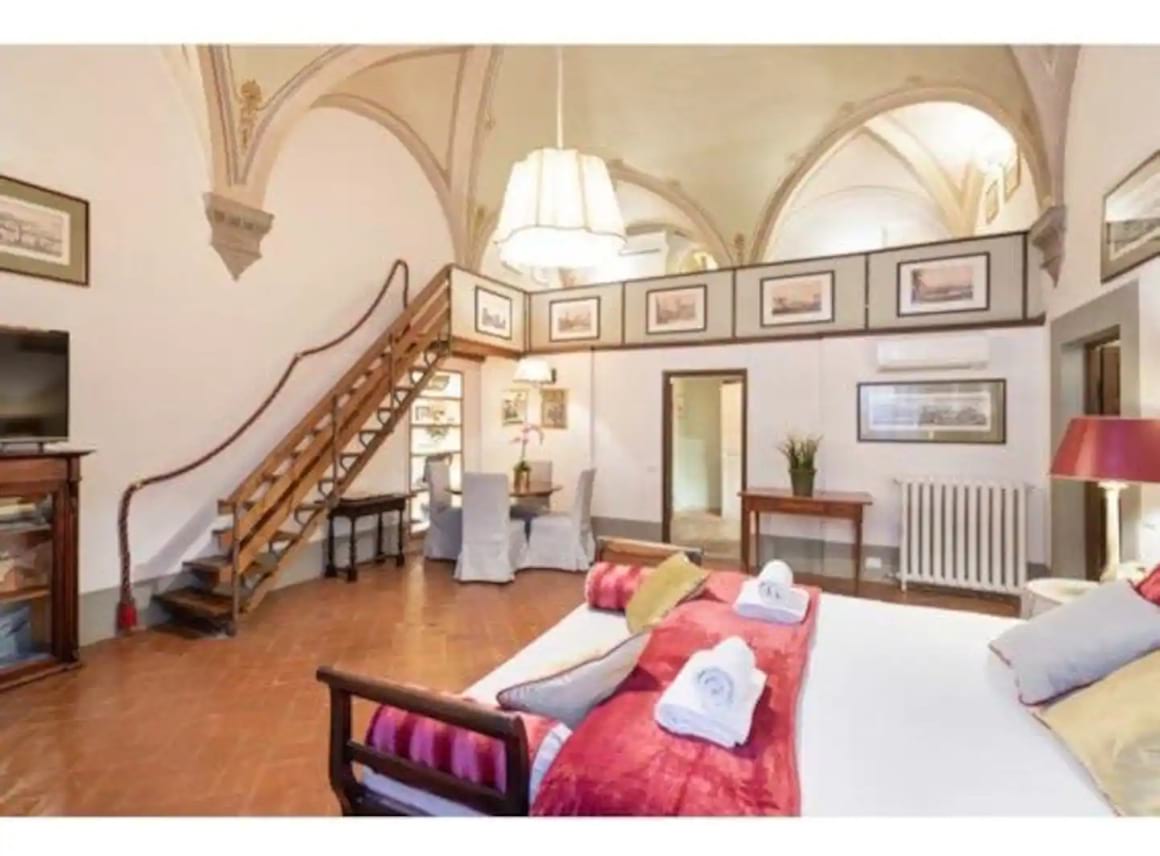 Four guests
Two level apartment
Right in the heart of Florence, this beautiful apartment is perfect for small groups of friends. Step back in time to the 1400s with elegant furnishings and Renaissance ceilings. Despite being more than 600 years old, there are some modern touches, such as a mezzanine level with two beds and a fully equipped kitchen. All of the attractions are right on your doorstep too!
Top 5 Airbnb Experiences in Florence
In a city like Florence, it can be hard to decide what to do. You've got art, food, architecture, and the whole of Tuscany on your doorstep. One way to avoid FOMO is by checking out Airbnb Experiences.
This trips and tours are curated by locals who know all the things in Florence that tourists love – but hopefully without the crowds! Airbnb Experiences can be anything from wine tasting in the countryside or hikes through the hills to paddle boarding on the Arno River.
There are more than 600 Airbnb Experiences in Florence, so you'll definitely find something to suit you. Here are our top five!
€47/person
4 hours
Up to 6 guests
While Florence has no end of things to do, it would be a shame to come here and not get out into Tuscany at least once! Nature lovers and outdoor enthusiasts should check out this trip as it'll allow them to hike in the Tuscan hills, admiring vistas of hilltop villages, olive groves, and tree-lined avenues. Should you work up an appetite on your hike, you'll be rewarded with a lunch of Tuscan meats and cheese, as well as olive oil and wine tasting.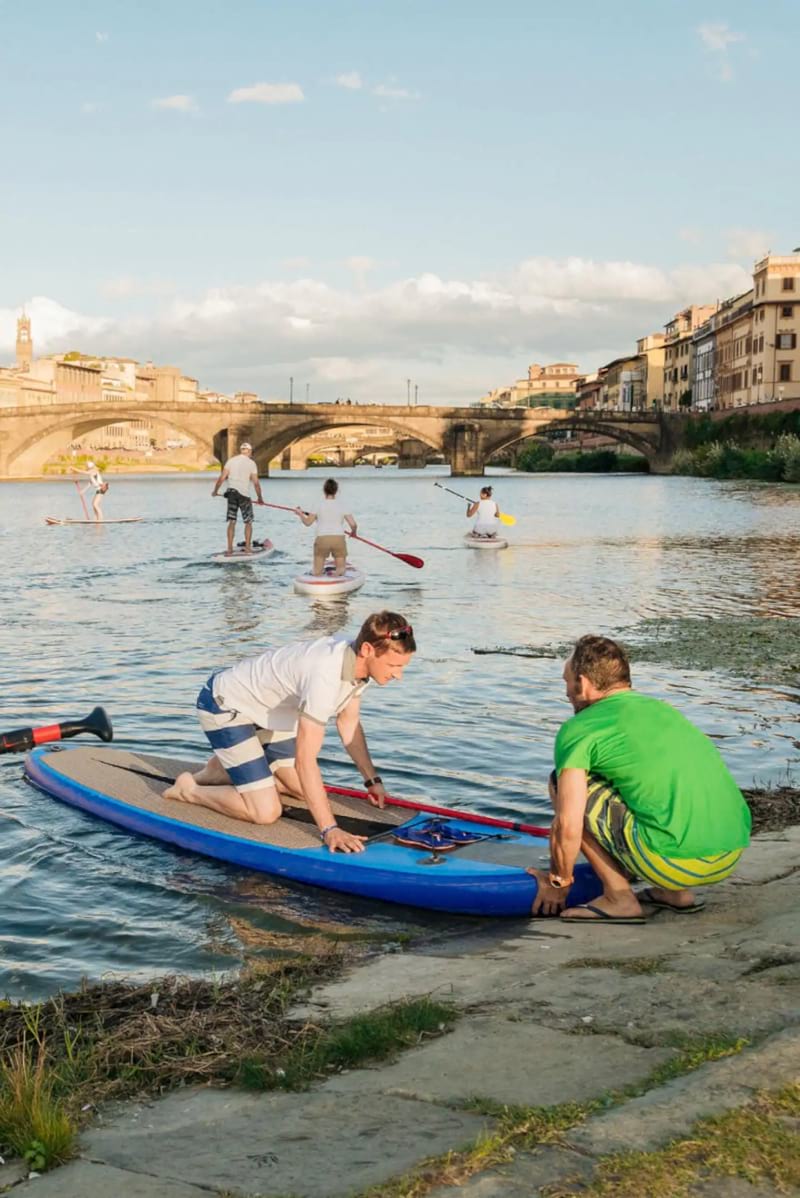 €55/person
2 hours
Up to 10 guests
The streets of Florence can often become full, and it can be stressful to get around if you don't like crowds. But seeing Florence from the River Arno first thing in the morning is totally different. Explore and get a workout at the same time with this stand up paddleboarding adventure. It's an easy sport for beginners and a totally relaxing way to see the sights.
€19/person
2 hours
Up to 10 guests
There are so many incredible sights in Florence that it can seem overwhelming planning your own itinerary. So, leave it to a local and go on one of their walking tours! Thankfully, Florence's historic centre is actually quite compact, and it's easy to tick off the main landmarks in one day. On this tour, you'll learn more about its history and local legends as you stroll along the streets linking the Duomo, Ponte Vecchio, and Giotto's Campanile.
€32/person
3 hours
Up to 8 guests
Have you really been to Italy if you haven't been to a pasta cooking class? Over three hours, you'll be getting the top tips on how to make spaghetti, ravioli, and lasagna. The fun of this trip lasts much longer than your vacation: you can impress friends and family with your new-found culinary skills when you return home!
€110/person
5 hours
Up to 4 guests
Along with the pasta, you'll need to know what wine to serve. In this tour, you'll travel out into the Chianti hills, exploring vineyards and views. Visit wine cellars, sample wines and enjoy pairings with cured meats and cheeses. A great way to see more of Tuscany!
Final Thoughts on Florence Airbnbs
Well, there you have it. Those are the 15 best Airbnbs in Florence. Not only that, there are some cool things to do when you arrive, too. Whether you want to stay in a renaissance palazzo, a Tuscan agriturismo, or you just want to be in the centre of all the action, there's an Airbnb in Florence for you.
Still struggling to make your mind up? If that's the case, just go for our overall favourite Airbnb in Florence. That's the luxury apartment with Duomo terrace. You can't get a more central location, and it's pretty stylish too!
We hope wherever you choose to stay, you have a fabulous vacation. To make sure that you and your belongings stay safe, be sure to check out travel insurance policies with World Nomads.
And don't forget to take out Travel Insurance for your trip! I have been using World Nomads for some time now and made a few claims over the years. They're easy to use, professional and relatively affordable. They may also let you buy or extend a policy once you've started your trip and are already abroad which is super handy.
If there's one insurance company I trust, it's World Nomads. To find out why I use World Nomads, check out my World Nomads Insurance review.
Getting an estimate from World Nomads is simple—just click the button or image below, fill out the necessary info, and you're on your way!

---
Find out how YOU can support the site.
We work hard to put out the best backpacker resources on the web for free! It's all about helping out our tribe of awesome backpacker readers (that's you!). Please visit the link to find out how you can help keep the site going 🙂
For the sake of transparency, some of the links in our content are affiliate links. This means that if you book your accommodation, buy a piece of gear, or sort your insurance through our link, we earn a small commission at no extra cost to you. We only link to stuff that members of the Broke Backpacker team has actually used and never endorse products or services that are not up to scratch. Thanks for your support!