Florence is the enchanting capital of the stunning region of Tuscany. It's the home of classical masterpieces such as the Duomo and Michelangelo's "David". It's the true embodiment of all things Tuscan and visiting can be a mesmerising and magical experience of revelatory proportions! It sounds dramatic but Florence is all about drama. Think, Da Vinci Code, Assasin's Creed and just generally epic ancient shit!
As soon as you've had your fill of this charming city, you will want to explore what's beyond. Florence is, after all, ideally located as a base to cover most of the rest of Tuscany and even further.
Florence entices you to hop on a bus or train and go and explore central Italy with charming towns like Siena in the south, Bologna in the north and Pisa and Lucca in the west. So here are our top picks of the most enchanting day trips from Florence.
Andiamo!

Unlock Our GREATEST Travel Secrets!
Sign up for our newsletter and get the best travel tips delivered right to your inbox.
Getting Around Florence and Beyond
Florence was made for walking, so the best way to get around is by foot. A comfortable pair of shoes or boots will go a long way (literally) when you're in Florence. Public transport is convenient too, so you shouldn't have any issue travelling within the city or beyond. There's so much to see in Florence you'll love wandering its quaint streets on your trip around Italy.
Bicycle – Rent a bike for a Florentine adventure. Rates: 2€ (1 hr), 5€ (5 hrs), 10€ ( 1 day).
Bus/tram – Efficient and widely used. Buy tickets before boarding the bus and validate them. One-way tickets cost 1.50€. The monthly travel pass (10-ticket) costs 14€.
Train – Choose between a fast train and a regional one. Research and book online in advance.
Car rental – A big NOPE. Florence is a small city and not made for cars. However, to travel out of the city, you can rent a car.
Taxi – Another nope. Taxis are expensive.
Some additional tips:
Know where the bus/ train station is – If you plan on taking a few day trips, select a convenient location in Florence to stay for easy access to transport. Luckily, Florence is one of the best places to stay in Italy for exploring the rest of the countyr.
Memorise train/bus schedules – Just kidding! But do know the times of your bus or train to be back at the station. Sucks to be stranded somewhere overnight.
Validate your ticket before boarding – Yes, you have to make sure of this little activity too. Validate your tickets in little boxes near the train/bus platforms. It helps if you don't fancy being thrown off the train in the middle of a Tuscan field. This is true all around Italy when using the train.
Use Bookaway to find the best deals on transport – buses, planes, trains, and ferries. It'll save you a load of time when organising transport and you'll probably nab an EPIC DISCOUNT too!
Book your transport on Bookaway NOW. Get the best price for the best ride… then use those savings to buy the best feed in town!
Book Your Transport Here!
Half-day Trips From Florence
Here are our favorite places that you can cover as a half-day trip from Florence that are just under an hour away from the city. Short and sweet, these trips are handy if you don't have enough time to explore outside of Florence.
Monti del Chianti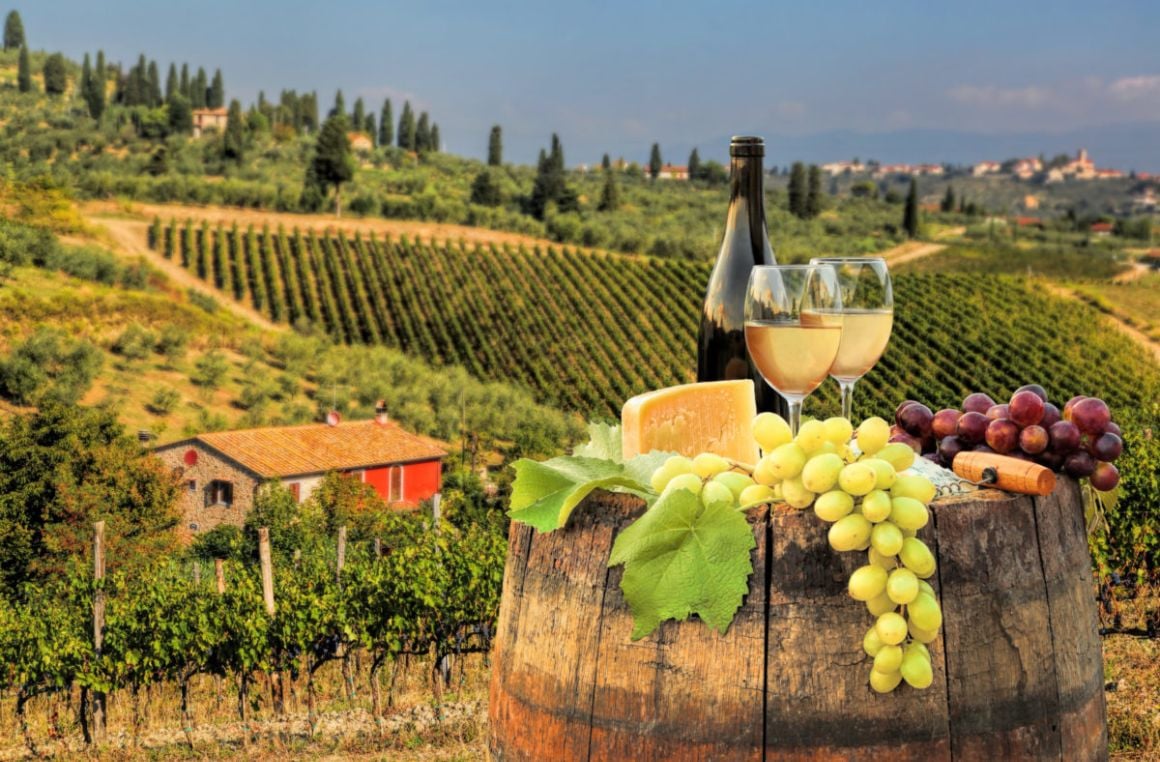 When you're planning day trips from Florence, a quick escape to one of the most picturesque winemaking regions in the world is a must. Chianti is a popular area in Tuscany and with good reason. There is an epic selection of wines and delicious food, all with the backdrop of stunning Tuscan landscapes. It's a quintessential trip to add to your Florence itinerary.
Drive through Chianti and see some gorgeous scenery along the winding roads. The region has olive groves, chestnut & oak tree forests, quaint farmhouses, stone castles, Renaissance villas, and beautiful Romanesque rural churches. It's best if you have a car or bicycle to explore the region to its fullest. Greve is the main town and heart of Chianti. Visit the historic central square and join a cycling tour, if time permits.
A trip to a wine region is not complete with some wine-tasting, amirite? Grapes from the vineyards here are used to produce famous red wines such as Chianti and Chianti Classico. Drop by some of the restaurants and sample some delicious Tuscan cuisine along with the reds. Just make sure you've got a designated driver or don't miss the bus!
How to get there: Take a bus from Florence to Chianti. Takes 1 hour.
Suggested Trip: Half-Day Wine Tasting Tour
San Casciano Val di Pesa
Not a fan of crowds? Head to San Casciano in Val di Pesa! This lovely medieval village is at the start of the Chianti region and a hub for wine and olive oil. The rolling vineyard-covered hills offer a stunning backdrop to the serenity of San Casciano Val di Pesa.
San Casciano is an easy half-day trip out of Florence, so great if you're limited on time. It's a typical charming Italian town. Eat, drink, shop and soak in the ambience and history. There's a market on Mondays where you can check out some of the amazing local products.
There are also several small castles and churches to explore in the nearby villages. Visit the church of Santa Cecilia, the Romanesque churches of San Giovanni and San Pancrazio, as well as the Santo Stefano a Campoli. The Giuliano Ghelli Museum inside the Church of Santa Maria del Gesù is also worth a visit. This museum has a collection of historical art, relics and artefacts from the 7th century BC.
How to get there: From Porta Romano station, take a Busitalia bus to San Casciano in Val di Pesa. Takes around 40 min.
Pisa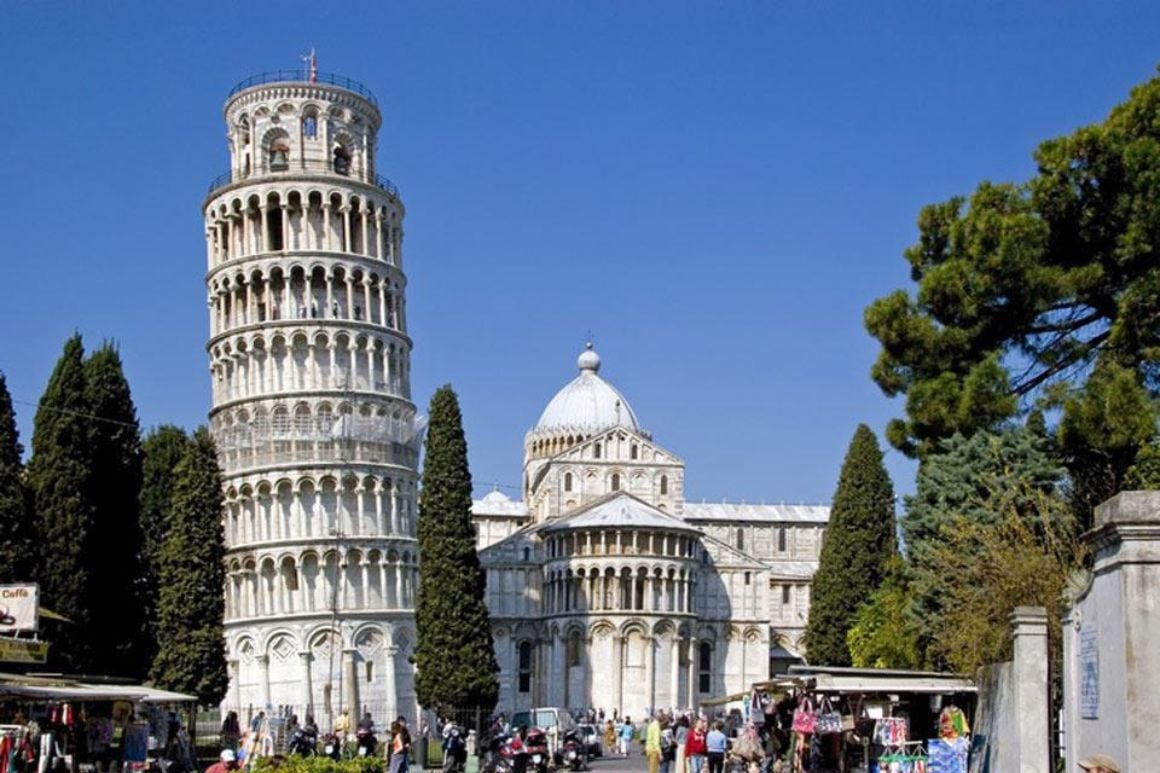 Pisa is a pretty good day trip from Florence for your Instagram feed! Who doesn't want that cheesy and touristy photo holding up the Leaning Tower? The city of Pisa is just over an hour away and is mainly famous for its iconic tower. It's one of the most iconic places to visit in Italy and it's one of those places you just have to experience.
Take a leisurely walk along the Arno River and over its bridges into the heart of Pisa. Head on towards the Piazza del Miracoli – the "Square of Miracles". This piazza is a collection of famous historical monuments, including the Cathedral of Pisa, the Baptistery, the Camposanto Monumentale, and the Sinopie Museum. There are many notable and priceless artwork, sculptures, mosaics, and paintings displayed in the museum.
The Leaning Tower of Pisa is also part of the Square. A UNESCO World Heritage monument, the Tower was meant to be a bell tower for the Cathedral of Pisa. It is eight stories tall and its notable tilt began as soon as it was being constructed in 1173 (It's actually been slowly straightening up!). Climb up the Leaning Tower for an exhilarating experience! The views of the Square below are worth it. A limited number of people are allowed up at a time, so don't forget to book your ticket online beforehand.
How to get there: Take a train from Santa Maria Novella, Florence to Pisa Centrale Station. Takes 1 hour.
Suggested Trip: Pisa afternoon tour with Leaning Tower Ticket
Is This the Best Daypack EVER???
Full Day Trips From Florence
Castles, churches, Renaissance villas, olive groves and the great Italian countryside – all are easily doable on any of these full-day trips from Florence. Add a few of these to your itinerary to get that extra kick from your Italy backpacking trip!
Bologna
If you're a foodie, you'll be sure to absolutely froth Bologna. Get a taste (get it) of the city with this perfect day trip from Florence. Bologna has some of Italy's most incredible restaurants. Treat yourself to Bolognese specialities at the gourmet quarter Quadilatero which is jam-packed with food stalls, delis and cafes. Famous Italian food such as prosciutto, parmigiano-reggiano, balsamic vinegar, mortadella and the popular Bolognese tortellini are aplenty here. Satisfy your sweet tooth with handmade chocolate and ice cream. A food-tasting tour is a great way to be sure to sample all the bestBologna has to offer.
Bologna has some incredible medieval architectural delights. In Piazza Maggiore, in the heart of the city, is the iconic duo of leaning towers – the Torre Degli Asinelli. Climb the498-steps up the Asinelli tower. The stunning views of the city you get from the top are well worth the effort, you can also burn off some of that food! The tower only lets in a few people up at a time, so we suggest booking a spot in advance. If you don't fancy the cardio, visit the Basilica of San Petronio, which has a lift to go up and also offers nice views of the city.
How to get there: From Florence, take the high-speed train to Bologna Centrale station. Takes around 40 min.
Cinque Terre
You've seen it in pictures and it's on your travel bucket list. The colourful houses perched on rugged hills and steep cliffs, overlooking the sea below with fishing boats parked along the harbours. Yep, we've all seen and admired Cinque Terre and now it's time to explore it on the perfect day trip from Florence.
Cinque Terre doesn't have many of the usual touristy sights like churches, castles or museums. Instead, Cinque Terre gives you some of the most amazing and iconic views of Italy. The region is a National Park and designated UNESCO Heritage Site. Five picturesque villages perched on the hillsides over the Ligurian Sea make up Cinque Terre.
Visit the charming village of Manarola. Have some freshly-caught seafood. In December-January, thousands of lamps are lit in what is arguably Italy's largest Christmas illumination. If you're visiting during the Christmas holidays, don't miss the event! It's one of the best times to visit Italy.
Take scenic boat rides to the other four villages, Riomaggiore, Corniglia, Monterosso and Vernazza. Stroll through their charming cobbled streets and snap those stunning seafront views for the 'gram. Don't forget to dip your toes in the sea and white sand at one of the many beaches!
How to get there: From Florence SMN station, take a Regionale train to La Spezia. Then switch to 5 Terre Express train which goes to all five villages. Takes two hours. Get a Cinque Terre Train Card if you plan to visit all villages. Alternatively, you can take a (much slower) ferry/boat ride to the villages.
Suggested Trip: Cinque Terre Full Day Trip and Cinque Terre Optional Hike & Lunch
Fiesole
Fiesole is a cute town sat on a picturesque hillside overlooking Florence. It is the perfect break from the city – with its olive groves, beautiful gardens, wonderful Renaissance-style villas, and lush green countryside.
Fiesole was a popular summer retreat in the 14th century for rich Florentines, and it remains to be the wealthiest suburb of Florence. So don't be surprised to see eye-watering price tags in the boutiques in town. Head on to Piazza Mino, the main town square, after your round of window-shopping. Have some gelato and admire the classic Tuscan architecture of the town along its cobbled streets.
Fiesole is an ancient town, with its earliest settlements dating back to the 9th century BC. For a dose of history and culture, visit the Bandini Museum which houses some beautiful Florentine paintings from the 12th-14th centuries. The Etruscan-Roman Archaeological area is super interesting to visit. Check out the well-preserved remains of the Roman baths and the amphitheatre, which still hosts plays and gigs in summer. Also, check out the fascinating collection of Roman artefacts and ceramics.
How to get there: From Piazza San Marco take bus #7 to Fiesole. Or take a regional train to Fiesole-Caldine. Takes 1/2 an hour.
Siena
If you want to see some stunning Gothic architecture, extraordinary art and indulge in delicious Tuscan cuisine, be sure to hop on the bus or train to Siena. There's plenty to marvel at in this charming hillside town. Siena is one of the more popular towns around the Tuscany region and is perfect for a day trip out of Florence.
The Piazza del Campo, the heart of the town, is where all the hustle-bustle of the city happens. Visit the Duomo, which is a dramatic Gothic cathedral with a baptistry, museum, and ancient crypt. The church is adorned with statues and reliefs by famed artist Giovanni Pisano. The Duomo complex is filled with precious art, stained glass, sculptures, and carvings. Then visit the Museo Civico, which houses stunning medieval frescoes. Most of the buildings were made with Siena's characteristic red clay.
Walk the vibrant medieval streets of Siena. There are many boutique crafts shops, restaurants and pastry shops. Grab a coffee and some local delicacies and soak it all in. Later on, climb the Porto del Cielo for amazing views and great photo opportunities over town.
How to get there: Take a regional train or bus from Florence to Siena. Takes one hour.
Suggested Trip: From Florence to Siena, Gimignano and Monteriggioni Tour
San Gimignano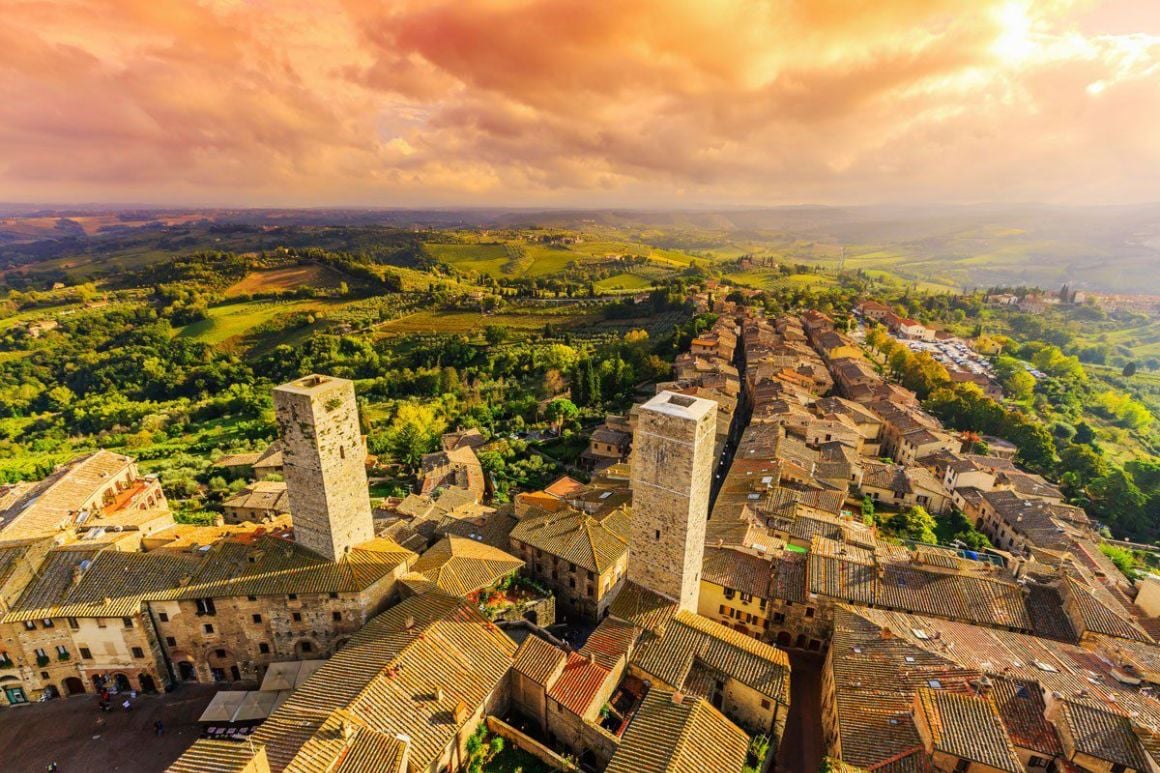 San Gimignano is another UNESCO World Heritage Site in Italy, come on guys, save some for everyone else! Also known as the Town of Fine Towers, San Gimignano is a walled town with fourteen towers rising against the skyline.
The combination of the rich history and culture with the magical rural setting is incredible. In short, it's a pretty epic day trip from Florence. San Gimignano is aptly named nicknamed Medieval Manhattan. Stroll through the medieval streets and explore the historical centre of the town and discover why.
Visit Collegiata, the Romanesque cathedral and admire the many medieval frescoes housed within. History and art lovers will also love Palazzo Communale, home to the town museum and art gallery. There are many beautiful artworks to browse.
Be sure to climb the palazzo's tower for spectacular views of the town and countryside. If you're up for something freaky, do check out the Torture Museum, which holds an unusual collection of medieval torture instruments.
San Gimignano is known to be the birthplace of a high-quality white wine 'Vermaccia'. There's a local tasting and documentation centre for wine and local produce that you simply should not miss!
How to get there: Take a train or bus from Florence to Poggibonsi. Then take another bus to San Gimignano. Takes one and a half hours.
Suggested Trip: San Gimignano, Siena & Pisa from Florence
Lucca
Lucca is best known for its old-world charm – its cobblestone streets and well-preserved Renaissance walls around the city are delightful. The walls are pedestrianised so you can enjoy bike rides, a casual stroll, or simply relax after a day of sightseeing. If you love to explore places on foot, then Lucca is your ideal day trip from Florence.
Walk through the maze of cobbled streets and narrow lanes of the old town towards the beautiful Duomo. The Lucca Cathedral is an impressive structure that dominates the town. Move on towards the Piazza Del Anfiteatro, the stunning yellow town square that was once an ancient amphitheatre. Stop by one of the many outdoor restaurants and cafes and have a traditional al-fresco lunch with a glass of tasty local wine. Lucca is known for its rustic cuisine and olive oil, so you won't be disappointed.
Lucca has Several more attractions to soak in. The Basilica Di San Michele in Foro and the Basilica of San Frediano, both have unique front facades and stunning stonework. Historical towers like the Guinigi Tower (don't miss climbing it!) and Torre Delle Ore are also worth calling by.
If you're looking to extend your stay in Lucca check out this lovely B&B that serves breakfast in a garden. Or try this charming B&B near the medieval city walls.
How to get there: From Santa Maria Novella, Florence, take a regional train to Lucca Station. Takes an hour and a half.
Cortona
Cortona has an alluring old-world charm and is one of the classic and most loved hilltop towns of Tuscany. Cortona offers spectacular panoramic views of the valleys and Lake Trasimeno below with its setting perched atop a towering hill. Most of the scenes in the 2003 movie "Under the Tuscan Sun" were shot in Cortona and it's easy to see why. Now you have the perfect excuse to ride out of Florence for a relaxed day trip toCortona!
Cortona is enclosed by medieval stone walls and has many interesting places to explore. Visit the Diocesan Museum, which features paintings by some classic Italian artists. The Etruscan Academy Museum houses a collection of bronze and ceramic artefacts from many of the ancient archaeological sites in the city. Walk up the hill to visit the Girifalco Fortress and the beautiful Santa Margherita Sanctuary.
Many small artisan shops line the main streets of Cortona, where you can get authentic local handmade crafts as souvenirs. Tuscan food here is incredible: try the Ribollita, a tasty bread soup, and Pici, a traditional pasta dish.
How to get there: From Firenze SMN, Florence, take a train to Camucia station, Cortona. Takes an hour and a half.
Suggested Trip: Assisi and Cortona Day Trip from Florence
Pistoia
Pistoia is a treasure trove of Romanesque and Renaissance art and architecture. It's the "city of enchanted stone". Located halfway between Florence and Lucca, this small city is like a Roman-era town trapped in time. It is not your typical tourist destination so you'll see fewer crowds, making it easy to enjoy your every minute there.
Pistoia is an exciting day trip from Florence and was voted as the Italian Capital of Culture in 2017. Start with a visit to the Piazza Duomo, the town square and heart of the city. The Romanesque Cathedral is stunning, housing a magnificent silver altar. Climb the 200 steps up the bell tower and enjoy panoramic views of Pistoia. Check out the Bishops Palace, the unforgettable Gothic Baptistry, and Palazzo Pretorio's frescoed courtyard.
Stroll along the streets of Pistoia and stop at Piazza Della Sala for lunch or aperitivo (starter drinks). The square is bustling with activity with several restaurants and cafes. Grab a bite of "Necci", a local sweet dessert made with chestnut flour. Or, try local Tuscan food such as bistecca alla fiorentina and ribollita soup.
Pistoia is definitely worth a longer look, so do plan to stay back a day or two. Try this family-friendly guesthouse that also offers a pool. Or check out this cosy B&B with a buffet breakfast.
How to get there: From Firenze S.M.N Florence, take a train to Pistoia. Takes around 40 min.
Val d'Orcia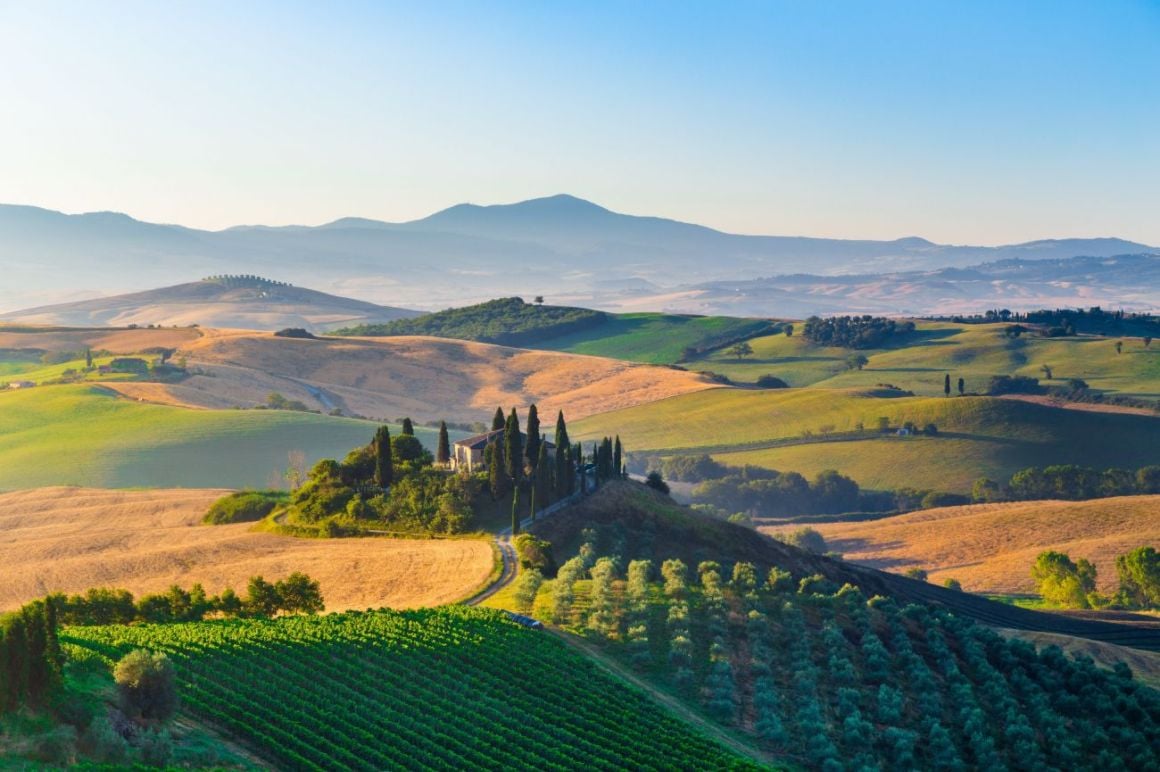 Val d'Orcia is a picturesque valley in the south of Siena. This is rural Tuscany at its best and it's retained its beauty over the centuries. Imagine low rolling green hills with vast expanses of vineyards and yellow cornfields dotted occasionally by trees and small churches. Sounds like somewhere I'd like to live forever. Okay, let's get back to reality and do what we actually can do: an easy day trip from Florence!
The Val d'Orcia is a UNESCO World Heritage site. The historical centre is the small Renaissance town of Pienza aka "The Ideal City". Visit the Pienza Cathedral and the Piccolomini Palace with its wonderful roof garden.
After Pienza, head on to the scenic wine town of Montepulciano. This medieval town sits on a hill and has an elegant, yet rustic vibe. Walk into the maze of cobbled streets and visit the Renaissance palaces and churches. If you're looking for birds-eye-views of the city, climb up the clock tower in Palazzo Comunale.
Val d'Orcia is world-renowned for its wine and cheese. Pienza is famous for Pecorino cheese. Montepulcciano is known for two famous wines – Vino Nobile di Montepulciano and Rosso di Montepulciano. Your trip to Val d'Orcia will be a special journey of flavours and stunning panoramas for sure!
How to get there: From Florence, take a bus or train to Val d'Orcia. Takes between two and three hours.
Suggested Trip: Pienza and Montepulciano Full-Day Wine Tour
Small Pack Problems? 😉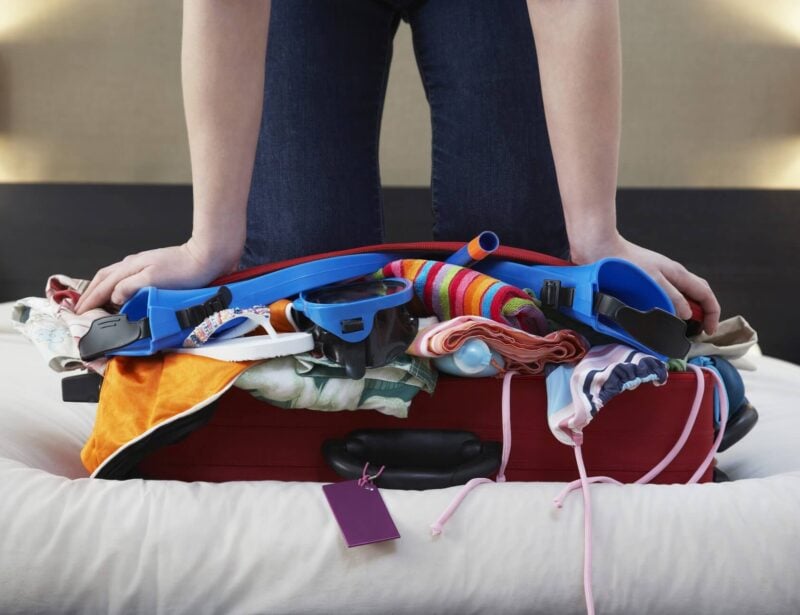 Wanna know how to pack like a pro? Well for a start you need the right gear….
These are packing cubes for the globetrotters and compression sacks for the real adventurers – these babies are a traveller's best kept secret. They organise yo' packing and minimise volume too so you can pack MORE.
Or, y'know… you can stick to just chucking it all in your backpack…
Get Yours Here
Read Our Review
Don't Forget Your Florence Travel Insurance
ALWAYS sort out your backpacker insurance before your trip. There's plenty to choose from in that department, but a good place to start is Safety Wing.
They offer month-to-month payments, no lock-in contracts, and require absolutely no itineraries: that's the exact kind of insurance long-term travellers and digital nomads need.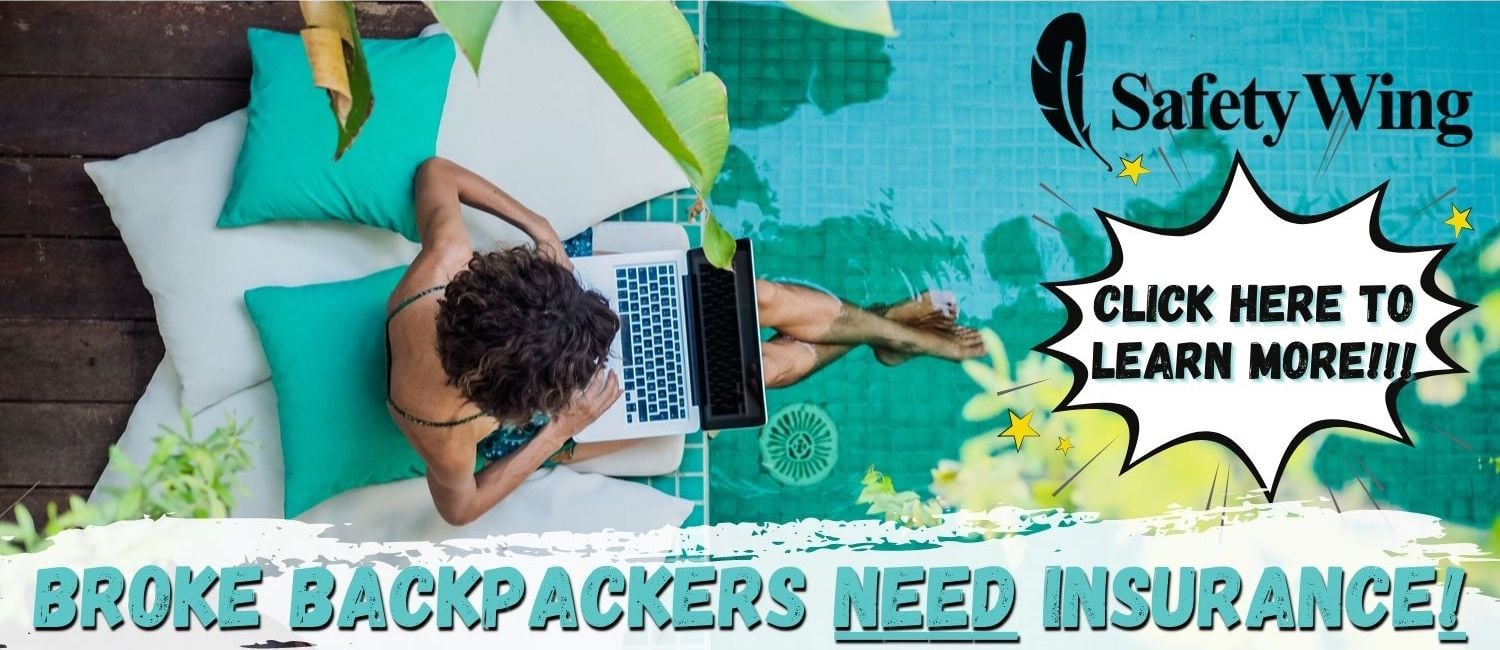 SafetyWing is cheap, easy, and admin-free: just sign up lickety-split so you can get back to it!
Click the button below to learn more about SafetyWing's setup or read our insider review for the full tasty scoop.
Final Thoughts
Mamma mia! That was one rollercoaster of a (virtual) ride out of Florence through Tuscany. This is the best thing about Italy as a whole – you're never short of breathtaking places to go to. Florence itself makes it easy to plan day trips to most of Tuscany.
After you've explored all the sights in Florence, There are so many things to do and see in the region. From medieval architecture, amazing art and culture, quaint towns, hiking, and biking trails, spectacular landscapes to some of the best wine tastings and delectable Tuscan cuisine. Our top favs are Bologna and Cinque Terre, both places are absolutely gorgeous!
The best time to go is between late September and October and between April and May. These months are also ideal because of fewer crowds and the weather is pleasant too.
We hope you have a draft plan and itinerary ready for your next trip to Italy. Whichever day trip destination you choose, you won't be disappointed! Just be sure to pack properly for Italy and you're ready to go.
Fai un buon viaggio!
---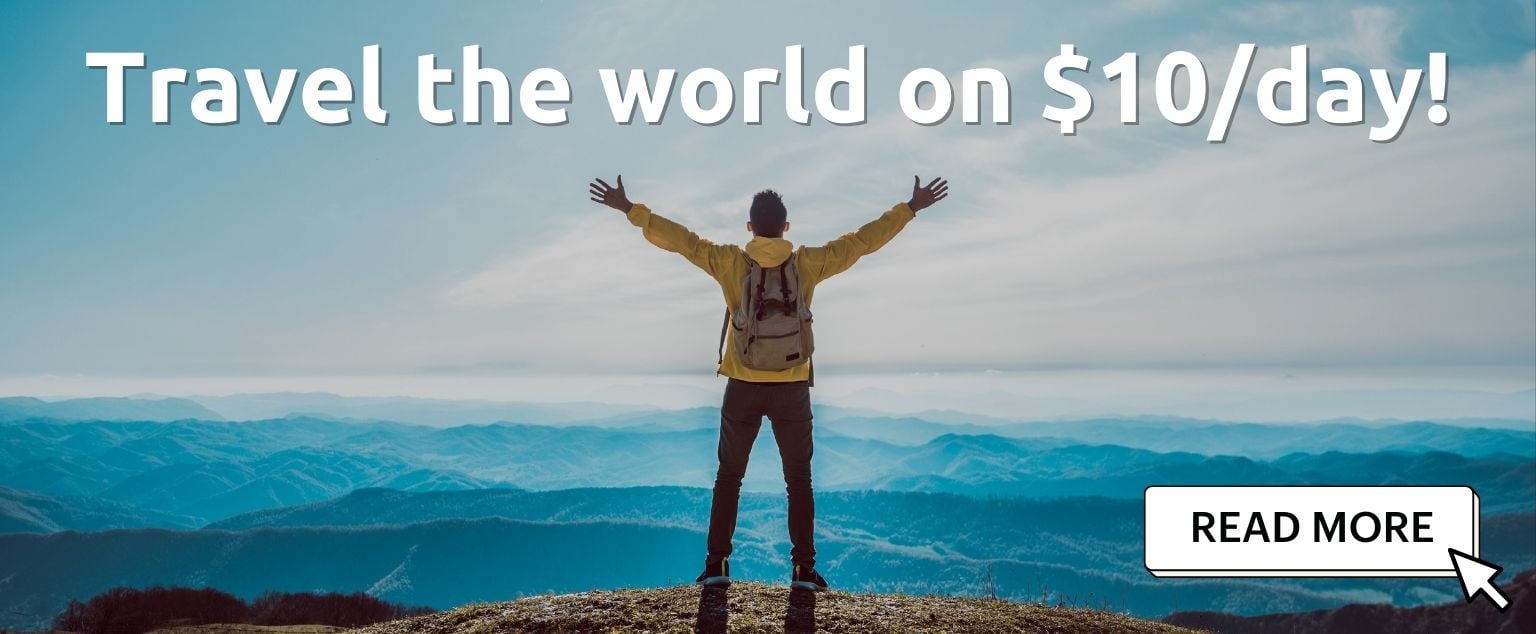 And for transparency's sake, please know that some of the links in our content are affiliate links. That means that if you book your accommodation, buy your gear, or sort your insurance through our link, we earn a small commission (at no extra cost to you). That said, we only link to the gear we trust and never recommend services we don't believe are up to scratch. Again, thank you!