Italy is a country that needs no introduction! Jutting out into the Mediterranean, this country was once the heart of the Roman Empire, and the founder of many aspects of modern European culture. These days there is still plenty of evidence of its past – as well as bustling nightlife venues, world-class restaurants and a globally renowned art scene.
With such a diverse offering, it can be tough to choose where to stay. Whilst we recommend visiting a few places, it's impossible to see everything in one trip. There is a stark divide between urban and rural – as well as north and south – so it's good to get a general idea of what is on offer in every city and town before you book your trip.
That's where we come in! We've combined our personal experience with guest reviews, expert travel tips and local advice to bring you this guide to the eight best places to stay in Italy. Whether you want nightlife, history or cuisine –  we have you sorted.
Andiamo!

Unlock Our GREATEST Travel Secrets!
Sign up for our newsletter and get the best travel tips delivered right to your inbox.
Quick Answers: Where is the Best Place to Stay in Italy?
Map of Where to Stay in Italy
Italy is beautiful and Italy is big. It's a stunning country that draws in people from all over the world. Italy is also a great backpacking destination but it can get quite tricky when it comes to travelling on a budget. In order to find the perfect place for you, check out our detailed city description below.
If you're worried about accommodation, don't be! There are numerous amazing hostels in Italy. You'll be able to enjoy a super comfy bed, a safe place to rest your head, and a chance to meet like-minded travellers from all over the world, no matter where you're standing in Italy.
Rome – Overall Best Place to Stay in Italy
They say that all roads lead to Rome – and at the height of the Roman Empire, this was certainly true across Europe! One of the major centres of European culture has since expanded into a vibrant metropolis and Italian digital nomad hub with some of the oldest landmarks in the world. It is also the largest nightlife centre in Italy, and is home to some of the best-known pasta dishes such as carbonara and cacio e pepe.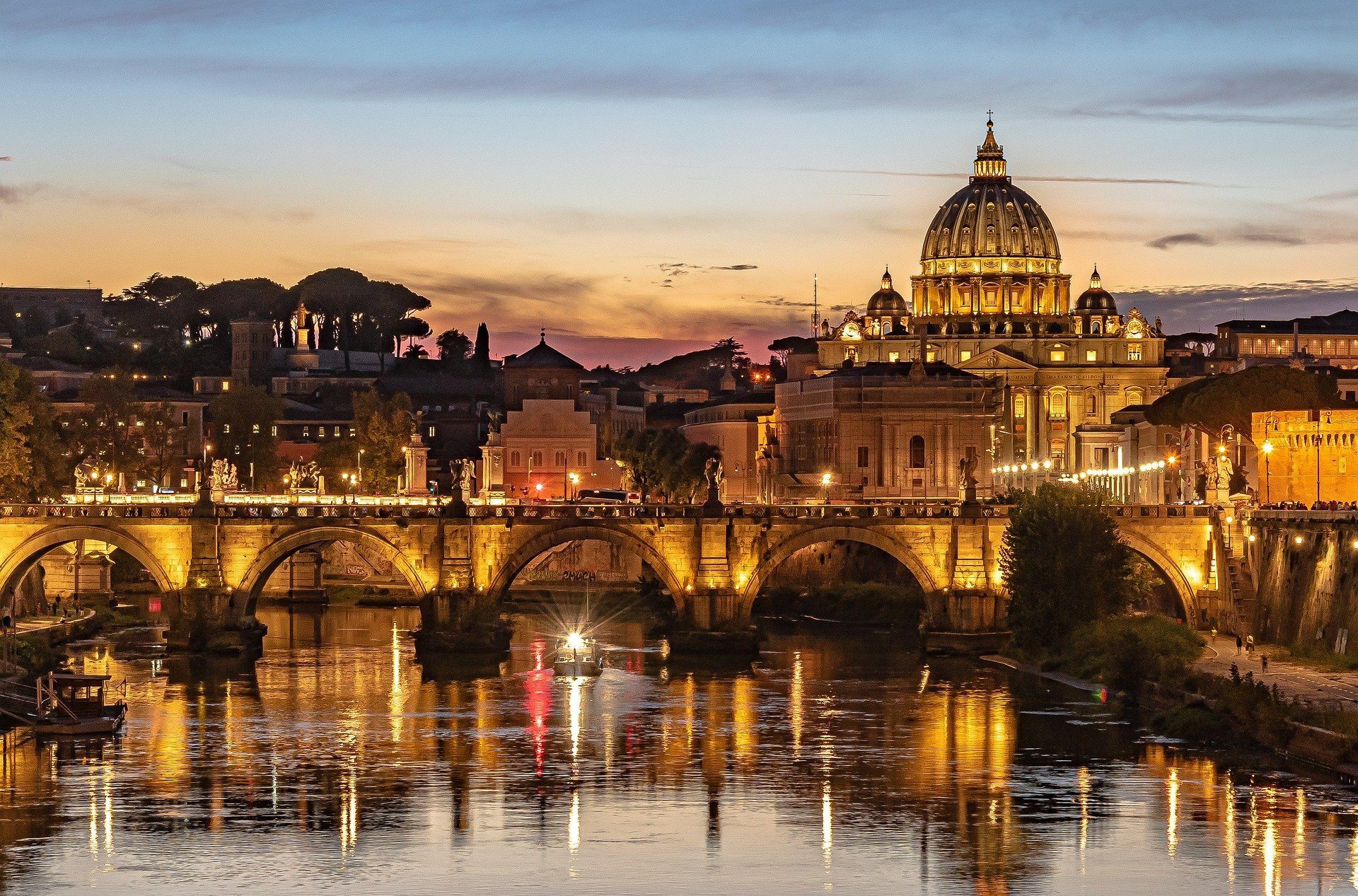 Vatican City is also entirely surrounded by Rome, making it an important pilgrimage for Catholics from across the world. No trip to Italy is complete without visiting Rome (even though it can lean on the expensive side) – and even for shorter stays, it is your best chance of getting a comprehensive overview of what modern Italy is all about. Great Airbnbs too.
Rome is located fairly centrally, so if you are travelling elsewhere you will have easy access to both the North and South of the country. It is a major gateway for international arrivals – especially from outside Europe – so if this is your first stop in the country you have to take at least a few days to check out the main attractions. Being where it also means there are some great day trips from Rome to be had.
Best Places to Stay in Rome
Rome is a massive city, with a diverse range of neighborhoods! If you are only in the city for a short time, we recommend staying in the city centre close to the main attractions. Many of them are within walking distance, and the further away attractions (such as the Colosseum) are well connected by Metro.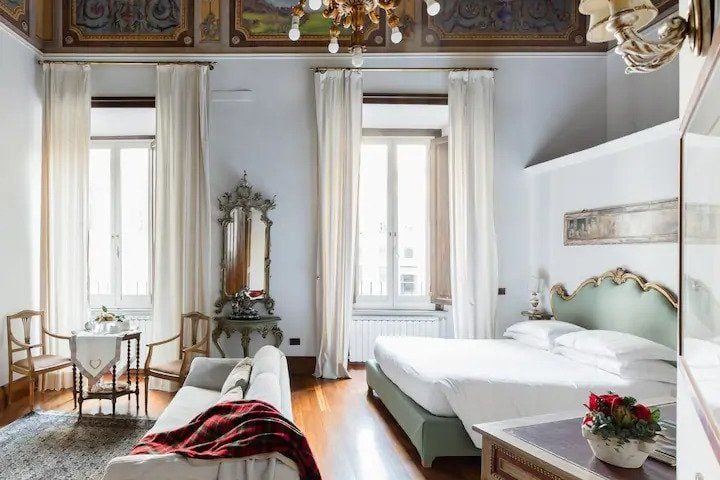 Airbnb Plus is a collection of apartments that have been hand picked for their excellent interior design and customer service. This apartment draws inspiration from classic Italian art – with beautiful frescoes on the ceilings and ornate furnishings. It is only a short walk from the Pantheon, giving you quick access to all of the main historic attractions in the city.
Named the fourth-best large hostel at the 2020 Hostelworld Awards, this budget accommodation in Rome is a firm favourite with the party crowd! It's only a short walk from the main train station, as well as some of the biggest nightlife venues in the city. The hostel bar hosts a wide range of events throughout the week, from karaoke to burlesque and everything in between.
This stunning three-star hotel is a great way to experience a little slice of luxury without breaking the bank! There is a roof terrace connected to the on-site bar where you can enjoy gorgeous views of Rome. It is a two-minute walk from Piazza Venezia, where you can shop at local boutiques or grab a metro to the city's biggest attractions.
Sardinia – Best Place to Stay in Italy for Families
West of the mainland, Sardinia is a world apart from the Italy many tourists know! For families, Sardinia offers a peaceful and secluded atmosphere – and even the main urban centres have friendly locals and businesses. There are plenty of watersports on offer for older kids, and some easy-going adventure activities for all the family.
As Sardinia is an island, it has a unique culture separate from the rest of Italy. Aside from having its own language, its location in the centre of the Mediterranean means it also draws influences from France, North Africa and Spain. It is truly a melting pot of cultures, with each town having its own charms.
It's fairly easy to decide where to stay in Sardinia, but we'd still recommend having a look before you book your trip. The island is also known for its scenery – with beautiful beaches circling the coast and mountains taking up the centre. Whilst most people arrive by flight, there are also ferries connecting Sardinia with mainland Italy, Sicily and Corsica. Sardinia is an island, so your Italian SIM card may not work as well as it doe on the mainland.
Best Places to Stay In Sardinia
The two main cities are Alghero and Cagliari – though we also like Sassari! Alghero and Sassari are in the north, so have more connections with Corsica. If you are travelling elsewhere in Italy, Cagliari has ferries to a number of cities. The island is easy to get around, but we do recommend hiring a car for the best experience.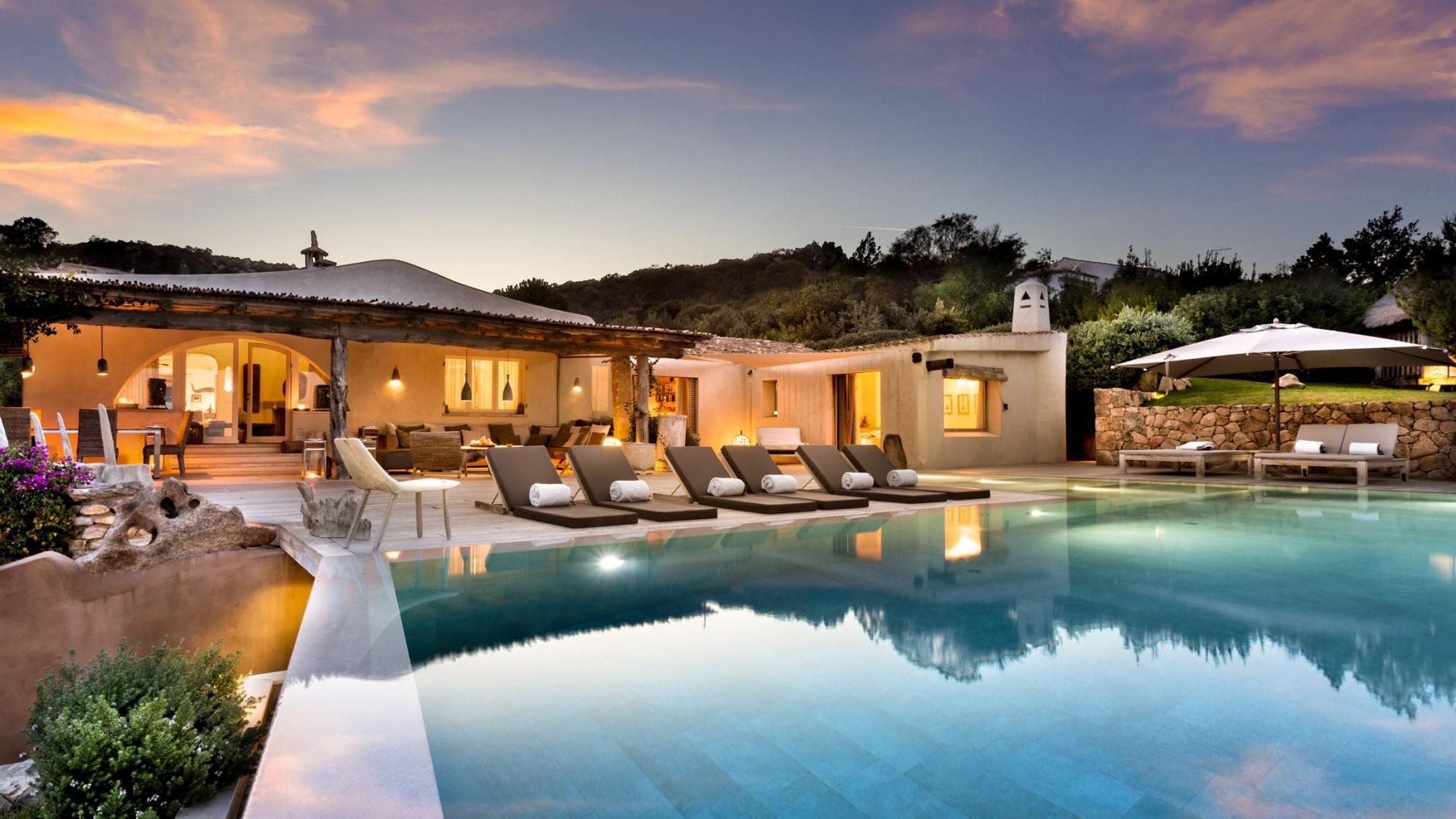 Airbnb Luxe is the most premium brand on the website, featuring properties that go above and beyond. This dazzling villa comes with gorgeous views of the Mediterranean Sea and the hills that run through Sardinia! It can sleep up to ten guests across five bedrooms, so is an excellent option for larger families heading to the island. It also comes with a private pool.
Sardinia is a notoriously expensive destination, but if you're strapped for cash you can save some money at Hostel Sardinia. Right in the heart of Cagliari, it is close to major transport links that can take you all over the island. They offer heavily discounted tours across Sardinia for guests every weekend. Breakfast is included, and the on-site bar is popular with both guests and locals.
The hostels in Cagliari are comfortable and convenient.
This gorgeous four-star hotel in southern Sardinia comes with a large swimming pool and sunbathing terrace. It is located right on the coast, giving guests immediate access to the beach and stunning Mediterranean views! They offer suites that can sleep three or four guests, making it a great option for small to medium-sized families. The complimentary breakfast includes vegan and gluten-free options.
Positano – Most Romantic Place to Stay in Italy for Couples
Clinging to the side of dramatic cliffs on the Amalfi Coast, Positano has long been a firm favourite with couples – especially those choosing the ultimate honeymoon destination! The small beach is perfect for sunbathing and paddling, whilst the streets of Positano have a romantic atmosphere with cobblestones and ornate stairways.
Positano is known for its lemons, and restaurateurs are experts on how to make the best dishes out of the abundant citrus fruit. It is also where you will be able to sample some of the best limoncello in the world. After enjoying a traditional meal, the bars are generally easy-going, with a few upmarket clubs on offer.
Its location on the Amalfi Coast also means there are plenty of day trips available nearby! The rest of the coast is stunning, and Sorrento is a great place to discover Campanian culture. Naples is also nearby if you want a more metropolitan vibe, with the best pizza restaurants in the world and the infamous Vesuvius volcano.
If you want a more urban base, have a look at the best places to stay in Naples. Wondering where to stay on the Amalfi Coast? Check out Positano as a great base.
Best Places to Stay in Positano
Positano is a small town – but as it stretches up a cliff, we recommend sticking to the lower levels if you're interested in the beach, or the higher levels if you want to easily travel around the region and enjoy the view. It is a notoriously expensive town, but nearby Sorrento has some budget-friendly options and direct bus links.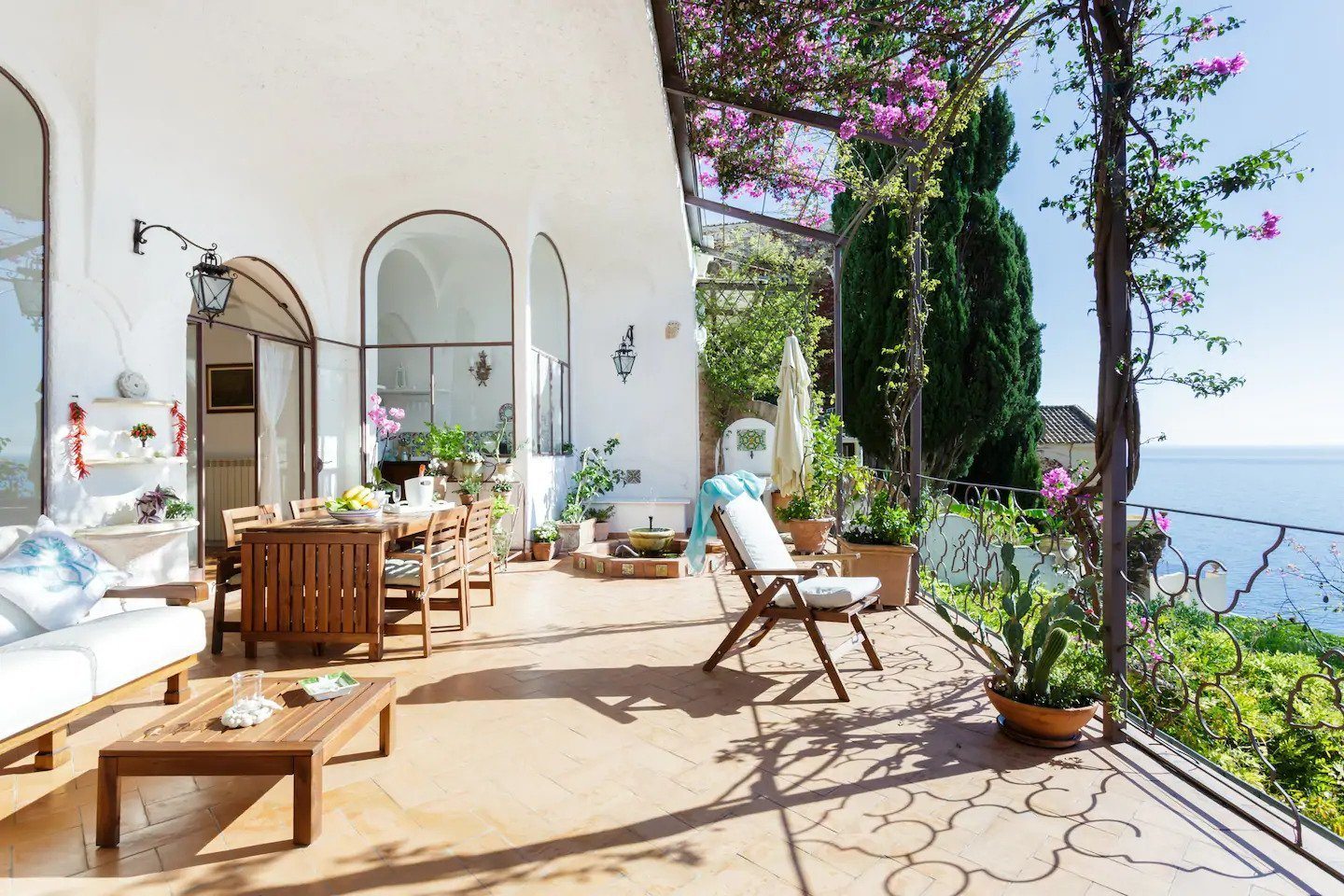 When you imagine a house under the Italian sun, chances are you think of an image similar to this Airbnb in Italy! Its biggest selling point is the ornate balcony with views across Positano. The interiors are well designed, with a bright and airy feel that borrows from classic Italian design. There are two bedrooms in total, perfect for small groups and families. If there's one vacation rental in Italy I would want to stay at, it would be this one.
Whilst there aren't any budget-friendly hostels in Positano, Sorrento is nearby and is home to Ulisse Deluxe. Sorrento is a major gateway to the Amalfi Coast, with hourly connections to all of the major towns throughout the year. Operated by Ulisse Deluxe, this hostel is friendly and well equipped with modern comforts. It also comes with an indoor pool, a bar and even a full gym!
If you want a little bit more privacy and would rather stay in Positano, this three-star hotel is somewhat affordable – but doesn't skimp on fantastic service! The dining area comes with a beautiful terrace where you can admire views of the town whilst enjoying your complimentary breakfast every morning. It is also only a short walk from a bus stop, giving you quick access to the rest of the coast.
Is This the Best Travel Pack EVER???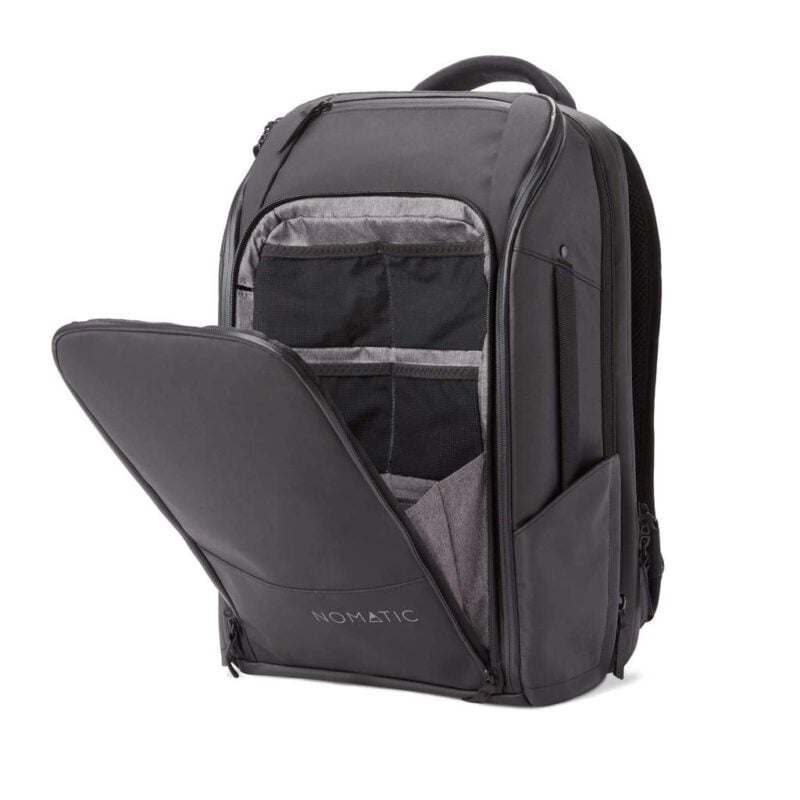 Venice – Coolest Place to Stay in Italy
Chances are you've already heard about Venice – but it's well known for a reason! This stunning city dates back six hundred years, and the architecture has remained pretty much untouched since. Known for its canals, no trip to Venice is complete without taking a gentle gondola ride through the streets.
There are six major districts in the city, each with something different to offer. Aside from the historic architecture and romantic canals, Venice is also home to some of the best art galleries in the world. Food can be pricey – but is totally worth it if you are willing to splurge! This city really is a destination everyone should visit once.
With rising sea levels and questions about over-tourism, Venice is a destination you should visit sooner rather than later. If you're planning an itinerary hitting the biggest spots across the country, you absolutely need to plan a few days in Venice.
Best Places to Stay in Venice
Venice itself is spread over a few islands – and we recommend the San Polo and Santa Croce districts for visiting the main attractions. Mestre is the closest town on the mainland, and a great choice if you want to save some money.
Best Hostel in Venice: Anda Venice
Named the most popular hostel in Venice, Anda is a great destination for backpackers that want to save some money in the notoriously expensive region! It is actually located in Mestre, which is favoured with the budget crowd, but is only a short walk from the train station that takes you to Venice. There is also a small bar with a patio where you can get to know your fellow guests.
If you want to treat yourself in Venice but still have some limits, this four-star hotel is a great compromise between price and luxury! The famous Rialto Bridge is a stone's throw away, and can be easily seen from the gorgeous terrace that adjoins the hotel's restaurant. Rooms are very spacious – a rarity in Venice – and decorated in the traditional Venetian style.
Best Airbnb in Venice: Coriandolo
Coriandolo is another beautiful Airbnb Luxe property located right in the heart of Venice! Though it is hosted within a historic building, it comes with modern interiors that ensure a luxurious stay. It also has views over one of the biggest canals in Venice, and is well connected to all the main attractions. You can also add on a chef, concierge or spa service among other extras.
Coriandolo is one of our favourites in Italy but they're not taking guests right now. We're not sure if they're closed for good but we hope they'll come back soon.
Bologna – Where to Stay in Italy on a Budget
Whilst many travel guides reference towns and cities in the South of Italy as the main budget destinations, Bologna remains somewhat a hidden secret when it comes to foreign visitors. With a large student population, Bologna is a great base for exploring the North of Italy from without breaking the bank.
Bologna is home to a major hub for budget airlines, with some excellent deals to the rest of Italy and further afield in Europe! It has the oldest university in Europe, and this academic history permeates every building in the city.
We'll talk more about food in the Emilia-Romagna guide – but Bologna is the largest city in the region, and a great pick for foodies that want to avoid the big tourist crowds.
Best Places to Stay in Bologna
Bologna is a small city, so most of the main attractions are located in the city centre. Try to stay close to the train station, as we recommend exploring further afield within the region to get to know some of Italy's best cuisine.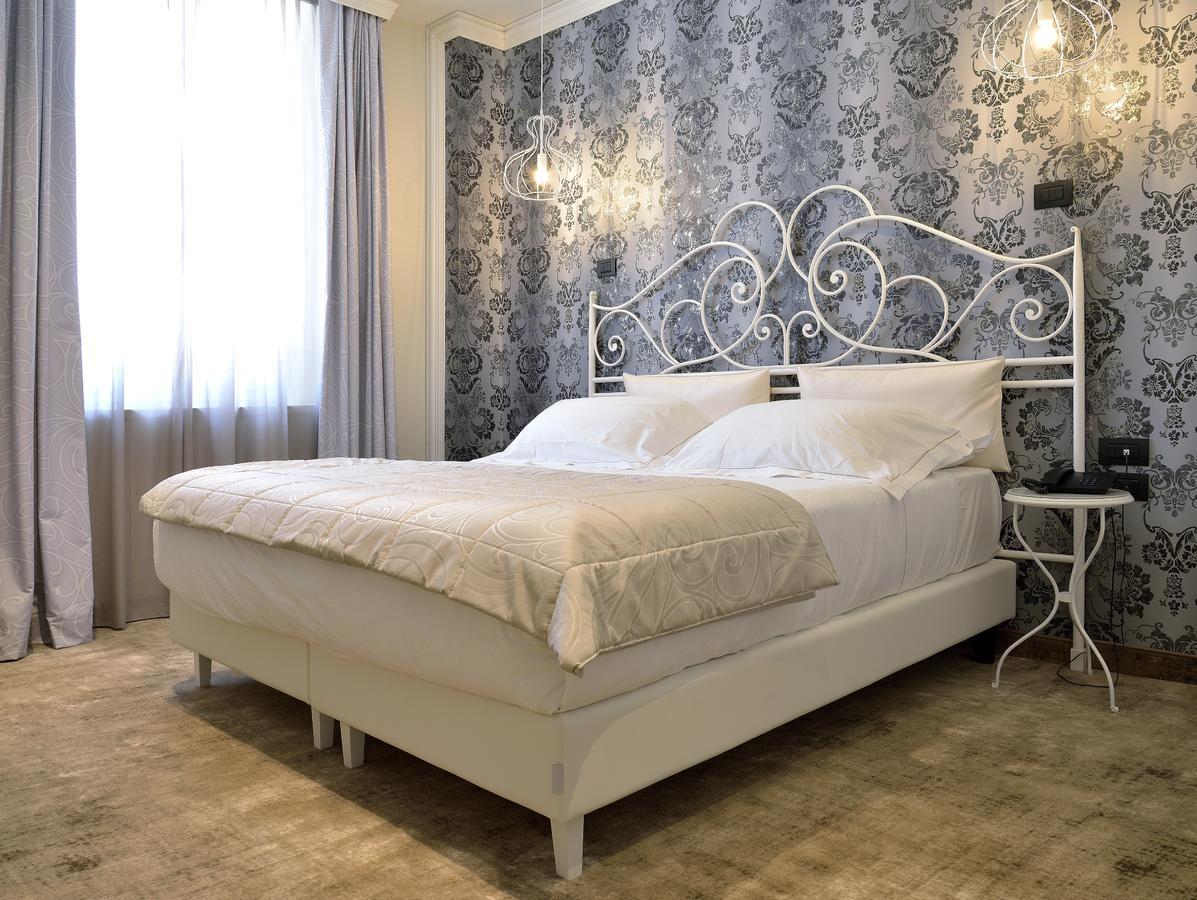 Located in the university district, this apartment is close to some of the cheapest bars and restaurants in Bologna. It is contained within an attic, with a skylight that provides gorgeous views of the surrounding city. The host also provides complimentary bike hire to guests if you arrange in advance – a great way to get to know Bologna!
Right in the heart of Old Bologna, Il Nosadillo is well placed to check out all of the historic attractions in the city. They provide a complimentary breakfast every morning – saving you some cash on the most important meal of the day. Via del Pratello, a hip and modern dining and nightlife district, is only a short walk away.
As the highest-rated three star hotel in Bologna, this is perfect for budget travellers that want a little more privacy! It is only a short walk from Piazza Maggiore, with plenty of fantastic restaurants, boutiques and coffee shops nearby. They offer a complimentary breakfast buffet every morning, setting you up for the day ahead. They also provide single rooms, making it a great pick for solo travellers.
The Future of the SIM Card is HERE!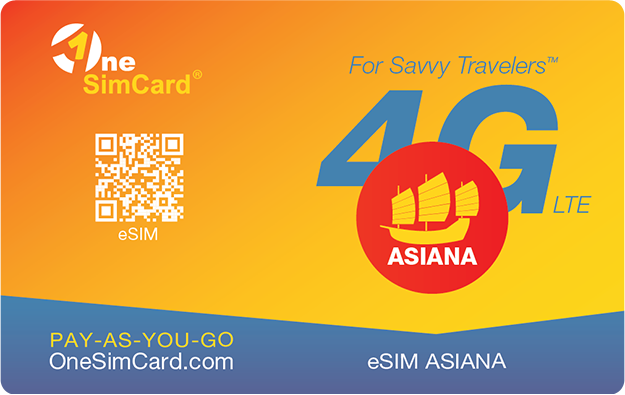 A new country, a new contract, a new piece of plastic – booooring. Instead, buy an eSIM!
An eSIM works just like an app: you buy it, you download it, and BOOM! You're connected. It's just that easy.
Is your phone eSIM ready? Read about how e-Sims work or click below to see one of the top eSIM providers on the market and ditch the plastic.
Buy an eSIM!
Florence – One of the Most Unique Places to Stay in Italy
Florence is the art capital of the world – making it not only the most unique city in Italy, but one of the most creative cities globally! From the Statue of David to the Birth of Venus and everything in between, Florence is a mecca for artists. No trip is complete without a visit to the Uffizi Gallery, but there are also some great independent galleries for checking out modern pieces.
Art aside, Florence is the largest city in Tuscany – acting as a major gateway to the region. Tuscany is known for its rolling hills, stunning scenery and world-class attractions – including the Tower of Pisa! Most towns can be easily reached within an hour or so from Florence. There's heaps of day trips to take from Florence if you're pushed for time.
As a major city for artists, Florence also has a large student population – resulting in some great nightlife venues and restaurants! The main tourist strips are expensive, but head out to the university areas and you will find some cheap and cheerful alternatives that don't skimp on quality.
Best Places to Stay in Florence
Most of the action is based north of the river – and this is the easiest part of the city to get around with its flat geography. If you're wondering where to stay in Florence, this is your go-to area. There are some great alternative neighborhoods in the south, as well as hillside hotels providing great views of the city.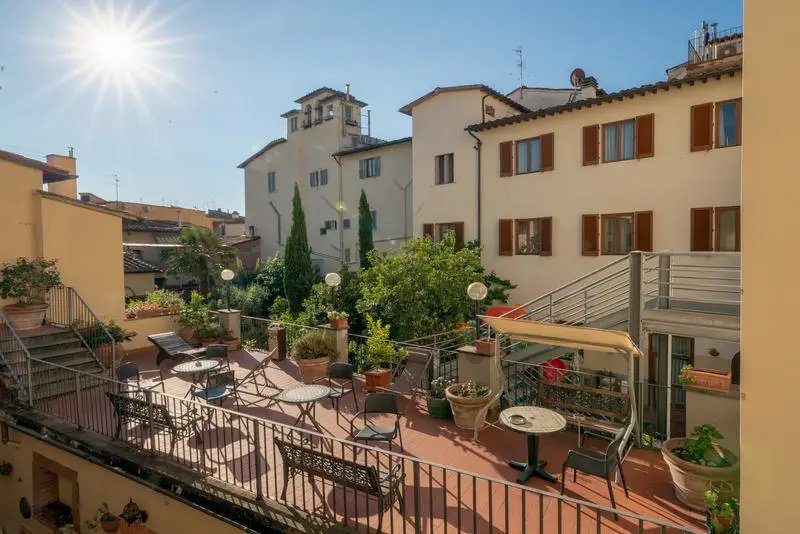 Packed with antique furniture, gorgeous paintings and dazzling details, this Airbnb Plus apartment is the perfect way to soak up the artistic atmosphere of Florence! The studio also comes with a private garden area where you can relax after a long day of exploring the city. The building dates back to the 14th century, giving you the opportunity to connect with the city's history.
A short walk from the main train station, this is a great choice if you are only in Florence for a few days and plan to travel further afield in Italy. Not only do they provide a complimentary breakfast, they also offer dinners for a heavy discount. Guests are welcome to join their tours of the city, giving you the chance to learn more about the area and meet other guests.
Best Hotel in Florence: Arte' Boutique Hotel
With Florence lauded as the capital of classic art in Italy, it's no wonder that this creative boutique is one of the best rated in the city! Mercato Centrale is only a two-minute walk away, and the train station is also easily accessed. Rooms are extravagant, with traditional furnishings and exposed ceiling beams. They offer a complimentary Italian style breakfast.
Arte' Boutique Hotel is one of our favourites in Italy but they're not taking guests right now. We're not sure if they're closed for good but we hope they'll come back soon.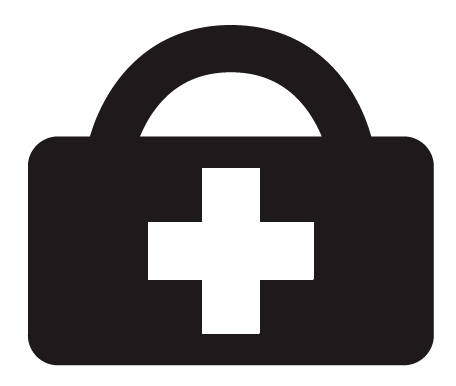 No matter where you are in the world, problems can arise. Accidents can happen and petty crime is always a possibility.
Find out whether Italy is safe or not before landing – you'll be setting yourself up for a successful trip.
Save $$$ • Save the Planet • Save Your Stomach!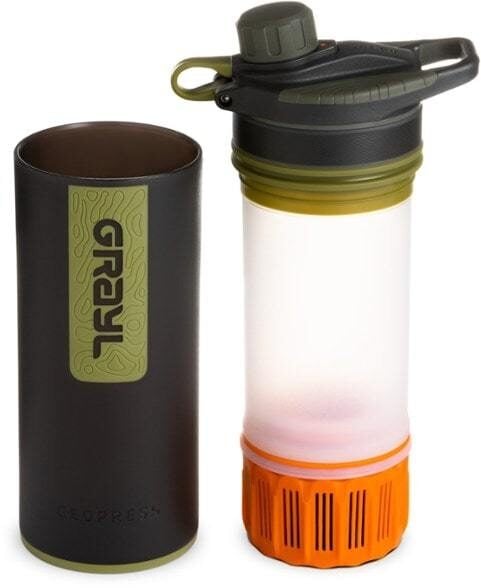 Drink water from ANYWHERE. The Grayl Geopress is the market's leading filtered water bottle protecting your tum from all the waterborne nasties. PLUS, you save money and the environment!
Single-use plastic bottles are a MASSIVE threat to marine life. Be a part of the solution and travel with a filter water bottle.
We've tested the Geopress rigorously from the icy heights of Pakistan to the tropical jungles of Cuba, and the results are in: it WORKS. Buy a Geopress: it's the last water bottle you'll ever buy.
Buy a Geopress!
Read the Review
The Dolomites – Where to Stay in Italy for Adventure
Taking up a large portion of the Italian Alps, the Dolomites are filled with excellent ski resorts that attract visitors from across Europe every year! There is a good variety of slopes on offer here, catering to all skill levels. This is also where you will find world-class ski and snowboard instructors.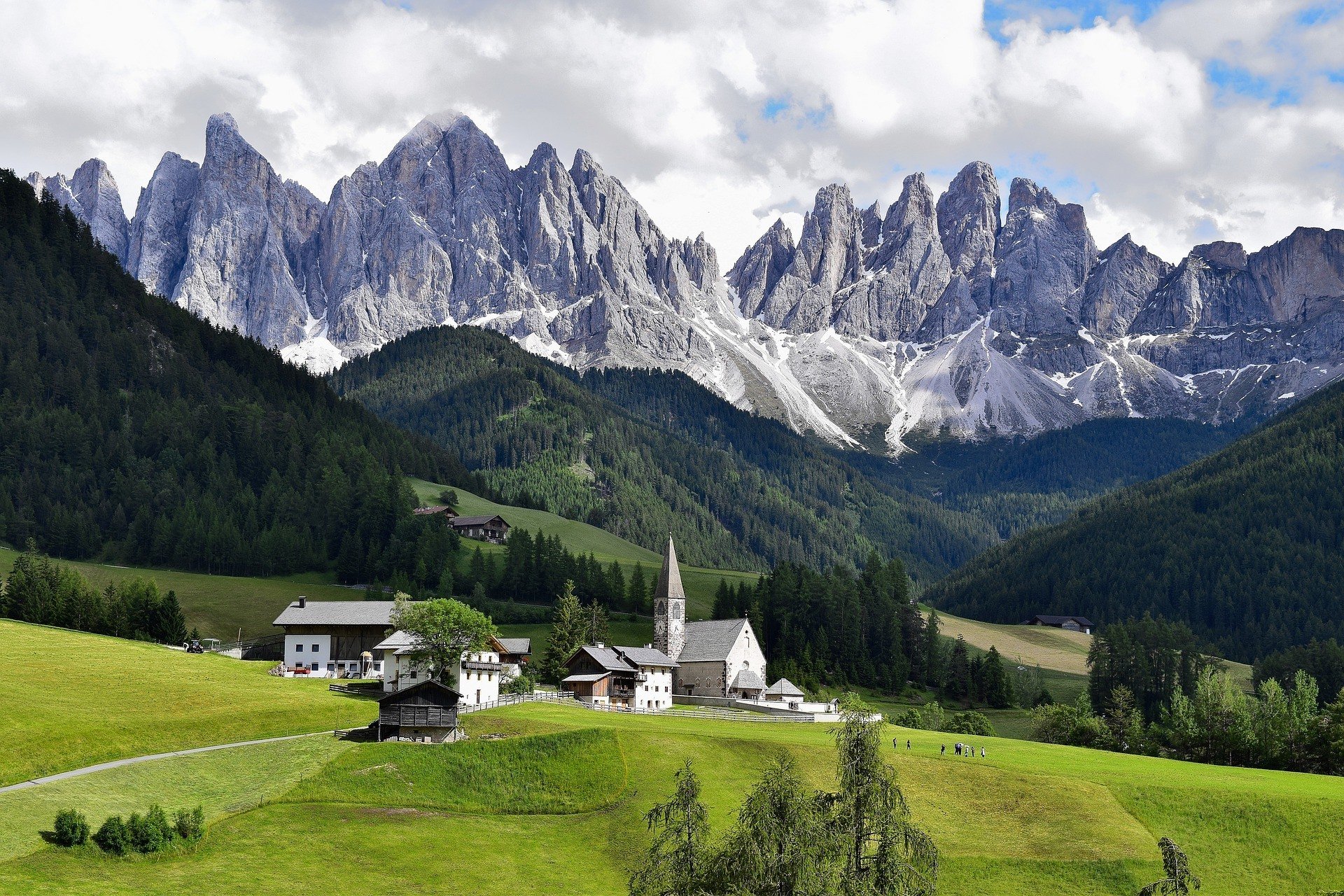 During the summer (generally the best time to visit Italy), the Dolomites become a major hiking destination! The UNESCO World Heritage Site comes with mesmerising views that have to be seen to be believed. Whilst landscape photographers love the region, it is hard to truly capture the indescribable beauty of the region.
Best Places To Stay in The Dolomites
Spread over three regions, most towns and villages in the Dolomites are well connected with major cities such as Venice and Milan. We recommend picking a small, local town such as Rovereto for a truly unique experience.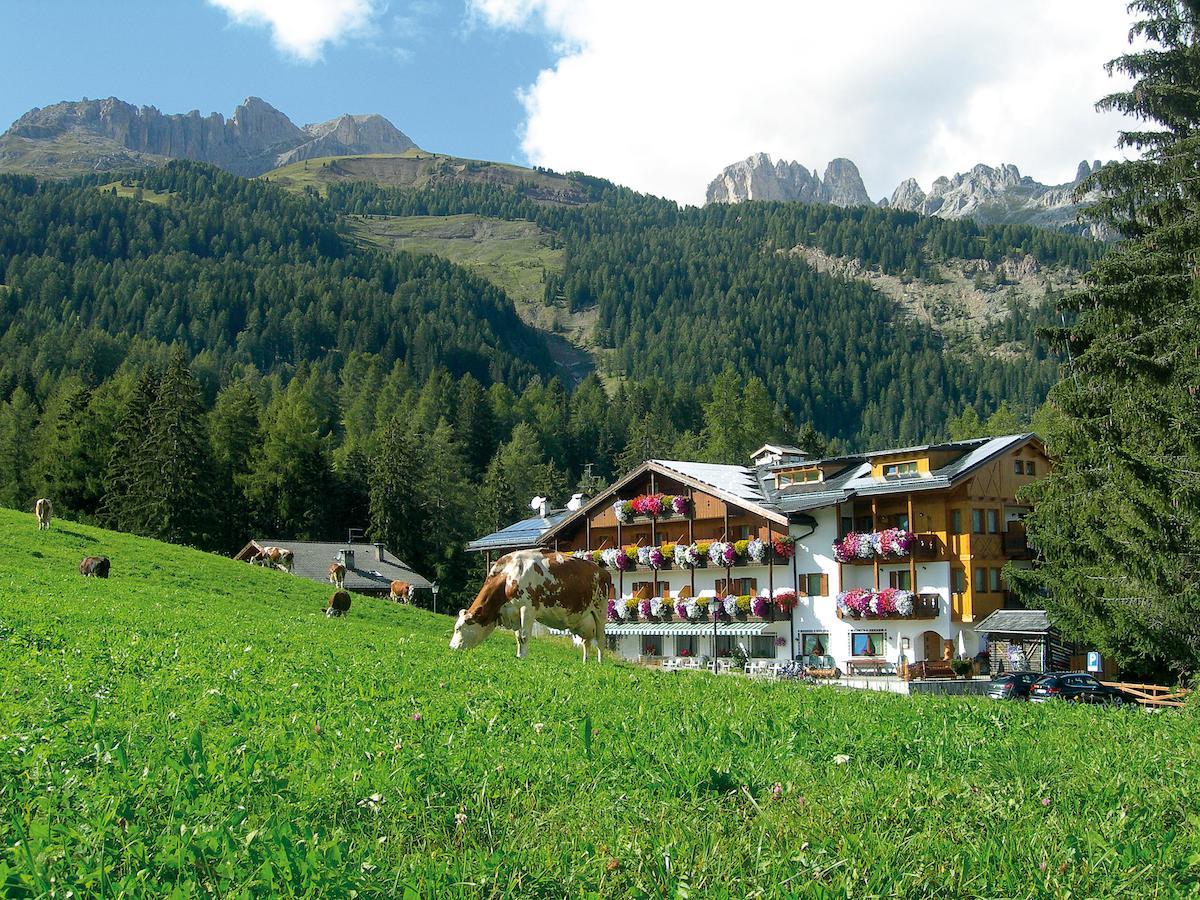 Housed within a former taverna, this apartment oozes with rustic tradition that feels very stereotypically (but respectfully) Italian. This two bedroom apartment is located in a small town called Fondo, giving you a super local experience in the heart of the Dolomites. It is close to an excellent pizzeria, as well as the main transport hubs in the town.
For a truly rural experience, this hotel is quite secluded – giving you some peace and quiet among the mountains. There are two restaurants on-site – one of which has been awarded a Michelin star for their delectable cuisine using locally sourced ingredients. Guests are also given access to a private ski shuttle for residents of the hotel only.
Best Hostel in The Dolomites: Ostello di Rovereto Il Faggio
Hostels are pretty sparse in the region, but this backpacker accommodation in Rovereto is great for exploring the magnificent mountains on a budget! Like Fondo, Rovereto is a small village that has a strong local identity – giving you a more authentic experience of what life is like in the heart of the Dolomites. They offer dorms, though the privates are expensive, and a complimentary breakfast is available.
Ostello di Rovereto Il Faggio is one of our favourites in Italy but they're not taking guests right now. We're not sure if they're closed for good but we hope they'll come back soon.
Emilia-Romagna – Where To Stay In Italy for Food Lovers
We've already hinted at this in the Bologna section – but Emilia Romagna is a haven for foodies! Italy in general is home to some world-class cuisine, but to truly get to grips with the basics, Emilia Romagna is an excellent starting point. Home of bolognese, lasagne and parmigiano reggiano, we recommend booking a cooking class in the area. You'll be guaranteed to impress your friends and family back home.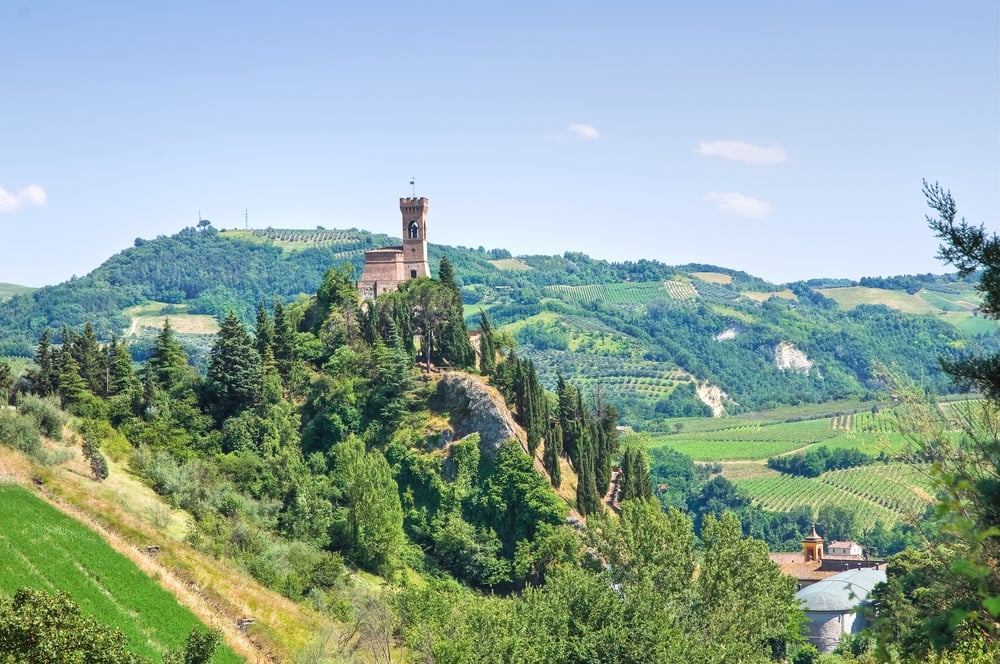 Bologna is a great base, but Emilia-Romagna has some great towns and villages that showcase the best of rural Italian culture. With festivals held throughout the summer, there are plenty of unique reasons to visit the smaller destinations within the region. It also has some great scenery, which benefits from not having the major tourist numbers of Tuscany or the Alps.
Best Places To Stay in Emilia-Romagna
Bologna is a great base – and we've already mentioned our top picks for the city earlier in this guide – but we love the smaller towns and cities for their authentic charm. Reggio Emilia is the home for parmigiano reggiano, and many other towns have their own unique dishes waiting to be sampled.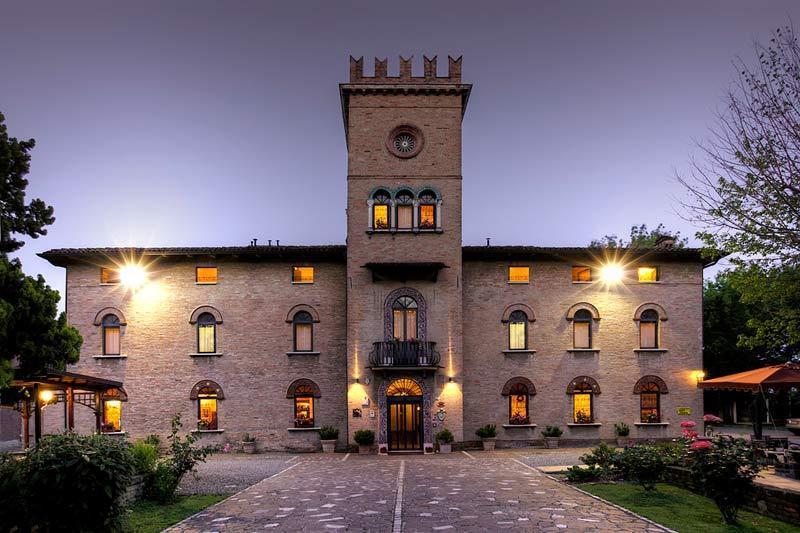 Best Hotel in Emilia-Romagna: Hotel Castello
We might as well get the obvious out the way – this hotel's most notable feature is that it is also a castle! This creates a romantic atmosphere that will whisk you back in time to the medieval era in Italy. It is also located in Modena, a firm favourite with tourists choosing to stay in Emilia-Romagna. Rooms are elegantly decorated, borrowing from Italian tradition.
Best Airbnb in Emilia-Romagna: The Photographer Nest
It isn't called the Photographer Nest for nothing! This stunning apartment is packed with rustic charm and elegant finishes that make it an attraction in its own right. Right in the heart of Reggio Emilia, this is the perfect location to experience the best of the Emilia-Romagna culinary scene. The building it is located within is centuries old, and there is a small balcony in the room with views across the city.
The Photographer Nest is one of our favourites in Italy but they're not taking guests right now. We're not sure if they're closed for good but we hope they'll come back soon.
Best Hostel in Emilia-Romagna: Ostello San Filippo Neri
Only a short walk from the UNESCO World Heritage Site of Piazza Grande, this Modena hostel is perfect for getting to know small city life in Emilia-Romagna! Enzo Ferrari, founder of the famous car brand, was born in the city and there is an excellent museum dedicated to his life. The town is well connected by public transport to Bologna.
Ostello San Filippo Neri is one of our favourites in Italy but they're not taking guests right now. We're not sure if they're closed for good but we hope they'll come back soon.
Top Places To Stay in Italy
Italy is truly an eclectic country with so much on offer. If you plan on visiting a few places in Italy, we recommend staying in at least one urban area and one rural area to get a grasp of the different ways of living in the country. We also reckon it's worth visiting the North for history and culture, and the South for the laid-back lifestyle, stunning beaches and deeply held traditions.
Best Airbnb in Italy – Sumptuous Villa – Positano
With stunning scenery and great links to Naples, Positano is our top pick in the South of Italy! This gorgeous Airbnb is quintessentially Italian, with a stunning balcony surrounded by plants. The interior is basic but stylish, with traditional furnishings and a very well equipped kitchen. If you're looking for the ultimate rural retreat, you can't go wrong with this villa.
Heading further north, we love Florence for its artistic spirit, as well as the Tuscany region as a whole for gorgeous scenery! This hostel comes with excellent customer ratings, and with such friendly service it's easy to see why. What's more – with free breakfasts, coffee and walking tours, this is a great way to visit an otherwise expensive city on a budget.
Best Hotel in Italy – Hotel Damaso – Rome
This three-star hotel is surprisingly luxurious given the favourable prices, with a gorgeous balcony providing stunning views of Rome! If you want to stay in the Italian capital, this hotel is pretty close to most of the major historic sights – and only a short metro ride away from the rest. Rooms are simple, but come with sturdy furnishings and a historic setting.
Books to Read While Backpacking Italy
These are some of my favorite travel reads and books set in Italy, which you should consider picking up before you begin your backpacking adventure…

Our GREATEST Travel Secrets…
Pop your email here & get the original Broke Backpacker Bible for FREE.
Don't Forget Travel Insurance for Italy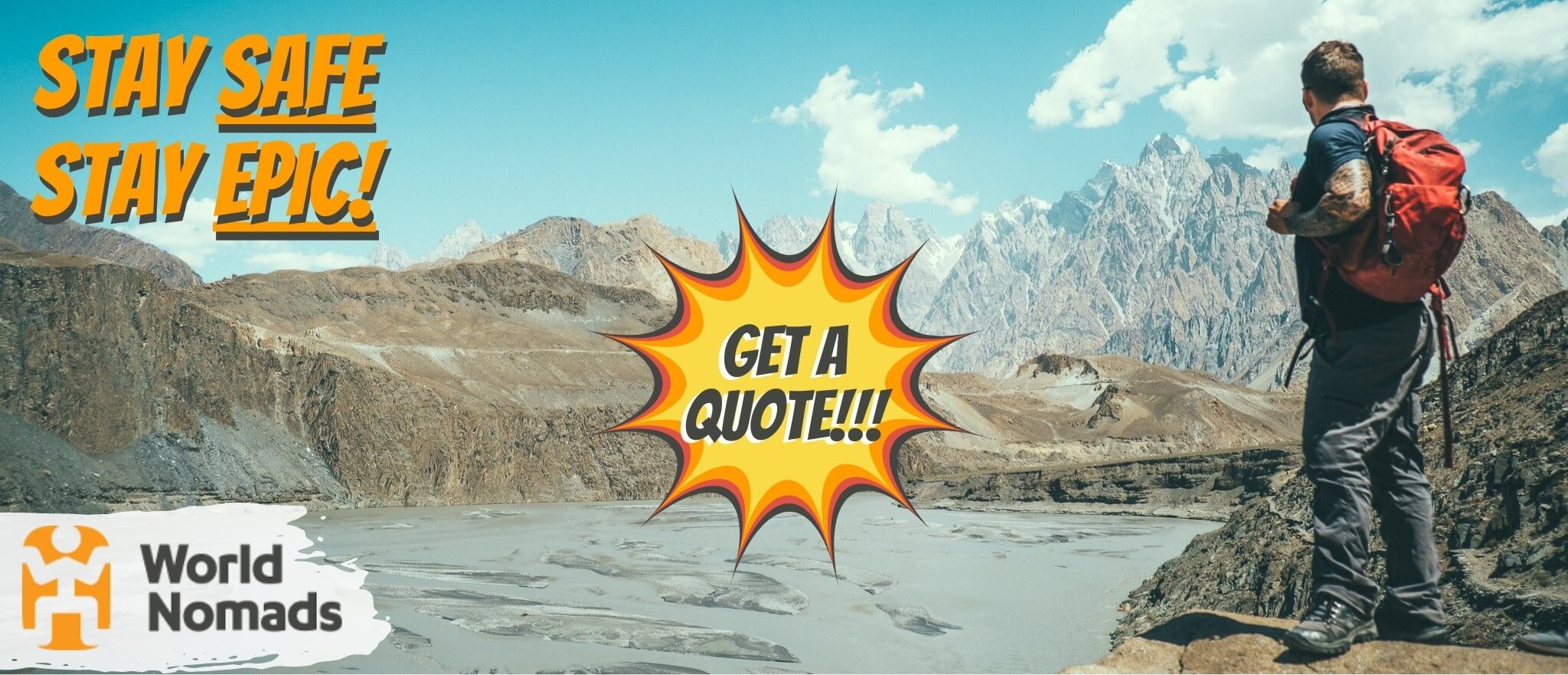 World Nomads' mission is to support and encourage travellers to explore their boundaries. They offer simple & flexible travel insurance, and safety advice to help you travel confidently.
They've been doing it since 2002 – protecting, connecting, and inspiring independent travellers just like you.
Get a quote below or read our in-depth review!
World Nomads provides travel insurance for travelers in over 100 countries. As an affiliate, we receive a fee when you get a quote from World Nomads using this link. We do not represent World Nomads. This is information only and not a recommendation to buy travel insurance.
Final Thoughts on Where To Stay in Italy
It's no wonder that Italy is one of the most visited countries in the world! With centuries-old cities, one of the most famous culinary scenes in the world and endless natural beauty, there is a lot on offer in this Mediterranean dream. It is also home to great wineries, hip city centres and great examples of modern European culture.
We feel bad picking an overall favourite – but Rome took our top spot because it truly has a little bit of everything on offer! It is also fairly central, so makes a good base for exploring other towns and cities on the mainland.

That being said, Italy is such a diverse country that we can't truly say where the best single place is for you – wherever that may be depends on your own wishes. We hope this guide has helped you narrow down your options for your upcoming trip to this dazzling nation.
Did we miss anything? Let us know in the comments!
Do you own or run a kick-ass hostel? Want to be featured on this list? Get in touch at [email protected]
---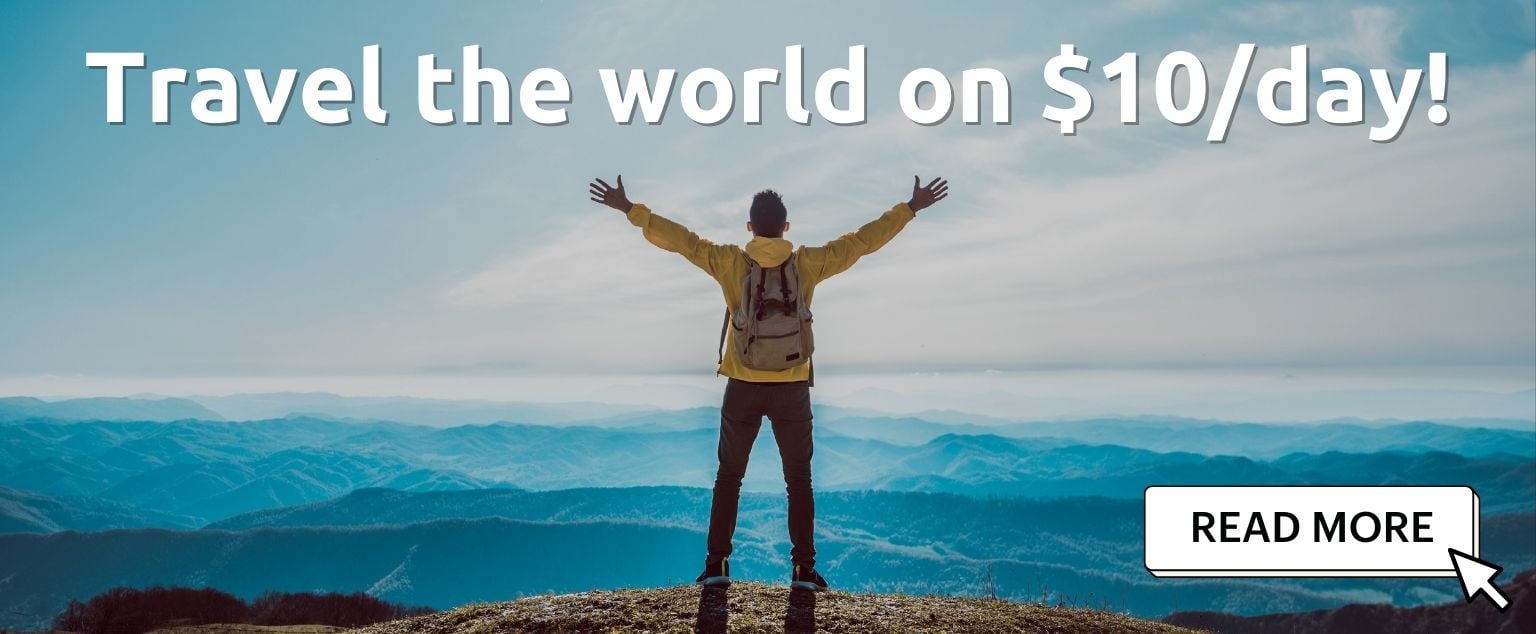 And for transparency's sake, please know that some of the links in our content are affiliate links. That means that if you book your accommodation, buy your gear, or sort your insurance through our link, we earn a small commission (at no extra cost to you). That said, we only link to the gear we trust and never recommend services we don't believe are up to scratch. Again, thank you!