One of Italy's most stunning landscapes, the Amalfi Coast has been designated a World Heritage site by UNESCO. Dramatic cliffs drop into sapphire blue waters, as pastel coloured towns cling on to the sides.
Positano is a favourite of A-list celebs, while Amalfi, Sorrento, and Ravello offer the best when it comes to Italian food. There are some awesome hikes too!
With everything going on in the Amalfi Coast, you'll need somewhere to stay. Though it has some of the most luxurious hotels in Italy, they can end up being quite expensive. To get better value for money, take a look at vacation rentals in the Amalfi Coast. There's everything from apartments to villas!
With that in mind, we've put together this list of the best Airbnbs in the Amalfi Coast. Not only that, but we'll also take a look at five of the coolest Airbnb Experiences too. Let's jump straight in and get to know this area better!
Quick Answer: These are the Top 5 Airbnbs in Amalfi Coast
Overall Best Value Airbnb in Amalfi Coast
Overall Best Value Airbnb in Amalfi Coast
Casa Delfina in Amalfi
> $$
> 3 guests
> Beachfront location
> Two balconies
Best Budget Airbnb in Amalfi Coast
Best Budget Airbnb in Amalfi Coast
Old Fishermen's Home
> $
> 4 guests
> Central Amalfi location
> Fully equipped kitchen
Best Airbnb for Couples in Amalfi Coast
Best Airbnb for Couples in Amalfi Coast
Rachele House With Sea View
> $
> 2 guests
> Breakfast included
> Sea view terrace
Best Airbnb for Families in Amalfi Coast
Best Airbnb for Families in Amalfi Coast
Upscale Central Amalfi Apartment
> $$$$
> 5 guests
> Central location
> Classical and Renaissance touches
Over-the-Top Luxury Airbnb in Amalfi Coast
Over-the-Top Luxury Airbnb in Amalfi Coast
Le Terrazze al Mare
> $$$$$$$$$$$$$$$$$$$$$$$$$$$$$$$$$$$$$$$$$$$$$$$
> 16 guests
> Grand luxury villa
> Six levels of terraces

Unlock Our GREATEST Travel Secrets!
Sign up for our newsletter and get the best travel tips delivered right to your inbox.
What to Expect from Airbnbs in the Amalfi Coast
The one thing you can be assured of no matter where you stay on the Amalfi Coast you'll almost always have epic views from your Airbnb. Since villages are literally built into the cliffside, you'll never have a row of houses or shops in front of you, just unrestricted vistas of the blue Mediterranean.
That won't change, whether you're in a budget bed and breakfast or a multi-room villa! Remember there are several locations to stay in the Amalfi Coast; the largest towns are Positano, Amalfi and Ravello. There are buses that connect the towns along a precarious cliffside road, or you can take a hydrofoil between them. Exploring the Amalfi coast is also a great weekend in Italy trip.
Despite being such a popular location, many properties in the Amalfi Coast still have a local feeling. That, in turn, means your host can direct you to all the spots off-the-beaten-track. And there are a few! Larger villas and more luxurious properties may be let by a company.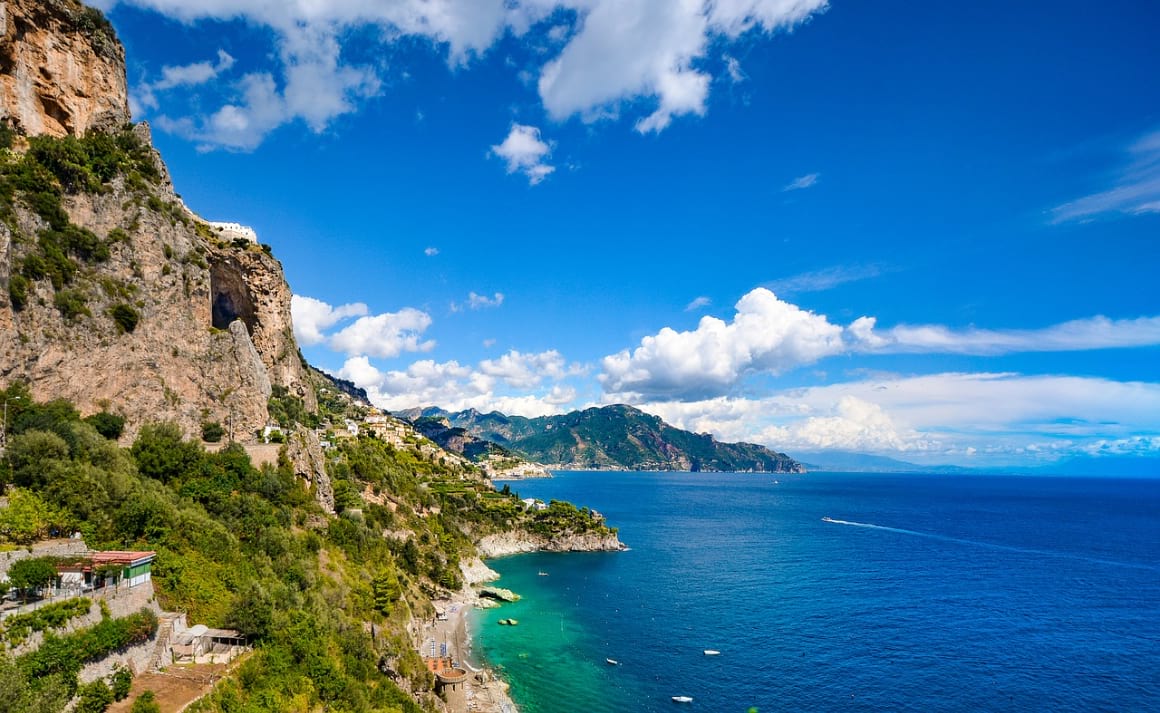 Entire Flats
Entire flats are probably the most common property you'll find on Airbnb. That's not a bad thing though. They can suit any type of traveller and budget. If you've never stayed in an entire flat before, you get everything that you would in a regular hotel room and more.
Expect a fully equipped kitchen, a living space, and air-conditioning. Many entire flats in the Amalfi Coast will also offer an outdoor terrace where you can soak up the sun and enjoy views across the Med.
The most common size of entire flats are for up to four guests, making them ideal for couples and solo travellers. However, it's quite easy to find larger flats that can suit groups of friends and family.
You can find entire flats in every town on the Amalfi Coast – it's just a matter of personal preference where you choose to stay.
Boutique Hotels
Yes, we know that many people come to Airbnb to get away from hotels. However, boutique hotels aren't the same as the dull and drab chains that you find in every city. They're labours of love, often owned by local hosts who want to show their individuality and creativity, while giving guests a superb welcome and top tier hospitality.
Boutique hotels are often small and have individually themed rooms. For that reason, we'd say they're perfect a romantic retreat for a couple, or a place for a solo traveller to decompress. You could always book multiple rooms if you're travelling in a large group!
Like entire flats, you can find boutique hotels in all towns on the Amalfi Coast.
Villas
If money's no object, or you're travelling in a large group, then you may want to look at a villa. Due to their larger size, they can often end up more cost effective than any other type of Airbnb property!
While villas have living spaces, kitchens, and multiple bedrooms, you can also expect swimming pools, jacuzzis, and even multiple-level terraces if you're willing to part with your cash. The views go on for days! Villas are ideal for a family celebration or gathering of friends.
Though some villas are in towns, you can also find them perched on the cliff sides between Amalfi, Positano, and Praiano. A secluded location is perfect if you want privacy, or you don't want to disturb the neighbours.
Why Stay in an Airbnb
Still thinking about staying in a hotel? These five reasons to stay in an Airbnb should help to change your mind!
Local Experience: With a local host, you can get recommendations on what to see and do on the Amalfi Coast. In a touristy area such as here, this info can be priceless!
Unique Properties: Bored of hotels and hostels? Inject some excitement into your trip with the personality and character of a unique Airbnb property.
Privacy: Many Airbnbs have self check-in, and it's possible to book completely private accommodation should you wish to. Cliff side villas take privacy to the next level!
Affordability: In an expensive area such as the Amalfi Coast, value for money is vital. With Airbnbs, you'll often get more for your money than equally priced hotels.
Airbnb Experiences: It's not just about awesome places to stay. Airbnb Experiences are a great way to see your destination! More on that later…
The Top 15 Airbnbs in the Amalfi Coast
Now that you know what to expect and why you should stay, let's get to the part you've been waiting for. Here are the fifteen best Airbnbs in the Amalfi Coast. You're going to love them!
1. Overall Best Value Airbnb in the Amalfi Coast | Casa Delfina in Amalfi
Located in the centre of Amalfi, this entire flat has a view of the sea where you can enjoy your morning coffee or a glass of wine in the evenings. It's close to transport links, so you can head to any of the other villages and towns along the coast, as well as Naples and Sorrento. Alternatively, you can just pop across the road for a day at the beach! Ideal for couples or solo travellers.
2. Best Budget Airbnb in the Amalfi Coast | Old Fishermen's Home
4 guests
Fully equipped kitchen
This charming budget accommodation can sleep up to four guests in central Amalfi. You'll get a fully equipped kitchen, so if you're finding the nearby restaurants a bit too pricey, you can whip up a meal for you and three more guests. It's just steps from Amalfi's beautiful cathedral and you have easy access to public transport, both buses and boats!
If this isn't quite budget enough for you, check out hostels in Amalfi!
3. Perfect Airbnb for Solo Travellers | Atrani Home Stay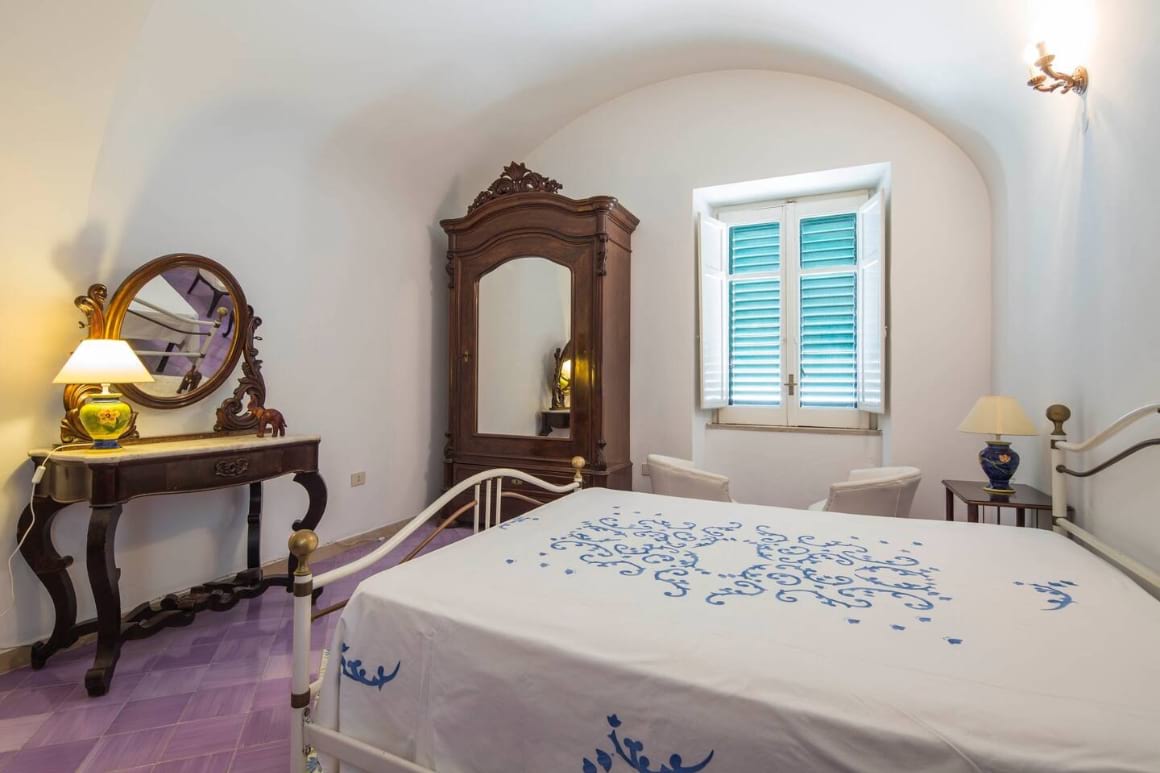 A home stay is ideal for solo travellers, as it helps you to save on cash and get recommendations on how to travel like a local from your hosts.
This Atrani house also offers superb views out to Maiori and Salerno. Amalfi itself is within walking distance, but there's a bus stop nearby if you don't fancy the trek. Be sure to enjoy dinner looking out over the village!
Is This the Best Travel Pack EVER???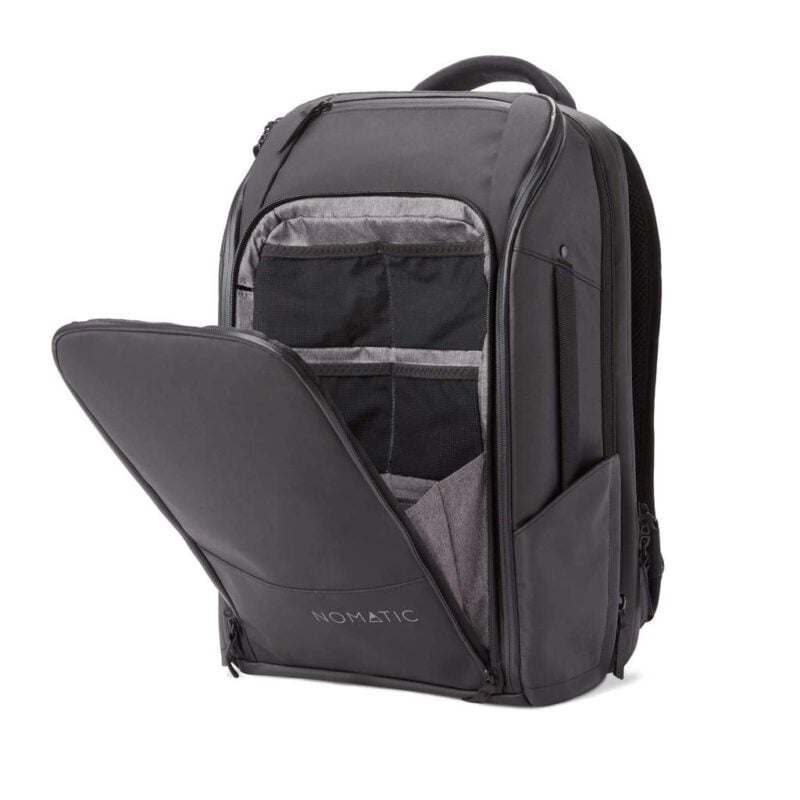 Offering breakfast and a sea view terrace to enjoy it on, couples will love this romantic escape near Amalfi.
It's Pogerola location is far enough from the centre of Amalfi town for you to get some much needed privacy and relaxation, yet you're not too far away to head in for a romantic meal, such as traditional pizza or pasta.
5 guests
Classical and Renaissance touches
With room for up to five guests and single beds that are great for kids, this Airbnb can suit families of all ages. It's located in the heart of Amalfi so you have lots of restaurants and cafes on your doorstep, as well as public transport that can take you to nearby places of interest.
The decor is quite cool too – there are classic and Renaissance touches. There's even a statue in there!
6. Over-the-Top Luxury Airbnb in the Amalfi Coast | Le Terrazze al Mare
$$$$$$$$$$$$$$$$$
Grand luxury villa
16 guests
Six levels of terraces
This oceanfront villa is located between Amalfi and Maiori and is spread out across five stories. There are six levels of terrace space that go right down to the Mediterranean Sea, while the higher ones offer unbeatable views.
There's an outdoor kitchen, a sauna, and a stone grotto with a massage table, ideal after a long day of hiking and exploring. All of that, and you're surrounded by decorative art too!
Casa Marina is a traditional Amalfitan house with a terrace overlooking the sea. It has room for up to six guests, so it's perfect for groups of friends or family.
Pop to the nearby beach and return for lunch or dinner on the terrace, if none of the restaurants in the vicinity take your fancy. You do have to climb 130 steps to reach the house, but a porter can be arranged in advance to help carry your luggage.
8. Best Boutique Hotel in the Amalfi Coast | Casa Guadagno Positano
$$$$
Buffet breakfast included
Not only one of the most jet-set locations in Italy, but the entire world, Positano has long been attracting movie stars and high society. The dramatically positioned town on the edge of a cliff boasts this beautiful boutique hotel that won't break the bank!
Start the day with a buffet breakfast at this family-run hotel. You have tea, coffee, and a minibar in your room should you want a drink to enjoy out on your private terrace.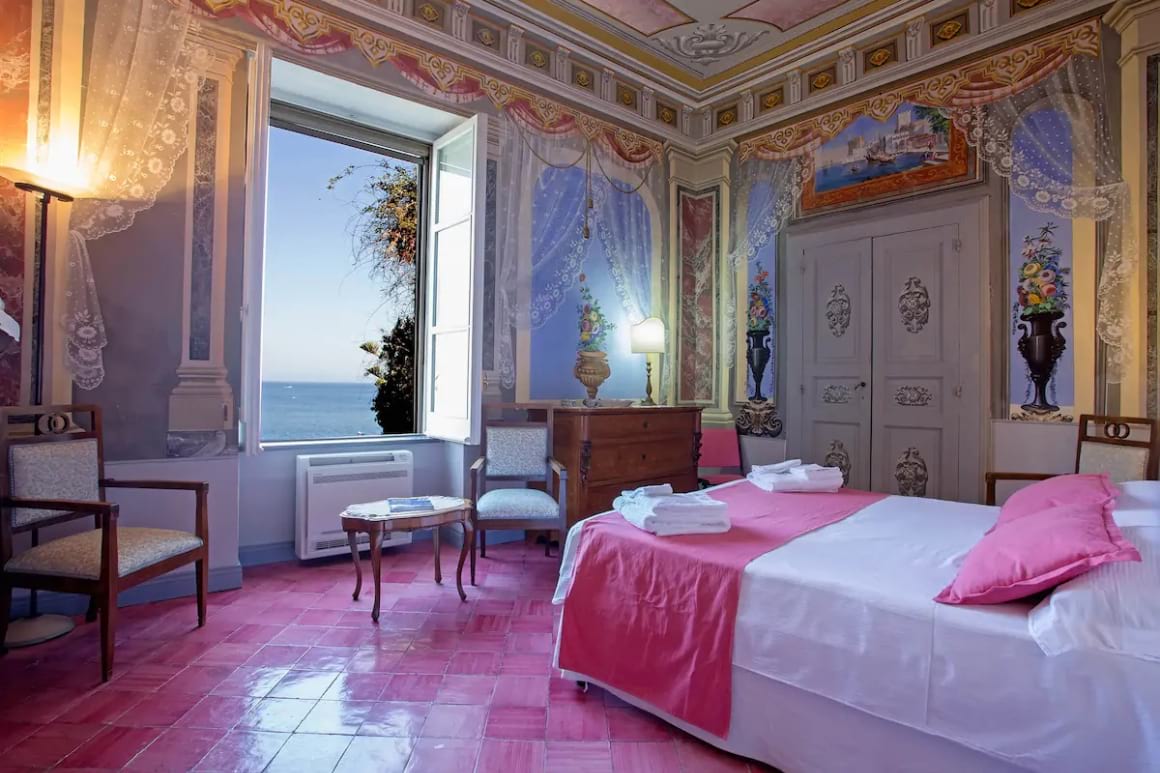 The faux-Renaissance master bedroom of this charming sea room villa is enough to catch your attention, but this place offers substance as well as style.
The two-level villa boasts room for up to seven guests and is perfect for families. There's a fully equipped kitchen and a sea view terrace where you can enjoy what you've cooked up in it!
If you're travelling and working at the same time, you'll need a private room where you can log on to your laptop when you need to. Offering a dedicated workspace and quick Wi-Fi, this ticks off two digital nomad essentials.
It's also centrally located, meaning you won't find it hard to get good coffee nearby, or a change of scenery should you need it. The private bathroom is another plus point!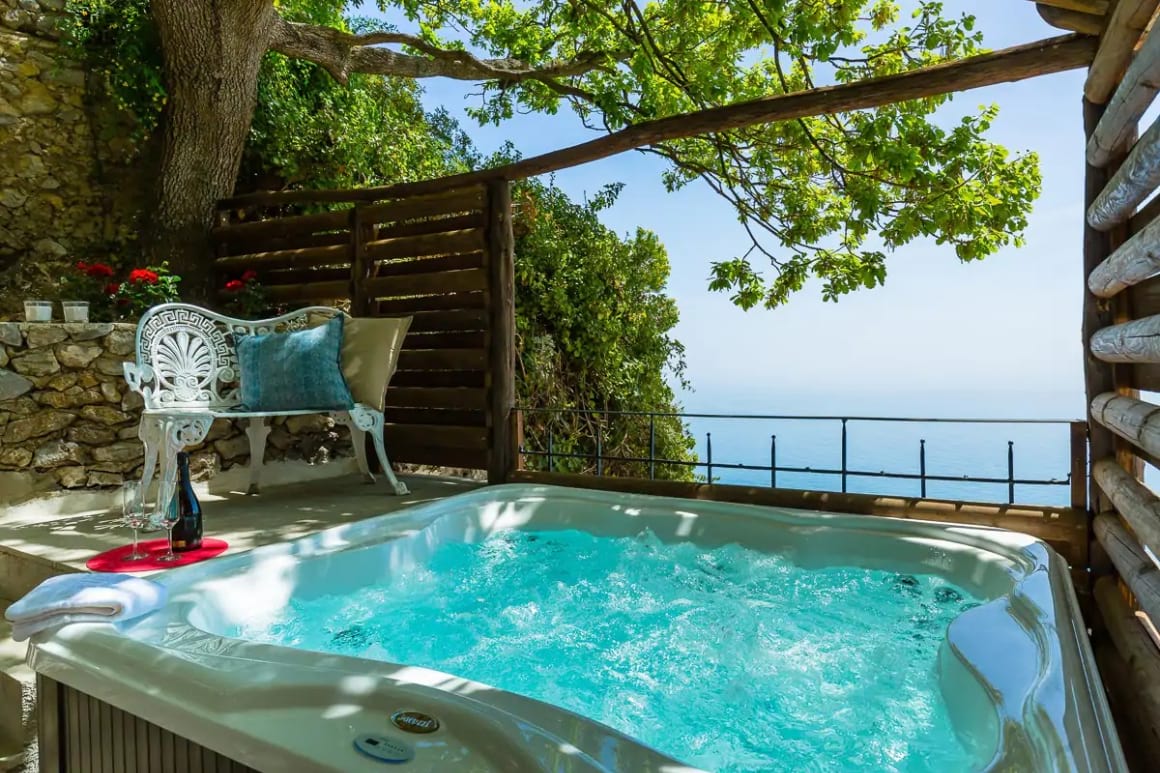 6 guests
Heated jacuzzi with sea view
One of the most popular activities in the Amalfi Coast is hiking. While it's no doubt lots of fun, it can be very tiring. So, come back to somewhere you can rest those aching muscles – in a jacuzzi hot tub overlooking the Mediterranean!
The 6-person villa also offers a private garden, barbecue, Wi-Fi, and air conditioning across two floors.
4 guests
Peaceful and silent
Airbnb Plus properties are hand-picked for their consistently high review scores and host's attention to details. With one of these, you don't just have to take our word that you'll have a nice time!
Located in Conca dei Marini, between Amalfi and Positano, you're assured of tranquility and relaxation. The covered cabana is a beautiful place to enjoy a book and the off-the-beaten-track location gives you a taster of life here, rather than vacationing!
13. Best Airbnb with a Pool in the Amalfi Coast | Lo Smeraldo Luxury Home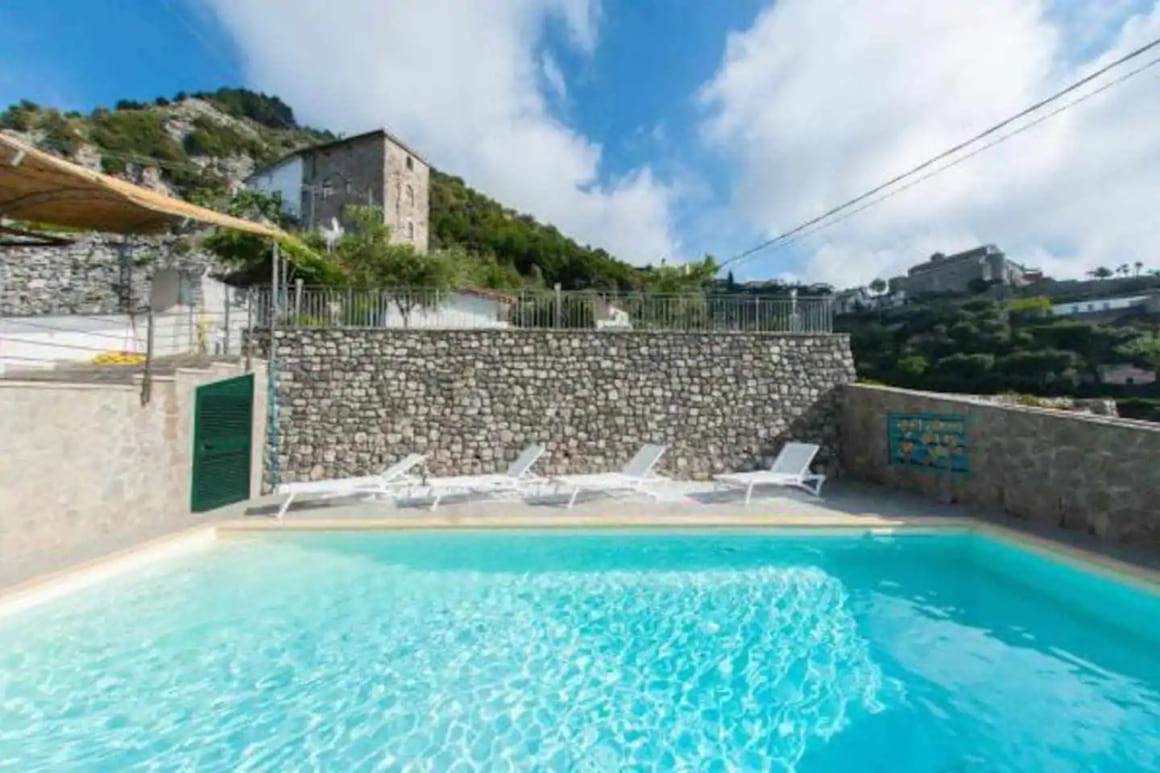 7 guests
Outdoor swimming pool
Don't want to trek all the way down to Amalfi's beaches? Then it's best to find a property with a pool. This gorgeous vacation rental has a large garden and a swimming pool big enough to do some lengths!
Once you tire yourself out, sun yourself on one of the loungers and catch up on your latest holiday read. This villa is just a few minutes from the historic centre of Ravello!
2+2 guests
Sea view terrace
This isn't an entirely fair category… as you've already seen there are loads of Airbnbs with great views. However, we'll take any excuse to show you another awesome place to stay!
With a view of the Mediterranean below, and Amalfi coastal route and village, you've got the perfect blend of sea and land. The apartment is listed as 2+2 guests, as it's designed for 2 adults and 2 children.
15. Best Airbnb in the Amalfi Coast for a Group of Friends | Amalfi Hill Top House
Let's round off with an awesome hilltop house, perfect for a group of friends. Enjoy dinner together around the outdoor dining table on the terrace and feel the sea breeze in your hair.
In the unlikely event of bad weather, there's a large L-shaped sofa inside where you can enjoy a movie night. It's one of few houses in Amalfi that doesn't require stairs to get to!
Top 5 Airbnb Experiences in the Amalfi Coast
As you mull over where to stay on the Amalfi Coast, let's get some ideas for what to do when you're there. There's no better way to explore your new destination than with Airbnb Experiences.
These tours and trips are curated by local people who want to show off all the best aspects of their home town or city.
Airbnb Experiences can be anything from a day of hiking in the mountains, an evening sailing and watching the sunset, or a cooking class – an essential when you visit Italy!
Here are five of our favourite Airbnb Experiences in the Amalfi Coast.
€36/person
4.5 hours
Up to 10 guests
The Path of the Gods is one of the most famous hikes in the Amalfi Coast. Linking Positano to Amalfi, it's fairly easy to follow, but just to make sure you don't get lost, why not do it with a local?
You'll pass lemon groves, beaches, and see all sorts of stunning views. Be sure to wear trekking shoes or sneakers that have good grip!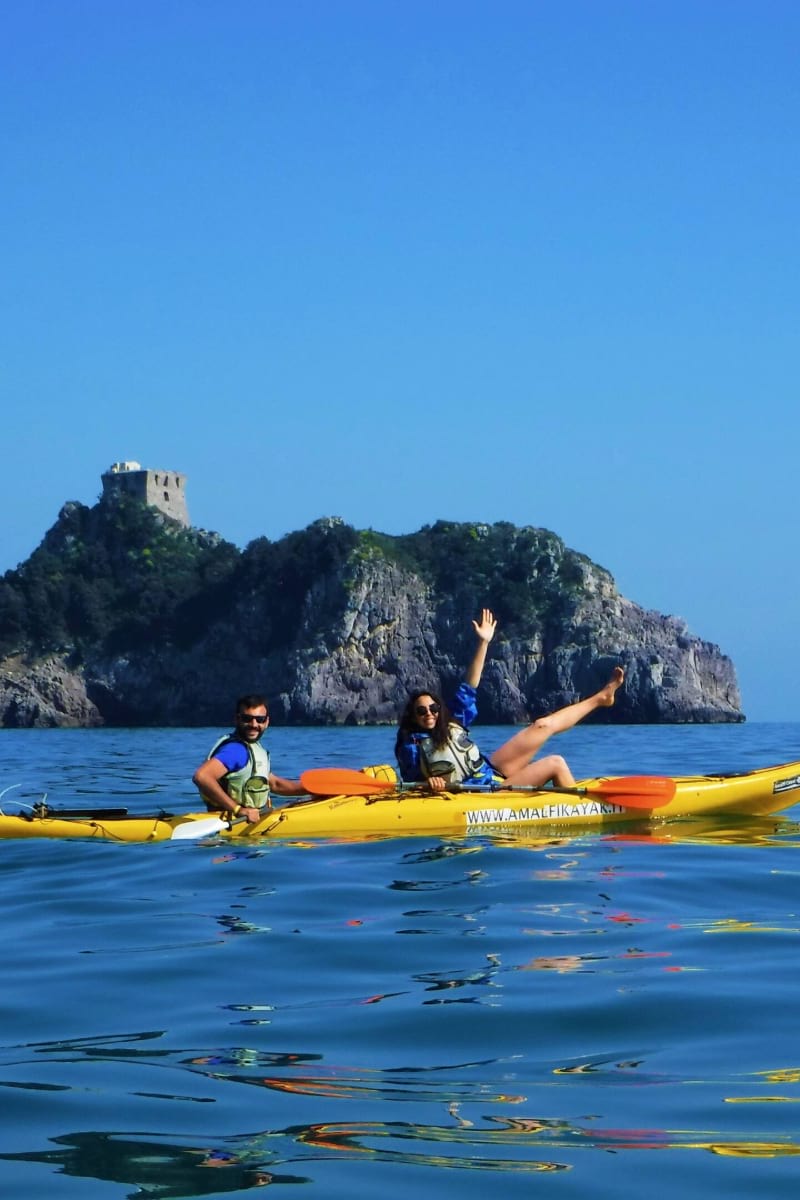 €59/person
3 hours
Up to 8 guests
If you'd prefer to be looking up at the cliffs than down, kayaking could be for you. The natural rock formations here are truly stunning, and you'll be paddling through caves, under arches, and over sparkling blue waters. Of course, you'll stop off at several beaches too. A wonderful way to get closer to nature!
€100/person
3 hours
Up to 2 guests
Willing to brave the Amalfi Coastal Route? Then why not do it in an Italian Ape – which is basically a Vespa van! The 50's vehicle is the perfect way to visit the village of the coast with your other half. This romantic day out with a personal guide will have plenty of stops where you can take photos and get drinks or gelato.
€59/person
3.5 hours
Up to 10 guests
Have you even been to Italy if you haven't done a cooking class? This handmade pasta class will see you "mettere le mani in pasta" (basically making the dough), after you've picked the vegetables that will go in your dish.
Once you've made pasta, you'll get to enjoy it with a glass of organic wine, followed by local cake and limoncello!
€170/person
3.5 hours
Up to 8 guests
This afternoon trip is the ideal way to get to know Amalfi's coastline. You'll glide along past Cetara, Maiori, Minori, Amalfi, Praiano, and Positano.
There'll be stops where you can jump in for a swim, or you can remain on deck and enjoy glasses of Prosecco and views of rock formations. There's even an option for a restaurant visit at the end of your trip.
Don't Forget Your Amalfi Coast Travel Insurance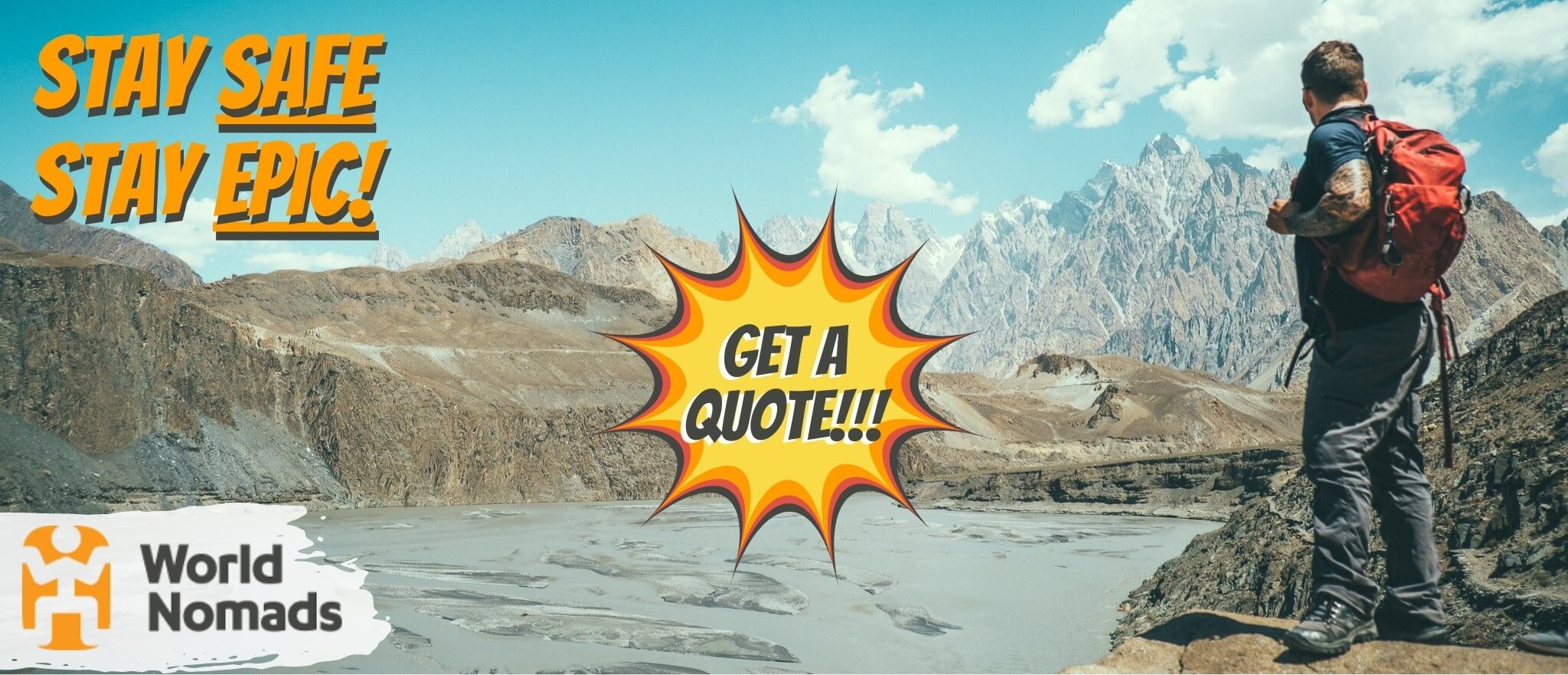 World Nomads' mission is to support and encourage travellers to explore their boundaries. They offer simple & flexible travel insurance, and safety advice to help you travel confidently.
They've been doing it since 2002 – protecting, connecting, and inspiring independent travellers just like you.
Get a quote below or read our in-depth review!
Final Thoughts on Amalfi Coast Airbnbs
Well, there you have it. Those are the best Airbnbs in the Amalfi Coast. Not only that, you've seen some cool Airbnb Experiences too, so you could plan your vacation now if you wanted to. Whether you want to stay in a charming boutique hotel, a flat overlooking the Med, or a luxurious villa, there's an Airbnb in the Amalfi Coast for you.
If you can't make your mind up which amazing property to stay in, keep it simple and go for our overall best value Airbnb in the Amalfi Coast. That's the Casa Delfina. It's got a wonderful location in the centre of Amalfi and you can enjoy sea views with your morning coffee (or evening vino).
We hope that wherever you choose to stay, you have an awesome vacation in the Amalfi Coast. To make sure you and your belongings are safe for your trip, make sure to check our travel insurance from World Nomads.
---
Bye for now, but not forever!
If you want MORE top-tier Broke Backpacker content like this, then sign up for our weekly newsletter below to get the latest and greatest!
And for transparency's sake, please know that some of the links in our content are affiliate links. That means that if you book your accommodation, buy your gear, or sort your insurance through our link, we earn a small commission (at no extra cost to you). That said, we only link to the gear we trust and never recommend services we don't believe are up to scratch. Again, thank you!