World-famous wine regions, a cuisine that's known and loved all over the world, diverse landscapes, picturesque locations, and one of the world's longest and richest history – are just some of the many reasons that make Italy a must-visit country.
Tuscany, Rome, Amalfi, and Cinque Terre are just some of the most popular Italian destinations, but there is so much more to offer than just the usual tourist attractions. If you want to discover the real Italy for yourself and do so in style and comfort, staying in one of the best Airbnbs in Italy, owned and operated by locals, is the way to do it.
I know it can be overwhelming to choose among the thousands of Italy Airbnbs, but don't worry, because I've already combed through the many selections and came up with 15 of the best, the most amazing, and the coolest Italian Airbnbs.
Let's take a look…
Quick Answer: These are the Top 4 Airbnbs in Italy
Overall Best Value Airbnb in Italy
Overall Best Value Airbnb in Italy
Cozy apartment just a few steps away from attractions
> $
> 2 Guests
> Free breakfast
> Free street parking
Best Budget Airbnb in Italy
Best Budget Airbnb in Italy
Room with private bathroom near tourist attractions
> $
> 2 Guests
> Near historical sites
> Close to shopping areas
Best Airbnb for Couples in Italy
Best Airbnb for Couples in Italy
Former tower turned into residence
> $$
> 2 Guests
> Free street parking
> Incredible views of the surroundings
Over-the-Top Luxury Airbnb in Italy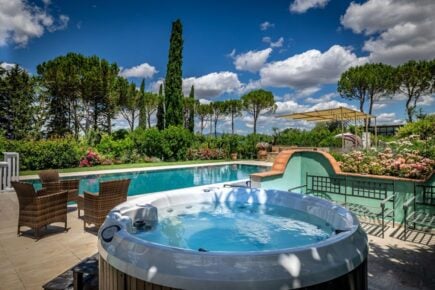 Over-the-Top Luxury Airbnb in Italy
Stunning Tuscan villa with pool and incredible views of surrounding fields
> $$$$
> 12 Guests
> Hot tub
> Free parking

Unlock Our GREATEST Travel Secrets!
Sign up for our newsletter and get the best travel tips delivered right to your inbox.
What to Expect from Airbnbs in Italy
There are many places to visit in Italy and tons of attractions for you to explore and discover. If you're a first-timer, I'm excited for you to get to know the country and if you're someone who frequently travels to the country, I know you will fall in love with it all over again.
Luckily for everyone, Italy has a plethora of unique stays. Some cater to travelers with a limited budget while others are more suitable for those wanting opulence and luxury in their accommodations. From simple rooms with private bathrooms to huge villas with olive trees, giant pools, and expansive grounds, there's plenty to choose from.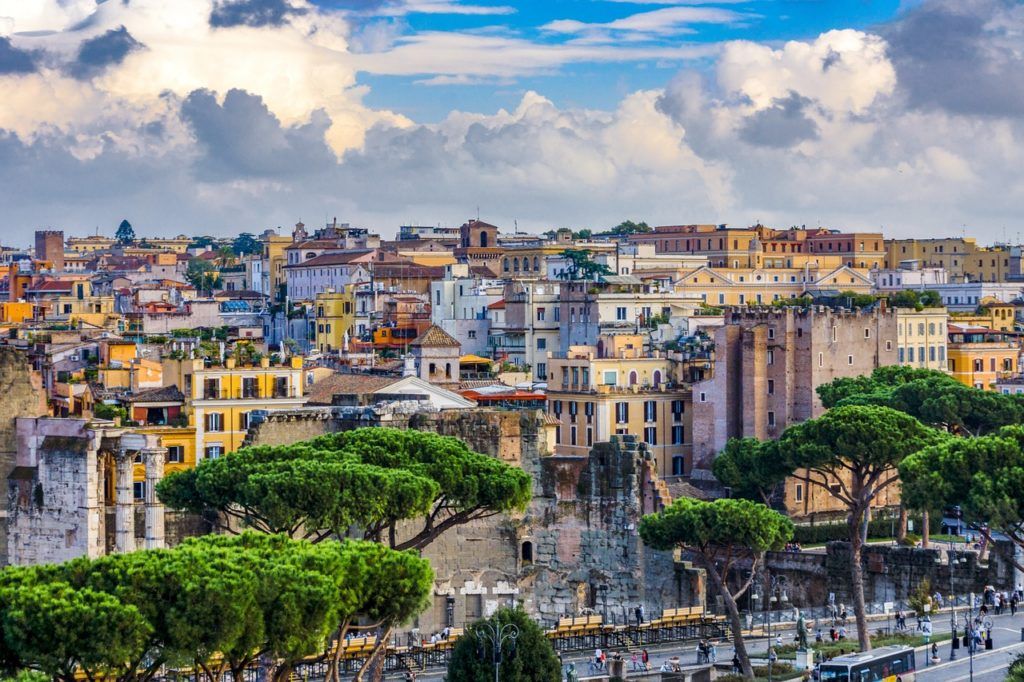 Private rooms
Private rooms are all over the Italian peninsula and they are the best option for those backpacking in Italy who do not want to spend too much on accommodation. You can choose from simple rooms with just a comfortable bed or the larger and more spacious kind with private bathrooms.
With private rooms, you can still interact with other guests but have a space of your own to retreat to if you would rather be by yourself. You might even have a helpful host who can tell you about places to visit during your stay.
Apartments
Apartments and flats can be simple with single bedrooms and some can be larger and more luxurious with fully-equipped kitchens, patios, multiple bedrooms, and baths, as well as balconies. Others even have private or shared pools and gyms.
Apartments are ideal for travelers who have a bit more cash to spare and would like an entire property all to themselves but don't want to splash out on a luxury villa.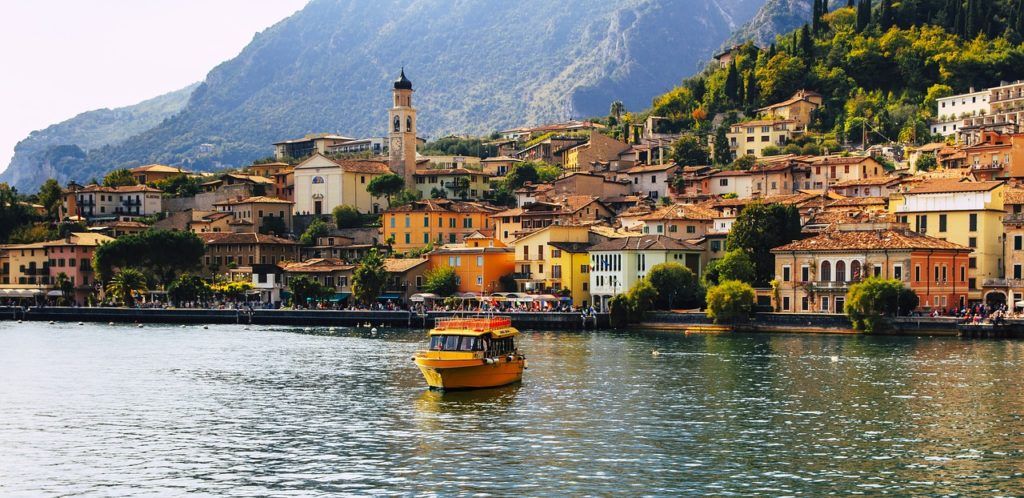 Villas and cottages
Suitable for those who want large spaces, villas, and cottages are mostly found in the countryside, wine estates, and areas a little farther from big cities.
Villas and cottages can be expensive so be ready for the extra cost but you'll enjoy other amenities which you won't find in simple rooms and apartments. I'm talking private courtyards, hot tubs, pools, gardens, and of course, plenty more space.
Ideals for families and large groups traveling together, most villas and cottages are in more remote areas so it might make sense to rent or drive your own vehicle.
Why Stay in an Airbnb
Airbnb Experiences: To truly make your Italian escapade one for the books, you should join activities that make your stay in Italy more memorable.
Unique Properties: Spend your vacation in some of the most breathtaking, comfortable, and one-of-a-kind homes and vacation rentals in Italy.
Affordability: Finding the right accommodation for your needs doesn't have to mean spending more than you can afford to. Check Airbnb for affordable properties.
Privacy: Being on a budget doesn't mean sharing the room with someone else. You can still have privacy and not be over your budget at the same time.
Staying Long-Term: Discounts for long-term stays are always welcome.
Top 15 Airbnbs in Italy
Now you know what to expect from Airbnbs in Italy, it's time to take a look at some of the most out-of-this-world places to stay in Italy that you can make as your very own vacation base.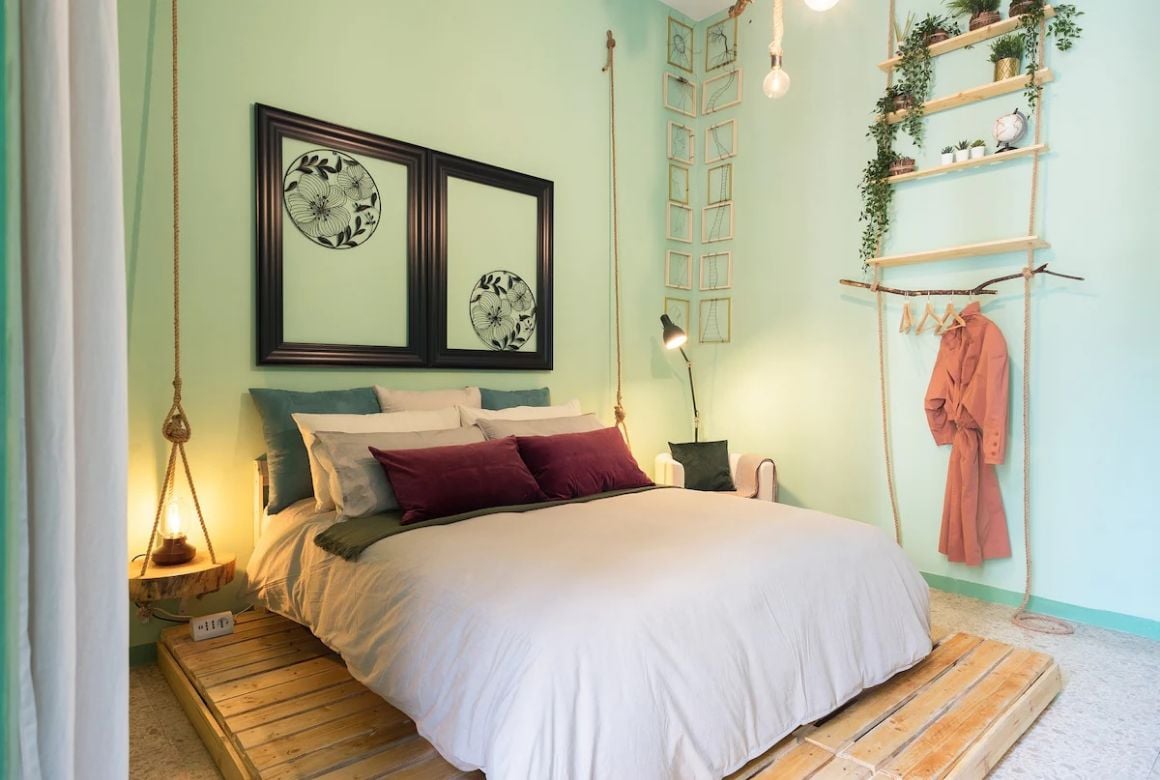 This centrally-located cozy apartment is perfect for anyone who wishes to discover Naples comfortably without spending much on accommodations. Located only a few steps away from popular tourist attractions such as Piazza Bellini and Piazza Dante, the property has easy access to two metro stations so getting in and out is quick and easy.
The home is a quiet area with several restaurants, cafes, and pizzeria nearby so if you feel hungry you can quickly grab a bite. The free breakfast from the café across the street is a nice touch that guests look forward to. The best thing is, they even bring the food to your door on Sundays. How thoughtful is that?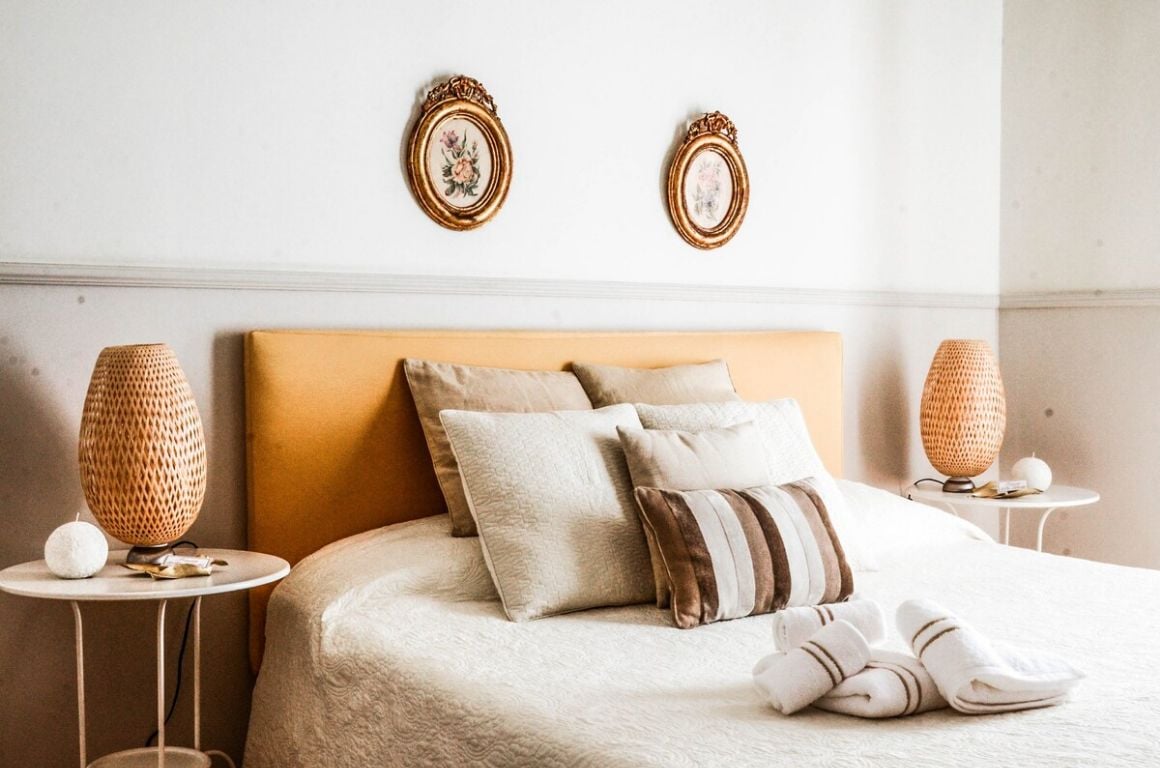 2 Guests
Near historical sites
No trip to Italy would be complete without adding Rome to your itinerary. You can stay in Rome and have a nice and comfortable place to come home to at night.
Located in a flat in the Prati area, it is within a 5-minute walk from popular attractions such as the Olympic Stadium, Piazza de Spagna, and the Vatican. You're a stone's throw away from the Spanish steps and Piazza del Popolo too. This is good news if you're on a budget because you don't have to spend extra on transportation.
The metro station is close by if you need to travel further out and there is easy access to buses too. An abundance of places where you can eat food at normal and non-touristic prices is another plus for this place.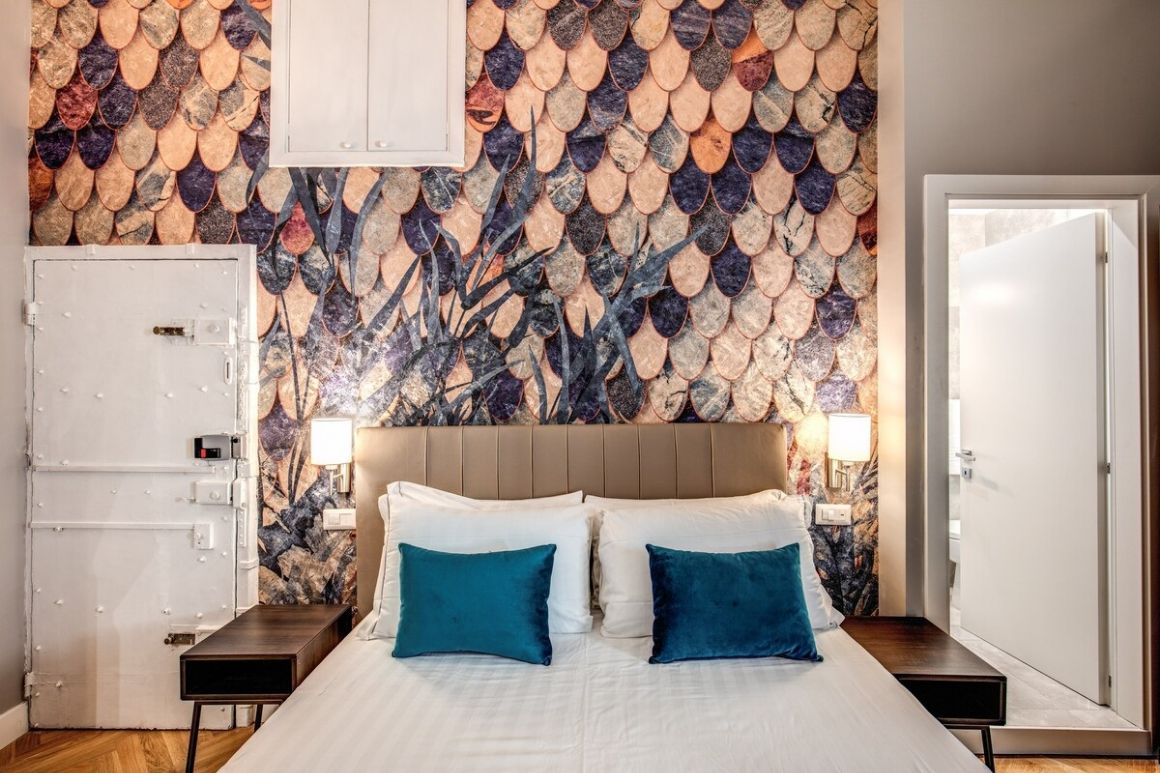 Rome's nightlife is popular and if you want to experience it for yourself, this is the perfect base. The apartment is located in Piazza Navona, one of the most important baroque squares in the world and one of the city's hotspots when the sunsets. You are right in the center of the action when it comes to dinner, happy hour, and late-night drinks.
With room enough for three people, you and your friends can comfortably crash here after exploring the eternal city at night. The shared pool, terrace, and Jacuzzi are available to guests and if you still have extra time during the day, the apartment concierge can arrange a variety of tours and activities.
Is This the Best Backpack EVER???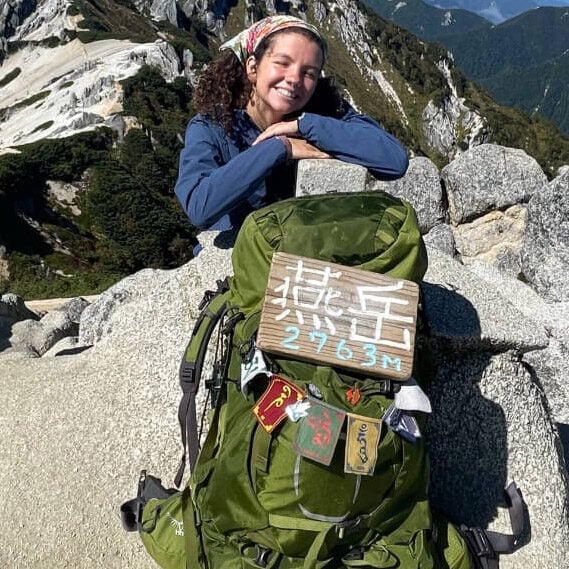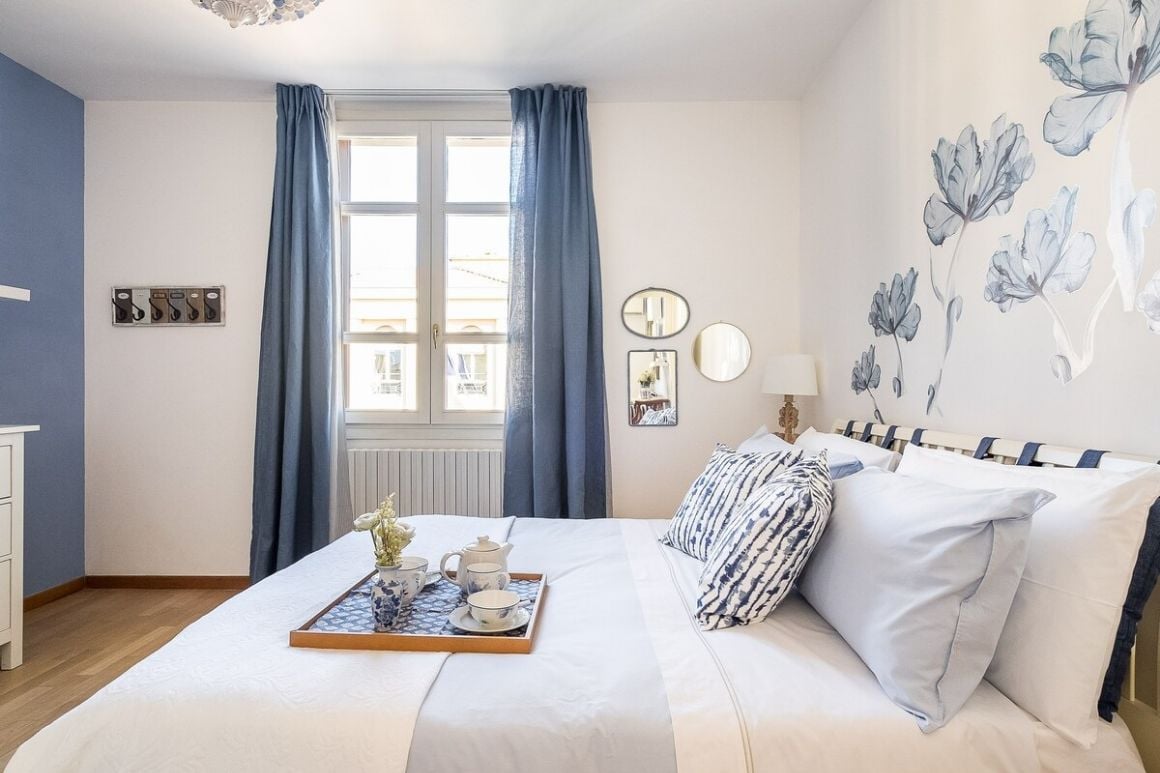 $
Supermarkets and shops in the neighborhood
3 Guests
Close to train station
This cheery blue and white room is close to Bologna's busy university zone and is in a neighborhood with several shops, restaurants, and supermarkets.
If you're in the area just for a weekend, this is the place to be and is the perfect space to come home after sightseeing and getting acquainted with Bologna's culture. Look out the window and you will see and admire the beautiful city skyline views.
In addition, everything is within walking distance, and should you be driving to the destination, you'll be happy to know that there is free parking space in the courtyard. The airport is only 15 minutes away by car so it's very easy to reach. Tours and activities can be arranged by the hosts.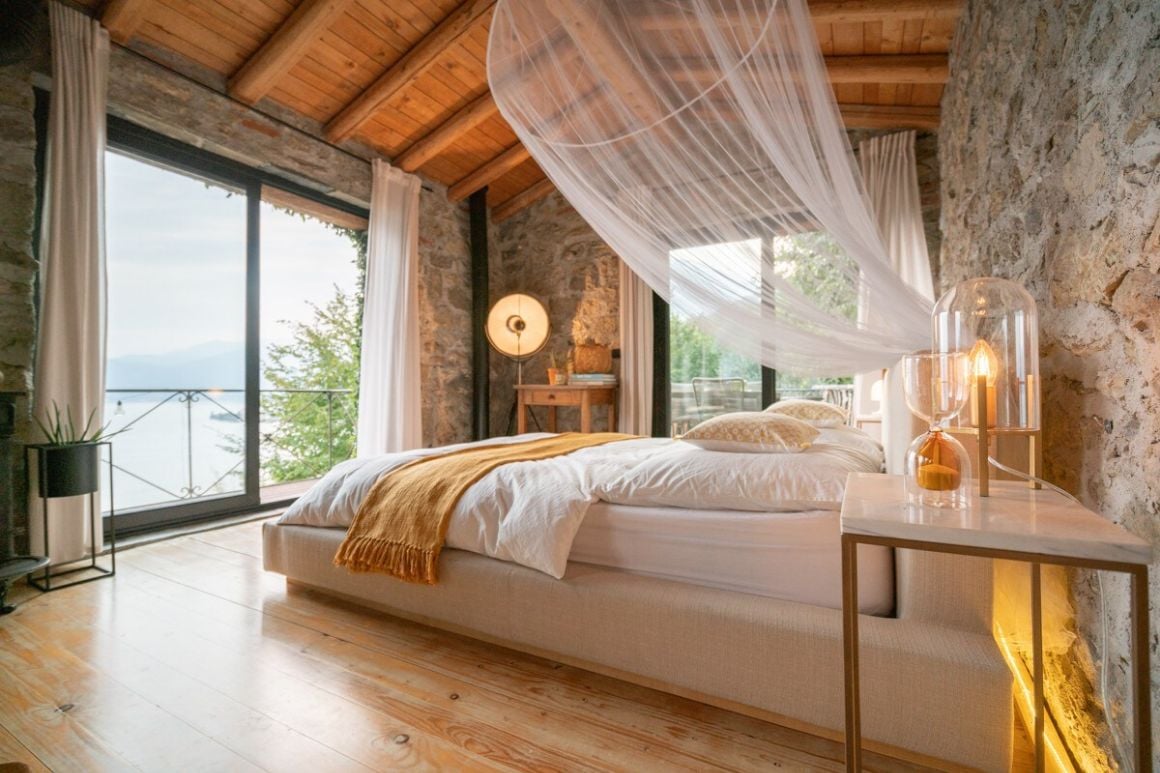 There is no better place to spend your honeymoon than this gorgeous 18th-century rustic home with unrivaled views of Lake Como. You might need to exert a bit of effort to get there as the property is perched on a hill but once you're there you'll see that the hard work is worth it.
This isolated getaway will bring you closer to nature as you sit on the balcony and take in all the beauty of the surroundings or have breakfast al fresco in the outside dining area on the second level. In addition, you have private beach access too.
An easy 30-minute walk to the village of Menaggio, you can easily spend your nights heading there to grab dinner and perhaps a cup of your favorite gelato. Don't worry if it rains during your stay as the open fireplace is waiting for you and the cottage's amazing vantage point will give you unbelievable views as the storm rolls in across the lake.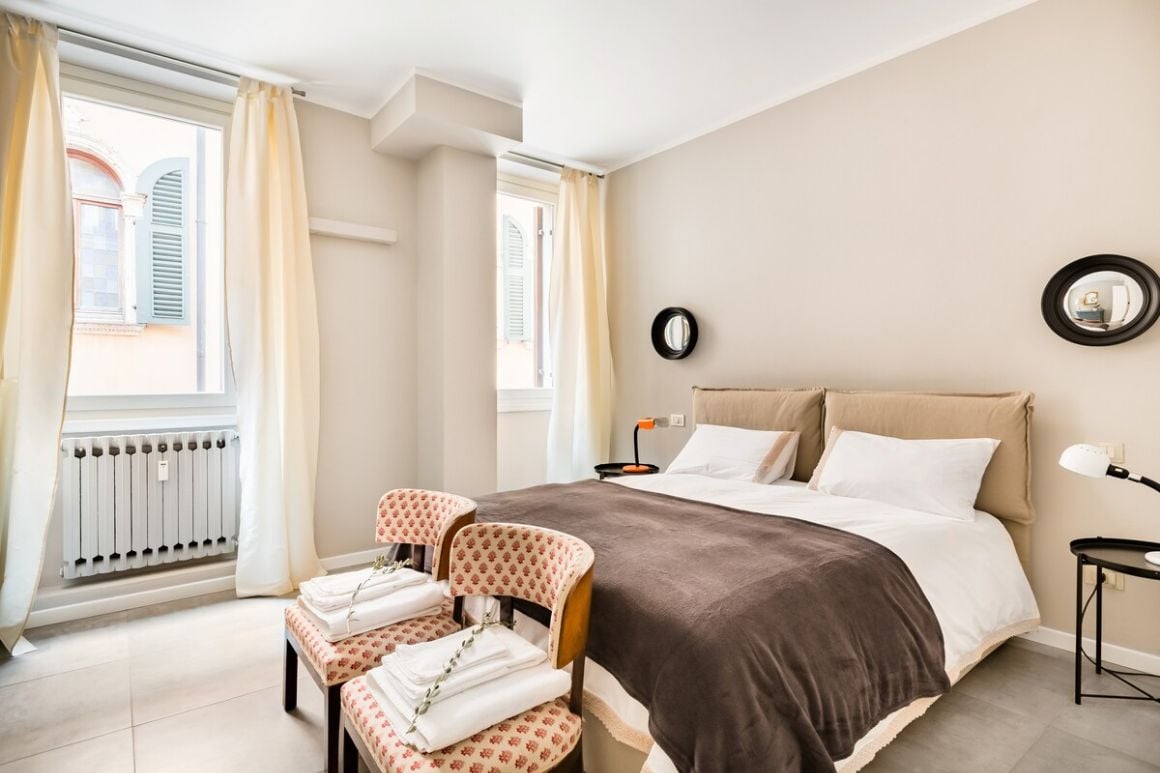 $
Close to tourist attractions
Located in a quiet corner of Verona this luxurious apartment is decorated tastefully and makes the perfect cozy home for two people who'd like to explore Rome. The kitchen is waiting for you to use and cook fresh ingredients in, but one of the most beautiful features of this home is the Juliet balcony from where you can take a peek of the apartment's little corner of the world.
Less than 50 steps away from the Duomo, Verona's other major attractions including Ponte Pietra, Romeo and Juliet's balcony, and the Roman Theater are within walking distance of the apartment.
An endless array of restaurants and shopping streets are nearby too so you can easily indulge in some retail therapy and gorge yourself with delicious authentic Italian food.
$$$
Welcome grocery basket
How would you and your friends like to have an entire villa to yourself in Nerano? This large beachfront property is spacious enough for up to seven people and boasts majestic mountain views, as well as sea views. You could drive to the area in a vehicle and not worry about parking for up to two cars.
One of the things guests look forward to is the welcome grocery basket given to guests which you can use to prepare your own meal.
Tastefully decorated, the property has everything you will ever need for a comfortable stay. The pool is waiting for you and your friends to take a dip in and the sunbeds have all been laid out for you to lounge in. The courtyard has a sitting area too, perfect for just talking, having a few snacks, or enjoying the panoramic views.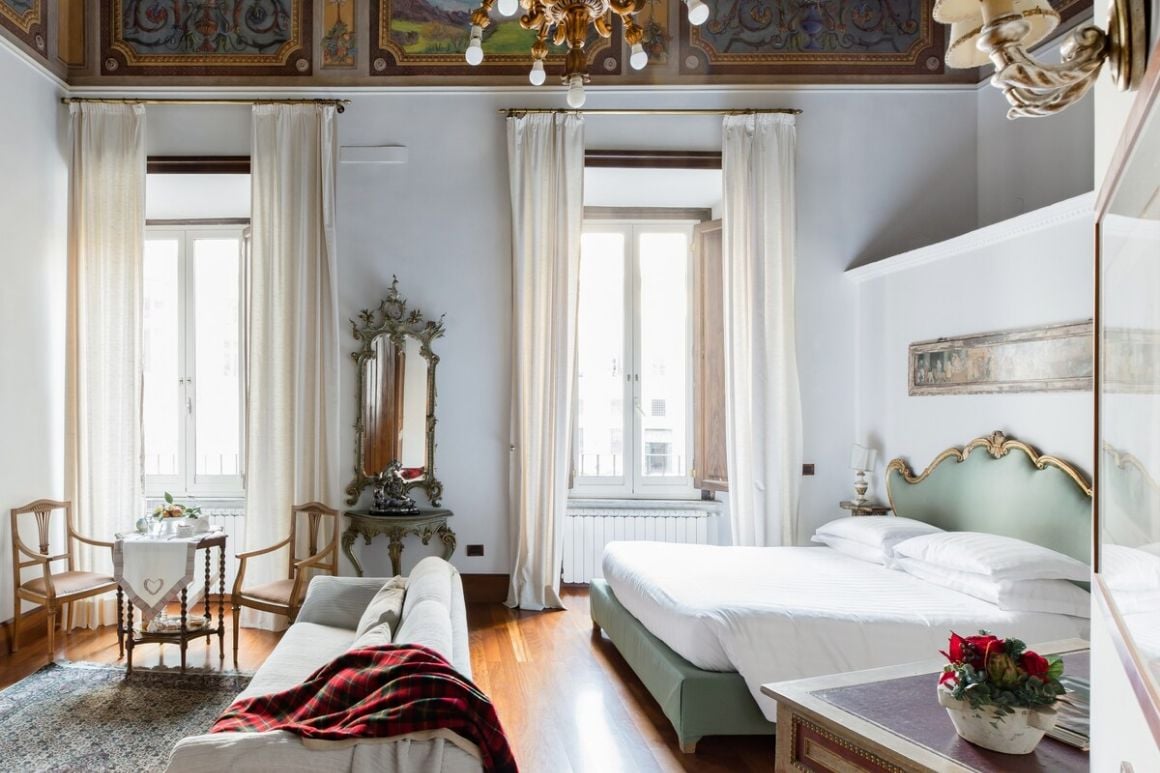 $$
Easy access to major sites
As one of the best Airbnbs in Rome, this luxurious, elegant, and charming apartment truly looks like it came right out of a history book. You will feel like a 16th-century nobleman staying there with its frescoed high ceilings and tasteful decorations. The best thing about it is that it's centrally located. Feel free to pick from the endless options of cafes, bars, and restaurants nearby.
With easy access to Rome's major sites, you'll easily be able to cover all must-sees even if you have a limited time in the city. Although the apartment is centrally located, it's situated in a quiet area so you never have to worry about having a restful sleep.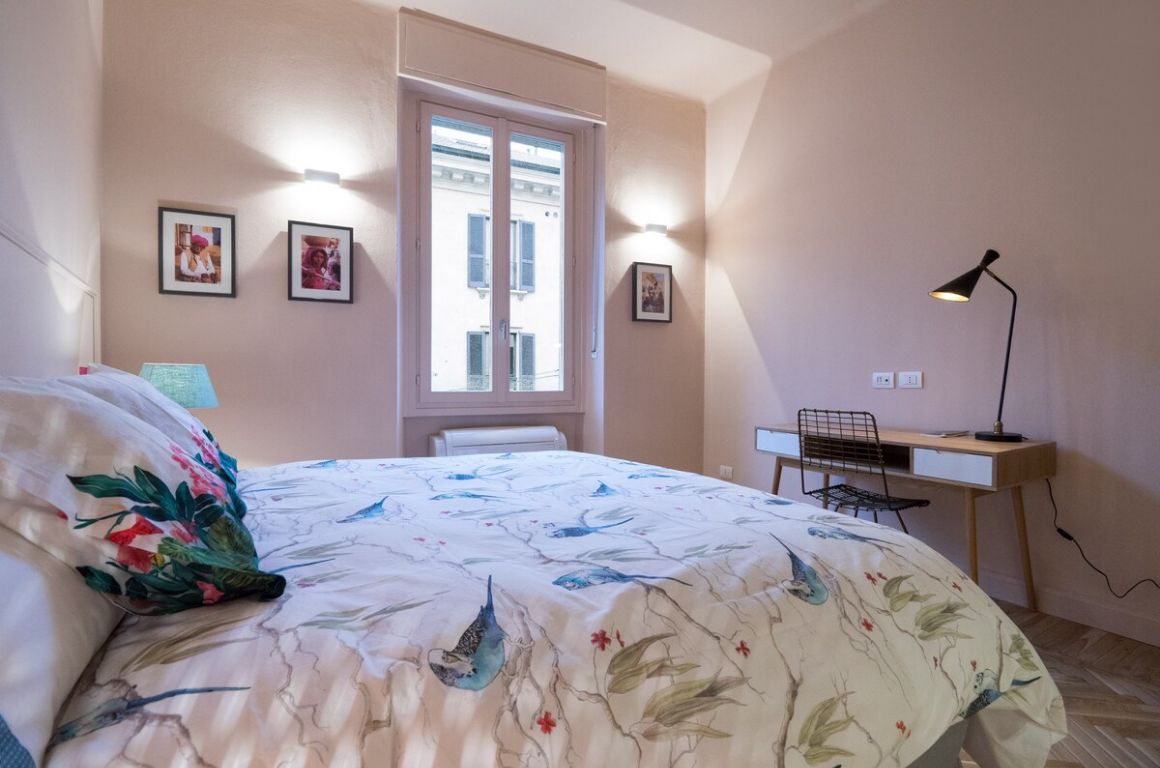 $
Bars and restaurants close by
Don't let the property's traditional architecture fool you, this lovely home is located in one of Milan's hippest areas where an endless array of restaurants, cafes, and bars close are waiting to be explored.
This property is perfect for digital nomads in Italy. After working on your computer, you can grab a bite and party the night away. The property is a short walk to Navigli too where you can get out on the water or join the locals for an appertivo.
Getting around is easy as the tram stop is almost exactly outside the apartment. Going to Piazza Duomo is only a 15-minute walk or a 7-minute tram trip. It's worth noting that on the last Sunday of each month, there is a large furniture market worth checking out.
And if you want to bring your furry friends along, this Airbnb is pet friendly.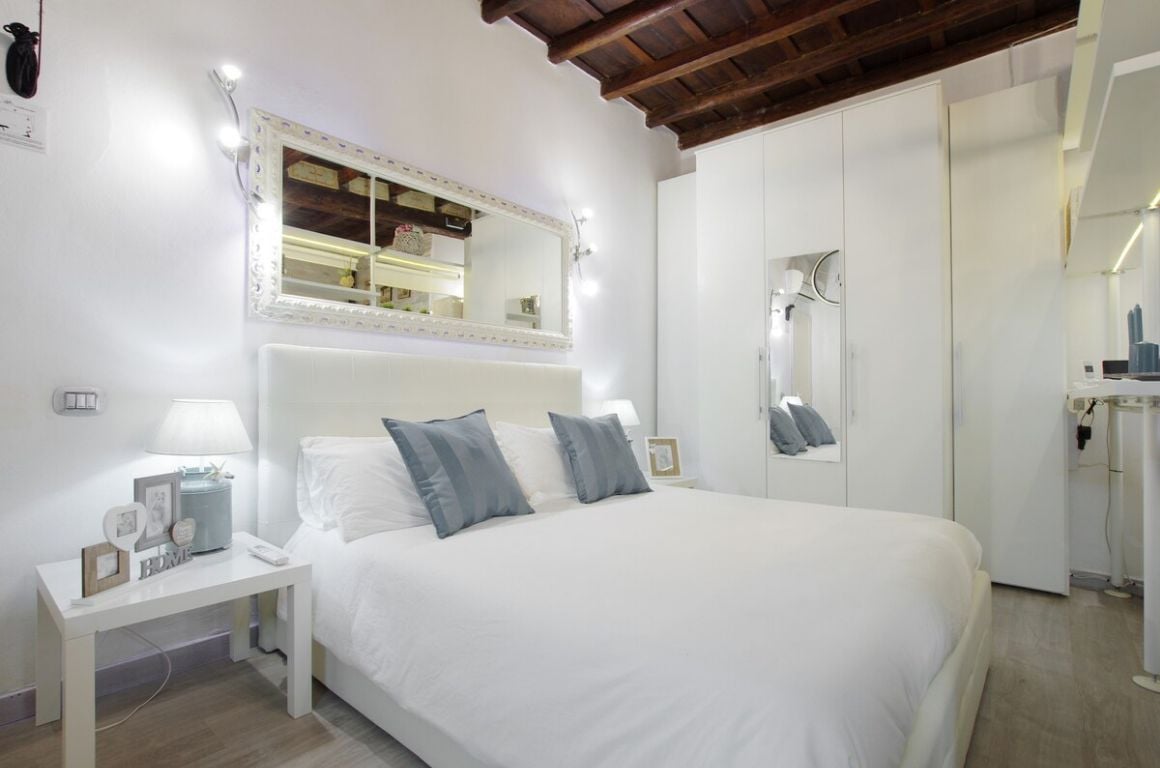 2 Guests
Nearby all attractions
Located in the popular district of Trasvetere, this cozy home is the perfect base for any first-timer to the Eternal City.
An endless choice of bars and restaurants surround the area and most major attractions worth visiting in the city are within walking distance too. If you plan to indulge in some retail therapy, Via del Corso, Via Condotti, and Via Frattina are within easy reach.
The kitchen is equipped with the basics for the preparation of light and simple meals and the dining area is spacious enough for a group of three or four to comfortably dine in. Bicycle rental, as well as airport transfers, can be arranged with the host for an extra fee.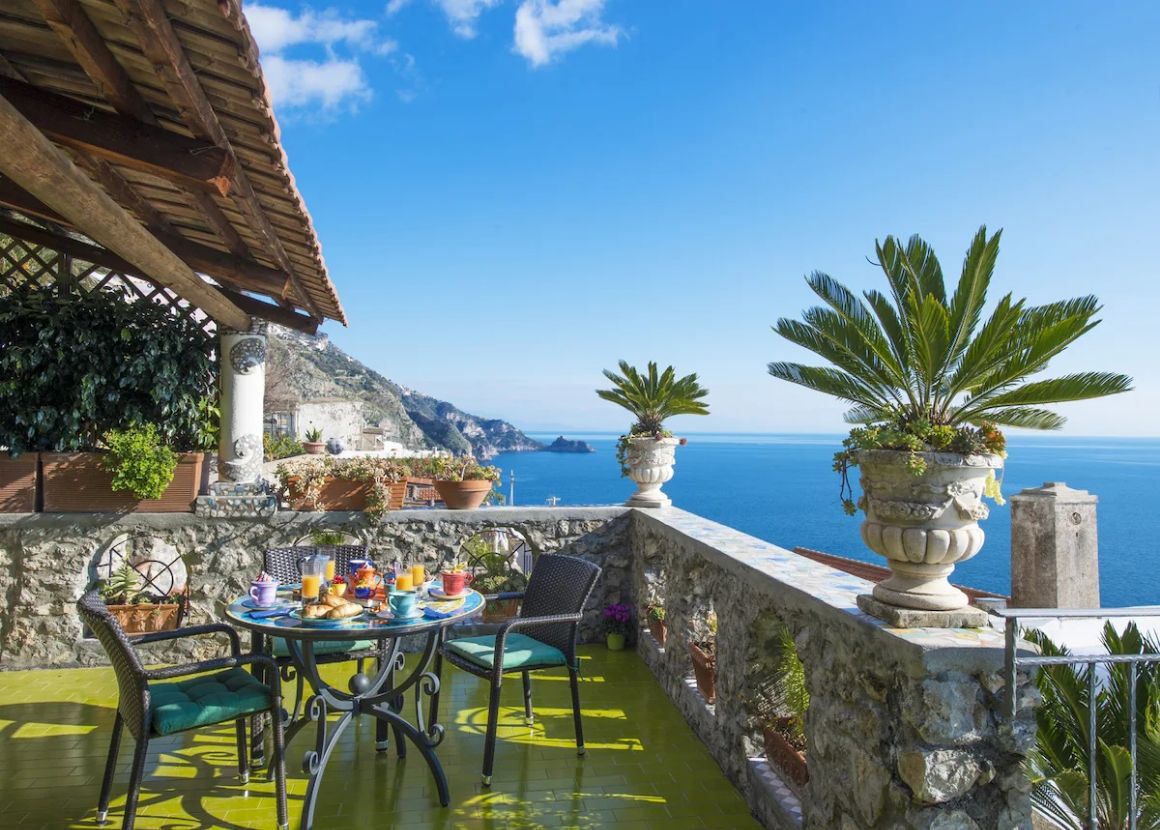 This villa is located in a gorgeous and quiet village which has everything you will ever need for an unforgettable vacation. Countless restaurants are close by so if you don't feel like laboring away in the well-equipped kitchen, you can always head out for a delicious meal. The bus stop is close to the home and that makes exploring the local area easy, after which you can go on boat tours that visit Capri and other islands.
Praia Beach is approximately 200 meters away but the best thing about this property is that you are surrounded by spectacular views of the sea and the domed roofs of the Mediterranean homes below every time you step onto the terrace.
Alfresco dining is a pleasant experience with the unforgettable scent of rosemary wafting through the air as you admire the views and fill your stomach with authentic Italian food.
Best Airbnb in Tuscany with a Pool/Hot Tub | Countryside Villa
The perfect place to unwind and rejuvenate yourself in the countryside, this Tuscan villa is surrounded by olive trees and vineyards, which are open for tours too. The gorgeous classic farmhouse looks like it came out of a postcard with its manicured lawn with the beautiful hill towns of Tuscany as a backdrop.
The large pool with sunbeds and breathtaking views is waiting for you to take a dip in and the hot tub is the perfect place to end a day spent sightseeing.
The well-equipped kitchen is waiting to be used, as well as the grill and the oven. However, if you'd rather forget about cooking, the nearest restaurants and shops are only 3 km away from the property. Aside from the large dining area in the house, there is also a communal space where you can share a meal al fresco.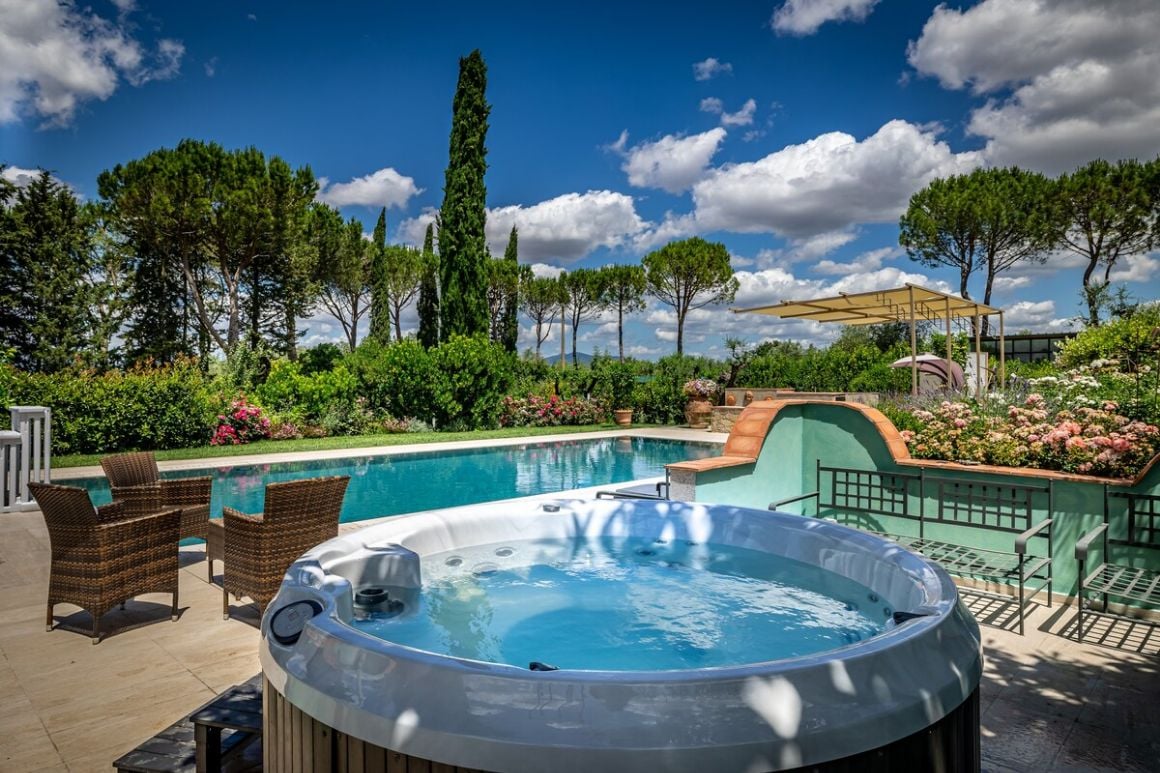 This Tuscan villa situated somewhere above the Florentine hills is the zenith of luxury. Not only do you get to take laps in the large swimming pool, but your eyes will also be treated to some of the most majestic views of the surrounding lush greeneries. Plus. If the pool doesn't suffice, there's always the Jacuzzi waiting for you, equally just as inviting and relaxing.
Spacious enough for 12 guests, the grounds are expansive with approximately 5 hectares of park area with a beautiful garden where you can roam. The property has 5 bedrooms equipped with double beds and single beds and not one, but three living rooms! It's secluded and quiet yet near enough to the romantic city of Florence which can be reached by a short 10-minute drive.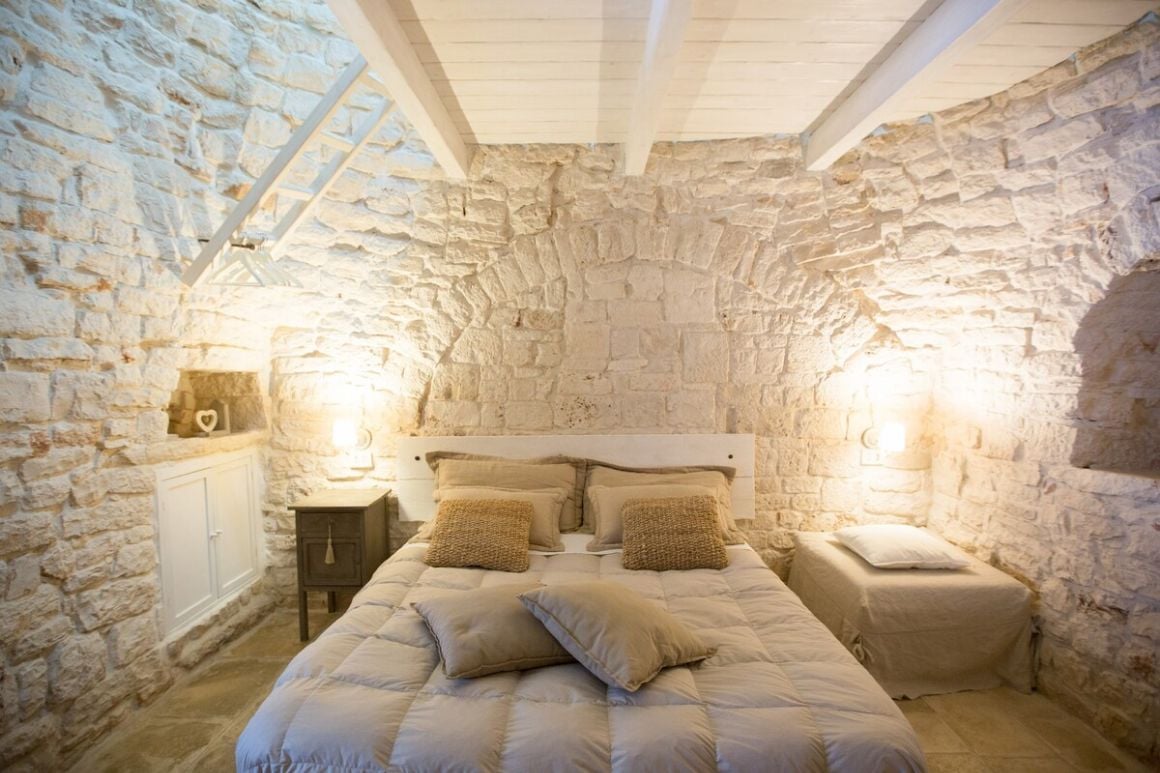 2 Guests
Near tourist attractions
There are lots of great places to stay in Puglia, but this one takes the cake. It's a truly unique stay also known as a trullo or stone houses painted white that are made of limestone and come with conical roofs.
Located in a historic district that dates as far back as the 1600s, this magical earthen home or stone house will take you back in time, albeit with more modern conveniences such as Wi-Fi, heating, air conditioning, and a dedicated workspace too. In addition, the kitchenette has room enough to prepare a meal in which you can enjoy in the cozy dining area.
After enjoying the comforts of the queen bed, you can wake up in the morning and roam the streets while enjoying the delicious smell of freshly baked bread and typical Italian cuisine in the region. This stylish and cozy home is within walking distance to major tourist attractions in Puglia too.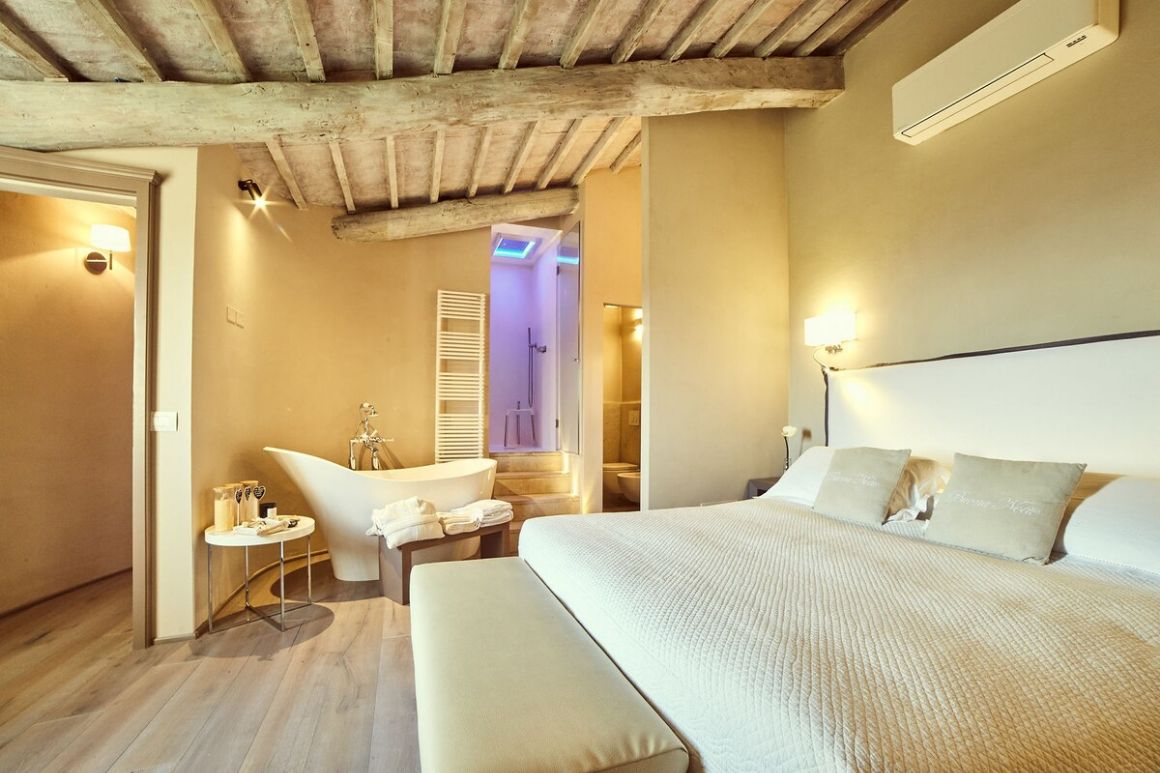 $$
Incredible views of the surroundings
2 Guests
Free street parking
Fall in love with this former tower that's been renovated and turned into a romantic getaway that's surrounded by picturesque views of the lush Tuscan countryside.
Located in the medieval suburb of Monticchiello, this lovely abode has all the modern conveniences you need for an unforgettable stay including Wi-Fi but I know you'd rather curl up with your loved one in front of the fireplace or make good use of the inviting hot tub.
Look out the window and be amazed by the panoramic views of the surrounding countryside, there's nothing quite like it. Take a seat on the bench right in front of the tower with a cup of coffee in your hand or a glass of your favorite wine while taking in the sights of this fairytale location. A restaurant is located nearby and Rome is only an hour away by train if you want to explore the eternal city.

Our GREATEST Travel Secrets…
Pop your email here & get the original Broke Backpacker Bible for FREE.
Top 5 Airbnb Experiences in Italy
There's more to Italy than just eating pizza and having a cup of gelato afterwards. With a long and varied history, as well as some of the most interesting architecture, you can easily run out of time experiencing the country. Unless you're staying in Italy for months, chances are you won't be able to do all the things you want to.
So, I have taken it upon myself to sift through the hundreds of activities available and narrowed down the list to five of the most interesting, unique, and highly-rated. Check them out and book them for a more interesting time.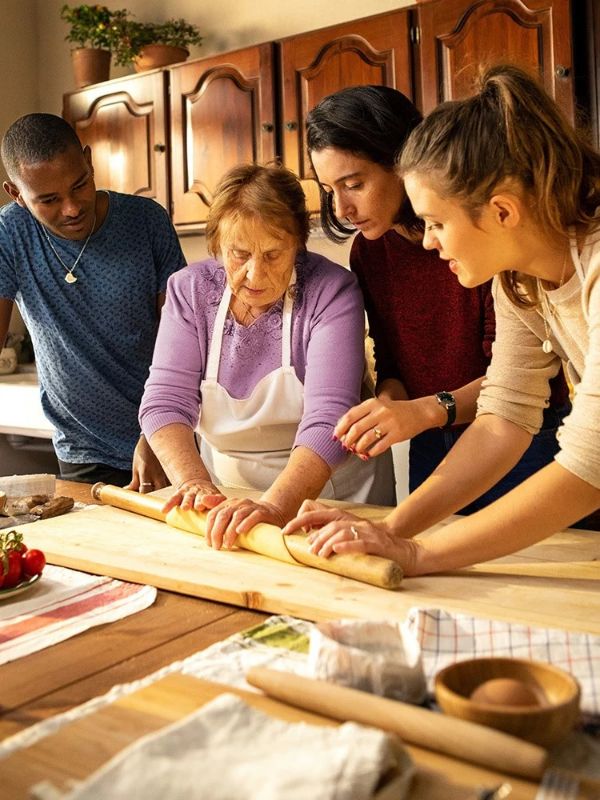 If you've always imagine your grammy teaching people how to cook, this is what it looks like. This highly-rated cooking class is everyone's favorite and is a must when you're in Rome.
Part of Airbnb's Cooking collection, in this class you'll be taught how to prepare the best tasting handmade pasta with the use of just your hands and the freshest local produce available.
The class will start as you make your way through Grandma's kitchen while passing by the medieval streets of Palombara Sabina. You will be making different kinds of pastas, namely farfalle, ravioli, or fettuccine.
The price is inclusive of two handmade pastas with bruschetta, two kinds of wine and coffee, as well as transportation to and from the village. So, make sure you wear something comfortable and bring along your enthusiasm for pasta making.
Explore Rome's most popular neighborhoods at night and meet likeminded people in this tour while sampling the country's most popular traditional drinks as you get to know the city's dark and fascinating history.
The tour starts with an introduction while downing a few glasses of Prosecco in Campo Di Fiori while listening to the sordid history of the executions which took place during medieval times.
Guests will then cross the Tiber river and head to Trasvetere where you will walk through the neighborhood while enjoying Roman cocktails. The tour ends in a traditional restaurant where you'll eat street food and pair it with a digestive alcohol while talking about the scandals in Trasvetere and the prominent people involved in them.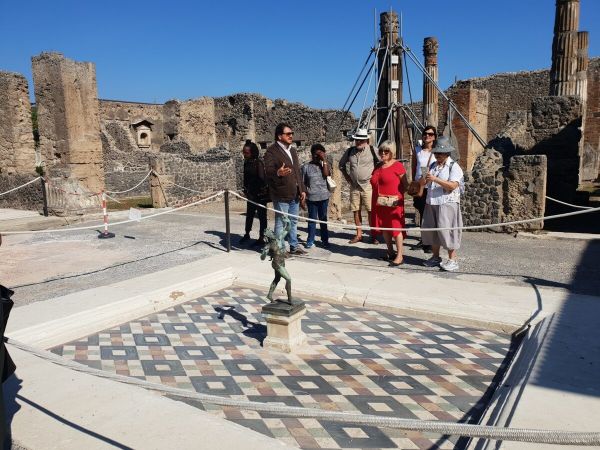 $22/person
2 hours
Up to 25 guests
Turn back the clock and revisit history with this popular tour of Pompeii conducted by an archaeologist. This experience will take you back to 79 A.D. when Mount Vesuvius erupted and buried the ancient city in ashes.
You will get valuable and fascinating information from your knowledgeable guide who will bring the ancient city to life while you visit the western area of the ruins.
You will walk through the bakery, thermal baths, forum, brothel, and basilica, as well as the recently discovered Domus. Guests at least two years old may attend the tour. Wear comfortable footwear and clothing to enjoy the activity.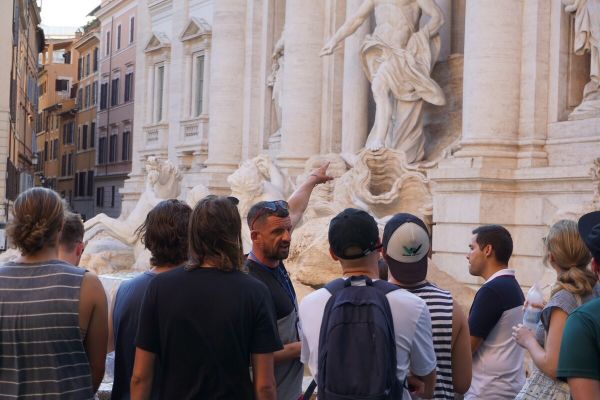 $17/person
2 hours
Up to 15 people
An excellent introduction for first-timers to Rome, this walking tour will get you acquainted with the fascinating histories of one of the world's oldest and most beautiful cities. You'll visit all the major sights and drop by some lesser-known spots.
Guests will meet at Trajan's Column which is adjacent to Piazza Venezia. You'll then proceed to the Imperial Forum and drop by the Trevi Fountain, one of Rome's most popular attractions where you'll hear about the origins of the coin-throwing tradition.
The tour continues to Piazza della Rotunda and ends in Piazza Navona, considered the most elaborate of all of Rome's squares. You'll be covering a variety of landmarks from different periods for an enriching and unforgettable experience.
Considered one of the most beautiful islands in the world, Capri is not to be missed whenever in Italy. With this activity, you will be able to admire Capri from a boat instead of on land. You will sail around the island in 2 hours, exploring caves and gaining a new appreciation of its major attractions. Don't worry as you'll have more than ample time to take in the views and take nice pictures.
The boat begins at Mariana Grande and a few of the stops included are the White Grotto, the Villa Curzio Malaparte, and the Faraglioni Rocks. You'll swim and snorkel in the clear waters, as well as chill and sunbathe on the boat. Inclusive of the price are light snacks, as well as alcoholic and non-alcoholic drinks.
Don't Forget Your Italy Travel Insurance
ALWAYS sort out your backpacker insurance before your trip. There's plenty to choose from in that department, but a good place to start is Safety Wing.
They offer month-to-month payments, no lock-in contracts, and require absolutely no itineraries: that's the exact kind of insurance long-term travellers and digital nomads need.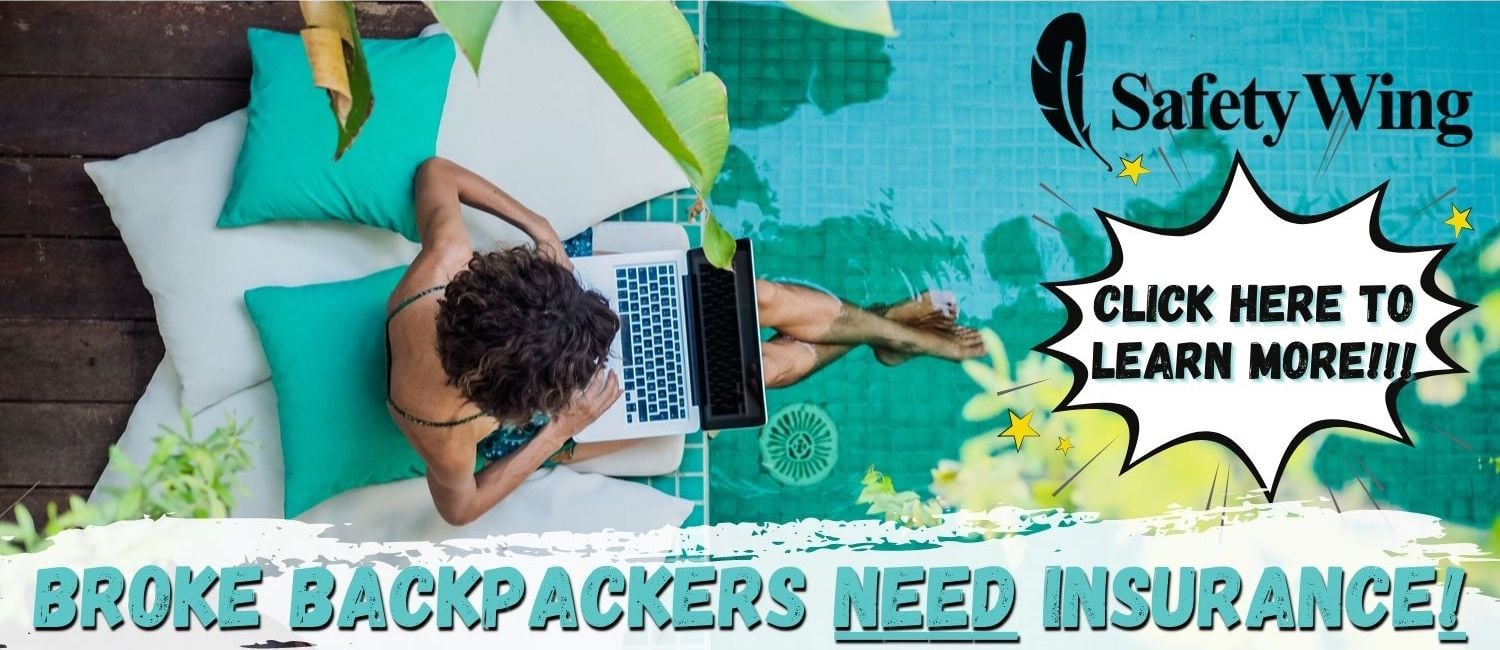 SafetyWing is cheap, easy, and admin-free: just sign up lickety-split so you can get back to it!
Click the button below to learn more about SafetyWing's setup or read our insider review for the full tasty scoop.
Final Thoughts on Airbnbs in Italy
There you have it folks, the best Airbnbs in Italy, as well as the activities worth adding to your itinerary when in the country. I trust that by now you have your Italian trip already mapped out. A country with pristine coastlines and a long and varied history, it's no wonder people keep going back to Italy.
All these Italian Airbnbs on this list are not only amazing, but they are also comfortable and have some of the best locations so you can spend your time relaxing and being able to visit popular attractions without the hassle.
But there is one vital step which you shouldn't forget before you go on vacation and that is to take out travel insurance from World Nomads. Why travel with worries when you can do so with peace of mind?
---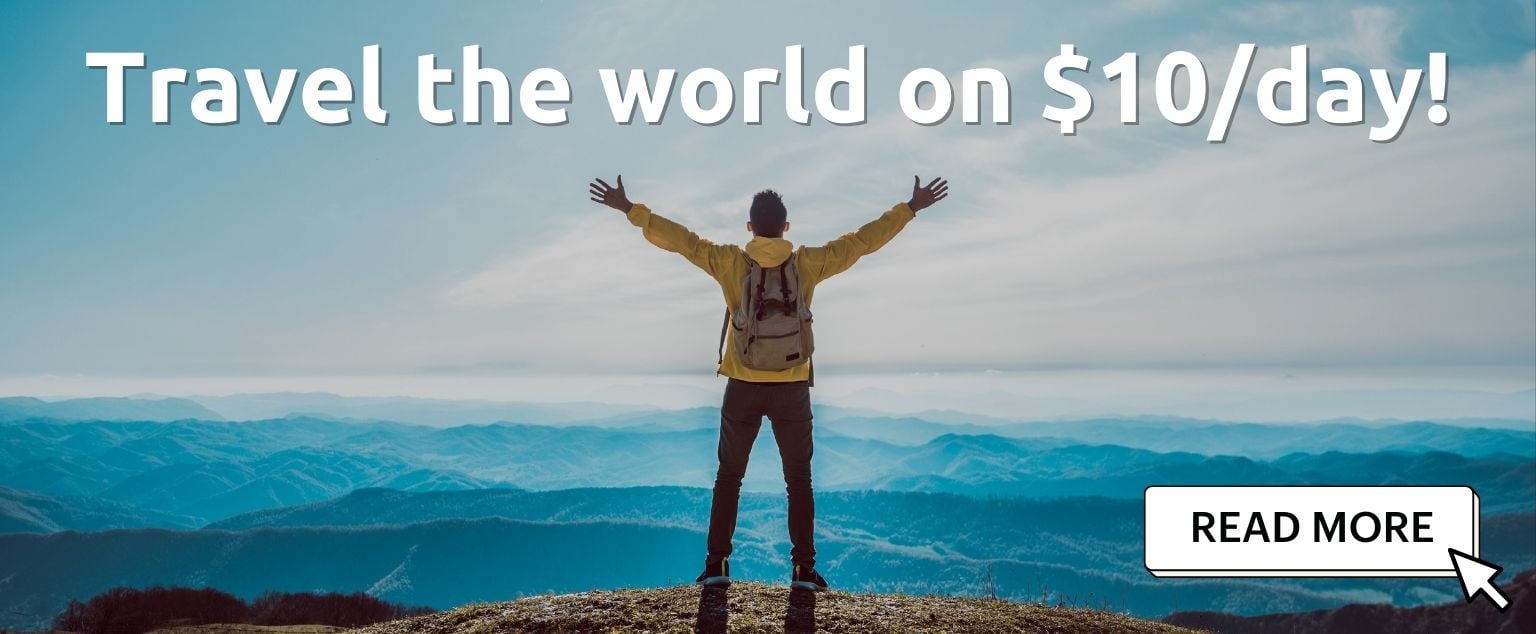 And for transparency's sake, please know that some of the links in our content are affiliate links. That means that if you book your accommodation, buy your gear, or sort your insurance through our link, we earn a small commission (at no extra cost to you). That said, we only link to the gear we trust and never recommend services we don't believe are up to scratch. Again, thank you!