Whatever you want from a city break, you're sure to find it in Rome. The Eternal City is packed with world-famous historic attractions like the Colosseum, Roman Forum, and Trevi Fountain. It's a centre of religion too with St Peter's Church, the largest Catholic church in the world, dominating the skyline.
However, Rome is about more than just history. It's also home to awesome nightlife, incredible food, and stunning piazzas where you can sit and watch the world go by with the strongest espresso of your life!
But when it comes to choosing where to stay in Rome, it can be a challenge. Rome is the second most visited city in Europe, and as such, there are a ton of accommodation options to meet the demand.
You could stay in a hotel or a hostel, BUT you're in Rome, and the best way to experience the authenticity of the city is by staying in an Airbnb.
When staying in an Airbnb in Rome, you can choose between an entire apartment or a private room in a shared apartment. Either way, Airbnbs tend to be conveniently located, have the most amazing view, all the amenities you would need for a comfortable stay.
So if that all sounds good to you, let's move on to show you my top 15 Airbnbs in Rome. In this list, I've selected options for different budgets, personalities, and travel styles. So, let's check out some great places to stay in Rome!
Quick Answer: These are the Top 5 Airbnbs in Rome
OVERALL BEST VALUE AIRBNB IN ROME
OVERALL BEST VALUE AIRBNB IN ROME
Centralissimo Flat Campo dei Fiori
> $$
> 4 Guests
> Free Wi-Fi
> Characterful and historic home
BEST HOMESTAY IN ROME
BEST HOMESTAY IN ROME
You will feel at home
> $
> 4 Guests
> Complimentary breakfast
> Near the colosseum
BEST AIRBNB FOR COUPLES IN ROME
BEST AIRBNB FOR COUPLES IN ROME
Lovely studio near St. Peter's
> $$
> 3 Guests
> King Bed
> Romantic and elegant
BEST AIRBNB FOR FAMILIES IN ROME
BEST AIRBNB FOR FAMILIES IN ROME
Rose Roma Holiday House
> $$
> 4 Guests
> Great location
> Fully equipped kitchen
BEST LUXURY AIRBNB IN ROME
BEST LUXURY AIRBNB IN ROME
Milina Tower Lookout in Navona
> $$$$
> 8 Guests
> Great Location
> Spacious and Bright
Why Stay in an Airbnb?
Local Experience
Travel is shifting dramatically away from the local experience – yes, even for backpackers in Rome. We're trapped in our hostels, coffee shops, and party districts. But Airbnb is breaking down that barrier for every echelon of traveler – think basement mattresses to infinity-pool penthouses!
It's a great way to contribute to the local economy because the cash goes right to the owner and other locals employed for cleaning, maintenance, and management. Staying in someone else's home offers you accommodation with its own unique character and it feels more like fitting into the area rather than having the typical tourist hotel room.
Airbnb hosts are known for taking good care of their guests; if it's recommendations you want, you've got a pre-made local friend to help you out!
Affordability
Airbnb has a huge selection of over 6 million unique properties for ANY budget, from single rooms or entire houses to yachts and even castles. This platform is made for travellers, so you will find yourself looking at decent and, especially, affordable places! In addition to this, most Airbnb hosts also provide modern comforts and household amenities like linens and towels.
If you choose, you can get a place with a dining table and kitchen, so besides saving money on the accommodation itself, you can also save money by cooking at home and eating in, rather than having to spend a lot at the nearest restaurant. Whether it's a luxurious mansion or kitchenette in even the tiniest of spaces, rentals usually have plates, mugs, glasses, bowls, cutlery, and coffee makers, and microwaves.
Some hosts provide emergency toiletries like body wash, toothpaste, and an unopened toothbrush that can sometimes be a lifesaver for a forgetful traveller. If you're traveling to Rome on an extended stay, an Airbnb is certainly your most affordable option.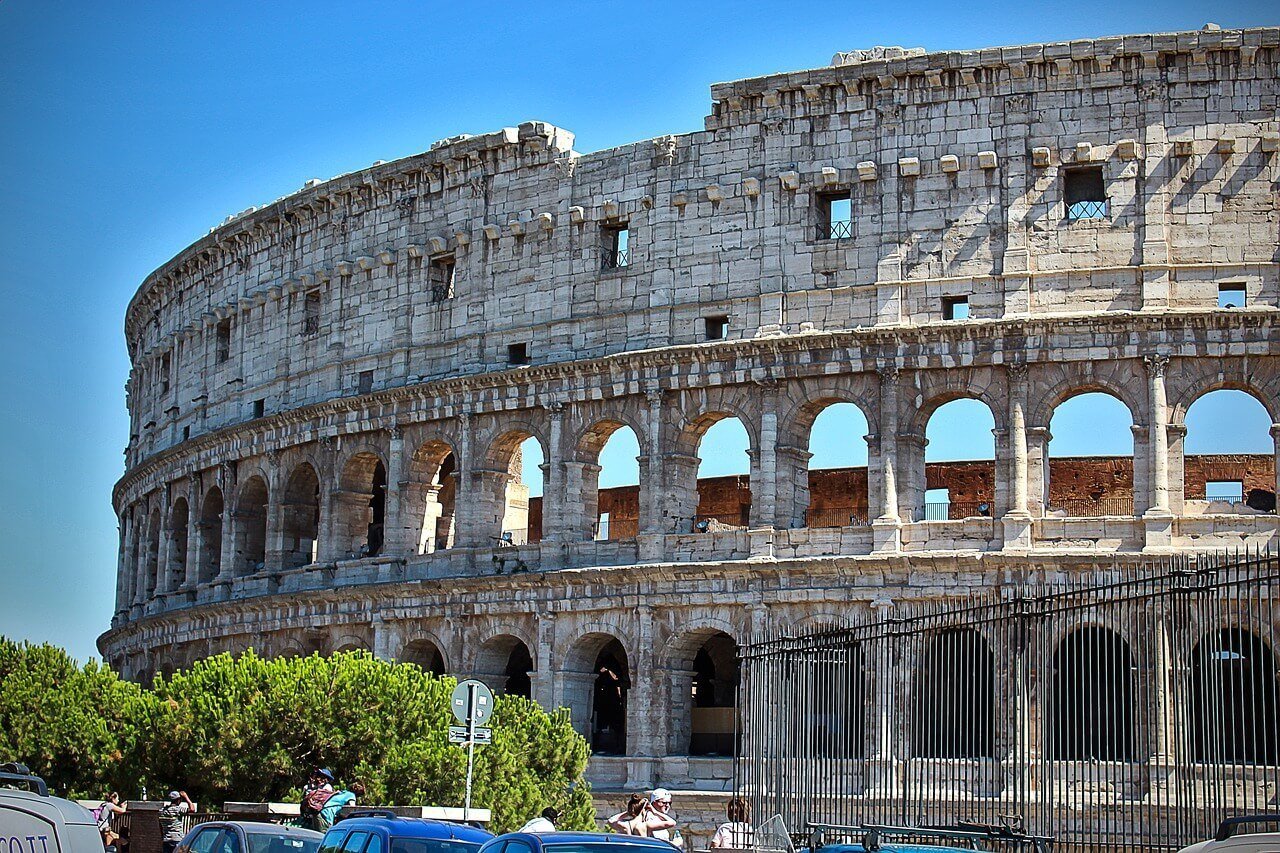 Safety
Are Airbnb reviews legit? Airbnb wants every guest to be safe so they created a world-class review system where tenants are encouraged to be honest about their experience because it stays invisible until the reviewing period has been locked.
Guests are given the power to tell the truth and "make or break" the place they stayed at since the platform forbids the owner to change or remove the review. Every comment you read on Airbnb is based on finished stays and experiences. Plus, some hosts often depend on the money they earn renting their property and one bad experience from any guest would devastate their income. It might be a bleak perspective, but hey, that's something of a guarantee you'll be cared for!
Airbnb also has a 24/7 emergency line with someone ready to assist you. In the worst case, Airbnb will provide a driver or make sure you find a safe place. If you choose this booking platform, you will always be in good hands, without any doubt.
The Top 15 Airbnbs in Rome
Ready to start your awesome adventure in the Eternal City? Whether you're staying in Rome for just a weekend or exploring the city for weeks, there will be the right place for your travel needs – so read on!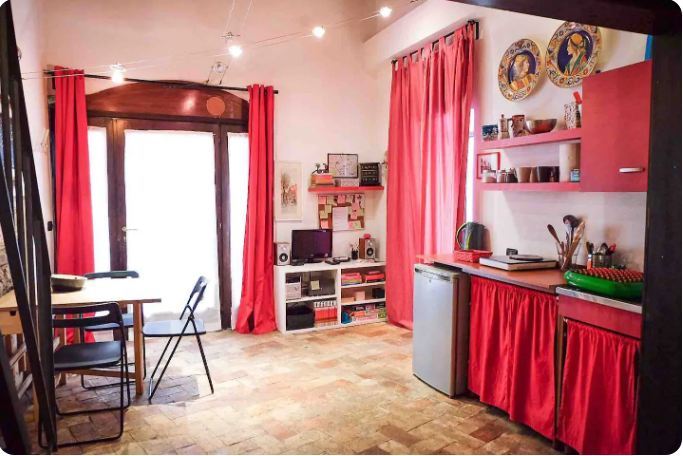 4 Guests
Characterful and historic home
Let's begin my list with one of the best value Airbnbs in Rome. It's on the edge of one of the city's most popular squares – Campo de' Fiori – which I consider one of the best areas in Rome! So, you'll find few locations better for sightseeing, nightlife, and eating out!
However, that doesn't mean you won't want to spend loads of time in the apartment too! This historic loft in a medieval building has plenty of character – it dates all the way back to the 16th century. You won't tell that from the decor and modern amenities though, such as the fully equipped kitchen and the fast internet. You'll get the entire loft to yourself and it's only a short walk to some of the cities top attractions.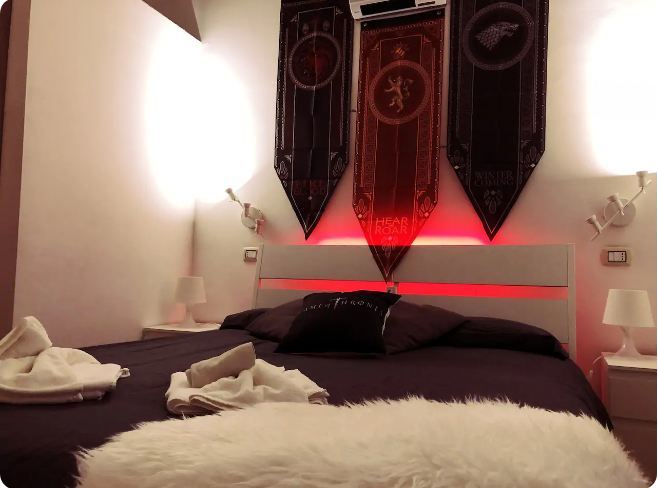 2 Guests
Unique Rome experience!
There are lots of budget Airbnbs in Rome, but how do you tell what's good and what's not? Well, this awesome option is just a short walk to the Vatican will capture the heart of any Game of Thrones fan!
It's more than just a gimmick though – the themed room houses a comfy king-sized double bed and a private bathroom – making it a great option for a couple who are travelling on a shoestring! There's a washing machine too so you'll be able to get those clothes cleaned if you've been travelling for a while!
Perfect Short Term Rental for Digital Nomads –Treetop Apartment
2 Guests
Views of St Peter's Basilica
If you're travelling and making money at the same time, perhaps there's room for a bit of flexibility in your budget. With that in mind, let's check out an awesome apartment in Rome that has an amazing view of St Peter's Basilica! Creative writers will lap up this inspiring image!
As well as a bedroom with the key features of fast internet and a laptop-friendly workspace, plus all the amenities for a self-catering vacation rental, plus you've got an outdoor terrace all to yourself. It's a lovely place to work, or just sit with a cup of coffee!
Is This the Best Travel Pack EVER???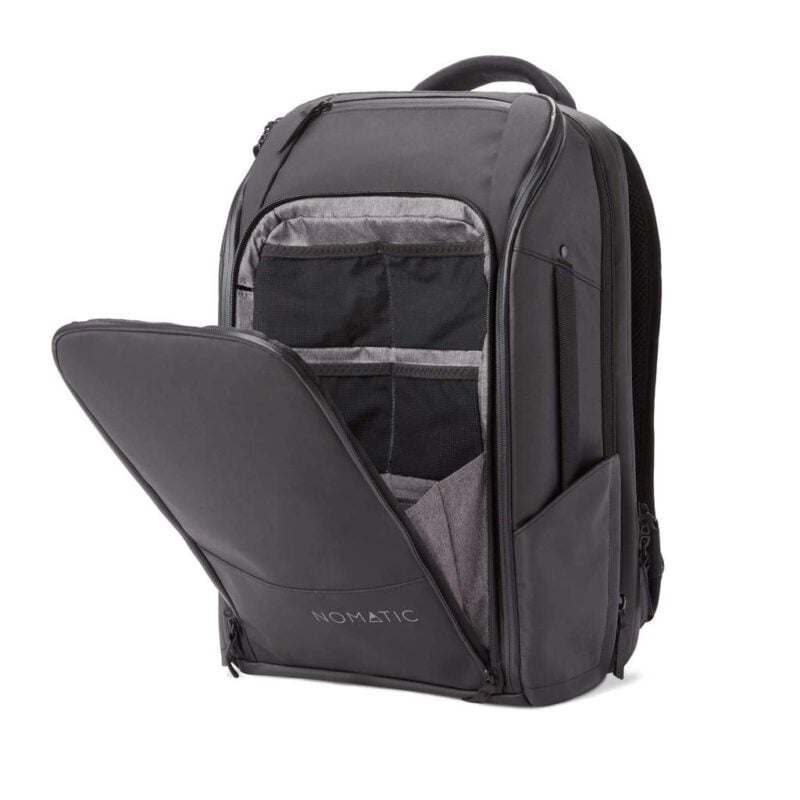 Perfect Airbnb for Solo Travellers – Cute Double Room
If you're travelling solo, most people will point you in the direction of one of the hostels in Rome. However, I understand they're not for everyone. After all, why share a smelly and noisy room when you can have a cosy and comfy place all to yourself!
This private room in an apartment belongs to a friendly local and her pets, and she'll be happy to help you find your way around your city and recommend the best bars and cafes nearby. What could be better when you're travelling on your own?! You'll have your own double bed and you're just a short walk away from the Colosseum and many great places to eat.
Best Airbnb in Rome for Nightlife – Testaccio Loft
Want to go out in the Eternal City? When in Rome, do as the Romans do and head to Testaccio. It's got some of the best bars, clubs, and nightlife in town – a night out should be on everyone's Rome itinerary!
And while you're at it, stay in this Rome Airbnb conveniently located right in the thick of the action. It's an entire place, so you won't be disturbing any hosts – no matter what time you come home. And if you've gone at it a little hard the night before, then at least there's a kitchenette where you can prepare something tasty to soak up the excess alcohol.
3 Guests
Romantic and elegant
This cosy and romantic Airbnb in Rome is a little nest that couples are sure to love. It's just one block away from Roma San Pietro station so you won't have far to go if you want to head out on any Rome day trips!
Of course, that also means it's close to one of the top attractions in town – the Vatican City! It's also easy to get to the other sights in the city such as the Trevi Fountain, Spanish Steps, and the Coliseum – whether you plan on walking or taking public transport. Don't miss spending an evening relaxing on that lovely terrace!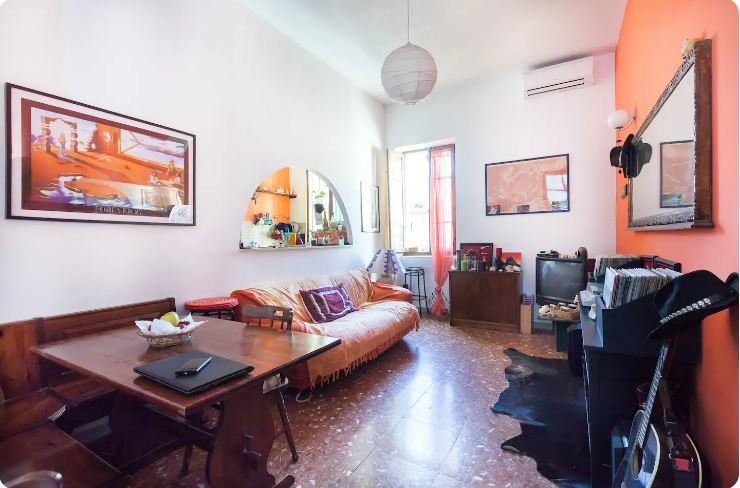 4 Guests
Near the colosseum
When a listing says you will feel at home, it's a pretty promising start for a homestay in Rome! This private room is just a hop, skip, and a jump from one of the hottest tickets in the cit6 – the Colosseum!
But first, let's take a look inside the apartment. You're sure not to be bored here – there are vinyls and CDS which you're welcome to use, or hook up your phone to the rapid Wi-Fi and pick something from Spotify! This brightly coloured home is one of the best apartments in Rome to have a truly local experience.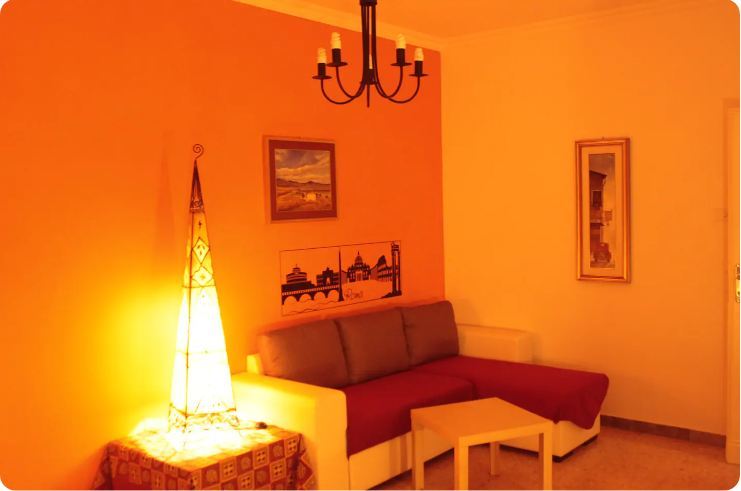 3 Guests
Near the Vatican Museums
Staying with locals is one of the best ways to save cash and have an authentic experience, so I thought I'd give you a couple of options to pick from.
This homestay in Rome is perfect if you're planning to visit the art and antiquities of the Vatican Museums since it's just a stone's throw away!
You've got a well-stocked kitchen where you can whip up a tasty breakfast to fuel you before a day of sightseeing – it's almost like staying in a B&B in Rome! And, there's Wi-Fi so you can show everyone what you did in the evening on Instagram!
$$$
Fully equipped kitchen
5 Guests
Roman architecture and antique furnishings
Planning a really special and memorable trip to the Italian capital? Check out this place then. This awesome Airbnb will have you feeling like a king, queen, or perhaps an Old Roman Emperor!
The classic architecture certainly isn't something that you get in any old apartment, and I think you'll be seduced by the wooden beams, lion statues, and antique bed and chairs!
If all that's not enough, you're just a cent's throw from the Trevi Fountain – one of the best places to visit in the city to tick off your bucket list!
8 Guests
Spacious and Bright
Always wanted to sit under the sun next to a medieval tower with an amazing view of the city's beautiful Piazza Navona? I thought you might. That's just one of the selling points of this awesome Airbnb in Rome.
Not only can you enjoy that fabulous terrace, but there's space for up to 8 guests – meaning that it's ideal for a family or group of friends looking to enjoy the city. And, if you split the cost between 8, it suddenly starts to look a lot more affordable!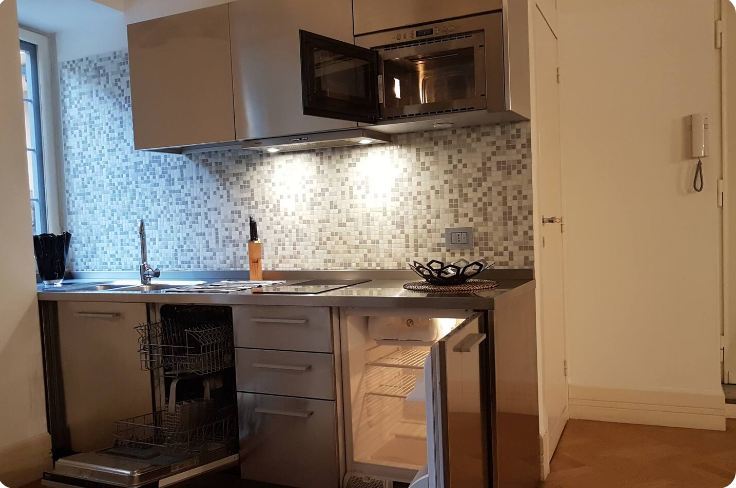 4 Guests
Fully equipped kitchen
If you're travelling with the family, you'll want to be close to not only the best sightseeing, but also lots of places to eat and drink. Then, there won't be tears and tantrums if everyone gets exhausted!
Rose Holiday home is an apartment that is perfectly set up for families of up to four – no matter what their age is! It's near the Spanish Steps and Trevi Fountain, while there's a metro station less than 200 metres away for easy travel around the city!
Best Airbnb in Rome for a Group of Friends – 2BR Casa delle Mappe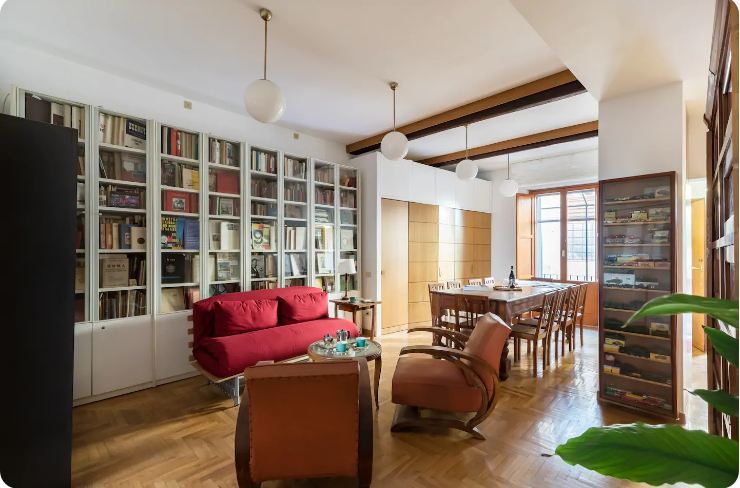 $$$
Laptop friendly workspace
Trastevere is one of the coolest neighbourhoods in the Eternal City, with plenty of restaurants, bars, and clubs where you can dance the night away. So where better than that for a group of friends to stay?
Casa Delle Mappe means the House of Maps and that's what you'll find on the walls of this awesome apartment. Of course, you may miss them if you're enjoying a movie on the 4K Smart TV, which is hooked up with Netflix Premium!
4 Guests
Sober and elegant interior
I've already shown you a Rome Airbnb in Campo De Fiori, but I didn't think that was enough. This buzzing square is home to a number of cool bars and nightspots, but you can still get a good night's sleep in the surrounding apartments!
This suite has a cute dining table in an open-plan living room, and it can sleep up to 4 guests. Spending a little too much on eating out? No problem – spend a night in and use the fully stocked kitchen!
Another Great Apartment in Campo de Fiori – Studio Apartment
$
Laptop friendly workspace
3 Guests
Possibility of third bed
Okay, I promise this is the last apartment I'm going to show you in Campo de' Fiori. But it's such a great area! Since it's a studio, this one is probably best suited to a couple, or solo/business travellers. It will certainly be within those budgets!
Digital nomads will love it too as there's a laptop-friendly workspace. Don't hang around when it comes to booking this place though – it's pretty popular and it gets snapped up very quickly!
$
Kitchenette with microwave and fridge
Last but not least, let's head back to Trastevere to round off my list of the best Airbnbs in Rome. This cute apartment is right in the thick of the action, and it's perfect for a couple or solo traveller who want to explore one of the trendiest neighbourhoods in the city!
Even though you're surrounded by awesome places to eat, there's a kitchenette so you can prepare yourself a coffee or a tasty sandwich. There's also rapid internet, so you can plan your day in the morning, and let all your friends know about what you did when you get back!
What to Pack for your Rome Airbnb
Pants, socks, underwear, soap?! Take it from us, packing for an Airbnb stay is not always quite as straightforward as it seems. Working out what to bring and what to leave at home is an art I have perfected over many years.
Check out the definitive Airbnb Packing list for my top packing tips!
FAQ about Airbnbs in Rome
Here's what people usually ask us when they look for vacation homes in Rome.
Don't Forget Your Rome Travel Insurance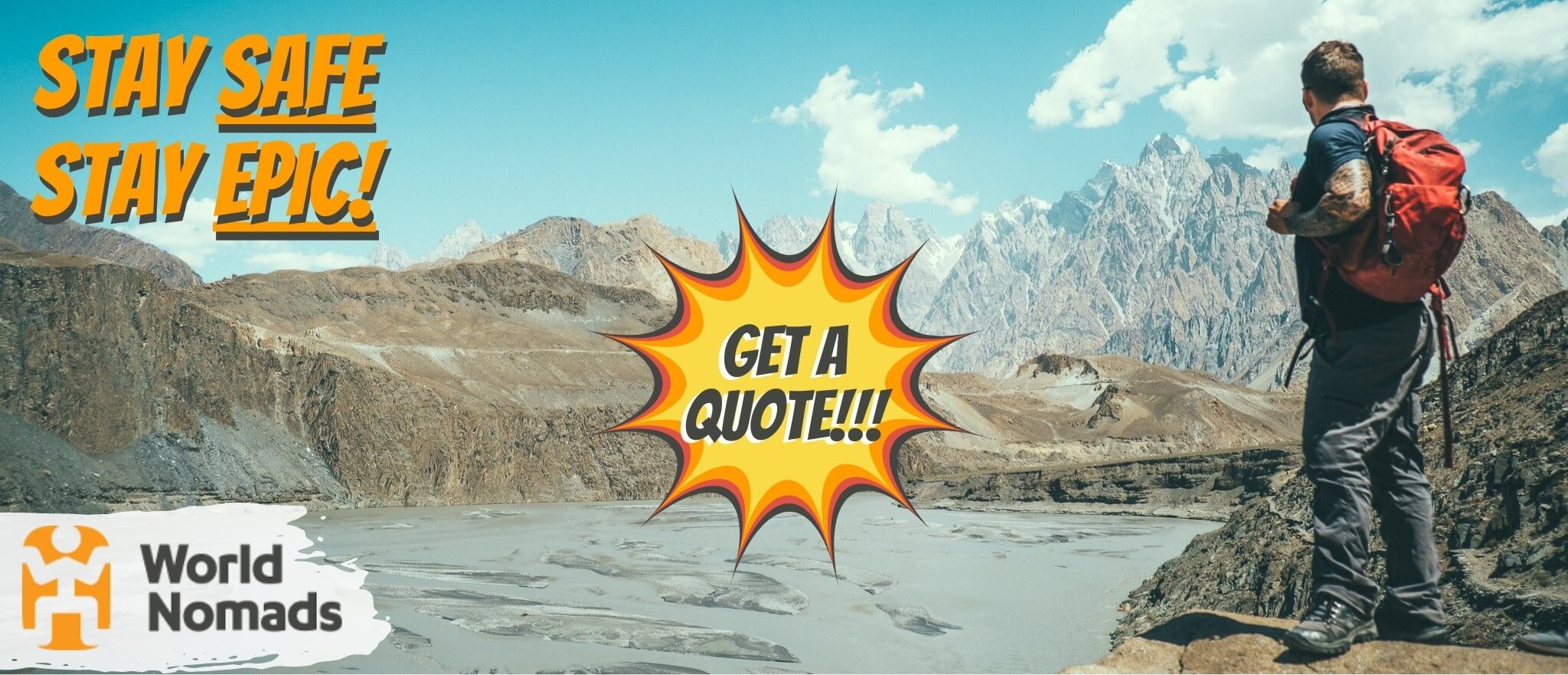 It's good to get lost sometimes, but it's also good not to get too lost. There are people that want you home in one piece.
There's one travel insurance provider The Broke Backpacker trusts for all his wildest shenanigans… World Nomads!
Click the button below to get a quote on your insurance or read our in-depth review of World Nomads' coverage. And then… let the shenanigans begin. 😉
Final Thoughts on Rome Airbnbs
So, that's my list of the best Airbnbs in Rome. I'm sure that you'll agree there's a lot of choice in the Eternal City when it comes to places to stay!
Whether you want to be enjoying a chilled out private room to work for a few days, stay in a pleasant homestay with a friendly local, or even sip coffee and eat breakfast with a view of one of the city's most beautiful squares, there's a Rome Airbnb for you.
In fact, I might have given you too much choice! If that's the case, just go with my favourite Airbnb in Rome – Centralissimo Flat Campo de' Fiori. Not only does it boast a great location, but it provides excellent value for money and it's pretty stylish too!
Now, all that's left is for us to wish you an incredible vacation. I hope you have a great time!
---
Bye for now, but not forever!
If you want MORE top-tier Broke Backpacker content like this, then sign up for our weekly newsletter below to get the latest and greatest!
And for transparency's sake, please know that some of the links in our content are affiliate links. That means that if you book your accommodation, buy your gear, or sort your insurance through our link, we earn a small commission (at no extra cost to you). That said, we only link to the gear we trust and never recommend services we don't believe are up to scratch. Again, thank you!