Ah, Rome: the colossal, eternal city that's thrived for well over 2000 years now. From the Roman Empire to the Renaissance and from the Second World War to the era of snap-happy tourists, Rome has seen many an empire rise and fall.
Simultaneously elegant and down-to-earth, the Italian capital manages to charm everyone from history lovers in search of ancient ruins to fashionable hipsters looking for the next best espresso. And I'm pretty sure that you're next to fall in love with the Roman dolce vita!
Visiting the treasure trove that is the city of Rome can be totally overwhelming for many but there's no need to let that put you off: I'm right here for you!
My 3-day Rome itinerary has plenty of advice, including what to do, helpful insider tips, and plenty of food recommendations. Whether you're planning a trip to Rome or already right in the heart of the Eternal City, I've got you covered!
Backpacking in Italy is an unbelievably amazing experience as the whole country is gorgeous. Rome simply stands out even more!
If you want to do Rome in a day, you will probably have to decide between either the Vatican or the Colosseum as they are kind of far apart. Alternatively, you could admire The Colly from the outside in the morning and then make your way over to the Vatican or vice versa.
If you're wondering how many days in Rome you should spend, I advise you to spend at least three days in Rome as the city is packed with major attractions and it's just so awesome. With 3 days in Rome, you'll be able to explore the Roman ruins and visit the Vatican at a leisurely pace. If all you have is a weekend in Rome then you should do the Vatican on Saturday and then explore Roman life and history in the city center on Sunday – you won't have time for much else.
3 days in Rome will also allow you to explore a few lesser-known landmarks at a more laid-back pace. Ideally, though, you should spend at least five days in Rome to make the most of the Eternal City's numerous attractions as well as fill up on the delicious food – perhaps even consider some food tours.
On top of that, make sure you choose the right location. Many of Rome's epic hostels are ideally located in the center of the city so you're well connected to all other areas, but there are some quieter neighborhoods that offer affordable prices just south of the Colosseum – amazing, considering Rome can be quite expensive.
If you have a few more days, you'll be able to discover some of the city's hidden gems. That said, a week in Rome can be pricey. Consider buying a Roma Pass if you plan on visiting a lot of extra museums and local attractions – it will give you free entry to most of Rome's top points of interest. You'll also get to skip the line at these!
If you follow this 3-day itinerary for Rome strictly though, you won't need a Roma Pass.
3 Day Rome Itinerary Overview
Day 1 in Rome: The Colosseum, Roman Forum, Capitoline Hill, Altare Degli Patria, Piazza Venezia, Monti, Trevi Fountain, Pantheon, Piazza Navona, Campo de Fiore, Jewish Quarter
Day 2 in Rome: Vatican City, Vatican Museums, St Peter's Square, St Peter's Basilica, Castel Sant'Angelo, Piazza del Popolo, Spanish Steps, Via del Corso
Day 3 in Rome: Bathes of Caracalla, Circus Maximus, Bocca della Verita, Giardino delgi Aranci, Pyramid of Caius Cestius, Ostiense, Trastevere
More Places to See in Rome: Villa Borghese, Quartiere Coppedè, Appia Antica, Parco degli Acquedotti
When visiting Rome for the first time, you need to get your bearings as it's a big city, but most of central Rome's ancient historic sites are within walking distance. So let's loosely break it down.
To the west is the Vatican and to the east is the Stazione Termini, the central transport hub for bus and train (including from the airport) and a bustling area in its own right.
To the south are the iconic Colosseum and much of the Roman city, while the Villa Borghese Gallery is to the north.
That said, let's identify where to stay in Rome within this area. Top of the list is Centro Storico, the historic city center. Although it's one of the pricier neighborhoods, it offers really good value: the Trevi Fountain, the Spanish Steps, and the Pantheon are right on your doorstep!
Tridente is technically a part of Centro Storico but it's a decidedly classier part. Prices are at a premium but it's long been popular with celebrities and is surrounded by luxury stores.
For something more off the beaten track, we recommend Trastevere. It's an effortlessly cool, shabby-chic area that bustles with hipsters exploring cobbled alleyways during the day and partying it up come nightfall. This Roman neighborhood is home to lovely shops, restaurants, and a few stunning historic sites, such as the Basilica di Santa Maria.
The Rome Airbnb scene is also booming and many are very well priced.
Dreaming Rome Hostel is my pick for the best hostel in Rome! Recommended by over a thousand guests, Dreaming Rome Hostel is certainly doing something right. It comes with all the essential facilities (free WIFI and maps), is close to the Colosseum and is impeccably clean. It's the welcoming atmosphere, though, that wins smiles. The owners are hands-on and provide their guests with individualized attention. There are also pasta nights every night and pizza on Sundays. Yummy!
Located in the heart of the city, Residenza Maritti Contemporary Suite is a real gem! It combines contemporary style (spacious rooms with flat-screen TVs and cashmere fabrics) with a historic charm (gorgeous views of the Roman Forum and antique ornaments). It's just 200m from the Roman Forum, has a superb terrace for socializing, and is consistently praised for the friendliness of the staff.
The 5* Singer Palace Hotel is one of a kind! 350m from the Trevi Fountain and 5 minutes from the Pantheon, the Singer Palace has a location spot-on. And then there is the hotel itself: a 20th-century palace with gilded furniture, a rooftop terrace with breathtaking views, and a restaurant serving up scrumptious Italian pasta and seafood. Lucky you!
The first day of my perfect Rome itinerary is devoted to the city's most iconic landmarks, including the Colosseum, Roman Forum, Pantheon, and Trevi. This is going to be a whirlwind of a day so make sure wake up early, have a good breakfast, and a strong espresso before heading out!
8:30 am – Colosseum
As the icon of the Roman Empire and an ancient Wonder of the World, the Colosseum is one of the best things to see in Rome in 3 days. Historians believe it was built over an eight-year period and completed in 80 AD.
For over 500 years, the Colosseum was the place to have fun in Rome. There were gladiator fights, exotic animal displays, and executions of infamous prisoners all taking place to the roaring approval of the ancient Roman crowd.
Things are a lot less bloody today but there is still a lot of fun to be had with a visit to the Colosseum!
Note that it's not exactly one of Rome's hidden gems: the queues to enter the Colosseum are big (and even bigger in summer). If you don't already have some sort of tourist pass that allows you to skip the line, bank half a day to get in, around, and out again.
Admiring the building from the outside is one option as this will save you time as well as $13 but you may end up regretting not going in. Guided tours obviously take longer than a DIY trip so you need to work out what is more important (1) historical context or (2) saving time.
If you don't have a Roma Pass, buy your tickets at the Palatine Hill ticket office, instead of at the Colosseum, as the lines are a lot shorter! For the ones that are more interested in the history and hidden details of the Colosseum, you should check out a VIP tour! It will take you to secret tunnels, old cages where they kept lions and tigers, and to the third ring (all of this is a restricted area for normal visitors so you can enjoy exclusive access) – definitely a cool adventure that not everyone gets to experience!
Cost – $13 entrance to the Colosseum, Palatine Hill, and Roman Forum.
How long should I stay here? 2-3 hours
Getting there – Metro Line B stops directly in front of the Colosseum.
10:30 am – The Roman Forums and Palatine Hill
The Colosseum and Roman Forum are located right across from each other, so it makes sense to see this site next. The Roman Forum was once Rome's city center of one of the most powerful empires in history! Walking through the ruins is like stepping back in time. The archaeological site is significantly lower than the surrounding attractions, meaning that there are some amazing views of ancient and modern Rome side-by-side.
The site was essentially the central business district of its time, full of temples and civic buildings. You can still visit the Temple of Julius Caesar, where the famous general was cremated after his assassination. There is also the Lapis Niger, the marble slab that legend holds to cover the tomb of Romulus, the founder of Rome.
Perhaps most impressive, though, is that you can view the Roman Senate in all its glory, thanks to a 1937 reconstruction of the renowned building.
The Roman Forum is a huge site and can be overwhelming if you don't have a guide. That said, there are few archaeological sites in the world that are so extensive and evocative so this really is top of the list of places to visit in Rome in 3 days!
The lines here are a lot shorter than the ones for the Colly and I was in and out within an hour even in August. That said, if you go with a guide who stops to explain everything, that will take a lot longer.
If you like the Roman Forum, you should also consider taking a trip to Largo di Torre Argentina – the remains of collection of four roman temples and a theatre. However, if you are running out of time, you could skip this and not miss out.
Tip tip: consider getting tickets online for a Colosseum and Roman Forum combined tour, as they are located next to each other.
Cost – Included with the purchase of a Colosseum ticket.
How long should I stay here? 2-3 hours
Getting there – You can access the Palatine directly from the Colosseum. Otherwise, the forum is a 5-minute walk up Via dei Fori Imperiali.
12:00 pm – Capitoline Hill and Altare Della Patria
Right next to the Roman Forum, the Capitoline Hill continues your journey into ancient Rome. The Capitoline Hill was predominantly a religious center for the Romans, concentrated around the Temple of Jupiter. To get a sense of how majestic the building was, head into the Capitoline Museums, and be aware that you could easily spend an entire day inside them.
Insider Tip: You don't need a museum ticket to visit the museum cafe, nor do you need to buy anything to take in the views so even if you skip the museum, the cafe terrace is one of the best things to see in Rome!
The Capitoline Hill is also home to some stunning Renaissance landmarks. The most beautiful of these is the Piazza del Campidoglio which was designed by Michelangelo.
If you go around behind the Capitoline Museum, you'll also be afforded one of the best views of the Forum as well.
The Victor Emmanuel II Monument or the Altare Della Patria was built to honor the first Italian king and is also an immensely impressive site. It is an enormous and humbling structure (that was probably Mussolini's intention when he oversaw the construction) and is definitely worth entering. Make sure you walk to the upper balcony for another great view.
Fun fact: the square in front of the Altare, Piazza Venezia, is where Mussolini used to deliver his speeches.
Cost – The hill and Altare are both free; entrance to the Capitoline Museum is $13.
How long should I stay here? An hour for the Altare. Longer if you enter the museum.
Getting there – Another 5-minute walk from the Roman Forum. Note that the main street here is closed for commuter cars but is still used by buses and taxis.
1:00 pm – Lunch in Monti
Monti is considered the artist's district of Rome, which means that there are lots of artisan shops, boutiques, and local clothing stores around. It is a great place to shop as well as to stop and have a bite to eat. There are many high-quality restaurants in Monti that offer meals at relatively affordable prices.
One of the best places to eat in Monti is Osteria Olivia. From the outside, this place is barely recognizable, aside from the old, broken truck parked outside, which now serves as a bench. Inside though are the delicious aromas of classic Roman cuisine.
Osteria Olivia makes one of the best carbonaras in Rome, a dish that is iconic to the city. It is perfectly cooked and extremely filling. You'll probably want a coffee or digestif after eating one; pop on over to Magasin bar next door, which is owned and operated by the same people at Olivia. Take your time and recharge your batteries for continuing your 3-day Rome itinerary.
Cost – Lunch should be around 10 euro.
How long should I stay here? A couple hours to eat, relax, and digest.
Getting there – Monti is a relatively small neighborhood and is right next to the Roman Forums. Osteria Olivia is about a 10-minute walk from the latter.
3:00 pm – The Trevi Fountain
After a nice relaxing lunch and another tall cafe, we head to the Centro Historico of Rome. This is where many of Rome's masterpieces can be found, including the Trevi Fountain.
The Trevi Fountain is as legendary as Rome itself: according to the myth, if you throw in a few coins, you're sure to return to the Eternal City!
There aren't many fountains in the world that have their own websites but that's just how popular the Trevi Fountain is! The fountain that you see today is a reworked version of one that was built over 2000 years ago in the early days of the Roman Empire! The famous facade that you see today wasn't built until the 17th century when Pope Urban VIII thought the old one was too boring.
The intricate reliefs are carved from local marble, with the main statue being a representation of the ancient god of the ocean, Neptune.
Make no mistake: the crowds here can be IMMENSE. If you'd like a more intimate and atmospheric experience visit here in the evening instead.
Cost – A few cents' donation to make your wish!
How long should I stay here? Not too long. It gets hectic here.
Getting there – From Monti, it's about 15-20 minutes walk through the Quirinale area, which is where the government conducts national affairs.
4:00 pm – The Pantheon
The ancient Romans certainly knew a thing or two about architecture and left us the Pantheon to prove it! This brilliant building still hosted the world's largest unsupported, masonic dome, and is a marvel of proportions. The interior was specifically designed to big enough to cause awe yet small enough to be completely taken in by the human eye.
Insider Tip: For a truly magical experience, attend Mass at the Pantheon.
The current Roman temple was built in 125 AD, after two previous versions were destroyed by fires, and the third time certainly was a charm! Originally intended to be a shrine to all forms of religion, the temple was later converted into a church and a cemetery for early Christian martyrs. Raphael, the renowned Renaissance painter, and King Victor Emmanuel II are also buried in the Pantheon.
Although the Pantheon is free to enter, I highly recommend getting an audio guide so you know what you are looking at.
Cost – Free!
How long should I stay here? At least an hour.
Getting there – A 10-minute walk roughly due west from Trevi Fountain.
5:00 pm – Piazza Navona
After Trevi, Piazza Navona hosts probably the second-most famous fountain in Rome called the Fountain of the Four Rivers. Constructed by the legendary Bernini in a slightly ironic manner after Pope Innocent commissioned it in 1651 – read the story – the fountain is a masterpiece of sculpture. Many people actually prefer Navona to Trevi!
Piazza Navona itself is much larger and more spacious than the square where the Trevi Fountain is located. One can actually breathe here and can sit down for a moment of respite. After a long day of walking around Rome, now is a good time to start and slow down and rest a little.
Next to the Fountain is the Church of Sant'Agnese in Agone. It's one of the more notable churches in Rome and you should definitely pop in for a moment. Entry is free.
At the southern end of Piazza Navona you'll find another fountain: the Fontana del Moro. It's not as impressive as the Four Rivers but is still worth seeing.
Cost – Free!
How long should I stay here? An hour to see the fountain and church.
Getting there – A 10-minute walk roughly due west from Trevi Fountain.
6:00 pm – Aperitivo in Campo de Fiore
The food market of Campo dei Fiori is located right in the center of Rome. The Campo dei Fiori was once a meadow before it was transformed into a place of public execution eventually becoming the legendary market we know today! The most notable of the executions it witnessed was that of philosopher Giordano Bruno who was burned for heresy in 1600 for his belief that the earth orbited around the sun. His execution is marked by the eerie statue of a hooded monk.
Lovely and colorful, the Campo dei Fiori is everything you would imagine a food market in Italy to be! Some of the delicacies you can sample are artisan meats, fresh fruit, and vegetables, heaps of walnuts, and Tuscan wines. Around the fountain, you will find a picturesque display of cut flowers. During the day, housewives and local chefs jostle over each other for the freshest produce from around Lazio. Then come nightfall, the market takes on a distinctly more hipster vibe!
You don't need to be cooking in Rome to enjoy the market: you can shop for canned souvenirs, as well as just take in the atmosphere from one of the many bars or restaurants. Though the establishments around Fiori are usually tourist traps, they're still good for an early-evening snack or aperitivo.
Cost – between 10-15 euros.
How long should I stay here? Chill for a couple of hours. No rush.
Getting there – Across the main street of Corso Vitorio Emanuelle II. Less than 5 minutes' walk from Piazza Navona.
8:00 pm – Dinner in the Jewish Quarter
Time to end the day with some more hearty Roman cuisine! You've earned it!
One of the most popular places in Rome to have dinner is the old Jewish Quarter. This former ghetto is the birthplace of some of the most famous dishes in the city.
Carciofi or artichokes is one of the most beloved foods in Rome. Locals like them pan-fried in a delicious mixture of white wine, garlic, lemon, and mint or just straight-up deep-fried.
The deep-fried version of the artichoke originally came from the Jewish Quarter, where Jewish locals would make the dish for Yom Kippur. The tradition lasted and would eventually become of the most well-known dishes in Rome. Nowadays, the Jewish Quarter is filled with restaurants and just about everyone offers this dish.
Cost – Dinners here are not cheap. Be prepared from 30 euros minimum per person.
How long should I stay here? Take your time! It's the end of the day.
Getting there – 10 minutes walk due southeast from Campo die Fiore.
It's going to be a busy day so have a big breakfast early at your hotel. There is also the possibility of booking breakfast at the Vatican Museums. If you don't manage this, have breakfast at your hotel and then grab an early lunch at one of the museum's eateries before heading over to St. Peter's Basilica.
Make it a good breakfast too because it's going to be a big day! We're visiting some of the most admired pieces of art in the world like the Sistine Chapel soon!.
9:00 am – The Vatican Museums
No visit to the Eternal City is complete without a few hours at the Vatican Museums. The world's largest private art collection is home to some of the most famed artworks by the greats like Michelangelo and Caravaggio!
I cannot recommend a guided tour enough as the museums can be overwhelmingly full of both visitors and artworks. However, it is possible to do a self-guided tour of the museums.
If you're keen to get up early, I highly recommend the early morning Vatican tour, which starts at around 7.45am. This means that you get in the museum and the chapel long before the main tourists start entering the museum, so you won't have to wait a long time to buy a ticket.
The Vatican Museums is an arc of Western Civilization. Arguably, there is more history and art here within this building than the rest of the city. Pottery from the Ancient Greeks, tour de forces from the Renaissance, and a number of oddities that attracted various Popes' attentions are all housed here.
Of course, the must-sees include the colorful, awe-inspiring Sistine Chapel which was painted by Michel Angelo, the paintings of Rafael, and the mind-bogglingly beautiful Spiral Staircase. I advise you not to rush the Sistine chapel and take in all of Michael Angelo's best work, including the world famous Hand of God painting.
I advise you to start your visit to the Vatican with the museums as there is a direct entrance to St Peter's Basilica from the museums; if you do it the other way around, you will stand in two queues.
Cost – 44 euro for a guided tour, free with Roma Pass.
How long should I stay here? At least 3 hours.
Getting there – Take the A Metro Line and get off at either Cipro or Ottaviano. From either, it's a 5 to 10-minute walk to the entrance of the museums.
12:00 pm – Early lunch or snack
It's definitely a good idea to grab a quick bite to eat before heading to our next destination: St. Peter's Basilica. You just spent 2-3 hours walking around a museum and could potentially spend another 2-3 hours at the St. Peters. Food is not allowed in either of course.
Because this is going to be a grab-and-go meal, it's the perfect time to try the local Roman pizza. Roman pizza is distinctive for being baked in a square shape and then cut into square pieces. The crust is crunchier than other types of Italian pizza and the toppings are pretty diverse.
There are lots of good pizzerie around Vatican City. Make sure you go into an actual pizzeria and not a restaurant that also serves pizza – the former is quicker and cheaper. Pizzeria Mammapa and Pizzeria Rustica are both good choices.
Consider taking your pizza to go as well. If there is a long line to get into St. Peter's Basilica (there probably will be) you can eat your pizza while you wait.
Cost – 3-4 euro for a large piece.
How long should I stay here? Take an hour or so to rest and eat.
Getting there – Depends where you go but there are good places within 10 minutes walk of the Vatican Museums.
1:00 pm – St Peter's Square
This enormous square is the iconic image of Vatican City and is broadcast across the world whenever the pope addresses the faithful. It is surrounded by pillared walkways and in the middle is a giant obelisk that originally came from Ancient Egypt. At the head of the square is the humbling Basilica of St. Peter
Entering St. Peter's Basilica is open and free to the public. You will need to stand in line though and depending on the day, these can either be reasonably short or massive. On a good day, you might stand in line for a half-hour; on a bad one, it could be several hours. Prepare appropriately.
Insider Tip: For an opportunity to see the pope, book a papal audience. This isn't a one-on-one meeting with the pope but a large gathering of the faithful and tourists that is held on St Peter's Square in summer. There is a small service and then the Pope travels down the square to bless the audience. Tickets for the seating area near the front are free but must be booked ahead! If you do not have a ticket, you are still welcome (but there will be no opportunity for chairs).
Cost – Free!
How long should I stay here? Depends how long the line is.
Getting there – About a 10-15 minutes walk from the Vatican Museums. A bit more if you make a detour for some food.
2:30 pm – St Peter's Basilica
St Peter's is one of the holiest sites for Christians worldwide and an architectural masterpiece. It is the result of 120 years of work by some of the world's most renowned architects and artists: Michelangelo, Bramante, and Maderno.
Ever since 1626, the basilica has been able to accommodate 20 000 pilgrims for services that have been presided over by Pope John Paul II, Pope Innocent III, and the current Pope Francis, to name a few.
One of the highlights of any visit is the Pieta by Michelangelo, a statue of the Mother Mary holding Jesus' body. Another masterpiece is St Peter's Throne, an imposing seat for the head of the Catholic Church, created by Bernini.
You must dress conservatively for a visit to St Peter's Basilica (cover your knees and shoulders).
If you have extra time, try and enter the Tomb of St. Peter. Very few people can say they've visited the resting place of this spiritual leader, who was arguably the founder of Catholicism (he is considered to be the first pope). This is a remarkably spiritual experience.
In 64 B.C. St Peter, one of Jesus' disciples, was crucified for promoting the Christian faith. Two thousand years later, it is now possible to visit what many believe is the martyr's tomb. The tomb is underground, the Vatican only allows 250 people a day to visit in groups of 12 and no photographs are allowed. Add in the fact that you may well be in the presence of a saint and you can begin to imagine the unique, hushed atmosphere.
Cost – The basilica is free; tomb is $15.50.
How long should I stay here?
Getting there – Enter from St. Peter's Square.
4:30 pm – Castel Sant'Angello and Ponte Umberto
The circular structure of Castel Sant'Angelo was originally built as a mausoleum for the Roman Emperor Hadrian. Eventually, it becaFvatime a fortress for the popes and Vatican City.
It is possible to enter the castle and tour the interior. Since you've already had a long day at the Vatican already, you may want to skip this tour. Most people just end up walking around outside of the fortress anyways.
The ponte or bridge leading up to Sant'Angelo is a very popular spot to take photos in Rome. Keep your head on a swivel for Instagrammers!
At sunset, the view from nearby Ponte Umberto is much better as you have a perfect view of the Dome of St. Peter.
This is a popular attraction in Rome and there are often queues to buy tickets, I recommend buying tickets online beforehand to avoid queues.
Cost – $15 to enter.
How long should I stay here? About an hour. Maybe longer if you have time.
Getting there – 10 minute walk from St. Peter's Square.
6:00 pm – Piazza del Popolo
The Piazza del Popolo is one of the largest and most important squares in Rome. It once served as the main entryway into the city for pilgrims and travelers, so it's only appropriate that modern travelers make their way here!
You mustn't miss visiting the Church of Santa Maria del Popolo at the beginning of the square though. This church hosts paintings by both Caravaggio and Raphael, which you can see for only 1 euro each.
Aside from the obelisk, the Caravaggio, and mirrored churches at the far end, there's nothing too outstanding about this square. Mostly, it's inhabited by buskers and hawkers.
Piazza del Popolo is interested by Via del Corso, which is one of the most popular places to shop in Rome. You can do some browsing here if you link or continue onwards to the Spanish Steps nearby.
Cost – Free!
How long should I stay here? 1-2 hours depending on if you want to shop.
Getting there – It's a 20-minute walk to get to Popolo from Castel Sant'Angelo but it's a lovely walk along the Tiber. If you don't want to walk, hail a taxi.
7:30 pm – The Spanish Steps and dinner
If you plan a trip to Rome, you must make time for a passegiata! Come dusk, this Italian tradition sees people of all ages take to the streets for an evening stroll. For a particularly scenic passegiata, stroll through the area around the Spanish Steps. The spectacular combination of ornate baroque architecture and stunning views will take your breath away!
Start your stroll at the Piazza di Spagna, one of Rome's most beautiful squares. After a photocall at the Fontana della Barcaccia, a lavish fountain in the square, begin your ascent up the Spanish Steps.
The ornate staircase was built in the 18th century and has 138 steps! Note that whilst people were once able to sit on the steps – once upon a time – now the local government forbids this – you must stand or walk on the steps but not sit. At the top of the stairs, stand in awe of the lovely Church of the Trinita dei Monti. It was worth it, wasn't it?
When you're ready for some food, head over to the main thoroughway of Via del Corso. There are lots of restaurants and cafes tucked away in the alleyways intersecting this street.
Cost – Free!
How long should I stay here? As long as you want.
Getting there – 10-15 minute walk directly from the Piazza del Popolo on Via del Babuino. From the piazza, you should be looking to the way on the left.
By the time we reach day 3, we will have already seen a lot. It might be the case that you want to have a chill day and not do so much. Feel free to cut out a few parts of this particular itinerary and then save the rest when planning your next trip to Rome!
9:00 am – The Baths of Caracalla
The Romans put their engineering skills to good use when they built the Baths of Caracalla for the dictatorial emperor of the same name! Although only ruins remain, it is still possible to get a sense of the scale and grandeur of the bathing complex.
The baths are conveniently located just 1km from the Colosseum, in the heart of ancient Rome. To get the most out of this iconic Roman location, go on a guided tour or hire an audio guide that will transport you to ancient Rome and back in just 50 minutes!
Although the baths were constructed in the 3rd century, they featured an impressive heating and drainage system for their time. The complex also included a library, a gym, temples, and gardens so that the Romans could get the most out of their downtime!
If you're planning to visit the Baths of Caracalla, I highly recommend purchasing an audio guide with your ticket so you know what you're looking at.
Thanks to modern technology, it is now possible to experience the baths just as if you were visiting 1700 years ago as well! A new virtual 3D tour brings the marbled floors, vast halls, and ornate decorative details to life.
Cost: $7
How long should I stay here?
Getting there – It's about a 10-minute walk from the nearest metro stop: Circo Massimo of Line B.
11:00 am – Circo Massimo and the Bocca della Verità
If you have time, make a quick visit to the Circus Maximus which is right next to the baths. It was once a chariot-racing stadium that could accommodate 300 000 spectators, a higher number than many modern stadiums can! Nowadays, it's a giant park and is used to host concerts and political rallies.
About 5 minutes away from the Circus Maximus is the famous Bocca della Verità or the "Mouth of Truth." The Roman-era disk, whose original purpose is still not known for sure, depicts Neptune with his mouth and eyes wide open. People like to stick their hands in the mouth and take photos with the hungry Roman god 🙂
Cost: $3 to see the mouth.
How long should I stay here? No more than an hour – neither the Circus nor Boca will take long.
Getting there – Walk back to the very busy Viale Aventino from the Baths of Caracalla, about 10 minutes away. The Circus is right there and the Boca is another 5-10 minutes walk ahead.
12:30 pm – Packed lunch in the Giardino Degli Aranci
This is one of the best viewpoints in Rome! It's particularly great at sunset, but we're going to be spending the afternoon here. Eating premade panini and perhaps having a little wine or beer.
True to its name the garden is filled with orange trees but more noticeable are the towering pini Romani or "pines of Rome." These distinctive trees, which may or may not have seen already, are a true symbol of the city.
In the distance, you'll have a beautiful view of the Dome of St. Peter. Many comment on the perspective of the dome from the garden – when you enter the garden it's quite small but as you get closer it suddenly becomes huge! It's an ingenious visual trick.
When you finish with lunch and leave the Orange Garden, be sure to walk a bit further down the street and past the Basilica dei Santi Bonifacio e Alessio. Around here, you'll find the mysterious "Keyhole" – one of the greatest not-so-hidden secrets of Rome.
Cost: Free!
How long should I stay here? 2 hours. Enough to eat and chill.
Getting there – Walk parallel to the Circus Maximus and then head left through the Garden of Roses. You'll be walking up a hill until you start to see cloisters and schools on the right. The garden is just up ahead. 10 minutes walk in total.
2:30 pm – The Pyramid of Caius Cestius and the Foreign Cemetary
This will be a quick stop. The Pyramid of Caius Cestius, built as a tomb for the same-named religious magistrate at the Porta San Paolo is pretty hard to miss – it's right next to a giant roundabout on the way to Ostiense and is pretty tall. The walls here used to be the edge of the ancient Roman city!
Behind the Pyramid is the Non-Catholic Cemetary where many prolific non-Italian poets are buried. Most notable are Percy Shelly, author of tour-de-forces like "Ozymandias" and John Keats, arguably one of the greatest English Romantic poets. Finding their graves is a bit of an adventure in itself.
Watch out for the local cat population as well! There's a friendly group that likes to hang out in the park behind the pyramid
Cost: Free!
How long should I stay here? Not long; 1-hour tops.
Getting there – From the Giardino Degli Aranci, walk back to the Viale Aventino and take the tram towards Testaccio. The pyramid will be on your right.
3:30 pm – Ostiense Street Art Walking Tour
Rome has some amazing examples of street art, most of which are located in Ostiense; this tour will help you find the best pieces of street art in just two hours.
Ostiense is an old industrial area in Rome that has been going through an incredible regeneration. Today, it's considered one of the trendiest areas in the city with hipster bars, art galleries, and, of course, fantastic street art!
This tour will take you around the neighborhood to see the contemporary artworks that are bringing color back to the Eternal City. Visits to a few local galleries are also included. Finally, your guide will take you to see the Pyramid of Cestius, a white marble structure that was built as a tomb in around 18 B.C.
Quick heads up – squeezing a street art tour as well as the other Day 3 items is possible but only if you plan carefully, start early and keep on a schedule. If you want time to leisurely saunter around the city then you will definitely have to cut something.
Cost: $60
How long should I stay here? Tour lasts 2 hours.
Getting there – The Ostiense neighborhood begins when you arrive at the Pyramid of Caius Cestius.
5:30 pm – Aparetivo at a local bar
After you're street art tour, it's time to kick back with an aparetivo. Ostiense is particularly famous for its local craft bars and pubs, which are distinctly grittier than the ones in the center of Rome. Beer bars, speakeasies, and craft cocktail bars all the rage here.
Hopside is probably the best beer bar in the area, followed closely by L'Oasi della Birra. If you want to check somewhere a bit more macabre, then head to the Mastro Titta, named after one of the most notorious executions in the city's history.
If you want more wine or food, then check out the charming Il Nido or Porto Fiuviale.
Cost: less than 10 euro for an aparetivo.
How long should I stay here? 2-3 hours is fine.
Getting there – You'll already be in Ostiense. Just choose a good spot and it shouldn't be more than 5-minutes walk away.
7:30 pm – Exploring Trastevere
No itinerary for Rome would be complete without visiting the Medieval quarter of Trastevere! This is one of the must-see places in Rome if you have 3 days in the city and shouldn't be missed.
Trastevere is mostly known for its winding alleys, hidden cafes, and romantic ambiance. Lots of people come here to get lost in the streets in search of the perfect watering hole or perhaps love.
Trastevere is a pretty big neighborhood though the most popular area for tourists is around the Basilica di Santa Maria in Trastevere. There are lots of cafes and restaurants around here and at night the piazza is bursting with people. You can opt to drink in a bar or take your drinks to go and walk around as everyone else does.
If you're a beer snob, be sure to check Ma Che Siete Venuti a Fa. It is has been voted one of the best beer bars in Italy on several occasions.
If you have the time and energy, try walking up to the Janiculum Terrace above Trastevere. It offers one of the best views in Rome.
Cost: Dinner should be around 20 euro.
How long should I stay here? All night if you like!
Getting there – From Ostiense, it's a bit of a journey. You'll either need to take a bus/tram from Porto San Paolo (20 minutes) or walk (40 minutes).
Need a place quick? Here's the best neighborhood in Rome:
Try to spend as long as possible in the city. There are just so many major attractions to visit that 3 days in Rome will pass by in a whirlwind! If you happen to have more time to spend here, check out some of these other Roman points of interest!
1. Villa Borghese
This palatial estate is home to several top things to see in Rome, including the Borghese Gallery and beautiful Villa Borghese gardens and a world-class gallery. The most striking part of any visit to the Villa Borghese is the beautiful garden which is so extensive that is now the most popular public park in Rome!
The park, which was designed in 1606, boasts elegant fountains, gravel walkways under the shade of cypress trees, and plenty of stunning flowers. This is another perfect venue for your sunset passegiata!
For a bit of culture in the midst of nature, visit the Villa Borghese Gallery, or Galleria Borghese. In this converted palace, you will find masterpieces of Italian art, including by the renowned painter Bernini.
To experience what the good life was like a few hundred years ago, visit the Villa Medici. Built by the infamous Medici dynasty in the 16th century, it is now a center for the French Academy but happily welcomes tourists to explore the opulent manor and an array of exciting exhibitions.
If you have kids, or just want to unleash your inner child, pop in at the Bioparco di Roma, a lovely city zoo, and the Casina di Raffaello, a hive of storytelling and crafts!
Cost – Park is free; gallery is $17.
How long should I stay here? Half-day.
Getting there – The nearest metro stop is Flaminio, which is serviced by Line A.
2. Quartiere Coppedè
Drop into the Roman equivalent of fairyland if you have one extra day in Rome with a visit to the serene Quartiere Coppedè district. The district is away from the tourist center so take a short tram journey to Piazza Buenos Aires to begin a leisurely stroll.
When we say 'fairyland', we mean fairyland: neoclassical manors painted in Tuscan gold with ivy growing along the walls, ornate arches that open onto cobbled piazzas, fountains with marbled goddesses spewing water, turrets that reach dreamily for the skies…it's all very, very charming!
Interestingly, this neighborhood was thoroughly planned and designed by Gino Coppedè from 1913 to 1927 who built around 40 structures in the district. The area was intended as a working-class neighborhood but what with the Baroque, Art Deco and Gothic styles, you could be forgiven for thinking it was home to kings and princesses! But this is Rome…style is ubiquitous.
The first attraction is the enormous arch, which is the entrance to the tranquil little neighborhood. Overhead is a bronze chandelier so you'll know you've arrived in Coppedè!
There aren't any specific attractions as such, so a leisurely meander through the pretty streets is all you need. Make sure, though, that you spend time on Piazza Mincio. This quaint little square is home to the Fountain of the Frogs, a whimsical fountain that is perfect for a photo-opp!
As beautiful as the Coppedè district is, it is a distinctly local area. Don't expect souvenir shops or piazzas crowded with restaurants; its peacefulness just adds to the Secret Garden aura of the neighborhood!
Cost – Free!
How long should I stay here? 1-2 hours.
Getting there – Take Metro Line B to Policlinico and then take the tram 2,3, or 19 due west. Get off at the Buenos Aires stop and the quartiere will be on your right.
3. The Appia Antica and Parco delgi Acquedotti
Want to mix your Rome itinerary up and see antique ruins in a more bucolic setting? Can't deal with the constant traffic of the city anymore? Then head to the Appia Antica or Parco delgi Acquedotti on the outskirts of town then!
The Appia Antica was one of the original highways leading to Ancient Rome. Many of the old mansions, mile-markers, and other roadside buildings are still intact here. There aren't many commuters competing on these roads anymore; just lots of vegetation of trees!
One of the most iconic pieces of Roman engineering were aqueducts. These towering structures brought water to the city and were vital to public sanitation. One of the best-presevered aqueducts in the area is in Cinecitta. It is now a large park where people go to exercise, picnic, and socialize.
Cost: Free!
How long should I stay here? All day if you like.
Getting there – Take bus 218 to reach the Appia Antica. Take Metro Line 1 until Subaugusta to reach the Acquedotti.
Like many European capitals, Rome fluctuates between cold and scorching, and there is a distinct charm to each season. Winter is a reflective time of candle-lit holy festivals, while summer brings bustling crowds and long, lazy evenings. Spring and Autumn are less busy than summer, offer decent weather and some cracking light for Instagram shots.
Weather in Rome

| | Average Temperatures | Chance of Rain | Crowds | Overall Grade |
| --- | --- | --- | --- | --- |
| January | 8°C/46°F | Medium | Calm | 😐 |
| February | 9°C/48°F | Medium | Calm | 😐 |
| March | 12°C/54°F | Medium | Calm | 🙂 |
| April | 14°C/57°F | High | Medium/Easter | 😀 |
| May | 21°C/70°F | Medium | Medium | 😀 |
| June | 23°C/73°F | Low | Busy | 🙂 |
| July | 26°C/79°F | Low | Busy | 😐 |
| August | 24°C/75°F | Low | Busy/Italian holiday | 😐 |
| September | 22°C/72°F | Average | Medium | 🙂 |
| October | 18°C/64°F | Average | Medium | 😀 |
| November | 13°C/55°F | Average | Medium/The Roma Jazz Festival | 🙂 |
| December | 10°C/50°F | Average | Medium/Christmas | 😐 |
Getting around Rome can be frustrating at times. Between the many buses, trains, taxis, trams, and self-driving options you're sure to get to where you need to go, but you'll probably utter a few catzos along the way.
If you intend on taking any form of public transport, you need to buy a pass of some sort. Choose a multi-day transit or Roma Pass; the latter of which includes discounted entry to cultural sites in addition to free public transport. Either way, both will cover travel on any bus, train or metro within the city of Rome for a certain amount of time.
You can buy a single trip or multi-day ticket in most stations at a kiosk or at one of the many local bars/tobacco shops (tobaccoria). Upon entering the bus/train/etc you'll have to validate the ticket at a little yellow machine.
Though the grand majority of Rome is covered by some form of public transport, experiences can be a mixed bag. Buses are usually jam-packed, trams are decrepit, and air conditioning is rare. Throw in the fact that Rome is constantly under construction, causing frequent reroutings, and the whole affair may seem overly-frustrating.
Most of Rome's most notable places to visit are located in the Historical Center and within walking distance of each other. You'll be able to see a lot on foot and should only need to use public transport when you want to visit the outer neighborhoods of the city, like Ostiense or the Apia Antica.
Most will use the bus once or maybe twice per day to backtrack. You will only need to resort to public transport if you want to get outside to Rome's lesser-visited areas, like the Appia Antica or the coast.
Make sure that you pack depending on what season you are planning to visit Rome. Bring light clothing during the summer and a good jacket in the winter. If you need some more suggestions on what to bring, then check out our in-depth packing list for Italy before heading out.
In terms of safety, Rome's one of the safer cities you'll encounter on your travels but, as always, there are common precautions you can take to guard yourself against opportunistic petty crime.
Keep your valuables where you can see them: never hang your bag off a restaurant chair or leave valuables in a coat that you hang off your chair.
Be particularly vigilant in touristy areas like the Piazza di Spagna, the Colosseum, and St Peter's Square.
Public transport is also a hotspot for petty crime, so hold tight to your belongings for any journeys you take.
It is generally quite safe to walk around popular areas at night, especially in summer when Italians and tourists fill up the squares until late.
Don't Forget Your Travel Insurance for Rome
ALWAYS sort out your backpacker insurance before your trip. There's plenty to choose from in that department, but a good place to start is Safety Wing.
They offer month-to-month payments, no lock-in contracts, and require absolutely no itineraries: that's the exact kind of insurance long-term travellers and digital nomads need.
SafetyWing is cheap, easy, and admin-free: just sign up lickety-split so you can get back to it!
Click the button below to learn more about SafetyWing's setup or read our insider review for the full tasty scoop.
Find out what people want to know when planning their Rome itinerary.
With the ruins of a powerful empire in its center and the Vatican towering beside it, Rome is one of the most impressive cities you'll ever visit! Despite all of the ruins, though, the city has managed to stay as lively as it was in Caesar's time. With food markets and colorful street art popping up around the city.
Over 2000 years of history and drama have given Rome plenty of fabulous attractions to visit. My itinerary for Rome will make sure that you cover as many bases as possible.
So, whether this is your first time in the city or you're already a veteran, be sure to keep my 3-day Rome itinerary with you for a truly epic experience in the Italian capital!
Insider tip: For those who are short on time, I'd recommend you book a Rome-in-one-day tour. Going on this guided tour allows you to skip the line at many attractions, is flexible, features a tailored list of famous monuments (you can choose which ones you want to see), and a driver who also jumps into the role of a professional guide.
You'll learn everything there is to know about the city, its history and so much more without having the stress of planning the trip yourself!
---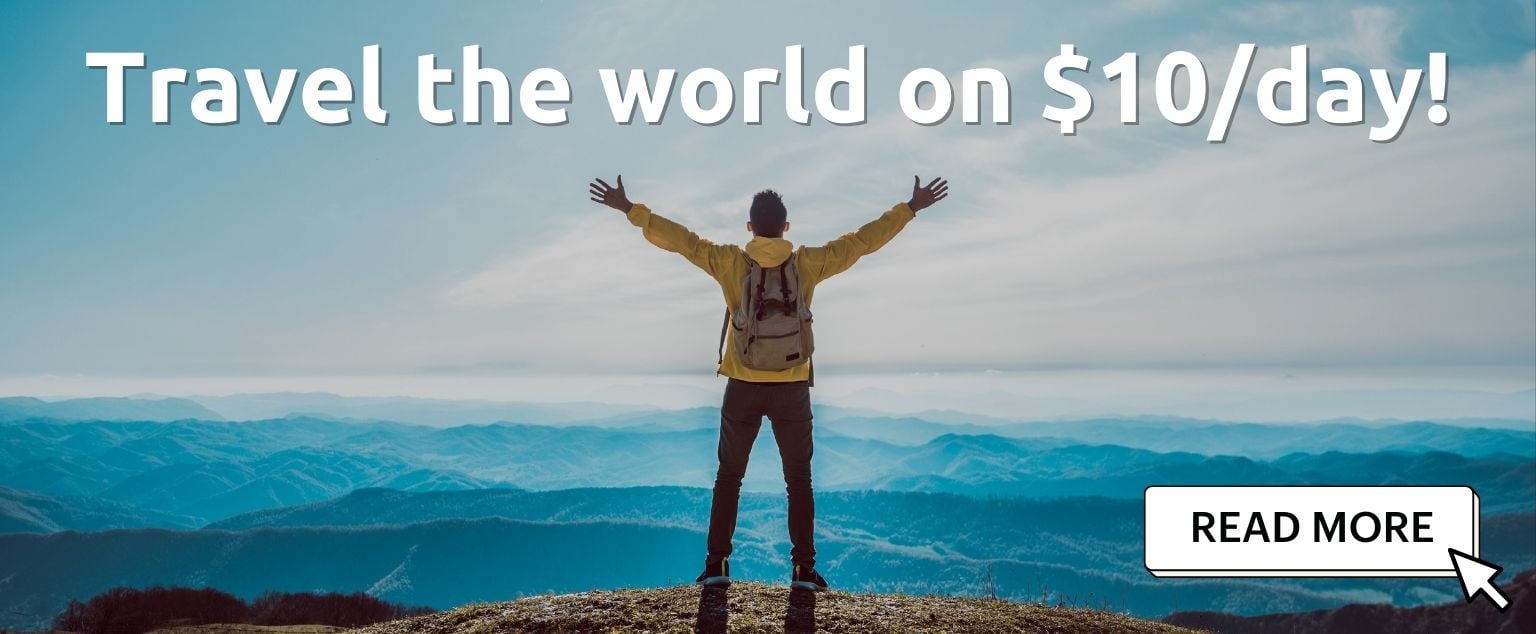 And for transparency's sake, please know that some of the links in our content are affiliate links. That means that if you book your accommodation, buy your gear, or sort your insurance through our link, we earn a small commission (at no extra cost to you). That said, we only link to the gear we trust and never recommend services we don't believe are up to scratch. Again, thank you!