Rome is one of the most popular travel destinations in the world! But with countless accommodation options, picking ONE to stay in can quickly get overwhelming.
Which is exactly why I wrote this guide for the best hostels in Rome.
I wrote it to fit your travel needs, so you can quickly book the hostel you want, and get back to traveling Rome like a boss!
So what do you want? To party? Save money? Chill? Get some sleep? Get some work done? Whatever your hostel-needs are, this article of the 5 best hostels in Rome will help you figure out the best hostel to book.
Quick answer: Best Hostels in Rome
Learn more about the best neighborhoods to stay in Rome by watching the video below!
How we chose the Best Hostels in Rome
If you are budget-backpacking in Europe, you need to cut costs at every chance you get. A lot here comes at a premium price, and the only way to cut the cost down and be a full-time-backpacking-ninja-pro is by being aware of what you spend and how to get your daily cost down. There are plenty of good hostels in Rome, and we have found them for you.
Thankfully, the best hostels in Rome guide can help you save some money. Specifically…
Location – Rome is pretty big and sometimes taxis are unavoidable. Taxis = expensive. Expensive = bad. With such a large area to cover, try and find a hostel that is semi-closer to the sights you want to see. This will help lower transport costs.
Amenities – Thankfully the Rome hostel scene likes freebies, and a good 1/2 of the hostels offer some sort of free breakfast. This, mixed with free towels, lockers, and the occasional free glass of wine, and you'll be able to chip away at the premium cost that Rome typically comes at.
If you'd like to learn more about the neighborhoods of the Eternal City, be sure to check out our article on Coolest Places to Stay in Rome as well!
Things DO go missing sometimes…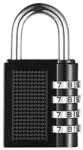 Psst! Heading to a hostel? Don't forget to pack a padlock! It's well worth having one so you can secure your locker and protect your stuff!
The 5 Best Rome Hostels
With so many to choose from, whittling this down to just 5 was not an easy undertaking.  From raucous party hostels to chic, boutique ones, we have a hostel in Rome to suit every-bodies tastes and budgets. Let's look at the best hostels Rome has for you to choose from.
1. Overall Best Hostel in Rome – The Bee Hive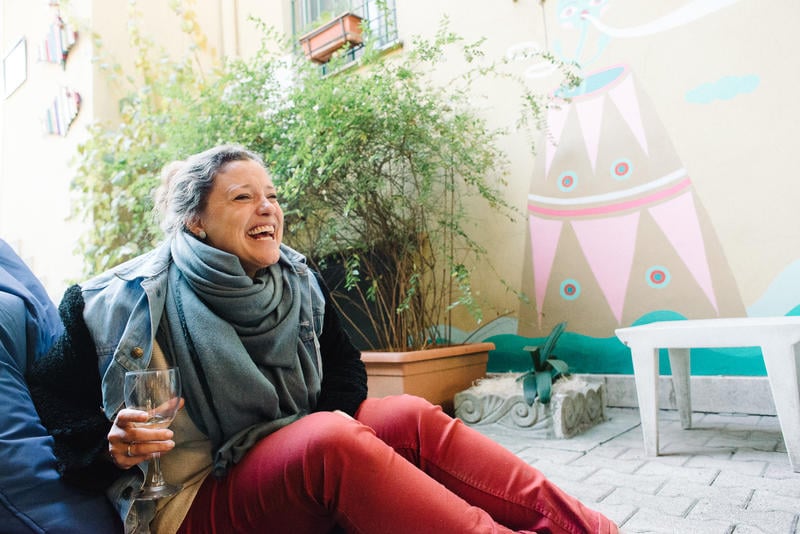 $$$
Bar & Restaurant Onsite
Free App Guide to Rome
Outdoor Terrace
The overall best hostel in Rome is the much loved and ideally located The Bee Hive. As the best hostel in Rome in 2020, The Bee Hive offers guests an unrivalled, highly attentive and personal service. The organic cafe downstairs serves fresh, locally sourced food daily; they have a great selection of breakfast options and snacks throughout the day too. Tea, coffee, and even wine are complimentary, in true Italian style. Be sure to download their free app to get top tips and travel hacks to max out on your time in Rome.
Overall, this is the best hostel Rome has to offer.
2. Best Hostel for Solo Travelers in Rome – Hostel Trustever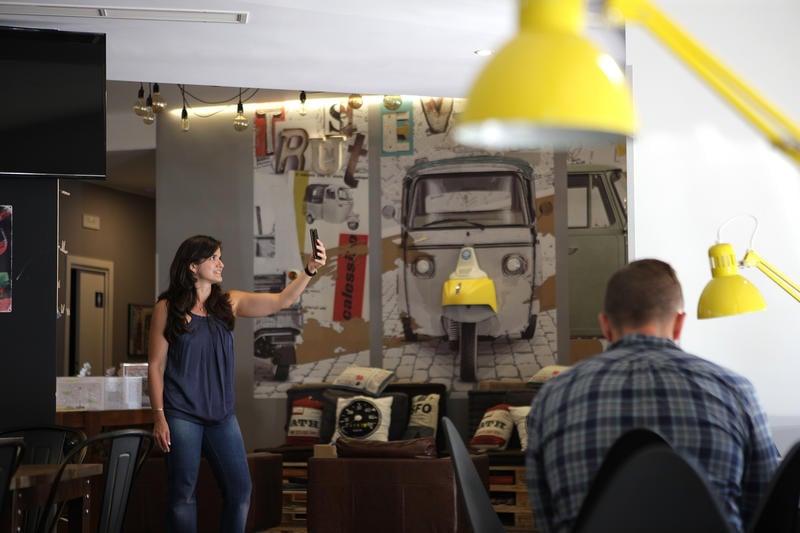 $$$
Bar, Cafe & Restaurant Onsite
Outdoor Terrace
Free App Guide to Rome
One of the top hostels in Rome, with enough beds to host 110 people a night, the best hostel for solo travellers in Rome has to be Hostel Trustever. Housing over 100 people per night means solo travellers have it easy when it comes to making new friends in Rome. Spacious and well lit, Hostel Trustever has its own bar, cafe and restaurant onsite meaning solo travellers need not scour the streets to finds their fellow backpackers. Hostel Trustever was a high contender for best hostel in 2020 for all travellers, but it is especially great for those exploring Italy solo.
3. Best Cheap Hostel in Rome – Legends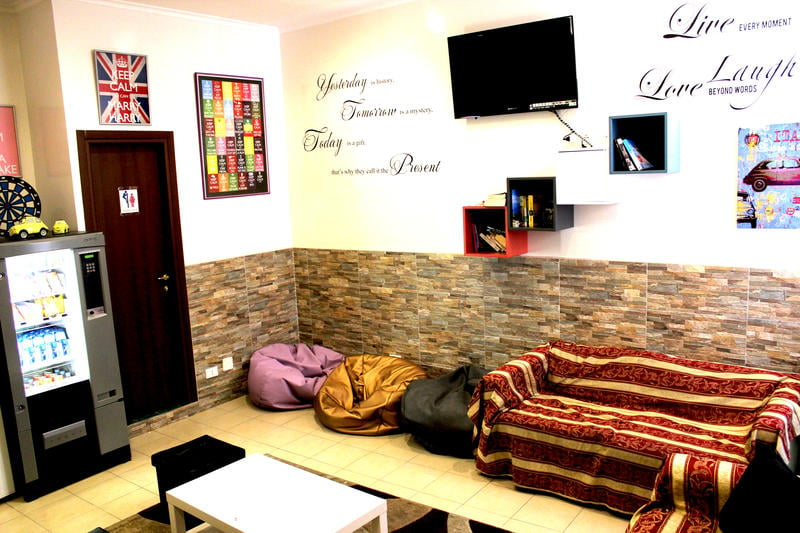 Self Catering Facilities
Tours & Travel Desk
Legends is not only the best cheap hostel in Rome but also the best value for money too. On top of offering backpackers some of the cheapest dorm rates in Rome, they also chuck in a free breakfast, free WiFi and a guest kitchen too, to help make sticking to the food budget that bit easier. Legends is totally the best budget hostel in Rome. Simple, spacious and super friendly this hostel is legendary by name and by nature. They also have no curfew and no lockout as an added backpacker's bonus!
4. Best Party Hostel in Rome – The Yellow
$
Bar, Cafe & Restaurant Onsite
Self Catering Facilities
Breakfast €2.50
If a hostel has a nine-hour long happy hour you know it's gonna be the best party hostel in Rome. That's exactly what The Yellow offers. The Yellow is known for their DJ nights, beer pong tournaments and free iPad rental for getting the party started in your dorm. Easily the coolest hostel in Rome in terms of vibe and party feels. On top of knowing how to throw the best parties, The Yellow staff are super clued up about Rome and are always on hand to recommend day trips and off-the-beaten-track hidden gems in the Italian capital.
5. Best Hostel for Digital Nomads in Rome – Freedom Traveller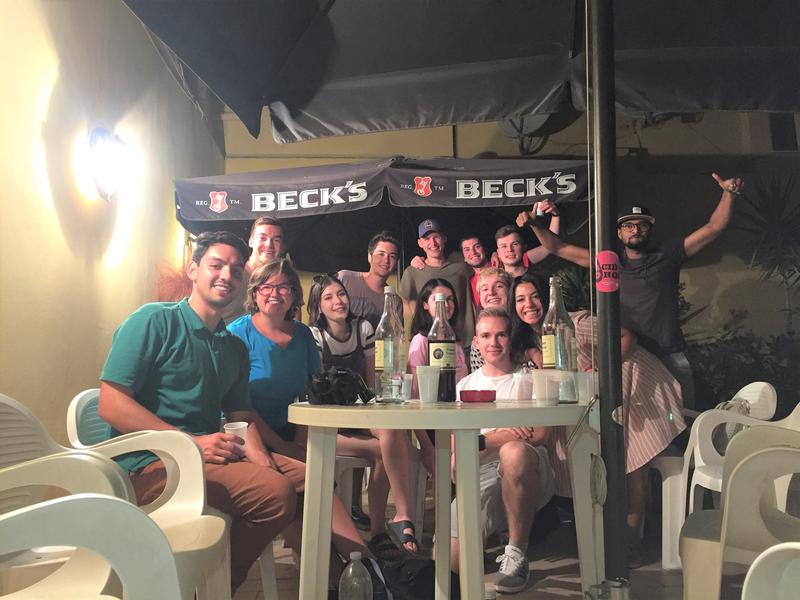 Self Catering Facilities
Proper Garden
Freedom Traveller is the perfect name for the best hostel for digital nomads in Rome. Offering free coffee every morning to kick start the workflow, Freedom Traveller is perfect for the long-term traveller or digital nomad and a top hostel in Rome. The guest kitchen is perfect if you're finally tired of pasta and pizza and fancy whipping up some home comforts.
Once the working day is done be sure to get in on the happy hour from 7pm-9pm, free wine for all! Yes, they have free, unlimited WiFi too; it even stretches into the classic Italian garden! The freedom traveller hostel Rome is the perfect Roman base for digi-nomads.
The BEST Travel Backpack?!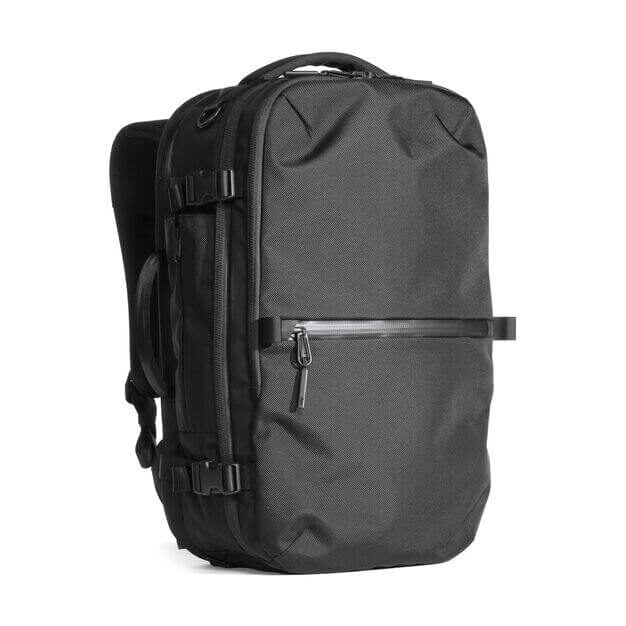 Pssssst! Not picked the perfect travel backpack yet? The Broke Backpacker team has tried out over thirty backpacks this year! Our favourite travel backpack is the Aer Travel Pack 2.
View on AER
More of the Best Hostels in Rome
We're not done yet! In case you're still not sure, here are some more of the best hostels in Rome handpicked for your ease. From Rome hostels for students to the best youth hostel in Rome, we have them all.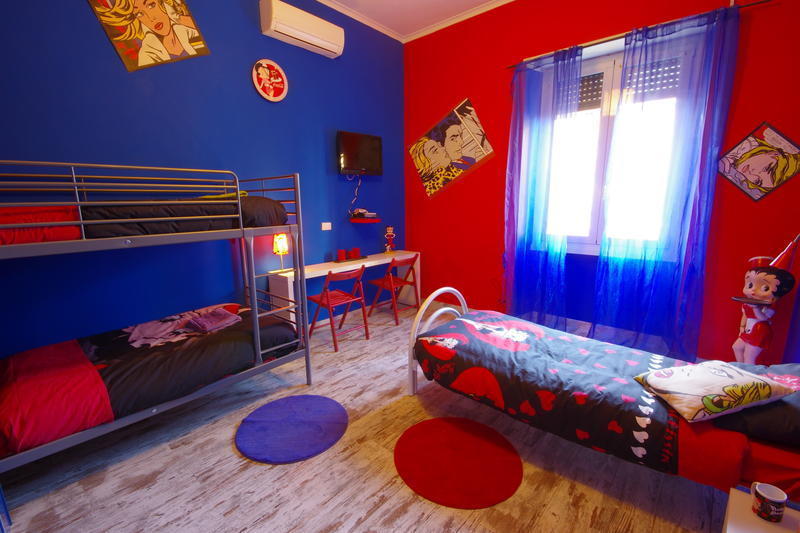 Laundry Facilities
Tours & Travel Desk
This is the 2nd of our cheap hostels Rome has. Comics Guesthouse is easily the coolest hostel in Rome for all the dorm rooms are themed around, you've guessed it, comics! If you're down for a lazy day in Rome you'll feel right at home in Comic Guesthouse's common room complete with sports channels and movies too. Free WiFi throughout the building means you can watch Netflix in bed if you're over exploring for a few hours.
The Comic's team regularly host parties and theme nights, the guys and girls on reception will give you the full rundown of whats on when you arrive.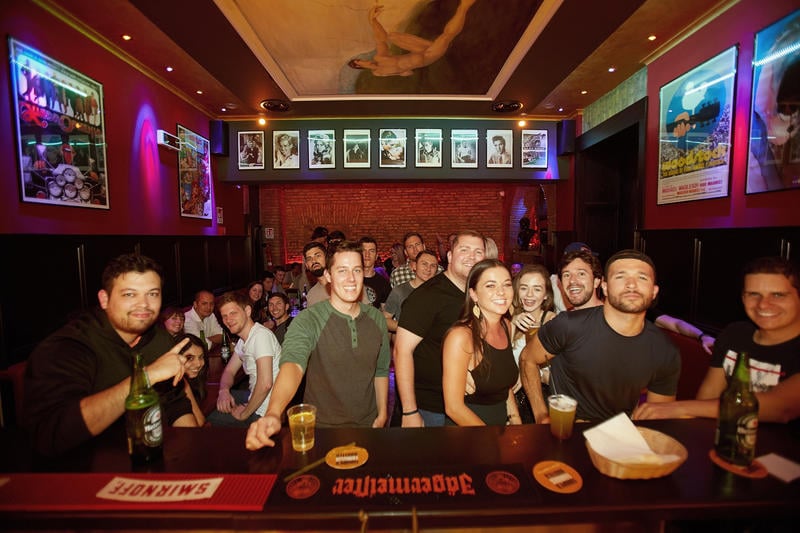 Fitness Centre
Late Check-Out
Choosing to stay at Hotel Alessandro Palace is a sure fire way to make new friends, head up to the cosy rooftop bar or take a pew at the downstairs restaurant and bar and get to know your fellow nomads. As a top hostel in Rome, Hotel Alessandro Palace offers guests access to their fitness centre, a real treat for a hostel!
Although there is no fully equipped kitchen guests have access to a communal fridge and microwave to make simple meals. The Alessandro hostel Rome offers the chance to stay fit, make friends all whilst taking in this amazing city.
Best Hostel for Couples in Rome – Blue Hostel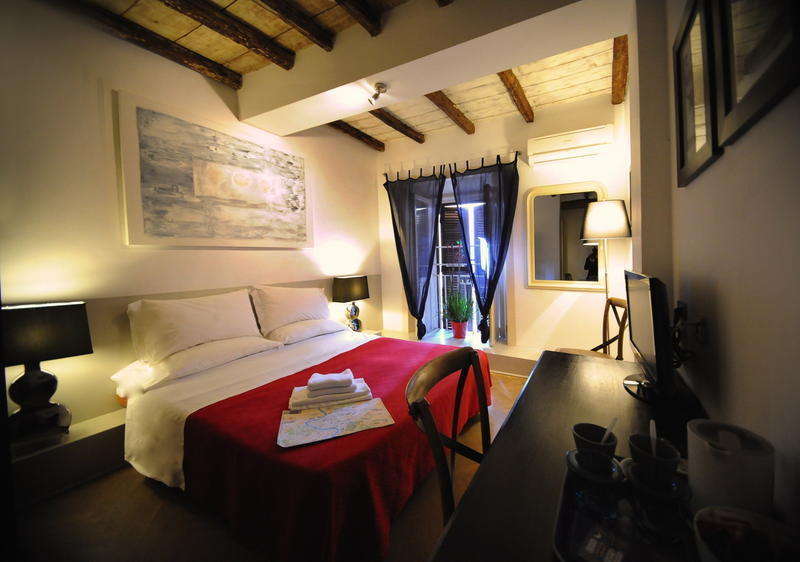 Easily the best hostel for couples in Rome is Blue Hostel. Many would argue that Blue Hostel is more of a boutique hotel than a hostel, but their spacious private rooms are ideal for couples visiting Rome. Every room has its own lavish en-suite with steaming hot showers. The rooms are stylish, even romantic…when in Rome! The Blue Hostel is within an easy walking distance of the Colosseum and other must-visit tourist hotspots.
Best Hostel with a Private Room in Rome – Carlito's Way
Tours & Travel Desk
Luggage Storage
As one of the best hostels in Rome, Carlito's Way offers guests access to free WiFi and huge roof terrace; the perfect summer hangout spot. With more private rooms than dorms there is a hotel-ish vibe to Carlito's Way, so if you're looking for a more low-key relaxed Rome backpackers hostel you'll feel right at home. The Carlito's team can help arrange airport transfers for you and will store your luggage if you want to cram in some last minute sightseeing after you check out.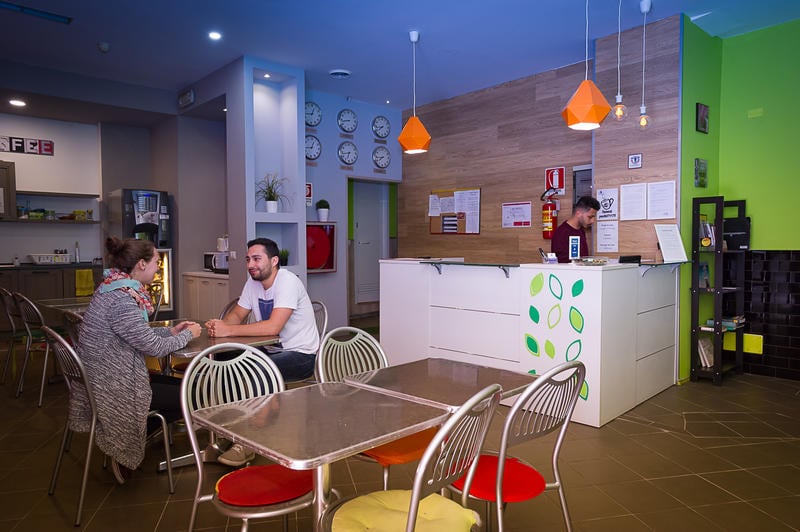 $$
Self Catering Facilities
Airport Transfers
24-Hour Check In
Youth Station Hostel is a great budget hostel in Rome, designed with the modern backpacker in mind. The dorms are bright and spacious and the staff are always around to offer travel tips, tricks and hacks to get the most out of your trip to Rome. This is a great place to come if you want to meet and mingle with fellow backpackers. As a highly recommended hostel in Rome, Youth Station books up quick, especially in high season and during festivals so be sure to book in advance.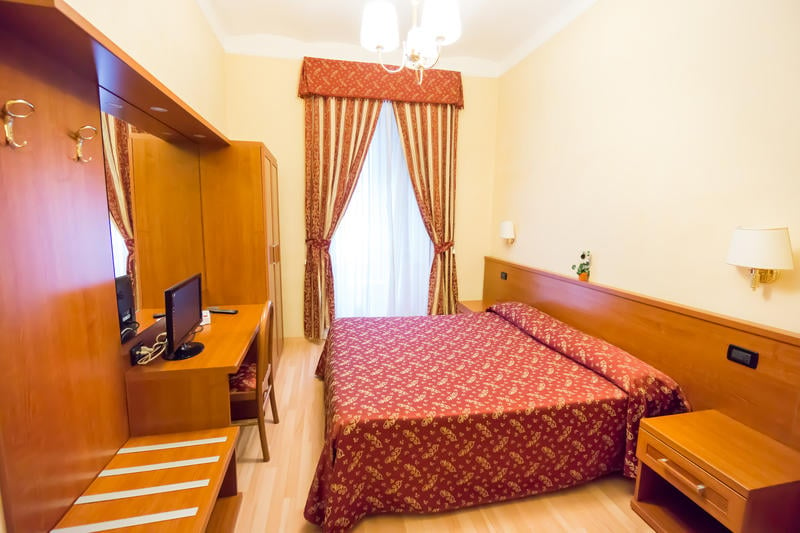 Tours & Travel Desk
Laundry Facilities
What makes Funny Palace a great youth hostel in Rome is the fact they have both private and open dorms. This means that if you're travelling to Rome with your crew or accumulate friends on the road you can have a whole dorm room to yourselves; hello private party! Funny Palace is within an easy walking distance of Termini train station making it a great stop off for interrailing explorers.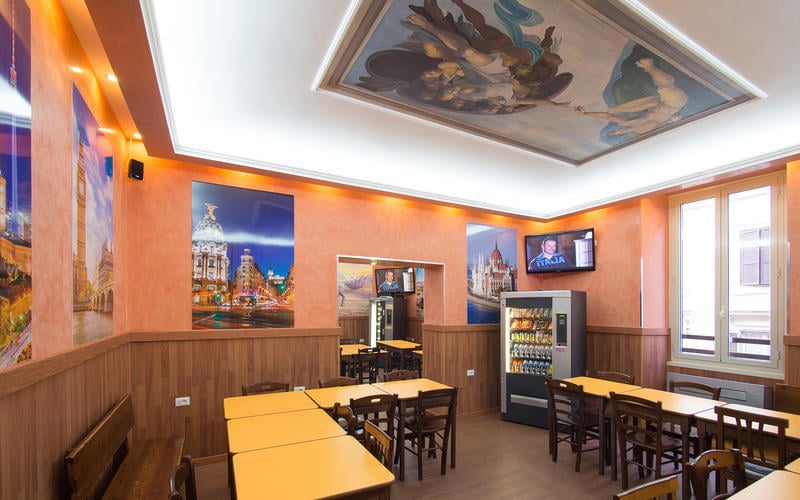 $$
Self Catering Facilities
Laundry Facilities
Tours & Travel Desk
Within a 15-minute walk of the Colosseum and other historic beauties, Hotel Alessandro is a great youth hostel in Rome. Hotel Alessandro has been created with the budget backpacker in mind. With free WiFi throughout the building, you can share all your snaps of the Italian capital in seconds. Be sure to join the happy hour for free aperitivo to get you in the mood for exploring Rome's fantastic nightlife scene.
This is one of the hostels in Rome city centre and they even host beer pong tournaments and the occasional karaoke session too.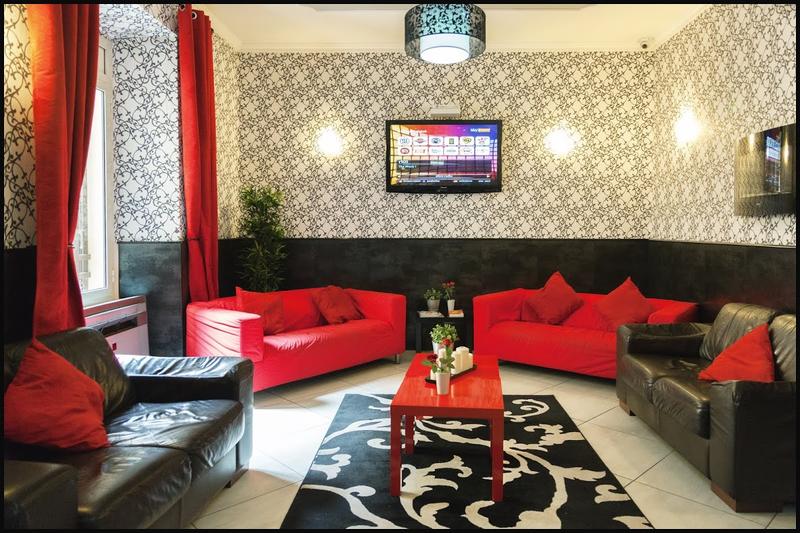 $$$
Self Catering Facilities
Cafe Onsite
Laundry Facilities
Palladini Hostel is a high-end Rome backpackers hostel with mixed dorms, female only dorms, and some chic private en-suites too. If you're arriving or departing from Termini train station you can't possibly get any closer than the Palladini Hostel, just 300m away from the station entrance. No excuses for missing your train from here! To add a further touch of class guests at Palladini Hostel are awarded complimentary wine and Champagne! It doesn't get much better than that!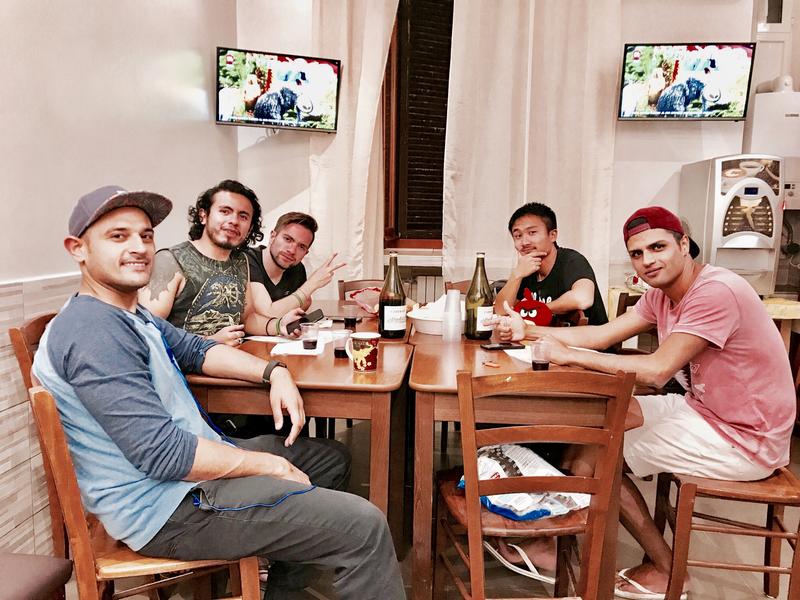 Self Catering Facilities
Tours & Travel Desk
Backpackers come away with nothing but smiles from Legend R.G, some even naming it the best budget hostel in Rome. With a free breakfast included in your room rate, you'll be perfectly fuelled up and ready for a full day exploring Rome. You don't even have to stray too far from Legends R.G before you start hitting Rome's touristic highlights, it's also super close to Termini train station too. The staff are super friendly and always happy to help a backpacker get the most from their adventures in Rome.
Self Catering Facilities
Late Check-Out
Dreaming Rome is a highly recommended hostel in Rome and it's not hard to see why. With the big communal kitchen to hang out in plus use of the common area you'll be making new friends every corner you turn at Dreaming Rome Hostel. The easiest way to get into the heart of the action is to head to Metro San Giovanni a few metres away from Dreaming's front door. The Dreaming Rome team have created the perfect hostel vibe and travellers keep coming back for more.
Be sure to claim your free breakfast, fills you up for hours!
Want to save the world?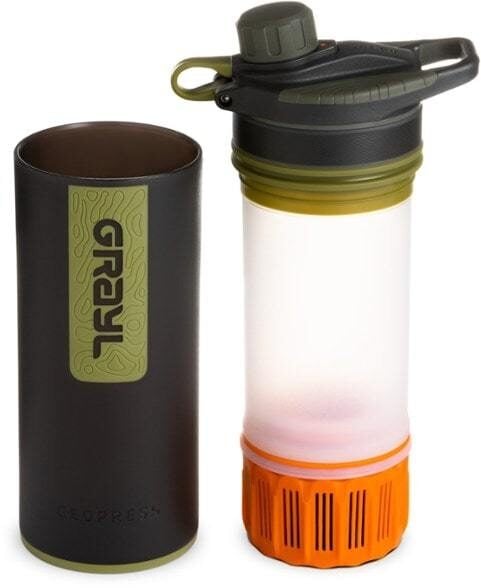 Single-use plastic bottles are a huge threat to Marine Life – Be a part of the solution and travel with a filter water bottle.
The GRAYL GEOPRESS water bottle is the ONLY all-in-one filter water bottle setup you'll need. Whether you need to purify the water from a hostel sink in Kathmandu or a stream trickle in the Andes, the Geopress has got you covered.
Read our full review of the GRAYL GEOPRESS!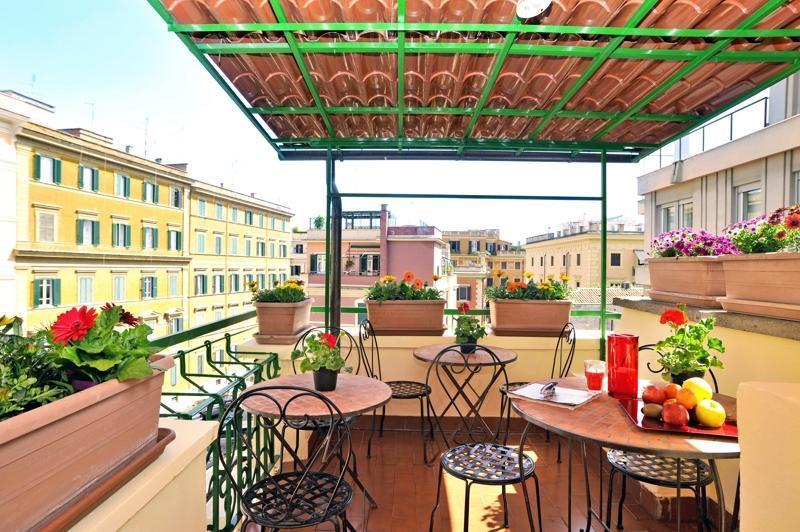 Laundry Facilities
Airport Transfers
Colours is a top hostel in Rome and one of the closest to the Vatican placed just east of the mini-city and easily reached by bus or Metro. The Colors team are incredibly welcoming and super knowledgeable about Rome, they're keen to help travellers explore Rome in the most authentic way. Although breakfast is not included in your dorm rate you can dive into a hearty continental buffet breakfast for €7.50 a day. Colors do not have big hostel dorms but private 3 and 4-bed dorm style rooms perfect for those travelling with friends.
Bar, Cafe & Restaurant Onsite
Air Conditioning
The staff at Roma Scout Center are second to none, friendly, helpful and super clued up about what backpackers are looking to get out of their time in Rome. Roma Scout Center is perfectly kept, really clean and the dorm rooms offer you plenty of space to spread out in. Be sure to pop by their restaurant and try their Cacio e Pepe, it really is as good as they claim it to be! Rome Scout is a great youth hostel in Rome if you're a more keen on culture and an early night than you are a wild night partying.
Tours & Travel Desk
Air Conditioning
Mosaic Hostel is a highly recommended hostel in Rome for its great location, on the same street as Mosaic you'll find classic Italian restaurants serving authentic food, supermarkets to stock up on snacks and a couple of Laundromats too. If you've come to Rome in search of fine wines you'll be chuffed to hear that Mosaic Hostel is right next-door to the city's oldest and most famous wine bars named Trimani.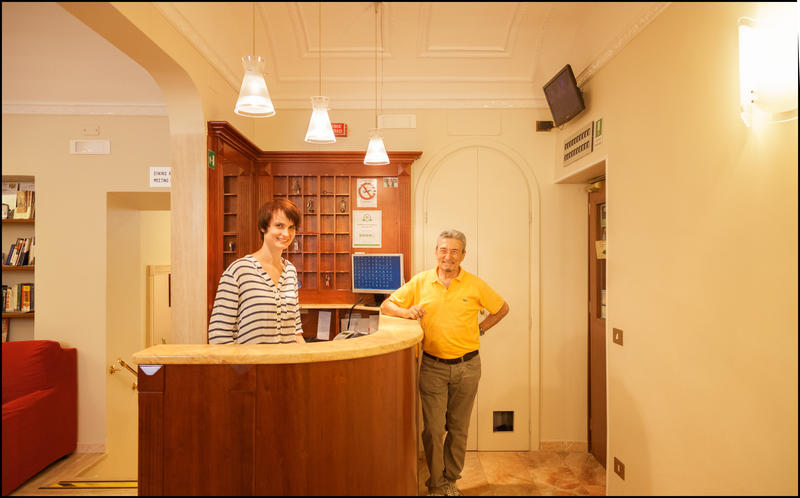 $
30 Minutes Free Wifi Daily
Luggage Storage
Tours & Travel Desk
If you're looking for a place to simply sleep in Rome you'll be chuffed with your choice of Papa Germano. Owner Gino is always keen to share his knowledge of Rome with his guests and can help arrange tours and tickets. One thing to bear in mind is that there are only 30-minutes of free WiFi per guest per day, so digital nomads may have to think again. Simple and welcoming, Papa Germanos is a top budget hostel in Rome, especially for those who plan to be out from sun up 'til sun down and beyond!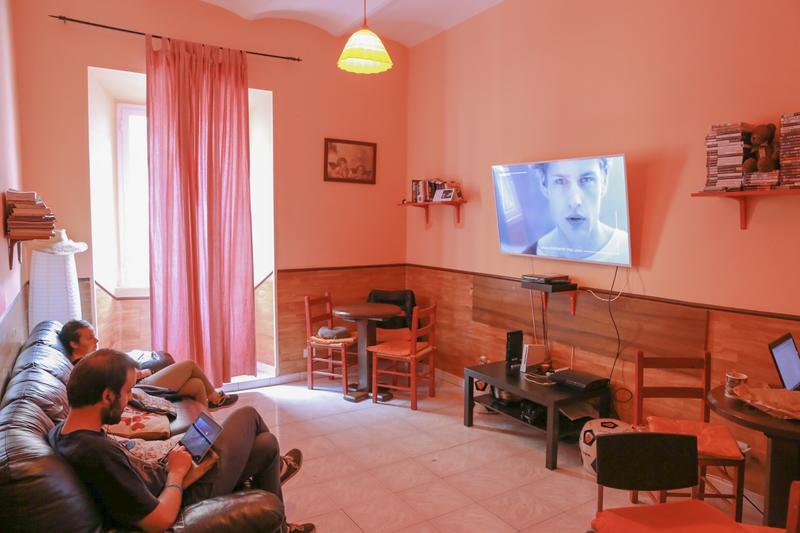 $$
Self Catering Facilities
Tours & Travel Desk
Games Room with Wii & PlayStation
Roman Holidays Hostel is just a 15-minute walk from the Colosseum and the impressive Trevi Fountain, ideally placed in the heart of Rome's touristic hotspots. Just a heads up, you have to pay for your stay on arrival in cash. If you forget, no worries, the team will point you in the direction of the nearest ATM just around the corner.
The common room is a great place to hang out if you don't fancy venturing far, the Wii and PlayStation will keep you occupied for hours if you find yourself having a touch of cultural overload in Rome! Român's Holidays Hostel is a top hostel in Rome for travellers of all kinds.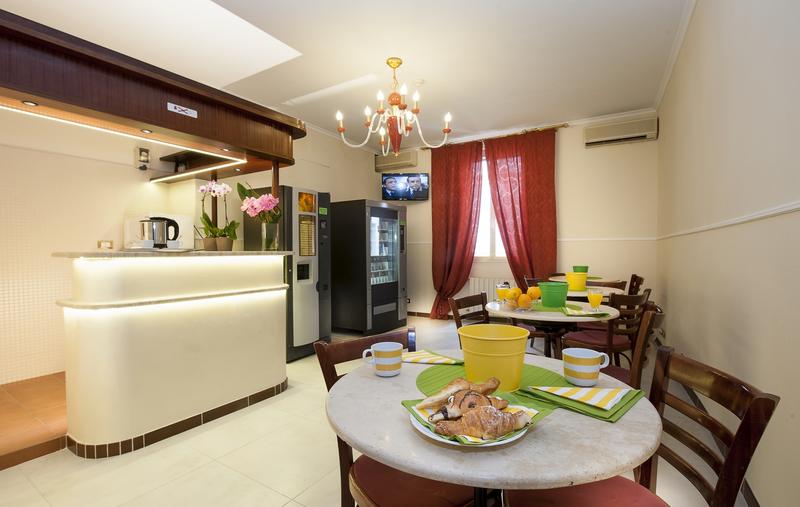 Microwave for Self Catering
Tours & Travel Desk
Hostel Des Artistes is a hostel come hotel offering guests the choice of budget dorm rooms or reasonably priced private rooms. The Hostel Des Artistes bar is a classy little hideaway open 'til late. They are ideally placed within easy reach of both the Vatican and Rome's biggest draws like the Colosseum. FYI, they only accept guests aged 18-30 in dorm rooms; over 30s must fork out for a private room. As a Rome backpackers hostel, Des Artistes offers everything an easy going traveller could need.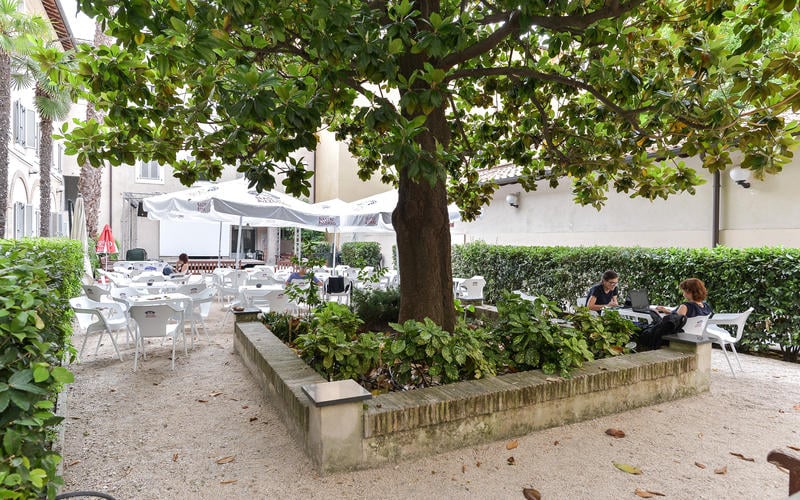 Self Catering Facilities
Bar, Cafe & Restaurant Onsite
As the capital's only female only hostel, Orsa Maggiore comes as a highly recommended hostel in Rome. Set in an old convent the Orsa Maggiore team are all female too, this hostel is something of a sanctuary. Calm, quiet and open-minded, Orsa Maggiore is perfectly kept and set in the historic neighbourhood of Trastevere. The Orsa Maggiore cafe and bar is a great place to connect with fellow female nomads.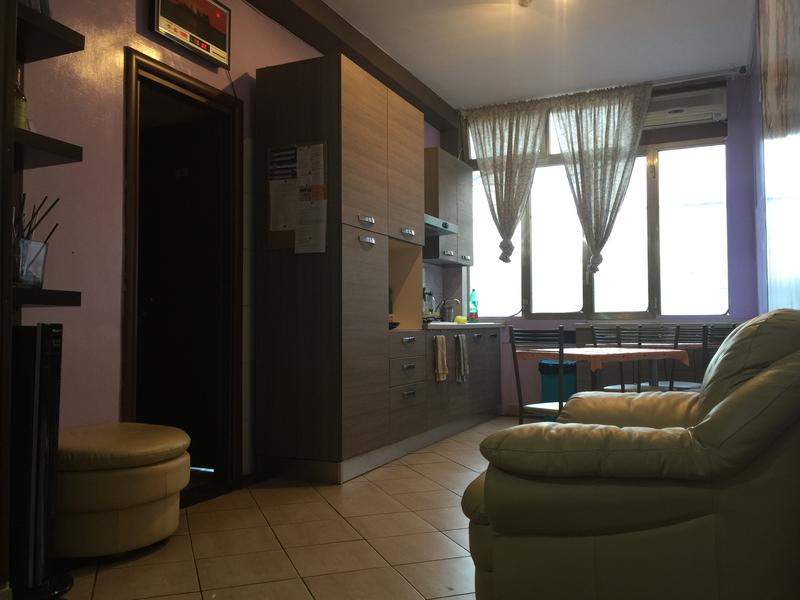 Self Catering Facilities
Outdoor Terrace
Rome City is a great budget hostel in Rome. Although a little way out from the heart of the action, Rome City Hostel offers guests the chance to stay in an authentic Italian neighbourhood away from the hectic tourist centre. You can get to all the main sights and landmarks very easily from Rome City Hostel and the team at reception are on-call 24-hours a day to help backpackers with everything from arranging airport transfers, tickets to the opera or a bust lightbulb.
The free breakfast is simple but helps save guests a little extra money, making Rome City Hostel a brilliant youth hostel in Rome.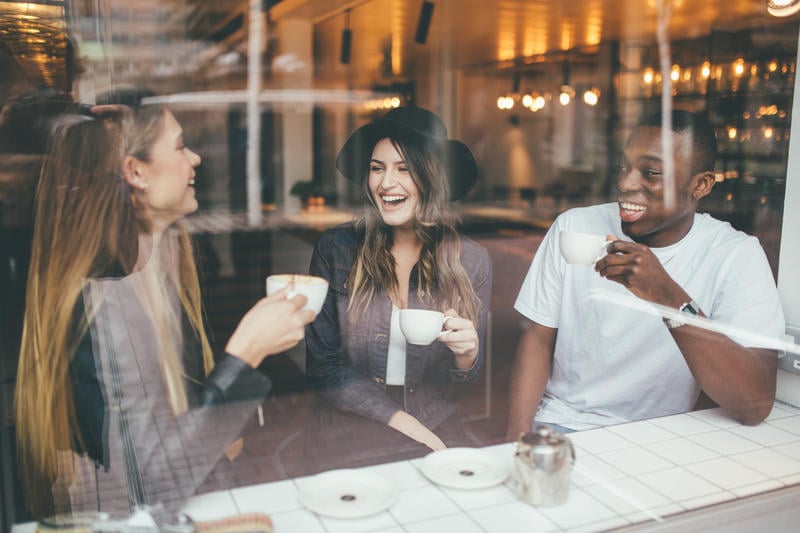 $$$
Bar, Cafe & Restaurant Onsite
Late Check-Out
Laundry Facilities
As one of the leading hostel chains in Europe, it didn't seem right to miss Generator off the shortlist for best hostel in Rome in 2020; they certainly deserve a mention. Super modern and getting the hostel vibe on point, Generator is a favourite hangout for those backpacking in Rome. Generator has been designed with the modern backpacker in mind, they adopt the laid-back Italian way of life while keeping everyone well informed with what's going on in and around Rome.
Laundry Facilities
Self Catering Facilities
One major plus point for Ciak Hostel is the fact it's just around the corner from Rome's most famous Gelato shop, called Fassi. It's a must visit if you're in this part of Rome for sure. The onsite cafe is a popular little hangout for Ciak guests as well as the communal kitchen. As a top hostel in Rome Ciak has dorm rooms and private en-suites too should you fancy a night away from the snoring!
Breakfast can be added to your bill for just €2.50 but with Fassi's around the corner, we know what we would rather have for breakfast! You're on holiday, after all, ice cream for breakfast it is!
Travel Safety Tips for Rome
And don't forget Travel Insurance! We've put together a roundup of Travel Insurance for backpackers – check it out here, or if you're low on time, get a quote from World Nomads, our favorite travel insurance provider.
Getting an estimate from World Nomads is simple – just click the button or image below, fill out the necessary info, and you're on your way!

More Epic Hostels in Italy and Europe
Hopefully by now you've found the perfect hostel for your upcoming trip to Rome.
Planning an epic trip all across Italy or even Europe itself?
Don't worry – we've got you covered!
For more cool hostel guides around Europe, check out:
Final Thoughts on the Best Hostels in Rome
High price tag aside – Rome is a backpackers paradise and one of the world's premiere travel destinations. Hopefully with the help of this guide, you'll have a better understanding of which of the best hostels in Rome you want to book.
And don't worry – if you can't decide, our highest recommendation is The Bee Hive.
If you think we've missed anything or have any further thoughts, hit us up in the comments!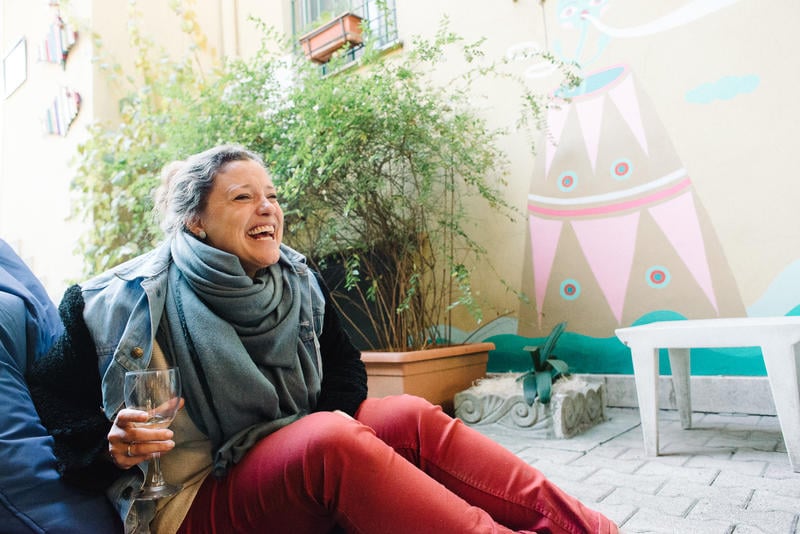 "Find out how YOU can support the site. We work hard to put out the best backpacker resources on the web, for free! It's all about helping out our tribe of awesome backpacker readers [that's you!]. Please visit the link to find out how you can help keep the site going 🙂
For the sake of transparency, some of the links in our content are affiliate links. This means that if you book your accommodation, buy a book or sort your insurance, we earn a small commission at no extra cost to you. I only link to stuff I've actually used and never endorse products or services that are not up to scratch. Thanks for your support.