I've gone backpacking in Western Europe extensively and have visited many of the continent's top cities. I've gone to underground parties in abandoned buildings in Paris, drank my body weight in beer in Munich, and lived like a Spaniard in Madrid. All of these are (truly) beautiful places but – admittedly – none of them blew me away like backpacking in Rome did.
From the first moment I saw the Roman ruins, the soaring basilicas, hell, even the crazy moped riders, I was hooked. To me, Rome's history, food, people, and culture are unmatched by any other European city. I have returned to Rome several times now and every time I fall in love with it all over again.
Rome can be a daunting place though – it can be absolutely overrun with tourists at times, and one could easily get caught up in their stampede. Add the fact that every other guide is trying to show you the same thing (for twice the price), and sometimes locals want nothing to do with dumb tourists, and you have the makings of a lame vacation.
Fear not my Broke Backpackers: I'm here to lead you myself through this amazing city and at no extra cost! With my help, you'll gain vital information on what to do and – most importantly – how to backpack Rome on the cheap.
Over the course of this travel guide for Rome, we'll cover additional topics like where to eat and where to go off the beaten path. Everything and then some will be covered in this guide; with it, you'll be more than prepared to go backpacking in this amazing city.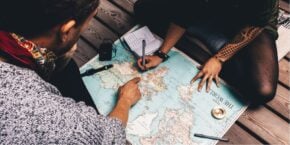 Heading Off-Grid? • Download This Guide as a PDF!
Sign up to The Broke Backpacker's EXCLUSIVE VIP AREA below and download our top backpacking guides as PDFs – go offline with peace of mind!
Though Rome is one of the most desirable cities to visit in Europe, and seemingly quite expensive, backpacking in Rome can still be done on the cheap. With a multitude of low-cost options in addition to some proper spending habits, you'll be able to travel to Rome without breaking the bank.
A comfortable daily budget for backpacking Rome would be around $50-$70. You can certainly get by on less though with stringent spending habits.
Hostels in Rome are what you'd expect from a large European city. The average price for a dormitory is anywhere between $20 and $35. Most of these dorms are of high quality and conveniently located near all of Rome's top attractions.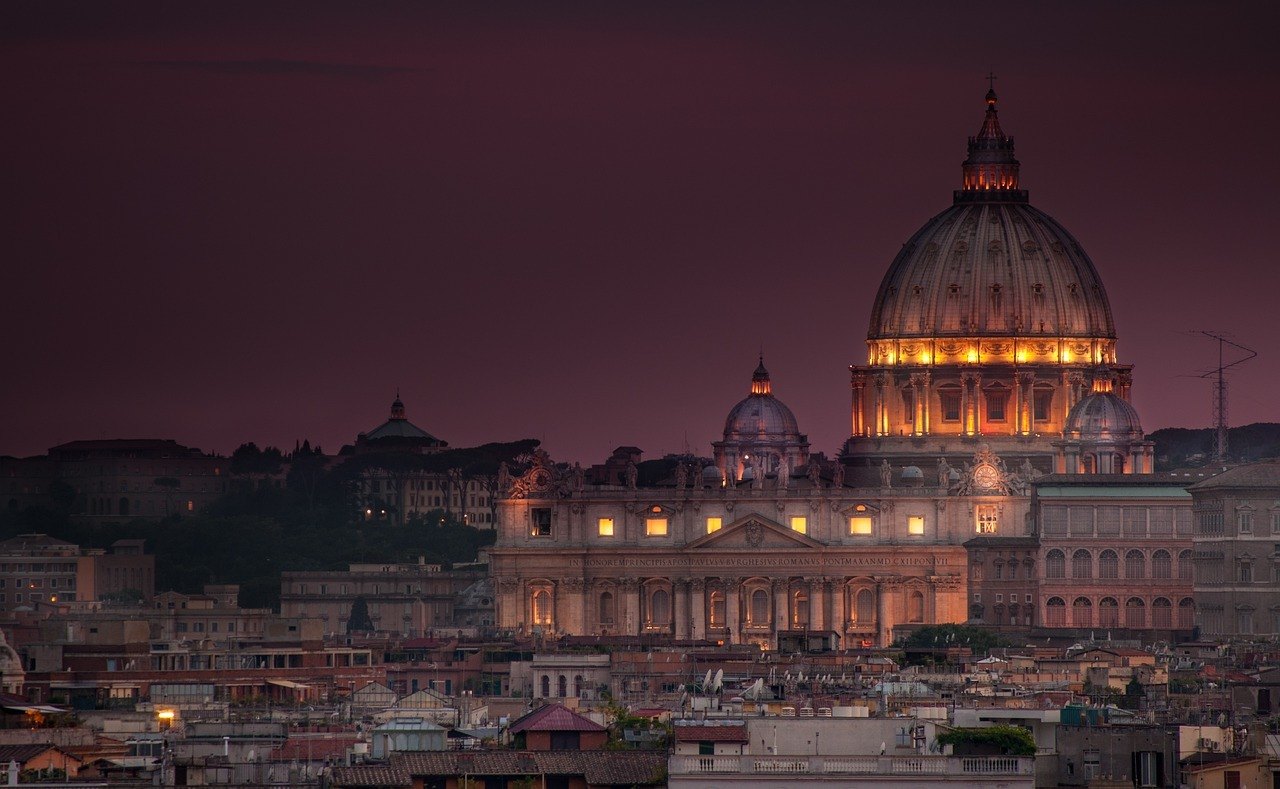 If you're really trying to save a buck, there are a number of urban campsites located within the city as well. Costing no more than $10 for space, camping is one of the best ways to visit Rome on a budget.
Groceries in Italy are usually quite affordable. If you wanted to cook all of your meals, you could eat decently well for around $10/day. Domestic classics like pasta, cheese, and some cured meats will be the cheapest products you can buy.
Rome is one of the best places to eat in Europe though! Be sure to budget for a meal or two in a restaurant while visiting Rome. A decent meal shouldn't cost you too much so long as you stay away from the restaurants near tourist attractions.
Definitely, buy a travel pass while backpacking in Rome as well – Rome is a big place and you'll save heaps on public transport with a discounted package.
Backpacking Rome Daily Budget
Below is a breakdown of the costs of traveling to Rome for the average backpacker.
Hostel Dormitory: $20-$35
Basic room for two: $140
AirBnB/temp apartment: $80-$100
Average cost of public transport: $7-$8
City-Airport transfer: $12-$16
Sandwich: $6-$8
Beer at a bar: $5-$8
Coffee: $2-$4
Bottle of wine from the market: $8
Dinner for two: $35-$40
Rome Budget Backpacking Tips
You should never be deterred by the costs of travel; Rome is no exception! Backpacking Rome can be cheap with proper spending habits. With this Rome travel guide, you'll have all the broke backpacker tips you could possibly need to save a buck.
Below is a list of travel tips for backpacking in Rome on a budget. Follow these words of advice, and you'll find that your dollar goes much further.
Always pre-fade before going out: Buying full-priced drinks at the bar is a great way to waste your money. Instead, buy booze at the store and drink with your friends at the hostel/their house/the park/anywhere besides the actual bar.
Cook at home as often as possible: One of the most proven ways of saving money for backpackers is to buy your own groceries and cook at home.
Buy a special pass: For 18 euros (21 USD) you can get a 3-day pass that allows unlimited use of the local public transport. For those who will be visiting (a lot of) museums, try looking into the Roma Pass, which enables free transport plus discounted entry into museums.
Grab an aperitivo: Italians will usually grab a pre-dinner snack/drink called an aperitivo. Much like "happy hour," aperitivos are priced cheaper and include special deals.
Avoid paying high table charges: When eating out in Rome, you'll have to pay a table fee, which basically gives you rights over the table (kind of like renting it). To limit the amount you pay, avoid eating at the busier, more touristy areas, or don't sit at a table at all – eat at a bar or pizzeria.
Bargain shop: There are tons of flea markets in Rome that offer screaming deals. If you're souvenir shopping, go to these rather than upscale stores. Visit significant markets like Porta Portese among others for some great shopping as well as a dose of history.
Pack a travel water bottle and save money every day!
Do free shit: There are a ton of activities that don't cost a dime – i.e free tours – in Rome! None of these are dull or boring either. Check out any one of these free things to do while backpacking in Rome. Many of Rome's most popular attractions are free the first Sunday of every month as well! The Vatican Museums are free the last Sunday of every month.
I know, paid tours can also be enticing. Global Work and Travel offer a Budget Rome to Paris Tour payable in interest-free instalments. So, although it's not a free tour, you get to choose the amount per instalment…which is quite nice of them!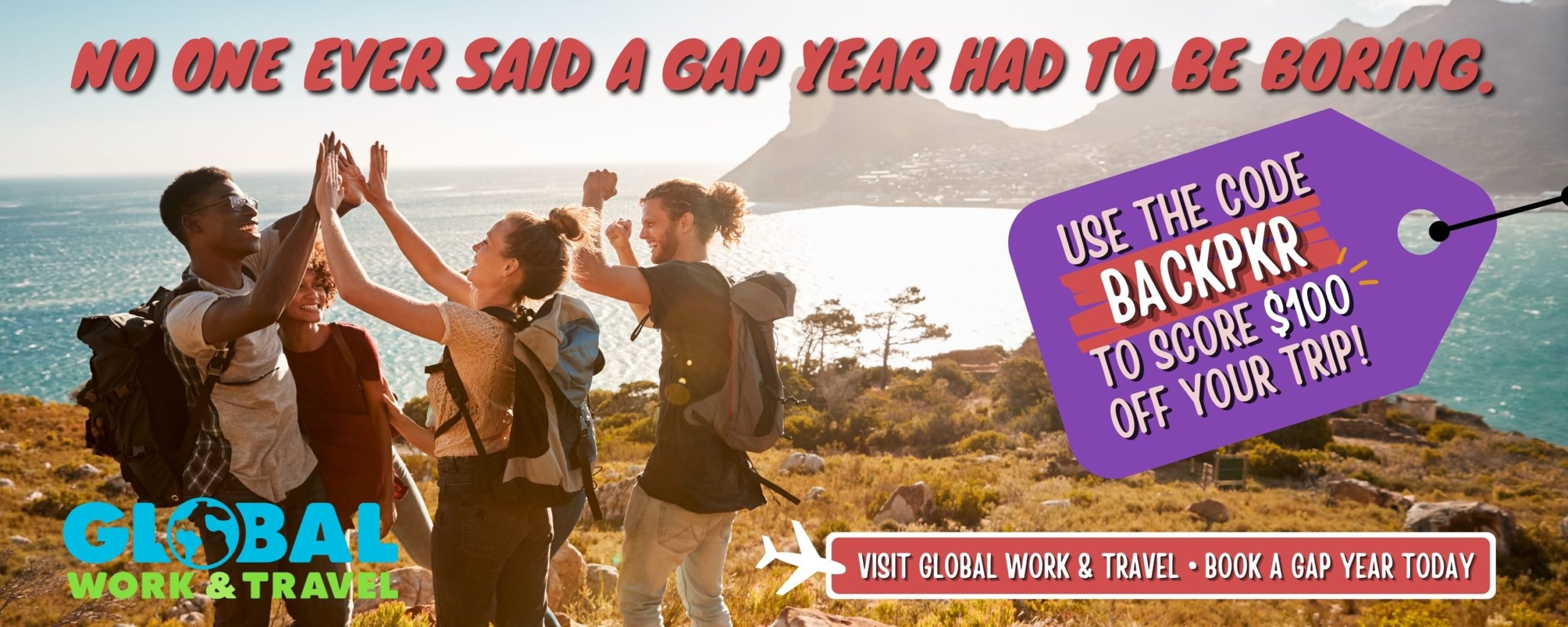 Why You Should Travel to Rome with a Water Bottle
Plastic washes up on even the most pristine beaches… so do your part and keep the Big Blue beautiful
You aren't going to save the world overnight, but you might as well be part of the solution and not the problem. When you travel to some of the world's most remote places, you come to realise the full extent of the plastic problem. And I hope you become more inspired to continue being a responsible traveller.
Plus, now you won't be buying overpriced bottles of water from the supermarkets either! Travel with a filtered water bottle instead and never waste a cent nor a turtle's life again.
Save $$$ • Save the Planet • Save Your Stomach!
Drink water from ANYWHERE. The Grayl Geopress is the worlds leading filtered water bottle protecting you from all manner of waterborne nasties.
Single-use plastic bottles are a MASSIVE threat to marine life. Be a part of the solution and travel with a filter water bottle. Save money and the environment!
We've tested the Geopress rigorously from the icy heights of Pakistan to the tropical jungles of Bali, and can confirm: it's the best water bottle you'll ever buy!
View on REI
Read the Review
IN A RUSH? THIS IS OUR FAVORITE HOSTEL IN ROME!
Rome is a very popular city to visit and so there are lots of places to stay here. If you are backpacking in Rome, you will have no problem finding the perfect spot to crash.
Rome has plenty of cheap and comfortable hostels to choose from. Most of them are conveniently located near all of Rome's top tourist attractions.
Though there are several hostels to choose from in Rome, Italy as a whole is primarily a guesthouse culture. For this reason, the Airbnb apartments in Rome are fantastic! Italian hosts are extremely welcoming and will do their best to make your time in Rome an unforgettable one. The on-site cooking facilities also help you save money by making your own meals.
To save the most money while backpacking Rome, you can – of course – reach out to potential hosts via Couchsurfing. Be sure to follow all the usual courtesies and rules of staying with a stranger.
Finally, Rome has a number of lovely campgrounds to stay at. Prices will be very reasonable (less than $10) and there are usually lots of facilities on hand. Italians, contrary to their posh reputation, actually love to get outdoors and spend a few days "roughing" it. Note that the majority of these campsites are on the outskirts of the city.
Going on to explore more of Italy after Rome? To help you find the absolute best places to stay in Italy during your backpacking adventure, check out our in-depth article on the best hostels in Italy. There are some true hostel gems in there so give it a look!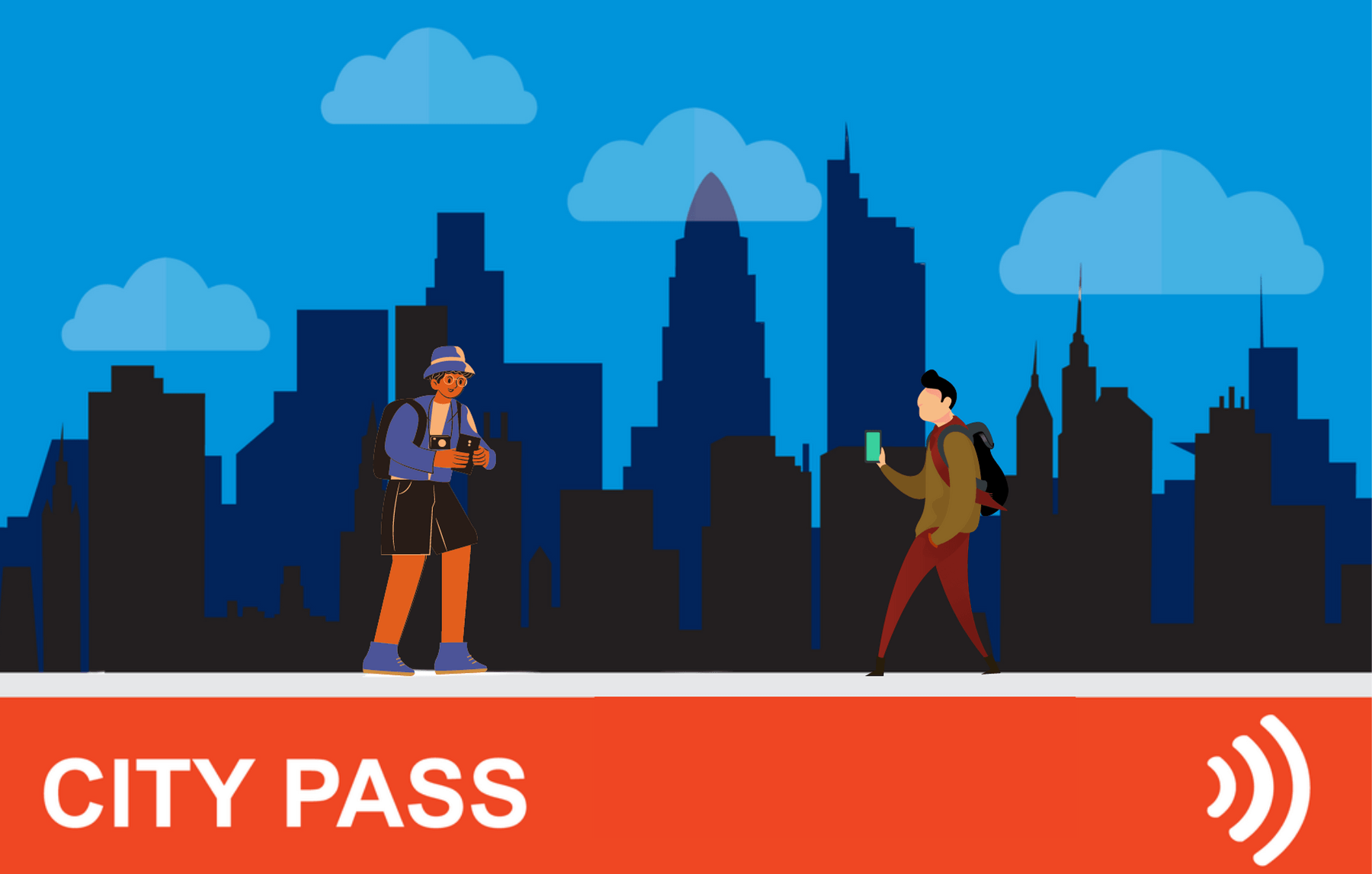 Travelling to Italy? Then plan yo' trip the smart way!
With a Italy City Pass, you can experience the best of Italy at the CHEAPEST prices. Discounts, attractions, tickets, and even public transport are all standards in any good city pass – be sure invest now and save them $$$ when you arrive!
Buy Your Pass NOW!
Best Overall Backpacker Hostel in Rome: The Beehive
This is one of the most well-known and highly regarded hostels in Rome! Located near Termini Station, this hostel offers an excellent location, flexible accommodation, lots of activities, and excellent service! It's great value for money, and is one of the cheapest hostels in Rome!
Free cooking classes, as well as communal dinners twice per week, meaning that you'll save on food in addition to learning how to cook a meal for yourself. Tea, coffee, and even wine are usually free as well!
For 2 to 4 people visiting for the first time, there is nowhere better to stay than in the heart of ancient Rome. The 35sqm, second-floor apartment is within a walking distance from the Angelo Castle, Vatican Musem, and the Colosseum. With basic amenities like a mini-fridge, stove, you can prepare meals in the apartment or walk to the open-air market nearby.
Best Party Hostel in Rome: The Yellow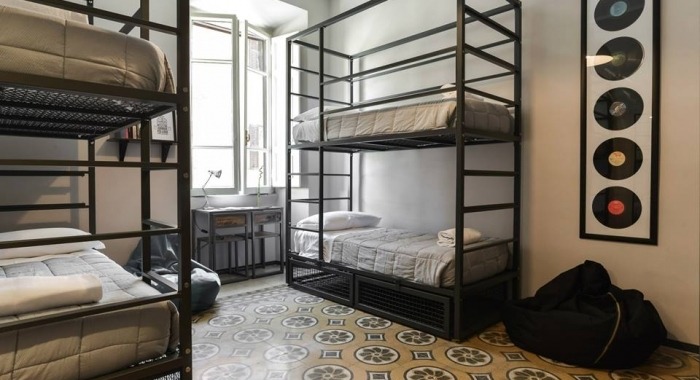 Aside from being one of the best all-around hostels in Rome (as voted in 2011), The Yellow also promises to be the best party in Rome! With happy hour for almost half of the day, bar crawls, beer pong, and DJ nights, the Yellow sure makes a strong case.
Hell, just staying here means that you're already a part of one of the top things to do in Rome at night! Partying aside, The Yellow is still a pretty solid place to stay as they offer free tours of Rome, free breakfast, and free WiFi. It's almost like staying in a bed and breakfast in Rome!
The Yellow is one of our favourites in Rome but they're not taking guests right now. We're not sure if they're closed for good but we hope they'll come back soon.
Best Hostel for Solo Travelers in Rome: Hostel Trustever
Located in the ubersocial and bustling Trastevere, this large hostel is a great place to meet fellow travelers. With the ability to house over a hundred backpackers and in all sorts of room types, the Hostel Trustever is a great place for backpackers in Rome. With an onsite cafe, restaurant, and bar, you won't have to look far for a place to socialize either.
Hostel Trustever is one of our favourites in Rome but they're not taking guests right now. We're not sure if they're closed for good but we hope they'll come back soon.
You should also check out the huge range of VRBOs in Rome!
There are many awesome attractions in Rome and you could easily spend a week or even more here and not see them all. But these are the top 10 things to do in Rome you cannot miss.
1. Visit the Colosseum and the Fori Imperiali
You've probably seen photos already, but none of them do their subjects any justice. You simply have to see the Colosseum and Fori Imperiali in person. These are among the most beautiful places in Rome, so set aside plenty of time to see them.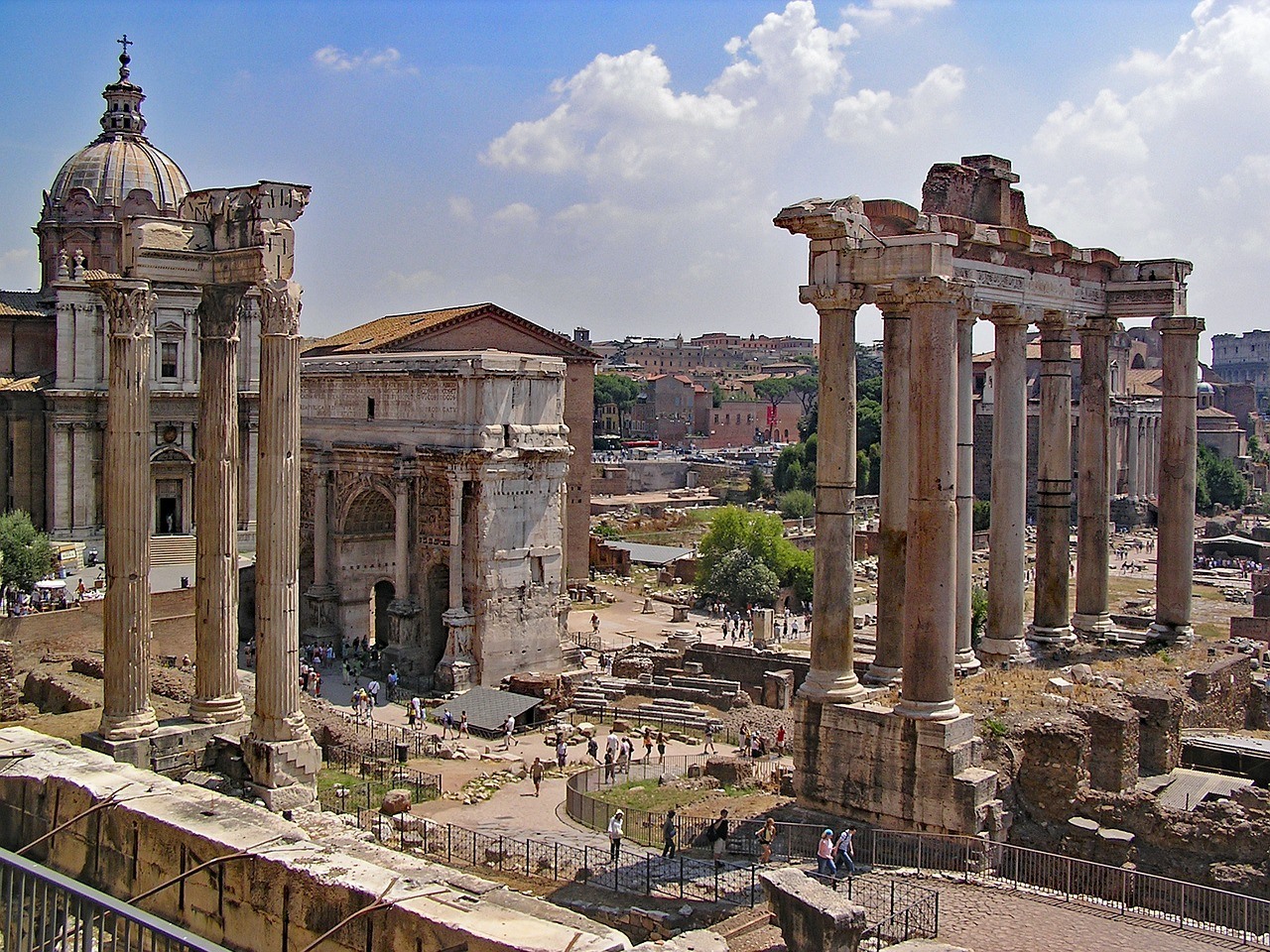 Since this is one of the most popular monuments in the city, you don't want to waste your time standing in line to get tickets. Instead, book "skip-the-line" tickets and you'll get immediate access to the Colosseum.
For the ones that are more interested in the history and hidden details of the Colosseum, you should check out this VIP tour! There's way more to the monument than you'd think (or see). This tour will take you to secret tunnels, old cages where they kept lions and tigers, and to the third ring (all of this is restricted area for normal visitors so you can enjoy exclusive access) – definitely a cool adventure that not everyone gets to experience!
2. Walk along the Tiber River
The Tiber could rival the Seine, Thames, or any European river really in terms of beauty. Walking along the banks of the Tiber could also be one of the most romantic things to do in Rome! Take someone special on a stroll here and feel the love.
3. Have a nice walk on the Appia Antica
The Appia Antica was once one the most important roads in Ancient Rome and is still decently preserved today. Located on the edge of the city and among some very bucolic scenery, the Appia Antica makes for a lovely afternoon hike.
4. Day Trip to Vatican City
This country within a city deserves a whole day! Visit the likes of St. Peter's Church, the Vatican Library, and the Sistine Chapel for a chance to see some of the holiest sites in Europe.
5. Watch the sunset from Giardini degli Aranci
Though Jinunculum has the more expansive views, the Giardini degli Aranci has the more intimate setting. Set in a wonderful garden of orange trees, the terrace here offers close-up views of places like the Altare della Patria, St. Peters, and more. This is definitely the best spot to watch the sunset or sunrise, and a picnic here is arguably one of the most romantic things to do in Rome as well.
6. Look up at the Pantheon
Even two thousand years later, the Pantheon remains one of the most impressive pieces of architecture known to man. This former-temple turned museum still hosts the world's largest unreinforced concrete dome, and it's just astounding to stand under. This is one of the top places to visit if you only have 3 days in Rome.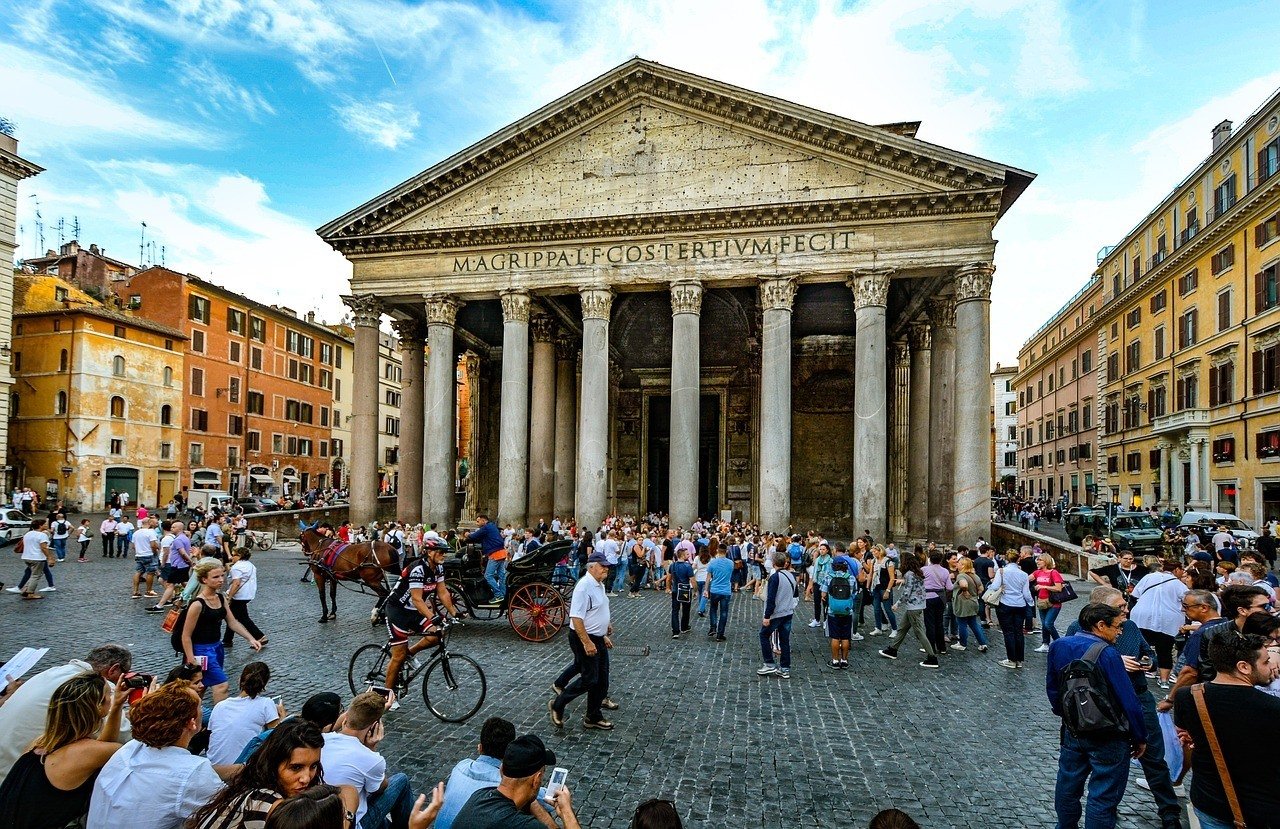 7. See all of Rome's fountains
One of the best things to do in Rome is to take a tour of all of its opulent fountains. Trevi and the Quattro Fiumi are the most well-known, but other lesser-known ones, like Naiads, Acqua Paolo, and Tartarughe, are also worth visiting.
8. Grab an aperitivo in Trastevere
Trastevere is a lovely neighborhood with lots of cafes and ristorantes. Take a break in the late afternoon at one of these cafés for an aperitivo, which is a small pre-dinner meal that Italians love to partake in.
9. Go hunting for art
Rome is absolutely overflowing with art and you'd be very surprised to find some amazing pieces in some truly unexpected places. Go exploring for works by many of Rome's most admired artists like Michelangelo, Caravaggio, and Bernini. Check out this guide for the top museums in Rome!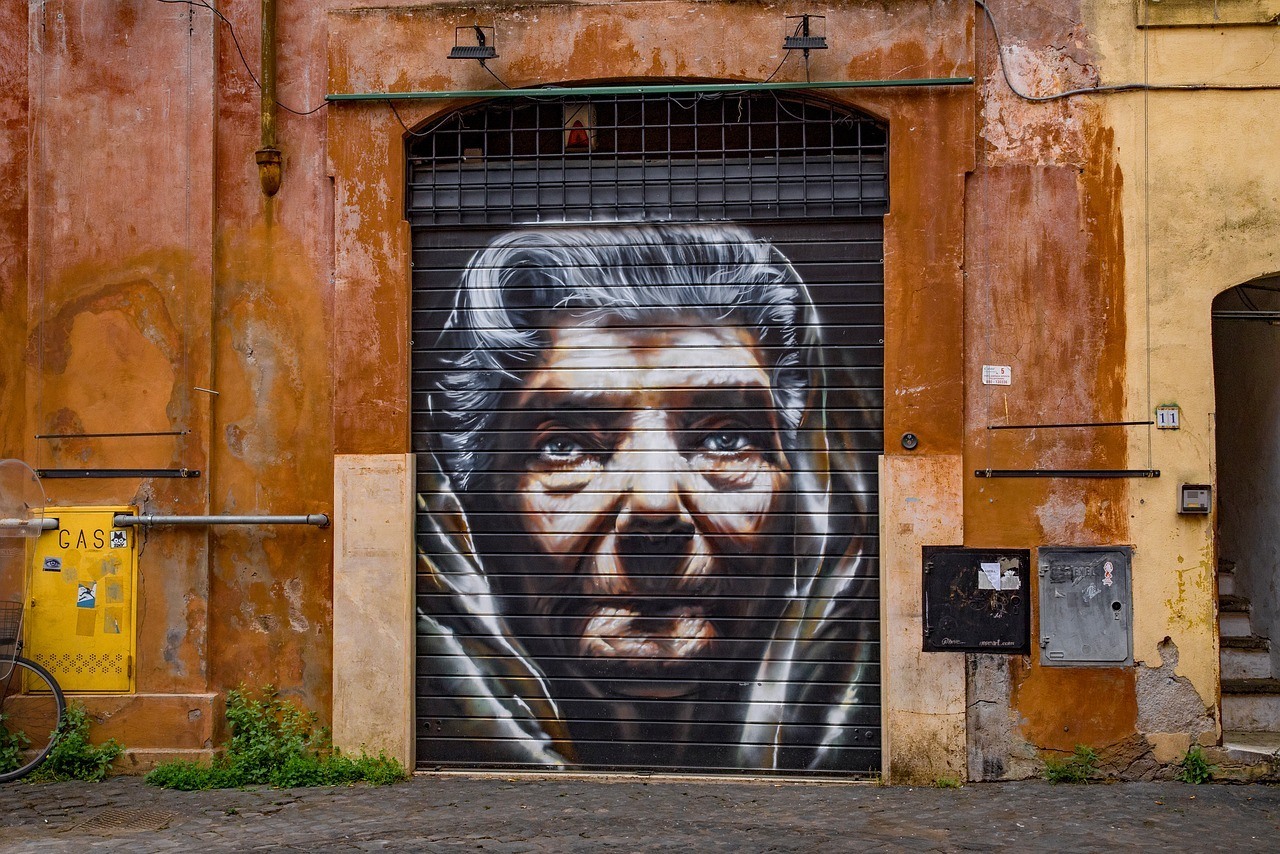 10. Find the keyhole…
One of the most popular activities in Rome is looking through the fabled "keyhole," which offers views of St. Peter's Basilica. I could tell you where it is, but that would spoil all of the fun. Go on an adventure to find it! Don't be afraid to ask the locals – most if not every Roman has been to this place at least once in their life.
Is This the Best Daypack EVER???
Looking for a little inspiration? There are lots of places to visit in Rome in 3 days! Give a look at this itinerary as an example and use it for yourself if you like.
Day 1 in Rome: The Touristy Stuff
Spend the 1st of 3 days in Rome visiting it's most popular places! Highlights of day 1 in Rome include superlative sites, like the Colosseum, and Trevi Fountain, and the Fori Imperiali.
Start in either the Colosseum or Piazza del Popolo and make your way to other. I suggest that you start at Popolo since the Colosseum is quite magnificent at dusk when it's lit up.
Popolo is home to Rome's oldest Egyptian obelisk and the twin churches of Santa Maria. Nearby is also the Fontana del Nettuno, one of the city's finest.
Head southeast from here to visit the overwhelmingly popular Piazza di Spagna, which is home to the Instagram famous Spanish Steps. At the top of the steps is the humble Trinita dei Monti church.
From the steps, journey southwest to reach the Fontana di Trevi. This preposterously popular fountain is the subject of many travel photos as well as a beating from thousands of coins per day.
Continuing west, we make a rough b-line to my favorite building in Rome, the Pantheon. This hallowed and immense temple is for all gods "former, present, and future." Its dome is one of the most impressive architectural achievements in human history and will make your jaw drop.
Next stop is the Piazza Venezia and the Altare delle Padria. Grab an espresso as well because this walk is a little farther than the last (20-30 mins). Climb the steps of the humbling Altare della Patria and then head over Palatine Hill to the Fori Imperiali. Wander around the boardwalks of the Forum but don't expect to touch the ruins as they are not open to the public.
Past the Fori Imperiali is our ultimate destination: the Colosseum. Walk around or wander inside this immense, iconic structure and then pop into a local cafe for a negroni; you earned it.
Day 2 in Rome: Vatican City
The autonomous Vatican City deserves an entire day to be explored! We dedicate day 2 of this guide for backpacking Rome to the holiest of moliest of cities in Italy.
Start with an espresso and croissant in Piazza Navona and be sure to check out the Fontana de Quattro Fiumi. Once you're ready, start walking west an slightly north towards the Tiber and Piazza di Ponte Sant'Angelo.
Across the river is imposing Castel Sant'Angelo, which was built by the Romans and later converted into a fortress by the papacy. These days, most invaders are more of a touristy sort, armed with cameras and high socks as opposed to pikes and crossbows.
Cross the bridge and walk around the old grounds of Sant'Angelo. When you're finished here, walk directly west along the Via della Conciliazione until reaching the massive Piazza San Pietro (you'll know when you arrive). Even though it's considered a separate sovereignty, you won't have to worry about customs or border controls, thankfully.
Standing in the Piazza, the Basilica di San Pietro (St. Peter's Basilica) dominates the horizon. It is an awe-inspiring building, one that is a suitable home for the most important living human being in the Christian world. From here, the Pope gives his sermons to the faithful and blesses them (every Sunday at noon).
You can tour the interior Basilica and it is highly recommended. St. Peter's is absolutely massive, cavernous, with a dome built to rival the heavens in height and beauty. Just staring up at it is all that is necessary. Note that there is a strict dress code when entering any building in Vatican City – no hats, no bare knees, and no bare shoulders.
The next most important attraction in Vatican City is the Vatican Library, most famous for housing the divine Sistine Chapel. Photography is forbidden, but most people still manage to snap a pic with their smartphone anyways. Also worth seeing in the Vatican Museum are the Raphael Rooms, the art gallery, and the famous spiral staircase.
At the end of the day, as is customary in Rome, grab a drink at a local haunt. Perhaps some red wine this time?
Deciding between Rome and Venice can be challenging enough, so we've helped you out with this guide.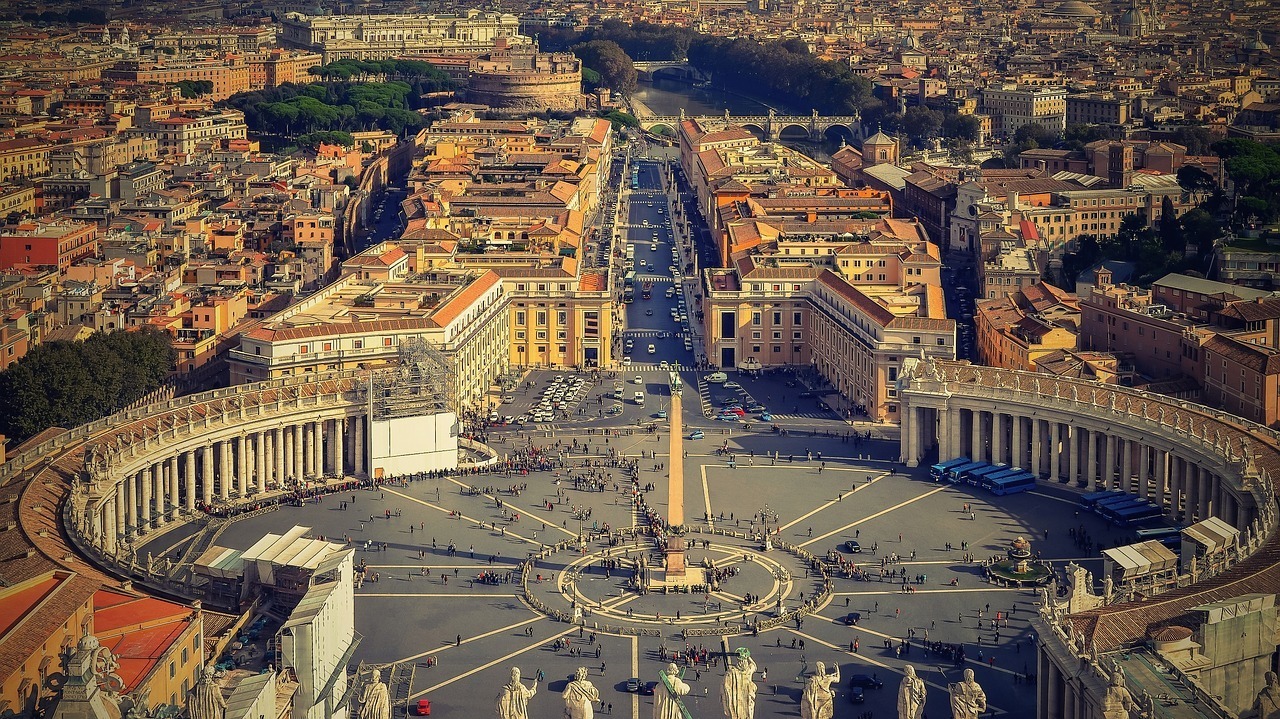 Day 3 in Rome: South of the City
Wrapping up our 3-day itinerary for backpacking Rome, we'll skim the southern edge of the old city, and along the way visit the charming Trastevere neighborhood as well as a few other important landmarks. We'll be covering larger distances on this route so you may consider buying a day pass and using public transit to get around.
Starting at the Basilica di San Giovanni, which was the home of former popes and impressive in its own right, head southwest towards the amazing Terme di Caracalla. The Terme is one of the most impressive archaeological sites in Rome.
Once you've gotten your fill of the Terme, head northwest towards the Circo Maximo. Nearby is the lovely Giardino degli Aranci, which is a great place to have a picnic and catch some views of the city. Also, I hear there's a special "keyhole" around this area? Hint: it's not in the Giardini.
Walk down the hill next to the Tiber River and then along its banks until you reach the Isola Tiberina. This tiny island doesn't have a whole lot in the way of attractions, but it's still a charming place to explore.
Across the Tiber and beyond Isola Tiberina is the Trastevere neighborhood, my favorite neighborhood in Rome. There aren't too many monuments here, but what Trastevere lacks in attractions in more than makes up for in character.
Among its narrow streets, you'll find some of the coolest shops and cafes in Rome. Hang out in Trastevere for a while and enjoy another espresso or craft beer.
Make sure you're hydrated because we're about to make the final push up to our final destination: Janiculum. (Don't worry too much because it's still only 20 minutes from Trastevere.) Climb up the winding roads until you reach the terraces of Janiculum, which offer perhaps the most expansive views of Rome.
From Janiculum, you can see nearly the whole of Rome, from the Altare della Patria to St. Peter's. Grab a drink from one of the local carts and watch the sun go down on the city.
Off the Beaten Path in Rome
If you're planning on spending more than 3 days in Rome, I highly recommend getting off the beaten path! Check out my suggestions below.
Apennine Mountains
Usually an afterthought in relation to the grander and more well-known Italian Alps, the Apennine Mountains are impressive in their own right and often neglected. Located a few hours drive away from Rome, these mountains are one of the most convenient escapes from the city.
Here are some of the best preserved forested areas in all of Europe in addition to some solid skiing, hiking, paragliding, and camping opportunities. You can also go white rafting in the town of Subiaco, which is conveniently located only an hour's drive from Rome!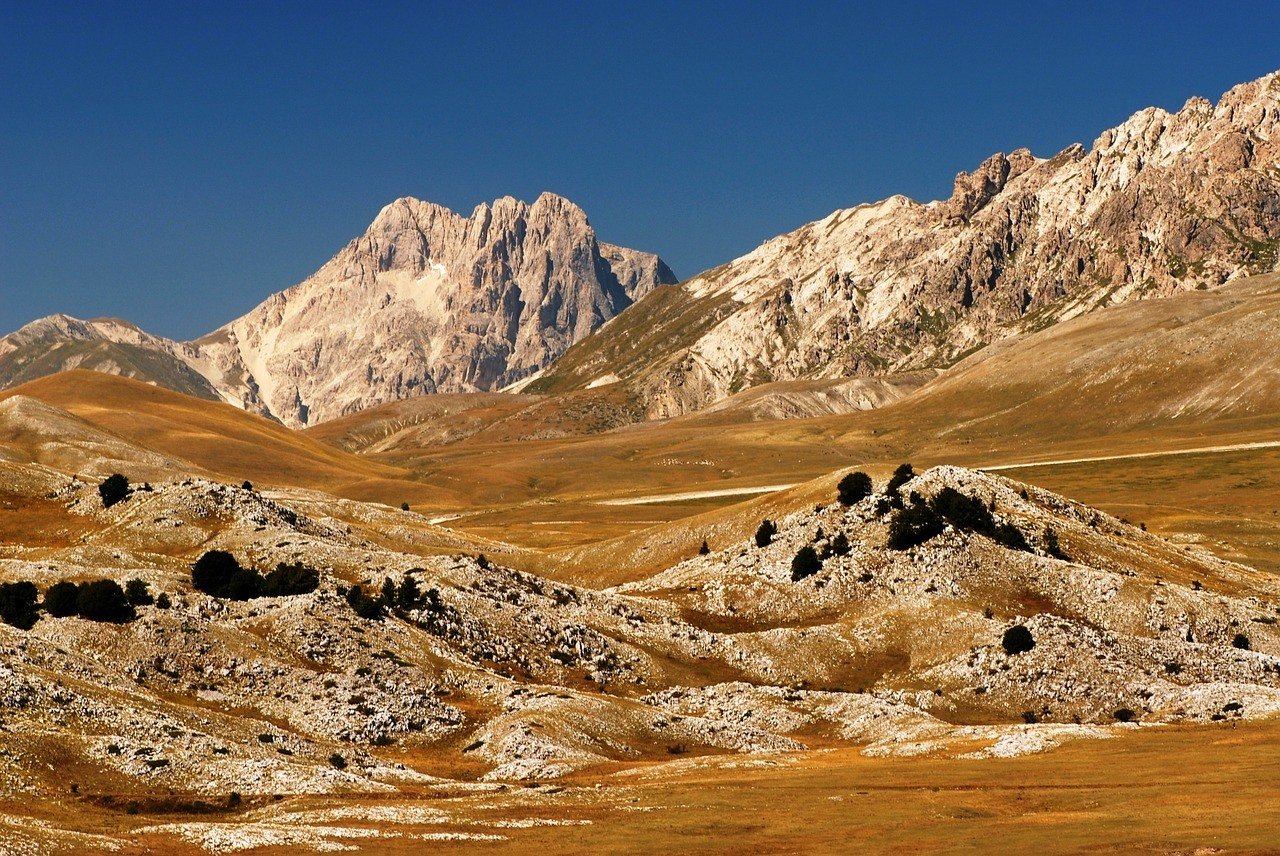 Etruscan Ruins
Before the Romans were the top dogs on the Italian peninsula, the Etruscans were the dominant power. Many of the best preserved Etruscan ruins are located very close to Rome. Cerveteri and Tarquinia are the most impressive of these.
The Beaches
Most people stay in the dense urban center while backpacking Rome; few remember that the city is actually quite close to the Mediterranean. Only an hour away are some [picturesque coastal communities that make for a great way to get away from the pressures of the city. Examples include Ostia, Anzio, Sperlonga and Santa Marinella.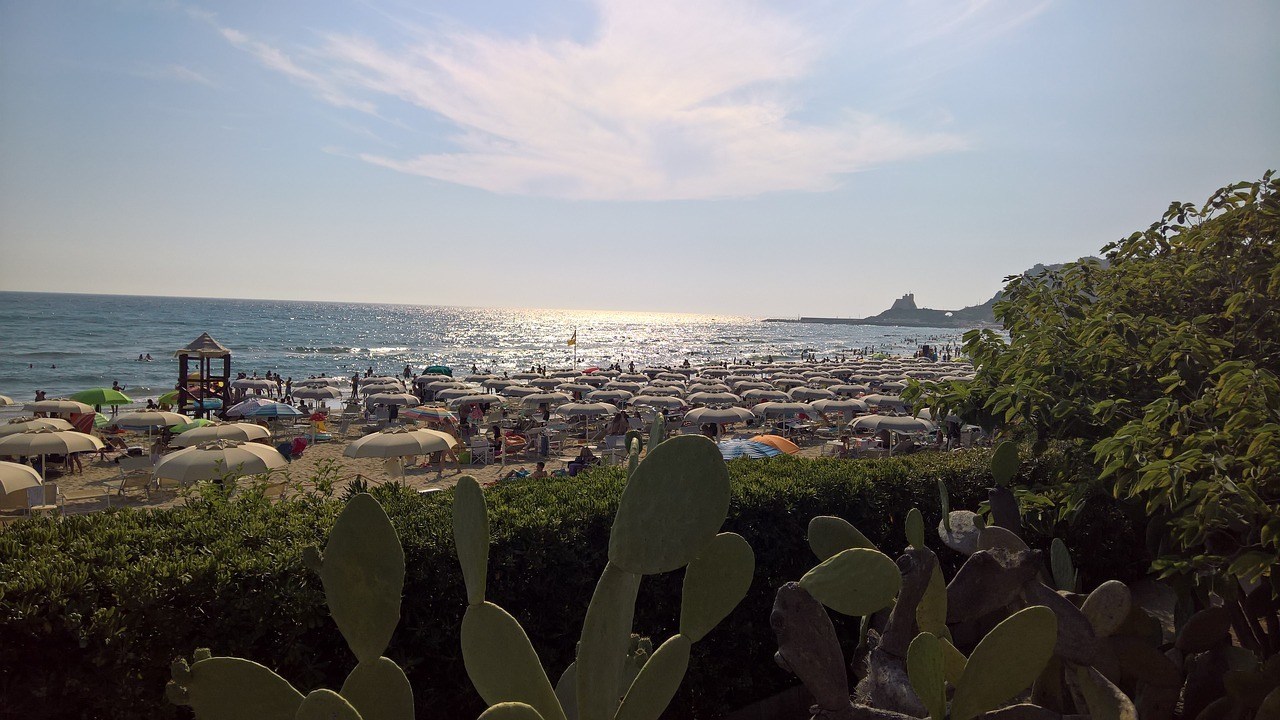 Calcata
A once eccentric and even derelict town, Calcata has recently been revived as an artist's commune. It was, at one point, completely abandoned following the government's forcible evacuation of the town for fear of the village falling off the side of a cliff.
Nowadays, the notion of collapse has been abandoned, and Calcata hosts some interesting galleries and collections of shops, thanks in part to the former squatters. Make a trip out here for a taste of something different from mainstream Rome.
Tivoli
About an hour outside of Rome is the village of Tivoli, known most for its majestic villas. Spread throughout this enclave are several ruined estates that several emperors and popes themselves once used as getaways.
Villa Adriana, Villa d'Este, and Villa Gregoriana are the primary sites in Tivoli and each is magnificent. There are several waterfalls and caves around that are worth exploring as well.
Best Walks in Rome
Still have some energy left after all that sightseeing in the city center? Then try one of these walks while backpacking in Rome:
Walk around Villa Ada Park – A former royal estate turned public park. This walk has a large artificial lake, a staggering variety of trees – both domestic and exotic – and an eponymous estate.
Walk the Appia Antica – Perhaps the most popular and worthwhile walk in Rome. Travel the old road that once served as a vital link in the Roman Empire, through picturesque countryside and by old Roman structures.
Walk around Villa Borghese – A large urban garden built around the Galleria Borghese, which houses a substantial art collection. The gardens themselves were built English style and are quite pastoral.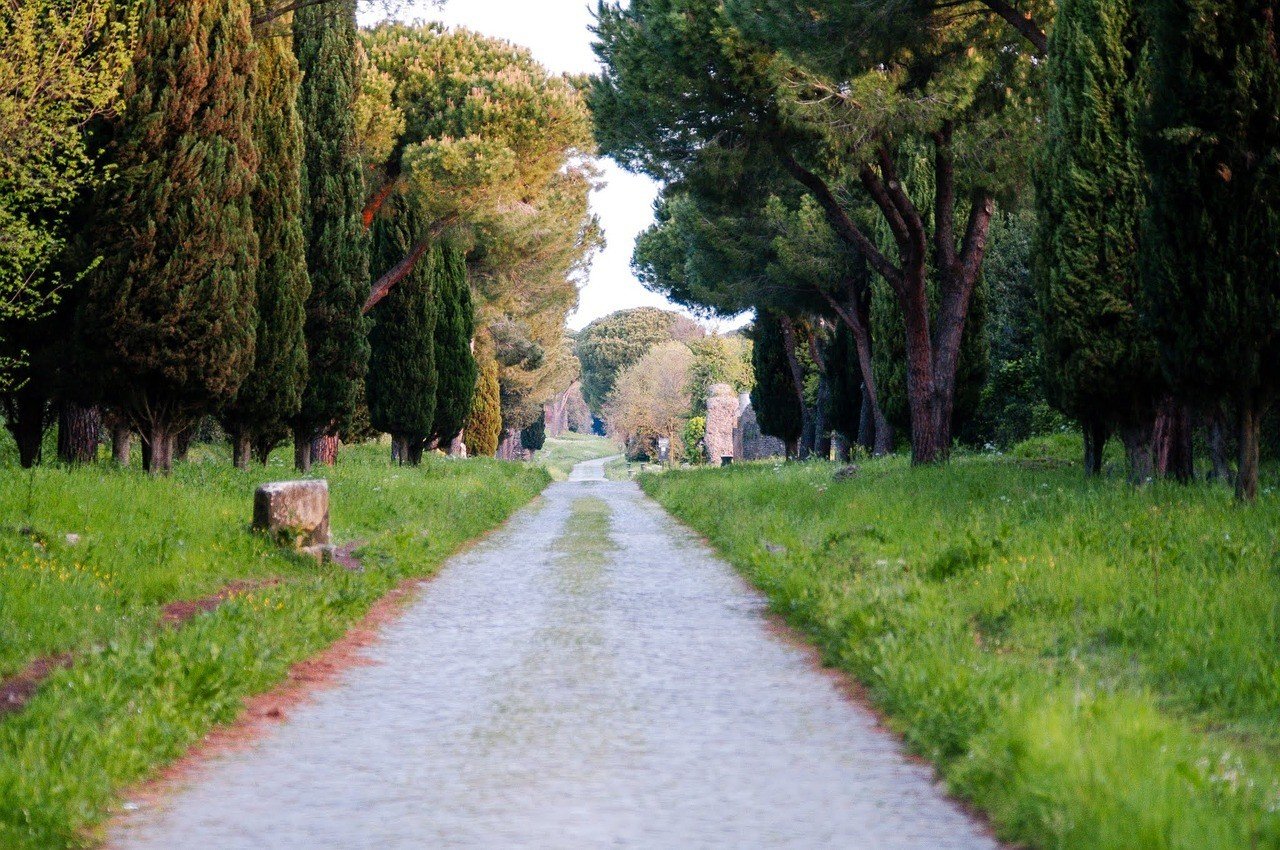 Best Time of Year to Visit Rome
Rome benefits from an amiable Mediterranean climate with balmy winters, wet springs, scorching summers, and pleasant autumns. It's close proximity to the sea means that temperatures never oscillate greatly, and there's almost always a nice breeze.
The weather is so agreeable in Rome that you can visit at just about any time of the year…
Summer in Rome is, in my opinion, a mixed bag. The heat, peaking in August, can be a bit much at times, oppressive even – 100+ F days are not uncommon in the city. Rome is also absolutely overrun with foreigners during this time as well, which means prices will be at their highest.
If you go backpacking in Rome in August, you won't find many Romans either as they usually take the month off for their own vacation. This means less crowded motorways and, consequently, less authenticity.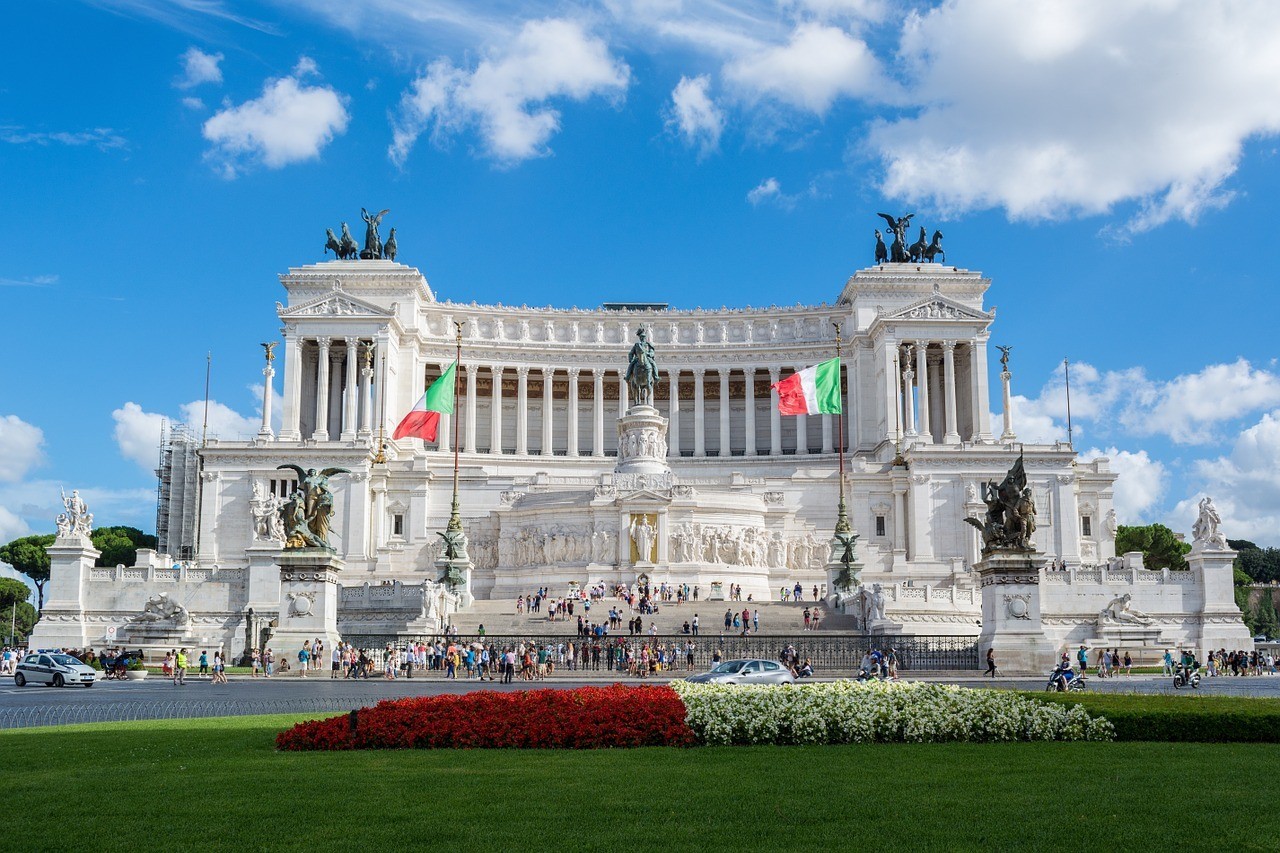 Spring and Autumn are the loveliest times of year to visit Rome. Spring is, hands down, my favorite time to visit as the city and surrounding countryside are covered in lush greenery; temperatures are also comfortable during this time. Autumn is very similar to Spring albeit there is a little less rain and temperatures are lower.
Winters in Rome can be a wonderful time as Romans love to celebrate the holidays and the nearby Apennine Mountains are rife with skiing opportunities. The climate is pretty mild around this time as well. Temperatures usually hover around 50 degrees and rain is quite common. So don't forget to pack warm clothing with you!
Get in and out of Rome
Rome has two airports: Fiumicino and Ciampino. Fiumicino is the city's primary international airport and most will fly into this is one if they're coming from long distances or on major airlines. Note that it's quite far from the city center, being closer to the coast.
Located in the southeastern suburbs, Ciampino is the smaller, low-cost airport that services budget airlines like Ryanair, Easyjet, and Wizzair.
There are a couple of ways affordable ways to get from the airports to the city center. Both Fiumicino and Ciampino are served by bus lines that cost no more than $7 each.
From Fiumicino, catch the Terravision bus for $7 (or $5 if you booked ahead and online) to Termini Station. From Ciampino, grab the ATAC 520 bus to Cinecittà/Subaugusta or to Ciampino train station and then catch the train to Termini – the former costs $2 and the latter $4. There are several other private companies also offering direct transfers to Termini and for good prices, like Terravision.
There's a direct train from Fiumicino to Rome that costs $17.50. Note that this train does not go directly to Termini – if you want to go here, you'll have to get off at Tiburtina or Ostiense and jump on line B.
Most who are backpacking through Europe will find themselves arriving in Rome via a long distance bus or train. Rome is one of the most popular stops along any Eurotrip, and so there are lots of routes servicing the city. From Termini, you can travel just about anywhere in Europe. See the Long Distance from Rome section for more.
How to get around Rome
Getting around Rome can be frustrating at times. Between the many buses, trains, taxis, trams, and self-driving options you're sure to get to where you need to go, but you'll probably utter a few catzos along the way.
If you intend on taking any form of public transport, you need to buy a pass of some sort. Choose a multi-day transit or Roma Pass; the latter of which includes discounted entry to cultural sites in addition to free public transport. Either way, both will cover travel on any bus, train or metro within the city of Rome for a certain amount of time.
You can buy a single trip or multi-day ticket in most stations at a kiosk or at one of the many local bars/tobacco shops (tobaccoria). Upon entering the bus/train/etc you'll have to validate the ticket at a little yellow machine.
Though the grand majority of Rome is covered by some form of public transport, experiences can be a mixed bag. Buses are usually jam-packed, trams are decrepit, and air conditioning is rare. Throw in the fact that Rome is constantly under construction, causing frequent reroutings, and the whole affair may seem overly-frustrating.
Most of Rome's most notable places to visit are located in the Historical Center and within walking distance of each other. You'll be able to see a lot on foot and should only need to use public transport when you want to visit the outer neighborhoods of the city, like Ostiense or the Apia Antica.
Most will use the bus once or maybe twice per day to backtrack. You will only need to resort to public transport if you want to get outside to Rome's lesser-visited areas, like the Appia Antica or the coast.
But what if you're short on time?
Having only a limited amount of time in Rome, but you still want to see the cities best hot spots? We'd recommend you book a Rome-in-one-day tour. This tour offers you skip-the-line tickets to attractions, a flexible and tailored list of the famous monuments (you can choose which ones you want to see) and a driver who also jumps into the role of a professional guide. You'll learn everything there is to know about the city, its history and so much more without having the stress of planning the trip yourself!
And in case you want to add a little spice to the normal sightseeing tour, you can explore Rome on a Segway too. Keep in mind that you have to be at least 16 years old and in a healthy condition to be able to take part of this Segway-tour. Apart from that, nothing can stop the ultimate fun!
Long Distance Travel from Rome
Getting out of Rome is just as straightforward as arriving in Rome. Those who intend on backpacking through Europe further can grab one of the many convenient bus or train options from Rome.
Termini Station is the main train station in Rome and most long-distance rail options can be found here. Termini is conveniently located in the city center.
There are several European bus companies that service Rome and the grand majority of them are very reasonably priced. The ubiquitous Flixbus is one of the most popular companies in Europe due in part to its great prices, comfort, and sheer coverage.
Note that many buses actually depart from a different station called Tiburtina, which is located further north past San Lorenzo. Be sure to double check your departure point when riding a bus out of Rome.
Several domestic companies offer rides to far-flung Italian destinations like Sicily, Bari, and the Alps. Some bus companies are Marozzi, Baltour, and Marino.
Those who are using the train to go backpacking in Europe will be happy to know that, of course, Rome is among the main cities you can visit. Should you not have a convenient Eurorail pass, try visiting this site to find the train for you.
One of the most popular ways of getting around Europe is by ridesharing. BlaBlaCar has gained immense popularity over the years and is many a local's go-to method for getting around. Download the app and find someone who is going (near) your next stop.
Use Bookaway to find the best deals on transport – buses, planes, trains, and ferries. It'll save you a load of time when organising transport and you'll probably nab an EPIC DISCOUNT too!
Book your transport on Bookaway NOW. Get the best price for the best ride… then use those savings to buy the best feed in town!
Book Your Transport Here!
Safety in Rome
Rome suffers from a bit of dissonance when it comes to public safety. On one hand, violent crime and murder in Rome are among the lowest in all of Europe, being less than other major cities like London, Paris, Madrid, and Amsterdam. On the other hand, petty crime, including pickpocketing, petty theft, and scams is among the highest on the continent.
When backpacking in Rome, it is very important to be aware of your personal belongings and surroundings. There are many thieves who like to target tourists, and they've become quite good at picking them out of a crowd. Given the right opportunity, say in a busy marketplace or in an abandoned alleyway, they'll lift your wallet without you even knowing.
Be sure to exercise all the usual precautions that you should be doing while traveling. Keep your wallet in your front pocket or in a chest strap. Carry hand and camera bags with the strap across your chest as opposed to just dangling down your shoulder. Never leave an item unattended.
Devious Romans employ several scamming techniques to trick tourists as well. Be wary around groups of kids who suddenly run up to you as well as people who appear overly friendly or inquisitive – both will try to distract you as their accomplices sneak up to pick your pocket.
Don't indulge in the beggars, hawkers or "gladiators" either. Most are unfortunately tied with the mafia and don't have anything good to offer.
At the end of the day, avoiding victimization comes down to common sense. If you're careful and know what you're doing, then you'll be alright. Remember that you're not a celebrity and that, no matter who you are, you can be a target. Should you be robbed, locals and police alike are usually very helpful.
Travel Insurance for Rome
Traveling without insurance would be risky so do consider getting good backpacker insurance sorted before you head off on an adventure.
I have been using World Nomads for some time now and made a few claims over the years. They're easy to use, professional and relatively affordable. They may also let you buy or extend a policy once you've started your trip and are already abroad which is super handy.
If there's one insurance company I trust, it's World Nomads.
ALWAYS sort out your backpacker insurance before your trip. There's plenty to choose from in that department, but a good place to start is Safety Wing.
They offer month-to-month payments, no lock-in contracts, and require absolutely no itineraries: that's the exact kind of insurance long-term travellers and digital nomads need.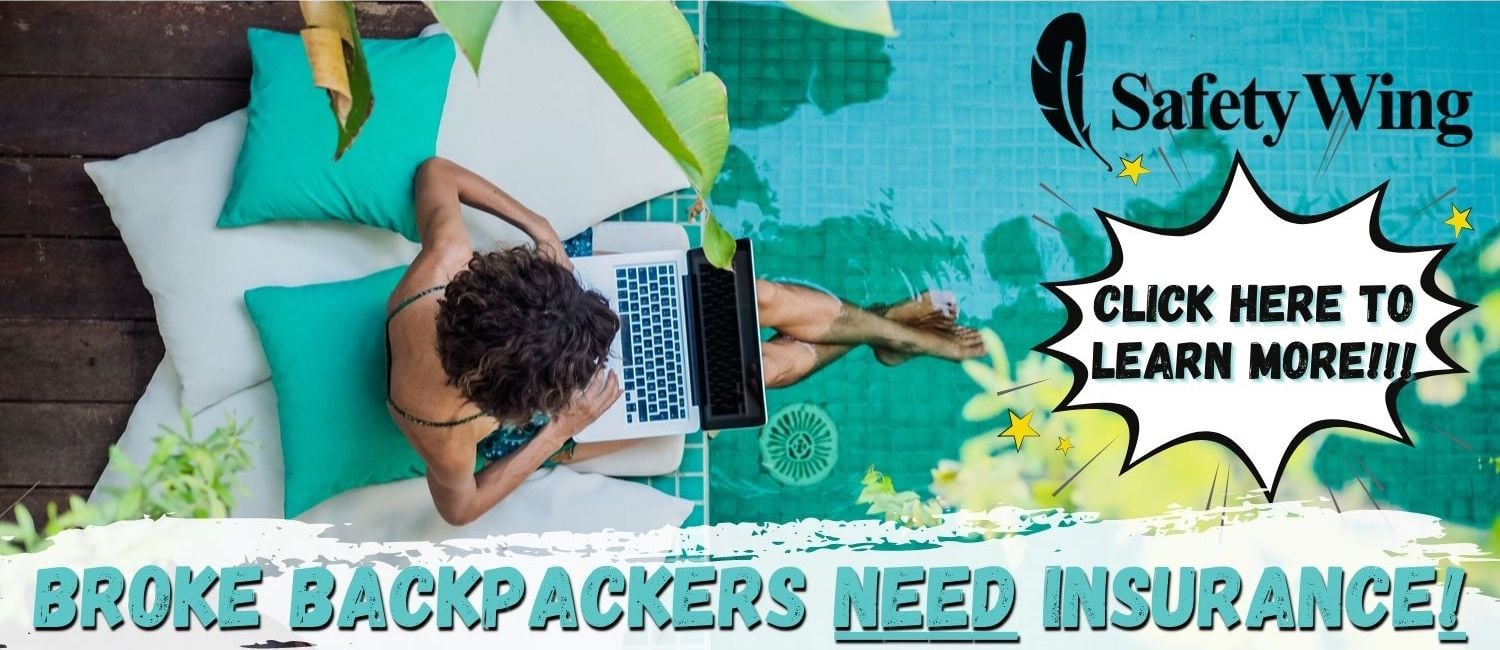 SafetyWing is cheap, easy, and admin-free: just sign up lickety-split so you can get back to it!
Click the button below to learn more about SafetyWing's setup or read our insider review for the full tasty scoop.
Rome Accommodation Travel Hacks
Let's face it, sometimes we all need to stay in a hostel. Hostels are great for meeting fellow travelers and just having space where you can do your thing at your own pace. Backpacker accommodation in Rome is far from cheap, however.
I will just say the prices are staggering once you learn what they are. So, stay at a hostel for a night or two and consider your other options:
Couchsurf! If you manage to land a Couchsurfing spot in Rome, you will have successfully eliminated your biggest cost: accommodation. I'll be honest with you. Couchsurfing is more popular than ever before.
Couchsurfing hosts in Rome can receive up to 50+ requests PER DAY! Point being, whilst I would not explicitly count on Couchsurfing in Rome, I would sure give it an honest go. Make sure you send a very convincing message short of selling your body and your soul.
Tap into your backpacker network: If you have done any sort of backpacking before, you might know someone who knows someone from Rome. Before you begin your Rome backpacking trip, I suggest you put your feelers out there and ask your network of friends if they know of someone whom you can crash with for a night or two. This is how you'll discover hidden gems in Rome, and save a bunch on accommodation.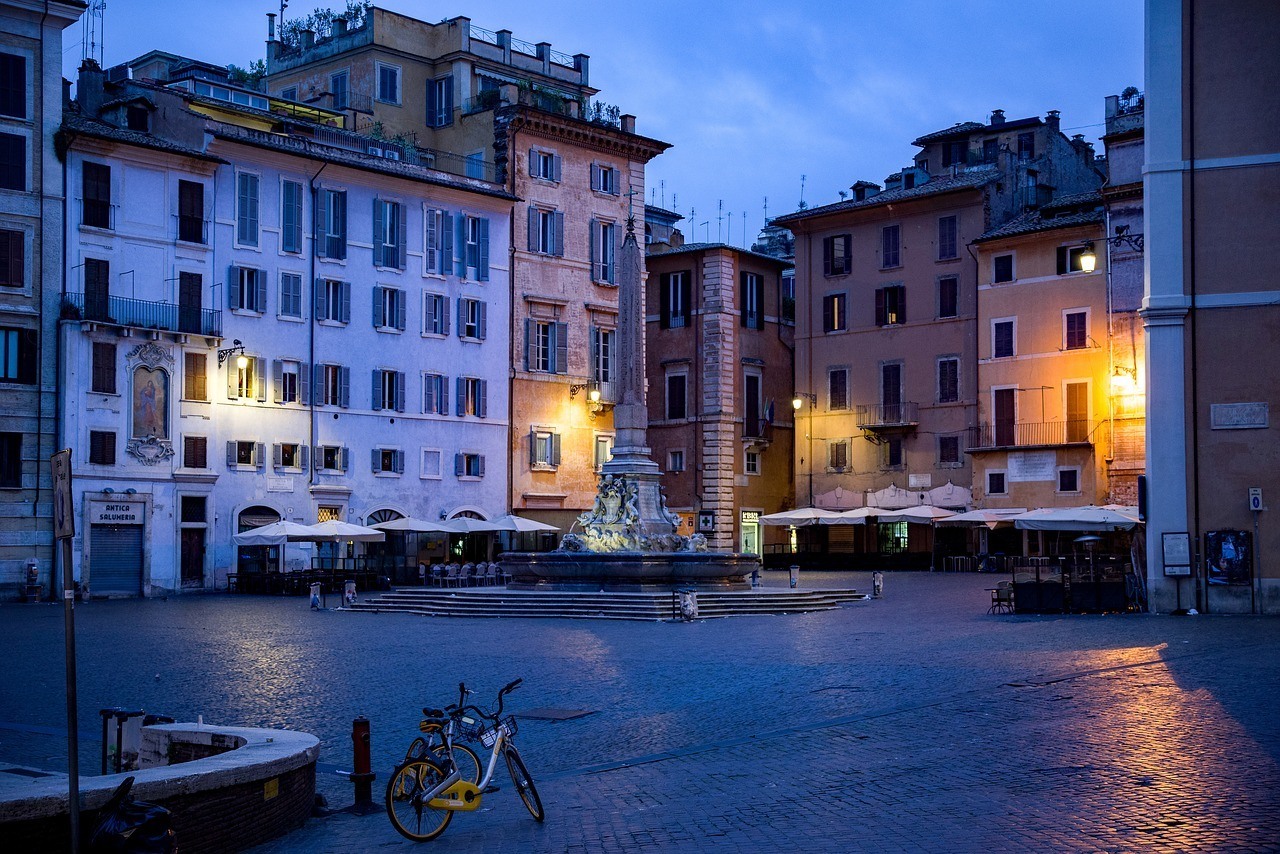 Eating and Drinking in Rome
There is no shortage of delicious and romantic locales to grab a meal in Rome. Between the many convenient cafes found in the gorgeous city center and the authentic mom n' pop joints spread throughout, you're sure to find the perfect bite while backpacking in Rome.
Most of the restaurants around Rome's main attractions are catered to hungry tourists. For this reason, these spots are usually more expensive and, in some ways, less authentic.
For example, many serve pizza and pasta, which is a service that you don't commonly see in Italy – pizza should be bought from pizzerias and pasta should be bought from a ristorante. By all means, sit down at a cafe in the likes of Piazza Navona or Campo de' Fiori, just don't expect a cheap meal or inspired cuisine.
The best places to eat in Rome are either located in some dingy or far-flung corner of the city. Most are very assuming as well and you can walk by one of the best without even knowing it. For example, Trattoria Sora Lella, which won "best trattoria in Rome," is a tiny little hole-in-the-wall located on the equally tiny Isola Tiberina.
For the best food in Rome, head to the suburbs and isolated city neighborhoods where the grand majority of Romans reside.
In addition to Rome's own style of cooking, you'll find dishes that hark from every other corner of the country. For a list of examples of Italian cooking, see the Eating section of our own backpacking Italy guide.
Remember that "sit down fees" are common in Rome. You can save yourself the pain of paying for them by avoiding sitting down at a table altogether, eating instead at a bar. Should you want to sit down at a ristorante, travel outside the city where prices are lower where sit-down fees aren't implemented and the food is more authentic.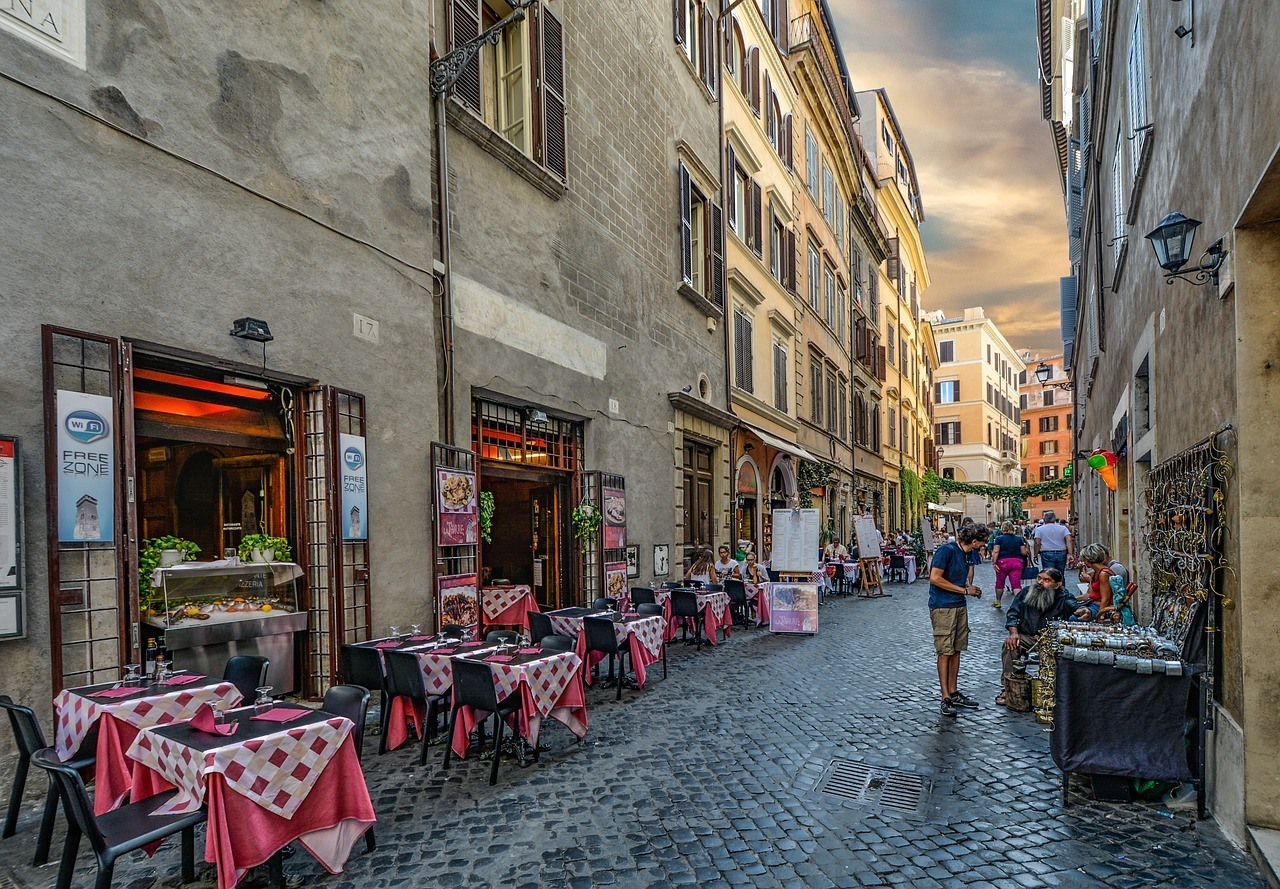 Nightlife in Rome
Rome is one of those places that is buzzing day-in and day-out, always live and seemingly never sleeping. There is a ton of nightlife in Rome as befits a culture that likes to stay up late. Though it can feel like there's an endless amount of things to do in Rome at night, there are some districts that are better than others. The key to going out in this city will be knowing which districts are best.
Rome excels in cafe culture. Nearly every crack in the city is filled with some sort of watering hole… down to the tiniest hole in the wall. Many times I've wandered past some dingy looking portal in Rome by day only to return to the same one at night and find it a happening bar.
Campo de' Fiori and nearby Testaccio are the two most well-known late-night districts in the center of Rome. Here you'll find dozens of bars and hundreds of chairs to lounge at. These areas are usually full of foreigners, especially in the summer months.
Across the Tiber, Trastevere is also a great place to grab a drink. Here is a little more diverse a crowd with expats and locals alike intermingling. Beers lovers will rejoice upon finding the totally unassuming Ma Che Siete Venuti a Fa whose craft selection of beer is perhaps the finest in Italy.
San Lorenzo is perhaps the easiest place to party in Rome as this district is full of students, hipsters, and party people in general.
Piazza dell'Immacolata is where most meet before hitting the bars and a lot of the times it's a party place in itself. In this area, you'll find nightlife in all of its forms from cafes to expat bars to full-on nightclubs.
Rome is home to some of the biggest festivals in Italy and it is strongly recommended that you add these to your travel plans if your budget permits.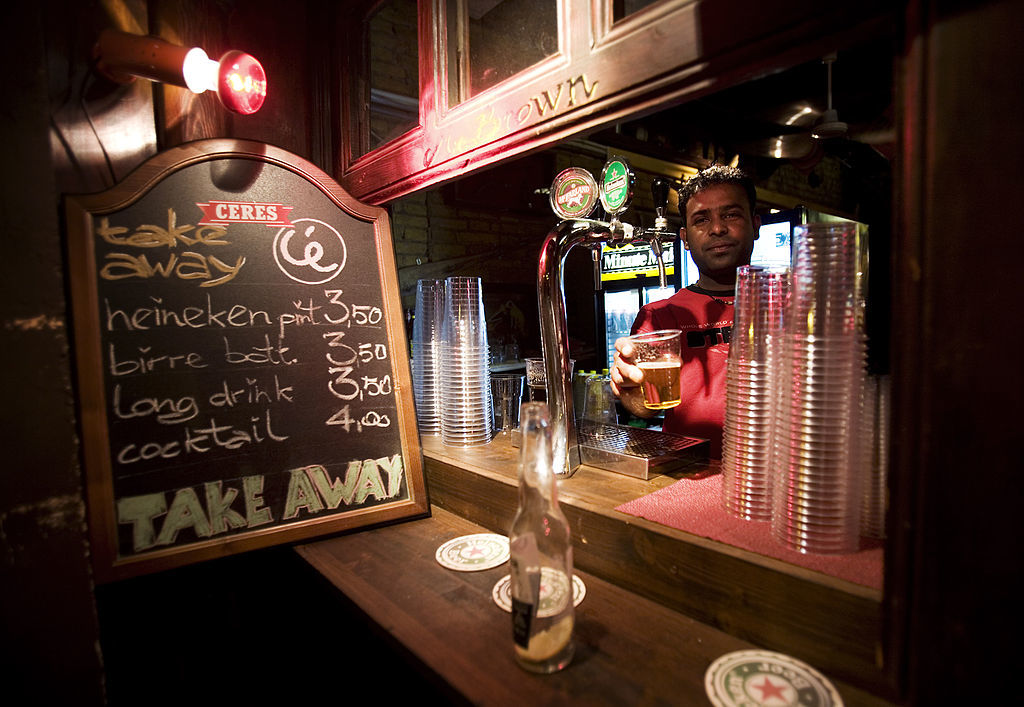 Books to Read While Traveling in Rome
Below are my favorite books set in Rome…
I, Claudius – A semi-autobiographical novel concerning one of Rome's most unlikely emperors, Tiberius Claudius, who witnessed the rise and fall of some the Empire's most notorious figures.
The Roman Spring of Mrs. Stone – One of Tennessee Williams' first novels, this one tells the story of a disenchanted women drifting through as she mourns the loss of her husband as well as her youth.
That Awful Mess on Via Merulana – A gritty detective novel that ends up illustrating an even grittier Rome during the early days of fascism and Mussolini.
The Woman of Rome – Set during the height of fascism, this novel tells the story of several characters who unknowingly betray themselves and become people that they never expected.
Lonely Planet Italy – It's sometimes worth traveling with a guidebook. Despite Lonely Planet's history of selling out and writing about places they haven't been to, they've done a good job with Italy.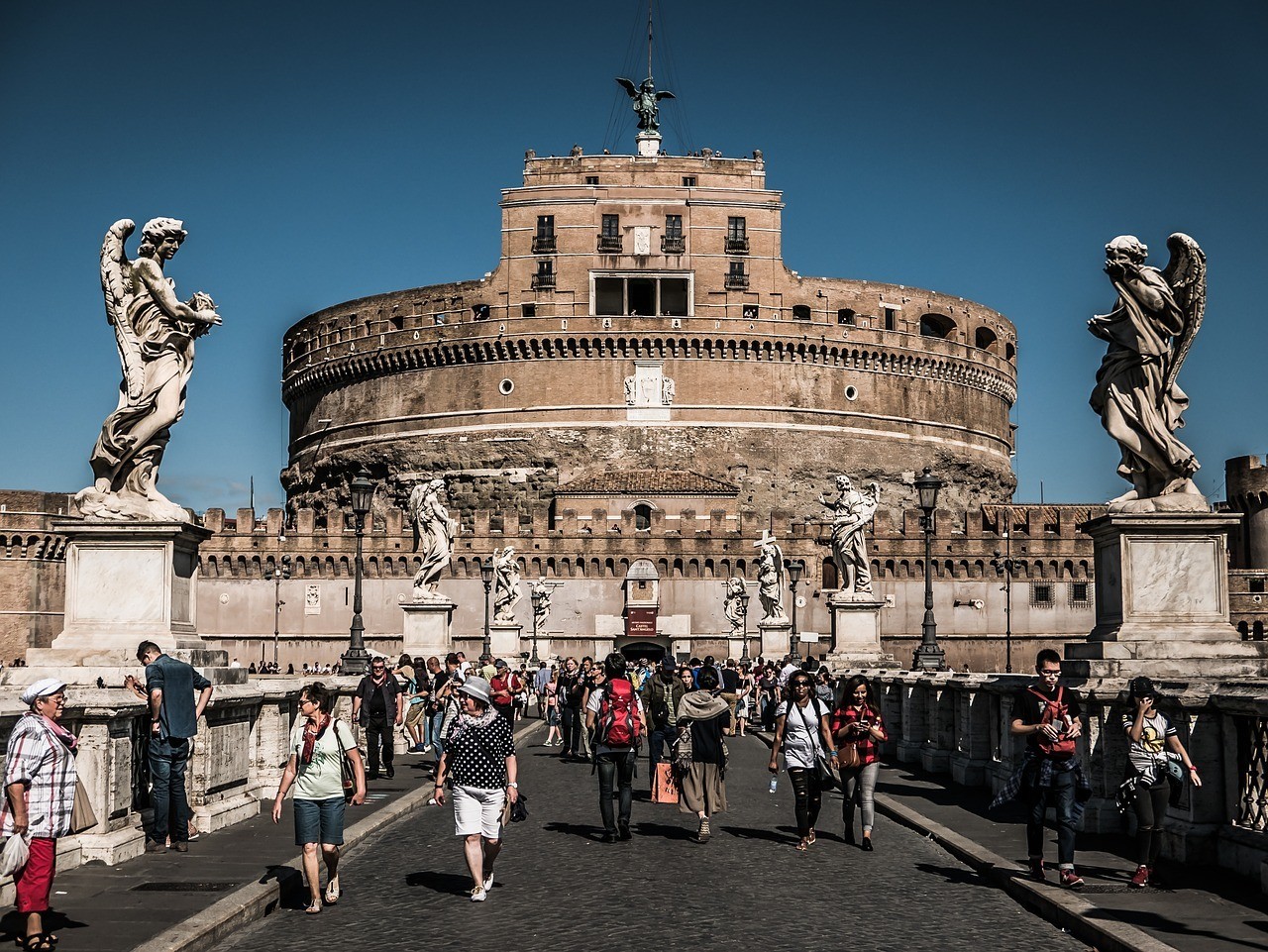 Volunteering in Rome
Long term travel is awesome. Giving back is awesome too. For backpackers looking to travel long-term on a budget in Rome whilst making a real impact on local communities, look no further than World Packers. World Packers is an excellent platform connecting travelers with meaningful volunteer positions throughout the world.
In exchange for a few hours of work each day, your room and board are covered.
Backpackers can spend long periods of time volunteering in an awesome place without spending any money. Meaningful life and travel experiences are rooted in stepping out of your comfort zone and into the world of a purposeful project.
Worldpackers opens the doors for work opportunities in hostels, homestays, NGOs, and eco-projects around the world. We've tried and approved them ourselves – check out our Worldpackers in-depth review here.
If you're ready to create a life-changing travel experience and give back to the community, join the Worldpacker community now. As a Broke Backpacker reader, you'll get a special discount of $10. Just use the discount code BROKEBACKPACKER and your membership is discounted from $49 a year to only $39.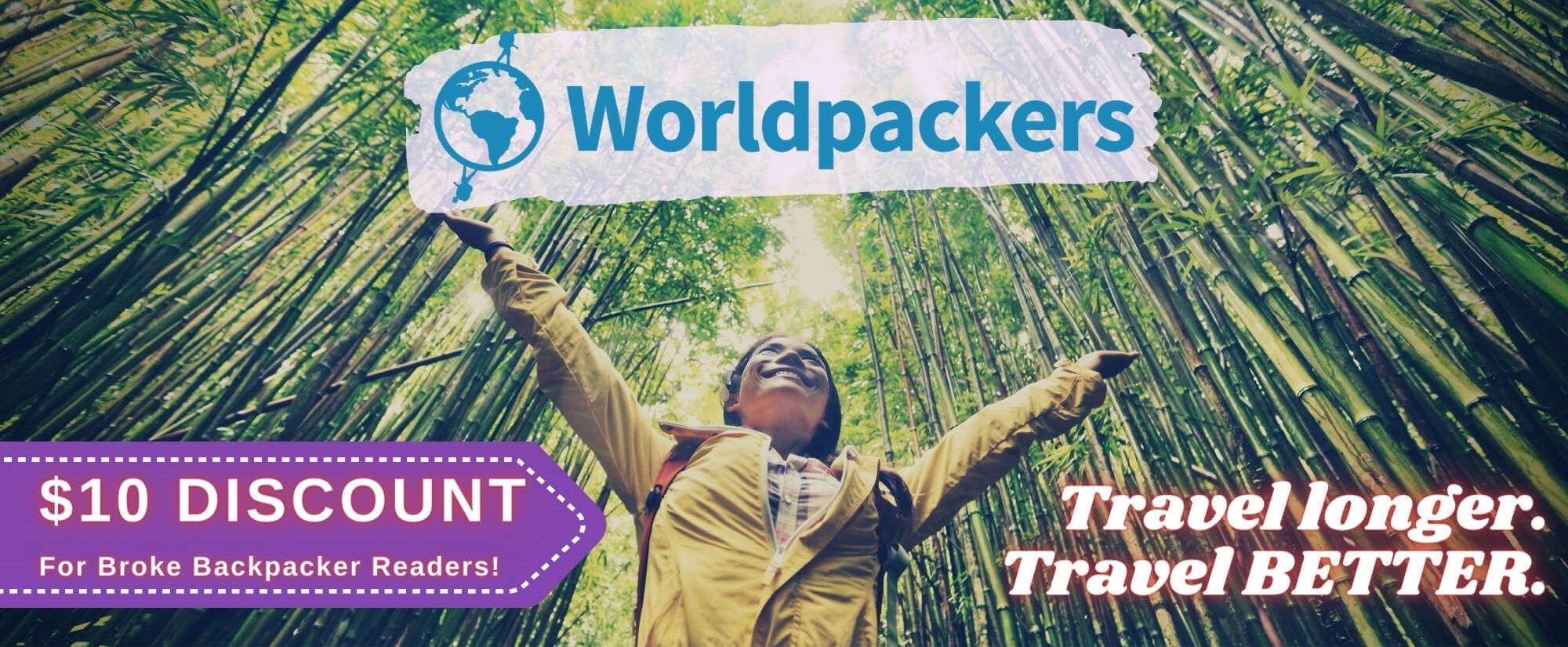 Worldpackers: connecting travellers with meaningful travel experiences.
Make Money Online Whilst Backpacking Rome
Traveling in Rome or Italy long-term? Keen to make some cash when you are not exploring the city?
Teaching English online is a great way to earn a consistent income—from anywhere in the world with a good internet connection. Depending on your qualifications (or your motivation to obtain qualifications like a TEFL certificate) you can teach English remotely from your laptop, save some cash for your next adventure, and make a positive impact on the world by improving another person's language skills! It's a win-win! Check out this detailed article for everything you need to know to start teaching English online.
In addition to giving you the qualifications to teach English online, TEFL courses open up a huge range of opportunities and you can find teaching work all over the world. To find out more about TEFL courses and how you can teach English around the world, read my in-depth report on teaching English abroad.
Broke Backpacker readers get a 35% discount on TEFL courses with MyTEFL (simply enter the code BACKPKR), to find out more, please read my in-depth report on teaching English abroad.
Whether you are keen to teach English online or looking to take your teaching game a step further by finding a job teaching English in a foreign country, getting your TEFL certificate is absolutely a step in the right direction.
Being a Responsible Backpacker in Rome
Reduce your plastic footprint: Perhaps the best thing you can do for our planet is to make sure you do NOT add to the plastic problem all over the world. Don't buy one-use water bottles, the plastic ends up in landfill or in the ocean. Instead, pack a tough travel water bottle.
Go and watch A Plastic Ocean on Netflix – it'll change how you view the plastic problem in the world; you need to understand what we are up against. If you think it doesn't matter, get off my fucking site.
Don't pick up single use plastic bags, you're a backpacker – take your daypack if you need to go to the shop or run errands.
Bear in mind, that many animal products in countries you travel through will not be ethically farmed and won't be of the highest quality. I'm a carnivore but when I'm on the road, I only eat chicken. Mass-farming of cows etc leads to the rainforest being cut down – which is obviously a huge problem.
Need more guidance? – Check out our post on how to be a responsible backpacker.
Backpacking in Rome will bring you ample opportunities to participate in debauchery, and it is very important to have fun, let loose, and get a bit wild at times. Most backpacking trips I have been on across the world have included at least a few mornings where I wake up knowing I went too far.
There are some things that will put you in the category of a straight up jackass if you do them. Being super loud and obnoxious in a tiny hostel at 3 AM is a classic rookie backpacker mistake. Everyone in the hostel will hate you when you wake them up. Show your fellow travelers respect whilst backpacking in Rome, and anywhere else for that matter!
Climbing on ancient church/castle walls, monuments, or touching other historical artifacts/art should be avoided. Learn to appreciate the cultural treasures of Rome and don't be that dickhead who adds to their demise. There are MILLIONS of people who come to Rome every year. Everyone needs to be aware of the potential impacts of their visit.
---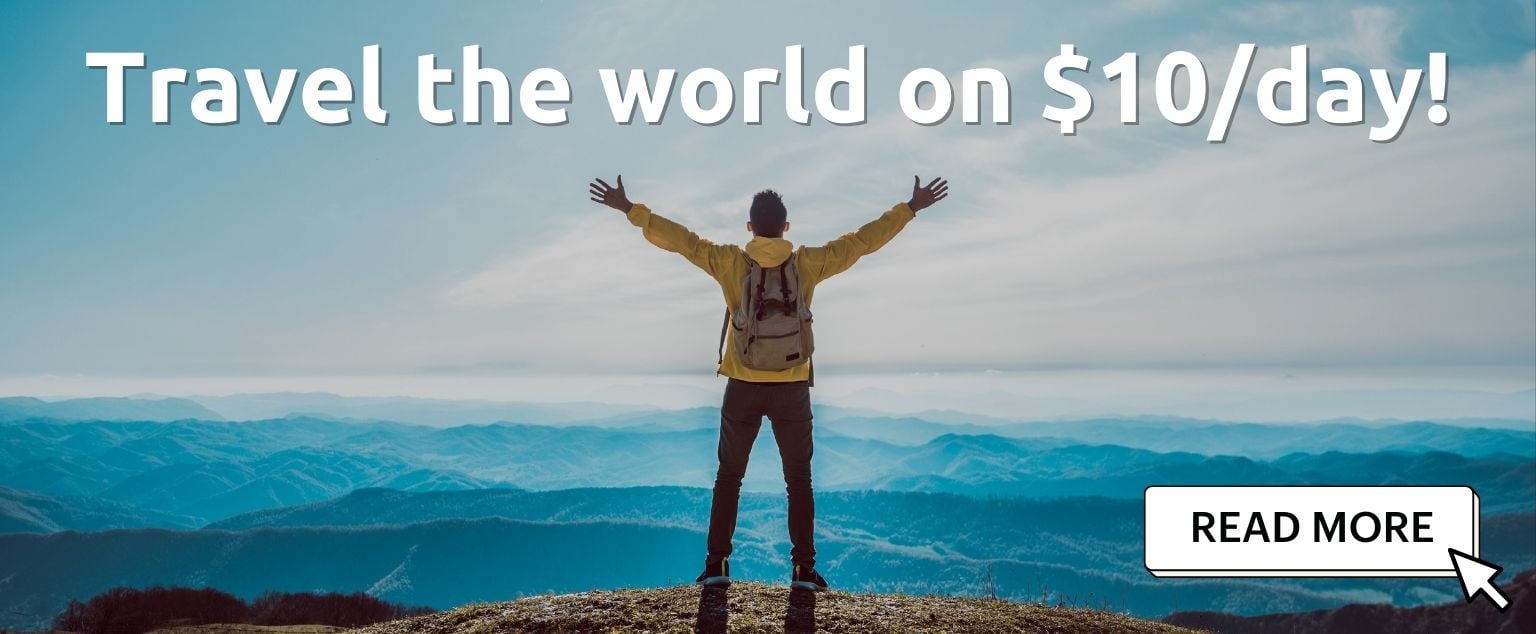 And for transparency's sake, please know that some of the links in our content are affiliate links. That means that if you book your accommodation, buy your gear, or sort your insurance through our link, we earn a small commission (at no extra cost to you). That said, we only link to the gear we trust and never recommend services we don't believe are up to scratch. Again, thank you!