You have your sights set on seeing some of the world's most renowned historical landmarks, eating the best pizza and pasta imaginable, drinking exquisite cappuccinos and doing some epic shopping – which is why Rome is next on your travel list.
But with all the sightseeing and walking you'll be doing – plus the fact that you'll be in the capital of one of the most fashionable countries in the world – you're probably unsure about exactly what to pack for Rome. Our advice: focus on your essentials and pack according to season.
So, what are your Rome packing essentials and what should you wear for its different seasons? We've put together this comprehensive Rome survival guide to answer exactly those types questions – including a top-21 needs packing list, tips on how to dress appropriately for different occasions, an overview by seasons and what NOT to pack. You'll also find a section dedicated to women, and one to men, with specific packing list tips for each.
If you're worried that you won't be able to fit everything in a carry-on size backpack, you'll soon lay your worries to rest!  After reading this Rome packing list guide, you'll know exactly what you need and what to do.
Let's get to it!

Unlock Our GREATEST Travel Secrets!
Sign up for our newsletter and get the best travel tips delivered right to your inbox.
Top 21 NEEDS for Rome – Rome Packing List
#1 – Nomatic Travel Bag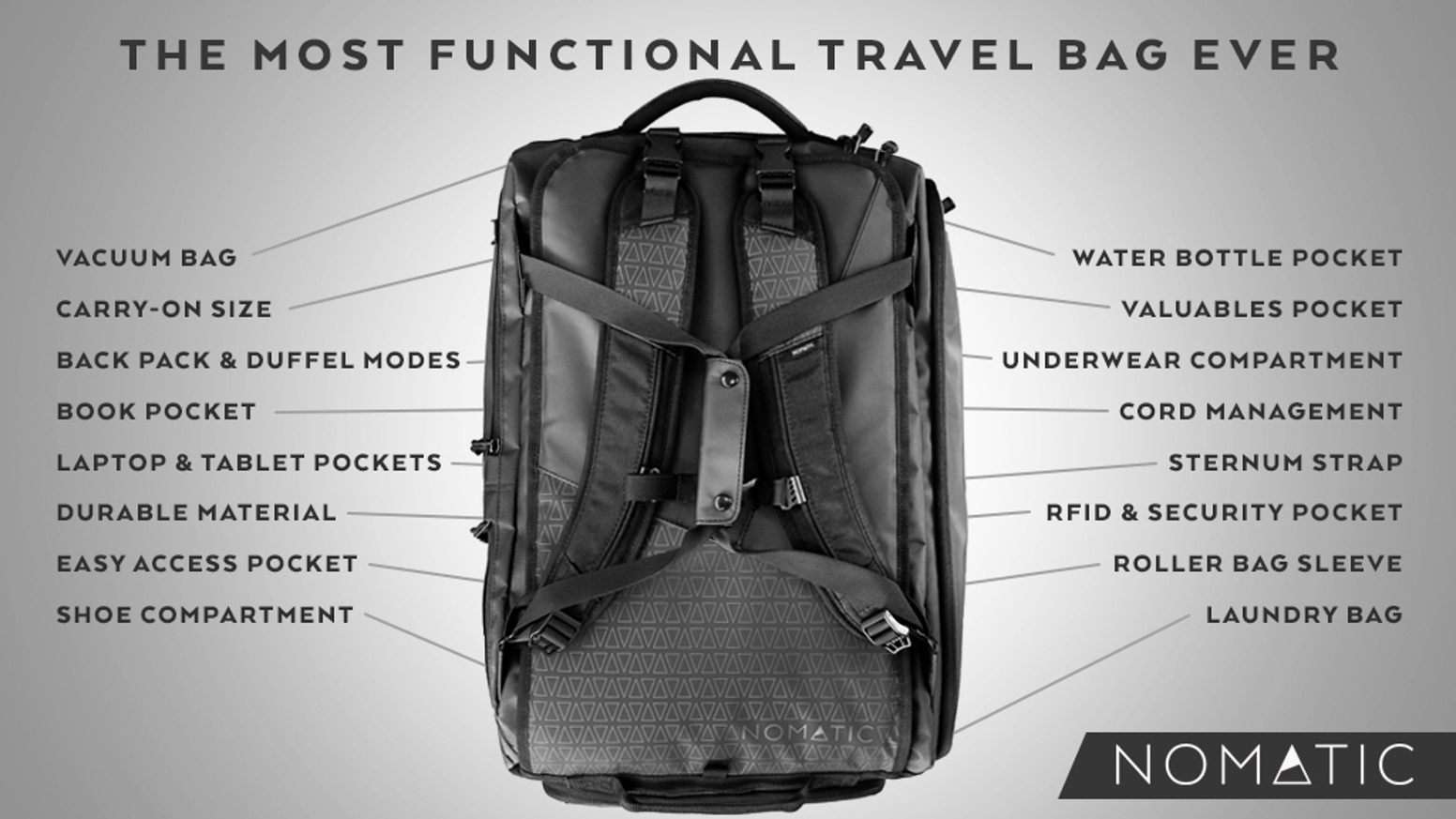 At the top of the list is making sure you have the perfect travel backpack. It's what you'll be living out of, so you need a bag that's reliable, functional and versatile. Look no further than the Nomatic Travel Bag. It's our top pick because it has the convenience of being carry-on size but with a smartly-designed 40-liter capacity interior that makes it seem so much bigger. You'll appreciate all of the pockets and compartments that maximize every valuable inch of packing space. We love it!
#2 – Pacsafe Money Belt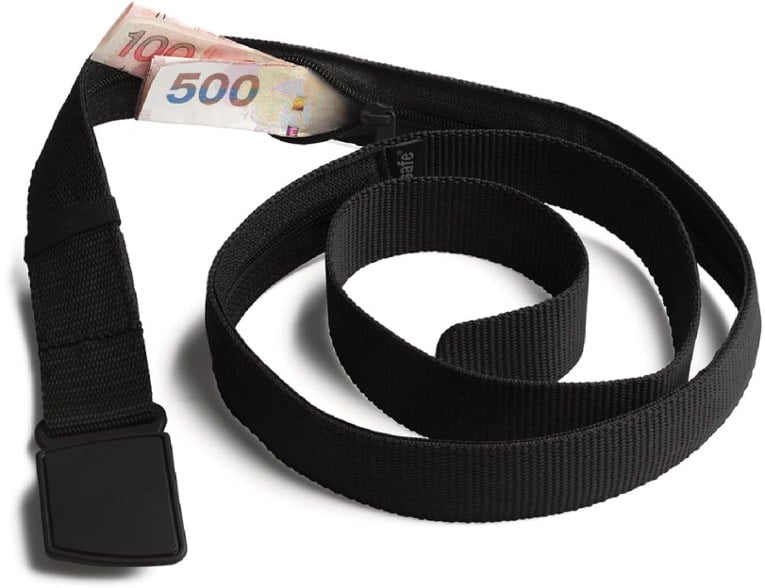 Just like in all touristy big cities, you'll want to take extra safety precautions in Rome – especially when it comes to theft. We advise keeping valuable items, like money and passport copies, hidden from view. The best way to do this is by using an Pacsafe Money Belt that discreetly hides an inner zipper pocket where you can safely stash away such items. It's security and fashion in one!
#3 – World Nomads Insurance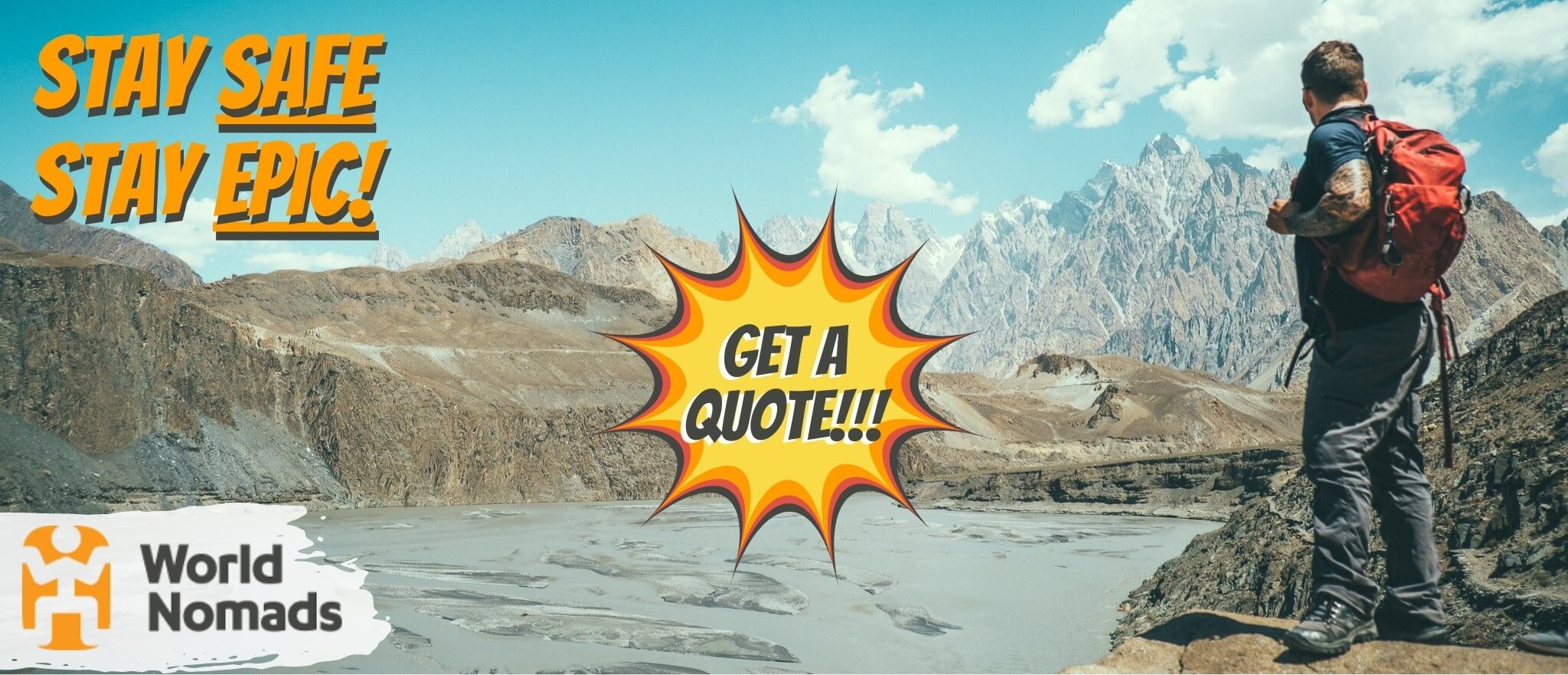 World Nomads' mission is to support and encourage travellers to explore their boundaries. They offer simple & flexible travel insurance, and safety advice to help you travel confidently.
They've been doing it since 2002 – protecting, connecting, and inspiring independent travellers just like you.
Get a quote below or read our in-depth review!
World Nomads provides travel insurance for travelers in over 100 countries. As an affiliate, we receive a fee when you get a quote from World Nomads using this link. We do not represent World Nomads. This is information only and not a recommendation to buy travel insurance.
#4 – Grayl Geopress Water Bottle
One thing's for sure – you'll be doing a lot of walking in Rome. Between touring the Colosseum and traversing the Vatican, you're going to need to stay hydrated to keep going. We recommend making an eco-friendly, stainless steel water bottle – like the 25-ounce Grayl Geopress Water Bottle – part of your what to take to Rome checklist. It's 8 ounces bigger than comparable bottles and keeps your water refreshing cool when you need it most!
#5 – Combination Lock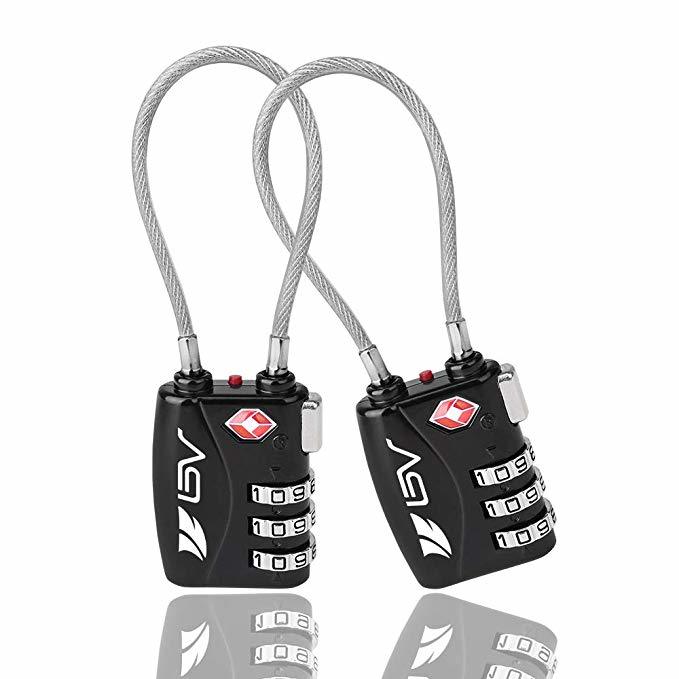 As we've already mentioned regarding security, you'll want to take every precaution in Rome. Always keep your bag locked when left unattended – especially if you plan on staying in a hostel in Rome.
#6 – Skeletool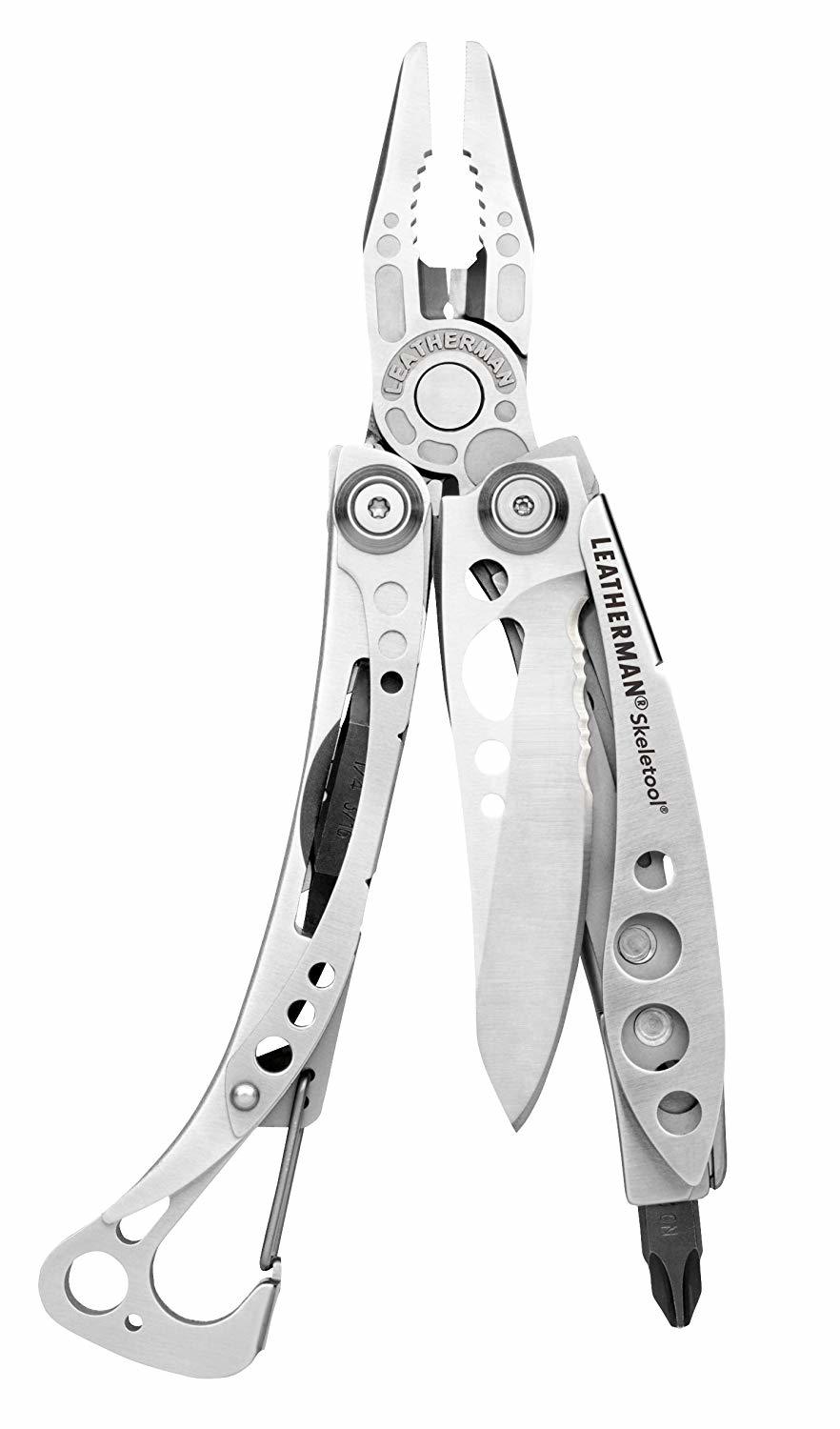 We believe that all savvy backpackers should travel with a compact multi-tool, like our favorite, the Skeletool. You just never know when you may need a handy tool, even in Rome. Imagine that you decide to pick up some fresh bread, pecorino cheese and a bottle of wine for lunch on-the-go – wouldn't having a corkscrew and small knife on hand be a godsend?
#7 – Quick Dry Microfiber Travel Towel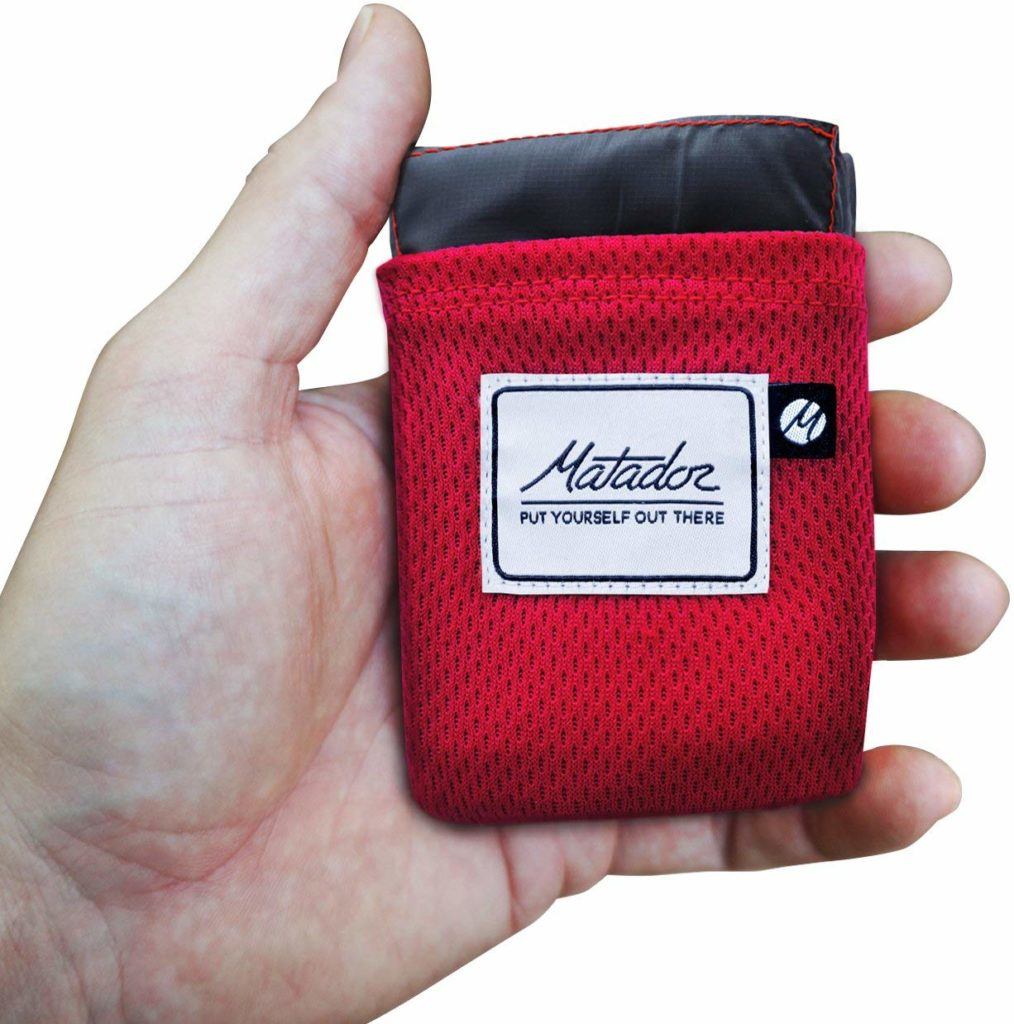 All backpackers and budget travelers need to pack their own towels. Avoid that uncomfortable scenario where you meet a less-than-desirable towel that your hostel provides – if one at all! A lightweight, quick-drying towel like the Quick Dry Microfiber Travel Towel is definitely the way to go. There's no bulk, so making it one of your Rome packing essentials is a no-brainer.
#8 – Fairywill Electric Toothbrush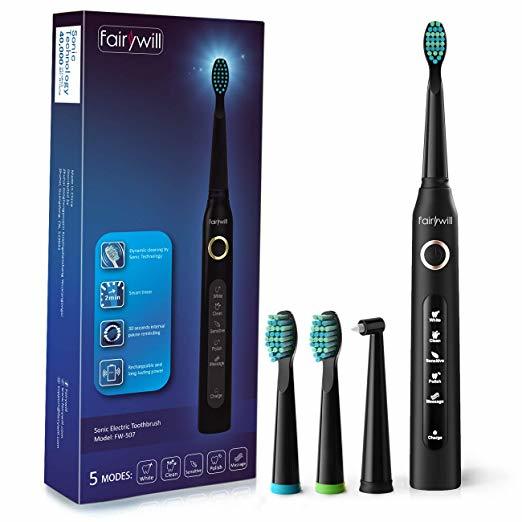 If you've never traveled with an electric toothbrush before, we highly recommend that you do. We love traveling with the Fairywill Electric Toothbrush, and we're sure you will too! It's lightweight and travel-friendly with practically no need for recharging; it's good for 30 days of use with just one 4-hour charge. The thorough cleaning your teeth get feels simply amazing.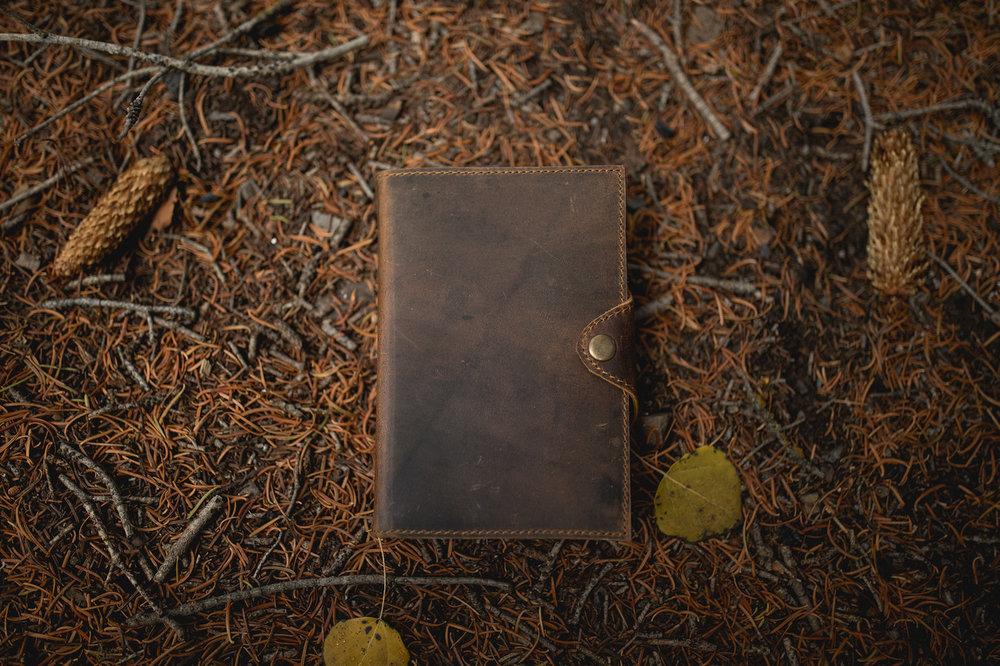 Keeping a journal is one of the best things to do when traveling. The Drifter Leather Journal by Kodiak is our favorite, it works great for digital nomads and organized backpackers and can be used as planner or a dream diary – whatever you want!
Keep on track with your goals, travels and save those precious memories, especially the ones you do not want to share online. This one is bound in beautiful leather so it looks beautiful and will withstand life on the road.
#10 – Abaco Sunglasses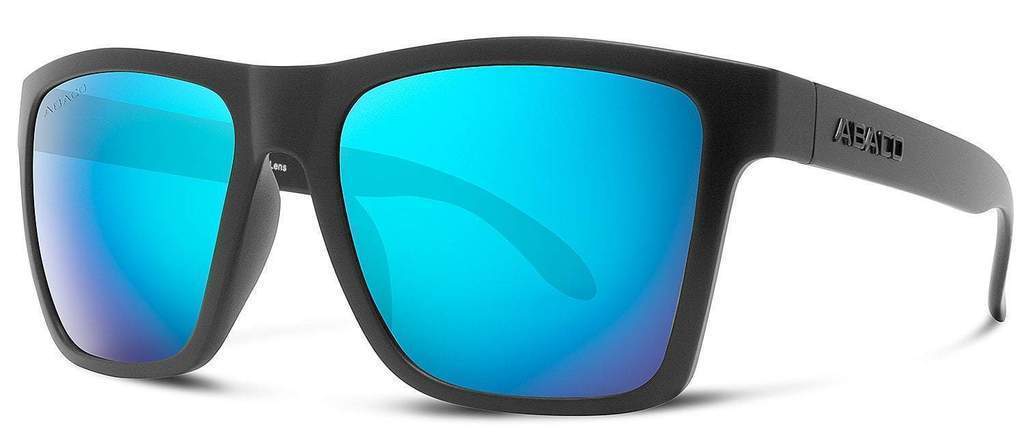 A reliable pair of sunglasses is undoubtedly one of your Rome packing essentials. Our favorites are Abaco Polarized Sunglasses because they deliver on quality and style.
They're built tough with triple-layer scratch-resistant lenses and trademarked Adventure-proof Frame Material. You can also customize them with your choice of lens and frame colors to reflect your own style.
#11 – Fashionable Day Bag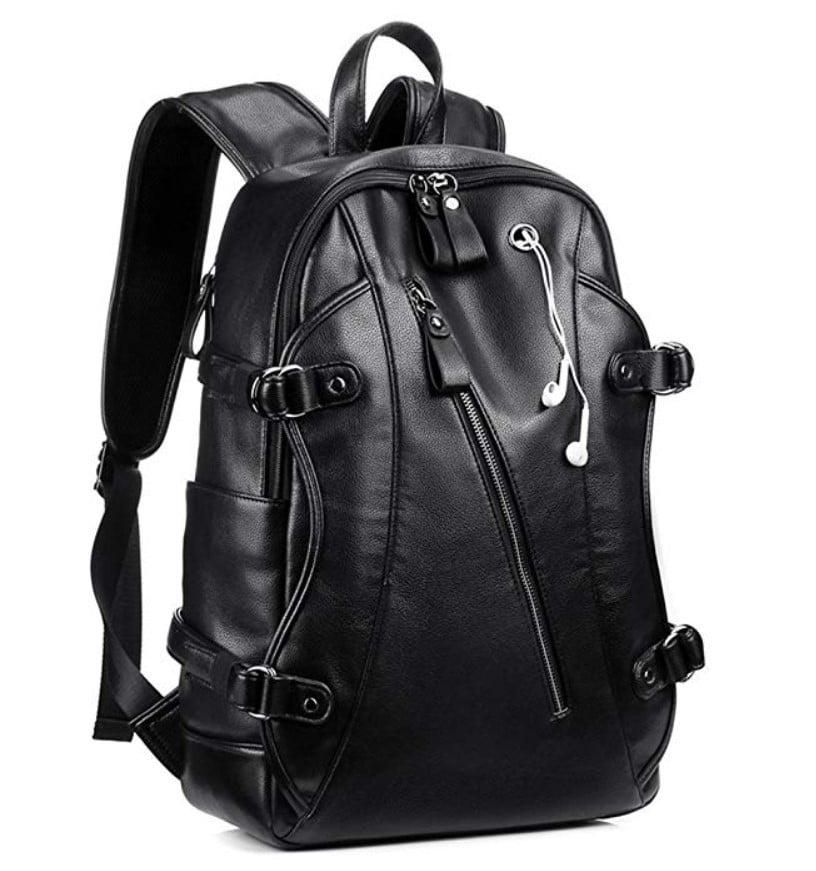 With so much sightseeing to be done, another one of your Rome packing essentials is a roomy day bag for toting around your daily must-haves – like your water bottle, phone, portable charger, camera, and whatever trinket you may pick up along the way. For a sleeker look, a chic option is a leather backpack versus a touristy nylon one.
#12 – Small Crossbody Bag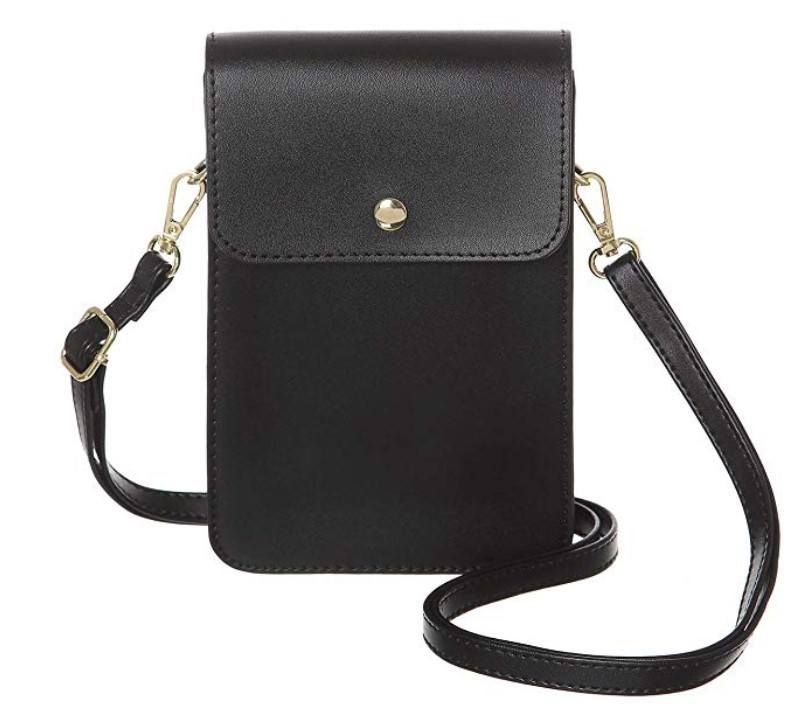 Carrying around a backpack – no matter how stylish – isn't exactly the perfect accessory for nicer restaurants, cool bars or late-night hot spots. When all you really need is your phone, your room key, a credit card – it's much more convenient to have a small crossbody bag that won't kill your style. This goes for both men and women!
#13 – Digital Camera
Your what to take to Rome wishlist must include a good camera. Cell phones take so pretty amazing photos these days but with all the cultural richness and iconic landmarks that Rome offers, you'll want a digital camera to do the sites justice. Even a compact DSLR (digital single-lens reflex) starter camera will do the trick. If you've been thinking about investing in a digital camera, now's a good time!
#14 – E-reader
Traveling is always the perfect opportunity to get to those books you've been meaning to read for so long. But carrying books always much more weight and bulk than you need, especially when you're backpacking and traveling light. There's really no need to when you can have all the books that want in a slim, lightweight, portable e-reader. And with the backlit screens, you can read comfortably in any condition.
#15 – Portable Charger
If you rely heavily on your phone – like a camera, navigator, Zagat guide and more – you'll want to have a way to keep it charged enough to last through long days. If it's helping to guide you through unfamiliar territory, you definitely don't want it dying on you before you've reached your desired destination. That's why it's smart to travel with a compact portable charger in your day bag so that you always have a backup.
#16 – Universal Plug Adapter
Chances are you'll be traveling with electronics – your cell phone, e-reader, digital camera – and any other modern device that's to your liking. Be sure that you're able to recharge all these electronics with Italian electrical sockets. Italy's sockets are type F and L, but you don't have to worry about remembering that if you get a universal travel adapter. Most also have USB ports, so your USB-enabled devices will be covered too.
#17 – Hanging Toiletry Bag
You'll find that most bathrooms in Italy aren't very large which also means limited counter space. This is especially true in hostels and budget accommodations. A hanging toiletry bag is a lifesaver in these cases. The Nomatic Toiletry Bag is a beautiful add-on accessory for your Nomatic Travel Bag, and you'll be grateful for the added bit of organization. The convenience of being able to hang your toiletries anywhere is well worth it.
#18 – Packing Cube Set
How well you stay organized – particularly when you're living out of a backpack – can make a huge difference. A packing cube set not only maximizes your limited packing space but also saves a lot of frustration. Instead of dumping out the entire contents of your bag to find that one black t-shirt you need, having your clothing items sorted by item type in different cubes is a real game changer! They'll quickly become your new favorite travel buddies.
#19 – Travel Pillow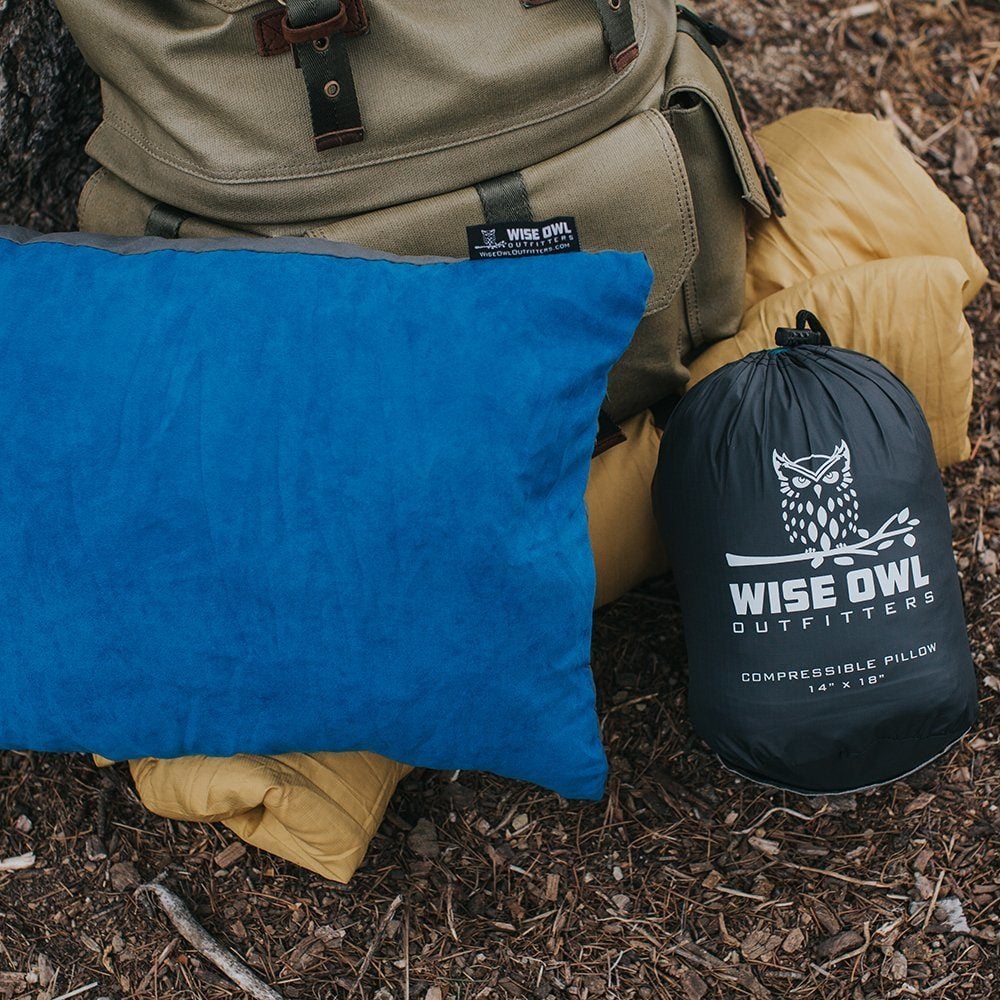 When you're a budget traveler staying in the most budget-friendly accommodations, another item you want to bring with you is a travel pillow. It's not unlikely that the one you're provided with isn't the fluffiest and most comfortable, so knowing you're equipped with something you love will certainly help. There's a lot to be said for doing everything possible to improve your quality of sleep!
#20 – Wet Wipes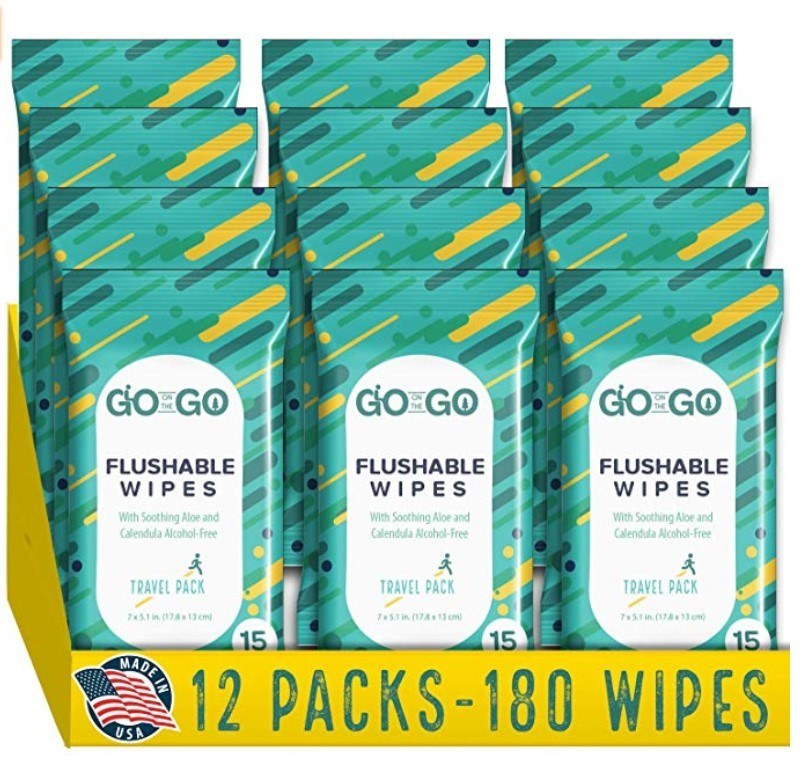 No matter where you travel, it's always smart to have a travel pack of wet wipes on hand at all times. Consider them one of your Rome packing essentials! Whether to wipe off a dirty seat or to wipe your face and hands after a particularly germy, hot day of sightseeing, wet wipes are an essential staple in every traveler's day bag.
#21 – Travel Umbrella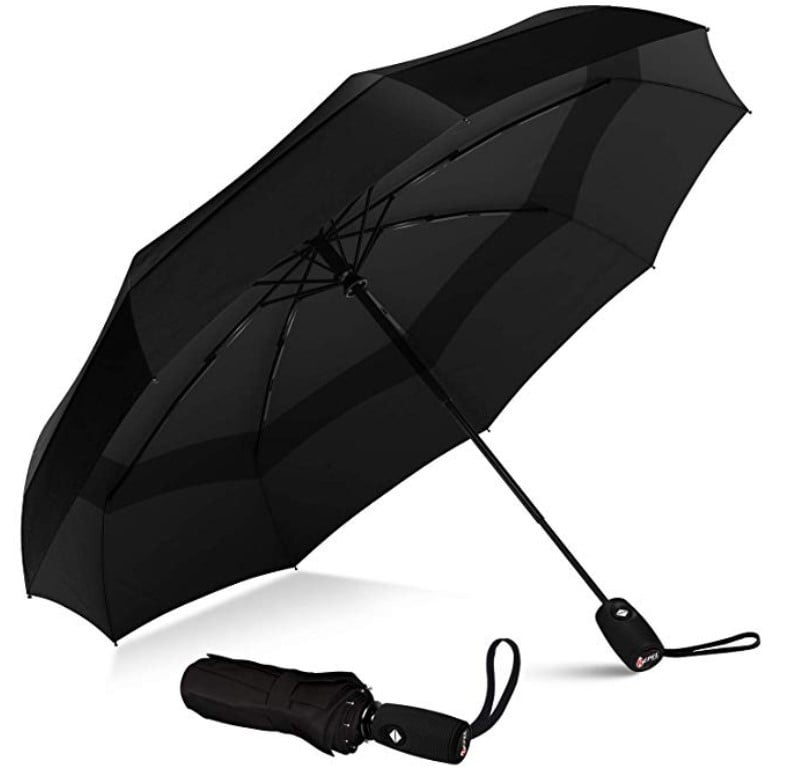 Regardless of the season, there's always the chance of encountering some rain in Rome. Moreso in the fall, spring and winter, but you want to be prepared just in case. It's so simple to bring your own compact travel umbrella because they pack away so easily without any bulk or added weight. For the limited hassle of packing one, it's worth it.
#22 – Travel First Aid Kit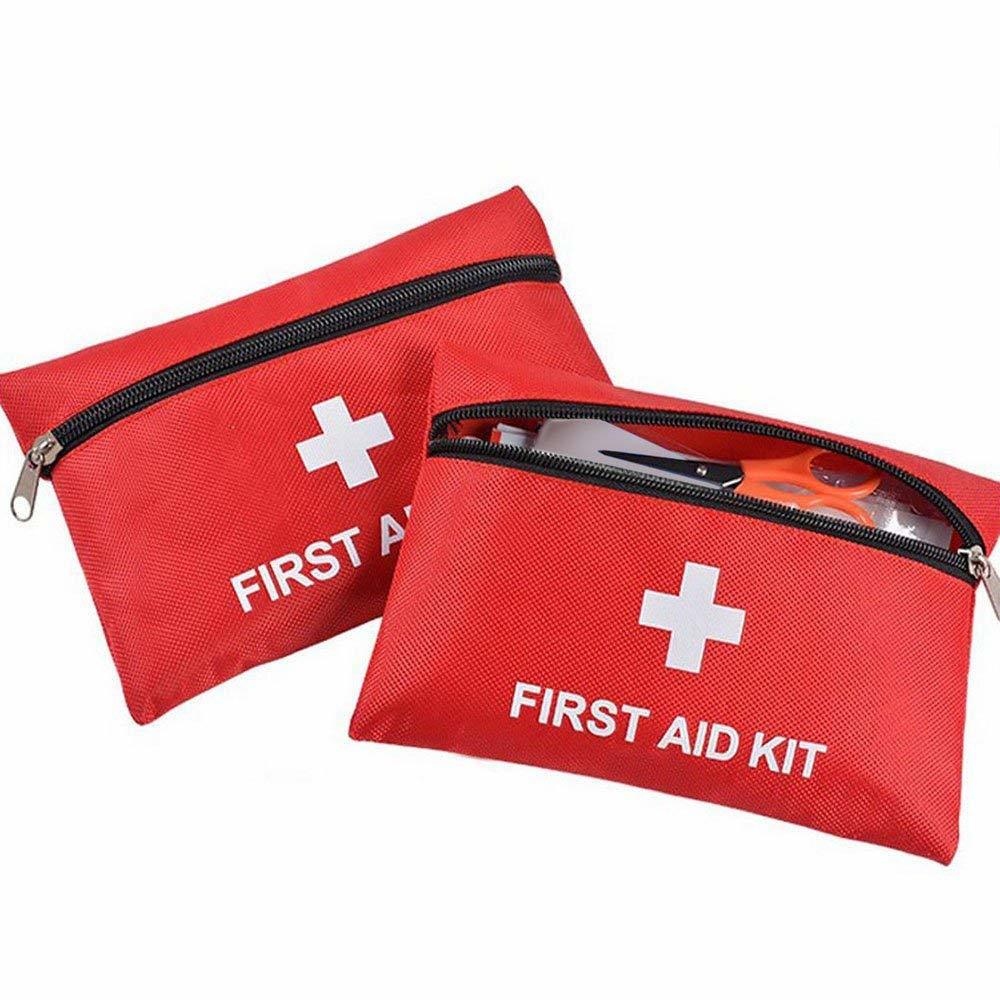 Another item on your what to take to Rome checklist is a mini first aid kit. This is true of anywhere that you go. You can easily buy things that you need in Rome, but it's better to not worry about finding the nearest pharmacy when you need something immediately. Also, you can only buy even the most basic over-the-counter medications in pharmacies, so you're better off having aspirin on hand if you encounter a sudden headache.
What to Wear in Rome
If you've heard that Italians are sharp dressers – you heard correctly! This doesn't mean that you have to be super fashion-conscious or that casual attire isn't the norm, but you'll find that there's a more acceptable way to how your clothes should look and fit when choosing what to wear in Rome.
Rome fashion is very lax and diverse, but you won't see local Romans wearing baggy clothing. Jeans, t-shirts and zip-up hoodies are perfectly fine as long as they're slim or well-fitted. They're also paired with a pair of fashionable sneakers, not an old pair of running shoes. Gym clothes aren't considered for everyday activities unless one of the activities involved is going to the gym.
Also, you want to keep in mind that Rome is the home of the Vatican, so it goes without saying that Catholic tradition runs strong! Many of the churches require having shoulders and knees covered to enter. Some provide a covering for bare shoulders should you forget, but it's smart to either always wear sleeves on church-visiting days or to carry a lightweight scarf or shawl that you can throw on in a hurry.
Our advice for what to wear in Rome is to pack classic, well-fitted, sold-colored items that you can easily mix and match. You want essential pieces that you can use for sightseeing but that you can also dress up with a simple accessory for what to wear in Rome at night. Small accents, like a scarf or piece of jewelry, add an instant layer of style for both women and men.
The weather will affect what you pack, so keep reading for more details broken down by season!
Seasons in Rome (And how to pack for them!)
Visiting Rome in Summer
Rome is considered a southern area of Italy, so that means that typical Rome weather is much hotter in the summer months than it is in the north. It's also inland, so you can expect June, July and August, to be hot and muggy with temperatures that can easily reach over 95° F (35° C).
Summer in Rome is especially busy due to visitors taking advantage of school summer breaks, so be prepared for long lines at the most popular tourist attractions – like the Vatican and the Colosseum. Also, take note that Italians celebrate ferragosto on August 15th – and it's common for many locals to shut down for extended holidays. For the most part, tourist destinations and cultural sites stay open, but it's not unusual to find many local spots closing their doors for a week or more.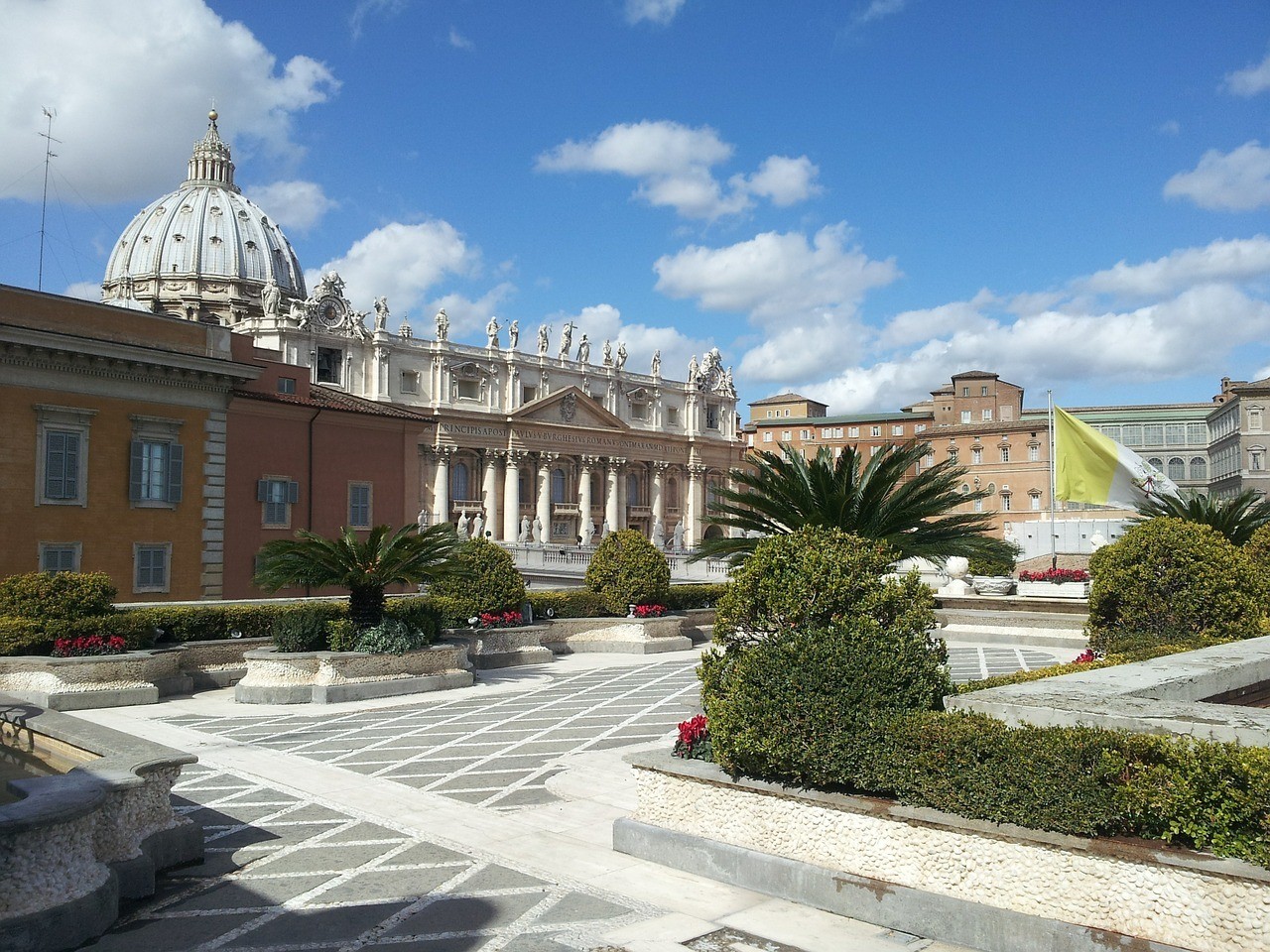 Because of the Roman heat and humidity, your packing list for what to wear in Rome in summer should consist mainly of light, airy clothing made of breathable material – like linen or lightweight. Smart items are some nice shorts, t-shirts, capris, light polo shirts and flowy blouses. For women, sundresses are ideal. You'd be wise to pack a sun hat, in addition to your sunscreen, for some extra sun protection!
Visiting Rome in Fall
Usually cooler, autumn conditions start settling in around mid-September, providing much-needed relief from summer's intense heat. Things cool down rapidly from there with October seeing average highs of 72° F (22° C) and dipping down to 62° F (17° C) by November. November nights can go down into the low 40s° F (6° C), so you'll want to be prepared for the chill.
Fall is a beautiful time of year to go backpacking in Rome. Especially in the earlier part of the season when the sun may still be shining but without the extremely hot weather conditions and without the peak tourist numbers! There's a large number of people who purposely avoid visiting Rome in the summer, so you can still expect fall to be fairly popular.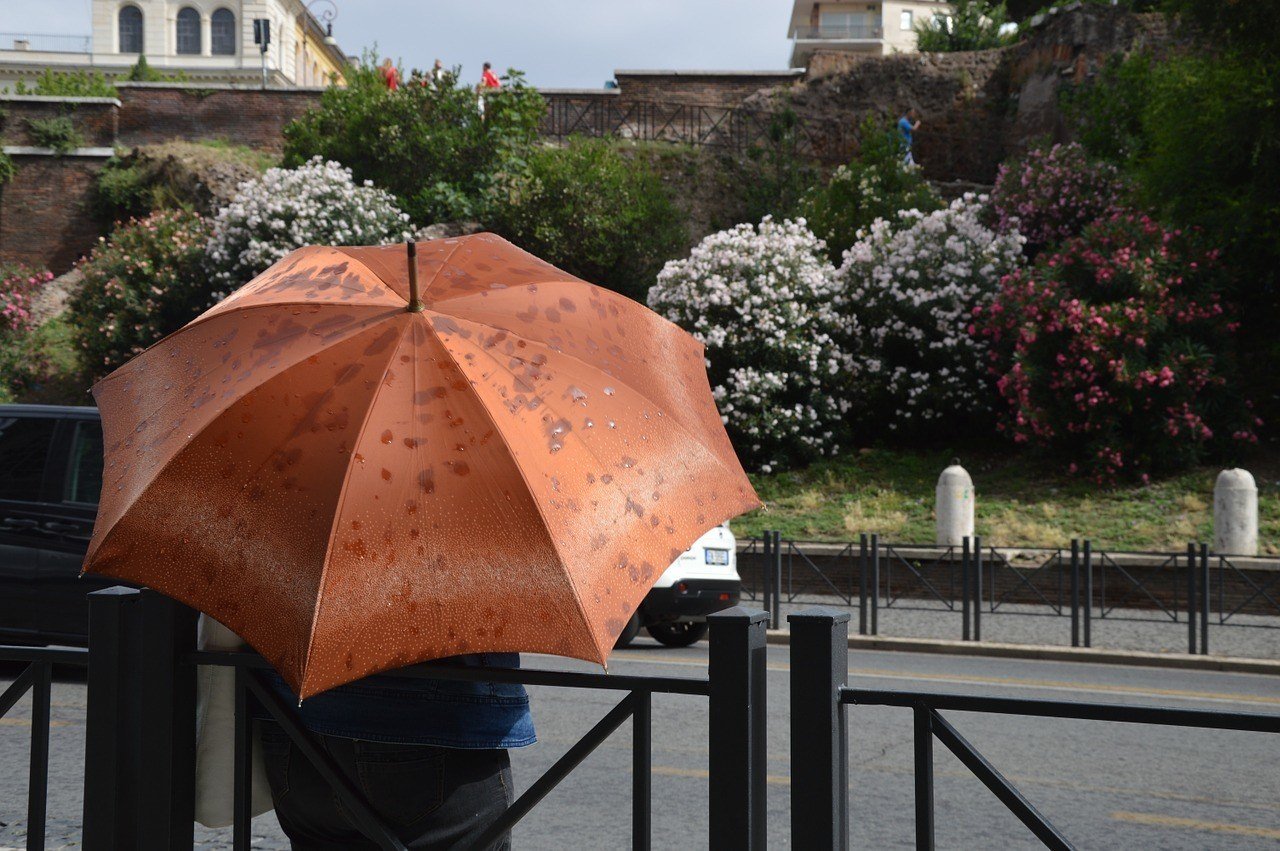 The weather fluctuates in the fall, so you should plan on a variety of conditions – from sunny to very rainy. Our usual recommendation for variable weather is to pack in basic layers. A smart variety of short and long-sleeve shirts, jeans, long dresses for women and a jacket. For late fall, make a rain jacket or shell one of your Rome packing essentials. Nights are cool, so be sure to have adequate accessories and layers to keep chills at bay.
Visiting Rome in Winter
The winter months from December through February are when Rome weather is at its coldest. It's not as cold as in northern Italy but still, the average high doesn't get much higher than 55° F (13° C) while the average low goes down into the 30s° F (2° C).
If you enjoy off-season travel and find the idea of layering up in sweaters, scarves and jackets cozy – then Rome has a lot to offer in winter. The city is festive and cheerful as holiday decorations light up the streets by early December. A seasonal favorite activity is attending the Christmas markets that you can find in the major piazzas where you'll find vendors selling plenty of tasty edible goods, local delicacies, artisan crafts and holiday gifts.
For what to pack for Rome for winter, we recommend even more layers! Again, pack versatile basics like dark jeans, warm pants, sweaters, long-sleeve shirts and a jacket – thick down jackets are a warm, popular choice. Also, pack a winter hat and a scarf or two for functional fashion accessorizing. Keep your feet comfortable and warm with some cozy wool socks.
Visiting Rome in Spring
Along with fall, the spring months of March, April and May are other favorable shoulder months to plan a trip to Rome. The height of the cold has passed – especially as it moves into April. Highs in March and April are typically in the mid-60s° F (18° C) and go up to 75° F (24° C) by May.
Another perk of spring travel is fewer tourist crowds at museums and historical sites. But keep in mind that Holy Week – right around Easter – brings a surge of visitors from overseas and other parts of Italy and Europe. As you can imagine, things get particularly busy around the Vatican.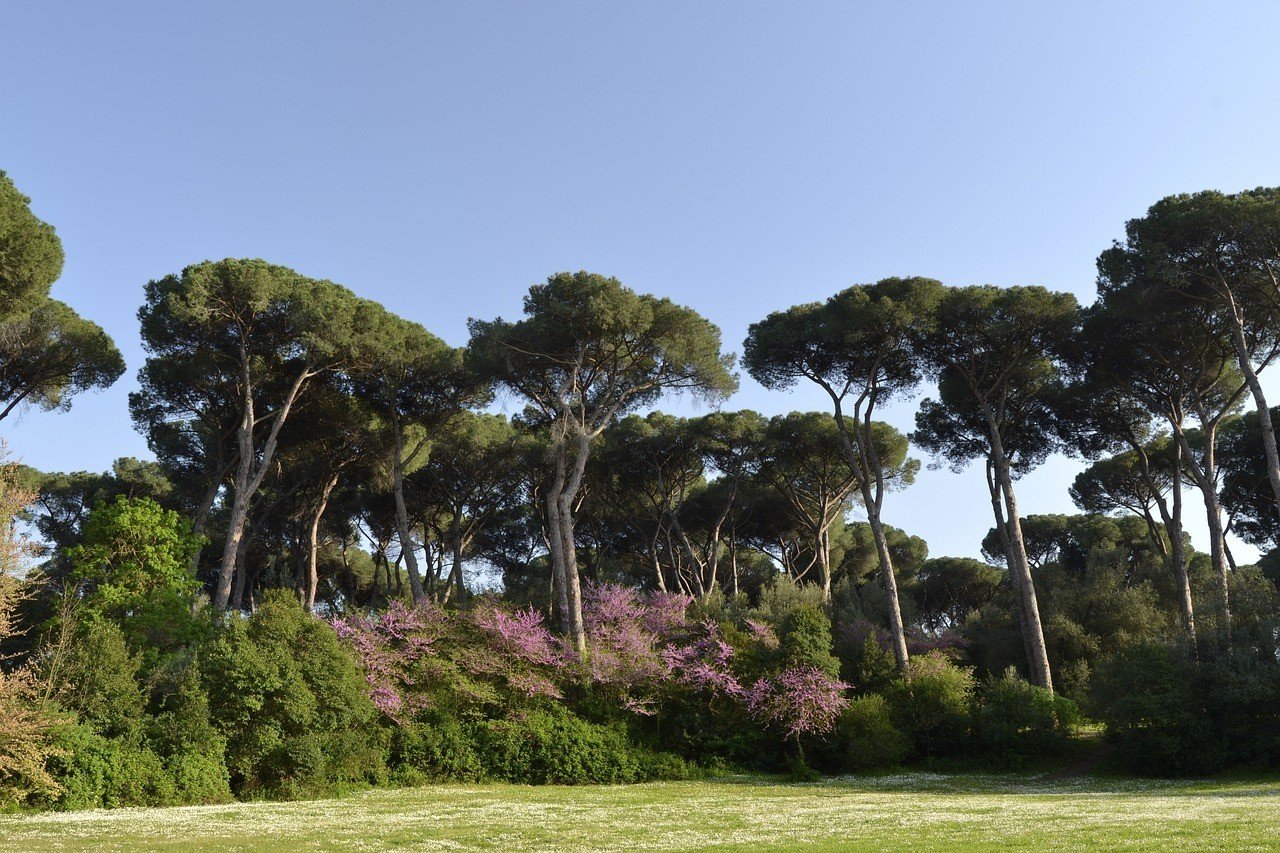 Despite the overall warmer temperatures, spring weather in Rome can still be unpredictable. You'll likely find a mix of sunny days and periods of rain – so you'll again want to be prepared with a variety of choices.
For what to pack for Rome for spring, layers are your best bet. Cover your essentials with short-sleeve shirts, blouses, light sweaters, pants and dark jeans. Pack a lightweight scarf for a fashionable touch that will also serve to ward off any chills. Don't forget your travel umbrella and rain jacket!
What Shoes to Pack for Rome
When planning what shoes to pack for Rome, remember all that walking on Roman streets we said you'd be doing! That means you definitely want to take a pair of comfortable walking shoes. But it's also Italy, so a pair of walking shoes with some style isn't a bad idea. A good solution is taking a fashionable pair of leather sneakers that are a popular staple in Rome street fashion.
For what to wear in summer, we advise packing a nice pair of sandals. Lots of walking around in hot, muggy weather can make your feet sweaty and uncomfortable. A breathable pair of comfortable sandals are the way to go. For warmer weather, sandals also work great for women for sightseeing and for what to wear in Rome at night for a nice dinner out in the city.
For the colder seasons that often see rain, we recommend packing a pair of waterproof walking shoes or leather boots. For women, a smart choice is stack-heeled or low-heeled booties that are both stylish and comfortable – and also dress up nicely when needed. For men, dark lace-up ankle boots can be worn with everything from casual to dressy while being comfortable and warm.
Females – What to Pack for Rome
Ladies, let's talk about specific items just for you that you should consider for what to pack for Rome!
For Fashion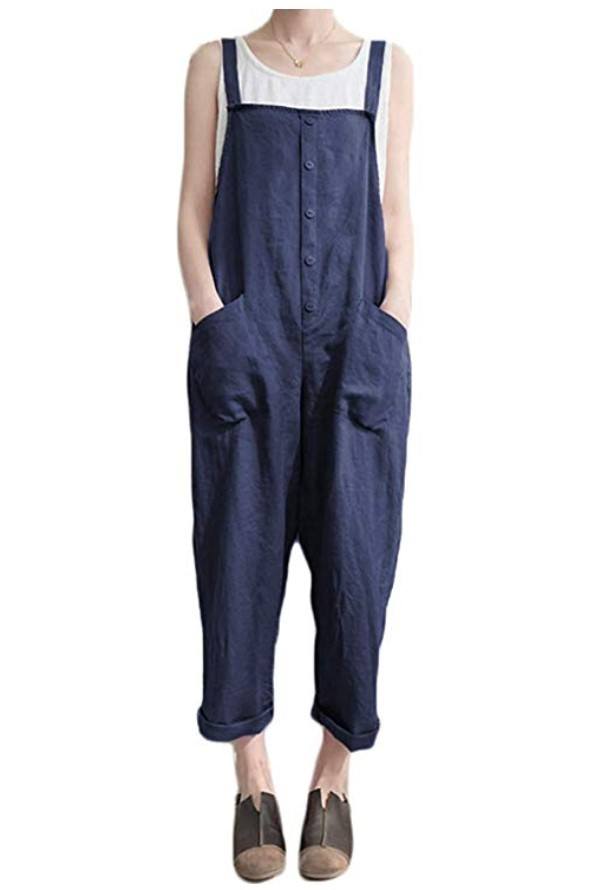 For our female friends, we recommend packing the two most versatile all-occasion clothing items: a pair of dark jeans and a black or navy, wide-leg romper. They're both practical for all seasons and are easily dressed up or down. You can't go wrong with a well-fitted, flattering pair of jeans – pair them with a t-shirt or sweater for casual days, or with a printed chiffon tank and chandelier earrings for what to wear in Rome at night for dinner and drinks al fresco. Another plus: jeans hide a lot so you don't need to wash them very often!
A wide-leg romper is comfortable for all-day sightseeing and can be worn by itself for warmer weather or layered with a sweater or jacket for colder seasons. The best part is that it doesn't take much to turn them into a classy going-out outfit – just add a couple of pieces of jewelry, and you all set!
For Convenience
The most versatile accessory item that you'll find convenient for Rome is a scarf/shawl or pashmina. They're lightweight and effortlessly fold flat for packing and taking along with you in your day bag. For visiting religious sites with coverage requirements, they really come in handy. They're also perfect to layer on if you encounter an unexpectedly chilly evening. And, in Rome, scarves a classic accessory, so you can add one to your look to instantly jazz up an outfit.
Males – What to Pack for Rome
Here are a couple of packing tips for you guys as you prepare you what to pack for Rome checklist:
For Fashion
Men should embrace the option of using accessories, which work especially well for fitting into Rome fashion. Scarves are just as versatile and fashionable for men as they are for women. They're great for fall, winter and spring travel and for chilly evenings. Hats are fashionable options too, though keep in mind that baseball caps aren't quite as popular. A nice-looking and functional accessory is a slouch beanie that gives a chic look with a stylish city outfit!
For Comfort
For travel during the warmer months, you'll probably want to choose shorts as your everyday wear. You won't be alone, as there will be plenty of other people wearing shorts too, especially in summer. You just want to make sure you pack the right kind. Baggy, overly-long basketball shorts isn't a Rome street fashion look will target you as a sloppy tourist. A better choice is to pack a smarter style that looks nice and will also keep you cool, like hybrid shorts – cargo-style shorts that are quick-dry and breathable.
What NOT to Pack for Rome
We've covered everything on what to pack for Rome, and now it's time to mention what NOT to pack for Rome!
Don't pack too much clothing. Once you've covered your essentials, try to stop there and leave some room in your bag. Rome has amazing shopping, so have space to bring back a few one-of-a-kind Italian items.
Don't bother packing unsensible shoes. Rome has some uneven, hard-to-walk-on streets, so attempting to walk in heels or uncomfortable shoes will not only leave your feet swollen but may also result in a twisted ankle!
Don't bring hair dryers or curling irons. They're bulky to pack and add weight. Plus, unless you're bringing a converter, you could end up blowing a fuse. You're better off going au naturale!
The Best Backpack to Pack for Rome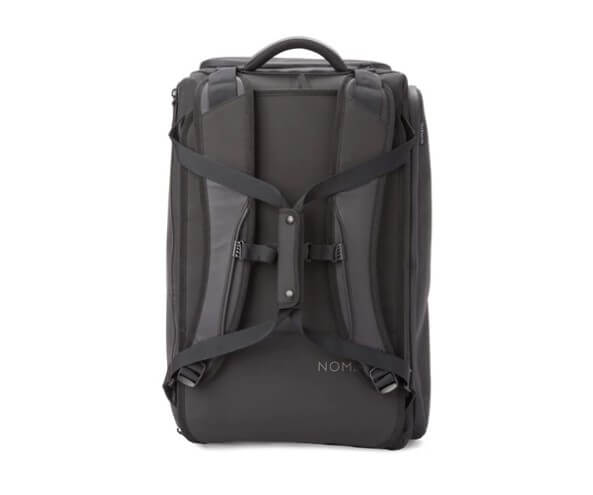 We'd like to tell you a bit more about Nomatic Travel Bag, and why it's our top pick for the best backpack to pack for Rome.
We're no strangers to the countless travel backpacks that are out there, and we can safely say that the Nomatic Travel Bag is as functional and well-designed as they come. It checks all the boxes of every backpacker's most important needs – like extra pockets and compartments that not only organize but help maximize packing space. Its design includes areas to separate out shoes, your water bottle, valuables, a laptop and even your underwear! It includes an RFID and security pocket for some extra security and peace of mind.
Apart from smart interior design, the Nomatic has an innovative strap system that allows you to choose between backpack or duffle bag-style portability. You'll appreciate the chest and sternum straps that alleviate the burden of extra weight off your lower back and make carrying all your belongings as comfortable as possible.
As a nice final touch, it's also one nice looking bag! Its dark, high-quality waterproof material is modern as sleek, making it as chic as it is durable.

Our GREATEST Travel Secrets…
Pop your email here & get the original Broke Backpacker Bible for FREE.
Final Thoughts on What to Pack for Rome
There you have it, fellow backpackers! You're now equipped with all you need to know about what to pack for Rome with this handy survival guide that includes your top 21-needs packing checklist and our recommendations on what to pack by the season. Refer back to our extra packing tips for women and men and also what we advise leaving behind.
The trick is to pack smart – with just a touch of style.
Now it's time to think about all the amazing pizza you'll soon be eating and about having a trip of a lifetime!
Arrivederci, friends!
---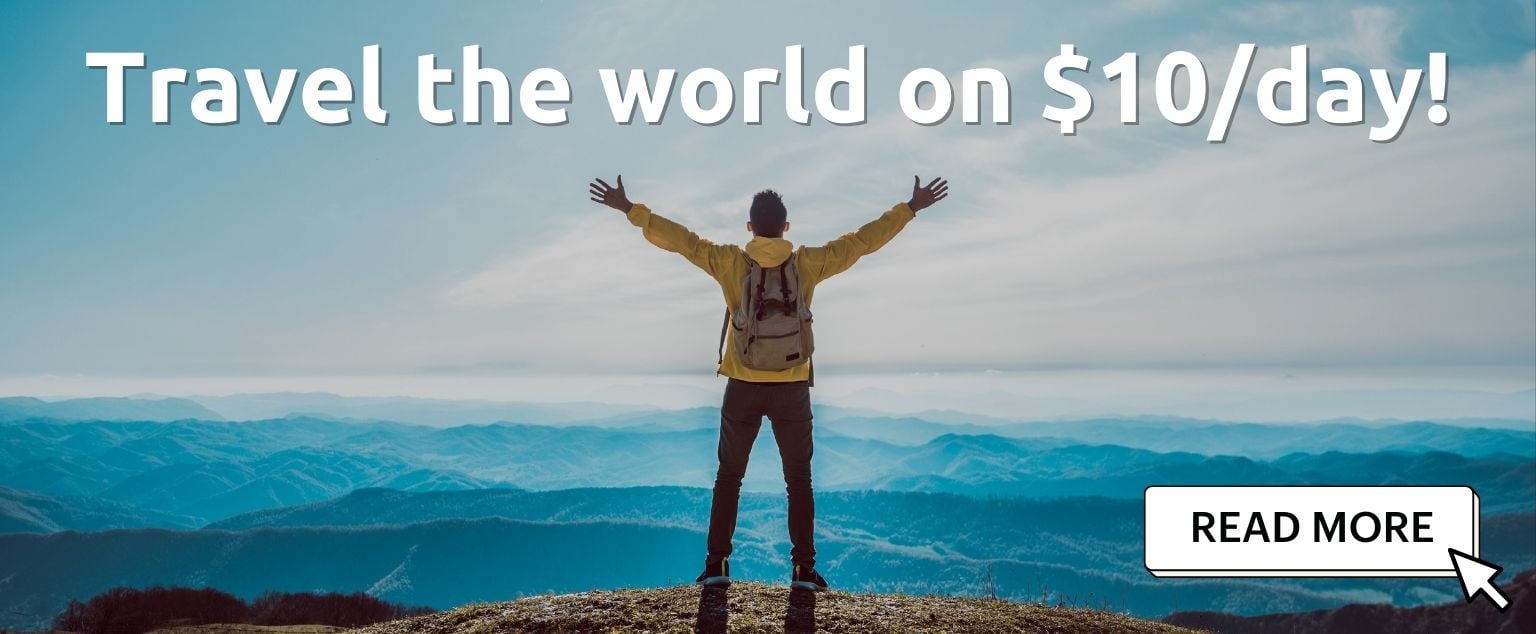 And for transparency's sake, please know that some of the links in our content are affiliate links. That means that if you book your accommodation, buy your gear, or sort your insurance through our link, we earn a small commission (at no extra cost to you). That said, we only link to the gear we trust and never recommend services we don't believe are up to scratch. Again, thank you!