What can be better than making your dream vacation a reality? Spending it with your best friend, be it four-legged, furry, or feathered (I know what you're thinking, but it's definitely possible to travel with a parrot).
If you're someone who finds it hard to leave their fur babies behind, I hear ya! Our pets are our loyal companions, and they deserve a vacation too! Luckily, accommodations everywhere have heard our calling and more and more properties are seeing pets as not just animals, but part of the family.
It's now common to find properties with outdoor spaces, dog beds and bowls, and sometimes even toys, so you can enjoy a trip with your furry family members! The only problem is, finding pet friendly accommodation is always a pain in the B-hole.
Well, not anymore!
Thanks to Airbnb, it's become easier to find a dog friendly Airbnb where your pets can unwind with you. So bring out the crates and cat harnesses, and pack your dog bowls, collars, and leashes. Because you're about to be introduced to the best pet-friendly Airbnbs of all time!

Unlock Our GREATEST Travel Secrets!
Sign up for our newsletter and get the best travel tips delivered right to your inbox.
What to Expect from Pet-Friendly Airbnbs
The world of travel has changed massively over the last ten years. Travelling with pets used to be only for the rich and famous and many hotels had strict 'no pet's policies. While some hotels still maintain their no-pet status, vacation rentals on the other hand welcome pets as part of the family.
You'll find most Airbnbs that allow pets rent out the entire space. That means you get a full house, complete with kitchen, bathroom and living area, all to yourself. They also usually have an outdoor space, either a garden or a balcony, where your pet can do their business.
Sometimes pet-friendly Airbnbs go out of their way to host your animals, other times they simply say pets are welcome but you have to bring their beds and toys etc. It's a good idea to check the listing to see what's included for your fur babies so you can plan what to take accordingly.
There are many different types of pet-friendly Airbnbs out there, so let's take a look at some of the most common types.
Private rooms
Whether you are looking for something that's right smack in the middle of the city or quieter and peaceful stays in national parks, private rooms are pretty much everywhere. Booking a private room is an excellent option for solo travelers or couples on a budget.
Some private rooms come with private bathrooms but others may require you to share them with other guests. Since you're traveling with pets, it's a good idea to check if other guests are staying in the house before booking, especially if you furry friends don't like strangers.
Most of the time, if a private room allows pets, it might also mean your host has a pet…so if you're pet doesn't like other pets, it might be better to get your own place.
Condominiums and apartments
Condo units and apartments are pretty much everywhere in any country and are the perfect choices for those who would like more privacy, groups and family.
As a general rule of thumb, apartments and condos are cheaper than houses, so if you're backpacking on a budget, you might find a good deal with an apartment.
Most apartments that allow pets are either ground floor or have a balcony, so you have a little outside space for your pooch. If you're worried about your pets on a balcony, then look for a ground floor apartment.
Cabins
So cabins are usually found in off the beaten track locations, perfect for travelers who love the outdoors and nature. Since they are usually surrounded by open space and lots of nature, it's more likely a cabin is pet friendly than not.
Cabins come in all shapes and sizes, and are ideal for couples who just want to lavish their attention on each other or families looking for quality time in the outdoors.
Generally, they are more expensive than urban dwellings, and luxurious cabins come with several amenities that you won't find in a typical apartment, such as hot tubs, games rooms and fire pits. Do be careful with your animals around fireplaces and fire pits though, as these are standard features in cabins.
Why Stay in an Airbnb
I can think of several reasons to stay in an Airbnb over a hotel, mostly because there are more options, but here are a few more important reasons…
Affordability: Price-conscious folks can easily find affordable but unique places on the Airbnb platform. Some are cheaper than hotels but still offer guests similar amenities. How great is that?
Locations: Having an Airbnb has become a pretty common side hustle for many people, so you can bet that most Airbnbs are in prime locations, as they are always competiting for your business.
Unique Properties: Hotel rooms are pretty much the same so why not say goodbye to boring and mix it up a little with truly unique and unforgettable stays with Airbnb.
Airbnb Experiences: If you want to make your stay more authentic, you should book intimate, personal tours conducted by locals with valuable insights about your destination.
Privacy: The Airbnb platform gives you a diverse choice of private accommodations. Use the filter so you can find the right one for your needs.
Staying Long-Term: If you plan on staying in your destination for a few days, you'll be happy to know that most Airbnb hosts are more than willing to provide guests discounts and that means more savings for you!
Plus, if you're having second thoughts about what to do with your pets when you go travelling, opting for an Airbnb is the best way to make sure you can actually bring them with you!
Top 25 Pet-Friendly Airbnbs
Now you know what to expect from pet friendly Airbnbs, let's dive right into the of the best, all over the world!
This private pod room on a remote island is what dreams are made of for all those who would like to get away from the noise of the metropolis. Made up of ten individual buildings and nestled in the Fleinvær Islands in Norway, this property welcomes pets with open arms.
The room is located next to the ocean and is ideal for two people. This is one of those dog friendly vacation rentals you will continue to talk about for a long time. Prepare to be awed by the cool architecture of this unique dog friendly Airbnb, as well as the beautiful sunsets of the area.
Guests can enjoy the privacy of their room but still have the opportunity to get to know other guests in shared areas such as the bath house, kitchen house, crab shack, and sauna that's fired up once a day for guests to enjoy.
The Tower House is particularly beautiful and is worth bragging about on your Instagram profile. Start your day with the free breakfast before you go exploring Norway's epic landscapes with your best furry pal.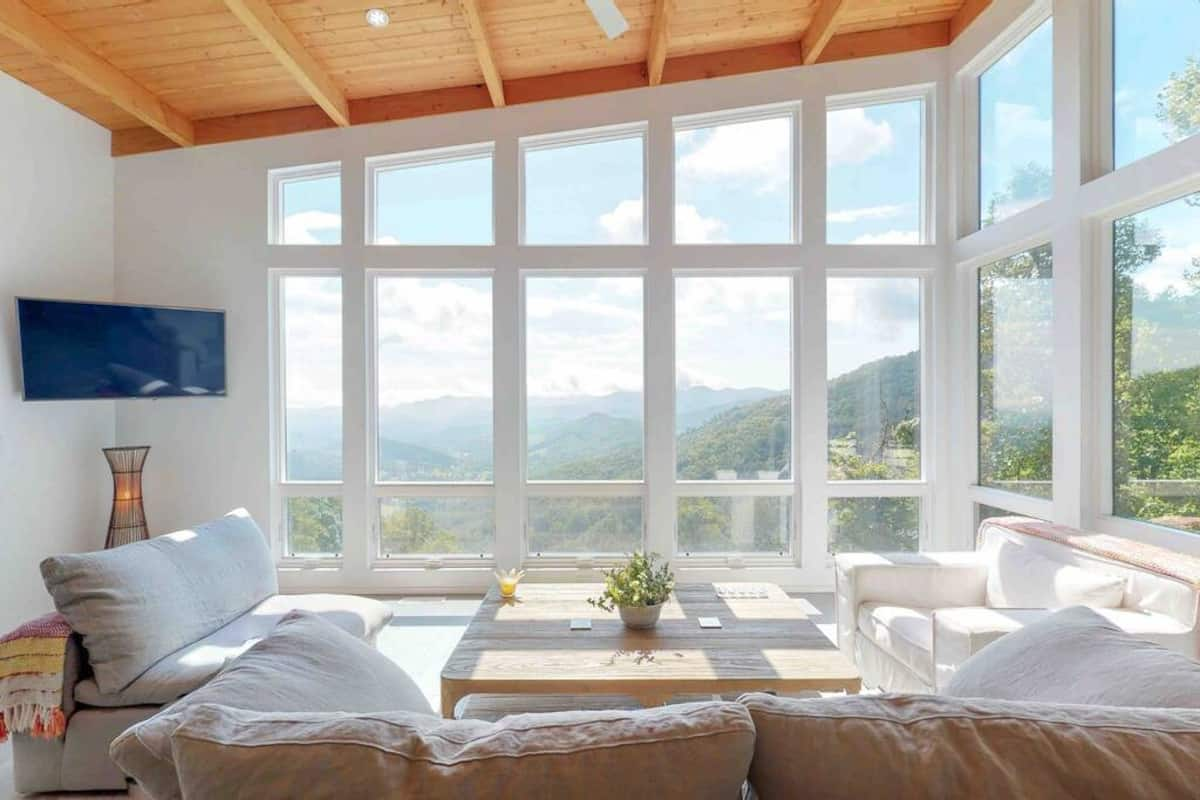 6 Guests
Near national forest
Another dog-friendly Airbnb suitable for families or a group of friends, this property is close to the gorgeous Pisgah National Forest and has plenty of outdoor activities nearby such as hiking and biking.
Close by are breweries and farm-to-table restaurants that are dog-friendly for when you want to eat out with Fido. Wake up daily to a beautiful sunrise while being serenaded by birds and the sound of the natural springs in the area.
The floor-to-ceiling windows are designed to showcase the breathtaking sights of the Blue Mountain Ridges and Pisgah National Forest.
The contemporary kitchen, equipped with the latest appliances can easily handle the preparation of hearty, home-cooked meals. The upper deck is equipped with a charcoal grill where you can barbecue meat and vegetables. This is the perfect place to stay for those traveling around the US with pets.
Spectacular regardless of the season, this dog-friendly Airbnb is the perfect place to stay in Scotland for those who would like to get away somewhere quiet and those who want to be surrounded by the beauty of nature. It's large enough to accommodate an entire family or a group of friends and has all the things you can ever dream of for a pleasant country.
Think of log fires during cold nights and a hot tub all yours for the taking. In addition, the garden and river are a sight to behold.
The village has plenty of walking trails, perfect for walking your dog and bird watching. A fantastic local butcher is well stocked with all the treats you need for preparing a lovely home-cooked meal.
Is This the Best Travel Pack EVER???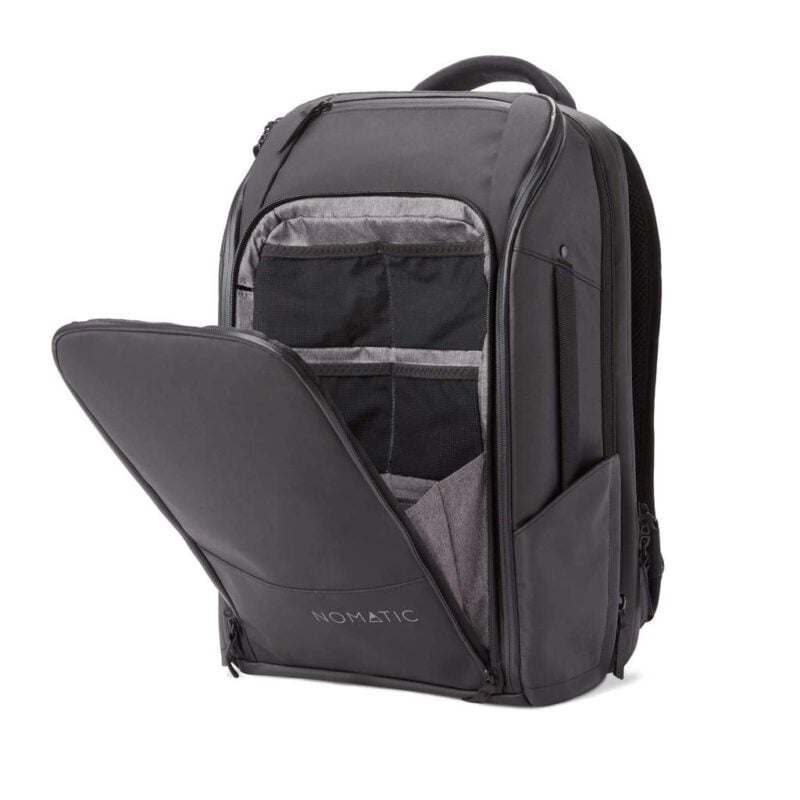 6 Guests
Public beach access
Suitable for a family or a group of friends, this open concept home has multiple outdoor spaces for relaxation and entertaining.
Throw some meat on the grill on the main floor deck and enjoy the ocean breeze as you dig in your food on the second-floor deck. But I'm not done yet! This house comes with a roof deck where you can sip your favorite cocktails while gazing at the stars and planning your activities for the next day.
Need to do a bit of work while on vacation? Don't worry, this property has Wi-Fi connection and a dedicated workspace. Close to the beach and the lake, you can bring Fido with you and enjoy a dip in the waters or take the ferry and cross to Martha's Vineyard.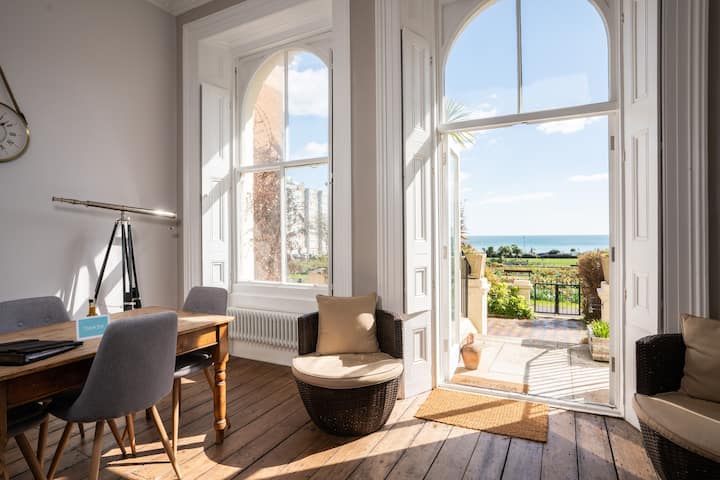 4 Guests
Garden and courtyard view
This lovely Victorian home looks like it came right out of a home and lifestyle magazine. Stylishly appointed, it comes with a gorgeous manicured garden that is a sight to behold when waking up in the morning.
Take in the wonderful views while sipping your morning cup of joe. Afterward, walk down to the beach with your four-legged best friend and swim.
The home is just five minutes away from the train station that has a direct train to Brighton and is right in the heart of St. Leonards-on-Sea. It's a stone's throw away from cafes, restaurants, pubs, and local shops so you have plenty of choices if you don't feel like cooking. This is the perfect place to stay for those travelling the UK with pets.
If you're ever looking to explore Hawaii with your four-legged friend, this studio is where you should stay. You'll never want to leave once you set foot in it. One of the little touches that guests especially like is the bottle of wine waiting upon check-in.
Suitable for a single traveler or couple looking for a secluded getaway, this dog-friendly Airbnb comes with French doors that lead to an open deck, the best place for enjoying your breakfast before heading out for a walk with your dog.
Located near Hawai'i Volcanoes National Park, there are many things to do, however, it's highly recommended to have a vehicle to make traveling from one place to another more comfortable and faster.
Relax in the hammock on the private deck with a cold beverage in hand after exploring the surrounding area where you'll be surrounded by nature's pleasant sounds as you unwind. It's the ideal spot for stargazing too.
Located in Old Manali in India, this stunning chalet is where you will realize your Himalayan adventures. Away from the hustle and bustle of the city and surrounded by stunning scenery, you might as well be in Shangri-La.
The room has a bathroom, a mini-kitchen, and a private balcony where you can sip your hot chocolate while admiring the picturesque surroundings. Make sure you take a picture or two because it's something you want to immortalize.
The BBQ is available for guests and meals are available as per their menu. There is a myriad of activities I in the area and the management can arrange treks and tours for guests. Getting around won't be an issue as taxis can be arranged, but do let the management know at least 20 minutes in advance. Bike rental is an option too.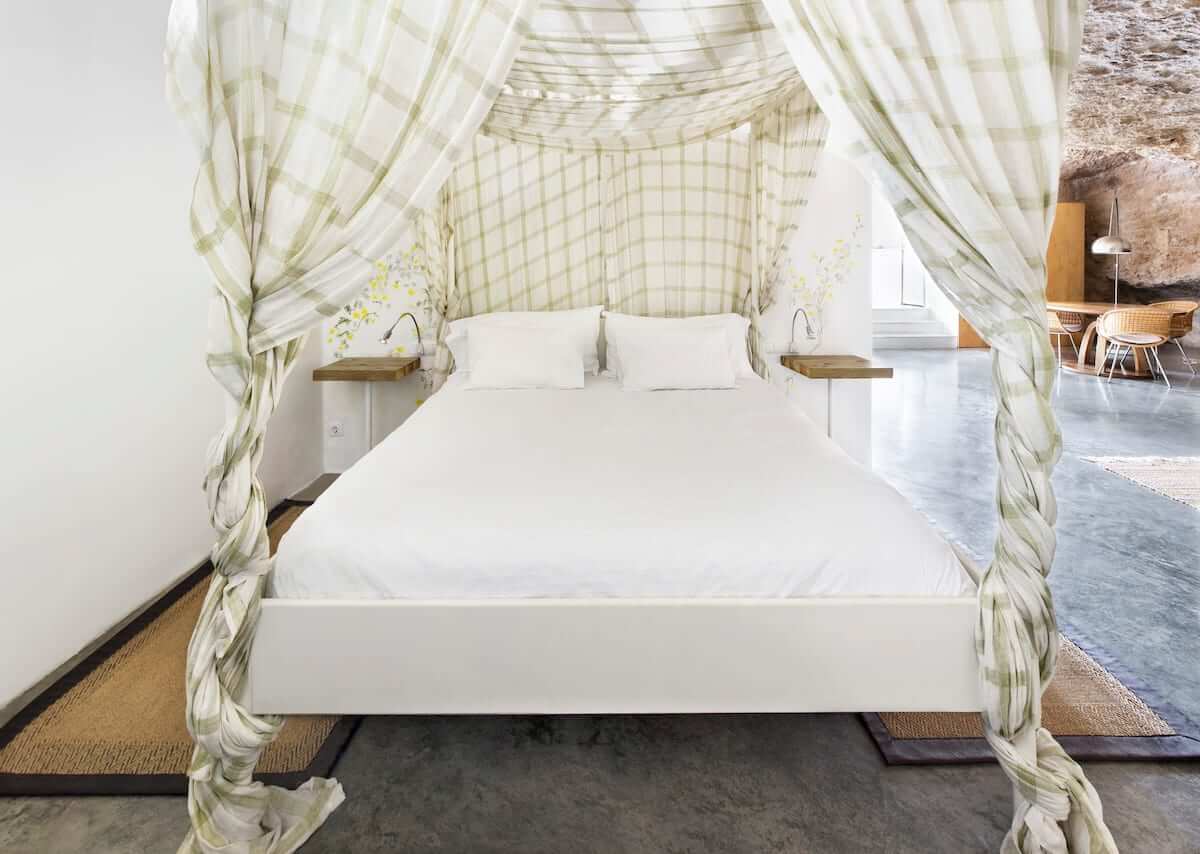 Located 14 kilometers away from Cordoba, this truly unique house is located inside a stone quarry surrounded by 3,000 square meters of amazing gardens.
This architectural gem is unlike any other and has a consistently pleasant temperature throughout the year. The nice pool in the middle of the farm is shared with other guests. Swim a few laps or lie down on one of the lounges, get a tan, and read that book you've been meaning to read for ages.
The farm is in proximity to supermarkets that do home delivery, a good thing to keep in mind if you want to cook your meals. A restaurant which prepares delicious homemade meals is nearby, should you rather not bother with cooking.
A few attractions worth checking out nearby are Palacio de Moratalla, Almodovar del Rio, and Medinat Alzahara. This is the perfect place to stay for anyone visiting Spain with pets.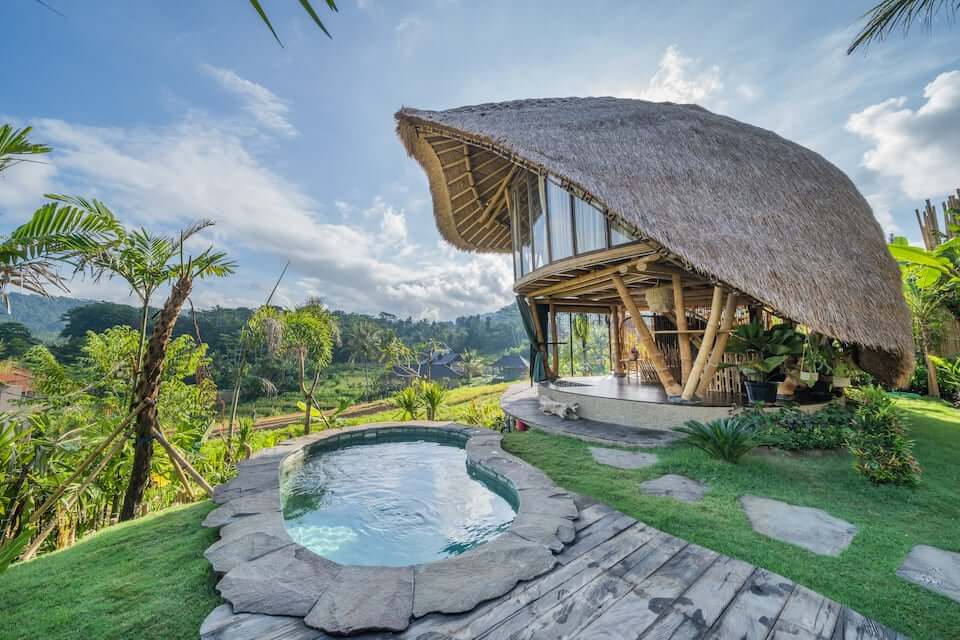 This one-of-a-kind bamboo house boasts unrivaled 360-degree views of Sidemen Valley in Indonesia. Staying here with your pooch is the definition of a tropical paradise. Located in the main tourist district of a small town, it's a 90-minute drive from Denpasar Airport in a charming neighborhood in Bali.
Each day starts with waking up to incredible views of the landscape. Mornings are made extra special by having a floating breakfast in your private pool.
Although the property doesn't serve lunch and dinner, various restaurants are within walking distance of the villa. A scooter is available for guests who want to explore the nearby areas and if you would like to head to Bali, the host can arrange transportation for you. They can help too if you need airport pick-up and drop-off.
2 Guests
Close to bars and cafes
Located in the famous Ben Yehuda Avenue of Tel Aviv, this studio apartment gets five stars for its excellent location.
It is only a hop and a skip away from a variety of bars, cafes, and restaurants, excellent for those who want to discover the culinary gems Israel's capital city has to offer. Shops, supermarkets, and ATMs are within a stone's throw away from the property too.
Start the day with coffee on the balcony and watch Tel Aviv wake up from its slumber before heading to Bugrashov Beach with your pooch for some fun, where some locals also take their pets. Oh, I heard that there's an excellent cocktail bar just around the corner from your Tel Aviv Airbnb so don't forget to check it out.
Imagine a perpetual summer with endless days spent hitting the beach, lying on the sand, getting a tan, and just relaxing? This is where that dream becomes a reality.
Located in Nacpan Beach, El Nido, this glamping experience offers tents with air-conditioning and high-end interiors for your utmost comfort. Just a few meters away from the beach, you can take a dip in the blue waters right after waking up but I recommend enjoying the free breakfast first.
Watch the sunset with a cocktail in your hand and your best furry friend beside you on one of the most beautiful beaches in the world.
Just a stone's throw away from the tents is one of the top bars and restaurants in El Nido that offers international cuisine. In addition, the airport is only 25 minutes away and the town is approximately 40 minutes away.
Another excellent Airbnb for people and pooches who love being near the water. This two-bedroom home is located far away from the noise of Kas but close enough to the city center if you want to be in the thick of the action.
If you just took your dog on a 10-hour flight and through a crowded airport, they'll absolutely appreciate the relaxing vibes as soon as you enter this place. Take a dip in the shared pool, swing on the hammock, or lie on the loungers, it is all up to you. The kitchen is fully-equipped for preparing home-cooked meals but don't worry if you're feeling lazy because the home is close enough to the many wonderful restaurants and bars in Kas if you're feeling like painting the town red.
Just 300 meters away from Big Pebble Beach, you might just hear the waves crashing to the shore as you lay on your bed at night.
The best part of each morning is enjoying the incredible sea views from the property but you can always head down to have a closer look and mingle with the locals. I'll let you in on a little secret, the sunsets are spectacular from this side of the world.
16 Guests
Security cameras
Ideal for a big group with money to spare and who wants a little luxury in their vacation, this stunning waterfront property in London is big enough for more than a dozen people.
This tastefully-decorated riverside Victorian home looks like it belongs in a magazine. The kitchen is massive and comes with everything you need to prepare sumptuous meals which can be had in the large dining area or al fresco.
Downstairs is a great place for entertaining and even comes with a ping-pong table. The home is close to some of London's best pubs and restaurants and is only a five-minute walk away from the tube and the river taxis. The city's main attractions are easily reachable and are quite near the property too.
4 Guests
Near downtown area
The location is the best thing about this Airbnb in Spain's capital, Madrid, it's only 10 minutes from the famous Sagrada Familia. The property is only a 20-minute walk to the downtown area and a few blocks away from Passeig de Gracia, also known as Barcelona's Fifth Avenue.
Don't worry if you don't fancy walking to the nearby attractions, there's a bus stop located right downstairs which takes you all over the city and the metro station is only a 5-minute walk away. Getting around is fast and easy!
Spacious and stylishly decorated, the home comes with an amazing balcony that overlooks the streets of Barcelona.
A variety of markets are nearby from where you can get fresh produce and a convenient store is beside the building, perfect for when you want to cook. A block away are playgrounds for kids for those who are traveling with children.
Say goodbye to the metropolis for a weekend or even an entire week and enjoy the peace and the beauty of the mountains in Turkey in this A-frame bungalow with your furry friend. You'll see beauty wherever you look, it's surreal. You get spectacular vistas of the mountains and the valley, plus you get to enjoy the clear waters of the nearby lake too.
Don't forget to enjoy the free breakfast before you head out in the morning and in the evening, enjoy the barbecue and fire pit set up in the garden. Close to attractions, as well as the supermarket, you can easily get what you need. The kitchen is equipped with all the basics and a few glassware. The cozy home is a little out of the way so it will be better to drive.
2 Guests
Rural location in nature
Otherwise known as a rural local habitation in Pugliese, trullos come with a kitchenette, bathroom, and an outdoor recreation area, aside from the main sleeping quarters.
This romantic traditional Airbnb in Italy is ideal for couples, and its most beautiful feature is the terrace with seating areas, surrounded by figs, olive trees, almond trees, and even a few pears which you can pluck from the tree and eat. It's the best place for dolce far niente.
If you come during the summer months and the heat is oppressing, the shared pool is the best remedy. Wipe yourself off after taking a dip, enjoy a cold beverage, and marvel at the magnificent views. The fairytale landscape is one for the books.
Located just a few kilometers away from the property are Marina di Ostuni beach and the Torre Guateco marine reserve.
This is dog-friendly Airbnb in Canada is where you should escape if you are tired of the urban jungle. Feel your worries melt away with the surrounding pristine forests and crown lands. Forget the demands of work while nature's symphony serenades you.
The cozy cabin is only a short drive away from the spectacular Joffre Lakes. You can make plans but I guarantee you that it will be difficult to stick to them. It's easy to get lost in the spectacular surroundings.
The south-facing deck with its Adirondack chairs is the perfect place to enjoy your favorite beverage, as well as that book you've been meaning to read for ages.
Head to the back deck if you'd like to enjoy the fire pit, but my favorite feature is none other than the cedar barrel sauna, a great solution for relaxing sore muscles after a day spent exploring the area.
This award-winning luxury cabin seems too good to be true, but it is! This tiny home overlooks Kangaroo Valley and if you love alpacas, aside from your pooch, of course, this place is magnificent! It's surrounded by a variety of bush animals and cute alpacas!
The glass bathroom is surreal, separated but only a few steps away from the cabin, it has a tub that's waiting for you to relax in. Soak your worries away while sipping a glass of champagne.
The patio in the back area is perfect for breakfast while listening to the sound of animals. You may even spot a few of them while enjoying your morning cup of joe. Even a couple of vacation days in this magnificent place is enough to rejuvenate you. You'll feel like a new person when you leave this epic Australian Airbnb, and you'll definitely want to come back.
This beachfront apartment boasts a gorgeous ocean. Located in an exclusive, gated estate, it's near amenities that will make your stay pleasant and unforgettable. An array of local shops and restaurants are close by so you can easily get what you need. Have breakfast or drinks on the veranda while enjoying the sea views.
You'll never get tired of swimming on the beach and enjoying the sun while your pooch makes the best of his time in the water. In addition, you have direct boardwalk access! What can be better than that? You might even spot a dolphin and whales! The apartment comes with a parking bay so no need to worry if you're driving a car to the property.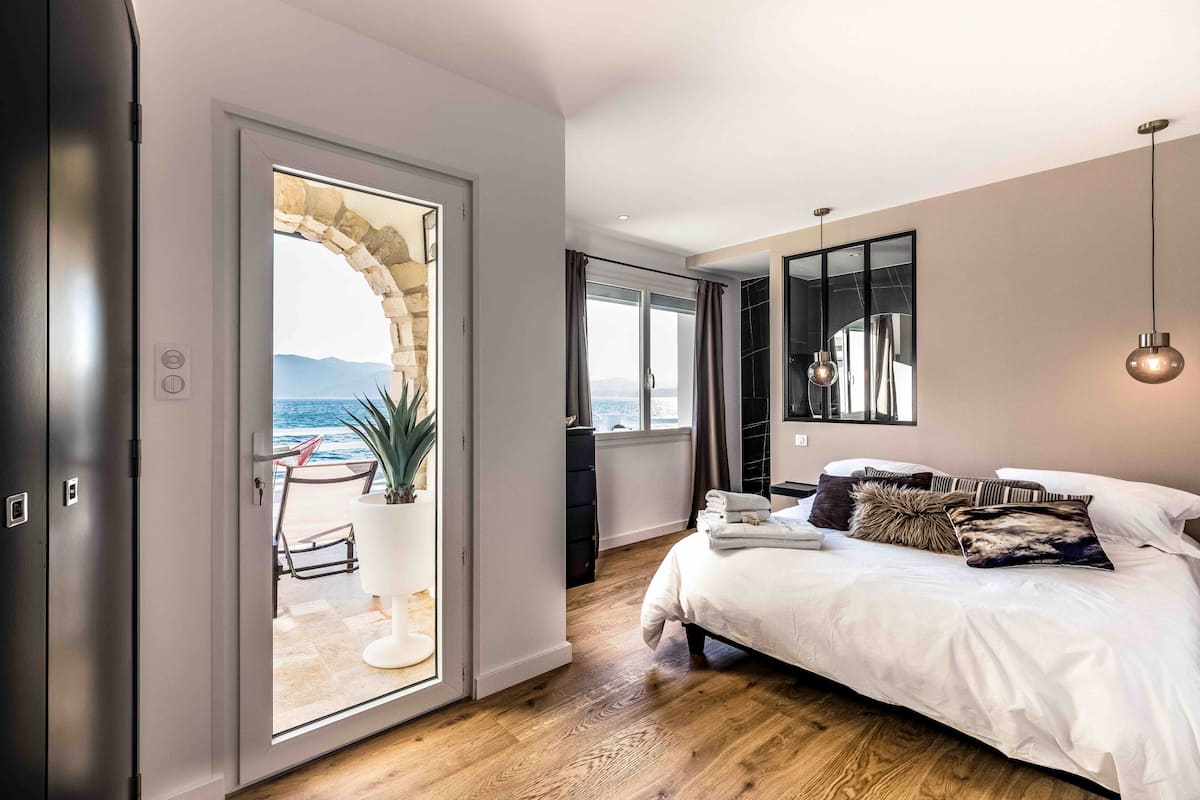 This amazing villa is stylish and comes with everything you need for a pleasant stay by the beach. It's just a few minutes away from the water, perfect for anyone who's into surfing or noobs learning the ins and outs of the popular water sport.
Enjoy the calm of the quiet residential street and the easy access to numerous restaurants located within walking distance, most of which deliver food. The nearest marina is just a 10-minute drive away too.
A few walking trails are close by for those who would like to explore the surroundings but if you'd rather just chill, you can hop in the hot tub or swim a few laps in the pool. Oh, did I mention the sunsets? They are phenomenal, the best end to a beautiful day!
2 Guests
Dedicated workspace
Your stay in Greece will surely be memorable in this villa close to the Medieval City. I'll be the first to tell you that the bedroom makes us want to lock the door and throw away the key, it's simply that divine. Wake up in the morning and open the doors that lead to a small balcony where you can have breakfast while overlooking the village.
The courtyard, as described, is romantic. You can spend afternoons and nights there, talking and sipping a glass of wine. Located nearby are a variety of bars, restaurants, and supermarkets where you can get provisions. Of course, the easy access to the beach is another highlight! The walk to the old town is easy and quick too, taking only 15 minutes.
6 Guests
Close to sights and events
This lake house is located in the quiet countryside but is close enough to all the happenings in nearby Alingsås and Gothenburg. You and your furry friend will never run out of areas to explore with the many excellent walking paths in the park next door. Oh, the closest neighbor has a poodle called Pelle that likes to welcome guests, so he might just become fast friends with your pooch.
Jump in the wood-fire hot tub after a day spent on the nearby beach or checking the nearby areas. It's the best end to a long day. If you'd rather stay in, there are plenty of things to do at home.
The bird lake at the back of the house is an excellent spot for watching avian life and breakfasts are best enjoyed on the back porch so you have a gorgeous view of the lake while eating. The back porch has a sun deck where you can lie and get a tan while reading a book. If you fancy cooking, the BBQ grill with a side burner and pizza stone is waiting for you.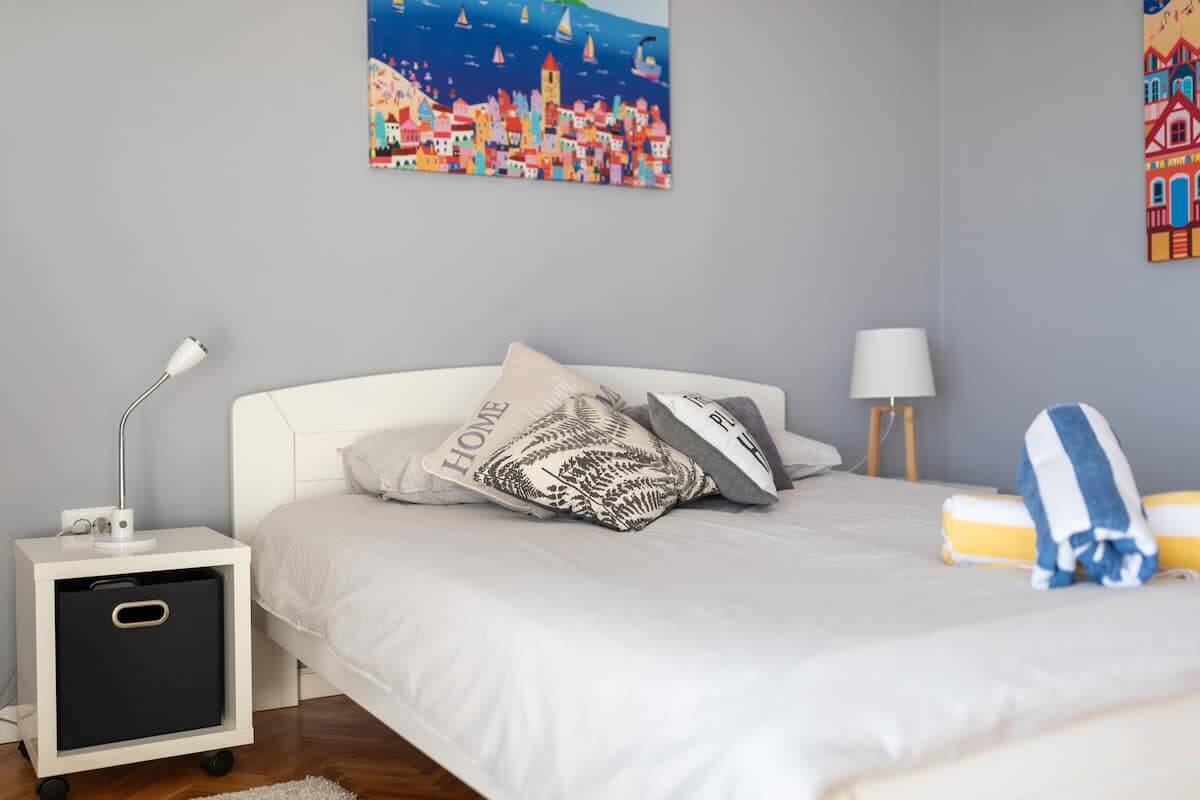 $
Near restaurants and bars
2 Guests
Close to historical monuments
Just a stone's throw away from the world-famous Sea Organ, this lovely apartment is well-appointed. Its central location allows you to see all the historical monuments in the city in just a few minutes' walk.
Bars and restaurants are within easy reach too so you need not worry if you're too tired to prepare your meals. It also gives you the right excuse to indulge in the local cuisine and rub elbows with the locals.
The balcony has awesome waterfront views and you need not look far if you're craving a drink as bars and cafes abound in the surrounding area too. Walk to the promenade after having a drink in the café. Located right in front of the building, it's a favorite of locals who want to sunbathe and swim.
2 Guests
Near lovely walks
This quaint fisherman's cottage is the best Airbnb in Switzerland if you'd like to disconnect and spend some time communing with nature with your trusty sidekick by your side. You'll want to pinch yourself when you set foot on the property, just to make sure you're not dreaming.
Spend your evenings barbecuing in the garden. The fire pit with cozy wooden seats is where you can stargaze with your favorite drink, of course. The home has direct access to the lake which you can enjoy better with the paddle board provided for free.
Every day you'll wake up to a beautiful morning serenaded by pleasant birdsong. Breakfast is best enjoyed on the porch where you'll see ducks and swans enjoying the water. But I'm not done yet, I've saved the best for last and that's the spruce wood barrel sauna with panoramic views of Lake Constance. I'd stay there forever if I could.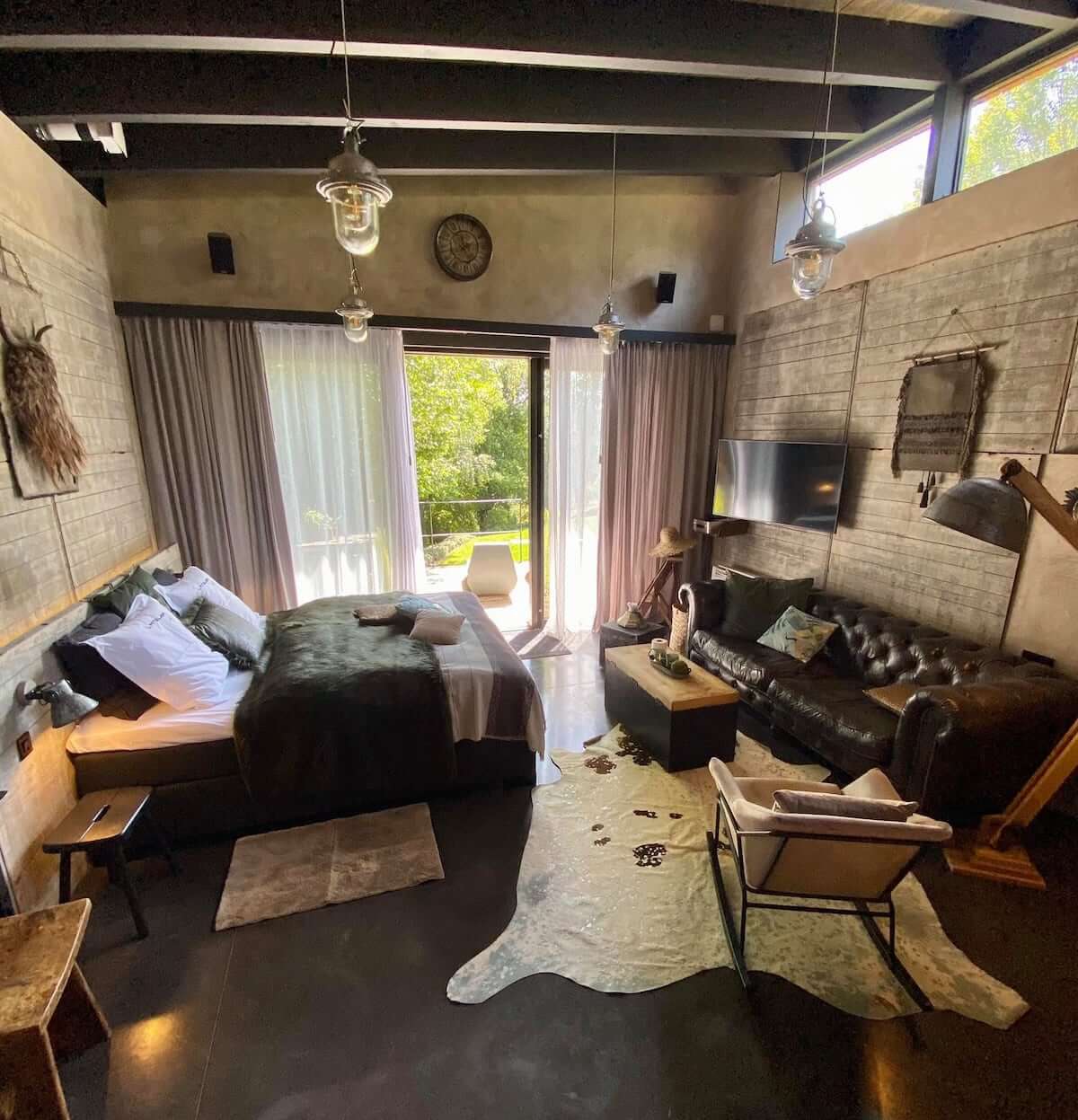 This dog-friendly Airbnb in Belgium is a cozy spot for two people. Comprised of three levels, it has an industrial décor that has your comfort in mind. The fully-equipped kitchen makes meal preparations easy but you need not worry during mornings as breakfast is dropped daily in a basket at 9, which you can eat with gusto at the sunny terrace.
A game park and pond are situated right in front of the property where you'll find ducks, goats, geese, suedes, and other animals. What's the best way to end the day? Spend in the infrared sauna or soak in the bathtub before getting some snooze in the incredibly soft bed.
Don't Forget Your Travel Insurance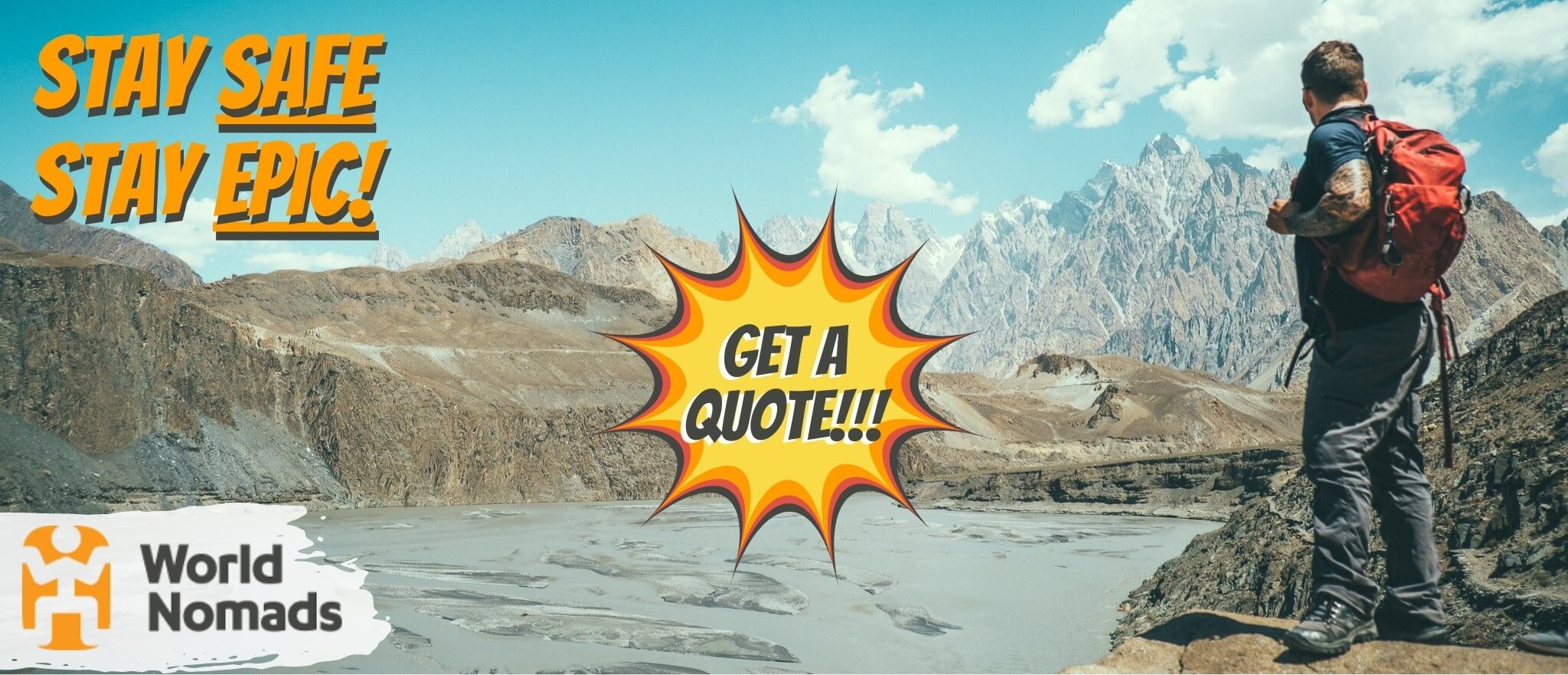 World Nomads' mission is to support and encourage travellers to explore their boundaries. They offer simple & flexible travel insurance, and safety advice to help you travel confidently.
They've been doing it since 2002 – protecting, connecting, and inspiring independent travellers just like you.
Get a quote below or read our in-depth review!
World Nomads provides travel insurance for travelers in over 100 countries. As an affiliate, we receive a fee when you get a quote from World Nomads using this link. We do not represent World Nomads. This is information only and not a recommendation to buy travel insurance.
Final Thoughts on Pet-Friendly Airbnbs
So, there you have it pet parents, the best pet-friendly Airbnbs! There is no better time than now to hit the road with your pet along for the ride. Be sure to let your host know that you'll be arriving with a pet as there might be house-specific rules you need to be aware of.
To ensure a pleasant stay and a grand time during your vacation, make a packing list of your pet's essentials so you don't forget anything. Now go, and create lasting memories that will be treasured for a long time.
Lastly, don't forget to take out travel insurance for you and your pet. You might not need it but you'll be happy you have it and you'll be able to sleep much better too.
---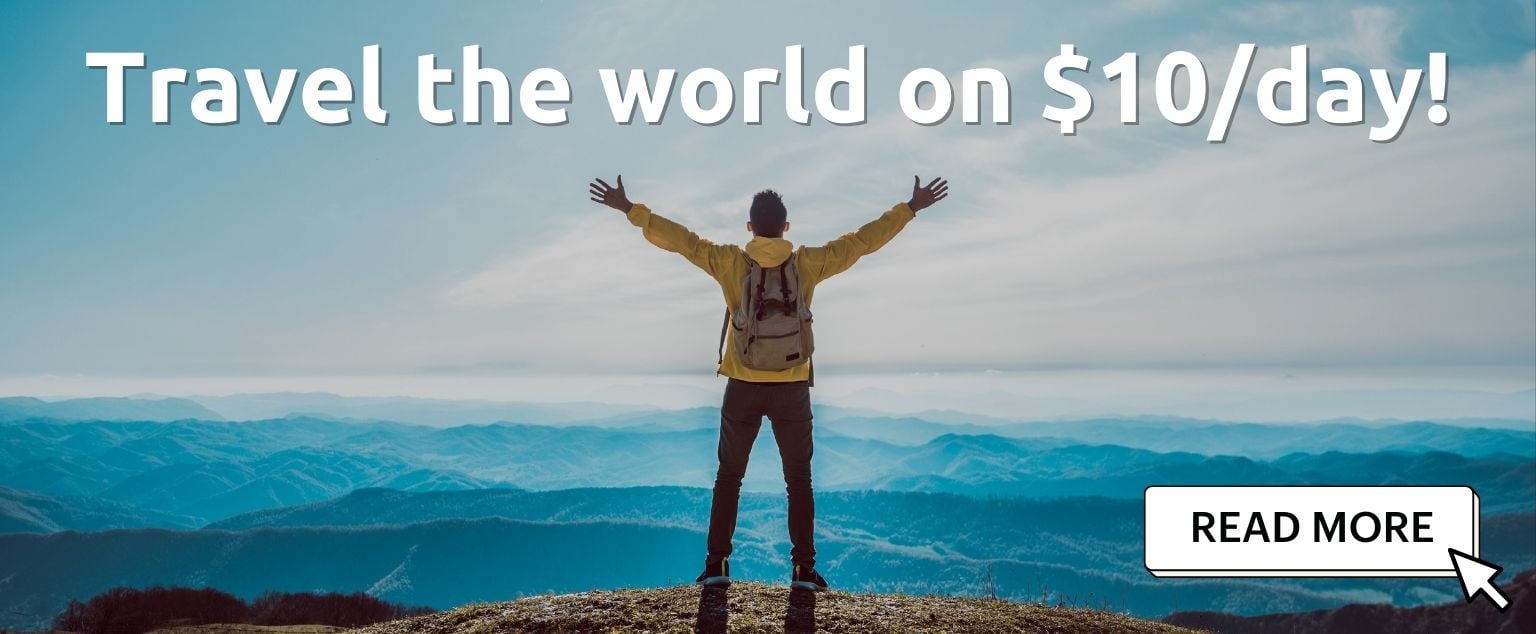 And for transparency's sake, please know that some of the links in our content are affiliate links. That means that if you book your accommodation, buy your gear, or sort your insurance through our link, we earn a small commission (at no extra cost to you). That said, we only link to the gear we trust and never recommend services we don't believe are up to scratch. Again, thank you!