Why Go Backpacking in India?
Since I was nineteen, I've been coming back to India again and again. Often I promise myself that this will be the last time and like many India backpacking veterans, I have a love/hate relationship with India!
Your first time in India may well come as something of a shock even for experienced travellers. It is generally dirty, crowded, noisy, chaotic and frustrating. There are wild animals everywhere, a lot of extreme poverty and widespread dilapidation. Some of the local customs also take some serious adapting to – get used to been stared at, hassled, scammed & having your personal space invaded.
So yes, the real India can be a real challenge but, for adventurous backpackers, India offers some of the most incredible exploring in all of Asia. If it gets under your skin, you will keep on coming back time and time again. Visiting the beautiful places in India is a task worth taking on.
Best Travel Itineraries For Backpacking India
After nearly a total of two years backpacking in India, I reckon I've only seen about half of this truly incredible, massive, country. The country is so big that is really does make sense to plan your backpacking route before you rock up and to focus on seeing one part of India at a time.
There are plenty of amazing spots to explore but you need to be sure you choose the right spots at the right time – you don't want to be travelling in the Great Thar Desert during summer!
To make things a bit easier, I've popped together some different backpacking routes for India; these can easily be combined or added together to create the absolute perfect India itinerary.
But whatever India backpacking route you take, prepare to be astounded, amazed and a little bit frustrated! You need at least one month in India to enjoy these itineraries.
Backpacking India 1-Month Itinerary # 1 – Spiritual Extravaganza
Rajasthan (paired with Varanasi) is a great introduction to backpacking India! This is an area that checks most boxes – There are plenty of chilled out sites well on the backpacker radar but if you dig a little deeper you can find isolated villages and hidden temples rarely visited by travellers.
After getting your bearings and hopefully avoiding getting scammed in New Delhi, head on over to Varanasi for the spiritual experience of a lifetime. After a quick stop in off beat Khajuraho, settle into Agra to see the Taj Mahal, AKA the most famous landmark in India.
Then it's time to experience Rajasthan, one of my favorite places in India. Jaipur will serve as a sweet introduction–it's quite a nice Indian city–where as Pushkar is like a desert version of Goa. Bundi is a true gem, and a place you shouldn't rush through. Package tourists don't make it here.
Finish off your epic Rajasthani adventure with the big three, Jodhpur (known as the Blue City), Jaisalmer, and Udaipur. A better trip through one of India's most beautiful states doesn't exist.
One important thing to note is that Rajasthan can be damn hot… This means that you really, really want to try and explore this part of India during November to March; outside of these months, it can be fairly unbearable.
Backpacking India 1-Month Itinerary # 2 – Off the Beaten Track Adventures in South India
This is perhaps the best South India travel itinerary for explorers keen to see a bit of the real India before diving into the heady parties of Goa and Gokarna.
Bangalore is a tech hub of sorts and one of India's cleaner cities, but don't spend more than a few days here before heading to the very offbeat Kodagu–don't be surprised if you're the only foreigner in town.
Next up, take a relatively short local bus to Mysore, which is easily my favorite city in India. It's clean, has some delicious street food and is pretty easy to manage overall. A night train is the best way to move onwards to Fort Kochi, a cheeky little beach town that checks every box of what you'd want from a sticky place.
You final two stops will bring you back to the tourist trail, but rest assured that it will be worth it. The back waters of Alleppey are best seen from the local boats, and even popular Varkala (which can be reached by train or bus) has plenty of hidden spots to get off the beaten track in.
Backpacking India 1-Month Itinerary # 3 – Mountains and Yoga in Northern India
Traveling to the Subcontinent to find yourself? Then this Backpacking India itinerary may be for you.
The Himalayas are unlike any other part of India, mountains have always held a special place in my heart and the Indian mountains are some of the best in the world… although not quite as incredible as neighbouring Pakistan, the ultimate adventure destination!
If you're coming from said neighbour, you'll be starting right in Amritsar, which is home to the famous Golden Temple and legendary Sikh hospitality. Otherwise, break your Rishikesh virginity, though do be warned that it will be an absolute zoo in May and June.
Once you've got that out of the way–it's time for the mountain fun to begin! First head to Mcleod Ganj, a spiritual mecca home to the famous Dalai Llama. Be warned–it's easy to get stuck here! Next, make a stop in Bhagsu before moving on to Manali.
These days Manali is a commercialized mess, so I highly encourage you to get to the more authentic Vashshist as SOON as possible. The hippie vibes are only beginning amigos, as the mountainous roads will then lead you to Kasol, the main hub of the iconic Parvati Valley.
After enjoying hashish, trance and natural beauty for days, answer the Himalayas' call and get yourself on the next HRTC bus to Leh, capital of Ladakh.
After you've spent a solid amount of time living the high-altitude life, it's time for Srinigar, the capital of India's portion of Kashmir. I highly recommend giving this region the time it deserves. It might be more expensive than you'd like, but Pakistan's Azad Kashmir is very hard to travel in as a foreigner so get your fix here!
Be warned; travelling in the Himalayas is uncomfortable, tiring and sometimes dangerous. It is worth getting to grips with your route before you go travelling in India, planning on the road doesn't work so well in the Himalayas as the roads have a tendency to get washed away!
Best Places To Visit In India
You can spend a lifetime and still not see everything this mega-country has to offer, but I think these are the very best places in India that you just shouldn't miss…
Backpacking Delhi
Many backpackers arriving in India for the first time will start their adventure by staying in Delhi, which is unfortunate.
Delhi is probably my least favourite city in the whole world and whilst it may have some hidden charms, I have yet to find them despite visiting the city over half a dozen times. The traffic is crazy, and driving my multicolored rickshaw through the streets was a truly nutty and hair-raising experience.
Delhi is not one of the friendliest places in India. When you arrive into Delhi's main airport, catch a metro into town and make your way to the Panchsheel area; this is where you can find the widest array of backpacker-friendly accommodation, and is the best area in Delhi to stay in. Some of the best hostels in Delhi are in Paharganj and more quieter, cleaner options can be found in the upscale South Delhi area.
In general, I recommend getting the heck out of Delhi as quickly as possible… There are plenty of much lovelier places within India to spend your time. However, if you do want a better and more comfortable experience, there are some pretty epic Delhi Airbnbs to choose from.
Backpacking Varanasi
You can't explore India without having a proper Varanasi experience… I say experience because Varanasi is totally nuts and will leave you reeling as you navigate through twisting alleys, passing holy men and funeral processions, stray cows and colourful stores selling silken saris.
Make your way to the river and catch a sunset boat ride on the Ganges, the most holy river in Hinduism. On the way, make sure to pick up one of the best lassis in all of India at Blue Lassi in the market.
There are plenty of cheap hostels in Varanasi, and just as many budget guesthouses. Varanasi has to be seen to be understood… I recommend spending three or four days here. There are good train links between Delhi and Varanasi and I recommend catching a sleeper train – go for 3AC class.
Backpacking Khajuraho
From Varanasi you should be able to catch a train directly to Khajuraho. As always you should book your ticket in advance and try to get a night train to save on accommodation. This area is famous for its hilariously erotic temples. Hire bicycles as some of the main sights are spread out and it is a great way to explore.
Try to catch the temples at sunrise, they are amazing. It is possible to arrange a rickshaw to take you to a lovely river where you can swim, ask around. Touts are persistent here and like to target fresh backpackers. I recommend staying for two to three days so you can get a well-deserved break before heading onwards to Agra…
Backpacking Agra
There are only three things worth seeing in Agra. The first and best is 'Joney's Place' – it offers the best, and cheapest food in all of India.
The second is the Taj Mahal, it costs a whopping 1100RS to get in and this will probably continue to rise for foreign visitors in the coming years. Finally, 26km outside of Agra is the ruins of Fatehpur Sikri which is interesting if you have time but is unfortunately filled with very pushy touts.
The Taj Mahal is chief amongst the top sites to see in India. However, staying in hostels in Agra for more than two days is not recommended… Sadly it's a true shit-hole of a city and not to be dwelled in… From Agra you can catch a train to Jaipur – but may have to change at Delhi.
Backpacking Jaipur
My second least favourite city in India is undoubtedly Jaipur. You can however mitigate its horror by choosing carefully where to stay in Jaipur. Try to spend just a day here if you can as the city is stressful and ugly. Ajmer Palace, 12km outside of the city, is stunning and worth the trip.
The Monkey Temple (Galtaji) is not to be missed – set beautifully into the side of a hill, make sure you go all the way up and over to the other side of the hill to find it. Other than the old buildings, Jaipur is a great place to shop for textiles, custom-made clothes and jewelry.
Jaipur is a great place to be during the festival of Diwali, easily one of the most important festivals in India.
Stay at one of Jaipurs' best hostels–there are plenty to choose between. From Jaipur, you can catch an overnight train to Jaisalmer and work your way back towards Delhi across Rajasthan or jump to Pushkar. The airport does some good value domestic flights – if you book ahead you can get to Goa for $40.
Backpacking Pushkar
Finally, somewhere to relax now that you've done the obligatory sights of India! You could happily spend a week in Pushkar, exploring the many temples and the gorgeous lake within the centre of the town.
Pushkar is renowned as a town of religious importance and you can't drink or eat meat here… meaning that, of course, you can but your beer will be disguised in a teapot and will cost more. Pushkar is a shoppers paradise and is filled with thousands of stores selling pretty much everything…
There's a strong backpacker community here, the town suffers from many a hippie-wannabe, and there's lots of yoga and meditation classes available. Whilst exploring the lake, avoid the priests like the black plague – they are extremely skilled scammers. Do not let them place a wristband upon you, they will ask for a ridiculous payment.
For a truly striking sunset, climb one of the nearby hills surrounding the town. Pushkar has great but, very strong, Bhang (marijuana) lassis; these will knock you out if you are not careful.
Every year, the famed Pushkar Camel Festival comes to town – this is a totally insane event but well worth seeing if you happen to be in India at the time; book your accommodation in advance as everything tends to sell out. Four to five days is about right for a visit to Pushkar although its possible to linger for weeks.
To get to Pushkar you must first catch a train to Ajmer and then catch a forty five minute bus onwards to Pushkar itself. From Ajmer you can catch a bus to Bundi, a logical next stop.
Backpacking Bundi
I loved Bundi. It's well off the tourist radar and definitely worth visiting. I stayed in a lovely little guesthouse called simply The Lake View Guesthouse. Rooms were cheap, just $6 for a huge double with bathroom. Bhayvam Homestay does rooms for $3 but they are basic and you have to share a bathroom.
Definitely visit the palace and the fortress atop the hill (take a stick to deter the monkeys) as well as Kipling's house. Hire bicycles to go exploring outside the city, you will be utterly alone and this is a great chance to do some real exploring.
Stay for at least three days in Bundi and be sure to check out Krishna's Tea Stall.
Backpacking Jodhpur
Although there may not be a great deal of tourist sites to visit, Jodhpur is an excellent example of a Rajasthani market town, a good wander through streets to soak up the busy vibe and colours is a must during your stay. In the state where every town has a fort, Jodhpur is no exception and it's definitely worth visiting.
It's one of the most amazing fortresses in the world. Take the audio tour to find out plenty of awesome history about this amazing place. I would stay for one or two days. You then easily catch a bus from Jodhpur to Jaisalmer.
Backpacking Jaisalmer
A giant sandcastle rising out of the desert, Jaisalmer fort is one of my favourite places in all of India and the starting point for the annual rickshaw race across India.
Even better, if you're keen to go camel trekking and to spend a night camping out in the desert with fellow backpackers, this is the place to do it! Haggle hard… The prices vary wildly!
The legal Bhang shop sells shakes and cookies – they can get you very high and are a fun way to while away an evening; as always, be careful if you're experimenting with drugs on the road. Not including time for a camel trek, you only need two days to explore Jaisalmer. There are good train links out of Jaisalmer.
Backpacking Udaipur
What a truly wonderful place. I lingered here for almost a month when I was on my first backpacking trip to India at the age of nineteen. There are wonderful hostels in Udaipur, great restaurants, interesting cycle rides, captivating lakes and atmospheric temples.
Try to stay somewhere near the central Jagdish temple. Shop around for accommodation as it's possible to find good rooms for $4. I got some beautiful, custom made shirts in Udaipur which cost about $4 each – well worth it.
Five days is a good length of time to spend in Udaipur before catching a train back up to Delhi or travelling onwards to Goa or Mumbai. A train to Goa, via Gujurat, takes around 46 hours and I strongly recommend that nobody ever attempts this again… It was one of the most god-awful journeys of my life!
Backpacking Bombay
Let's start with the name. Nobody calls this sweltering city Mumbai and the city is very much Bombay.
Now that the name is out of the way, let's get onto the city. Bombay is, in a single word, intense! If you survive Bombay you have done well. Bombay is not only dirty, crowded and full of touts, it is also the most expensive city in India and can quickly drain your bank account on account of the wild nights out… Tinder works well in Bombay.
I loved Bombay and spent over 2 weeks hanging out but I was couchsurfing and had some great friends to show me Mumbai's best neighbourhoods and help keep my costs low. I highly recommend trying to make a friend in Bombay as they will show you a side of the city that most backpackers in India simply are not aware of.
In case you can't find a host, worry not as there are now loads of decent Mumbai hostels. You should definitely brave the local trains at some point, they are packed to bursting but are a quintessential Indian backpacking experience.
From Bombay, you can easily catch a train to Aurangabad.
Backpacking Ajanta & Ellora
The famed cave temples and dwellings of Ajanta and Ellora rival those of Petra… Huge temples and structures have been carved into the rock and occupied by holy sects for centuries, the history here is absolutely fascinating.
To visit Ajanta and Ellora, you will need to make a base in Aurangabad; a quintessential middle-of-nowhere Indian town.
You'll need a full day to visit the incredible cave temples of Ellora, travel by tuk tuk for 600RS. Be sure to make a stop at the truly awesome ruined fortress of Daulatabad, a place with a bloody and fascinating history.
On day 2, take a taxi (1200RS) if in a group or a bus (150RS each way) if you are on your own to the Ajanta Caves; a collection of thirty Buddhist monasteries carved into a shoehorn of rock sitting above a lush green forest. On day 3, get the heck out of dodge (there really is fuck all to do in Aurangabad) and catch a train (6 hours) to Nashik.
Backpacking Nashik
The ghats, stone steps leading down to the river for washing and praying, in Nashik are truly mesmerising and, unlike in Varanasi, there are no pushy touts looking to make a quick rupee from backpackers.
If you are into your photography, Nashik is one of the best places to visit some truly untouched Ghats and to capture scenes of Indian rural life.
One day in Nashik is enough; besides the ghats there isn't much to see. I couchsurfed here and found myself in a Brazilian Jiu Jitsu class in the evening… such is travelling in India! If you fancy spending a second day in Nashik, there is a pleasant day hike to Trimbak which is worth checking out.
From Nashik you can arrange a sleeper bus towards Goa, or if you are feeling adventurous catch a train to Gulbarga and then onwards to Bidar and Bijapur, you may have to go via Bombay. I couchsurfed in Nashik.
Backpacking Bidar
The epic fort in Bidar is probably one of the most untouched forts in all of Asia and, best of all, if you visit you will probably have it all to yourself.
From Gulbarga, a bus (three hours) runs to Bidar, there is very limited accommodation options here – I stayed in the Hotel Mayura, right next to the bus station. Bidar Fort is filled with hidden, locked, passageways and epic buildings.
If you find an attendant, you can tip him 100RS to wander around with you or, even better, simply give you the keys. The fort alone is well worth coming to Bidar for but the city itself does have some other interesting sites and is one of the most important places of pilgrimage for the Sikhs. From Bidar, it's a seven hour, ass-bruising, bus ride to Bijapur.
Backpacking Bijapur
Palaces, tombs, gateways, temples and minarets, all carved from solid basalt and covered in twisting vines and flowers. The architecture in Bijapur is simply stunning and it is widely renowned as one of the most important historical cities in India, despite this it attracts very few backpackers and you are likely to have it all to yourself.
A couple of days is adequate time to see all of the sites, it could be done in one single day if you are tired of the heat and are keen to hurry on to somewhere a tad more relaxing.
I recommend staying in Hotel Pleasant Stay, the cheapest accommodation is next to the bus-stand – it's fairly horrible. From Bijapur, catch a bus to Hospet (3 – 4 hours) and from Hospet catch a thirty minute rickshaw to Hampi…
Backpacking Hampi
Backpacking Hampi is hands-down my favourite thing to do in India. I've been a total of five times and, every time, it's changed drastically. It is famed for its climbing boulders as well as the assortment of ancient temples and Hampi's primary backpacker area across the river.
Local buses from Hosepur to Hampi begin running at around 7am but expect usual Indian delays. The ride takes 30 – 40 minutes and costs about 15 rupees. Tuk Tuks are available and will charge you between 200 – 400. Tuk Tuk drivers will also lie and tell that you that the busses to Hampi start at 8.00, 9.00 or even that there aren't any at all to try and get your custom.
Scooters can be rented cheaply in Hampi (300-400 rps), but aren't actually necessary. Bicycles can be obtained for 200 – 300 rps. I recommended joining a bike tour around the temples and ruins of the main island – they can be joined for 300 including bike, last 4 hours and cover about 9km with lots of stops – bring sun cream and water.
Note that as of February 2020, the local government has began totally demolishing the entirety of the development "across the river". This means all of the hostels and the entire Hampi backpacker hub is gone. The temples are still there, as are the rocks but to be frank, Hampi just lost half of its appeal and charm in one fell swoop. It remains to be seen how the demolition will affect Hampi's.
Backpacking Goa
Probably the most famous place in all of India and a magnet for hippie wannabes and all kinds of backpacker assholes, traveling in Goa is a complicated, chilled, paradoxical place that is well worth a visit no matter what you hear.
The trick with Goa is choosing where in Goa to stay.
Baga is for package tourists.
Anjuna and Arambol for party people.
Vasco da Gama and Margao have more local Goan life and traces of the Portuguese colonial era.
South Goa for those seeking some peace.
Both Palolem and Patnem are pretty relaxed. You can arrange fishing, dolphin watching and kayaking from the beach.
Another beach well worth considering is Arambol beach in the North. It's a lively, hippy mecca, and you'll be sure to find some cute Goa Airbnbs and hostels to base in. There are loads of yoga classes and meditations, there are jam sessions every night and shops selling some genuine boutique items as well as the standard backpacker stuff.
If you shop around you can still get a beach front shack for around 500 rps though prices spike between Christmas and February. There are also a number of trendy eco-resorts in Goa that are worth checking out!
Most restaurants along and around the beach are very similar and do perfectly decent Indian standards as well tantalisingly fresh fish tandooris. Cheeky Monkey has a great fusion menu and the shack next to the coconut seller does amazing thali's for 100 – 150 rps.
There are no big parties in Arambol itself although Rusta has began doing Wednesday Techno Parties. Morejim however is a short ride from Arambol (don't drink/drug & ride) and has a number of club nights featuring all minds of music.
That said, Arambol itself has numerous happenings every single night until around 10:30pm (midnight if its away from then main drag). I recommend attending Ecstatic Dance at the Source and seeing what weird and wonderful stuff is going on at Magic Cafe and the Love Temple.
The big, wild, legendary Goa parties take place in and around Anjuna & Vagator. There are parties catering to different tastes each night during high season (Dec – March) so if you like commercial, techno, R & B or house you can find it.
However, my absolute premium advice is to attend at least one Goan Trance Party as they are utterly mind blowing. Try Shiva Valley on Tuesday nights or Shiva Place on Friday, Saturday & Sunday. Hilltop & Origens claim to be "temples of trance" and do attract big name DJ's, but they are overpriced, soulless & shit.
Backpacking Gokarna
For a taste of 'Goa before the tourists', many people backpacking India head to Gokarna. The main beach is quickly catching on and becoming more touristy, much like Goa. That said, there are plenty of smaller beaches which are only accessible by boat and are home to small communes of hippies.
Gokharna is a short(ish) way from Goa and its relatively quiet. Beaches generally act as either a warm up for or come down from the madness of India's tourism capital. Gokharna itself is classic Indian small town with a few temples, some dirt roads and lots of cows. There are plenty of guest houses, shops, travel agencies and ATM's to be had here and its worth a look.
However, people come here for the quiet, secluded beaches which are 6km and 150rps in a Tuk Tuk away. My personal nickname for Om Beach is Jaffa Beach as its firmly established on the Hummus trail. By day, play volleyball, explore the temples in the old town or fish upon the high seas. By night, discover the real reason that many hippies have moved to Gokarna; a better supply of mushrooms and weed.
The guest houses here range from 300 to 500rps and the quality differs drastically. Shopping around and checking them all out is strongly advised as many don't have WI-Fi or reliable electricity and are frankly depressing. The absolute pick has to be Mooksa with its extensive grounds at the back of the cafe. Dolphin Bay is to be avoided.
Some of these places don't even have electricity so if you're looking for something a bit more out there – this might be it. I would recommend staying at the Zostel hostel.
The necklace sellers on the beach are mostly young and pleasant but do get annoying. If you don't intend to buy anything then make it very clear and be firm without been rude. If you say "I may buy later/tomorrow" then they will try to hold you to that.
Snakes are also very common here. I found one, 2 foot long, in my room and saw several small snakes in the jungles immediately surrounding the beach. The local staff told me they're not poisonous but Google tells me there are some cobras around. The beach dogs are very friendly and the beach cows are generally harmless, but may try to eat your belongings. Remember, these animals are sacred in Hindu culture so respond accordingly if this happens.
Backpacking Rishikesh
Famous since the Beatles first rocked up here and got stuck into an Ashram, Rishikesh is a popular stop with yogis backpacking India and is well worth checking out, even if you are not into yoga. If you are into yoga, Rishikesh is the perfect place to take a course or earn your yoga certification.
Catch a train from Delhi to Haridwar and then catch a bus (one hour) onwards to Rishikesh bus station – from here, you will then need to get a tuk tuk to drop you near Lakshman Jhula, cross the bridge and find a place to crash.
There are lots of cheap backpacker accommodation options around as well as good Rishikesh hostels. I recommend staying at the Parmarth Niketan Ashram which is near Ram Jhula. You should definitely eat at the awesome Beatles Cafe, Ira's Tea, and Ramana's Café.
Whilst in Rishikesh, hire mopeds for 300RS a day and go exploring. The foot-traffic within Rishikesh of thousands of pilgrims can be quite intense but once you are over the bridge and happily zipping along the mountains roads it's a lot of fun. You can also arrange to go white water rafting in Rishikesh.
I recommend three or four days in Rishikesh. There are loads of Yoga and Meditation courses available ranging from a matter of days to entire months. Oh, and "The Beatles Ashram" is now an urban art museum which is well worth checking out.
From Rishikesh you can reach the incredible Valley of Flowers. I recommend taking around 3 days to make stops along the way. Trust me, it's so worth it. From nearby Haridwar, you can also catch a train to Amritsar.
Backpacking Amritsar
The Golden Temple, the most sacred temple in the Sikh faith, is simply breathtaking. Sikhism welcomes all and you can stay for free in the golden temple dorms. Wander around until someone shows you where to go.
Ask the temple guards if unsure. Keeping with the spirit of Sikh hospitality, you can also get free food at the temple all day long.
You should visit the Wagah border ceremony in the evening and have a giggle at the ridiculous flag ceremony performed by soldiers from the Indian and Pakistani armed forces… It's better from the Pakistani side!
One full day in Amritsar is enough as it's very hot. After a night in the temple dorm you can catch an early morning bus to McLeod Ganj, or a sleeper train south. For more info, check out my amigos guide to Amritsar.
Backpacking McLeod Ganj
Home to the Dalai Lama and thousands of Tibetan's in Exile, McLeod Ganj (or little Tibet) is a chilled place to spend a couple of days among the Tibetan people and is a great place to pick up souvenirs. There are many interesting day hikes around the area.
I would recommend staying at Backpackers Inn but you can also find tons of really cheap Tibetan family run places if you shop around a bit.
We stayed at one of these for 250RS a night, though prices will likely be higher these days thanks to inflation. McLeod is pretty small and a few days here should be more than enough unless you are doing yoga or choose to get involved with a charity.
There are several projects for volunteers here working with Tibetan refugees, be sure to check out Tibetan World where you can sign up for hour long language exchanges with the Tibetan monks, who are always keen to improve their English. And to leave you with a cheap food tip, The Black Tent Cafe does a fantastic Tibetan breakfast.
Backpacking Bhagsu and Dharamkot
Just a short twenty minute walk from McLeod Ganj is the backpacker hub of Bhagsu.
Lower Bhagsu is pretty modernised and my advice is to keep going up the hill. Bhagsu is an Indian backpackers paradise with hand made crafts, tie-dye clothing and Didgeridoo lessons at every turn. When travelling through India the first time, I fell in love with Bhagsu.
The area is very popular with Israeli's and there is even a Hebrew book exchange. In the evenings, head along the stone paths into the hills and follow the music and the scent of ganja, there are many little cafe's and lodges along the trail where musicians jam into the early hours of the morning.
Bring a torch as finding you way back after dark could be a challenge on a night with no moon! There are some great treks that can be done from Bhagsu without a guide; the most popular is Triund which only takes about three or four hours and is manageable even for newbie trekkers.
You can rent a tent to sleep in at the summit, it gets cold so bring layers if you have them.
Backpacking Old Manali
Arriving into Manali, you will be dropped in the main bus station in the modern part of the town, whatever you do; don't stay here!
The real Manali is still a couple of kilometers away and you can choose between basing yourself in Old Manali or Vashisht. Old Manali is far busier than Vashisht and definitely the place to base yourself if you want to party – there are plenty of great hostels in Old Manali to meet party friends here too!
In Old Manali, 'Dylan's Toasted and Roasted' does great deserts and has a movie room. Meanwhile the Sunshine Cafe has incredible food from all over the world and is a solid bet for nightly live music. The marijuana in Manali is amazing and freely grows everywhere.
Manali is an adventurer's paradise and you can arrange white water rafting, paragliding, zorbing and canyoning… or, you could just get blazed all day. If you have plenty of time, it's worth checking out both Old Manali and Vashisht, if you're short on time, you'll have to choose…
Backpacking Vashisht
If, like me, you prefer to simply chill with a cheeky smoke and watch the mountains, Vashisht is the place to go. Old Manali is great but, recently, it's become overrun with large hordes of party-orientated backpackers, usually from Israel. Vashist is just a fifteen minute tuk tuk ride from Old Manali.
Vashisht is roughly set across the valley opposite Old Manali and is kind of like its little brother. The small town is much quieter than Old Manali and therefore a fantastic place to stay if you want some peace and tranquility.
There is a hot spring at the top of town and daily religious processions where you can watch devout locals fall into a state of trance. The Rasta Cafe is a great place to hang out and is famed for its Special Lassis (be warned, they can be very strong).
Private rooms can be found from between 600-1000Rs if you are willing to go door to door and haggle and you can sometimes even bag a room with a stunning mountain view.
From Vashisht, you could consider getting hold of a Royal Enfield and exploring the Spiti Valley or, if you are short on time and funds, you can begin the epic bus journey to Leh in Ladakh.
The overnight minibus is supposed to take at least eighteen hours but when I did it, it took closer to thirty six hours due to landslides…
It was an awful journey but, ultimately, was so worth it. You can fly to Leh but, well, the bus journey is a rite of passage when backpacking India so you should do it, the views will be stunning if there is no cloud cover. Remember to take Diamox with you to combat altitude sickness.
Alternatively, from Vashisht, you can head south to Kasol for some easy treks within the lower Himalayas.
Backpacking Kasol
If you are taking a trip to Parvati Valley, chances are you will pass through Kasol, which is a popular backpacking destination for good reason. The town of Kasol can be reached by a five to six hour bus ride from Manali for 200RS.
Kasol has soared in popularity in the last few years and is now rivalling Manali as the backpacker hub for Himachal Pradesh. Depending on how long you spent in Manali, it is definitely worth heading here for a few nights if you have the time.
Kasol itself is largely popular with Israeli travellers and you will see many a hippie wannabe, from all nationalities, clad head to toe in hilariously impractical gear they have bought from the many stores selling hippy dippy shit upon every corner.
If you're into shopping, you will probably love Kasol. It's a good place to pick up quality clay chillums – 120RS – anyway. Kasol itself is, like Manali, famed for its marijuana and laid back backpacker vibe.
There are many day-hikes and longer multi-day treks that can be attempted from around Kasol. For a full run down of chilled out places to visit in the area have a good look at the Kasol and Around guide by Drifter Planet.
Backpacking Kalga and Kheerganga
From Kasol, you can catch a minivan up into the mountains and trek for forty five minutes to reach the truly serene village of Kalga. It's well worth spending a couple of days here, hanging out in the very chilled Sunset Cafe run by the unendingly friendly Nepalese manager, Hans – he is a man of many names.
From Kalga, most backpackers head off on the six hour hike to Kheerganga where you can bathe in a hot spring said to be one of Lord Shiva's favourite places to relax after a hard day's godding.
Despite this, it's well worth spending one night in Kheerganga to see the stunning night sky at elevation; the lack of light pollution makes for some soul-stirring stargazing.
Kheerganga itself has, sadly, been hit with rapid unchecked development and is not a particularly nice place to stay – accommodation is crowded, dirty and overpriced. If you have a tent, bring it. Kheerganga might have some of the most disgusting toilets in all of India, which is no easy accomplishment.
Backpacking Leh and Ladakh
There is a lot to do in Leh and some great trekking in Ladakh. Start by the visiting the amazing palace and the massive Stupa – the donkey sanctuary is also worth a visit.
If you fancy some trekking, there is the 6-day Markha Valley Trek in Hemis National Park (the largest national park in India), the 5 day Nubra Valley trek and the challenging Rumtse to Tso Moriri-dayer.
Ladakh and Kashmir are great places to travel on your own wheels and ideal for motorbike trips. You can also try hitchhiking or get a shared Ladakh taxi to explore the region.
Backpacking Srinagar
From Leh, you can take a jeep (very expensive) or an old bus to Srinagar (or you can fly). I would recommend flying… or avoiding Srinagar altogether!
I visited Srinagar as one of the very last stops on my first fourteen month adventure in India and by the time I got there I was totally broke… Unfortunately, without cash, it's pretty difficult to see Kashmir as you really do need your own transport or to book yourself onto jeep tours which tend to start at around 2000RS a day.
In Srinagar, the one must-try experience, in my opinion, is to explore the lake by shikara. The lake is truly gorgeous and a peaceful place to spend an afternoon exploring. From Srinagar, you can catch a bus down to Amritsar or fly to Delhi.
Backpacking Bangalore
Bangalore is something of a boom town in India and has firmly established itself as the centre of the sub-continents mega tech industry. The city is something of a typical modern Indian city; unplanned, chaotic and ugly.
That said it is much more tolerable than Mumbai and Delhi; you will get far less hassle and meet with less scams. Because of its booming tech and business scene, the city also has a young, educated, enterprising crowd who are in many ways the cream of India's youthful crop. There are lots of micro pubs, some great places to eat, and a few clubs putting on gigs and electronic music nights.
For a kick ass Mutton Biryani, check out the ever busy and beautifully basic Shivaji Military Hotel in Banashankari and for a classic South Indian breakfast of rice cakes head to Sree Krishna Kafe in Koramangala.
If you're exploring South India then you should consider flying into Bangalore instead of the disappointing, punishing shit hole that is Mumbai. The hostels in Bangalore are way better and international flights are regular and affordable.
Backpacking Kodagu
A six hour bus journey from Bangalore lies the largely unexplored Kodagu region.
Although Lonely Planet claims to have been to Kodagu the information in the book is so point blank wrong that I find this hard to believe.
This is real exploring territory. It is easy to arrange a homestay once you reach the administrative capital of Madikeri. From Madikeri it is worth taking the hour long bus to Bylakuppe to visit a Tibetan colony.
The best thing about Kodagu is arranging a homestay, I recommend Homestay Kodagu, and simply heading off into the hills on a hiking adventure…
A bus to Mysore from Kodagu takes about four hours. It is one of the most romantic destinations in India. Kodagu is perhaps one of the top romantic destinations in India.
Backpacking Mysore
Mysore is a truly ancient city and it still has a real feel of the British Raj about it.
You should definitely visit Chamundi Hill, climb the thousands of steps if you fancy a workout. The imposing Mysore Palace is well worth an afternoon and, if you can find them, there is word of underground parties in Mysore by night. Srirangapatna makes a great day trip from Mysore.
Mysore is, hands down, my favourite city in all of India… Saying that, it's still a city in India and so you might want to do a runner after a few days to the more chilled out coast.
Backpacking Fort Kochi
Famed for the ancient Chinese fishing nets lining the shore, Fort Kochi is a great place to chill out for a couple of days.
Think laidback beach vibes, plenty of delicious seafood, and lots of opportunities for colourful travel photography.
To get away from Fort Kochi, you must first travel to Ernakulam so that you can catch onwards transport (two hours by bus) to Alleppey.
Backpacking Alleppey
There's only one real reason to come to Alleppey when backpacking India… to arrange a trip on a houseboat and explore the backwaters.
A three day, two night jaunt is the standard and when haggling for the rental make sure food is included in the price. There are hundreds of houseboats so take your time choosing and make sure to haggle.
Check out this list of awesome Houseboats on the backwaters. If you do end up having to stay in the town there is a YMCA. Just outside of Alleppey is a little known but very beautiful stretch of beach and some interesting villages easily explored by bicycle.
Backpacking Munnar and Periyar
By now, you're probably a bit stressed and need some time out, never fear; simply get your ass to Periyar wildlife sanctuary. To get to Periyar you must first head towards the town of Kumily.
Bank to spend a week between Periyar and nearby Munnar as you cycle, hike and drink way too much coffee. There are buses to Periyar from both Ernakulam and Alleppey.
Backpacking Varkala
The very tip of India, Varkala is reachable by train from Alleppey (three hours) and the train line does in fact run all the way to Bangalore. Varkala is a lovely stretch of sand and restaurant shacks but sadly suffers from a crowd of rather pushy shop owners.
If you have your own transport, you can explore some of the surrounding, quieter, beaches where it's possible to camp without being bothered…
Getting Off the Beaten Path in India
Whilst India is well worn by tourist footfall, it is an insanely massive county and therefore getting off the beaten path is a lot easier than you would imagine. There is so much more to India than the Golden Triangle route that most first-timers take.
For example even tried and trodden Rajasthan has hidden gems like Bundi just a 4 hour bus ride away from Jaipur.
In Goa, it is simply a case of getting a bike and driving inland to explore the forest and villages that other tourists never get to.
Or you can go to places most tourists simply never make it to. Northeast India is like a country within a country, giving all the vibes of Southeast Asia while still in India. Majuli Island is a particular gem that I recommend getting to now–it might be underwater in coming days.
While Bombay itself sucks, the state of Maharashtra does have some fantastic, lowkey beaches that will show you what seaside life in India used to be before mass tourism. Guhagar is perhaps my favorite beach in the country that you'll have all to yourself during the day.
Meanwhile Tilmati Beach (near Karwar, another offbeat town worth checking out) is a real black sand beach only known to locals and fishermen.
Top Things To Do in India
India is a truly weird and wonderful country, travelling in India is totally unlike travelling anywhere else – this is a subcontinent comprised of 29 states, each of which could be, and once was, it's own country.
When backpacking India, you will be assailed on all sides by mind-boggling sights, sounds, smells, and tastes… Here are a few must-try experiences whilst travelling in India…
1. Try the street food
Eating plenty of Indian street food is one of the best ways to stretch your budget and you can pick up meals for as little as 10RS in some places…
Indian street food can be truly fantastic; I highly recommend Masala Dosa but Pokhara's, Paaj Bhuri & Fried Chillies are also delicious. Try to pick a vendor with lots of Indian customers, they usually have the best food.
2. Visit a Hindu temple
Yes the Taj Mahal is a must see, but India is absolutely full of other stunning mausoleums, shrines, and temple ruins, many of which never make the news.
My favourites are in Khajuraho and Hampi, but it's not just the ancient temples that should appeal.
For a taste of something a little bit different, check out a Hindu temple that is still running; some of the best ones are in Udaipur.
3. Couchsurf with the Sikhs
Couchsurfing in India is a great way to keep the cost of traveling in India low, and to get to know the local people. The Sikhs are some of the most hospitable people in India and whilst travelling in India I was frequently invited to stay by turbanned fellows sporting mighty fine mustaches.
These guys were almost always unbelievably hospitable and kind. Turn to Couchsurfing to help keep your costs down whilst backpacking in India.
4. Explore the East
While most travellers plan to stick to North India or South India, the country has a massive East Coast (plus the 7 states that make uo Northeast India) that few foreigners make it to.
The hub of the east is undoubtedly Kolkata, a fantastic city where you'll likely be one of only a handful of other backpackers.
The states of Tamil Nadu and Odisha are both quite unique in their own way, and are definitely worth the trip if you're truly committed to travel India as authentically as possible.
5. Attend a festival
India is world-famous for its truly amazing festivals, my favourites of which are Diwali, the festival of light and Holi, the paint-throwing festival, one of the most famous festivals in the world. However, please note that Holi is not so cool for female travellers. Basically, local men get very drunk & excited which often culminates in spates of sexual assault; sorry to have to be so blunt.
Even so, a festival of some kind should be on your India itinerary.
6. Travel India with your own transport
The best way to see the real India is to travel with your own transport. I've motorbiked extensively across India and, more recently, drove a rickshaw 2500km across the country.
Even if you just hire a scooter for a day, travelling with your own transport in India is the best way to peel back the layers and get to grips with this amazing country.
7. Get off the beaten path
The backpacker enclaves of sleepy little Hampi, Goa and Manali are always full of backpackers chatting shit about how much they love India… the only thing is; this isn't the real India.
The real India can be tough, it can be challenging but it is also one of the most rewarding budget travel destinations in the world. Furthermore, if you take the time to get off the beaten track, to hit the road and to go on a proper adventure you won't regret it.
Best of all, when the real India has tired you out, then you can make a run for one of the backpacker enclaves… lucky you'll never run out of epic places to visit in India.
8. Party in Goa
Experiencing Goa's insane nightlife is must for your India itinerary. Yes, it's popular, yes, it can be a bit touristy.
But trust me when I say you haven't been to a party until you've danced the night away at a psy trance party.
9. Take a hike
India is home to the majestic Himalayas, and the trekking opportunities are endless. While not quite as awe-inspiring as neighbouring Pakistan, you can find some pretty epic views all over the North of the country.
India treks are at their best in Himachal Pradesh, Uttarakhand (the Gaumukh Trek takes you to the start of the Ganges) and Ladakh, though you can also find ample–though more restricted–opportunities in Kashmir and Sikkim.
10. Explore Little Tibet AKA Spiti Valley
Spiti Valley is one of the most unique places you can visit on an India backpacking trip. It's quite a small region, yet it will truly make you feel like you've left India altogether and crossed the border into Tibet.
Locals look Tibetan, their language is almost identical, and they practice Buddhism. It's in Spiti where you can find the oldest monastery in all of India.
This high-altitude region is similar to Ladakh, but is very much its own. Even if you plan to head towards Leh, a week in Spiti is one you won't soon forget.
Backpacker Accommodation in India
When I first went backpacking in India, hostels did not yet exist. Instead, there was mostly cheap hotels and guesthouses available.
This is still largely true but there are now many high-quality backpacker hostels throughout India.
Guesthouses and commune-style accommodation can be a great experience as well; I've stayed in some amazing places and ended up enjoying it so much that I stayed for weeks at a time. With an increasing number of eco-resorts popping up as well, you'll be spoilt for choice.
There is a lot of commune-style accommodation around; it tends to attract plenty of wannabe hippies but don't give up if your first experience isn't great, try a few of them to see if you can find a place with a vibe to suit you. Zostel Hostels is a decent backpacker hostel chain worth checking out.
And as a quick insider tip: If you want to see all – and we mean ALL – hostel options in India, be sure to check out HOSTELWORLD. You can even filter your personal travel needs to find the perfect place for you.

The Best Places To Stay in India
Where to Stay in India

| Location | Accommodation | Why Stay Here?! |
| --- | --- | --- |
| Delhi | Madpackers Hostel, J House | Make your way to the Panchsheel area; this is where you can find the widest array of backpacker friendly accommodation. You can get a room for around $9. |
| Varanasi | goSTOPS Varanasi |   If you want to be close to the action, stay in the kickass Stops Hostel in Bhelupur. For a more chilled pace, check Roadhouse Hostels over at Assi Ghat. It should cost you about $5 a night. |
| Khajuraho | Moustache Khajuraho | It's a pretty awesome places to stay at for $5 a night! |
| Agra | Joey's Hostel Agra |   You can get super cheap acco in Agra for close to $3 a night! |
| Jaipur | Zostel Jaipur Hostel |   Again, get really cheap accommodation here. If you're lucky, for under $3 a night. And you can meet a ton of fellow travellers as well. |
| Pushkar | Madpackers Pushkar |   Pushkar is a hippie paradise so you'll find a lot of cheap and chill places in Pushkar for like $3 a night! |
| Bundi | N/A |   I stayed in a lovely little guesthouse called  The Lake View Guesthouse – it's not online and you should try to find it. Rooms were at $6 for a huge double with bathroom. |
| Jodhpur | Moustache Jodhpur | As one of the top rated hostels in India, you'll have all your backpacker needs met here. |
| Jaisalmer | Wonbin Safari Hostel |   Get a bed in a 6 bed mixed dorm at a dollar a night! Yup, this was easily the cheapest place I stayed at, and pretty comfortable too! |
| Udaipur | goStops Udaipur |   Shop around for accommodation as it's possible to find good rooms for $4. You could stay at goStops Udaipur, which is a pretty cool hostel. |
| Mumbai | Bombay Backpackers |   Its a nice little hostel to stay at especially if you're using Bombay as a transit point between places. The dorm beds are priced at $10 a night. |
| Aurangabad | Zostel Aurangabad |   This is a decent property to stay at. They can also help you with figuring your transport to Ajanta and Ellora caves. You can get a room for $12. |
| Nashik |   DS Group Serviced Apartment and  Guest House, Bramhagiri Resorts |   DS Group Serviced Apartment and  Guest House, Bramhagiri Resorts |
| Bidar | Hotel Mayura |   There are very limited accommodation options here – I stayed in the Hotel Mayura, right next to the bus station. |
| Bijapur | Hotel Pleasant Stay |  The cheapest accommodation is next to the bus-stand – it's fairly horrible so I recommend staying at Pleasant Stay. |
| Hampi | Murali Homestay |   Most of the best backpacker accommodation is found on the far-side of the river. So cross over and shop around a bit for great deals. You can get a bed for as cheap as $5 a night. |
| Goa | Happy Panda Hostel Arambol | All good hostel chains in India have a hostel in Goa and give out dorm beds for as cheap as $4. Beware of backpacker assholes though, Goa hostels are full of them! |
| Rishikesh | Skyard Rishikesh |   You can get dorm beds for $6 but I would advise you stay at the Parmarth Niketan Ashram which is built right on the ghats. |
| Amritsar | Madpackers Amritsar |   For roughly $5 a night you can find comfortable accommodation in a hostel in Amritsar – I like Wow Hostel. |
| Dharamshala | Backpackers Inn |  You can also find tons of really cheap Tibetan family run places if you shop around a bit. We stayed at one of these for $4 a night. |
| Manali | Orchards House – The Hidden Tribe |   The Lost Tribe is a pretty chill hostel and a great property to just kick back and chill at. |
| Vashisht | Blue Heaven |   I recommend the simple rooms at Blue Heaven – a double, with bathroom, is just $4 and the views are some of the best in town. |
| Kasol | The Hosteller | A pretty chill place with fantastic decor and a central location. |
| Leh and Ladakh | Zostel Leh | Get a comfortable bed for $4 a night and wake up to misty mountain views! |
| Srinagar | Floating Hostel | Forget hostel beds, rent a houseboat for $15 a night!! |
| Bangalore | Locul.Central | Good vibe, cheap hostels at $10 a night, where you can meet a ton of fellow travellers. |
| Kodagu | Homestay Kodagu | The best thing about Kodagu is arranging a homestay, I recommend Homestay Kodagu, and simply heading off into the hills on a hiking adventure |
| Mysore | Zostel Mysore | Stay at one of these cheap hostels at about $12 a night and do short day trips to places around Mysore. |
| Cochin | North Centre Hostel | You can find a lot of really nice Dutch style hostels around Fort Cochin for about $5 a night. |
| Alleppey | Seashore Homely Stay | You can either check out this lovely hostel around $5 a night or check into a offline guesthouse. |
| Munnar | K Mansion | There are not too many backpacker friendly places in Munnar, you'll probably have to head there and look at homestays. The hotels start at about $26 a night. |
| Varkala | The Lost Hostel | This is a really great place to stay in Varkala! Very chilled atmosphere, it's affordable, quiet & cosy. |
India Backpacking Costs
The good news is that India is one of the cheapest countries in the world to go travelling if you're smart with your money it's possible to travel in India on a budget of just $10 a day, even less if you haggle like a pro.
The trick to super cheap backpacking in India is to travel slow. The faster you travel, the more it will cost. In general, it's likely you will spend between $10 – $30 a day depending on how comfortable you want to be.
A Daily Budget in India
These prices are based on the current exchange rate of 73 rupees to the dollar (March 2020).
Money in India
There are lots of international ATMS but they can be tough to find once you are outside of the cities and are in more remote areas. Also note that some ATM's will not accept certain cards and a lot of them are often empty or broken.
Typically, you can expect to try 2 – 3 ATM's before finding one that works. Many will charge 200 rps per transaction and this is in addition to any charges your bank levies. It's advisable to avoid small ATM transactions and get out a bunch of cash at once – just make sure you hide it well.
Travel Tips – India on a Budget
Normally, my top three tips for budget travel are to hitchhike, camp and cook your own food but in India, food, transport and accommodation are already so cheap that this is not really necessary unless you are backpacking India on a budget of just a couple of dollars a day.
Don't get me wrong – it is totally possible to travel in India with almost no money, I've done it, but it's also possible to go travelling in India on a modest budget and still travel in relative style.
Local Transport: India is home to over one billion people, and many of India's people need to travel great distances on just a few rupees. Journeys can be long and uncomfortable but it is possible to get from the top of India to the bottom for cheap. The sleeper trains are a great way to travel around India cheaply and the buses are a decent second option.
Couchsurf: Accommodation in India varies wildly in quality and cost but, in general, you can find a quality room for just a couple of dollars – especially if you are in a backpacker hub. It can be harder when you are out exploring the wild side of India but, as always, Couchsurfing comes to the rescue. I couchsurfed in India about twenty times and it was a great way to cut down on costs – just be careful when picking a host; you want somebody with plenty of positive reviews.
Haggle: India is the worst country I have ever been to from the point of view of people trying to rip me off… Even when the price of an item is clearly printed on the packaging, some unscrupulous motherfuckers will try to charge three times as much. India is a country where you simply must haggle for almost everything – accommodation, tuk tuks, street food, souvenirs… All can be haggled down.
Become an expert: Learn the secrets to unlocking sustainable long term travel.
Why You Should Travel to India with a Water Bottle
Plastic washes up on even the most pristine beaches… so do your part and keep the Big Blue beautiful
You aren't going to save the world overnight, but you might as well be part of the solution and not the problem. When you travel to some of the world's most remote places, you come to realise the full extent of the plastic problem. And I hope you become more inspired to continue being a responsible traveller.
STOP USING SINGLE-USE PLASTIC! If you'd like some more tips on how to save the world, be sure to watch the video below.
Plus, now you won't be buying overpriced bottles of water from the supermarkets either! Travel with a filtered water bottle instead and never waste a cent nor a turtle's life again.
Best Time To Travel To India
Below is a general guide to India's weather patterns, but India's massive size means you need to closely investigate the weather patterns for your specific destination at the time of year you plan to visit. For example, some careful planning could see you travelling just in front of the monsoon as opposed to travelling in it, it could see you hitting the hill stations in the heat and the plains in the cooler months…
The "best" time to visit India is generally October to March when the weather is warm, dry and sunny. The Himalayas are cold but clear. This is peak tourist season and the time when most backpackers visit India.
Around April to May, the temperatures and humidity start to increase along with periodic thunderstorms so this part of the year is when it makes the most sense to head up into the mountains.
From June to September, the Indian Plains are scorching and many locals retreat to hill stations to escape the heat, eventually, the cooling monsoons sweep across the country.
Be aware of the very real possibility of heat stroke and dehydration particularly if landing in Delhi. Ladakh in the far north is generally only accessible between June and September by road, but careful monitoring of conditions is necessary if you are headed that way.
Road closures due to weather changes can be instant, and last for weeks. My overland journey between Manali and Leh took a horrific 35 hours when an avalanche washed away part of the road.
What to Pack for India
Here's what I would never leave off my India packing list:
Staying Safe in India
India can be a real assault on the senses, the body and the mind. This is a country with many lessons to teach. Whilst India is generally not considered a "dangerous" destination, there are actually a lot of little hazards to watch out for.
Perhaps the single biggest danger is traffic. Roads are jammed and motoring standards low and reckless. Take care when crossing roads and try to follow locals across. If you rent a bike or scooter, drive very carefully, cautiously, wear a helmet, and do not drink/drug drive – tourists are killed in this way every year.
Other dangers are disease and sickness. Do not ever drink tap water and even take care when showering in low budget guesthouses as the water can cause infections. Food hygiene standards have improved but "Delhi Belly" can still strike; try to avoid very dirty restaurants, eat only fresh street, frequent busy eateries, and use hand sanitiser.
You should also see your Doctor before visiting as a number of vaccinations are advised.
Bring sickness. and diarrhea medicine from home along with a supply of paracetamol and anti-septic. Whilst medicine is available in India, a lot of it is fake.
Crime against tourists is pretty rare (except for sex crimes against women) but pick pocketing occurs and unattended valuables will go missing. A simple padlock is well worth taking with you and if you want to go all out, I recommend the PacSafe to protect your gear.
That said, scams in India against tourists are very common and you can expect to encounter them daily. There are far too many to list but a few classics include holy men asking for donations, various street beggars, been sold invalid tickets and taxi drivers saying your hotel is burned down. Basically, as a rule distrust pretty much everybody who approaches you and anybody who can make money out of you.
In 2016 veteran adventurer Justin Alexander, went missing whilst trekking around Kheerganga with a Sadhu of dubious intent. Justin was a real mountain man and a big inspiration for me.
The Sadhus, wandering Hindu holy men of India, are a fascinating group of people but can be extremely dangerous, I do not recommend interacting with them if you are alone – many of them are outlaws, frauds & drug addicts. Hiking into the mountains with them is not a good idea.
Be careful with the police in India, getting arrested is not fun. You can bribe your way out of most situations fairly quickly but the trick is to do it fast; the more police become involved the more expensive it will become – get your ass out of the situation before you arrive at the police station.
There are plenty of animal hazards in India. These inside street dogs & as well as mosquitos, snakes & parasites. Monkeys are amusing but can be vicious and will try to steal from you (phones, food, washing lines etc). Even street cows can get aggressive so keep your distance. If you head into the wilderness then add Tigers, Bears, Hyenas and Elephants to this list of beasts.
Another hazard is falling coconuts – they claim a lot of lives across Asia each year.
Despite the daily challenges, Backpacking India is an experience that easily outweighs these small dangers.
Some Extra Travel Tips for Staying Safe in India
Check out Backpacker Safety 101 for tips and tricks to stay safe whilst backpacking.
Pick yourself up a backpacker security belt to keep your cash safe on the road.
Check out this post for plenty of ideas on ingenious ways to hide your money when travelling.
I strongly recommend travelling with a headlamp whilst in India (or anywhere really – every backpacker should have a good headtorch!)
Staying Healthy In India
Travelling in India and totally avoiding traveler's diarrhea is pretty impossible. Be sure to completely avoid the tap water, even when brushing your teeth (use purified water!) to improve your chances of escaping…
Many backpackers travelling in India tend to go vegetarian for the duration; not a bad idea considering Indian's suck at cooking meat.
Eating street food is fine; just make sure the food is well cooked and is cooked in front of you – you don't want something that's been sitting out for hours. Potato and egg dishes tend to be the safest.
Female Travellers in India
Time to touch on a touchy topic…
One of the biggest problems with India is the attitude of many Indian men towards women, especially foreigners. Frankly, the way women are treated can be disgusting and the country is sadly in denial about the problem.
Most female backpackers encounter some sort of problem at one time or another whilst travelling in India. This can range from being stared at, "wanked at", groped, followed or worse. Which is why choosing solo-female traveller friendly destinations is key.
Female travellers need to be extra careful and super vigilant at all times in India especially on public transport and after dark. You can minimise hassle by dressing modestly, saying you are married and being direct – note that any politeness you show to strange men may be interpreted as a "green light".
Having some self defense skills when you're on the road, or off it, is always worthwhile and in my opinion everybody should have a go at training in martial arts at least once in their lives.
I've met many kick ass ladies who have travelled India by themselves and I've asked a whole bunch of them for their advice on the matter… For even more tips on how to travel the world fearlessly as a kick ass solo female, check out my mate Teacake's Top Tips for How to Travel Safely as a Women – she is a legend and I have a huge adventure crush on her.
Sex, Drugs and Rock 'n' Roll in India
Marijuana is widely available across most of India (it's where it came from) and it's also possible to pick up psychedelics and party drugs pretty easily in places like Goa. Take the usual precautions when buying and taking drugs as arrests and deaths do occur.
Usually, it's smoking weed that will get you arrested so be subtle to avoid problems in the first place. Avoid buying weed from tuk tuk drivers.
Tinder works in India and is a great way to meet people, especially in some of the bigger, more modern cities. However, Indian society is conservative and sex a taboo subject. Don't expect to get your rocks off with the locals.
If you are travelling with your partner, I advise saying you are married. Keep public displays of affection to a minimum especially in holy cities and especially when there are a lot of local men around.
Dating in India
India remains very conservative when it comes to dating and gender relations. Furthermore, dating foreigners is a serious no-no for many Indian's who are still encouraged to marry within their "caste".
That said, female travellers to India can expect to receive a lot of attention from Indian men and will have no trouble hooking up if they so wish. For guys looking to hit a home run though, the situation is substantially more challenging as Indian women really do have to take social pressures very seriously.
Tinder is now established in big cities although you may well find that matches rarely go beyond polite chat.
Same sex relationships are still taboo in many parts of Indian society, though LGBT travel in India is possible if you stay discrete in public. PDA is a no go for heterosexual couples too, though hand-holding is common in major cities.
Why You Should Get Insured BEFORE Travelling to India
World Nomads' mission is to support and encourage travellers to explore their boundaries. They offer simple & flexible travel insurance, and safety advice to help you travel confidently.
They've been doing it since 2002 – protecting, connecting, and inspiring independent travellers just like you.
Get a quote below or read our in-depth review!
World Nomads provides travel insurance for travelers in over 100 countries. As an affiliate, we receive a fee when you get a quote from World Nomads using this link. We do not represent World Nomads. This is information only and not a recommendation to buy travel insurance.
How To Get into India
There are multiple international flights to dozens of cities in India but most backpackers arrive via Delhi, Mumbai, Bangalore, Goa or Kolkata. You can also cross the Wagah border from Pakistan, cross from Nepal and Bhutan or cross from South East Asia via Myanmar over the recently opened Tamu-Moreh border.
Entry Requirements For India
You will need a Visa to enter India unless you are from Nepal.
The Indian Visa process has undergone a lot of changes in recent years and the types of visas available, and fees, vary between nationalities with little logic or consistency.
Most nationalities can now get a sixty day E-visa online, prior to arrival and this is the most coming visa type. However, sixty days travelling in India is simply not enough. If you have the time, I suggest taking 3 months or more. Note that citizens of the UK, EU and US can now get a 12-month or even 5-10 year Visa. Other nationalities should check.
For further information visit the Indian Government E-visa website .
I recommend iVisa for sorting your visa ahead of time – these guys are quick, efficient and not too expensive – a good shout if you are low on time and want to get your visa sorted in advance.
How To Get Around India
One of the biggest challenges facing backpackers is travelling around India. India is a truly vast country and sometimes the travel distances are absolutely massive. I once spent thirty-two hours crushed into a third class steerage carriage on a long-distance train, it was an interesting experience…
The most comfortable way to get around India is usually by internal flights but for backpackers on a budget, the trains are usually a better bet. There are also VIP tourist buses, super cheap local buses and, of course, hitchhiking is always an option.
I spent a good bit of time on local buses. Whilst they are cheap, they can be seriously uncomfortable. For journeys of over 5 hours, I strongly recommend booking ahead and paying the extra money for a tourist, VIP bus.
Read this article for more tips on how to save money while travelling in India. When you are in the cities, try to avoid catching taxis or rickshaws as this is where you are most likely to get ripped off.
Traveling by Train in India
No India guide is complete without some train talk. When backpacking India, most travellers opt to make use of the trains and this is a quintessential experience. In general, most backpackers in India go for the 3AC class; these are six bed cabins with air-conditioning (which is usually fucking freezing; avoid the top bunk!).
You can also opt to go for the non air-conditioned coaches but these are often rammed full of people; for short journeys it's OK but for longer, overnight, train journeys I recommend going for 3AC. To book your train tickets, you should register online with IRCTC but note that the website can be confusing as fuck.
You can book train travel via a travel agent but note that they will charge a fee – some even rip you off by selling you less class than you asked for but this is just one of the many, many scams played on travellers in India.
Train tickets tend to sell out really fast; book in advance if you can. When travelling on trains in India, take a padlock and chain to lock your backpack to something; you can usually buy one on the station from a tout for 100RS.
Keep valuables in a day pack and use it as a pillow. Often when you book a train you will be put on a waiting list – provided you have booked a couple of weeks in advance and are in, say, the top fifteen you will almost always get a seat.
You must book in advance though. If travelling alone I recommend booking a 'side upper' berth as it has a curtain and you won't be bothered as much. When you book your train make a note of the train number, the time it leaves, arrives and the PNR number, you will need this to get your ticket off of the PNR machine at the station or from a mobile phone.
Travelling By Bus in India
In general, buses tend to have fixed prices and you buy your tickets on board. There is a ton of VIP sleeper buses set up for tourists and these are the most comfortable way to travel when there are no rail-links; beware though, due to the hairpin bends, crazy driving and shitty roads, a good night's sleep is rare unless you have a Valium to hand.
If you're heading off on a proper backpacking adventure and leaving the tourist zones, local bus is often the only way to travel in India. Travelling by local bus is one hell of an experience; it can be frustrating, rewarding, enlightening and sometimes simply damn hilarious.
You will meet a lot of Indians on local buses who will try to befriend you. They can sometimes be annoying but do try to be patient – it's not every day they meet somebody travelling in India… Be mindful for some common scams that you might get pulled into.
Traveling by Rickshaw in India
In general, it makes sense to get a rickshaw rather than taxis for short distances as they are usually cheaper. You must ALWAYS haggle when getting a rickshaw or a taxi in India, otherwise you really will be taken for a ride.
Uber is also widely used in major cities, and keeps you from getting scammed as you get a fixed price.
I drove a multicoloured rickshaw across India, this is the best way to travel in style…
Note that Uber (car, bike and Tuk Tuk) is now available in most major cities and ensures better services and better prices. There is no Uber in small towns, many backpacker enclaves and Uber is strangely absent from Goa.
Travelling by Motorbike in India
One of the best ways to see India is from the back of a motorbike and if you have a tent with you your options vastly expand… Suddenly it's possible to get pretty much anywhere, to live off the beaten path and to camp out in some truly stunning places.
The iconic Royal Enfield is the bike of choice for most backpackers in India and you can normally buy one for around $2000. If you are travelling India by motorbike it's well worth taking a good backpacking tent.
Hitchhiking in India
I'm a huge fan of hitchhiking and have hitched rides in over seventy countries, India can be a great place to hitch a ride but it's not recommended if you're a solo female traveler – please, don't even try it.
It helps to have a sign and a map so you can make it 100% crystal clear where you want to be dropped. Before you get in the vehicle, make sure you clarify that you are not going to pay for the ride – some Indians will expect payment as you are a 'rich backpacker'.
Onwards Travel From India
India shares land borders with Pakistan, Nepal and Myanmar. The Pakistan Wagah border can be crossed via Amritsar although you must obtain a visa in advance.
The border with Myanmar is accessed via the Eastern Syam region, though as of December 2022, it remains closed to travellers.
The most commonly crossed land border is Nepal. Visas are issued on arrival and transport links well established. You can take a bus from Delhi – Kathmandu (24 hours) or Varanasi-Kathmandu (12 – 18 hours).
Working in India
The Indian rupee is not one the worlds more powerful currencies and relatively few people emigrate to India in search of work. Westerners working properly in India are few and far between generally working in multi-national firms and in political roles.
However, there is no shortage of westerners hustling a living in and around backpacker hubs such as Goa and Himachal Pradesh.
Many Westerners work as DJ's, run boutiques, or offer Yoga classes. Most are actually working illegally, do not have the necessary papers and do not declare their income. The Indian authorities are rather lax in addressing this and the underground economy is quietly tolerated.
If you do want to work in India legitimately, then business visas are available although Indian bureaucracy makes actually obtaining one a real challenge.
Many westerns work in the backpacker economy. Either they obtain business visas or work illegally.
Teaching English in India
Perhaps one of the best options for backpackers wanting to explore India long-term and experience living in this truly incredible country is to get a Teaching English as a Foreign Language course online and teach English abroad.
TEFL courses open up a huge range of opportunities and you can find teaching work all over the world.
Volunteering in India
Volunteering abroad is an amazing way to experience a culture whilst giving something back. There are loads of different volunteer projects in India ranging from teaching, to animal care, to agriculture to pretty much everything!
India is a developing country so there are quite a lot of volunteer opportunities in health and social. However, bear in mind that English is an official language in India so its less common to find volunteer teaching gigs than it is other places in the world. Its also very uncommon for travellers to volunteer in hostels as these roles are usually filled by local employees.
If you do volunteer in India, be careful to do your research and trust your gut to avoid been taken advantage of by unscrupulous hosts.
If you want to find volunteering opportunities in India, then we recommend that you Signup for Worldpackers – a volunteer platform that connects local hosts directly with traveling volunteers.
As a Broke Backpacker reader, you'll also get a special discount of $10 when you sign up. Just use the discount code BROKEBACKPACKER and your membership is discounted from $49 a year to only $39.
Volunteer programs run through reputable work exchange programs like Worldpackers are usually very well-managed and reputable. However, whenever you are volunteering, do stay vigilant especially when working with animals or children.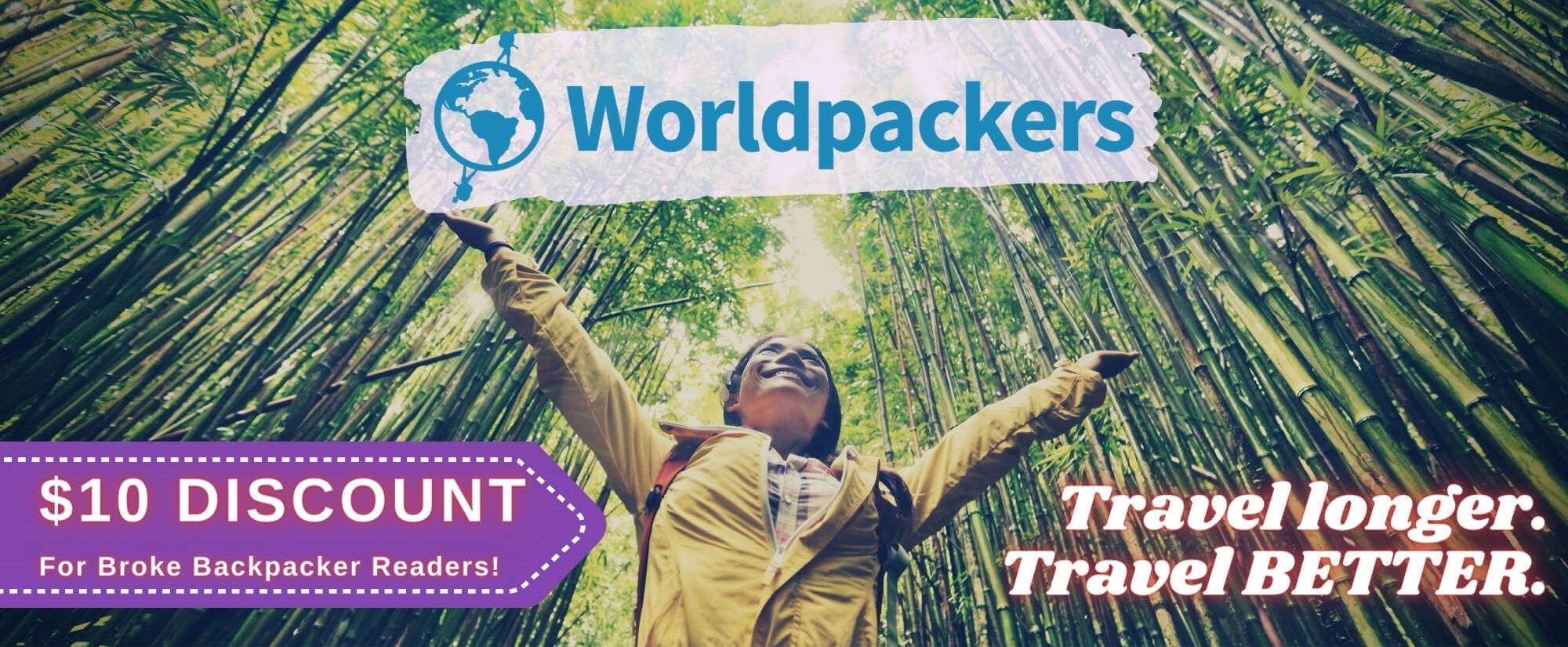 Worldpackers: connecting travellers with meaningful travel experiences.
Indian Culture
India is a full on culture shock. It is a colourful, loud, lively and smelly carnival of carnage. The exact quirks of Indian culture do vary from region to region but as rule, expect a lack of personal space and a lot of staring!
Indian society is still quite conservative so dress modestly and behave respectfully. That said, Indians are very interested in foreigners and you can expect to be approached rather a lot.
It's very common to be invited to stay the night or offered a free meal, especially in offbeat areas that seldom see tourists.
Useful Travel Phrases For India
There are countless languages and dialects spoken across India. The 2 official languages however are Hindi and English. If you speak English, you will get by fine. English standards vary dramatically.
Here are some useful Hindi (North Indian style) phrases;
What To Eat In India
Indian food is one of the worlds greatest cuisines and my personal favourite. Food does vary quite a lot from region to region but is generally on the spicy side. India is also home to the largest vegetarian population on earth and in some regions, the sale of meat is forbidden!
Let's take a look at some Indian classic dishes:
Please/ Sorry/ Excuse me/ Taxi/ Train/ Bus/ Plane are all things you can say in English and people will get you just fine!
A Brief History of India
India is ancient and boasts as much history as them rest of the world combined. What is now India existed as a series of separate & often warring states, sultanates and 'Raja's' from antiquity, until been unified under British Colonial rule during the Victorian era.
Modern India was formed on 15th August 1947 when British rule officially ended. Upon leaving, the British partitioned the sub-continent into India and Pakistan. Goa remained a Portugese Colony until 1967 when the Indian army annexed it – many Goan's still consider themselves not to be Indian.
Today, India is undergoing something of a personal identity crisis. The current Prime Minister Modi is a Hindi nationalist rabble rouser who is stirring anti-Islamic sentiment. Bizarrely, this is manifesting in a pitiful attempt at the "de-mughalisation" of India.
Books To Read About India
You will get so much more out of your backpacking trip to India if you read up a bit whilst out there… Luckily, India has to be one of the most written about destinations in the world, and there are some fantastic books out there. Here are a few of my favourites:
Shantaram: The first book I ever read on India, Shantaram inspired me to book a one way flight to Delhi and travel around India for 14 months. The book follows the possibly true, possibly exaggerated, story of an escaped Australian convict and his (absolutely balls-to-the-wall) crazy adventures in India.
The White Tiger: One of the first books I read whilst backpacking India, this is a really useful, often amusing, sometimes horrifying, tale that will help you better understand the caste system.
Nine Lives: Nine people, nine lives; each one taking a different religious path, each one an unforgettable story. William Dalrymple is one of the best writers when it comes to offering insight into Indian culture and I highly recommend reading everything he has written.
Full Tilt, Ireland to India with a Bicycle: Shortly after her tenth birthday, Dervla Murphy decided to cycle to India. Almost 20 years later, she set out to achieve her ambition. Her epic journey began during the coldest winter in memory, taking her through Europe, Persia, Afghanistan, over the Himalayas to Pakistan, and into India.
FAQs About Backpacking India
A few more commonly asked questions before you head out to backpack India…
Final Advice Before Visiting India
How did you enjoy the best India travel guide on the internet? Backpacking through India can be one hell of a crazy party at times. Take it from me, it can be easy to get carried away. It is important to keep in mind that you are an ambassador for your country, which is awesome. You can make a positive impact on people when we travel and get rid of any ugly stereotypes that may be associated with your homeland.
If you visit indigenous villages or small communities in the rural areas always ask before taking photos. The people who live in these villages are not exhibits in a museum. They are normal folks just living their lives. Always show them the complete respect that they deserve.
When buying a local craft, do not haggle so low that the price is unfair to the person who spent countless hours crafting it. Pay people what they are worth and contribute to the local economies as much as possible.
Backpacking India or any region for that matter often illuminates some of the great socio-economic inequalities of the world. Never take it for granted that you are healthy and financially able to go traveling. Show the world around you some gratitude and help to make a positive impact on it. Most of all have the time of your life and spread the love!
Updated December 2022 by Samantha Shea of Intentional Detours
---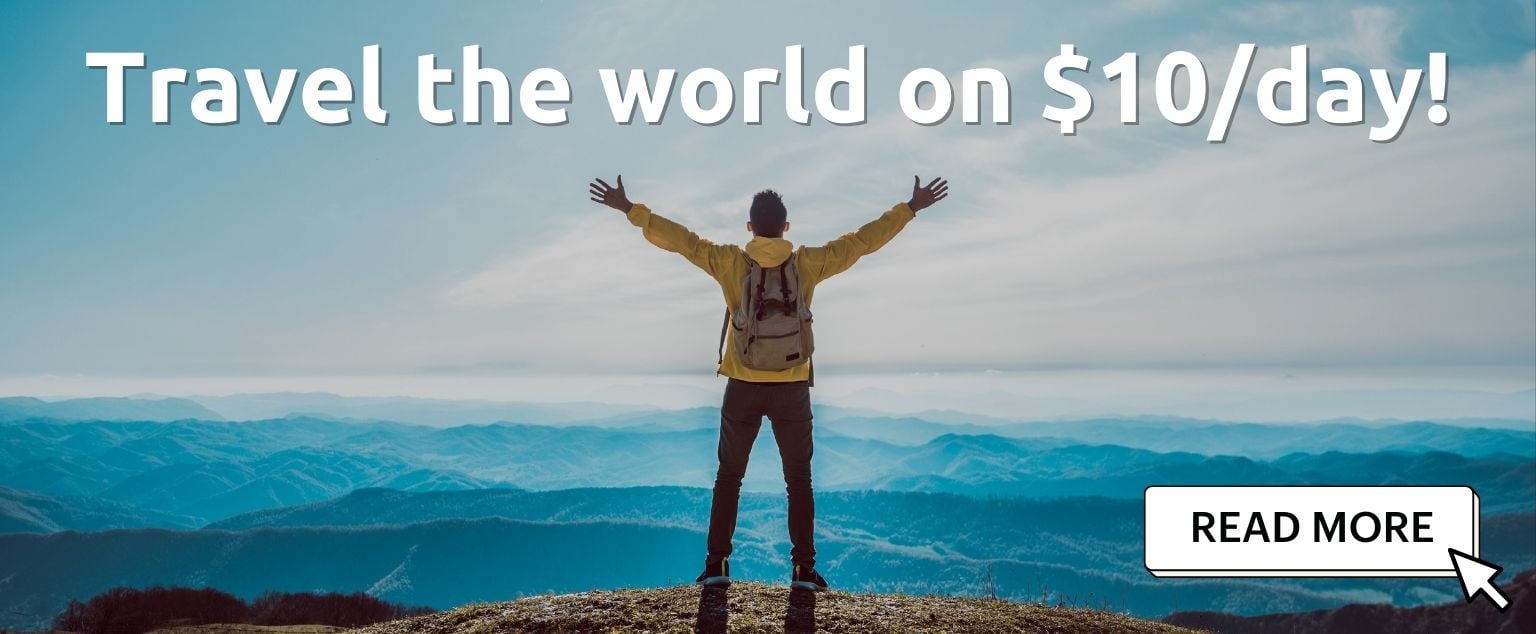 And for transparency's sake, please know that some of the links in our content are affiliate links. That means that if you book your accommodation, buy your gear, or sort your insurance through our link, we earn a small commission (at no extra cost to you). That said, we only link to the gear we trust and never recommend services we don't believe are up to scratch. Again, thank you!