Backpacking in Bhutan is a unique experience open to only a few. In an effort to protect Bhutan's environment and culture, the government has placed a minimum fee of $200 per person per day for visitors to Bhutan – this makes visiting Bhutan one of the most expensive trips in the world.
So, is it worth it?
Hell yes.
Backpacking in Bhutan is a truly amazing experience; this is a country with a population of less than one million; a place where time stands still, where legend is history and mountains reign supreme. The Bhutanese Himalayas are truly awe-inspiring; crisp, clear, empty and clean. This is raw, untouched wilderness and although it's expensive to visit Bhutan, it's money well spent.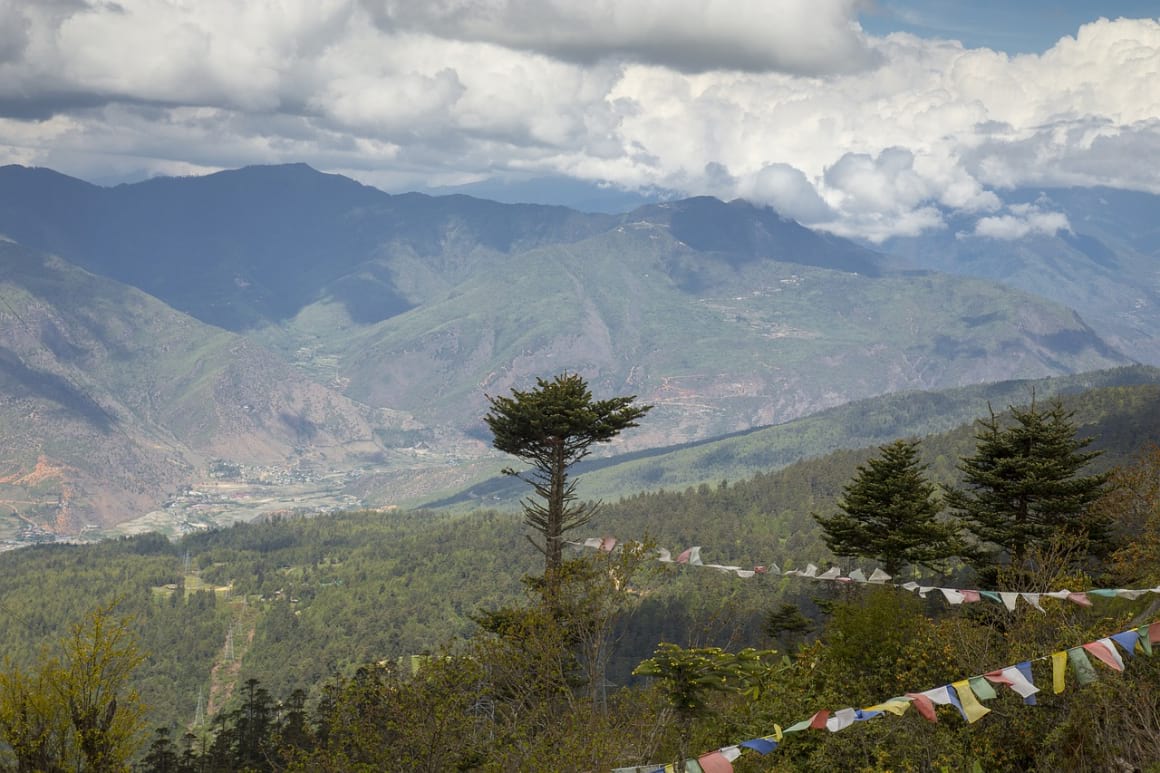 Let me run you guys through exactly how much it costs to visit Bhutan and what is included in the minimum daily fee. Indians are the only nationality who can currently visit Bhutan without having to pay the fees. Bhutan Tourism is therefore still something of an exclusivity.
How much does it cost to travel to Bhutan?
The minimum daily package cost for visiting Bhutan is $200 per person per night for the months of January, February, June, July, August and December. This shoots up to $250 per person per night for the months of March, April, May, September, October and November.
These costs are based on a minimum group size of three people and the cost goes up if you want to book a private, one or two-person, trip.
What's included in this price?
Pretty much everything! Your guide, driver, transport, accommodation, food and any camping equipment you need will be included in the price of your tour. Whilst the minimum Bhutan tour price is $200 per person per day, you can spend far more than this if you choose to upgrade your accommodation or meals.
The fee includes accommodation in hotels that are at least three star and we stayed in a couple of four star hotels as well – both of which were absolutely amazing and much appreciated after seven nights of camping!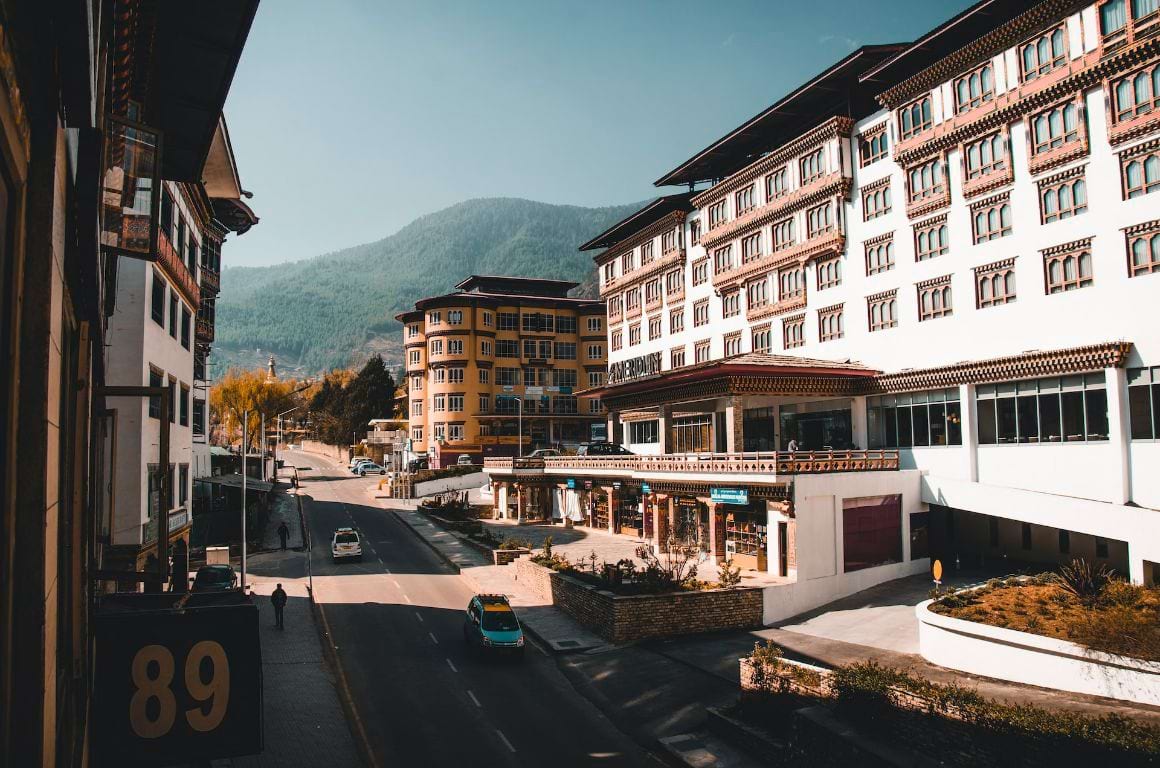 Crucially, a large chunk of the minimum daily fee (cost of visiting Bhutan) goes towards government programs providing free education, healthcare and poverty alleviation – so overall it's money well spent and the Bhutanese government are smart with how they have opened up tourism but in the highest value way possible so that the country has a solid income from tourism without having to actually deal with tens of thousands of tourists…
So, now you know how much it costs to go to Bhutan. Let's chat about the best time to travel to Bhutan because this is a country with crazy storms throughout parts of the year…
Best Time of Year to Travel to Bhutan
To be honest this partly depends on how much money you've got; if Bhutan seems like a very expensive destination to you then I recommend travelling in low-season as it's $50 a day cheaper than high season.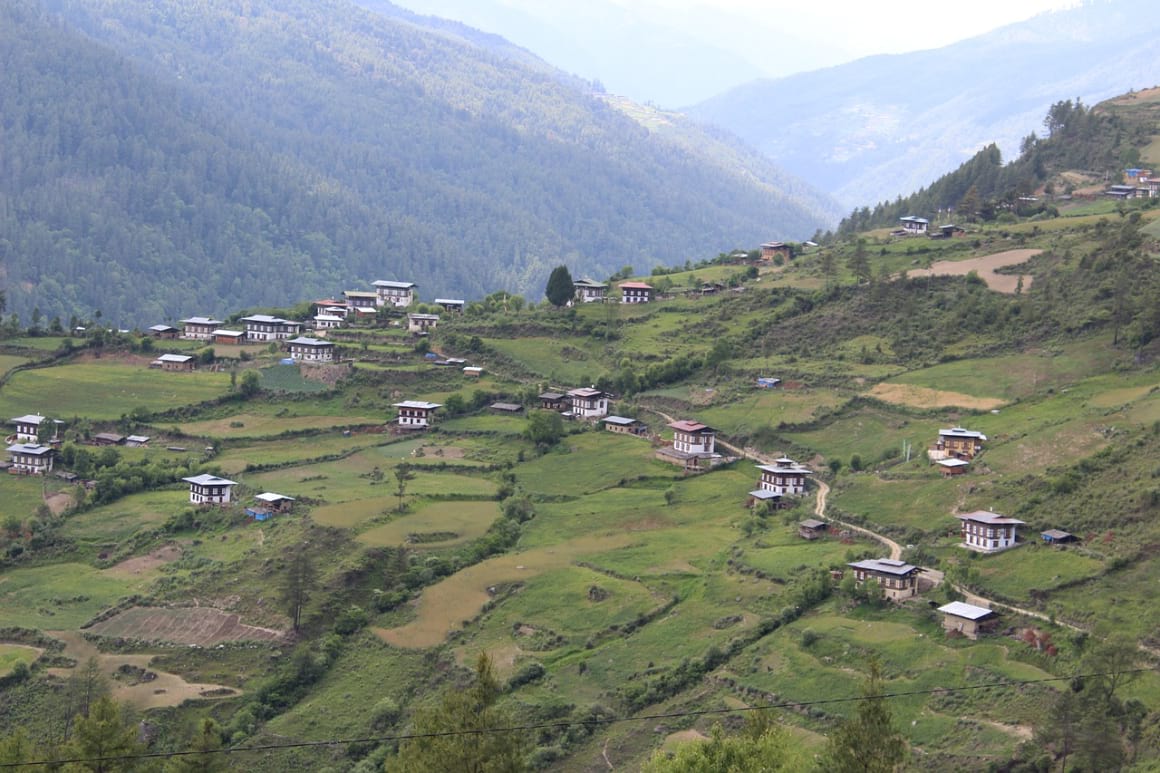 I travelled in Bhutan in February and March and it was noticeably busier in February when hordes of tourists popped in to catch the mask festivals in Paro. The festivals are awesome but for me, the real attraction was the mountains and I wanted to travel in Bhutan during the best time of year to go trekking. Bhutan's trekking season is similar to Nepal's and the best times of year to trek are March – April and August – October.
Why Travel to Bhutan
This is a country which really is unlike anywhere else in the world. Bhutan is totally unique, an isolated Himalayan kingdom where you can find some chill, reconnect with nature and enjoy awesome hospitality.
Backpacking Bhutan is in its infancy and the only travellers who can truly explore Bhutan on their own are Indians, however, I at no time felt constricted by my guide and we got plenty of time to explore on our own. Best of all, our guide was so flexible that we could easily change plans as we went.
Don't let the Bhutan travel cost put you off, you get good value for your money.
My thoughts on Bhutan
Bhutan is a country unlike any other; a place where even the modern, jeans and gel, teenagers celebrate their culture with a fiery passion. A land where monks still meditate for years in the sacred caves to the East. A country ruled by a monarch who had freely given up his absolute power to usher in democracy. A place where progress is officially measured by happiness, rather than Gross National Product, using the government's pioneering Gross National Happiness system. The first carbon-negative country in the world, Bhutan has preserved its mountains, forests and people on its journey to modernise, a feat that is totally unique in the history of this world. There's so much to love about the country and if you're looking for more interesting facts about Bhutan, this post will teach you a thing or two!
How to Travel to Bhutan
Bhutan is a unique and truly remote destination to visit. You can only travel to Bhutan as part of an organised tour. I've never travelled on an organised tour before and it's not normally something I would be interested in but travelling in Bhutan truly was the experience of a lifetime. My trip to Bhutan was kindly sponsored by Druk Asia who is the leading expert in unique Bhutanese adventures. Travelling with Druk really didn't feel like a tour; everything was extremely flexible and I had a private car and guide (rather than being on a minibus). My guide, Penjor, quickly became my good friend and we had a great laugh together exploring Bhutan and knocking back a beer or two in the evenings. The guides working for Druk can arrange pretty much anything – whether it's hiking into the mountains, taking part in a Buddhist ceremony or camping out beneath the stars.
Check out Druk Asia, here.
Volunteer in Bhutan
Volunteering overseas is a great way to experience a culture whilst doing some good in the world. There are lots of different volunteer projects in Bhutan which you can join ranging from teaching, to animal care, to agriculture to pretty much anything!
Bhutan does benefit greatly from volunteers, but opportunities can be hard to come by. Most gigs are in rural areas, where travelers can aid community development by teaching English or partaking in social work. It's also possible to find opportunities to volunteer in national parks or farming. If your volunteer organization doesn't provide you with a special permit, then you'll just need a tourist visa for your trip.
Our go-to platform for finding volunteering gigs is Worldpackers who connect travellers with host projects. Have a look at the Worldpackers site and see if they have any exciting opportunities in Bhutan before signing up.
Alternatively, Workaway is another excellent common platform used by travellers searching for volunteering opportunities. You can read our review of Workaway for more info on using this terrific platform.
Volunteer programs run through reputable work exchange programs like Worldpackers and platforms like Workaway are usually very well-managed and reputable. However, whenever you are volunteering do stay vigilant, especially when working with animals or children.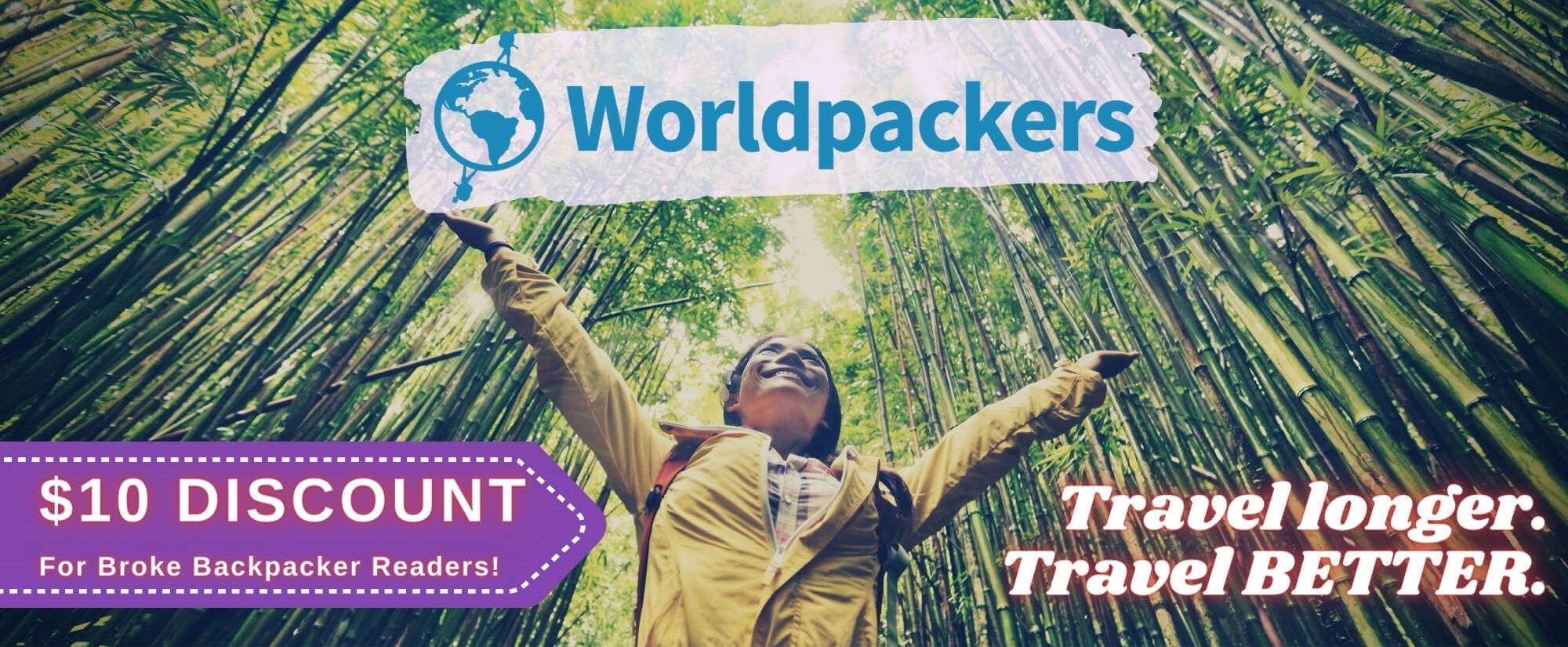 Worldpackers: connecting travellers with meaningful travel experiences.
Being a Responsible Backpacker in Bhutan
Reduce your plastic footprint: Perhaps the best thing you can do for our planet is to make sure you do NOT add to the plastic problem all over the world. Don't buy one-use water bottles, the plastic ends up in landfill or in the ocean. Instead, pack a tough travel water bottle.
Go and watch A Plastic Ocean on Netflix – it'll change how you view the plastic problem in the world; you need to understand what we are up against. If you think it doesn't matter, get off my fucking site.
Don't pick up single use plastic bags, you're a backpacker – take your daypack if you need to go to the shop or run errands.
Bear in mind, that many animal products in countries you travel through will not be ethically farmed and won't be of the highest quality. I'm a carnivore but when I'm on the road, I only eat chicken. Mass-farming of cows etc leads to the rainforest being cut down – which is obviously a huge problem.
Need more guidance? – Check out our post on how to be a responsible backpacker.
If you visit small communities in the rural areas (which you will almost certainly do) always ask before taking photos. The people who live in these villages are not exhibits in a museum. They are normal folks just living their lives. Always show them the complete respect that they deserve.
When buying a local craft, do not haggle so low that the price is unfair to the person who spent countless hours crafting it. Pay people what they are worth and contribute to the local economies as much as possible.
I know it can be hard, but do your best to use the least amount of plastic water bottles that you can. Refill the ones that you do buy! Use a Grayl Geopress. Refill at your hostel! There are plenty of ways to reduce plastic!!!
Backpacking India or any region for that matter often illuminates some of the great socio-economic inequalities of the world. Never take it for granted that you are healthy and financially able to go traveling (especially to Bhutan!). Show the world around you some gratitude and help to make a positive impact on it. Most of all have the time of your life and spread the love!
---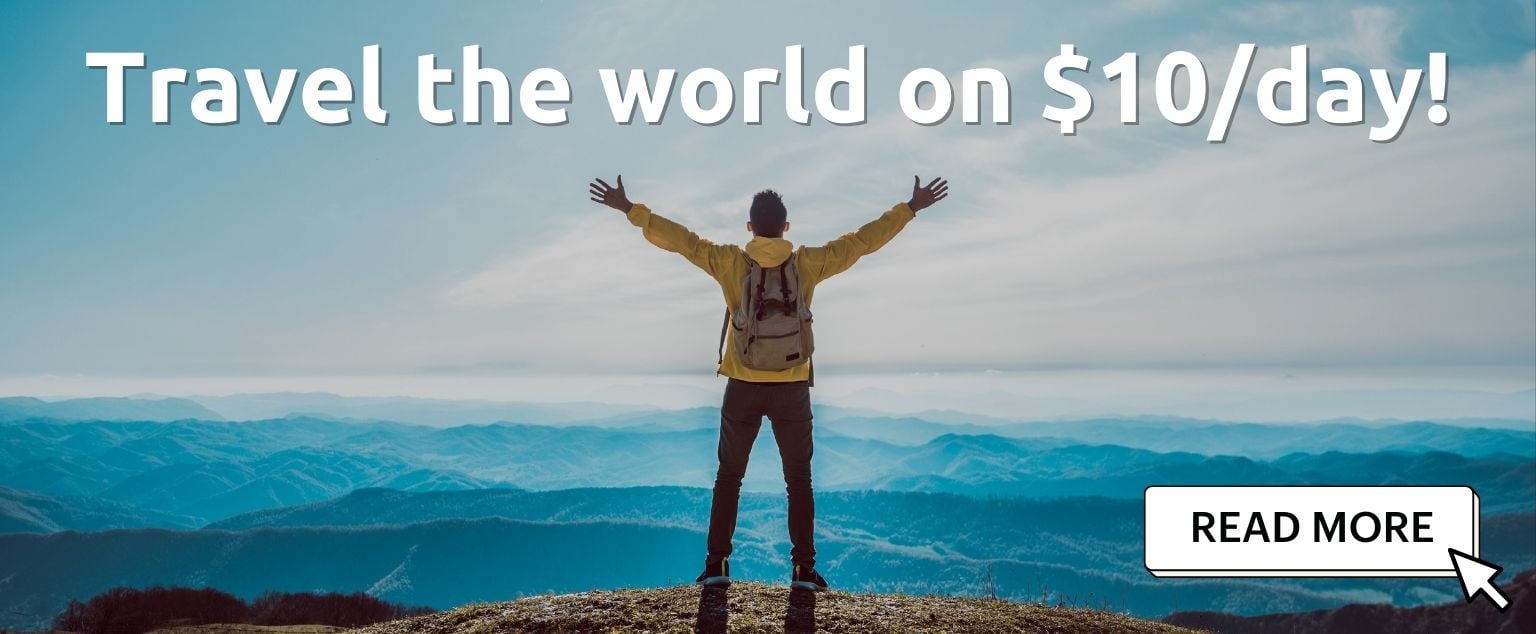 And for transparency's sake, please know that some of the links in our content are affiliate links. That means that if you book your accommodation, buy your gear, or sort your insurance through our link, we earn a small commission (at no extra cost to you). That said, we only link to the gear we trust and never recommend services we don't believe are up to scratch. Again, thank you!