Imagine a country where they measure Gross National Happiness instead of Gross Domestic Product; where chillies are eaten as a vegetable rather than spice, and every breath of air you take in is astonishingly crisp and clean. Well that's exactly what you'll find in Bhutan. Dotted with untouched natural sights, staggering mountains and ancient Buddhist temples but not a single traffic light, Bhutan is Asia's most delightful little secret.
Hold your horses. With the exception of a select few passport-holders (India, Bangladesh, and the Maldives), independent travel to Bhutan is not possible. Travel in Bhutan is strictly restricted by the government in order to preserve the culture and environment of the last great Himalayan kingdom. At present, the only way you'll get near one of Bhutan's dzongs is on an organized tour.
Thankfully, there are some terrific Bhutan holidays for you to choose from. We have compiled the best trips to Bhutan – all you need to do is choose your favourite.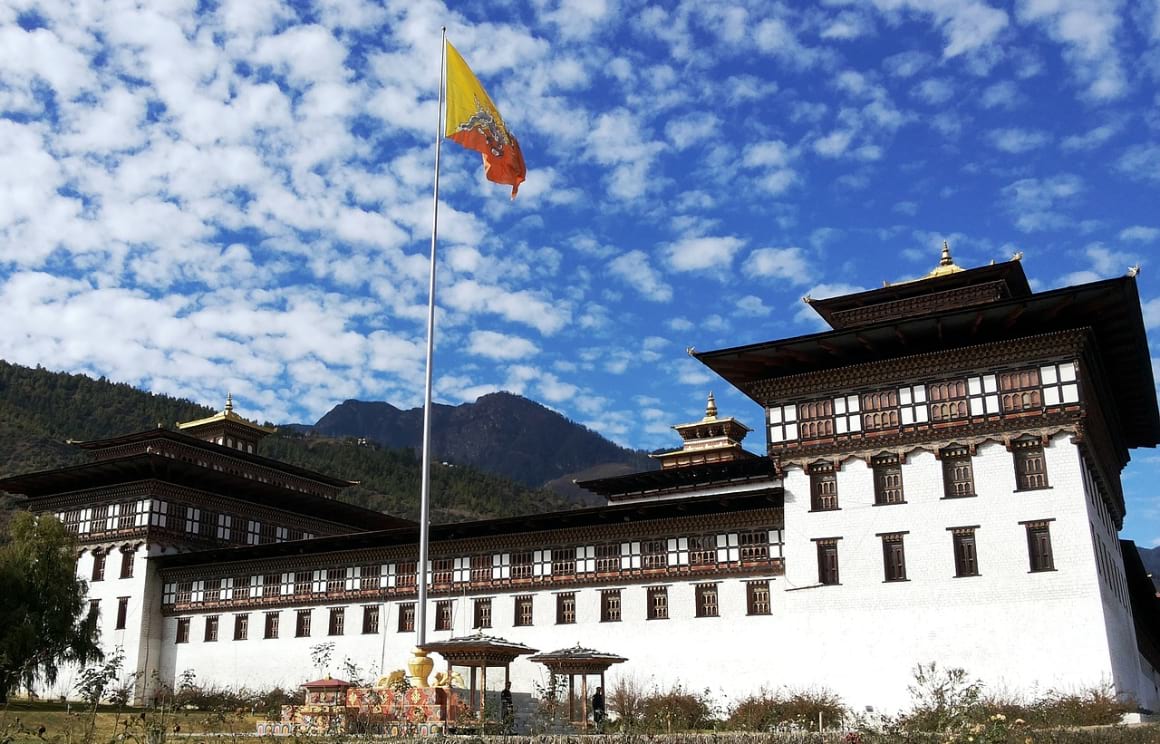 Best Bhutan Trips
Organised tours in Bhutan aren't like organised tours in other countries. Travelling in Bhutan is a unique experience – after all, the country only opened its doors to tourists in the '70s.
All the trips to Bhutan that we've listed below include the tourist costs of visiting the country – namely, your visa costs and daily 'Sustainable Development Fee.' This money goes towards maintaining the pristine ecology of Bhutan as well as providing free health care and free education for the Bhutanese.
Additionally, the tours include three hearty meals a day and all admission tickets. That means you only need to budget for additional snacks and any alcohol. Note that the trips do not include your international flights nor tips along the way. So you will need to budget for these expenses.
And now, money aside, let's dive in with the best Bhutan tours, starting with…
Trip Details
Number of days: 10 days
Price: $3,769 USD
Group Size: Max 15 (average 10)
Fitness Required: Moderate
Accommodation type: Comfortable hotels/lodges (9 nights)
How many meals included: 9 breakfasts, 8 lunches, 9 dinners
Service Level: Upgraded (handpicked accommodations with upgraded amenities; upgraded and private transport)
Beginning and ending in Paro, this 10-day trip traverses the country's largest cities and endless plunging valleys. Generous with immersive experiences, this Bhutan vacation includes a chance to make your own spicy ema datshi (chilli cheese). You'll also get to chat with a Bhutanese Buddhist monk, attend a talk on Gross National Happiness, and watch locals practise archery.
While there aren't heaps of hikes on this tour, you will have the opportunity to ascend to the Tiger's Nest Monastery (Taktsang). Straddling a vertical granite cliff high above the Paro Valley, the gruelling clamber pays off when you reach the top. Besides this, there are a number of other gentle walks through some of the most remote valleys in the world.
Considering the scope of the sights and experiences you'll encounter on this trip, the cost and length, we consider this the overall best trip to Bhutan.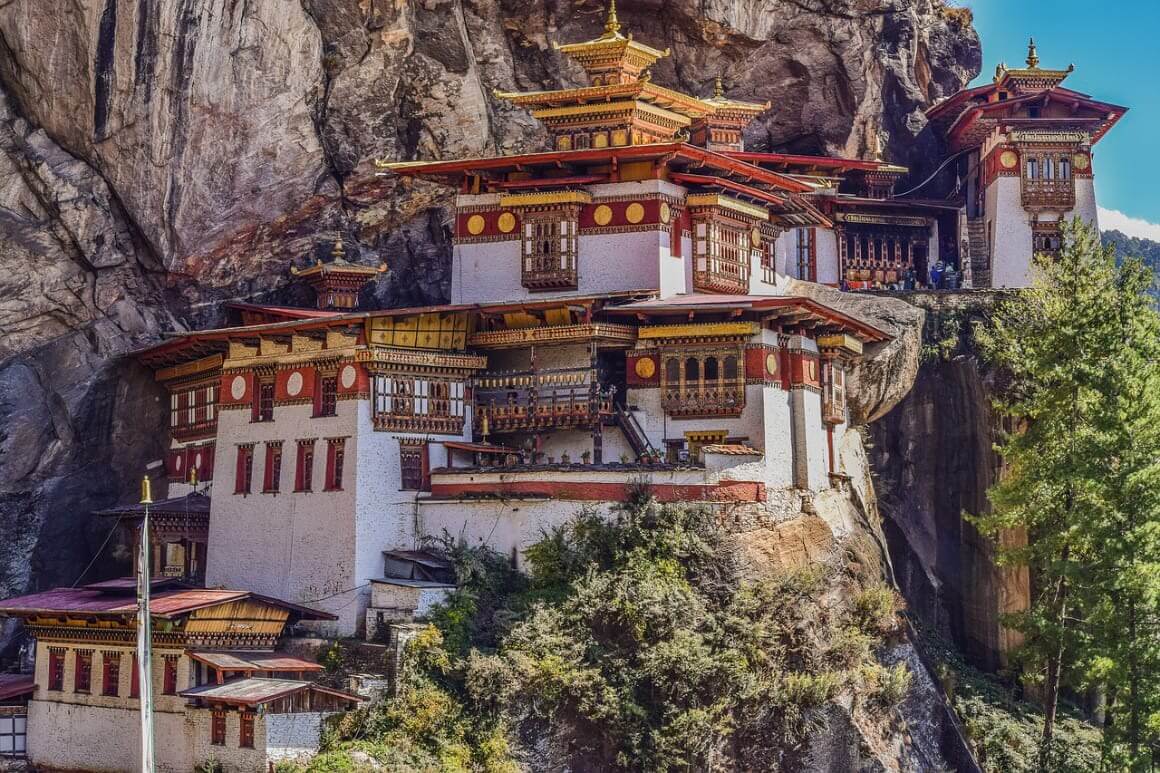 Who is this tour for?
Solo, group and couple travellers alike. Travellers who want to immerse themselves in the culture and scenery of Bhutan. Photographers.
Cons
Road conditions across Bhutan are still a work in progress. Prepare for long drives that are often subject to delay
Despite the inclusions and value of this trip, it is still an expensive tour
Trip Details
Number of days: 18
Price: $5,160 USD
Group Size: Max 12
Fitness Required: Average
Accommodation type: Hotel (15 nights), jungle resort (2 nights)
How many meals included: 16 breakfasts, 7 lunches, 7 dinners (you will need to cover additional meals whilst in Nepal)
Service Level: Comfortable
From the whirlwind of Kathmandu to the legendary Tiger's Nest, experience the colourful sights and radiant culture of both Nepal and Bhutan. Highlights of Nepal include a glimpse of the Annapurnas and a scenic flight around Everest (included in the cost). You'll relax in Pokhara and hike in the hills surrounding Bandipur before exploring the Chitwan National Park on foot, by canoe, and safari jeep.
On day 12, you'll board your flight to Paro and begin the Bhutan leg of the tour, where you'll explore the temple-studded valleys. Between scenic drives into Bhutan's sprawling mountain ranges and primaeval woodlands, you'll stretch your legs by wandering along deserted trails and exploring dzongs. The tour includes a chance to try your hand at Bhutan's national sport, archery!
Despite the proximity of these two countries, they are remarkably different – across culture, religion and scenery. This unique trip lets you take a peek at both.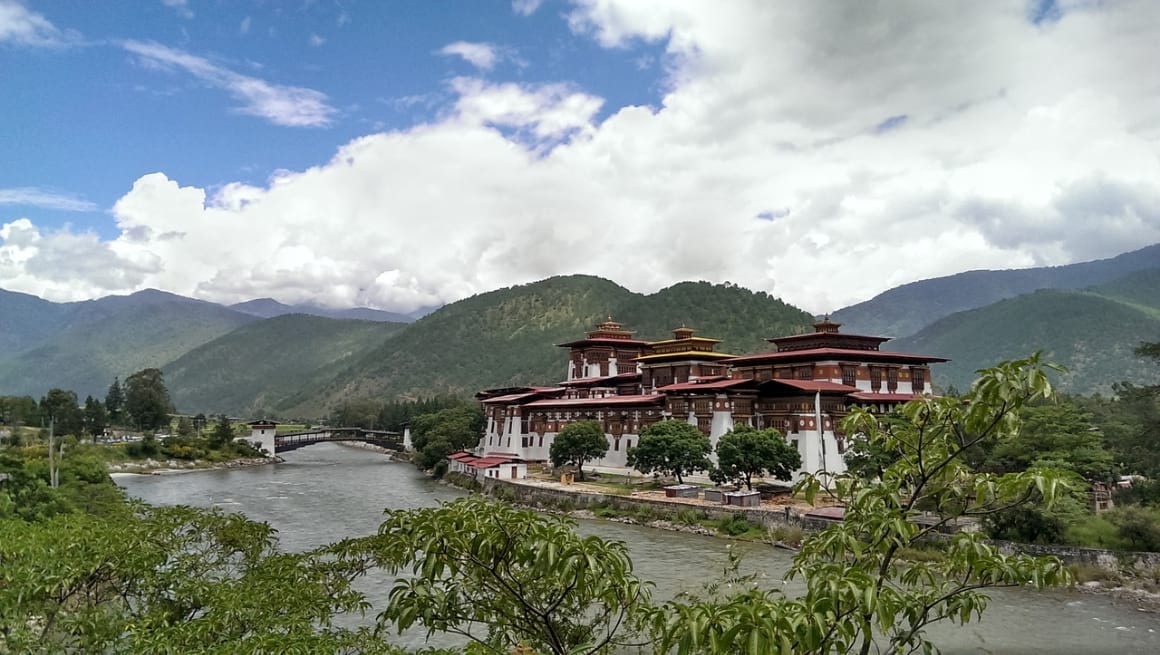 Who is this tour for?
Bucketlisters and gap year explorers. Travellers with deep pockets. Those who want to experience a mix of two different cultures and environments. Wildlife enthusiasts. Solo, group, and couple travellers.
Cons
This trip ratio works out at 6 nights in Bhutan / 11 in Nepal; you may feel that the Bhutan stretch is more condensed
Domestic flights in Nepal have strict weight limits. In general – 10kg of check-in luggage and 5kg of carry-on hand luggage per person is included with your ticket. Excess baggage (up to 5kg per person only) is charged at your own expense
Trip Details
Number of days: 7
Price: $2,521 USD
Group Size: Max 12
Fitness Required: Moderate
Accommodation type: Hotel (6 nights)
How many meals included: 6 breakfasts, 6 lunches, 6 dinners
Service Level: Comfortable
If you're short on time, this whistle-stop trip allows you to dip your toes into Bhutan and get a sense of this unique country. Considering that most of your expenses are included in the tour cost, this is the closest to a budget trip to Bhutan we've found.
This tour starts in the Bhutanese capital, Thimphu. Beyond Thimphu, you will explore monasteries and nunneries, dzongs and museums, factories and art schools. There's a mixture of activities; some light hiking, some not-so-light (we're looking at you, Tiger's Nest), and even a chance to practice your archery skills! A take-your-breath-away moment is encountering the views from the Khamsum Yulley Namgyal Chorten.
Overall, this is a perfect all-rounder of Bhutan's best bits.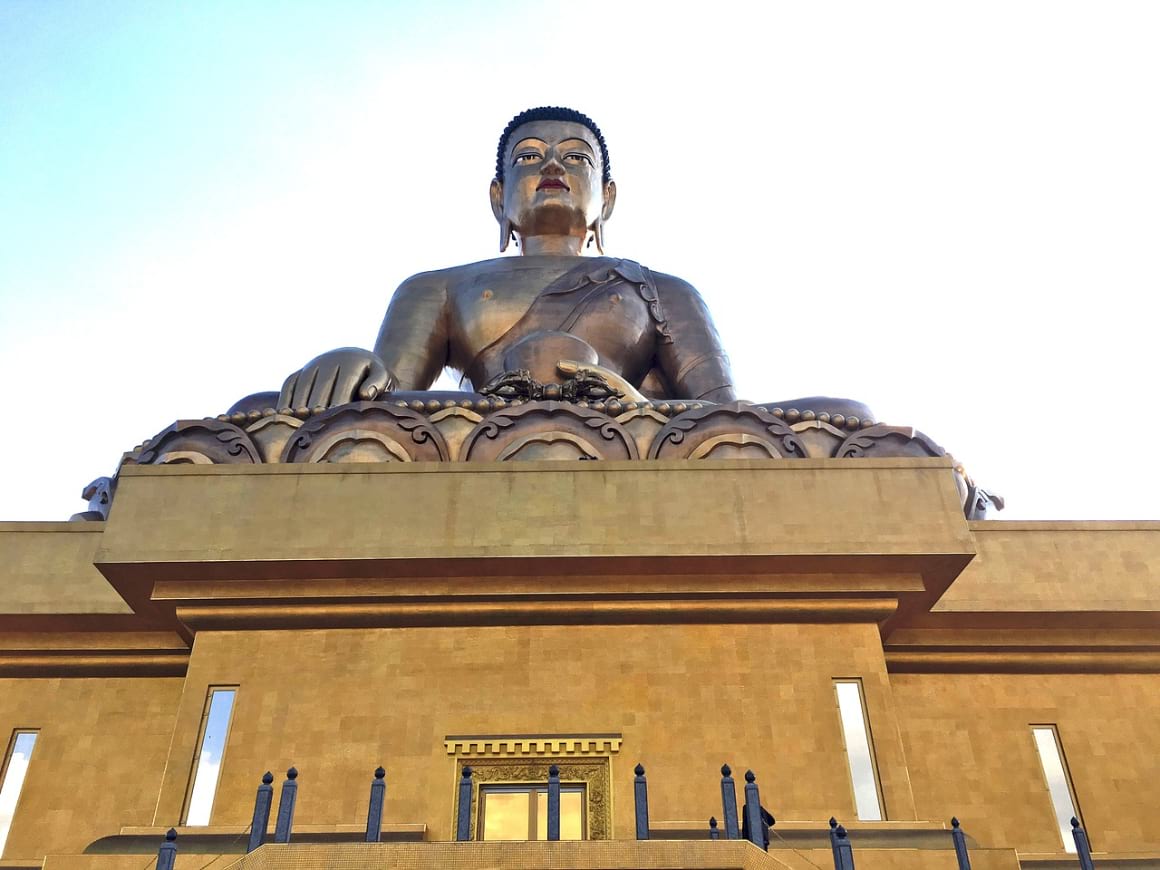 Who is this tour for?
Travellers seeking a mix of cultural immersion and moderate hiking. Budget travellers (don't forget the price includes everything except for international flights and tips!).
Cons
Long driving days
Limited personal time (unless you opt out of any included activities)
Trip Details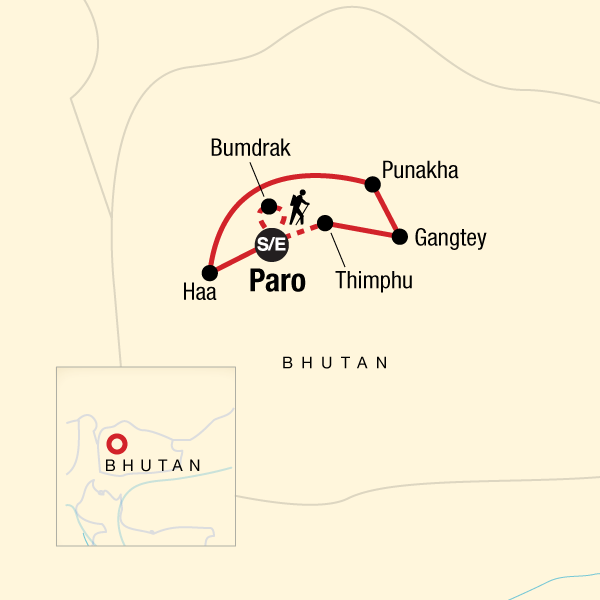 Number of days: 10
Price: Currently $2,502 USD (usually $2,944)
Group Size: Max 12
Fitness Required: Strenuous
Accommodation type: Hotels/guesthouses (7 nights), camping (1 night), farmhouse stay (1 night)
How many meals included: 9 breakfasts, 8 lunches, 9 dinners
Service Level: Standard (comfortable tourist-class accommodations; public and private transport)
Take in stunning Himalayan mountain views as you follow remote trails in the unsullied Bhutan countryside. So remote, in fact, that you'll spend one night camping in the wilderness of Bumdrak Camp at 3,860m!
In between hikes, you can soak up the culture with trips to dzongs, temples, monasteries and nunneries. Visiting the White Temple in the Haa Valley and the Gangtey Gonpa Monastery are two highlights of this tour. At the Motithang Takin Preserve, you have the chance to meet Bhutan's national animal, the takin – a cross between a goat and an antelope!
Of all the Bhutan holidays we've collected, this is the most demanding in terms of fitness. The trails are moderate, but the altitude adds an additional slice of challenge.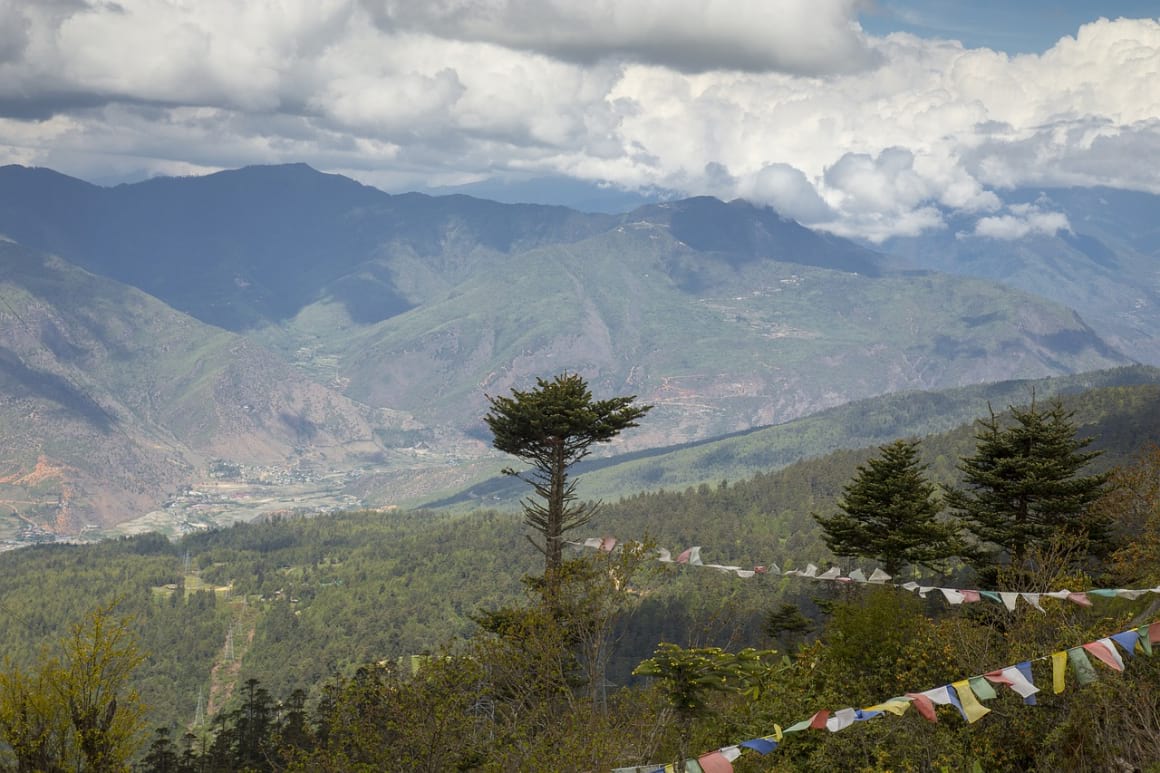 Who is this tour for?
Trekkers, nature lovers, photographers. Travellers with a reasonable degree of fitness. Couple and group travellers alike. Solo travellers who'd prefer some alone time – you receive a discounted rate for a private room on this trip (50%).
Cons
The trip has limited time allocated to Bhutan's cities. And, given the rule against independent travel in Bhutan, you will only be able to add additional nights if you book an independent Bhutanese guide once the tour concludes
Best Hiking Trips in Bhutan
If you're an avid hiker and you're salivating over the beauty of Bhutan's mountain ranges, you can book longer hiking tours in Bhutan. These multi-day treks vary in length, and you can choose a route to suit your personal fitness levels.
Essentially, the rule of thumb in Bhutan is that we tourists can't wander around unescorted. So, all the tours below include all your necessary visitor fees as well as accommodation and food. But it's important to book your trekking tour in Bhutan with a reputable tour company or licenced guide. That way, you know that the fees you're paying will be distributed exactly where they're supposed to be.
Trekking in Bhutan with a guide is a remarkable experience – your guide will feel more like a friend. Plus, it's a great way to garner more insight into this mysterious country. And the best thing? Unlike in busier neighbouring countries, you won't have to share the trekking routes with other hikers.
Here are 3 of the best hiking trips in Bhutan – plus two quirky additional tours!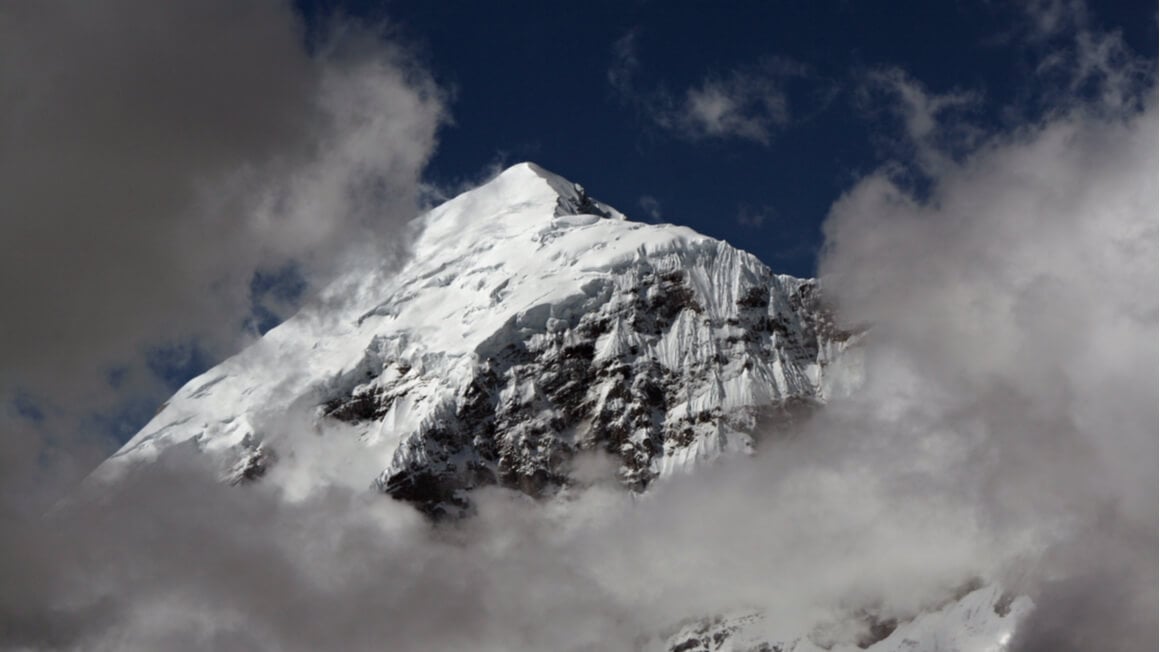 Company: Get Your Guide
Also known as Jumolhari Trek, the Chomolhari Trek is a tough track that exceeds altitudes just shy of 5,000m. Heading deep in the wilderness of Bhutan, the trail navigates remote farmland, blue pine forests, alpine pastures, and glacial streams. Most nights are spent in tents along the trail, making this one of the best Bhutan tour packages for outdoor lovers.
You'll clock the peaks of Chomolhari itself as well as Jichu Drake and Lingshi Dzong. Throughout the trek, you will weave your way through rhododendron forests and over glacial streams. The most challenging day of the trek sees you crossing the Yale Pass (4950m).
This tour includes all tourist and visa fees, accommodation (tents and hotels), food while on the trek, and airport transfers. Your guide is a licensed English-speaking Bhutanese hiking guide. It starts and concludes in Paro.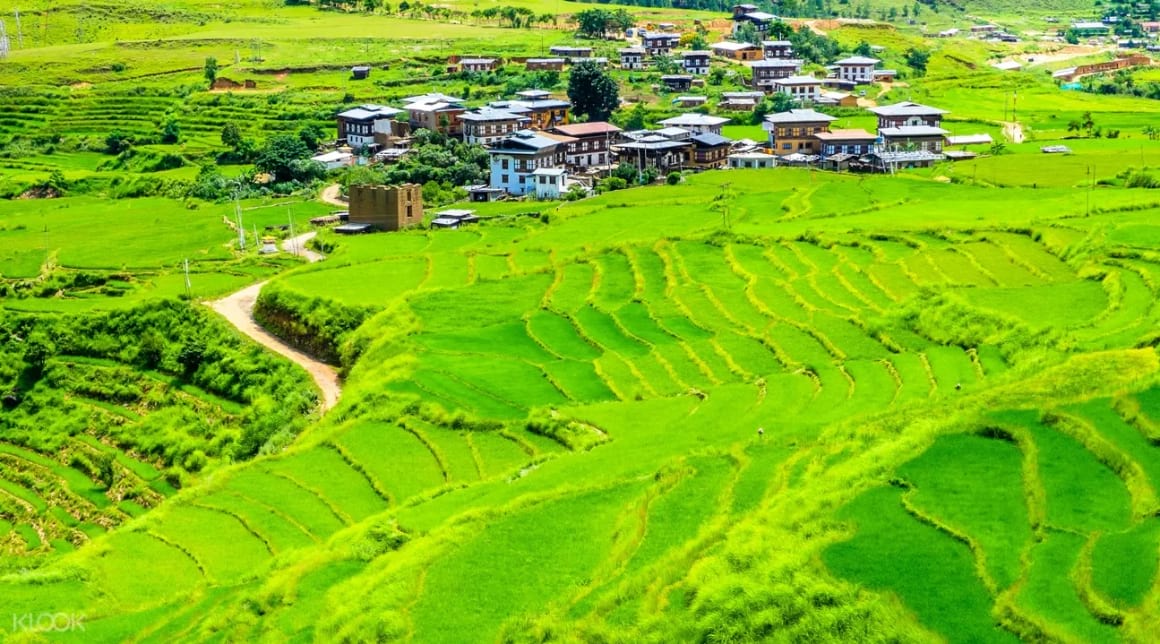 Company: Klook
The Druk Pak Trek is perhaps the most famous trekking route in Bhutan. It's also the perfect introduction to the Himalayas; it's not too strenuous and boasts some of the most beautiful views of the ranges. You'll see Mount Gangkar Puensum – the highest mountain in Bhutan – along the way.
Many campsites are located close to sensational high altitude lakes. Although you can try out your fishing skills, you're not permitted to eat your catch, due to Bhutan being an animistic society. During spring, you'll encounter an abundance of wildflowers; through autumn, you'll get a clear view of the Himalayas.
Visa and tourist fees are included as well as accommodation, transportation, and food for the duration of the trek.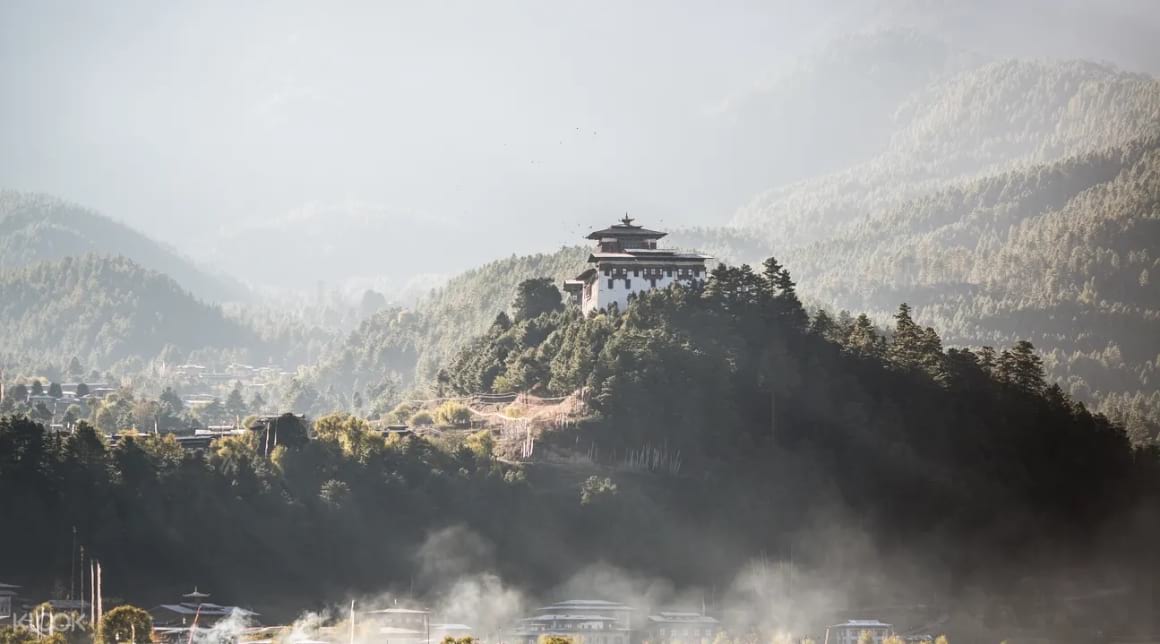 Company: Klook
Enjoy fantastic views, an unspoiled natural environment, and exotic flora and fauna on this 3-day trek around Bumthang. You'll follow tranquil trails alongside dense forests rich in rare blue pine, majestic maple, and strong bamboo. Dip into ancient Buddhist temples and monasteries along the way and marvel at the unobstructed view of Mt. Gangkar Puensum – the highest unconquered peak in the world.
Wildlife enthusiasts may catch a glimpse of the rare Himalayan Tragopan, a brightly plumed pheasant, during spring. Plus, you can look out for signs of the Himalayan black bears. As a shorter trek, we recommend this hiking excursion as an add-on to one of the multi-day trips to Bhutan listed previously.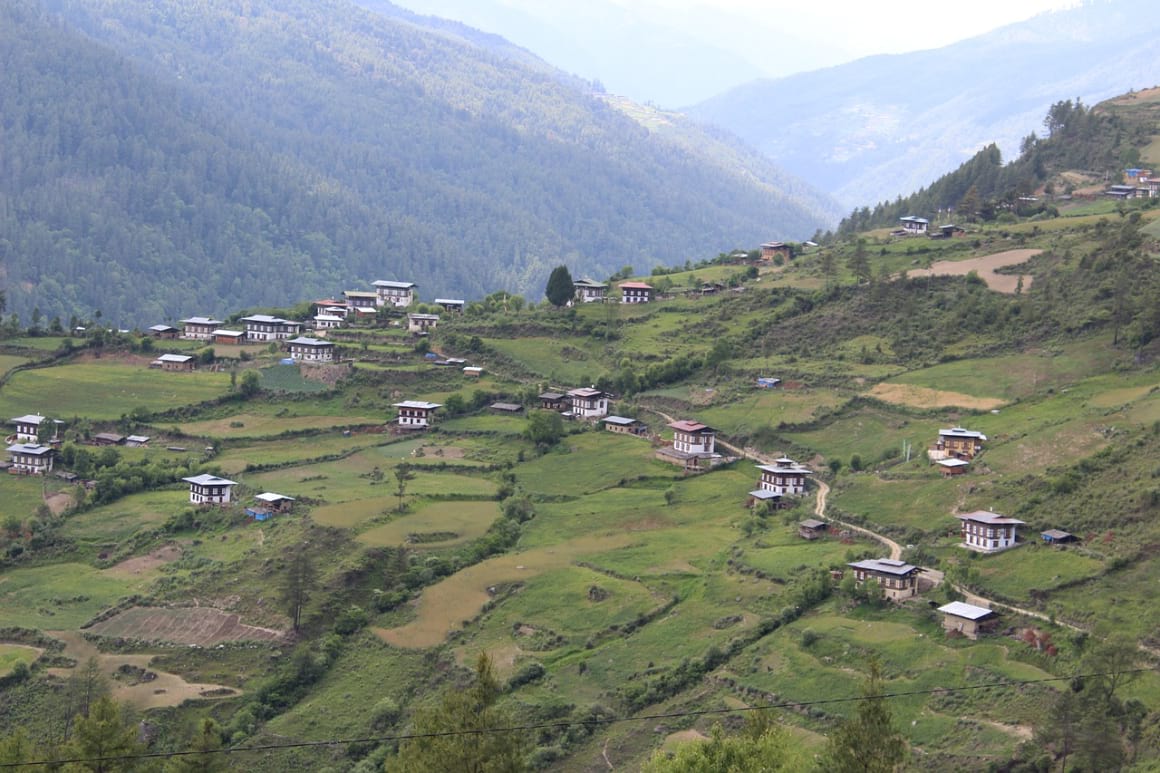 Company: Get Your Guide
If you really don't like the sound of travelling as a group, this private tour of Bhutan is a great alternative tour.
With an emphasis on the spirituality of Bhutan, this tour covers plenty of temples and religious sights. You also have the option to undertake a meditation session. You'll hang out with locals in Bhutan's cities, visit the iconic landmarks, and hike in the lush valleys. This is an enlightening Bhutan vacation in more ways than one and will give you a different perspective into the customs of the South Asian country.
As above, all costs are covered besides snacks, alcohol and tips. Your guide will also provide you with a Bhutanese Gho, Kira, and Tashi Khada of your own to wear while on the road.
Company: Klook
And finally, one of the most unique tours of Bhutan gives you the chance to experience the annual Thiamphu 'Tshechu' Festival in the capital. As one of the most popular festivals in Bhutan, the events take place for a solid three days. However, this tour lets you join the days of prayer and rituals that precede the festival.
Honouring Guru Rinpoche, who brought Tantric Buddhism to Bhutan in the 8th century, the festival is a celebration of health and happiness. A kaleidoscope of colour and music, you'll bear witness to spectacular mask dances. Bhutanese people from all over the region congregate.
One of the best Bhutan tour packages for photographers only takes place once a year. The festival is always scheduled for the 10th day of the 8th month of the lunar calendar. So, that works out as late September.
Quick Guide to Visiting Bhutan
Best Time to Visit Bhutan
Due to its location in the Himalayas and the variation in altitudes that this brings, Bhutan is subject to a widely varied climate. Officially, the best time to visit Bhutan is during the spring and autumn months (March-May, September-November). During spring, the valleys are flooded with wildflowers and the weather starts to warm up. Autumn is considered the best time for trekking, with pleasant temperatures and clear skies allowing a view of the Himalayas. If you're lucky, you may see a dusting of snow on the peaks.
Summer (June – August) is considered the low season due to the heavy rain courtesy of the Indian monsoon season. While this makes trekking less feasible, the rain does contribute to some spectacularly verdant scenery during these months. On the other hand, a Bhutan winter trip may coincide with the annual torrent of snow that turns the kingdom into a frosty wonderland.
Essentially, the best time of year to plan your trip will come down to what you want to experience. Whatever time of year you book your holiday in Bhutan, expect the temperatures to fluctuate daily. A standard day could span a toasty 20 degrees celsius to a chilly 5 degrees celsius. If you plan to visit the higher altitudes, expect sub-zero temperatures.
Travel Insurance for your Bhutan Trip
Travel insurance is mandatory for all trips to Bhutan. When travelling as part of an organised tour, your CEO has grounds to deny your participation in the trip if you fail to show a policy. Although all the Bhutan tours we've shared cover your tourist and visa fees, you must buy your own travel insurance independently. If you book your insurance at the same time as you book your trip, you're most likely to receive coverage in the event of COVID-19 related disruption.
All Bhutan holidays feature an element of trekking, so you need to ensure that you are covered in the event of emergency rescue and helicopter evacuation. If you are hiking above 3,000 meters (ie – Tiger Nest Monastery) you may need to pay a surcharge, so do check the wording carefully. Mosquito-borne diseases are prevalent in the country, so you'll want medical coverage in case you contract dengue or malaria.
Not forgetting, flight delays are common in Bhutan and Nepal. You should seek cover that protects you against any costs incurred by disruption or delay. Adding insurance to your luggage and valuables is usually optional, so assess whether you are prepared to travel with this risk.
World Nomads provide cover for tours in Bhutan. You can read more about their policies here.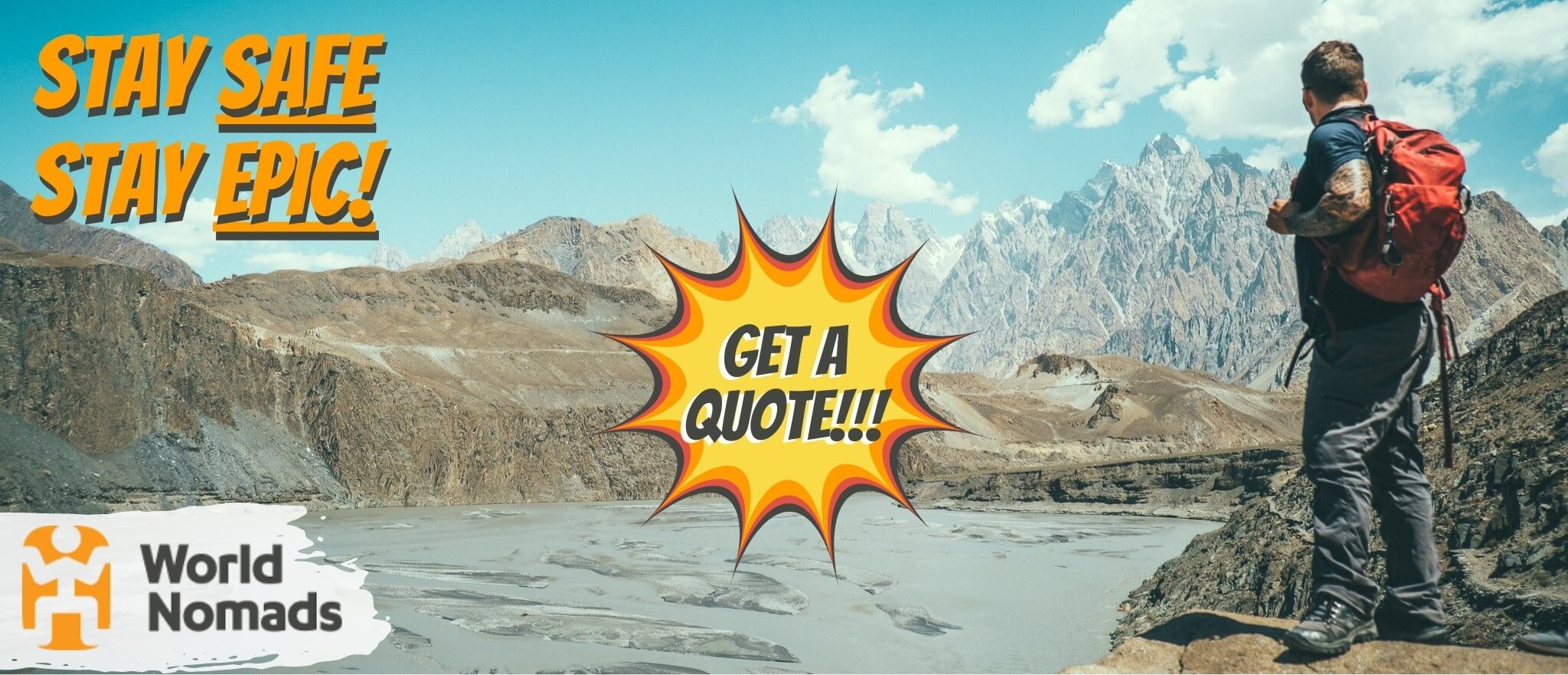 World Nomads' mission is to support and encourage travellers to explore their boundaries. They offer simple & flexible travel insurance, and safety advice to help you travel confidently.
They've been doing it since 2002 – protecting, connecting, and inspiring independent travellers just like you.
Get a quote below or read our in-depth review!
World Nomads provides travel insurance for travelers in over 100 countries. As an affiliate, we receive a fee when you get a quote from World Nomads using this link. We do not represent World Nomads. This is information only and not a recommendation to buy travel insurance.
What to Pack for Bhutan
When packing for your vacation in Bhutan, you'll appreciate clothing that is lightweight, breathable, and quick-drying. Layers are the key to comfort when travelling and hiking in Bhutan.
This high-altitude country does get nippy in the evenings, and winters can become exceptionally cold. While you should base your packing list on the time of year you travel, all tourists should include the following essentials:
Windproof jacket
Sunhat & beanie to accommodate all types of weather
Quick-dry hiking trousers (zip-offs are perfect)
Thermal underwear
Warm sleepwear
Light, layered clothing
Conservative dress – you'll need to cover your knees and shoulders at all times aside from when you're hiking. This applies to male travellers too!
Sturdy hiking boots
Comfortable footwear for pottering around temples and bumpy city streets
Eco-friendly laundry powder
A mix of Bhutanese ngultrum & American dollars
First Aid Kit (containing all the essentials plus travel sickness pills & electrolytes in case you get a bout of Bhutan belly)
Insect repellent and bite cream (consult your doctor about antimalarials)
Locks for bags
Earplugs & eye mask
Reusable water bottle (your CEO will advise you where there are safe refill stations)
Personal entertainment for the long drives
Final Thoughts on the Best Bhutan Trips
That concludes our pick of the best trips to Bhutan. While the itineraries cover the essential sights of Bhutan you'll want to see, each has its own perks. Whichever you choose, you'll certainly stretch your mind as well as your limbs.
At the end of the day, it's down to you to decide which season you wish to travel in and which itinerary most appeals to you. Although, if you're still mulling over these trips, our favourite is the Wonders of Bhutan tour. It's the right amount of time to get an insightful experience with the country and experience some unforgettable trekking.
In the country of happiness, you can't really go wrong – happy travels!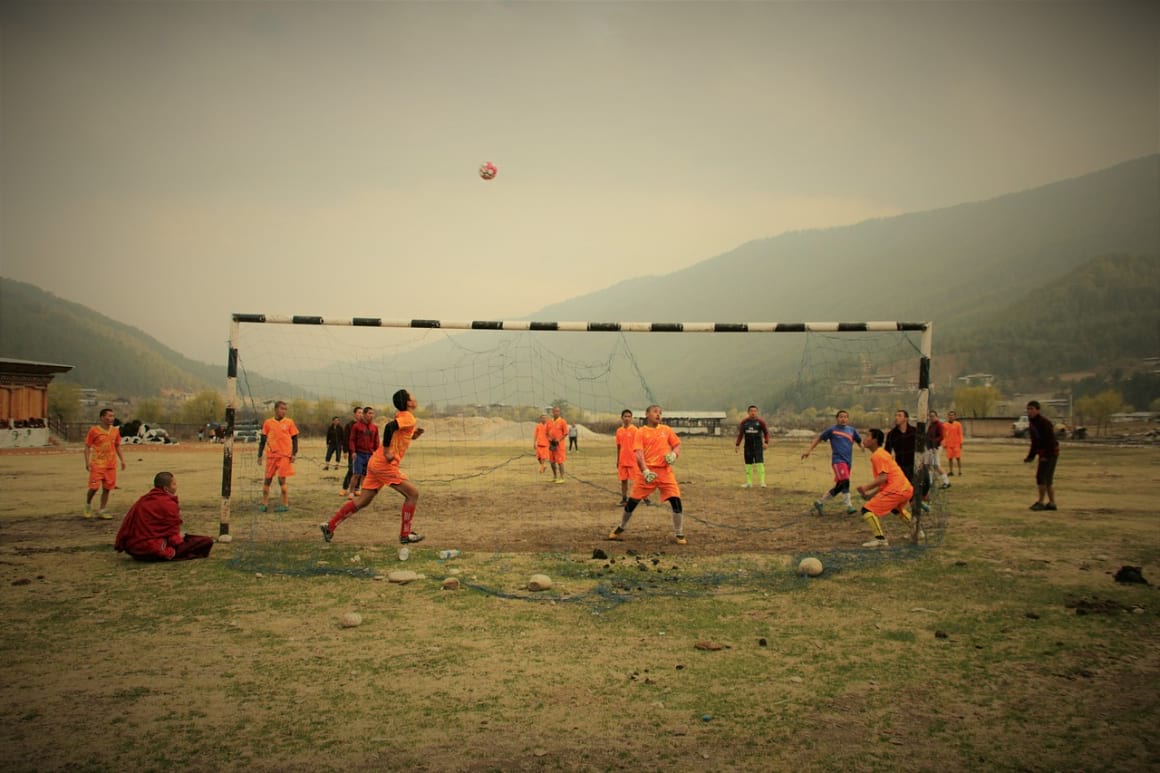 ---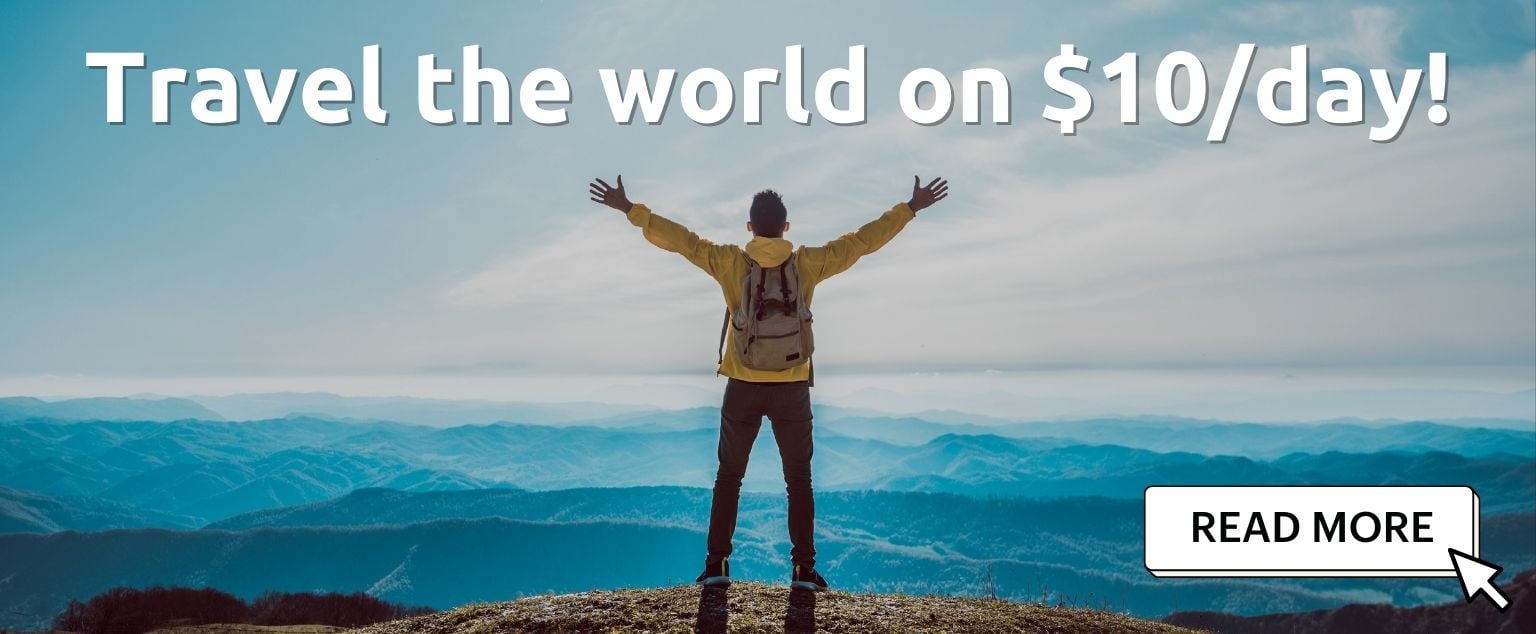 And for transparency's sake, please know that some of the links in our content are affiliate links. That means that if you book your accommodation, buy your gear, or sort your insurance through our link, we earn a small commission (at no extra cost to you). That said, we only link to the gear we trust and never recommend services we don't believe are up to scratch. Again, thank you!