Have you ever hiked through treacherous climates and rough terrain without a reliable pair of hiking sunglasses? Have you ever dealt with glare and snow or uncomfortable sunglasses that fall off your face?
It's not fun to hike without sunglasses for protection from the blinding snow; nor is it fun to constantly adjust your perpetually sliding sunglasses.
Point blank, a reliable pair of hiking sunglasses will give you the extra comfort and reliability needed in the backcountry.
In this guide, we'll review the best hiking sunglasses for every type of adventure, and answer riveting questions like, what sets hiking sunglasses apart from normal sunglasses? When should you buy polarizing sunglasses? What is the latest technology for sunglasses, and why is it important?
From frame materials, lenses, polarized colors, style, and budget, we'll help you ask the right questions when it comes to protecting your eyes.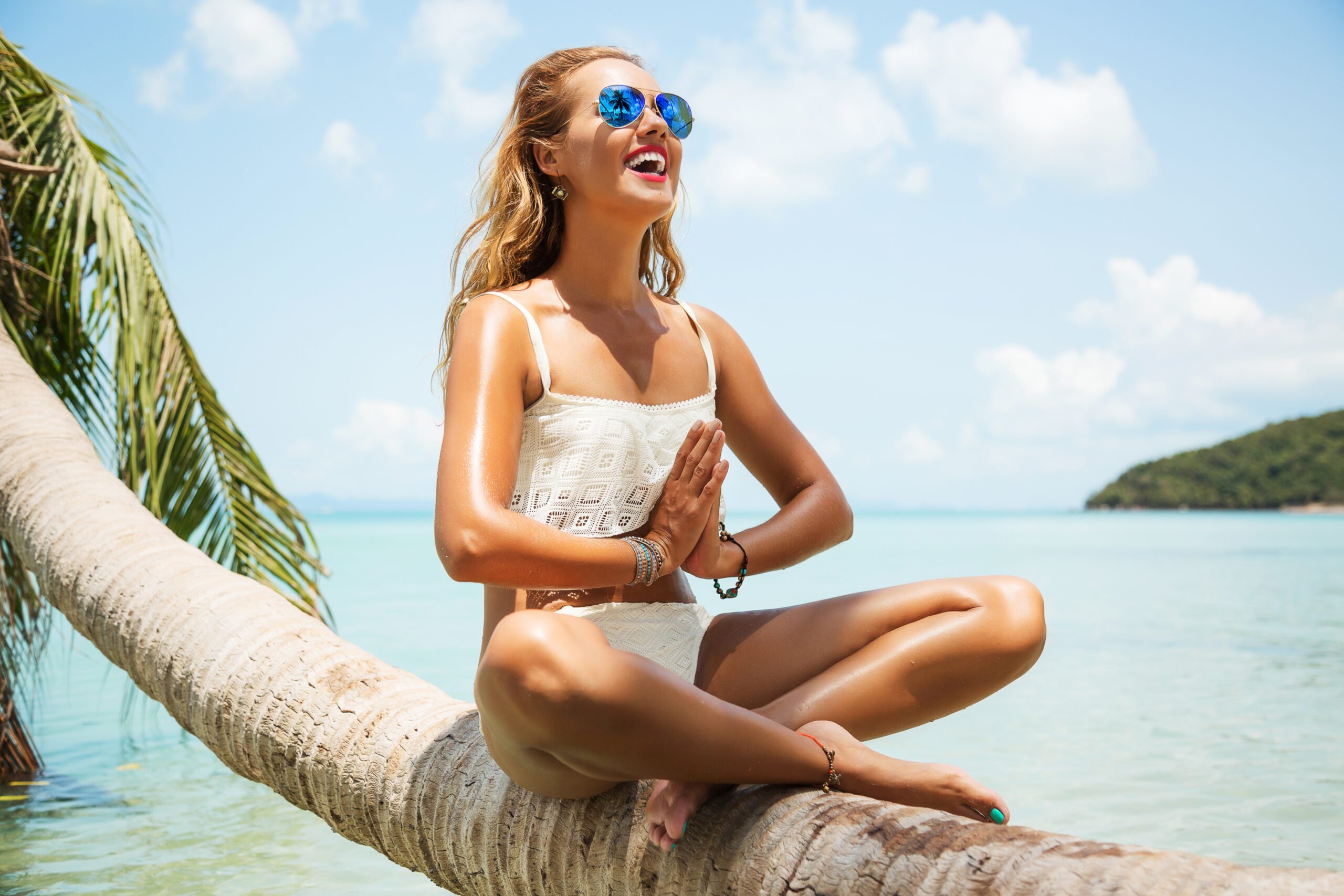 While sunglasses may be a hiking gear afterthought, choosing the right pair of sunglasses will be the difference between a comfortable hiking experience and potential snow blindness.
Your eyes are one of the most fragile parts of your body, and I think we can all agree that it is important to protect them.
Sometimes hefty prices can deter us from investing in reliable hiking sunglasses, but in the end, it's worth it; though don't worry, my list will include affordable hiking sunglasses, so you don't have to spend an arm and a leg to protect your eyes.
Below I will cover our picks for the 10 best hiking sunglasses and why they stand out from the rest. The first section will explain the difference between lens and frame materials, which glasses are best for specific activities, and what you should look for when purchasing sunglasses.
Quick Answer for Best Hiking Sunglasses:
Our Favorite Hiking Sunglasses
OUR FAVORITE HIKING SUNGLASSES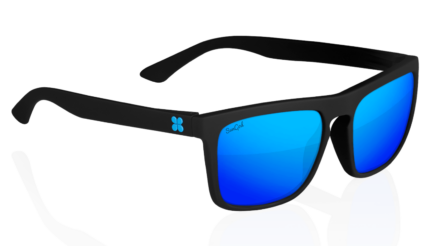 OUR FAVORITE HIKING SUNGLASSES
Abaco Polarized Hiking Sunglasses
> Durable
> Affordable
> Customizable
How to Choose the Perfect Hiking Sunglasses
Before we dive into the technical considerations for choosing a pair of hiking sunglasses, take a second to consider what type of hiking you do most often.
Are you purchasing sunglasses for day hikes or trail runs? Do you need sunglasses for the snow, in which case protection against glare is critical?
Do you prioritize style? Budget? Do you need an "all around" pair of hiking sunglasses, or something more specific for running or biking?
These are the types of questions you should ask yourself before you go out and buy a pair of hiking sunglasses.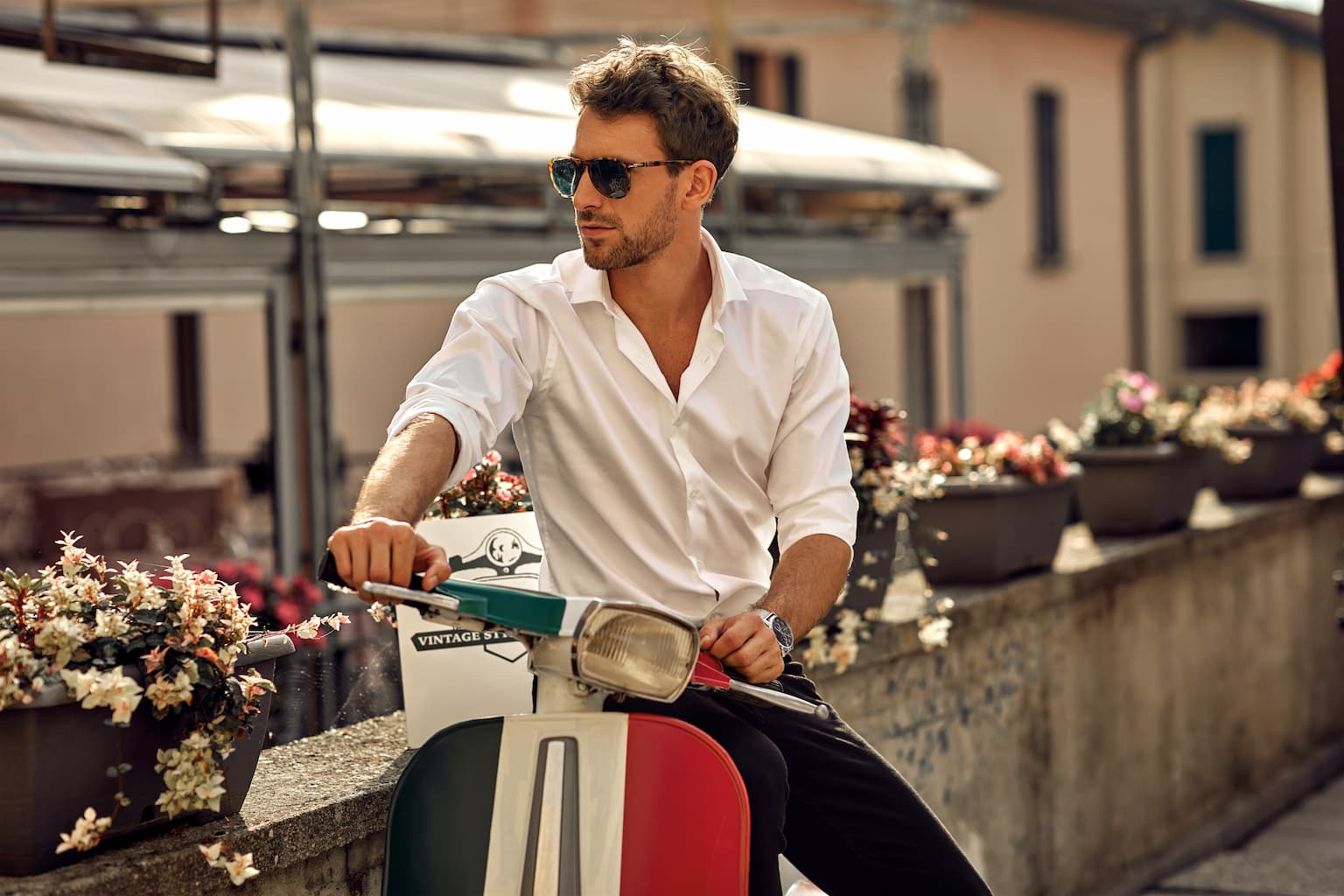 Before we get to the frame, let's talk about lenses. Among all of the different options, lenses are the most important part of your sunglasses since they are the piece that reflects light, UV rays, and blue light.
There are a few different types of lenses to consider, and I'll discuss the difference below.
Lens Types:
VLT (Visible Light Transmission) – This is the most basic type of lens, and basically means it will reduce the amount of light transmitted to your eyes. Sunglasses with a high VLT are not common, as they are mostly for overcast conditions. Sunglasses with a low VLT are useful in bright conditions since they block out most of the light getting through the lens.
UV Protection: You want to buy a pair of sunglasses with UV protection. There are three types of UV lights: UVA, UVB, and UVC. While there is no need to worry about UVC, it is UVB that is associated with skin cancer risk. UVA is still under debate, but you are better safe than sorry.
Polarized or Not?
You may be wondering what are polarized sunglasses? While not a must-have for everyday activities, I personally can never go back to non-polarized sunglasses. Polarized lenses are designed to filter out reflected light and reduce glare. By doing so, colors become richer and depth of vision is improved.
Basically, polarized lenses make your surroundings look better. With polarized sunglasses, you can look down at the water and see what is below the surface, rather than a glaring white from the sun. You can also look out into the sunset and see what's on the horizon.
Furthermore, polarized lenses are crucial if you are spending time in the snow, or hiking near large bodies of water since light becomes "polarized" when it reflects off a surface like water or snow.
Polarized Lens Color mostly comes down to a matter of preference, though I personally like grey or brown. Grey is the most neutral color, so things appear mostly real. Brown give your surroundings a crisp, vintage look.
Others may prefer blue or green or pink. Ultimately, the color is mostly a matter of opinion, though certain colors will let more or less light in, and may not be the best choice for overcast or darker conditions.
Lens Material:
Most lenses are made from materials like polycarbonate, polyurethane, and plastic.
Polyurethane is a synthetic material that fuses the best qualities of glass and polycarbonate. While the most expensive, this option is the most durable and lightest weight lens material.
Polycarbonate is a plastic with very high-quality optics and a strong, impact-resistant structure, making this lens material a great choice for hiking too. That said, it can be easily scratched if it doesn't come with an anti-scratch coating, so take care of polycarbonate lenses.
For the most part, the hiking sunglasses below are made from polycarbonate material since it is high-quality, but not as expensive as polyurethane.
A regular plastic lens is the most cost-effective, but scratches easily and therefore is the least durable choice.
When you are choosing between hiking sunglasses, check what type of material the lenses are made of and if that material is coated with anti-glare, anti-scratch resistance or water repellent material.
Hiking Sunglasses Frames: What to look for
When it comes to sunglass frames, there are a few different materials to choose from that will affect the weight, comfort, and usage.
The most durable and flexible frame materials include nylon and nylon/plastic combinations. Solely plastic frames are not suited for tough conditions where you might drop and break your sunglasses far from civilization. Then you're stranded without sunglasses for the remainder of your hike.
Aluminum and titanium get hot in the sun, so they are also not good options for hiking sunglasses. Basically, look for something with nylon.
Hiking Sunglass Frame Comfort and Design
The type of activity you plan to engage in will determine the best design for you. Since this guide focuses on sunglasses for hiking, I'll start here.
You want a pair of sunglasses that are comfortable, functional, and work well. Firstly, consider the nose-piece and arms of the frame. Does the nose-piece slide-off? What about when you are sweating?
Are the arms too tight? Do they become uncomfortable after a couple hours? You will be wearing sunglasses for hours on end if you are hiking, so comfort is really important.
If you are purchasing sunglasses online, check that the company offers a warranty or return policy. You should try them on for a long period of time to judge the sunglasses' comfort, and if they end up not fitting properly you'll want to return them.
Next, consider what conditions you plan to hike in. If you need protection from wind and rain then a wrap-around design is an excellent choice, though this might be overkill for most hikers.
If you plan to engage in a lot of movement, like trail running, mountaineering, and rock climbing, then consider sunglasses that will not slip during these activities. There are mountaineering specific sunglasses if this is your primary activity.
Ultimately, you want your sunglasses to be one with your face. You want them to be so comfortable, you barely notice they are there until you take them off.
Should you get prescription sunglasses?
This is something I've been personally debating for some time. One one hand, I wear my prescription (regular) glasses pretty often, so that means I need to switch to contacts when I wear non-prescription sunglasses.
Having a pair of prescription sunglasses would definitely be convenient, but it would also mean I need a second pair for when I am wearing contacts…
Ultimately, this is a matter of preference, but if you wear contacts you'll want to have two pairs of sunglasses.
10 Best Hiking Sunglasses
Alright, now we get to the good stuff. Below I have discussed and reviewed the best hiking sunglasses depending on style, material, activity, and of course, price.
There are a lot of great options out there that cost a lot of money, so I will list hiking sunglasses under $100 too.
1. Abaco Polarized – Best Value Hiking Sunglasses
Specs
Best For: Multi-purpose sunglasses for hiking and other more strenuous activities.
Price: $80
Lens Material: Polycarbonate
Polarized: Yes
Abaco makes awesome hiking sunglasses for a reasonable price, which is why I'm making these sunglasses number one on our list. There are surely more technical sunglasses, but they might be overkill for the average hiker.
Suited for both sunshine and cloudy days, you can wear Abaco glasses year-round. The best part about these is their customizable colors and lenses.
You have the option to choose between polarized and non-polarized lenses as well as mix and match the lens, frames, and accent colors.
We have done a full Abaco sunglasses review elsewhere on the site but for now lets stick with the basics. Their lenses have 100% UV protection and 2mm polycarbonate lenses. This means they are durable, though not top of the line. Most sunglasses on this list use polycarbonate, though some are glass.
Abaco sunglasses are also layered with triple-layer scratch resistance protection and anti-reflective inner lens coating.
As I mentioned above, you can choose if the lenses are polarized or not. The polarized filter eliminates harsh glare and improves the depth of field, which is great for if you are hiking near snow or water.
The frame is built from their Adventureproof technology for ultimate durability and protection. The snap-lock hinges lock into an open or closed position, so you can put on your sunglasses with one hand. They weigh 27 grams.
One of the best parts is the Abaco lifetime guarantee that every pair is backed by. If they break, the company will repair your sunglasses free of charge, even if it's your fault.
I own a pair of the renegade's and I have never had a problem with comfort, or slippage. Their PaceBreakers model is built more specifically for high-movement sports like biking, trail running, and more, and I'll cover those below.
Overall, this model is an all-around, high-quality pair of hiking sunglasses at a reasonable price. Our team felt the same way too. They felt these sunnies hit the mark on every front and crucially they felt they were not only some of the most durable sunglasses out there but loved the fact that they still looked stylish rather than looking like dodgeball goggles!
Pros
High quality, reasonable price
Rubberized grips at ears and nose
Comes with warranty
Cons
Smaller lens than others
Not designed for extreme sports
Frame material could be more durable
2. Oakley Flak 2.0 – Most Durable Hiking Sunglasses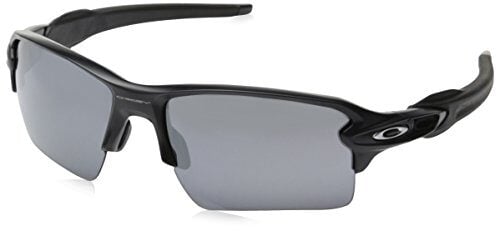 Specs
Best For: Multi-purpose sunglasses for hiking and other more strenuous activities
Price: $160
Lens Material: Polycarbonate
Polarized: Yes
This pair of sunglasses, or at least Oakley as a company, needs no introduction. The Ferrari of sunglasses, Oakley engineering takes performance to the next level with these ruggedly durable hiking sunglasses.
One person even said that these sunglasses survived a car tire! While the glasses were scratched, the frame was undamaged. You can't get a more durable pair of glasses.
But let's talk specs. Oakley claims that the refraction of these glasses – in other words, how close/far you see objects – is much truer to real sight. Many glasses change the depth of perception if even just a little. Truer visual image means your brain doesn't need to work overtime to calculate depth.
All of Oakley's lenses offer 100% UV protection for UVA, UVB, and UVC rays as well as blue light up to 400 nm. Keep in mind that the light transition on these lenses is quite low at 11%. This means they will be too dark in shadows and low-light situations.
You can buy separate pieces to replace say a scratched lens, but Oakley does not have a warranty that I know of. That means, if you break them, you buy them again. Furthermore, they are pricey, so you are going to want to take really good care of these glasses.
While a bit pricey, these are incredibly durable biking, running, and hiking sunglasses that are worth the investment. The team were super impressed by how hardwearing these glasses were when they really put them through their paces on the trails. Our team are a clumsy bunch too and after several drops and falls the glasses didn't have a scratch on them. They also found them to be particularly comfortable to wear all day too.
Pros
Extremely durable
Rubberized grips for extreme sports
High-quality
Cons
Expensive
Smaller lens than others on list
No warranty
Winter is coming… WARM UP!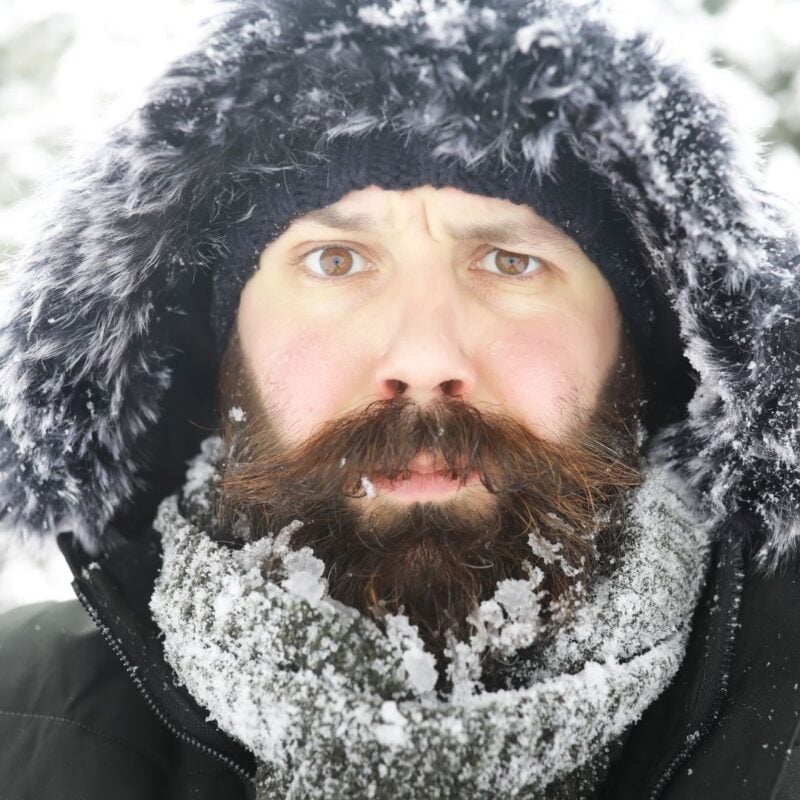 Get up to 50% OFF when shopping gear for the winter on REI.
Warm up for the holidays and SAVE on outdoor gifts all the way through Dec 18!
View on REI
Specs
Best For: Great for backpacking
Price: $39
Lens Material: Polycarbonate / Stainless Steel
Polarized: Yes
If you need some lenses to chuck in your backpacking to hit the trail or explore then check out the Lucas by WearMe pro. They come with a solid frame which traces the entire lens – the lenses are shatter resistant so these glasses can take a bit of a pounding.
Backpacking gear is usually pretty ugly yet these lightweight rectangular frames have somehow made comfort sexy. With these you will get everything you need from a pair of wilderness glasses – they are 100% UVA protection, reduced eye strain, and shatter-resistant lenses.
The specs come in a cool, understated and retro colourway with sand storm frames and black lens.
Our team felt these were the best backpacking sunglasses because of how low profile and good-looking they were. Rather than being super fancy and technical, these sunnies are understated and cool whilst still being pretty durable, making them perfect for day-to-day exploring.
Pros
Cheap
Shatter resistant lenses
4. Ombraz Armless – Most Innovative Hiking Sunglasses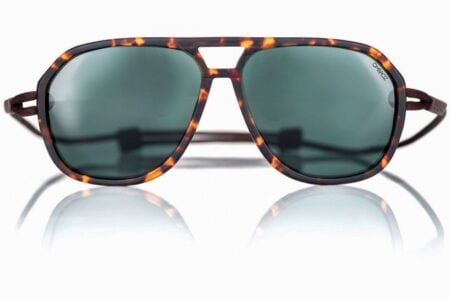 Specs
Best For: Sunglasses with no arms!
Price: $140
Lens Material: Glass/Polycarbonate
Polarized: Yes
The innovative people at Ombraz realised that the Achilles heel of designer sunglasses was the breakage of arms. All too common, arms would loosen or snap of rendering your sunglasses useless. The solution to this problem is sunglasses that have ditched the flimsy arms in favour of tie-around, rope straps.
Aside from being less likely to break, these beauties are also much better for active people – the rope ties around your head meaning they won't fall down or drop off as you move. This makes them ideal for running, dancing, jet skiing or hiking. Honestly, you may not yet have realised that you need armless sunglasses in your life bit once you try them, you will never go back.
Moving on from the arms, the lenses are fully polarized, World-class, crystal-clear optics. They come in a variety of colours, styles and finishes and there is a frame size to suit everybody's face type. The stylish design makes them awesome camping sunglasses if you want to look swish whilst queuing for the long drop toilet in the morning!
Our team just loved the innovative design of these sunnies and how it made them super durable and hard to break on the road. Not only does the design make them hard wearing, but it also made them more compact for packing away inside their bags too. On top of that the fact that these sunnies are also super stylish too made them a no-brainer for a good few members of their team who picked these out as their favourites.
Pros
Very light-weight
Top quality lenses
Innovative armless design
Cons
Some people just like arms!
Less stylish than Abaco
Not cheap
5. Maui Jim Peahi – Most Stylish Hiking Sunglasses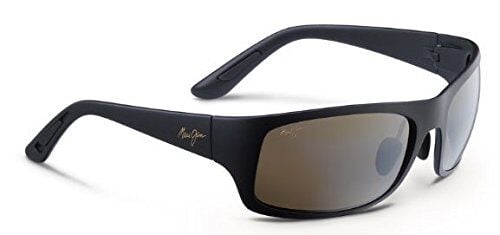 Specs
Best For: Best lens technology, but still look ultra stylish.
Price: $

240 –

 $279.00

Lens Material: Glass/Polycarbonate
Polarized: Yes
These men's sunglasses look good on and off the trails since their modified rectangular frame complements a range of facial shapes.
Where the Maui Jim Peahi really shine is the lenses. The material is their most popular MauiPure, which includes excellent scratch and shatter resistance as well as water and oil protection and combines their SuperGlass material.
Note that if you want pure superglass, you'll need to choose a more expensive model; some around the same price but others upward of $339.
Polarized to handle bright, direct sunlight, you can choose the polarized color too. They come in a neutral grey color for rich colors and sharp contrast, HCL Bronze for a warm tint, grey fade – this offers a higher transmission so you can use glasses in lower light situations – and Maui Rose for a subtle rose ting best for overcast and sunny conditions.
The drawback about Maui Jims is the price. These glasses are by no means cheap, but I'll explain what you're paying a premium for. The lens come with either what they call a Bi-Gradient mirror, which is applied to the top and bottom of the lens, or a Multi-Gradient lens, which applies a darker application at the top that gradually gets lighter. Both are great options, depending on the primary use.
Not only are they 100% UV protected, but they also block out Blue-Light HEV, which recent research suggests can cause damage to the eye.
Let's be honest, half the time the main motivation for wearing sunnies is to look ice cool! I mean, why not look sexy on the trails, amirite?! Our team loves functionality as much as anyone, but they also like to look good and they just loved how stylish this pair looked. On top of that, they really liked how lightweight and comfortable they were which made them easy to wear on the daily for months on end.
Pros
Extremely light-weight
High impact resistance
Best lense technology
Cons
Edge of frame can obstruct vision
Not designed for extreme sports
Expensive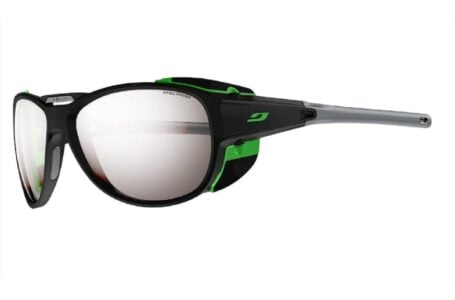 Specs
Best For: Mountaineering and winter hiking conditions
Price:

$179.95

 – 

to

$240.00
Lens Material: Polycarbonate
Polarized: Yes
Designed for extreme conditions, these glacier glasses provide exceptional coverage, removable side shields, and overall protection. Temples have 360-degree adjustable stems and soft grip tech that won't pull your hair; the grip nose insert is comfortable too.
The frame material is made from nylon and lens material is made from polycarbonate. As for the polarized lens, the Julbo Explorers have a full-spectrum UV protection, anti-reflective coating, and a brown color.
These glasses provide protection for sunny days on the snow, but they aren't so dark that they can't be worn in other conditions.
Our team love the extra features on these glasses, especially the shields which they felt worked really well for added protection from the elements whilst in challenging conditions. They also found that the lenses were super responsive too which was especially useful in the mountains as the weather can change quickly and visibility is crucial.
Pros
Really comfortable
Perfect for mountaineering and snow
Cons
Overkill for hiking
Slightly expensive

Do You Want to Travel FOREVER??
Pop your email in below to get a FREE copy of 'How to Travel the World on $10 a Day!'.
7. Maui Jim Starfish (Women's) – Best Hiking Sunglasses for Women
Specs
Best For: Ultimate protection and style
Price: $279
Lens Material: ST Glass
Polarized: Yes
Many of the Starfish's star features are similar to the Haleakala's above, but these hiking sunglasses are designed specifically for women. Crafted with an injected nylon frame, frames don't get any better than this.
This model uses the SuperThin glass lens – their most quality one. SuperThin Glass is 20% lighter and thinner than standard glass.
Like the other model, these Starfish sunglasses have polarized lenses to reduce visible glare and come in a few different options for lens color. HCL Bronze and Maui Rose are best for sunny and overcast; whereas, Neutral grey is ideal for bright and direct sunlight.
These stylish, awesome sunglasses and the reputable Maui Jim are perfect for hikers and adventurers who still want to look stylish.
Again, not the cheapest sunglasses by a mile and the SuperThin glass moves the pricepoint up significantly, but that's what you pay for quality.
Our team just loved how stylish these shades looked and how versatile they felt being at home not only on the hiking trails but at the beach or exploring a new city too. Another stand-out feature was the polarization of the glasses, they felt that not only did it adapt to different conditions but the glasses really enhanced the world around them and made everything look HD!
Pros
Highest quality lens material
Stylish and technical
Extremely High-quality
Cons
Really expensive
Not designed for extreme sports
For women (not really a con)

Specs
Best For: Ultimate protection from sweat, glare, and debris
Price: $136
Lens Material: Polycarbonate
Polarized: Yes
The trail is your playground with the Julbo Run sunglasses. They boast wide, anti-fog lenses, a curved frame, and shock resistant nose and temple pieces. The hiking sunglasses trekking model have removable side-shields that offer side protection against sunlight and debris. Let's get into the specific and why these are great sunglasses. The photochromic lens gets darker or lighter according to light intensity. Polycarbonate lenses offer 100% UV protection, and the hydrophobic coating prevents marks, water, and condensation. These sunglasses feature impressive UV protection too.
Our team loved these glasses from running in and one of the main reasons was how well they fit their faces and how secure they felt whilst running. They also found them to be really comfortable and not rub, especially once they had gotten a bit sweaty, which was a real plus point for running shades.
Pros
Shock resistance, anti-fog technology
removeable side-shields
Cons
Lenses can be dark in low-light situations
No warranty
9. Zeal Calistoga – Eco-Friendly Hiking Sunglasses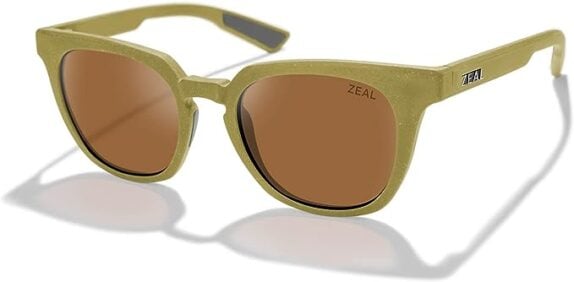 Specs
Best For: Ultimate protection and multiple sports
Price: $150 – $179
Lens Material: Polycarbonate
Polarized: Yes
You know what's the mark of a great pair of sunglasses? You forget you are wearing them. Zeal's frame is both comfortable and made of castor beans, a renewable resource that slices the weight in half while remaining impact-resistant.
These babies are 100% UVA/B/C protection and 95% HEV (Blue-Light) protecting.
The lenses are polarized to reduce visible glare. Colors come in copper and dark grey; copper lets in 14% light transmission and dark grey let's in 9%.
Proflex rubber on the nose and temple keep sunglasses comfortably in place. Not only are they a great fit, but they're made with plant-based resources and strive to be environmentally sustainable. We tip our hats to companies like Zeal.
Our team loved that there were sunnies out there that really went the extra mile to look after the environment. They felt what was great was that there were no real compensating factors either when it came to these shades. They were comfortable, light and look really cool all whilst protecting both your eyes and the environment. Win-win!
Pros
Environmentally renewable
Stylish and comfortable
Cons
Lenses can be dark in low-light situations
No warranty

Specs
Best For: All-around pair of polarized sunglasses
Price: $140
Lens Material: Polycarbonate
Polarized: Yes
Are the Flak 2.0 a bit much for you? Well, then you're going to love these casual Twoface sunglasses with a similar style to the Maui Jim's above.
These Oakley sunglasses are quite different from the Oakley Flak 2.0′ above. For one, the lenses are made out of Plutonite and the style is much more rooted in the California surf and skate culture. But like all Oakley glasses, you can expect quality and durability. They offer 100% UV filter and blue light protection as well!
Our team love a good pair of Oakleys and who can blame them, this brand is known for its high quality and stylish shades that are built to last and to be used and abused! They felt that in buying these glasses they had the confidence to take them anywhere with them knowing that they will be able to withstand extreme sports and hardcore daily wear. They also felt the looked cool af in them too!!
Pros
Stylish hiking sunglasses
Very durable and good quality
Cons
Not specifically for extreme sports
No warranty
The best present of all… is CONVENIENCE!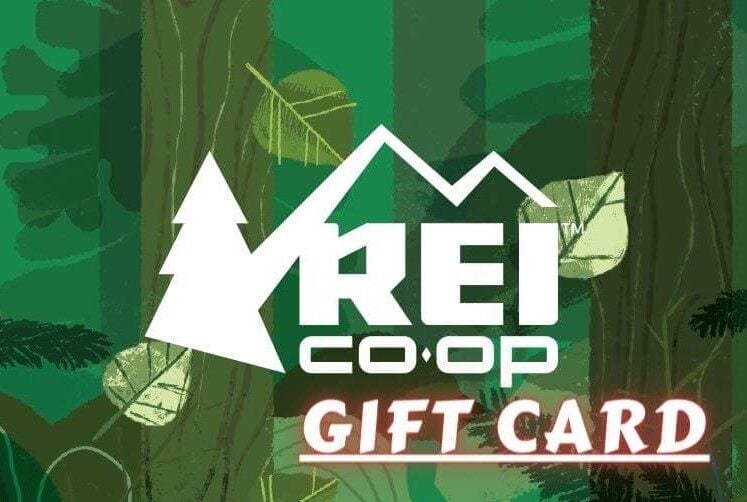 Now, you could spend a fat chunk of $$$ on the WRONG present for someone. Wrong size hiking boots, wrong fit backpack, wrong shape sleeping bag… As any adventurer will tell you, gear is a personal choice.
So give the adventurer in your life the gift of convenience: buy them an REI Co-op gift card! REI is The Broke Backpacker's retailer of choice for ALL things outdoors, and an REI gift card is the perfect present you can buy from them. And then you won't have to keep the receipt. 😉
Buy on REI!
Specs
Best For: All-around pair of polarized sunglasses
Price: $58
Lens Material: Polycarbonate
Polarized: Yes
These uni-sex, stylish hiking sunglasses are lightweight and durable – made from polycarbonate and weighing less than 1 oz. – and flexible. The Headland Polarized sunglasses offer polarized lenses – as the name suggests – and 100% UV protection for every UV wavelength. Light transmission is around 15%, and lens tint options include an amber flare and gray-green forest.
While not the top hiking sunglasses on this list, they're still great for multiple sports and look fashionable. Best of all, they're really affordable and covered by Sunski's "Forever Warranty."
Our team rated these as good hiking sunglasses on a budget because for the money they offer some of the best eye protection out there. Our team really felt they outperformed when it came to super strong sun. On top of that they are super lightweight and look cool as well.
Pros
Lightweight less than 1 oz
Reasonable price
Cons
Not the best quality on list
FAQ about the Best Hiking Sunglasses
Still have some questions about picking the best sunglasses for hiking? No problem! We've listed and answered the most commonly asked questions as part of our hiking sunglasses review. Here's what people usually want to know:

Our GREATEST Travel Secrets…
Pop your email here & get the original Broke Backpacker Bible for FREE.
How We Tested The Best Hiking Sunglasses
There is no perfect or exact science when it comes to testing out travel and outdoor gear. The TBB team however has many years of travelling under our collective belts, so we think we've gotten pretty good at it over that time!
When it came to selecting the best hiking sunglasses (men's and women's), we had a few different areas that we looked at when it came to assessing each pair. Firstly when it came to backpacking sunglasses, durability was if the utmost importance because we all know they get thrown around, sat on and generally abused in the line of duty!
Of course, the level of protection and fulfilling their primary purpose of keeping your eyes safe wasn't just the most important factor in picking the best hiking sunglasses, it was the only one that really mattered when it came to even being allowed anywhere near our list! Next up we looked at how heavy each pair of sunnies were, how packable they are especially inside their cases and of course, how stylish each pair are too. Because what's the point in rocking sunnies if you don't look cool right?!
Finally, we also take into account the cost of each pair. Expensive sunnies that underperformed lost points big time, whereas budget options which overperformed scored highly. Equally, we awarded some leniency to the cheaper pairs in the name of fairness.
Final Thoughts on the Best Hiking Sunglasses
Now that we've listed all of our favorite sunglasses, it's time for you to decide. Stick to our guide on how to choose the perfect ones for you and you'll be ready to start the next adventure.
Still not 100% sure which one to get? Don't worry, if you go with our overall-best value sunglasses, the Abaco Polarized, you'll be perfectly prepared. Want more ideas? Have a look at our WearMe Pro sunglasses review next!
Already took one of the glasses above on a trip? Let us know about your adventure and personal review in the comments below! What do you think are the best sunglasses for hiking?
---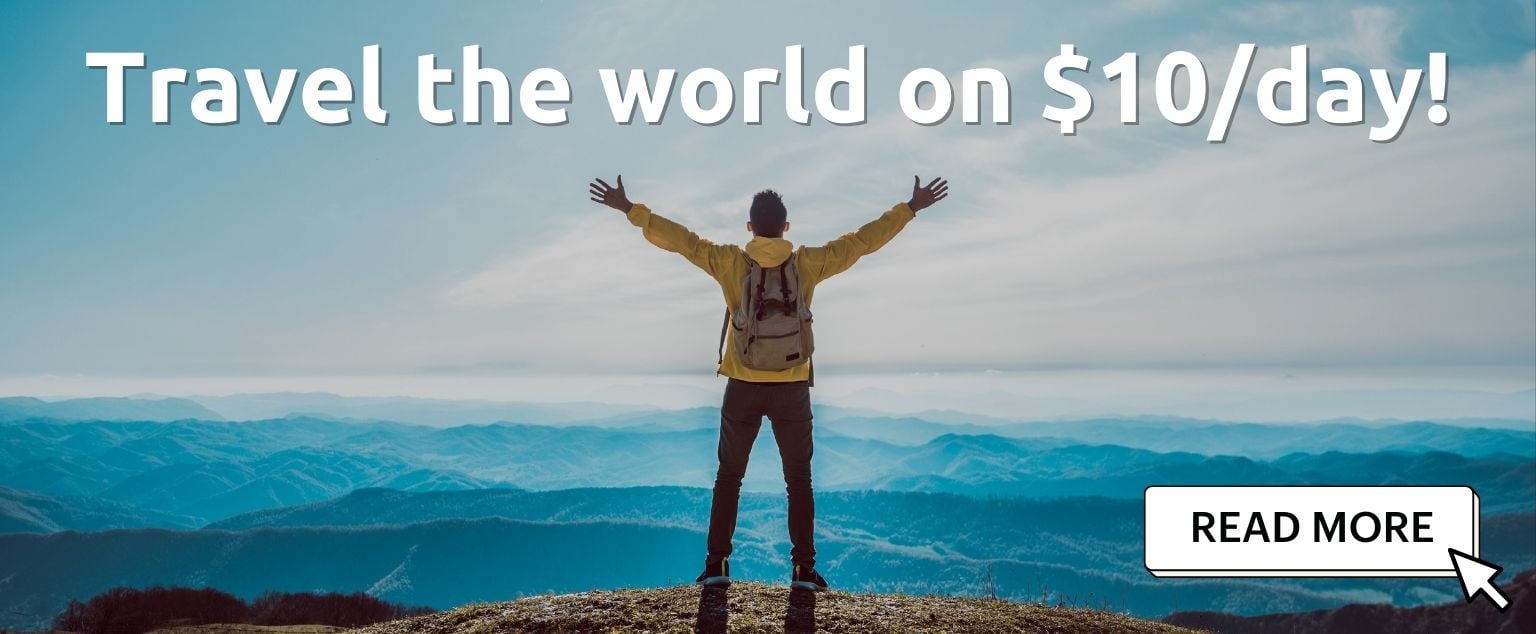 And for transparency's sake, please know that some of the links in our content are affiliate links. That means that if you book your accommodation, buy your gear, or sort your insurance through our link, we earn a small commission (at no extra cost to you). That said, we only link to the gear we trust and never recommend services we don't believe are up to scratch. Again, thank you!