Here's a fun fact for you: There are over 1.3 billion people in India alone. Yes, you read that right!
With a sixth of the world's population in India alone, you can expect plenty (and I do mean plenty!) of festivals throughout the year.
Steeped in ancient history and cultural and religious diversity, India is home to 29 states and at least 9 religions. Along with regional events, the country also boasts plenty of nationwide festivals like Independence Day, marked by vibrant celebrations all over the country.
Whether dousing each other in colored water while sipping on Bhang, drawing with dyed rice, lighting clay lamps, or partying the night away on Goa's silky shores, no one does festivals quite like India.
Here are just 13 of the most celebrated festivals in India that you may wish to hit up during your stay in this exceptionally vibrant country!
Festivals in India
Whether your idea of fun is to dance to the beat of internationally acclaimed DJs or partake in a symbolic harvest ceremony, there is certainly an event for everyone staying in India.
This list will take you through some of the most important events in India, from musical celebrations to religious events and even film festivals:
Makar Sankranti
When: January
Where: Tamil Nadu, Uttar Pradesh, Rajasthan, and Bihar
Let's start with the very first festival of the Hindu calendar year!
Also known as the Hindu New Year, Makar Sankranti marks the day when the sun transits towards the north, hence signifying the beginning of spring and the end of winter. Additionally, this event kickstarts harvest season in North India.
While Indians from all over mark this day in their own way, Makar Sankranti is observed with plenty of pomp and ceremony in Uttar Pradesh, Rajasthan, and Bihar. Down south in Tamil Nadu, it's also referred to as Pongal.
Kite festivals are commonly held in the northern states during Makar Sankranti. If you're traveling to India on a budget, you'll be glad to learn that it's free to attend or participate in a kite festival! Armed with their own gigantic kites, participants try to cut off their opponents' kite strings. The last one standing wins the prize.
There's also a Friendly Zone for those who want to fly their kites without having the strings cut off!
The south does things a bit differently, with people offering their prayers to the rain god before discarding old objects and belongings in a bonfire. The ladies dress up in their best sarees at nightfall and dance around the fire.
Where to Stay:
Jaipur is one of the best places to stay during Makar Sankranti. If you're looking for a family-friendly space, this cozy apartment offers classic home comforts without an expensive price tag.
Holi
When: March
Where: All over India
Ah, Holi. An event that's right up there at the top of the list as one of the most famous festivals in the world and definitely one of the most important festivals in India – not to mention the most colorful one!
A quick heads-up if you're planning on attending this exceptionally fun cultural and religious festival: leave your favorite clothes at home and dress down in a plain attire that you won't mind throwing away afterward because once the colored dyes hit you, no amount of washing will get rid of them.
While it's not an obligation, most locals like to dress in white so they can really show off the colors.
Rest assured that while the colors stain the skin and hair, they eventually fade after a few washes.
On the eve of Holi, handmade effigies of demons are burned on bonfires, representing the triumph of good over evil. The next day, everyone spills out onto the streets to playfully throw colored water or powder at each other in a ceremony punctuated by unbridled fun and laughter. Parades and folk songs only serve to enhance the festive spirit.
In some parts of India, an ancient cannabis-and-milk-based drink known as Bhang is distributed among adults to help relax them. In places like Uttarakhand, Pakodas (fritters) are usually served alongside Bhang chutney during Holi.
Where to Stay:
While Holi is celebrated all over the country, one of the top places to attend the festivities is in Udaipur. A stay in this Rajasthani-style villa places you right where the action is.
Gudi Padwa
When: March
Where: Maharashtra
A spring festival that marks the New Year for the Marathi community, Gudi Padwa is specially celebrated in the western state of Maharashtra.
On this occasion, Marathi Hindus make bamboo effigies from neem or mango leaves and hang them over their front doors to ward off evil. Houses are deep cleaned, everyone dresses in new clothes, and the women usually draw Rangolis outside – brightly colored and intricate patterns made from dyed rice.
One of the most popular festivals in India, Gudi Padwa is also referred to as Ugadi in other parts of the country, like Telangana, Karnataka, and Andhra Pradesh.
According to Hindu mythology, the god Brahma created both time and the universe on Gudi Padwa. It is believed that Gudi Padwa marks the beginning of an auspicious season, so several people start new projects then. Some people wait for Gudi Padwa to buy gold or new vehicles or even embark on new business ventures.
On the eve of this festival, the whole family gets together to prepare fritters and various types of sweets such as the traditional Gudi Padwa Prasad, a bittersweet dish made from neem leaves. This dish is offered to the deities before being shared among neighbors and relatives.
Where to Stay:
Maharashtra is known for its spectacular scenery punctuated by lakes and forests. To celebrate Gudi Padwa with a view, check out this 2-bedroom lakefront cabin located in the commune of Lonavla.

Do You Want to Travel FOREVER??
Pop your email in below to get a FREE copy of 'How to Travel the World on $10 a Day!'.
Kumbh Mela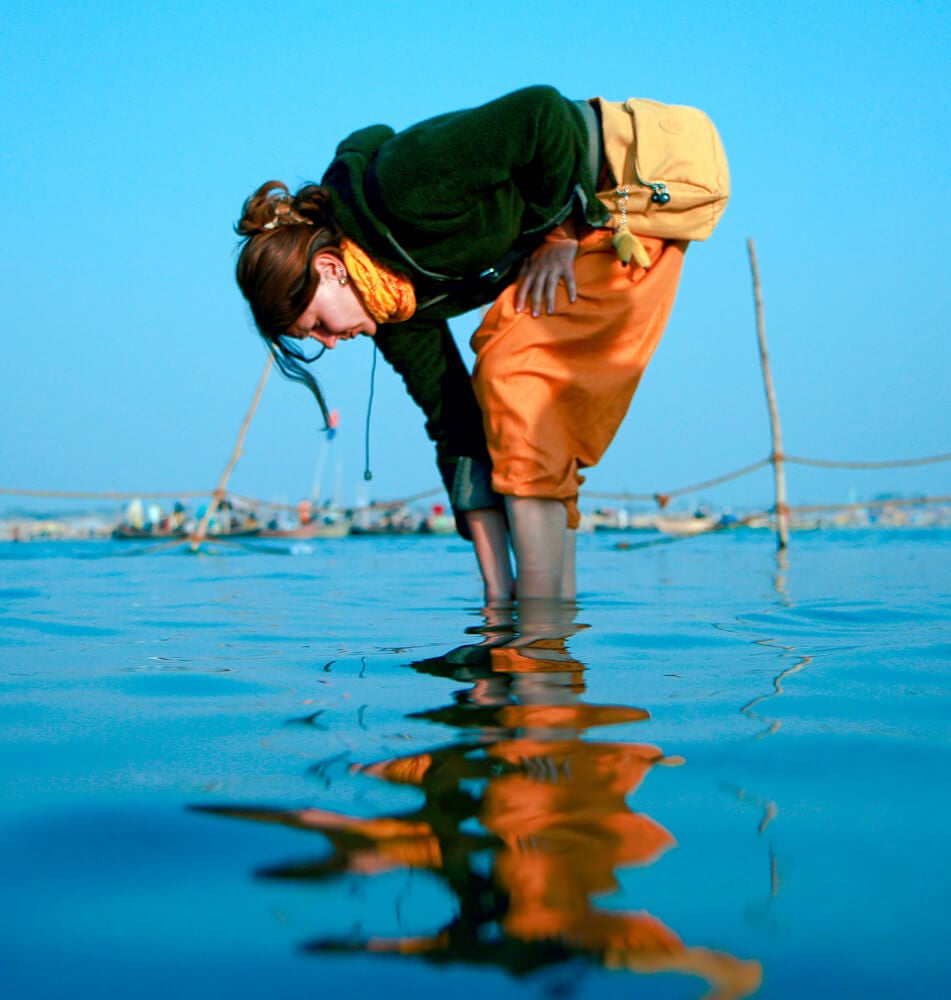 When: April
Where: Haridwar, Ujjain, Nashik, Prayag
Okay, you need to time your trip just right if you want to catch this festival since it's celebrated four times every 12 years!
Kumbh Mela is run over an entire month between April and May, and during this time, pilgrims from all over India make their way to the sacred rivers: Jamuna, Ganges, Godavari, and Shipra. Hindus believe taking a dip in one of these rivers during Kumbh Mela will eradicate their sins.
Now, you need to know two important things if attending this festival: first, access to all four rivers is free, so don't let anyone scam you into paying. A voluntary donation may be expected if you attend a religious lecture or prayer ceremony.
Secondly, it's considered poor form to strip down to your bathing suit even if you are submerged in water. Because it's among the most important religious festivals in India, both women and men are expected to be fully clothed when entering the river. It's also considered good form for women to layer up or wear dark clothing that won't turn sheer when wet.
Kumbh Mela mornings aren't usually complete without a quintessential cup of Tandoori Chai; a morish spiced tea served in hot clay cups.
Where to Stay:
Haridwar is often said to be the epicenter of the Kumbh Mela. My favorite place to stay in the area is undoubtedly on this farm which offers uninterrupted views of the Ganges.
Raksha Bandhan
One of the most endearing events in India, Raksha Bandhan celebrates the bond between brothers and sisters.
This festival is marked by a ceremony during which the sister ties a thread or handmade bracelet known as Rakhi around her brother's wrist for his prosperity and safety. In return, the brother pledges to protect his sister. According to Indian mythology, the river goddess Yamuna tied a Rakhi to Yama, the lord of death. He was so touched by the gesture that he pledged to forever protect his sister.
After the ceremony, the siblings usually feed each other sweets. It's also customary for the brother to give his sister a gift or some cash.
Even though it's not traditional, Raksha Bandhan is also practiced between cousins, friends, and sisters.
If you were visiting India around the time of Raksha Bandhan, I would recommend a trip to the market where you'll see stalls decked in brightly colored bracelets and pyramids of sweets.
Hindus fast and abstain from animal products for this festival, so the day usually ends with a vegetarian feast, served family style.
Where to Stay:
This well-appointed hotel in Jalandhar has just about everything you need for an epic stay: proximity to a railway station, airport transfers, and spacious rooms with classic home comforts.
Diwali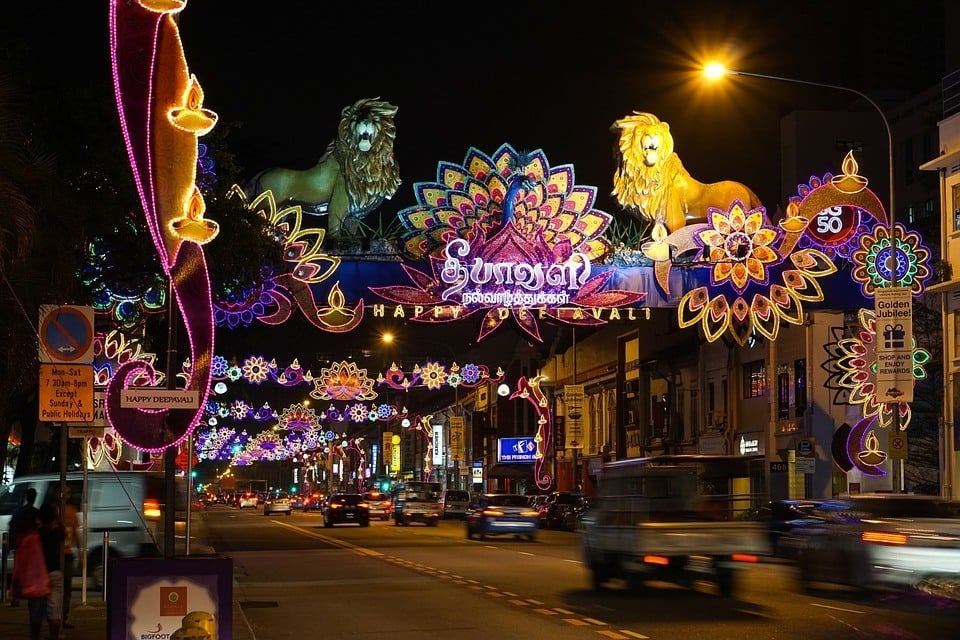 When: October
Where: Varanasi
Easily one of the most important festivals in India, Diwali is another free event that's acknowledged with plenty of enthusiasm all over the country. However, Varanasi takes the cake when it comes to celebrating the Festival of Light. Expect plenty of pageantries, fireworks, religious ceremonies, parades, live music, the works!
An official public holiday in most parts of India, Diwali gets its name from the rows of clay lamps that are carefully arranged inside and outside the house to ward off evil. In Sikhism, Jainism, and Hinduism, Diwali is celebrated over 5 days.
Preparations for Diwali start several days prior, with everyone shopping for new clothes, deep cleaning every room, and decorating houses with fairy lights.
Locals also spend a few days preparing an assortment of traditional sweets before Diwali. On the day of the festival, these sweets are packed in boxes or bags and distributed in the locality – and yes, travelers can freely grab their goodie bags since they're shared virtually everywhere.
If you're lucky, you might get a Jalebi in your Diwali box. An absolute favorite of mine, Jalebis refers to scrumptious funnel cakes dyed orange, bathed in rose syrup, and covered in lashings of ground pistachio.
Where to Stay:
Make sure you book your accommodation well in advance since the holy city of Varanasi fills up quickly during Diwali. Perched over the Ganges, this affordable guesthouse offers daily breakfast and comfortable rooms with river views.
Have you sorted your accommodation yet?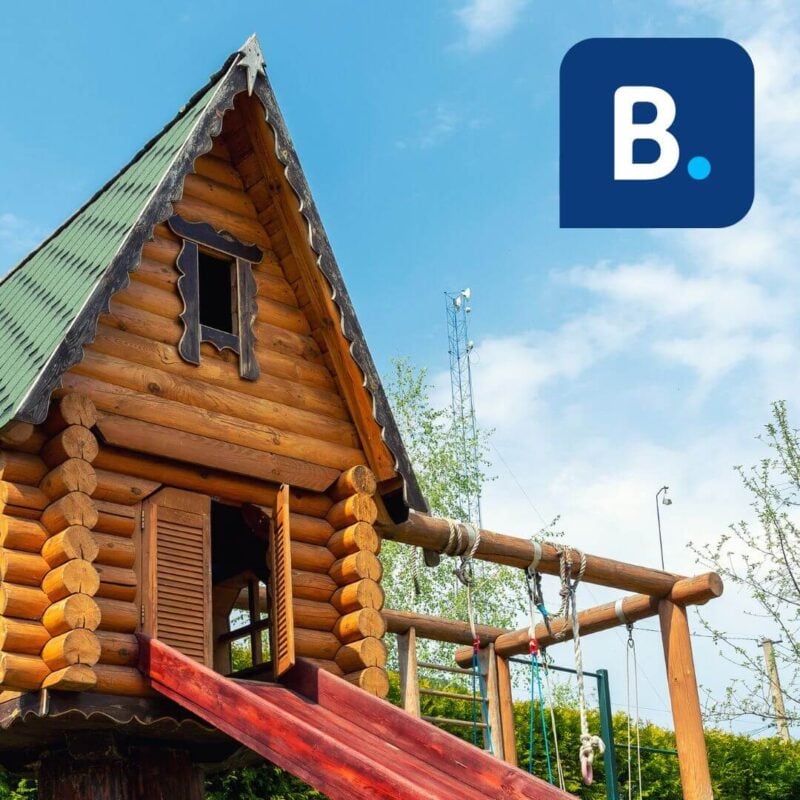 Get 15% OFF when you book through our link — and support the site you love so dearly 😉
Booking.com is quickly becoming our go-to for accommodation. From cheap hostels to stylish homestays and nice hotels, they've got it all!
View on Booking.com
Oktoberfest
When: October
Where: Mumbai
Oktoberfest may have started in Munich, but I can assure you that India also knows how to celebrate this booze-filled festival!
In my experience, Mumbai is the best place to experience Oktoberfest in India. Head over to the popular Bandra Kurla Complex, a Gateway Brewing Company taproom which serves up Munich-style brews throughout October. One of their best beers includes the Bomberg, a smoked concoction that replicates the flavor of German Helles. While the cost varies according to each individual drink, you may wish to budget around $26 for six pints of beer and two appetizers.
If you don't mind drinking early, Seven Kitchens at St. Regis hosts a special Oktoberfest brunch so you can try delicious ales, beers, and spirits paired with various types of dishes. Expect to spend around $35 per person.
Rest assured that you'll still be able to celebrate Oktoberfest in other cities if you can't make it to Mumbai. Cities like Goa, Bangalore, Pune, and Delhi often host tasting sessions during this festival.
Where to Stay:
Accommodation in Mumbai is admittedly more expensive than elsewhere in India, but you can still snag yourself an affordable place to crash for the night, like this comfortable B&B near Juhu Beach.
International Film Festival of India
Did you know that Bollywood, the local movie industry, rakes in a whopping $2.83 billion annually? That's right: over 2.2 billion movie tickets are sold in India each year!
As such, it shouldn't come as a surprise that the International Film Festival is right up there with the most iconic festivals in India! This event usually parks its heels in Goa, a beach city that draws hoards of travelers yearly.
Conducted by the State Government of Goa and the Ministry of Information and Broadcasting, this festival provides a common ground for movies from around the world.
Along with movie screenings, this festival also hosts a plethora of other events, including the highly popular Grand Music Concert Night at Goa University. Tickets tend to sell out quickly, so I recommend you get yours well in advance. Standard gold tickets cost $42.50 while platinum ones will set you back $91.
For $305, you can snag a VIP ticket which includes unlimited food and beverages, and access to the VIP seating section reserved for celebs. If you're into filmmaking yourself, this ticket also allows you to network with movie stars, filmmakers, and directors while partying the night away. Talk about a glitzy evening, right?
Where to Stay:
Cutting back on accommodation costs is the easiest way to afford a VIP concert ticket. This super cheap hostel in Goa offers dormitories or private rooms just a quick stroll from Palolem Beach.
NH7 WEEKENDER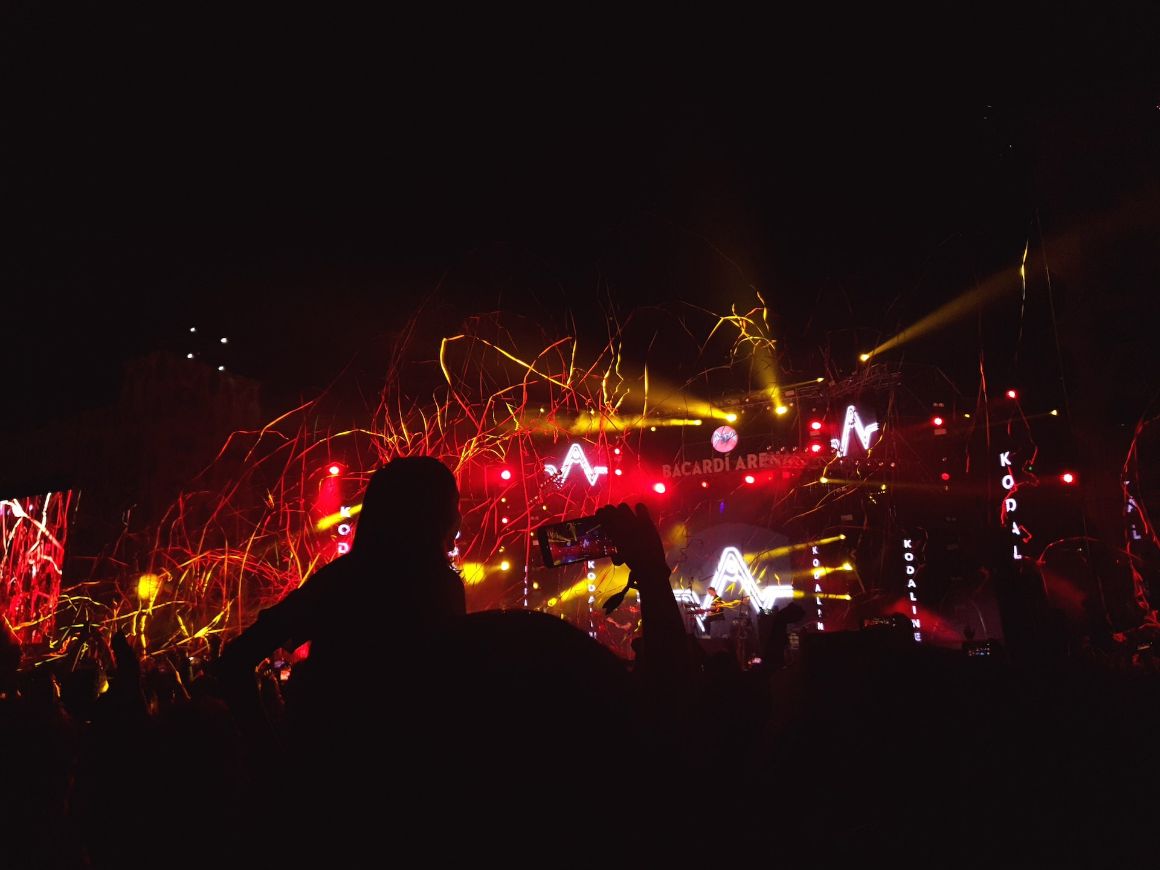 When: November
Where: Pune
Are you going to be in India in November? Then, be sure to check out the legendary NH7 WEEKENDER music festival in Pune!
Among the best indie music festivals in India, NH7 WEEKENDER gathers an impressive line-up of both local and international artists. The music genres are super eclectic with just about everything from Country Pop to Metal or even Acoustics, Rap, Electronic Rhythm, and Jazz – among others.
Across three days, this pet-friendly festival offers free entry to children aged 10-18, but they must be accompanied by an adult at all times. Youth tickets (18 to 21) cost $28 while adult tickets will set you back $52.
In keeping up with the local Covid-19 guidelines, attendees must show proof of vaccination and wear their masks throughout the festival.
This is a hugely anticipated event in India, so the parking lot fills up very quickly. If you're driving there, it's always a good idea to head there as early as possible. You may even see some artists rehearsing or playing early sets while waiting for the official event to start!
While you're not allowed to bring your own refreshments, food and drinks (including alcoholic ones) are available for purchase.
Where to Stay:
Wake up to a complimentary breakfast daily with a stay at the Hyatt Place Pune Hinjawadi. Perfect for families or groups of friends, this hotel offers generously sized rooms with extra sofa beds.
Is This the Best Daypack EVER???
Sunburn Festival
It won't take long to realize that Goa is an absolute hotspot for everything fun and fabulous! It should therefore come as no surprise that some of the country's biggest events are held there, and Sunburn is about as thrilling as you can get!
One of the largest electronic music festivals in India, Sunburn draws travelers from all over Asia, so I recommend you get your tickets well in advance before they sell out.
This year, the festival is gearing up to showcase over 120 local and international acts, all spread across seven stages. Because it's usually held from December 28 to 30, this festival is ideal for EDM enthusiasts who want to greet the new year with a bang!
High-octane performances, SFX, and laser show only add to the vibrancy of the festival.
Sunburn also has an open-air cinema, zip lines, Ferris Wheel, and bungee jumping – not to mention plenty of state-of-the-art games. Keep your eyes peeled for stalls offering local and international products, but bear in mind that most stalls only accept cash.
Sunburn is only open to adults (18 and over). Regular tickets cost $82, while VIP ones are priced at $134.
Where to Stay:
You can join the other partygoers in the city's organized camping areas, but if camping's not your thing, this quirky guesthouse comes with just about everything you need for an epic stay in Goa!
Hornbill Music Festival
When: December
Where: Kohima
If you're wondering why the Hornbill Music Festival is often called the 'Festival of Festivals', wait until you check out this lively event for yourself! This week-long event borrows its name from a native bird that symbolizes respect and folklore.
The festival is organized by India's Art & Culture department to revive, sustain and protect the local Naga Heritage through music. The event also promotes inter-tribal harmony while celebrating Naga traditions.
For travelers, this festival provides an immersive experience of Naga culture: along with plenty of live folkloric performances, the Hornbill Festival also showcases tribal food, traditions, and dances.
Camping is an integral part of the festival, so feel free to bring a tent along! The campsite lies just around 100 meters from the stage and offers charging stations, a common lobby, 24 access to water, a shared kitchen, snacks, and well-appointed bathrooms.
Along with tribal music and dances, you can also expect food fairs, art exhibitions, flower shows, and a pretty unique chili-eating challenge!
Tickets to the festival cost around $20 per person.
Where to Stay:
Wondering where to drop anchor during this festival? I can vouch for Niraamaya Retreats Aradura Kohima, a charming resort with family rooms, complimentary breakfast, and sweeping mountain views.
Final Thoughts
India literally has something for just about every type of traveler: if you want to immerse yourself in the local culture, attend a religious ceremony, or take in the buzzing atmosphere at a music festival, this country certainly has you covered!
In my opinion, Diwali is one of the most captivating festivals in India. This is one event that doesn't go unnoticed – so grand and lively are the celebrations!
Believe me when I say that seeing the streets of India decked with clay lamps, fairy lights, and flower garlands is quite a sight to behold! The mounds of sweet treats that are freely distributed during this festival only add to the overall sense of merriment that permeates the country during Diwali.
ALWAYS sort out your backpacker insurance before your trip. There's plenty to choose from in that department, but a good place to start is Safety Wing.
They offer month-to-month payments, no lock-in contracts, and require absolutely no itineraries: that's the exact kind of insurance long-term travellers and digital nomads need.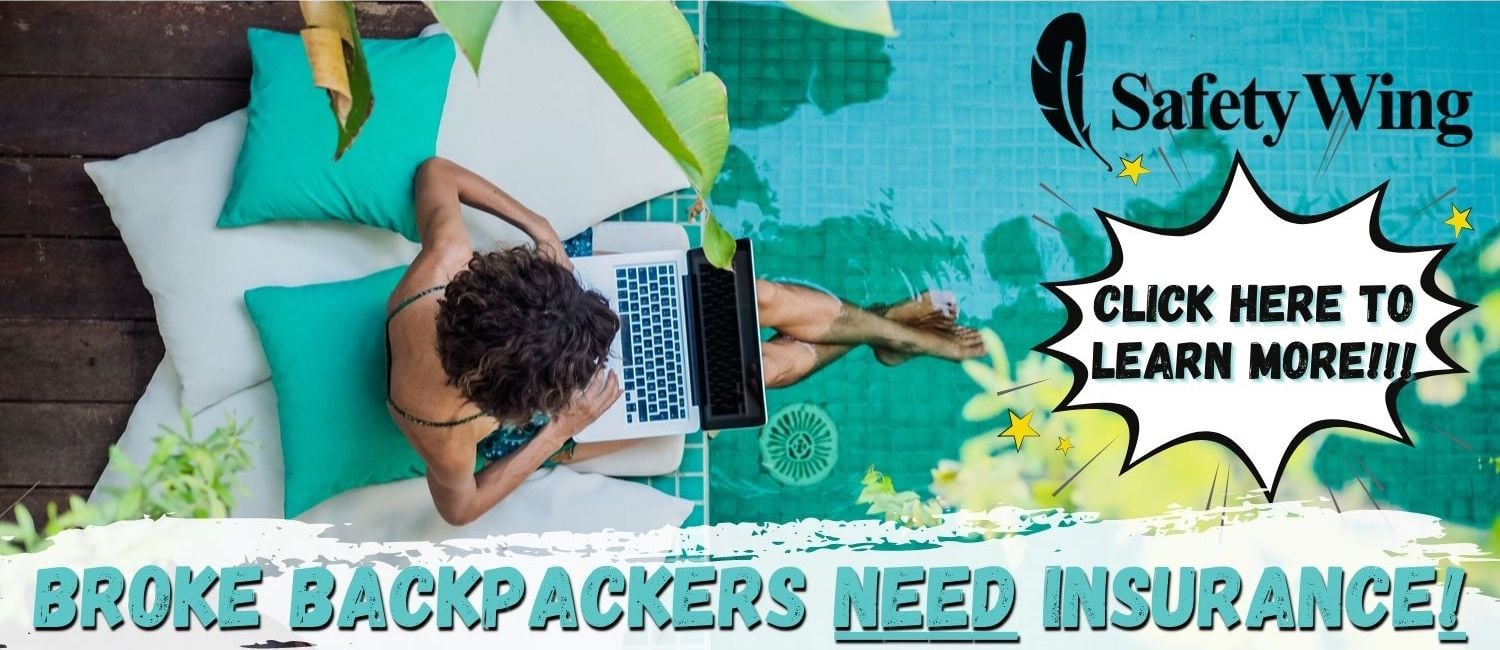 SafetyWing is cheap, easy, and admin-free: just sign up lickety-split so you can get back to it!
Click the button below to learn more about SafetyWing's setup or read our insider review for the full tasty scoop.
---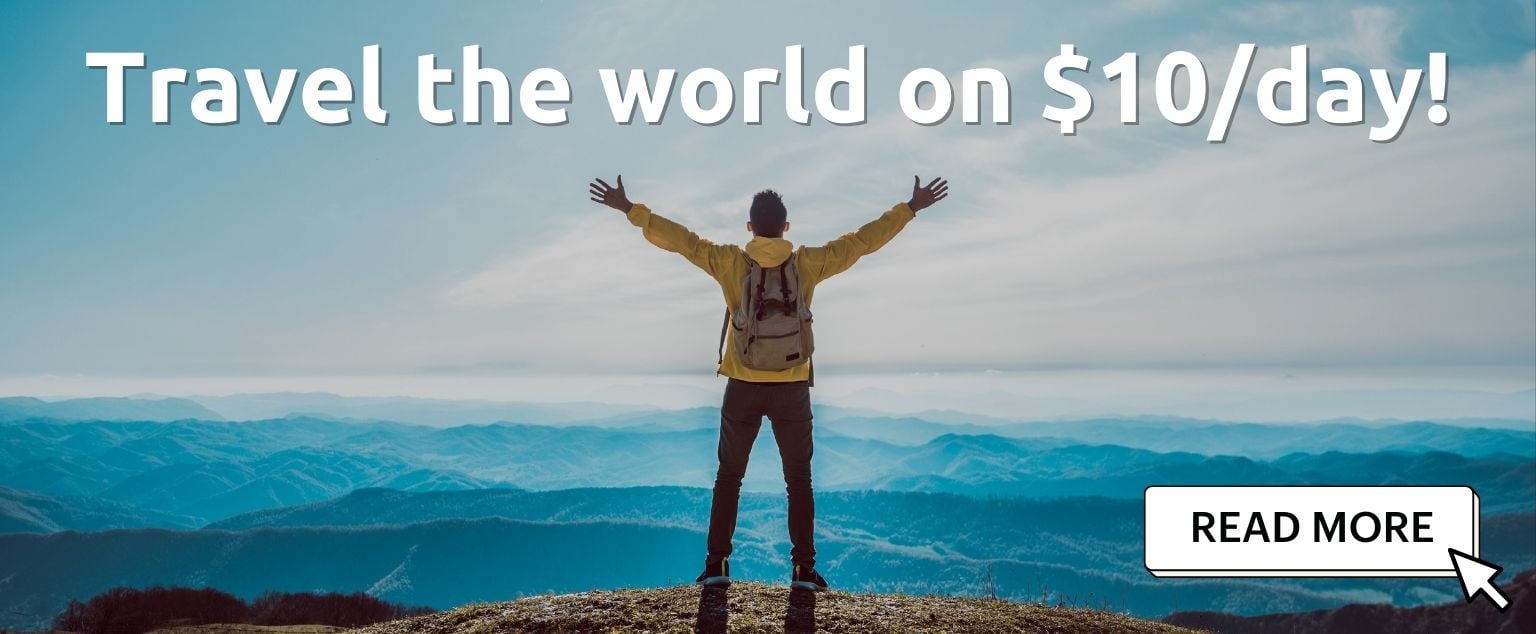 And for transparency's sake, please know that some of the links in our content are affiliate links. That means that if you book your accommodation, buy your gear, or sort your insurance through our link, we earn a small commission (at no extra cost to you). That said, we only link to the gear we trust and never recommend services we don't believe are up to scratch. Again, thank you!