Historical legend has it that when a Jesuit Missionary visited the Portuguese colony of Goa in the 16th century, he was appalled to find that the "good, Christian men" who the crown had stationed to rule, had apparently been led astray and could now be found "dancing wildly all night in revelry on the beaches". Having spent a cumulative total of nearly 1 year in Goa, I can say with some certainty that Goa just seems to have that effect on people… and I'm not complaining!
The word "Goa" has become something of an international byword for epic parties in the same way that Berlin and Ibiza are. Indeed "Goa-parties" swept across the world during the mid-1990s and the sunny state became a go-to destination for the ravers and hedonists of the world.
Whilst the ferocious, mega-sized Goa trance raves of the late '90s are now a distant memory (much to the relief of the locals) Goa nevertheless remains a mecca for both domestic and international visitors seeking fun times, repetitive beats and chemicals of questionable origin (and that's just the booze).
In this guide, we will take a detailed look at the Goa party scene as it is, in 2022.  Across 5 trips, I have spent nearly a year of my life in Goa and in that time danced my way across pretty much everything it has to offer. I will tell you (almost) everything I know about the best clubs and venues, the hippest parties and the hottest DJs.
And for good measure, I will even throw in my intel regarding costs, practicalities, and health and safety.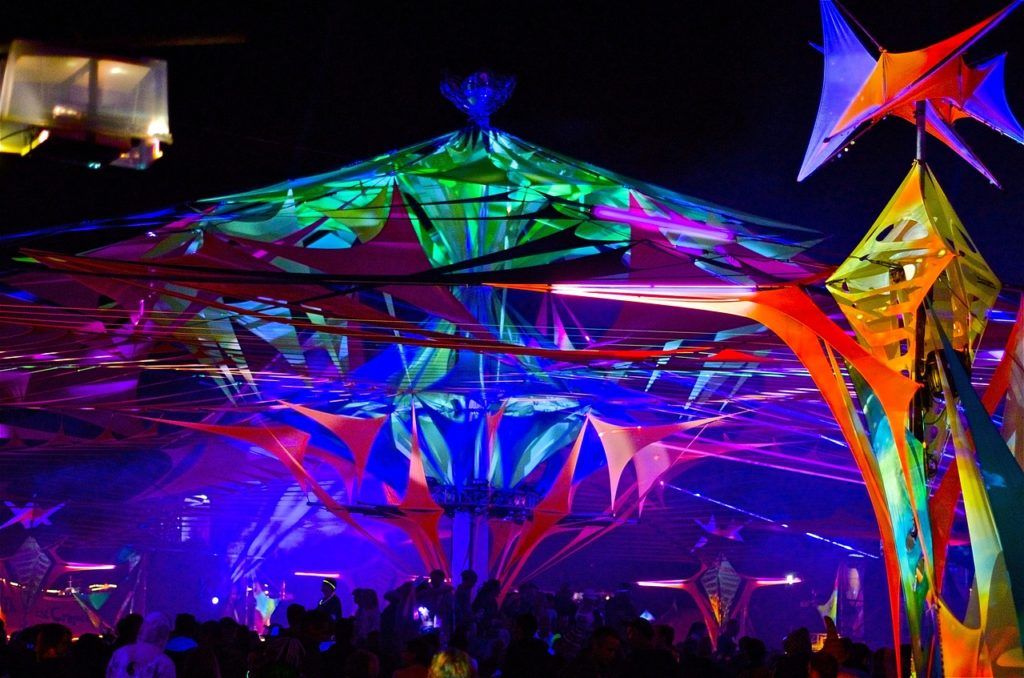 Quick Answers – These Are The Best Parties In Goa
In a hurry? Can't be bothered to read all 6000 words of this Goa nightlife guide? Then simply check out the top parties in Goa hand-picked just for you.
Psychedelic Tuesday – Shiva Valley
Every Tuesday (except monsoon) this unassuming beach shack throws a 12 hour+ Psytrance session right on the beach. The sound system is pounding, the sets relentless and the clientele a glorious mix of blissed-out tranceheads and innocent, unsuspecting tourists who really have no idea what the fuck is going on around them!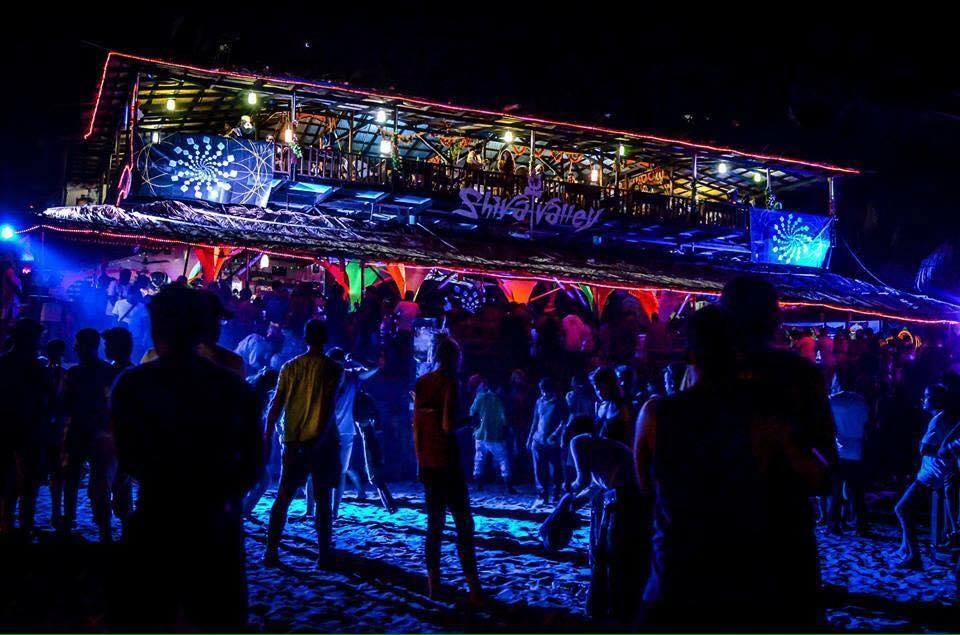 Psytrance is Goa's great gift to the world and you absolutely have to attend at least one trance-out. My pro-tip is not to turn up before at least 1 am as this gives all the drunken idiots time to pass out and go home. Oh, also bring tissues and sanitiser (the toilets are a mess) and do mind those steep bloody steep concrete stairs on the way down.
Pandora – Various times and venues
Drawing upon years of Goa party organisation experience, the newly formed Pandora crew have been throwing Techno (and the odd Psytrance) parties up and down Goa for nearly one year now at different venues and have risen fast to become one of the states most exciting promoters. Whilst they do primarily stick to Techno, the parties they throw move between different styles including psychedelic, minimal and dark.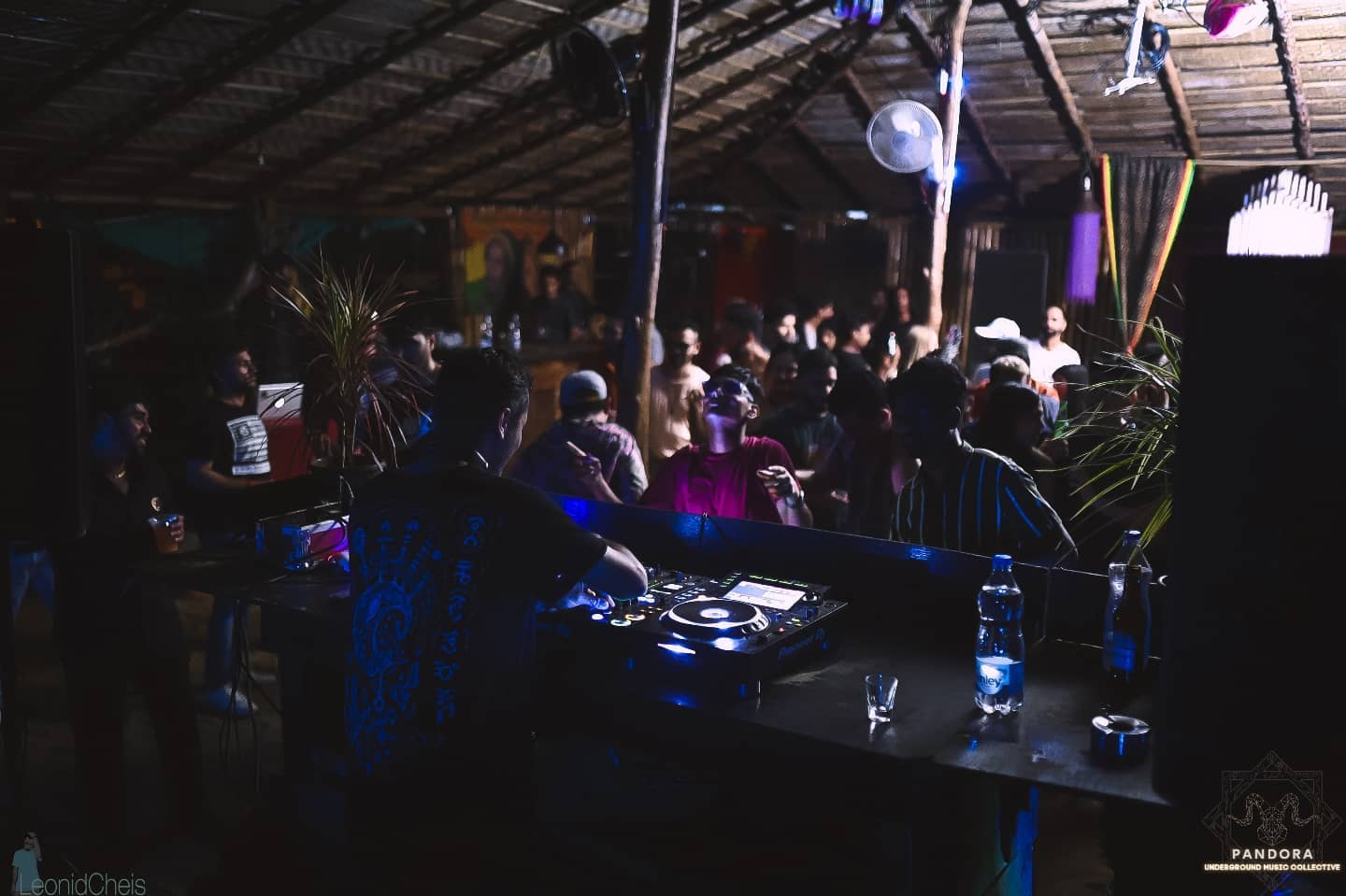 The Pandora crew have a knack for putting together great lineups and curating peaceful vibes all whilst delivering a true taste of Goa's underground.
To find out what they are doing, follow them on Instagram @pandoramusicollcective.
Vortex – Rockwaters
Every Saturday (From November to May), Rockwaters hosts the Vortex crew, whose unique brand of minimal, groovy Techno has earned them a place in modern Goa folklore. Vortex is very popular with the long stayers and foreigners but is beginning to attract more and more domestic and transient tourists.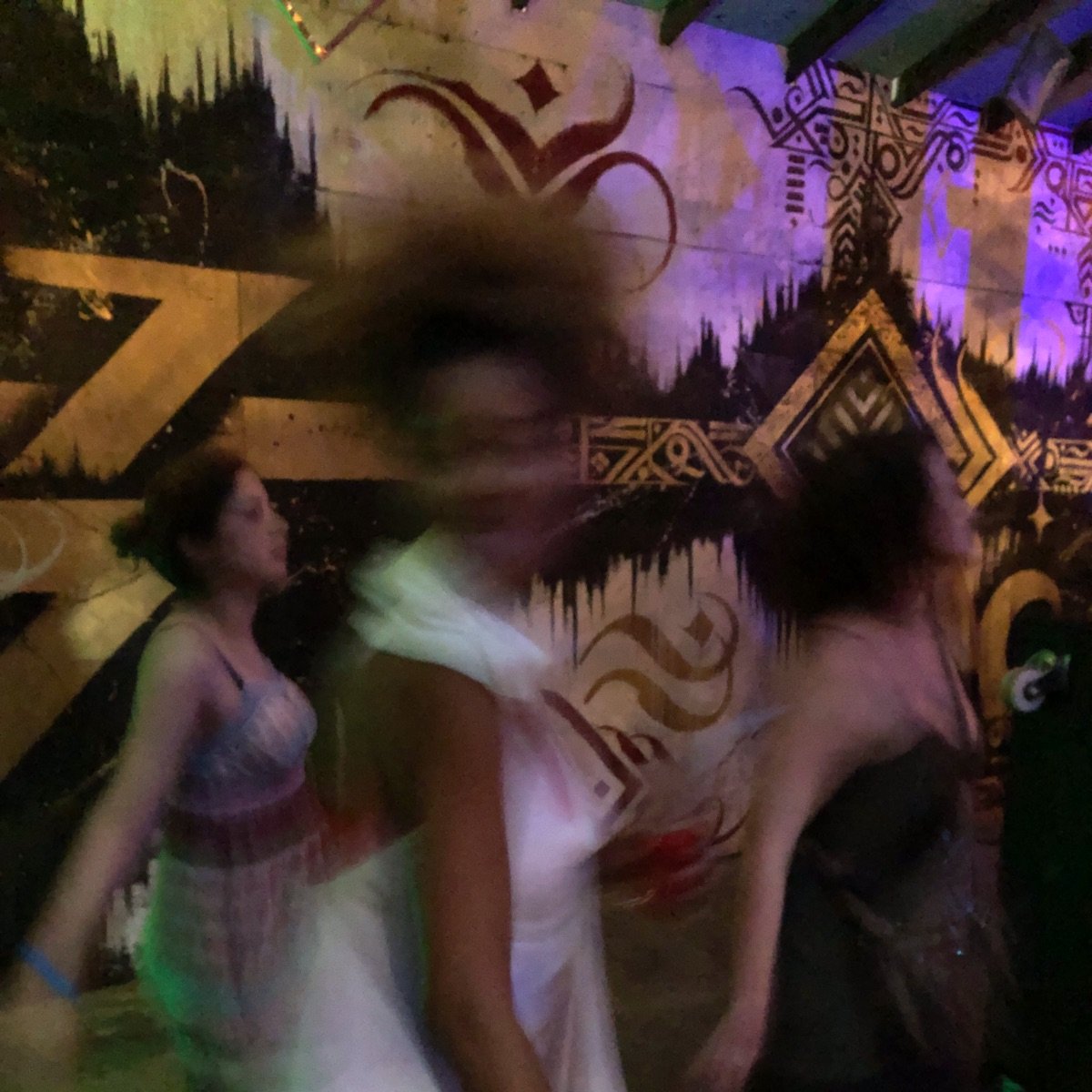 The resident DJs are pure class, the sound system is amazing and the wall mural absolutely stunning. However, recent times have seen the Vortex dance floor descend into a bit of a brut and testosterone scented bro-fest on occasions.
Ecstatic Dance – Various Times and Venues
Ecstatic Dance is basically a sober dance-off. No alcohol, just sweaty hippies jigging to tribal beats and cheesy mantras. It's actually good fun once you get into it and the event does attract rather a lot of tightly bodied, hot yoginis. There are a few different places in Goa doing Ecstatic Dance so keep an eye out for posters.
However, up in Arambol, the bourgeois hippy-centre of Shunya does it every Wednesday.

Our GREATEST Travel Secrets…
Pop your email here & get the original Broke Backpacker Bible for FREE.
Goa Nightlife Guide
What Kind Of Goa Party Do You Want?
Goa has a hell of a lot of very different nightlife options. The phrase 'something for everyone' is wildly overused but it pretty much applies here. When you arrive in Goa you could simply head to the nearest bar or beach shack, order a round of cold (OK tepid) Kingfishers and see where the night takes you and honestly there is a lot of fun to be had that way.
However, most visitors are a bit more discerning and as such already have some ideas of what they want from a Goa party. So start off by asking yourself, do you have a preference as to the genre and style of music you want to hear?
Do you actually even care about music or do you just want to check out girls/boys? Are you after a proper underground vibe or something more mainstream and palatable for the masses? Do you prefer to attend parties that have functioning toilets or are you OK with filthy piss swilling cisterns?
Another big consideration to bottom out is what kind of party fuel are you after? The taxable kind or the non-taxable kind? Do note that the Goa rave scene is not really all that boozy so if you want to crack open a bottle of Stag Whisky and down it, it may be worth staying away and picking one of the bars or clubs in Baga instead.
Is This the Best Travel Pack EVER???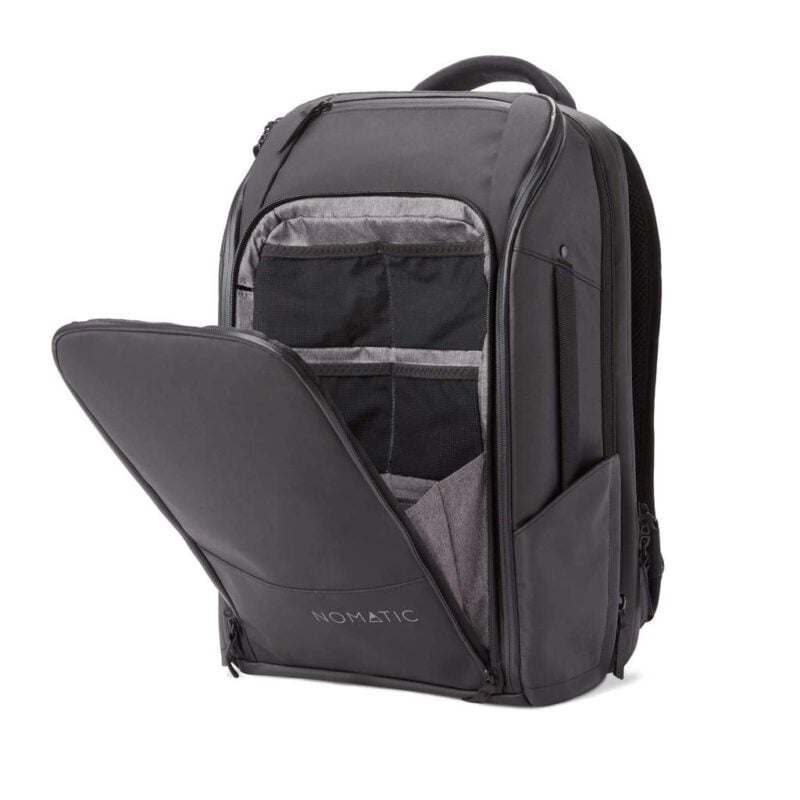 When To Party in Goa
Goa is not really a year-round destination. In fact, the monsoon rains force much of the region into hibernation for the summer months. This is true for much of the country and carefully choosing when to go to India is quite important.
The best time to party in Goa is anytime between November and March. Holidays like Christmas, New Year, Russian Christmas and Holi are especially lively when the whole strip around the beaches pretty much turns into a 24/7 party-a-thon. In fact, if you want pure atmosphere, it's one of the best places in the world to visit in December.
After Holi, one of the most important festivals in India, things begin to wind down a bit and the foreigners start to go home as the state heats up. Still, there is enough to keep visitors busy until at least Mid-April or Easter (whichever comes first).
If you visit Goa outside of the above period, then you may end up being a bit disappointed. For example, I write this in mid-May and a number of venues have closed for the summer, others are operating reduced hours and even the ones that are open as usual are basically empty most nights.
Of course, this is not necessarily an out and out bad thing and for me, it is nice to experience a different, less intense version of Goa. But, if you're here to party then it's not ideal!
Where To Party in Goa
In case you are not aware of this, Goa is an entire state. Whilst it is India's smallest state, it still spans 3,702Km2, making it larger than a number of countries. So you need to choose which part of Goa you base yourself in very carefully.
Basically, all of the party stuff is in North Goa situated along the beaches that span 25km from Arambol down to Calangute. Contrarily, if you decide to stay down in Palolem, don't expect to get too much partying done.
Within that 25km stretch though, there are a number of distinct regions all of which have their own unique flavour. In this section, I will cover both areas, towns and villages, as well as looking at some individual venues.
Let's look at them now.
Arambol/Mandrem/Morjim
The fishing village of Arambol is Goa's hippy mecca. It remains relatively cheap and cheerful and is very popular with long stayers who come for the whole winter to do yoga, get stoned and attempt polyamorous relationships.
Mandrem is situated a short distance along the coast and is quieter, pricier and nicer and then there is the Russian enclave of Morjim (or Morjimgrad) which has its own little scene going on.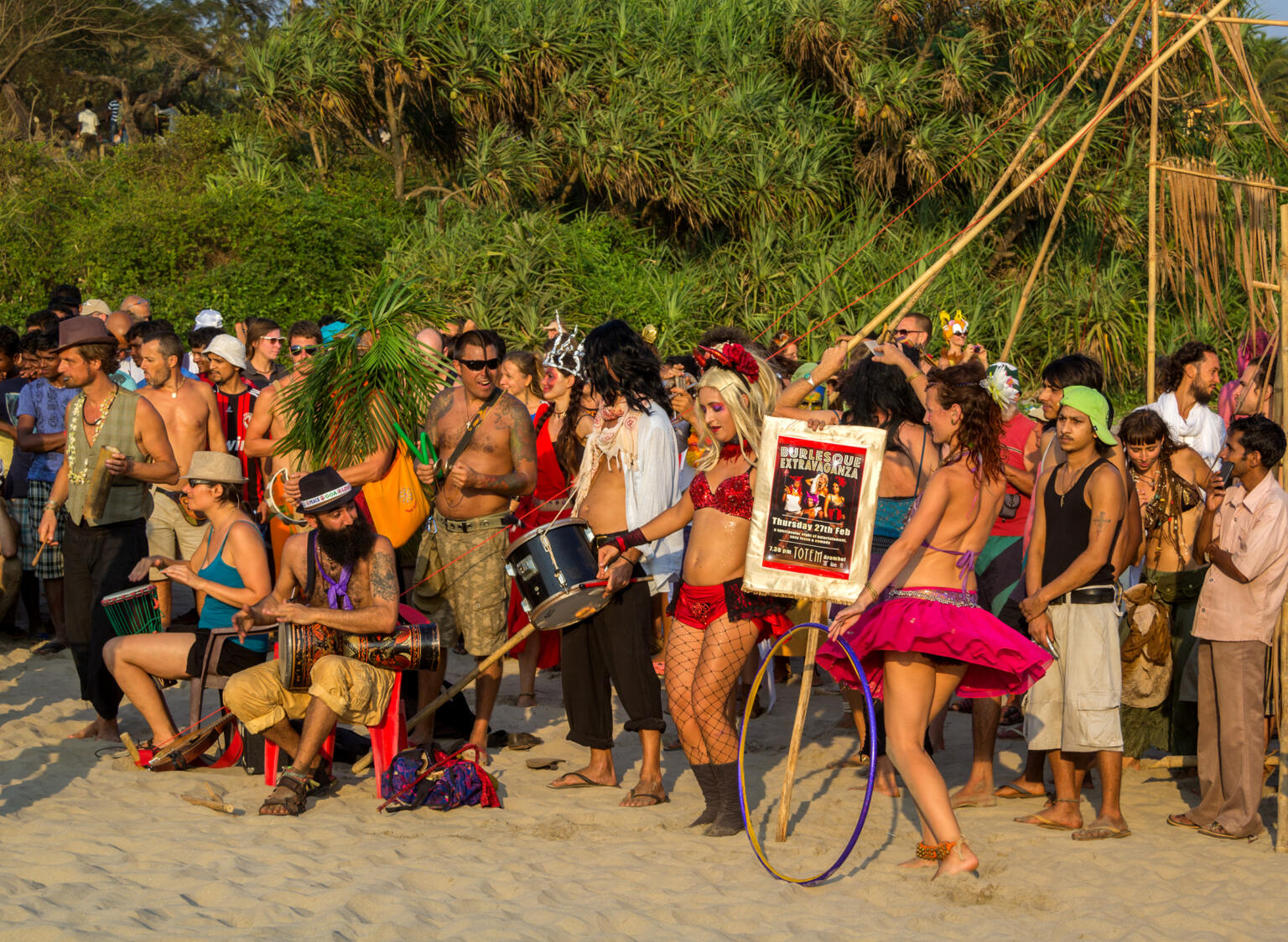 This part of Goa is not really known for its serious party scene and things tend to wind down by midnight. Still, in Arambol there are nightly live music events at Twice in Nature and This Is It and the slew of resorts along the Arambol/Mandrem road like Riva, do sometimes throw day parties playing mainstream House, Techno and Bollywood.
Up in Morjim, The Rice Mill has live jazz happening in the evenings but the only 'real' party hotspot is Rockwaters which hosts the legendary Vortex parties every Saturday. Other than Vortex, Rockwaters does throw other cool parties (including the occasional DnB and Psytrance ones) on more of an ad hoc basis, so it is worth checking their Social Media to see what is going on.
Vagator/Anjuna
Trippy Anjuna (which sprawls into Vagator) is the epicentre of Goa's (and arguably the world's) electronic music and rave scene. It was along the beaches of Anjuna in the 1980s that Goa trance was developed and the region remains a mecca for modern-day Psy-heads.
I once remarked that 'the beaches of Anjuna are not fashioned from sand, but rather from the scattered shards of shattered consciousness of the revellers whose minds had been blown whilst dancing there'. Some 5 years on I stand by those sentiments.
In Anjuna and Vagator you can find electronic music playing pretty much 24/7 and there are multiple all-nighters happening every night of the week during the high season.
The Goa-Psytrance fires are kept burning at Shiva Valley (Tuesday nights), UV Bar, Pinakin Beach, Dream Beach and Hilltop. Shiva Place used to do amazing free open-air all-nighters but appears to have fallen victim to the pandemic. Other venues like Cafe Lilliput and Pirates Bar sometimes have Psytrance parties.
You can find various shades of Techno at Curlies, Locura, Soiree, Cafe Lilliput and Pirates Bar. Cafe Prana also throws very pleasant weekend parties which focus more on mainstream house and tribal styles.
As well as the proper parties, there are quite a few decent little bars dotted around Anjuna and Vagator too – Escobar offers beer on draft and pulls in an eclectic, chatty crowd.
Chapora
The Chapora delta area is one of the most picturesque and unusual little spots in Goa. Whilst it is often just used as a link between Siolim and Anjuna, it does actually have a little scene of its own going on.
Firstly, Chapora high street is home to a run of little dive bars and the whole drag feels like it could be in Europe. As one may expect, the ambience can set seriously lairy after hours though and, whilst the area could be oh so good, it just isn't exactly the kind of place I would bring my girlfriend.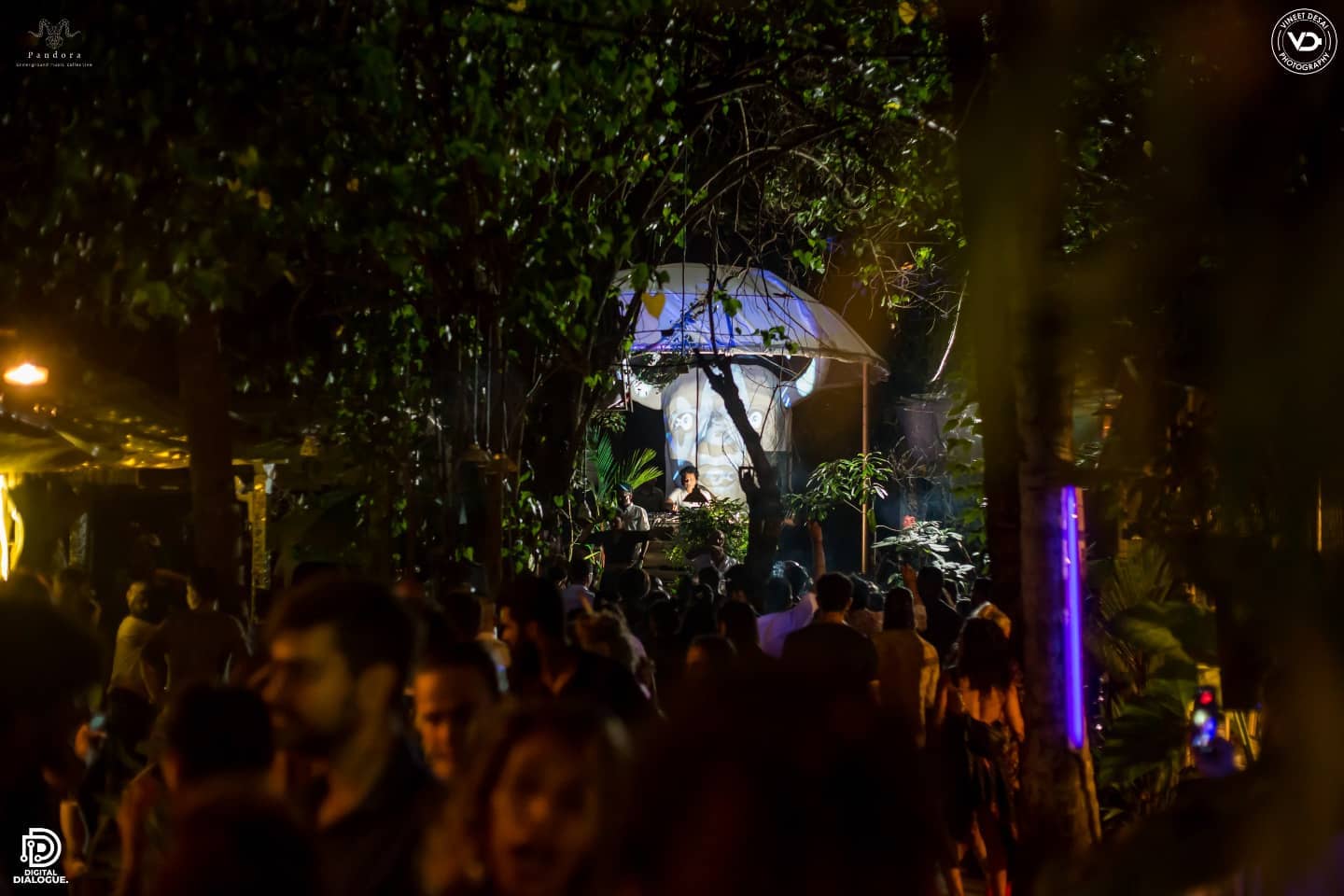 Other Chapora hotspots include La Vie En Rose which does mainstream Techno parties but the jewel in the crown is without a doubt the wonderful House of Chapora which hosts different crews/collectives each night doing Techno, House or Psytrance – House of Chapora also hosts quite a lot of the aforementioned Pandora parties.
Word of warning, there are a lot of dark, lonely lanes in and around Chapora so drive carefully and ladies, do be extra cautious.
Calangute/Baga
From the sublime to the ridiculous we now come to Calangute and Baga. These areas are basically where mainstream and package tourists from both India and abroad head. It is a mini-metropolis hellscape of big hotels, boozy bars and lairy clubs. If you are coming to Goa to drink and behave badly, then this is the place to do it.
This is where you will find clubs like the notorious Titos.
South Goa
If you are headed to South Goa (Palolem/Agonda) then it isn't really the place to party.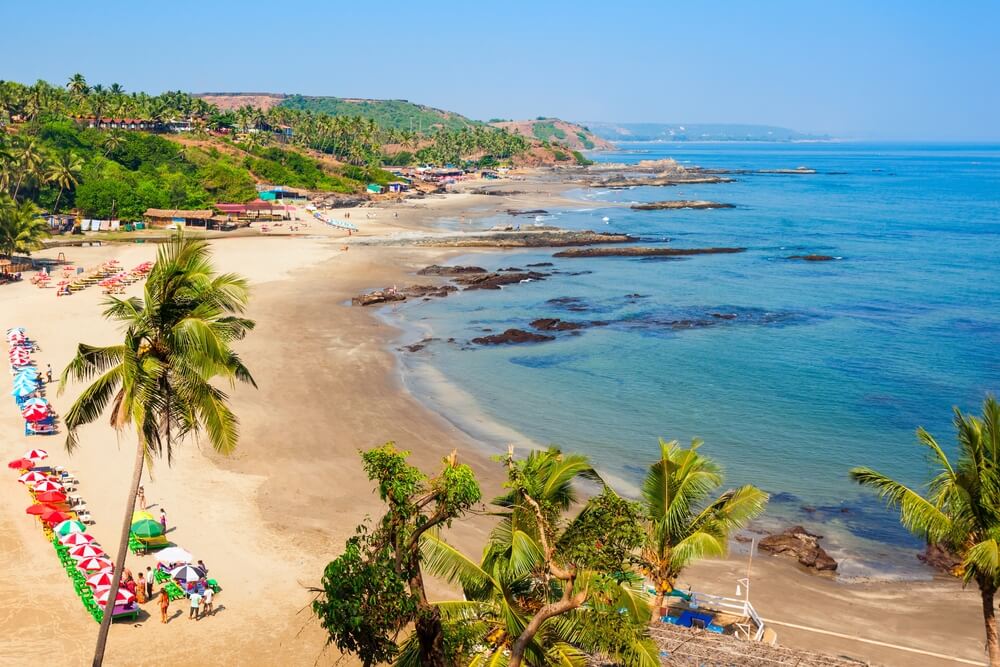 Clubs, Party and Nightlife Venues in Goa
Right, let's have a quick run through some of the most notable venues in Goa. Note that I have only included a selection of the most established and notable ones. Venues open and close so fast that it is just not possible to maintain a fully comprehensive list.
Arambol
Located just a beat away from Arambol centre, Twice in Nature is a little resort that hosts hippy get-togethers most nights during the tourist season. The emphasis here is mostly on live music but there are occasional electronic acts taking a turn.
Entry ranges from 200 – 500INR and things tend to wind down by midnight.
Located right on the beach towards Cliffside, This Is It is actually a whole run of beach shacks that does decent enough food at good prices and throws – free – live music gigs most nights. Few of the performances are ever remarkable but the venue is a decent meeting place and gets a mixed crowd. It's a great place to head if you want a few beers and to mingle.
Mandrem
The upmarket resort of Riva is a very pleasant space that takes in huts and well manicured gardens. Riva throws day parties at weekends and on holidays but they tend to wind down by around 9 pm.
This Russo-ran roadside resto hosts live music most weekends. It's a pretty good vibe inside and the food is decent. However, it is seriously overpriced.
Morjim
Located right on the beach in Morjim, Rockwaters is a resort-come nightclub that throws some of the best parties this side of the river. Rockwaters is home to the legendary Vortex Techno parties that take place every Saturday in the season as well as other miscellaneous parties now and then.
Entry ranges from 500 – 1000INR and drink prices are also reasonable. Rockwaters can be hard to find at first and the lanes that lead there are seriously dark and lonesome so do exercise due caution. The Vortex sound system is very impressive by the way.
Chapora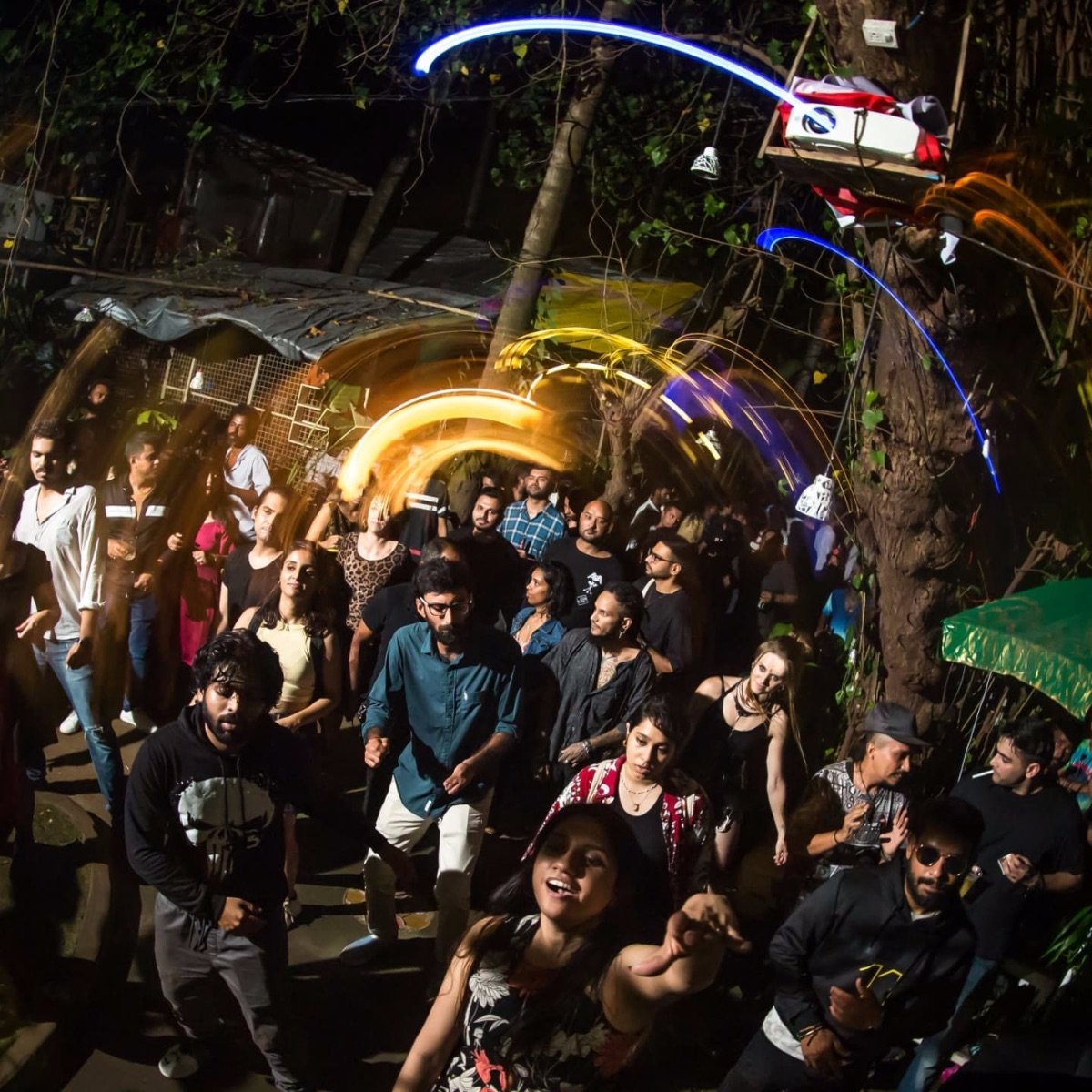 Located right on the Chapora river, the House of Chapora has emerged in recent years as one of Goa's most happening venues. The space is basically an old Portuguese, palatial home & garden repurposed as a party venue. It hosts different kinds of parties most nights with music styles running from techno (in all its forms), Psytrance, Dark Prog and even more mainstream stuff.
The clientele is a mix of foreigners and visiting domestic tourists and dress and behaviour standards are notably higher than at most other venues. Admission prices do vary from 500INR up to 1500INR depending on the night, the party and the time you arrive at the gate. In terms of downsides, they could use an extra toilet and the dancefloor is a bit dangerous – I've seen a few people fall from it!
Another riverside venue, La Vie En Rose throws decent (commercial) techno parties that attract a nice crowd of casual, part-time ravers. It is less edgy and cool than other venues but the vibe is less dark and more sociable.
The strip of little dive bars in Chapora high street all seem to mix into one another and are a great spot for a night's drinking or preloading before clubs. The only downside is that some domestic tourists seem to get a bit carried away after a couple of Kingfishers and the vibe does take a bit of a turn for the lairy long before midnight.
Vagator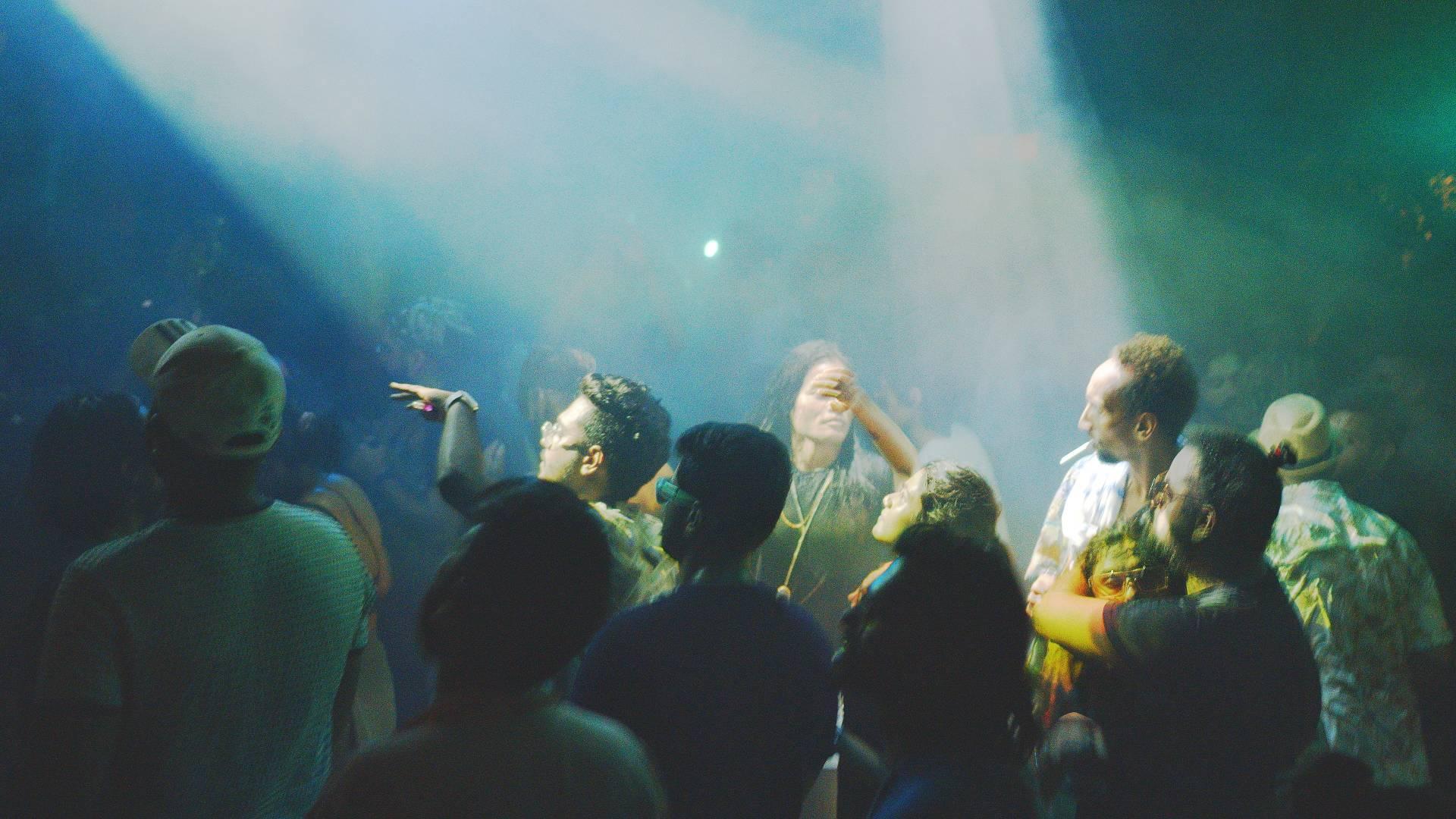 Pinakin beach is a shack turned club located at the opposite end of Ozran beach in Vagator. It basically hosts dark-Psytrance parties multiple nights per week during the high season. Darkpsy and Forest can get a bit repetitive but do really hit the spot during the darker hours of the night. Entrance and drinks are reasonably priced so it's the perfect antidote to the overpriced HillTop.
HillTop has passed into Goa legend and emerged as the undisputed temple of trance. And to be fair it does attract some of the biggest (and most boring) names in the Psytrance scene to play at its festivals and big nights. However, I personally cannot actually stand the place at all. It is hot, soulless and the vibe can get a bit dodgy. Worst of all it is pathetically overpriced with admission starting at 1500INR and a tepid Kingfisher costing 500INR.
However, the Friday HillTop market is well worth a look. Even if you fancy doing any shopping it's a fun place to hang out, mingle and dance to the DJs.
Located close to Pinakin, Soiree is a new(ish) venue that is a rare thing in Goa – an actual indoor, coerced club. The decor is a bit seedy with black walls and cheesy lasers but there is a nice smoking terrace, drinks are fairly priced and the clientele tends to be welcoming. The music is a real mix spanning underground techno to mainstream Bollywood beats.
The sister site of Ashvem's lovely Prana resort and cafe, this venue does healthy food by day and throws sociable parties at weekends. The clientele is a mix of Goa's monied-hippy-yuppies (or yippies?!), long stayers, and well presented domestic tourists.
The vibe here is pleasant and sociable and it is a good spot to call into. However, bar service is woefully lamentable, toilet queues endless, and the music is little more than aural magnolia.
Anjuna
Nestled at the far end of Anjuna beach, Shiva Valley is a humble beach shack that throws legendary Psytrance parties every Tuesday night. Shiva Valley attracts a real mix of drunken tourists, random backpackers and hardcore tranceheads.
For me, Shiva Valley is the epitome of what a Goa party can and should be and is an unmissable stop on any Goa itinerary. The sound of Shiva Valley is a mix of "full-on" and darker forms of Psytrance in the night, followed by uplifting morning sets. The venue is so well regarded that even top global Psy DJs will turn up and play (I've seen Hypnocoustics, Tristan and Phobos all play low key sets here). Entry is 1000INR per person but once you are in, drinks are fairly priced. The toilets are a bit of a state by the way so bring tissues, hand sanitizer and wipes.
Just off the legendary Lilliput lane, this is a small, boutique venue with a sand dance floor. It hosts Techno, House and commercial parties so it is worth checking ahead to see what is going on.
UV bar is a shack/club sat along Lilliput lane. It has emerged as one of Anjuna's premier clubs and churns out a steady diet of acceptable, entry-level Psy Trance and Techno. Admission and drinks are a bit pricey for my liking but there are people here dancing most nights so if you are in Anuna with nowhere else to go, check it out.
Another shack situated along Anjuna's Lilliput lane, Pirates Cafe throws Psytrance and Techno parties most weekends. Don't expect anything too remarkable, but it's well located, cheap and the music is perfectly decent
In case you have never heard of "Hi-Tech", it is a bastard offshoot of Psytrance. It is played comically fast and is basically an endless overlay of digital sound effects. Whilst some Psytrance parties occasionally morph into Tech-outs, Dream Beach plays it all night long. Not for the faint-hearted is all I will say here.
Baga/Calangute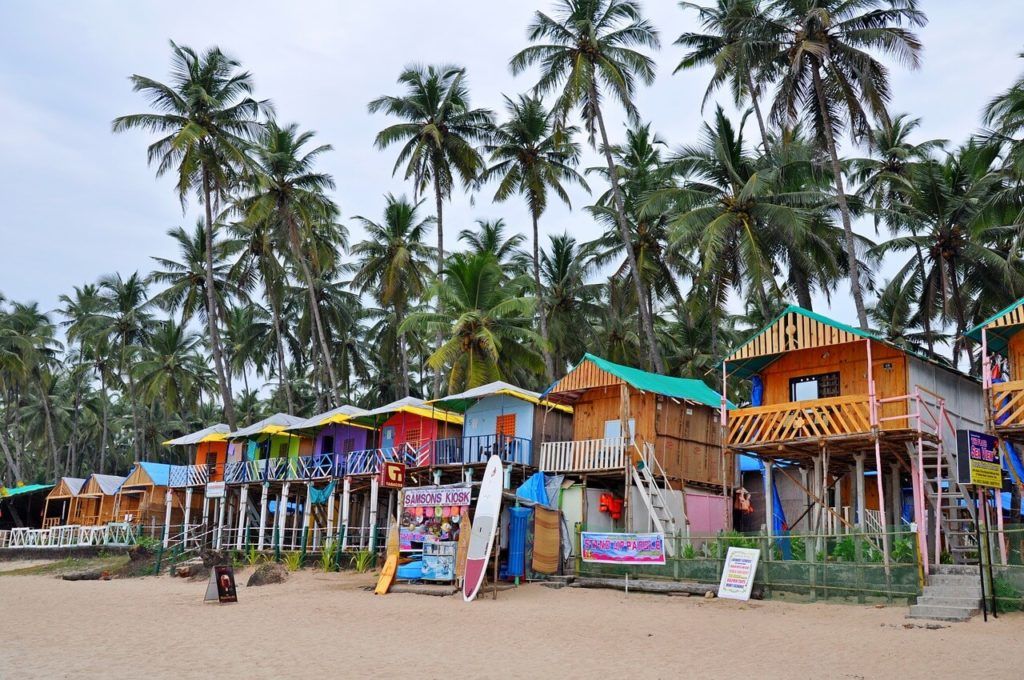 Titos is either legendary or notorious in Goa depending on one's point of view. In the late 90s, it became known as the place where local men would come to ogle foreign women but has not cleaned up its act some.
These days it is a popular venue that stages a variety of mainstream/commercial club nights. It isn't cool or edgy but it is good at what it does and is popular with weekenders. Note that it can be on the pricey side though.
A Word On Finding The Hippest Parties In Goa
You may well already know this, but when it comes to electronic music it is often less important to focus on the venue than on the promoter/organiser. Basically, a lot of different organisers run their parties across multiple venues up and down Goa. Therefore following an organiser crew you like or are interested in, can prove a lot more valuable than paying attention to clubs, venues or even DJs.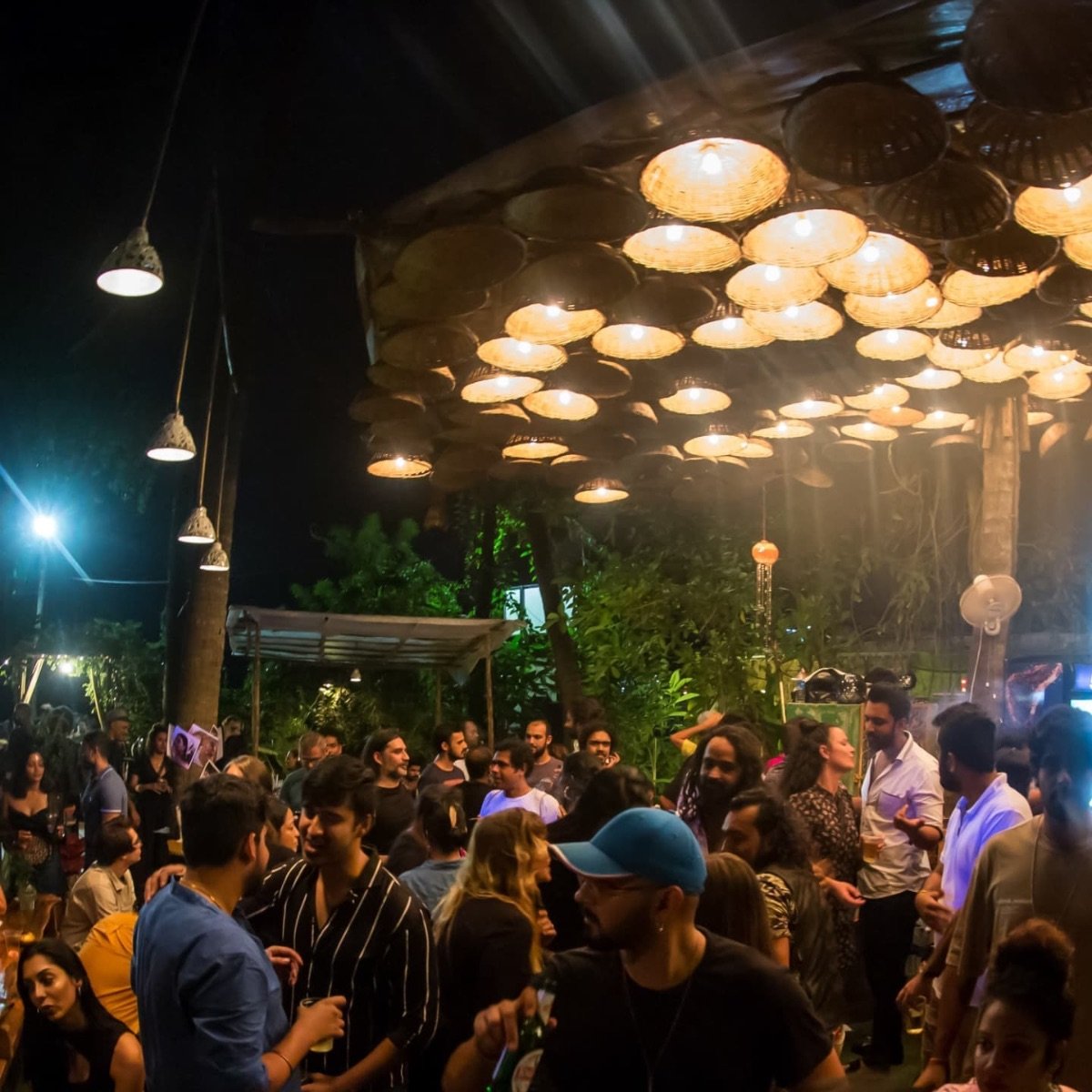 A few prominent crews in Goa who run good parties include Pandora (/Psy-techno), Vortex/Arambolized (Minimal Techno), Orwell (Dark Prog) and Ahoora (Psytrance). Also, there are currently big gaping holes in the scene for a more melodic style which I may personally have to fill – stay tuned.
There are also a few guerrilla, unlicensed crews who do not really promote their parties too much in an attempt to retain an authentic, underground vibe and to dodge badly behaved, transient tourists. I have spoken with the organisers and they asked me not to name them here and I will be respecting that request.
Stay connected when travelling through Europe!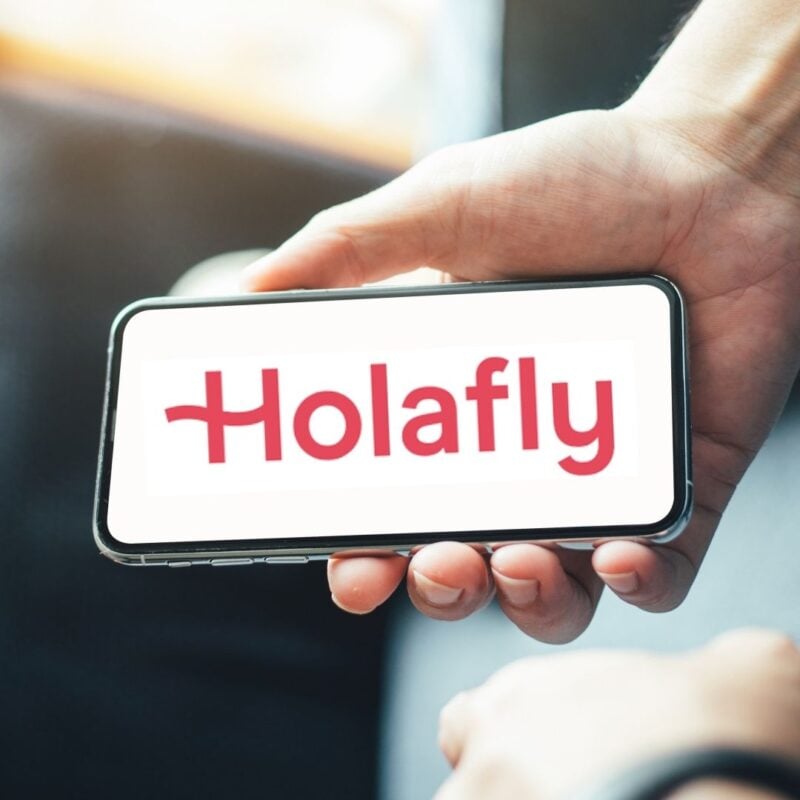 Stop stressing about your phone service when you travel abroad.
Holafly is a digital SIM card that works smoothly like an app — you simply pick your plan, download it, and voilà!
Roam around Europe, but leave the roaming charges for the n00bies.
Get Yours Today!
Types of Music at Goa Parties
Goa is a music lover's paradise, especially if you are onto the repetitive, beat-driven kind. Goa still attracts some big international DJs but the home-spun talent (including both Indians and foreigners who live here) is far more interesting. A lot of resident DJs have spent years developing and shaping their uniquely Goan sounds across multiple genres. The Goan underground rave culture is very much alive and well even if it is nowhere near as big as in its 1990s heyday. I will recommend a few Goa-based DJs whose sets you can listen to in order to get an idea of what they sound like.
Let's run through some of the musical styles you can find and hear in Goa.
Goatrance (Psytrance)
Goa Trance emerged from the beaches of Anjuna in the late 80s. The style utilised the groundbreaking technology that was emerging at the time to create a sensory bombardment of trippy loops, psychedelic sound effects and profound melodies. By the mid-1990s the sound had travelled around the world and Goa became the go-to global rave destination. As the years progressed, Goa Trance evolved into Psytrance which remains a genuine worldwide underground phenomenon – to this day you can find Goa inspired, Psytrance parties all over the globe.
Psytrance is fast (138 – 150bpm) and strange. It is not for everybody and you will either love it as an ingenious and innovative art movement, or you will hate it. But Psytrance is to Goa what Jazz is to New Orleans so you do owe it to yourself and to the World's Cultural Heritage to attend at least one Psy-party. Some people I know reliably inform me that the music may make a lot more sense in altered states of consciousness…
Goa Psytrance DJs To Check-Out:
Techno
Techno is without a doubt the most well known and popular form of Electronic Music in the world and the Goa techno scene is now well and truly thriving. It is also perhaps the most diverse and the movement has spawned loads of sub-genres and styles that differ from one another in pretty much every conceivable way.
There is commercial Techno, Bollywood infused Techno, Acid Techno, Melodic Techno, Minimal Techno, Dark Techno, Psy-Techno and loads more all on offer in Goa.
You can find a lot of commercial Techno in Goa at venues that cater to domestic tourists. At the cooler parties (Pandora/Vortex), you will find the more underground styles that Goa is becoming famous for.
Goa Techno DJs To Check-Out:
House
House and its sub-genres is a perfectly palatable musical style that doesn't really offend anybody. There isn't a huge house scene in Goa but you can find deep house playing most afternoons in most beach shacks.
Reggae
Whilst Goa is more famous for beat-driven music, the ready abundance of marijuana pretty much guarantees that there is at least some appetite for reggae. North Goa actually has quite a dedicated little reggae scene and there are Reggae parties and even festivals taking place throughout the season.
At the time of writing, the Sunday afternoon Reggae parties at Riva are no longer taking place but the cafe/bar venue Gwaan (think "Go in" in a Rasta accent!) has started staging very pleasant weekly events that attract a nice, chilled out clientele.
Goa Reggae DJ To Check-Out:
Bollywood/Commercial
So yeah, electronic, rave music is not everybody's jam is it? Well, the good news for the heretics out there is that Goa is not short of venues playing shitty popular music either. Personally, I have no idea why anybody would come to Goa just to seek out Bollywood and Commercial music clubs rather than actually try to experience what Goa is about, but they do and oh my words, they come in absolute droves.
The Greek restaurant 'Thalassa' in Chapora turns into a bit of a club most weekends and is very popular.
The Future of the SIM Card is HERE!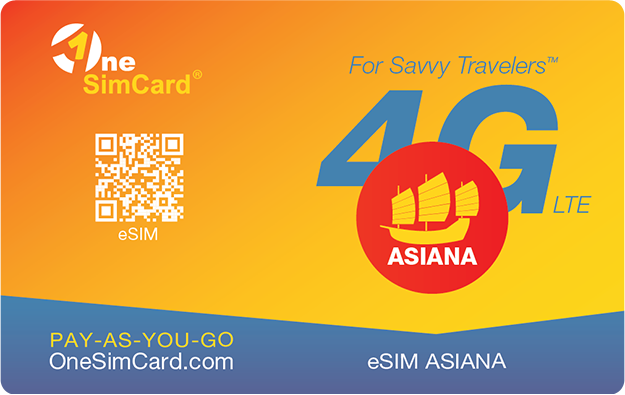 A new country, a new contract, a new piece of plastic – booooring. Instead, buy an eSIM!
An eSIM works just like an app: you buy it, you download it, and BOOM! You're connected. It's just that easy.
Is your phone eSIM ready? Read about how e-Sims work or click below to see one of the top eSIM providers on the market and ditch the plastic.
Buy an eSIM!
Accommodation in Goa – Where To Stay
Choosing where to stay in Goa is pretty important. Distances are considerable and so unless you want to spend long stretches of the late hours driving back and forth, it is best to try and pick somewhere fairly near to wherever it is you intend on partying.
For example, if you want to spend your time falling in and out of Goa's boozy, Bollywood blasting clubs, then it is wise to base yourself around Calangute, Baga or at a push, Anjuna.
If you stay in Arambol, then note that you will have to do some serious Kilometres to reach any party although to be fair, the hippy village does have a pleasant little pre 11 pm scene.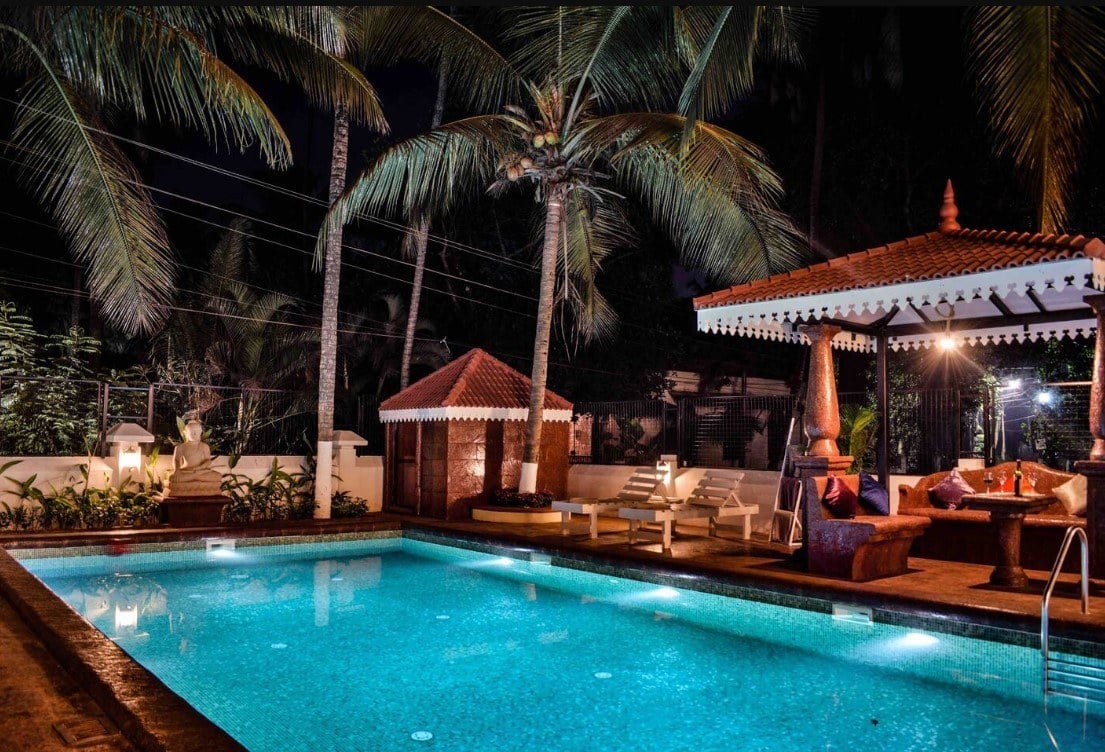 Ravers and tranceheads are probably best off staying in Anjuna or Vagator as this is where all the best trance and techno parties happen.
Then, there is accommodation type to think about. If you are looking to find buddies to party on down with, then look for one of Goa's party hostels. There are plenty of them in Anjuna and Vagator.
On the other hand, if you want an oasis of serenity to recover from the parties, then maybe seek out a nice Airbnb in Mandrem (if you don't mind a bit of driving to or from the aforesaid parties that is). If you have the bucks and the appetite, then why not splash out on a full party villa in Anjuna so that the good times never have to end?!
We have written quite a lot of where to stay in Goa, and Goa accommodation type content elsewhere on the site but we have offered our top picks below.
Hostel In Vagator
Set in a classic, colonial Portuguese mansion JUNGLE is a top hostel in Goa, certainly one of the best. This hostel is super charming and easily the kinda place where you can extend your stay. The hostel is situated within walking distance of the cubs and venues of both Vagator and Anjuna.
Airbnb Mandrem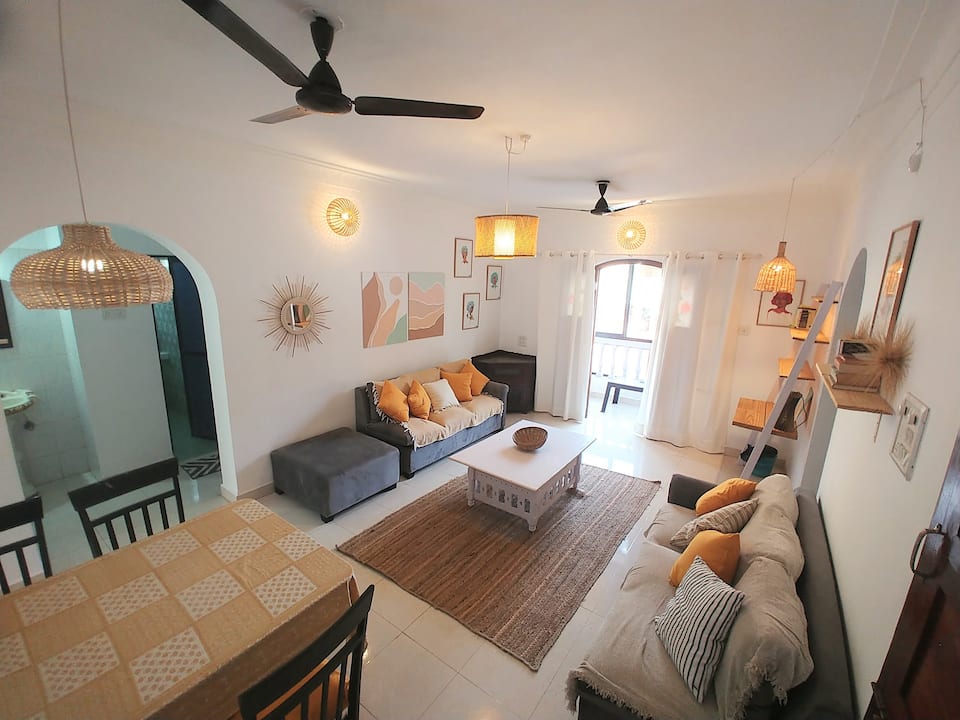 This splendidly appointed, fully renovated 3bhk is clean, comfortable and boho-stylish. Mandrem is a quiet village and you will need to cross the river to get a real taste of the Goa nightlife. Still, it makes a perfect counterpoint to the noise and excess of Vagator and Anjuna and is a great place to recuperate after a night's indulgence.
Villa in Anjuna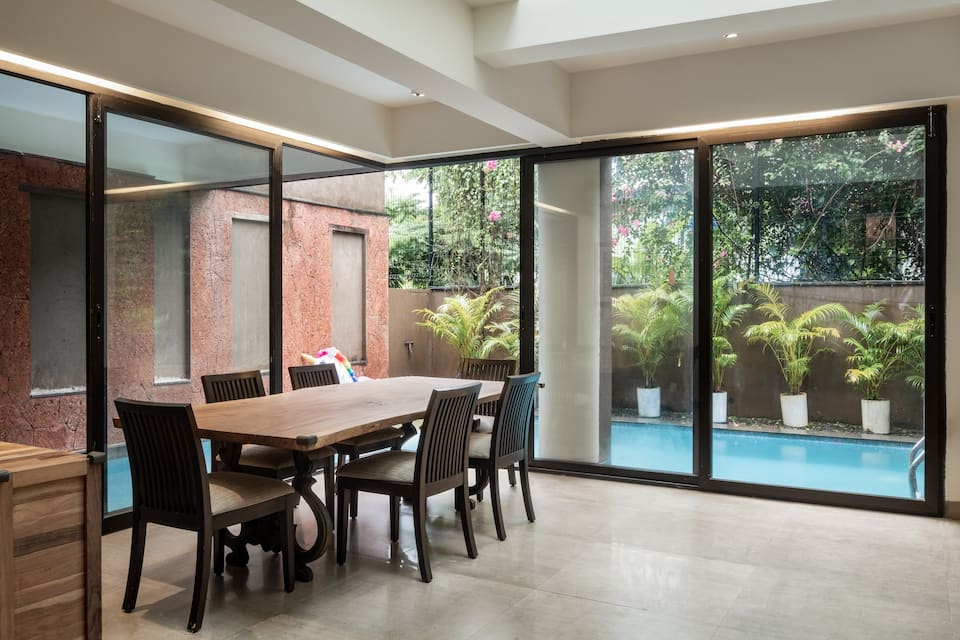 Set in Anjuna, the home of the Goan Trance scene, this villa is actually one of sixteen that are located in a gated community and has been purposely designed as a vacation house. As you'd expect, it's got a lot going for it including a pool to cool off after a night spent blowing one's mind on the sands of Anjuna.
Renting a villa in Goa is an entirely justifiable splurge!
Things To Know About Goa's Nightlife
This is the section where I offer up all my insights, knowledge and little tidbits of info to help you make the most of the Goa party and nightlife scene.
Staying Safe Inside The Goa Nightlife Scene
In life, everything that is fun comes with some inherent dangers and this is perfectly exemplified by the Goa party scene. In fact, I often remark that Goa is like a garden of paradise where serpents are perpetually waiting in the weeds to bite down on stray ankles. Most of the dangers are fairly mild but others are a tad more severe.
Firstly, drinking in excessive amounts and taking strange, unfamiliar substances can prove fatal in extreme cases. If you are going to drink, keep it sensible and stay hydrated. If you take drugs (which are illegal so we cannot condone here), do try to avoid buying them from complete strangers, go easy with quantities and once again stay hydrated.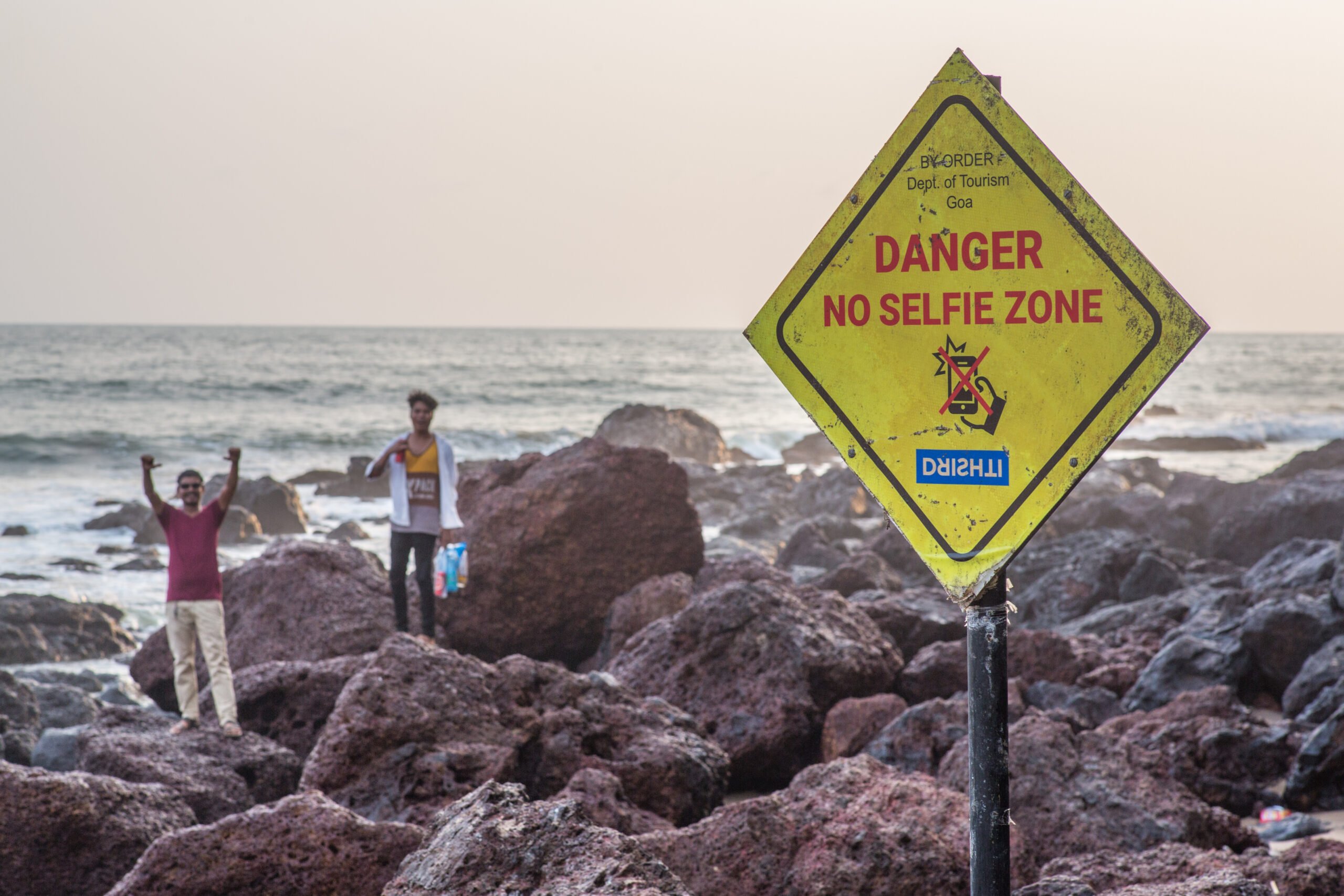 The roads in and around the party venues can get a bit dangerous after dark owing to a heady mix of drunken, inebriated, inexperienced drivers and narrow, uneven, poorly lit roads. Take extra care on the roads and wear your bike helmet, even when going short distances.
Also, Goa does have a bit of a problem with female safety and the state's parties are a bit of a magnet for creeps and sex offenders. Women are constantly being bothered and harassed and I regularly hear tales of female visitors being drugged or groped at parties or even followed home. Take great care when leaving to ensure you are not followed and do not stop on dark unlit roads. Sadly, the fact is that India and Goa both have serious problems here and unfortunately it is women that have to deal with these failings. There are a lot of dark lanes and passages in Goa so do bring a good head torch to help light your way.
Some of the venues are not exactly up to Western H & S standards either. I must single out the otherwise awesome House of Chapora for having a slightly dangerous, multi-level dance floor, and then the steep stone steps leading down to Shiva Valley need to be taken very slowly at night.
Finally, the Arabian Sea can be choppy and dangerous. A lot of parties take place right on the beach so please resist the urge to go for a midnight swim whilst drunk/high.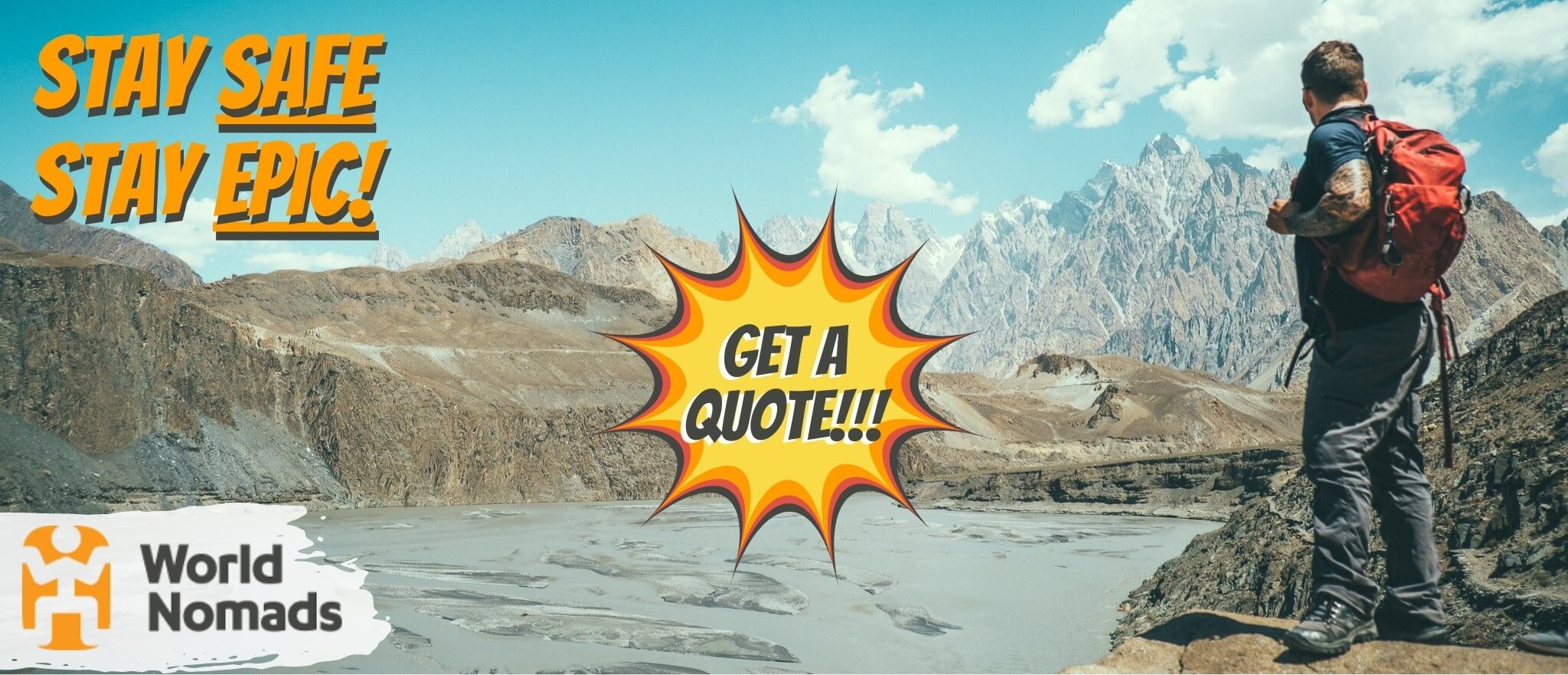 World Nomads' mission is to support and encourage travellers to explore their boundaries. They offer simple & flexible travel insurance, and safety advice to help you travel confidently.
They've been doing it since 2002 – protecting, connecting, and inspiring independent travellers just like you.
Get a quote below or read our in-depth review!
World Nomads provides travel insurance for travelers in over 100 countries. As an affiliate, we receive a fee when you get a quote from World Nomads using this link. We do not represent World Nomads. This is information only and not a recommendation to buy travel insurance.
Goa Nightlife Prices
Sadly Goa is nowhere near as cheap as it used to be and standards have not risen in line with prices. Entry for parties typically ranges from between 500 – 1000INR although some upmarket places charge more. Even Shiva Valley now charges 1000INR per person and the 'ladies come in free' policy has been dropped (the result is that fewer ladies now attend so bring it back, please). Obviously, prices can go even higher around big holidays and if there is a particularly big name playing.
Drink prices vary pretty drastically too. Take the humble Kingfisher beer for example. In a supermarket or wine shop it costs 60INR, a beach shack will charge 100INR but then a party venue could charge anywhere between 150 – 500INR. Cocktails are also a bit of a rip off generally coming in at European prices (400INR+) with very low quality control.
Then there are taxis. Taxi drivers are seriously ambitious so you need to haggle bitterly hard to get anything like a sensible rate out of them. A taxi from Arambol to Anjuna may set you back 700 – 1000INR and even a short Vagator – Anjuna beach ride might sting for 300INR after dark.
It is very common to hire a scooter in Goa. I rent mine for 4000INR per month but short-stay rents tend to range between 300 – 500INR per day. Obviously, you will have to pay for any damage that happens to the scooter whilst it is in your custody so drive carefully and be very mindful of where you park it.
Goa's Party Supplements
Let's be honest, parties that don't involve the partaking of some kind of mind and mood altering substance are usually for children. Goa on the other hand is where fully grown children come to prove just how immature they are by indulging in a whole array of brain and bodily poisons.
Let's start by talking about banned and controlled substances (commonly referred to as D.R.U.G.S.). Goa does have a reputation for being kind of laissez-faire when it comes to illegal drugs and in large part, the tourism sector and party scene have long been nourished on a steady diet of them. However, the fact remains that drugs are illegal in Goa, drug laws are enforced and the penalties for buying, selling or even trying them can be severe.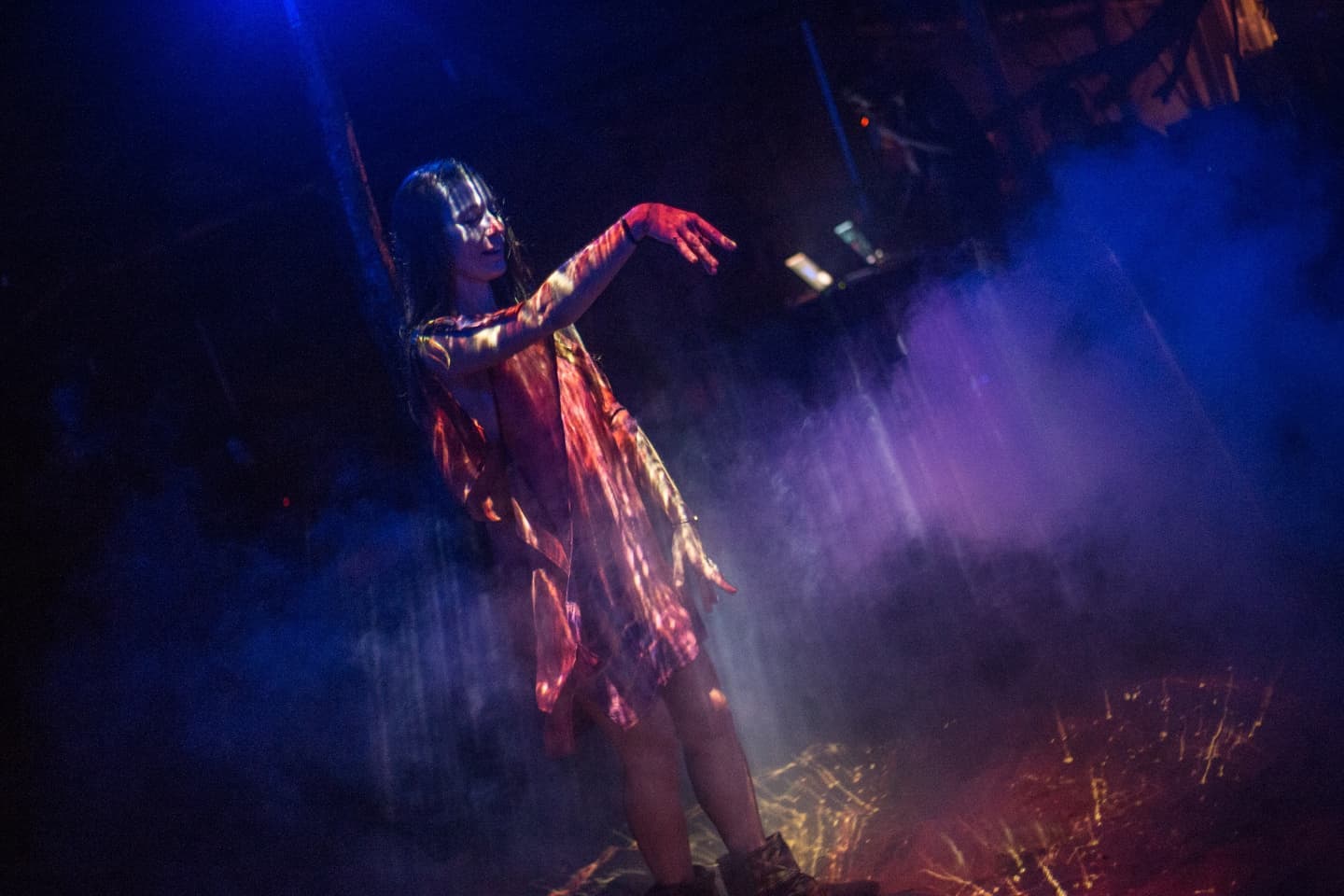 In recent years, the increasingly hardcore Modi-led Indian government seems to be taking an increasingly hard line on drug use in Goa in what appears to be a religiously inspired effort to remake the state's tourism sector into a less fun version of what it is now. As such, the days when drugs were openly or semi openly consumed in Goa are long gone and that is not a particularly bad thing.
That said, even a casual glance at the trippy drippy tie-dye bedspreads for sale at Anjuna's market will reveal that the influence of psychedelic substances remains strong in Goa.
Then, like elsewhere on earth, white powders such as speed, MDMA and (less common) cocaine are staples of the rave scene. Be warned though, there have been a number of deaths and serious injuries in recent times as a result of tourists to Goa taking banned substances.
If you take psychedelics, note that this can be a very powerful and unpredictable experience and it is of paramount importance to only ever take these in an environment you feel comfortable in with people who you trust.
As well as being illegal in India, drugs can also be very dangerous. We can not condone the use of them in any way shape or form. However, if you do decide to take something, please do take care. Go in with low amounts, and wait for effects to manifest before taking any more. Stay hydrated, keep alcohol consumption to a minimum and stay close to your friends.
Do not, repeat, do NOT attempt to operate a motor vehicle whilst under the influence of drugs.
Moving on, there are plenty of legal, taxable drugs sold in Goa and the most prominent one is alcohol. Alcohol is cheaper in Goa than in any other state in India owing to heavy tax breaks and a Kingfisher beer costs 60INR in the shops.
The national beer of India is Kingfisher and you will find it everywhere although Goa is lucky enough to have a few other better options such as Bira and Simba to choose from. A lot of visitors to Goa (especially ones from Russia or India) tend to go a bit heavy on the booze. Alcohol in India is generally of a pretty low standard, is full of sugar and preservatives and as such does cause shocking hangovers.
You can find alcohol everywhere in Goa. Pretty much all restaurants and shacks sell it, there are loads of wine stores/kiosks and some of them even operate 24/7 opening hours.
If you fancy a boozy time in Goa, then there are plenty of shacks and clubs in and around Baga and Calangute that will gladly pour until you pass out. However, please note that excessive drunkenness is not really acceptable or desirable in the Goa rave scene.
Getting Around Goa's Parties
Goa is pretty spread out. Even if you base yourself in the middle of Vagator, it's a bit of a trek up to Hilltop. If you intend to party at Vortex, then it's in the middle of nowhere. As such you need to think about getting around the Goa rave scene.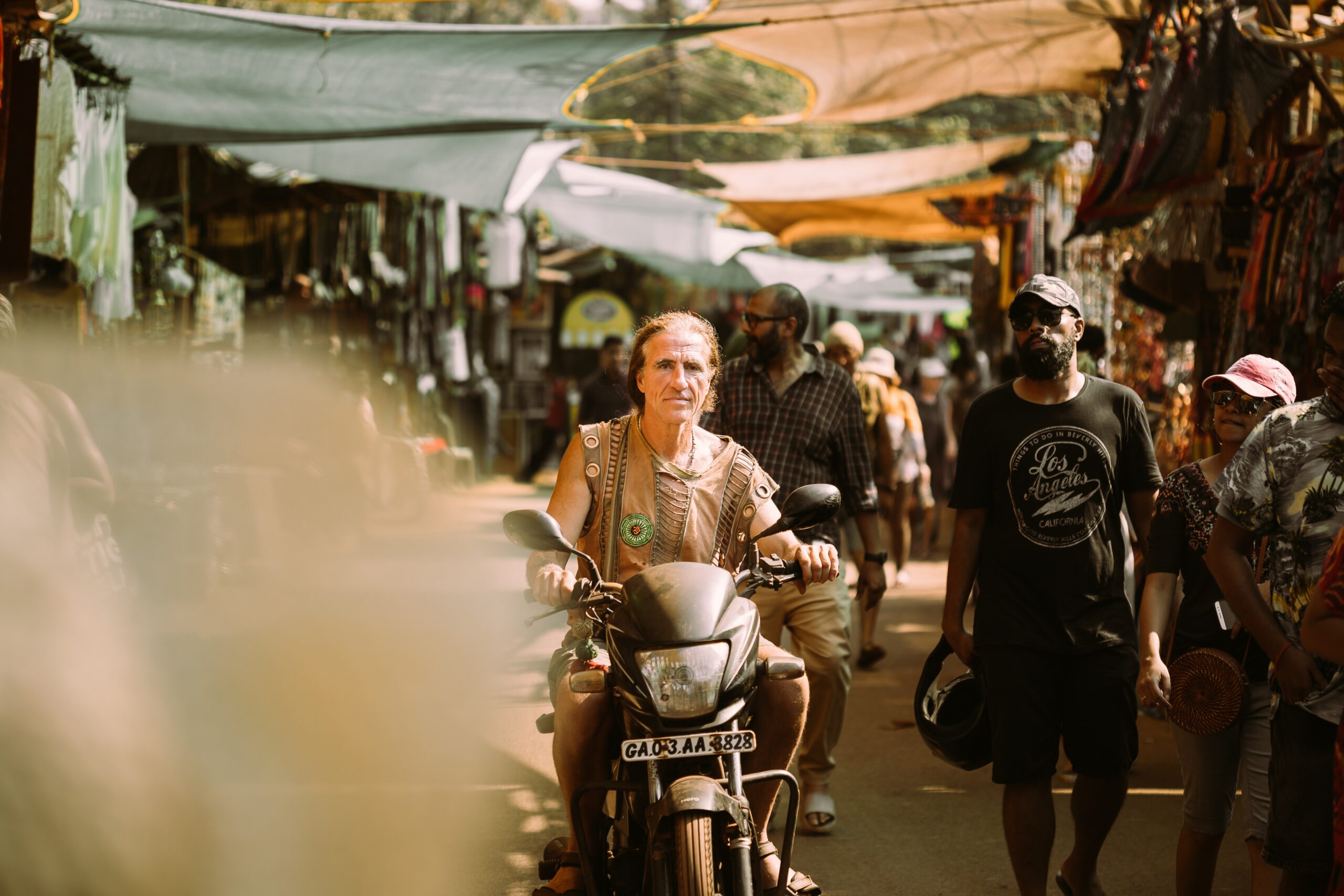 The most popular way to do this is to rent a scooter. Of course, riding a scooter after a few drinks or a special psychedelic-Goan cocktail is not really advisable (or legal) but people still do it. Just remember, accidents in Goa are very common and every season a few visitors perish in road accidents so always wear a helmet and be as sensible as you can be.
You can find taxis near the main drags of Vagator, Anjuna and Arambol but they are very pricey and only really advisable if you are in a group and can split costs. Taxi and bike taxis do wait outside some party venues but not all of them.
Therefore if you are relying on taxis to get you around, take the numbers of a few drivers who you can call to come and get you in the middle of the night. If you are doing a big journey (like Arambol to Shiva Valley) have your driver wait for you and get his phone number.
Some visitors to Goa choose to rent cars although this is not really all that sensible as the roads are just not built for them.
Final Thoughts on The Goa Nightlife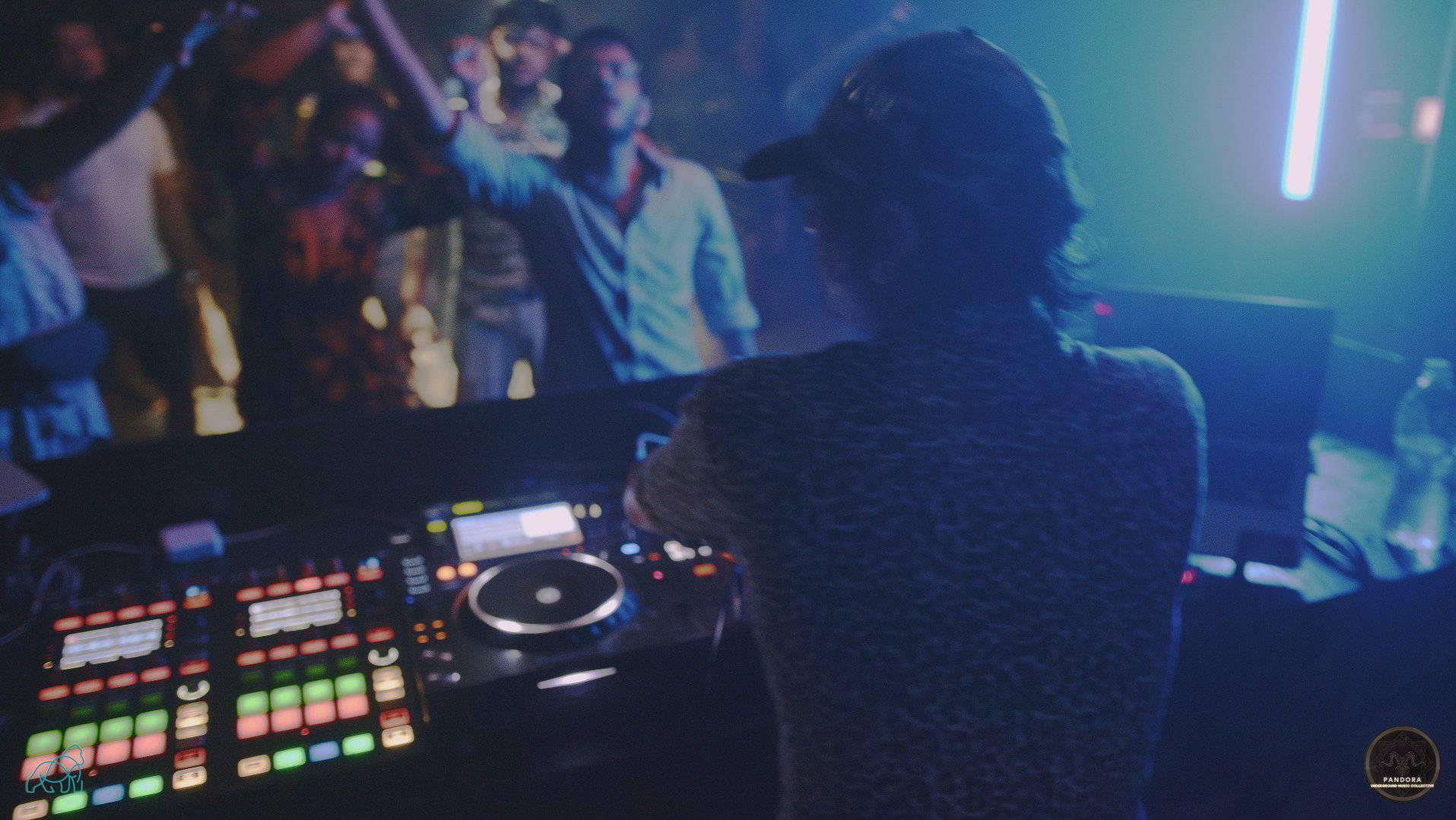 Writing that was something of a labour of love for me. Over the years I have had some profoundly amazing times partying in Goa and whilst I am now slowing down as dear old knees begin to creek, I still find that a proper Goa party nourishes and rejuvenates me every winter that I make it here.
Goa changes and evolves constantly and something about it keeps travellers and ravers alike coming back year after year, decade upon decade.
In all sincerity, I really hope you find this guide to be useful. But above all, I just hope you have a real blast out in Goa. If any of you guys feel that I perhaps missed or overlooked anything, let me know in the comments as I will be updating this guide periodically!
Until then, see you on the dance floor…
---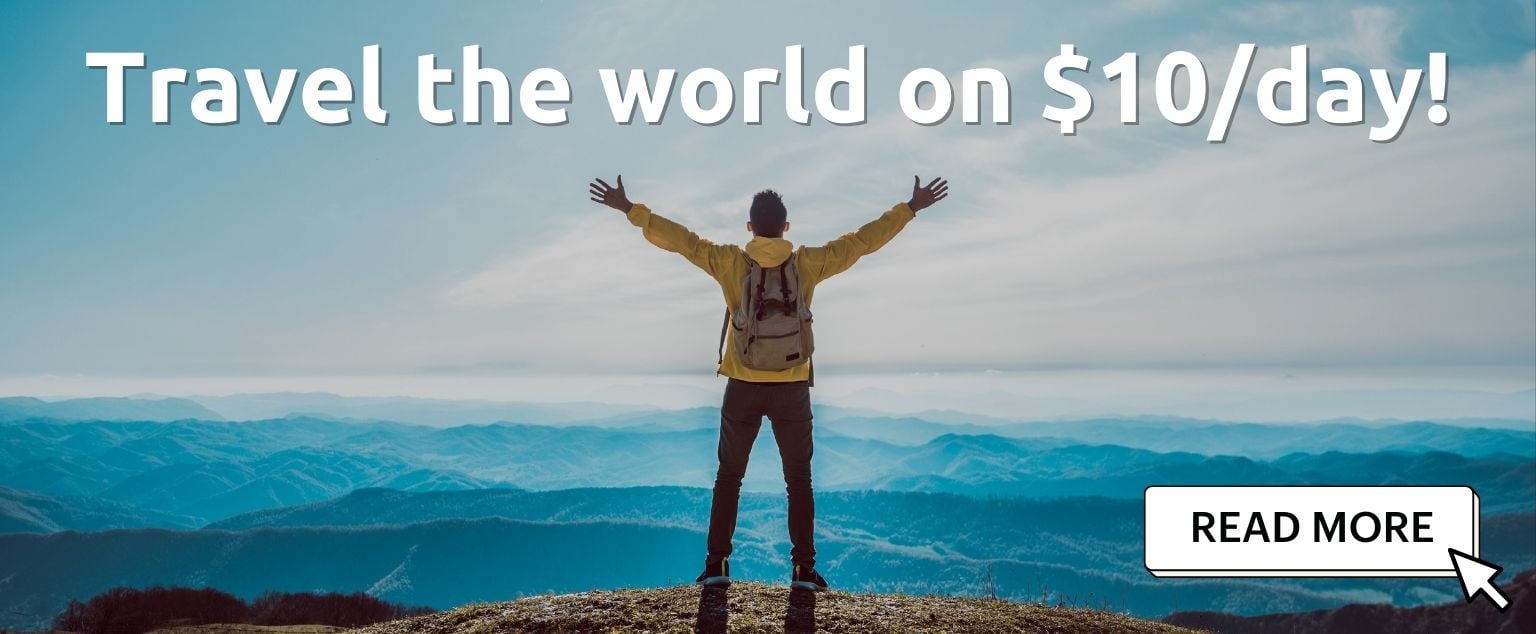 And for transparency's sake, please know that some of the links in our content are affiliate links. That means that if you book your accommodation, buy your gear, or sort your insurance through our link, we earn a small commission (at no extra cost to you). That said, we only link to the gear we trust and never recommend services we don't believe are up to scratch. Again, thank you!