Goa, India, is famous for its beaches and yoga retreats. Most backpackers who venture here will have a Goa story to tell. Usually about the time they stayed in what was basically a shed on the beach in Goa. While these places exist of course, they are a thing of backpackers past as now there are some incredible villas available in Goa.
You'll find villas tucked away in tropical gardens, in gated communities, or nestled next to the banks of rivers. And they're varied, too. Sometimes they're modern, sometimes they're historic, sometimes they have swimming pools.
The natural world plays a huge part in making these villas what they are. It may not be what you'd expect – you were thinking beachside locales, no doubt – but that doesn't make villas in Goa any less awesome.
If you're intrigued by the prospect of staying in one of the best villas in Goa, well, I'm here to help you. I've listed some of my favourite villas that are suitable to any kind of traveler. Let's get to it…
In a Hurry? Here's Where to Stay in Goa for One Night
FIRST TIME IN GOA
Dreamy Goa Retreat
This large, beautifully decorated villa is the perfect location for an idyllic getaway. Surrounded by nature, here guests can unwind in the open-plan living area, or in the infinity pool and the garden surrounded by rice paddies.
NEARBY ATTRACTIONS:
Assago Village
Delicious coffee at Project Cafe Goa
Vagator Beach
Is this amazing Goa Villa booked for your dates? We've got your back with our other favorite properties below!

Unlock Our GREATEST Travel Secrets!
Sign up for our newsletter and get the best travel tips delivered right to your inbox.
Staying in a Villa in Goa
First of all, villas in Goa aren't necessarily what you expect. Think villa, and more than likely you're thinking swish Balinese-type luxury – or maybe you're thinking of somewhere white-washed, rustic and altogether Greek. That's not really what's going on in Goa. Instead, villas here have a style all of their own.
Part of this is down to the colonial heritage of Goa. Over 400 years ago, Goa was colonised by Portugal, and the remnants of that history can be seen throughout the state, from churches to period properties. This makes up some of the more unique accommodation in Goa, plus provide the opportunity to stay in a centuries-old Portuguese villa.
These places come with manicured gardens, period features, patios, beautiful architecture across the board, and – thankfully – they've been lovingly restored and updated with the modern-day in mind. Amenities are contemporary, and often include swimming pools and open plan living spaces with fully-equipped kitchens.
Location-wise, you're not likely to find somewhere right on the sand itself. This is more the domain of the aforementioned beach shacks. Villas in Goa tend to be tucked away in lush tropical grounds, gardens, by rivers – but never too far from the beach if you feel like a spot of sunbathing. It's all pretty convenient.
And speaking of convenience, despite the tranquil, natural settings of many villas here, you're not likely to ever be too far from shops, restaurants, cafes, and all the other best places to visit in Goa. Always a plus.
Another plus? The cost. Goa is famously cheap as it is, so the villas here – even the most luxurious villas – aren't exactly going to break the bank. They may elevate the most high-end properties out of the range of backpackers, but for families, friends, and couples looking to vacation in Goa, a villa is a refreshingly affordable option for such an occasion.
What to Look For in a Villa
Honestly? Look for history. These are generally more pricey than their more modern counterparts, but the option to stay in a heritage property at fairly affordable prices is definitely a reason to look for something sparkling and colonial.
Location is also very important. While considered a safer city compared to most in India, there are some neighborhoods in Goa to stay clear from. I recommend staying in Anjuna, Vagator, Palolem, Mojjim or Mandrem. Other than that, unless you don't care too much about the beach, pay attention to how far the sand is away from the villa that catches your interest.
You should also make sure your property comes with air conditioning (it's hot in India!) and a mosquito net, or at least some bug-repelling device. Trust me, it will make your stay more comfortable.
I'd also recommend using Airbnb to make your choices. Vrbo is ok, and Booking.com is decent, but none come close to Airbnb in terms of the variation of villas you can find. Add to this the ability to talk directly with the property's host and see previous guest reviews, it's the clear winner.
OVERALL BEST VALUE VILLA IN GOA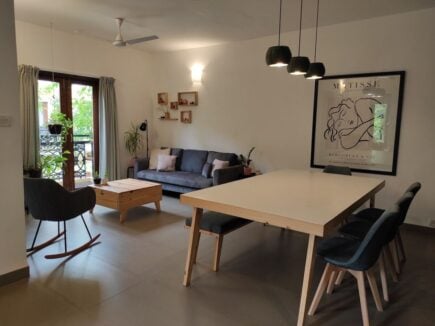 OVERALL BEST VALUE VILLA IN GOA
Beautiful Modern Villa
> $$
> 6 Guests
> Outdoor swimming pool
> King and queen beds
BEST BUDGET VILLA IN GOA
BEST BUDGET VILLA IN GOA
The Cottage Palolem Beach
> $
> 3 Guests
> Air conditioning
> Good wi-fi
BEST VILLA FOR COUPLES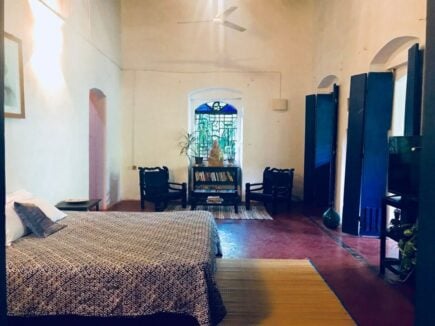 BEST VILLA FOR COUPLES
Portuguese House With Garden
> $
> 2 Guests
> Tropical garden
> Great location
BEST VILLA FOR A GROUP OF FRIENDS
BEST VILLA FOR A GROUP OF FRIENDS
Large Villa at Ashvem Beach
> $
> 6 Guests
> Sea view balcony
> Fully equipped kitchen
BEST VILLA FOR LARGE GROUPS
BEST VILLA FOR LARGE GROUPS
Anjuna Pool Villa
> $$$
> 8 Guests
> Private pool
> Hot tub
OVER-THE-TOP LUXURY VILLA
OVER-THE-TOP LUXURY VILLA
Luxurious Villa w/ Caretaker
> $$$$
> 15 Guests
> Historic luxury
> Private swimming pool
BEST VILLA FOR FAMILIES VISITING GOA
BEST VILLA FOR FAMILIES VISITING GOA
The Greenhouse Villa
> $$
> 6 Guests
> Chill terrace balcony
> Private swimming pool
The 15 Top Villas in Goa
Now that you know what to expect from villas in Goa, it's time to check out some of the best. Whether you're looking for something on a shoestring budget, or if you've got cash to spare for your trip, there's no doubt you'll find something to inspire you on our handy list below.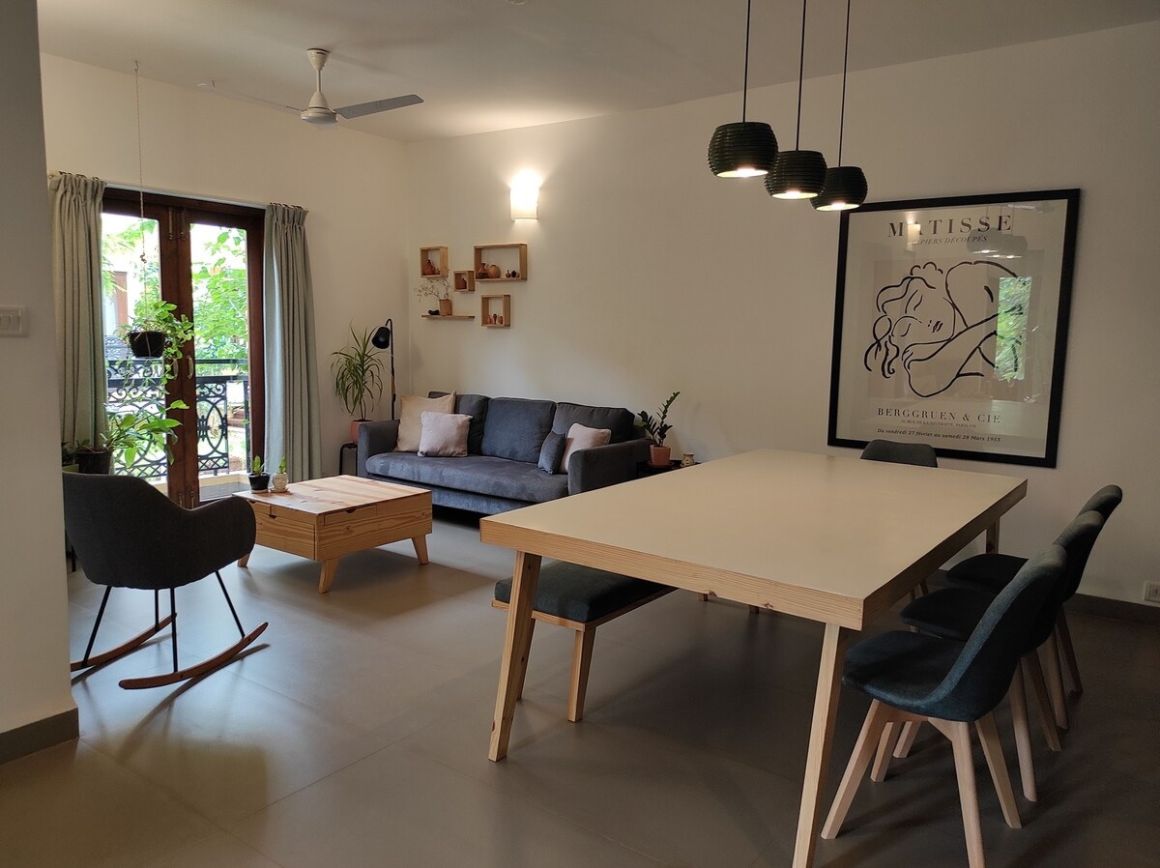 $$
6 Guests
Outdoor swimming pool
King and queen beds
This chic and stylish villa is situated in Vagator. It's the ideal spot to spend your Goan vacation. Offering awesome value for money, this three-bedroom villa has been decked out with modern interiors.
Here you'll find a ton of different hang-out spaces, a fully equipped kitchen, and even an outdoor space for relaxing in. Bonuses at this top villa in Goa include a ping pong table, workspaces, and, of course, a swimming pool. All in all, it's a spacious, well-maintained option for a family or group of friends to stay comfortably.
Along with its killer location – just a 10-minute drive from some of the best cafes and restaurants in the area – this spacious villa is an ideal base for your fun times in Goa. There are hang-out spaces galore (think ping pong table, among other things).
$
3 Guests
Air conditioning
Good wi-fi
Travelling on a shoestring? Don't worry. You can still stay in your own beachside villa whilst still maintaining your Backpacking India ethos. This cute cottage has it all. From its awesome four-poster bed and rustic interiors, with plenty of natural light, to its shaded terrace, it's easily the best villa in Goa on a budget.
The garden is full of lush tropical plants, while just 15 meters from the property is the ever-popular Palolem Beach. Amenities at the cottage include decent wi-fi, an ensuite bathroom, and a fridge. One major plus is that the villa is run by a friendly bunch of people who'll help you arrange transport and other essentials.
$
2 Guests
Tropical garden
Great location
This colourful traditional Portuguese-style villa is surrounded by overflowing tropical gardens. Here you'll be able to enjoy a bliss vacation. The villa itself is spacious and cool, which is a plus on hot days. It's also cool, with plenty of retro charm.
Inside this top Goan villa you'll find vintage furnishings, high ceilings, and tiled floors, as well as a modern polished concrete bathroom. Location-wise, you'll find this place in a serene part of the busy Anjuna area. From here it's easy to walk to cafes and shops, as well as the beach, in around 20 minutes or so.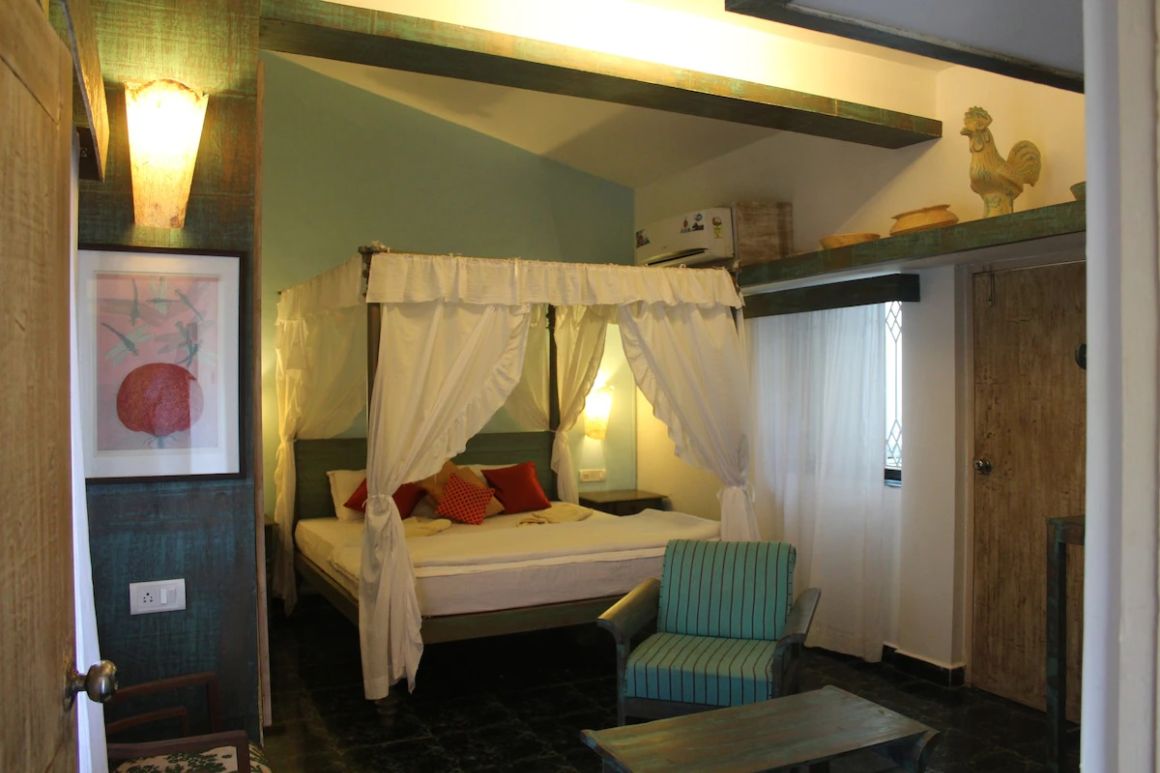 $
6 Guests
Sea view balcony
Fully equipped kitchen
This large villa is located in Mandrem – specifically, that'd be right on Ashwem Beach. So here you and your friends can have a blast right by the sea without having to go far at all. The villa itself is decked out in traditional Goan style, with large rooms and high ceilings.
It's a tranquil spot all in all, with three bedrooms set across a mansion-like building. Amenities that come with this property include a fully equipped kitchen and a large sea-view balcony. And what you do get is awesome value for money – one of the best villas in Goa on a budget, for sure.
$$$
8 Guests
Private pool
Hot tub
Over on Anjuna Beach you'll find this super sleek villa. It's ideal for those looking for a little bit of luxury during their Goa vacation.
The villa is actually one of sixteen that are located in a gated community and has been purposely designed as a vacation house. As you'd expect, it's got a lot going for it. There's an open-plan layout, contemporary design throughout, and a swish outdoor swimming pool to top it all off.
There's even a hot tub and al fresco dining area. Pretty much no doubt about it: you and your pals will love it here. Note that Anjuna is the epicentre of the Goa party and nightlife scene so be prepared for excessive amounts of fun and debauchery…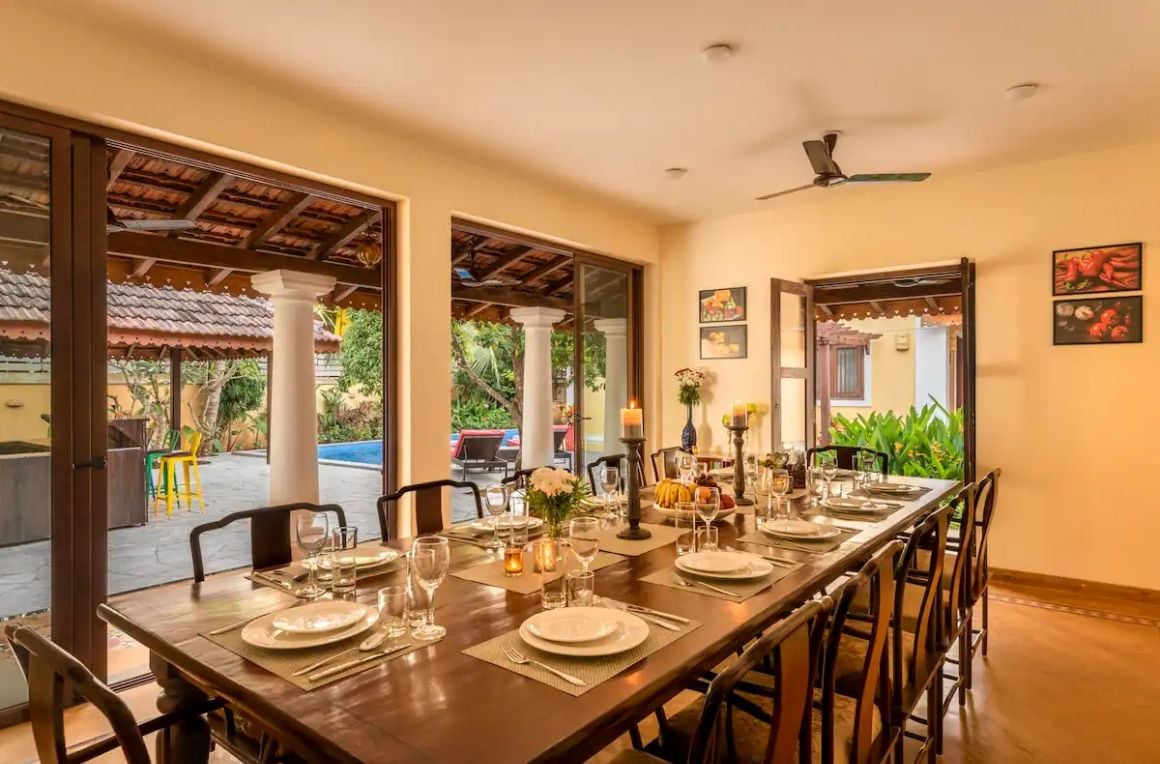 $$$$
15 Guests
Historic luxury
Private swimming pool
You may not think Goa is a place you can treat yourself to a luxurious stay, but it's definitely possible at this Airbnb in Vagator. Just look at this place. It's an incredibly polished villa that is, in fact, a historic old Portuguese property that was built in 1629. How's that for special?
Staying here will make you feel like you're part of some Goan aristocracy. It's seriously beautiful. Think high ceilings, period features, antique furnishings, ornate rugs, chandeliers – the works. Here you can indulge in a slower pace of life as you sip coffee and read a book on the balcony, or chill in your own private pool.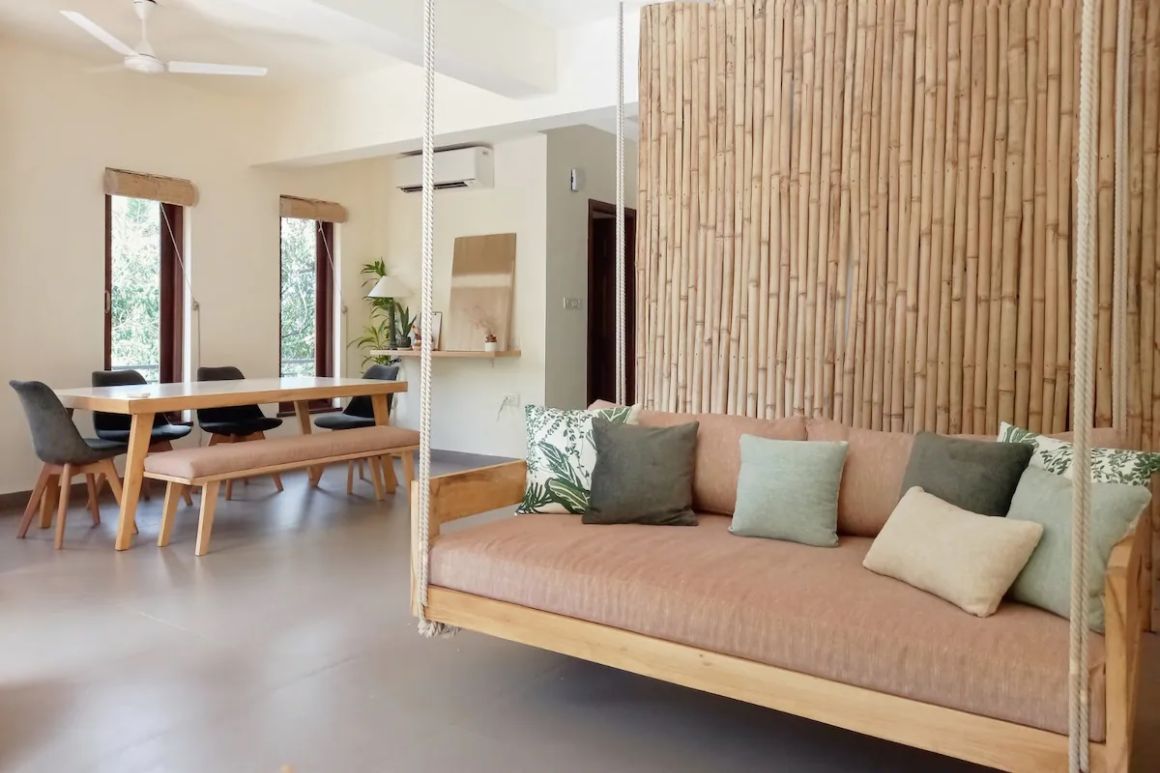 $$
6 Guests
Chill terrace balcony
Private swimming pool
This modern property is the best villa in Goa for families. Situated in the heart of Vagator, but boasting its own little tranquil setting, you'll be a stone's throw from some of the most popular beaches and restaurants the area has to offer.
The villa has been designed with contemporary aesthetics and is tastefully decorated (as well as immaculately clean throughout). There are three large bedrooms, meaning enough space for you and your family, as well as a sizeable dining and lounge area where you can enjoy family meals.
It also comes with its very own private pool and lush garden.
$
3 Guests
Private porch
Air conditioning
Backpackers in Goa may think that their only option is a ramshackle beach hut, but that doesn't have to be the case. This traditional villa bursts with charm – and is very affordable.
The villa has been well maintained and features a large double bed, high ceilings, and a comfy living-diner area. There's also a compact kitchen so you can rustle up some grub before heading out on an adventure for the day.
Evenings here can be spent sipping wine on your very own porch overlooking the gardens. And it's all less than three mins on foot to Vagator's Ozran Beach.
$$$$
8 Guests
Optional private chef
Private swimming pool
Another amazing villa in Goa, this modern mansion is crammed with modern-day design while paying attention to its traditional features (think balconies and columns), perfect for honeymooners.
Inside, you can expect contemporary interiors with a sparkling kitchen, tiled flooring, and plush beds. There's plenty of outdoor space to enjoy as well, with lawns, patio, and even a private pool!
The location puts you just a stone's throw from two beaches: Morjim and Ashwem. There's an onsite caretaker who makes sure everything runs smoothly, and if you're feeling extra bougie you can arrange a full-time chef to cook your meals.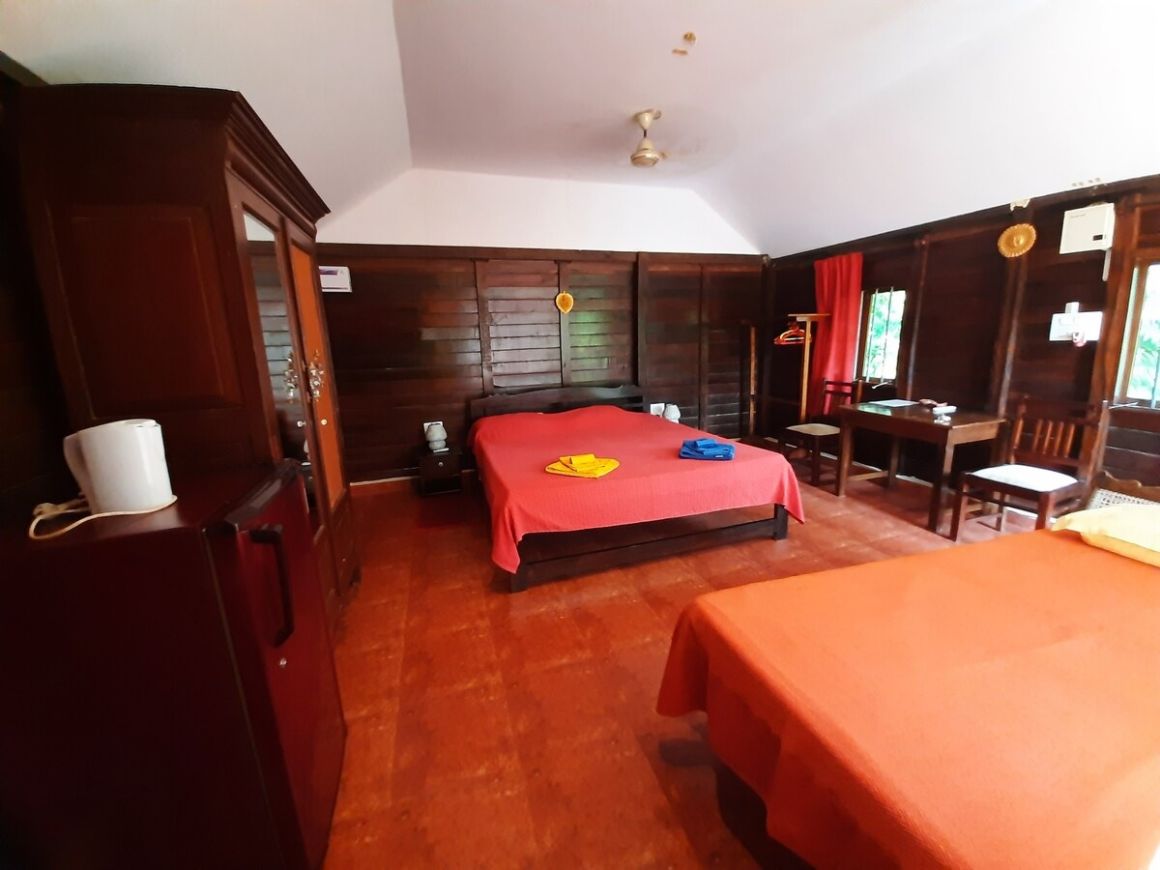 $
1 Guests
Staff on site
50 meters from beach
This is totally an idyllic place to stay in Goa for a solo traveller. It's a peaceful property located among lush gardens in Morjim, just 50 meters from the beach, with shops and restaurants nearby, too. Ideal for a laid-back, stress-free vacation, this villa is set in a gated community with security on the gate.
Staff are always on-hand to make sure everything runs smoothly or if you've got any queries (good when you're by yourself). The charming wooden villa itself has a rustic, beachy vibe but still has everything you'll need. No doubt you'll feel right at home as soon as you arrive.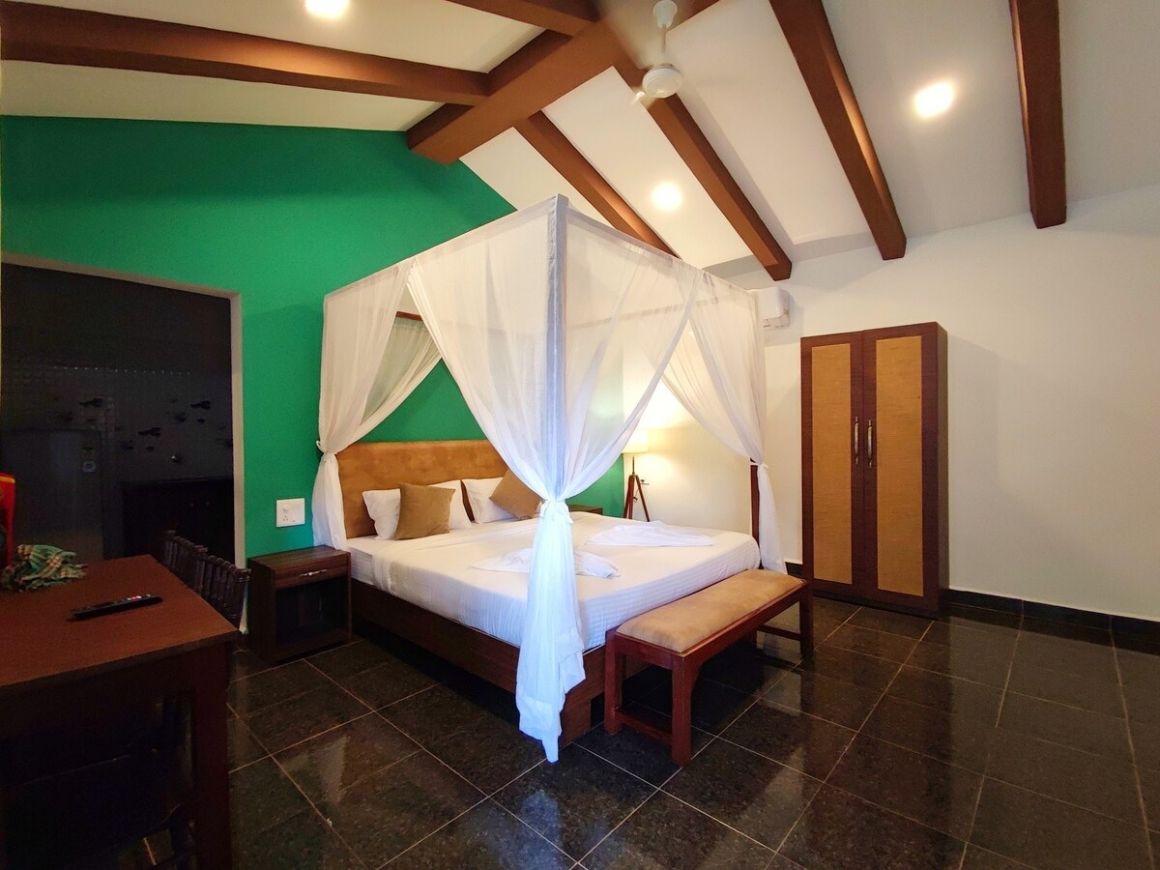 $
3 Guests
Great location near Morjim Beach
Private balcony
If you're lucky enough to be spending a weekend in Goa, then you should book yourself into this place. This colourful getaway is ideal for a quick break as it's close to all the attractions you'll want to see on your Goa itinerary.
For starters, it's just two minutes away from Morjim Beach and close to numerous restaurants, bars and clubs. There are two restaurants on site, so you can make the most of your time.
The villa is all about comfort, with a four-poster queen-size bed, private balcony, and AC (you'll be needing that). You won't have to worry about skimping on having a great time with this place as your base.
$$
4 Guests
Riverfront location
Private garden
Probably the best villa in Goa in terms of location, you can't get much better than being right on a dreamy stretch of the Chapora River. Here you can expect some pretty dazzling views, both of the Goan coastline and even Chapora Fort. There are a ton of great restaurants in this area, too!
It's also just a five-min drive from Morjim Beach. The villa comes complete with all the modern amenities you could ask for and is clean and well maintained. Here it's all about relaxing in the tranquility of nature, well away from busy tourist sights.
To top it all off, between the villa and the river is an enormous lawn where you can spend the day sunning yourself or soaking up the views.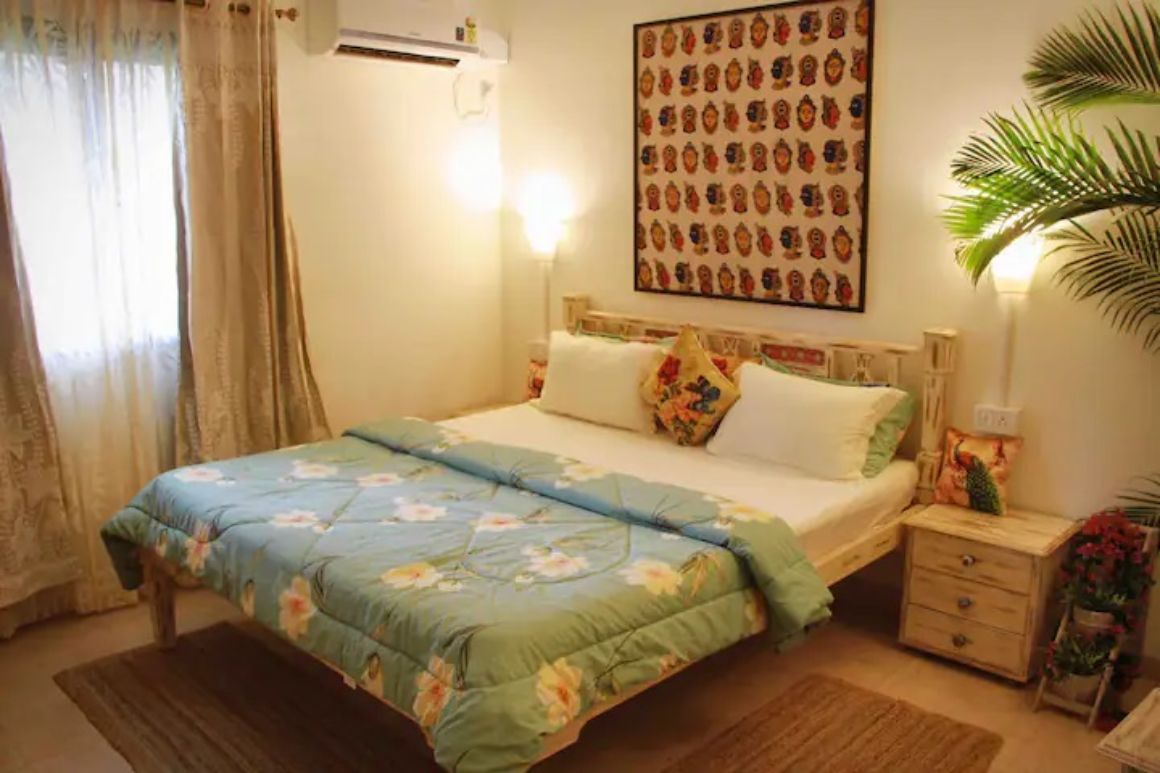 $$
6 Guests
Resort location
Idyllic natural views
Set within a resort complex, staying at this villa means you get some pretty awesome views and surrounding nature of the Goan countryside.
Views of the river and natural surroundings, as well as a vista of your very own private garden, make this place feel like a veritable oasis.
Inside, it's all about attention to detail, with spacious interiors that are comfortable and clean. It feels very homely indeed. You can spend your days here chilling out around the property's shared pool, or heading out to see the nearby sights.
Being on the hotel complex is a bonus, as you'll have access to all its facilities. You won't have to lift a finger.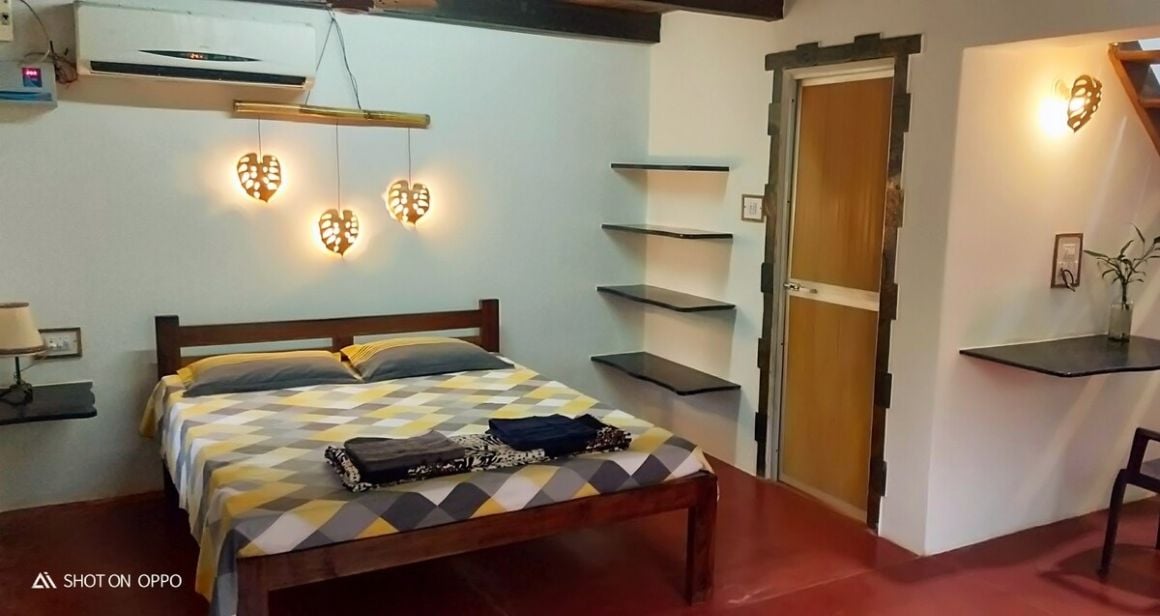 $
2 Guests
Charming traditional property
Lush tropical setting
If you're looking for a honeymoon spot or somewhere to share with your significant other, this unique accommodation in Goa is the best place for it. With architecture providing a mix of natural wood and tropical ambiance, this charming Portuguese-style cottage is super special.
It features a tropical garden, an easygoing terrace, and antique furniture throughout the property. The location is also great: you'll find it nestled among tropical greenery just a two-minute walk from Anjuna Beach. It's an ideal base from which to explore the surrounding area, including the flea market, bars, and romantic restaurants.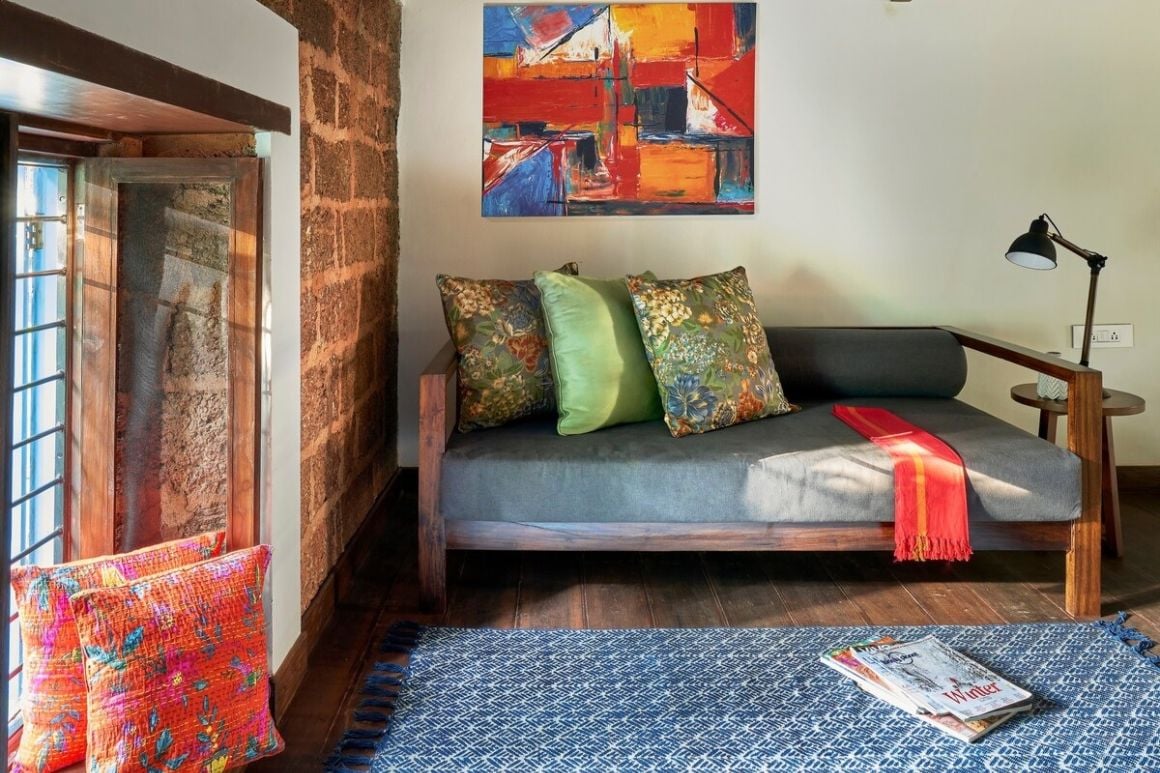 $$
3 Guests
20,000 square feet of orchard to roam around
Onsite caretaker
Modern and colourful, yet set in a historic property, this Goan villa makes the most of its period interiors for some pretty awesome results. Think original brickwork and polished concrete, high ceilings, and colour pops.
You'll find it nestled among 20,000 square feet of its own orchard, just steps from Vagator Beach. Spend your days surrounded by the trees, sip coffee on the rainbow-colored veranda admiring the villa, and plan your days exploring the sights of this intriguing slice of India.
Or, you know, just enjoy the outdoor shower. What's more, there's a friendly caretaker on site should you need anything.
Don't Forget Your Goa Travel Insurance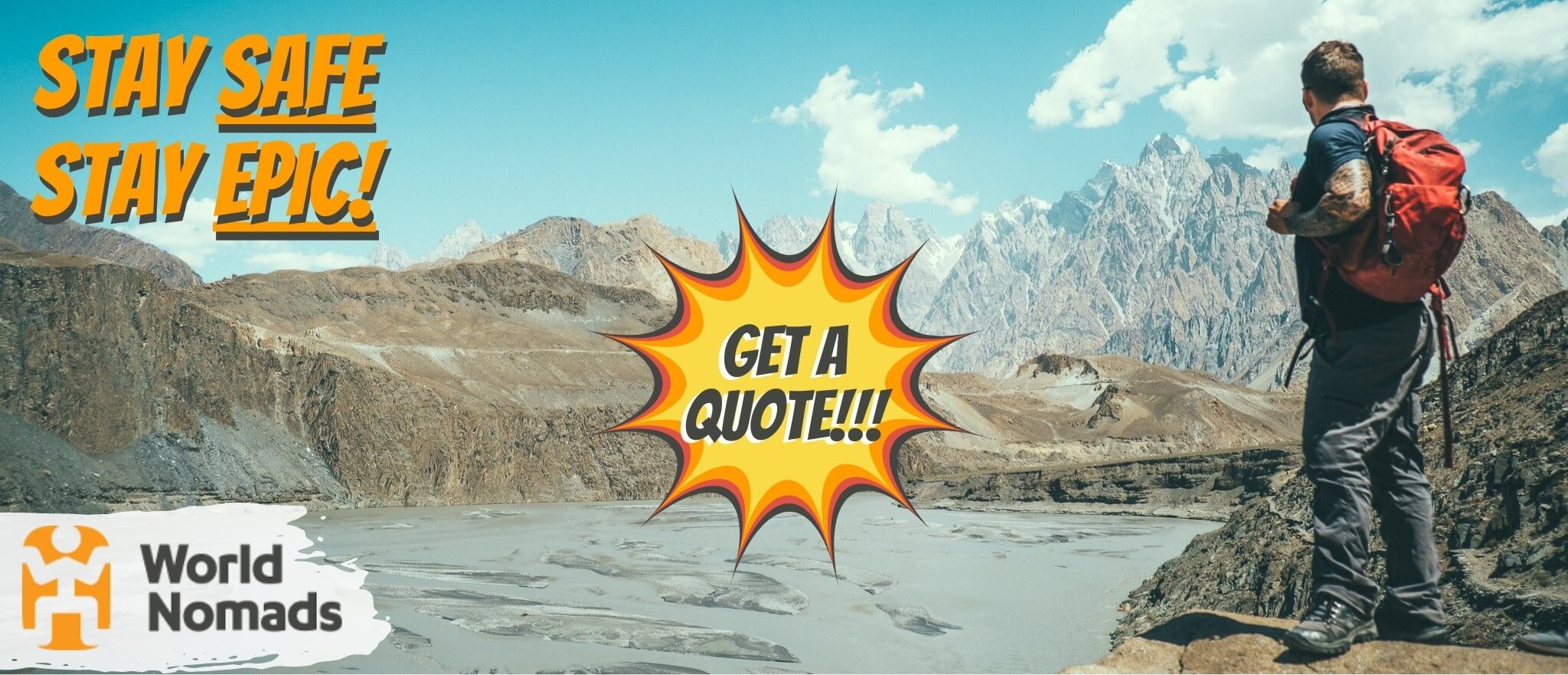 World Nomads' mission is to support and encourage travellers to explore their boundaries. They offer simple & flexible travel insurance, and safety advice to help you travel confidently.
They've been doing it since 2002 – protecting, connecting, and inspiring independent travellers just like you.
Get a quote below or read our in-depth review!
World Nomads provides travel insurance for travelers in over 100 countries. As an affiliate, we receive a fee when you get a quote from World Nomads using this link. We do not represent World Nomads. This is information only and not a recommendation to buy travel insurance.
Final Thoughts on the Best Goa Villa
Who knew villas in Goa were going to be so cool? Far from being makeshift pads built on the beach, these standalone properties make the prospect of a vacation in Goa very attractive indeed.
You may not be right on the sand all the time, but what you do get is some tropical luxury, the chance to stay in a heritage property, stylish interiors to soak up, and almost always, views of Goan countryside to punctuate your stay. Swimming pools and any staff on hand to help your stay run smoothly come as a bonus.
Lastly, and not least, there's one other thing to think about. That's travel insurance. If you're traveling to Goa from another country, then this is something you should consider. It's not a must, but you never know!
---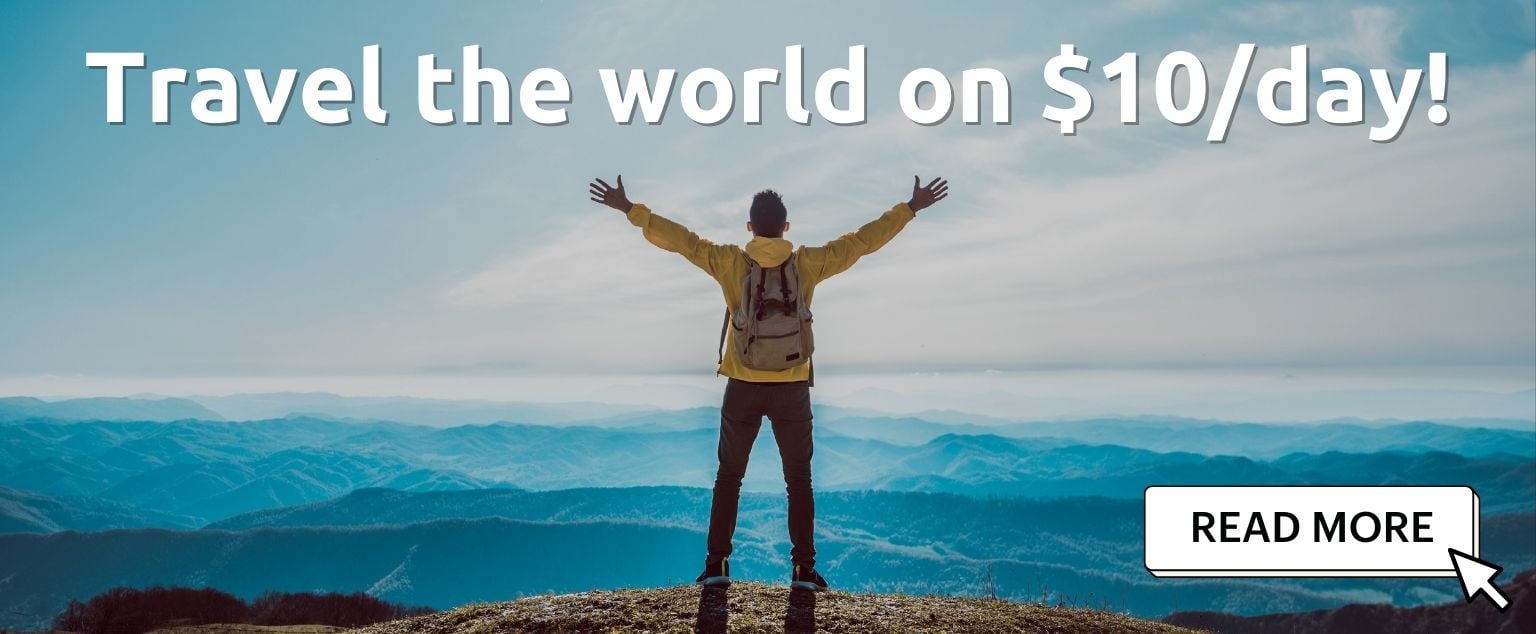 And for transparency's sake, please know that some of the links in our content are affiliate links. That means that if you book your accommodation, buy your gear, or sort your insurance through our link, we earn a small commission (at no extra cost to you). That said, we only link to the gear we trust and never recommend services we don't believe are up to scratch. Again, thank you!