Goa is the smallest state in India but it packs a lot of punch. An eclectic fusion of Portuguese and Indian culture and the hippie capital, it is unlike anywhere else in India.
36 beaches stretch along the Arabian sea, colorful markets buzz with life and the fragrant Goan cuisine will make your mouth water.
Whether you travel to Goa for the parties or its astounding beauty and laidback vibe, we're here to help you afford it.
So, is Goa expensive? Is Goa cheap? Or in between.
The short answer is no, Goa is NOT expensive. Or at least relatively no. It's more expensive compared to the rest of India but that's hardly a fair comparison. However, prices have really being creeping up recently and Goa's reputation as cheap destination is under-threat.
But don't get too excited, because it's easy to blow your money on one too many all-nighters or in the bustling bazaars.
This comprehensive guide is here to make sure you get the most out of your money and your trip to Goa.
Affordability Rating: Cheap
The headline news here is that YES, Goa is rightly and correctly revered as a cheap travel and holiday destination. While inflation is serious business in India, and Goan prices have SOARED over the last decade, Goa remains amongst the cheapest winter travel destinations.
You can pick up a delicious filling Fish thali for 150 RPS (about $1.20), can rent a scooter for $50 per month and pick up single hotel rooms for $10 per night. Long term house rentals will also leave you with change from $400 if you know where to look.
That said, prices are rising fast (though standards in some areas are actually falling) and entrance to parties now ranges from 500 – 2000 RPS and if you hire out a nice, modern "European" standard Airbnb you will pay a European price for it (and still have to deal with power cuts).
How Much Does a Trip To Goa Cost on Average?
This guide will cover everything in Goa's cost of travel.
A bed for the nights you'll be sleeping
Food to keep you fueled
Transport for beach town hopping
Activities to keep you busy
Souvenirs!
As always, and especially in the current tourism climate, prices fluctuate. A friendly reminder that the prices we provide you in this guide are subject to change. Since this guide was initially written though, prices have increased in Goa MASSIVELY and its reputation as a cheap destination is seriously under-threat.
Throughout this guide, all costs will be given in USD. At the time of writing, the exchange rate is 1 USD = 81,25 Indian Rupees.
And remember, this is India so you will need to bring your bartering A-game. You can negotiate prices on room rates, scooter rental, souvenirs and even party entrance fees. Food and Supermarkets, are not open for bartering.
3 Days in Goa Travel Costs
ESTIMATED EXPENSE: US $600 – $1500 for a round trip ticket
This section is a little bit painful, prepare yourself. Goa is a popular destination in India but it's not the biggest city. Or even a city. Flights flying into Goa are a bit pricey.
If you have flexibility, there are certain months which are cheaper. And you can try to plan your trip around the cheapest dates. For example, December is usually extortion as Goa becomes overcrowded with New Year ravers.
Below is a list of the average return flight cost to Goa from major global cities in the cheapest month of travel. Keep in mind that these are the average costs and subject to change.
New York to Goa International Airport: $750 – $1460 USD
London to Goa International Airport: £511 – £860 GDP
Sydney to Goa International Airport: $1097 – $2020 AUD
Vancouver – Goa International Airport: $1319 – 2080 CAD
Thankfully, this is the biggest Goa travel cost. And there are some tricks to get the cheapest flight fares possible. Keep a lookout for great deals and error fares.
Goa Airport, Dabolim Airport, is the only international airport in Goa. Making it not only the cheapest option but the only option. Once you get to Dabolim, you will then need to make your way to the coast to whichever beach you are staying it. There are busses, ($5) but it will mean changing multiple times and getting hot. The more comfortable option is to take a taxi ($25)
Other options are flying to Mumbai and taking the overnight bus down (12 hours) but honestly, the last thing you will probably want after a long flight is a long bus ride.
ESTIMATED EXPENSE: US $8 – $50 per night
Are you struggling to breathe a bit after seeing those flight prices? Don't worry, this next section should ease your pain.
Note that prices vary depending in which part of Goa you are staying in. For example, Palolem in the South caters for more upmarket tastes, Baga is mainstream and overpriced whereas Arambol is the hippy mecca and budget backpacker hub.
Accomodation options in Goa are plentiful and affordable. There are a ton of awesome beachfront spots for the price of a beer back home. Whether you're scraping the barrel on this trip or spoiling yourself, there's something for everyone.
From hotels to private villas, dorm rooms to beach huts. Take your pick and enjoy.
Hostels in Goa
Let's be honest, if you're doing a budget backpacking trip then hostels are the way to go. Sure, you might have to deal with the stench of collective farts in a dorm room. But the new friends you'll make and the money you'll save will be worth it. There are some great hostels in Goa.
You can still find a dorm room for as little as $5 a night if you are prepared to haggle. And if you prefer a bit more peace and quiet, then the average $12 for a private room probably won't break the bank. There are even specialised party hostels in Goa for those who want to go all out.
Here are three of the best hostel options in Goa. And there are many!
Happy Panda Hostel: Close to the beach with a warm and friendly vibe. Add a Bluetooth jukebox and a neon party room and it's near perfection.
Waters Edge Goa: A home away from home on the River Sal. Boasting a swimming pool and an ancient jackfruit tree to laze under.
The Bucket List Goa: A creative and interesting jungle space. Full of activities from yoga to table tennis. And jeep rentals!
Airbnbs in Goa
Okay so maybe hostels used to be the cheapest option for backpackers. And then Airbnbs entered the race. And while it may not be an affordable option for solo backpackers, it can be for two or more travelers.
Of course, the price varies a lot. Are you looking for a 6 bedroom villa with disco lights and air conditioning? Or are you on the lookout for something simple and private? Airbnbs in Goa generally fall into the $26 – $80 per night range, depending on your taste.
But making frozen margaritas in your own kitchen, lazing around all day with no one to judge you? That's priceless.
Below are three beautiful and affordable Airbnb's.
Sea Front Beach Hut, Agonda Beach: It's all in the name, really. Simple huts with the beach outside your front door. A bit of Goan paradise.
Beach Cottage, Agonda: Goan -style wooden cottages with tropical decor. Okay, so you've only got a 'partial sea view' but the beach is just a few steps away.
Cozy Apartment near the beach: A ridiculously cheap apartment close to the beautiful southern Goa beaches. Simple but with everything you need. And….cheap.
Hotels in Goa
This is the part where we'd normally tell you how expensive hotels are. Especially on a backpacker's budget. But a quick peruse of high-rating hotels in Goa would dispel that theory pretty quickly.
Yes, you can definitely find an expensive five-star resort. But overall, hotels are pretty cheap in Goa – much like everything else. You can still get a double room for between $20 – $55. Not bad, right? Or treat yourself to something higher end for up to $100 per night.
Sometimes, it's nice to relax in a fully kitted spot, have breakfast made for you and towels cleaned for you.
Here are three top hotel options.
Dunhill Beach Resort: Close to Agonda beach with a host of activities such as horse riding and snorkeling. Some rooms have terraces overlooking the garden
Treebo Trend Beach Box Hotel: A charming hotel constructed from upcycled materials and shipping containers. Delicious food, peaceful location, and bike rental.
Prazeres Boutique Hotel: Four-star hotel with sun terrace and lush garden. Serving continental AND Indian breakfasts. Beautiful view over fields to spot Kingfishers.
Private Villas in Goa
The best part about a vacation in Goa is that it could be your one chance to live like a rockstar. A villa out of a rap video, all your closest friends and a rental jeep. Why not?
The price of private villas can be a bit shocking. Sitting at around $100 to $250 dollars per night. But shared between a big group of people, it turns out to be really affordable.
We've provided you with three options of affordable and epic villas for your group trip to Goa.
Frangipani Villa – Anjuna: A gorgeous three-bedroom villa with a swimming pool. There is even an on-call chef if you're too lazy (or hungover) to make your own breakfast.
West Valley Villa, North Goa – Saligao: Barbeque, swimming pool and a bathroom for every bedroom – dreamy. Only 2.9km from the beach, although you might never leave.
Ludo Villa, North Goa – Arpora: A three-bedroom villa with a garden, terrace and swimming pool. With the added bonus of a continental breakfast available each morning. What more could you want?
Renting a House in Goa
If you are headed to Goa long term (1 month +) then we recommend trying to rent a house or room long term once you arrive. Simply ask around or go door to door to find options. It may take a few days to find something but is the best option. In 2021 I rented a 2 bedroomed house in Arambol for $200 for a month although as 2022 reaches its twilight, it seems that the going rate is now at least $300 and upwards.
ESTIMATED EXPENSE: US $1 – $60 per day
Public transport in Goa is very cheap. It's also somewhat unreliable. Transport options which should run on a schedule, don't. But luckily there are a ton of ways for you to get around.
Tuk-tuks and taxis are popular because of their convenience and availability. The cost of taking private public transport such as these is relatively low.
If you prefer being a master of your time, you have the option of renting your own vehicle or scooter and zooting around yourself.
Either way, you won't be stranded because you can't afford it. You might be stranded because the bus breaks down though.
Train Travel in Goa
Getting to and from Goa by train is one of the best options. However, getting around the state by train is not really possible. Rail links do not go to the coast which is where all the action is. Goa's train network is only worthwhile for leaving the state if you are headed to Kerala, Mumbai or Karnataka.
There are two railways in Goa. The South Central Railway, which has its main terminal at Vasco da Gama. If you're dead-set on some train travel, we'd recommend using this line for a day trip to Dudhsagar falls vi Colem.
The second railway is the interstate line, Konkan Railway. This travels north to south via a number of small stations.
Train travel in Goa is cheap, but not very convenient. The trains are slow and don't stop at many of the popular traveler destinations.
Bus Travel in Goa
Yes, there are buses to ferry you around Goa. Yes, they are jaw-droppingly cheap. But they're slightly unreliable and you'll struggle to find any kind of schedule which you can plan around.
That being said, the Goan bus network is wide. You'll find a bus stop in even the most remote of places. We dare you to find a destination in Goa which you can't get to by bus.
And while you might not be able to print a schedule online. All the buses have the names of every stop printed on the front of the bus but usually only in Hindi. Just ask the driver or another passenger if the bus is going to your stop.
Buses are also very cheap. Around 10INR ($0.13) per 1 to 2 miles Bus drivers will often reject large bills so keep some change handy for bus trips.
They might break down every now and again, get painfully hot and do err on the side of cleanliness. But the buses are budget and an adventure of their own.
Getting Around Cities in Goa
Goa doesn't have massive metropolitan cities. In fact, its largest city, Vasco de Gama, has a population of only around 100 000 people.
Most of the time, you'll find yourself in small beach towns where your feet will do the job of getting you around. Which is great, because walking is completely free. Save a few aches and pains.
The public transport in each town and city reflects the transport system throughout the whole state.
These are the best ways to get around cities in Goa.
Bus: The bus system we mentioned above is found in towns too. The buses are a bit rundown and almost always late. But it's only about $0.15 for a trip. Paid in cash directly to the driver.
Motorcycle Rickshaw: These rickety little carts on the back of a piloted motorbike are a whole lot of fun. And super cheap too. But they are limited in that there can only be one passenger at a time. Bargaining with drivers is expected so do your best to avoid getting ripped off. It's normally about 5 – 10 INR a mile depending on the city.
Auto Rickshaws and Cabs: These are unmetered so the risk of getting ripped off is high. If you're in a group and have serious haggling skills then they are a good option to get around. Note that Rickhsaws are banned in some towns such as Arambol.
Renting a Car in Goa
Goa is India's smallest state and therefore, renting a car can be a great option to explore different areas. Unlike the madness of Mumbai or New Delhi, the traffic isn't quite as terrifying when traversing Goa.
If you're planning on hopping around the different beaches from North to South, renting a car is an option. You won't be at the mercy of spotty public transport, which is great. It's more expensive than public transport though. Which is not so great, but is absolutely doable. Especially if you're sharing the cost with friends. Your biggest challenge will be driving through the small beach towns and finding somewhere to park.
However, if you plan on sticking around North Goa then you do not need a car at all. The roads are not big enough for them and you will end up getting stuck in traffic and pissing everybody else off.
The car will cost anywhere between $13 to $55 per day depending on if you're renting a little hatchback or a jeep. The fuel costs are ridiculously low as well.
There are a lot of deals advertised on car rental sites in Goa. And bargaining is possible, especially if you rent the car long term.
Want to save some cash and explore Goa by rental car? Use rentalcar.com to find the best deal possible. There are some great prices on the site and they aren't difficult to find.
Renting a Scooter or Bicycle in Goa
Renting a bicycle is a fun way to enjoy the tropical beaches and the rickety roads of Goa. During the high season (December – March), there are tons of bicycle renting spots. Especially at the busiest beaches.
And the best bit? It's ridiculously cheap. Sweat out the party toxins and have the freedom to go wherever, whenever, for a maximum of $3 a day.
If you're going to be using a bicycle for more than a few days, you can definitely bargain for a discount.
If you have a bit of a need for speed, renting a scooter is also an option. Thanks to the almost non-existent laws, you don't even need a license to rent one (you didn't hear that from us). But you may have to pay a fine if the Goan police bust you riding unlicensed.
Renting a scooter is also dirt cheap. Not much more than renting a bicycle, in fact. It will cost you between $5 – 10 to rent a scooter for the day or even less if you negotiate a long term rental.
You can find scooters anywhere. Everybody has a few to rent. However, here are some local rental spots for bicycles and scooters:
Cycling Zens
Cycling Tours and Rentals
Rentrip Bike or Scooty
Patrao Tourism Goa Bike Rental
ESTIMATED EXPENSE: US $5 – $20 per day
Oh, the glorious food of India – and the spectacular prices. Goa food has slightly higher prices than the rest of India but you can still pick up a meal on the street for $1.
Daily costs increase quickly when eating out three times a day. But if you don't have a self-catering spot, be smart about choosing where to eat, to keep your costs down.
Indian food is aromatic, rich and full of spices. Sourcing out local spots and popular dishes is a must when traveling through Goa. You can try all the goodies without blowing too many bucks. Try some of these tasty local dishes.
Samosas: $0.10
Masala Dosa: $0.40 – $0.80
Goan fish curry: $2 – $4
Pork Vindaloo: $2 – $4
Crab Xacuti: $3 – $7
The tried and tested method of keeping food costs down is to keep it local. Try to avoid shiny(ish) western restaurants in favor of buzzing local joints. Not only is local food cheaper, but it's almost always better.
There are some great restaurants in Goa. However, sitting in a stiff tourist trap can't compare to the cacophony of strange languages and the thrill of the unknown. Keep your wallet and your palate happy.
Where to Eat Cheaply in Goa
At this point, it's pretty clear that almost everywhere is cheap to eat. Which is blissful if you love eating your way through a new place. Obviously, you can still drop dollars at some fancy beachside resort restaurant boasting 'the best of Goan cuisine.'
We recommend that you don't do that too often, though, and check out one of these cheap places instead.
Street food in Goa: Is definitely the cheapest and best food. We know that some readers will be cringing at the possibility of the dreaded 'Delhi Belly'. Don't eat food that looks like it has been sitting for a while. And make sure it's thoroughly cooked. You can pick up meals for as little as 10INR ($0,13). Try the delicious Masala Dosa, it's the least likely to make you sick. And damn delicious.
Local restaurants: Otften known as Dhaba's or resto's are a great choice for an inexpensive sit-down meal. The prices are quite a bit higher than some really budget street dishes. From $2 to $10 for a meal, depending on where and what you're eating. But it's still cheap enough to enjoy a change of scenery from the chaos of street food.
Thali restaurants: Are epic spots for very cheap, authentic Indian food. Thali is essentially a round platter of various dishes. You can get vegetarian, meat, fish or mixed Thalis and they are a taste sensation. The platters usually start at about $1.50 for a load of fragrant food.
ESTIMATED EXPENSES: US $1 – $25 per day
Remember when we said that flights would be the most significant part of trip costs to Goa? It might be alcohol. Not because it's very expensive, it's not.
But Goa is the party-state, after all. So there is sure to be a lot of boozing involved.
Okay, so maybe it won't be the most substantial cost. But it could get pretty pricey if you don't trade in your usual drink of choice for local beer and spirits. There are epic raves, beach parties and a million opportunities to dance the night away.
Keep it cheap with these local drinks:
Local beers (ie, Kingfisher): $0.79 – $1.32 for a bottle
Feni spirit: $1.32 -$2.64
Amrut whiskey: $20 for a bottle
If you're frothing for a craft beer, there are a couple of microbreweries popping up and some affordable craft beers on offer but these are expensive and few and far between. So even though you might be partying your way through Goa, alcohol does not need to be the death of your bank. If you keep it local, of course.
ESTIMATED EXPENSES: US $0 – $5 a day
Savor this section of our guide, it's the best one. Why? Because some of the best places to visit in Goa are completely free. If you're thinking of going to Goa, you are aware of the party scene. If not – spoiler alert.
Other than all-nighters and world-class DJs, you will probably spend your days lounging on beautiful beaches. Other than the snacks you'll need to cope with the hangover, the lounging around is completely free.
Like the rest of India, there are a lot of colorful and vibrant markets. Of course, it's free to window shop. But that's probably not where it'll end. So, where to go in Goa?
We've listed some of our favorite activities and attractions.
Dudhsagar Falls: $5.30 entry fee
Sahakari Spice farm: $5.30 entry fee
Basilica of Bom Jesus (UNESCO world heritage site): free
Fontainhas (Latin Quarter): free
Arpora Saturday Night Bazaar: free
Anjuna Flea Market: free
Mahadeva Temple: free
No, your eyes have not failed you. 5 out of 7 of our favorite attractions and activities are gratis. Music to a broke backpacker's ears. The only money-saving hacks we can suggest here is to enjoy every single free activity. And skip out on the very few with fees.
Goa isn't really about seeing so much as about doing. From Yoga to Macarame lessons to all-night parties, it is these things that will fill up your Goa itinerary and that keep travellers coming back to Goa year after year.
There are parties most nights during high season and admission prices vary. As a general rule, the more expensive it is, the worse it is. If you are into main-stream, then check out Baga and Calangute. Techno parties happen in Anjuna, Arambol and Morjim are usually cost 500rps ($7).
The legendary Goan trance parties happen in Anjuna and Vagator. Shiva Place does free parties every weekend and Shiva Valley throws an epic Tuesday party every, erm Tuesday – admission is now 1000rps ($13) for men but free for women. I personally advise avoiding venues like Origens and Hilltop as they are overpriced and underwhelming. Goa's famous "party extras" are available at standard European prices.
Drop-in Yoga classes range from $2 – $4. Full yoga retreats in Goa are available and prices vary depending on length and intensity. Massage courses, macrame classes, and all manner of weird and wonderful courses are also on offer for great prices.
Budgets are made to be broken. Wait…that's not how it goes. But it should. Because it doesn't matter how meticulously you plan your finances, there are always unexpected costs.
Maybe you get a bit over-excited and bought the whole bar a round. At least you'll have made some new friends. Or those Indian textiles are too tempting. What's one more sarong?
We suggest putting aside at least 10% of your total budget for the unexpected costs. The slip-ups. The small emergencies. You'll feel better if you know that veering off-budget a bit won't ruin your entire Goa trip plan.
Goa is an awesome place to pick up wonderful souvenirs such as incense, Hindu gods, jewellery and a bunch of new clothes. It may be worth setting aside some extra cash and some space in your backpack so you can take some bedsheets home and psychedelic art.
Tipping in Goa
We've got good news and bad news, depending on how you feel about tipping. The good news is that tipping isn't really the norm when backpacking India. The bad news is that tipping in Goa specifically is kind of expected – purely because it's such a tourist hub.
The point is that you could get away with not tipping. But it would be a kind show of appreciation and respect to give 10% of the total bill.
If you're staying in fancy hotels, then tipping porters and hotel staff is expected. And if you have the money to splash out on five-star hotels, then you have the money to tip.
Get Travel Insurance for Goa
You've done the numbers in your head, you're feeling confident and armed with a wealth of knowledge. We've done our bit. Now we're pushing you into your Goan adventure with confidence that you'll be a budgeting guru….in training.
Before you head off, some final words of advice to help you travel in Goa cheap.
Use your haggling skills! At markets, at vehicle rental spots – everywhere. But also don't be the tourist that takes advantage of poverty to pay peanuts for something that is at least the worth of almonds.
Eat and drink local: Choose local food vendors and drink local alcohol to keep your costs down.
Take public transport as much as you can. Sure, a taxi is easier and quicker, but public transport is cheaper and more of an adventure.
Make use of communal kitchens or self-catering accommodation.
Create a daily budget: But allow for some flexibility – you're on holiday, after all!
Have a water bottle: Don't waste money on plastic, bottled waters; carry your own and refill it in the fountains and the tap. If you're worried about potable water, get a filtered bottle, like the GRAYL, which filters out 99% of viruses and bacteria.
Earn money while you travel: Teaching English while traveling is a great way to make ends meet! If you find a sweet gig, you may even end up living in Goa.
Become a volunteer with Worldpackers: Give back to the local community and, in exchange, you're room and board will often be covered. It's not always free, but it's still a cheap way to travel in Goa.
We've done a deep dive into Goa travel costs and it's safe to say that it's not expensive. Being the tourist hub that it is, it has higher prices than the rest of India. But your money will still go far.
Once you've thrown down the initial flight costs, the rest of your expenses will be quite light. Without sacrificing too many luxuries. In fact, it's one of the few places that luxuries are pretty affordable.
If you've got a decent budget, Goa will be a breeze for you. If you've only got a few bucks in the bank, you can still make it work – armed with this comprehensive guide and a few expert tips.
Enjoy all the free activities that Goa has to offer. Remember that local is lovely. And cheap! Eat, drink and shop like a local. Which is to say that you should bargain whenever you can.
So, what should your budget look like for Goa trip costs?
What we think an average daily budget for Goa should be: $40
---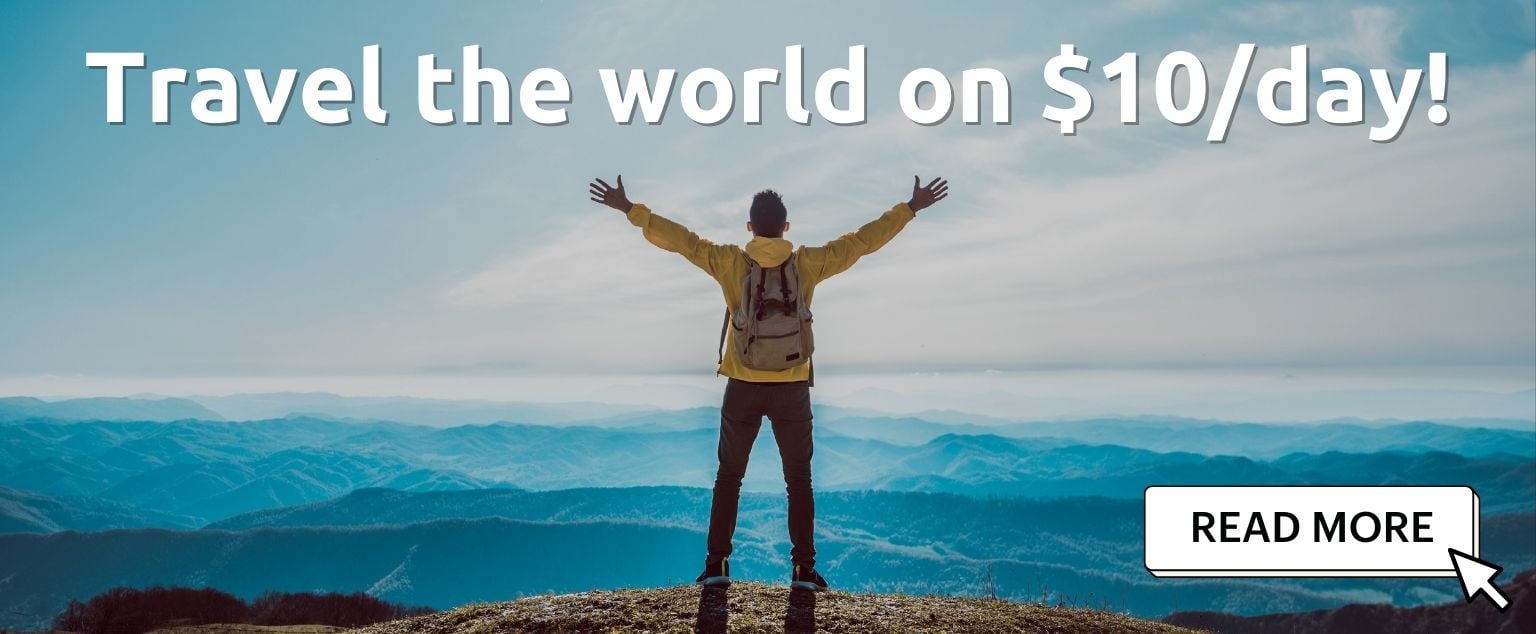 And for transparency's sake, please know that some of the links in our content are affiliate links. That means that if you book your accommodation, buy your gear, or sort your insurance through our link, we earn a small commission (at no extra cost to you). That said, we only link to the gear we trust and never recommend services we don't believe are up to scratch. Again, thank you!