Goa is the hippy-centric, backpacker paradise state in the South of India.
One of the budget-travel epicenters of the planet, Goa is a backpackers paradise, filled with enough beach, sun and weed to keep you happy for a lifetime (and all at a super cheap price).
No matter where about in Goa you stay, there are hostels everywhere. Too many to choose from in fact!
So we created the solution – welcome the no stress guide to the 20 best hostels in Goa, India!
Our goal is simple – to help you book a hostel in Goa.
To do this we've taken the best-reviewed hostels on Hostelworld, and put them into one list.
And to take it a step further, we've organized those hostels by different travel needs.
So whether you are a solo traveller looking to make some friends, a traveling couple looking for some privacy, or a Digital Nomad trying to meet a few deadlines, our ultimate list of the best hostels in Goa is designed to help you book a hostel quickly.
Let's dive into the top hostels in Goa!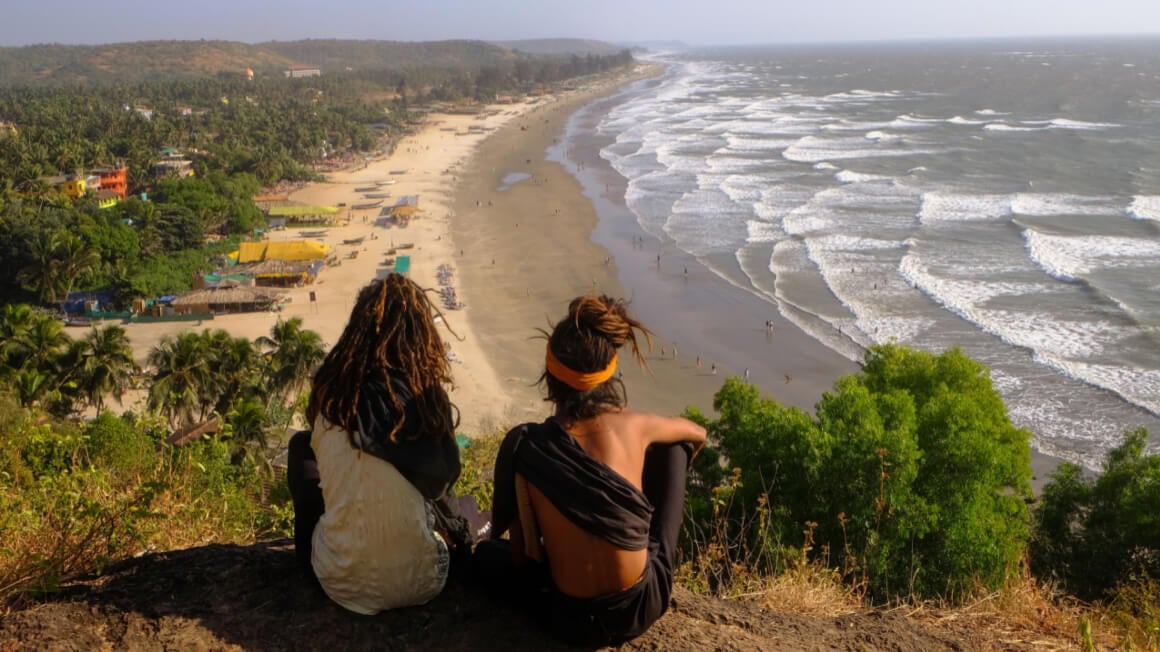 Quick Answer: The Best Hostels in Goa

Do You Want to Travel FOREVER??
Then pop your email address in below and we'll send you a FREE copy of 'How to Travel the World on $10 a Day!' – make travel your LIFE.
What to Expect from the Best Hostels in Goa?
In much of the world, hostels are your best bet for finding budget accommodation while you're travelling. They're great for solo travellers to meet other backpackers. But they're also the best way to save a buck. 
In Goa, you're lucky! This place has been on the hippie trail as long as anywhere else. This means hostels. 
While travelling India, it's really useful to have a head's up for your accommodation. There's nothing worse than arriving to a place that's just not what you had in mind. There's nothing better than when it exceeds your expectations.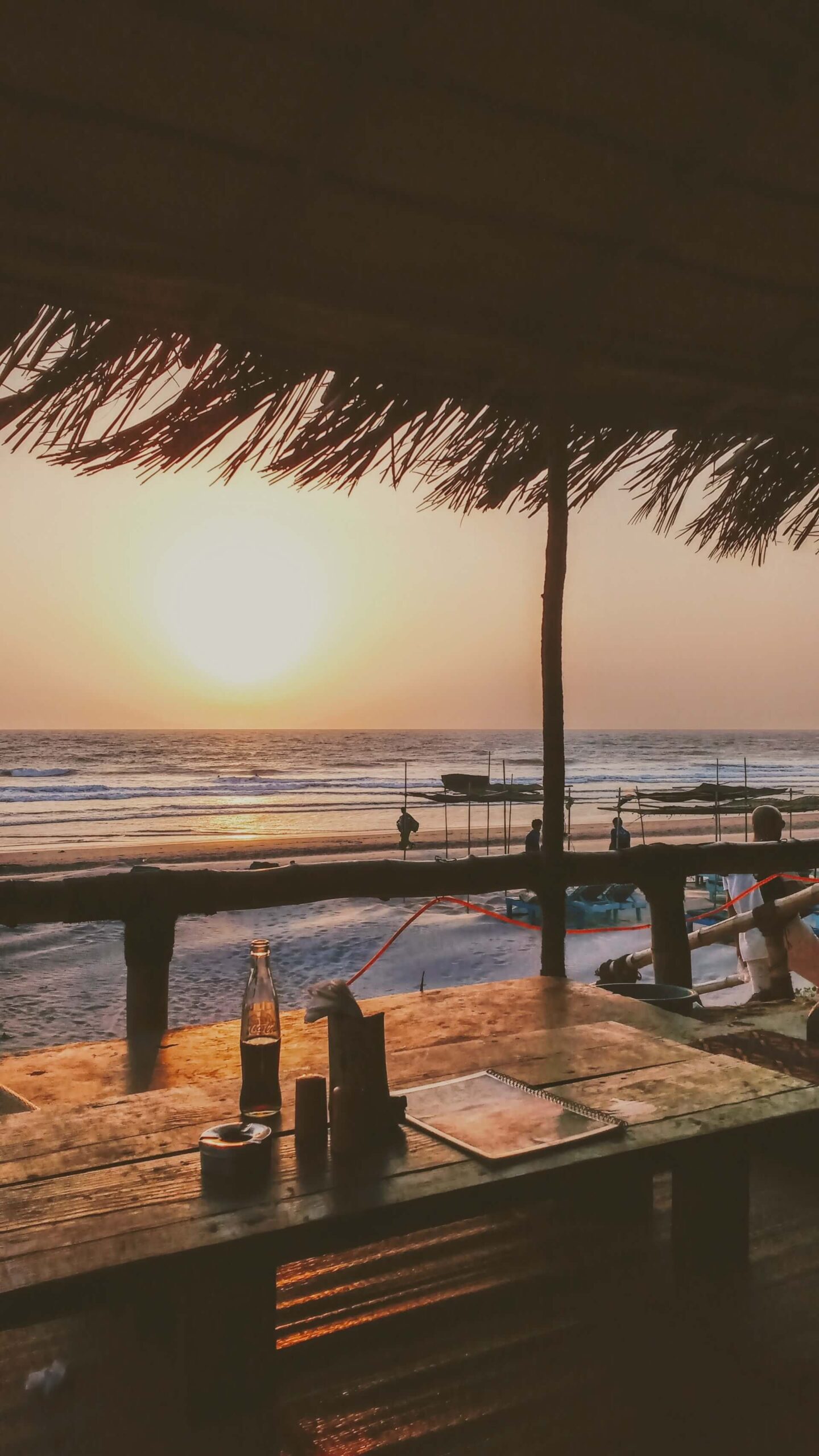 Thankfully, Goa, and India in general, is a very budget-friendly destination. There are plenty of cheap hostels, party hostels, craft hostels, and yoga classes galore. So surely, a few of the best hostels in Goa that will suit you don't to a T. 
Female-only dorms are also available. It's great if you're a solo female traveller who needs some girl space, or if you just want to drop in with the female crowd straight away. 
In dorms, the general rule is the bigger the dorm, the lower the price of a bed. This is great if you're on a tight budget, though if you're looking to get some good sleep in, you may want to consider a smaller dorm or even a private room. Especially if you're with your travel buddy, it can be a better, and cheaper, option to get a private room sometimes. 
Dorm (mixed or female-only): $3 – $20/night
Private Room: $7 – $35 €/night
Of course, this is Goa. So the party scene is really happening. 
International backpackers from all over the world are creating an incredibly lively hostel crowd and the best party hostels in Goa. Though these areas still have some of the best hostels to stay in Goa, even if you're not looking to get down. 
Anjuna & Vagator Beach – for party enthusiasts
Morjim – for the nature lovers
Arambol & Mandrem – perfect for low-budget travellers
When looking for a hostel, check out HOSTELWORLD. You can see photos, detailed information about the place, and even reviews from previous guests. Just like other booking platforms, each hostel has a rating to easily pick out the hidden gems.
Without further ado, here are the best hostels in Goa!
The 20 Best Hostels in Goa
In this post we'll help you decide where to stay in Goa. Organized by YOUR needs, our list of the 20 best hostels in Goa will help you find the best type of hostel that fits your travel-style.
If you don't find what you're looking for, then remember to check out our best Airbnbs in Goa post too.
Hostels in Arambol & Mandrem
Set in North Goa, Arambol & Mandrem cater to a budget conscious, hippy crowd. There are loads of yoga and esoteric happenings and general good vibes. Whilst there are no all night parties, there is still plenty to keep your evenings filled with.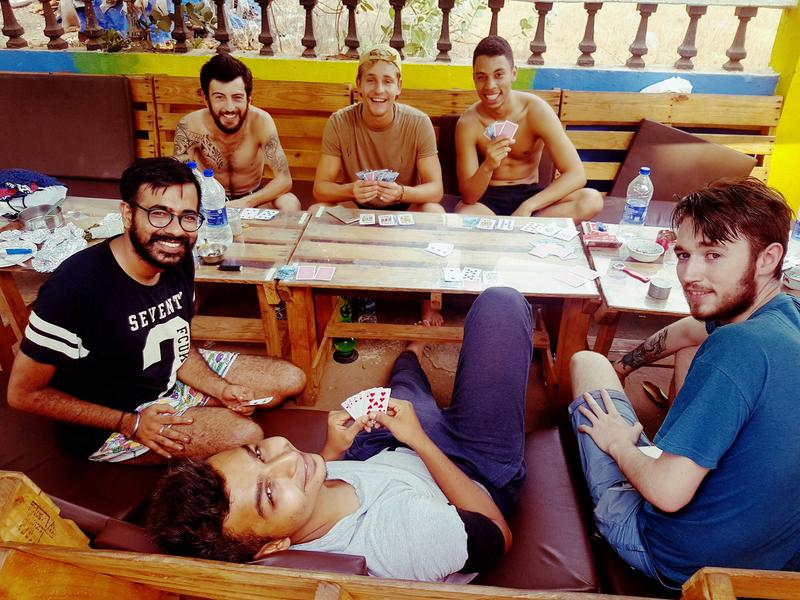 $$
Bar & Cafe Onsite
Self Catering Kitchen
Airport Transfers
The overall best hostel in Goa is Happy Panda, they're just great! As the best hostel in Goa in 2021 Happy Panda know exactly what Goa backpackers are looking for and deliver it in full. The hostel itself is cool, clean and community-oriented. There are plenty of communal spaces to hang out in and there's always someone in the kitchen cooking up a great veggie something for everyone to try. If you're down for a super relaxing time in Goa you'll surely love Happy Panda. Bookworms will squeal with joy at their packed bookshelf!
The Happy Panda bar is pretty awesome and serve up an ice cold Kingfisher whenever you want it! Don't worry if they're fully booked, they'll pitch a tent for you in the garden! Beggars can't be choosers, right?!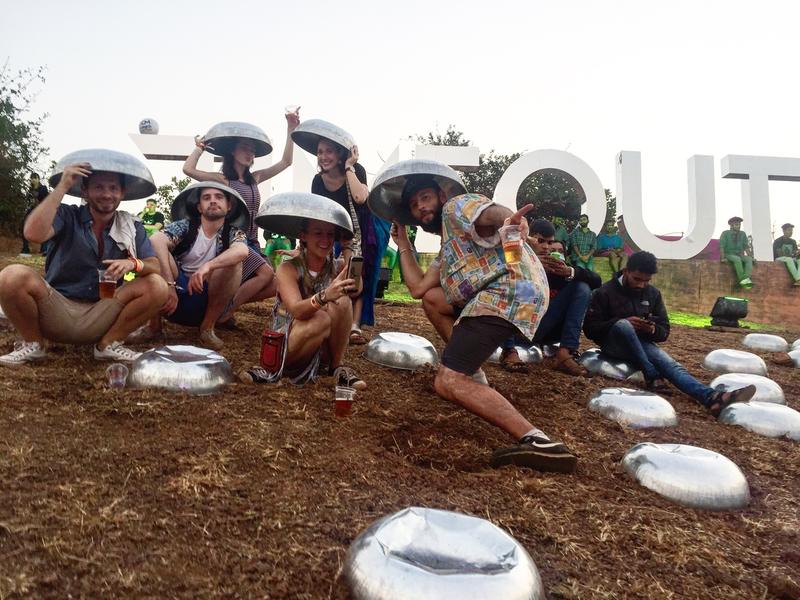 $$
Garden Area
Laundry Facilities
Late Check-Out
It's safe to say that some areas of Goa can get pretty crowded at certain times of the year but not Arambol and not Roadhouse. If you like a quiet yet sociable hostel you'll love Roadhouse Arambol. This is the kinda place where sing-songs around the campfire are the norm and everyone greets you like an old friend. The hostel itself is clean cut and modern. The dorms are bright and well laid out to give guests maximum space to live in. Just 5-minutes walk from the beach Roadhouse is a great youth hostel in Goa.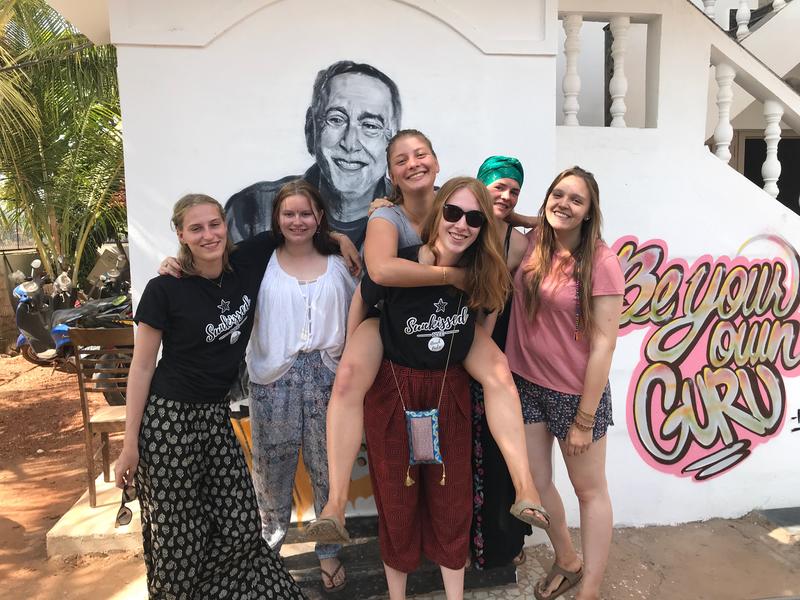 $
Bar & Cafe Onsite
Self Catering Facilities
Tours & Travel Desk
Moustache CoWork Hostel is a bit of a hidden gem. Set back from Mandrem Beach, Moustache Goa Hostel is an authentic, chilled out and super affordable Goa backpacker hostel. Calm and quiet this is an ideal hangout for digital nomads who need to focus on the task at hand. Each guest gets their own storage locker beneath the bunk bed, big enough for your rucksack. Just remember to bring your own lock, Moustache CoWork is super safe but it's good practice to lock your stuff up!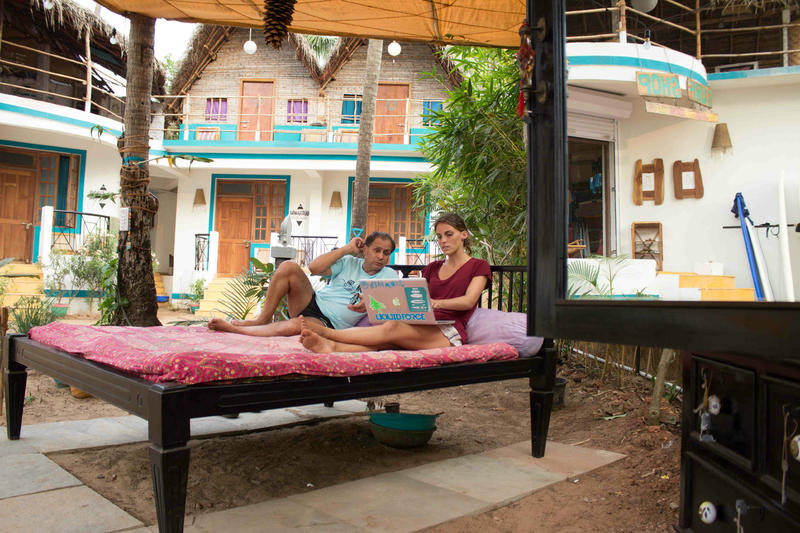 $$$
Bar & Restaurant Onsite
Free WiFi
Late Check-Out
Vaayu Waterman's Village is an indie Goa backpacker hostel that has both cottages and cabins available to stay in. Ideal for couples, in particular, Vaayu Waterman's Village is an authentic Goan homestay hostel on Aveshem-Mandrem Beach Road. Vaayu's perfectly captures the Goan vibes in everything they do, from the style of the hostel to the welcoming nature of the staff. Admittedly a little more expensive than some other top hostels in Goa but Vaayu Waterman's Village offers great value for money and good night's sleep.
Best Hostels in Anjuna & Vagator
Anjuna are Vagator are Goa' hedonistic party havens. The crowd here come here for one thing – all night parties down on the beach!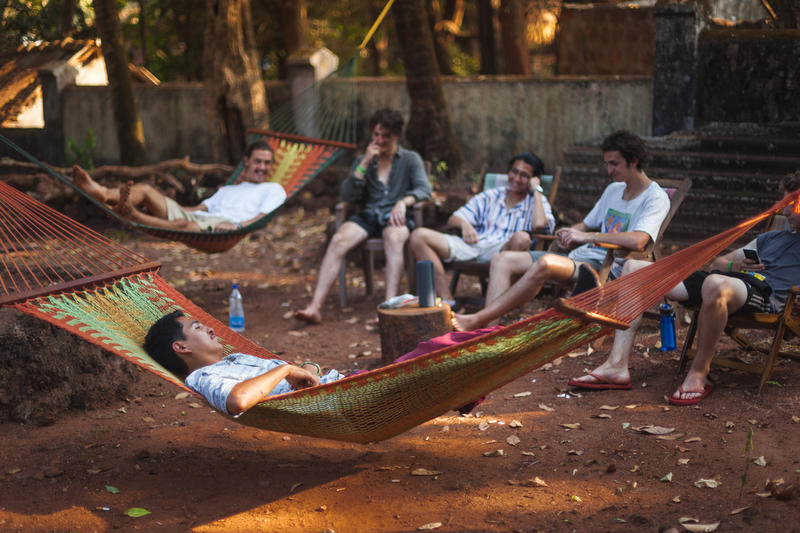 $$
Free Breakfast
Cafe Onsite
Self Catering Facilities
Set in a classic, colonial Portuguese mansion JUNGLE is a top hostel in Goa, certainly one of the best. This hostel is super charming and easily the kinda place where you can extend your stay. If you like the fresh air, being surrounded by plants and like to have plenty of space to sunbathe and do yoga you'll just love JUNGLE. If you're an uber chilled traveller wanting to hang out near Vagator Beach JUNGLE could be the best hostel in Goa for you. The free breakfast is a total bonus and with a cafe of their own makes it one of the top hostels in Goa for 2021.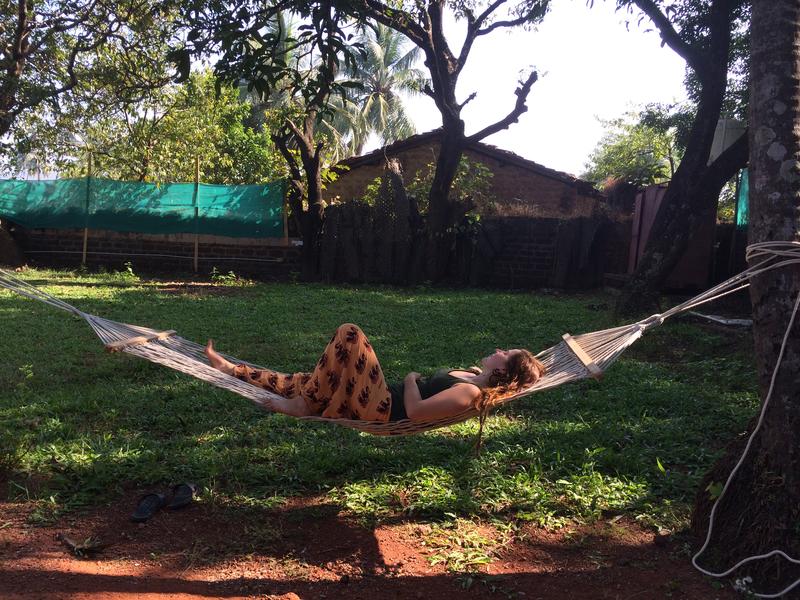 $$
Bar Onsite
Self Catering Facilities
Late Check-Out
Lazy Llama is another great youth hostel in Goa for solo travellers who just wanna relax! The Lazy Llama is lazy by name and by nature; everywhere you look there's a cosy spot to chill out in! Enough hammocks for everyone…nearly! If you're a solo traveller who loves getting yourself out there and meeting new people every hour of the day you'll love Lazy Llama. They're located just 5-minutes walk away from world-famous Anjuna Beach where you'll find all the backpackers hanging out! Solo nomads who wanna relax and find a new crew will love Lazy Llama.
$
Cafe Onsite
Self Catering Facilities
Late Check-Out
The best cheap hostel in Goa is That Crazy Hostel. It's much loved by all who visit and it's not hard to see why. Nestled away in North Goa close to Anjuna Beach That Crazy Hostel has all the mod cons you'd want from a hostel but still has all the hippy vibes you're heading to Goa to experience. The garden area is That Crazy Hostel's best feature, colourful and sun trapped it's safe to say you won't be straying very far once you've checked in! Swing by reception around midday to find out what the evening's event and entertainment are.
$$
Cafe Onsite
Self Catering Facilities
Tours & Travel Desk
Roadhouse Anjuna is the sister to Roadhouse Arambol and has all the same calm and peaceful vibes as its sister but is located, well duhh, at Anjuna Beach! Roadhouse Anjuna is a great budget hostel in Goa and they have everything you could ask for. Free WiFi, air conditioning, a community kitchen and their own cafe too. Roadhouse Anjuna is a highly recommended hostel in Goa as gets booked up well in advance. If you wanna stay at this little gem of a hostel you've gotta get ahead of the game.
$
Garden Area
Ceiling Fan
Luggage Storage
Hygge is a great cheap hostel in Goa; simple but ample Hygge is perfect for travellers on a super tight budget. Hygge is another super hippy youth hostel in Goa located just 500m from Anjuna Beach. In a closed compound, all of its own Hygge is a real home from home and the team make everyone feel really welcome. Being one of the newest hostels to open in Goa Hygge are still collecting reviews but they've made a cracking start and certainly deserve support from the travelling fam!
$
Bar & Cafe Onsite
Self Catering Facilities
Late Check-Out
Bunkker is a top hostel in Goa and great for travellers on a shoestring budget. Bunkker is a new Goa backpacker hostel and is still in tip-top condition. Made entirely from upcycled shipping containers Bunkker is modern, on-point and has a more hipster than hippy vibes. No bad thing! Super close to Rider Mania and Sunburn staying at Bunkker means you can either party til dawn or get an early night. Whatever floats your boat! The dorms are all air-conditioned which is a big bonus!
Is This the Best Backpack EVER???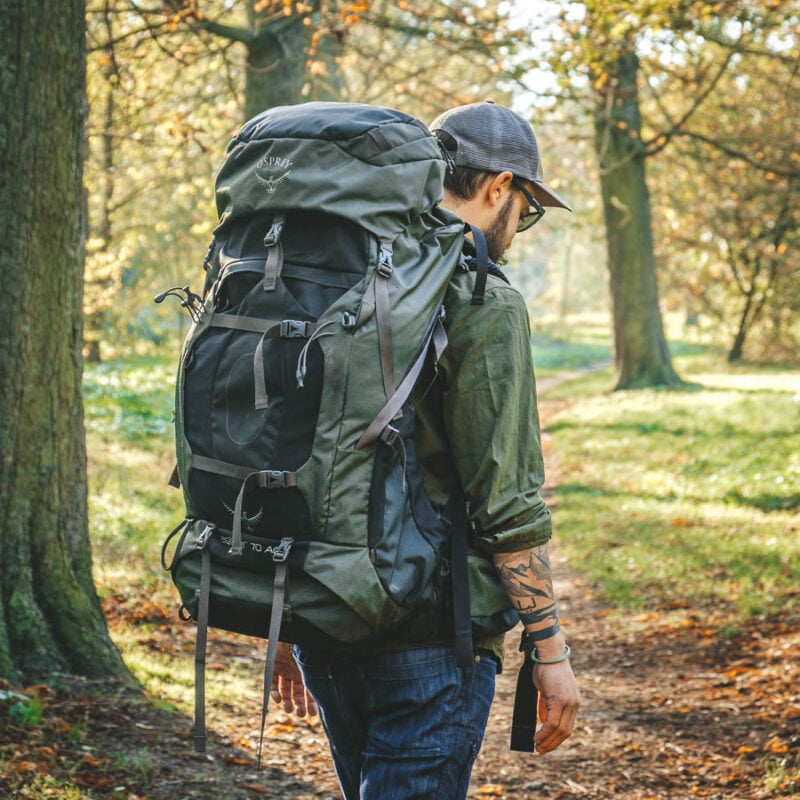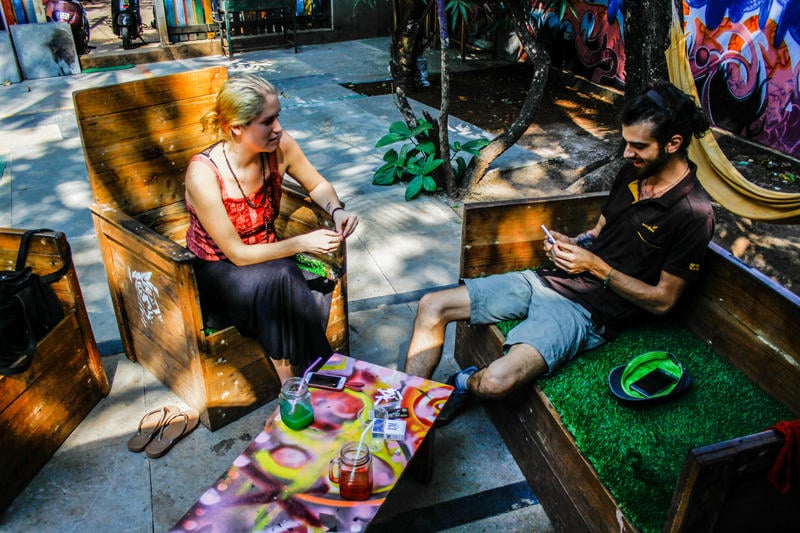 $
Free Breakfast
Bar Onsite
Tours & Travel Desk
Pappi Chulo is a buzzing and vibrant party hostel in Goa. If you're seeking party vibes, community vibes and amazing hostel vibes all in the one place you'll just love Pappi Chulo. With their own bar in the garden, a great sound system and an even better taste in music Pappi Chulo is the coolest hostel in Goa that party people fall head over heels in love with. Without a doubt, the best party hostel in Goa, Pappi Chulo is the kinda hostel you'll dream about. The dorm rooms are clean, airy and bright. The beds are super comfy; the perfect place to nurse a hangover before you do it all again, cus let's be honest, Goa is one of the best places in the world to party, amirite!?
$$
Self Catering Facilities
Laundry Facilities
Outdoor Terrace
Surely it's the digital nomad dream to be able to live and work just steps away from beaches like Vagator in Goa? Dreams Hostel allows digital nomads to do just that. Why not live the dream at Dreams? With hippy vibes in no short supply, a decent internet connection and super nice dorm rooms there's a lot to love about Dreams Hostel. There is plenty of zen areas to work in and you'll find the hostel office is quite productive. As a much loved Goa backpacker hostel Dreams is a great place for digital nomads and, in fact, chilled out travellers of all kinds.
Hostels in Baga & Calangute
Baga & Calangute are popular among package, mainstream and domestic travellers to Goa. Expect the odd chain hotel and family of holidaying Brits and Delhiites!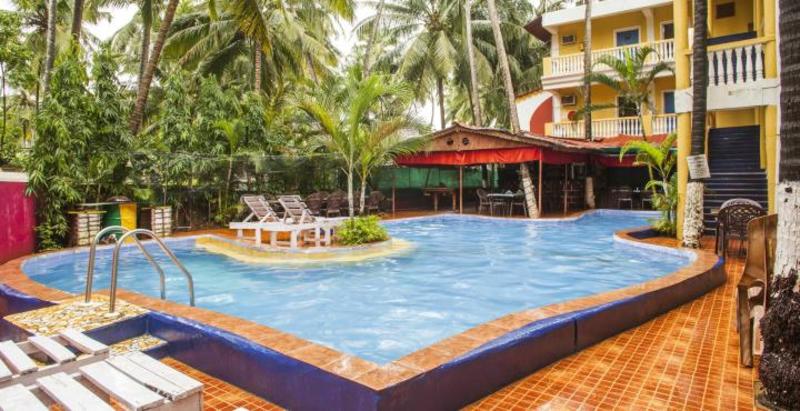 $$
Free Breakfast
Swimming Pool
Cafe & Bar Onsite
As Goa backpackers hostels go Castle House is right up there with the best, especially for travelling couples seeking private rooms! Castle House is great for couples who want some time to themselves, to chill out by the pool and relax in the sun. Located just a few minutes walk from the ultimate beach combo of Calangute-Baga-Candolim and 20-minutes from the city of Panjim Castle House puts you at the heart of Goa's backpacker zone. The Castle House swimming pool, pool table and library will help keep you and your partner busy, on top of all that beach action!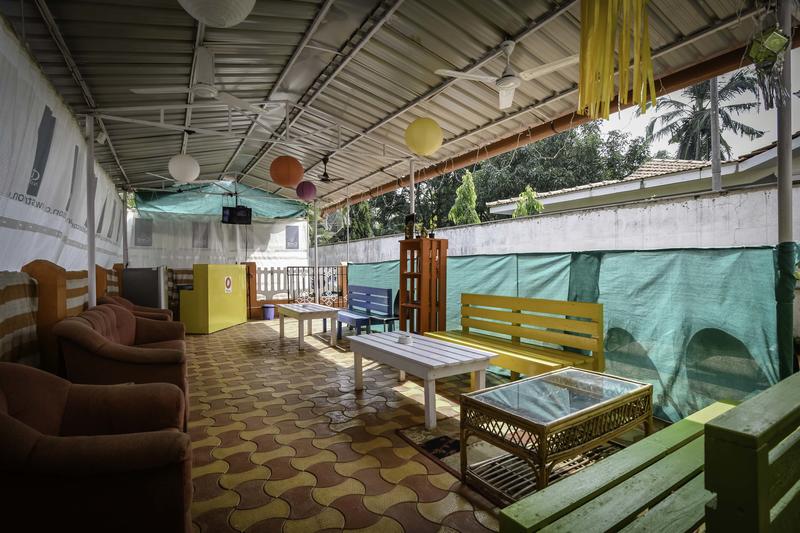 $$
Bar & Cafe Onsite
Laundry Facilities
Tours & Travel Desk
The whole of Hashtag is super clean and tidy, including the bathrooms. If you're working your way from North Goa to South Goa be sure to start your time in Goa at Hashtag Rooms in Calangute. This top hostel in Goa is just 100m from the beach! Truly a place for everyone Hashtag Rooms is a great hangout for solo travellers, digital nomads and have enough beds to accommodate groups too. If you're a last minute kinda traveller you'll find all the information you could possibly need at their tours and travel desk.
Best of the Rest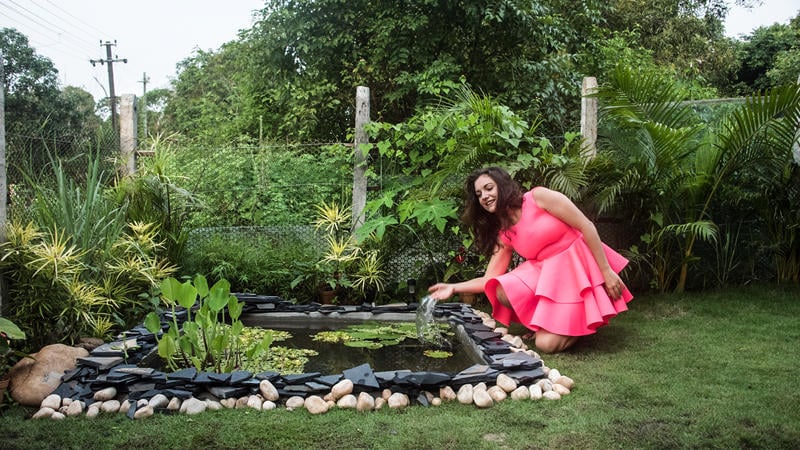 $
Bar & Cafe Onsite
Laundry Facilities
Late Check-Out
Hopping Frog is the best budget hostel in Goa and is one of the best-connected too. Staying at Hopping Frog sees you just 15-minutes away from the big town of Mapusa, just 10-minutes from Assagao Beach area and is close to Goa's main train station too. Hopping Frog is a top hostel in Goa for travellers on a micro-budget as they have everything you could need right there; a cafe and bar, laundry facilities and free WiFi too. Hopping Frog is simple but cosy, cool and cost-effective.
$$
Free Breakfast
Self Catering Facilities
Laundry Facilities
The digital nomad life in Goa is a tough balance to strike. Who would want to work when you could spend every waking minute on the beaches of South Goa?! Thankfully SUMMER by thehostelcrowd make it as easy as possible to max out on those beach moments and make the money too. As the best hostel for digital nomads in Goa SUMMER is a cool and calm hostel near Palolem. Ideal for digital nomads SUMMER has decent free WiFi for guests as well as a communal kitchen and laundry facilities, and the private rooms offer desks and are super affordable.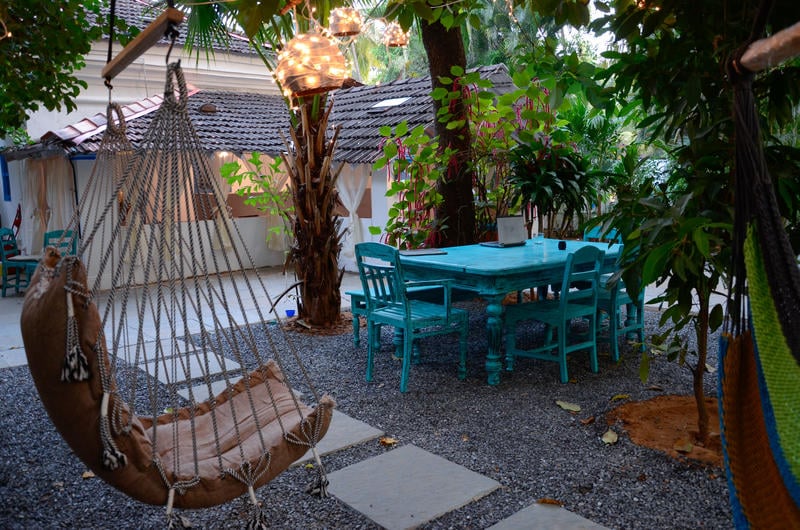 $$
Swimming Pool
Cafe Onsite
Tours & Travel Desk
Woke Hostel is a flashy, high-end hostel set in a colonial Portuguese mansion near Arpora. There is a real charm to Woke Hostel, perhaps it's the building itself or perhaps it's the simple but tasteful decor. Either way, Woke is a highly recommended hostel in Goa, ideal for travellers who have a slightly bigger budget to play with and want a taste of luxury. The staff at Woke Hostel are outstanding and host Shadab is quite the storyteller! Whatever, your Goa itinerary, this is a good base.

Unlock the The Broke Backpacker's GREATEST Travel Secrets!
You pop your email here, and we promise to send you only travel content that's actually relevant — sounds like a pretty good deal to us!
What to Pack for your Goa Hostel
Pants, socks, underwear, soap?! Take it from us, packing for a hostel stay is not always quite as straight forward as it seems. Working out what to bring and what to leave at home is an art we have perfected over many years.
Why you should travel to Goa
If you are backpacking through Goa, prepare to have the time of your life. Goa is fun, filled with interesting people, and it's at one of the best bargain prices in the world.
With the help of this guide to the best hostels in Goa, you'll be able to easily pick the hostel that fits your travel style, and book with confidence.
So, which on are you going to book? The best hostel in Goa for solo travellers? Or how about one of the best hostel cheap hostels in Goa?
Still stuck? Do yourself a favour and just book our pick for best hostel in Goa for 2021 – Happy Panda!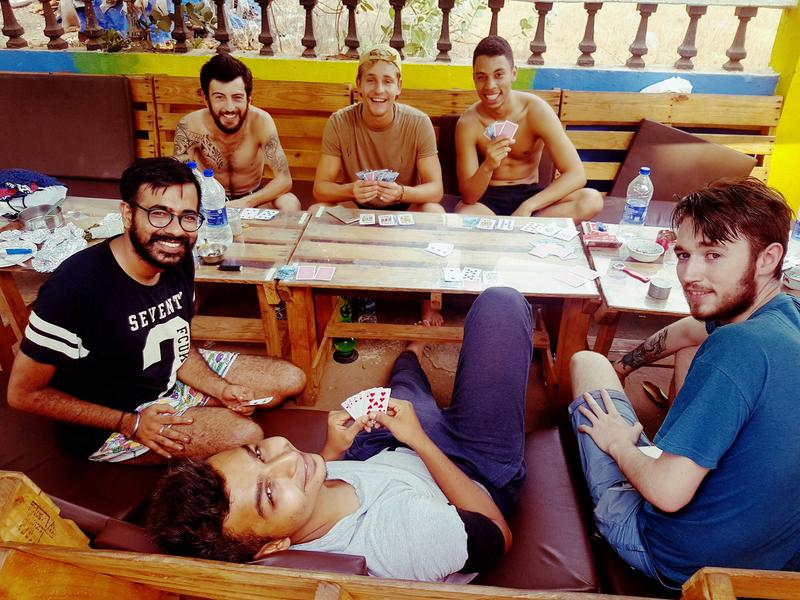 FAQs about the Best Hostels in Goa
Here are some questions backpackers ask about hostels in Goa.
Travel Safety Tips for Goa
Look, I know it doesn't sound really exciting. But believe me, when you need good travel insurance, there's no better feeling than knowing you're already sorted.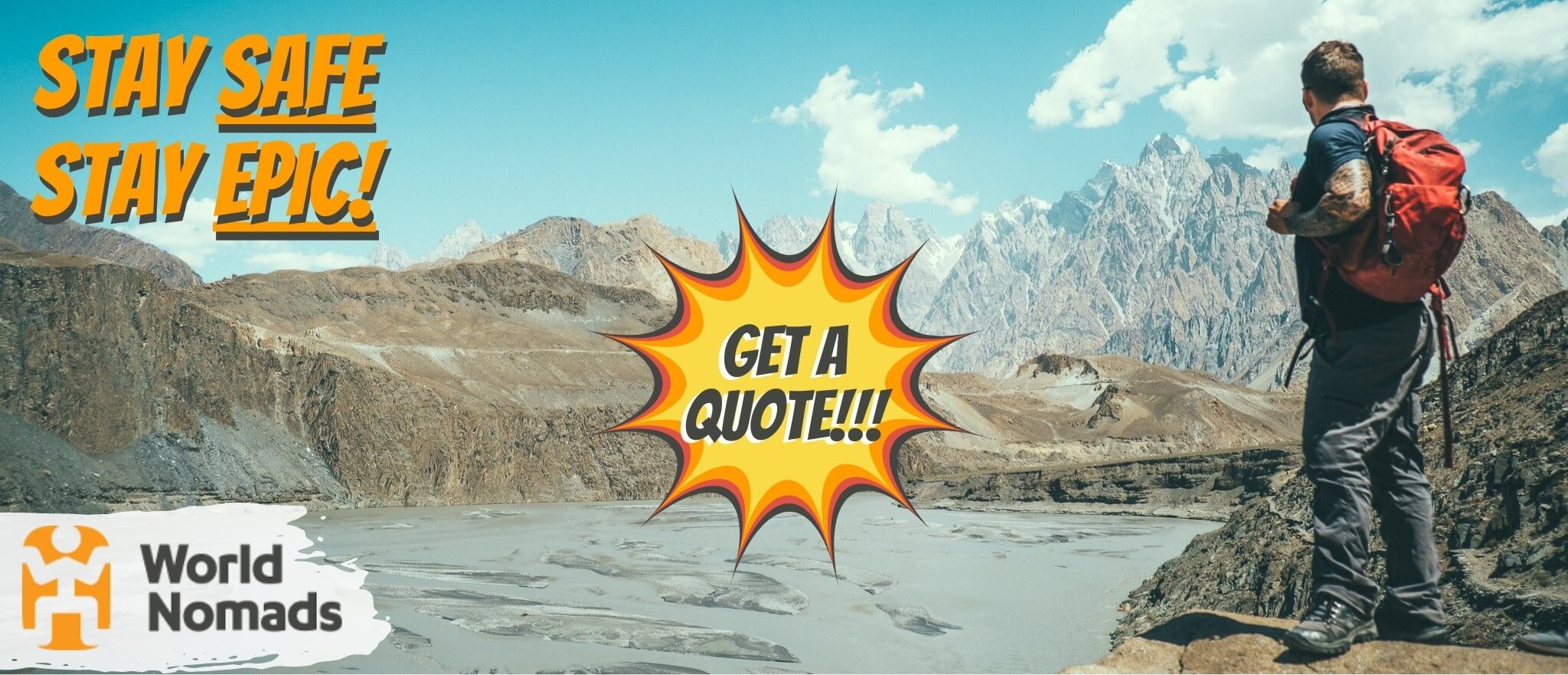 It's good to get lost sometimes, but it's also good not to get too lost. There are people that want you home in one piece.
There's one travel insurance provider The Broke Backpacker trusts for all his wildest shenanigans… World Nomads!
Click the button below to get a quote on your insurance or read our in-depth review of World Nomads' coverage. And then… let the shenanigans begin. 😉
Final Thoughts on the Best Hostels in Goa
Solo travellers, digital nomads, hippie dippy dirt-bags, I hope you find your perfect hostel home with this epic guide to the best hostels in Goa. Start with a night and see how you go. You'll be there soon to see what makes Goa so special.
If you're looking for the best party hostels in Goa, you have plenty of choice. But maybe start somewhere in North Goa and take it from there.
Or maybe you just want a quiet hostel in Goa, near the beach. Well, that's possible too. In that case, maybe consider somewhere in South Goa.
Have fun and tell us about it when you come back! If you think we've missed anything or have any further thoughts, hit us up in the comments.
---
Thanks for reading – that was fun! 😀
We bring you epic FREE content!
Find out how YOU can help support us.
We're a big site with a big team and this job isn't always easy. But we do it because we love it – we love providing epic and free content. We love the knowledge that our content keeps you adventuring. We don't ask for money, but if you'd like to find out how you can help the site in more organic ways, click the button below.
Thank you for your support 🙂
---
Bye for now, but not forever!
If you want MORE top-tier Broke Backpacker content like this, then sign up for our weekly newsletter below to get the latest and greatest!
And for transparency's sake, please know that some of the links in our content are affiliate links. That means that if you book your accommodation, buy your gear, or sort your insurance through our link, we earn a small commission (at no extra cost to you). That said, we only link to the gear we trust and never recommend services we don't believe are up to scratch. Again, thank you!