Goa. India's smallest state, tucked neatly into the sub-continents Southwest and gently caressed by the warm Arabian Sea. A Portuguese colony from circa 1500 until 1967, Goa retails a distinctly welcoming, laid back and positively psychedelic vibe that truly sets it apart from the rest of India.
Goa is also, however, a state of mind. After I first arrived in Goa in 2018, I never quite left.
Goa is not just a holiday destination or a backpacker enclave. It is a place where travellers are called to lose themselves or find themselves but in all cases to be themselves.
Of course, if all you want from Goa is sun, sea and souveivers then find it you shall but, if you are after that little bit extra something, then Goa will equally serve you. Ultimately the experience you want from Goa should determine where exactly in Goa you stay and for that reason, choosing where to stay in Goa is very important.
I'll be totally honest. Most accommodation in Goa is NOT great. Poor service, low hygiene and ultimately underwhelming rooms are the norm rather than the exception. Traditionally, the trade of was that digs were cheap so we all put up with it. However recent years have seen prices rise by multiples of 100 whereas service standards have plummeted if anything. Oh, and false advertising is also common place and on this note, I will advise you AGAINST staying at Crystal Serenity in Mandrem.
Therefore, carefully choosing where to stay in Goa is more important than ever. But dont worry, we have you covered.
BTravo Tales Goa is one of our absolute favourite places to stay. They offer a rooftop cafe, 24/7 garden bar, onesie restaurant, in-house DJ, and a swimming pool to cool down. The vibe is unmatched in the area making it one of the best party hostels in Goa. It's a great place to meet travellers while watching the sunset over the sea.
This stunning hotel is one of the best places to stay in Goa! Set in a faux European villa just steps away from the beaches, you'll have everything you need and more to make the most of your visit. Each room is modern and comes with a stylish ensuite bathroom, as well as free wifi.
Best Airbnb in Goa: The Heron Flat in Mandrem
This eco-friendly farmhouse is one of the best Airbnbs in Goa. It's secluded amongst greenery while being close to the city and its attractions, and offers scooters for exploring the area. You'll enjoy a beautifully decorated room and access to the kitchen as well as a private bathroom.
Still not sure where to stay in Goa? Don't worry, we've got you covered!
Please read before reading! In case you didn't know this, Goa is not a town, a city or a beach but an entire state in India. Whilst it is India's smallest state, it is still a good sight bigger than some entire countries!
Therefore where exactly you choose to stay in Goa is very important. In this guide, we have picked a few key areas that we recommended as the best places in Goa to stay. North Goa is quite a different experience from South Goa.
Whilst it is certainly possible to travel between many places, you probably don't want to spend your entire trip driving on dusty roads, right? I mean, if you're travelling India, you're going to see enough anyway. So be sure to choose a base that suits you and reflects exactly what you want from your visit to Goa.
Here are the best areas, broken down by interest, for your stay in Goa.
It's Goa but not as we know it. Baga and Calangute are to India what Cancun is to Mexico and Marbella is to Spain and as such, are a shiny beacon to package holidaymakers who want big(ish) hotels, sun loungers, cold beers, and little else.
Set in North Goa, some of the hotels and guesthouses here are quite lush and the locals are quite used to catering for first-timers. You can dive into great hostels in India. It's the best beach in Goa to dip your toes and get acquainted with Goa before heading out to explore other pastures.
With room for six people, this gorgeous villa in Goa is the ideal base for your first visit to Goa! It offers a pool and is beautifully furnished throughout with everything you'll need for a comfortable stay. You'll be surrounded by greenery in a calm location despite being a stone's throw away from the bustling city. Top attractions are close by and the beach front can be easily reached on foot.
In the heart of North Goa, this hostel is one of the best places to stay for your first time in Goa. Stay close to great restaurants, bars and clubs, or even take part in some water sports at Baga beach. With free wifi and even a swimming pool, you'll want for nothing.
Walking distance to the beach and Tiswadi's main attractions, the location of this boutique hotel can't be beaten. New, spacious, and well-maintained, FabHotel Prazeres Boutique Hotel is clean, comfortable and offers guests modern amenities for their stay in Goa.
Arambol in North Goa is the state's (and quite possibly the world's!) hippy and boho capital. Over the last few decades, the region has grown from a clutch of tiny fishing villages into something almost bordering a small town. In Arambol, you can find yoga sessions pretty much 24/7 along with drum circles, ecstatic dance and all the incense you could ever sniff along with some good, modern coffee shops and fine restaurants.
Arambol blends into Mandrem which is quieter, smaller, slightly pricier and has a better beach. You can travel between the 2 on a scooter in a few minutes, or you can walk along the beach front that connects them in a half hour.
Best Hostel in Arambol: Happy Panda
With a private garden and backyard convenient location, Waters Edge Goa is like a slice of heaven in paradise. This hostel offers guests stunning scenery, clean accommodations, and a convenient location. For budget travellers, you won't find a better hostel in Arambol.
Watching the budget? This place is great value for money, offering a whole apartment for the same price as a cheap hotel room! Save money by cooking in your own fully equipped kitchen, and kick back on the balcony after a day of exploring. If you do want to eat out there are plenty of restaurants close by, as well as lakes and cultural attractions.
Best Airbnb in Mandrem: The Heron Flat in Mandrem
This truly stylish and modern flat is amongst the best value accommodation in Goa. It's well located in Mandrem village, tastefully decorated, boasts good WIFi and impressive views. It can also comfortably sleep 6 people making a perfect pad for families or groups of friends.
Mixing comfort and location, this rates amongst Goa's best Airbnbs.
Things to See and Do in Arambol & Mandrem
Join the drum circle and sunset market.
Sample traditional Goan food at the beach shacks.
Relax on Mandrem Beach.
See the Church of the Holy Spirit, Arambol white church that dates back 1665.
Join a yoga class any time – any day.
Do not miss Ecstatic Dance around the big Banyan tree.
Head to sweet lake for paragliding.
A true ravers paradise Anjuna in many ways epitomises Goan culture with its tripped out landscapes, sultry beaches and all night trance parties. It's one of the best beaches in Goa for nightlife.
Anjuna is the home of Goan trance (which spawned the global, underground Psytrance movement) and to this day there are raves taking place in Anjuna/Vagator every night of the week during high season playing Psytrance, techno, house, DnB or horrible EDM.
There is however a lot more to Anjuna than repetitive beats though. It is fast becoming the Digital Nomad hub of Goa, boasts some stunning colonial villas and has some of my favourite coffee shops and markets.
This incredible villa comes with not one pool, but two! Up to six guests can stay here, making it ideal for groups travelling to Goa. You can kick back in the lush garden with 24-hour security. Vagator and Anjuna beach are just a stone's throw away, as well as restaurants and the famous Goa nightlife. The apartment is fully air-conditioned and comes with a lounge, three double bedrooms, and modern bathrooms.
Bardez is our top nightlife destination in Goa, and Dreams Hostel puts you right next to it! This international backpackers has a fun and welcoming atmosphere, with plenty of spaces for meeting other travellers, playing games, or practising yoga. The free wifi makes a top destination for digital nomads.
The lovely indy bout hotel has everything you need for a perfectly quaint stay including lovely rooms and very helpful staff. Its situated between Anjuna and Vagator and Chopra is also in reachable distance. You will need to grab a scooter to get around, but it's a perfect base for couples staying in Goa.
Things to See and Do in Anjuna & Vagator
Experience the hippie vibe in Anjuna.
Trance away at Shiva Valleys psychedelic Tuesday party.
Sip on Fenny, the local liquor that you're guaranteed to either love or hate. (There's no in-between.)
See the architectural museum at Houses of Goa.
Rest and relax on the pristine Vagator Beach in northern Bardez.
See, smell, and taste at the largest entertainment evening in the district, Hilltop Friday Night Market.
Hunt for treasures at Anjuna's Wednesday night flea market.
Soak up the sunshine and take in the views from Candolim beach.
Again, in North Goa is Morjim. If you're purely seeking sun, sand, and sea, this is the best beach for you. It's a place that's not flooded by tourists so it's a great place to find a beach resort that's going to give you a luxury experience. If you'll looking for something more humble, you'll also find cute wooden beach shacks.
But the thing that makes Morjim one of the best beaches in Goa is the nature. Home to incredible and unique wildlife, it's a place you won't forget in a hurry.
You'll see many a nesting site for a variety of birds and even turtles. You can get a taster of what Goa should look like – without the humans.
This private room is set in one of the homiest resorts in Goa. You'll wake up and step out right on the beach, with free wifi, a workspace, and your pets are welcome! It's the ideal place to be whether you're visiting Goa for a weekend or plan on staying long-term, with comfortable rooms and free parking provided. Rooms are simply furnished and are a great base from which to explore the area.
Travo Tales Goa is one of our absolute favourite places to stay. They offer a rooftop cafe, 24/7 garden bar, onesie restaurant, in-house DJ, and a swimming pool to cool down. The vibe is unmatched in the area making it one of the best party hostels in Goa. It's a great place to meet travellers while watching the sunset over the sea.
Best Resort in Morjim: Baywood Goa
At BaywoodGoa, guests can enjoy an on-site pool, gardens, airport shuttles, and room service. Each room is fitted with an ensuite bathroom and free wifi, and free breakfast is offered each morning. Popular beaches are right nearby, and you can even cook up a BBQ during your stay.
Things to See and Do in Morjim
Centre yourself and enjoy a day of yoga, meditation and relaxation at one of the wellness centres.
Pick up a good book and relax away an afternoon on quiet and calm Morjim beach.
Take a day trip to Old Goa.
Learn to surf or kitesurf in calm turquoise waters.
Hop aboard Querim's free ferry and explore Fort Terekhol.
Visit Pernem Temple and see its collection of elephant sculptures.
Sip a cocktail at the lush Leela Cottages resort.
South Goa represents the state's quieter side and is the perfect antidote to the hippy, raver, package cocktail that North Goa serves up. Palolem is home to some of Goa's most beautiful beaches and is the ideal place to rent a beach shack and enjoy the simple life.
That said, the Palolem beach clientele are typically a more monied crowd than in North Goa. South Goa offers more high end boutiques, restaurants, and hotels. So if the simple life gets a bit too boring for you – you know where to look. Agonda is also reachable from Palolem and is even less developed again.
You can't go wrong with this apartment if you're deciding where to stay in Goa with family. You're right on Patnem beachfront and Palolem Beach isn't far away. These wooden beach huts are beautiful decorated and full of natural light to give you the holiday feels. All the beach huts have AC, wifi, and pets are allowed!
In the heart of South Goa and right on the cusp of Palolem beach is The Lost Hostel. With free luggage lockers and CCTV to keep you safe, it makes it a great choice to stay in Goa with family. They offer board games, movie nights, laundry facilities and a garden to make your stay extra cosy.
This stunning hotel undoubtedly offers some of the best accommodation in Goa! The hotel is set in a lush garden just a stone's throw away from popular beaches, and is a short drive from Netravali Wildlife Sanctuary. Rooms are bright, airy, and decorated in contemporary design. It's the place to be if you're looking for tropical beach vibes in an awesome location.
Things to See and Do in Canacona
Escape to one of Canacona's hidden beaches to find a solitary slice of paradise.
Look (but don't touch!) the turtles that call Agonda and Galgibag beaches home during hatching season.
Take a guided tour of the Tanshikar Spice farm, an organic spice farm that harvests vanilla, cashews, chillies and other famous spices.
Visit Cotigao Wildlife Sanctuary to explore the forest and spot a few of India's famous animals.
Swim in the calm and shallow waters at Palolem beach.
Take a long sunset stroll along picturesque Agonda beach.
Hike out and see the spectacular Bamanbudo Waterfalls.
Visit the beautifully situated and stunning Mallikarjuna Temple, one of the oldest shrines in Goa.
Here's what people usually ask us about the areas of Goa and where to stay.
Don't Forget Your Goa Travel Insurance
Before you take a trip to India, you should absolutely be looking at travel insurance. That's your top priority to have a safe adventure.
World Nomads' mission is to support and encourage travellers to explore their boundaries. They offer simple & flexible travel insurance, and safety advice to help you travel confidently.
They've been doing it since 2002 – protecting, connecting, and inspiring independent travellers just like you.
Get a quote below or read our in-depth review!
World Nomads provides travel insurance for travelers in over 100 countries. As an affiliate, we receive a fee when you get a quote from World Nomads using this link. We do not represent World Nomads. This is information only and not a recommendation to buy travel insurance.
Goa has it all. Whether you are looking for India's best beaches, a place to chill-out and relax, or the next big hedonistic party, there is something in Goa for everyone.
Still not sure where to stay in Goa? Backpackers can't go wrong with Travo Tales in Morjim. It's our top pick for the best hostel in Goa. Want a private room? Crystal Goa Emerald Edition is two-minutes from beach paradise.
We hope our post has helped you desipher between the best places to stay in Goa! Did we miss anything? Leave us a comment below!
Do you own an awesome hostel, hotel or apartment? Want to be featured in our list? Email [email protected] to find out how.
---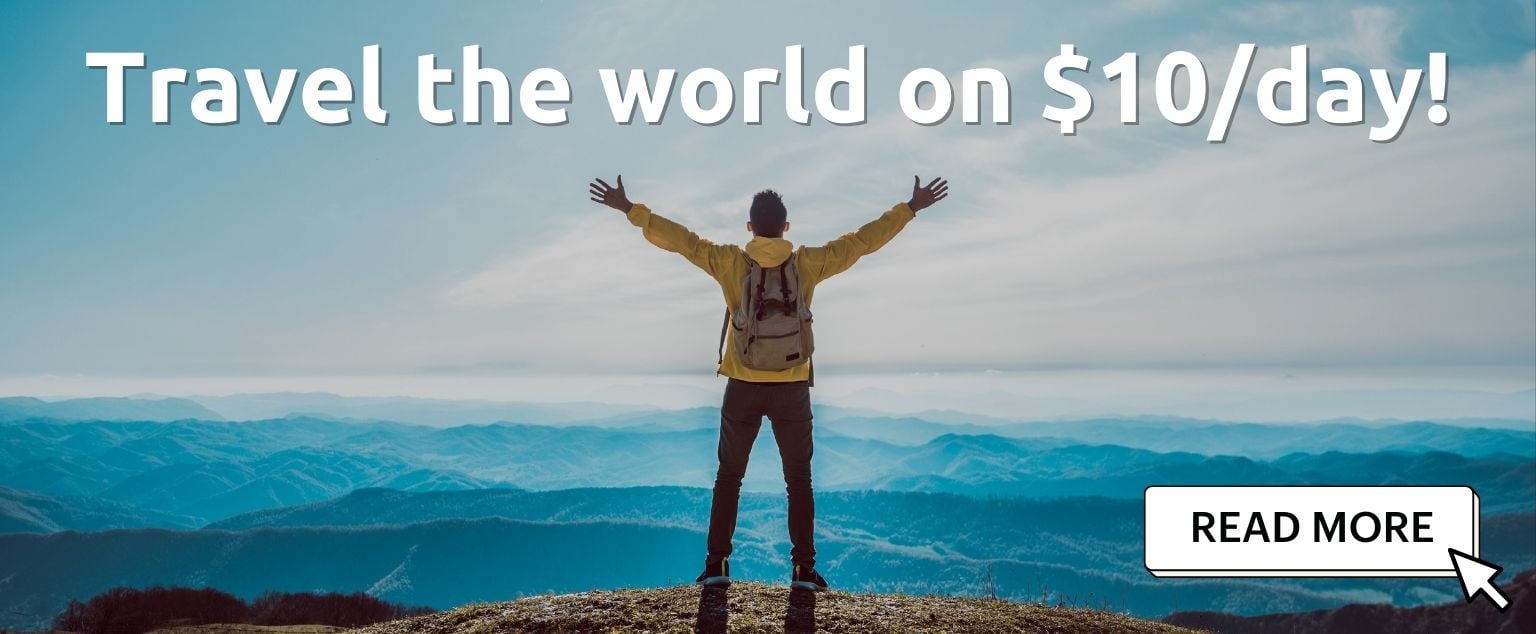 And for transparency's sake, please know that some of the links in our content are affiliate links. That means that if you book your accommodation, buy your gear, or sort your insurance through our link, we earn a small commission (at no extra cost to you). That said, we only link to the gear we trust and never recommend services we don't believe are up to scratch. Again, thank you!