India is an incredible place to travel around.
There's so much to see and do that the list of places to see is almost neverending. There's amazing cities like Delhi, crazy cool sites like the Taj Mahal and breathtakingly diverse landscapes like the high altitudes of Ladakh.
And that's without mentioning the food!
But India isn't always an easy place to explore. The space between cities is bigger than you might expect which means insanely long journeys… plus the standards of hygiene and security aren't always great. Having a decent place to stay definitely helps make a big trip to India so much easier.
Which is why I've put to together this epic guide to the 5 BEST hostels in India.
With insider knowledge and tips on top hostels in India, hopefully, you won't end up anywhere shady, AND you'll get to meet some epic fellow travelers.
So get ready to discover all of the wonders of India thanks to these cool hostels on offer!
Quick Answer – The Best Hostels in India
What to Expect from Hostels in India
Hostels in India are, for the most part, awesome. But as backpacking India is so cheap to begin with, a hostel bed might not always be the cheapest stay option. India is filled with old, cheap guesthouses, including many that aren't even online.
But Indian hostels are definitely still cheap, and they're the BEST place to meet other travelers. A dorm bed will All the hostels on this list are incredibly cute too. Think fantastic views, iconic artwork, and great vibes all around! Some even offer free breakfast, which is always a fantastic tool to utilize as a backpacker.
India's hostel scene has developed a lot in the past decade, and now you can practically find any kind of hostel in the country. Party hostels, digital nomad hostels, and 420 friendly hostels can be found, and then some. Know that dorm rooms will always be significantly cheaper than private rooms, but their rates can vary.
Here are the average hostel costs in India:
Private Rooms: $20-$50
Dorms (mixed or female only): $5-$12
In India, you'll find that private rooms in hotels or guesthouses are often cheaper than private rooms in hostels. But hostels are always worth it, especially in destinations with a lot of other backpackers.
When you're ready to book, you'll find most of India's hostels on HOSTELWORLD. The platform allows you to see photos and detailed reviews of each listing. Since there are so many options in India, I recommend going for a hostel that's rated 9 or above when you can!
You'll find hostels all over the country from the Himalayas to Kerala. Hostels are less common in more offbeat parts of India that don't see much tourism. You'll find a lot of the best backpacker hostels in New Delhi and other parts of North India.
These parts of India have particularly great hostel scenes:
Goa – Often referred to as India "light," Goa is India's smallest state and is famous for its insane trance parties and incredible beaches.
Parvati Valley – Parvati Valley is a lush, laid-back area of Himachal Pradesh that has been a backpacker favorite for ages. The villages around the valley are the Himalayas' answer to Goa.
Pushkar – A spiritual town based around a holy lake, this Rajasthani town has been a trippy backpacker destination for ages. The desert vibes certainly don't hurt.
When visiting India in high season, you might have to book ahead at certain hostels. Walk ins are welcome in most places, as long as they have space though!
The 5 Best Hostels in India
With SO many iconic hostels to choose from, picking just 5 was a challenge. So I narrowed down the highest-rated hostels in the country and organized them based on travel style.
From digital nomad coworking hubs to the greatest party hostels, there's a gotta be an Indian hotel for you on this list!
From the depths of the hostelsphere, we bring you… the Hostel Card!
HostelPass has spent years & years looking for the best places to stay in Europe, and they just came back with something GREAT.
The Hostel Card is a hassle-free solution with up to 25% discount at the most amazing hostels, tours, and experiences. Any-where-you-go.
Don't sleep on the ultimate budget travel card — use code "brokebackpacker" at checkout for 25% off!
Get the Card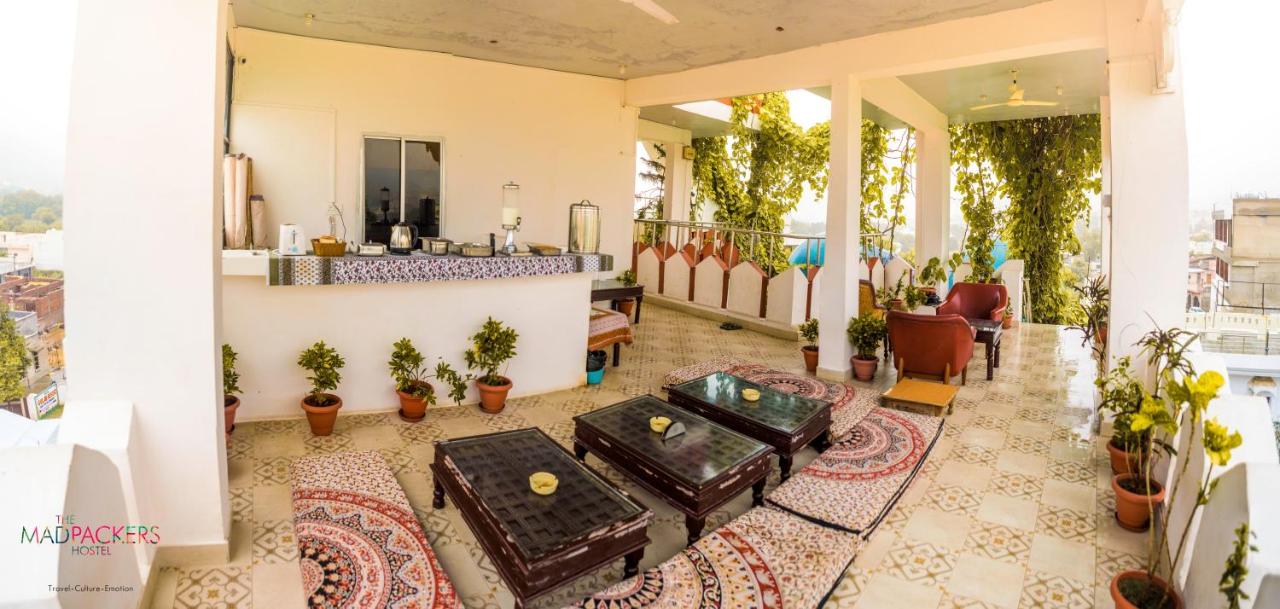 Madpackers Pushkar is really the hostel that has it all. From iconic artwork in every room to a rooftop cafe and plenty of common spaces, you'd be hard pressed to find a better Indian hostel than this one. The Madpackers team really took note of everything backpackers could want in a space–and somehow made it happen.
Why you'll love this hostel:
Artwork everywhere
Tons of open space
Tasty food
Madpackers Pushkar has been consistently rated as the top hostel in India, and it won't take long for you to see why.
The property will make you feel like you're in an oasis, not a small city! The common rooms are open and amke fantastic places to mingle with the hostel crowd. Dorm rooms come in either 4, 6, 8, or 10 bed options, though Madpackers also has some pretty sweet private room options to choose from, too.
There are plenty of chill cafes nearby, and the wifi is GOOD–which means that digital nomads can also make themselves at home here. The hostel is noted for being clean and features comfy beds with modern amenities and designs. You'll even find an incredible handpainted mural in virtually every room!
And within a 10-15 minute walk is the center of Pushkar's restaurant and market scene, and everything else is a short rickshaw ride away.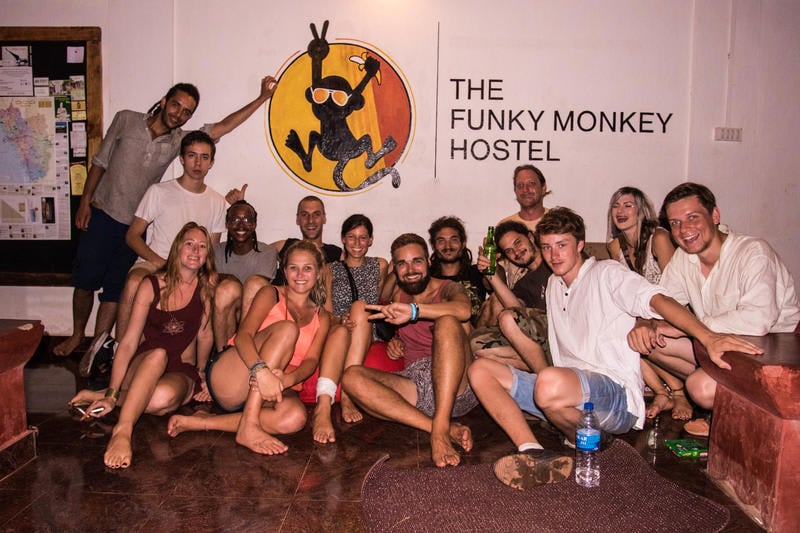 Outdoor Terrace
Restaurant
Funky Monkey, eh? Funky Monkey… Well anyway, this hostel is literally a stone's throw from Goa's Anjuna beach, which is pretty cool. There's ALWAYS stuff going on at this place. And as one of the best hostels in India for solo travelers, you won't be alone for long once you check in!
Why you'll love this hostel:
5-minute walk to the beach
Airconditioned dorms
On-site drinks
The surrounding area, I gotta say, is pretty poppin' as well. There's Psychedelic Tuesdays at Shiva Valley, Curlies Shack quite literally right next door, the Anjuna Flea Market, and there are parties on the beach.
While you can certainly get some partying in at the Funky Monkey, it's not an outright Goa party hostel, though their newly opened bar/restaurant does serve drinks! It's a great place to have some fun in a chilled setting–an ideal place to find like minded travelers to explore Goa with.
While cell phone reception isn't the greatest due to its beachy location, the hostel does offer free wifi to all. Yoga, swinging in hammocks–basically: a beachy kinda life.
You'll be able to choose from a 6 bed mixed dorm that features bunk beds, or private ensuite rooms for a higher price. With fantastic vibes, pets, and staff, you'll quickly see why this is not just one of the best hostels in Goa, but one of the best in all of India!
Happy Panda Hostel is located in Arambol, one of Goa's best areas. It's the kinda hostel where you'll find yourself feeling at home pretty quickly. Think genuine people, nice vibes, an all-round chill place to hang out. I'd say it's one of the best overall hostels in India.
Why you'll love this hostel:
Good wifi
Community kitchen
Clean!
Happy Panda has extremely high ratings, because they know exactly what backpackers want and need! Cleanliness is on point, as are the staff and the vibes. This is one of those hostels that you'll easily get stuck in. Don't say I didn't warn you!
All of Happy Panda's stay options will fit in a backpacker's budget–this is the best cheap hostel in India after all. You won't find a single private ensuite here!
Choose between a room with either 6 or 8 dorm beds, though the 6 bed choice is cheaper. Happy Panda also provides AC or non-AC dorms for the low, with the non-AC option the obvious broke backpacker choice of course.
It's basically a great hostel for anyone interested in a super slow pace of life. The place is all spacious with nice lil' inspirational quotes on the wall, loads of art and… interesting wi-fi passwords. It's a creative kinda hostel, the sorta place you'll want to stay longer at. Plus all this is just 10 minutes from the beach.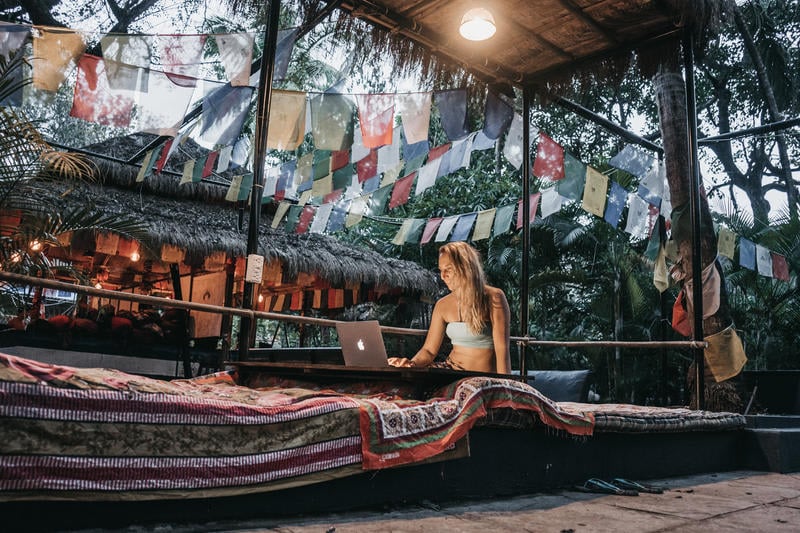 Bicycle Hire
Laundry Facilities
The slogan of this top hostels in Goa is "make moments into memories." I'm not sure what that means, but it's still one of the best party hostels in India. Located in Vagator, this one has a lively vibe if you really wanna party.
Why you'll love this hostel:
Bar on site
Walking distance from the beach
Plenty of chill space
But… the dorms… are pretty simple. On the other hand, their private room is next level iconic and comes with private pool access! Otherwise, you'll have to choose between the AC or the non-AC dorm rooms. Do book ahead!
You're in Goa though, so… It's all about beaching it up and connecting with like minded travellers.
There's a communal backpackers meet-up, there's a big bar, things like bucket beer challenges (Bucket List, get it?) and loud music that pumps well into the wee hours. If that sounds like your game, book away!
There are few hostels in Goa that bring the party quite like this one. In a chill, trippy setting at that!
5. Best Hostel in India for Digital Nomads – Draper Startup Hostel
Super Modern Design
Roof Terrace
This place is not just a hostel, but a full-on digital nomad experience. Coworking and Coliving, events and activities, networking and fundraisers – all of this and much more is waiting for you at Draper Startup Hostel.
It's the perfect place for Digital Nomads, business travellers, or backpackers that want to have a slightly different hostel experience.
Why you'll love this hostel:
Fantastic networking opportunities
Modern amenities
Great location
While some hostels may happen to work for digital nomads, Draper is one of Bangalore's best hotels – quite literally built with them in mind. The hostel is geared towards remote workers and entrepreneurs, in both the digital space and beyond.
The iconic rooftop coworking space is a great place to get inspiration from others, though Draper has other spots to chill or work scattered throughout the building.
Its location in a quiet section of Bangalore ensures a peaceful big-city experience, though, somehow, the best restaurants and bars are still within walking distance.
Dorms come in either 4 or 6 beds–and they're segregated by gender–making this a particularly fab Indian hostel for solo female travelers.
Is This the Best Backpack EVER???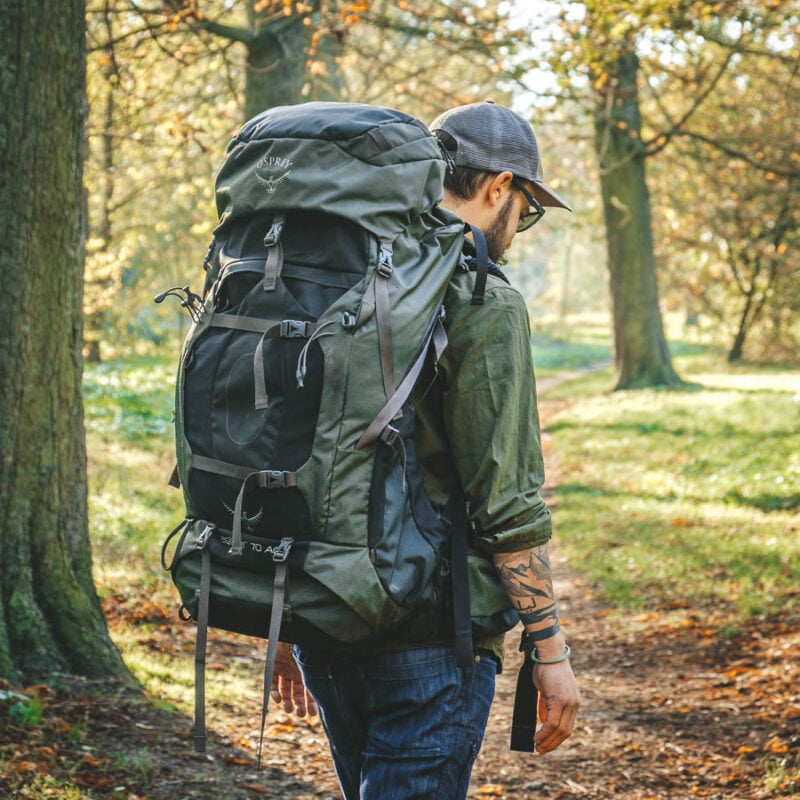 More Epic Hostels in India
I'm not done yet! There are far more than 5 amazing hostels in India, so why not get into some other options?
These backpacker hostels are all iconic, and should be prioritized while you travel around the country.
Another Hostel for Solo Travellers in India – Dreams Hostel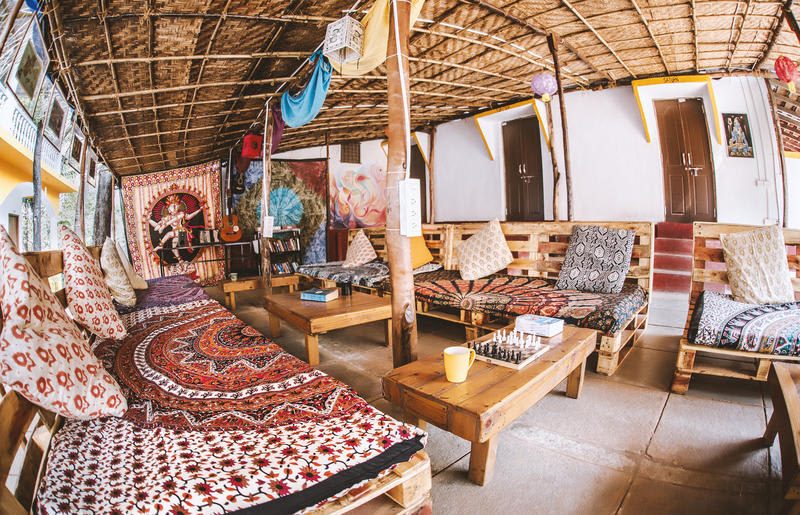 This Goa backpackers hostel is ALL about the hippy vibes. Think tie-dye throws, chill-out areas, and obligatory communal guitars. Yep. Basically the vibes many people speak of when they talk about backpacking India.
Aside from the hippy atmosphere, it's actually pretty clean and there are nice dorm beds.
There are also private cabins, which is pretty nice if you ask me. As one of the best hostels in India for solo travellers, you'll will love exploring the flea markets and places to party nearby with newfound friends. You'll also like the general chill vibes of it too, I believe. Dreams indeed.
Best Hostel for Couples in India – Moustache Delhi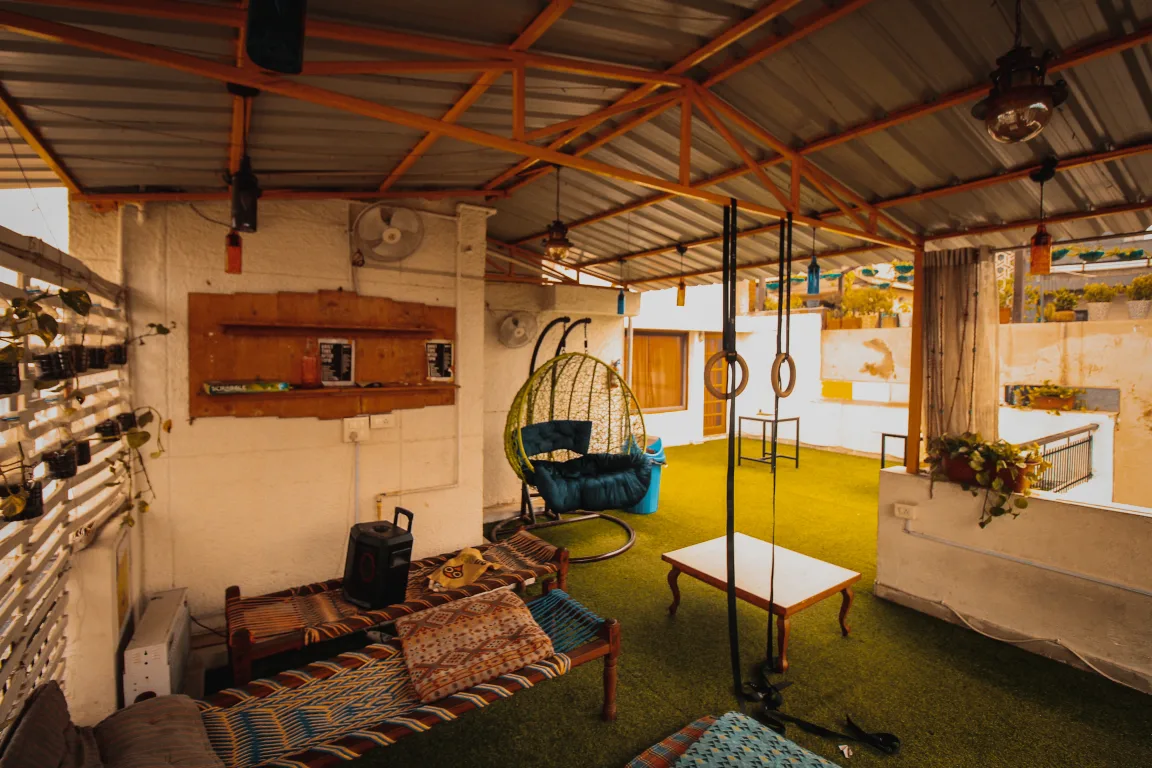 Super shiny, super nice, the kinda place you'd wanna go back to… Yep, this Delhi backpackers hostel is a nice combo of CALM and CLEAN that I can definitely appreciate, especially when you get in from a mad day sightseeing.
It's one of the best hostels in India for couples for just that reason.
The staff here are pretty friendly and can help out with their own local tips to help you plan your New Delhi itinerary. There's a common room here and a roof terrace (of course). The private rooms available here are pretty decent – and spacious, too.
24 Hour Reception
Near Mumbai International Airport
Lively and vibrant, this place is up there with the best overall hostels in India. The kind of place where you know you will meet a bunch of friendly people, the staff a super nice and make the hostel a cool space to hang out in – which can be much needed after a busy day in Mumbai.
It's actually part of a popular Indian hostel chain, so you know you're going to be in for fairly good standards of rooms. This Mumbai Hostel is all popping colors, stylish furniture, and big open spaces that are kept clean and they serve up good food in their cafe.
Rooftop pool
Walking distance from Jaipur Railway Station
This one has a funky name, this one is run by a nice bunch of people who put on a load of activities for their guests and often work towards sustainable tourism. Its epic rooftop with a lounge pool makes it one of the best hostels in Jaipur, no doubt.
Moustache is noted for its cleanliness, so that gets rid of that fear! The dorms come with big old lockers and there's 24-hour security so there's quite literally nothing to worry yourself about.
Sit back, relax, and get to know some fellow travelers. You're backpacking in India after all!
Laundry Facilities
Game room
Here's a top hostel in Varanasi that definitely ranks among the best hostels for solo travelers in India. It's a great lil' space for backpackers to meet up, share tips, get to meet each other, spill tea… Plus there are Bollywood nights, AND they'll teach you how to make Indian food.
This also includes going out to see music events, festivals, and celebrations, which let's face it can be a bit daunting if you're traveling by yourself in India! They can also set you up with an NGO if you want to get into volunteering.
Their common room even comes complete with a library full of documentaries about India.
Is This the Best Backpack EVER???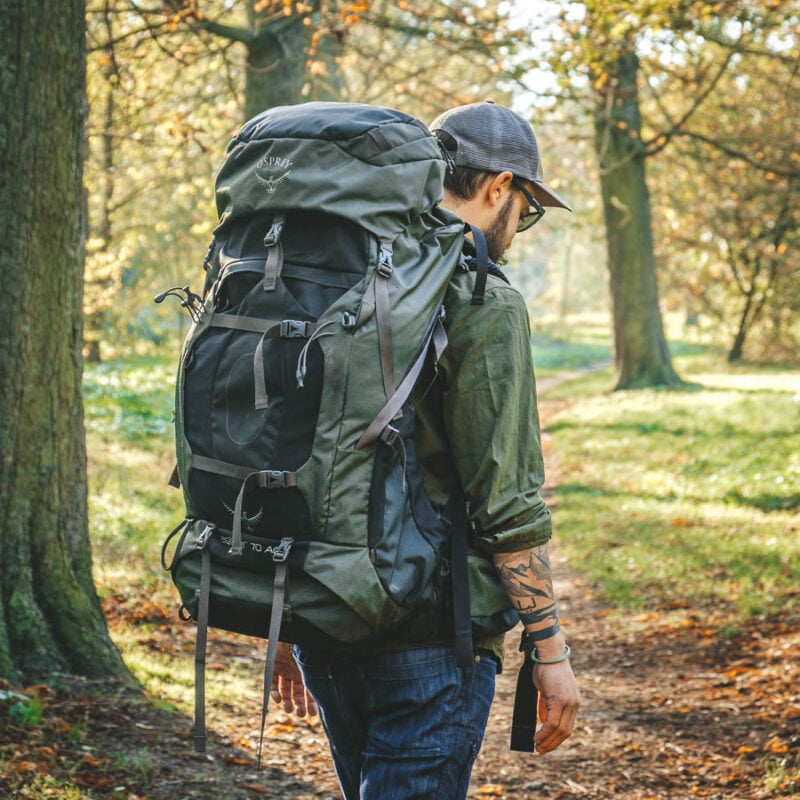 Bicycle Hire
24 Hour Security
It's another Zostel, and this time it's in Bangalore!
It's modern with whitewashed walls, light, and airy spaces, enough room for everybody… It basically looks more expensive than it is and I can't argue with that. It's definitely one of the best cheap hostels in India.
You'll also find a pool table at this budget Bangalore hostel, plus a games room and a cute little garden complete with hammocks and palm trees. The staff here will help you out with booking trains and buses, which is a godsend in India.
The hostel is also within walking distance of the metro as well as loads of bars and shops.
Another Cheap Hostel in India – The Hosteller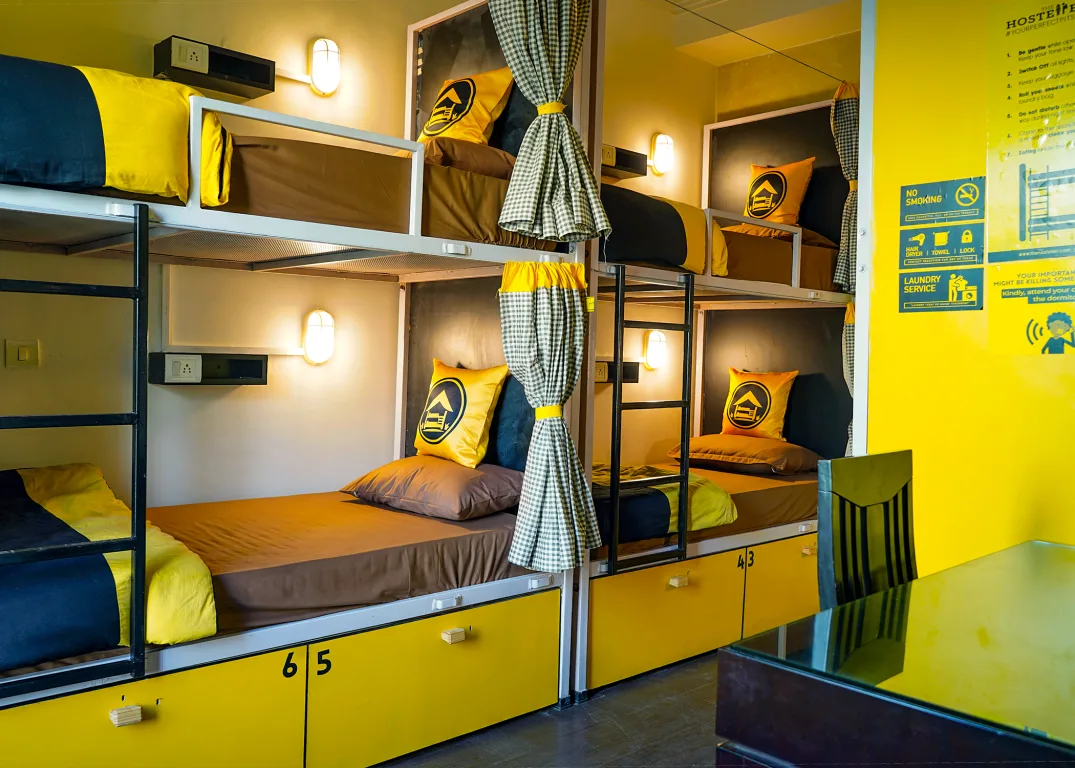 This budget hostel in Delhi is a city hostel with a good backpacker vibe. It's actually not right in central Delhi, which can be a bit mental anyway, but slightly outside of it. However, there's a metro station RIGHT nearby which means you can get into and out of the craziness as you see fit.
The edgy urban vibe is pretty cool, I appreciate it, but be warned: there is a STRONG yellow theme going on here. You know that Coldplay song?
Well, yeah, it's literally all yellow.
But there are movie nights, pub crawls, and other stuff (like low prices) that helps make this one of the best cheap hostels in India.
Bluebeds. Why Bluebeds? It's not imaginative, they literally JUST have blue beds. But it's pretty cool here L. Blue is the name of the game here. But then again so is a tasteful sense of style and, well, Instagram-worthy spaces. Pretty nice really.
A great shout for one of the best hostels in India for couples. Not just because it's pretty chic, but because there are nice little perks to staying here too. There's a walking tour on offer, a block printing workshop and our personal favourite, a food tour. But yeah, this Jaipur backpackers hostel is pretty cool.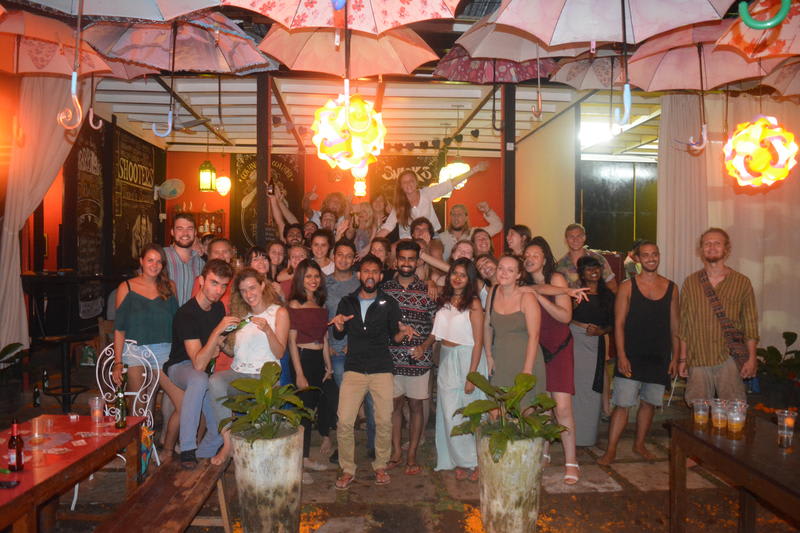 Bicycle Hire
Outdoor Terrace
If you are in Goa to party and meet a bunch of other travelers then you should probably stay at this place. A top party hostel in India, not only does it come complete with its own bar, which serves up a load of tasty drinks and yummy pizzas, but they also let guests bring their own drinks in too.
Everyone sits around getting on it together and listening to tunes and then heads out for a night of madness in Anjuna.
The hostel itself is actually a big old Portuguese villa which makes it feel like a house party every night. The guys that run the hostel are super chill and make a fun atmosphere for everyone to get to know each other. Location-wise it's right near the beach too, which is fantastic for your Goa itinerary.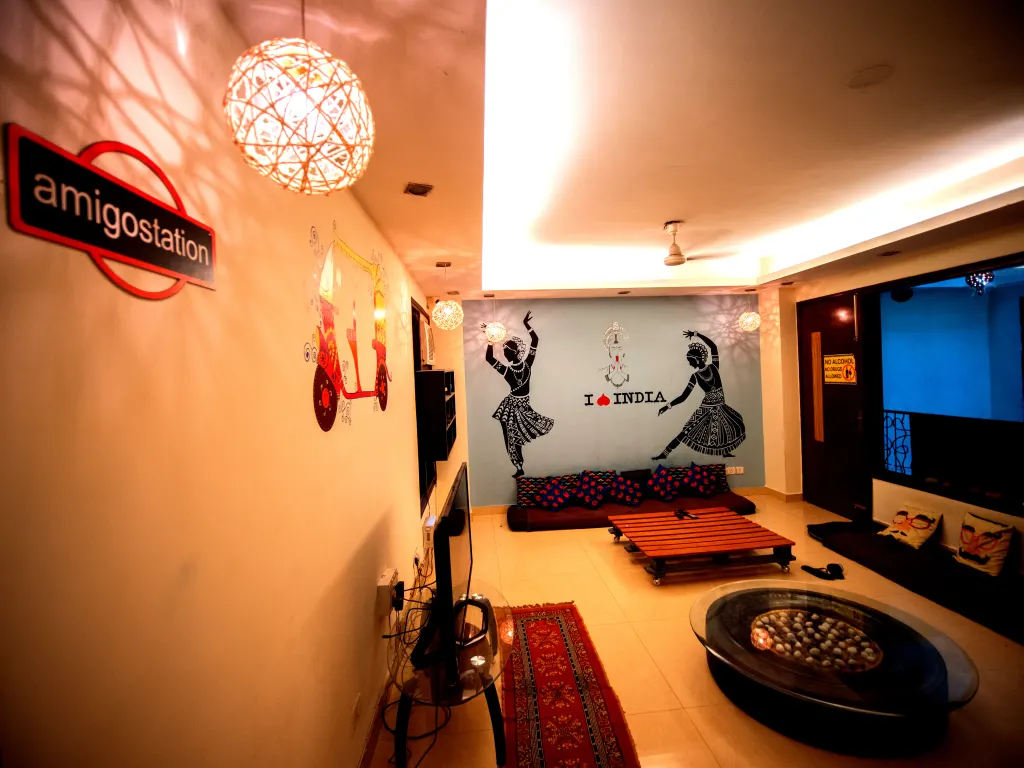 Looking for a hostel in Delhi to get some work done? But you also wanna see the city? This one's a good pick. The bright, spacious common rooms are quiet and chilled which helps make it one of the best hostels in India for digital nomads.
There's a cafe too, which is always a bonus when you're in need of a caffeine boost.
It isn't without soul, though. And the people who run it obviously want to make sure everyone who stays is well looked after and enjoys their time in the city.
It's the kinda hostel that's open and welcoming to all sorts of travelers, so you might get to meet some interesting people as well as get a whole load of work finished too.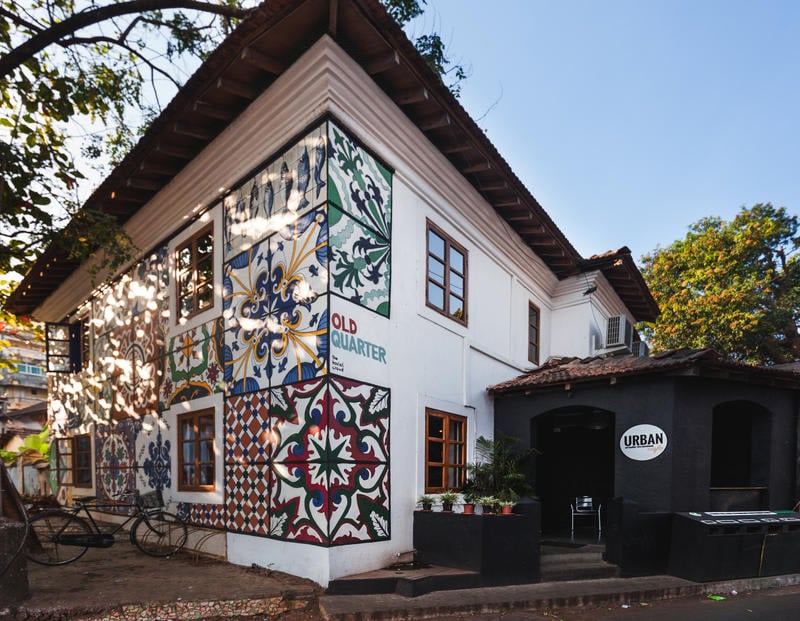 Goa can be a pretty chilled place to stay and a lot of the accommodation on offer can be a little ropey (for sure), but this top hostel in Goa manages to make a stylish and affordable spot for travellers.
There's all sorts of really nice design all over the shop here, and it's in a Portuguese style building in the heritage zone of the city so expect big wooden shutters and doors.
When it comes to workspaces, there are some secluded spots in courtyards that are ideal for sitting on your laptop.
There's also a properly sleek cafe with leather chairs and dark wood where you'll find plenty of others working away. How could it not be one of the best hostels in India for digital nomads?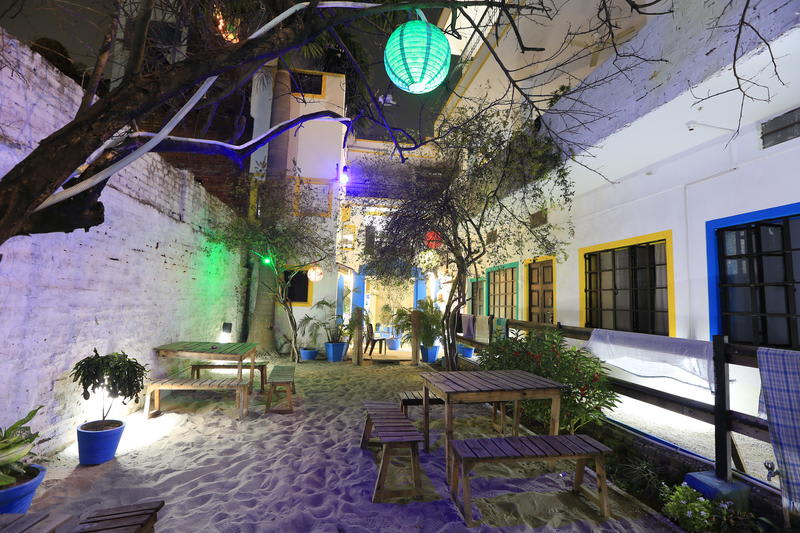 (Almost) Free Breakfast
Artsy design
Yes, this is a boutique hostel and, you know what?
Sometimes you just need to stay somewhere a little bit nicer than a basic backpackers and this place is definitely a level up.
For a start, the hostel is MASSIVE so you won't need to worry about cramped dorms or finding a place to settle down and get some work done.
What makes it one of the best hostels in India for digital nomads is that the Varanasi location is literally a stone's throw from the Ganges, but still boasts a relaxed atmosphere that will take you far away from the madness of the city streets. The rooftop terrace is where it's at though: it has views of both the river and of the actual ghats.
Great food
24 Hour Reception
Varanasi is a mad ol' place, but this hostel has managed to create a really calm and relaxing environment for travelers to chill the hell out.
It's in a big old house with a cool mix of white and yellow throughout, and the private rooms here are just SO nice. A top pick if you're looking for the best hostel in India with private rooms, this hostel has it ALL (and is especially good for couples we think).
Location-wise, it's a little far from the Ganges, but in a cute local neighborhood with plenty to eat and unique places to explore nearby. The owners serve up a mean free breakfast every morning too, which is always an added bonus.
Zostel Gokarna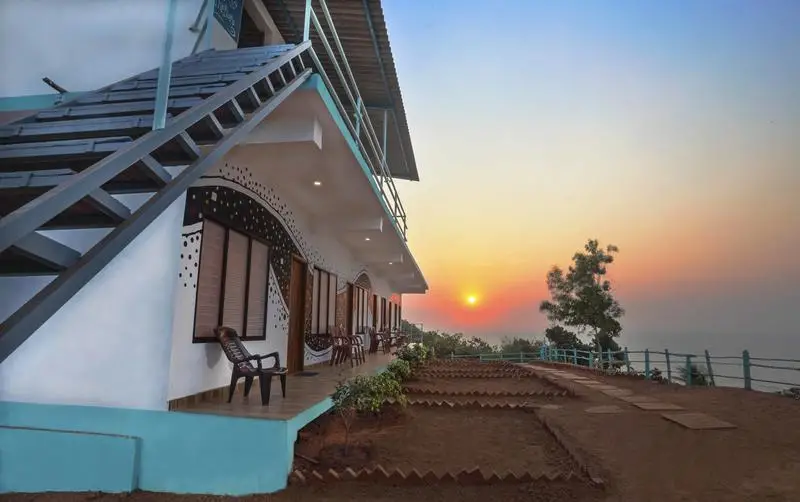 Another Zostel, another Gokarna backpackers hostel. This one overlooks the main beach and is the perfect place for sunsets – it's on a cliff, so the views here are pretty prime. Of course, it's one of the best hostels in India for couples. I mean… sunsets!
It's kinda rustic and romantic here, which again makes it perfect for couples. Especially if you don't mind staying in, like, a rattan hut.
They do things like beach treks and it's a decent shout if you're a social couple who wants to meet fellow travelers over a game of foosball or something like that. Feels safe too.
Zostel Gokarna is one of our favourites in India but they're not taking guests right now. We're not sure if they're closed for good but we hope they'll come back soon.
One Light Hostel Pushkar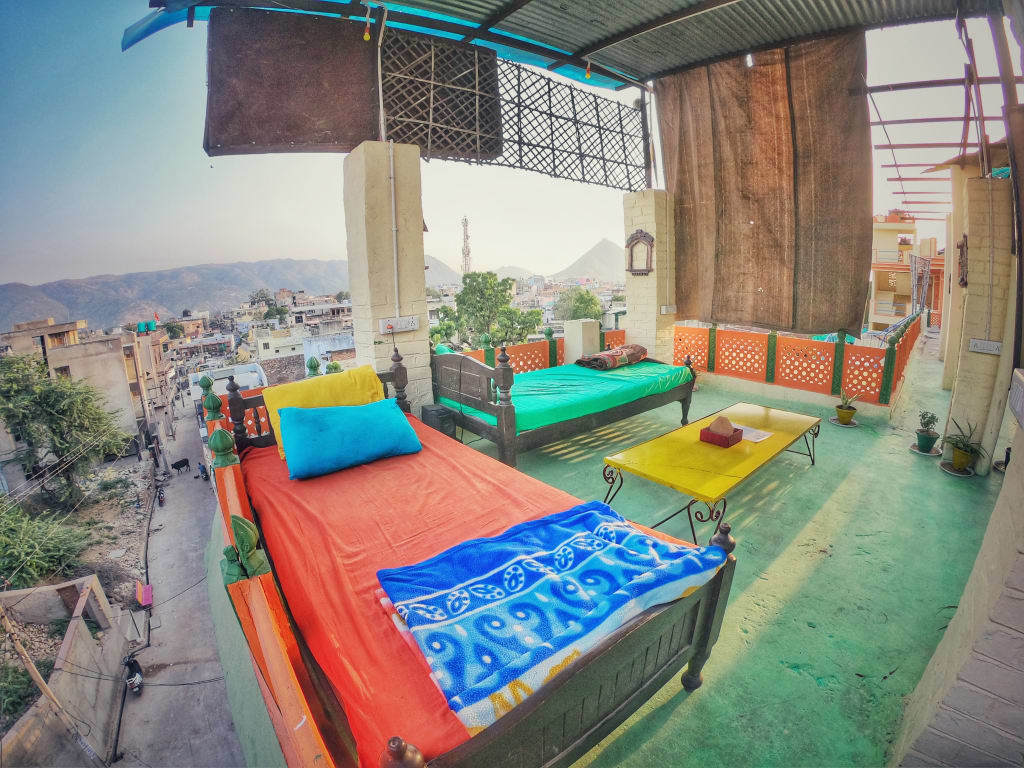 If you're heading to Pushkar and need to get some work done, book yourself into this top hostel for digital nomads in India. The location is pretty epic, to say the least.
Surrounded by mountains and with views of the surrounding area, there's an amazing rooftop cafe which is where you can live the dream and work on your laptop with incredible views. You'll quickly see why this is one of the best backpacker hostels in town.
The food at the cafe is reeeeaallllly tasty too and it has all sorts of stuff on offer in case you've had your fill of curries by this point. The staff can not do enough to help the guests out and the location is just a short stroll to the town and sites. Oh, and did I mention there's a POOL??
One Light Hostel Pushkar is one of our favourites in India but they're not taking guests right now. We're not sure if they're closed for good but we hope they'll come back soon.

Our GREATEST Travel Secrets…
Pop your email here & get the original Broke Backpacker Bible for FREE.
FAQ On India's Hostels
Travel Safety Tips for India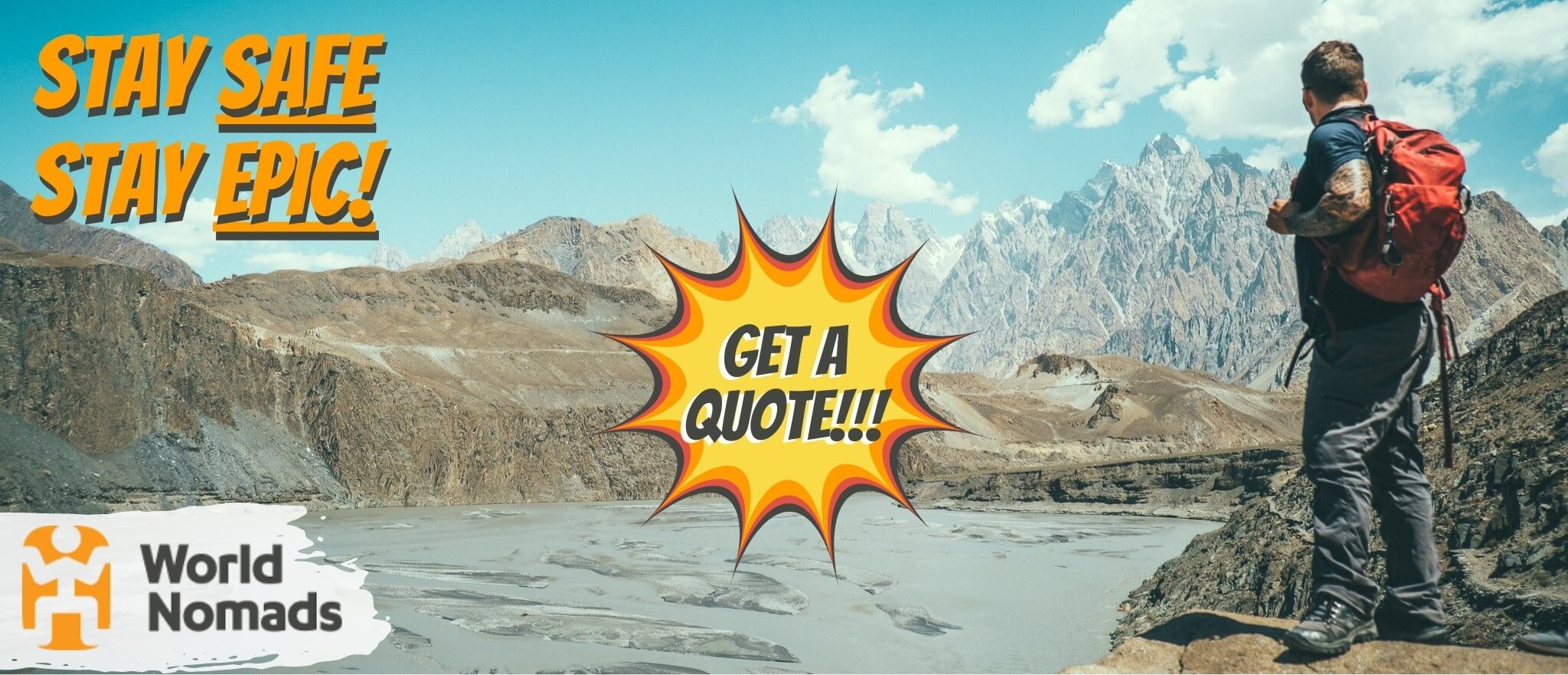 World Nomads' mission is to support and encourage travellers to explore their boundaries. They offer simple & flexible travel insurance, and safety advice to help you travel confidently.
They've been doing it since 2002 – protecting, connecting, and inspiring independent travellers just like you.
Get a quote below or read our in-depth review!
World Nomads provides travel insurance for travelers in over 100 countries. As an affiliate, we receive a fee when you get a quote from World Nomads using this link. We do not represent World Nomads. This is information only and not a recommendation to buy travel insurance.
More Epic Hostels in Asia
Planning to do some more traveling after you finish backpacking India? The Broke Backpacker has got you covered!
Check out these guides for some Asia hostel inspiration:
Over to you
You've now got 5 (plus more) incredible Indian hostels to choose from, in regions all over the country.
By now I hope our epic guide to the best hostels in India has helped you choose the perfect hostel for your adventure!
But in case you're still stumped, you can't go wrong with Madpackers Pushkar or The Funky Monkey Hostel, which are two of the top backpacker hostels in the country.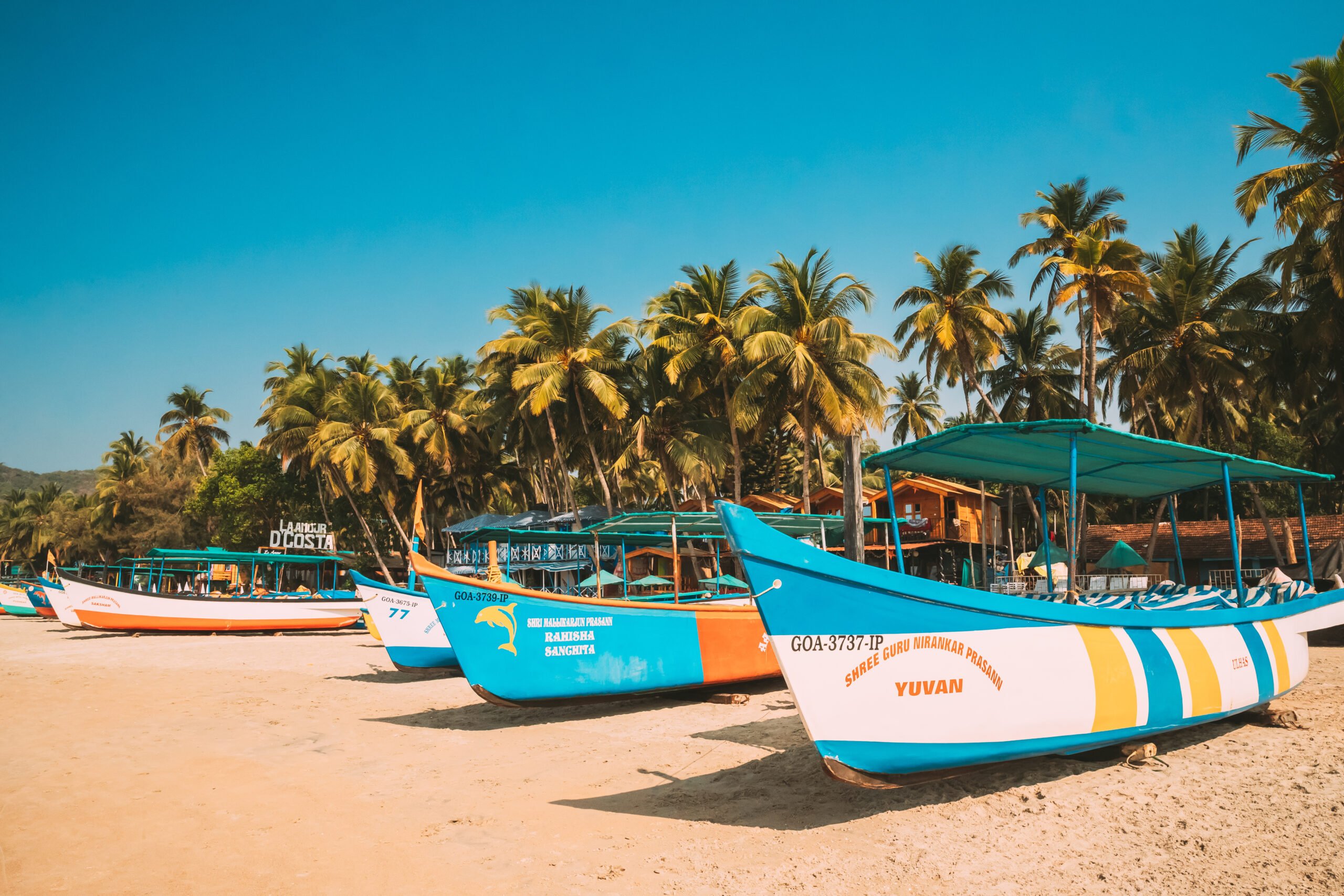 Updated September 2022 by Samantha from Intentional Detours
---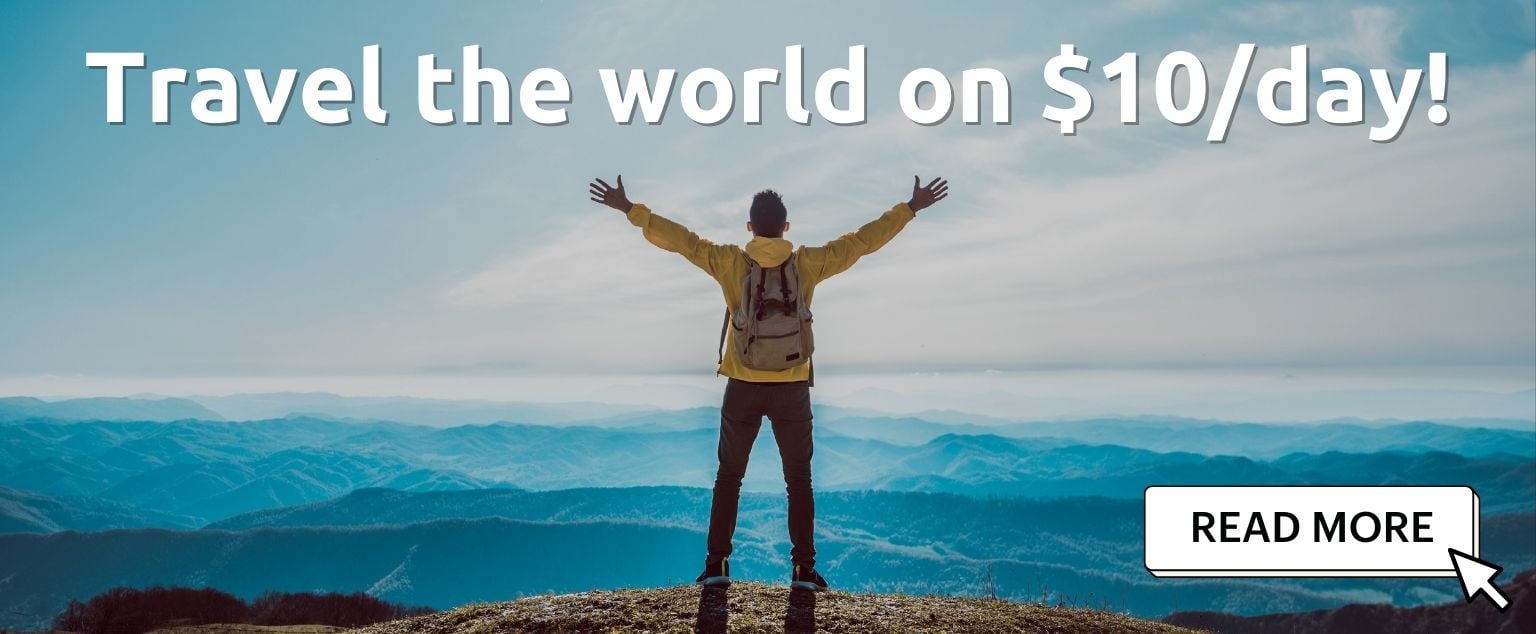 And for transparency's sake, please know that some of the links in our content are affiliate links. That means that if you book your accommodation, buy your gear, or sort your insurance through our link, we earn a small commission (at no extra cost to you). That said, we only link to the gear we trust and never recommend services we don't believe are up to scratch. Again, thank you!