India is an incredible place to travel around. There's so much to see and do that the list of places to see is almost neverending. There's amazing cities like Delhi, crazy cool sites like the Taj Mahal and breathtakingly diverse landscapes. And that's without mentioning the food!
But India isn't always an easy place to explore. The space between cities is bigger than you might expect which means epicly long journeys and the standards of hygiene and security aren't always great. Finding yourself somewhere decent to stay definitely helps make a big trip to India so much easier.
Which is why we've put to together this epic guide to the 35 best hostels in India.
With insider knowledge and tips on top hostels in India hopefully you won't end up anywhere shady, AND your trip will be even more amazing.
So get ready to discover all of the wonders of India thanks to these cool hostels on offer.
Quick Answer – The Best Hostels in India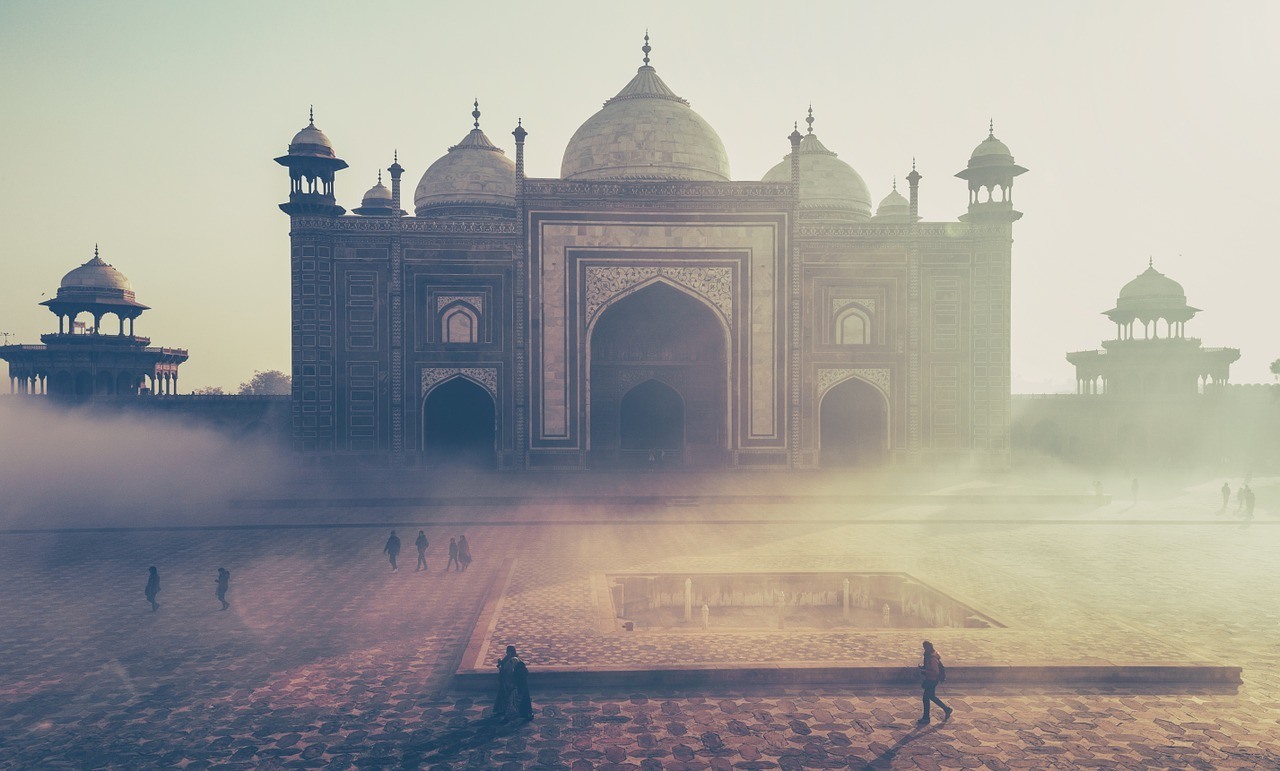 The 35 Best Hostels in India
Do You Want to Travel FOREVER??
Then pop your email address in below and we'll send you a FREE copy of 'How to Travel the World on $10 a Day!' – make travel your LIFE.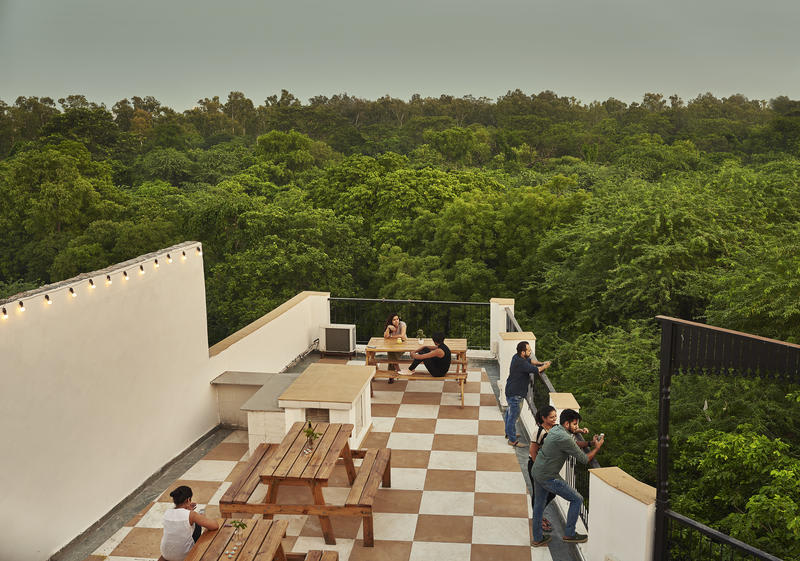 $$
Laundry Service
Bar/Restaurant
Outdoor Terrace
This is one of those hostels where everything is just too cool to deal with. Touting itself as a place for a luxury lifestyle, it's fair to say this is one of the coolest hostels in India. Aside from all of the freakishly funky design, the staff are pretty nice too and the area is safe and fairly chilled (for Delhi at least).
There's a load of places to eat nearby and, once you've had enough of mental sites and sounds of the city and need somewhere to simmer down, there's a chill rooftop terrace to have a few beers and meet other travellers. Definitely the best Delhi hostel and one of the best overall hostels in India.
$$
Plenty of workspace
Super Modern Design
Roof Terrace
This place is not just a hostel, but a full on experience. Coworking and Coliving, events and activities, networking and fundraisers – all of this and much more is waiting for you at Draper Startup Hostel. It's the perfect place for Digital Nomads, business travellers or backpackers that want to to have a slightly different hostel experience. Note that there is an age restriction which won't allow travellers under 18 to stay at the hostel.
$$
Book Exchange
24 Hour Reception
Luggage Storage
Lively and vibrant, this place is up there with the best overall hostels in India. The kind of place where you know you will meet a bunch of friendly people, the staff a super nice and make the hostel a cool space to hang out in – which can be much needed after a busy day in Mumbai.
It's actually part of an Indian hostel chain so you know you're going to be in for fairly good standards of rooms. This Mumbai Hostel is all popping colours, stylish furniture and big open spaces that are kept clean and they serve up yummy food in their cafe.
$$
Cafe/Restaurant
Events
Tours & Travel Desk
Another one of India's shiny new hostel chains, this one a top hostel in India. This one has a funky name, this one is run by a nice bunch of people who put on a load of activities for their guests and often work towards sustainable tourism which we think can only be a good thing.
This place is also properly clean so you won't have to worry about what is lurking in the sheets, or even if they have been changed. The dorms come with big old lockers and there's 24-hour security so there's nothing to worry yourself about.
Want other options for cool places to stay in Jaipur? Check out our best hostels in Jaipur!
$
24 Hour Security
Bar
Laundry Facilities
Happy Panda hostel is located in Arambol, one of Goa's best areas. It's the kinda hostel where you'll find yourself feeling at home pretty quickly. Think genuine people, nice vibes, an all-round chill place to hang out. We'd say it's one of the best overall hostels in India.
It's basically a good choice for anyone interested in a super slow pace of life. The place is all spacious with nice lil' inspirational quotes on the wall, loads of art and… interesting wi-fi passwords. It's a creative kinda place, the sorta place you'll want to stay longer at. Plus all this 10 mins from the beach.
$$
Restaurant
Bicycle Hire
Late Check-out
This Gokarna backpackers hostel is right near the beach, which is an automatic win for us. Perfect for anybody who wants to lap up the nature, or just chill out on their own slice of sun, sea and sand. It's simple… but ultimately, who cares? It's authentic and chill.
One of the best overall hostels in India, it's a good shout if you like getting out into nature hiking and stuff… or just being a beach bum like we said. This has gotta be one of the coolest hostels in India too since the whole thing actually runs on solar power. Means there are limits to air con and stuff, but… Small price to pay.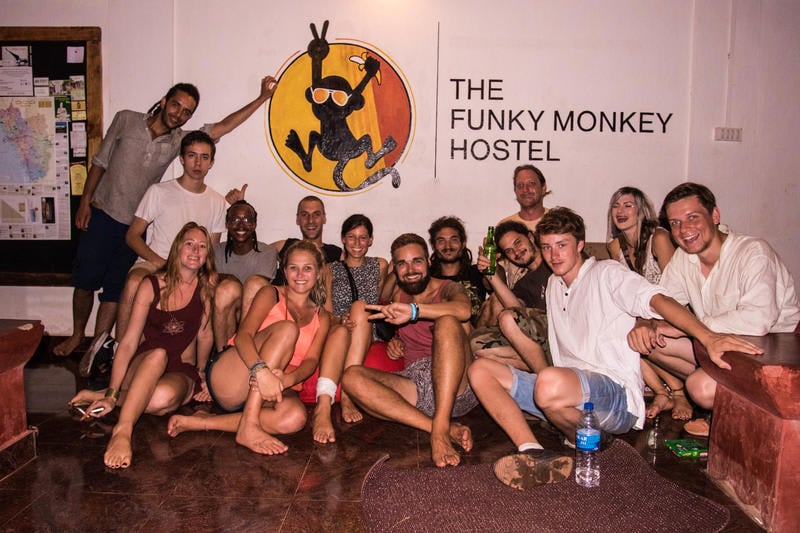 $$
24 Hour Security
Outdoor Terrace
Restaurant
Funky Monkey, eh? Funky Monkey… Well anyway, this hostel is literally a stone's throw from Goa's Anjuna beach, which is pretty cool. There's ALWAYS stuff going on at this place. If you're someone who wants to get involved in loads of stuff, then here's one of the best hostels in India for solo travellers.
The surrounding area, we gotta say, is pretty poppin' as well. There's Psychedelic Tuesdays at Shiva Valley, there's the Anjuna Flea Market, and there are parties on the beach. Yoga, swinging in hammocks, a beachy kinda life where you can meet people from all over the place. Very Goa.
$$
Free Breakfast
Communal Kitchen
Games Room
Staying here you're sure to pretty much have the best time (as a solo traveller) in Delhi. Up there among the best hostels in India for solo travellers, this place wants to give you a decent local experience. And thankfully it ain't in the Main Bazaar or Paharganj, like the 'normal' touristy areas, so you get LESS hassle here.
Which is always nice. However, it's just a couple of mins from Delhi's metro so you can still get around easily. This hostel also puts on things like bar outings (pub crawls?), yoga classes, plus there's a nice rooftop common area where you can meet people pretty easily.
$
Luggage Storage
Free Breakfast
24 Hour Reception
We don't really understand what's going on with the name of this Mumbai backpackers hostel, but it's definitely one of the best hostels in India for solo travellers. It's not about luxury, in fact, they say luxury is overrated (hmm), and that staying here is more about… LIVING.
So if you stay at this hostel you're likely to wanna be jumping in at the deep end. Definitely, the place for intrepid travellers to meet up and party, it's like a little community here. And it may be simple here but it's still a decent place to unwind away from the busy Mumbai streets.
$
Free Breakfast
Laundry Facilities
ATM
Here's a top hostel in Varanasi that definitely ranks among the best hostels for solo travellers in India. It's a great lil' space for backpackers to meet up, share tips, get to meet each other, share stories… Plus there are Bollywood nights, they'll teach you how to make Indian food, amongst other things.
Which also includes going out to see music events, festivals, celebrations, which let's face it can be a bit daunting if you're travelling by yourself in India! They can also set you up with an NGO if you wanna do some volunteering. Comes complete with a library full of documentaries about India.
$$
Swimming Pool
Games Room
Bicycle Hire
Hashtag Rooms is a Goa backpackers hostel which you'll find in Calangute. It's a super nice place that's well looked after, perfect as a hostel for solo travellers in India. It's really clean and the staff look after guests, helping to make a V good social atmosphere. We approve.
It's smack bang on the beach, which is perfect if the beach is what you're here for. And if you're the type of person who gets bored all the time, don't worry – there's plenty going on here all the time. Island excursions, scuba diving, surfing (lessons) – it's all on offer here.
Check out our best hostels in Goa for even more awesome places to stay!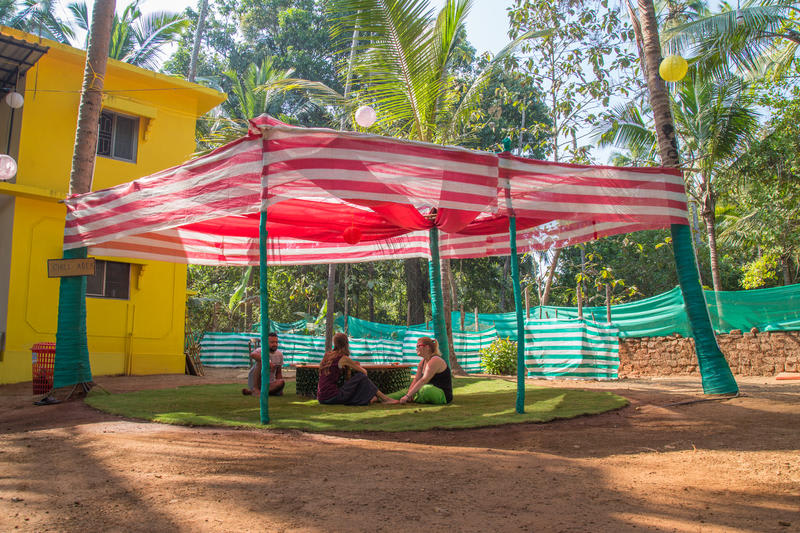 $
Cafe
Luggage Storage
Games Room
This Goa backpackers hostel is set on good ol' Palolem Beach. It's surrounded by palm trees in a super chill area on the beach. It's 5 mins away from the beach but… it's nice to be OFF the main part of the beach here TBH.
It's not the most poppin' of places to stay NGL but it's clean, there's nice lil' gardens to hang out in, a chill patio. The staff are welcoming too. Basically, it's one of those places you can just while away your time chilling the hell out. One of the best cheap hostels in India.
Is This the Best Backpack EVER???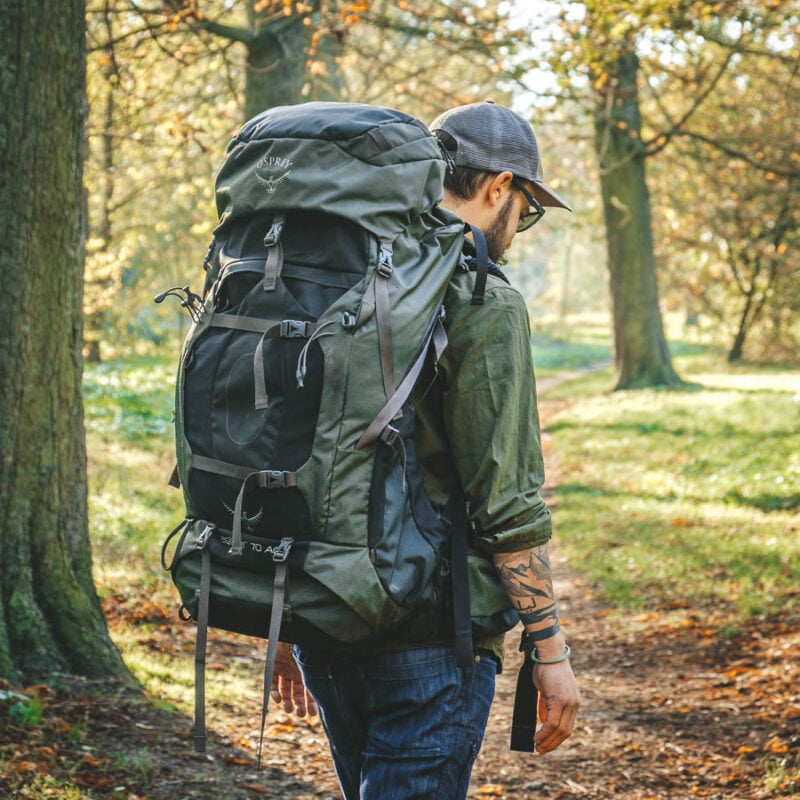 $
Bicycle Hire
Free Breakfast
Cafe
Another recommended hostel in Varanasi if you're looking for one of the best cheap hostels in India, this one really aims to be a cheap AND cool hostel. And it works. It's a chill place to hang out in and meet other travellers, which is always a plus (if that's what you want).
The big old breakfast here is good: chai, eggs, ham, fruit, toast – all free. The walking tours here are also FREE. The staff are nice and it's close to the main sights of the city, so you can save dollar on tuk-tuks. Good value for money, we say.
$
Cafe
Bicycle Hire
24 Hour Security
It's another Zostel. This time it's in Bangalore. It's definitely one the best cheap hostels in India. Why's that? Because it's modern with whitewashed walls, light and airy spaces, enough room for everybody… It basically looks more expensive than it is and we can't argue with that.
You'll also find a pool table at this budget Bangalore hostel, plus a games room and a cute little garden complete with hammocks and palm trees. The staff here will help you out with booking trains and buses, which is a godsend in India we gotta say. Also in walking distance to the metro and loads of bars and shops.
$$
Free Breakfast
Cafe
24 Hour Reception
This budget hostel in Delhi is a city hostel but it has a good backpacker vibe. It's actually not right in central Delhi, which can be a bit mental anyway, but slightly out. However, there's a metro station RIGHT nearby which means you can get into and out of the craziness as you see fit.
The edgy urban vibe is pretty cool, we appreciate it, but be warned: there is a STRONG yellow theme going on here. You know that Coldplay song? Well, yeah, it's literally all yellow. But there are movie nights, pub crawls, and other stuff (like low prices) that helps make this one of the best cheap hostels in India.
$
Bar/Cafe
Book Exchange
Free Breakfast
This youth hostel in Jaisalmer has good vibes, a homely atmosphere, and pretty much top facilities for the money you pay here. So we're just gonna say it: one of the best cheap hostels in India. If you're on a shoestring and you're in this part of India… yeah, it's a good'un.
Like in many places in India, there's a rooftop terrace here with an amazing view. You can see Jaisalmer Fort from the roof of this cool India hostel. They also put on nice events and tours here, including the "non-touristic camel safari tour" – this one actually comes highly recommended.
Best Hostel for Couples in India – Moustache Delhi
$$
Cafe
Self Catering Facilities
24 Hour Security
Super shiny, super nice, the kinda place you'd wanna go back to… Yep, this Delhi backpackers hostel is a nice combo of CALM and CLEAN that we can definitely appreciate, especially when you get in from a mad day sightseeing. It's one of the best hostels in India for couples for that reason.
The staff here are pretty friendly and can help out with their own local tips, helping you to choose what to see/what not to see around the city. There's a common room here and a roof terrace (of course). The private rooms available here are pretty decent – and spacious, too.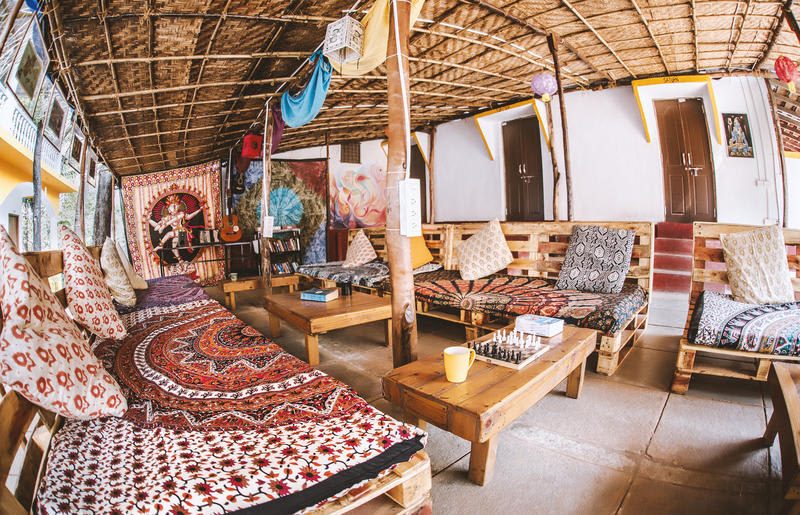 $
24 Hour Security
Laundry Facilities
Outdoor Terrace
This Goa backpackers hostel is ALL about the hippy vibes. Think tie-dye throws, chill out areas, and the obligatory communal guitars. Yep. That's this place in a nutshell. But then again, Goa is quite like this anyway.
Aside from the hippy atmosphere, it's actually pretty clean and there are nice dorm beds.
There's also private cabins, which is pretty nice if you ask us. As one of the best hostels in India for couples, you and your partner will love exploring the flea markets and places to party nearby. You'll also like the general chill vibes of it too, we reckon. Dreams indeed.
$$
Events
Cafe
24 Hour Reception
This Mumbai backpackers hostel is a recommended hostel in India for couples. It's a happy kinda place with nice staff, and a decent place to stay if you want to discover a more local side of the city. Yep, it might not be central, but this is a cool area. Local nightlife is pretty good here.
Plus there's a lot going on at this cool India hostel. There's stuff like movie nights, slum tours, and a load more. This place is actually set in a big house with nice spaces to hang out in, so it feels secure and homely.
$$
Bicycle Hire
Cafe
Luggage Storage
Another Zostel, another Gokarna backpackers hostel. This one overlooks the main beach and is the perfect place for sunsets – it's on a cliff, so the views here are pretty prime. Of course, it's one of the best hostels in India for couples. We mean… sunsets!
It's kinda rustic and romantic here, which again makes it perfect for couples. Especially if you don't mind staying in, like, a rattan hut. They do things like beach treks and it's a decent shout if you're a social couple who wants to meet fellow travellers over a game of foosball or something like that. Feels safe too.
$$
ATM
Restaurant
24 Hour Reception
Bluebeds. Why Bluebeds? It's not imaginative, they literally JUST have blue beds. But it's pretty cool here NGL. Blue is the name of the game here. But then again so is a tasteful sense of style and, well, Instagram-worthy spaces. Pretty nice really.
A great shout for one of the best hostels in India for couples. Not just because it's pretty chic, but because there's nice little perks to staying here too. There's a walking tour on offer, a block printing workshop and our personal favourite, a food tour. But yeah, this Jaipur backpackers hostel is pretty cool.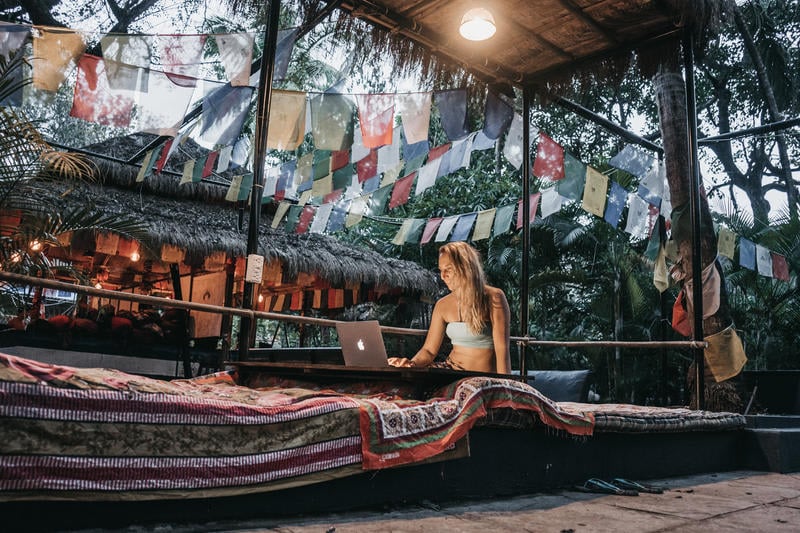 $$
Nightclub
Bicycle Hire
Laundry Facilities
The slogan of this top hostels in Goa is "make moments into memories." We're not sure what that means, but it's still one of the best party hostels in India. Located in Vagator, this one has a lively vibe if you really wanna party. But… the dorms… are pretty simple.
You're in Goa though, so… It's all about beaching it up here. And getting along with everyone else.
There's a communal backpackers meet-up, there's a big bar, things like bucket beer challenges (Bucket List, get it?) and loud music that pumps well into the wee hours. If that sounds like your game, book away!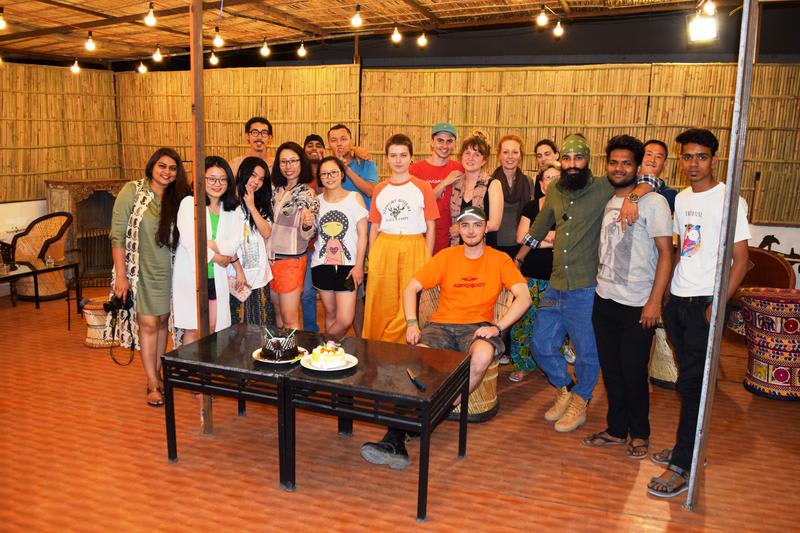 $$
Outdoor Terrace
Cafe
Luggage Storage
I mean, is it LOSTouse because they don't really know what they are? There's a vegan cafe, a boutique, a hostel… all in the same building. We're lost. BUT it is one of the best party hostels in India. Mainly because it has a POPPIN' rooftop.
Yep, that rooftop sure is fun. You can bring your own booze too, but you have to pay corkage. Which is fine we guess.
Other than that there are also a load of different places to eat and drink nearby, which is another reason why we're saying this place is the vibiest party hostel in India but it's a good place to have drinks, meet other travellers and then head out on the town.
$$
No Curfew
Free Breakfast
Luggage Storage
A pretty good contender for the title of the best party hostel in India, this place in Bangalore not only has an eye-catching name, but its good a really chill and friendly atmosphere, which makes it a really good spot to get to know other travellers.
The area is the best in the city for partying and staying here means you'll be in walking distance to all sorts of cool bars nearby.
The hostel might look a little, um, basic but it's all clean and safe and they actually have a second hostel just up the road called the Annex. This is another good spot where everyone meets up for drinking sessions to get the party started.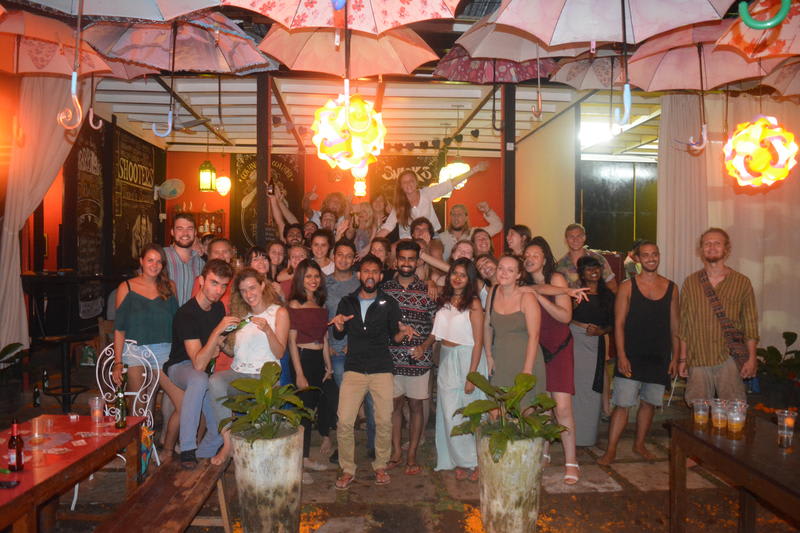 $
Bar
Bicycle  Hire
Outdoor Terrace
If you are in Goa to party and meet a bunch of other travellers then you should probably stay at this place. A top party hostel in India, not only does it come complete with its own bar, which serves up a load of tasty drinks and yummy pizzas, but they also let guests bring their own drinks in too.
Everyone sits around getting on it together and listening to tunes and then heads out for a night of madness in Anjuna.
The hostel itself is actually a big old Portuguese villa which makes it feel like a house party every night. The guys that run the hostel are super chill and make a fun atmosphere for everyone to get to know each other. Location-wise it's right near the beach too, which is a bonus.
$$
Free Breakfast
Events
Rooftop Terrace
Yep, Madpackers is preEeettTtttYyy mAd… if you couldn't tell from the name.
Actually, this IS one of the best party hostels in India, not because it's a super crazy all-night party kind of place. Nope. It's also 'cause they set everyone up with great events and activities so it's easy to make new mates and get your drink on.
It's a super clean and cool hostel in Delhi and has a load of spaces to hang out – the big ol' rooftop and the massive common room are really vibey too.
The staff run this place really well and work hard to make sure everyone has a good time; there's also things going on like trips to see local street art and sunset food tours.
Best Hostel in India for Digital Nomads – Amigos India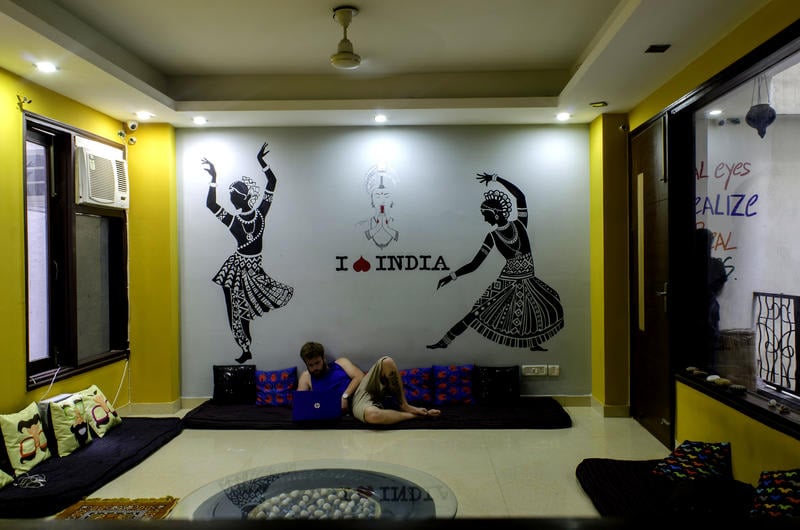 $$
Bar/Cafe
24 Hour Reception
Bicycle Hire
Looking for a hostel in Delhi to get some work done? But you also wanna see the city? This one's a good shout. The bright, spacious common room spaces are quiet and chilled which we think help make it one of the best hostels in India for digital nomads.
There's a cafe too, which is always a bonus when you're in need of a caffeine boost.
It isn't without soul though. And the people who run it obviously want to make sure everyone who stays is well looked after and enjoys their time in the city.
It's the kinda hostel that's open and welcoming to all sortsa travellers, so you might get to meet some interesting people as well as get a whole load of work finished too.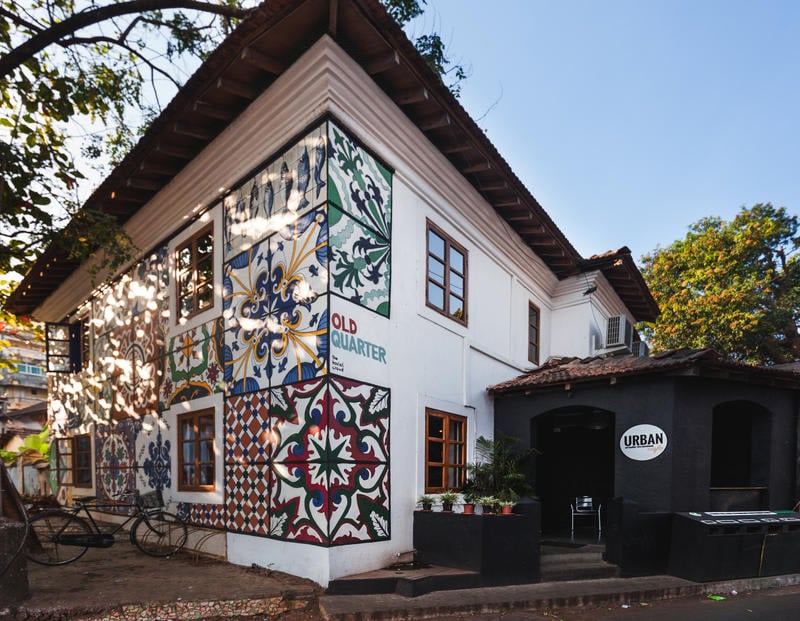 $$$
Swimming Pool
Laundry Facilities
Sauna
Goa can be a pretty chilled place to stay and a lot of the accommodation on offer can be a little ropey (for sure), but this top hostel in Goa manages to make a stylish and affordable spot for travellers.
There's all sorts of really nice design all over the shop here, and it's in a Portuguese style building in the heritage zone of the city so expect big wooden shutters and doors.
When it comes to workspaces, there's some secluded spots in courtyards which are ideal for sitting on your laptop.
There's also a properly sleek cafe with leather chairs and dark wood which comes complete with other nomads on their Macs looking serious. How could it not be one of the best hostels in India for digital nomads?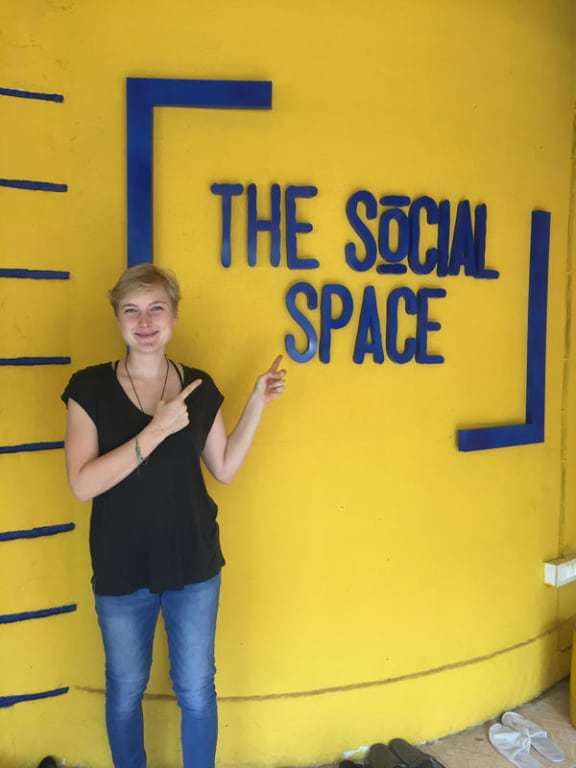 $
Security Lockers
24 Hour Security
Cafe
This hostel's called itself a social space, but we're gonna say there's some great spots to get some work done too, which makes it one of the best hostels in India for digital nomads.
Close by there's a heavy helping of restaurants and cafes for you to dip into when you get hungry and fancy a change of scene, and why wouldn't you? You're in Mumbai and the food is delicious.
One of the really cool things about this place is that it seems to get a steady stream of Indian students staying there, which is great if you want to get to know more about the country itself and meet some nice people along the way too.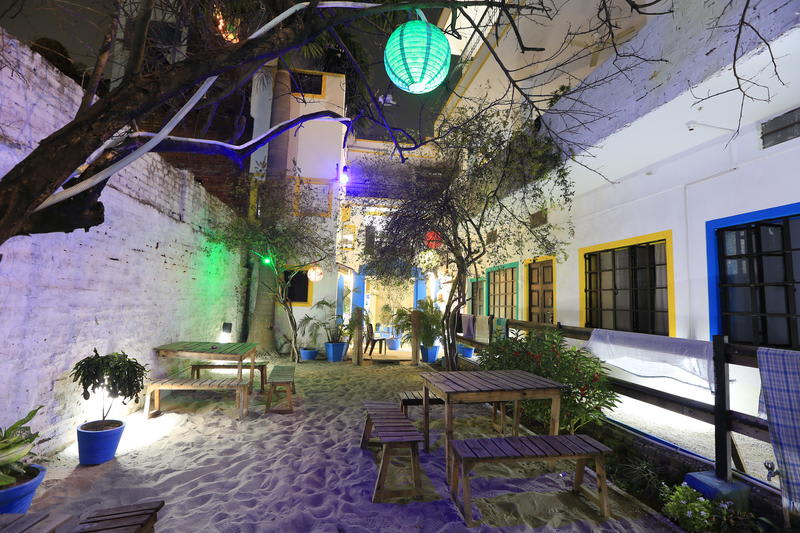 $$
Rooftop terrace
Free Breakfast
24 Hour Security
This is a boutique hostel and, you know what? Sometimes you just need to stay somewhere a little bit nicer than a basic backpackers and this place is definitely a level up.
For a start. the hostel is MASSIVE so you won't need to worry about cramped dorms or finding a place to settle down and get some work done.
What makes it one of the best hostels in India for digital nomads is the location in Varanasi literally a stone's throw from the Ganges, but still boasting a relaxed atmosphere away from the madness of the city streets. The rooftop terrace is where it's though: it has views of the river and of the actual ghats.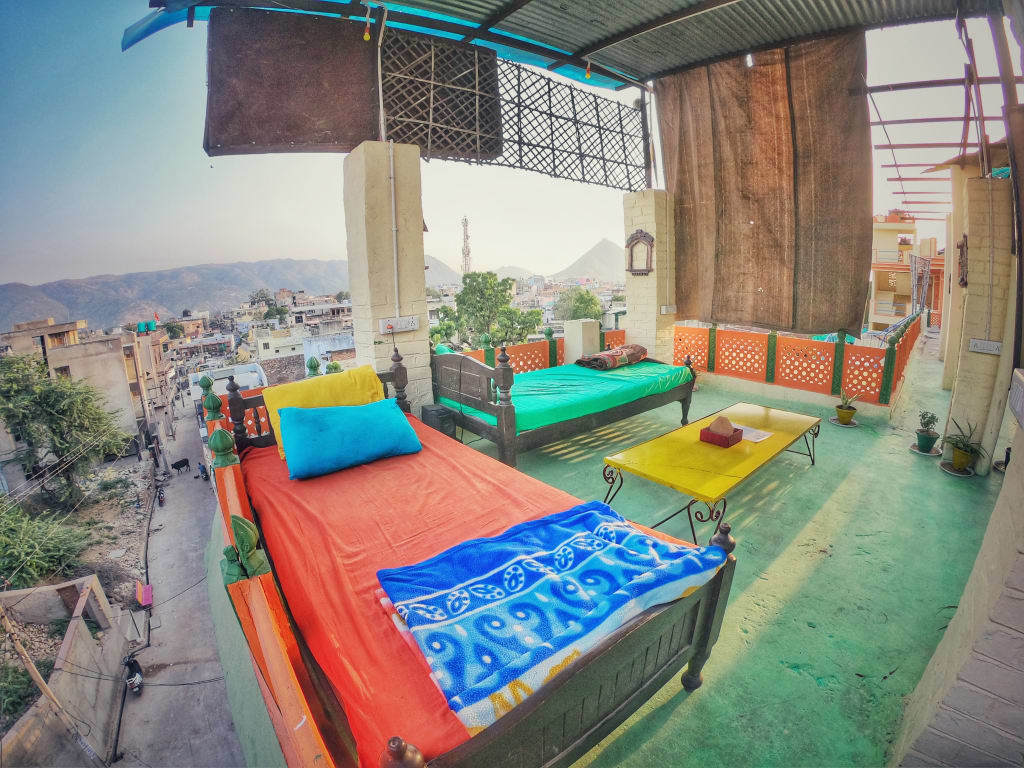 $$
Cafe
Events
Swimming pool
If you're heading to Pushkar and need to get some work done, book yourself into this top hostel for digital nomads in India. The location is pretty epic, to say the least.
Surrounded by mountains and with views of the surrounding area, there's an amazing rooftop cafe which is where you can live the dream and work on your laptop with incredible views.
The food at the cafe is reeeeaallllly tasty too and its all sorts of stuff on offer in case you've had your fill of curries by this point. The staff can not do enough to help the guests out and the location is just a short stroll to the town and sites. Oh, and did we mention there's a POOL??
$$
Bar/Cafe
Luggage Storage
Free Breakfast
Travelling in India can be pretty hard going, we hear ya.  So if you're in need of a nice place to stay and a private room for some, well, privacy, we reckon this is a top choice for the best hostel in India with private rooms.
The rooms here are preeetty plush, to say the least, even the dorms are all new and chic and make you feel, like, why can't all hostels be this nice?
The atmosphere might be lacking a little but it's new and the owners are working on it. If you're in Goa and want a place to get your head down and not have to worry about gross sheets and dirty bathrooms then its ideal.
Also, the location is proper near to the party areas in Calangute but far enough away that you don't hear any of the ruckus.
$$
Bicycle Hire
Free Breakfast
24 Hour Reception
Varanasi is a mad ol' place, but this hostel has managed to create a really calm and relaxing environment for travellers to chill the hell out.
It's in a big old house with a cool mix of white and yellow throughout, and the private rooms here are just SO nice. A top pick if you're looking for the best hostel in India with private rooms, this hostel has it ALL (and is especially good for couples we think).
Location-wise, it's a little far from the Ganges but in a cute local neighbourhood with plenty to eat and places to explore nearby. The owners serve up a mean free breakfast every morning too, which is always an added bonus.
$$
Free Breakfast
24 Hour Security
Bar
If you're headed to Hampi and want a spot of luxury then this is a recommended hostel in India that you might just want to check out. Spread across 8 acres with a lake and loads of fields nearby, staying here means you really get to enjoy the natural beauty of the area.
The hostel is inside a heritage building (as you may have guessed from the name…) and the private rooms are massive. There's also a selection of traditional style huts to stay in that are scattered across the grounds which could be a lot of fun and make for a memorable stay.
Yep, easily up among the best hostels in India with private rooms.
$
Book Exchange
24 Hour Security
Cafe
We're not sure if the owners of this top Indian hostel are massive fans of Pineapple Express or what… But this hostel is surrounded by gardens and woodlands and really chill. The private rooms on offer are really nice too and are inside huts in the garden.
So, yep, one of the best hostels with private rooms in India. Though there's a strong hippy vibe going on, so expect a lot of hanging out around tie-dyed wall hangings and bonfires. It's actually a welcoming place to stay in Pushkar and, even if you're staying in a private room, it's still easy to meet other travellers.
$$
Cafe
Rooftop Terrace
Book Exchange
Jaisalmer is a dreamy kinda place and this is a dreamy kind of hostel. One of the best hostels in India with private rooms, the rooms are all white-washed and decorated with Indian fabrics. There's nice window seats too where you can watch the world go by below.
It kind of feels more like a guesthouse or budget hotel more than a hostel, but this top hostel in Jaisalmer is clean, plus the staff are nice and arrange good tours around the city too. There's also a SUPER nice rooftop terrace, which makes this place even better!
Get Your Copy of the Backpacker Bible Totally FREE!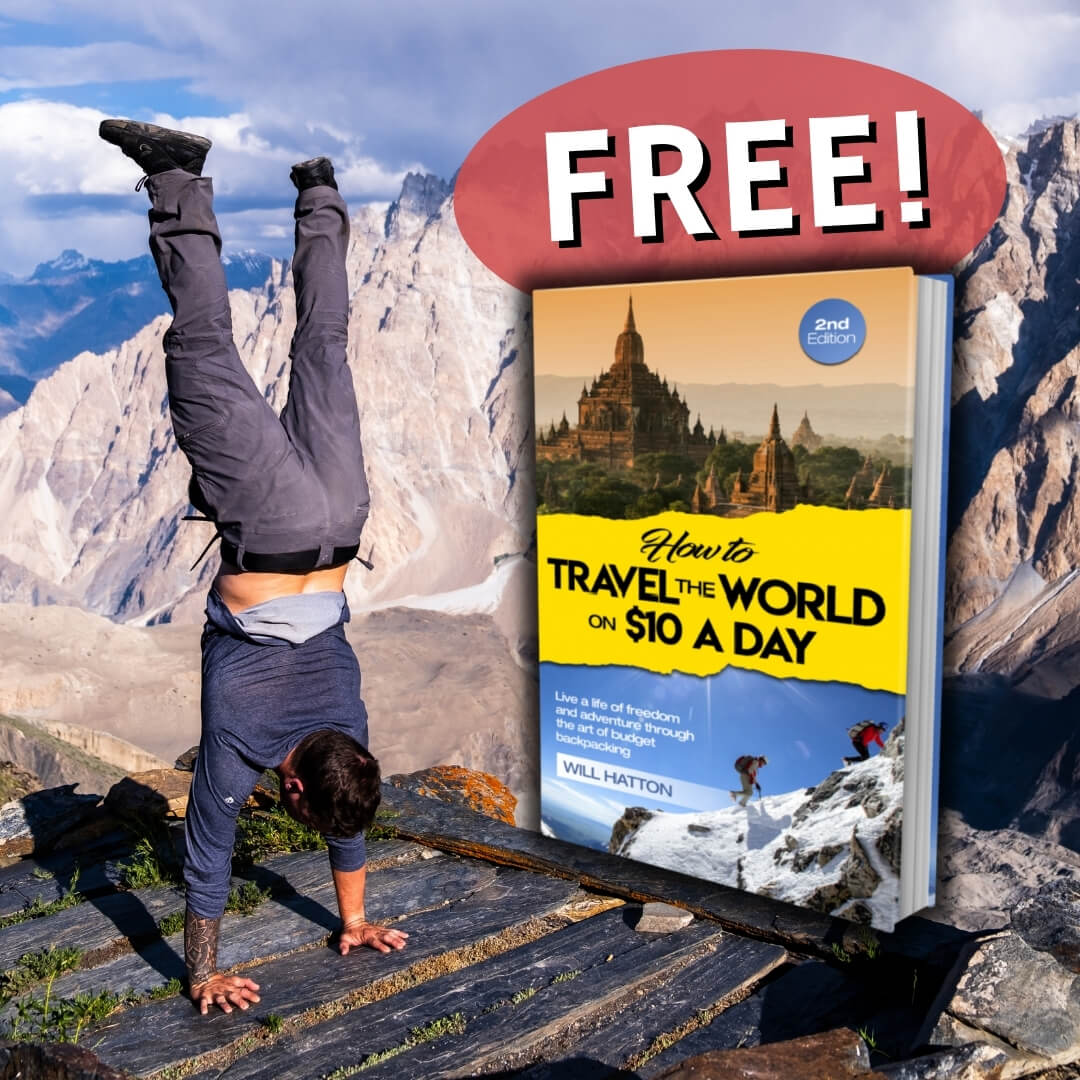 Learn how to travel the world on just $10/day with the Backpacker Bible – Will Hatton's own personal guide to the life of a budget traveller!
This book is the ULTIMATE culmination of more than 10 years of travel experience. It's full of valuable insider hacks and secrets that will help you unlock your full potential as a traveller.
AND… it's also FREE at the moment! All you need to do is click this link (or the sexy image of Will flexing his handstand skillz), provide your email, and we'll email you the ebook lickety-split!
What to Pack for your India Hostel
Pants, socks, underwear, soap?! Take it from us, packing for a hostel stay is not always quite as straight forward as it seems. Working out what to bring and what to leave at home is an art we have perfected over many years.
Check out our definitive Hostel Packing list for our top packing tips!
Why you should travel to India
See, India's hostel scene isn't so bad after all. There are some actually really cool and stylish places to stay… as well as some chill hippy spots and then all those poppin' party places in Goa too.
If you're heading off on an Indian backpacking adventure, a great starting point would be to choose our best overall hostel in Delhi, Let's Bunk Poshtel, and then its easy to head off on the train to uncover the beauty of Rajasthan.
What are your thoughts about our selection of the 35 best hostels in India? Let us know in the comments below.
Have you backpacked around the amazingness that is India? Do you think we missed anything out, or want to let us know about a crazy cool hostel that you stayed in on your trip? Let us know your tips and recommendations!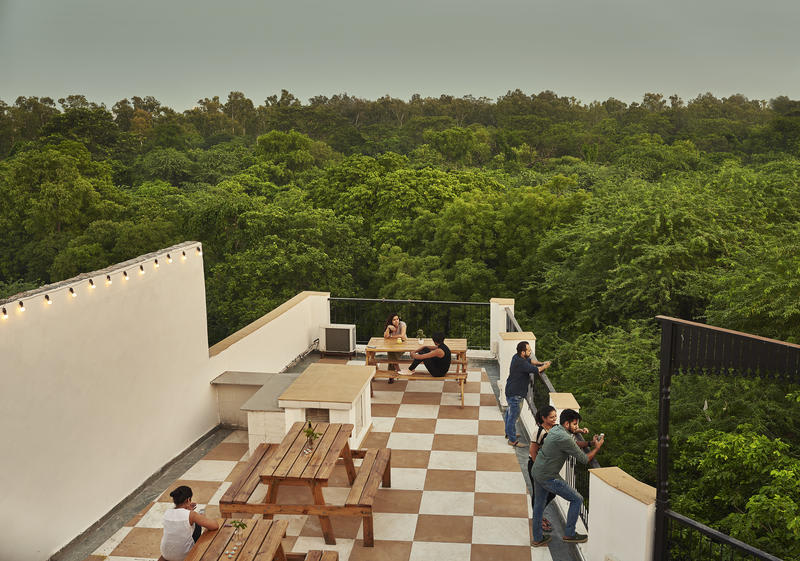 Travel Safety Tips for India
Over to you
By now I hope our epic guide to the best hostels in India has helped you choose the perfect hostel for your adventure!
If you think we've missed anything or have any further thoughts, hit us up in the comments!
---
Thanks for reading – that was fun! 😀
We bring you epic FREE content!
Find out how YOU can help support us.
We're a big site with a big team and this job isn't always easy. But we do it because we love it – we love providing epic and free content. We love the knowledge that our content keeps you adventuring. We don't ask for money, but if you'd like to find out how you can help the site in more organic ways, click the button below.
Thank you for your support 🙂
---
Bye for now, but not forever!
If you want MORE top-tier Broke Backpacker content like this, then sign up for our weekly newsletter below to get the latest and greatest!
And for transparency's sake, please know that some of the links in our content are affiliate links. That means that if you book your accommodation, buy your gear, or sort your insurance through our link, we earn a small commission (at no extra cost to you). That said, we only link to the gear we trust and never recommend services we don't believe are up to scratch. Again, thank you!