Mumbai, 'The City of Spices', is one of the most lively, colorful west eastern cities in India. This is a nation that celebrates tradition and history with a magnificent flair. Not only this, but Mumbai is the largest city in the country and is the home of the much-loved Bollywood film industry.
This detailed Mumbai itinerary will ensure that you have an outstanding experience and get your teeth into the juiciest parts of the city. Discover all of the city's finest facets and find what makes Mumbai such a special epicenter in India.
Mumbai is a remarkable destination that has so much to offer every traveler. Especially those wanting to indulge in rich cultures, spiritual temples, unforgettable cuisine, and days full of adventure! The city also boasts a beautiful coastline laden with pristine, vibrant beaches. All of this and so much more will be discovered during your journey in this enormous and vivacious metropolis.
Be prepared to explore exciting monuments, meet fascinating new friends, and have the time of your life!
When planning a trip to Mumbai, the climate plays an important role in deciding when to visit. It's become common knowledge that backpacking India means learning to live with immense heat waves. This city is no exception, with the sun shining year-round.
So, with this in mind, a good time to visit is during the winter season, which is November to February. The sun isn't as harsh and unrelenting in winter as it is in the summer months (April to July). Mumbai rarely experiences a truly cold day, so even in the middle of winter, you can still enjoy riveting day trips.
March to May is also a great time of year to visit Mumbai, but bear in mind that humidity levels will rise considerably. Days spent on the beach or in the sun won't be ideal during this time. However, the nights are stunning and the temperatures become more moderate, so you can still enjoy the thriving nightlife in Mumbai!
As for June to October, this is Mumbai's famous monsoon season. It's the only time of year that Mumbai sees consistent rainfall. However, the rain can be considered a positive, as it makes the days much cooler. Life never stops in Mumbai, so this is still a great time to visit. You can make the most of the opportunities to see hilltop station attractions, like Lonavala, Matheran or Igatpuri.
If you're considering visiting one of the many festivals in India, Mumbai is a great location to get involved in Oktoberfest!
Throughout the year, you can still expect plenty of tourists as this is such a popular destination! To help you plan the best time to visit Mumbai, here's a breakdown of the monthly weather.
Mumbai's neighborhoods are distinctive . Each offers something unique and interesting. As a traveler, you can choose the perfect place to suit your particular preferences. Whether you're looking for nightlife, shopping havens or a coastal paradise, you'll find it in Mumbai!
One of the city's most extravagant and popular neighborhoods is Bandra Bandstand. If you want to live like a celebrity, this is the place to stay. Find mesmerizing attractions here, like the Bandra Fort. Or visit the magnificent Mount Mary Church, a charming hilltop church with surreal views of the majestic Arabian Sea.
If you venture to South Mumbai, you'll find a remarkable neighborhood called Malabar Hill. This area is set on an upward slope of the Chowpatty coastline. Enjoy divine views of Marine Drive and a spacious, upbeat atmosphere. This neighborhood is home to the famous Hanging Gardens. You can also escape the hustle and bustle of the city by going on scenic walks at Malabar Hill. There are plenty of fantastic Airbnbs to choose from.
JVPD Scheme is a hot spot for those wanting to experience the nightlife of Mumbai. You may even see a Bollywood celebrity jogging in the morning, or rub shoulders with them at one of the trendy clubs and bars. This neighborhood is a happening area for those looking to let loose and make new friends.
The Horn Ok Please Hostel in Mumbai is the perfect place for travelers wanting an authentic feel of Mumbai. Rather than the tourist's sugar-coated version. The goal of this hostel is to bring people together as they are traveling to new lands and inspire a sense of community and safety whilst in the big city!
This property is an ideal choice for you if you're looking to cram in as much as possible to your stay. It's very central, and you'll find there's an abundance of world-famous sights and attractions within a short walking distance from your front door.
Best Budget Hotel in Mumbai – Hexa A1
Find great value for money at this comfortable and welcoming hotel! Within the Western Suburb District of Mumbai, you'll be just 7kms from the popular Bombay Exhibition Centre and 9kms from Aksa Beach. The rooms are set with a flat-screen TV, a desk, wardrobe and private bathroom for your comfort.
As the name implies, this is a hotel fit for royalty! Situated across the iconic Gateway to India monument, it has a remarkable view of the Arabian Sea. Inspired by the Taj Mahal Palace, the hotel has beautiful, arched balconies and extravagant rooms with modern decor. There's also an onsite spa, 10 onsite restaurants, and a landscaped pool.
When in a big city, it's always good to understand the best systems to get from A to B. In Mumbai, the train systems are called the 'lifeline of the city' and are invaluable as a mode of transport. This railway is the oldest in Asia, and you can find local trains servicing over 120 stops! It's best to avoid the trains during rush hour though, as they become packed to the brim and very overwhelming for people who are new to the city.
The buses are the next best thing and can be found practically anywhere in Mumbai. This is one of the most efficient ways to get around. Just remember that with traffic, bus times can often be delayed. You can also find buses with air conditioning, which is a major plus in the scorching heat! The best choices for air-conditioned bus travel are buses owned by the Mumbai Metropolitan Region Development Authority and you can find their routes online. The buses are not as fast as the trains, but sometimes they're more convenient and spacious.
A transport system that works wonders for those wanting to travel just a short distance from their hostel is the kaali-peeli (black and yellow) cabs. The drivers are known to stick to their meters, and so these trips are quite affordable. These cabs can be found scattered throughout the city and are easily hailed. If you can't find one, hop on an auto-rickshaw instead!
Gateway of India | Chatrapati Shivaji Maharaj Vastu Sangrahakaya | Marine Drive | Taraporewala Aquarium | Girgaon Chowpatty Beach
Your first day in Mumbai will leave you feeling the thrills of the city's enigmatic and upbeat personality. Visit some of the most mesmerizing sites, iconic monuments, and sacred lands all within one day in Mumbai!
Day 1/Stop 1 – Gateway of India
Why it's awesome: A surreal memorial site with amazing architecture and significant resemblance for India.
Cost: Free!
Food Recommendation: Enjoy breakfast at the classy Indigo Delicatessen. Here, you can treat yourself to tasty, gourmet European cuisine.
The British monarch is something that the whole world honors, but Mumbai celebrated the first landing of King-Emperor George VI and Queen-Empress Mary on a whole new level. The arch-building of the Gateway of India was built to commemorate the late, Brittish monarchy's landing in India in December 1911.
The Indo-Saracenic building style is absolutely beautiful and truly fit to commemorate such a special time in India's history! It also features gorgeous, 16th-century Gujarati architecture. Construction of the building was started in March 1913, but only the foundation was laid. So, humorously enough, when the monarch visited, a cardboard structure was there to invite them to India. Only years later, in 1924, the monument was finally complete and ready to be admired by the world.
Visiting this site is the perfect way to start your 2-day itinerary in Mumbai, welcoming you into the city, and India as a whole, with open arms! The structure is mind-blowing and took many years to perfect, now it's one of India's proudest gems.
Insider Tip: One of the best parts about this monument is that it's frequented by locals. Be sure to get a great feel for the city by speaking with new friends while you're here!
Day 1/Stop 2 – Chhatrapati Shivaji Maharaj Vastu Sangrahalaya
Why it's awesome: One of the most famous museums in Mumbai!
Cost: USD $7 per adult and 28c per child.
Food Recommendation: Bite into delicious, South-Indian seafood at Trisha's. With an intimate setting and a colorful menu, this is a prime location for meals in Mumbai.
The name is a mouthful, but you can translate it to the 'Museum of Western India Composition' which is easier to pronounce. This fantastic establishment was originally founded in the 19th century. It's one of the most famous museums for preserving and sharing cultural knowledge, artwork, and heritage.
The garden in which the museum is set still retains its original plan, but the name of the museum (which used to be Prince of Wales Museum) has changed, as well as some of its structure. This historic building houses outstanding exhibitions, workshops, lectures, events and art activities that can be enjoyed by the public!
There is even a children's museum on site – where kids can engage in interactive learning opportunities that will teach them about Mumbai's captivating history. You can also soak in the truly impressive collection of artwork in the gallery, which has everything from sculptures to Himilayan artworks and armor!
Introduce yourself to the city by understanding its roots and celebrating its uniquely charming culture.
Insider Tip: The museum has a special 'object of the month' which is chosen based on its symbolism and historical significance. Be sure to consult the museum's website to find out which one it is during the month you visit!
Day 1/Stop 3 – Marine Drive
Why it's awesome: A promenade stretch along the coastline of Mumbai.
Cost: Free!
Food Recommendation: Sit down for a relaxed meal at Frangipani. Delight in fresh, Mediterranian cuisine.
Hop into a cab and explore the 22.4-mile-long stretch that makes up the ever-popular Marine Drive in Mumbai! You're in for a thrill, as not only is the drive scenic, but the stretch boasts some of the most innovative shops, buildings, and establishments in the city. You can take your pick and stop whenever your heart desires as you explore the promenade.
This C-shaped drive (or walk) is directly along a natural bay. Start at the southern end of Marine Drive and make your way up. Find peaceful places to enjoy breathtaking ocean views, meet local people and support some of the vendors selling souvenirs.
Nicknamed 'The Queen's Necklace' – because of how it looks from elevated places in Mumbai at night – this is one of the must-visit places on any itinerary for Mumbai!
Day 1/ Stop 4 – Taraporewala Aquarium
Why it's awesome: The oldest Aquarium in India.
Cost: USD $3 per adult and USD $1 per child (age 3 – 12)
Food recommendation: Dig into divine North Indian food at the welcoming and warm Khana Khazana
If you love everything to do with the ocean, then don't miss out on a visit to the Taraporewala Aquarium! This impressive aquarium is a huge Mumbai attraction and is the ideal place for travelers with children. As well as for people looking to broaden their understanding of the underwater world.
Visit an impressive amount of aquatic creatures, such as sharks, manta rays, turtles, eels and starfish. There is so much to see here, and all of these majestic sea creatures teach us something new about the intricate workings of the ocean habitat. See both exotic fish species and local ones all together in harmony at this aquarium.
One of the establishment's most-loved features is its 12ft long, 180-degree acrylic glass tunnelway. It provides an amazing way to see the fish as they go about their business. Stroll through the tunnel and marvel at the surrounding ocean. You'll be able to observe these gorgeous creatures up close!
The aquarium boasts 16 saltwater and 9 freshwater tanks all with an array of tropical fish species. There's no shortage of things to see while you're here. So make the most of this opportunity to learn more about the ways of the ocean and all of the astonishing creatures that call it their home!
Day 1/Stop 5 – Girgaon Chowpatty Beach
Why it's awesome: Hands down one of the most famous beaches in Mumbai.
Cost: Free!
Food Recommendation: Treat yourself to some of the most delicious curries at Cream Centre. This Punjabi restaurant has everything your heart could desire for a scrumptious dinner in Mumbai.
Get ready to visit one of the most renowned beaches in Mumbai. This mesmerizing coastline is a prime location for both tourists and locals to gather and enjoy the ocean. Break away from the bustling city life and settle into a peaceful beach atmosphere, where you can enjoy swimming and sunbathing!
This white sand beach is the perfect place to unwind. The scenery is fantastic and there are people of all ages that come together to enjoy this wonderful location. You can also taste spicy, raw mangoes from the beach vendors as you take in the surreal views from the shoreline!
Watch one of the most jaw-dropping sunsets over the ocean horizon of Chowpatty Beach as you welcome the end of a fulfilling day in Mumbai.
Haji Ali Dargah | The Hanging Gardens | Babulnath | Shree Mahalakshmi Temple | Bandstand Promenade
For the last of your 2 days in Mumbai, go on an exciting escapade through the city. Visit more of the city's prized locations and fall even deeper in love with the one-of-a-kind character of Mumbai.
Day 2/Stop 1 – Haji Ali Dargah
Why it's awesome: A beautiful, well-known floating Muslim mosque in Mumbai.
Cost: Free!
Food Recommendation: Enjoy a filling and tasty North Indian-style breakfast at Copper Chimney – Worli. The simple layout and excellent service make this a great place to grab the most important meal of the day.
It doesn't matter what faith you are, all are welcome to admire the glorious Haji Ali Dargah! The first thing to catch your eye will be the gorgeous detail of the building, but the amazement comes when you realize that it seems to be floating magically out at sea! No, this is not a mirage caused by too much incense smoke, this is an actual building – out on the ocean waters.
Known for being a sacred, Indo-Islamic pilgrimage site, this is one of the most striking and unique places to visit. Walk into the mosque and grab the chance of a Mumbai walking tour as you are shown around the iconic mosque. Constructed in the 19th century, the structure itself is really worth admiring, even just from the outside.
The mosque was built based on the legend that a man by the name of Saint Haji Ali died on his pilgrimage to Mecca. But somehow, as if by a miracle, his casket ended up floating onto the shores of Mumbai. So, in his honor, the floating mosque was erected.
You can visit the mosque during low tide and enjoy the many delightful architectural wonders, such as the colorful, kaleidoscope-like mirror works and the magnificent marble pillars!
Insider Tip: Thousands of people from the Islamic faith visit this very holy site annually for pilgrimage, so be respectful when visiting. Do not bring alcohol, dress conservatively and remember not to show any public forms of affection while here.
Day 2/Stop 2 – The Hanging Gardens
Why it's awesome: Enthralling, terraced garden in Mumbai that is world-renowned for its beauty.
Cost: Free!
Food Recommendation: Sit back at Govinda's, a welcoming and warm Punjabi restaurant. Surrounded by statues of Indian gods and goddesses, you can enjoy locally made vegetarian cuisine.
Also known as the Pherozeshah Mehta Gardens, this gorgeous garden is found at the scenic tip of Malabar Hill. With humble beginnings, the gardens were said to have been made over the Bombay (the old name of Mumbai) reservoir to protect it from pollution in 1881.
From here, you get magnificent views over the Arabian Sea. Spend the early morning roaming around the garden being inspired by the expertly landscaped terrace structure.
If you fly over the Hanging Gardens, you'll see the initials of the old name (PMG) spelled out in cursive using the walkway through the park. You'll also find charming hedges that have been shaped to look like various animals along the trails. As well as many species of flowers.
This is one of Mumbai's only green spaces, and it's truly stunning. You'll find a grounded, peaceful feeling within the Hanging Gardens..
You could spend hours upon hours exploring the many wonders of this public park and never get bored. This is one of the best places to visit in Mumbai in 3 days!
Insider Tip: Just opposite the Hanging Gardens is the Kamala Nehru Park, another fantastic place for walks and natural sightseeing!
Day 2/Stop 3 – Babulnath
Why it's awesome: A renowned, ancient Shiva temple in Mumbai.
Cost: Free!
Food Recommendation: For a bite of sensational vegetarian meals, head over to Soam, a chic Indian bistro. The casual setting of the restaurant makes it a warm place to kick back during your vacation in Mumbai.
Babulnath is a glorious Mumbai temple honoring Lord Shiva, one of the main deities from Hindu philosophy. You can jump into an elevator and ride to the top of the temple. Or, you can embark on the auspicious and challenging walk up the 110 stairs instead. Those who manage to make it up are said to receive the blessings and Darshan (opportunity to see the deity) of Shiva himself!
This temple is one of the most iconic Shiva temples in the whole of Mumbai. While the temple is full of spiritual significance, it's also an architectural masterpiece! With its delicately carved, intricate interiors that add even more beauty to this experience and offer a splendid site for architecture lovers.
The pillars of this temple are made entirely from limestone, and the ceiling of Babulnath incorporates figures from Hindu mythology. Feast your eyes on one of the most brilliant Hindu temples in the whole of Mumbai.
Insider Tip: Mondays are considered as the 'Day of Lord Shiva' and the temple is open from 4:30 am to 11:30 pm.
Day 2/Stop 4 – Shree Mahalakshmi Temple
Why it's awesome: One of the most prominent temples in Mumbai.
Cost: Free!
Food recommendation: Enjoy a dining experience at Shree Laxmi Bhajiya House. This remarkable hidden gem in Mumbai is the best place to taste something new. Be sure to try the famous dish, dal bhajiya.
Built in 1831 by a dedicated Hindu merchant, this old temple stands as a symbol of love and devotion to the Hindu goddess, Mahalakshmi. This goddess is one of the most looked up to, honored and celebrated deities in Hinduism. Mahalakshmi represents prosperity, wealth and good fortune.
Visitors to this temple will find themselves awestruck by the many gorgeous shrines and delicately crafted features. One of these being the muri (or crown) of the goddess that is mounted on a platform high in the temple. This crown is made from fabulous gemstones and weighs over 40kgs!
The incredible statue of the goddess herself is made from smooth, black stone and it is 3ft. high. This image of her is sacred as she holds objects of symbolic value – namely her lotus flowers, a pot that is overflowing with grain and gold, a mhalunga (a sweet, citrus fruit), a kaumodaki (big mace), and a shield.
During the 21st, 22nd, and 23rd of both March and September, you can see light shining through the western window directly onto the deity's face during sundown.
Another one of the temple's highlights is the beautifully carved Shri Yantra – a powerful symbol of Mahalakshi's Shakti energy – on the temple walls. Spend your afternoon diving into the heart of the Hindu philosophy and enjoying the peaceful, spiritual ambiance of this famous temple in Mumbai.
Day 2/Stop 5 – Bandstand Promenade
Why it's awesome: A popular place to shop and enjoy leisurely activities in Mumbai.
Cost: Free!
Food Recommendation: Indulge in traditional Indian cuisine at Shree Thaker Bhojanalay.
Cap off the last of your 2-day itinerary for Mumbai by enjoying one of the city's hubs – the Bandstand Promenade. This 1.2 km stretch offers a fantastic walkabout in Mumbai. Here, you can chat, enjoy an ice cream and enjoy views of the sunset over the ocean.
After dinner at one of the restaurants and some downtime, you can hit some of the many trendy bars and clubs along the promenade. Celebrate and commemorate your time in this outstanding city.
This is a thriving mecca for travelers and locals alike in Mumbai!
Insider Tip: While you are here, be sure to make your way to the Artist's Court to perhaps see some dazzling live performances.
Aksa Beach | The Kanheri Caves | Upvan Lake | Sanjay Gandhi National Park | Dhobi Ghat
Mumbai is a city that never sleeps, and we have much more in store for you. If your trip to Mumbai is more than 2 days, here are some of the best activities for you to soak up during a longer stay.
Aksa Beach
A hugely popular beach on Mumbai's coastline.
Found near the beautiful Malvani area.
Excellent beach for those looking for coastal accommodation spots.
Mumbai's beaches are bound to steal your heart and make you feel the spirit of India. One of the very finest of all the city's beaches is Aksa Beach, a most-loved spot for both locals and tourists alike. Entrance is free, and the beach caters for all ages, with everything from calm waves for swimmers, to shallow rock pools for children!
One of the only downsides to this beach is that it can get very crowded, most notoriously on public holidays and Sundays. So, when planning a trip to this beach, be sure to keep this in mind. If you choose the right day, you will discover a beach that is tranquil, clean and beautiful enough to take your breath away.
The sands are smooth and the landscape is laden with idyllic palm trees. There isn't a single sight of litter, and you can enjoy lazy mornings by the shoreline, where calm ocean waves gently lap. If you book into nearby accommodation, you'll find this to be one of the best places to visit in Mumbai for 2 days!
Perfect for every type of traveler, you'll find yourself immersed in a world of wonder and beauty at Aksa beach! Bring the kids, or pack a picnic with your loved ones. You're in for a real treat as you experience a more calm side to Mumbai's busy city.
The Kanheri Caves
A group of famous caves and rock cuttings in the Sanjay Gandhi National Park.
Has the biggest number of cave excavations on one hill in the world!
Entrance fee is USD $3 per person.
The Kanheri caves are some of the most undeniably mystifying and beautiful places to visit in Mumbai in one day. Venture into the lush jungle of Mumbai's only national park and encounter one of the city's most prevalent sites of ancient ruins. The Kanheri Caves are comprised of over 100 Buddhist caves.
These ancient caves have been in Mumbai since the 1st century BC, during a phase when Buddhism was first being discovered in India. Feel the profound stillness and meaningful ambiance of these special meditation spots as you walk through the site, and peer into some of the awe-inspiring carved out basalt caves.
Kanheri, when translated, means 'black mountain' and the caves have been named this after the black basaltic stone that makes up the mountain. Gain insight into the philosophies of Buddhism and truly revel in the history of the movement itself.
Upvan Lake
A recreational area in Mumbai, known for being the place that hosts the Sanskruti Arts Festival.
Entrance to the lake is free.
Ideal for travelers to pack a picnic of sweetmeats and takeaway curries and take it along to enjoy a peaceful sunset.
Take a chill pill in Mumbai and head over to Upvan Lake, a laidback area where the locals of Thane come to relax. The grounds of the lake provide a scenic and serene place to stroll and admire the surroundings of Mumbai's cityscapes.
The lake was one of 13 dying lakes that were restored, and we're certainly glad that it was. Today, it's a grand place for a picnic, and to go on placid boat rides in Mumbai. You can hire a boat yourself, or ask someone to take you out for a cruise.
Famous for being the host of the Sanskruti Arts Festival, this lake is a beautiful place to simply enjoy a few hours uninterrupted by crowds and the business of Mumbai. You can also go to the lake after hours to get some of the most breathtaking views of Mumbai at night!
Sanjay Gandhi National Park
Stunning natural oasis teeming with exotic wildlife.
Used to be known as the Borivali National Park.
The only protected forest within Mumbai.
Mumbai is known for being one of the most marvelous cityscapes, but found within this phenomenal concrete jungle is a flourishing forest! Step away from the buzzing city life and step into a world of wonder and beauty in the Sanjay Gandhi National Park, Mumbai's only piece of protected natural habitat.
Home to over 100 caves, the most well-known being the Kanheri Caves, there's also a butterfly garden and unforgettable hikes and walks. As well as boating activities, stargazing, and mini train rides. This national park is overflowing with activities for both families and solo travelers to enjoy. Learn an incredible amount about the wildlife in India, and come face to face with some of the most remarkable creatures and critters in the world.
Not only is the park full of wildlife, such as tigers and lions, but it's also a thriving habitat for a number of flora and fauna species. Go for walks and discover the abundant forest landscapes that boast serene streams, a massive lake, tree canopies, and delightful meadows.
This is one of the most-visited places on our Mumbai trip itinerary, with over 2 million visitors per year! You'll know just what makes this park such a special gem in Mumbai after you spend a morning, afternoon or evening indulging in some of the many engaging activities offered.
Dhobi Ghat
A famous, open-air laundromat in the city of Mumbai.
A place that displays the innovative and entrepreneurial talent of Mumbai.
Home to over 200 families.
Mumbai is full of one-of-a-kind places to visit, but Dhobi Ghat has got to be one of the best! The outdoor, open-air laundromat is more than 150 years old, having been originally constructed in 1890. It has pioneered a way for families in Mumbai to make an income by doing the washing of local hotels, hospitals, and homes.
The Dhobi Ghat is made of many rows of concrete walls that are used as wash pens. Each with its very own flogging stone (a stone used to help wash the clothes, sheets and other items). Located at the Mahalaxmi railway station, this is the largest outdoor laundromat in the world!
This is one of the most unique Mumbai points of interest. There are roughly half a million pieces of clothes are sent to this location daily.
You can speak to the dhobis (the washers) and ask them to show you around so you can see how this is all done! The experience is one in a million and will show you the spirit of Mumbai's hardworking locals and their brilliant ability to adapt and create new ways to bring in an income.
Mumbai has a surprisingly low crime rate for such a big city, but that doesn't mean that normal safety tips and regulations shouldn't be taken into consideration. Although most tourists only face petty crimes, nothing too dangerous, you can always prevent running into any sort of trouble at all by keeping your head on your shoulders at all times.
If driving in Mumbai, keep in mind that the streets here have vehicles of all kinds packed together like sardines! Most tourists, when driving themselves, get lost and very frustrated. To avoid this, it's advised that you make use of public transport.
Theft is something that happens everywhere in the world, and metropolitan cities are a hub for this kind of criminal activity. To avoid becoming a victim of pickpocketing, keep your belongings close to you at all times and be alert of who comes near you. This is especially prevalent at the railway stations, and so we don't suggest using this mode of transportation during rush hour. In general, this happens all over the city, so use bags that are slash-proof and have locks.
The busier areas may seem wise to avoid, in terms of crime, but they are much safer than the less populated and secluded areas. At night, stay in a group and don't venture off alone, just to be on the safe side. Although the chances of you ever meeting head-on with a criminal is very low, it's always better not to take chances.
Don't Forget Your Travel Insurance for Mumbai
World Nomads' mission is to support and encourage travellers to explore their boundaries. They offer simple & flexible travel insurance, and safety advice to help you travel confidently.
They've been doing it since 2002 – protecting, connecting, and inspiring independent travellers just like you.
Get a quote below or read our in-depth review!
World Nomads provides travel insurance for travelers in over 100 countries. As an affiliate, we receive a fee when you get a quote from World Nomads using this link. We do not represent World Nomads. This is information only and not a recommendation to buy travel insurance.
Mumbai is a mecca full of activities and memories waiting to be made! Revel in the magical atmosphere and immerse yourself in Mumbai by adding unforgettable day trips onto your itinerary.
Sagar Gad Hill Fort Trekking
Escape the city for a day out in the sun, marveling at natural surrounds and doing some on-foot exploring! Go on a trek to Sagar Gad, an ancient hill fort in the Alibaug region. Trade the cityscapes for green marshes and endless mountain landscapes on this day trip.
See a different side of India, one full of natural wonder! Take your time as a guide shows you the best parts of these lands. You will also pass a plummeting waterfall that you can stop by for a refreshing dip.
This is one of the best day trips from Mumbai! Pack your water bottle and head for the hills.
Karla and Bhaja Caves
Spend the day visiting two ancient sites, the Karla and Bhaja caves. Dating back between the 2nd century BC and the 5th century BC, these rock-cut caves have many stories to share. Learn all about the heritage and origins of these caves on an in-depth guided tour!
The mysteries that surround these two of some of the most beautiful caves in the world will fascinate and inspire you. Including a pick-up from Mumbai, you do not need to worry about getting here, as all the bases are covered.
Enjoy a day of discovery and thrilling new adventures as you journey through these two magnificent caves!
Elephanta Caves
Only a ferry's ride away from Mumbai city, you will find the enchanting Elephanta Island! This revered island is home to over 1,500 years worth of ruins, history and beautiful, sacred artworks. This is the perfect addition to your Mumbai tour itinerary!
Gain priceless insight into the ways of the ancient Buddhist and Hindu philosophies with an experienced guide who will share his knowledge. You will see ancient carvings and deities that are significant to these ways of life to those who practice both of these philosophies on this tour.
Grab the chance to see the UNESCO World Heritage Site of the Elephanta Caves, the sacred site that withholds ancient knowledge and magic!
Explore Goa
When traveling to Mumbai for an extended period, it would be a shame to miss out on the chance to visit Goa. So, grab the bull by the horns and travel to this vibrant, exciting and vivacious city. If you travel by boat, you will arrive at the Mormugao Harbour.
Be welcomed to the city with an all-encompassing coach tour of its most beautiful highlights! Be comfortable and travel in style to places like Panjim City, as well as some of Goa's best spice plantations, temples and more.
The travel buses you will be transported in also have air conditioning, so you can experience the joys of Goa even on the hottest days in India. If you want to spend some time here, check out these cool airbnbs in Goa.
Wine Tasting in Nashik
A hidden gem near Mumbai awaits you! Nashik is the ideal place for wine lovers to spend their day. Be whisked away into a world of winemaking and tasting as you indulge in new flavors and aromas that will delight you!
Learn everything there is to know about the process of how grapes come from the vine, are transformed into your favorite drink, and then bottled and sent around the world. Over and above this, treat your palate to some of the best wines in India!
Visit remarkable wine farms like Sula Wine Yard and Zampa Wine Yard before settling for a tasty lunch at Little Italy.
Find out what people want to know when planning their Mumbai itinerary.
Conclusion of Mumbai itinerary
Every moment spent if Mumbai is full of color, culture, friendliness and new adventures. This is the kind of city where there is truly never a dull moment, as even the poorest areas have their own unique, vibrant energy. The city will teach you so much about life and about how to live it to the fullest!
It's easy for big metropolitan cities to eat you up whole, but with our complete Mumbai itinerary in hand, you will have the perfect travel companion! We share everything you need to know to have an awesome time. We guide you to awe-inspiring Mumbai landmarks, many central hubs, and even a few off-the-beaten-track locations for you to enjoy!
We only hope that you make memories that will last forever in a world-renowned Indian destination that is packed with flavor! Mumbai is calling for you… If you haven't packed yet, use our India packing list!
---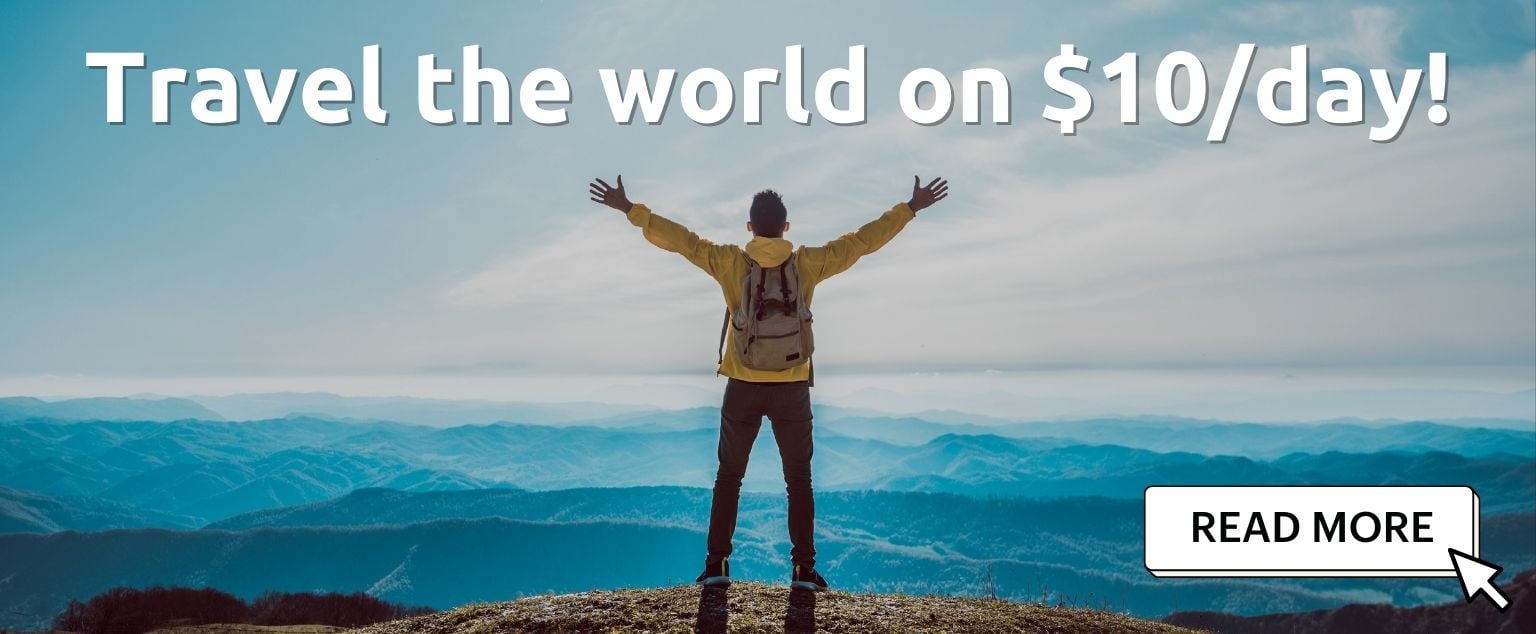 And for transparency's sake, please know that some of the links in our content are affiliate links. That means that if you book your accommodation, buy your gear, or sort your insurance through our link, we earn a small commission (at no extra cost to you). That said, we only link to the gear we trust and never recommend services we don't believe are up to scratch. Again, thank you!