Everyone knows when you go camping or hiking in tough conditions, a head torch is a vital piece of equipment to keep you safe whether that be from falling down a gulley or tripping over your neighbour's tent on the way to the toilet!
Having a decent head torch might seem to pale into insignificance when you're planning your adventures, you're searching for warm sleeping bags, stormproof tents and super expensive jackets to keep you toasty in the most extreme situations. But a head torch is a small but vital piece of equipment that often gets overlooked for the more flashy (pun intended) bits of gear.
Skimping on a head torch can leave you in a sticky situation! Many people don't realise the difference between a good and a crappy torch until they're lost in the dark with only a tiny patch of light in front of them! A good torch will be able to light up a huge area and make nighttime treks or urban exploration a walk in the park!
For us, the Petzl Tikka is a great option that offers superb quality, great portability and an affordable price tag.
Petzl Tikka Headlamp Review: What Makes this head torch/ lamp Awesome?
Here are some of the big questions this Petzl Tikka Headlamp review will answer:
What Lumens/ brightness does the Petzl Tikka Headlamp offer?
How far is the beam distance of the Petzl Tikka Headlamp?
Is the Petzl Tikka Headlamp suitable for all adventures?
What are the key features and functionality of the Petzl Tikka Headlamp?
What size should I choose? Long or regular?
How much does the Petzl Tikka Headlamp weigh?
How does the Petzl Tikka Headlamp compare to other head torches on the market?
Want more options? Check out our guide to the best headlamps for travel.
Winter is coming… WARM UP!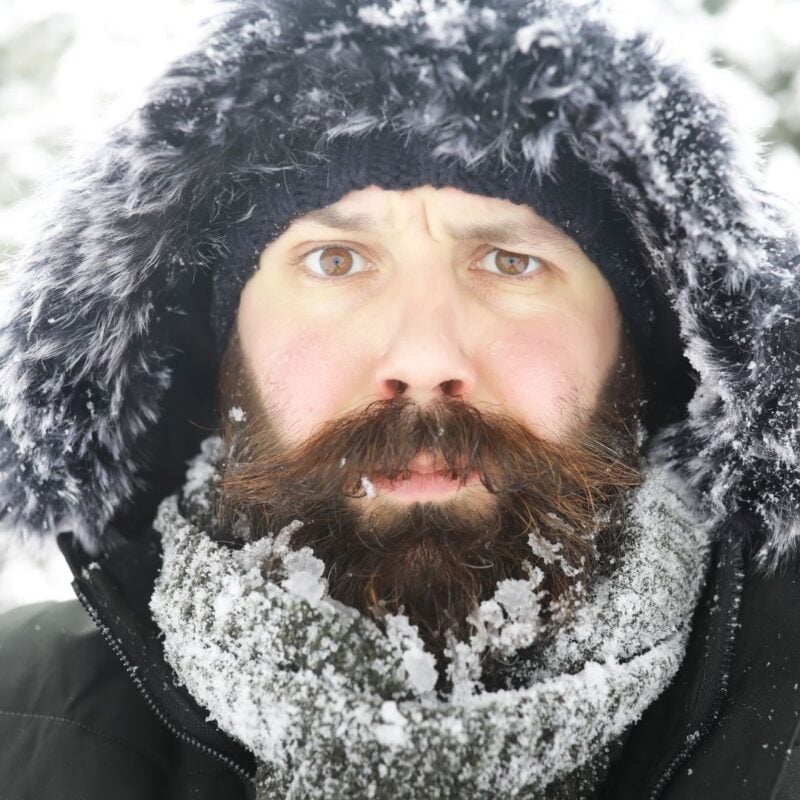 Get up to 50% OFF when shopping gear for the winter on REI.
Warm up for the holidays and SAVE on outdoor gifts all the way through Dec 18!
View on REI
Petzl Tikka Headlamp Review
Picking the right head torch for your type of adventure is a must! Forget those clunky big ass head torches that weigh a tonne and don't light up a damn thing! Things have moved on a bit and you can get super light head torches with a compact body that still offer superior quality. Many modern head torches also offer additional settings and features so you can put them to use in a whole host of different situations.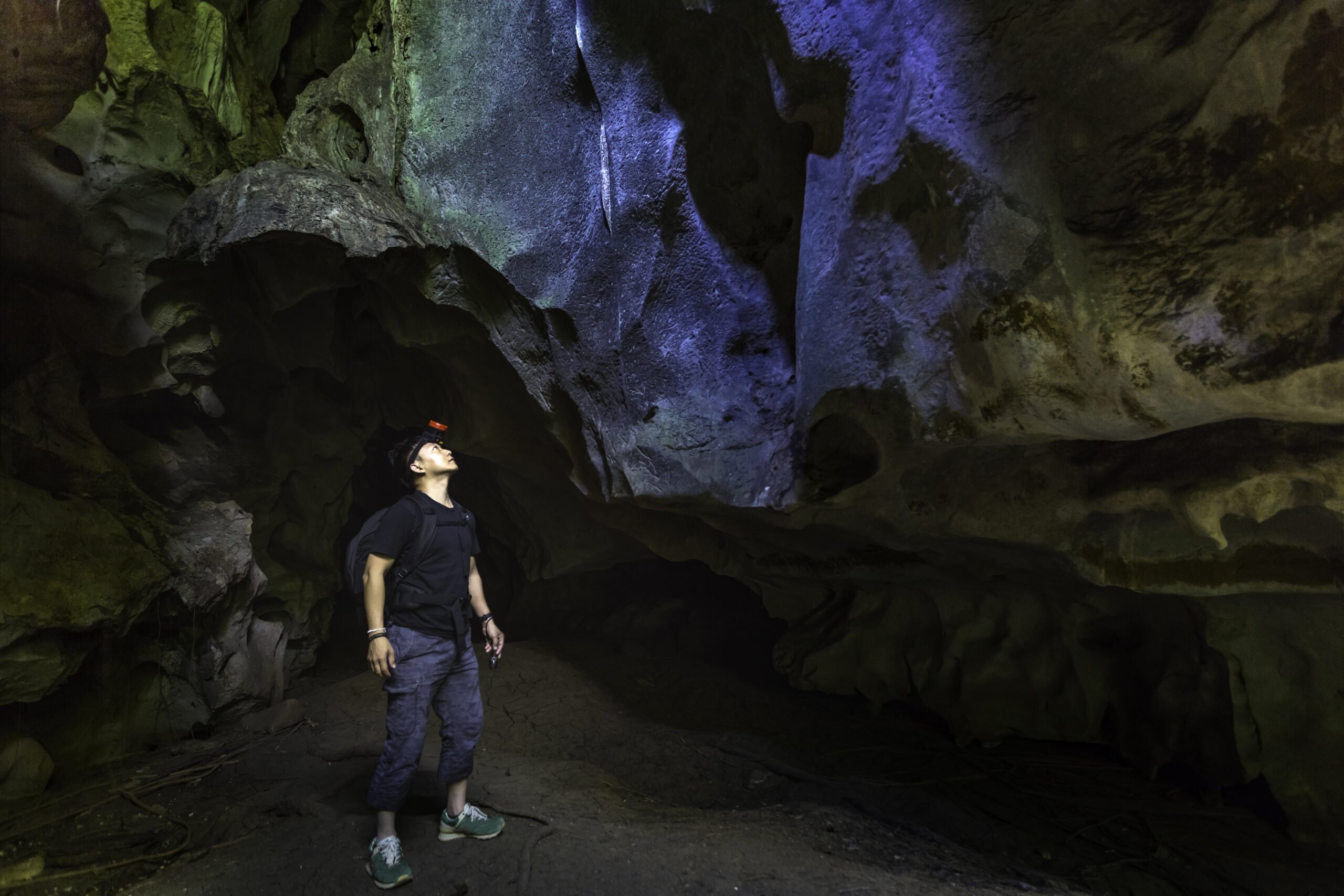 That's Petzl come in! They're a top brand when it comes to head torches and they're trusted the world over to bring light to all sorts of challenging and exciting adventures.
In fact, it's the brand we've used whilst hiking through the night in Scotland, camping in the outback, exploring creepy-ass abandoned hospitals and ya know, avoiding guylines when you need a piss a 2 am after a few too many bevvies at Download Festival!! I did say it was versatile!!
It fits easily in a jacket pocket and the low profile won't make you feel like a frumpy unicorn! So let's take a closer look!
Who is The Petzl Tikka Headlamp Perfect For?
The Petzl Tikka Headlamp is PERFECT For You if…
You want a compact head torch for camping and hiking
The Petzl Tikka Headlamp is a great head torch for everyday use on the campsite or hiking trails. It's also a good option for those who need lighting for work but need their hands free, such as a mechanic or tattoo artist.
You want a head torch that offers great bang for your buck
This is a head torch that offers top quality and lighting ability for a great price. It's a powerful little unit that won't break the bank. With its size, weight and price you'll have no excuse for taking it with you wherever you go!
You want a head torch that will last a standard camping trip
The Petzl Tikka Headlamp can last 60hrs at max brightness and can be used with either standard AAA batteries or the additional rechargeable CORE battery (sold separately).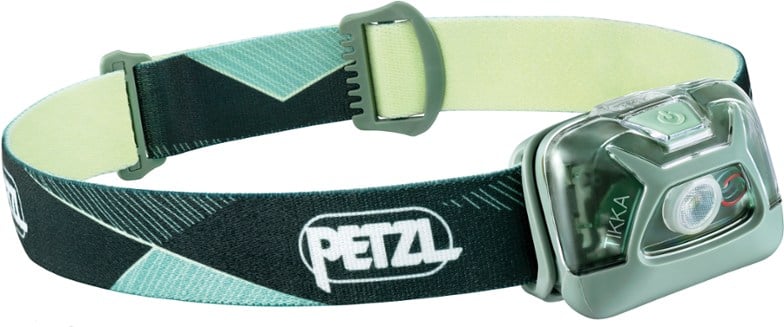 The Petzl Tikka Headlamp is NOT Quite For You if…
You only need a head torch for the hostel
So, we think you should always just throw a head torch in your camping backpack, but if you're only going to be fumbling around in your backpack in a dorm then your phone torch will probably do the trick!
You are headed up Mt Everest
Ok, so you're probably not headed up Mt Everest but bear in mind that as good as the Petzl Tikka is, it's also not designed for truly extreme conditions where you'll need something more specialised for both the cold you'll experience and the light you'll need for this type of terrain.
You want something super powerful for deep caving or extreme mountaineering
The Petzl Tikka Headlamp will do for shallow caves and urban exploration. However, if you're going to be doing some more extreme caving or mountaineering then you will need a more powerful torch. You could also combine this torch with a handheld torch like an LED Lenser.
Looking for other types of torches? Have a look at the best flashlights for travel and camping.
The best present of all… is CONVENIENCE!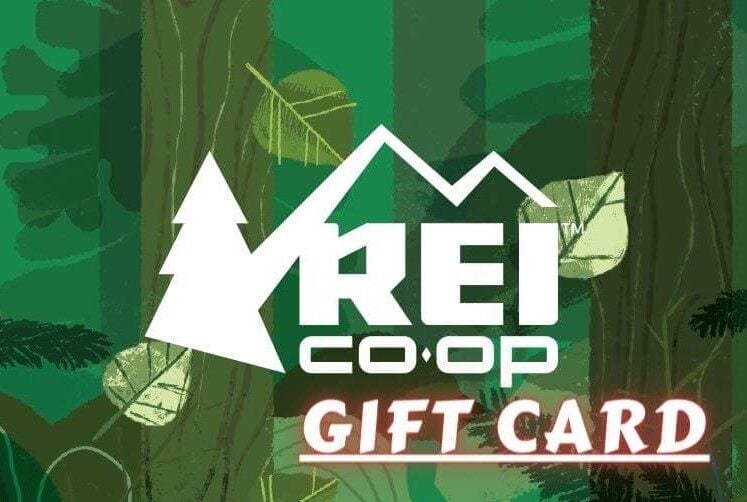 Now, you could spend a fat chunk of $$$ on the WRONG present for someone. Wrong size hiking boots, wrong fit backpack, wrong shape sleeping bag… As any adventurer will tell you, gear is a personal choice.
So give the adventurer in your life the gift of convenience: buy them an REI Co-op gift card! REI is The Broke Backpacker's retailer of choice for ALL things outdoors, and an REI gift card is the perfect present you can buy from them. And then you won't have to keep the receipt. 😉
Buy on REI!
Petzl Tikka Headlamp – Key Features and Performance Breakdown
Price: $29.95 USD | £30.00
Brightness: 300 lumens
Total weight: 82 g | 3 ounces
Watertightness: IPX4 (weather-resistant)
Battery compatibility: 3 AAA/LR03 batteries/  CORE rechargeable battery (Separate)
lighting Modes: proximity, movement and distance vision
Beam Distance: High: 65 metres; medium: 40 metres; low: 10 metres
Burntime: 60hrs at max brightness
Colours Available: Black, Blue, Green, White
As you can see, the Petzl Tikka Headlamp offers a great level of functionality for such a compact and lightweight package.
Petzl Tikka Headlamp – Power Performance
You get a massive 300 lumens from this little beast. Don't know what that means? Well to put it into context, your phone light only offers around 40 – 50 lumens! That means you can easily illuminate the trails ahead, the campsite footpaths or the whole of your tent if you've lost something! It's a pretty impressive stat for such a small torch.
For that, you get a massive 60 hrs of light on max brightness! It's going to take you a while to burn through that much energy with casual use or even an evening of hiking. If you're just using this torch on a camping trip then it's going to last quite a while before the batteries need replacing.
Speaking of batteries. The Petzl Tikka Headlamp take a standard 3 AAA batteries and the compartment is easy to open when you need it. The use of small standard batteries means they're easy to get hold of and compact and lightweight to carry extras. However, if you're after a different option, then you can buy an additional CORE rechargeable lithium battery that can be charged via a USB/micro-USB charging cable to either mains or portable battery pack.
Petzl Tikka Headlamp – Features & Functionality
What makes this head torch even better is the additional functionality and features that push it beyond your standard headlamp and it's one of the reasons we absolutely love it!
First up is the one-button functionality. No messing about with heaps of different buttons, especially in the dark! On the Petzl Tikka Headlamp, you just click the top button and with every press, it goes through each different lighting mode.
The different lighting modes include Proximity, distance and movement. This means you can use the lamp in a whole host of different scenarios. The Petzl Tikka Headlamp also offers a red light mode which is super stealthy for those times when you are worried about waking other folks up! Or if you're doing some night vision shit… we won't ask!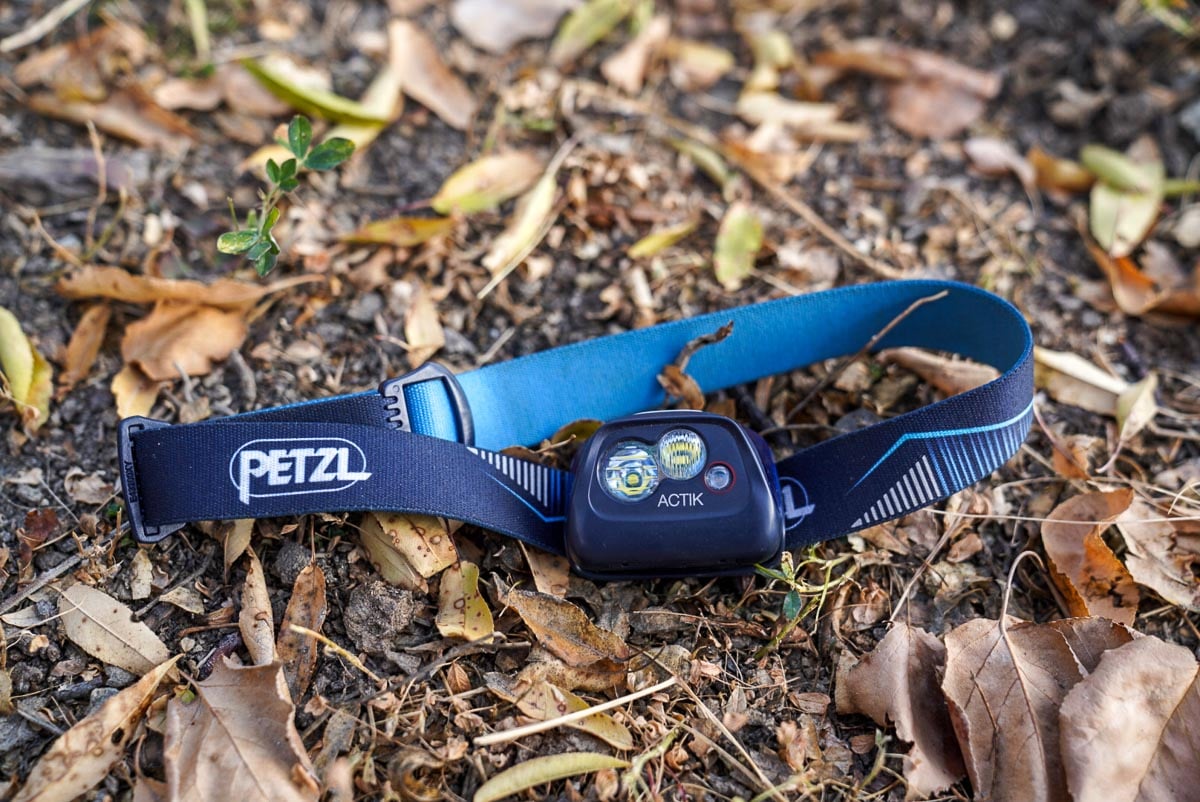 One of the other features which is easy to overlook until you need it is the addition of a small glow in the dark reflector on the side of the torch. This means it's easy to find in dark conditions, which is great because that's exactly when you need it!
In terms of waterproofing, you won't be able to take the Petzl Tikka Headlamp in some extreme situations and it's not going to survive full emersion in water. However it is rated at IPX4 which is water-resistant, so if you're caught out in a shower or it gets splashed then you'll be just fine!
Other things to mention are the fact that the headband is detachable and washable. The head torch is also compatible with many mounting accessories so it can be attached to most helmets and bikes. It can also be tilted up and down so you can point the light where you need it most!
Petzl Tikka Headlamp – Size & Weight
Weighing just 82g it will easily fit inside a backpack, day pack or even your pocket and not take up too much space. It's the perfect addition to any packing list whether you're going backpacking, camping or hiking and you'll hardly notice it thrown into your bag… but you'll notice it if you forget to pack it when you need it most!
Want to know what to take hiking? Check out our expert advice for day hikes.
In fact, you're probably not going to get a headtorch that is much lighter or compact than the Petzl Tikka Headlamp whilst being so comfortable, even the much more expensive torches on offer are either the same weight or actually heavier to deal with the additional features and functionality.
Petzl Tikka Headlamp – Price & Value
Price: About $29.95 USD/ £30 GBP
The Petzl Tikka Headlamp comes around the middle of the pack in terms of pricing for head torches. For the money, it offers a huge bang for your buck and provides an awesome amount of power for the compact size and weight. You really can't go wrong here for the price and it's a sound investment for any kind of adventure kit.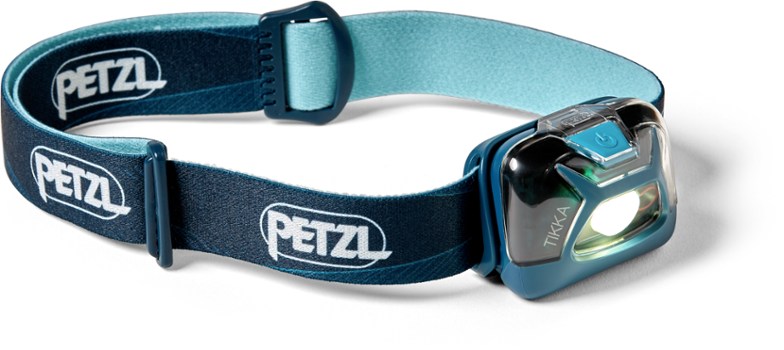 Alternatives To The Petzl Tikka Headlamp
In terms of competition, there are a few contenders to look at at either end of the scale.
At the lower end, there aren't too many options. The Petzl Tikkina Headlamp is around $10 cheaper and offers many similar features as the Petzl Tikka Headlamp, however, it only offers 250 lumens, the max beam distance is 5m less and weighs the same.
At the other end of the scale, you've got the impressive Petzl Swift RL Headlamp that comes in at a massive $119.95! For that, you'll get 900 lumens and a whopping 150m beam! However, it does weigh more at 100g and it's overkill for most camping and backpacking adventures!
Down the middle of the pack, you've got the sleek looking Petzl Tikka Core Headlamp that is priced at $59.95. This little beast packs 450 lumens, a 75m beam and weighs just 84g. However, the price will probably put off casual head torch users and it's more power than needed on a campsite!

Our GREATEST Travel Secrets…
Pop your email here & get the original Broke Backpacker Bible for FREE.
Petzl Tikka Headlamp Review: Final Thoughts
So, there we have it! Our Petzl Tikka Headlamp review has come to an end! Hopefully, you know a bit more about the different features of head torches and how useful it is to pack one instead of relying on your pitiful and cumbersome mobile phone light!
At less than $30 you can pack this little powerhouse away for whenever you need it, you'll hardly know it's in your bag but we can guarantee there will be a time on any adventure trip where it will come in super handy… it might even be a lifesaver! For such a small investment you really do get a top-quality bit of kit with some great functions, features and versatility!
Looking for some accessories to go along with the torch? Check out the Petzl CORE rechargeable battery as well as the Petzl Noctilight Headlamp Case which is great for making the torch even more adaptable on camping trips.
---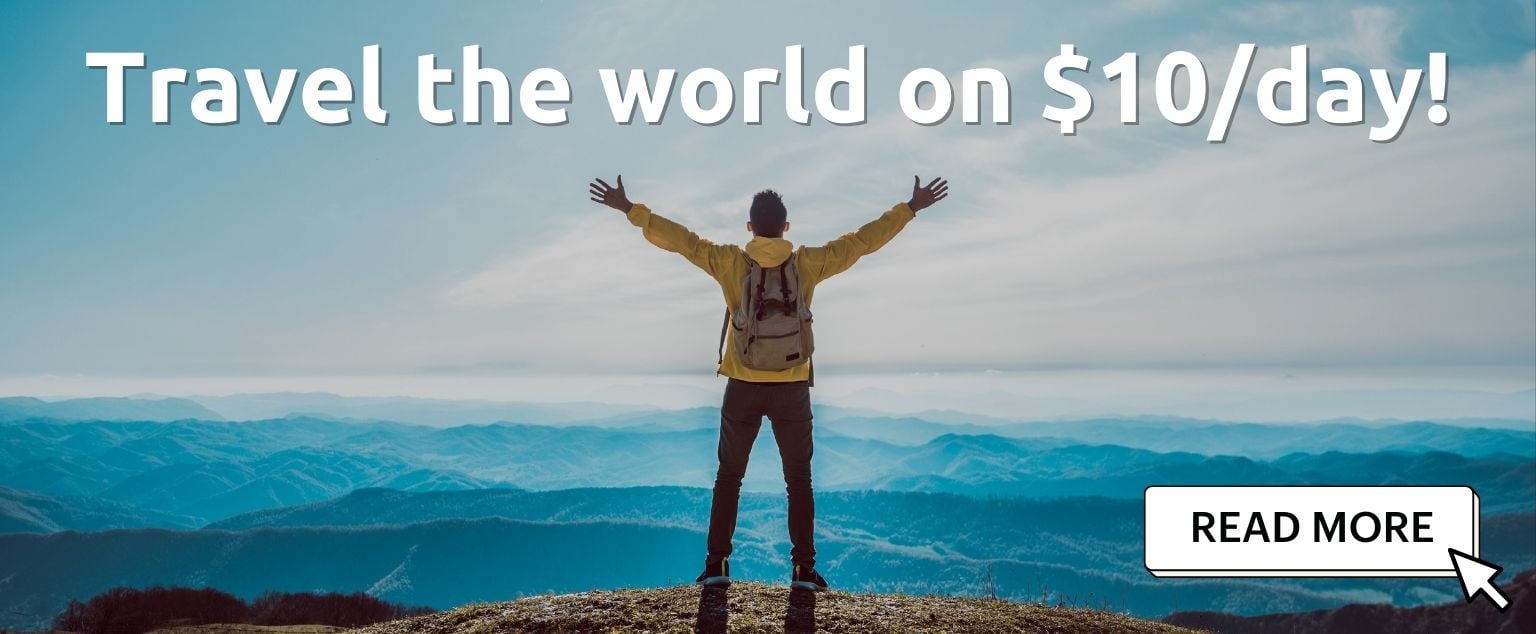 And for transparency's sake, please know that some of the links in our content are affiliate links. That means that if you book your accommodation, buy your gear, or sort your insurance through our link, we earn a small commission (at no extra cost to you). That said, we only link to the gear we trust and never recommend services we don't believe are up to scratch. Again, thank you!