Why Go Backpacking in Nepal
For such a small country, there is so much to do and see in Nepal, especially if you are trekking through the national parks!
Generally, backpackers stick to these regions: Pokhara and the nearby Annapurna Region, and Kathmandu, Kathmandu Valley, and the Everest Region. You can also trek the Langtang Region for a minimal permit fee.
Mustang and Manaslu require hefty permit fees (hundreds of dollars) but are supposed to be incredible. Many backpackers also make the trip to Chitwan National Park to see rhinos and elephants.
You can also find several yoga retreats in Nepal and meditation retreats in Nepal which offer the perfect way to relax and rejuvenate.
Fully immerse yourself in the culture by involving yourself in some of Nepal's festivals that are not to be missed.
Below I have mapped out a few itineraries for backpacking Nepal: two focus on the Kathmandu region and the other focuses on Annapurna and Pokhara. I have also mapped out which treks work best for each respective itinerary.
Nepal 2-Week Backpacking Itinerary #1: Kathmandu Valley and Langtang
If you only have 2 weeks in Nepal, but still want to hike in the Himalayas, I highly suggest trekking in the Langtang region, a rewarding trail with minimal crowds and epic views. Plus, it only takes 7 days. You can then add on the rest of this itinerary, though it will be a bit rushed.
If you are flying into Nepal, you will more than likely start your trip by staying in Kathmandu. As a city, Kathmandu gets mixed reviews. It is dusty, polluted, and a bit hectic, but in my opinion, it's nothing compared to cities in neighboring India. There is still plenty to do and see in Kathmandu, and it's a good place to get ready for a trek in the Everest of Langtang Region.
From Kathmandu, you can visit several beautiful towns in the Kathmandu Valley. I'm talking beautiful temples and delicious food all day every day!
I recommend checking out Bhaktapur and Patan just outside the city. Bandipur and Gorka are two more great towns to visit not too far out. Kathmandu and the valley can easily keep you busy for a week or more, especially if you are interested in Nepal's history. While this area was heavily affected by the 2015 earthquake, you can still get a good sense of how incredible the squares and temples were (and, in many ways, still are).
Nepal 4-Week Backpacking Itinerary #2: Kathmandu Valley + Trekking
You will most likely land in Kathmandu. Spend a couple days here exploring the city, and getting ready for your trek(s). The flags on the map represent the two treks mentioned below.
If you have 3 weeks or more in Nepal, you can hike the Everest Base Camp Trek or Gokyo Ri Trek. Both take a minimum of 14 days to complete.
More experienced and fit trekkers may want to allocate 3+ weeks and attempt the epic Three Pass Trek, which (as the name suggests) leads you over 3 passes over 5,000 meters, including Everest Base Camp. Due to the elevation gain and strenuous climbs, this hike is not for the faint-hearted.
Once you're back, you're going to want a few days of chilling. I suggest doing this in Kathmandu, which may not be chill, but sure is convenient. From there, you can explore the valley and all the awesome things to see in Kathmandu, essentially tacking on the first itinerary above.
Nepal 4-Week Backpacking Itinerary #3: The Annapurna Range and Chitwan National Park
The map above is meant to give you a rough idea of the Annapurna Circuit (as marked by the flags), Pokhara, Lumbini, and Chitwan National Park.
Pokhara attracts backpackers, hippies, and the crustiest of solo travellers from all over the world, as well as most of Nepal's trekkers, who are with getting ready or coming back from the Annapurna region. Most people end up staying in Pokhara for at least a week here before/after trekking in the Annapurna Region.
There are plenty of cafes and restaurants to keep you busy, unlimited amounts of good smoke, and even a very, very Nepali take on Disneyland. There are a few mean day trips in the area worth taking too.
If you are trekking in the Annapurna Region, I highly suggest the Annapurna Circuit. Catch a bus to Besisahar and just start walking! The hike takes a minimum of 14 days if you are just catching a bus from the Jomson area, as many hikers do. If you hike the entire circuit, it will take up to 22 days.
Many people add the Poon Hill trek to the end of the Annapurna Circuit, but Poon Hill can be hiked as a 3-day hike from Pokhara too.
Another popular alternative is the Annapurna Base Camp, which takes 7-10 days. Most people complete it in 9. This hike requires scaling a lot of stairs, but it takes you into the Annapurna Mountain amphitheatre; whereas, the circuit takes you around the range.
If you have 3+ weeks to trek and you're a badass, it's possible to add the base camp hike to the end of the Annapurna Circuit. You can always decide this at the end since your TIMS permit covers both trails – though tell the officials you plan to do both so they write it down.
After your trek, you're going to want to chill in Pokhara for a few days. Once you're rested, you can catch a bus south to Lumbini, which has extreme significance for Buddhists as this is where Buddha was born.
Next, catch a bus to Chitwan National Park; you can take a tour in a jeep or a walking tour! You can expect to see rhinos, elephants, and possibly even tigers in the park.
HOWEVER, it is important to remember that not tourism services in Nepal have a glowing reputation for their environmental or wildlife practices. It's important to be extremely careful when choosing to engage with animal tourism as a traveller.
From Chitwan, you can get to the border to cross into India (usually at Sonauli though you have numerous options), or you can return to Kathmandu to catch a flight out of Nepal.
Backpacking Kathmandu
Most visitors start their travels in Nepal by backpacking through Kathmandu. While not nearly as mental as the streets of Delhi or other major cities in India, Kathmandu can be pretty overwhelming. Get ready for the organised chaos and sensory overload!
There is so much to see, smell, eat and marvel at it's hard to know where to start. I recommend spending at least 3 days in Kathmandu to get over the jet lag and explore!
Head to Thamel, Kathmandu's backpacker neighbourhood. Here you will find an array of bars, shops, restaurants, hippy jazz, and most of Kathmandu's top hostels.
Hell, if your haggle game is on-point, try booking into Shangrila Boutique Hotel. You can get a double room and breakfast for a pretty cheap price!
UNESCO-protected Durbar Square is a popular place to see when visiting Nepal. It's a square filled with the history of rulers and royalty. ('Durbar' literally means palace.)
Many of the buildings around the square are actually older than the square itself; Kasthamandap is the oldest building in the valley, at three stories and made out of wood, it's one of the most attractive places in Nepal. You can easily spend a day wandering the streets, exploring the temples, people watching and enjoying a refreshing beer on one of the rooftop cafes.
Don't leave Kathmandu without spending some time at the Hanuman Dhoka. Nepal's Royal Palace has some incredible history having been founded in the 4th to 8th centuries AD and then further expanded to what it is now. You can spend a day exploring the sprawling palace and it's 10 courtyards.
Plus, it is free to enter if you have a ticket to visit Durbar Square! Sadly, the palace felt the effects of the 2015 Earthquake and some areas are undergoing repairs. Don't let this stop you from visiting though; most of the palace is now accessible and restored to its previous beauty.
Stop by Swayambhunath, one of Nepal's most incredible temples. Mobbed by monkeys, Swayambhunath is often referred to as 'The Monkey Temple'. Make friends with the locals as you explore this sprawling ancient and chaotic mixture of Buddhism and Hinduism. Perched on a hill overlooking the city, on a non-hazy day it boasts one of the best views over Kathmandu City.
Backpacking Bhaktapur
Bhaktapur was once described as the best-preserved medieval state in Kathmandu. This beautiful place was devastated by the 2015 earthquake and many buildings were destroyed.
That said, this is still one of my favourite cultural places in Nepal. Pick your way through the damage and you'll find beautiful medieval streets, incredible hand-carved temples, and artisans making cloth chiselled wood and pottery.
Stop and chat with the local craftsman and try your hand at making some traditional pottery or chiselled wood. You'll need to bring your passport with you to enter this ancient state and pay a $15 fee, which goes towards the upkeep.
Many people visit Bhaktapur as a day trip from Kathmandu, but in my opinion it's worth staying here a couple days to soak it in. This really is an incredible city!
Backpacking Lukla
For many travellers, this is the start of their Nepal trekking adventure and the gateway to the mighty Mt Everest and the Himalayas. The thrill starts on the plane ride in; Lukla is said to have 'one of the most dangerous airports in the world'. I would say it's one of the most thrilling and beautiful plane rides you'll ever experience!
At 2680 metres above sea level, there is not much for backpackers in Lukla unless you are planning to trek the Himalayas or to Everest Base Camp. For those trekking, Lukla is a great place to pick up last-minute essentials, hire a guide, adjust to the altitude and plan the next stages of your trip. There's also very limited backpacker accommodation available.
For a place to crash, check out La Villa Sherpani. it is one of the cheaper options available but again, worth booking in advance as it's often full.
Backpacking Bandipur
Welcome to a glimpse into the past. Here, time almost seems as though it has stood still. Bandipur offers a beautiful insight into what Nepal once was.
Explore the old streets on foot; there are no cars here giving the old streets a European feel. Tourism has saved many of the derelict Newari houses and buildings many of which are now cafes and lodges offering some of the best Chai in Nepal.
There are some local guesthouses that put up backpackers. The Bandipur Samira Homestay is one of the most popular.
Backpacking Gorkha
Put on the map by backpackers travelling Nepal off the beaten track and other tourists on pilgrimage, Gorkha is an extremely religious small town. Newar's here on Pilgrim often believe the Shahs living here are reincarnations of the God Vishnu.
Visit the Gorkha Durbar which used to be a palace for the Shahs and is now a popular historical site with views of the village.
Backpacking Everest
Scaling the world's highest mountain is the dream of many mountaineers. The reality is that climbing Everest is an extremely challenging and expensive endeavour – the permit alone costs $11,000!
Trekking the Himalayas to Everest Base Camp is a popular backpacker route, which is a lot more affordable and doesn't require technical experience. However, the Everest Base Camp trek is crowded and busy.
I recommend finding something a bit quieter during high season (October, November, and April) because large tracts of the Everest Base Camp trek have been trashed. (Skip ahead to the Trekking in Nepal section below to get the scoop!)
Don't fancy hiking? Treat yourself and blow your broke backpacker budget on an unforgettable helicopter tour of Mt Everest! It's a knuckle-whitening experience which will leave you grinning like an idiot for days…
Backpacking Pokhara
Often described as 'Goa in the Mountains', it is easy to fall in love with this small town surrounded by mountainous scenery. Escape the hustle and bustle of Kathmandu and take some downtime to chill out and relax before venturing into the mountains. I would recommend spending around 4 days exploring Pokhara.
Most Nepal trekking adventures start here; Pokhara is the gateway to the incredible Annapurna Circuit Trek. At the local bars, you'll bump into plenty of backpackers finishing or starting the trek. Check out the Silk Road and the Busy Bee for good company, good food, and cheap beer.
There's more to visiting Pokhara than just the initial chilled-out vibe; it also caters to those looking for adrenaline-packed adventures. Arguably, it's one of the most beautiful places in the world to jump off a mountain and sail through the air – paragliding is hugely popular here.
For those needing more adrenaline, Pokhara is surrounded by some beautiful white water rivers so grab your kayak! After all the adventure, grab some beers, your camera, and head to the lake to catch the sunset, it's a perfect way to end the day.
One of my favourite past times in Pokhara was catching one of the nightly movies at the Movie Garden, which had a wonderful atmosphere and projector screen under the stars. Or at the restaurant Blind Tiger, which offered free movies while you eat!
Another great excursion you can set up in Pokhara is a rafting expedition. You can book anything from a half-day to two weeks! There are plenty of tourist shops in town, so bring your haggle game. The best time for white-water rafting and kayaking is after the monsoon season in September and October.
Backpacking Lumbini
Lumbini is the birthplace of histories most loved and respected figures. This is where Siddhartha Gautama (Buddha) was born. It's unsurprising to learn that this beautiful town attracts those on pilgrim from all over the world. The town is also protected by UNESCO and was one of the most humbling places I visited on my travels to Nepal.
Check into the Siddhartha Guest House and spend at least one night here exploring the fascinating town and making the overnight bus worthwhile. If your haggle game is strong, you can expect to pay around 250 Rupees per night! If that's full, check into Ananda Inn where you can get a room for $25.
The highlight of Lumbini is definitely the beautiful Maya Devi Temple. Learn about the birth and rise of 'The Buddha' while marvelling at the beautiful architecture and carvings surrounding the temple.
Backpacking Chitwan National Park
Arguably one of the world's most successful protection sites for rhinos, Chitwan National Park is a wildlife lovers paradise. Granted World Heritage Protection in the 1980s Chitwan is home to tigers, rhinos, birds, elephants, and many more incredible animals.
Often, it is a bit too pricey to stay in the luxury lodges around the national park, so most backpackers head to the small town of Sauraha close by and check into the Chilax House – a private double room is $3 a night.
Spend at least two full days exploring Chitwan National Park. If you are an animal lover like me, you'll be here a lot longer. Trek through the bush in search for some of the rare and protected wildlife or hop in a dug-out canoe and get up close and personal with alligators and the local bird life.
Chitwan is an experience you will not regret whilst backpacking Nepal. Elephant tourism is popular here in Chitwan and whilst some sanctuaries care for the elephants well, do your research before booking experiences with elephants. Not all of them are so upstanding.
And if you are engaging with the elephant tourism, seriously, do not ride on them.
Backpacking Bardia National Park
Often described as Chitwan 30 years ago before a high influx of tourism, Bardia is very dedicated to the protection and conservation of the wildlife in Nepal. The park itself protects 968 square kilometres of forest and grassland as well making up one of the largest stretches of tiger habitats in all of Asia.
It's a long journey here but totally worth it to have a more chilled out, off the beaten track, wildlife experience when compared to Chitwan.
Getting Off the Beaten Path in Nepal
It's not hard to get off the beaten track in Nepal – not even a little bit. There is still sooo much untracked ground and so many villages that simply never see tourists.
The truth about Nepal's monster hits – the Annapurna Range, Everest Base Camp, and many of the other treks requiring special permits – is that it's all kinda touristic these days. The last decade has seen Nepal shoot up as an accessible adventure travel destination resulting in a boom for its tourism industry.
While they all are phenomenal trekking adventures, none are as strictly 'into the unknown' as they used to be. These days, even summitting Mount Everest is more a mark of how much disposable income you have rather than your actual prowess as a mountaineer.
But that's the tourist mumbo-jumbo. What about the real Nepal?
Man, west Nepal is fucking crazy. It's easily as maddening as some of the most remote areas of India (in the best way possible).
The same can be said of areas in the east of Nepal. Once you get outside of the central belt spanning from Pokhara and the Annapurna Range over to Everest in the east, things become a lot more rural and inaccessible.
If you want to travel off the beaten track in Nepal, stay away from the major and expensive treks. Look for off-beat natural wonders that get overlooked (understandably so) in exchange for the majesty of the Himalayas. Even the journey there will be one to remember – crossing through rural Nepal is often as much of an adventure as any 16-day trek.
Need a jumping off point? I know of an ancient and pristine lake in the west of Nepal. It's called Rara: go find it.
Wondering what some of the coolest activities in Nepal are? Here are my top picks!
1. Trekking in the Himalayas
There is no question that trekking in the Himalayas is a highlight to anyone's Nepal trip. There are so many options as well! Everest Base Camp and the Annapurna Circuit are the most popular, but there are plenty of well-marked trails with far fewer people.
I recommend picking up a Lonely Planet: Trekking in Nepal copy to start researching which hike is best for you!
2. Explore Kathmandu Valley
There are many beautiful old cities to explore in the valley with ancient temples and squares.
3. Participate in a Homestay
There's no better way to really embrace Nepali culture whilst backpacking Nepal than staying with the locals. You'll often find yourself being invited to stay with the locals when travelling the rural areas and the hiking regions. Take the offer; not only is it a free bed and some awesome company, but it will be the highlight of your backpacking trip to Nepal… it certainly was for me!
4. Go White Water Rafting
I do love a good adrenaline kick and white water rafting in Nepal certainly has it! With numerous river systems, there are plenty of opportunities to jump in and go canyoning and rafting in Nepal. Whether you take a guided rafting trip or for the more experienced, jump in a solo kayak, you'll be in for a thrill!
Many tours run multi-week excursions where you camp along the river banks!
5. Live it Up in Thamel
Shopping, drinking, smoking, partying, or cheap accommodation, Thamel has it all! Known for being incredibly backpacker-friendly, you'll be able to snag yourself a deal here for pretty much anything.
Also, it's great to find some smoke and a good party… It's a must-visit place to check out on your backpacking Nepal adventure!
6. Track Rhinos at Chitwan National Park
There are few places left on Earth that you can see rhinos so easily.
7. Hang out at Phewa Lake in Pokhara for Sunset
Whether you hire a man with a boat or grab a few beers, a few mates, and chill, get yourself on the lake for sunset.
Back in the day, most Nepali accommodation was family-run guesthouses. These are still around and offer a great chance to meet a local family. Backpacker hostels have now started to pop up in the tourist hotspots too, like Pokhara, and there's a lot of cool places to stay around Nepal.
There is some incredibly good value Airbnb options in Kathmandu and Pokhara. On a recent visit (April 2017), I scored a kickass Airbnb apartment in Kathmandu, in an awesome location, with A/C, a balcony overlooking the street (which was the highlight of the room), and lightning-fast WiFi for $16.
You can pick up other Airbnb apartments for as little as $9, so if there's two of you, Airbnb will be cheaper than a hostel. Most of the hostels in Nepal fall in the $4 – $7 range for a dorm bed.
If you're doing some trekking it'd be a good idea to pack some solid outdoor backpacking gear and sleep outdoors for free!
The Best Places to Stay in Nepal
Travelling in Nepal is easy to do on a broke backpackers budget, especially when you move out of the cities and into the rural areas. Follow a few basic budget backpacking tips, and you'll be fine. Even without them, you won't spend that much money.
I spent on average around $20 a day in Nepal. Sometimes a little more when opting for a cheeky smoke along the way. It could be done for less if you camped out everywhere, and only eat street food, which is certainly an option.
Assuming you are staying in homestays or local guesthouses, taking the local bus instead of the tourist coach, hiring a local guide, trying the local delicacies and occasionally splurging for an awesome activity, you can expect to spend no more than $40 a day. Honestly, that might be quite a hard amount to spend in Nepal! I would say $25 a day is a very comfortable backpacker budget.
If you are trekking between tea guest houses, there really isn't a need to hire a guide, especially in the Annapurna region. You will stay in local guesthouses and eat at them too. Always haggle and offer to eat dinner and breakfast at the guesthouse in exchange for a free bed. This works, however, usually only in less-touristed areas or during the off/shoulder season.
I spent about $20 a day on the trail, though $25 is a safe budget. Food is more expensive, but that's also all you are buying. I could have spent less if I'd eaten less apple pie, but many people spent more (if you're ordering meat and yak steak more frequently).
The more remote you are, the more expensive the food. There are no ATMs on the trail, so budget $30 a day just in case.
A Daily Budget in Nepal
Money in Nepal
Asia is great for making us broke backpackers feel loaded! Nepal certainly doesn't disappoint. $1 = 133 Nepali Rupee (December 2023) – pretty awesome huh?
Easy to confuse with the Indian Rupee, the Nepali Rupee is a closed currency meaning you can't obtain it before arrival. If you are coming from India and have some Indian Rupee these can be spent in Nepal, but try to avoid large notes and expect your change in the local currency.
Entering by air? The best currency to bring is the US Dollar; it's easy to exchange and you'll need USD to pay your visa fee anyway.
When exchanging your money, try not to have too many 1000 Rupee notes. Yes, it might make you feel pretty cool but you may have a hard time spending them. Many local shops, rickshaws, and taxis will simply not have enough change to give you when you hand this bad boy over.
Cash machines are widely found in the major tourist areas such as Pokhara and Kathmandu, however, many of these charge pretty insane withdrawal fees. It's advisable to avoid small ATM transactions and get out a bunch of cash at once – just make sure you hide your money well!
Try to use ATMs that have security guards or look like they are in telephone boxes. It's not because the streets are a big bad place, but it just keeps you and your money extra safe and away from the attention of pickpockets.
Once you head into the rural areas don't expect ATMs in the villages. Carry cash with you, just enough for what you will be doing and a hidden backup stash in case of delays.
Travel Tips – Nepal on a Budget
Here are my top tips for backpacking Nepal on a budget!
Ultimately, Nepal really isn't expensive to travel SO LONG as you keep a wide berth from the majorly touristy stuff. Trekking passes, adventure activities, and just sticking to the haggle-free accommodations and restaurants is going to result in a rather unnecessarily expensive trip to Nepal.
Never Stop Haggling – Look, it's not that the Nepali people aren't beautiful, but it's still Asia. Know how to haggle and know how to haggle well or you'll get taken for a ride. Ain't no one gonna charge you the local price upfront!
Eat the local delicacies: Food is part of the experience after all! And with the local delicacies being so delicious and super cheap, why would you not? Plus, supermarkets are not so easy to find…
Stay with new friends: When you meet some awesome locals while hiking and they invite you in for a cup of chai/rice wine and offer you a mattress, take it. It's a massive compliment for the host (your new best friend) and also a free bed! Plus, it's an amazing experience you'll look back on forever.
Keep it Local: Where possible, drink the local beer and eat the local delicacies. For day trips, try to use local companies and guides. By using local companies you can haggle a bargain price that larger, international tour operators won't offer. Plus, supporting local businesses is awesome!
Be Your Own Guide: Unless you are super unfit you really don't need porters, mules, and guides for most of the trekking routes in Nepal. All you need is a map, a quality hiking backpack, and some motivation and you are good to go. Trekking without a guide/porter will save you up to $25 a day!
Hitchhike: Take a break from the overcrowded taxies and chaotic buses. Wave down that pimped out lorry and jump in! Hitchhiking in Nepal always guarantees an adventure and a new friend. Hands down, it's my favourite way to travel Nepal… and it's free! (Usually.)
Why You Should Travel to Nepal With a Water Bottle?
Plastic washes up on even the most pristine beaches… so do your part and keep the Big Blue beautiful
You aren't going to save the world overnight, but you might as well be part of the solution and not the problem. When you travel to some of the world's most remote places, you come to realise the full extent of the plastic problem. And I hope you become more inspired to continue being a responsible traveller.
STOP USING SINGLE-USE PLASTIC!
Plus, now you won't be buying overpriced bottles of water from the supermarkets either! Travel with a filtered water bottle instead and never waste a cent nor a turtle's life again.
Centred around the summer monsoon, Nepal has four seasons. They are all important to consider when making the decision to backpack Nepal. No doubt the mountains have attracted you here – you don't want to rock up in the wrong season only to find the Himalayas hidden by haze and cloud.
Overall, the better time of year to visit Nepal is late September through late November (Autumn). This tends to be peak season for visitor though.
Expect optimal viewing of the mountains and great trekking conditions with less pollution, however, there'll also be heaps of mosquitoes to keep away thanks to the monsoon rains, but also the crowds and prices to go with it. This is also the best time to go rafting.
Want more specifics? Let me break down the rest of the year for you amigos planning to backpack Nepal…
Festivals in Nepal
Nepal is chock full of festivals, religious shindigs, and just straight-up bangers! If you happen to be visiting Nepal at the right time of year, here are some of the festivals to keep an eye out for (not that you can miss them):
Maha Shivaratri (February): Devout Hindus bathe early in the morning and fast throughout the day, visiting local Shiva temples. The best place to witness the festival is at the Pashupatinath Temple of Kathmandu, where thousands of Sadhus (Hindu holy men) smoke marijuana and hashish. People also drink Bhang, a drink made by mixing ground nuts, spices, herbs, and extracts of marijuana into milk.
Holi (March-April): Holi is a very colourful and playful Hindu festival where people smear coloured powders on everyone in the streets. This is an excellent festival to partake in while backpacking Nepal.
Nepali New Year (April 14th): A particularly lively place to spend the day is Bhaktapur, where the Bisket Jatra festival takes place. A huge chariot carrying the god Bhairab is pulled through the streets, ending with a tug-of-war chariot battle in one of the squares.
Buddha Jayanti (April 29th): Buddha's birthday is observed at Buddhist shrines and monasteries throughout Nepal, but a particularly grand ceremony is held at Buddha's birthplace in Lumbini.
Rato Machchhendranath (May-June): This is Nepal's longest and largest festival, held in Patan, to welcome the monsoon season. A large chariot is used in a procession all throughout Patan.
Dashain (October): Dashain is the most important festival to Nepali people, where they celebrate good prevailing evil. People return to their home villages and spend the fifteen-day festival with their families.
Tihar (November): In each of the three days, a different deity is worshipped: on the first day the crow, the messenger of Yama; on the second, dogs; and on the third, the goddess Lakshmi is worshipped by lighting houses with oil lamps, candles, and colourful lights.
What to Pack for Nepal
Nepal is a pretty religious place and the presence of the two main religions, Buddhism and Hinduism, are felt everywhere. Conservative dress is the best option to avoid unwanted attention. Basically, just wear what you would back home on a casual day: jeans and T-shirts (that cover shoulders) are widely worn throughout Nepal.
That being said, the touristy areas are pretty used to Western clothing. If you're coming from India, you'll immediately notice how much more relaxed Nepal is about dress. Still, don't wear anything too revealing, and always cover up in loose clothing from shoulders to knees at temples.
On every adventure, there are six things I never go traveling without:
For plenty more inspiration on what to pack, check out my full backpacking packing list!
Nepalese people are friendly and always willing to help. Nepal is a safe country to travel in. As always, keep an eye on your valuables, especially in Kathmandu or when a bus is unloading.
I walked around at night in Kathmandu and Pokhara with no issues, however, be on your guard late at night or have a couple of buddies. This is just common street smarts! The basic rules of safe travel will be more than sufficient in Nepal's urban areas.
If you are trekking in Nepal, you must be aware of the symptoms and consequences of Altitude Sickness. People die from altitude sickness in Nepal every year! Truthfully, it affects people different, and often has nothing to do with physical fitness. Make sure to acclimatize on the trail, and descend whenever you have any symptoms.
The mountains have a mind of their own. Even on popular treks you need to be aware of the potentials of avalanches and snow storms. The chances of this heavily increase during winter, especially in January and February. Don't hike during monsoon season (June – August).
I strongly recommend travelling with a high-quality headlamp whilst in Nepal (or anywhere really – every backpacker should have a good headtorch). This is especially important on the trails; you will inevitably have a couple of days where you hike before the sunrises or have to walk around in the dark. Moreover, power outages are frequent in Nepal!
Sex, Drugs, and Rock 'n' Roll in Nepal
Backpacking Nepal is not complete without a party, Nepali style. Expect plenty of homemade raksi (insanely strong rice wine), karaoke, dancing, and copious amounts of hash.
Alcohol is widely accessible and you'll be able to find a happy hour in the bars of Thamel. However, the party really starts when you venture out of the cities, meet the locals, and get invited to some rowdy house party, which I had the pleasure of experiencing a couple of times…
Alcohol is widely available in the big cities, but once you move into the more rural areas don't expect to find imported beer. Raksi is a popular homebrewed alcohol, which tastes more like vodka with the strength of absinthe: all the great ingredients for a rowdy night.
The Hindu paint throwing festival of Holi is probably the greatest party I have ever been to and if possible you should try to make sure your visit coincides with Holi!
Drugs in Nepal are of course illegal, but this is a fairly recent event and up until the 1970s, marijuana was legal. However, it is pretty common for guys in the street to approach you with a tempting offer in your ears as you wander the streets of Thamel. Be careful what and who you buy from; the police are cracking down hard on tourists using drugs, especially in the cities.
Rural Nepal has some of the best – and cheapest – weed in Asia. Ten grams of pollen usually runs for around 1000-2000 rupees while a tola of hash will run from 2000-3000 (though it varies wildly depending on the season, where you are, and who you buy from).
A general rule of thumb to buying drugs while travelling – and this applies to most places in Asia – is to not buy from locals (as shitty as it is to say that). Stick to backpackers and other travellers who go to the mountain villages to buy the primo quality in bulk and then return to town to sell it on. You're less likely to get ripped off (or, at least, you won't be ripped off as much), and it's much less likely to be a sting (not that undercover Nepali cops are exactly subtle).
Nepal is a relatively traditional country and although I did have a couple of instances where girls were making eyes at me, it's hard to approach as usually young women are out with a chaperone – their mother or brother! My mate Aiden went on a date with a Nepalese girl, and to his surprise, she brought her brother along for the ride!
Travel Insurance for Nepal
Traveling without insurance would be risky so do consider getting good backpacker insurance sorted before you head off on an adventure.
I have been using World Nomads for some time now and made a few claims over the years. They're easy to use, professional, and relatively affordable. They may also let you buy or extend a policy once you've started your trip and are already abroad which is super handy.
ALWAYS sort out your backpacker insurance before your trip. There's plenty to choose from in that department, but a good place to start is Safety Wing.
They offer month-to-month payments, no lock-in contracts, and require absolutely no itineraries: that's the exact kind of insurance long-term travellers and digital nomads need.
SafetyWing is cheap, easy, and admin-free: just sign up lickety-split so you can get back to it!
Click the button below to learn more about SafetyWing's setup or read our insider review for the full tasty scoop.
Nepal is perfectly sandwiched between India and Tibet, and also shares borders with Bhutan. Many travellers will enter Nepal overland after backpacking in India. With visas now being available on arrival, entering overland is super easy.
There are plenty of tour companies in India offering transfers to Nepal; however, you can easily get yourself there by bus. Taking the train or bus? I recommend the overnight service and trust me, it's worth splashing a little extra for A/C and a bed…
It is increasingly difficult to enter Nepal overland from China, as you have to pass through Tibet. It is impossible to enter from Bhutan unless you are on an organised tour.
For those backpacking Nepal without the luxury of time, the best way in is to catch a flight to Kathmandu. There are flights with the likes of Etihad (via Abu Dhabi), Jetstar (via, Delhi), Delhi Airlines, and an ever-increasing number of other airlines.
I found the best deals to Nepal with Jetstar and Air Asia. Both are indirect, but the layover connections are good and fast!
Most flights will land in Kathmandu, and from here you can fly or bus to other parts of the country, such as Pokhara and Lukla.
Entry Requirements for Nepal
The cost of a visitor's visa into Nepal will range from $30 – $125 depending on your nationality and the length of the visa you require, which really isn't bad compared to outrageously expensive India…
Immigration is beginning to take overstaying your visa slightly more seriously. If you do overstay you will be charged around $5 a day and you will be detained until you are able to pay. Thankfully, to extend your visa it's just a quick visit to the Nepalese Department of Immigration at Kalikasthan, Kathmandu.
Visas for Nepal are easy to get: you can obtain a 30, 60, or 90-day visa on arrival and almost any nationality is able to get the visa on arrival… Just bring USD! They will only accept USD at the border, and if you don't have dollars you will have to exchange whatever you do have for a bad exchange rate.
You can extend a visa up to 90 days while you are in Nepal, but it is cheaper to get a longer visa on arrival. If you know you are staying in Nepal longer than 30 days, get it sorted at the border.
Travelling Nepal is definitely its own adventure. Get ready for narrow roads, intense traffic, musical horns, and some of the best views in the world!
Nepal has numerous transport options and incredibly friendly locals helping you to explore the country. The bus network is getting better and for long-distance, they are a great way to get across the country!
Most backpackers will opt to travel Nepal via the long-distance bus network. Buses in Nepal are cheap and with so many 'companies' offering rides, even some of the most remote and rural areas are becoming more accessible. Micro/Minibuses are perfect for those short on time.
The drive from Kathmandu to Pokhara will take anywhere from 6-12 hours! There is a lot of construction on these single-lane highways, so be preferred for traffic jams.
Minibuses tend to be new, with good brakes, A/C and will hold a comfortable maximum of ten people. Although the drivers will often cram far more people in to make as much money as possible from one trip.
Alternatively, hop on a tourist coach if you have a bit more time and want to stop along the way. I recommend using 12Go to book tourist coaches online. They take longer than the minibuses but will stop along the way and trust me, you'll want to stop for some of the views. Or at least to take a break from the windy roads…
For those short on time, domestic flights are a great way to explore a country and Nepal is no exception. However, domestic flights in Nepal are notoriously unreliable due to changing weather conditions so try to be a little flexible!
Easily organised in the country, your accommodation can often book flights for you. Make sure to grab a window seat so you don't miss out on the spectacular views, especially if you are taking the flight from Kathmandu to Lukla! Be warned though, tourists pay a hefty extra cost on domestic flights.
Taxi: Definitely not a rarity in the city, and you'll be asked if you need a ride before you even start looking. Just be sure to use a metered taxi or haggle and agree on the price before you get in. Nepali taxi drivers have a reputation of touring you around town and offering to take you to friends shops promising good deals for an extra cost.
Be firm with directions, keep your GPS out, and if you feel uncomfortable stopping somewhere, tell them. Often, Nepali taxi drivers will agree to take you even if they don't know where you're going (and, often, they'll tell you they know where they're going even though they don't). Try to have the address in Nepali available and don't panic if the driver stops to ask people for directions.
Not for the faint-hearted, motorbikes are becoming an increasingly popular way to explore Nepal. With a motorbike, you have a lot more freedom and will see a side of the country that is completely inaccessible if you are travelling by bus.
Best of all, motorbiking Nepal can work out pretty damn cheap as you can simply sell your used motorbike to another backpacker at the end of your trip. That being said, it is much cheaper to buy a bike in India and drive it over the border. Just make sure to have the right paperwork!
The road quality in Nepal is questionable with many tight corners and heavy traffic. Driving is definitely for experienced bikers. While backpacking Nepal I was a passenger on the back of many motorbikes and only drove my own bike in Pokhara.
If you are an experienced driver, travelling Nepal on a motorbike will be an awesome adventure, but if you're new to real motorbiking then Nepal is not the place to learn. Also, consider packing a solid motorcycle tent to reduce your travel costs and take that unrivalled freedom one step further!
Hitchhiking in Nepal
Backpacking Nepal can be made an even more unique experience if you hitchhike!
Hitchhiking in Nepal is incredibly easy and believe it or not, incredibly common. This is a popular method for locals to get from place to place so of course while I was travelling Nepal I had to give it a go. I hitched my way all over parts of Nepal, and managed to catch a ride even when in the middle of nowhere.
The thumbs up method we've all see in movies works in the main tourist areas such as Pokhara and Katmandu. Venture into the more rural areas and locals will attract the attention of oncoming cars and trucks by a waving motion with one arm.
It never takes too long to catch a ride in Nepal. Most people will stop out of curiosity or concern, and inevitably – after asking some questions – offer you a ride. It is rare buses will stop to offer you a lift when hitchhiking in Nepal. The majority of your lifts will be in cars, trucks, and lorries.
Don't always expect a seat. Often when I'm travelling by hitchhiking, I sit in the back of a pickup truck. The views from the back of a pickup are pretty epic though… particularly in the Himalayas!
While hitchhiking in Nepal I was only asked for money a handful of times. The best way around this is to explain you have none before you hop in. A Nepalese phrasebook was my godsend when hitching; once away from the tourist trail, many people do not speak English, but will still try to chat to you anyway… so it's more fun when you have a rough idea of what's being said.
Onwards Travel from Nepal
The only international airport in Nepal is in Kathmandu, and it is small! Given its small stature, it's pretty common for flights to be delayed. Furthermore, with unpredictable mountain weather, internal flights can be cancelled at a moment's notice.
There are several border crossings between India and Nepal. They are all relatively hassle free, but you need to apply for an India visa beforehand.
It is increasingly difficult to cross into China because of the strict visa process for Tibet, but as this guide to travelling Tibet shows, your best bet is choosing a trip where you fly from Kathmandu and return from Lhasa overland.
You cannot cross into Bhutan unless you are on a tour. However, travelling Bhutan is a very special experience and not one to overlook just because of the associated challenge.
People most certainly work in Nepal, however, the wage is going to understandably be pretty dreadful. I've met foreigners working with NGOs around Nepal, however, they tend to be more there for the cultural experience of aiding a developing nation (or the cheap smoke).
Volunteer in Nepal
Volunteering abroad is an amazing way to experience a culture whilst helping your host community. There are plenty of different volunteer projects in Nepal including teaching, construction, agriculture and pretty much anything.
Volunteering is much more common in Nepal than working and there are absolutely bloody LOADS of young, backpacker volunteers in Nepal. If you ever fancied teaching novice monks to speak English, then this is your chance. Note that there are also some animal projects in Nepal but these have very mixed reputations so we do not advise getting involved.
Worldpackers
I've heard good tales from fellow travellers volunteering in Nepal and I've heard bad ones – be savvy! I would highly recommend using a reputable platform to find volunteering opportunities: I suggest joining the Worldpackers community. They're an awesome crew doing awesome work PLUS Broke Backpacker readers get a mean discount on the sign-up fee simply by entering the code BROKEBACKPACKER!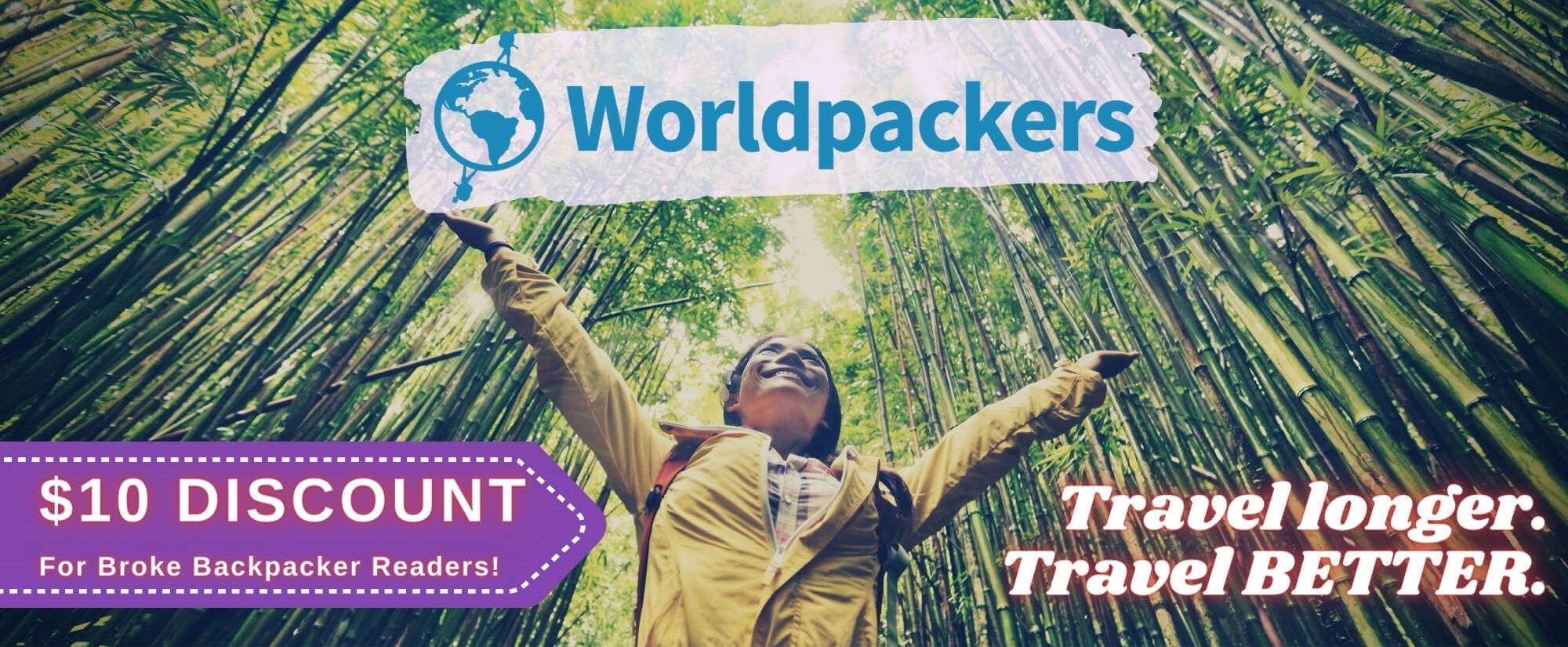 Worldpackers: connecting travellers with meaningful travel experiences.
Workaway
Alternatively, Workaway is another excellent common platform used by travellers searching for volunteering opportunities. Workaway is pretty massive, with over 40,000 hosts registered (that's 40,000 opportunities) and over 350,000 reviews on the site. With a database base that big, odds are you'll be able to find something that strikes your fancy. You can read our review of Workaway for more info on using this terrific platform.
Volunteer programs run through reputable work exchange programs like Worldpackers and platforms like Workaway are usually very well-managed. However, whenever you are volunteering do stay vigilant, especially when working with animals or children.
Global Work and Travel
Last, but certainly not least, Global Work and Travel is another viable option for finding volunteer opportunities in Nepal. What sets Global Work and Travel apart from other volunteering platforms is the amount of assistance they give, from a 24/7 global help-line, help with VISA processing to airport transfers and continued support once you are in Nepal. It may be a smaller platform, but the projects you'll find are high quality and immaculately organised. There are new programs and opportunities listed constantly as Global Work and Travel continues to grow its reach.
For those interested in volunteer work in Nepal, Global Work and Travel offer two projects; one where you'll get to choose between teaching English or working in a monastery or an orphanage. There are options to stay anywhere from 2 to 12 weeks with weekends off. As with all volunteer abroad programs, there's a cost, but you'll be able to pay it off in interest-free instalments. Don't forget to bring your camera and make sure you are between the ages of 18-85 to qualify!
Digital Nomads in Nepal
Finally, aspiring digital nomads may find a place for themselves in Nepal. The internet is ass-gravy – there's no other word for it – BUT it's not so ass-gravy as to disallow an online job. It can chug, it can drop out, or the power can cut, but 7-8 times out of 10, it'll do the job though (at a very typically Nepali tempo).
That's in metropolitan areas like Pokhara or Kathmandu though. Once you're out in the mountains or villages, you're looking at more of a 2-3 times out of 10.
Nepal is a country made up of people from different backgrounds and ethnicities and this is reflected through the food. As well as tasting amazing, Nepalese food is generally one of the healthiest South Asian food. Made using local produce, with a heavy focus on lean meat and chunky veggies and flavoured to perfection you won't be disappointed.
All that said, there are still some must-try dishes in Nepal that you really shouldn't miss out on sampling during your trip.
Popular Nepali Dishes
Unsure of where to start or what's good? Here's some must-try foods when backpacking Nepal…
I didn't really know what to expect before travelling to Nepal. As a country, it is often portrayed in the media as extremely poor, chaotic and to be a place with some serious crime problems. I fully expected that once I arrived, and at first I was constantly be on my guard to avoid being conned.
Looking back I can't believe this thought entered my mind at all. Nepalese people are extremely friendly. There wasn't a moment I felt unsafe when backpacking Nepal.
Whilst backpacking Nepal I was invited into numerous family homes; they offered me food, a free bed, and smokes while refusing to accept any form of repayment from me. Even when trekking, Nepal sherpas would offer hot cups of chai as I stumbled up endless switchbacks, much to their amusement.
Nepalese hospitality opened my eyes to just how freaking awesome backpacking Nepal is. I was never short of local friends and family who helped me explore this incredible country in such a unique way.
Useful Travel Phrases for Nepal
If you get through a trip to Nepal without picking up any phrases, I will be surprised. While many Nepalis have a great grasp of English (even some of those in the most rural of areas), they are incredibly keen to teach you some Nepali.
Whilst it is a difficult language to pick up, especially for native English speakers, grasping the basics will help you build instant friendships. Throughout backpacking Nepal, I took the time to learn a few travel phrases and it really helped with connecting with the locals.
Books To Read About Nepal
Below I've highlighted some amazing books set in Nepal. Enjoy!
A Brief History of Nepal
The history of Nepal has been influenced by its position in the Himalaya and its two neighbours, modern day India and China. It is a multi-ethnic, multiracial, multicultural, multi religious, and multilingual country.
Much of Nepal's history can be defined by a series of kingdoms and dynasties. In the 14th century one of them, Jayasthiti Malla. introduced the caste system into Nepal. Like India, this caste system ranked people by their birth family, and the system still persists to devastating effects even today in the more rural areas of Nepal.
The power of the Malla dynasty reached a peak in the 15th century. However, after his death in 1482, his kingdom was divided between his 3 sons.
For most of the 20th century, Nepal remained under the king's power, but in 1990 widespread protests led to the restoration of democracy. Nepal gained a new constitution and then in 1994 a minority Communists government took power. This struggle for democracy continues today, though generally things are much better.
In May 2008 the monarchy was abolished and Nepal became a republic. Nepal gained a new constitution in 2015. Their current Maoist communist government has made friends with their neighbor China, who is now assisting with rapid infrastructure development in Nepal. This has led to an estranged relationship with their other neighbor India, who they conduct almost all of their trade with.
Today, Nepal remains a poor country. Most of the people live off farming, tourism, and international remittances.
Trekking in Nepal is an absolute must… The country is truly incredible and boasts friendly people, stunning temples, unexplored caves ,and untapped white water rafting, however, at the end of the day, it's the mighty Himalayas and the amazing Himalayan treks that keep calling backpackers to Nepal.
Before you leave Kathmandu make sure to go to 'Shona's Alpine Rental' on Jyothi road near Thamel Chowk. It is run by a British climber and he has barrels of practical advice on pretty much all treks in Nepal. He also sells and rents trekking gear.
Make sure you have a top-notch sleeping bag if you are hiking at high elevation. He can offer more up to date advice on the rest of the equipment than I can.
On most of these hikes, you do not need to camp, but if you are trying to get off the beaten path and camp, you should bring your own gear. Although you can stay in guesthouses and buy food as you go it can be handy to pack some quality camping gear.
Never go trekking without a head torch in your pack: it can save your life Pack a filtered water bottle too so you can be sure you can drink the water without getting sick and using excess plastic, which is frankly a huge issue in Nepal.
You can buy very decent trekking gear in Nepal for a pretty good price, providing you haggle, but no matter what, bring your own hiking shoes. You do not want to break in new shoes on the trail.
Before you leave Kathmandu you must also arrange your TIMS card and pay a fee to protect the National Parks' natural beauty. Though if you are starting in Pokhara, you can arrange permits for the Annapurna region there. Treks for Mustang are arranged out of Jomson, which is on the Annapurna Circuit. You can easily arrange permits yourself the day before a hike, so do not pay a middle man.
I do not recommend hiring a guide or porter for any of the hikes listed below – unless you are particularly unfit – though many feel comfortable hiring a guide for Everest. Still, generally any of the tea house hikes are hard to get lost on. Any guesthouse in Kathmandu will happily store any gear you don't want to carry whilst trekking. This is almost always a free service.
The Everest Base Camp Trek
This trek is extremely popular and known for in your face mountain views. Imagine staring at the sheer might of Everest for several consecutive days while enjoying the crispy, minty air of the Roof of the World.
It gets busy but there are some other routes in this region that will get you more off the beaten path. Alternatively, avoid the peak seasons. It'll still be busy-ish, but it won't be as busy.
Gokyo Ri Lake Trek
This trek is becoming a popular alternative to the crowded Everest Base Camp. This 14-day trek starts in Kathmandu and takes you to the Gokyo Glacier lakes high in the mountains.
Gokyo Ri itself provides exceptional views of Everest and the Himalayas. You also get to marvel at the massive Ngozumpa Glacier and the Gokyo valley from Gokyo Ri.
Annapurna Circuit Trek
There are loads of different treks around the Annapurna range but this is definitely one of the best.
The Annapurna Circuit trek starts in Besai Sahar and officially finishes in Naya Pul. The new road has ruined part of the trek though and I recommend finishing in Jomsom to avoid the dust. Bank 14 days so you have a couple of acclimatisation days in Manang.
The trek itself can be pretty arduous so try to acclimatise. When I did this trek there was no phone signal and only basic supplies along the way, but now most villages have WiFi… how times have changed.
When in Manang, check out the awesome day treks and the little cinema for some chill time. Before you trek, make sure decide on what to take hiking and stock up on chocolate, snacks, and any clothing you need – you can buy stuff on the way but it will cost triple what it costs in Kathmandu.
You can get free accommodation everywhere if you ask around and promise to eat your meals at that guesthouse, although this usually only applies during the quieter months of March and September. Ask around before you choose which Nepal backpacking trek to go for.
Annapurna Basecamp Trek
Possibly one of the most popular multi-day hiking trips in Nepal, the Annapurna Basecamp trek puts you in (what feels like) touching distance of some magnificent peaks. Make sure to stop in Pokhara or Kathmandu before venturing onto the trail to pick up your TIMs and Permit for the track.
It's only around forty dollars for both the TIMs and the Permit and these are essential if you want to go trekking in Nepal! Easily accessible, you just need to hitch a ride to the 'starting point' which is about an hours drive from Pokhara. I don't recommend hiring a guide or a porter for this trek; the walking distances each day are not long and really an unnecessary expense, even for beginner hikers!
The Annapurna Base Camp trek starts and finishes just outside of Pokhara; you'll just have to hitch a ride in and out. Easy! The path is pretty well-trodden and due to its accessibility and year-round trekking options, you will come across people often!
I still carried a route map with me while I trekked, which came in handy when I would sidetrack off the main path… The trek will take you around 7 – 12 days to complete. It took me ten days to finish this trek, but if you are new to trekking in altitude I would plan to take the full twelve days.
There are plenty of accommodation options in the villages and mountain towns along this trek; from fancy lodges to the more popular, teahouses in the mountains. The teahouses offer hearty meals for hikers, you'll find the price and variation doesn't change much from teahouse to teahouse and the beds can sometimes be no more than a mattress on the floor. Not that I complained after a long day of hiking with achy legs!
Langtang Trek
The Langtang Trek in Northern Nepal is often overlooked and is massively underrated. What it lacks in mighty peaks, it more than makes up for with epic views and beauty. Hop on a bus at Kathmandu and make the 8 hours 'local' journey to Syaphru Besi, the official starting point of the Langtang trek.
Ensure to bring your TIMS card with you (or get one from Kathmandu before arriving) and enough money to pay the national park fee (roughly $35). This is all easy to organise on your own, and don't pay a middleman! The Langtang Trek is well marked and easily done solo rather than guided, so I wouldn't recommend hiring a guide or porter for this trek.
The Langtang Trek will finish in the small town of Dhunce and will take you around a week to complete if you avoid the day trips, which would be a mistake! There are some awesome add on routes along this trek and my favourite is the Langtang Glacier which is further up the valley.
I hired a tent from the small village of Kyanjin Gompa to spend the night here as there are no teahouses in the area and wow, it was definitely the best part of the hike!
Hearing the cracks of the glacier while star gazing in the evening was the perfect end to a few days hiking. If a Glacier is just not enough you can also scale the peaks of Tsergo Ri (4984m) and Kyanjin Ri (4773m) both round trips from Kyanjin Gompa. The Langtang track itself is a relatively easy hike; the first two days will be hard inclines but after giving yourself a break and time to acclimatise, the last stretch of the journey is relatively flat before dropping down to Dhunce.
Mustang Trek
Enter into the hidden world of Lo. Once part of Tibet, this region is relatively untouched by visitors and hikers, making it an incredibly unique hiking experience.
Expect to see some incredible ancient buildings contrasting with the surrounding unspoiled nature; there'll be plenty of opportunities to get lost in some awesome wilderness. Starting and ending in Jomson, the easiest way to get here is via a plane ride from Pokhara or a rickety bus on the worst road in the world.
Before landing, you will fly through the deepest gorge in the world, Kali Gandaki, an unforgettable entrance to what is one of my favourite hikes in the world.
The upper Mustang Trek requires permits and TIMS. These can all be arranged yourself, I wouldn't pay a middle man as the permit itself is $500 without a middle man fee!
The Mustang Trek follows the ancient Salt Caravan route and is well marked into the ground with a number of markers along the way to keen you on track. It can take up to 14 days to complete this track. I wouldn't recommend doing it any quicker or you will miss out on some incredible sights and also, the altitude is pretty intense!
Ensure to stop at some of the ancient monasteries and schools along the way, in particular the Amchi School: a place which teaches the art of traditional Tibetan medicine and keeps the practice alive! The highlight of this trek for me, however, was stopping at the oldest monastery in the world built by an ancient Tibetan magician, Guru Rinpoche. Although I am in no way religious this was an incredible experience! It's around a 5-day walk from Lo Manthang and it's close to Dhakmar.
The best time of the year to hop on this trail are the months of June to August when the rest of the country experiences a lot more rain. Throughout the trek, the accommodation will be mainly homesteads and tea houses.
If you enter a tea house and no one is around, pop your head into the kitchen. Why? Well in traditional Tibetan culture the kitchen is pretty much the centre of the house and where most people will gather…. just like what happens at house parties.
Final advice? Yeah, just be cool, homie. Nepal is pretty damn beautiful: let's keep it that way.
It isn't hard to be a responsible traveler in Nepal. Above all, treat the people with respect. If you are hiring a guide or porter, pay them properly and make sure they are well-equipped to handle the high elevation and cold.
Always give back to the local communities. You can do this by staying in local guesthouses and eating their food. Be respectful when you are visiting religious temples and sites. Make sure to cover up. I shouldn't have to say this, but don't write stuff on the temples!
If you are visiting a national park in Nepal, use eco-friendly and conscious tours. Let's try to create a more green and ethical industry in Nepal.
And speaking of being green, my least favourite part of Nepal is all of the waste and trash among such beautiful nature. While littering is sadly culturally commonplace in Asia, don't be a part of the problem.
Pack out your trash like you would at home. Reduce your plastic footprint, and bring a water filter instead. DO YOUR PART!
Backpacking Nepal has truly been one of the greatest adventures of all of my travels. You can spend years exploring the Himalayas and never get bored. You'll find it easy to meet other backpackers in hotspots like Pokhara and Kathmandu, and there's always a party and joint to share somewhere nearby.
Enjoy Nepal. I know I did!
---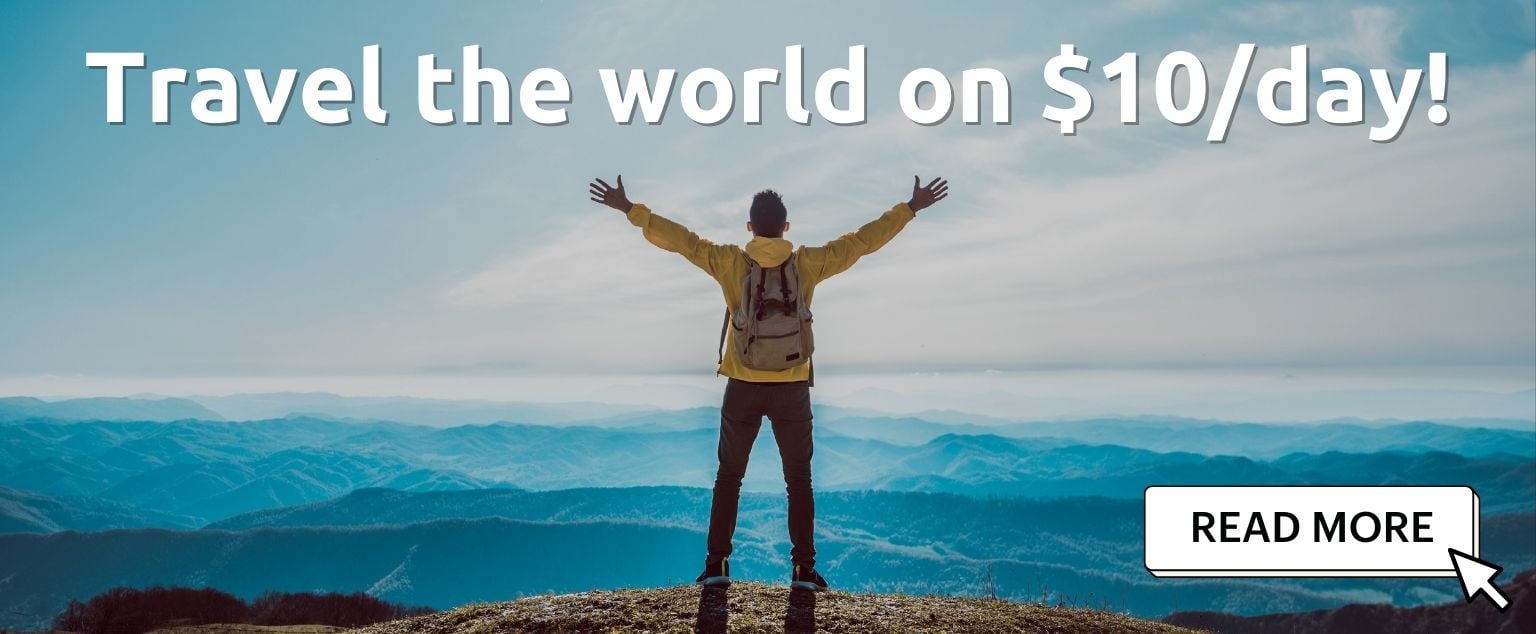 And for transparency's sake, please know that some of the links in our content are affiliate links. That means that if you book your accommodation, buy your gear, or sort your insurance through our link, we earn a small commission (at no extra cost to you). That said, we only link to the gear we trust and never recommend services we don't believe are up to scratch. Again, thank you!