Nepal is a majestic country and the birthplace of Buddhism. Nestled in the cool embrace of the Himalayas, it has been a place of spiritual wandering, soul searching, and inner healing for centuries.
People travel from around the world come to Nepal to follow the path of the Buddha, soak in the spiritual energy, and learn age-old meditation practices to help them find inner peace.
Whether you're looking to connect with yourself, with nature, or you want to deepen your meditation practices, there is nowhere better than Nepal. You'll find a plethora of meditation retreats in Nepal, and each has something special and unique to offer.
But finding the right retreat is no easy task. Everyone has their own journey to take, both inwardly and on the surface, so you're going to know what to expect and what to look for.
That's where I'm here to help. In this guide, I've not only listed the best meditation retreats in Nepal, but I've also prepared a helpful guide on what you need to look for, and how you can choose the right retreat for you…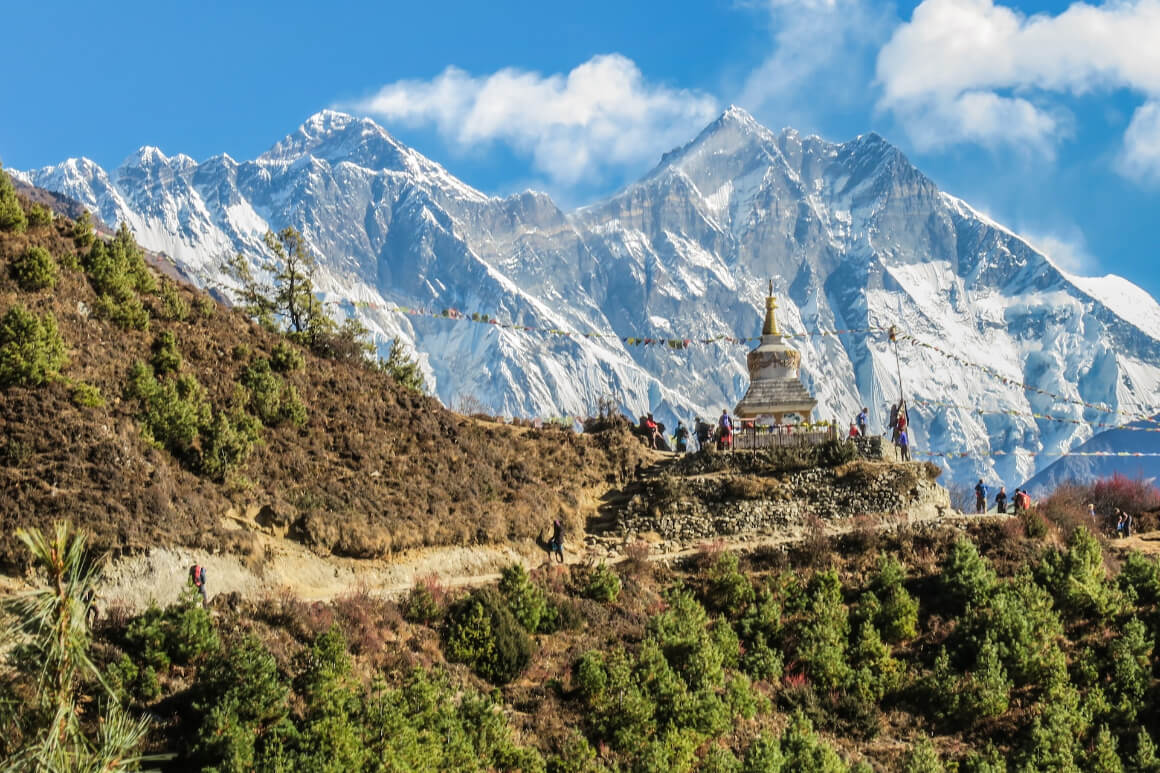 Why Should you Consider a Meditation Retreat in Nepal?
Are you feeling tired? Lacking in spiritual connection to yourself? Need some time to focus on yourself but struggle to do that in the busyness and noise of everyday life? Then it may be time to visit Nepal.
Spending time in a meditation sanctuary can have multiple benefits for people at all stages of their spiritual journey. If you're new to meditation, it's a great way to learn the skills and practices that you can take home to your daily life. If you're interested in sleep tourism, then these spots are perfect too.
If you're already experienced then a meditation retreat will give you a chance to expand your knowledge and offer suitable space for you to deepen your practice.
Whatever your skill level, you'll be in a serene setting without distractions and outside influences, so you can concentrate on your meditation journey.
You'll also learn different forms of meditation, such as yoga, healthy eating, breath work, zen, and Vipassana meditation. Your new techniques will help to restore balance to your life, heal your inner self and reduce stress levels.
What Can You Expect From a Meditation Retreat in Nepal?
You can expect a meditation retreat in Nepal to be infused with the local culture and traditions. Buddhism was founded in Nepal, and as such, you can expect to find many retreats to have a Buddhist offering.
There are three types of Buddhism in Nepal, Theravada, Mahayana, and Vajrayana, and each of these has its own traditions, practices, and history.
Most retreats offer other practices outside of meditation. Some offer one on one sessions with a counselor or psychotherapist, some offer group yoga practices, and some offer outdoor activities such as hiking to allow you to connect with nature.
You'll find most retreats are located outside of the city and in rural locations. This is to allow you to enhance the power of nature in your practice. Part of the reason to go on a retreat is to escape the hustle and bustle of day-to-day life, so you'll need to travel far out of a city to escape this.
Most retreats in Nepal offer vegetarian or vegan meals, especially if your retreat is operated by Buddhists.

Unlock Our GREATEST Travel Secrets!
Sign up for our newsletter and get the best travel tips delivered right to your inbox.
How to Choose the Right Meditation Retreat in Nepal For You
Choosing a meditation retreat in Nepal is difficult because of the overwhelming number of options. The decision isn't something that you should take lightly either. You need to think about your goals and what you want to get out of them, and then choose a retreat that will support these goals.
Decide what you want to achieve and how you want to feel after the retreat. Once you've gone through this process, you need to look at the more practical factors to help narrow down your choices.
These factors will include the duration of the retreat, your budget, the location, and what kinds of extras you're hoping to gain from the retreat.
Let's take a closer look at these factors and what to consider when making your choice.
Location
Nepal is a fairly large country, and you'll find retreats in a lot of different areas. Choosing the location is one of the most important factors to consider when choosing your retreat. If you're going on retreat as part of a larger holiday in Nepal, then try to choose a sanctuary that fits with your travel itinerary.
If you're looking for a retreat for the purpose of inner healing, then look at retreats in specific areas, such as close to the Himalayas, or in one of the national parks.
Many people travel to Kathmandu as it's the gateway to the Himalayas, but retreats tend to be a few hours drive outside the city. Another great area to look at is Pokhara, which is famous for being the start of the Annapurna Circuit.
If you want to have a truly rural retreat, head to the village of Nagarjun or Lumbini. If you want a more traditional vibe, then try looking for a retreat in the ancient city of Kirtipur.
Practices
You can get a truly authentic experience when you go on a meditation retreat in Nepal. Some retreats offer a truly authentic Buddhist experience, giving you the chance to stay in a working monastery and learn from and among monks.
You'll also find that many yoga retreats in Nepal, which is another form of meditation focused on movement and breath work. Yoga classes tend to be for every level and you'll find a wide range of yoga disciplines from Hatha Yoga, to Ashtanga or Iyengar Yoga.
Another common practice at Nepalese retreats is sound healing, which uses sound and music to enhance health and wellbeing. If you're interested in this practice, then Nepal is the ideal place to try it out.
Price
Meditation sanctuaries in Nepal range from very cheap to very expensive. Location and amenities tend to be the primary reasons for the price difference.
If you don't mind basic accommodations with few amenities, then you can find a really affordable retreat. The more expensive retreats are the ones that offer luxuries, such as outdoor pools, private rooms, three-course meals, and your entire day planned out.
Another factor that influences the price is the classes on offer. The cheaper options tend to offer one meditation session a day and lots of free time for you to do as you please. But the more expensive options offer a wide range of practices, classes, and workshops that fill your day with activities for inner healing.
Perks
You'll find most retreats offer daily meditation practices, sometimes more than once a day. But you should also consider what other perks the retreat offers. What other practices and activities does it offer to fill up your day?
Some retreats offer hiking as part of the package since Nepal is one of the best places in the world for hiking. You might also find retreats that have individual sessions, where you can receive personalized and tailored practices designed for you. Others just give you free time to explore all the popular places to visit nearby.
Some retreats also take their practices outside, with a backdrop of the Himalayas. These small little extras can have a big impact on your experience.
One of the biggest perks of going on meditation retreats in Nepal is the Ayurveda. Quite a few of the meditation sanctuaries offer Ayurvedic practices in their offering as a way to enhance your health and growth during your stay.
Ayurveda is a form of medicine that originated in India more than 3,000 years ago. It's all about healing your body and soul with food and herbs.
Duration
You can stay at a Nepalese retreat for anywhere from 4 to 29 days. Most of the retreats are held based on a specific length of time and it's not flexible when you can leave. This means you do need to figure out how much time you have to offer for a retreat before you book.
It's also not true that you can't benefit from a short retreat. You can get a lot of emotional work done in a few days. But if you really want to dig deeper, a longer retreat offers a more in-depth program and gives you much more practice.
The Top 10 Meditation Retreats in Nepal
Once you've thought about your goals, preferences, and practical factors, it's time to make your decision. To help make that a little easier, here are some of my favorite retreats in Nepal…
Are you interested in learning meditation and other Buddhist practices from someone who's made a lifestyle study of them? Then you'll enjoy this retreat in a working Buddhist monastery. It's located at the foot of the Himalayas in a village outside Kathmandu and offers some truly unique practices and experiences.
During your stay, you'll get the chance to be involved with daily meditation and yoga in the monastery as well as a day of silence and a silent hike.
This retreat is about understanding and building peace into your practices, and includes prayers and chants, discussions on what you're learning, and tasty, traditional vegetarian meals.
The rooms are clean, comfortable, and surprisingly modern too, so you'll be able to sleep and relax in comfort when you aren't learning or meditating.
If you've been looking for a new way to live because the old way isn't working for you, then why not learn about Ayurveda? This Hindu system of traditional medicine uses diet, herbs, and yoga breathing to improve your health.
With an experienced team of Ayurveda doctors and yoga instructors to guide you, you'll work toward good health and wellbeing in a tranquil environment.
You'll also get the chance to try new ways to bring harmony to your body and mind through yoga and meditation for the body and mind, breath control, massages, and reflexology.
The retreat prides itself on focusing on the true and traditional forms of these alternative practices, so you'll start building good habits that will offer great benefits to your life when you get back home.
Month to month payments, no lock-in contracts, and no itineraries required: that's the exact kind of insurance digital nomads and long-term traveller types need. Cover yo' pretty little self while you live the DREAM!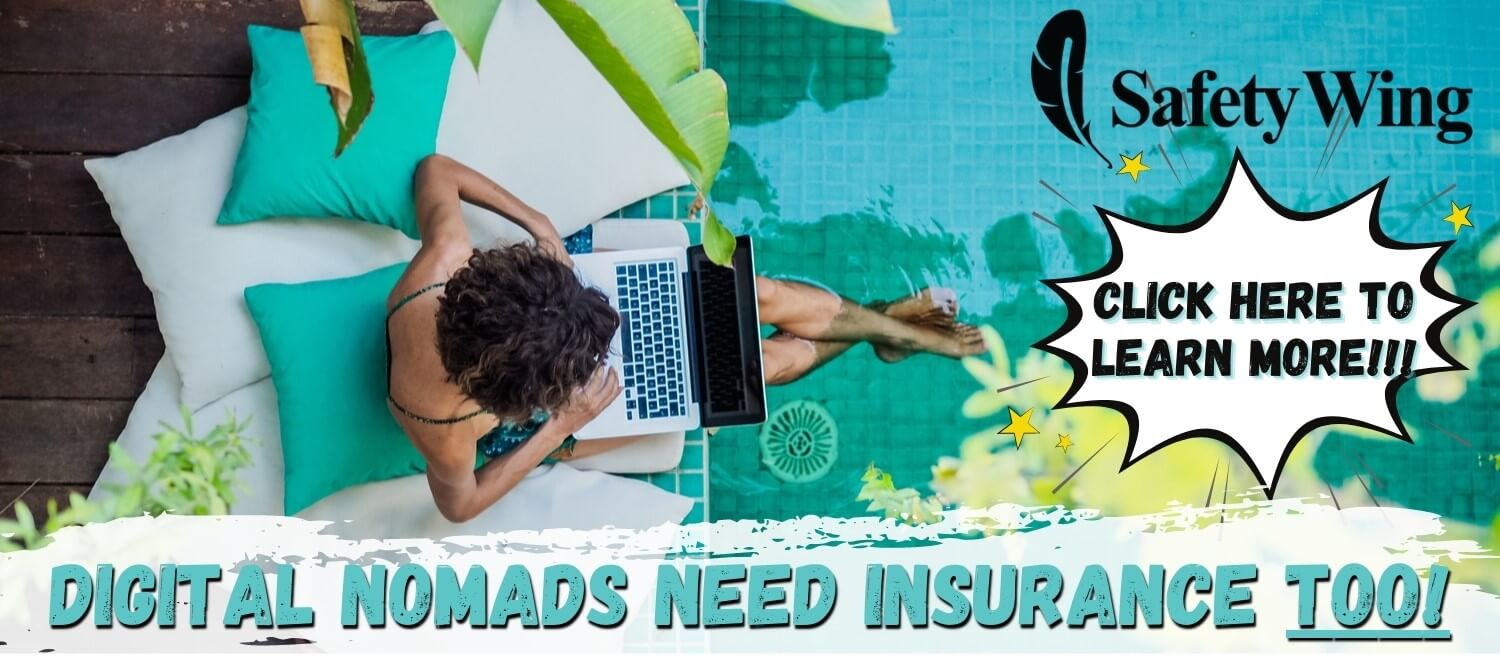 SafetyWing is cheap, easy, and admin-free: just sign up lickety-split so you can get back to work! Click the button below to learn more about SafetyWing's setup or read our insider review for the full tasty scoop.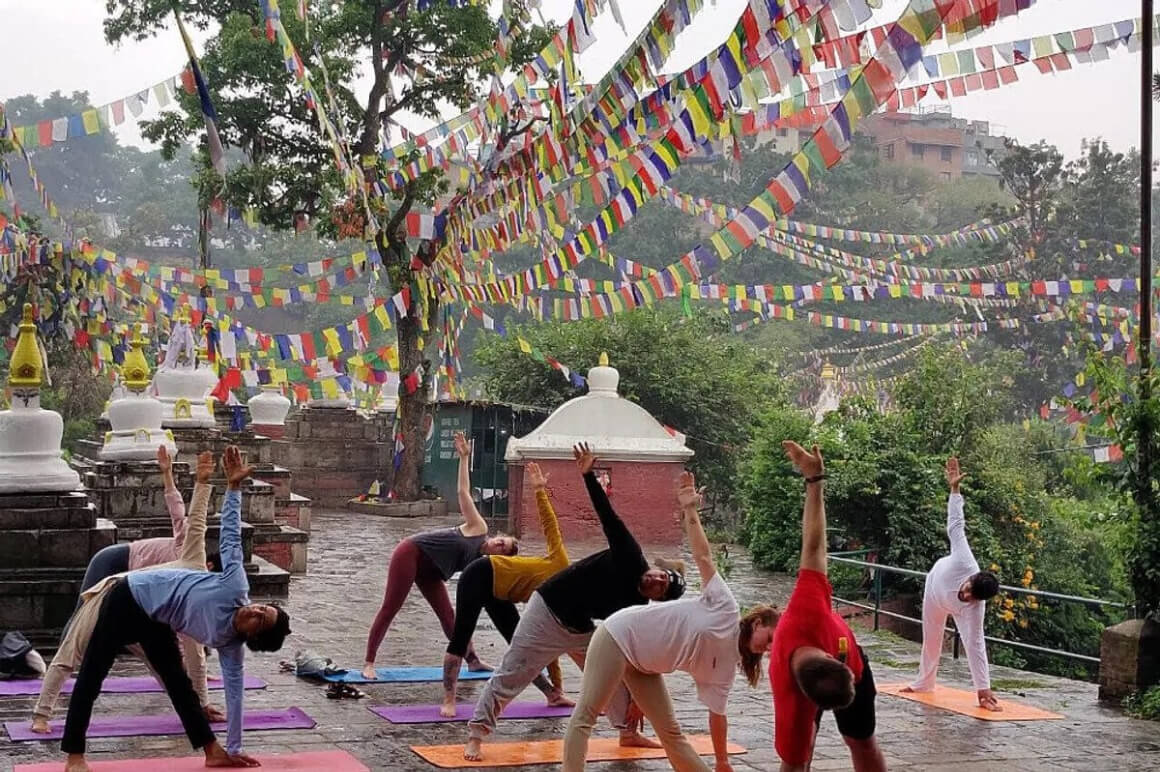 $
Kirtipur, Bagmati Province, Nepal
If you're looking for somewhere to detox in Nepal, then you'll love this retreat with its beautiful natural location and peaceful focus on using yoga and meditation to bring you inner peace.
It's designed for people at beginner and intermediate yoga and meditation levels and uses a variety of yoga styles including Ashtanga, Hatha, and Nidra for all-over relaxation and strength.
During your stay, you'll also partake in a number of different spiritual and meditation practices like prayer, mantra chants, pranayama, and cleansing acts.
You'll also be able to learn even more from the retreat's theoretical and philosophical lessons to go deeper into the teachings and learn to integrate them into your heart and soul.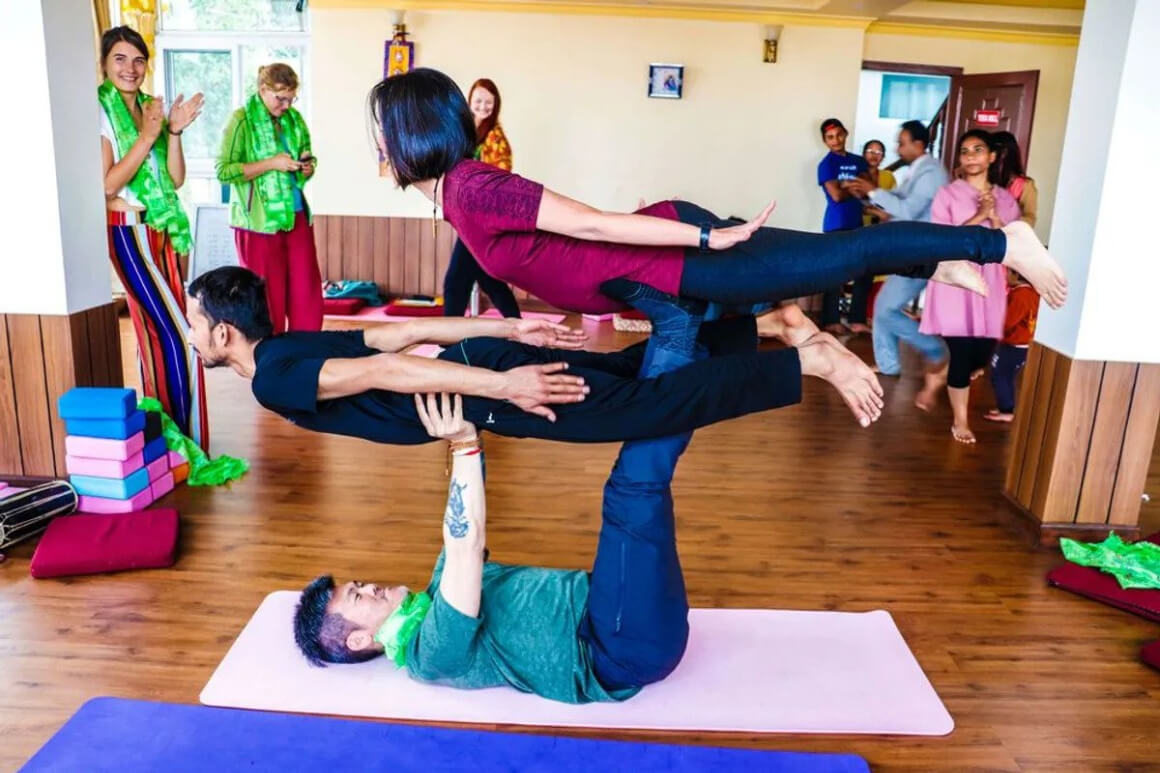 Stress is one of the biggest enemies to health and well-being in the modern world and that's exactly the enemy that you'll face at this retreat.
The idea behind the retreat is that stress is caused by inauthenticity, which results in involuntary and harmful self-talk. By connecting to your true self, you can then stop the involuntary self-talk and remove this cause of stress.
To this end, you'll learn and try a whole range of techniques that will help you tap into your authentic self and reduce inauthenticity at this retreat.
Just some of the techniques you'll learn are yoga asana, pranayama, mantra chanting, celebration, nature hiking, and soul meditation. And of course, you'll also learn vipassana meditation, the art of seeing and accepting things as they really are.
$
Mathillo Amritnagar Marga, Kirtipur, Nepal
Nepal is a destination for adventure, so if you're looking to combine the great outdoors with your meditation practice, this is the retreat for you.
There's nothing more beautiful than getting out in nature and getting up close and personal with Nepal's awe-inspiring scenery. This meditation retreat focuses on meditating through movement and developing an appreciation of the strength and resilience of your body.
You'll need to be reasonably fit to enjoy this trek, but it's a great chance to strengthen your body, mind, and soul while you take in the famously beautiful views of the Annapurna range.
This retreat will open you up for a deeper transformation if you let it, and because the retreat is spread over such a short period, it will fit well into a larger exploration of Nepal and the world.
Have you sorted your accommodation yet?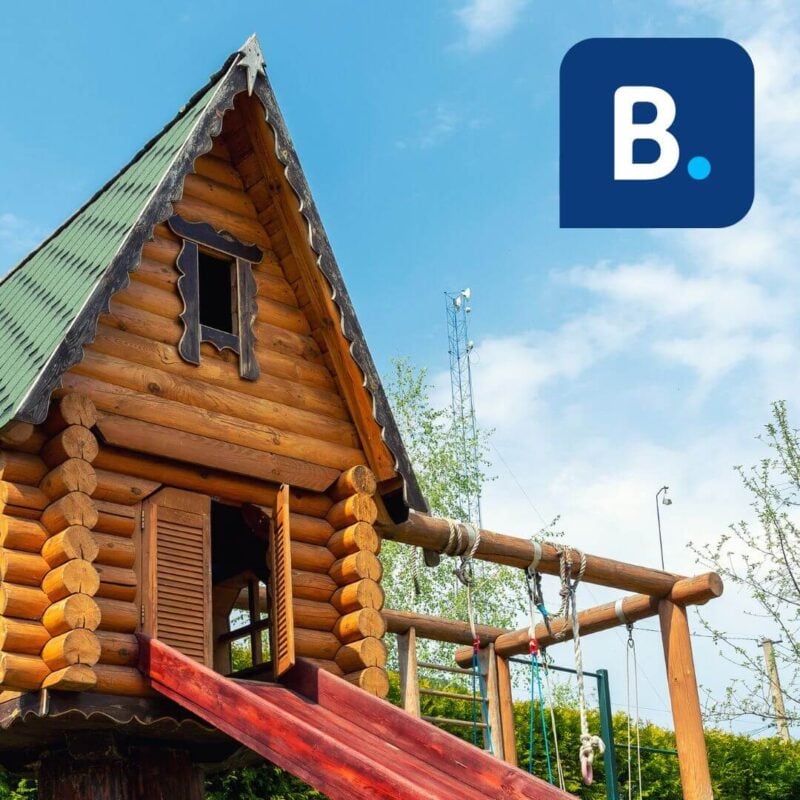 Get 15% OFF when you book through our link — and support the site you love so dearly 😉
Booking.com is quickly becoming our go-to for accommodation. From cheap hostels to stylish homestays and nice hotels, they've got it all!
View on Booking.com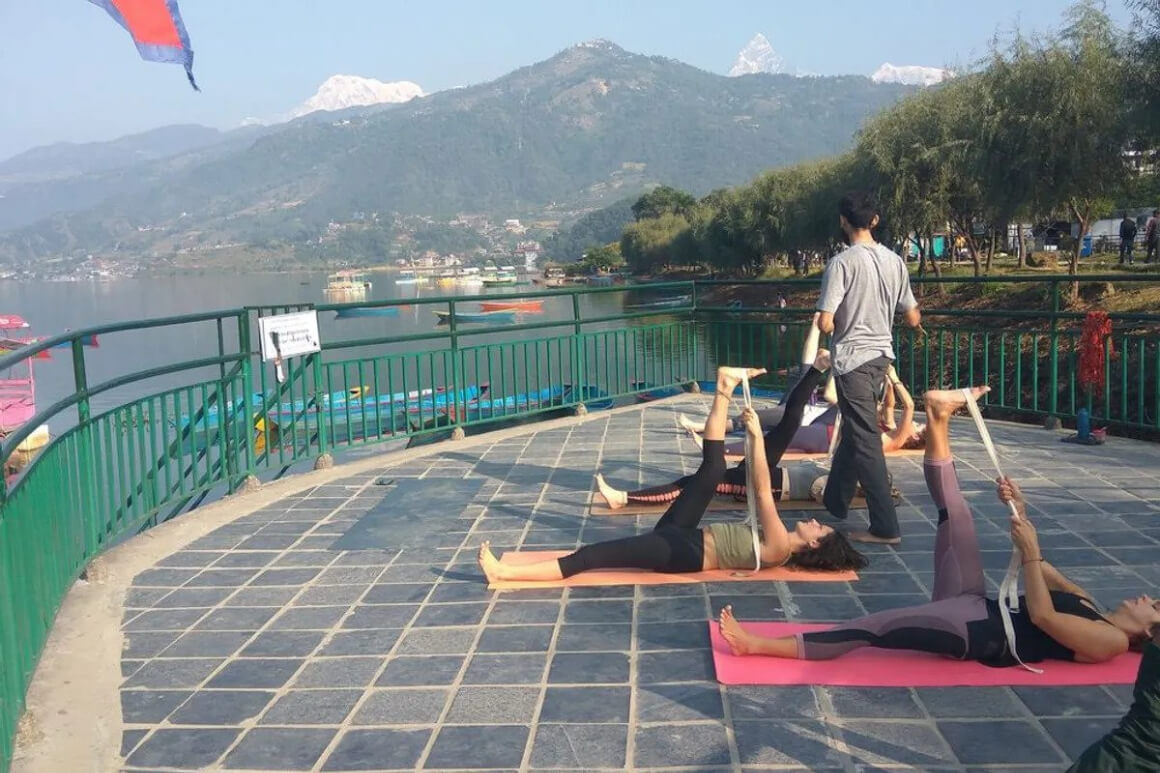 If you're traveling to a meditation retreat in Nepal and you're on your own, then you'll probably want more opportunities to get to know your fellow travelers and locals.
This retreat is based in Pokhara, one of the most popular tourist cities in Nepal, so while you're there you'll have lots of chances to chat with other travelers inside and outside of the retreat! The cost of the retreat is also really reasonable, making it a great choice for backpackers on a budget.
During the retreat, you'll get the chance to enjoy yoga and meditation sessions as well as chanting (kirtans and mantras), and concentration practices. The rest of the time at the retreat is yours to meditate, relax, or explore the famous Pokhara Valley.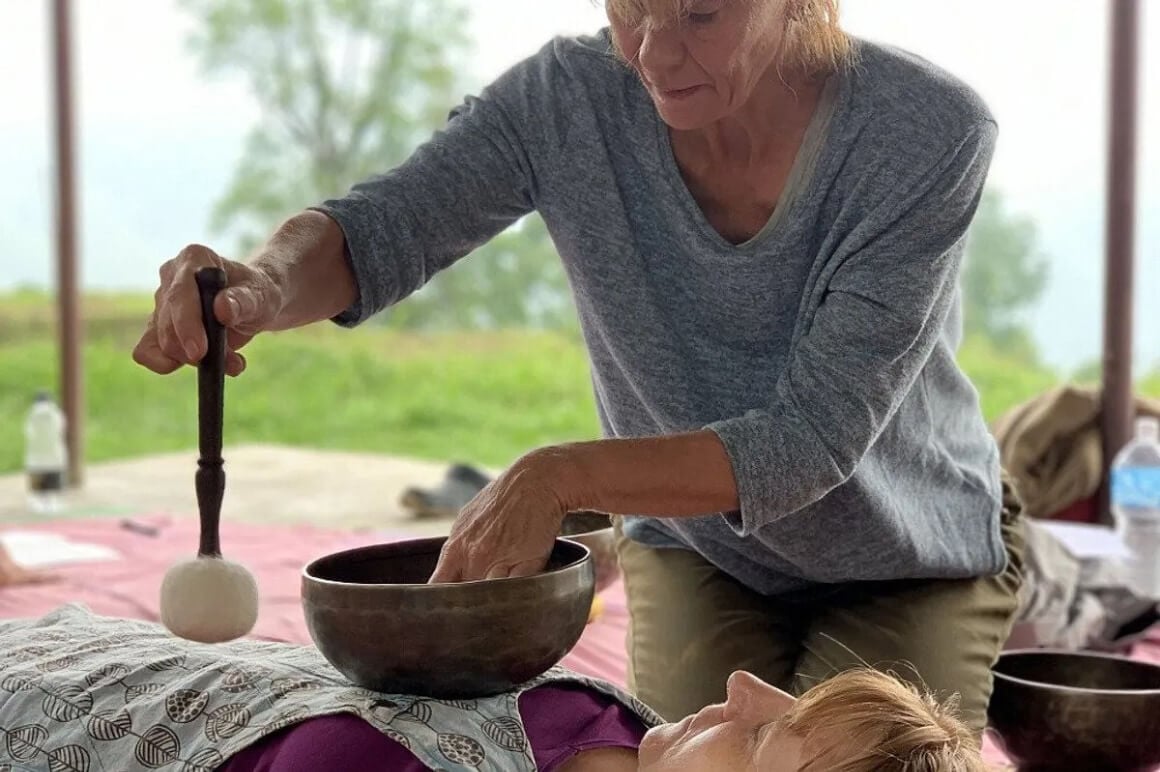 This is a meditation retreat in Nepal with a bit of a difference. It uses sound healing to help you to realign your emotional, physical, and spiritual worlds.
Sound healing is an ancient technique based on the idea that everything in the world vibrates at its own frequency. The therapy uses sound bowls that resonate at different frequencies to boost healing, meditation, and realignment.
When you're not in a sound therapy session, you'll enjoy breathtaking views of the Himalayas from your room, tours of the village, and 100% local and organically grown foods.
You'll also have morning group meditation sessions and chakra and nadi therapy that will further help your healing and realignment with your true self and the truths of the world.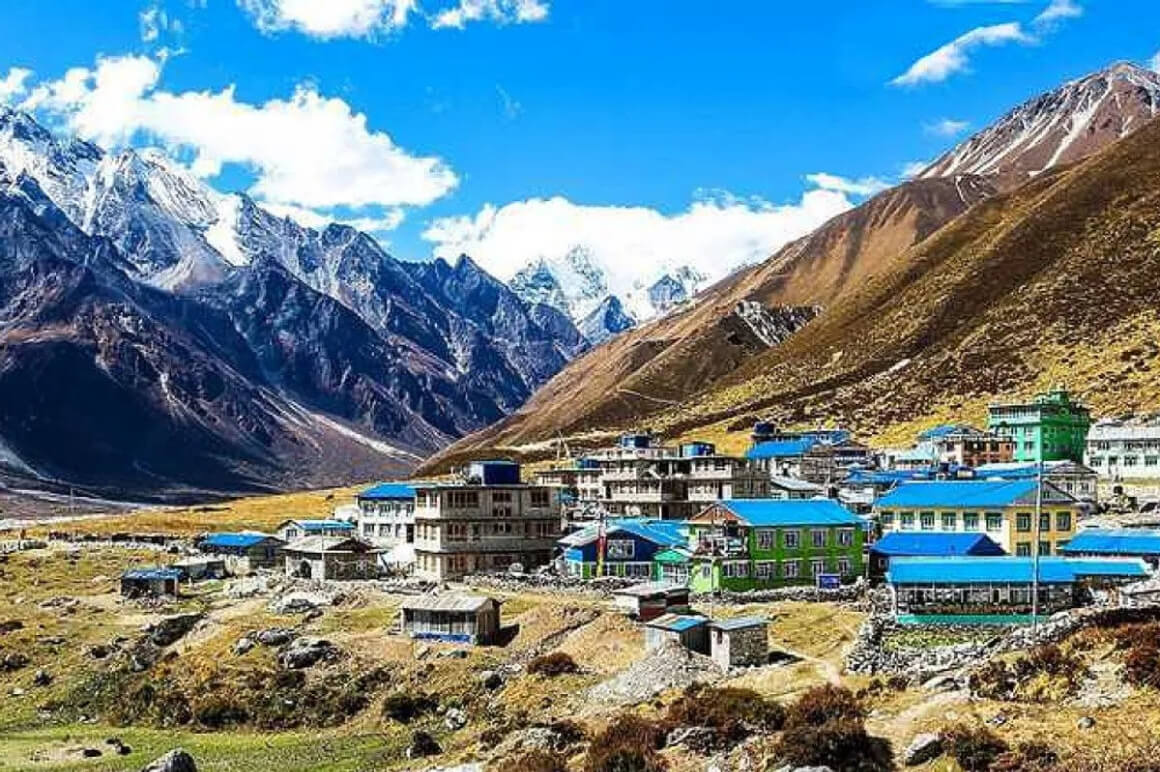 Are you and your partner the active types? Do you enjoy a physical challenge along with beautiful scenery, yoga, and meditation when you travel?
Then this meditation retreat in Nepal is for you. It features a famous yoga pilgrimage that will show you the beauty of Langtang National Park along with stunning lakes and fascinating flora and fauna, all set against the towering snowy peaks of the Himalayas.
The trek is reasonably difficult so you'll need to have a reasonable level of fitness, but the chance to slow down, reconnect with nature, and get back in touch with your most primitive self isn't to be underestimated.
You'll also get the chance to see some famous landmarks along the way, spiritual and not, including the monastery at Sing Gompa, Lauribina pass, and Chisapani.
Is This the Best Daypack EVER???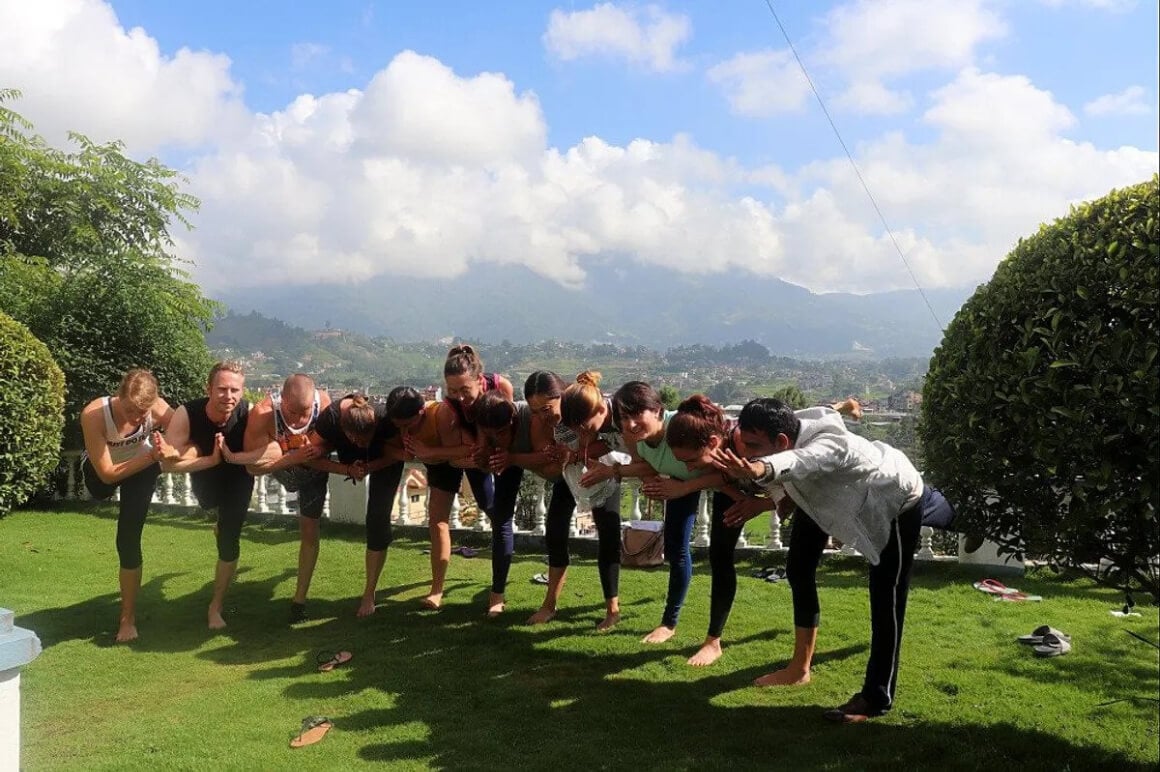 Located in Nepal's capital of Kathmandu, this retreat offers peace and sanctuary as well as easy access to all the attractions of the city. It's also at the foothills of the Himalayas, for the ultimate in atmosphere and natural attractions.
Designed for beginners to yoga and meditation as well as more experienced practitioners, the retreat offers a daily program of pranayama, meditation, yoga, and theoretical classes to teach your mind, body, and soul how to live a life that's more attuned to yogic practices.
The atmosphere is warm and welcoming and based on the idea of rediscovering the inner peace that is part of your true nature through adopting a more natural lifestyle.
Most of the retreats in Nepal offer a combination of yoga and meditation, probably because these two practices go together naturally, but this retreat does so in a way that will encourage maximum relaxation.
During your stay, you'll learn traditional yogic principles and cleansing techniques, so it's great for anyone who wants to get started with yoga the right way.
This is a retreat for beginners who need a grounding on the basics and teaches the principles of a variety of yoga styles including Ayurveda, Yin, Ashtanga, Hatha, Kundalini, and Nidra Yoga.
The retreat will also teach you other cleansing practices like Yogasana, breathwork, Meditation, massage, hiking, sauna and steam bath sessions, and reiki so that you go home with lots of practical techniques to foster wellness, connection, and peace.
Final Thoughts on Meditation Retreats in Nepal
Going on a meditation retreat in Nepal has the potential to make a real difference in your life. It will teach you, challenge you, inspire you, and motivate you to live your life differently and according to the rhythms of the world and your own body.
For a truly spiritual experience, one that's based on techniques and a way of life that dates back hundreds of years in Nepal, I recommend taking a look back at my overall favorite retreat.
The 8 Day Spiritual Yoga & Meditation Monastery Retreat in Nepal offers the best way for you to learn to meditate than to be a part of the culture and way of life that actually created many of the techniques that you'll be learning.
Whatever you're looking for, I hope that you found some insight and guidance from this list.
---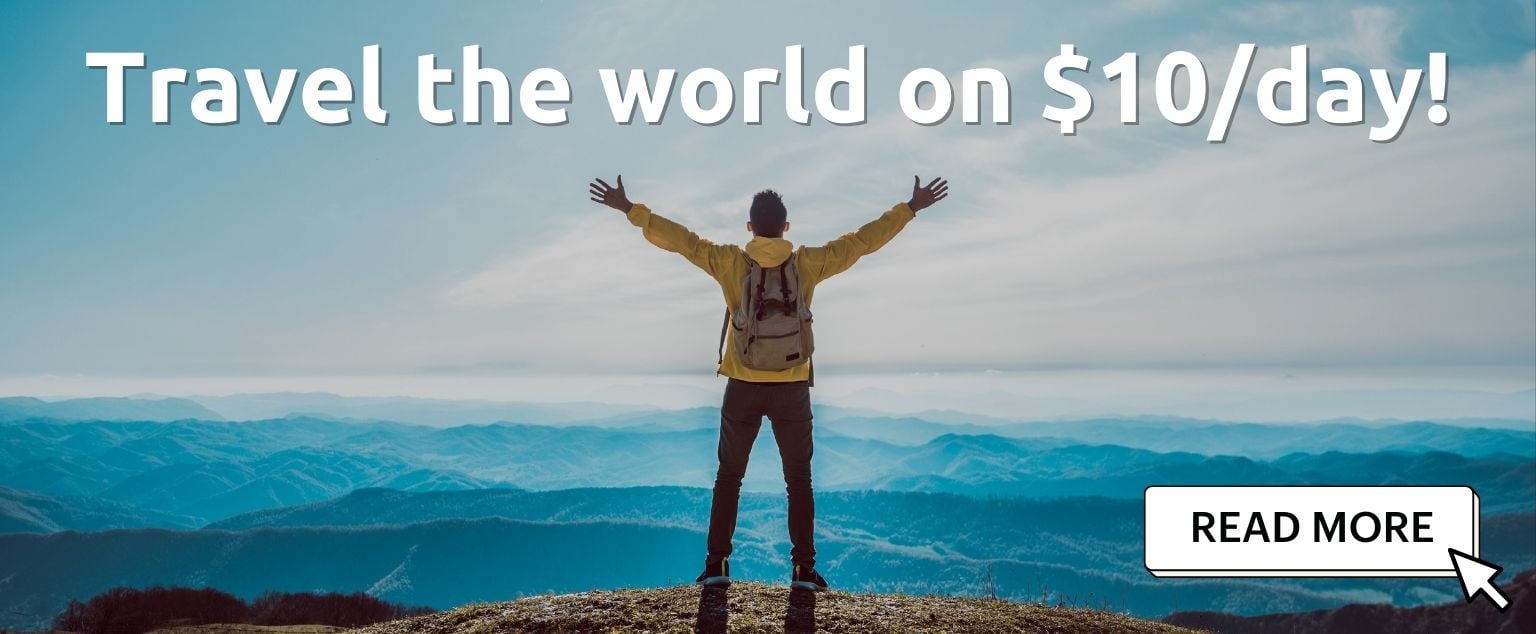 And for transparency's sake, please know that some of the links in our content are affiliate links. That means that if you book your accommodation, buy your gear, or sort your insurance through our link, we earn a small commission (at no extra cost to you). That said, we only link to the gear we trust and never recommend services we don't believe are up to scratch. Again, thank you!