We'll forewarn you: backpacking Kathmandu is unlike any other capital city experience in the world. 2,000 years worth of history live among the collapsing walls and still standing temples.
Kathmandu is gritty, dirty, sprawling, and yeah, a little rough around the edges, but it's also full of beauty and plenty of awesome things to do, if you know where to look.
I have visited Kathmandu plenty of times now, and I'll admit it still shocks me to see a capital city with mostly dirt roads in its city center!
Kathmandu is just one of those cities you either love immensely or book a bus straight out of, never looking back. I fall into the first category myself.
Every backpacker arriving into Nepal by airplane with undoubtedly find themselves in Kathmandu for at least a couple of days. I'll tell you right now, to immediately leave Kathmandu for the mountains is a mistake.
Kathmandu is packed full of important religious shrines, temples, relics from history, and places to eat and sleep on the cheap. Not to mention there's the Thamel neighborhood, which is perhaps the biggest counterfeit (and non-counterfeit) outdoor gear bazaar in the world.
For budget backpackers, Kathmandu is a strange "paradise" of countless budget escapades, fascinating culture, insane traffic, and all of the fake Gore-Tex rain jackets you can handle.
If you are preparing yourself for a great Himalayan adventure in the mountains of Nepal, Kathmandu is the perfect place to prepare before setting out.
This Kathmandu travel guide highlights all of my top tips for backpacking Kathmandu on a budget (which is easy!). Get up-to-date information on where to stay in Kathmandu, top things to do, your Kathmandu daily budget, top free attractions, suggested itineraries, cheap eats in Kathmandu, and much more.
Let's do it…
Check out my in-depth Nepal Backpacking Guide here
Nepal is budget backpacker gold as its among one of the cheapest countries you can visit. Likewise, Kathmandu is perhaps one of the top five cheapest capitals to visit in the world.
While Kathmandu can be ridiculously cheap at times, its higher-priced touristy areas (the Thamel in particular) can often reflect a place that has been turned inside out by western visitors. Things like accommodation in Kathmandu can be much more expensive than in other parts of Nepal.
Again, the higher prices only really apply to the Thamel and the immediate surrounding areas. If you venture out beyond the totally tourist-based economy in the Thamel, you can find much lower prices.
It is 100% possible to visit Kathmandu on a budget of $10/day. Basically, all you can do on ten bucks though is eat street food, sleep in a dorm bed, and explore the city on foot.
With an ultra-luxurious budget of $30-40/day, you can get a decent hotel room, eat out at restaurants/street food stalls 3x/day, visit important cultural sites, hire a rickshaw, and enjoy a few cold beers with what's left at the end of the day.
You'll hear me repeat this several times throughout this guide: for almost EVERYTHING involving money in Kathmandu, you will have to haggle. This is true of accommodation, transportation, and especially any souvenirs you are interested in.
Whilst most restaurants (in the Thamel) have fixed prices on an actual menu, at some local hole-in-the-wall places the proprietor might try to overcharge you simply because you are not a Nepali. A Daal Bhat should never cost you $5 outside of the Thamel—I don't care how good it is!
Put your haggle game-face on and get ready to dive into the scrum.
Here is an Average Kathmandu Daily Budget:
Kathmandu Budget Tips
I have good news! Backpacking in Kathmandu is FAR less expensive than most big cities. It doesn't take much effort to enjoy Kathmandu on a reasonable budget.
One thing is for sure though: there are ALWAYS ways to go over budget. Booking the wrong scenic flight tour, sitting down to eat at an overpriced tourist restaurant, and paying too much for a (probably fake) North Face down jacket are all prime examples of how you can suddenly overstretch your Kathmandu budget.
With a little bit of common sense and a whole lot of patience for negotiating prices, you should have no problem navigating a budget trip to Kathmandu.
Below, I list some of my favorite travel hacks particularly suited to cope with a Kathmandu backpacking experience.
Backpacking Kathmandu Travel Hacks
Never accept the first price: Unless you are ordering food from a restaurant with the prices on the menu, never accept the first price anyone offers you…for anything! Haggle! Then Haggle! Then Haggle s'more! Negotiating gets exhausting after a while, but it is a necessary means to saving yourself from opportunist looking to take advantage of you.
Avoid eating at fancy restaurants clearly catering to tourists: Kathmandu is packed with little mom and pop restaurants, food carts, food stalls, and a variety of other venues hawking cheap-ass food. If the menu is being displayed out front in five different languages, better to keep walking.
Shop around when hunting for trekking gear:  There are dozens of shops selling outdoor gear in the Thamel. You could show up in Kathmandu naked and find everything you need to climb Everest in under an hour (if you've got the money). Gear prices and quality are all across the board. Shop around, compare prices, and fucking haggle!
Seek out happy hour beers: Beer in Kathmandu isn't super cheap as most locals don't regularly drink it. Places that sell beer do so for tourists or Nepalis with disposable income. Many bars/clubs/music joints in the Thamel offer happy hour specials in the afternoon/early evening. For the best prices, grab a beer then.
Don't buy imported food products: In the Thamel neighboorhood, you will find fancy grocery stores selling everything from Toblerone to Nutella to gourmet Italian coffee. These shops have ridiculously high prices, even for things like bottled water. If you plan on going trekking in Nepal, remember to bring your hiking snacks from home (if you can) or shop at small bodegas.
Walk: Whilst it may sometimes be necessary to hire a rickshaw or taxi, you can walk to many places of interest in Kathmandu from the Thamel. If you do opt to hire a ride, try to split the costs between fellow backpackers.
Pack a travel water bottle and save money every day!
Why You Should Travel to Kathmandu with a Water Bottle
Plastic washes up on even the most pristine beaches… so do your part and keep the Big Blue beautiful
You aren't going to save the world overnight, but you might as well be part of the solution and not the problem. When you travel to some of the world's most remote places, you come to realise the full extent of the plastic problem. And I hope you become more inspired to continue being a responsible traveller.
STOP USING SINGLE-USE PLASTIC! If you'd like some more tips on how to save the world, be sure to watch the video below.
Plus, now you won't be buying overpriced bottles of water from the supermarkets either! Travel with a filtered water bottle instead and never waste a cent nor a turtle's life again.
Find out where to stay in Kathmandu using our comprehensive insider's guide!
By now you might be wondering what the hell this "Thamel" place is. The Thamel neighborhood in central Kathmandu is essentially the culmination of decades of western visitors coming to Nepal for backpacking, trekking, and mountaineering adventures.
Locals saw the need to cater to westerners and they rose to the fucking occasion.
There is not another place in Nepal like the Thamel. In the days of old, "Freak Street" got its name from all of the hippie backpackers who showed up on their quest for cheap hash and eastern enlightenment. Be sure though, things have changed big time since the humble beginnings of Freak Street back in the 1960s and 70s.
In many ways, Thamel is the biggest tourist trap in all of South Asia. It's also your one-stop-shop for all things outdoor gear, knick-knacks of every shade, bars, bodegas, pharmacies, comfortable accommodation, hash, good (though over-priced) food, and the ever-changing backpacking community who walk the Thamel's streets on a daily basis.
Most backpackers (myself included) opt to stay in or very near the Thamel area (outskirts are best in my opinion). There is an endless array of accommodation choices. Backpackers can find basic dorm rooms for around $2-3 and nice private rooms for between $10-25.
Whatever your Kathmandu hostel budget is, I guarantee that you can find an awesome place to crash in or around the Thamel.
One Google search will instantly reveal how many places to stay in Kathmandu there really are. Below, I highlight my top three picks for the best hostels in Kathmandu.
Check out our complete list of the best hostels in Kathmandu for even more awesome places to stay in the city.
Best Hostel in Kathmandu – Alobar1000
Kathmandu is a city filled with plenty of wanna-be hostels. If you are looking for an authentic hostel experience, Alobar1000 is definitely where it's at. Several people I met on the Annapurna Trek met each other at Alobar1000 and decided to do the trek together.
The rooftop bar at Alobar1000 is a great place to meet potential trekking partners or to just chill out after a hectic day in the city.
Alobar1000 wins big on atmosphere, price, and location. You might not get a free breakfast here, but the vibe and overall experience make Alobar the best hostel in Kathmandu.
Look… in Kathmandu you are not going to find the same wild party hostels that you would in say, Thailand. Kathmandu is just not that kind of city.
That said, The Monkey Temple Backpacker Hostel is a fun spot to put a few back. The hostel accommodation is bare-bones and has the associated price (cheap as hell!).
The low prices of Monkey Temple Hostel have a way of attracting backpackers who would rather spend their money on beer instead of fancy accommodation.
If you are looking to party, the Monkey Temple Backpackers Hostel is the closest things you are going to get to an actual party hostel. Like smoking hash? There is plenty of that around too…
Best Hostel for Solo Travelers in Kathmandu – Zostel Kathmandu
In terms of atmosphere, positive vibes, and –of utmost importance— cleanliness, Zostel Kathmandu is certainly one of the best hostels in Kathmandu. Most backpackers who stay here find themselves on the rooftop terrace sharing a pint with one of their new mates.
Zostel Kathmandu is not the cheapest game in town, but for a solid hostel experience and a good social scene, I highly recommend this place.
Kathmandu is a city with no shortage of awesome things to do. The top things to do in Kathmandu don't cost much money either, which is always a bonus.
Kathmandu is not overflowing with pristine historical sites like cities in Europe. A majority of Kathmandu isn't stunningly beautiful or aesthetically pleasing, but what architectural and cultural treasures Kathmandu does possess are well worth seeing!
Apart from cultural sites, shrines, and temples, there is plenty of tasty food to try, haggling to be done, and optional day trips to areas outside of Kathmandu.
Here is my list of the 10 top things to do in Kathmandu to get your ideas flowing…
1. Visit the Swayambhunath/Monkey Temple
The so-called Money Temple is just one of those must-see Kathmandu sites. Swayambhnath is built on the site on one of the oldest religious structures in Nepal initially dating from 5AD.
It's a Buddhist stupa which is now home to hundreds of monkeys hence its nickname. It is within walking distance of Thamel or 50 RS by pedal rickshaw (though you will have to climb the hill yourself).
2. Check Out Kathmandu Old Town
Old Town is not super exciting in itself, but there are some very interesting ancient relics like the Itum Bahal courtyard and some cool markets.
3. Explore the Pashupatinath Temple Complex
Pashupatinath is a vast complex of temples, ashrams, holy men, and burning ghats, and one of the most impressive cultural and religious sites in Kathmandu.
4. Eat Momos
As I said before, Momos are delicious Nepalese dumplings. You can find them stuffed with chicken or veggies or both. Multiple times whilst backpacking Kathmandu, I ate far more momos in one sitting then I care to admit here. The photo below was just the first round.
5. Haggle for Souvenirs
Haggling is just part of life in Kathmandu. Whether you are in search of Tibetan singing bowls, trekking poles, or a tattoo, haggling for the best price is an adventure unto itself.
6. Experience the Boudinath Stupa
Boudinath is one of the most impressive stupa's you will ever see; it's actually one of the largest stupas in the world. A visit here is absolutely worth the $3 entrance fee.
7. Eat Nepalese Sweet Treats
Nepalese people love sweets. (I mean, who doesn't?) In Kathmandu, you will find numerous shops selling a variety of different sweet lumps that you have never seen before (unless maybe you've been in India). Try as many as you can! You'll know them when you see them.
8. Visit a Bazaar Outside of the Thamel
The Thamel is great for finding souvenirs and trekking gear (mostly), but the Thamel is not the "real" Kathmandu. Get outside the main backpacker hub and discover what Nepali markets are all about.
9. Volunteer in Kathmandu
If you have some time on your hands in Kathmandu, consider volunteering. From volunteering with needy children to monastery helping gigs… there are many places to get involved and make a difference in Kathmandu.
Beware that there are MANY scammer volun-tourism operators in Kathmandu. You should never have to pay thousands of dollars to volunteer in Nepal, ever.
10. Check Out Durbar Square
Apart from the Thamel, Durbar Square takes 2nd place as perhaps the most visited destination in Kathmandu. While it is touristy, Durbar Square is also one of the most important historical sites in all of Nepal.
Be prepared for a relatively hefty entrance fee. It is possible to sneak in through the entrance of the square, but when I tried, I got caught and had to pay.
Not very cool on my part, I admit now. In hind site, the money you spend is well worth it (if it actually goes to the restoration and maintenance of the site, that is).
Bonus! – Holi Festival
If you happen to find yourself in Kathmandu in early March, don't miss the legendary Hindu Holi Festival, also known as the "festival of colors." Holi is one of the most exciting Hindu religious festivals to witness (either in Nepal or India).
Thousands of people gather in the streets and throw paint at each other, among other things. Sound like a good time? Hell yes it is.
With 3 days in Kathmandu, you can really cover some ground. Whilst Kathmandu is a huge sprawling mess of a city, most backpacker places of interest are rather close to one another.
Since you have now read the top things to do in Kathmandu, let's have a look at my 3 day Kathmandu itinerary for how to organize your time in Kathmandu for 3 days…
Kathmandu Itinerary: Day 1
After arriving into Kathmandu and getting a good night rest, you're ready to hit the town.
To get your bearings in Kathmandu, I recommend starting your day exploring the Thamel. The Thamel really is a strange alternate reality. Shops, restaurants, people, rickshaws, motorbikes, food, and more people bombard the senses. It's the Nepali version of backpacker wonderland.
The Thamel is a good introduction to Kathmandu because it makes for an easy landing into a perpetually hectic city. People speak English. Food is everywhere. You can get around by foot.
I should remind you to wait on picking up any souvenirs until your last day in Kathmandu or upon your return from trekking, should you be heading into the mountains.
Find a stall outside of the Thamel and settle in for some Daal Bhat. This will be your first experience eating a meal you will likely be eating every day. Settle in.
Since you are on a roll with the Thamel, head to Durbar Square and take in the sights.
This day 1 Kathmandu itinerary may seem mellow, but I guarantee you will be exhausted from being out in the city all day, especially if it is warm out. Chill out with a cold beer on your hostel terrace and get stoked for what the next days will bring.
Kathmandu Itinerary: Day 2
Start your morning off with a solid breakfast in one of the many cafes. Not surprisingly, you can find an excellent western breakfast for just a couple of bucks.
Normally, I'd tell you to stay the hell away from western-style food when visiting an exotic country like Nepal, but unless you want rice and daal three times a day, you'll have to go for the bangers and mash every now and then.
The first stop of the day is the Kathmandu Old Town; you'll need to take a taxi to get here. The ride should not be more than 300 rs from the Thamel. Here, you can wander the narrow streets, and check out a few bazaars en route to sites like the Itum Bahal courtyard.
Check out the Asan Tole Bazaar to have your senses overwhelmed by the all the action. Fun fact: this market has been around for centuries! Soak in the history and beautiful chaos.
Finding somewhere tasty and cheap to eat is easy. Most likely lunch will be Daal Bhat or momos.
As the day turns into the afternoon, head for Swayambhnath/The Monkey Temple. The Monkey Temple is one of the most important shrines in Buddhism. As far as sunset view points go, it doesn't get much better than from atop the hill where the Monkey Temple is located.
Be wary of the monkeys though! They are very cheeky and can sometimes be aggressive. I saw a monkey snatch food out of the hands of a tourist, and then defend its spoils with teeth barred. Take warning.
Kathmandu Itinerary: Day 3
By now you should have plenty of dust in your hair and clothes. You're integrating into Kathmandu nicely.
After breakfast, you have a few options: head to the Boudnath Stupa or the Pashupatinath Temple complex.
If it were me, I'd head to Boudnath first. Boudnath is another Buddhist stupa and the surrounding area has become the home of Nepal's Tibetan exile population.
The area immediately surrounding the Stupa is a pleasant, circular marketplace now populated by restaurants, cafes, and little souvenir shops where the vendors don't hassle you quite as much as they do back in Thamel. There is enough to do in and around Boudnath to keep you busy for several hours.
After Boudnath and lunch, head to Swapna Bagaicha (Garden of Dreams) for a walk around one of Kathmandu's few "quiet" spaces.
The beautiful grounds are were inspired by English garden back in the UK. Over the last decade, the Garden of Dreams has seen a real resurgence in its up-keep. Kathmandu is not known for having many green spaces, so enjoy the hell out of this slice of heaven!
For the late afternoon, head to Pashupatinath. Pashupatinath is home to a series of important temples and ashrams as well as funeral ceremonies on the banks of the river. This is where Hindu families with enough money to pay for the wood burn their dead.
I did watch a funeral pyre ceremony, but to be honest, it felt very strange. The atmosphere was almost like a sporting event, with people loudly selling water and soda. Watching a dead body burn was super powerful for sure, but also seemed somewhat disrespectful. Use your own judgement when you have boots on the ground.
Even More Things to Do in Kathmandu
Seto Machhendranath Temple (Jan Bahal): A very attractive temple area that attracts Buddhists and Hindus.
Hanuman Dhoka: Kathmandu's royal palace, parts of which date back to the 4th century.
Three Buddha Park: Massive golden Buddha statues 20 M high, located close by the Monkey Temple (at the bottom of the hill).
Indoor Rock Climbing: If you need to get some exercise or just feel like a morning of climbing, seek out one of Kathmandu's climbing gyms. You can rent all of the equipment you need.
Go to a Cricket Game: The Nepal cricket teams may not have the same prestige and legacy as do the teams in India, but Nepalis are still mad for the sport. Going to a cricket match is always a good time, even if you don't understand the rules.
Kathmandu off the Beaten Path
Kathmandu very much has the spots where backpackers go. Everywhere else in the city is primed for an off the beaten path adventure… to a degree. In Kathmandu, there are limits to what sort of urban exploration you should take on.
I would not recommend venturing into the rough and tumble slums on the city outskirts, especially after dark. Maybe nothing will happen to you, but really there is nothing to do there and the inhabitants of these slums are simply struggling to survive on a daily basis. Going out there with your fancy pants camera and full belly might not make you feel so good.
There are however numerous less-known monasteries, temples, and shrines throughout the city that don't receive any of the traffic the above mentioned sites do.
If you are looking to get off the beaten path in Kathmandu it really isn't hard since the backpacker destinations are all fairly concentrated.
Best Hikes around Kathmandu
Kathmandu has some excellent hiking opportunities close – within an hour's drive – to the city. These hikes make for excellent day trip adventures. Below, I have listed my four favorite hikes around Kathmandu:
Phulchowki Hike (Godawari – Godawari): This full day hike takes you through some typical stunning low land scenery including the rhododendron forest. On a rare clear day, you can see as far as the Annapurna Range. The Godwari botanical gardens are worth a look.
Nagarkot Area: There are several awesome hikes to do around Nagarkot. With an early enough start you could make it to Kathmandu and back. I think it is better to check out the village, catch the sunset from a top one of the local hills, and head back to Kathmandu the next day.
Shivapuri National Park: About an hour's drive from Kathmandu is Sundarijal. You can hike a 4-5 hour trek from there through the national park.
Nargarjuna Jamacho: A steep, 5 kilometer slog to a beautiful stupa with an excellent view point (haze and weather permitting).
Best Time to Visit Kathmandu
For most backpackers, the best time to visit Kathmandu is also the best time to be in the mountains.
From September to November, the skies are clearest and the mountain views are at their best. Naturally, backpacking Kathmandu is best at this time too. I'll be real with you though. These days, the pollution haze in Kathmandu only slightly improves in the fall. Since the 2014 earthquake there has been massive construction and rebuilding, so that isn't helping the haze situation.
March to May is also a good time to visit Kathmandu (and also the Himalaya).
Spring and fall are the busy tourist seasons in Kathmandu. Prices tend to be higher and there are generally more backpackers about.
If you come to Kathmandu in the winter, you may not find many backpackers, but you are also quite limited in terms of badass treks that you can do in the mountains.
Bottom line, fall is the best time to visit Kathmandu.
Getting in and out of Kathmandu
Tribhuvan International Airport in Kathmandu is Nepal's main international airport. Unless you are traveling overland from India (god help you, the bus journey is brutal) or Tibet, you will undoubtedly pass through the Kathmandu Airport.
Upon arrival, you will need to make your way to the city center which is roughly 20 minutes – 1 hour depending on the traffic.
There are bus options to get to the city center, but don't take them. The Kathmandu public transportation system is in shambles and way more trouble than it's worth.
Your best option is to hire a taxi. From the airport, there are two types of taxis: the fixed rate taxis and standard city taxis (just some guy and his car). The fixed rate taxis cost about $7 USD (750 rs).
The normal taxi could charge more or less; it all depends on your haggling skills. Twice I have haggled the price down to 500 rs (sharing with a Nepali person as well).
Remember that while the taxi drivers are trying to overcharge you, they are also trying to make a living. Paying some desperate taxi dude 200 rs for a ride to/from the airport is not a fair deal. 400-600 rs is fair for everyone.
You can get a cheap taxi any time of the day (for late night/early morning rides, expect to pay more).
To get back to the airport, simply hail a taxi or ask your hostel to help you arrange one.
For buses to Pokhara and other parts of Nepal, you'll need to head to the main bus "strip" – it isn't a station, just a long line of buses on the side of the road. One can easily walk to the bus area from the Thamel in about 10 minutes.
How to get around in Kathmandu
When you are not walking, taxis or rickshaws are the way to go. You can get everywhere you want to go within the city for under $10 if you drive a hard bargain with the taxi drivers each time.
Currently, Uber does not operate in Kathmandu.
Again, I would stay away from using the public bus system, it is a nightmare to use. I tell myself "never again" for a reason.
I would not recommend hiring a motorbike unless you are a supremely skilled and experienced driver. Even then, be sure to wear a helmet and take extra care. Nepalis drive like maniacs.
Long Distance Buses from Kathmandu
For average Nepalis, bus travel is the main form of transportation to get about the country. Same goes for backpackers. Kathmandu is the main artery from which all of the buses in the country seem to flow. You can pretty much get anywhere off the "highway" in Nepal by bus, either directly or with a connection via Kathmandu.
Again, the main spot to catch long distances buses is located just outside the Thamel. It is called the Kathmandu Bus Terminal, or simply 'new bus park.' There is no real way of knowing which buses are going where without asking someone.
Most of the people working in and around where the buses congregate can help you, even if they don't speak English. Simply say "Pokhara" and they will point you in the right direction.
Never pay a person who isn't the bus driver or his assistant. Usually the bus operators collect the money when the bus is already moving. Certainly, don't hand some dude your cash simply because he asks.
Safety in Kathmandu
Whilst I have never encountered any serious problems while backpacking Kathmandu, there are some things you should be aware of.
Traffic: The traffic is insane in Kathmandu and pedestrians do NOT have the rightaway. I have seen several people struck my vehicles and motorbikes in Kathmandu. Be extra careful when crossing busy motorways.
Hash: Hash and hash dealers are abundant in Kathmandu. You'll probably have ten people whisper "hash, hash" in your ear with a mad gleam in their eye during your first stroll through the Thamel. If you do buy hash, be smart about where, how, and from who you buy from. Drug penalties in Nepal are severe, and police have targeted backpackers (for the sole purpose of collecting bribes, I'm sure).
Dust/Pollution: Kathmandu is one of the most polluted cites in the world. Every time I went out for a walk in Kathmandu I had a Buff or a bandana around my neck ready for when the toxic diesel fumes or dust clouds became too thick. Pick up some sort of protection for your face and put it into use.
Crime/Pickpockets/Beggars: Beggars are not in fact criminals… most of the time. Nepal is one of the poorest countries on earth and the income disparities in Kathmandu are shocking and in your face all the time. Crime is the inevitable result. Pickpockets, petty thieves, and beggar-con men (or kids) do operate in and around the Thamel and beyond.
Keep your wits about you and don't let yourself get taken by a thief or scammer. On very rare occasions violent crime/armed robbery involving backpackers has been reported. Be smart about where you wander off to in the city, especially at night.
Pick yourself up a backpacker security belt to keep your cash safe on the road, and check out Backpacker Safety 101 for tips and tricks to stay safe whilst backpacking Kathmandu. Check out this post for plenty of ideas on ingenious ways to hide your money when traveling.
For even more inspiration check out my in-depth review of the best travel money belts for backpackers.
Travel Insurance for Kathmandu
Traveling without insurance would be risky so do consider getting good backpacker insurance sorted before you head off on an adventure.
I have been using World Nomads for some time now and made a few claims over the years. They're easy to use, professional and relatively affordable. They may also let you buy or extend a policy once you've started your trip and are already abroad which is super handy.
If there's one insurance company I trust, it's World Nomads.
It's good to get lost sometimes, but it's also good not to get too lost. There are people that want you home in one piece.
There's one travel insurance provider The Broke Backpacker trusts for all his wildest shenanigans… World Nomads!
Click the button below to get a quote on your insurance or read our in-depth review of World Nomads' coverage. And then… let the shenanigans begin. 😉
Kathmandu Accommodation Hacks
Normally, I recommend Couchsurfing to backpackers looking to save money and meet locals at the same time. One of the major benefits of Couchsurfing is saving money on accommodation in expensive cities.
In Kathmandu, the accommodation is so damn cheap that Couchsurfing isn't really necessary from a financial perspective. That said, if you really want to see what life is like for locals living in Kathmandu, reach out to a CS host. I promise you that your experience will be much different and potentially more rewarding than sleeping in a hostel dorm in the Thamel.
When contacting a host, leave a very personal message and try to connect with the person on an individual level. Couchsurfing hosts are NOT free hostels! You are not entitled to their generosity.
If somebody is kind enough to host you, show some respect and act like a responsible adult who gives a shit about what others are doing for you—especially in a country where the average yearly wage is under $1000 USD.
Eating and Drinking in Kathmandu
Kathmandu has everything under the sun in terms of eating and drinking. For backpackers gearing up or returning from a trek, the abundance of choices are refreshing. For those backpacking Kathmandu on the cheap, stay away from many of the mid-range and above restaurants in the Thamel.
Eating in Kathmandu can be as cheap or as expensive as you make it. If you want a tasty Italian pasta feast with salad and wine, well, be prepared to pay for it. If you keep it simple and stick to Nepali or Indian food, you can eat very well for very little money.
Note, bars are abundant, fun, and good places to meet/hang out with fellow backpackers.
Where to Eat in Kathmandu
There are countless of small hole-in-the-wall restaurants in Kathmandu. When locals eat out, they go to these types of places. There is no menu, and often the only thing they serve is the house version of Daal Bhat (rice, lentils, curry, and salad sometimes).
I ate Daal Bhat at least once (sometimes twice) per day when I was in Kathmandu. It's cheap, filling, and healthy… and there are free refills. It is pretty much the ultimate backpacker's dream meal if you can handle eating rice and lentils day after day.
If you are feeling like a burger, Thai food, or virtually any other type of ethnic cuisine, you can find it in the Thamel or in the "posh" tinged Patan neighborhood.
Here is a short list of some of the best restaurants in Kathmandu (that won't completely break the bank).
Fire and Ice: Expensive, but really damn good. Splurge on a pizza after a long trek, you've earned it.
Saigon Pho: The best (and possibly only??) Vietnamese restaurant in Kathmandu. You guessed it, they make an amazing Pho.
Ghangri Sui Mai: Momos. Momos. And Momos. They are the best damn dumplings ever.
Ork2K: Tasty Middle Eastern food in the Thamel. Good prices.
Singma: Delicious Malaysian-inspired noodle dishes at rock-bottom prices. Come hungry.
Garden Kitchen: This place is always packed with monks, so it must be good. Epic traditional Tibetan fare.
Himalayan Java Coffee: A proper coffee house with decent food… and most importantly great coffee.
Best Bars in Kathmandu
Sam's Bar: At this point, Sam's Bar is a Thamel institution. Sam's isn't a super flashy bar with loud music blaring out of the open doors. If you don't know about it, you probably won't just happen upon it. For a chill place to grab a pint with some mates, Sam's Bar is the place.
Rum Doodle: Another local bar with a long history of interesting clientele. Most people who have summited Everest over the years come to Rum Doodle to leave a note—of which there are hundreds dawning the ceiling and walls.
Purple Haze Rock Bar: This place has good music (usually rock and the like) on a consistent basis. It is usually pretty crowded inside, but that is part of the Purple Haze experience.
Everest Irish Pub: Because every major city in the world has at least one dive Irish Bar.
Phat Kath: As much a restaurant as it is a bar, Phat Kath is a fine establishment serving ultra-tasty food and cold beers.
Reggae Bar Thamel: Another cool spot offering up seating on the rooftop terrace, live music, and shisha. Good food and strong drinks. Always packed with plenty of backpackers.
Nightlife in Kathmandu
For a conservative country like Nepal, Kathmandu has a vibrant nightlife scene. The Thamel is the epicenter for backpacker nightlife, for better or worse. The backpacker bars, dive bars, cheesy tourist bars, music venues, cheap bar snacks, and drink specials are all on offer at various establishments throughout the Thamel.
On any night of the week, you might find a bar that is pouring drinks until dawn. I'd say most of the nightlife in Kathmandu is contained to drinking at bars or hostels. You won't find many people (certainly not locals) drinking openly in the street.
For a classier night out, the more up-scale focused bars in Patan are your best bet. Expect to pay top dollar though.
In the Thamel, there is always something going on. The contingents of backpackers constantly passing through Kathmandu are always looking to have a a few drinks (or more).
Meeting people is super easy in Kathmandu because a vast majority of travelers are concentrated in the Thamel.
At times, the Thamel can feel like being in a backpacker corral of sorts, if the corral was well stocked with hash, hippy trousers, beer, pashmina scarves, and counterfeit Gore Tex products.
If you are not wanting to party or just want a good night rest, avoid hostels directly above or right next to a bar or two. Employ earplugs to sleep, always.
Books to Read on Kathmandu and Nepal
The Backpacker Bible – Get it for free! Learn how to ditch your desk and travel the world on just $10 a day whilst building a life of long-term travel with an online income. To inspire and help the next generation of Broke Backpackers, you can now grab 'How to Travel the World on $10 a Day' for free! Get your copy here. 
House of Snow: An Anthology of the Greatest Writing About Nepal: House of Snow is the largest, most comprehensive and most elegant collection of writing about Nepal in print. It includes over 50 excerpts of fiction and non-fiction inspired by the stunning landscapes and rich cultural heritage of this fascinating country.
Kathmandu: Closed to the outside world until 1951 and trapped in a medieval time warp, Kathmandu is, as Bell argues, a jewel of the art world, a carnival of sexual license, a hotbed of communist revolution, a paradigm of failed democracy, a case study in bungled western intervention, and an environmental catastrophe.
While the Gods Were Sleeping: While the Gods Were Sleeping: A Journey Through Love and Rebellion in Nepal tells a compelling story of a woman transformed in intimate and unexpected ways. Set against the backdrop of increasing political turmoil in Nepal, Enslin's story takes us deep into the lives of local women as they claim their rightful place in society—and make their voices heard.
Thamel: Dark Star of Kathmandu: Everything you need to know before diving into Kathmandu's most legendary neighborhood.
The Living Goddess: In a small medieval palace on Kathmandu's Durbar Square lives Nepal's famous Living Goddess – a child as young as three who is chosen from a caste of Buddhist goldsmiths to watch over the country and protect its people. This book unpacks and provides context for the history and complexities of modern Nepali society.
Lonely Planet Nepal: Loaded with heaps of helpful information about backpacking in Nepal and Kathmandu.
Volunteering in Kathmandu
Long term travel is awesome. Giving back is awesome too!
Worldpackers
For backpackers looking to travel long-term on a budget in Kathmandu whilst making a real impact on local communities look no further than World Packers. World Packers is an excellent platform connecting travellers with meaningful volunteer positions throughout the world.
In exchange for a few hours of work each day, your room and board are covered.
Backpackers can spend long periods of time volunteering in an awesome place without spending any money. Meaningful life and travel experiences are rooted in stepping out of your comfort zone and into the world of a purposeful project.
Worldpackers opens the doors for work opportunities in hostels, homestays, NGOs, and eco-projects around the world. We've tried and approved them ourselves – check out our Worldpackers in-depth review here.
If you're ready to create a life-changing travel experience and give back to the community, join the Worldpacker community now. As a Broke Backpacker reader, you'll get a special discount of $10. Just use the discount code BROKEBACKPACKER and your membership is discounted from $49 a year to only $39.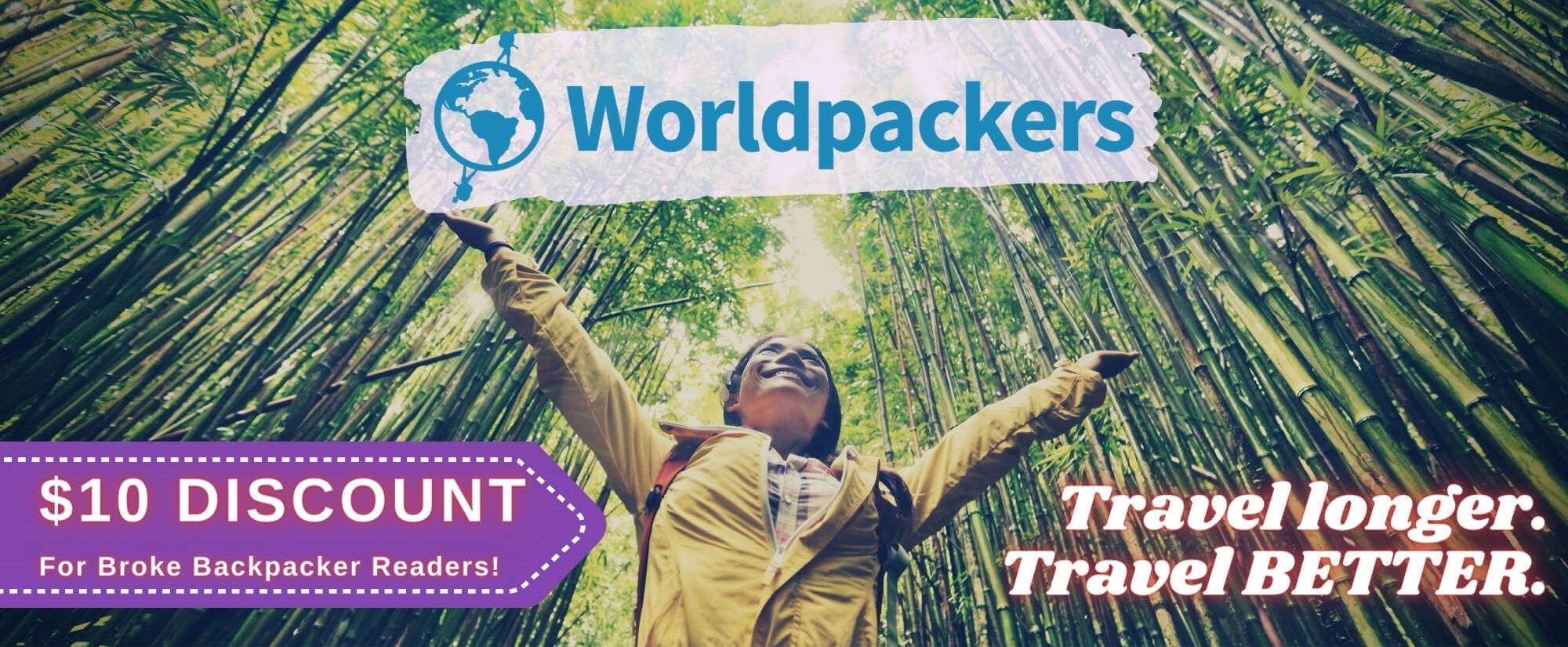 Worldpackers: connecting travellers with meaningful travel experiences.
Workaway
Alternatively, Workaway is another excellent common platform used by travellers searching for volunteering opportunities. Workaway is pretty massive, with over 40,000 hosts registered (that's 40,000 opportunities) and over 350,000 reviews on the site. With a database base that big, odds are you'll be able to find something that strikes your fancy. You can read our review of Workaway for more info on using this terrific platform.
Volunteer programs run through reputable work exchange programs like Worldpackers and platforms like Workaway are usually very well-managed. However, whenever you are volunteering do stay vigilant, especially when working with animals or children.
Global Work and Travel
Last, but certainly not least, Global Work and Travel is another viable option for finding volunteer opportunities in Kathmandu. What sets Global Work and Travel apart from other volunteering platforms is the amount of assistance they give, from a 24/7 global help-line, help with VISA processing to airport transfers and continued support once you are in Kathmandu. It may be a smaller platform, but the projects you'll find are high quality and immaculately organised. There are new programs and opportunities listed constantly as Global Work and Travel continues to grow its reach.
For those interested in volunteer work in Kathmandu, Global Work and Travel offer two projects; one where you'll get to choose between teaching English or working in a monastery or an orphanage. There are options to stay anywhere from 2 to 12 weeks with weekends off. As with all volunteer abroad programs, there's a cost, but you'll be able to pay it off in interest-free instalments. Don't forget to bring your camera and make sure you are between the ages of 18-85 to qualify!
Make Money Online Whilst Backpacking Kathmandu
Traveling in Kathmandu or Nepal long-term? Keen to make some cash when you are not exploring the city?
Teaching English online is a great way to earn a consistent income—from anywhere in the world with a good internet connection. Depending on your qualifications (or your motivation to obtain qualifications like a TEFL certificate) you can teach English remotely from your laptop, save some cash for your next adventure, and make a positive impact on the world by improving another person's language skills!
It's a win-win! Check out this detailed article for everything you need to know to start teaching English online.
In addition to giving you the qualifications to teach English online, TEFL courses open up a huge range of opportunities and you can find teaching work all over the world. To find out more about TEFL courses and how you can teach English around the world, read my in-depth report on teaching English abroad.
Broke Backpacker readers get a 35% discount on TEFL courses with MyTEFL (simply enter the code BACKPKR), to find out more, please read my in-depth report on teaching English abroad.
Whether you are keen to teach English online or looking to take your teaching game a step further by finding a job teaching English in a foreign country, getting your TEFL certificate is absolutely a step in the right direction.
Being a Responsible Backpacker in Kathmandu
Reduce your plastic footprint: Perhaps the best thing you can do for our planet is to make sure you do NOT add to the plastic problem all over the world. Don't buy one-use water bottles, the plastic ends up in landfill or in the ocean. Instead, pack a tough travel water bottle.
Go and watch A Plastic Ocean on Netflix – it'll change how you view the plastic problem in the world; you need to understand what we are up against. If you think it doesn't matter, get off my fucking site.
Don't pick up single use plastic bags, you're a backpacker – take your daypack if you need to go to the shop or run errands.
Bear in mind, that many animal products in countries you travel through will not be ethically farmed and won't be of the highest quality. I'm a carnivore but when I'm on the road, I only eat chicken. Mass-farming of cows etc leads to the rainforest being cut down – which is obviously a huge problem.
Need more guidance? – Check out our post on how to be a responsible backpacker.
Backpacking in Kathmandu will bring you ample opportunities to participate in debauchery, and it is very important to have fun, let loose, and get a bit wild at times—as you will soon find out.
Most backpacking trips I have been on across the world have included at least a few mornings where I wake up knowing I went too far. Have fun, but don't embarrass yourself, your country, and every one within 100 feet of you.
When buying a local craft or piece of gear, do not haggle so low that the price is unfair to the person who spent countless hours crafting it. Pay people what they are worth and contribute to the local economies as much as possible.
I know it can be hard, but do your best to use the least amount of plastic water bottles that you can. Refill the ones that you do buy! Use a Grayl Geopress. Refill at your hostel! There are plenty of ways to reduce plastic!!!
Check out this post on how to reduce your plastic footprint while traveling.
Backpacking Kathmandu or any region in Nepal for that matter often illuminates some of the great socio-economic inequalities of the world. Never take it for granted that you are healthy and financially able to go traveling. Show the world around you some gratitude and help to make a positive impact on it. Most of all have the time of your life and spread the love!
Broke Backpacker Staff Writer Chris Lininger contributed to this article. 
---
Thanks for reading – that was fun! 😀
We bring you epic FREE content!
Find out how YOU can help support us.
We're a big site with a big team and this job isn't always easy. But we do it because we love it – we love providing epic and free content. We love the knowledge that our content keeps you adventuring. We don't ask for money, but if you'd like to find out how you can help the site in more organic ways, click the button below.
Thank you for your support 🙂
---
And for transparency's sake, please know that some of the links in our content are affiliate links. That means that if you book your accommodation, buy your gear, or sort your insurance through our link, we earn a small commission (at no extra cost to you). That said, we only link to the gear we trust and never recommend services we don't believe are up to scratch. Again, thank you!