Few things in life are as rewarding and meaningful as having the chance to go for an amazing hike in a beautiful place.
Golden rays of light at the end of the day swirling in the clouds over an epic peak. Falling asleep to the gentle sounds of a babbling stream or a raging river. Looking out over a vast canyon whose walls are older than time itself. This is what life is all about.
This fine planet of ours is blessed with an endless number of awesome hiking trails. Below, I break down my favorite compilation of destination-worthy hiker paradises.
I have logged over 4,500 trail miles across 40 countries during the last decade, and over that time period, I experienced travel in a way I hope to inspire more people to consider: by keeping it simple and using your legs to do awesome stuff and go to amazing places.
Hiking does not require a lot of money to participate in, and in my opinion, getting out in nature is the BEST way to connect to any country or place.
Whether you are looking for a challenging day hike with world-class views, a multi-day backpacking trip of a lifetime, a hiking trip abroad, or a mix of culture, comfort, adventure, or all of them, my list has got you covered. What merits the best hike in the world for me in an ever-changing idea, but this list features my current favorites.
I aim to show you where to find some of the best walks in the world to suit your personal fitness, timeframe, and budget.
Let's go…
Quick Answer: Discover the Best Hikes on Earth
Best Overall Hike in the World: K2 Base Camp Trek (Pakistan)
Best Hike in the World for Couples: Oita Hot Spring Trail (Japan)
Best Multi-Day Hike in the World: Nelson Lakes National Park Custom Loop (New Zealand)
Best Teahouse Hike in the World: Gokyo Ri Trek (Nepal)
Best Day Hike in the World: Half Dome Hike (USA)
Best Cultural Hike in the World: Salkantay Trek to Machu Picchu (Peru)
Best Long Distance Hike in the World: Appalachian Trail (USA)
Best Hike in the World for Families: Trolltunga Hike (Norway)
Best Coastal Hike in the World: Kalalau Trail (Hawaii, USA)
Best Winter Hike in the World: Anywhere in Iceland
Best Hikes in the World: Find Your Adventure
Finding the perfect hiking adventure for yourself doesn't have to be complicated. If a place doesn't inspire you, then it is probably not worth the effort of traveling to. You are not likely to find an uninspiring place on my list, however.
I have separated my selections into different categories so that it is easy for you to dial in exactly what type of adventure you'd like to get after. There are dozens of super famous hikes that could have easily made the cut, but I am going for a mix of known and less-known adventures to keep it interesting.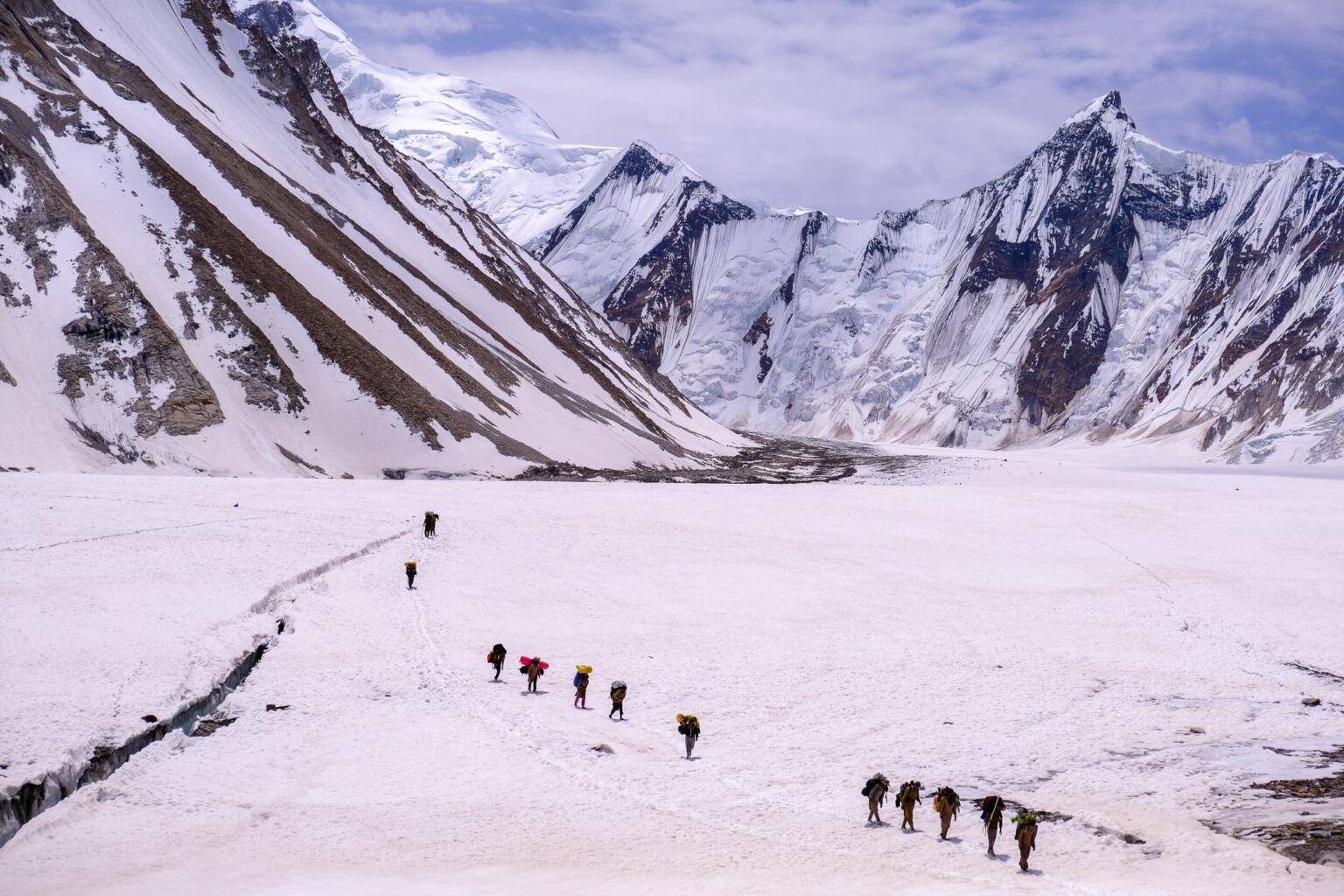 Best Overall Hike in the World: K2 Base Camp Trek (Pakistan)
Tucked away in a remote corner of Northern Pakistan, Central Karakoram National Park is home to the world's second-highest mountain. A true expedition-style trek, the epic march to K2 Base Camp involves a visit to Concordia (4,700 meters), easily one of the best campsites I have ever stayed at.
K2 Base Camp could not be more different than the Everest Base Camp trek. This region of Pakistan requires much more effort to reach and you will not find wifi and comfortable beds at the end of each day. The K2 BC trek is for real adventurers looking for an authentic hiking experience in one of the world's most beautiful, yet least visited regions.
Another bonus is tacking on a Gondogoro La (5,600 meters) crossing. From the summit of Gondogoro La Pass, one can fully take in the grandeur of just about every major peak in the area including the Gasherbrum group, Broad Peak, K2, and my personal favorite, Laila Peak.
Unlike many of the other hikes on this list, K2 BC can't be done independently. Government regulations require hikers to have a guide and special permits just to enter the national park.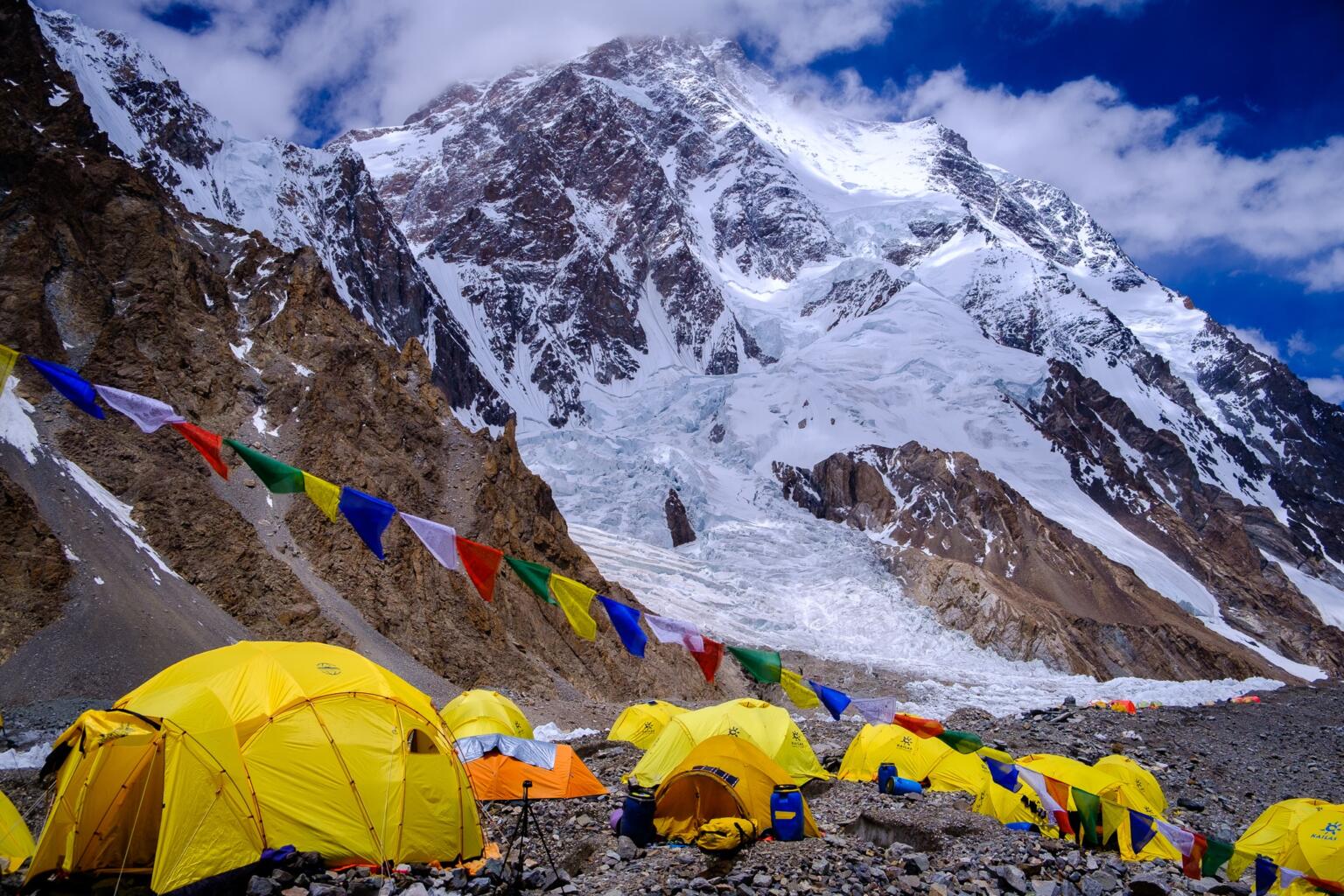 Best Hike in the World for Couples: Oita Hot Spring Trail (Japan)
Can you imagine a world where you end every day of hiking with a soak in a traditional Japanese hot spring? Because I want to live in that world every day…
Small villages, delicious food, beautiful forests, tough, but not too tough hiking days, and getting naked publicly in hot water baths (Onsens)? I honestly can think of a better hiking adventure I'd rather share with my partner. The Oita Hot Springs Trail may not be the most remote or most physically demanding hike in the world, but from an overall experience point of view, it's hard to beat.
For Broke Backpackers just starting out, this hike may end up cost you more than you can afford, though it can be done without a guide, which helps to keep the expense down.
If you or your partner have never done any hiking in your life before and still want access nature, enjoy loads of cultural experiences, and finish off each day with a dip in some hot springs with your lover, look no further. Experienced hikers will also appreciate the unique aspects of this hike, even if being immersed in nature isn't the primary focus.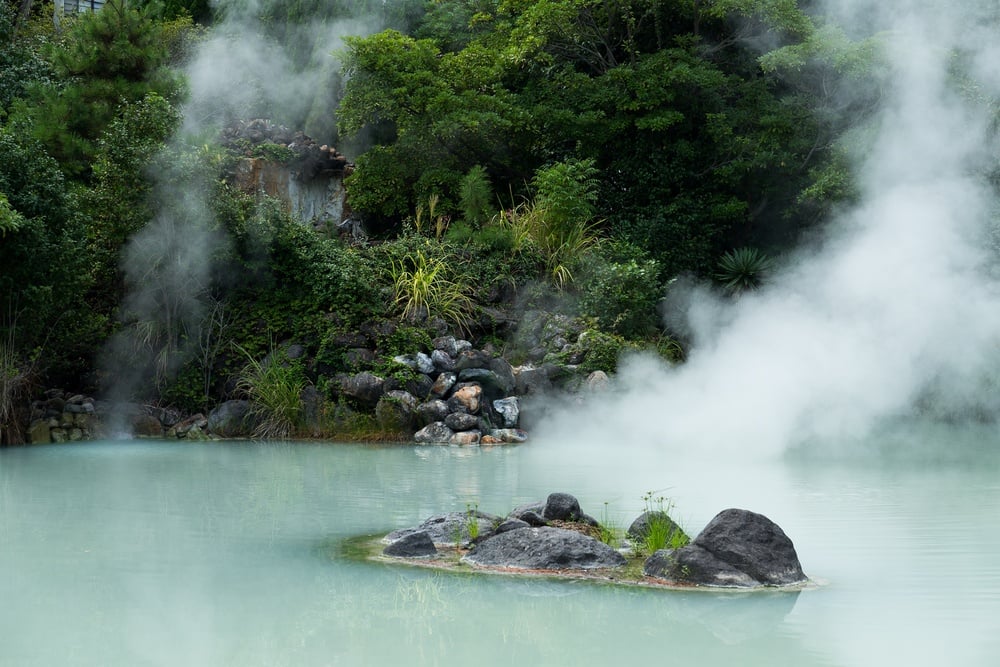 Best Multi-Day Hike in the World: Nelson Lakes National Park Custom Loop
This category was probably the most difficult for me to come up with. If I am being honest there are MANY amazing multi-day hikes out there and I just decided on one due to the fondness I hold in my heart for this part of the world.
Nelson Lakes National Park is situated in the north of the stunning South Island of New Zealand. Of all the famous national parks found on the South Island, Nelson Lakes is nowhere near as popular as say Abel Tasman or Mount Aspiring National Parks.
I did this hike in a single nine-day push which included a few awesome pass crossings and a visit to the clearest natural lake in the world; Blue Lake.
A cool thing about this hike and New Zealand in general is the option to stay in the mountain huts. I did carry a tent as well, but if you want to save weight, staying in the huts is a great option. Be sure to bring your own sleeping bag though as the huts only have mattresses.
By far, the best hut on the entire trek is Angelus Hut. I spent a few weeks there serving as hut warden (on a separate trip) and it was one of the best two weeks of my life! Be sure to book Angelus well in advance though as it is a popular overnight hiker destination as well.
For an epic end to your journey, make sure to book Angelus at the end of your trip, not the start.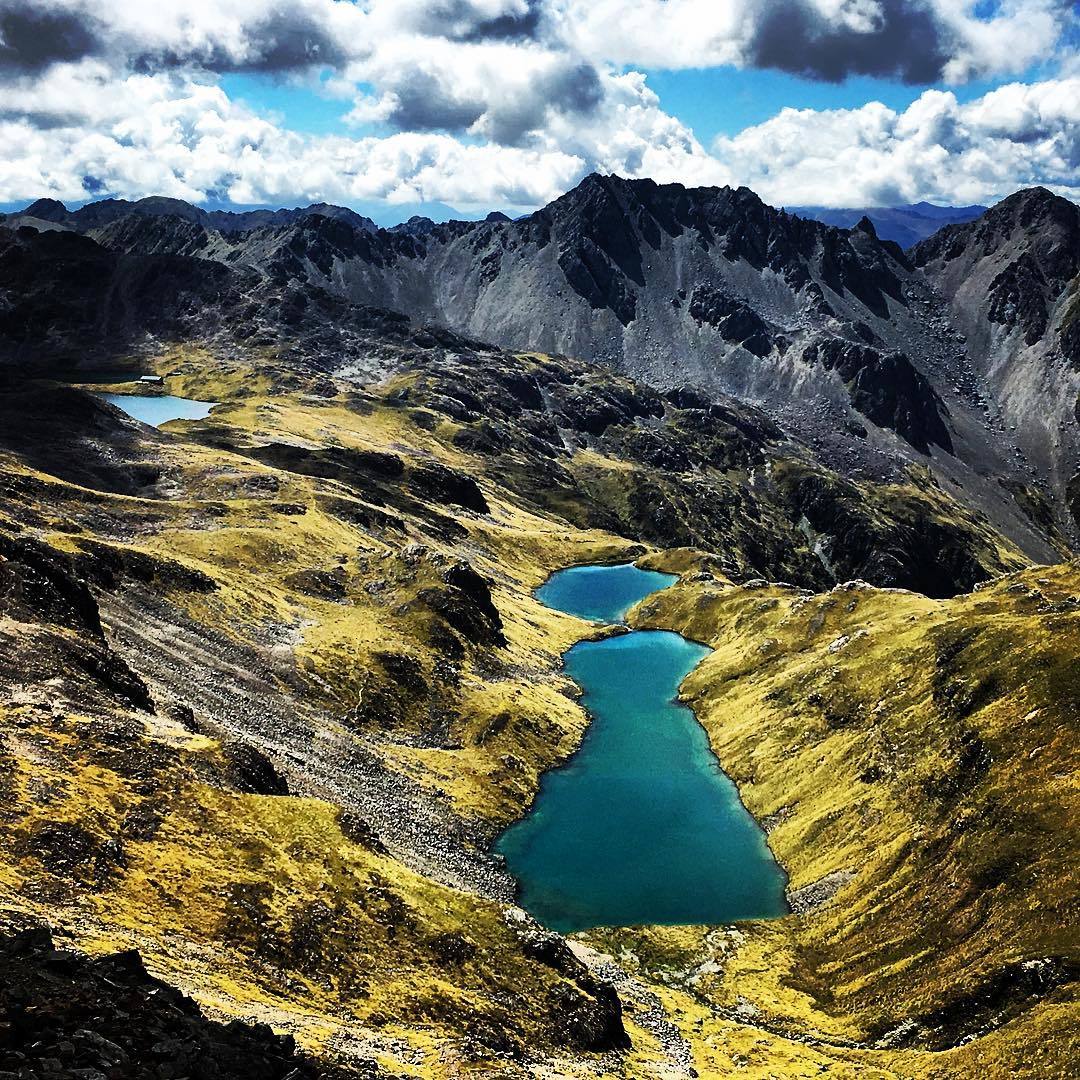 Best Teahouse Hike in the World: Gokyo Ri Trek (Nepal)
I could not have written this article without mentioning Nepal and still felt good about myself. Nepal is home to the largest mountains in the world and probably has the best infrastructure for dealing with foreign hikers than any other developing country. In my opinion, some of the best trekking in the world is found across Nepal. The Himalayas are just so damn impressive.
While the scenery on the Anna Purna circuit is arguably just as stunning as the Gokyo Ri trek, Gokyo won out because a fraction of the people do this trek vs Anna Purna.
Gokyo is located in the Khumbu Region of Nepal that is also home to a big mountain you may have heard of: Everest. Actually, the Gokyo Ri trek shares the Everest Base Camp trail for the first three days before splitting off to another valley.
I am not a proponent or fan of Everest BC and I think it is a true shame that so many people go there instead of exploring the more off the beaten path parts of Nepal (even within the same region).
The Gokyo Ri trek took me roughly 14 days and culminated with one of the best views of my life (in perfect weather!) atop Gokyo peak ( 5,360 meters). From there, you can see many of the major peaks in the area, including Everest.
Accommodation is in tea houses. I did not pay for a single night in any of the tea houses I stayed in, as long as I ate my meals there. World-class trekking with a bed included for $15/day. Not too bad.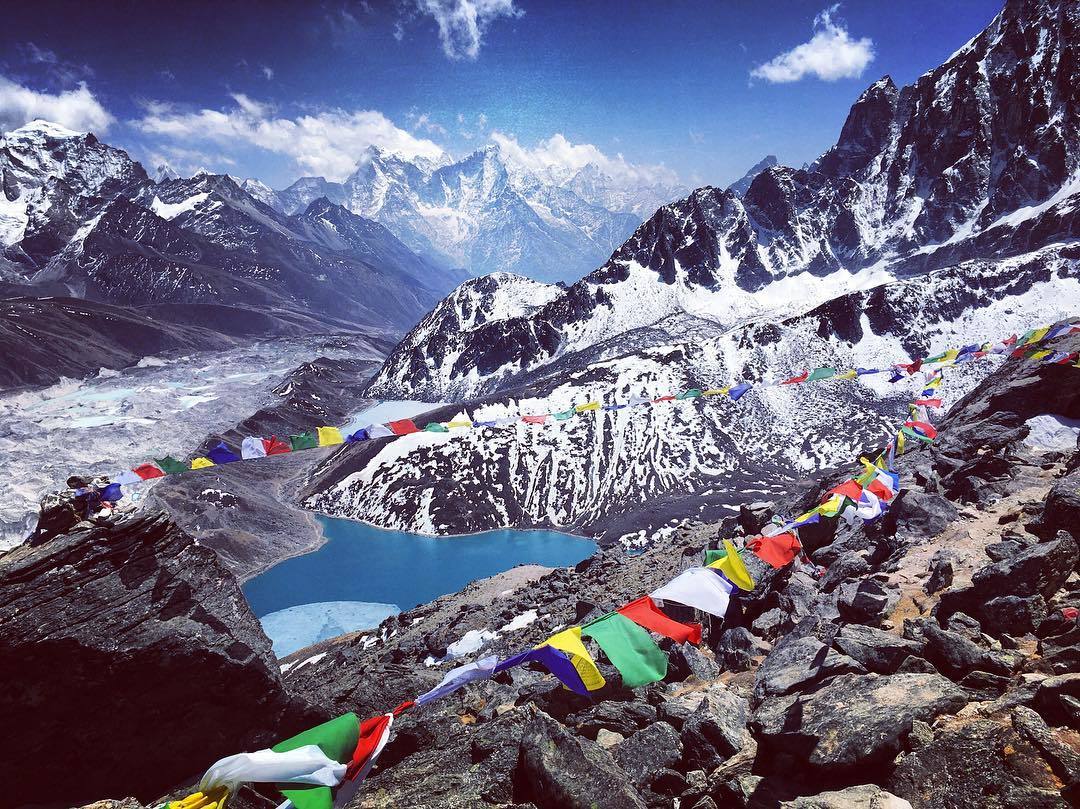 Best Day Hike in the World: Half Dome in Yosemite (USA)
The answer to this category changes depending on what day you happen to ask me. For no particular reason, I am feeling good about Yosemite today so the Half Dome hike wins the prize.
Few rock formations on earth can hold their own against the impressive big walls found in Yosemite Valley, California. Towering faces of sheer granite rise up out of the floor like impossible giants, dwarfing everything else beneath.
The hike up Half Dome is actually so popular, that the National Park Service now requires hikers to have a permit. 300 people a day are allowed to attempt the summit, some do not even make it to the top because of the steepness.
Those who do make it to the top are rewarded with stunning views of the iconic Yosemite landscape.
Don't set off on this hike lightly though. Since 1995, 12 people have fallen to their deaths attempting to reach the top of Half Dome.
Keep in mind that whilst the views attained on this hike are insanely beautiful, the crowds are not a thing of beauty. Do not bother with this hike in the middle of the summer unless you want to be swarmed by hundreds of novice (hazards to themselves and you) hikers.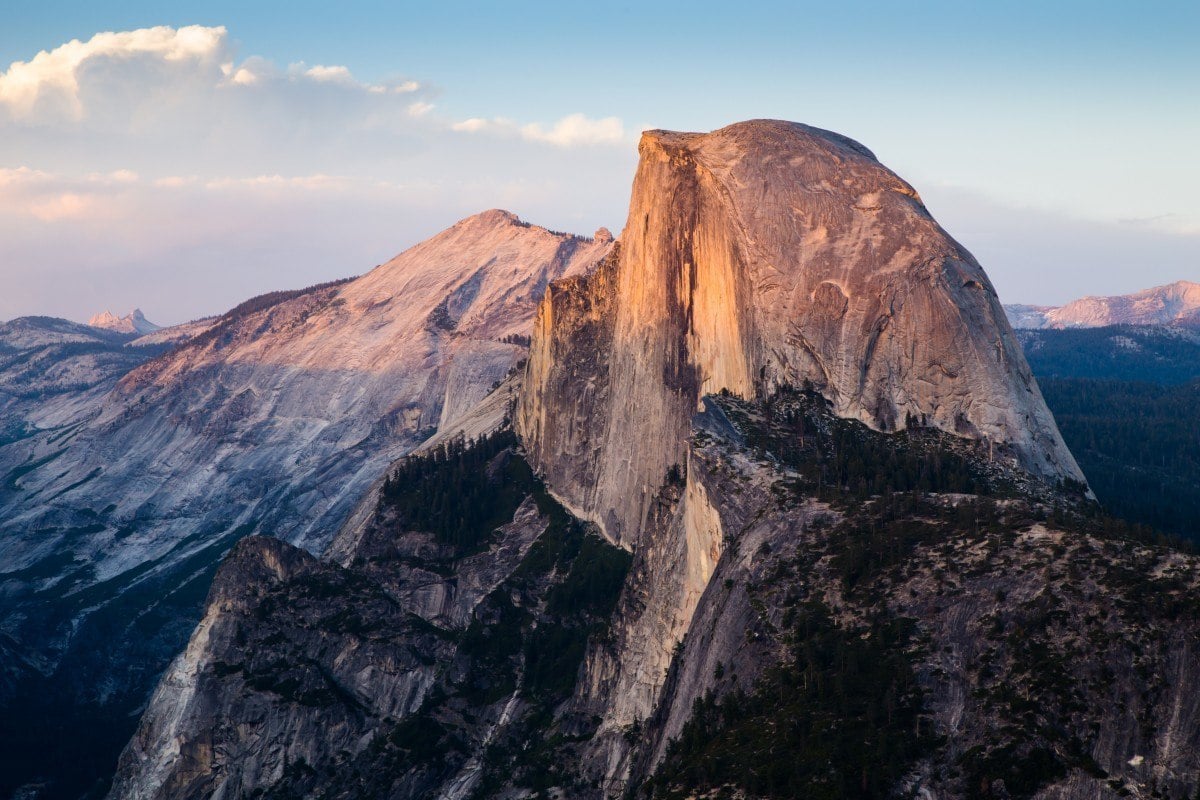 Best Cultural Hike in the World: Salkantay Trek to Machu Picchu (Peru)
While the Inca Trail Hike may be the way over-trafficked Everest Base Camp trek of South America, the Salkantay Trek is hands down one of the best walks in the world that I have ever done.
The Salkantay Trek follows a different route than the Inca Trail hike and brings you up close and personal with a variety of landscapes. I did this hike back in 2012 when it was still pretty cheap and unknown, but I can guarantee you that it is still far less busy than the Inca Trail.
My favorite part of the Salkantay Trek was the high alpine pass, and of course, the goal of the whole trek: arriving at Machu Picchu. The trek itself is 4 days, with the fifth day being the Machu Picchu exploration day.
Machu Picchu is popular for a reason. The place is incredible. Be sure to be the first one to the gate in the wee hours of the morning so that you at least have a solid hour within the grounds to explore and take photos before the hordes arrive on the train and tour buses from Cuzco.
If you are a competent backpacker and have all of your own gear (and carry all of your own food), you do not need to go on a guided trip. Don't expect to show up ill-prepared though and dive right in. You MUST bring the proper alpine gear and have good navigational skills. Independent backpackers will be rewarded.
Best Long Distance Hike in the World: Appalachian Trail (USA)
If I myself had not done a large chunk of the AT back in 2015, I would probably be singing a different tune.
The AT is one of the first and most iconic long-distance hikes. It is the OG of long-distance suffering, I mean hiking. Starting either in the US states of Georgia or Maine (southbound or northbound), this 2,180-mile hike is not for everybody.
While the landscapes my not be as grand as the Pacific Crest Trail on the West Coast, the community and spirit of Appalachian Trail thru-hikers are one I have yet to encounter anywhere else. The mountains are beautiful, the days challenging, and the suffering is very real at times (hunger, mosquitos, filth, fatigue, blisters)— but oh so worth it.
That said, the entire experience is one I will never regret or forget. If you have six months to dedicate to hiking every day, go for the AT.
If you are new to thru-hiking, the AT is a great trail to begin your journey.
Pro tip: do NOT start the Appalachian Trail if you are in a serious romantic relationship. That was my biggest mistake and the sole reason why I did not finish. Learn from me, amigos. Start the trail as a single human and you will likely send the whole thing.
Save $$$ • Save the Planet • Save Your Stomach!
Drink water from ANYWHERE. The Grayl Geopress is the worlds leading filtered water bottle protecting you from all manner of waterborne nasties.
Single-use plastic bottles are a MASSIVE threat to marine life. Be a part of the solution and travel with a filter water bottle. Save money and the environment!
We've tested the Geopress rigorously from the icy heights of Pakistan to the tropical jungles of Bali, and can confirm: it's the best water bottle you'll ever buy!
View on REI
Read the Review
Best Walk in the World for Families: Trolltunga (Norway)
Norway is just one of those places blessed with epic landscapes everywhere you look. Just walking down the street in this country is beautiful. Sheesh. Not fair Norway, not fair.
Fjords, mountains, waterfalls, hard to pronounce stuff, quaint villages, weird fermented food… I mean, what's not to love?
While popular, Trolltunga is a rewarding hike for families keen on adventure. It is not the shortest hike but if you and your kids can get down on 6-8 hours of fairly easy hiking, Trolltonga will not disappoint.
The best part of the hike is the grand view gained at the Troll's Tongue; probably the most famous viewpoint in Europe.
Be a responsible parent and pack lots of snacks, layers, sun cream, and a water purification system.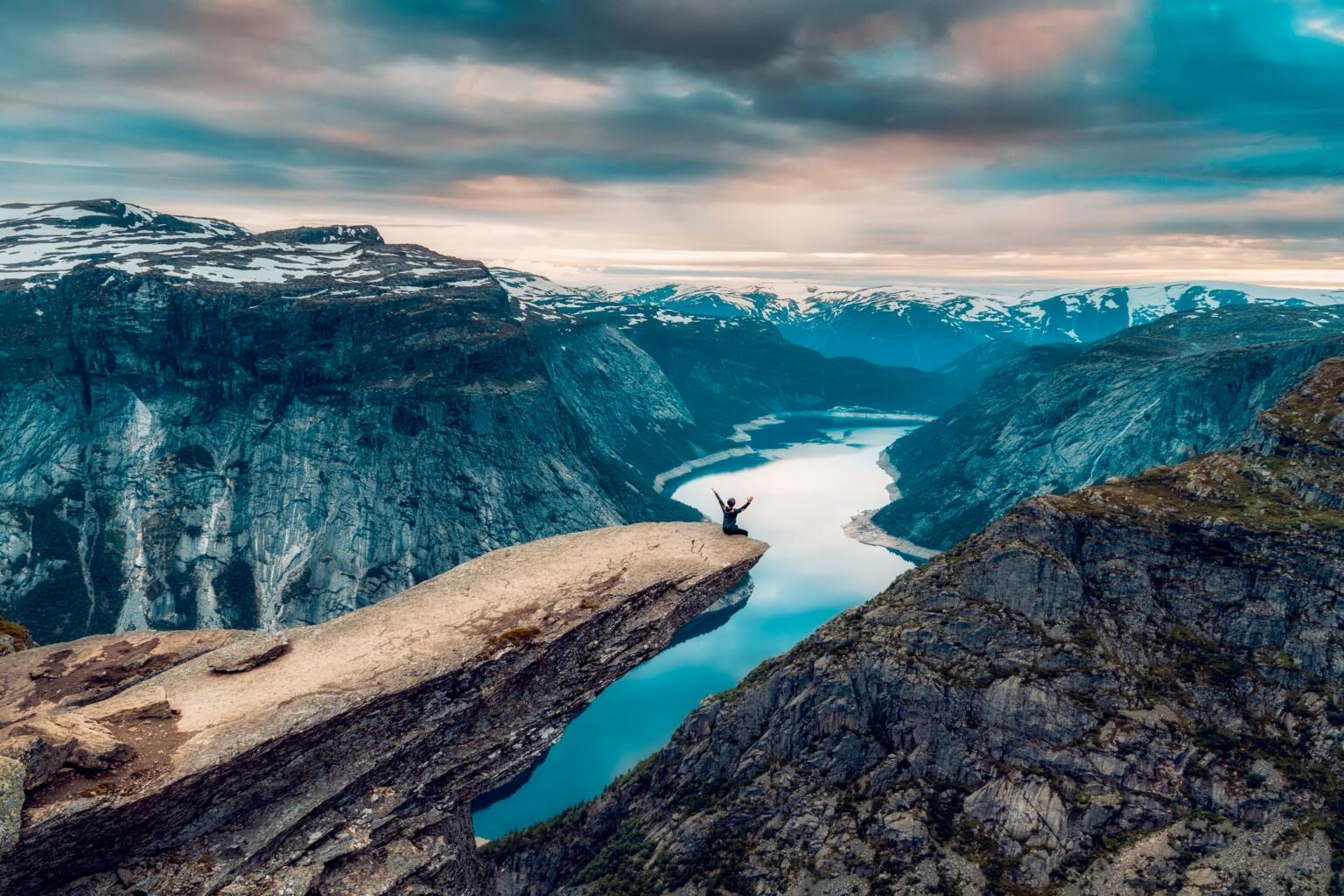 Best Coastal Hike in the World: Kalalau Trail (Hawaii, USA)
The Napali Coast is just one of those magical places that make other seaside stretches of land pale in comparison. Found on the island of Kauai in Hawaii, the Kalalau Trail is the best way to take it all in. This short but sweet 11-mile trail (one way) packs in more epic coastal beauty than most countries with thousands of miles of coastline.
Fun fact: they filmed parts of Jurassic Park here. That's because it totally looks like dinosaurs could live here. It's a wild place figuratively and literally.
Because Hawaii is crawling with foreign visitors though, you need to plan ahead if you want to hike this part of Kauai.
Only 60 people are allowed to hike the entire trail at a time. Also, there are only two campsites available, and you can't wild camp. Currently, the state is only issuing permits 90-days in advance, so if you know you are coming to Kauai, you need to jump on getting your permit when they become available.
Let's face it: humans are dumb and they can't be trusted with respecting fragile ecosystems. I think the daily hiker limit for the Kalalau Trail is a great move to help offset the destruction and pollution that would result from thousands of people trying to camp here at once.
Occasionally, the trail becomes dangerous due to flooding/swollen streams and the authorities close it down. Just pray that if this is your one and only time coming to Kauai, you get good weather!
Best Winter Hike in the World – Anywhere in Iceland
If you have been tuned in to all of the incredible Icelandic images flooding Instagram over the last few years, then you know just how special this country is.
An accurate adjective that describes Iceland (if not overused) is otherworldly. Hiking in Iceland in the winter is actually not as miserable as you might think. Far fewer people visit Iceland in the winter, but the days are also much shorter. This limits the amount of time you can be outside in daylight to 4-7 hours tops.
That said, even when the sun goes down they are spectacular sights to see: do the northern lights ring a bell?
Long-distance hikes during the winter are not recommended due to the lack of sunlight. In Iceland though, there are so many options for awesome day hikes… plus you have hot springs everywhere.
For photographers especially, embarking on a winter hiking adventure in Iceland is going to be ultra rewarding.
Check out-> Backpacking Iceland Travel Guide
Check out -> Driving Iceland's Ring Road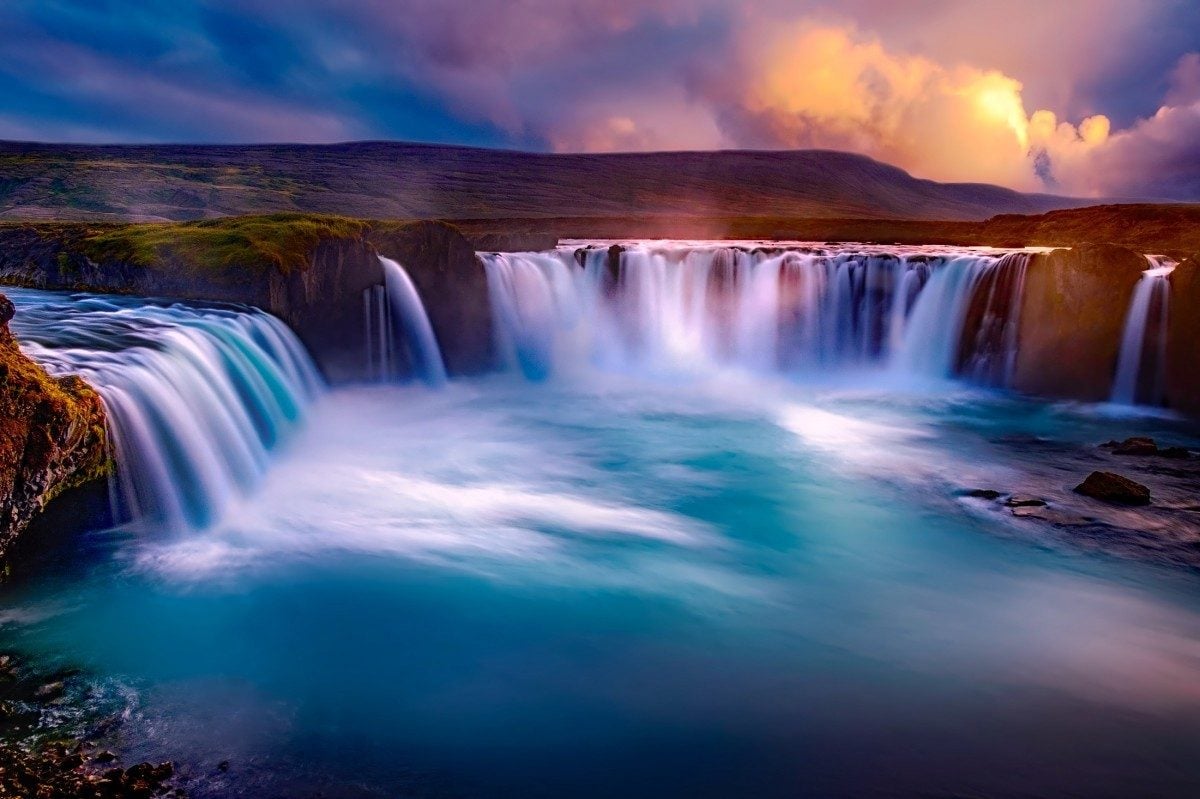 Get Travel Insurance Before You Go Hiking Abroad!
And don't forget to take out Travel Insurance for your trip! I have been using World Nomads for some time now and made a few claims over the years. They're easy to use, professional and relatively affordable. They may also let you buy or extend a policy once you've started your trip and are already abroad which is super handy.
ALWAYS sort out your backpacker insurance before your trip. There's plenty to choose from in that department, but a good place to start is Safety Wing.
They offer month-to-month payments, no lock-in contracts, and require absolutely no itineraries: that's the exact kind of insurance long-term travellers and digital nomads need.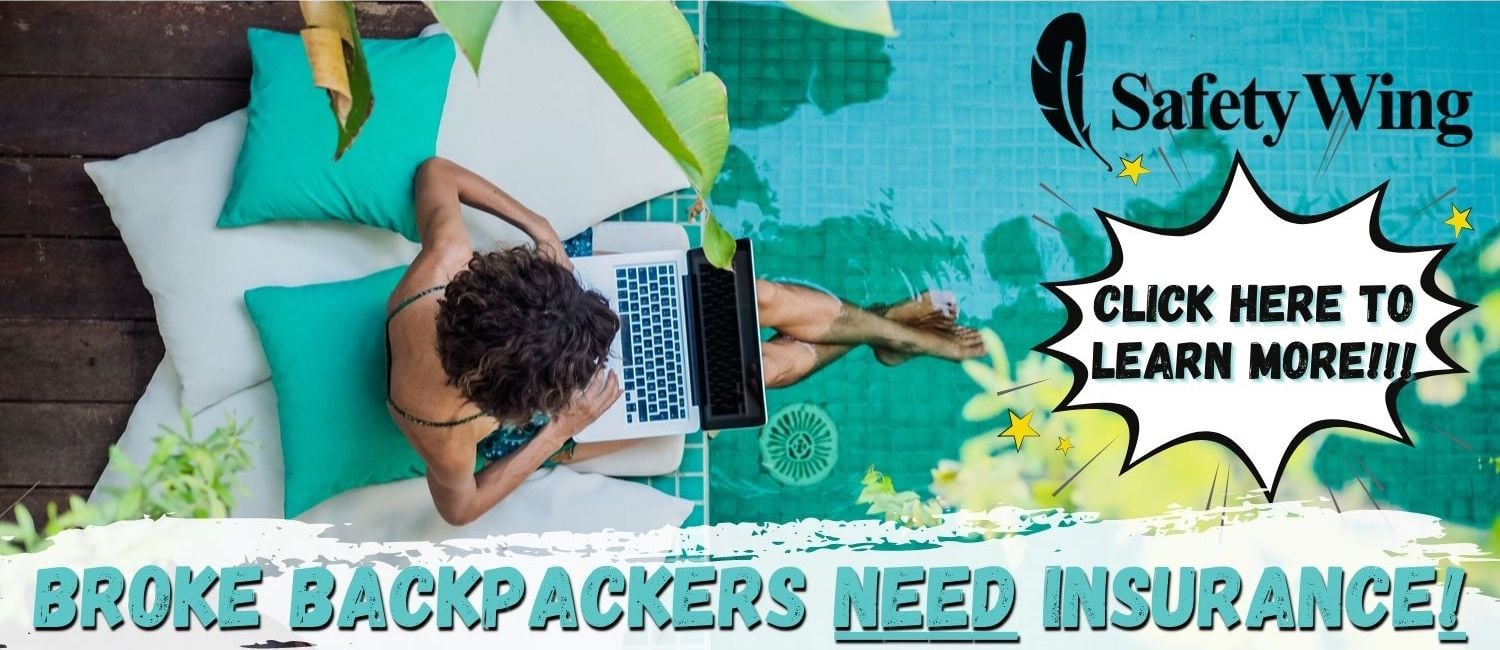 SafetyWing is cheap, easy, and admin-free: just sign up lickety-split so you can get back to it!
Click the button below to learn more about SafetyWing's setup or read our insider review for the full tasty scoop.
Five Hiking Essentials For Any Adventure
No, you are not seeing double… I love the Geopress so much I have mentioned it twice in this article.
Ask any living creature—water is very important. A huge swath of the human race is used to drinking water direct from the tap, no questions asked.
When we step away from the comfort of our kitchen sinks, water fountains, and delicious West-Coast IPA taps (not water but I will make an exception), the "drinkable" water found across the globe poses more of a threat. Sometimes, those threats are massive (even though they are microscopic) and can put you in the hospital if the wrong invisible parasitic ninja karate kicks its way into your digestive system.
Oh, and unless you have been living under a rock for the last 40 years, single-use plastic bottles are destroying the earth, with the oceans being especially affected. So where do you get safe water whilst embarking on the best hikes in the world?
There is one tool that I never go on a serious hike or travel adventure without: the Grayl Geopress. The Geopress is the only all-in-one water purifier bottle that you will ever need. Unlike the deceptively-marketed Lifestraw and the like, the Geopress works on ALL SEVEN CONTINENTS and actually purifies the water, not just filters it (an important distinction).
I have used my Geopress in sketchy hotel sinks in Pakistan, purified dark grey river water in Kyrgyzstan and jungle water in Bali, Cuba, and Colombia. Water sources of which most definitely contained trip altering bacteria, heavy metals, or contaminants in one form or another.
And the Geopress performed just as it was designed too: flawlessly.
If you are going to invest in one badass piece of kit for your next travel or hiking adventure, go get a Geopress. Don't use any other lame water filter system (and don't waste your time or money on a Lifestraw). This is the holy Grayl of water purifying technology. Pun intended.
Check out: In-depth Grayl Geopress Review
A turtle is not capable of leaving behind its shell. Neither should you be capable of setting off on a hike without the right backpack. Learn from the turtle, young grasshopper.
The backpack is your lifeline in the backcountry. It houses your food, your shelter, your bed—all of the things that keep you safe and happy.
Obviously, if you are just going on a short day hike, 70 liters is far too much backpack for your needs. Spending multiple days on the trail? You'll need something comfortable, reliable, and tough enough to handle years of abuse.
I have always been a huge fan of Osprey products. For the majority of the miles I have logged over the years, I have had an Osprey on my back. I've tried many different models and for my kit needs and hiking style, the Aether 70 AG is my favorite backpack of all time.
Osprey also has a great repair program. They stand by the products they produce and will repair damage at little to no cost for the lifetime of the backpack, which is awesome.
Check out: Osprey Aether AG 70 review
Check out: Best Hiking Backpacks
Feet like to be happy. When you are depending on your feet to carry you vast distances, you can't neglect them.
Even a short day hike can be ruined without the proper footwear so be sure to pack some proper quality hiking boots. The Keen Targhee iii boots are simple and that is why I like them. They do a decent job keeping out water, are tough, and have excellent rubber soles for traction.
Since we have been talking about eco-friendly products, let's discuss what Keen is up to in that realm. Keen works with Leather Working Group-certified tanneries that use processes to reduce chemical use and the impact on our watersheds. Ever seen those videos of leather tanneries in Bangladesh? They are bloody awful polluters.
Keep your feet stoked and feel good about using boots not made using a toxic soup of earth destroying chemicals.
Check out: Keen Targhee Review
Headlamps are staples of any hiker's diet. Without one, you can't see or do anything when the sun goes down.
Headlamps may not seem like an essential kit for every hiker, but if you are planning on camping at any point in your life, you are going to need one.
I like supporting small companies. I also like supporting small companies that give a shit about the environment. Recently I tried out the Eukarya Origin headlamp and was impressed by the design and functionality.
It's made using a wooden frame instead of plastic, is rechargeable (so you don't need to use batteries), and is just about as sexy as a headlamp can be.
Support a small company doing good things and cook your noodles under a beam of 300 healthy lumens.
Check out: Best Headlamps Review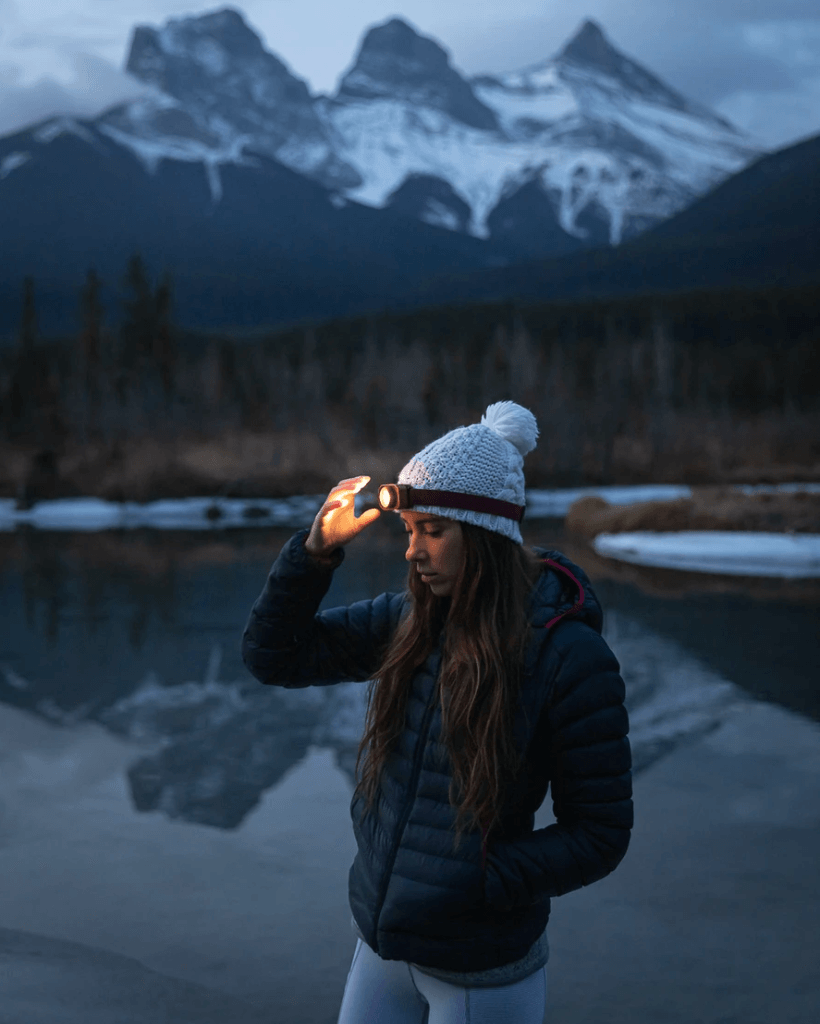 Unless you are hiking in the tropics, having a good down jacket in your backpack is a must. Down jackets provide crucial insulating warmth when the weather turns foul and frigid.
Keeping in the theme of responsible outdoor gear manufacturers, Patagonia needs no introduction. They have been on the front lines of producing eco-friendly outdoor gear for decades.
The Patagonia Down Sweater Hoodie is a solid mid-weight down jacket suitable for freezing temperatures. I like the hood because it really helps to seal in all of that toasty down warmth. The jacket has a great fit and easily slides over a few other layers.
Pretty much any time of year is a good time to pack a down jacket, especially for an overnight trip. Like Osprey, Patagonia has an excellent warranty program for their products. Recently I had my old Down Sweater Hoodie leaking feathers everywhere and Patagonia replaced it with no questions asked, which was really cool of them to do.
This jacket will keep you feeling warm in a variety of climates. If I had to choose one 3-season down jacket, it's the Down Sweater Hoodie all the way.
Check Out: Best Down Jackets Review
6. First Aid Kit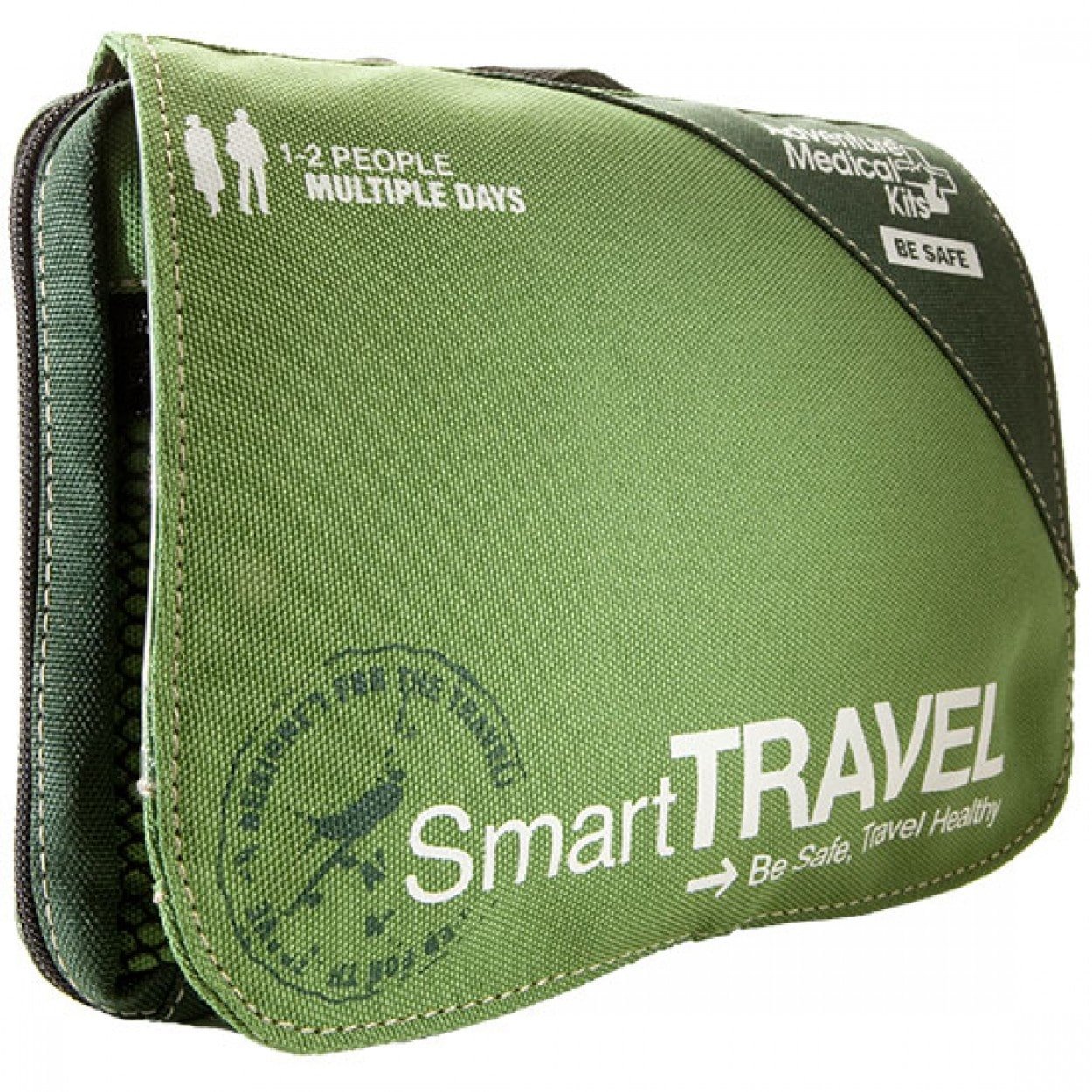 You don't need to tote around half a pharmacy, but a well-stocked first aid kit should be in all our backpacks. Stuff happens on the road and it's inconvenient and embarrassing when you can't manage small situations like a cut finger or hangover migraine.
You can tuck this lifesaver away in a forgotten pocket – and it'll be there when you need it.
Tip: Add a few bits and pieces to the first aid kit after you purchase it, like extra headache medicine, any personal meds you need (like allergy pills), whatever you take to calm your stomach and a few more plasters.
Check Out: Complete list of the Best Travel First Aid Kits
6 More of the Best Hikes in the World for 2021
Tour Du Mont Blanc – France, Italy, Switzerland
One of the most unique and comfortable multi-day treks I have ever done has to be the Tour Du Mont Blanc.
The Tour du Mont Blanc or TMB is one of the most popular long-distance walks in Europe. It circles the Mont Blanc massif, covering a distance of roughly 170 km with 10 kilometers of ascent/descent and passes through parts of Switzerland, Italy and France.
Beds, wine, showers, and three-course meals in beautiful mountain huts: this is the TMB experience. I was lucky enough to do this hike with my dad a few years ago. My dad was 65 at the time and had done little to no serious trekking in his life. The trek was pretty difficult for him, but made possible (and very enjoyable) by the fact that we stayed in huts every night, ate very well, and did not have to carry much in the way of gear.
Personally, I think the Italy section was the most beautiful!
In order to do this trip on your own (without a guide, which you do NOT NEED), you need to be organized well in advance. Due to its popularity, you need to book out the mountain huts 4-6+ months in advance. My dad and I were able to do this trek for about $750 USD each including food, lodging, and transport (making our own lunches) over 11 days.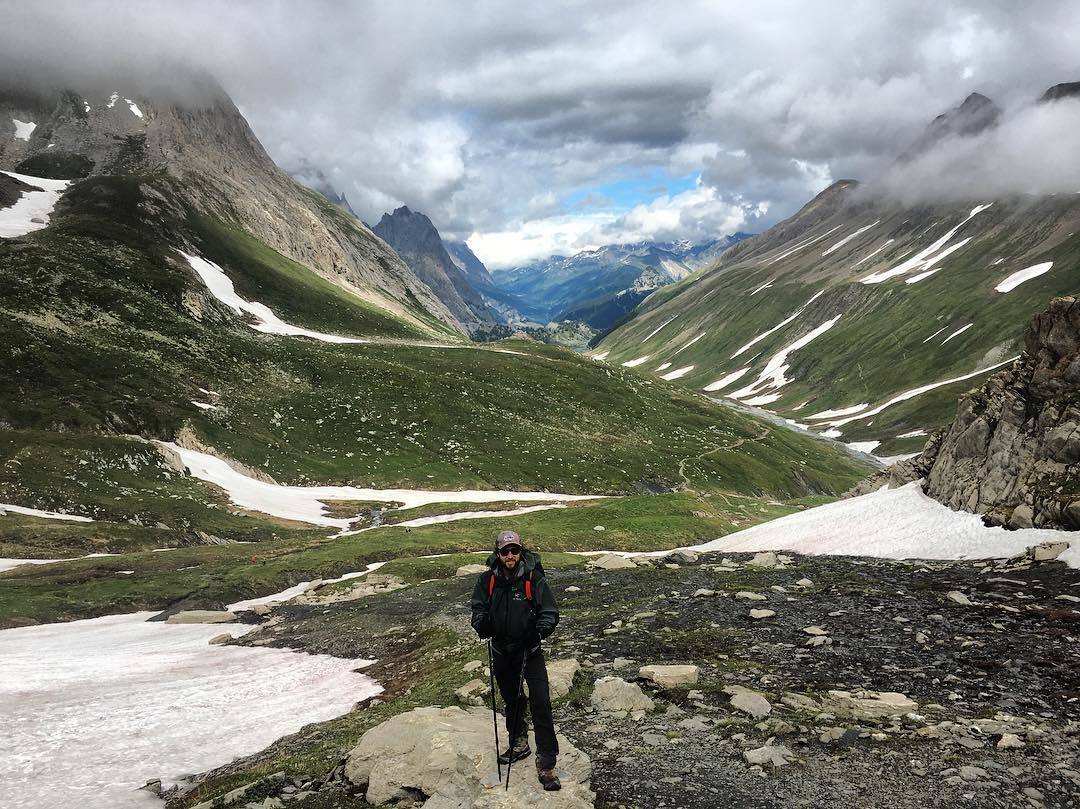 Patundas Pass Trek – Upper Hunza, Pakistan
So know I am going to take you from one of the most popular treks in the world to one of least famous: the Patundas Pass trek.
Patundas is so special because of the different landscapes you get to experience in a relatively short window of time. The first day involves trekking across the massive Passu glacier before arriving at the first camp.
Day 2 puts you on top of Patundas pass after a steep 800-meter ascent. The 360-degree views from Patundas are second to none. Take in golden hour as the light throws beautiful shades of pink and orange onto green pastures, 7,000-meter peaks, and glaciers rolling back into deep valleys as far as the eye can see.
Due to the remoteness of the area and the dangerous glacier crossing, I do not recommend attempting Patundas on your own.
Mount Kilimanjaro – Tanzania
Africa is the continent that I have sent the least amount of time on. That said, I could probably write 10 articles on the best hikes in Africa as the continent is just SO BIG and offers so much in terms of epic hikes.
Climbing Kilimanjaro is actually less of an actual climb and more of an uphill trek. Africa's tallest peak takes you a variety of stunning climatic zones and is a very achievable 5,800+ meter mountain even for novice trekkers to tackle.
Hiking up Kilimanjaro does require a guide and some pretty hefty fees though. Also this hike is very popular, being the tallest peak on the continent and one of the famous Seven Summits.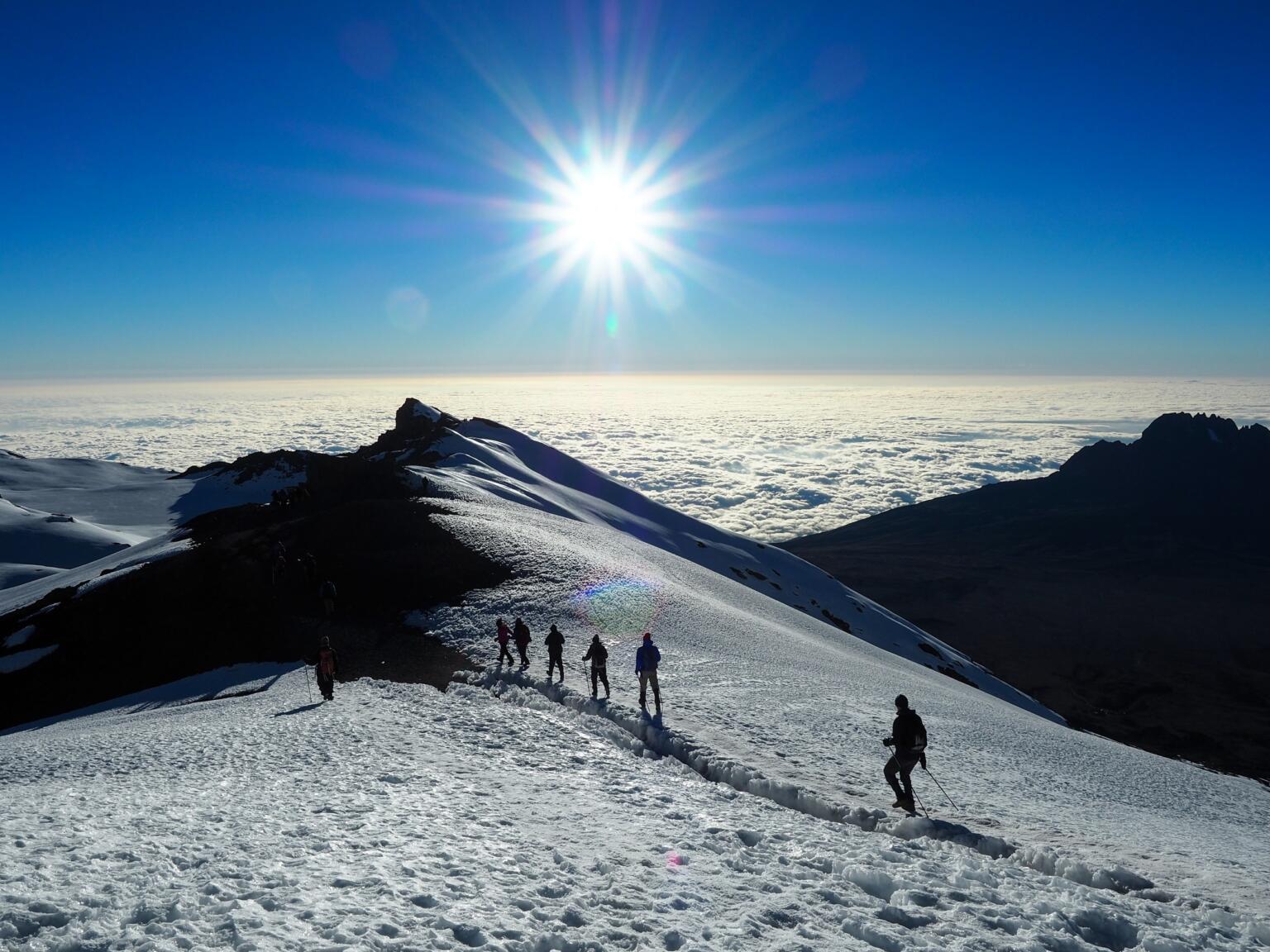 The W Circuit – Torres Del Paine, Chile
Torres Del Paine in Chilean Patagonia is one of the most stunning natural areas I have ever been to. Back in late 2011, just days before I was to start the trek, an Israeli hiker caused a fire by using a gas stove in a no-fire area. The whole thing was super sad and resulted in the arrest of the hiker at fault. Be careful with fire guys!!! Respect fire bans—that is the moral of this story.
Subsequently, large portions of the national park were closed when I was there. Still, I managed to do 5 days of backpacking in the park and it was an unforgettable experience. If you have time (and if there are no fires) I recommend that you go for the entire "W" circuit.
Patagonia is a must-visit region of the world if you love trekking.
I recommend getting up for sunrise every day as that is when you have the best light!
The John Muir Trail – California, USA
In case you have not heard of this trail, here are the quick facts: The John Muir Trail (JMT) is a long-distance trail in the Sierra Nevada mountain range of California, passing through Yosemite, Kings Canyon, and Sequoia National Parks. At a little over 2010 miles long, this hike takes roughly 2-3 weeks to complete depending on your daily speed.
The Sierra Nevada mountains are among the most beautiful in North America. Even if you can't tackle the whole JMT in one go, hiking sections as day walks is still an excellent option.
This hike has become so popular in fact that the national parks now require hikers to possess a permit— and permits are issued on a lottery system. There are way more keen hikers than there are permits issued every year, so hopefully, you will get lucky!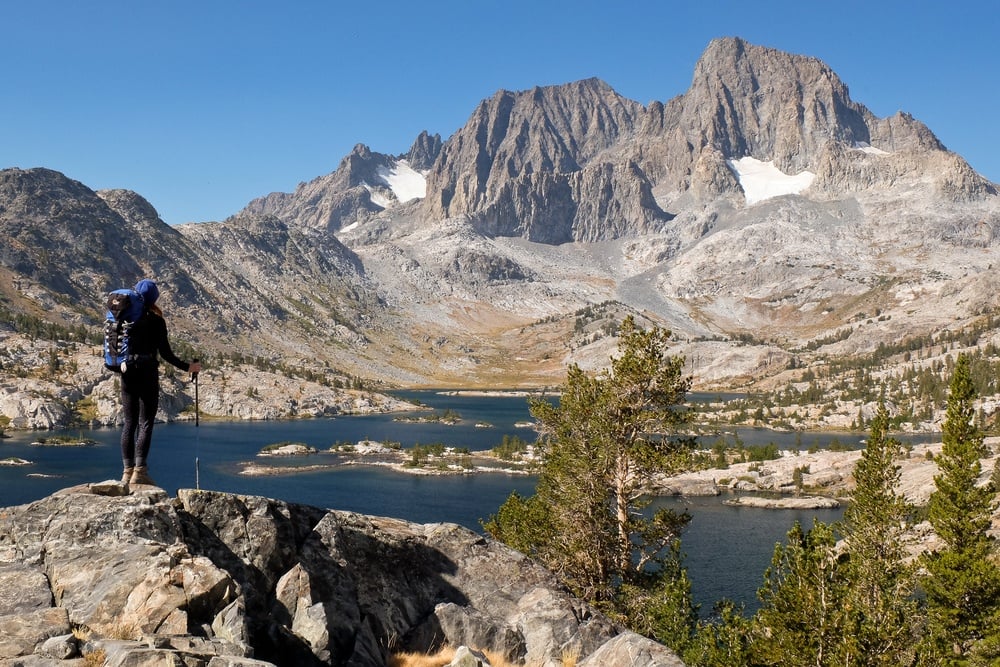 Celestial Mountains Trek – Kyrgyzstan
Kyrgyzstan is fast becoming one of my favorite hiking destinations. The Celestial Mountains Trek has it all: big mountains, raging rivers, hot springs alpine lakes, a few tough mountain passes, a taste of nomad culture, and more vodka waiting for you back in town than the Russian Navy could drink in 10 years.
This trek does not require a guide per se, but only people with the right gear, food, and experience should attempt this trek without a guide. Be prepared to be our for three nights at least. To get to the "trailhead", you'll need to hire a car in Karakol.
On the final day of the trek, you arrive at a developed yurt lodge with pools filled with natural hot spring water. There is seriously no better way to finish a challenging trek than soaking your weary bones with a cup of red wine in hand.
Along with the hot springs, the trip highlight for me was camping out for a night at Ala Kul lake during a rainstorm.
If you are going to visit anywhere in Central Asia for hiking, head straight to Kyrgyzstan.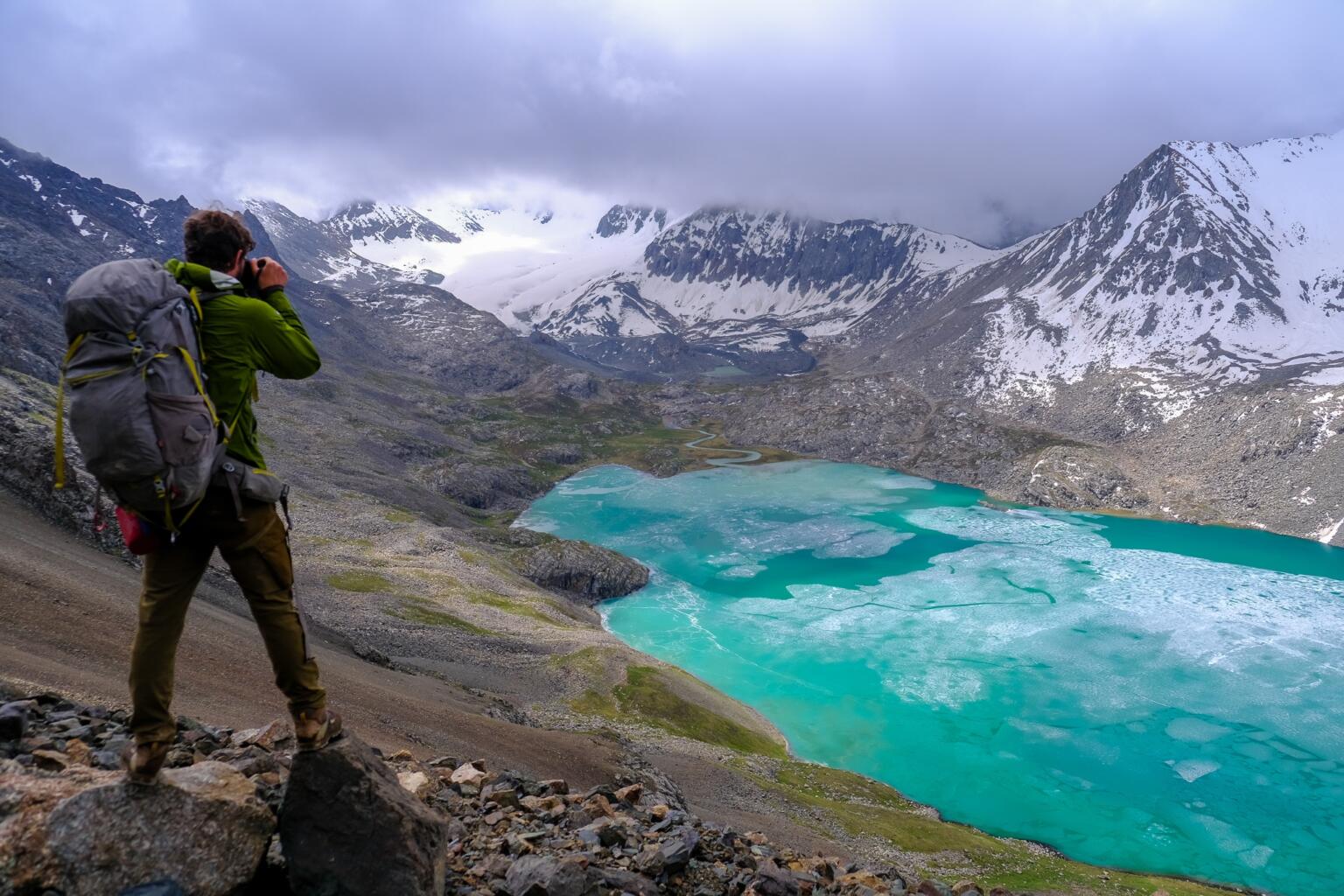 Final Thoughts on The Best Hikes in the World
Truth be told, I could go on for ages and ages about the best walks in the world, but most likely you have already stopped reading this article because most of us have the attention spans of goldfish these days. What was I saying again? Oh yeah, hiking.
From the list provided you now have your work cut out for you. It took me years to tackle the hikes on this list, and unless you are the trekking version of Nims Dai, I hope you enjoy taking your sweet time to enjoy all of the special landscapes, challenges, and beauty on offer here.
Hiking can be at once a deeply personal experience as well as one of the strongest ways to connect to the people and places you care about.
Break out the backpack, load up the snacks, and go get out there.
---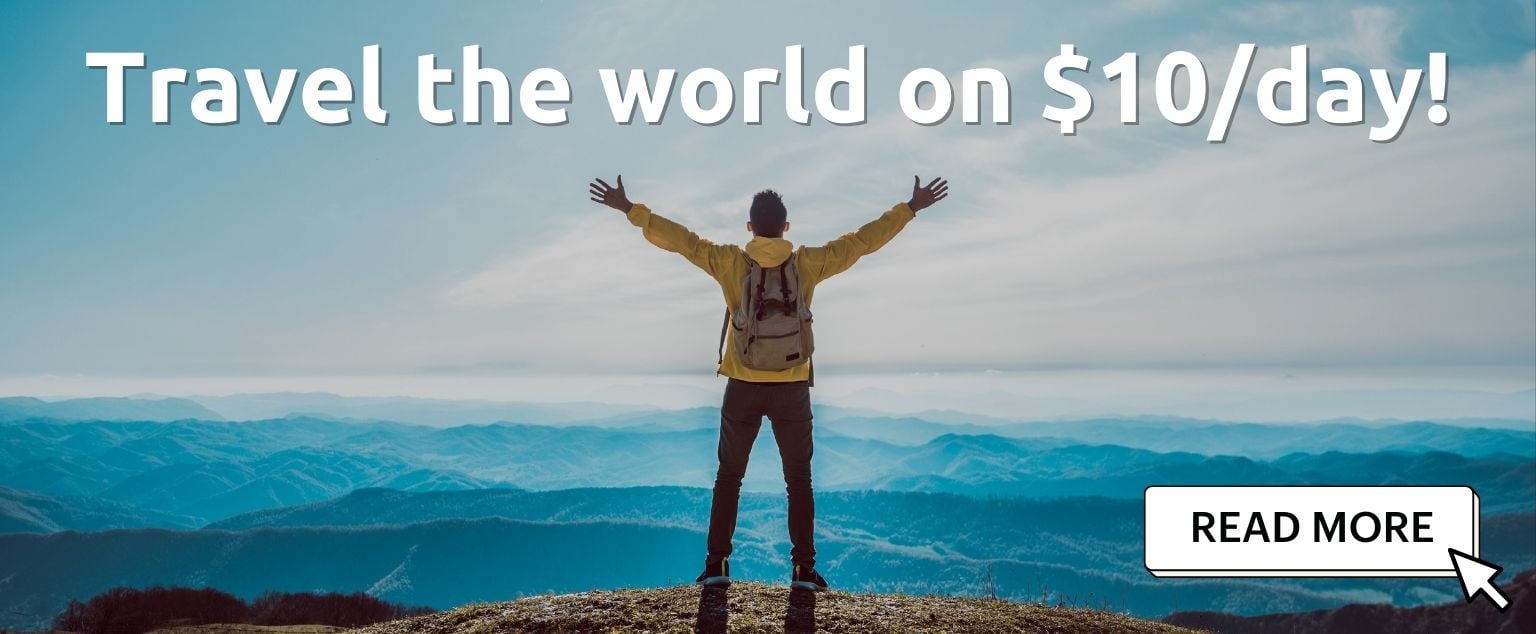 And for transparency's sake, please know that some of the links in our content are affiliate links. That means that if you book your accommodation, buy your gear, or sort your insurance through our link, we earn a small commission (at no extra cost to you). That said, we only link to the gear we trust and never recommend services we don't believe are up to scratch. Again, thank you!