Iceland is, without question, a majestic country. You're never far from sweeping vistas, stunning waterfalls, or active volcanoes. It is a stark, beautiful landscape that offers the intrepid explorer plenty of opportunities to get off the beaten trail and into some adventure. If the country isn't on your bucket list, it should be – and this guide will show you why. But you need to get there soon! Tourism is booming in Iceland and there will no doubt be some cultural fallout as the country adjusts. You'll want to get there before the magic is diluted. Here is a budget guide to backpacking Iceland like a dude.
Backpacking Iceland: At a Glance

Getting In
The international airport in Keflavik (KEF), just outside the capital city of Reykjavik, is the easiest and cheapest way to get to the island nation. Icelandair operates flights from most major North American and European hubs, and they also allow their passengers free stopovers for up to 7 days. If you're not ready to dive into a full Icelandic adventure yet, this service is a great way to test the cultural waters.
Unfortunately the airport is a 45 minute shuttle ride from the city centre and a one-way ticket costs 2,200 ISK. Most major car rental companies have an office at the airport, though many of the smaller (and cheaper) companies have offices nearby. If you book with a smaller company they can pick you up upon arrival.
During the summer months it is possible to hitchhike into Reykjavik from the airport, however since many car companies don't actually leave from the airport this may take some time.
Visa Requirements
Iceland is part of the Schengen Agreement, so if you are from the EU then you do not need a visa. This also applies to citizens from Canada, America, the UK, Australia and New Zealand. For a full list of countries that are exempt check the Directorate of Immigration's website or contact your local consulate. If applying for visas stresses you out, check out the awesome VisaHQ. They are my go to people concerning visas!
Transportation while Backpacking Iceland
Car Rentals
The easiest way for backpacking Iceland is by renting a car. An entire industry has been built around the Icelandic road trip, so the process is incredibly simple. For price comparisons, companies like SAD Cars and Car Rental Iceland are a great place to start.
You generally have two options when it comes to renting a car: 2WD or 4WD. If you just plan on seeing the sights and driving the ring road (the main highway that circles Iceland) then a 2WD vehicle will suffice. If you crave some off-roading then you will definitely need a 4×4.
A less-common (and slightly expensive) option is renting a camper van. This will save you on accommodation, though your upfront and fuel costs will be significantly higher. The bloggers from The Gays Abroad rented a camper for their ring road trip, so you can read their review for further insight.
Hitchhiking
While backpacking Iceland, hitchhiking is very common. With so many people renting cars, not to mention all the friendly locals, you'll never have to wait long for a ride. Just remember that the weather changes frequently here, so dress accordingly!
Hitchhiking solo or in a pair will increase your chances of snagging a ride; groups of 3 or more will have a hard time finding someone with enough room for them AND their bags. Keep in mind, however, that hitchhikers will be tied to the main highway; there is very little traffic on most other roads.
Bus
Buses are the least flexible, most expensive way to see the country when you're backpacking Iceland. I would avoid using them as your primary mode of transportation. If you do need to use them, Visit Iceland has all the pertinent details as some of the bus companies only operate in certain areas of the country.
Staying Connected
While Iceland is a perfect country to disconnect in, you also won't have trouble finding wifi as 97% of the country has internet access. Hostels, Airbnb's, and hotels are all equipped to serve your ravenous internet addiction, so fear not fellow backpacker!
However, with so many back roads and remote locations, buying an international phone and/or data plan isn't a bad idea. You can also pick up a local SIM card if you will be there for a longer period. I purchased a basic data package from my service provider which I found extremely helpful when it came to looking up maps and getting in touch with my Airbnb hosts while backpacking Iceland.
Stay Safe
Iceland is known for its fickle weather and conditions can change rapidly. When compounded with the fact the island is littered with active volcanoes, you may want to give some thought to staying safe. Having mobile/data access is a great way to be prepared for emergencies as it will allow you to contact emergency services, as well as check the weather and keep up-to-date about ongoing emergencies. (There was an earthquake when I was there, which led to a volcano eruption warning. I wouldn't have known about any of that if it wasn't for our data access.)
For emergency services in Iceland, dial 112.
For weather information, check vedur.is or download their app.
Backpacking Iceland: Travel Itinerary Ideas
Reykjavik
Reykjavik is where you will be kicking off your backpacking adventure in Iceland, unless you've bucked the trend and come to shore via boat. The capital city is quaint, cozy, and charming. There are plenty of local shops to explore, some great restaurants to grab some food at, and come quirky places to visit like the Icelandic Phallogical Museum, aka the penis museum. One to two days is all you'll need in Reykjavik, as the population is only 120,000. Be sure to spend some time walking the city streets, though, as it is a lovely place for a stroll!
The Golden Circle
The Golden Circle is the popular tourist route just outside the capital of Reykjavik which includes Gullfoss, the geyser Strokkur, and Þingvellir National Park. These are considered a must see on every backpacking Iceland itinerary, though they are also most "touristy" sights in all of Iceland. While you should still visit each you will want to budget your time – here are much more intimate sights to see while backpacking Iceland that are equally as stunning! To avoid the crowd, get there early!
Seljalandsfoss
Seljalandsfoss lays just east of Reykjavik as you approach Vík on the main highway. It is a main bus stop and tourist draw, so it can get quite busy but is definitely a site you should not miss. What sets this 60m waterfall apart from the numerous waterfalls across Iceland is that you can walk in behind it for an interesting perspective. This is one of the few waterfalls that has a tourist booth, selling souvenirs as well as some food.
Vík
The village of Vik is a noteworthy stop on any backpacking trip through Iceland due to the glistening black sand beaches that line the coast. Where there aren't beaches there are scenic cliffs, often enveloped in fog. These are home to Iceland's most sought-after bird: the puffin! Hike up the nearby hill (where a small church is located) for a better view of the area.
Bird watching: Puffins!
Puffin season falls between mid-May and mid-August. If you happen to be backpacking Iceland during that time (find out more about the best time of year to visit Iceland) then you'll be able to go out and spot some of these cute little things. If you're big into birds then you will want to arrange a proper tour with a company that can take you out to the best sights (likely by boat). The casual observer can try their hand at spotting them along many of Iceland's cliffs, and you can always ask the locals where you are staying for some advice. The largest populations are found on the Westman Islands, and other sizeable colonies can be found in the West Fjords and Borgarfjörður Eystri on the east coast.
Skógafoss
Another noteworthy waterfall while backpacking Iceland is the Skógafoss. Its width and height make it a rather picturesque sight. The mist that forms at the bottom also leaves an almost-permanent rainbow, which can make for some great photos. Legend has it that there is treasure hidden at the base of the waterfall, so keep your eyes peeled. At the base is a restaurant, small hotel, and camp ground. Skógafoss is also a starting point for an epic 30km hike that takes you over glaciers and between two volcanoes: the Fimmvörðuháls Trail.
Hike The Laugavegur and Fimmvörðuháls Trail
If you are driving the Ring Road you really need to get out of the car to experience Iceland. You can't truly get a sense of the place until you start trudging over its martian landscape. There are tons of short hikes in every town and village, but if you have the time (and are up for some adventure) then I suggest doing these hikes.
The National Geographic has this hike on their list of the 20 best hikes in the world and they have a full reason to. 
The trekking starts in the gorgeous geothermal paradise, Landmannalaugar. The area is getting to be world known for it's 
multicolored rhyolite mountains and warm hot springs that locals have enjoyed soaking in throughout the centuries. The scenery is filled with great contrast and colors as the hike takes you into the highlands.
During the tour you are greeted with fields of obsidian, colorful mountains, black sands, hot springs, geysers, sparkling white glaciers and glacier rivers, elf churches and so much more. If you hire a local guide you will find them to be super knowledgeable and will tell you the history of the flora and fauna. We spent our night in mountain huts or camping (whichever you prefer) on remote and beautiful locations. The locations include gorgeous places like Alftavatn, Hrafntinnusker and Thorsmork.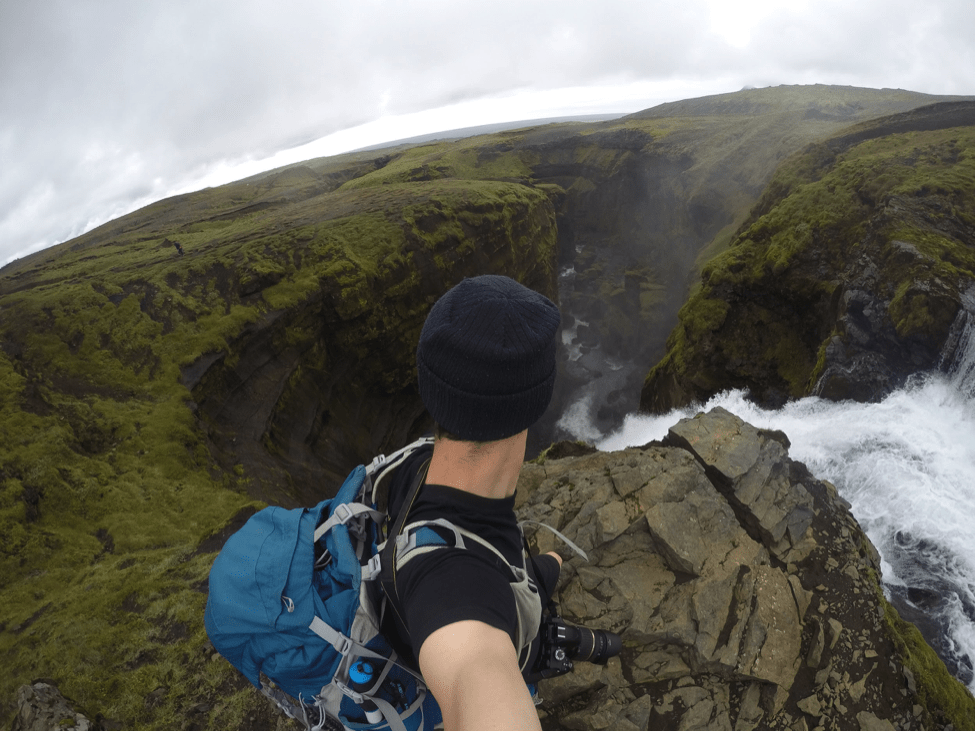 If you are not traveling with a tent while backpacking Iceland, there are huts you can stay in along the way and in the national park however having a tent will give you a lot more options and help save you some cash; Check out this post for a breakdown of the best tents to take backpacking.
Vatnajökull Wilderness
For anyone looking to be reunited with nature, this is their trek. Step into the wild as we will wade across glacier rivers and encounter anything from harsh lava fields to lush and fertile valleys. This trip will take you on a journey from civilisation into the wilderness where the view that meets you is nothing but the vast nature of Icelandic highlands.
The trekking is challenging but worth it in so many various ways. You will be met by glaciers, glacial rivers and lagoons, waterfalls, lava fields and get a chance to soak in a hot spring. Since this is a backpacking adventure participants will carry all their personal gear such as clothes, sleeping bag, insulation mattress, etc. The tents, stoves, fuel and other group gear, is distributed evenly among the group so everyone carries a fair share. There are 2 people sharing each tent, but single tents are available. 
Seyðisfjörður
This town is a quaint, charming little speck on the east coast. It has quite the artistic community, and is known to be something of a bohemian village, pretty popular amongst travellers backpacking Iceland. What I found most stunning, however, was the drive into the town. The road was a winding, gravelly incline that provided some incredible views. Coasting down the mountain into town was a memorable moment. Give it a try! There are also some nice hikes in the area if you want to stretch your legs.
Svartifoss
What do you know, yet another waterfall! Located near Skaftafel in one of Iceland's three national parks, Svartifoss is surrounded by dark black columns that give it a rather ominous look. The park itself is also worth exploring, as it covers approximately 14% of Iceland itself. There are areas designated for camping, as well as hiking trails throughout. Stop in at one of the visitor centres for additional info, maps, or to book a guided tour.
Jökulsárlón
A definite must in any backpacking Iceland itinerary is a stop at this glacial lake. Located in southeast Iceland, on the outskirts of Vatnajökull National park (the park where Svartifoss is located), Jökulsárlón offers an up close and personal look at the melting glacier Breiðamerkurjökull. With icebergs floating along the waters, and with some beautifully photogenic colours, this is a great place to relax and explore. Keep an eye out for seals, who often feed in the area before winter.
If you want to get off land and into the glacial lagoon you can take a zodiac tour. You'll learn a lot of really neat info about the glacial lake, though the price might be steep for the budget traveller (8500ISK). Not sure if it's for you? Check out a review by bloggers Justin and Lauren.
Dettifoss
Considered the most powerful waterfall in Europe, Dettifoss is a really incredible sight. The roads getting here are a bit tricky, as they are in very poor shape, so you'll need to drive slow and budget some extra time. Once you arrive you won't be able to cross over from one side to the other, but both sides offer some incredibly gorgeous views so you needn't worry too much. There are no railings along the cliff so you can get dangerously close to the falls. I found this to be a really great place to just kick back and enjoy the view. A must visit while backpacking Iceland.
Mývatn
In between Dettifoss and Goðafoss lies Lake Mývatn, a scenic area worth visiting if you are into hiking – or Game of Thrones. The lake, and many locations nearby, have been featured in the HBO show and there are some G.O.T tours that you can book! There is also a geothermal lagoon (Mývatn Nature Baths) which you can soak in after hiking the area. Worth a quick stop nearby is Hverir, a geothermal area with numerous smoking and bubbling craters. The place reeks a bit, but is a neat pit-stop.
Goðafoss
A stone's throw away from Dettifoss is yet another majestic waterfall: Goðafoss, Waterfall of the Gods. Naturally, anything titled "…of the Gods" is probably worth adding to your itinerary, and Goðafoss is no exception. It's located right near Akureyri, one of the larger cities in Iceland, so it's quite easy to access. Because it is located near both Mývatn and Dettifoss, you can likely visit all three in the same day.
Akureyri
Akureyri is one of the few urban areas that you will find while backpacking Iceland. It's located along the northern coast, right in the middle of the island, and offers up a chance at getting back to modern life if you've been semi off the grid as you explore (though if you've been enjoying your low-key living then consider passing through). While it's predominantly a fishing centre and port, the cozy city has everything you need. Even if you're just passing by, it's a good place to stock up on groceries or any other harder-to-find items. Akureyri is quite small and easy to stroll around. Consider visiting the old Catholic church (built in 1912) or take a hike along any of the overlooking hills for some great views.
Whale Watching
You can go whale watching almost anywhere in Iceland, though most tours run out of the south (Reykjavik) or the north (Akureyri). The prime season is between April and September during which there are over 20 different types of whales you can spot. Most tours last a few hours and cost around 10,000ISK.
West Fjords
Situated in the north-west corner of Iceland, the west fjords make up a HUGE chunk of the island. If you only have 7 or so days then you will likely skip this section as you will want a day or two just to drive the coasts and take in the gorgeous scenery. Very few travellers explore the west fjords while backpacking Iceland, so you will meet much less people here (except during Puffin season, as the Latrabjarg Peninsula is one of the prime Puffin-viewing areas).
Hike the Snaefellsness National Park
On my last day of backpacking Iceland I had the opportunity to park my car by the ocean and spend the day hiking up the mountains and volcanoes near Snaefellsjokull. The wind was sharp and unrelenting, the sheep trails we followed- challenging and rewarding. The highlight, however, was when we reached the glacier. Trudging around a glacier, all alone on a volcano, is truly a unique experience. Words really can't do it justice, but it was the perfect way to end my adventure. Don't miss the national park if you're in the area!
You can book glacier-walking tours if you are feeling adventurous, though they aren't cheap. Ranging from a few hours to all day, glacier hikes can cost anywhere from 10,000-40,000ISK. You can hike up to the glacier yourself and explore it on foot, however you need to be VERY careful. There are plenty of deep crevasses that will end your backpacking adventure very quick!
Watch the Northern Lights
If you happen to be in Iceland from September to mid-April you will likely be able to catch one of the most incredible sights in the world: the Northern Lights. While they are best seen in a secluded area without light pollution, I happened to see them in downtown Reykjavik – so keep your eyes peeled. If you are arriving in late August or early May you may still have a shot at catching them, so ask some locals when you arrive. Hostel and campground staff, as well as Airbnb and hotel hosts, will be able to tell you if you've got a shot. I've had the privilege of seeing them twice in my life, and I can say without hesitation that they are experiences I will never ever forget.
Where to stay in Iceland?
| | | |
| --- | --- | --- |
| Reykjavik | Loft Hostel | This eco hostel was named the Best Hostel in Iceland at the 2015 Oscars. Here the beer is cold & cheap! Get social on the lovely terrace while taking in the breathtaking city view |
| Akureyri | Akureyri Backpackers | These are possibly the best bathrooms I have ever seen a hostel. This hostel is immaculate & modern. They even have a free sauna! |
| Keflavik | Base Hotel | Budget accommodation, super close to Keflavik International Airport. Perfect gateway to explore the hidden gems of the Reykjanes Peninsula. |
| Snaefellsbaer | The Freezer | This is a  great backpacker hostel, with live music, stand up comedy & open mic nights. It's got a good social vibe & super friendly staff. |
Backpacking Iceland : Tips
Budget Enough Time
7-14 days is usually the recommend time for driving the Ring Road. While 7 days is certainly doable it is on the fast side. Rushed? Not exactly. But brisk. If you have the time and money, you will want at least 8-10 days for the Ring Road. This way you can make some side trips, and spend some time outdoors hiking without worrying about your timeline.
…and then Budget Extra Time!
The Ring Road, which is Highway 1 in Iceland, is the main road that circles the country. In most sections it is two lanes, though over many bridges it condenses down to one. While the highway is the main road in Iceland, it is not paved everywhere. There are many sections where the road is gravel and you will need to slow down. Many of the side roads that lead off to other towns or attractions are gravel, as well. These are not to be confused with F-Roads, which are roads only for off-road vehicles. Because of such roads, you will want to budget some extra time to get from point A to B. Google Maps is generally accurate in Iceland, though in some places it could be inaccurate so be wary and budget your time accordingly.
You will also want to stop regularly for photos. There are SO many beautiful vistas in Iceland, you could get away with stopping every kilometre and not be disappointed with the view. Budget some extra time for photo ops – your Instagram will thank you.
Pick Up Hitchhikers
Driving a car? Pick up some hitchhikers! Not only is picking up hitch hikers a nice thing to do while backpacking Iceland, it's a great way to pick up some tips. Chances are they have been talking to locals as they thumb their way around which means they have likely picked up some useful travel info. Chat them up and see what you can find out!
Find Secluded Hot Pots
Searching for secret hot pots (natural hot springs) was a priority for my visit. I used hotpoticeland to discover the hidden gems, fitting them into my schedule as often as I could. There really is nothing like a midnight dip in a secluded hot pot, so be sure to bookmark the website. You can also ask your hostel staff or Airbnb host for local sites. I strongly recommend taking a backpacking tent and cooking stove; if you do that, you can have some real wild man experiences and camp out under the stars with a cheeky smoke. Do not forget to pack a headtorch. 
Try A Farm Guesthouse
If you want to add a unique, cozy stay to your trip then be sure to keep your eyes out for farm guesthouses like the Guesthouse Skalafell. They are virtually everywhere in Iceland so you won't have a hard time finding one. They offer a very personal perspective to your trip, and the hosts are always full of great info and travel tips. We stayed at Solvanes, which we found on Airbnb. The hosts were lovely and the location serene and off-the-beaten-path. Use this AirBnB discount code for $35 off your first stay! 
Chill Out At The Freezer Hostel
When it comes to hostels, they can often be hit or miss. The Freezer, on the Snaefellsnes peninsula, is a definite hit. Spacious, warm, inclusive, and owned by an amazingly friendly guy, The Freezer is a must. They host regular live music AND live theatre in the summer, have a great kitchen, and are located right next to a national park. This is a must if you are in the area and appreciate a chill atmosphere.
Purchase Extra Insurance
Many car rental companies in Iceland will either include insurance OR offer it as an extra fee. This insurance will cover your windshield, and will protect you should your car get scratched up by gravel (which it inevitably will). They won't cover any off-roading, so don't take your 2-door mini off into the wild. Most rental companies will also not cover your tyres – which flat out sucks. This can be a BIG issue in Iceland as many gravel roads are ripe for popping tyres. Because of this, I suggest you have extra insurance.Many credit cards also offer basic rental insurance so check with yours before you go – it might save you some money!
I recommend World Nomads Travel Insurance World Nomads Travel Insurance – they hands down have the best support and if you do need to claim they will help you get it sorted quickly.
Even if you don't get insurance with World Nomads, Please do get some sort of insurance from somewhere, there's lots of decent options online.
Double Check Your Roads
Unless you have rented an off-road vehicle, "F-Roads" in Iceland will be off limits. However, just because a road isn't labelled an F-Road doesn't mean it will be smooth. We encountered a handful of bumpy roads, including one INSANELY bumpy road enroute to Dettifoss. These roads can really chew up your car. Be aware and drive carefully!
Check out Backpacker Safety 101 for tips and tricks to stay safe whilst backpacking.
I strongly recommend travelling with a headlamp whilst in Iceland – check out my post for a breakdown of the best value headlamps to take backpacking.
Like this post? PIN ME!!