In case it needs any introduction, Iceland is a nordic island in Europe just below the arctic circle. Iceland is characterized by dramatic, rugged landscapes and is essentially built on volcanoes, geysers, and hot springs, giving it the fitting nickname "The Land of Fire and Ice"!
You can probably gather from this that Iceland is an epic place to visit. However, Iceland does have a reputation for being one of the worlds pricier destinations.
So how expensive is Iceland? Well, that depends on a few factors which we've covered in this guide. We've laid out what to expect money-wise, as well as all the best ways to cut costs.
There are lots of ways to save money when you visit. As long as you travel wisely, and do a little bit of research, you can still travel to Iceland on a budget.
In this post we will give you the facts so you can decide, "Is Iceland cheap?" for yourself.
Affordability Rating: Expensive
Make no bones about it, travel to Iceland is expensive. While air fares are relatively good value ($50 from Europe maybe $150 from East Coast US) that is where the bargains end. Accommodation is going to cost at least $30 per night for a hostel pod, and if you want a private room bank at least $100.
Food is expensive, a beer in a bar costs around $10 and if you are unlucky enough to find you need to buy a thicker coat or a woolier hat then God have mercy on you.
Finally, you will probably also need to join a tour or two in order to make the most outta Iceland and yes you guessed it, these are also expensive. Get saving for this one. On the plus side, it is a worthwhile, once in a lifetime experience which you are unlikely to regret.
How Much Does a Trip to Iceland Cost on Average?
In this post, we'll go over a few key things that will help you calculate your Iceland Backpacking & travel costs. These include:
Accommodation options
Transport in Iceland
Fun activities to enjoy during your visit
The best places to eat and drink on a budget
Just keep in mind that all costs in this guide are estimates and are subject to change. Also, to make things less confusing, we've listed all the Iceland trip costs in USD.
The local currency is the Icelandic króna (ISK) and as of January 2020, 1 USD = 122.65 ISK.
Also, to lay things out a little clearer and help you better understand Iceland prices, we've included ball-park estimates for the costs of traveling in the country.
2 Weeks in Iceland Travel Costs
ESTIMATED EXPENSE: $300 – $565 USD for a round trip ticket
The first thing you'll need to spend money on for your Iceland trip is going to be your airfare. Depending on which country you're coming from, flight prices will fluctuate.
Iceland's major airport is Keflavik International Airport (KEF), also known as Reykjavík–Keflavík Airport. This is the country's busiest airport and it's the cheapest.
Flights to Iceland from the USA, the UK, Australia, and Canada are all priced differently.
The prices change based upon the time of year you plan to visit. Peak travel time to Iceland is during the country's summer months (May-August). During these months, the temperatures are warmer and the sun stays out for most of the day in the late hours of the night.
This means that the cheapest time to go to Iceland is generally during the winter (November-March). However, that doesn't mean you can't score on a bargain in summer if you are lucky.
Here is a list that provides the average cost for a round trip ticket to Iceland's main airport. Remember these are average prices, and subject to change.
New York to Reykjavík: 325 – 415 USD
London to Reykjavík: 40 – 115 GBP
Sydney to Reykjavík: 1,350 – 2,135 AUD
Vancouver to Reykjavík: 550 – 760 CAD
As you can see, your Iceland travel cost will vary depending on where you're coming from. Flying from London to Reykjavík can be extremely cheap. Flying from Sydney to Reykjavík is obviously going to be more pricey.
But keep hope, airline prices dip low all the time, and there's always the chance of grabbing a sweet deal with an error fare.
ESTIMATED EXPENSE: $16-$135 USD/day
Now that you have an idea of the price of airfare, let's have a look at places to sleep. We'll get to a few unique accommodation options in a bit, but for now, let's look at the basic options: hostels, hotels and Airbnb.
Picking where to stay depends on personal preference and budget. If you're low on finances you'll want to find a comfy hostel. But if you like your privacy you may be willing to pay more for a hotel.
Let's take a look at all three so you can make an educated choice.
Hostels in Iceland
Hostels in Iceland are the cheapest choice for accommodation. In fact, the cost of your trip will drop dramatically by staying in shared hostel dorms. These budget backpacker digs come with lots of great perks, like self-catering facilities and social hang-out areas.
Hostel dorm costs in Iceland vary between $16 and $40 (privates are more expensive). Here are three great options for cheap hostels. We've included a hostel in three different parts of the country;
Bus Hostel Reykjavík – This hostel is in a prime location and equipped with self-catering facilities. It's also one of the cheaper (if not the cheapest) hostels in Iceland. Need we say more?
The Freezer – This hostel has an artsy design, loads of fun events scheduled weekly, and happy hour every night. This is easily one of the coolest hostels in Iceland.
Akureyri HI Hostel – Not only is this hostel super cheap, but they also offer discounts to their guests at the nearby restaurant and bakery.
Airbnbs in Iceland
Airbnb in Iceland is another great accommodation option. Since you'll be staying in a local's house/apartment, you'll get a more personal feel of the island.
If you're traveling with a group, you could actually end up saving money staying at an Airbnb, since you'll be splitting the price of accommodation.
A budget Airbnb will cost between about $45 – $85 per night, plus the service and cleaning fee. Here are three options that are on the cheaper side.
Cozy Loft Room in Central Park – This is a private room in a house. It offers insanely great value for money in Reykjavík. You'll have everything you need for a comfortable and cheap stay.
Studio By the Sea – This lovely studio by the sea is as charming as the name suggests. Plus, there's an outside hot tub – the perfect place to relax and enjoy the amazing Icelandic landscape.
Great View, Eyjafjallajökull – How does a bed and breakfast surrounded by the rural, natural beauty of Iceland sound? This homey Airbnb is located next to waterfalls, volcanoes, and snow-capped mountains.
Hotels in Iceland
Hotels in Iceland are very common, but unfortunately, they're not the best for your budget. With that being said, you can find a pretty nice selection of decent mid-range options. The average price of a budget hotel can range from $80 – $105, depending on location.
Although staying in a hotel will add more to your Iceland cost of travel, being able to relax in your own space can be very appealing.
Here are three hotel options that might be more expensive than a hostel or Airbnb, but won't break the bank.
4th Floor Hotel – This hotel offers private rooms and either shared or ensuite bathrooms. You'll have all the comforts of a hotel stay plus FREE breakfast every morning.
Hotel Akureyri – Guests at this hotel can expect a room with all the modern comforts. The amazing Icelandic hospitality from the staff will make you feel right at home.
Hotel Hella – If free parking, free Wi-Fi, and free breakfast sound good to you, this hotel is a winner.
Cottages/Cabins in Iceland
Now that we've covered the three main forms of accommodation in Iceland, we thought we'd include some fun and unique options. Let's look at cabins and cottages.
Can you imagine a better place to spend the night in Iceland than in a cozy cottage? Not only will you be surrounded by stunning scenery, but you'll also have your own private space to enjoy your vacation time however you'd like.
From between $60 – $135 a night, cabins and cottages do cost more than your basic accommodation types. However, we still think it's worth it for a night (or maybe more).
Nónsteinn – Enjoy Life in the Countryside – Enjoy the cozy comforts of a cottage in the countryside. You'll have picturesque views of Iceland right from your bed.
Cottage With a View – For an idyllic retreat in a quiet setting, this cottage has everything you need. You'll be in an ideal setting for hiking and enjoying nature.
Kría Cottages – For simple living on a budget, this is the perfect cottage in Iceland. With beautiful views and the fresh open air, you'll realize right away that sometimes less is more.
ESTIMATED EXPENSE: $5-$100 USD/day
Next up, let's talk about the transport cost to visit Iceland. Whether you're traveling inside the main cities, or from one city to the next, you'll need to know what to budget.
Iceland is a small country, and relatively easy to travel. This is due in part to the famous Ring Road. This 827 mile, nonstop route circles the country. It passes the island's most iconic attractions and, as you can imagine, it's filled with scenic sites. You may therefore wish to stay in Reykjavik and tour the country from here.
Bus Travel in Iceland
Traveling in Iceland by bus is a great way to get around. The buses are clean, comfortable, and reliable. There are three main companies that operate bus tours and routes around the whole country, namely Reykjavik Excursions, Sterna, and SBA-Nordurland.
These three main companies will take you on routes around the Ring Road, west fjords and into the highlands of Iceland. A big perk of taking the bus is that you can sit back, relax and take in the gorgeous views of the country while someone else does the driving and navigating.
Tickets vary based on distance. Depending on which cities you're traveling between, a bus ticket can cost between $5 and $150.
One popular option for bus travel is called "Iceland On Your Own" or "Bus Passports". During the summer months, travelers can experience the most popular sites with a hop-on hop-off style bus pass. Bus tickets for this can vary between $80 and $230, depending on the route and how many stops you select.
During Iceland's summer months – from about June to August, regularly scheduled buses run to most of the popular attractions and sites in the country. The rest of the year, bus services offered can vary. Some continue to run daily, while others shut down completely.
Getting Around the Cities in Iceland
Iceland doesn't have many large cities. In fact, Reykjavik only has a population of 118,918 people. After that, the second largest city of Kopavogur has a population of just 31,719 people.
For intercity travel in Iceland, you'll just have a few options:
Buses – Many of the cities and towns in Iceland have bus routes. Although, with such small towns and the number of residents, there won't be too many stops. Also, the stops will run less frequently. Reykjavik is the exception – being the largest city in Iceland. The bus here runs regularly and a single fare bus ticket in Reykjavik for adults is $4.
Taxis – Most towns/cities also have taxis. But, expect to pay about $4 per mile. We think it's safe to say that if you're wondering how to do Iceland cheaply, you should avoid the taxis.
Car rental – This is another easy option for getting around in the city/town you're visiting. (see more below)
Renting a Car in Iceland
Of course, driving will give you the most freedom, but car rentals can get pricey. Having a group of travelers to split the car rental price will help save you money on your Iceland trip budget.
One thing to note when driving around Iceland is that most of the roads that stem off of the Ring Road are gravel. This means you'll likely need a four-wheel-drive vehicle. One more very important thing to note is that rental car drivers have to be at least 20 years of age.
You'll find most of the major international rental car companies in Iceland. These include Budget, Hertz, and Europcar. There are also local car companies, such as SADCars, Cheap Jeep, and Geysir.
You'll have the most options for car rental companies at Keflavik International Airport or in downtown Reykjavik. Car rentals prices start at about $20 – $30 a day. However, if you want to add on an extra driver you'll be charged an extra fee of about $2.50 per day, per driver.
Car insurance is another extra. For a two-week car rental, insurance will cost around $165. Then, you'll also need to pay for your own petrol. The average cost for petrol as of January 2020 is $1.94 a liter ($7.33 a gallon).
Renting a car in Iceland is sure to make for a memorable road trip. However, it's also entirely possible to see the country without one too.
ESTIMATED EXPENSE: $15-$60 USD/day
When it comes to eating out, Iceland food prices can be very high. A meal in a cheap restaurant alone can cost between $15 and $20. Even a meal at McDonald's can cost around $12 – $16.
But don't stress too much, there are lots of ways you can eat on the cheap. An obvious way to save money is to avoid eating out as much as possible. Eating at restaurants is going to add up fast. However, if you do want to treat yourself, here are a few meals Iceland is known for.
Seafood – Iceland is known for its fresh seafood. Cod, haddock, salmon, and monkfish are the most popular varieties. Stop into a restaurant and try their 'fresh catch of the day'. At a regular restaurant, you can expect to pay between $20 and $30.
Lamb soup – Lamb is a staple meat in Iceland and lamb soup is the perfect comfort food. Vegetables and spices are added in, like potatoes, carrots, onions, and dried herbs. If you order a bowl of soup a la carte, you'll pay between $15 and $20.
Icelandic Hot Dog – This delicacy is served on a warm bun and topped with raw onions, crispy fried onions, ketchup, and a mayonnaise-based sauce. Not only is it delicious, but at just $3, it's also extremely cheap.
Carrying on, here are a few easy ways that will help you save money with your Iceland budget
Accommodation with free breakfast – Although they're not as common, these types of accommodation do exist in Iceland. Fill up on free food in the morning and then you'll only have to spend money on two meals.
Self-catering accommodation – Cooking for yourself is going to be a huge money-saver. Preparing your meals from items you find in the grocery store as opposed to eating out is going to save you money every time.
Bring food with you – When I visited, I packed loads of pasta, noodles and a few tinned goods. I cooked them in my Airbnb.
7/11's – The 7/11 stores sell cheap pizza slices and hotdogs.
Don't buy water – It's Iceland – their water tastes delicious. There's no need to buy bottled water from anywhere else. You'll find drinking fountains and free water all over the country.
Where to Eat Cheaply in Iceland
The best way to eat cheap in Iceland is to purchase your food from grocery stores and gas stations.
Eating out at a regular restaurant can cost you about $15 – $30 per meal. Whereas food from a gas station or supermarket will cost between $5 and $10 per meal. Most of these stores will also have freezer meals and premade items.
Cheap supermarket food items – For breakfast, If you like yogurt, check out the Icelandic Skyr brand, it's just $2 per container. Baked goods will cost between $2-4. For lunch and dinner, precooked sandwiches, wraps, and pizza will cost around $8.
Here are the best grocery stores with budget food prices in Iceland
Bónus: This grocery store is well stocked, and you'll find locations all over Iceland.
Krónan: This is another budget-friendly grocery store with locations on the south side of Iceland only.
Nettó: This supermarket has locations all over the country and tends to stay open later than other grocery stores.
Gas stations – Believe it or not, the food in Iceland's gas stations is surprisingly good. This is a great place to enjoy a famous $3 Icelandic hot dog too. Burger and fries will cost you around $12 – $15. You'll also find baked goods and coffee for much cheaper than you'd find them in a cafe.
ESTIMATED EXPENSE: $9-$21 USD/day
Iceland has very high taxes on alcohol. Therefore, drinking in Iceland is not good for your budget.
If you do go out, here are some prices you can expect to pay
Beer – $9 – $12 for a pint of domestic beer is about the standard amount.
Wine – A regular glass of wine will cost between $10 – $14.
Cocktail – $12 for a simple cocktail – like a gin and tonic. Fancy cocktails will cost about $19 – $21.
To save money on alcohol, here are a few options
Stock up at the duty-free shop at Keflavik Airport.
Buy it from a government-owned alcohol store, called Vínbúðin – these are the only stores that are allowed to sell alcohol in Iceland.
Find a local restaurant/bar with 2-4-1 happy hour specials
At a Vínbúðin, a bottle of spirits (vodka, tequila or whiskey) will cost between $55 and $120. A bottle of budget to mid-range wine will cost $20 – $30. This isn't necessarily cheap, but if you want to have more than a few drinks, it will save you money.
Even though alcohol prices in Iceland are high, having an occasional drink won't do too much damage.
ESTIMATED EXPENSE: $0-$45 USD/day
They say the best things in life are free, and in Iceland, this is definitely the case. Whilst Iceland's living costs are high, the country's scenic splendor is its alluring factor. Waterfalls, glaciers, mountains, and volcano beds fill the island, and – luckily – most of these attractions are totally free.
That's right, most of these picturesque areas charge no admission. Many of the larger scenic attractions also have free visitor centers tourists can go to for information and advice as well.
Some of Iceland's top attractions, including Thingvellir National Park, Gullfoss Falls, and Jökulsárlón, are all free to enter. Keep in mind that some places might charge for parking. This isn't usually too high though. For example, the Seljalandsfoss waterfall is free to enter, but parking is $7.
There are a few exceptions, like the Blue Lagoon which costs $57 to enter. Some of Iceland's spa pools also charge admission. This can range from $25 to $45. Attractions in the main city, like private museums and cultural centers, usually charge a fee.
To save money while sightseeing:
Use public transport so you don't have to pay for parking
Gather a list of free attractions
Review paid-for attractions before you go, to make sure they're worth it
Consider joining an all-inclusive trip. From Iceland tours for women to mixed gender groups, they often provide the best value
We've covered all the main costs you'll need to take into consideration when traveling to Iceland. However, it's always a good idea to set some extra money aside.
Whether you lose your bus ticket, see a souvenir you can't live without, or decide to take a guided tour, it's always a good idea to set aside extra cash.
Tipping in Iceland
Since you're traveling Iceland on a budget, you'll appreciate knowing that tipping is not expected. Of course, if you feel you've received excellent service, you can show your appreciation by tipping. But in no way is it expected.
If you're wondering why tipping is not expected in Iceland, there are two main reasons. First, the gratuity or service charge is already included in the total. Second, most workers in Iceland get decent wages (although living costs have risen sharply in the last few years).
Get Travel Insurance for Iceland
ALWAYS sort out your backpacker insurance before your trip. There's plenty to choose from in that department, but a good place to start is Safety Wing.
They offer month-to-month payments, no lock-in contracts, and require absolutely no itineraries: that's the exact kind of insurance long-term travellers and digital nomads need.
SafetyWing is cheap, easy, and admin-free: just sign up lickety-split so you can get back to it!
Click the button below to learn more about SafetyWing's setup or read our insider review for the full tasty scoop.
So, how much does a trip to Iceland cost? We have just a few more things to cover and then you'll have a pretty clear idea.
Here are some final tips on how to travel to Iceland cheaply.
Hitchhike – In Iceland, this is an acceptable form of travel. It's also a great country to hitchhike in – it's extremely safe and it will save you money on your trip. It's not uncommon to see travelers with their thumbs sticking out on the side of the road.
Rent a bike – Believe it or not, cycling in Iceland is a thing. The larger bus companies allow you to bring your bike onboard. If you're a bit of a nature nut, this is a great way to see the country. If the weather gets to be too much, you can always switch between paying bus fare and biking. Reykjavík Bike Tours has touring bikes you can rent. Alternatively, you can purchase one when you arrive. As you can imagine, having a bike will allow you to travel in Iceland cheap.
Camp out – This is a great cheap choice for accommodation. Camping is common and either free or very affordable. Plus, can you picture a better place to fall asleep under the stars than in Iceland? Note that it will be very cold.
Have a water bottle: Don't waste money on plastic, bottled waters; carry your own and refill it in the fountains and the tap. If you're worried about potable water, get a filtered bottle, like the GRAYL, which filters out 99% of viruses and bacteria.
Earn money while you travel: Teaching English while traveling is a great way to make ends meet! If you find a sweet gig, you may even end up living in Iceland.
Become a volunteer with Worldpackers: Give back to the local community and, in exchange, you're room and board will often be covered. It's not always free, but it's still a cheap way to travel in Iceland.
You probably clicked on this article thinking "how much money should I take to Iceland". Although certain things in Iceland can be pricey, hopefully, we've shown that it's totally possible to visit on a budget.
So, is Iceland expensive?
The price of a trip to this tiny country depends on you. To recap, the five best ways to save money are…
Stay in a hostel or split an Airbnb with friends.
Travel with a bus service route instead of a bus tour.
Shop at supermarkets as opposed to eating out.
Skip drinking alcohol – it's expensive.
Pass on attractions with admission – don't worry, most are free.
Follow these tips and Iceland can be an affordable destination. Once you're in the country, you can spend about $800/$1000 a week if you're frugal enough.
Of course, depending on where you're traveling from, flights can be expensive. If you're coming from Europe, you've lucked out. Whereas if you're coming from Australia, you'll pay more.
One last tip, it's always a good idea to book your trip as far in advance as possible. Now that you have an idea of how cheap Iceland can be, the next step is to look for flights.
What we think an average daily budget for Iceland should be:
If you follow this advice, you can easily spend around $115 a day traveling through Iceland comfortably.
---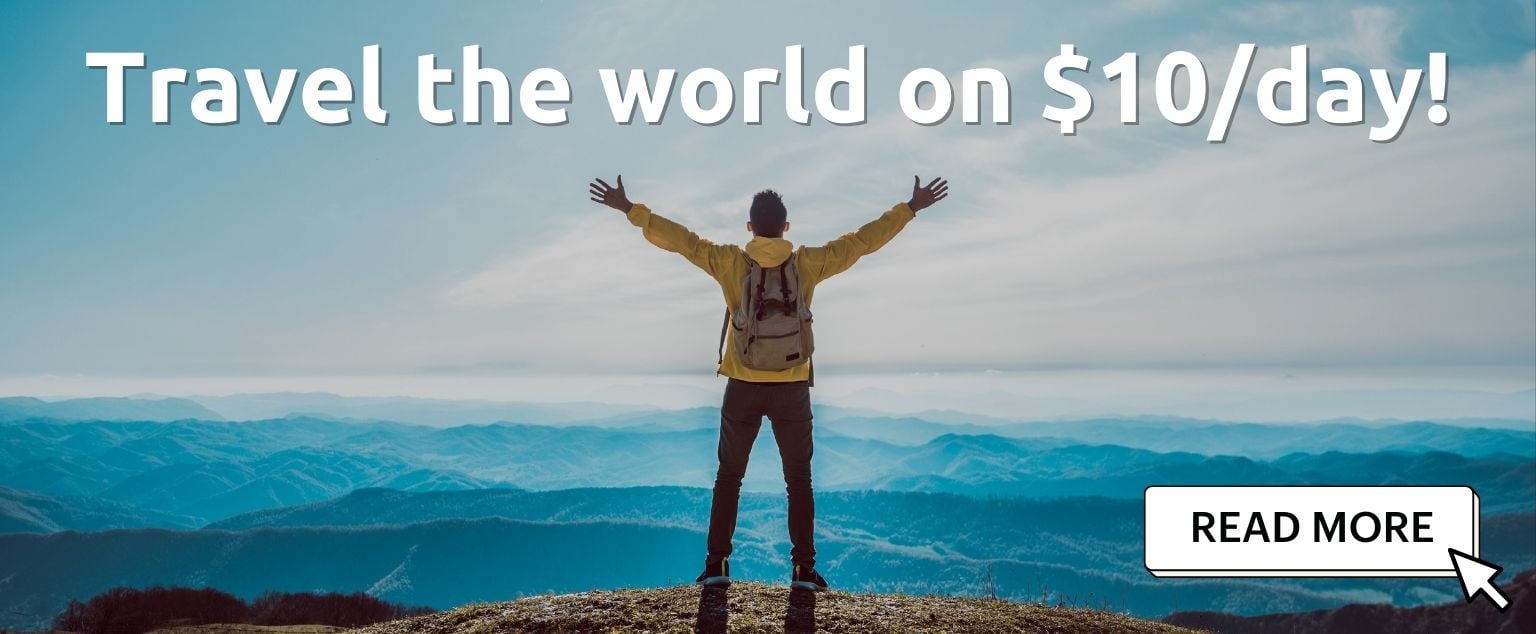 And for transparency's sake, please know that some of the links in our content are affiliate links. That means that if you book your accommodation, buy your gear, or sort your insurance through our link, we earn a small commission (at no extra cost to you). That said, we only link to the gear we trust and never recommend services we don't believe are up to scratch. Again, thank you!