The Land of Ice and Fire has become one of the world's top tourist destinations in recent years, and it's no surprise! Iceland is totally beautiful, with natural wonders aplenty. You can truly see why Game of Thrones and a number of other big series and films have used it as a base for filming.
One of the best spots in the world to see the Northern Lights, you can also see awe-inspiring waterfalls and geysers, ride tiny Icelandic horses across stunning landscapes, or take Super-jeep tours right out into the wilderness!
Unfortunately, there is one little downside to Iceland: the price. It can be frightfully expensive and this will be a red flag to some backpackers – especially if they're broke! However, that needn't be the case.
There are some awesome rentals in Iceland that can save you money over staying in the country's hotels. And what a lot of choices there are! From cottages where you can hunt the Northern Lights, to private rooms in farmhouses, to sweet pads in Reykjavik and Akureyri, Iceland has it all!
In this post, we'll take a look at the best Airbnbs in Iceland. Not only will it help you plan your trip, but also save you a bit of cash too!
In a Hurry? Here's Where to Stay in Iceland for One Night
First Time in Iceland
Awesome views in downtown Reykjavik
Located in Reykjavik, this one is an ideal base for your Icelandic adventure! You can use that free high-speed Wi-Fi or simply admire the views of downtown and the sea – especially during sunset.
Places to Visit:
Explore the charming city of Reykjavik
A perfect base for a Golden Circle Tour
Be sure to stroll across the waterfront
Is this amazing Iceland Airbnb booked for your dates? We've got your back with our other favorite properties below!
Quick Answer: These are the Top 5 Airbnbs in Iceland
OVERALL BEST VALUE AIRBNB IN ICELAND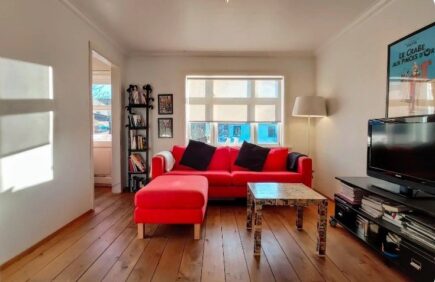 OVERALL BEST VALUE AIRBNB IN ICELAND
Awesome views in downtown Reykjavik
> $$
> 4 Guests
> High speed Wi-Fi
> Basic toiletries provided
BEST HOMESTAY IN ICELAND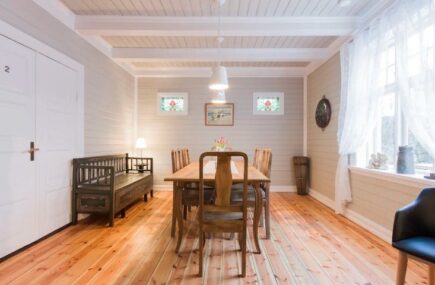 BEST HOMESTAY IN ICELAND
Restored home in heart of Reykjavik
> $$
> 2 Guests
> Fully equipped kitchen
> Comfy and charming
BEST AIRBNB FOR COUPLES IN ICELAND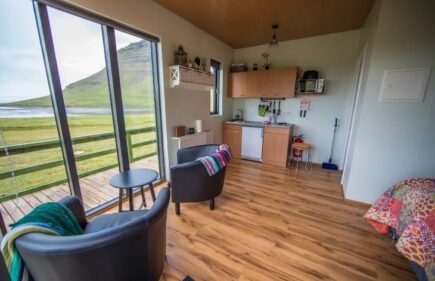 BEST AIRBNB FOR COUPLES IN ICELAND
Nonnstein: Life in the Countryside
> $$
> 2 Guests
> Queen sized bed
> Near to numerous natural wonders
BEST AIRBNB FOR FAMILIES IN ICELAND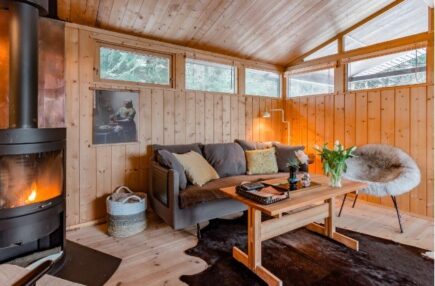 BEST AIRBNB FOR FAMILIES IN ICELAND
Nature cabin near Blue Lagoon
> $$$$
> 4 Guests
> Free parking
> Indoor Fireplace
BEST LUXURY AIRBNB IN ICELAND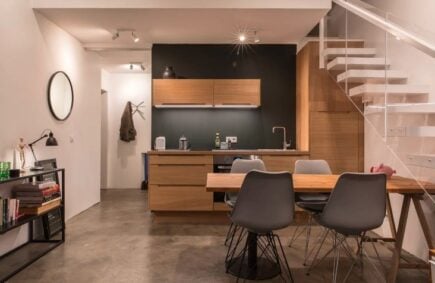 BEST LUXURY AIRBNB IN ICELAND
Modern Apartment in the Countryside
> $$$$
> 4 Guests
> Near Akureyri
> Incredible views
Why stay in an Airbnb?
Local Experience
No matter where you stay in Iceland, you probably want the local experience. Whether you're staying in a private apartment or shared house, visitors can get in touch with their hosts through the Airbnb mobile app. Use the chat for fast and efficient communication. Any questions about your trip, what to do or where to go – your host can help.
Lots of Airbnbs provide city or neighbourhood guides with helpful suggestions for things to do in your destination (the Reykjavik Airbnbs are especially helpful) – like a favourite coffee shop or unique (or cheap) pubs and restaurants. Some even include transit information, directions to amenities like grocery stores or gas stations and the availability of public transport. This is a great way for travellers to find the best local spots as hosts usually include what they've come to love about their city from years of living there!
Save some time by booking with Airbnb rather than spending years on Google to find out what's around you.
Affordability
Iceland is expensive. But no matter your budget, Airbnb has a place for you to stay – from entire apartments to single rooms, houseboats and even castles. There are over six million places worldwide to choose from.
Don't split up into two to three hotel rooms! The Airbnb platform accommodates any size, from single travellers to large groups. Everyone gets to stay together, which makes the travelling experience much more comfortable and at the same time way more affordable. Save your money by paying per night, rather than per person. A lot of rentals have more than one bedroom or an extra pull-out couch, futon or trundle bed. Hosts also provide a nice set of clean sheets, a good quality comforter and extra pillows and blankets.
You don't want to spend a lot of money on having to eat out every night either? Just add the filter "kitchen" into your search and you can choose any home that lets you cook at home with all the cutlery, glasses, pots and pans provided.
Safety
Worried about safety? Airbnb wants every guest to be safe and secure. They require hosts to have a keyed door lock and an interior deadbolt or chain. The privacy inside the rental depends on what kind of place you are looking for but you can always find details in the booking description.
Remember that you are living in someone's home – they want to keep it safe, too. Some properties even have CCTV and a doorman so you don't have to worry about any undesired visits.
Airbnb also has a 24/7 emergency line with someone ready to assist you in case of any problem. They're even able to provide a driver, book you a hotel or send a doctor in a medical emergency.
Want to keep your money safe?
You should always have emergency cash hidden on you – pick up this awesome security belt with its hidden pocket before you travel, it's perfect for hiding money, a passport photocopy.
The Top 15 Airbnbs in Iceland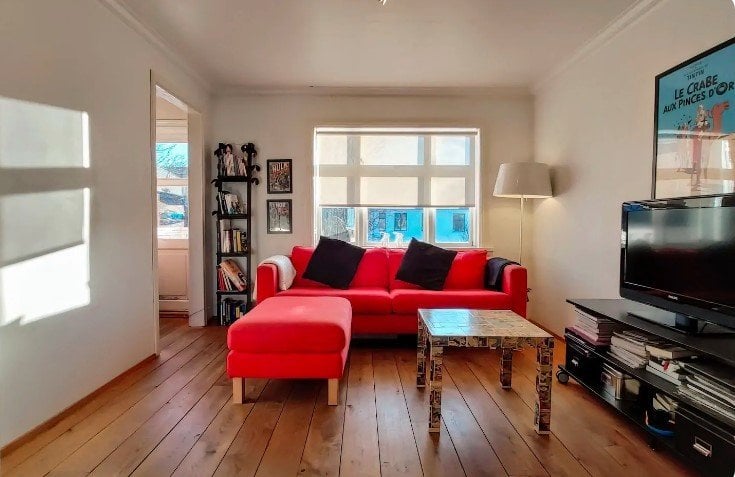 $$
4 Guests
High speed Wi-Fi
Basic toiletries provided
Let's kick off with one of the best all-round Airbnbs in Iceland. Located in the capital city, Reykjavik, it's an ideal base for your Icelandic adventures! And you can use that free high-speed Wi-Fi to plan them out! Of course, you probably won't want to as you'll be admiring the views of downtown and the sea – especially during sunset.
In terms of convenience, this place is just a ten-minute walk from the main shopping street of Reykjavik, where you'll find some great places to eat and drink too. Don't fancy that? Use the fully equipped kitchen to prepare something delicious!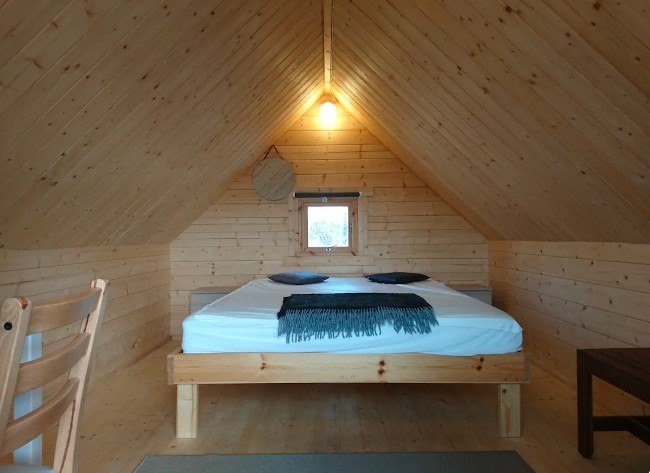 $
2 Guests
Hot Tub
Free Parking
What's that you say? Camping? Surely that's not on Airbnb? Well it is, and it's not just any kind of camping! As we have already said, Iceland can be incredibly expensive but you can find places well within your budget – especially if you get creative! And you're not staying in a tent here – Fossatún Camping Pods are nice and warm as they have electrical radiators, and they've also got modcons like sockets so you can charge your phone and get that shot of the Northern Lights for your Instagram!
Oh, we almost forgot to mention that there's a hot tub too!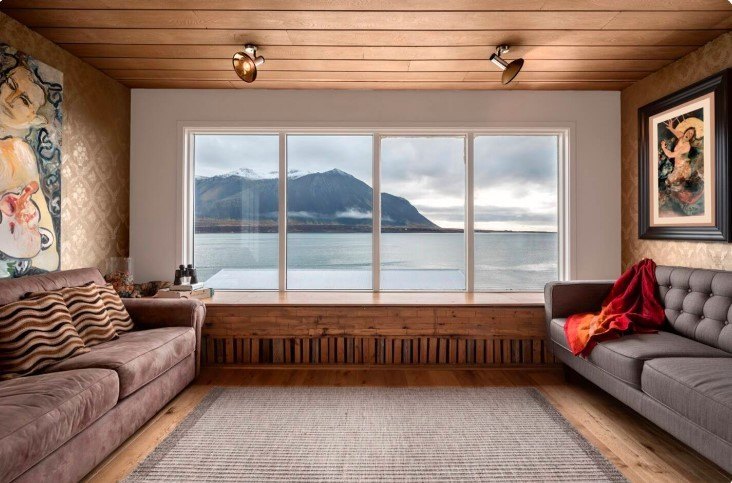 $$
2 Guests
Laptop friendly workspace
Outdoor terrace with glacier views
As long as accommodation has a laptop friendly workspace and wi-fi, digital nomads can work anywhere. So, why stay in the city when you can be somewhere like this? Just imagine how inspiring it'd be to work in front of those glacier views or on the outdoor terrace! This artist's house is just a hop, skip, and a jump from the town of Borgarnes, where you'll find an outdoor thermal swimming pool.
So, if the isolation does get too much you've at least got some escape from it! This beautiful house has been featured in design magazines and documentaries on more than one occasion. Yep, it's that beautiful!
$
2 Guests
Fully equipped kitchen
Garden and back porch
If you're travelling solo, most people will tell you a hostel is a good idea, but we know that's not the case for everyone. We'd still recommend staying in one of Iceland's cities though. And the capital Reykjavik is a great base as it has tours, nightlife, and lots of things to do. This private room is located in the Laugardalur, and one of the key attractions there is the largest geothermal swimming pools in the country!
In the apartment itself, you can make use of its fully equipped kitchen, or try and catch a view of the Northern Lights from the back porch!
The Best Travel Backpack?!
Pssssst! Not picked the perfect travel backpack yet? The Broke Backpacker team has tried out over thirty backpacks this year! Our favourite carry on backpack is the Nomatic Travel Bag.
Read our full review!
$$$
2 Guests
Peaceful balcony
Incredible Northern Lights view
Reykjavik may have a decent bar and club scene, but the nightlife that people come to Iceland for isn't music and drinking. It's the incredible Northern Lights. So, let's check out one of the best Airbnbs in Iceland for viewing the Aurora Borealis! This beautiful cottage is about an hour from Reykjavik and Selfoss is the nearest city.
The bonus? There's almost no light pollution. Although you can never guarantee Northern Lights sightings, you've got a pretty great chance of seeing them from the tranquil balcony here!
$$
2 Guests
Queen sized bed
Near to numerous natural wonders
Nonnstein's listing says it's perfect for newlyweds and couples, so who are we to argue?! If you want a peaceful escape from the hustle and bustle of life, there's nowhere better. It's not just this Iceland Airbnb that's so great, but what's around it. Take advantage of whale watching, black beaches, waterfalls, and lava fields! Once you've spent the day exploring the area's natural wonders, head back to the comfy queen sized bed or take a seat to enjoy the landscape and maybe even the Northern Lights!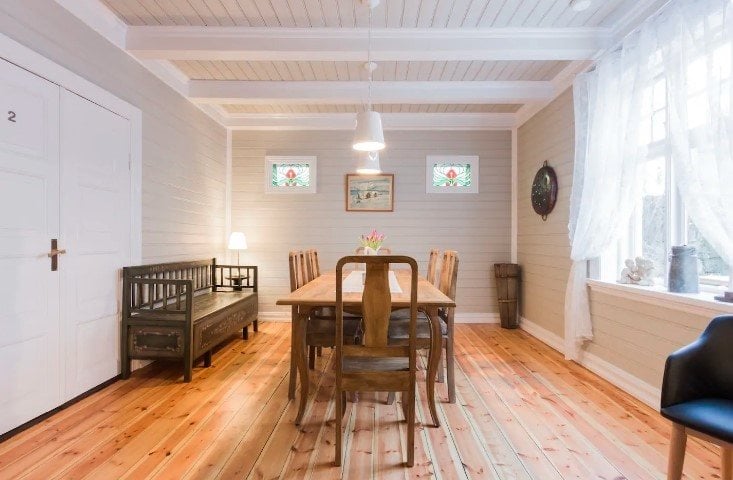 $$
2 Guests
Fully equipped kitchen
Comfy and charming
If you want to stay save money and have an authentic experience, then there's no better idea than staying with a local. Here's one of the best homestays in Iceland, right in the heart of Reykjavik! The home has over 100 years of history but has been restored to give you the ultimate cosy and comfortable experience. It's in a great location, with many of the capital's top attractions on your doorstep. If that's not enough, you've also got use of the kitchen!
$
2 Guests
Near the Golden Circle
Volcanic Views
There are so many great homestays in Iceland that we couldn't just show you one. The Spirit Farm may not be in the centre of Reykjavik, but this is really just an excuse to get out and enjoy the awesome countryside! On a clear day, you have views of two of Iceland's most famousvolcanoes, Hekla and Eyjafjallajökull. You'll just have to hope they don't erupt or this Iceland homestay might become your accommodation for much longer than you originally intended!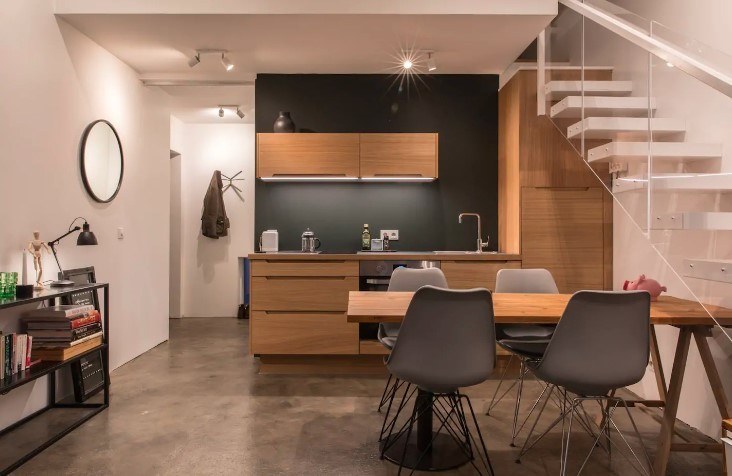 $$$$
4 Guests
Near Akureyri
Incredible views
If you don't mind splashing the cash on holiday, check out this phenomenal luxurious Iceland Airbnb. There's nowhere better if you want to escape and disconnect from the stress of daily life! Just a hop, skip, and a jump from Akureyri, this minimalist apartment blends into the landscape and offers incredible panoramic views of the surrounding landscape and distant mountains. I mean, could you imagine anywhere better to enjoy a meal than that table on the decking outside?!
$$$$$
5 Guests
Hot Tub
Jeep rental available
There are plenty of luxury Airbnbs in Iceland, so it can be hard to know the right one to choose. However, the daddy of them all is this luxurious villa in Northern Iceland – another one that's close to Akureyri. As well as the peace and tranquility, you've got an incredible terrace and hot tub so you can stay warm as you search the skies for the Northern Lights!
Inside, there's heating, a DVD player, and a washing machine and dryer. Useful if you've been out in nature and got snowy or dirty! There's also a Jeep Cherokee for rent, if you're looking for an easier way to get around!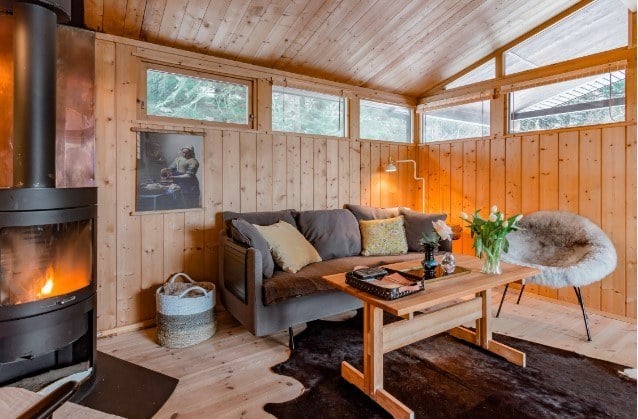 $$$$
4 Guests
Free parking
Indoor Fireplace
Travelling with the family? Why not pick an Iceland Airbnb that everyone will remember? This nature cabin can hold up to 4 guests and it's close to one of the top attractions in the country – the Blue Lagoon! It's suitable for all ages, and the living room with its' rocking chair is a perfect place to spend the evening playing cards or board games and spending quality time together!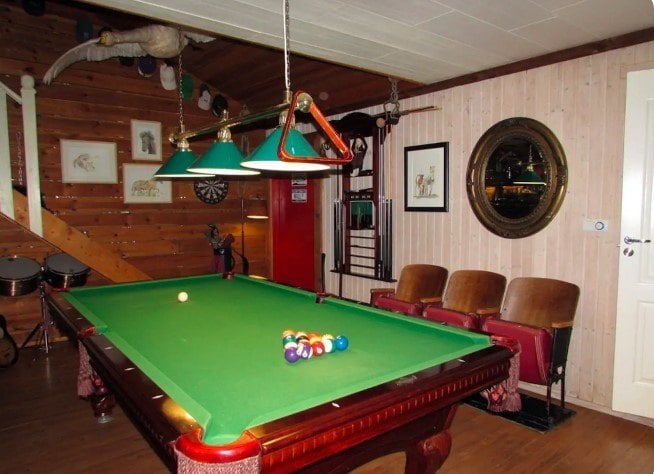 $$$
4 Guests
Snooker Table
Original Wurlitzer Jukebox
When travelling with friends, you'll probably want something cool and exciting to do after a day of exploring the island. This Airbnb in Iceland certainly ticks those boxes, as it has a snooker table, a jukebox, and even a bar! Don't worry about being cold here – as well as those comfy of beds with plenty of covers, every room boasts an environmentally friendly geothermal radiator! Breakfast isn't included, but pick up some stuff at a store as you've plenty of facilities to cook, including an outdoor grill!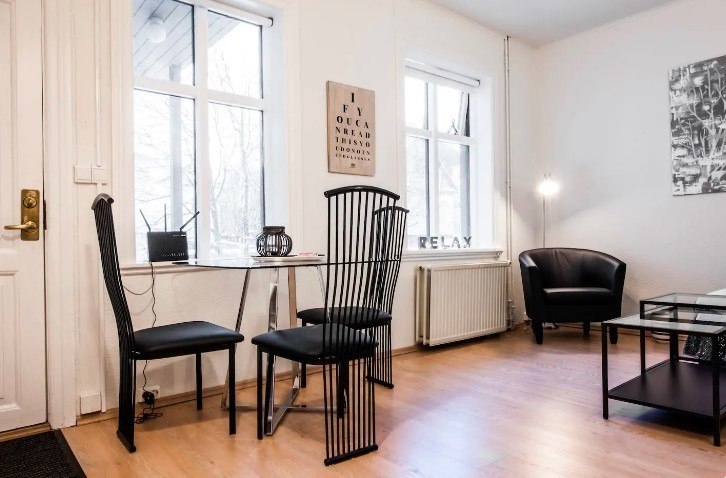 $$
4 Guests
Central Location
Long term stays available
We know we've already shown you a few place to stay in Reykjavik, but that's because it's home to some of the best Airbnbs in Iceland! So, we've got a couple more for you. This comfortable downtown apartment offers a super king bed and a sofa bed, so it's suitable for couples, business travellers, or perhaps even a small group of friends or family. If you're looking for somewhere to stay for a long time, this place offers long term stays. So you can wake up in Central Reykjavik as long as necessary!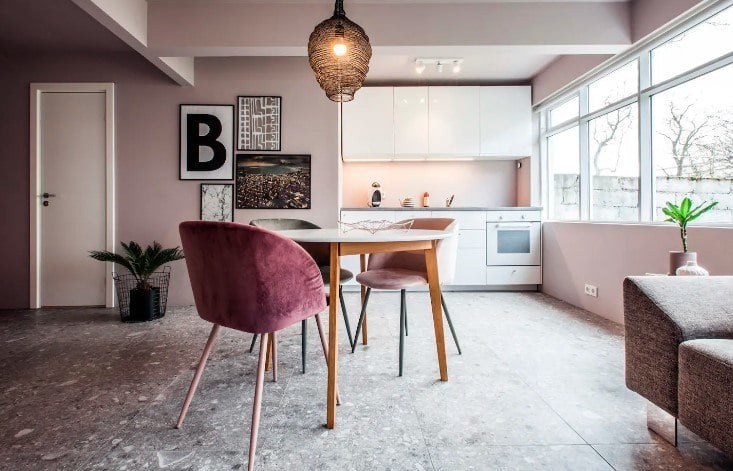 $$
2 Guests
Excellent location
24 hour self check in
Okay, we promise this is the last Reykjavik Airbnb we're going to show you! But aren't you glad we did? This studio can sleep two guests, so it's perfect if you're travelling solo or with your other half. It's just 5 minutes away from Reykjavik's bus station – so ideal for exploring the city and making your onward journeys around the island's ring road! No matter what time you arrive, you don't have to worry about not getting into your apartment. There's 24 hour self check in!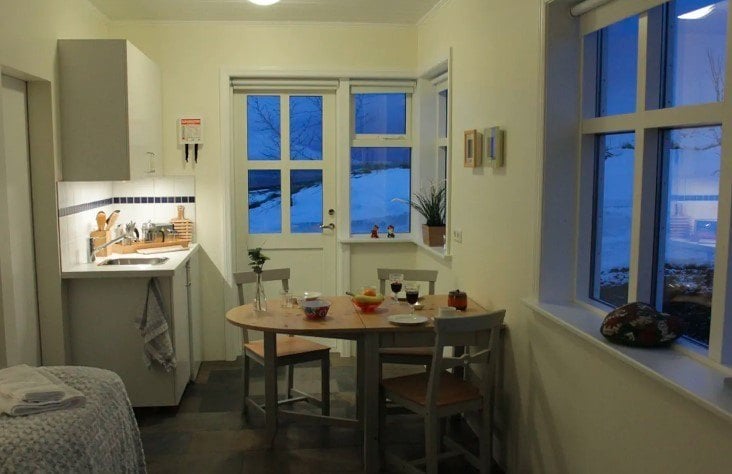 $$
3 Guests
Hot Tub
Free Parking
Last but not least on our list of the best Airbnbs in Iceland is this awesome apartment in Akureyri. We've shown you a few places nearby, but nothing in this pretty little town until now. This studio by the sea not only offers fabulous views, but you also get use of a hot tub and access to a fully equipped kitchen too. If you're planning a tour around Route One, this is definitely the place to stay in Akureyri!
What to Pack for your Iceland Airbnb
These essentials will make your Airbnb stay easier and maybe loads nicer.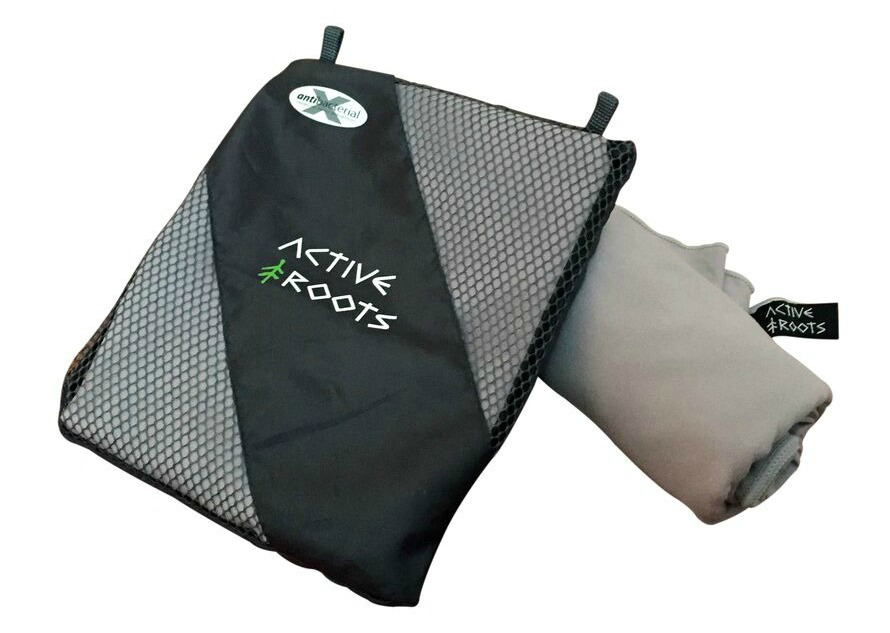 1. Active Roots Microfiber Towel: Most Airbnb's provide towels, but I always keep my own handy on my travels in case I can't get the linens cleaned during a long stay. The Active Roots Microfiber Towel doesn't just sound fancy, it kinda is fancy. The super comfy material is absorbent and quick-drying – perfect for after a shower or a quick jump into the water. Use it as a beach towel, picnic blanket or yoga towel too. Lightweight and compact, it'll hardly take up any space in your suitcase.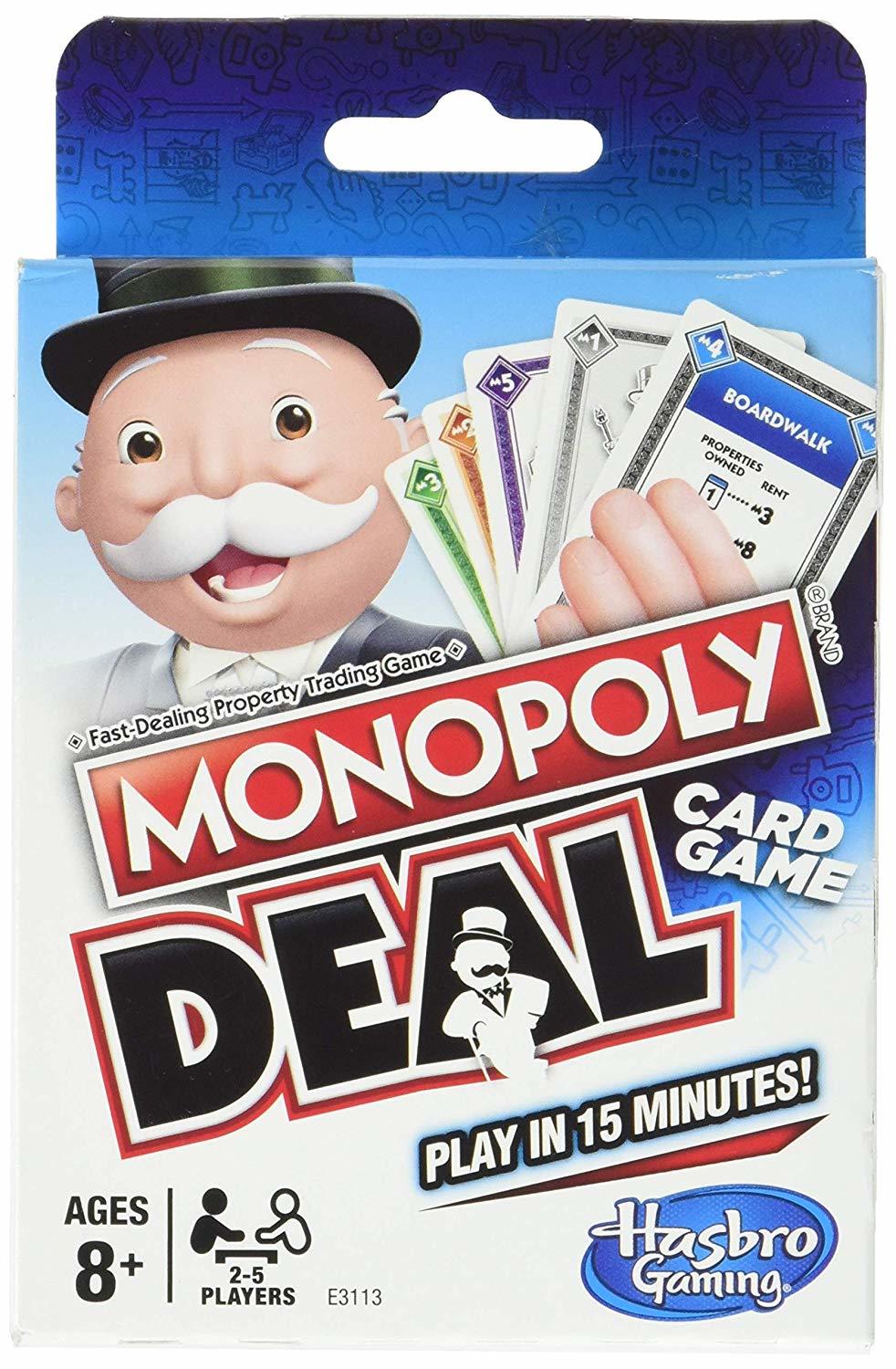 2. Monopoly Card Game: Yes, downtime will happen, even on holiday. The age-old solution: card games! Basic cards can get a bit boring so next time bring along Monopoly Deal Cards. It's a version of the board game, gets your brain cells involved and brings a lot of fun. Up to 5 people can play at a time, which is perfect when travelling in a small group or with your family.
3. Active Roots Toiletry Bag: With this Active Root Toiletry bag, you're more than prepared for your next holiday – keep all your bathroom essentials organized in the different sized compartments. This kit is rather large and will fit all your washroom essentials no problem. The bag makes sure that your bathroom will be clean and tidy while you have everything handy and easy to find.
4. Packing Cubes: Packing Cubes make putting everything into your suitcase a breeze. They keep your essentials organized – no more rolling t-shirts or wrinkling as you excitedly pack for your next holiday. Packing cubes are also great for longer stays, especially when you want to unpack completely. You put the cubes in your Airbnb closet to get that moved-in feeling without really unpacking everything.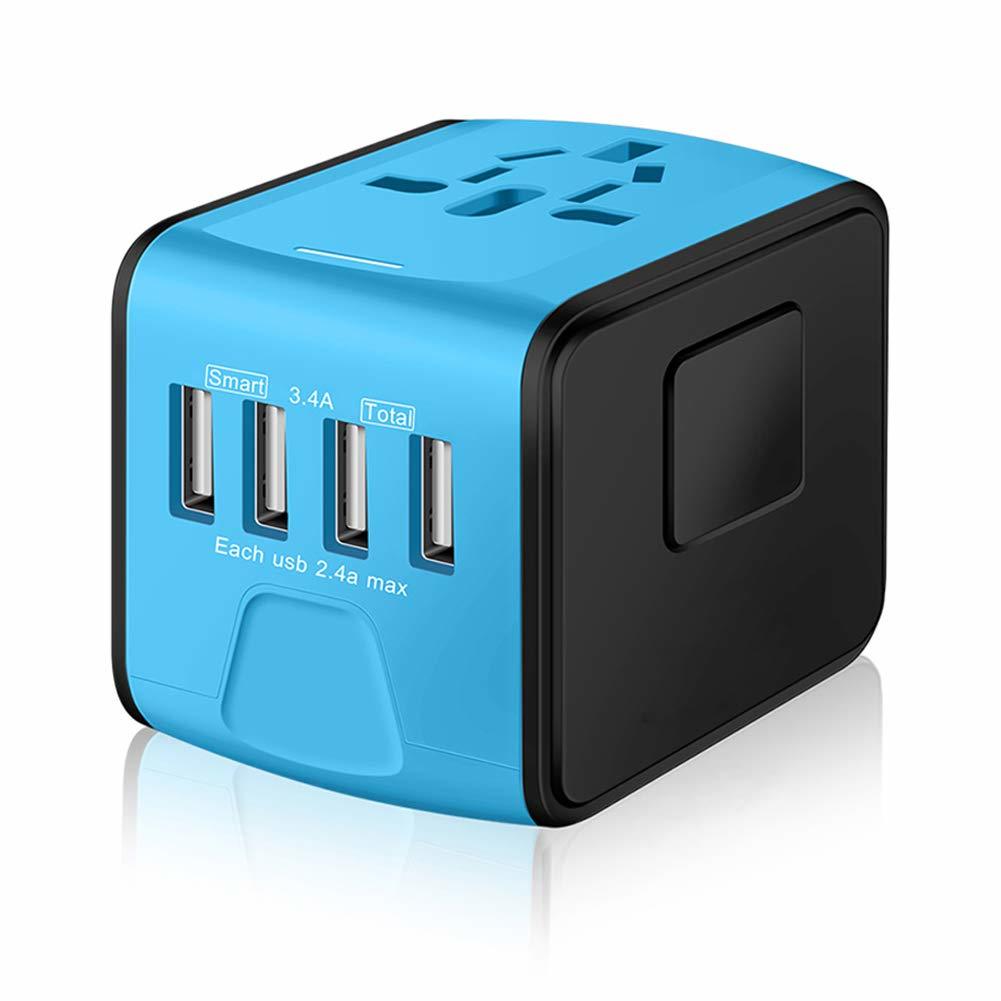 5. Universal Adapter: If you're headed abroad, figure out the electricity situation beforehand. A universal travel adapter alleviates the headache of trying to remember what type of plug you will need. This one is good for 150 countries. The adapter has 5 USB ports, meaning that you can charge lots of devices at the same time – definitely a must-have.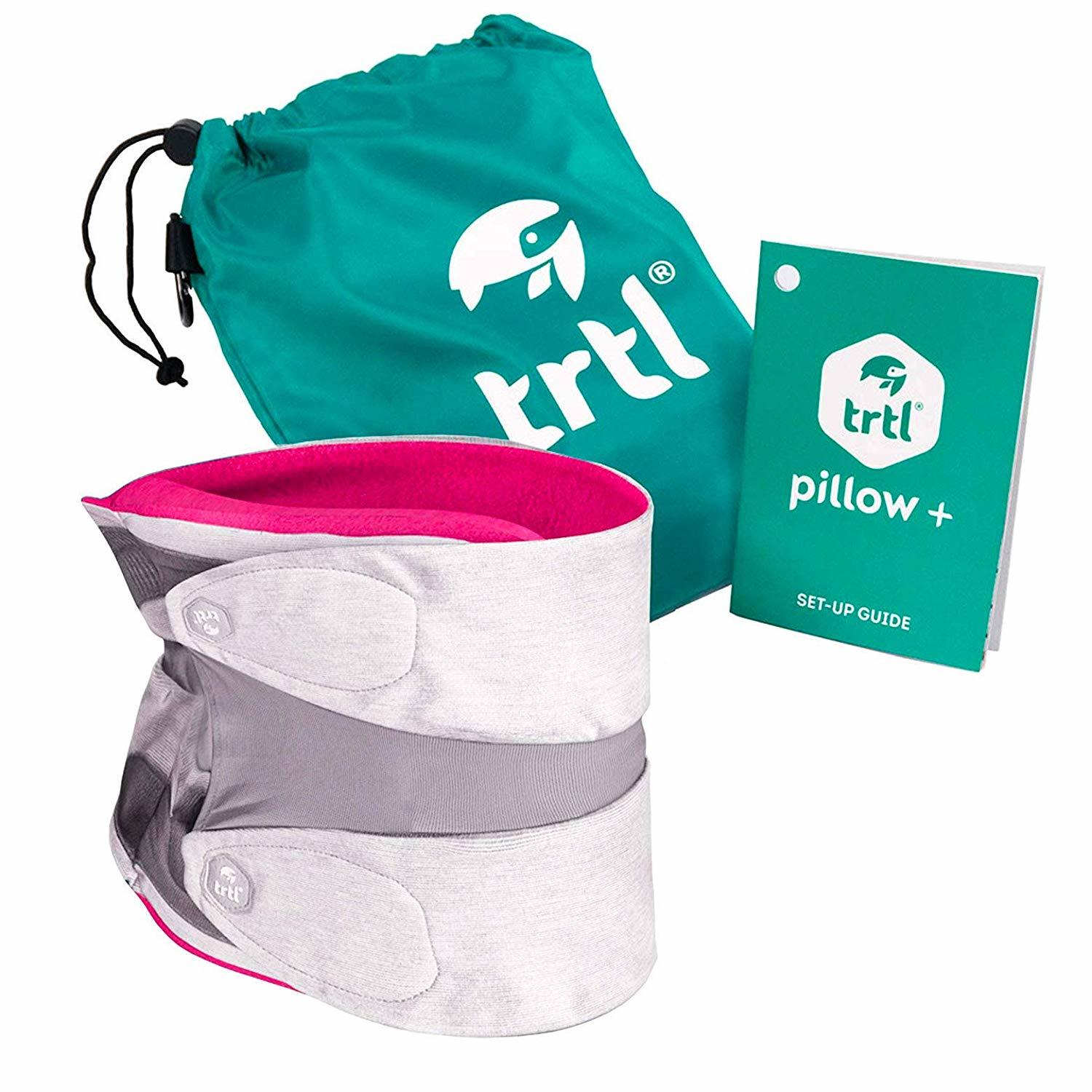 6. TRTL Travel Pillow: Being on a plane or bus for a long time, especially overnight, can be pure torture. Instead of arriving at your Airbnb with red eyes and a grumpy mood, you should have a look at this TRTL Travel Pillow – it actually fulfils all of its promises. The ergonomic design supports your neck and head in a comfortable and safe way. Getting some proper sleep, even while sitting upright, will be a massive relief on your next holiday.
Final Thoughts on Iceland Airbnbs
So, that concludes our list of the best Airbnbs in Iceland. Hopefully, you'll have found something suitable for your travel style, budget, and personality. After all, we've included something in our extensive list for absolutely everybody!
Whether you want a downtown apartment to explore the capital Reykjavik, a friendly stay on a local farm, or an isolated apartment out in the gorgeous Icelandic countryside, this country really does have it all. In fact, we might have given you a little too much to pick from!
If so, sorry about that! But it can still be an easy decision. Go for the best all-rounder – our favourite Airbnb in Iceland – Awesome views in Downtown Reykjavik. It's right in the capital, so it's easy to get anywhere on the island. It also offers great value for money and it's pretty cool and stylish too.
So, now that we've helped you plan your trip to Iceland, all that's left is for us to wish you an incredible vacation. We hope you have a great time!
And don't forget to sort your travel insurance before heading to Iceland! We've put together a roundup of the best travel insurance for backpackers – check it out here, or if you're low on time, get a quote from World Nomads, our favorite travel insurance provider.
Getting an estimate from World Nomads is simple – just click the button or image below, fill out the necessary info, and you're on your way!

Yay for transparency! Some of the links in this post are affiliate links. This means that if you book your accommodation, buy a book or sort your insurance, I'll earn a small commission at no extra cost to you. I only link to stuff I've actually used and never endorse crap. Your support helps me keep the site going.