Hanging out in huge hot springs, hiking through fantasy landscapes to cascading waterfalls, seeing the actual Northern Lights, and even the chance to get a glimpse of some whales… Iceland is so many shades of awesome.
You're probably coming here for nature. It's actually the nature that's the most dangerous thing about Iceland. Freezing conditions and unpredictable weather make everything from hiking to driving pretty dangerous. There also are volcanoes, too…
So we totally get it if you're now asking, "Is Iceland safe?" We're here with an epic guide to staying safe in Iceland so that you can travel around this incredible country with confidence. We're all about smart travel – and we think you should be as well!
In our insider's guide, we'll be tackling everything from whether or not it's safe to drive in Iceland to whether the food in Iceland is safe.
You may be concerned as a solo female traveller wondering if it's alright to visit Iceland, or you may be wondering if it's safe to visit Iceland right now. Whatever your worries, we've got travel tips for Iceland to help you have a safe (and awesome) time!

Unlock Our GREATEST Travel Secrets!
Sign up for our newsletter and get the best travel tips delivered right to your inbox.
How Safe is Iceland? (Our take)
With stuff to do for everyone from Game of Thrones fans to super keen hikers – and even the Northern Lights to marvel at – there's just about a zillion reasons you would want to go to Iceland. It's awesome! Wherever you stay in Iceland it's awesome!
And thankfully, backpacking Iceland is really safe.
It's one of the safest if not the safest country in the world. Crime is pretty much nothing here, especially for tourists.
Getting into difficulties when you're in the great outdoors can be more dangerous than you think. The weather can change quickly. And because of that driving in Iceland can be hazardous.
There's seismic activity here too. With a few earthquakes. And volcanoes erupting can (obviously) be an issue.
But generally, Iceland is super safe.
There is no such thing as a perfect safety guide, and this article is no different. The question of "Is Iceland Safe?" will ALWAYS have a different answer depending on the parties involved. But this article is written for savvy travellers from the perspective of savvy travellers.
The information present in this safety guide was accurate at the time of writing, however, the world is a changeable place, now more than ever. Between the pandemic, ever-worsening cultural division, and a click-hungry media, it can be hard to maintain what is truth and what is sensationalism.
Here, you will find safety knowledge and advice for travelling Iceland. It won't be down to the wire cutting edge info on the most current events, but it is layered in the expertise of veteran travellers. If you use our guide, do your own research, and practise common sense, you will have a safe trip to Iceland.
If you see any outdated information in this guide, we would really appreciate it if you could reach out in the comments below. We strive to provide the most relevant travel information on the web and always appreciate input from our readers (nicely, please!). Otherwise, thanks for your ear and stay safe!
It's a wild world out there. But it's pretty damn special too. 🙂
Is Iceland Safe to Visit? (The facts.)
100%. Iceland really is safe to visit.
Naturally, it's a super popular place to visit and tourism is increasing. The number of visitors in 2017 was over 2 million. That's more than six times the population of Iceland!
Things can go wrong because people don't know the extremities of the environment.
The crazy thing about Iceland is that according to the Global Peace Index it's the most peaceful country on the planet. A title its held for over ten years!
Crime is very low. To give you an example: the first time ever that someone died due to an armed police response was in 2013.
The homicide rate is ultra-low. In 2016 there was 1 murder in the whole country.
Three tourists died in 2018 when their car crashed over the side of a bridge. So like we said, driving can be dangerous.
But honestly, Iceland is safe to visit. Definitely.
Is it Safe to Visit Iceland Right Now?
Right now the main issue of travelling to Iceland isn't other people but it's nature itself.
And if you're heading anywhere, nature is so volatile, it can never be 100% safe. Especially if you head out into that nature.
The landscape is harsh. Wide-open spaces and adverse weather. Even on a sunny day, the weather can change rapidly.
Floods and avalanches are a threat -, especially in the Highlands.
Exposure to extreme cold can mean hypothermia.
Volcanoes can and do pose a threat in Iceland. The 2010 eruption of Eyjafjallajökull literally grounded hundreds of flights all across Europe.
Not only is it inconvenient, but it can also be pretty bad for people with respiratory conditions.
Iceland is safe, but you've got to be careful with nature.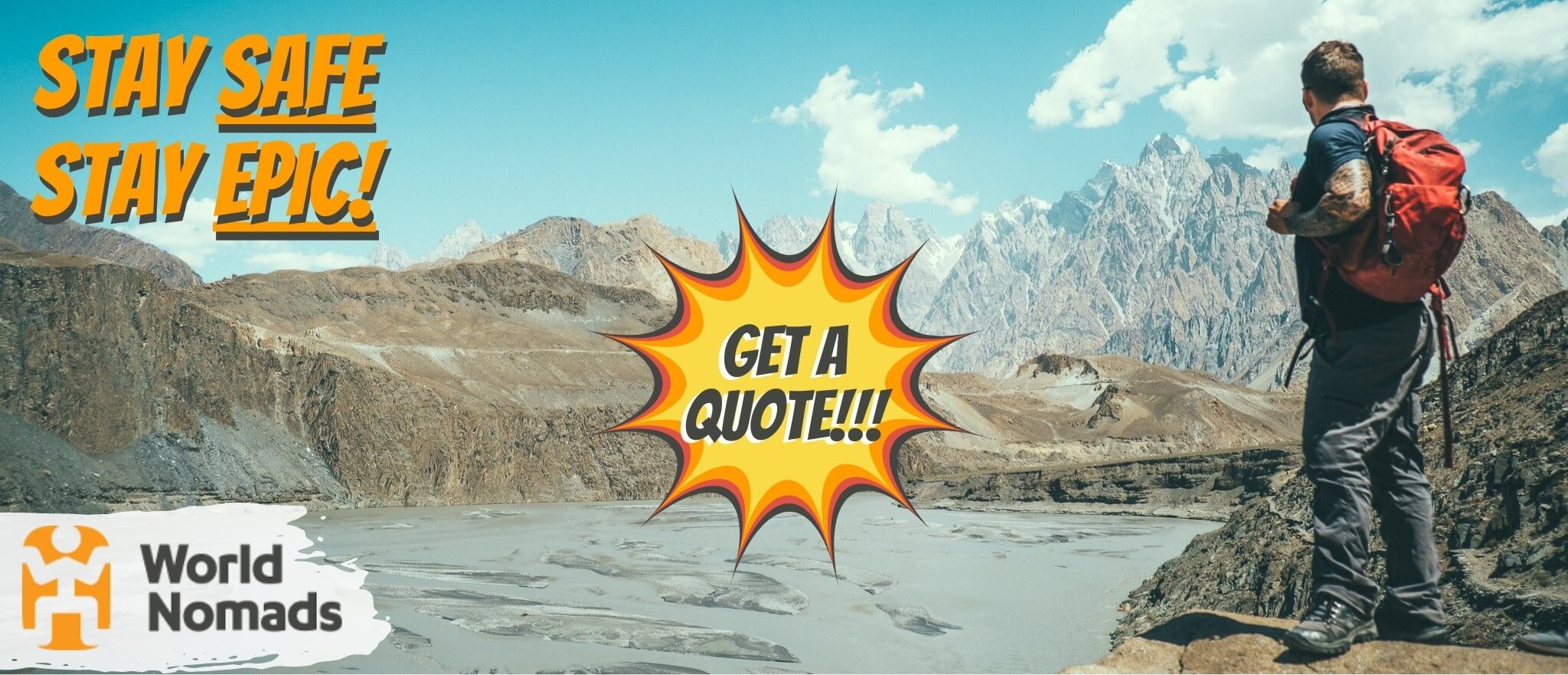 World Nomads' mission is to support and encourage travellers to explore their boundaries. They offer simple & flexible travel insurance, and safety advice to help you travel confidently.
They've been doing it since 2002 – protecting, connecting, and inspiring independent travellers just like you.
Get a quote below or read our in-depth review!
Iceland is mad safe. There's virtually no crime that's going to be affecting visitors anytime soon. But like we said nature is the thing you should be concerned about when you're visiting Iceland. Being unprepared, or not knowing what you're doing, is really going to cause problems when you're in the midst of it all. So here are some pro tips for staying safe in Iceland to help you out…
The weather can change super quickly – make sure you stay up to date with local weather reports.
Download the 112 Iceland App – this can help you in case you need assistance (of any kind) when you're travelling Iceland.
Make sure you book accommodation ahead of time – in the summer months hotels in Iceland can be fully booked There's a shortage.
Choose trails that suit your ability – hiking routes can be a lot harder than you're used to.
Dress appropriately – we recommend layers. But definitely, research some properly good hiking gear – you'll need it.
Be prepared – GPS, maps, supplies, water… make sure you prepare for a worst-case scenario outside any urban area.
Don't go too close to cliff edges and hot springs – it's a good way to lose your footing, fall and get seriously hurt.
Don't do drugs of any kind – possession can end up with a hefty fine or even imprisonment.
Know where emergency huts are – do some research: you'll find these in the wilderness.
Make sure your car is prepared – with blankets, all-weather tyres, food, water – there's often long stretches of road with no way to get help.
Always ask locals for advice about hiking – there won't be warning signs or fences to keep you away from volcanoes!
There aren't a load of safety tips for Iceland. But the ones we've shared are the essential ones you should definitely know about. For everything else, it's all about being prepared. Basically, walking out into nature without any clue of where you're going, what areas are dangerous, or any knowledge of potentially bad weather is a good way to get into big trouble. Use your common sense and have an enjoyable time!
Keeping your money safe in Iceland
Iceland is a super safe place. But losing your money – for any reason whatsoever – is still super annoying. This can be down to a pickpocket of course, but it could also just down to you being forgetful.
It happens. But there's a good way to keep your money safe in Iceland, one that's a good way to keep your money safe anywhere in the world, and that is to use a travel money belt.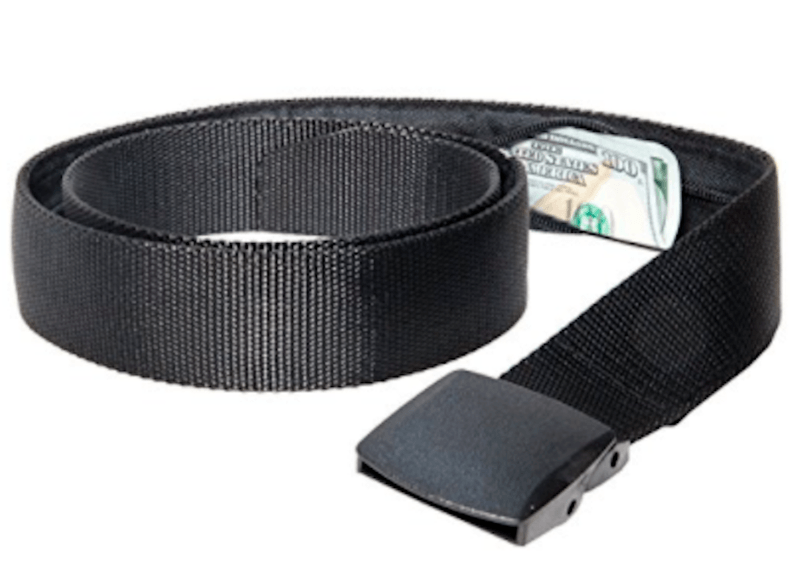 Simple, right? But what's not so simple is the sheer amount of choice out there. You'll find literally a ton of different money belts to choose from that it can make your head spin. The Pacsafe Money Belt is our best bet. It's affordable, it looks and acts like a belt, and it's sturdy – what more could you ask for out of a money belt!
Mainly we like this one because of how simple it is. It's a belt with a secret bit for your cash that's also sturdy and affordable.
When you're out hiking in Iceland, the last thing you want is another contraption strapped across your chest with a million pockets. By using the Pacsafe Money Belt, you get a 2-in-1: an actual belt and a place to safely stash your cash. So if you forget your wallet, lose some money, or whatever, you'll always have money to fall back on.
If you need a little more room for your passport and other travel valuables, have a look at a full-size money belt that tucks under your clothes instead.
Iceland is definitely safe to travel alone. It's the safest country in the world! But what you will have to watch out for is not pushing yourself. You won't have a buddy to help you out if you get into trouble hiking. So knowing your limits is a good first step.
That said, solo travel is just awesome anyway. You can challenge yourself without embarking on some foolhardy hike that's way out of your comfort zone, and you'll reap the rewards. But to help you have the best time ever, here are some tips for solo travellers in Iceland.
Tell people about your travel plans. Friends, relatives, whoever: just letting somebody know where you are and what you're up to any given day is going to help if something bad happens. Going off the grid is never a good idea.
And to make sure you actually have a place to stay, don't just wing it. You'll definitely have to book your accommodation in advance. That means having a pretty strict itinerary compared to other travel destinations.
Speaking of which plan in advance. Not just where you're going to stay, but what you'll be doing. It will just save you a whole load of time that you probably don't want to be spending sitting there in your hostel trawling the internet or intently studying your guidebook.
Stash your money in different places. Pickpocketing may not be a threat but you losing your stuff is always going to be a risk! And it might also be a good idea to have an emergency credit card – you never know when you might be stuck for money.
If you're heading out hiking by yourself think about wearing distinctive clothing. A bright jacket, something patterned… Whatever it is, the more you stand out, the more you'll be able to be identified if you get lost and/or need rescuing. Simple.
Have emergency numbers saved into your phone just in case something goes wrong (hint: it's 112).
Chat with locals at your hostel or when you're out and about. It's a good way to get some tips about the safety of hiking trails and things like that, but also good places to eat!
Keep copies of important documents like passports and bus tickets. You know, just in case they go missing.
And if you're heading out on a road trip or hiking by yourself, make you're off the road well before the sun goes down. Being lost in the dark is not fun at all.
With fun in mind, meet people! Traveling solo can get lonely, so it's a good idea to book yourself into a social hostel where plenty of other backpackers stay. Read reviews and find the best place for you. Alternatively, head out to the bars of Reykjavik, get involved with an activity at your Icelandic hostel, or book yourself onto a tour (always a good way to meet likeminded travelers).
If you go seriously off the trail, do consider bringing a Satelite Phone in case of an emergency.
Basically, Iceland is a really good place to go as a solo traveller. And it's so safe that it's probably a good place to go for your first-time solo travelling adventure. Making sure that you're not just travelling around like a lone wolf is a good way to go, too. So get out there and meet some other people doing what you're doing. It's definitely going to make your epic trip to Iceland even more awesome!
Is Iceland safe for solo female travellers?
Given how safe Iceland is anyway, it's the perfect place to go for a solo female traveller. There's pretty much nothing stopping you from packing your bags and catching a flight to this amazing country.
Sexual harassment in Iceland is really not common. The most rowdiness you're ever going to find is in Reykjavik when people are getting drunk in bars. You'll probably get far less hassle than in your own country. Even so, here are our tips for solo female travellers!
If someone does come up to you in a bar trying to chat you up – don't worry. Politely declining will usually be enough to get someone away from you, if you're not feeling comfortable. If someone is being too much, just ask the bar staff for help.
And you don't have to tell people you meet what you're up to the whole time. Your marital status, or the exact location of your hostel, aren't really appropriate topics of conversation that an Icelandic local should be bringing up.
Don't leave your drink unattended. It's probably unlikely to happen in Iceland, but there are people with bad intentions all over the world. So it's better to be safe than sorry.
Hire a guide. Well, if you want. It can be daunting heading out into nature by yourself. So hiring a guide will ensure that you stay safe, stick to well-trodden trails, and will mean that you get to learn about the country you're in from a local. But you should do your research and read reviews of guides – especially from other women.
Make friends with other travellers. This is a good way to get rid of the solo travel blues, which can pop up when you're travelling by yourself. Staying at a social hostel or finding some Facebook groups for female travellers are just two ways you can do this.
We told you Iceland was safe! Seriously, you're really not likely at all to run into any trouble as a woman in Iceland. Local people are respectful and friendly and will be happy to help you out. No macho culture here – it's a perfect first-time solo travel destination.
There's loads of adventure to be had in Iceland, friendly people to meet, Viking history to learn about… And what's more, it's actually super easy to travel around as well. You won't have to worry about sketchy bus terminals here. Everything's just fine!
That said, you should probably still pay attention to your surroundings. Just because it's super safe, doesn't mean you'll be immune to bad things happening. So trust your gut and use your common sense. However, we're betting you'll have an amazing trouble-free trip!
Is Iceland safe to travel for families?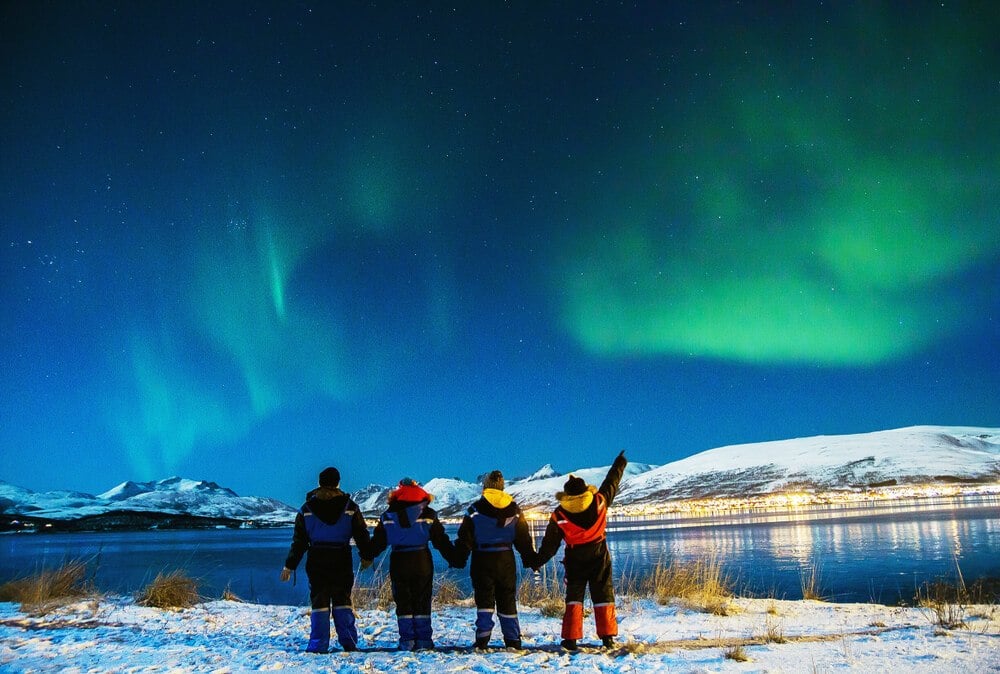 Iceland is most definitely safe to travel for families.
You can easily base yourselves in Reykjavik – along with half of Iceland's population, too! It also has a load of swimming pools.
There's lots of dramatic scenery to soak up. Glaciers, waterfalls, mountains… Your children are going to love seeing all this scenery, like something straight out a fantasy videogame!
Even things that you'd have to be careful of at home – like traffic and stranger danger – you won't really have to worry about in any Icelandic urban area.
If you do want to travel around, the distances between hotspots can be very long, so make sure you plan your itinerary accordingly. To help you do this, grab yourself a Íslandskort barnanna – a map of all the family-friendly stuff you can get up to in Iceland.
Be also aware of the weather and landscape of this country and make sure you're prepared. If you want to rent a car and go on a family road trip on the Ring Road, know that often there will be no one else on the road for miles around.
A good schedule and plenty of snacks for your kids are what you'll have to plan for in Iceland.
But you can often get discounts for children at certain attractions, and on tours too. And that's always a bonus. And children under 10 years old often get to stay for free at hotels. And that's an added plus on what can be an expensive island.
You can also get things for young children, like nappies and formula, in most places. Restaurants also serve child portions. It's all good.
Basically, it's great. You and your family are going to love Iceland!
Is it safe to drive in Iceland?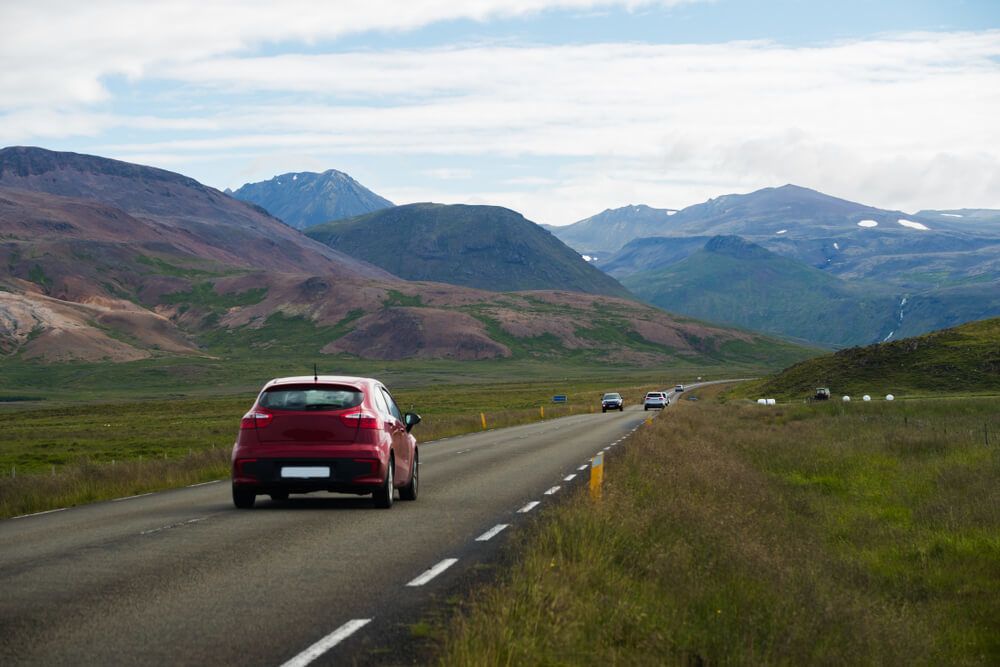 There's a strong case for driving in Iceland. It's home to some awesome road trips, like the Ring Road, and often it's the only way to get to all the places you want to visit.
And vehicle hire can be super expensive. In the summer months, a two-wheeled drive is perfectly fine, but a lot of the time Iceland's F roads will require a four-wheeled drive. And these are only open in the summer months anyway.
Also open only in the summer months are roads to the Highlands of Iceland. But you'll still have to check with Icelandic Road Administration. If you visit Iceland in winter, all the roads can be frosty dark.
When you do hire a car, make sure you have the correct vehicle insurance. And you'll need breakdown recovery – just in case – because you could end up stuck in a remote area.
There are super strong winds that whip up sand and ash storms, which can actually push your car over and damage it. Areas at risk of this are marked with orange warning signs.
Roads can be narrow and winding, so driving fast shouldn't be an option. The surfaces can be uneven and gravelly and sometimes roads can be completely impassable – especially in the winter months. In fact, from November to April it's mandatory to have winter tyres; headlights must be dipped at all times, too.
Watch out for a sign that says "Malbik Endar" – that means the road will soon change to gravel and you should slow down so that you don't skid.
Also, add a pair of sunglasses to your Iceland packing list. A lot of the time the sun is low, which means that you'll be practically blinded when you're driving around.
That said, it's safe to drive in Iceland. As long as you aren't heading off-road, you shouldn't have too much trouble at all.
If you're not confident, you can always get yourself on a tour – or hire a driver.
Is Uber safe in Iceland?
There is no Uber in Iceland.
There are no taxi-hailing apps at all.
The law in Iceland is actually pretty strict on this.
So you'll have to stick to taxis the old fashioned way.
Speaking of which…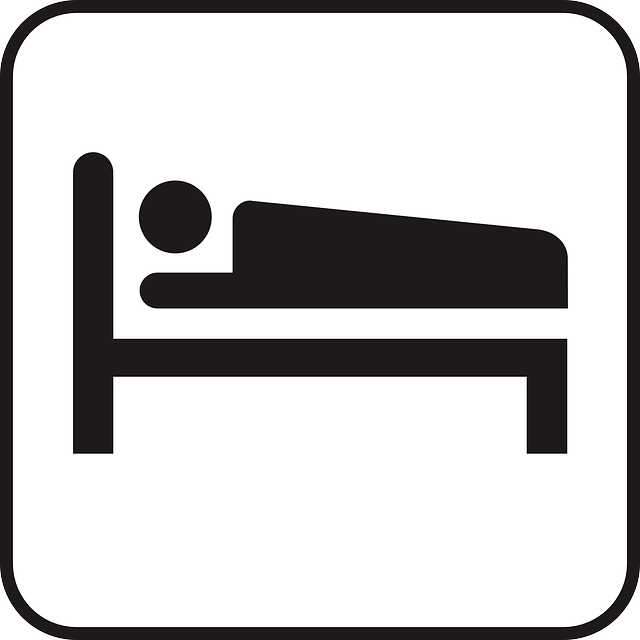 Sleep safe! Choose your Iceland hotel, hostel or Airbnb ahead of time so you're not last-minute booking a less-secure place.
You'll find our favorite accommodation sorted by neighborhood in the following guides:
Iceland | Where To Stay Reykjavik
Are taxis safe in Iceland?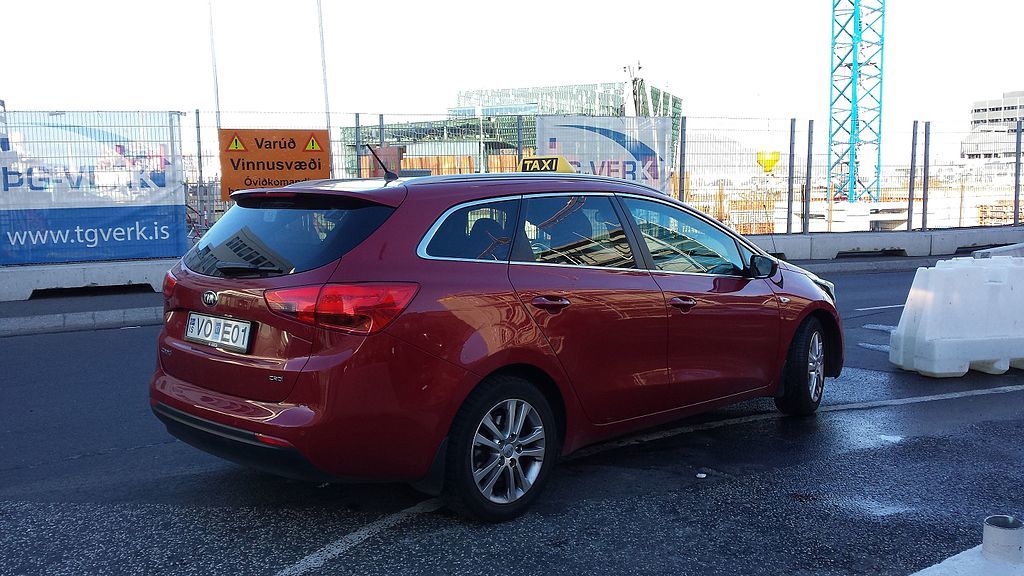 As you can imagine, taxis are safe in Iceland.
The only thing that isn't safe about taxis in Iceland is their price. Your wallet won't be safe at all!
You can get them in larger towns, but for the most part, you'll find it easiest to find a taxi in Reykjavik.
There are a couple of taxi stands in downtown Reykjavik which idle around for people coming off tours, but they're not always there.
And at the weekend when people are drinking, you'll find a taxi line in town, too.
Usually, you don't hail a taxi off the street, instead, you'll have to call a company. There are two big companies for taxis on the island. And if you ask any local, they'll know the number of one. Apparently, a strong advertising campaign has stuck it in everyone's mind!
Taxis have a yellow sign. But in October they have pink signs (for breast cancer awareness!). They look like taxis.
They run by the meter, however, airport taxis have set prices.
All in all, taxis in Iceland are safe. You won't have to worry about getting scammed or negotiating prices. The drivers like meeting people and having a chat.
Also, they speak English. Of course.
Is public transportation in Iceland safe?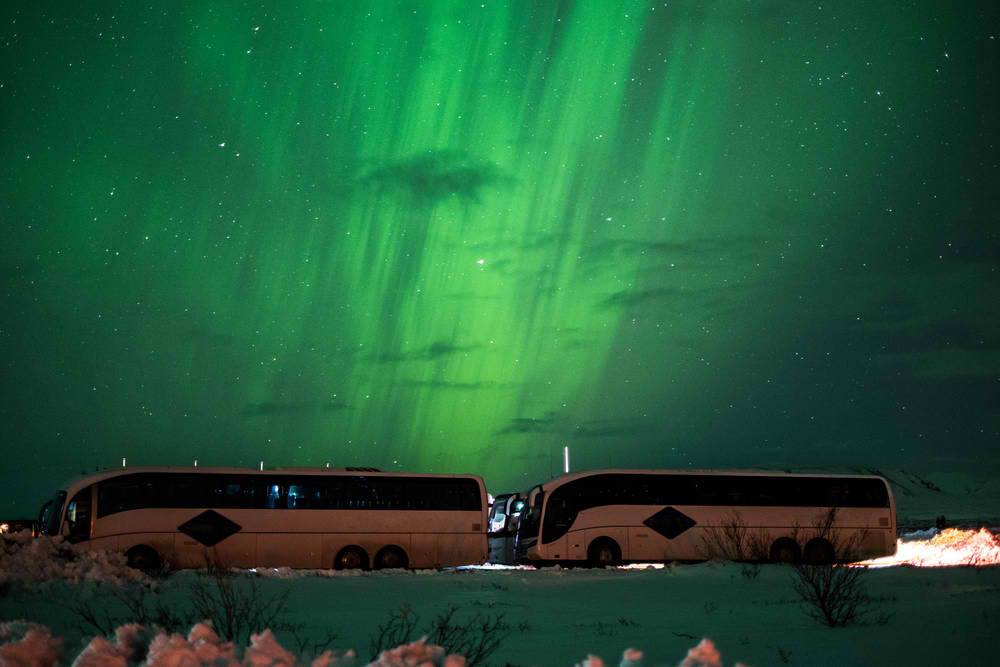 Public transport is safe in Iceland, but there's not a lot of it.
Buses exist, trains don't. Also, there's no metro.
The buses themselves are super safe. And Reykjavik has city buses, which are yellow. They're the only way (except walking or taxis) to get around the city.
The routes can be really confusing. Even locals don't know what's going on sometimes.
These local buses also run from Reykjavik to basically all the areas nearby you could want to go to. Selfoss, Borgarnes and Hveragerði, for example.
If you want to plan your journey and not get lost en route, head to the Straeto.is site for their handy journey planner. That'll tell you how long buses will take, their schedules, where they go and more.
There are screens on buses that show where you are and what the next stop is, though.
Note: buses are limited at the weekend. Plan ahead.
And you cannot eat or drink on buses. You'll get told off if you do. Even if it's a cup of coffee, you might not be let on!
If you want to go further there is a long-distance bus network, too. Most buses stop at the biggest destinations along the Ring Road. It's basically a much less stressful way to travel around the island than hiring a car. Plus the buses even have wi-fi!
Safe. But limited. Case closed.
Bum bags aren't just for Adidas lads and super dads!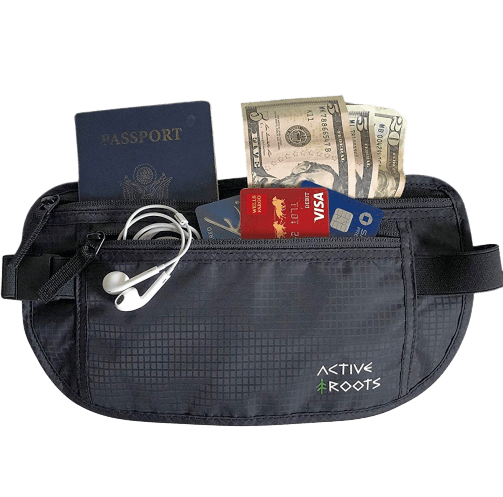 Seriously, once you enter the travel belt life, you never go back. You can NEVER overstate just how useful having all your most important valuables right around your waist is.
A full-sized travel belt stays tucked under your shirt and keeps your valuables – documents, passport cash, headphones, lip balm, illicit goodies 😉 – organised and on-hand for moment's notice.
Hide Yo' Money!
Is the food in Iceland safe?
Let's face it: food in Iceland isn't exactly appetizing. Dried fish, a fermented shark, boiled lamb's head… we're looking at you. Whilst it is true that people subsisted on whatever they could get their hands on, the Icelandic diet has moved away from just fish and lamb.
Before the 19th century, even grain was hard to come by. Today, it's a different story. Most restaurants have a fish of the day and there's stew to try. Also, there's bread and you can even get lobster pizza! But to help you eat like a pro in Iceland, here are some foodie tips.
Bear in mind: things can be expensive in Iceland. A lot of stuff has to be imported. This also means that options can be quite limited at times. But food in Iceland is delicious and you should still try it out.
Don't be freaked out by things like harðfiskur. This is basically Iceland's national snack. It's a dried fish that's often spread with butter on it and eaten pretty much like popcorn or crisps. It's crazy.
That said, you may not be used to all the fish. If you're not, and you have a delicate stomach then maybe it's not the best idea to.
With all the fish and stuff on offer, it can be tricky if you're a picky eater and you just don't like seafood. Or if you're actually just allergic to it.
There are cultural differences in what Icelandic people eat. We're talking whale, shark and even puffin. Whilst it's not really your place to judge, we'd also say steer clear of tourist restaurants that purposely serve these things up. Do you want to try them? Go somewhere local. But growing the trade of animals like this for food is not something you may want to support by eating at tourist places.
Things can be pricey in Iceland. That's just a fact. So if you don't want to starve and want to eat relatively healthily, most hostels will have a kitchen where you can cook for yourself. Get down to the local supermarket, buy some ingredients and cook up a storm!
But for cheap snacks, go for a hot dog stall. For some reason, these are everywhere. For comparison: hot dog = $3.50 / sandwich = $13. Ish. You do the maths.
It may be Iceland and it may be safe, but you could still get food poisoning. Or ill from food. So whatever you do, make sure wherever you're going is recommended. That it's busy with locals. Or even that it looks clean.
Wash your hands. It's the simplest things that are often most effective. So make sure your mitts aren't grubby before you start tucking into your dinner.
See? It's not all pickled ram's testicles and sheep's innards. There's more choice than there's ever been in Iceland. And for the most part, food in Iceland is safe. You're not very likely at all to get ill from Iceland food. You may get ill just looking at some of it though.
Whale meat is a big issue. Having a small amount for traditional reasons is something that makes sense. But the fact that most whale meat in Iceland is sold to tourist restaurants doesn't make sense to us at all. Travelling smart doesn't just mean eating at clean-looking, recommended restaurants: it also means not supporting stuff like this.
Can you drink the water in Iceland?
Surprise surprise, you can drink the water in Iceland.
In fact, Icelandic people are very proud of their water!
With all those glaciers, Iceland actually has some of the best water on the planet, or at least they claim to.
Buying bottled water just doesn't make sense here! Evian-quality water comes out the taps!
Geothermal water may smell like sulphur, but the cold stuff is going to be fine.
So pack a refillable bottle and drink away! We even have compared different travel water bottles in this article to help you decide which one is the best for you.
Is Iceland safe to live?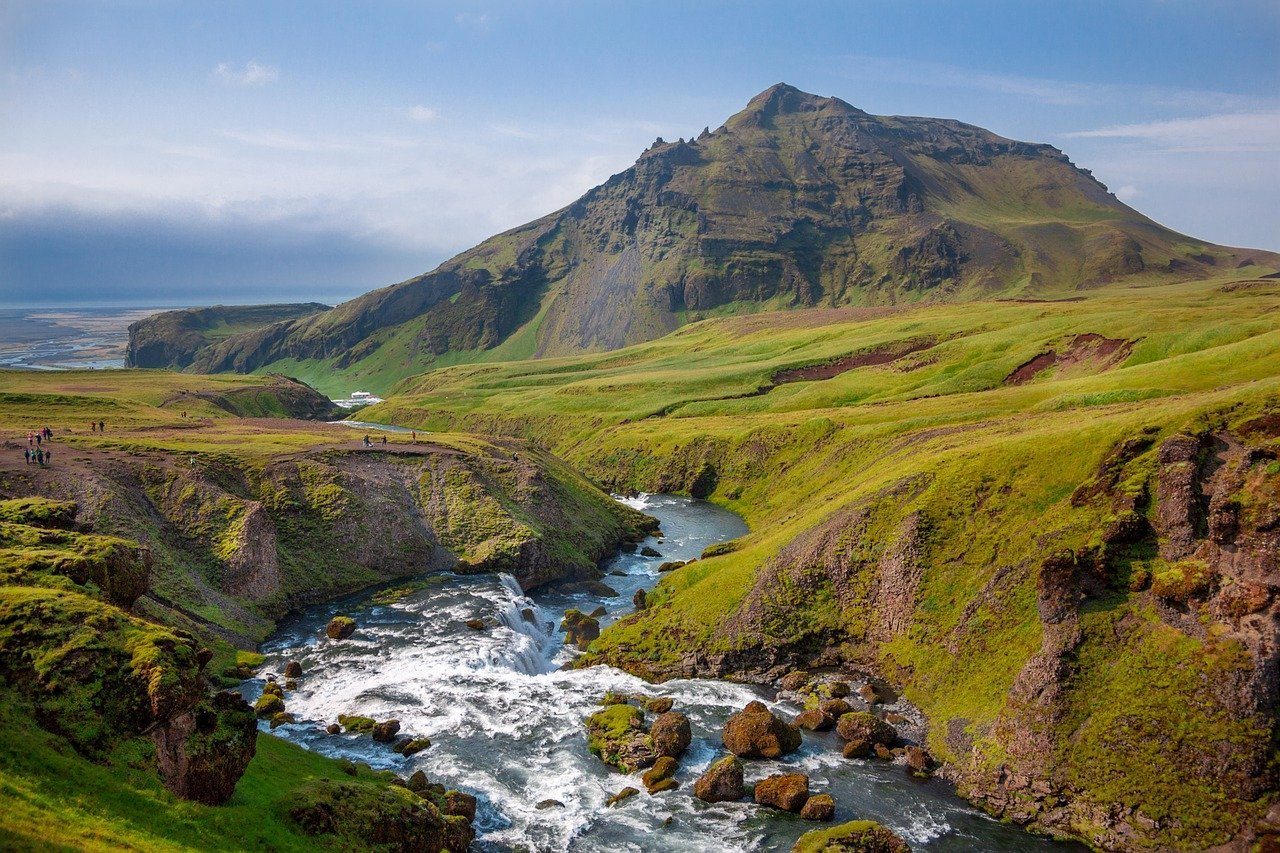 Obviously, Iceland is safe to live in.
But it can actually be pretty complicated figuring it all out.
You'll also have to get used to living in the Arctic Circle. The good news in summer (long days), bad news in winter (perpetual night).
It's also not a warm country so make sure you pack warm!
If you're easily affected by the weather and daylight hours, you might find it tricky living in Iceland.
In fact in the winter, it can be pretty horrific weather-wise. It's freezing and there's no sunshine. And moving there without any friends or family to connect with makes it downright depressing.
It can be a challenging place to live, to say the least.
If you do move to Iceland, you'll probably want to pick a place in Reykjavik. But it's next level expensive. It's so popular with tourists and locals that there's an actual shortage. Everyone wants to live in the 101 district in the centre of the city. Makes sense: this is where the bars and restaurants are.
On the other hand in the west of the city centre is Vesturbær, which is both cheaper and cooler than the touristy centre.
Anywhere outside the centre, the pace of life is pretty slow. If that sounds like you, go for it!
On the plus side, everyone speaks English. You get to hike in some incredible nature anytime you want. People are friendly. And you can casually go see the Northern Lights or take a dip in the Blue Lagoon whenever.
It's safe to live in Iceland, but it can be isolating.
The Future of the SIM Card is HERE!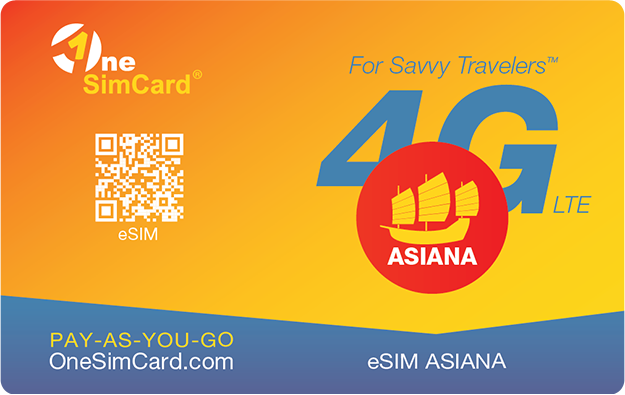 A new country, a new contract, a new piece of plastic – booooring. Instead, buy an eSIM!
An eSIM works just like an app: you buy it, you download it, and BOOM! You're connected. It's just that easy.
Is your phone eSIM ready? Read about how e-Sims work or click below to see one of the top eSIM providers on the market and ditch the plastic.
Buy an eSIM!
How is healthcare in Iceland?
The healthcare in Iceland is truly of a high standard.
The safest country in the world has a healthcare system to match.
You won't have a problem trying to find an English-speaking doctor or any other medical staff who can understand you.
In general, it's easy to access medical services in Reykjavik, and the service is pretty quick: you won't have to wait much.
However, if you're somewhere more remote, it can be harder to find medical assistance. And if you're out hiking it can take hours before a medical team can reach you.
For minor ailments, head to a pharmacy. They can give you free, over-the-counter advice and dispense according medication. Look for the sign that says Apótek.
Remember though, Iceland is expensive. Though it is high quality, you'll have to pay in full if you need any sort of medical treatment. And it's super important to have medical insurance. If something happens when you're somewhere remote, an airlift is very pricey.
But yes. Healthcare in Iceland is good. No problems here!
Helpful Iceland Travel Phrases
Okay, it's no secret that the Icelandic language isn't easy to learn, let alone pronounce! That said, even though most people speak perfect English if you know a couple of Icelandic travel phrases, your efforts will always be appreciated!
Hello – Sæll
How are you? – Hvað segir þú?
What is your name? – Hvað heitir þú?
Thank you – Takk [tahck]
Where is the bathroom? – Hvar er klósettið? [hvar er kloh-settith]
How much is this? – Hvað kostar þetta?[hvath koster thetta]
Where is? – Hvar er? [kvar er]
Beer – Bjór
FAQ about Staying Safe in Iceland
Here are some quick answers to common questions about safety in Iceland.
Final thoughts on the safety of Iceland
We're not going to lie, Iceland is ridiculously safe. There is basically nothing unsafe about visiting this country, in terms of people anyway. Petty crime is basically not a thing and neither is violent crimes. You're unlikely to be parted with your money as a result of a scam. It's a dream to travel to places as safe as this and it's a shame that everywhere couldn't be this safe. But it's not without its dangers…
There are things to pay attention to if you're planning on backpacking Iceland. The big, obvious thing will be the seismic credentials of Iceland. There really are some pretty active volcanoes on the island that can blow at any moment and without much warning at all. These could be devastating or they could just disrupt your travel plans. They're unpredictable and potentially deadly.
But you can't do much about them. Though a volcano isn't going to mug you. They're not an everyday threat. Something that will be more common and applicable to your situation is getting yourself into danger via hiking or otherwise heading on an independent trip around Iceland. It's safe, but knowing the dangers, being prepared, planning, packing snacks and plenty of water… All things you should do.
Disclaimer: Safety conditions change all over the world on a daily basis. We do our best to advise but this info may already be out of date. Do your own research. Enjoy your travels!
---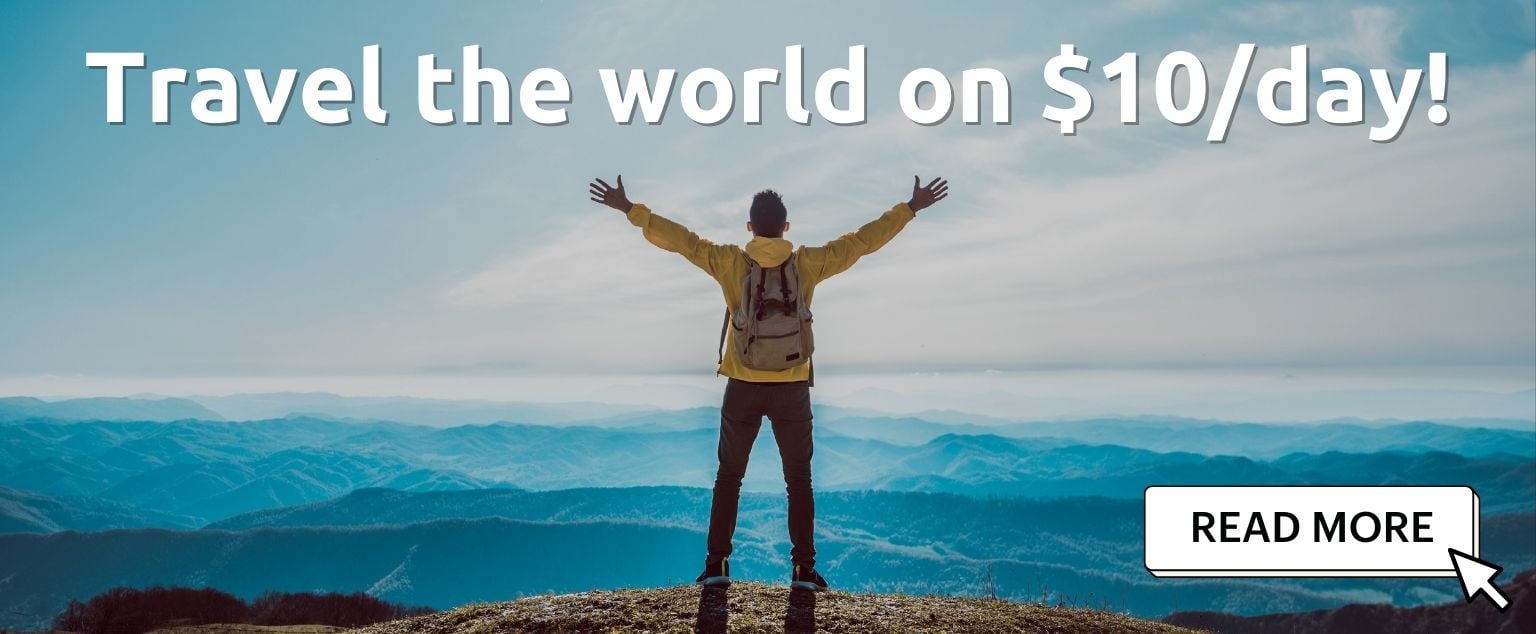 And for transparency's sake, please know that some of the links in our content are affiliate links. That means that if you book your accommodation, buy your gear, or sort your insurance through our link, we earn a small commission (at no extra cost to you). That said, we only link to the gear we trust and never recommend services we don't believe are up to scratch. Again, thank you!