Road trips always hold a special place in the hearts of travelers, but few road adventures out there can match the mystical raw beauty of Iceland's Ring Road. Perhaps nowhere else on earth is more visually pleasing or arguably romantic than a journey along this Arctic highway.
This place is actually as legendary as you have heard.
Welcome to the land of blue icebergs and glaciers, temperamental active volcanoes and relaxing thermal hot springs, the Northern Lights, and jagged misty mountains…
This, my friends, is the magic of the Icelandic Ring Road.
Over the course of this travel guide to Iceland's Ring Road, we will explore all of the aspects that go into having an excellent road trip in this amazing part of our planet.
This guide is chalked full of practical information, secrets and hidden gems, travel tips, costs, highlights, an Iceland Ring Road Itinerary and much more.
Prepare to have any doubts you previously had about Iceland's Ring Road completely obliterated!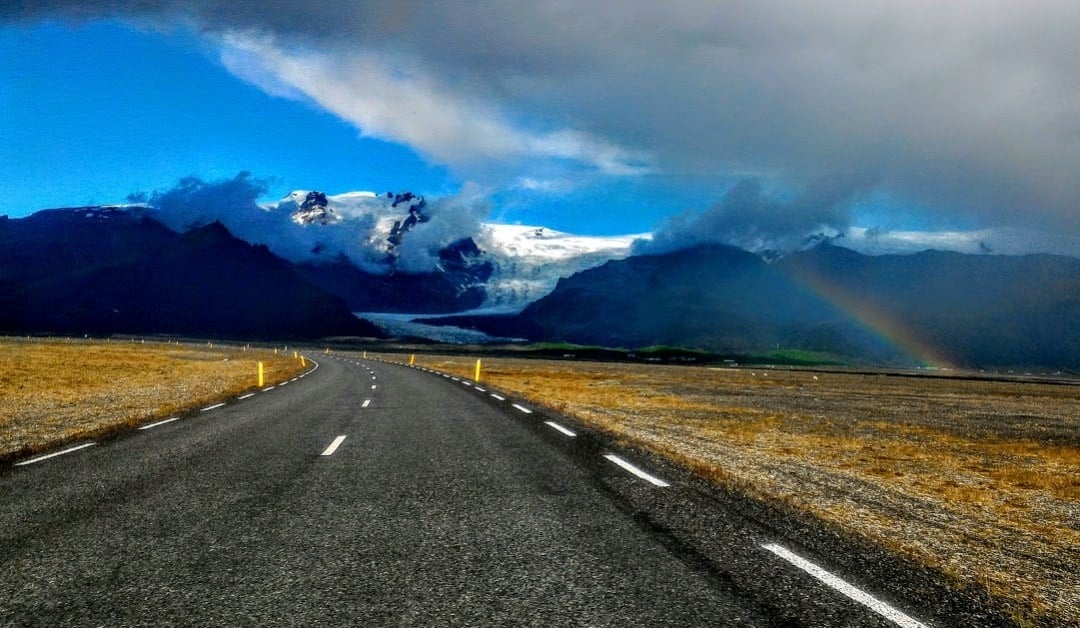 Questions Addressed during this Guide to Iceland's Ring Road
Here is a quick rundown of what you can expect to gain from our Icelandic Ring Road itineraries:
Quick Facts about Iceland's Ring Road
The distance of Iceland's Ring Road is 1,332 km (827.7 miles) non-stop. Wow.
The road itself passes by Iceland's most iconic natural attractions and there are plenty of options to venture off the beaten path. Adventure opportunities abound.
Depending on what kind of Ring Road itinerary you choose, your pace, and time frame, the full loop can be done in as little as seven days. Likewise, if you're in no rush it can take several weeks or more to really explore.
That said you'll want at least 10 days to see the very best of the Ring Road around Iceland. You have come all this way to Iceland – there's no point in rushing your way through one of the best road trips in the world. I am sure you can agree.
Regardless of how you choose to tackle Iceland's Ring Road, one thing is certain: it is going to be a fantastic experience without a doubt.

Do You Want to Travel FOREVER??
Pop your email in below to get a FREE copy of 'How to Travel the World on $10 a Day!'.
Planning Your Trip on Iceland's Ring Road
So before you set off on the adventure of a lifetime, there are some things to get in order. Getting a plan together for your Iceland ring road itinerary won't only make things much easier, but it can also make it a hell of a lot cheaper too.
How to Travel in Iceland Cheaply
The very first thing you need to know when building your itinerary for Iceland's Ring Road is that it won't be a super cheap affair. Iceland is an expensive country and only getting more expensive every day.
Right now, all of the websites, magazines, and blogs of the world are screaming for people to visit Iceland and seems there are always deals popping up. Whilst it is possible to score some ridiculously cheap flights to Iceland right now, Iceland is an expensive country to travel in once you are there.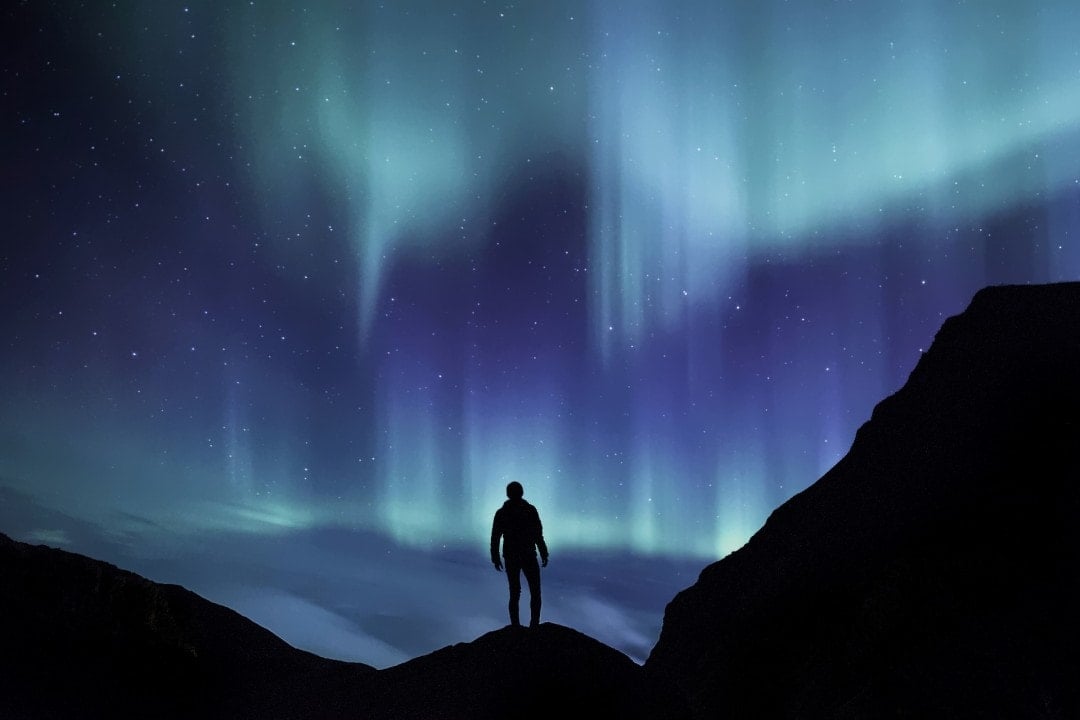 So Iceland is obviously nowhere as cheap as traveling in India for example, but don't be detoured. With a few backpacker tricks and travel hacks up your sleeve, you can enjoy exploring the Ring Road and Iceland on a reasonable budget.
You should expect higher than average prices for common expenses like eating, hotels, and even campervan rentals.
To trave in Iceland cheap, you'll need to form a strategy that works for you in order to keep costs as low as humanly possible.
That's why I am here: to show you the way…
Where to Stay on Iceland's Ring Road
Choosing where to stay in Iceland is an important decision whilst traveling on the Ring Road around Iceland. Lodges tend to book out fast and with little or no planning you could find yourself in undesirable circumstances. That is unless you are planning on camping.
Camping and campervanning is the best way to experience the Ring Road. You'll get to experience the raw nature of the great outdoors and will spend less money in the process.
If can sleep in your vehicle if you have enough room – a friend of mine slept in the trunk of his SUV while on his own road trip in Iceland. Just check to make sure to book a large vehicle with whatever Iceland car rental agency you choose.
Some travelers prefer camping for most of their trip and then sprinkle staying in a hostel in Iceland now and again to relax. I personally recommend going this route but try to keep camping your primary option.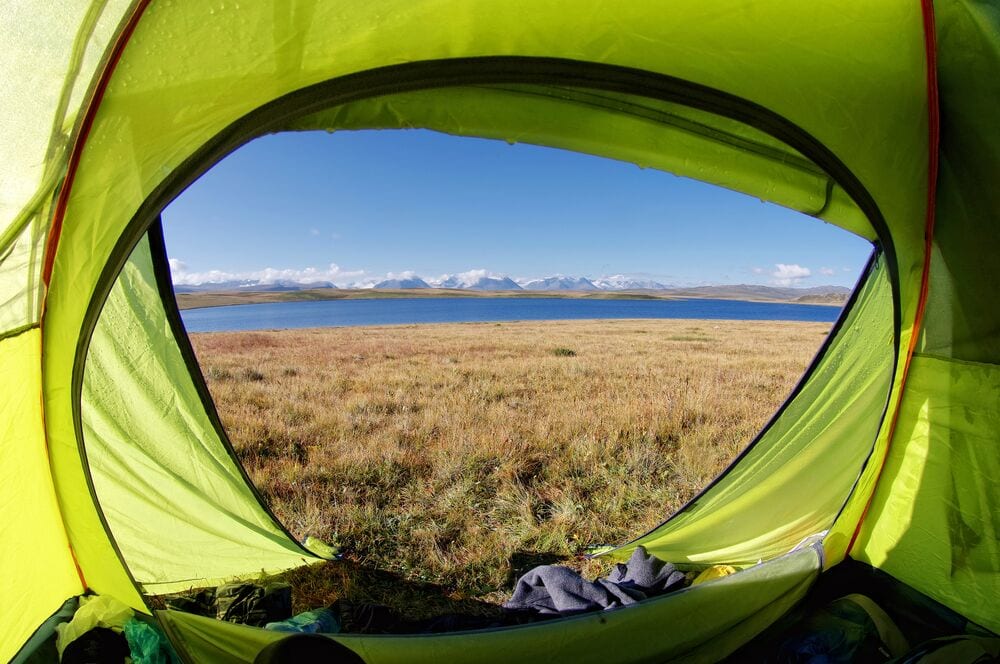 Camping in Iceland
There are a million and one places to camp along the Ring Road. Established campsites charge a fee and often have electricity, bathrooms, and showers. These range in price, but generally speaking, are the cheapest accommodation in Iceland.
Due to the vast amount of uninhabited wilderness areas, wild camping in Iceland is the best and cheapest way to sleep out. Free accommodation – woo!
Iceland has some pretty lax wild camping laws. Basically, if you are not camping on sign-posted private land in a group of more than three tents, you should encounter no problems. For obvious reasons, you shouldn't try to camp directly at very popular landmarks in the country.
As a general rule, it isn't too hard to find a place to wild camp for the night. Make sure that you are prepared with the right gear to contend with the often volatile Icelandic weather systems.
Camp as much as possible and book a place for the night when you need to freshen up and take a good hot shower. Cities and large towns, like Reykjavik, Akuyeri, and Egilsstaðir are great options.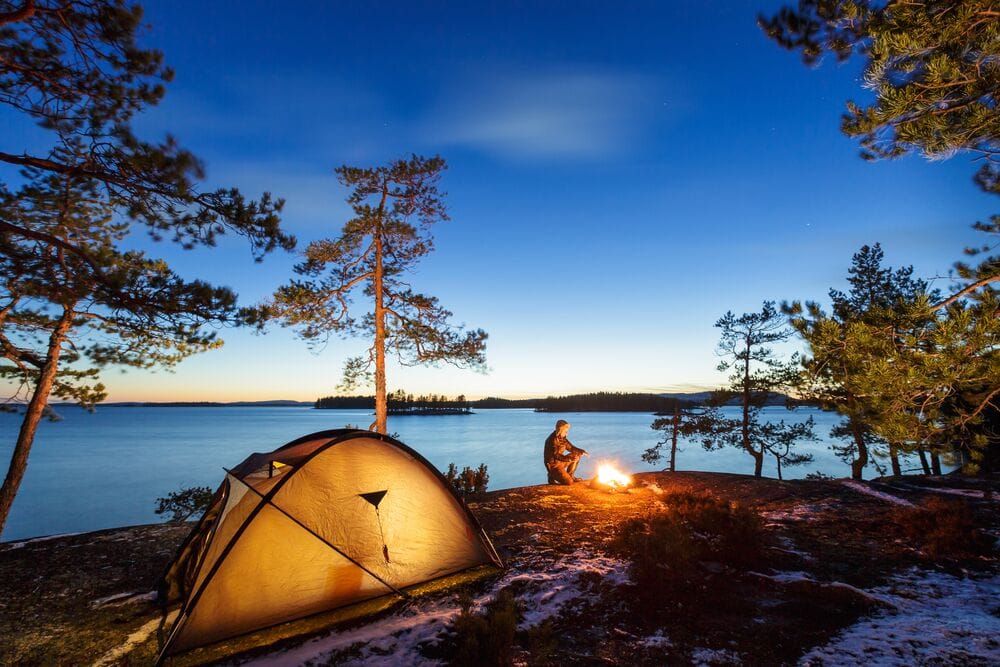 It rains a lot here, so if you intend on camping in Iceland heaps then you'll want a good tent. (My personal favourite is my trusty MSR Hubba Hubba 2-person tent.)
They say there's no such thing as bad weather – but an unprepared person. If you're driving Iceland's ring road in winter, definitely make sure that you have the right sleeping bag – it gets super cold out there! For those looking to do multi-day backpacking trips into Iceland's backcountry, Iceland is a paradise.
Campervan Hire in Iceland
Iceland is a world-class campervan destination. Traveling in Iceland by campervan is a truly fantastic option.
For freedom, comfort, and all-around awesomeness, renting a campervan in Iceland is the way to go if you can swing it. Be sure that renting one can be an expensive route to take. But at the same time, you will cut out the need for other accommodation as well.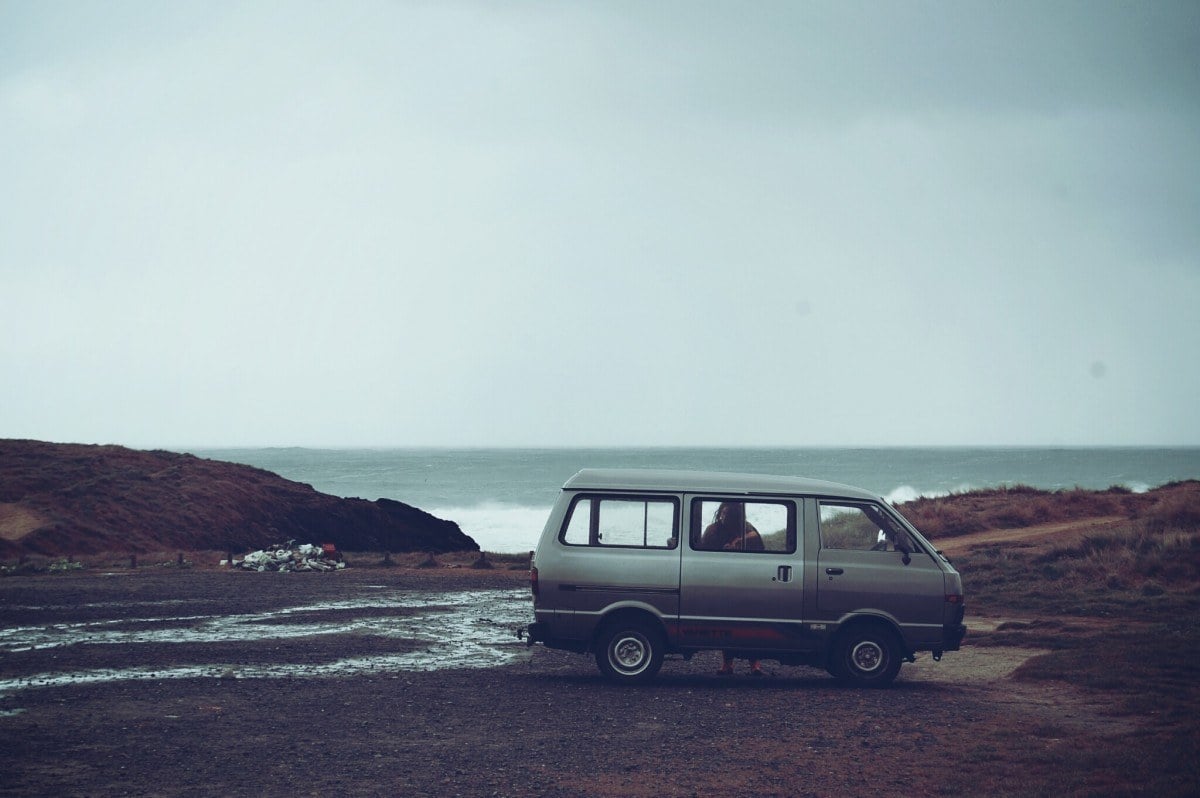 Renting a campervan in Iceland is a pretty straightforward affair. For a fully equipped self-contained campervan, rentals start between 180 – 300 Euros/day. Split between two or three people, the daily costs are only slightly more expensive than a hotel would be…
My advice is to come to Iceland with the absolute intention of renting a campervan if you can.
Airbnbs in Iceland
It's no secret that I absolutely love Airbnb. There's nothing better than having your own homey space on the road – and to get to know the real country.
Although Airbnbs in Iceland can be expensive. That said, they're often cheaper than hotels. Plus, if you book in advance and split the cost with your travel buddy (or buddies), sometimes this can work out cheaper than hostels.
Want to spend extra time seeing the best waterfalls in Iceland? Want to stop for a picnic with an awesome view? Want to camp somewhere far off the beaten track?
You'll need your own transport for all of those scenarios.
To make the most of your road trip on the Ring Road around Iceland, you are going to need your own wheels. The easiest and most rewarding way of getting around is by having your own car rental in Iceland.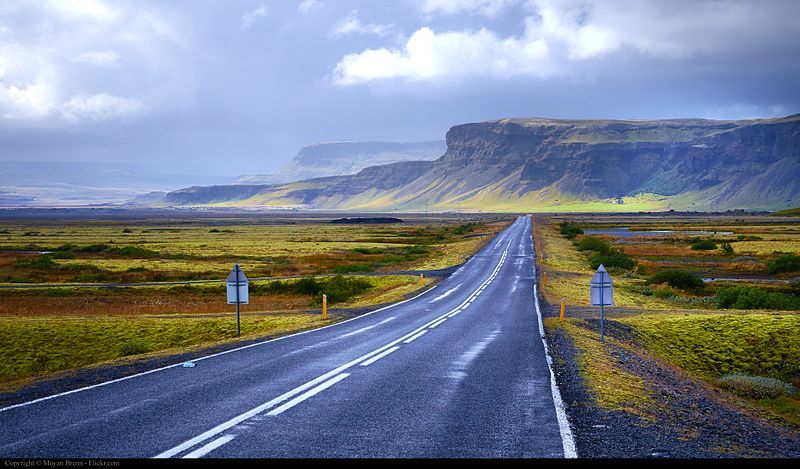 Having a car – or campervan for that matter – gives you the freedom to see the best of the Ring Road's attractions and at your own pace. Also, it will give you unparalleled access to the most amazing backcountry spots to sleep for the night.
You can easily book your rental car so that it is waiting for you at the airport upon arrival. Booking in advance obviously ensures you will get the best price and your pick of cars too.
If you don't want to drive, you could potentially take a cross-country bus instead. There are bus passports that allow you to hop on and off when you want to. These start at around $135 USD.
The obvious drawback is that you are on the bus's schedule, not your own. You also don't choose where you go or where you stop, so in many ways, you are quite limited.
Is it safe to drive in Iceland in winter? Whilst it may be a bit more difficult, it is still safe to drive in Iceland in the winter. All rental cars come equipped with 4-season tires and should have an emergency quite. Note that Iceland's F roads (mountain roads) will be mostly be closed.
Hitchhiking the Ring Road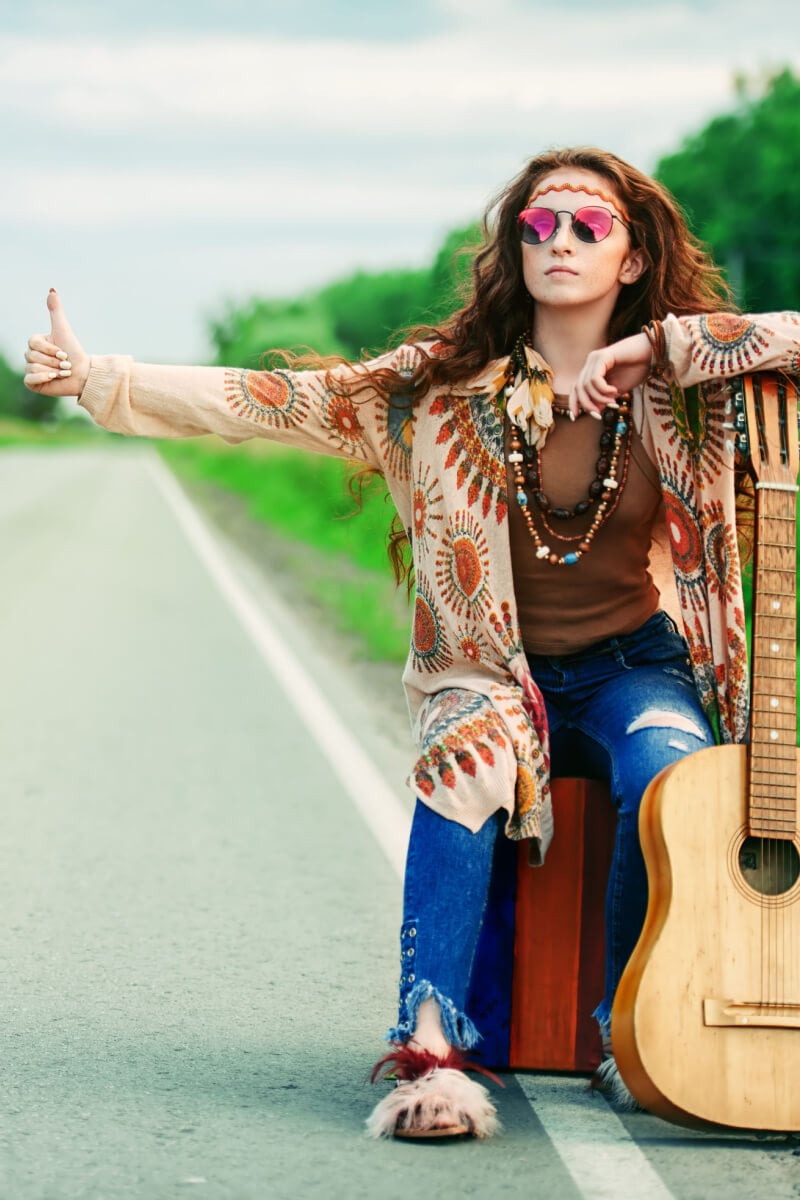 If you are really on a tight budget and simply can't afford to rent a car for whatever reason (I get that), hitchhiking is a fine option as well.
The only catch to seeing Iceland by thumb is that it will obviously take you longer to do and see the things you want to experience. If you've got the time and the patience, I say go for it!
If you are a solo traveler, you will likely have a smoother hitching experience too. People are more likely to stop and pick you up when you are not a couple traveling with two or three large backpacks.
Keep this in mind when deciding on your duration in the country. Hitchhiking might make some travelers nervous, but Iceland is hailed as one of the safest places in the world to try it out for the first time.
Small Pack Problems? 😉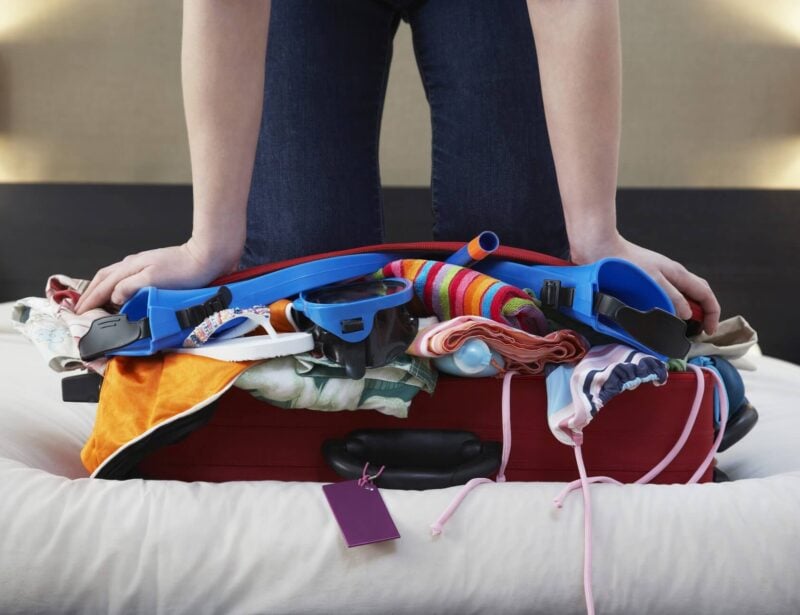 My missus travels with all her clothes in ziplock bags: don't be like my missus. UP YOUR PACKING GAME!
Packing cubes for the globetrotters and compression sacks for the real adventurers – these babies are a traveller's best kept secret. They organise yo' packing and minimise its volume too so you can pack MORE.
Or, y'know… you can stick to ziplock bags.
View Our Fave Cubes
Or Check Out the Sacks!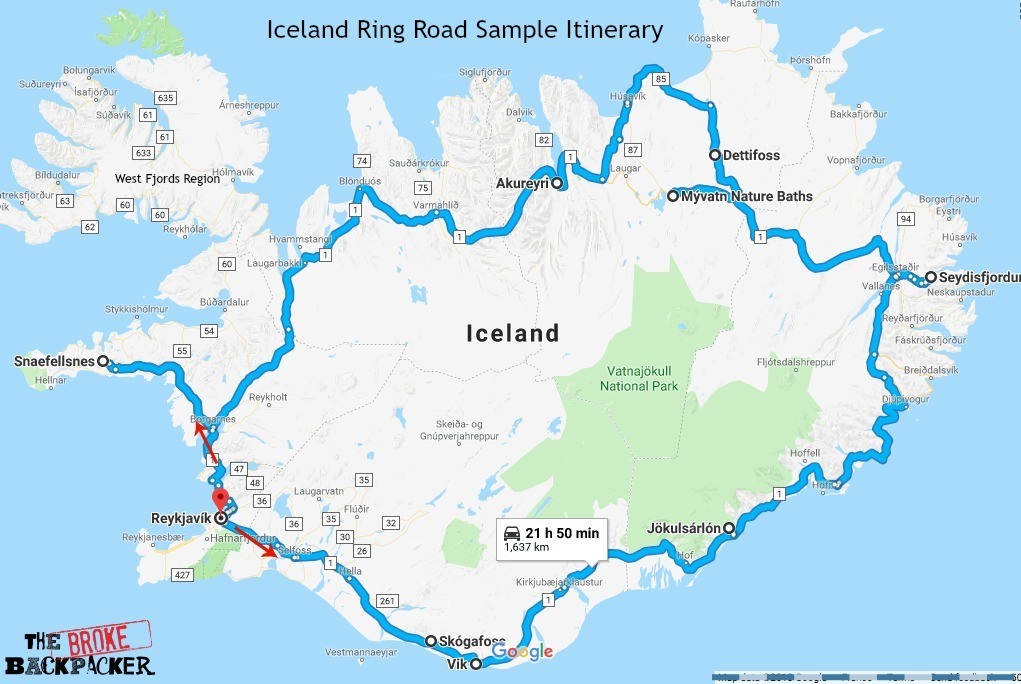 This Iceland Ring Road itinerary is 7 days long, though it's designed to be flexible. Seven days is really fast to make this journey; take as much time as you can afford. The more time you have the more intimately you can get to know all of the hidden treasures!
While driving Iceland's Ring Road, you'll quickly find that there's never enough time to stop everywhere you want to. Don't underestimate the distances on Iceland's Ring Road and try to cram in too many activities.
Focus on what is important to you to see. Leave room in your plans for flexibility and being spontaneous as well. Remember that this a road trip; there will be lots of (scenic) drives and just being in Iceland is an amazing experience.
My Ring Road itinerary in Iceland was done counter-clockwise. This tends to be the most common plan for travelers because it gets the most touristy areas out of the way first.
But this is just a blueprint. I employ you to customize it based on your own style and timeframe when it comes to this drive around Iceland. When you're finishing up your trip, it'll just be you, the open road and Icelandic skies (in theory).
Ring Road Day 1: Iceland's Golden Circle
Highlights: Strokkur | Kerid Crater | Gullfoss | Þingvellir | Reykjadalur | Mt. Esja
Something to keep in mind about your first day is that technically, you're still quite close to Reykjavik. This means that if you want to stay in the same campsite two nights in a row, you can.
This also gives you the opportunity to top off that gas tank before tomorrow and pick-up any last minute supplies you might have forgotten.
Let's check out the south coast of Ring Road in Iceland…
Iceland's Golden Circle
Iceland's Golden Circle refers to a collection of tourist attractions located very near to Reykjavik. It's a tourist loop and features quite a few impressive locations, like Þingvellir National Park, Gullfoss, and a bunch of geothermal sites.
Don't try and sneak in other destinations into your first day – The drive itself only takes a few hours, but there are a lot of places to stop. The Golden Circle will eat up all the time that you have and you'll probably still won't be back at camp until after dark.
Let's take a look at a few of the best places along Iceland's Golden Circle…
Strokkur Geyser
This geyser goes off every 3-4 minutes, so you have to be patient if you want to catch it shooting into the air. Plus, you'll have to tolerate the rotten egg smell that's present with all thermal water in Iceland.
Kerid Crater
Kerid Crater can keep you busy for three minutes or three hours. You have the option of walking around the rim and the associated gorgeous views. You can walk down to the bottom of the crater by the lake as well.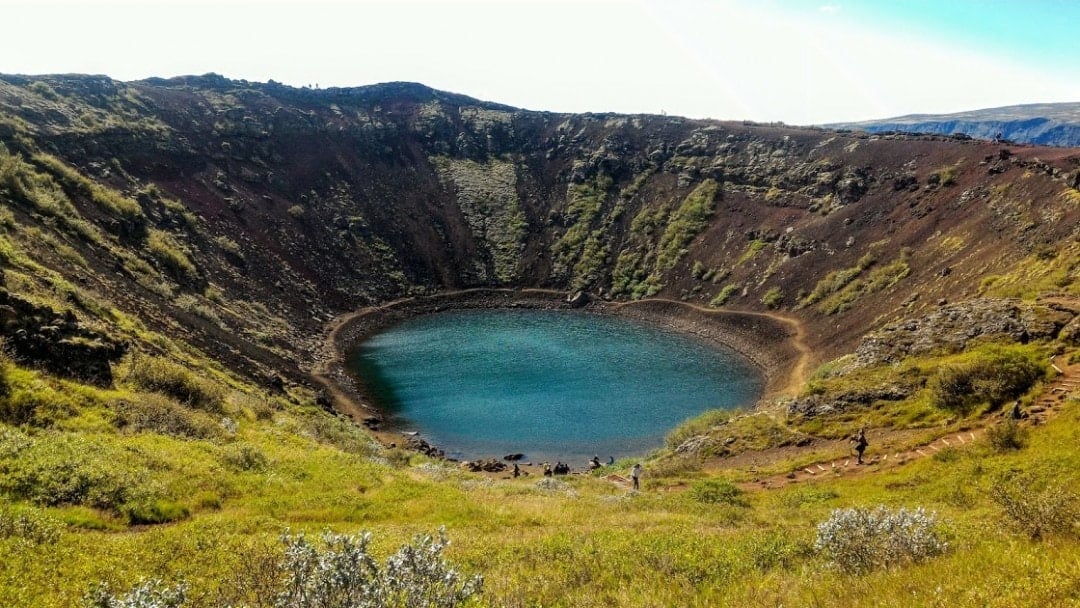 Gullfoss Waterfall
This is one of the most magnificent waterfalls in all of Iceland because it isn't just a waterfall – with the right weather, you'll get a myriad of rainbows leaping in multiple directions.
So its a rainbow-fall or a water-bow or something like that… Point being, it's fucking awesome.
Be prepared to get wet! Due to the water crashing down into a ravine, the water tends to drift upwards into a mist that envelops anyone who ventures below. Definitely bring a windbreaker and a good rain jacket if you plan on getting close to the action!
If you don't have a car, you can still visit this epic waterfalls. There's a bus from Reykjavik to Gullfoss and it's usually jam-packed with tourists on Golden Circle tours.
Fun fact: How was Gullfoss waterfall formed? Eons of volcanic activity carved a rift here, which was then made more dramatic by running water. Gullfoss is actually separated into two falls as well.
Fridheimar Farm
With all this walking, standing and hiking, you're going to work up an appetite. If you ask anyone for advice on where to grab a bite, they're going to direct you to Fridheimar Farm.
Everything served here is made right on the farm, but their most famous option is the endless tomato soup and bread.
It might cost $22 USD per person, but one sip of the soup or nibble of the bread and you'll want to stay all day.
Of course, with reservations being required for all indoor seating, the waitstaff will kick you out eventually! Get your fill and move on.
Pronounced "Thingvaleer," this National Forest hosts amazing hiking trails and is filled with scenes straight out of Viking lore. If you're a Game of Thrones fan, you might even spy a few cliffsides and mountains that look familiar.
Another place to visit here is the Bridge Between Continents. Although you can't actually see where the two tectonic plates of Europe and America meet, you can stand on the bridge. Better yet, you could go underneath the bridge and get a gorgeous view of the ocean.
The Reykjadalur Hike
This is a great way to end your first day, especially if you're driving back towards Reykjavik. 40 minutes from the city lies a place called Hveragerði, which is worth a stop.
There begins the hike to Reykjadalur, otherwise known as "Steam Valley." There's a really cute narrow river there that's hot as a bathtub and relaxing as a spa. Hot rivers always make for an interesting stop…
Come here to wash off the sweat and aches of your first day on Iceland's Golden Circle.
Hike Mt. Esja
Not far from Reykjavik itself is the trailhead to Mt. Esja. A bus can take you to where the hike starts and there's even a cafe at the bottom if you need to load up on coffee or a bowl of lamb stew first.
If you have packed a large majority of these activities in by now, then the most convenient option would be to head back to Reykjavik and bed down wherever you slept the first night. Since today was basically an epic day trip from Reykjavik, your official Ring Road journey starts tomorrow.
Ring Road Day 2: Starting the Ring Road
Highlights: Skogafoss | Seljalandsfoss | Gljúfrabúi | DC Crash | Black Sand Beach
Your second day on the road is going to be one of your wettest. Make sure to pack your windbreakers, extra socks, and your thermos of hot coffee. It's going to be chilly, a tad moist, and absolutely fantastic.
Skogafoss Waterfall
You'll see a lot of waterfalls on your drive around Iceland and each one is unique. What makes Skogafoss one of the best waterfalls in Iceland is the trail zig-zagging up the right side.
The view from the platform at the top is pretty impressive but, if's been raining a lot, the way may be a bit precarious. You can always walk right up to the falls from the bottom if you're not in the climbing mood.
The crowds can be immense here as well so try to hit this fall early.
Seljalandsfoss Waterfall
This is one waterfall that you absolutely must walk behind. Strap on those hiking boots, button up that rain jacket, and follow the trail that circles behind these falls.
The valley will have an entirely different look when seen through a veil of water.
If you're visiting during the winter, the entire ground will be covered in ice. You'll need some sort of tractions, like microspikes, with you. Those who are on an organized Ring Road tour package will have theirs provided by the hosting company.
Gljúfrabúi Waterfall
If you're already standing in front of Seljalandsfoss, just take a left turn and follow the gravel path. Within 10 minutes, you'll arrive at another set of falls that are set high above the ground. If you're keen, you can scramble up the face of the hill.
However, the sneakier and cooler way to see these falls is to duck around to the left side. There, you'll find a creek running out of a crevice in the wall of the hill. You can squeeze through the opening inside and meet Gljúfrabúi face to face.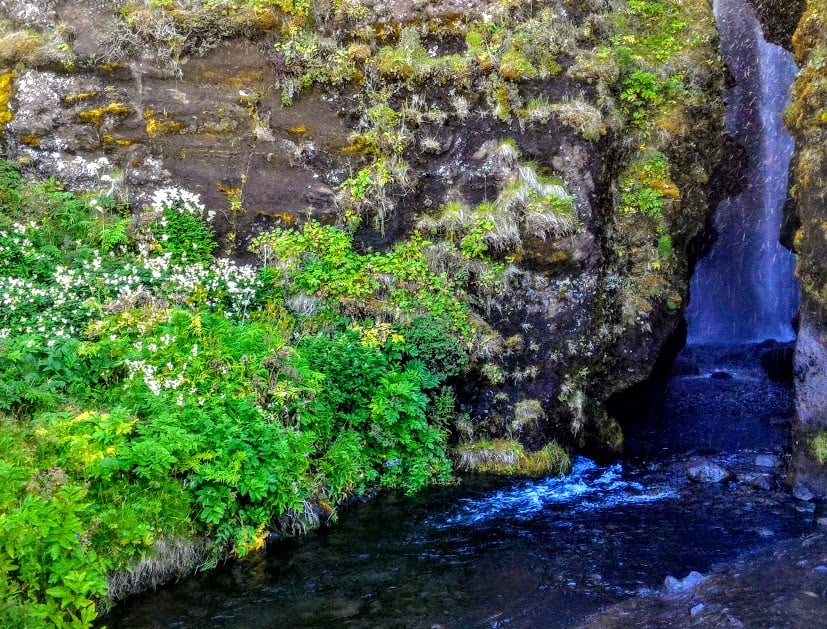 DC Plane Crash
If you've done any Iceland research at all, you'll already know this is one of the most iconic points of interest on the Ring Road.
This DC airplane crashed in 1973 and since then just about every person driving the Ring Road in Iceland has stopped to check it out.
The site itself is about a 30-minute walk from the parking lot.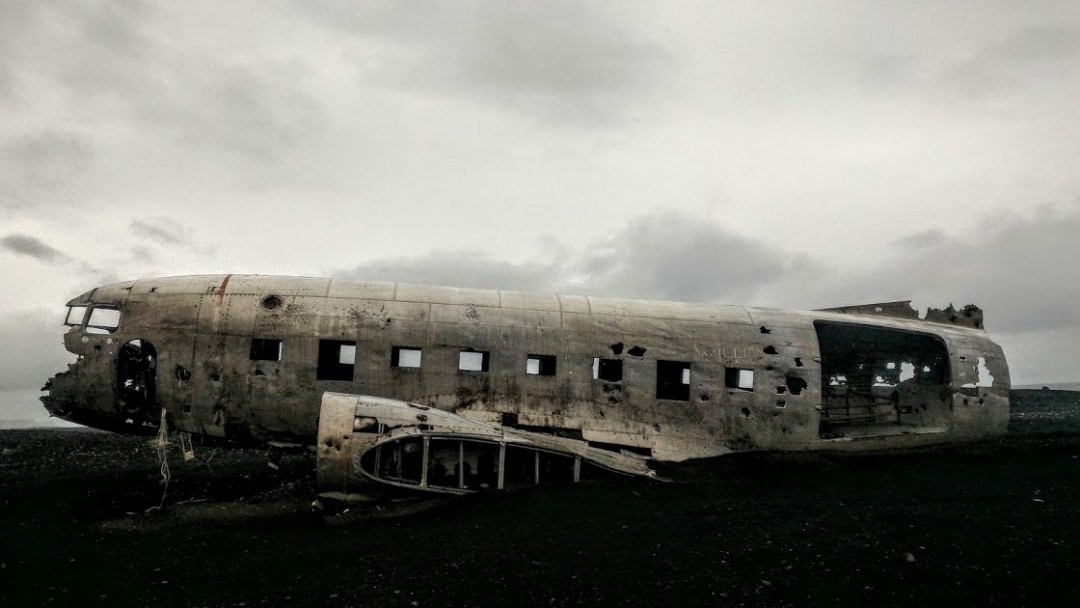 The Black Sand Beach
This beach, while awesome, has been hailed as one of the most dangerous beaches on Iceland's Ring Road. The waves are so unpredictable and so sudden, people are swept out to sea every year.
There are signs everywhere warning tourists to keep their distance and it's good advice.
Appreciate the scenery; admire the nearby Basalt Columns just behind you; perhaps grab a snack at the Black Beach Restaurant. Whatever you do, just do NOT turn your back on the ocean!
If you want to camp somewhere nearby, Skaftafell National Park is a great choice. If you have time before bed or in the morning, you could make use of their hiking trails as well and see Svartifoss Waterfall. There are some nice camping options here, complete with showers and bathrooms.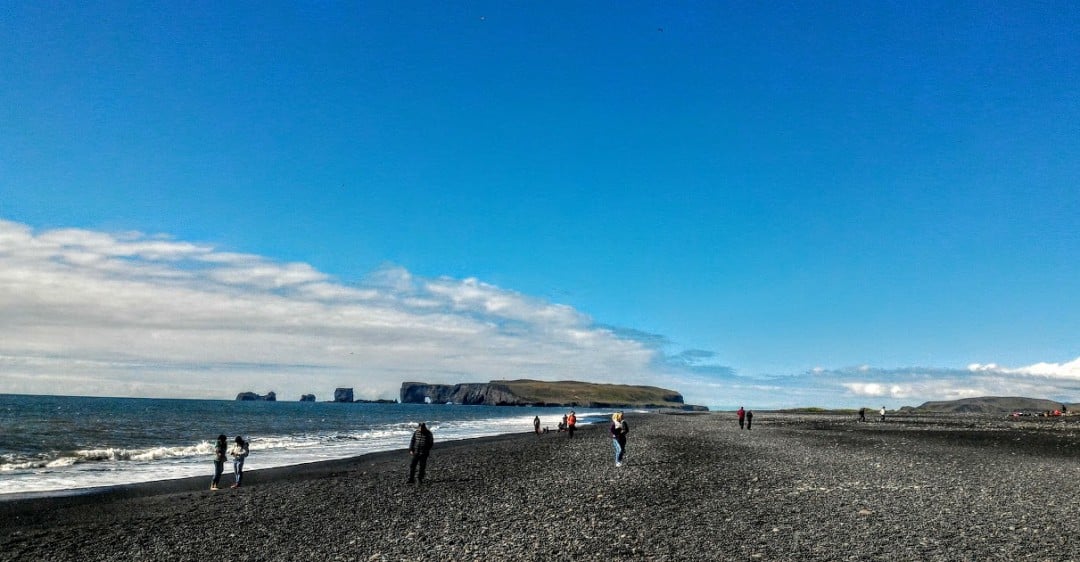 Basalt Columns
Check these out before leaving Black Sand Beach. The Basalt Columns are one of the most unique coastal formations to be witnessed anywhere in Iceland.
Many people climb all over them while the waves crash against the rocks. Keep in mind that millions of people climbing the columns every year with ultimately lead to their destruction. Use your best judgment.
Ring Road Day 3: Vatnajökull
Highlights: Eldfell | Fjaðrárgljúfur | Vatnajökull Ice Caves | Jökulsárlón Glacier Lagoon
Day three will be a long day of driving, but it'll be worth it. You'll start out the day visiting a toasty volcano and you'll finish it with a visit to a chilly lagoon.
Eldfell Volcano
If you'd like to get off the beaten path a bit, take the ferry from Vik out to the Westman Islands. At around $30 USD per person round-trip, this is a really affordable detour. There, take a hike up Eldfell.
The trek up this volcano is short at less than two hours, but at such a steep angle, it's an exhausting climb. Once you reach the top, you'll know it was worth it.
The volcano is so hot, the tradition of most backpackers is to bring up marshmallows and roast them over the hot soil. Even the Icelandic people will sometimes go up, set their pot of supper in the dirt and wait for it to be ready.
The Canyon of Fjaðrárgljúfur
It might be tricky, but this is a great place to be during sunset. The pinks and purples of the sky overlooking this gorgeous canyon make for an awe-inspiring sight.
One word of warning: the road leading to the parking lot for this point of interest is treacherous. If you have a rental car, you'll want to go as slowly as possible. The potholes in the road are worse than anything you'll see in the rest of the country.
If you want to call it quits after your trek here, you can camp in the super close town of Kirkjubæjarklaustur (say that five times fast). With only 120 people living in it, this place mostly exists in order to sell things to travelers.
Vatnajökull Glacier Ice Caves
This is one of the few places you'll need to have a guide in order to explore. However, it is most certainly worth the money and the time out of your day.
As you enter these frozen caves, light twists through the ice from above, causing colors to lance outwards. It is truly a beautiful scene to take in.
Sometimes the tunnel will be as small as a hallway and sometimes as big as a cavern. One, in particular, is actually nicknamed "Fortress of Solitude" after the home of Superman.
Note that you can only visit these caves during the winter when the glacier that they are located in structurally sound.
Jökulsárlón Glacier Lagoon
Iceland doesn't get any better than this! These mini-glaciers are melting, so make sure to jog out there and see them before they're gone!
While you're walking around, make sure to stay off the glaciers themselves. These beauties are known to break into pieces very suddenly so take care.
If all this walking around makes you hungry, there's a small kiosk nearby selling hot dogs, soup, and soda.
Depending on the order you put these great destinations in, you could sleep in the Westman Islands before taking the ferry back over.
If not there, the Roof Canyon of Þakgil is a beautiful alternative. There's plenty of camping available, which come equipped with bathrooms and showers. It's protected from the wind and there are even a small cave campers like to prepare their meals in.
Ring Road Day 4: The Eastern Fjords
Highlights: Hallormsstaður | Hanging Falls | Trail of the Inlets
As you head towards the eastern part of the Ring Road, the first thing you'll realize is that you often have the road to yourself. Many tourists don't go beyond the Glacier Lagoon.
Fewer people, of course, means fewer towns too. Make sure to stock up on groceries and any supplies you need before heading out. You might not have another chance for a while.
Same goes for petrol, cooking fuel, batteries, ETC.
Since it's still only day four though, most of your supply stock should be relatively intact.
Hallormsstaður Forest
As the biggest forest on the entire island, this spot is perfect if you feel you haven't gotten enough hiking in yet. There is no such thing as too much hiking in my opinion.
What makes it even more exciting is that this forest marks the halfway point around the Iceland Ring Road. There are plenty of established hiking trails in this area for those wanting to explore.
The Hanging Falls
If you want to see these downright stunning falls, you'll have to hike almost 2 hours first. It's a hard trail, including stairs and steep inclines next to extreme drop-offs. Benches have been added so you can at least rest as often as you'd like. (Ah, the comforts of super popular hiking trails: benches.)
During your trek, you'll also get the bonus of seeing the Litlanesfoss Waterfall. Lined with basalt columns, these falls make for great encouragement to keep going.
The Trails of the Inlets
The Víknaslóðir area has some of the best and most numerous hiking trails in all of Iceland. While 10-day and 5-day hikes are the most highly recommended, there are shorter ones available as well. If you can sing it, I highly recommend going for one of the epic multi-day hikes.
The small city of Bakkagerði, which is near all of the trailheads, is the best place to get advice on the right trail for you to tackle.
There's also a small place to camp nearby called Atlavík. It's by the lake and is the perfect place to pitch your tent for the night after such a busy day walking and hiking.
Ring Road Day 5: The Northern Coast
Highlights: Dettifoss | Myvatn | Grjótagjá | Hverir
It's time to see what's along the Northern Coast! It's going to be another wet day, full of waterfalls, pools, and baths.
Dettifoss Waterfall
As the largest waterfall in Iceland and in all of Europe for that matter, (when it comes to water volume) this is a must-see Iceland destination! If you've ever seen the film Prometheus, then this waterfall may look familiar.
Beware of taking small children to these falls – there are no guardrails and the drop into open space is huge.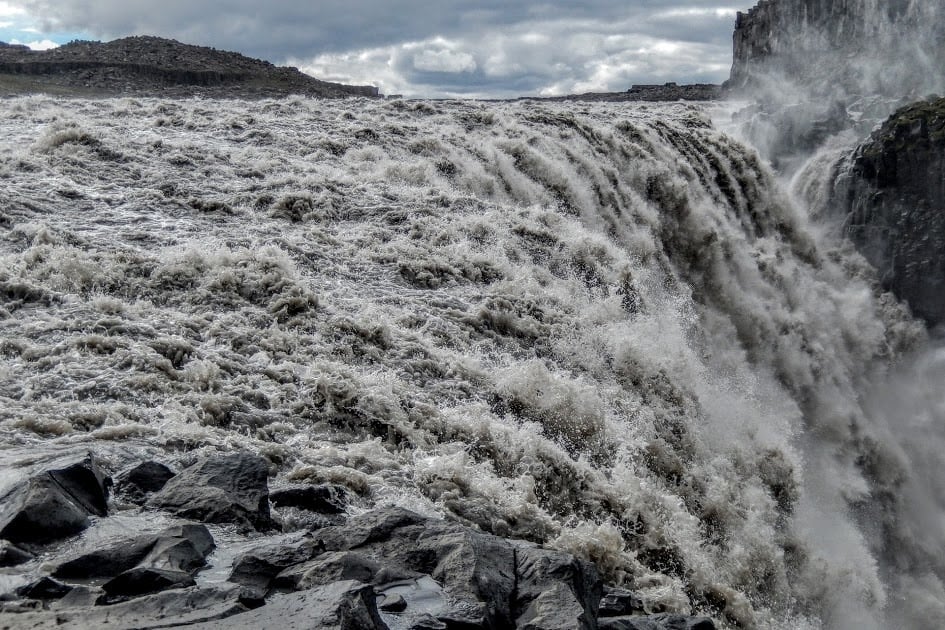 Myvatn Nature Baths
You've almost certainly already heard of Iceland's Blue Lagoon. (Don't worry! I cover the Blue Lagoon later on.) While that famous lagoon can be very expensive, the Myvatn Nature Baths are a great alternative.
Starting at $37 per person, this spa also offers steam rooms and amazing views.
One thing that Myvatn has over the Blue Lagoon is the landscape is much more natural and pretty here. If you can manage it, try to visit Godafoss close by – this is easily one of the best waterfalls in Iceland.
Grjótagjá Cave
Are you tired of sharing all of your pools, lagoons, and baths with crowds? Would you prefer a quiet soak with just you or your friends for company?
If so, you've got to make the time to visit this cave. It might not be as much of a Ring Road secret as it used to be (due to Game of Thrones making it popular), but it'll still be one of the prettiest soaks you'll ever have.
Hverir Geothermal Area
Have you ever wondered why Iceland is called the "Land of Fire and Ice?" You'll know why if you visit Hverir. When you're walking across the flatlands here, where red sand stretches out in every direction, you'll feel as if you're walking on Mars! It's pretty trippy really.
An hour from Dettifoss Waterfall is the Shelter of the Gods. Not only is the scenery here breathtaking, but there are lots of hiking trails that begin here as well.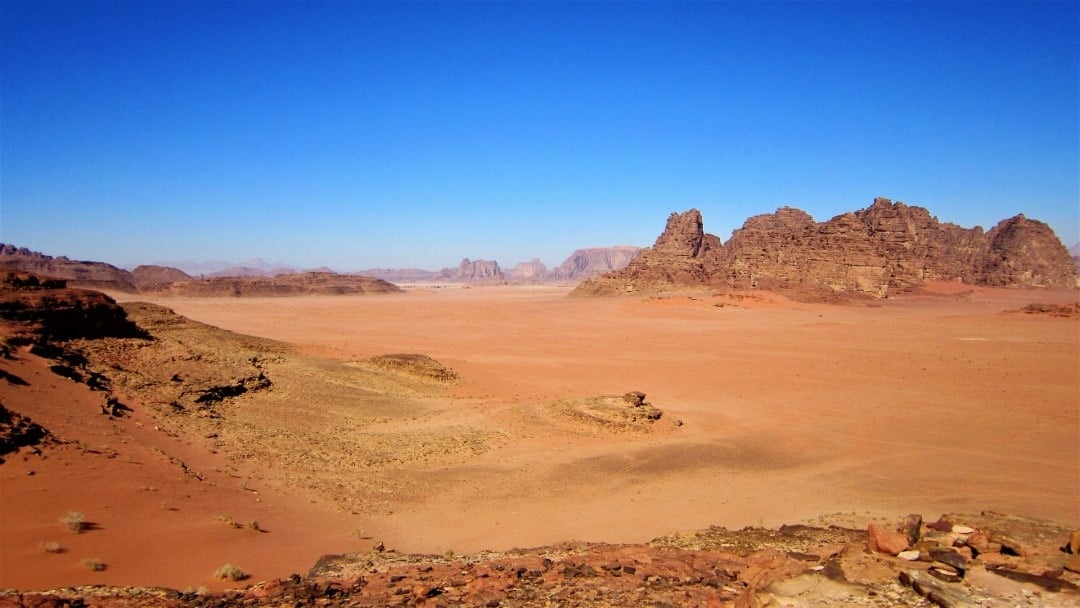 Ring Road Day 6: The Northeast
Highlights: Akureyri | Hofsós | Laugarbakki | Eiríksstaðir
Today's going to be a chiller day that is more about culture and visiting some historical sites. Take advantage of this moment of respite – you've had a long journey so far.
Akureyri
Akureyri is the second largest city in Iceland and the most important hub in the north. You may have slept here the night before or could just be passing through. Either way, there's a couple of things to do here.
Grab a hearty breakfast at the Blaa Kannan Cafe or at the Akureyri Backpackers, the latter of which is actually pretty good by hostel standards.
On your way out of town, be sure to stop by the city cathedral, Akureyrarkirkja, and snap some photos.
If you happen to be Akureyri in the winter, it also doubles as the best skiing area in Iceland!
Hofsós Infinity Pool
This remote swimming pool, located on Route 76, is worth the trip if you have time! It is by far the prettiest Infinity Pool along the Icelandic Ring Road and if you've definitely earned (another) soak by now.
Bath here. Relax here. Recharge your batteries here.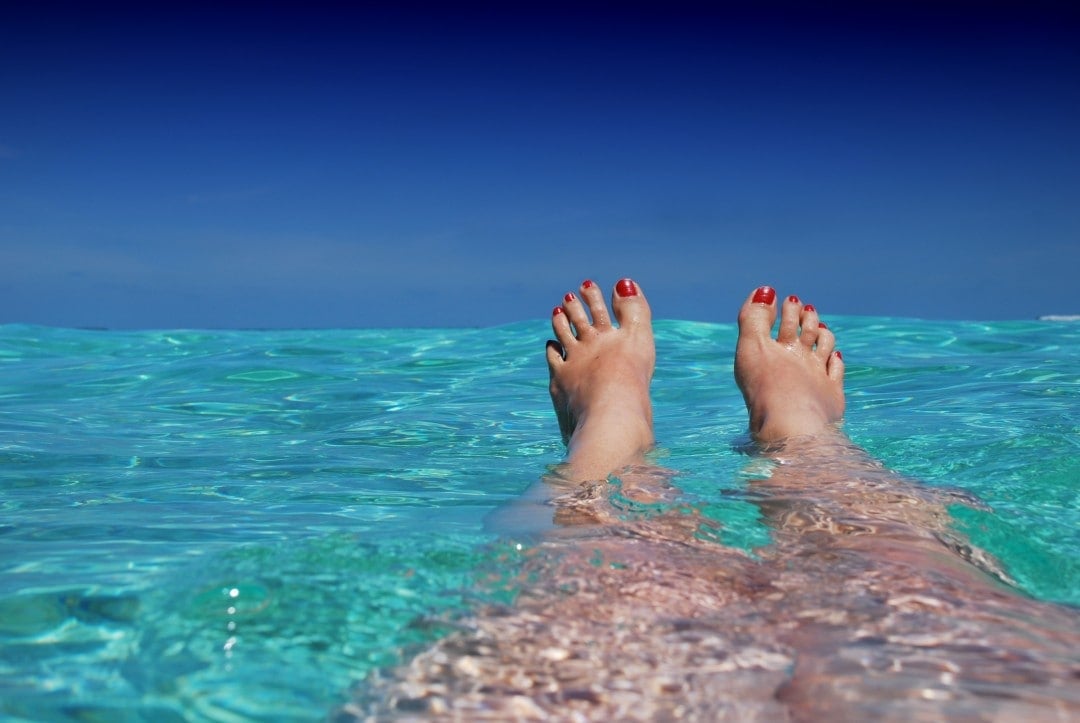 Laugarbakki
Laugarbakki is a tiny town with a lot of history dating all the way back to the Icelandic Sagas, all of which is quite interesting.
On your way to Laugarbakki, be sure to stop by the Hvitserkur rock north of Thingeyrar – it's a famous arch located right off the coast and is popular with photographers.
If you don't feel like going all the way to Eiríksstaðir to sleep for the night, how about you lay down your head in Hvammstangi? It's a city near the Hornstrandir Nature Reserve and has plenty of nice camping available.
Eiríksstaðir
This is where you can get in touch with your own inner Viking! You can meet locals and learn about the fascinating Icelandic history and culture. You can try on clothes from the Viking era and check out a few traditional homes. This is certainly one of the best ways to glimpse what Iceland once was.
Ring Road Day 7: Back to Reykjavik
Highlights: Kirkjufell | Glymur | Laundromat | The Blue Lagoon
While most of your final day on the Iceland Ring Road will be spent driving back to Reykjavik, you can still hit up a few final attractions. However, do make sure not to linger too long at these. You've still got some driving, packing and, best of all, the Blue Lagoon on the horizon!
Your last day on the Ring Road itinerary is an open book depending on your schedule. Depending on what your travel plans are you can take your time and slowly arrive into Reykjavik. Arrive when you are good and damned ready to do so!
Kirkjufell
We're devoting the beginning of our day to a bit of a detour. Located west of the Ring Road on the Snæfellsnes Peninsula is Kirkjufell and visiting here is one of the most famous things to do in Iceland. It is immediately recognizable by its distinct profile, which is the near perfect shape of a shark's fin.
Lots of people visit Kirkjufell to take photos and admire the unique mountain. Slightly southeast of the mountain is a small waterfall that makes for a particularly popular photo op. Hit up these or run around and find your own spot!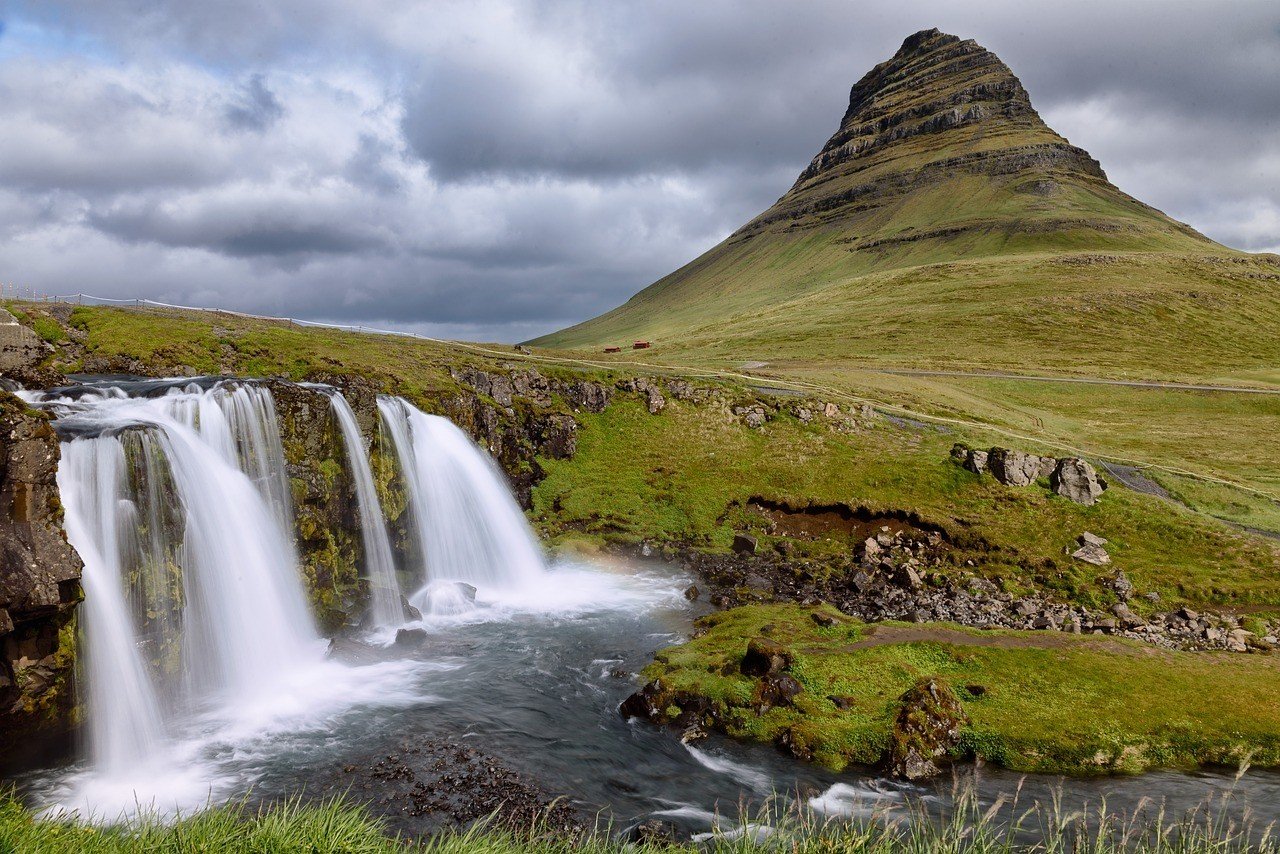 Glymur Waterfall
This is the tallest waterfall in Iceland and yes, you can hike to the top! It is an arduous trek and isn't meant for beginners. On top of that, it does take 3-4 hours to complete the trip.
If you want to tackle this hike, it's recommended you get up quite early.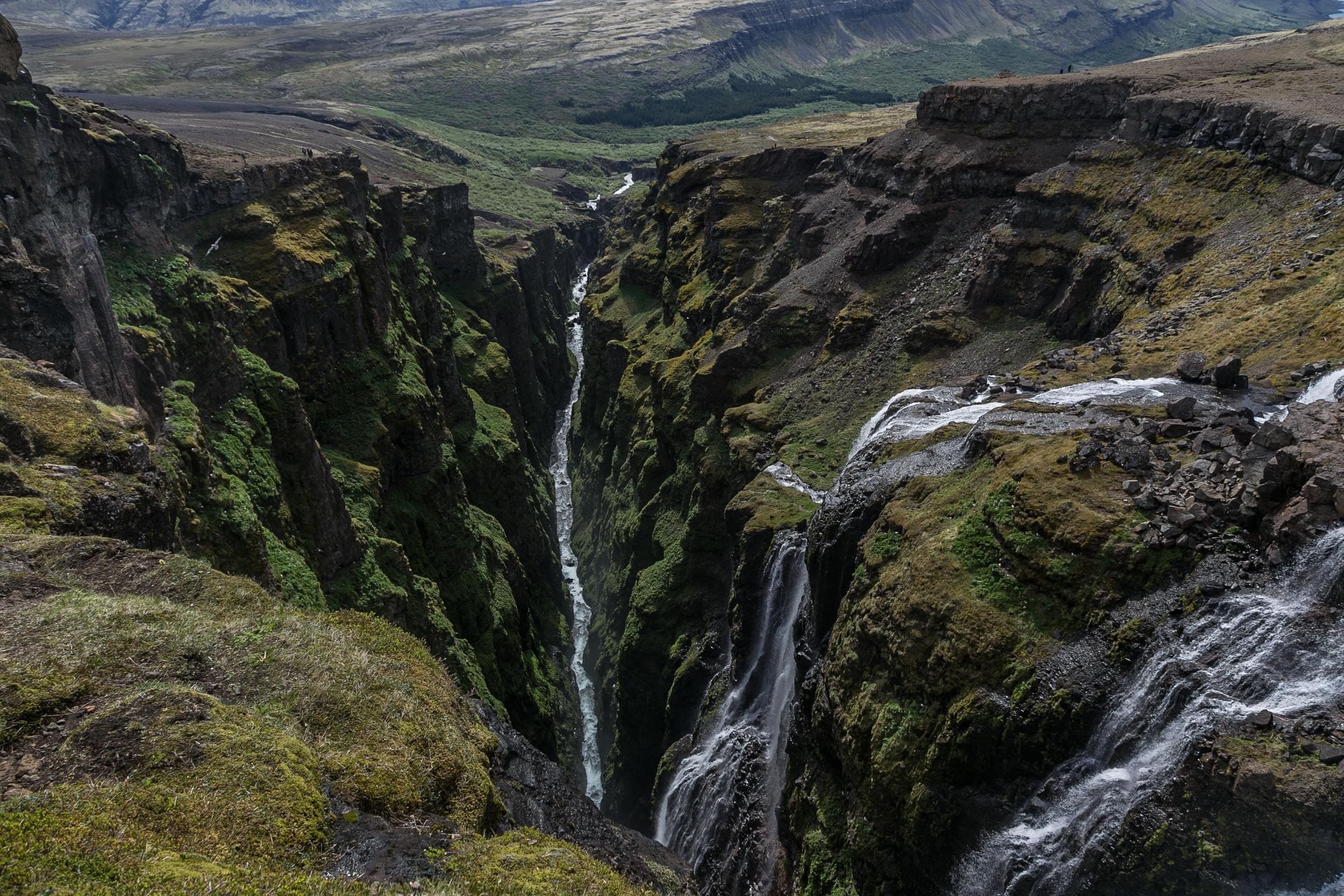 Laundromat Cafe
You've got stinky clothes and a dirty body, not to mention a starving belly. To take care of all these things, head over to the Laundromat Cafe in Reykjavik. While your clothing is tumbling downstairs, have yourselves some of the most amazing nachos upstairs.
The Blue Lagoon
Many drivers of the Ring Road will visit this amazing lagoon on their first day, but I recommend to save it for last. It's a place to relax, not a place to gear up.
That being said, this is the most well-known tourist attraction on the entire island and a visit will run you at least $82 USD per person. OUCH!
However, with the amazing Lagoon Bar serving drinks to you while you soak and amazing sunsets happening daily, this is an experience that shouldn't be missed.
Visit this place, soak up Iceland one more time before heading back to Reykjavik to regroup.
While you can fly out the same day of getting back into town, it's recommended that you don't for obvious reasons. Plans change! Traffic happens! You're tired!
Your inner clock, your tired feet, and your post-Blue Lagoon laziness will thank you. If you're convinced on spending another night in Iceland, then you should do so at Garður. They have restrooms, showers and you get to camp right next to a lighthouse!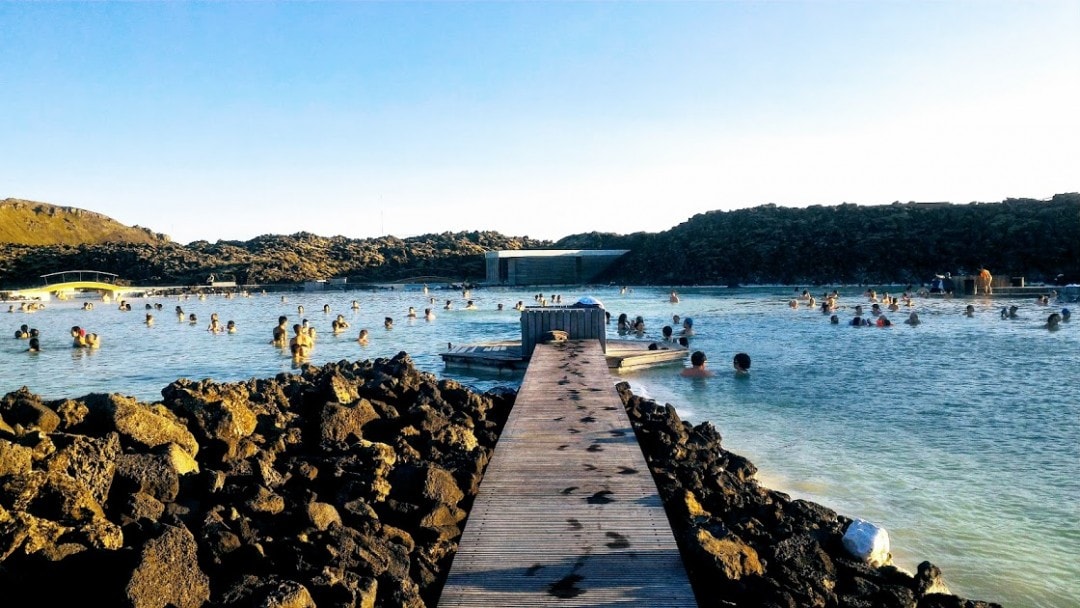 Is This the Best Daypack EVER???
BONUS: 10-Day Iceland Ring Road Itinerary – Extra Locations
Got a few extra days and want to extend your Iceland Ring Road itinerary to 10 days?
Great to hear! There's so much more to do and see on in this country besides touring the Golden Circle or visiting overrun waterfalls.
With more time on your hands, you'll get to visit some truly epic destinations on your pumped-up Iceland road tour! Check out some of these in each corner of the island.
South Coast Iceland Stops
1. Landmannalaugar
These are the famous multi-colored highlands that you may have seen plastered on Instagram before. These kaleidoscopic hills are a natural wonder, formed after eons of volcanic activity. Landmannalaugar is one of the most unique places not only in Iceland but probably the entire world.
These hills are a bit tough to reach and can only be done so via a series of rough F roads (Iceland's backcountry roads).
Winter travel is all but impossible. In summer, the roads aren't much better as they're unpaved and often riddled with large stones.
All that being said, competent drivers can reach Landmannalaugar in the summer so long as they're careful. When they do, they'll be treated with some of the best hiking in Iceland.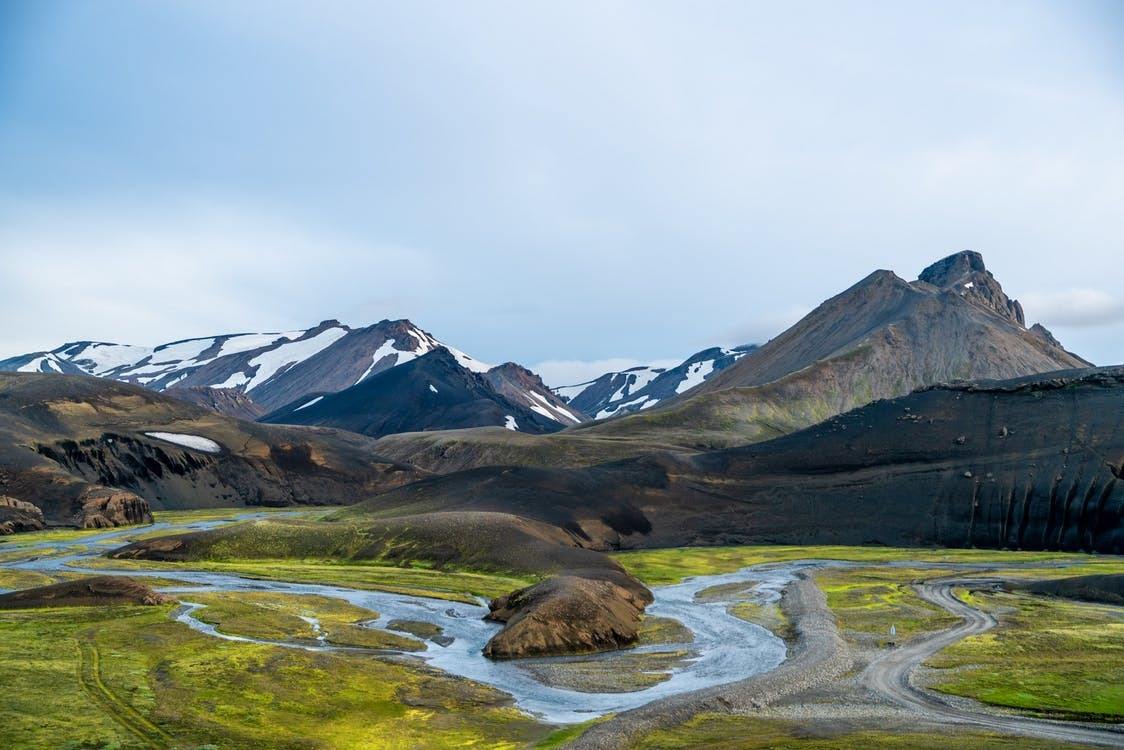 2. Skaftafell
Skaftafell is a remote portion of Vatnajokull that sees far fewer tourists. The wilderness areas are touted as having some of the best trails in the country and the glaciers are often visited by ice climbing parties.
There are a number of notable features in Skaftafell, a number of them being:
Hvannadalshnjúkur – the highest mountain in Iceland (2,110 meters)
Svartifoss – aka the Black Waterfall
Skaftafellsjökull – a leg of the Vatnajokull glacier
Explore this area if you time and want to see a lesser visited part of Iceland.
3. Háifoss
Though it is second in height to Glymur, it is, hands down, the more beautiful. Háifoss is a massive fall that plummets uninterrupted for 122m before meeting its end in an equally gorgeous canyon. If you're here at sunset, it's beyond belief.
4. Thjorsa River
This is where you see all those surreal aerial pictures come from – the ones that often grace the covers of photographer's portfolios and magazines.
If you can afford the charted flight over this region, you'll get the photos of a lifetime.
East Iceland and North Coast
1. Stokksnes
Located not far from the tiny town of Hofn is a small and unassuming strip of sand that many people don't really notice. (The area was once a former military base.)
If you were to look out at this promontory from a distance, you wouldn't think twice about it. If you were to actually stand on it and look back towards the land…o boy, you'd be treated with one of the most beautiful sights in Iceland.
Stokksnes sits at the base of the Vestrahorn group – a prominent, crowning set of peaks that looms over the landscape. This is one of the coolest places ever and running around here is one of the best things to do in Iceland.
2. Dyrfjöll
This is one of the most remote portions of the island and I can guarantee you that no Ring Road tour package will come here.
This is the land of the Elf Queen and other magical creatures. It is an untouched region that hosts some of the most pristine and wonderful landscapes in Iceland. The mountains are like a barrier here and a helluva a lot of fun to climb around.
3. Seydisfjordur
This is the town where you can actually grab a ferry back to the Faroe Islands and mainland Europe via Denmark. Most people see it as just a port town.
The fjord that Seydisfjordur is located in is actually quite remarkable and still worth seeing. It makes for a good base to explore Eastern Iceland and the view from the lip of the fjord is pretty spectacular.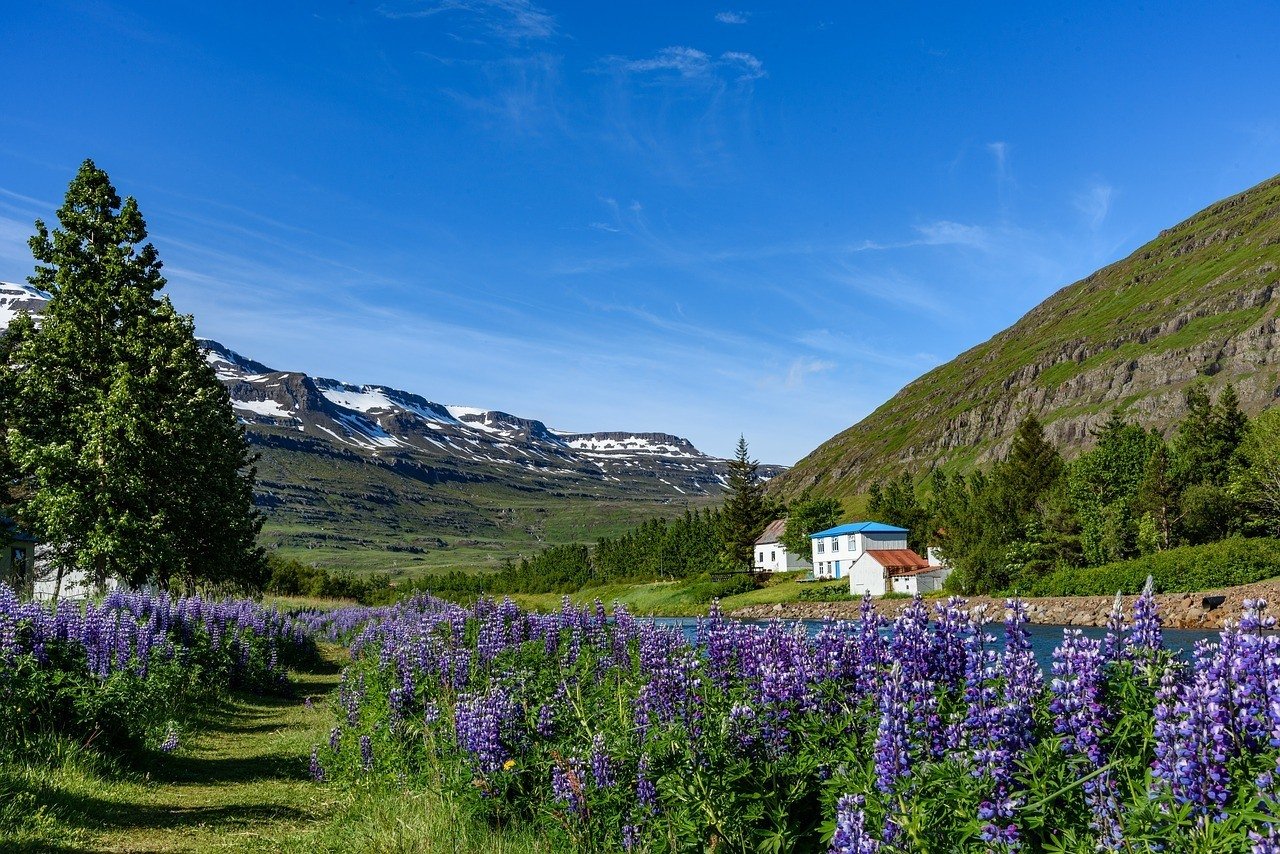 4. Aldeyjarfoss
This is a smaller waterfall that doesn't get much attention, at least compared to nearby Litlanesfoss.
If you're having a waterfall day, give this cool little cascade a visit. You may end up enjoying it.
West Iceland fjords
1. Hornstrandir
This is the most inaccessible part of Iceland that there is. Looking at a map of Iceland, this is the chunk in the upper left-hand corner. It's a gorgeous area, ripe with waterfalls, cliffs, and pools to soak in.
The only catch is that you can't drive into it – you have to hike. Think of it as a great opportunity to get the hell off the beaten path. There is a high potential for a real adventure in this isolated part of Iceland!
Keep in mind though that it takes several days to hike into this area and several more to hike back out again. If you've got extra time and want to at least start the trek, it'll be worth it.
If you're limited on time, however, this is one you'll want to wave at as you pass by and save for another time.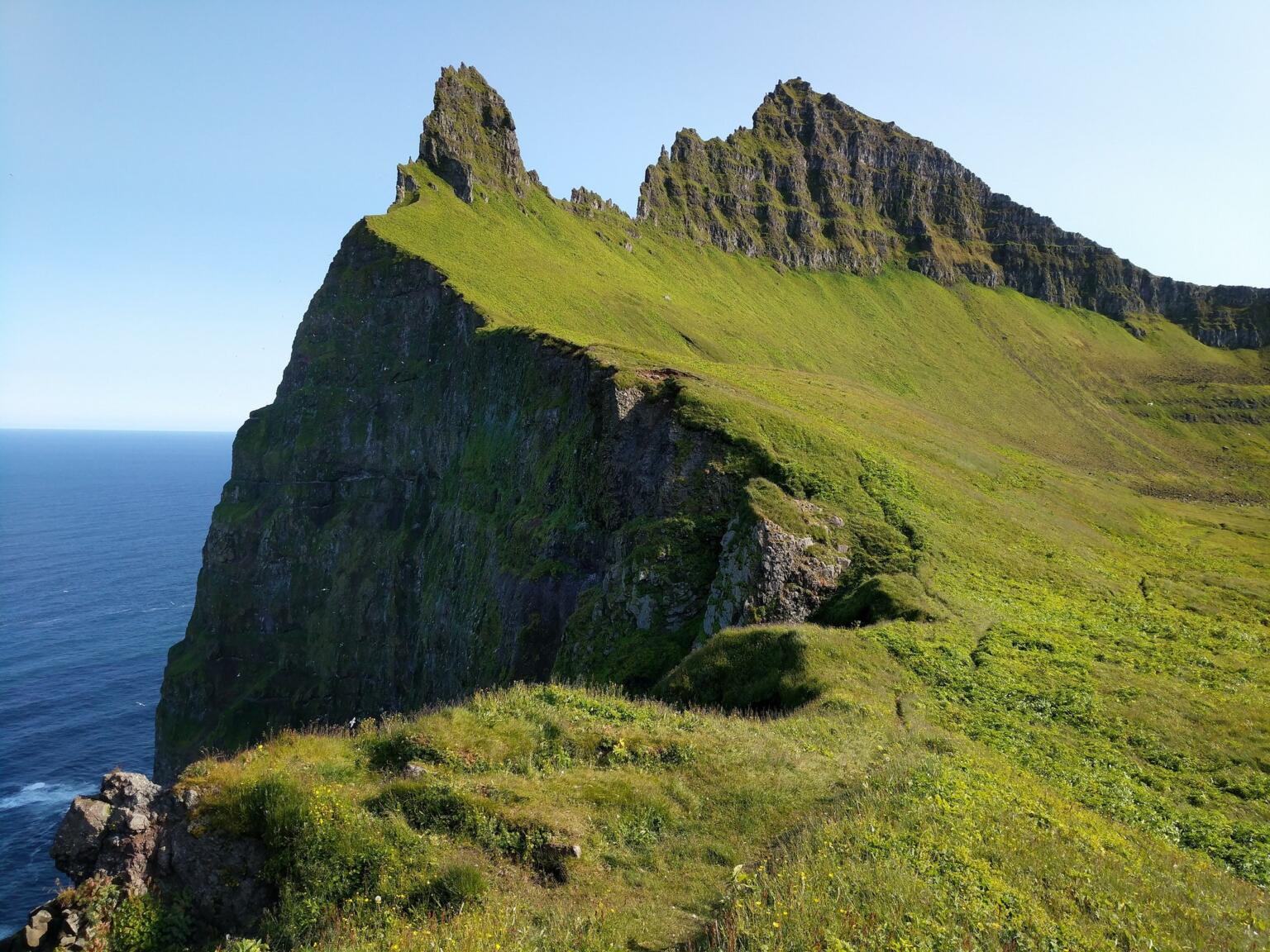 2. Rauðasandur
Did you know that Iceland has a desert beach? No seriously, like the ones you'd see in Morocco or Mexico?
Located at the far end of the Westfjords is Iceland's most out of place beach: Rauðasandur. It looks like a desert beach because, unlike the rest of the island, the sand is actually yellow here.
If you were to bring a beach umbrella and take a photo of yourself here, there's a chance that no one would think you're in Iceland!
3. Látrabjarg
After you've finished with Rauðasandur beach, head west to the end of the road. You'll be approaching the westernmost point of Iceland and will soon come to the edge of a cliff!
Besides being the literal end of the line for your Iceland road tour, Látrabjarg is also a pretty interesting place to explore. The cliffs are pretty jagged here and host huge colonies of puffins.
Iceland Travel Tips and Suggestions
1. Beware of the Wildlife
Sheep will cross the Ring Road throughout Iceland without warning. Always keep an eye out for potential traffic hazards and livestock in particular.
Also, if you see one sheep, there will be more. Stop the car and let the sheep own the road for a few minutes. The front fender (and the sheep) will thank you for it.
2. The Yummy Water
There are a lot of places in the world you shouldn't drink the water, but when it comes to the Ring Road of Iceland, you're safe! So, don't be one of the stupid tourists who waste half their travel budget purchasing water bottles while simultaneously contributing to the demise of planet earth.
Always bring a trusty refillable water bottle with you on any adventure, not just to Iceland. Cut down on the use of plastics as much as you can!
If you visit somewhere with water that tastes like rotten eggs (because of the minerals), try somewhere else. Most places have great tasting drinking water even if the bathroom water reeks!
3. Don't Carry Cash
Iceland is one place where you won't need to use the currency. The Icelandic krona is rarely used even by the Icelandic people themselves anymore.
Debit and credit cards are the go-to option when it comes to traveling smart with your money. The only exception to this rule is when tipping. Tipping in Iceland is rare, but if you do feel the temptation, you won't be able to do it with a card.
4. Where's All the Booze?
Until 1989, alcohol was banned in Iceland. Even now, it can only be bought in the liquor shops called vínbúðin. If you want to bring some on your trip around Iceland, find your nearest liquor shop and buy it before you leave! Getting a drink in an actual bar would cost you more than a meal.
5. Obey the Bathing Rules
There are as many lagoons, swimming pools and hot pots, (small hot springs) along the Ring Road as there are photo ops. However, before you go climbing into the water, you need to know the rules.
With the swimming pools and lagoons, you are required to shower naked before putting on your suit and getting into the water. In fact, most places have "shower guards" to ensure you do this.
Keep in mind that going topless in Iceland's pools is optional for both men and women. Plus, when it comes to hidden hot pots, people often forgo clothing entirely.
6. Everyone Speaks English!
You can stop buying those Icelandic encyclopedias and downloading those language apps. Pretty much everyone you'll meet on your Iceland driving itinerary will speak English. On the other hand, the street signs, the names of shops and restaurants, and especially the labels on the products in grocery stores are all in Icelandic.
Don't be surprised if you have to butcher a word or two in order to ask where or what something is. In fact, your best bet is writing the name down. This will keep Icelandic people from laughing at you, though you won't be fooling anyone. Icelandic is a difficult language!
7. Don't Get Lost
If actual maps are too old school for you, the next best option is asking a local for directions. Though I do recommend Maps.me. It's is one of the best travel apps that allows you to download maps for offline use. Just be wary of battery life.
If you are coming from mainland Europe or the USA, it is possible that your sim card will work normally in Iceland. Always double check with your service provider to ensure you don't pay insane roaming fees.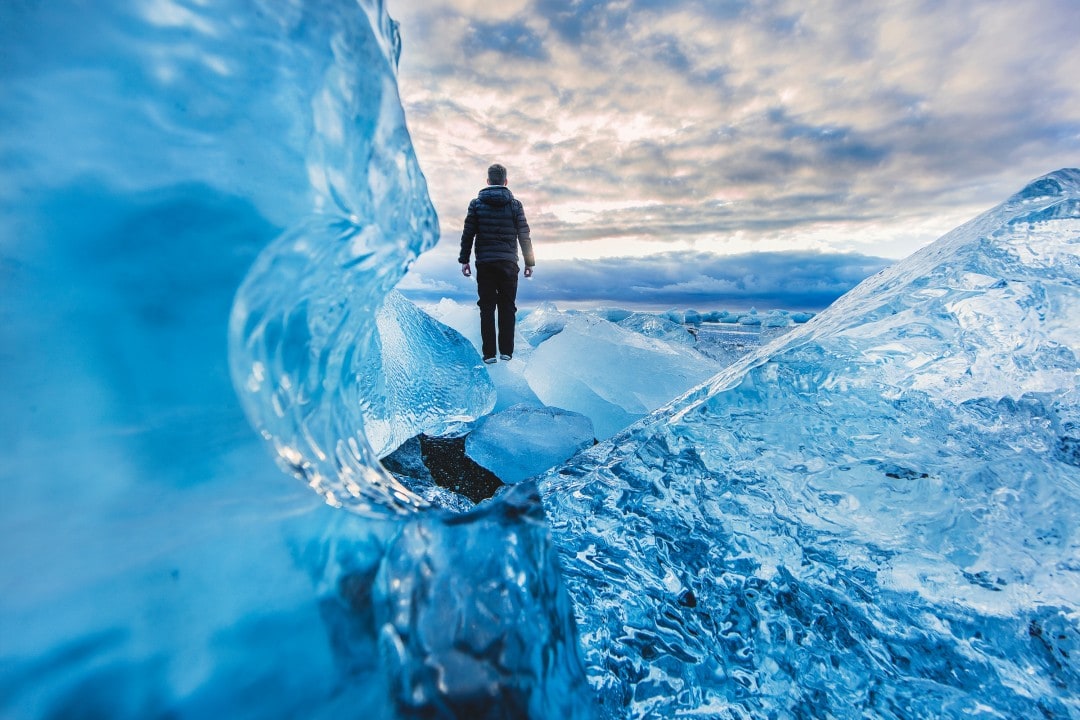 When to Drive Iceland's Ring Road
Due to the ever-increasing amount of people visiting Iceland, you can be sure to find the heaviest traffic/crowds when the weather is at its best. That is during the summer.
The high tourist season in Iceland is May through September. A lot of the Ring Road's popular tourist attractions are sure to be jam-packed during this time, especially in July and August.
Late spring and early fall are bound to be the best times to visit Iceland. Crowds are fewer, prices are lower, the weather is nice, and the days are still long enough to pack a lot in lots of activity.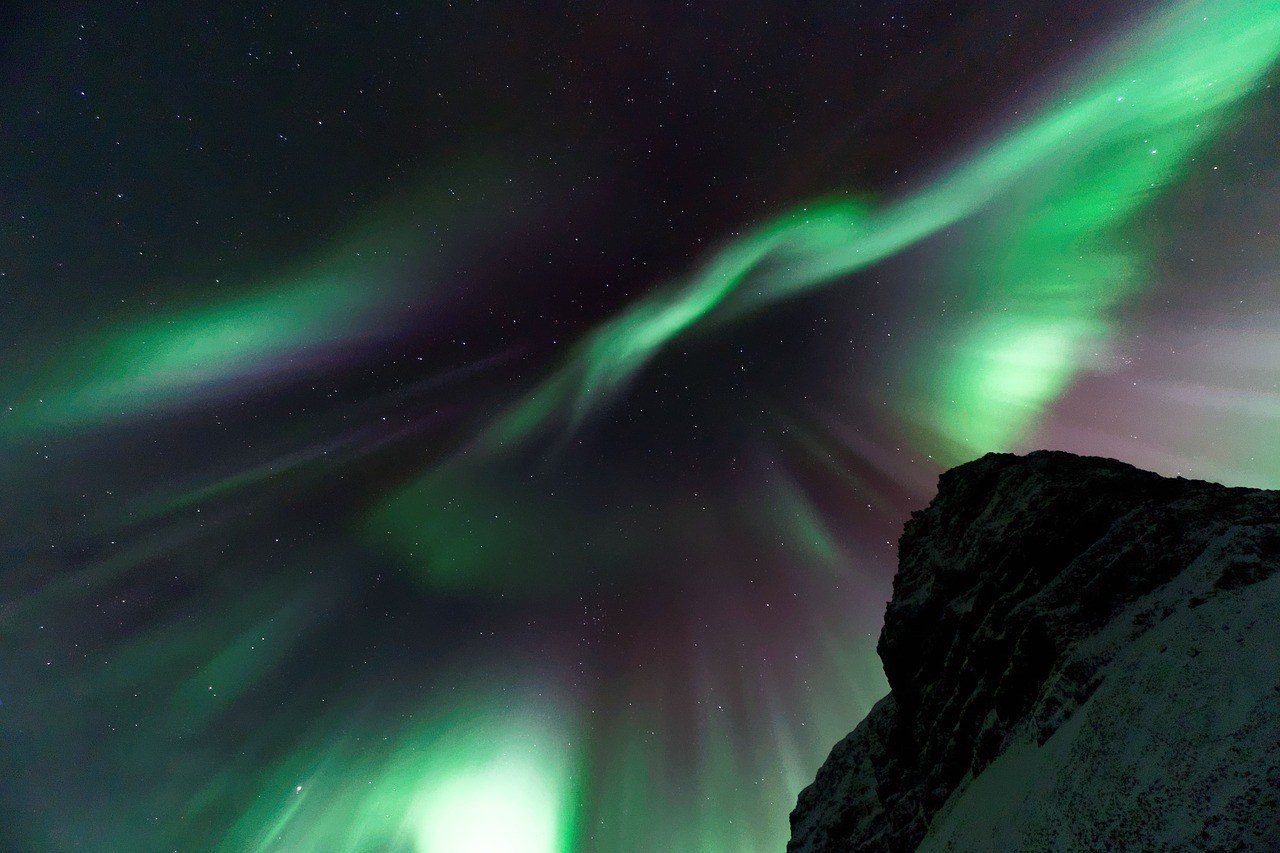 Doing Iceland's Ring Road in winter can be rough (23 hours of darkness in December) but there are windows where it can be nice. February and March get between 8-12 hours of daylight and the worst of the storm season should've passed. Since it lies on the Gulf Stream, the winters in Iceland never get ridiculously cold, at least not like the rest of Scandinavia or Russia.
For that matter, winter is also Aurora season in Iceland! September to April is the best window in which to catch the Northern Lights and some people it's the most brilliant around the March Equinox.
Eating and Drinking Along the Ring Road of Iceland
Following suit from this damn expensive country, Dining in Iceland can easily eat up your budget. But it doesn't have to be if you use good backpacker habits.
For example, the Icelandic people prefer to cook their own meals instead of going out to restaurants. You'd do well to follow their example. Cook your own food as often as you can!
Before setting off on your road trip in Iceland, your very first stop should be at a grocery store. Avoid expensive ones such as 10-11 – visit Bonus or Kronan instead. Load up your cooler with tasty Icelandic foods, like flatbread and pickles.
Many a backpacker before you have gotten by on rice, pasta, peanut butter, sandwiches, fruit, lentils, soup, ramen noodles, and the like. If you can manage to eat this way on your Ring Road journey, you will certainly save a ton of cash.
Bring a solid backpacking stove so you can cook awesome meals on the go. If you've got friends coming along, tell them to bring their stoves too. When you got a few (amateur) chefs in camp engaged in a meal, you can really produce something tasty!
If you find yourself starving and in need of a snack, gas stations are a solid option for desperate times. They almost always have delis with hot dogs, sandwiches, slices of pizza, and pastries.
Your packing list for Iceland will look very different from what you pack for other countries. But, on every adventure, there are five things I never leave without:
Somewhere to hide your cash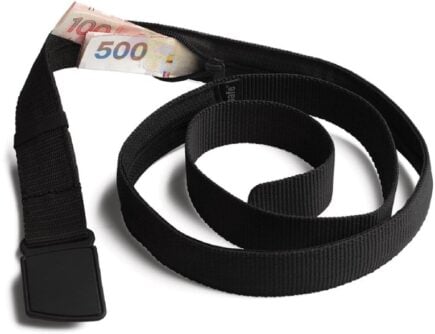 Somewhere to hide your cash
Travel Security Belt
This is a regular looking belt with a concealed pocket on the inside – you can hide up to twenty notes inside and wear it through airport scanners without it setting them off.
A travel water bottle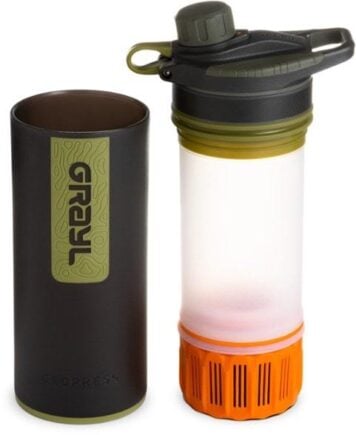 A travel water bottle
GRAYL Geopress Filtered Bottle
Having a filtered water bottle means you can drink from just about any source. The GRAYL Geopress is hands-down the most effective one we've ever used as well!
For those unexpected messes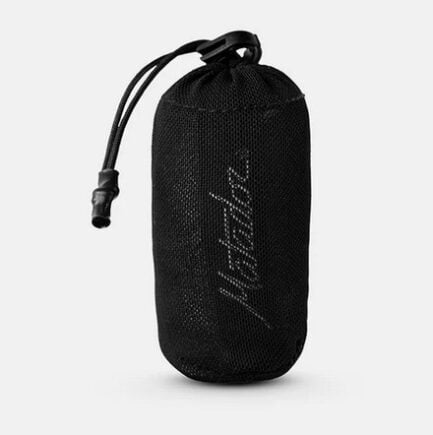 For those unexpected messes
Microfiber Towel
Hostel towels are scummy and take forever to dry. Microfibre towels dry quickly, are compact, lightweight, and can be used as a blanket or yoga mat if need be.
When the power goes out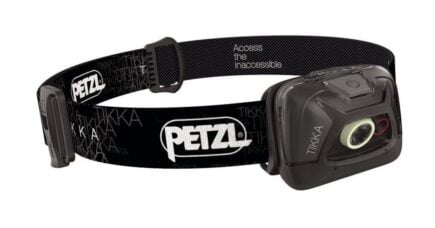 When the power goes out
Petzl Actik Core Headlamp
A decent head torch could save your life. If you want to explore caves, unlit temples, or simply find your way to the bathroom during a blackout, a headtorch is a must.
Sleep anywhere
Sleep anywhere
Camping Hammock
Taking a tent backpacking is not always practical but hammocks are lightweight, cheap, strong, sexy (chicks dig hammocks), and allow you to pitch up for the night pretty much anywhere.
To stay a clean backpacker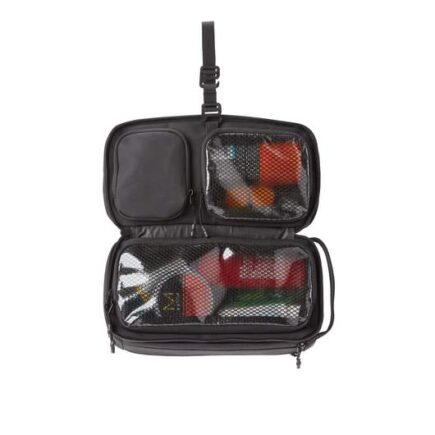 To stay a clean backpacker
Hanging Toiletry Bag
I always travel with a hanging toiletry bag as it's a super-efficient way to organize your bathroom stuff. Well worth having as it helps to have quick access to all your stuff.
More of What to Pack for Iceland
The internet is full of suggested backpacking packing lists for Iceland's Ring Road.
Most of them will tell you how important layers are or focus on choosing the right pair of shoes. Others will help you choose the right tent or stove.
However, there are a few things you'll want to bring that many packing lists forget:
Sleeping Pads: Deciding what you're going to sleep on is just as important as what you're going to sleep in! When it comes to choosing a sleeping pad, the smaller it is the less room it takes up, but the bigger it is the more comfortable!
Sleeping Bags: It is never a bad idea to have a badass sleeping bag.
Eye Mask: If you're going during summertime, you're going to have more hours of sunshine than you're used to. With this in mind, you won't be getting to sleep if you don't have an eye mask.
Waterproofing Your backpack: When you're driving an Iceland highway or an Iceland road, you'll find the weather changes often. If you get out and you're drenched, so are the belongings in your pack. That is unless you have great Sea to Summit dry bags and a good backpack rain cover.
Backup Your Cameras: If you have a fancy camera, bring an extra battery. If you just use your phone, bring an external power bank.
Toilet Paper: Iceland's Ring Road is very barren in places. Visit the restroom at gas stations, markets, grocery stores or anywhere else that's convenient. If you pack TP, at least you won't also get stuck with leaves. Remember to always bury your waste and TP!
Swimsuit: There are more lagoons, pools, lakes, and hot springs than you'd be able to swim in, in a year. Bring two swimsuits if you have the room. This way, you'll always have a dry one.
Sunglasses: This is an especially good one if you're going to be driving the Ring Road in Iceland. Between the extra hours of sunshine, the reflection off of glaciers and the glare from lakes, you don't want a headache from squinting all day. I recommend Abaco Sunglasses!
Iceland Road Map – Having a map for driving in Iceland is always a good idea in case your phone or nav-system dies.
Get Insured Before you Hit the Road!
Even if you are only going on a short trip, you should always travel with insurance. Have fun on your drive on the Ring Road through Iceland, but please do get insurance – take it from someone who has racked up tens of thousands of bucks on an insurance claim before, you may need it.
I have been using World Nomads for some time now and made a few claims over the years. They're easy to use, professional and relatively affordable. They may also let you buy or extend a policy once you've started your trip and are already abroad which is super handy.If there's one insurance company I trust, it's World Nomads.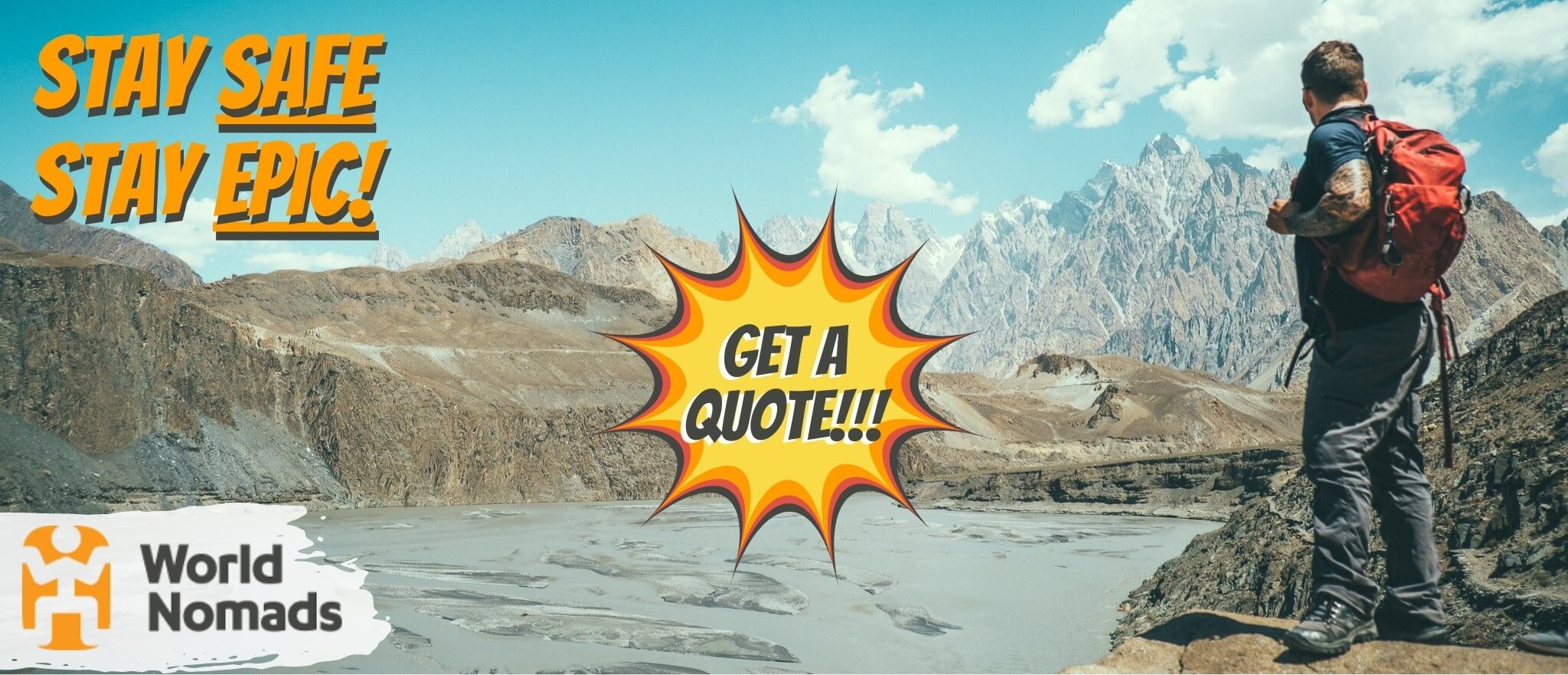 World Nomads' mission is to support and encourage travellers to explore their boundaries. They offer simple & flexible travel insurance, and safety advice to help you travel confidently.
They've been doing it since 2002 – protecting, connecting, and inspiring independent travellers just like you.
Get a quote below or read our in-depth review!
World Nomads provides travel insurance for travelers in over 100 countries. As an affiliate, we receive a fee when you get a quote from World Nomads using this link. We do not represent World Nomads. This is information only and not a recommendation to buy travel insurance.
Being a Responsible Traveler in Iceland
Proper wilderness etiquette should be maintained at all times! This means cleaning up all rubbish from your campsite(s) and leaving them in the same pristine shape you found them in. Take care of the wild spaces that take care of you.
The earth is being neglected in so many places, it is up to you to help keep Iceland green and beautiful.
Respect farmers' fence perimeters. Always ask before setting up shop on land that is fenced off. Whenever you open a gate on a farm, always close it! The last thing you want is to let 100 sheep out onto the road.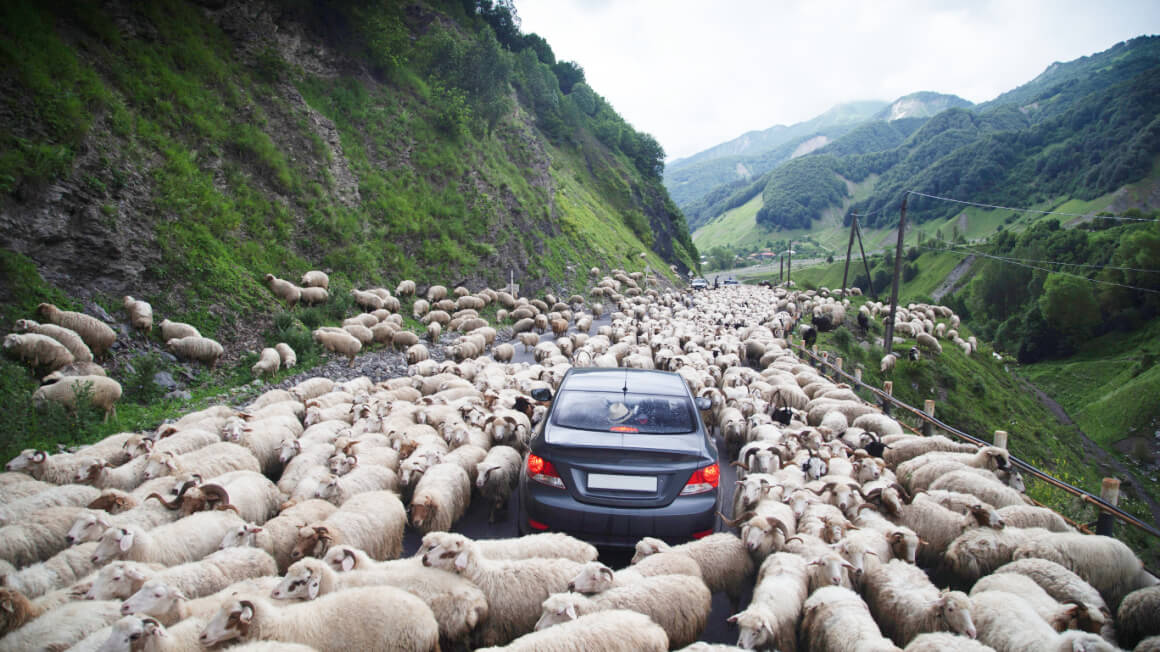 Always practice Leave No Trace principles. Keep in mind that millions of people visit Iceland each year.
Everyone needs to do their part to keep the Ring Road the magical place that it is. Plus it always feels great to leave a campsite in a beautiful condition!
FAQs for Driving Iceland's Ring Road
You've got questions and I've got answers. Here are some of the most frequently asked questions about road trips along the ring road in Iceland.
Final Thoughts on Iceland's Ring Road
Whichever kind of backpacker you are one thing is certain: An epic road trip along Iceland's Ring Road is bound to be one of the highlights of your life!
The landscapes are otherworldly beautiful. The locals are friendly. The thermal pools are abundant.
If that isn't the perfect recipe for an awesome road trip I don't know what is.
I hope you have found this Ring Road travel guide helpful. You are now in full possession of what makes the Ring Road in Iceland such an impressive destination.
One final thought on how to get the most of your Ring Road experience: Enjoy the hell out the stunning natural landscapes. But really guys, put your technology/ devices away on occasion and absorb the raw natural power of the Ring Road without any technological distractions. That's my two cents.
Remember, this guide is just a blueprint. I highly recommend customizing your trip in a way that gets you off the beaten path so that you can obtain an authentic personal connection to this fucking gorgeous country.
Happy road tripping!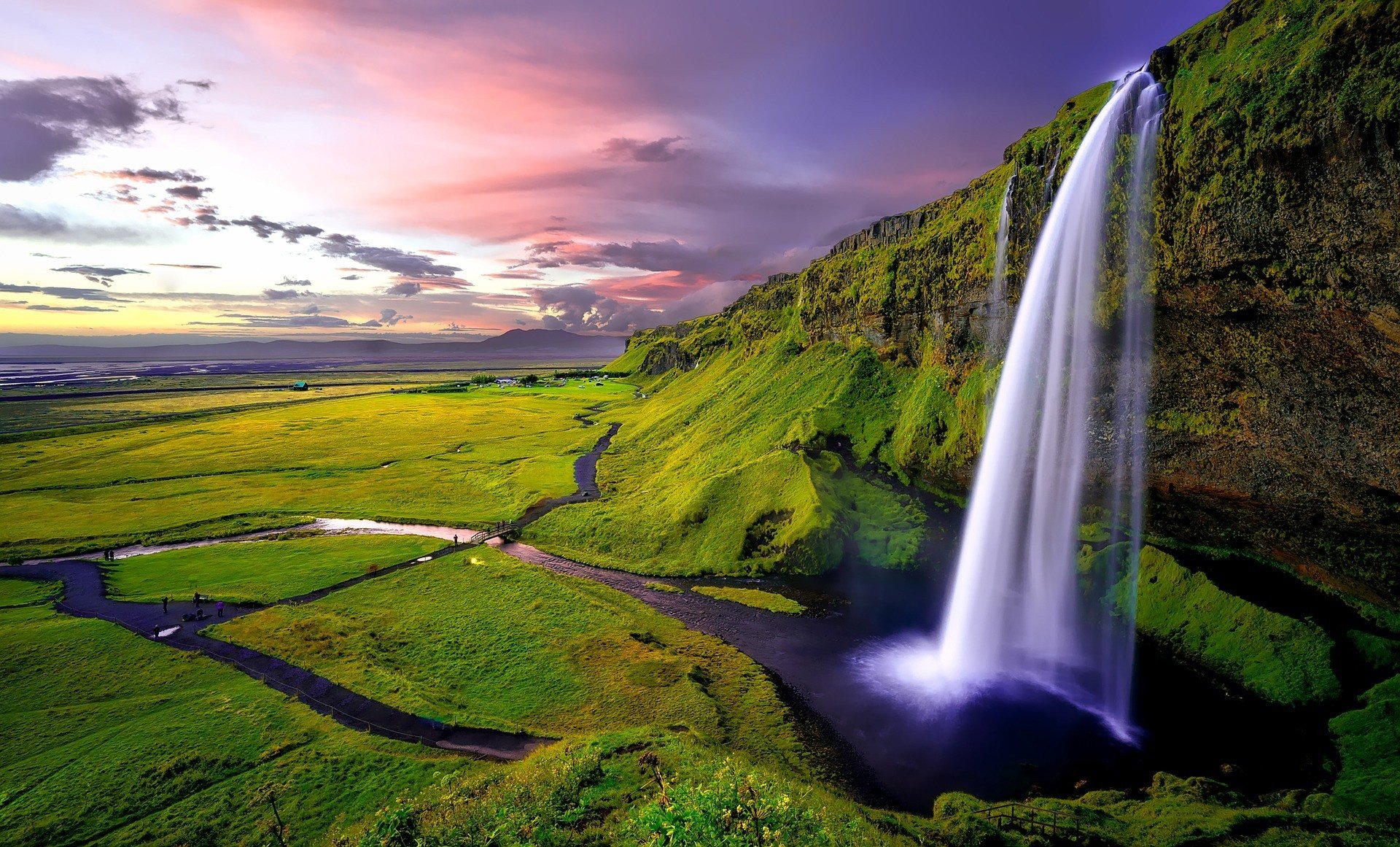 ---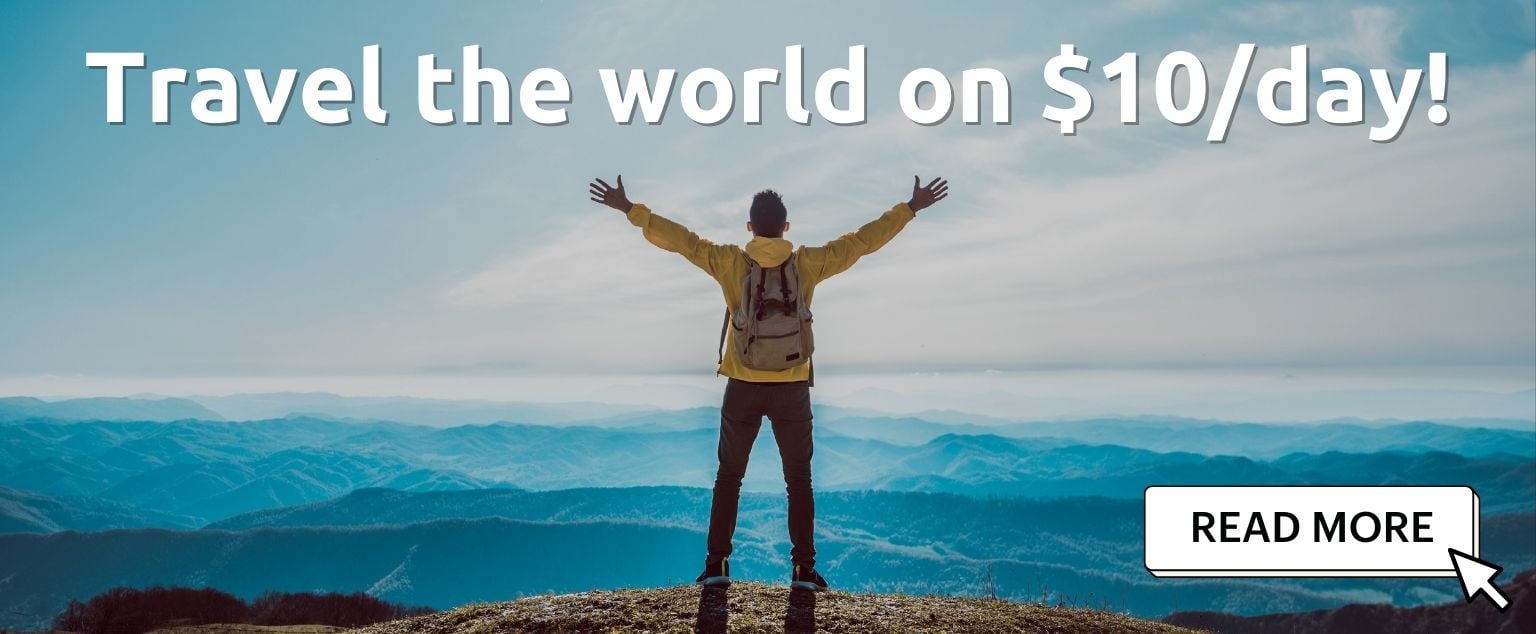 And for transparency's sake, please know that some of the links in our content are affiliate links. That means that if you book your accommodation, buy your gear, or sort your insurance through our link, we earn a small commission (at no extra cost to you). That said, we only link to the gear we trust and never recommend services we don't believe are up to scratch. Again, thank you!