Locals will tell you that the Blue Lagoon in Iceland can cure just about every skin condition under the sun – from psoriasis to eczema, and even good ol' acne. Whether or not you buy into the hype, there's no denying that a dip in the geothermal waters provides instant results, with many claiming that their skin is smoother and more radiant afterward.
Located in Grindavík, the Blue Lagoon isn't a natural site as many people seem to think – quite the opposite actually. The mineral-rich water is heated by a power plant next door! Natural or not though, this site is one of the most relaxing places in Iceland and if you ask me, it's a must-visit!
Plenty of tourists – myself included – make a stop at the Blue Lagoon at the end of their Iceland adventure so they can chill out and rejuvenate before their flight. The lagoon is located close to Keflavik Airport, so is the perfect stop-off to end your trip.
With all that in mind, here's everything you need to know about visiting the Blue Lagoon!

Unlock Our GREATEST Travel Secrets!
Sign up for our newsletter and get the best travel tips delivered right to your inbox.
Planning your Trip to the Blue Lagoon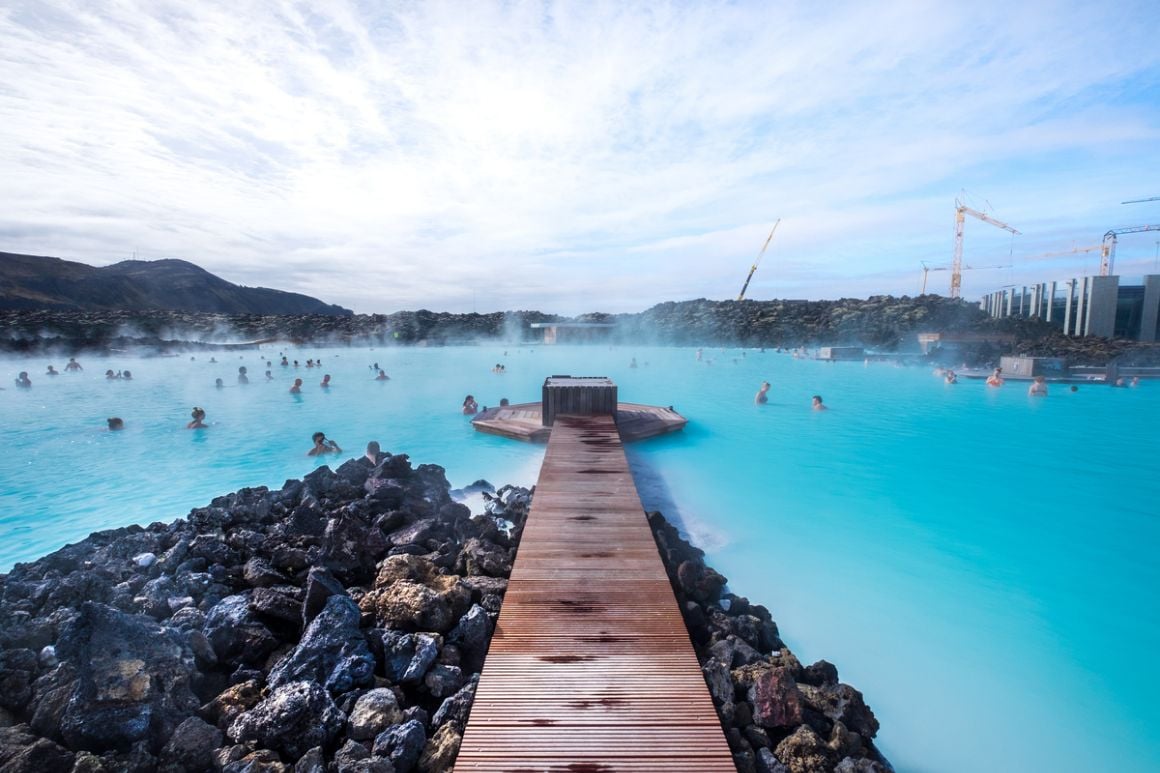 First things first – when planning your trip to the Iceland Blue Lagoon, it's always a good idea to allocate yourself two hours – if not more – to ensure that you can properly enjoy this unique experience. In fact, several people end up spending half a day to take advantage of the site's many amenities!
A quick note of caution if you're visiting Iceland in the winter – the pool is as warm as ever but the floor around the lagoon is shockingly cold, bring along a pair of water socks or slippers.
Because it's the most sought-after attraction in Iceland, you absolutely need to buy your tickets in advance. You'll also be able to select your package, and book rooms at one of the two on-site hotels. Be sure to respect your reservation time slot, and show up on time otherwise you may be denied entry.
Owing to COVID-related issues, it's possible to cancel your reservation at the Blue Lagoon up to 48 hours in advance for a full refund.
The Iceland Blue Lagoon Experience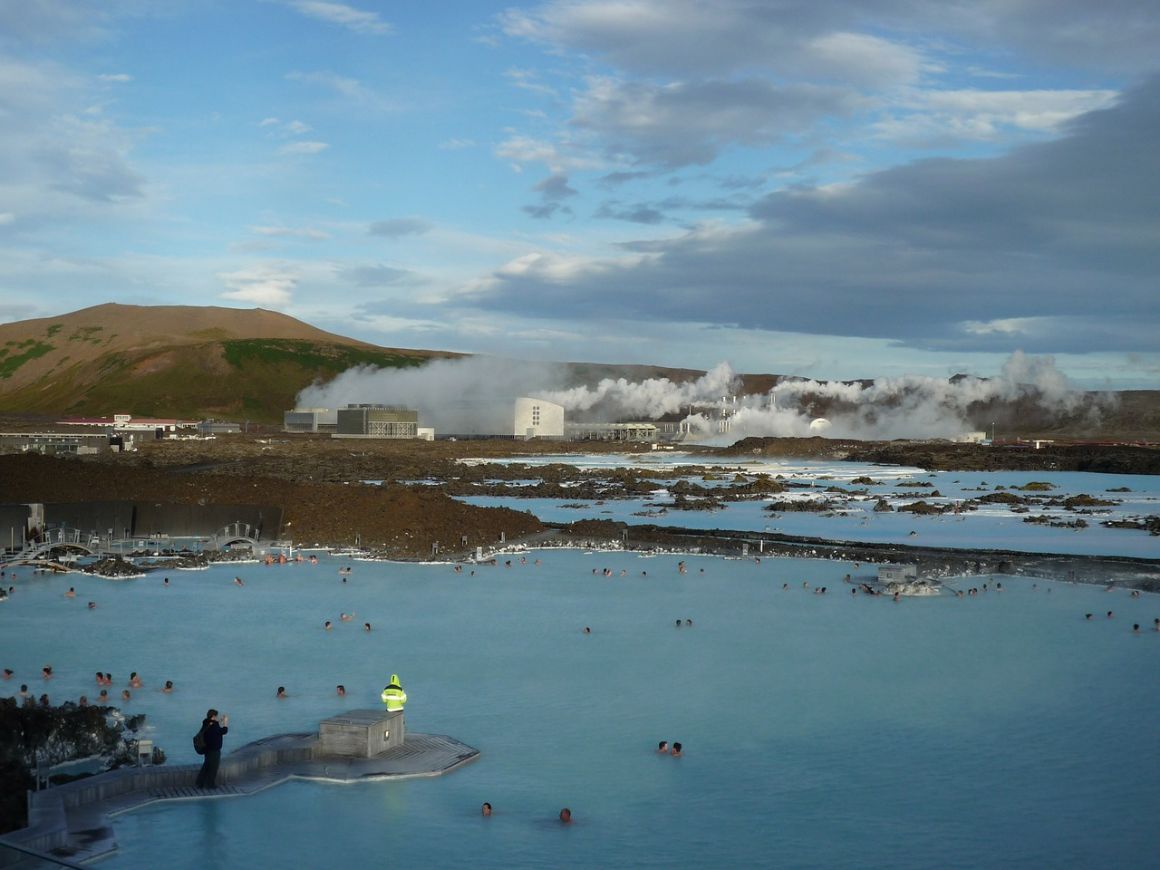 Checking In
When you check in at the reservation desk for your Blue Lagoon experience, the staff will give you a brief overview of the protocols before handing you a magnetic bracelet that you should keep on at all times. The bracelet not only doubles as your personal locker key, but also provides entrance into the spa area. It's also used to pay for the bar, restaurant, and any other extras.
Is the Water Clean?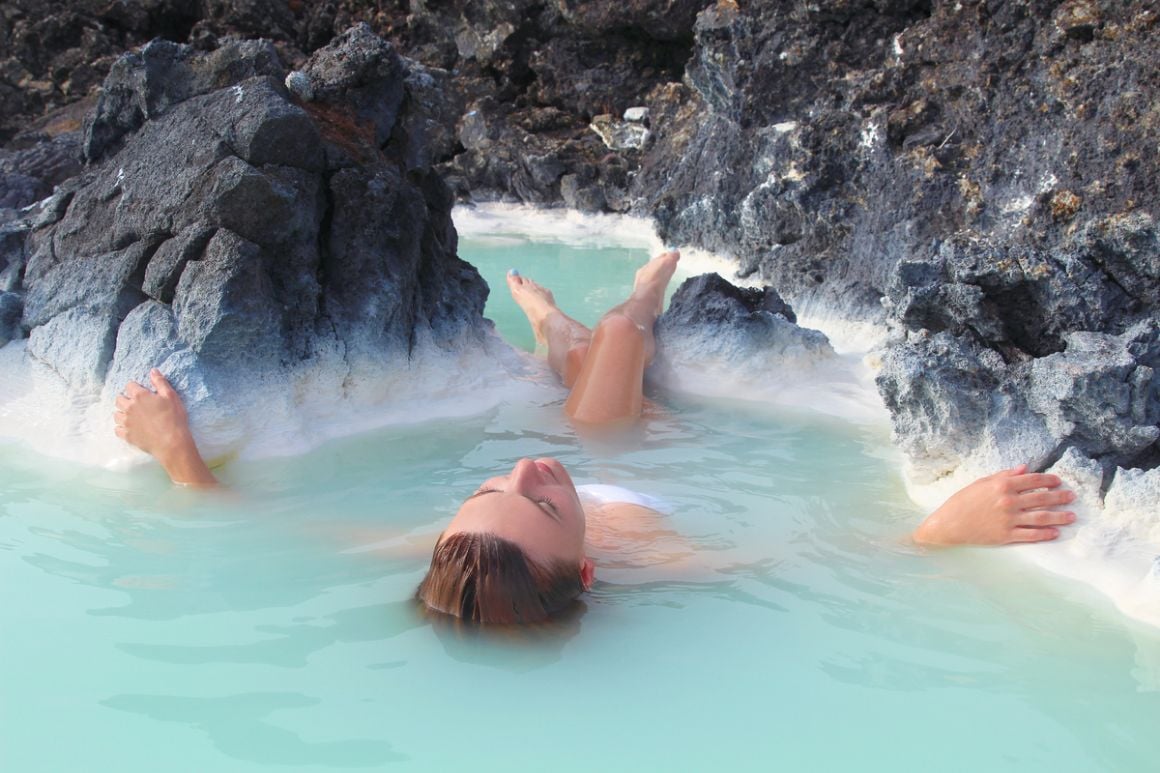 I've seen more than my fair share of people turn down a chance at visiting this magical place because they're worried that the water may be stagnant, but this couldn't be further from the truth. The Blue Lagoon's water automatically renews itself every 40 hours or so, and the water quality is closely supervised by independent laboratories to ensure that it remains optimal for bathing.
And if that weren't enough, it's compulsory to scrub down in the shower right before entering the lagoon – and yes, I do mean an actual shower in the nude, no bathing suit allowed. This is to ensure that no impurities or skin oils come into contact with the Blue Lagoon's water. If you don't want to strip off in the common shower area, there are a few private cabins in the changing room.
That World-Famous Silica Mud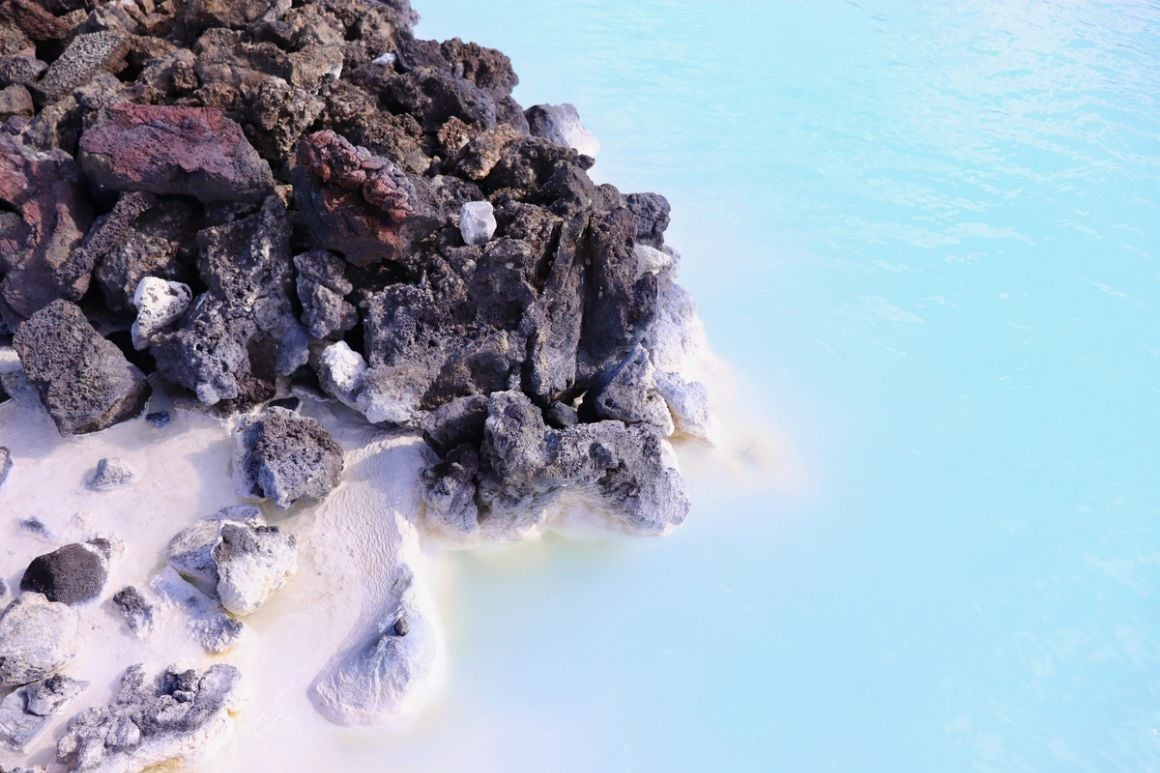 One of the many great things about visiting the Blue Lagoon in Iceland is its white silica mud, which is said to have healing and restorative properties. The mud is entirely free to use – obviously – so you can reach down and scoop some right off the lagoon's floor, or help yourself to the complimentary buckets available at the in-water spa.
Rest assured that there's absolutely no limit to how much mud you can use, knock yourself out!
Take Care of your Hair
I would strongly suggest that you properly condition your hair before entering the pool because as rejuvenating as that water is for the skin, it absolutely wrecks the hair – something I learned the hard way! Don't fret if you forget your hair products, they've got complimentary shampoo and conditioner in the showers.
Best Time to Visit Iceland Blue Lagoon
Visiting the Blue Lagoon is a thrilling experience regardless of the season, but if you would like to avoid the crowds, I would recommend winter time. Not only are there fewer tourists than usual, but you'll benefit from excellent deals on flights and accommodation in Iceland.
If you want summer lagoon vibes, it's best to make all your bookings way in advance. The great thing about summer is that you may even get to soak under the moon!
Iceland is a beautiful place to visit all year round, and the lagoon is equally magical.
Is This the Best Daypack EVER???
Visiting the Blue Lagoon at Night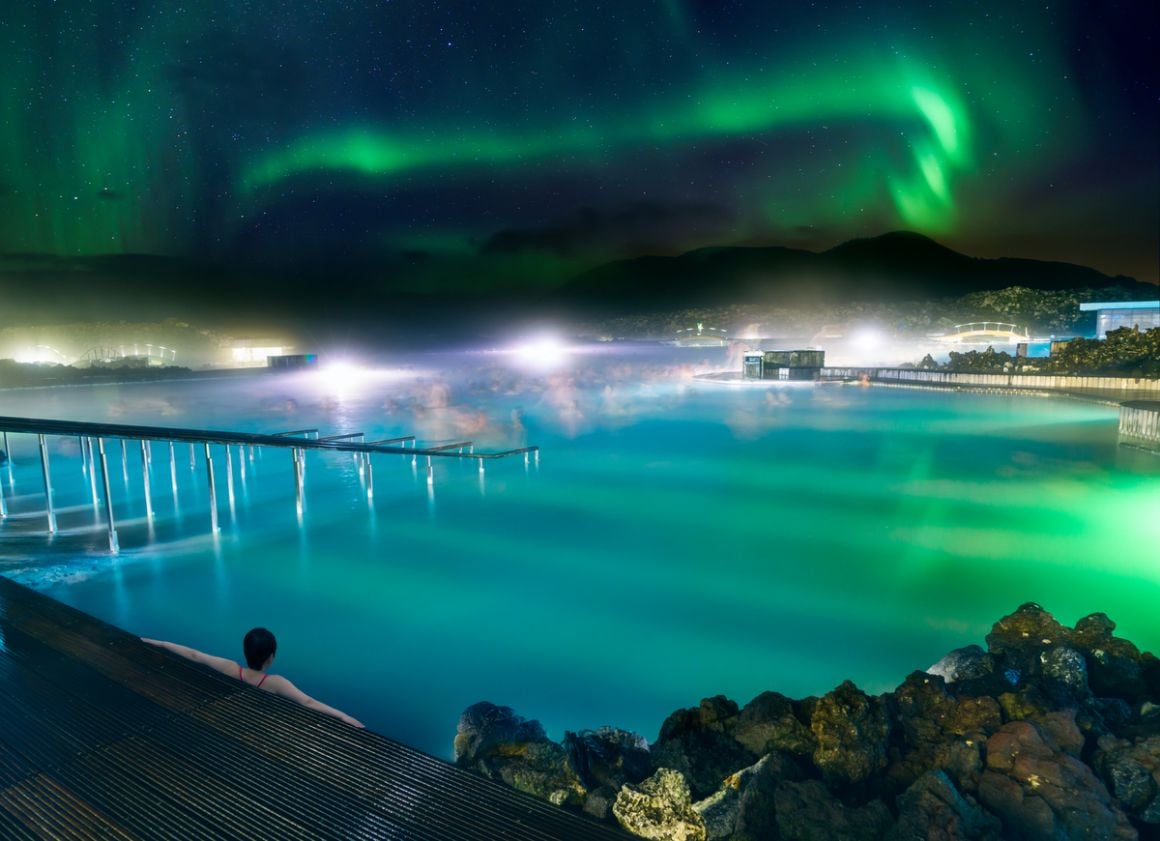 Many will say that the best time to see the Iceland Blue Lagoon is either early in the morning or in the evening. After being there after sunset, I must say I totally agree! The lagoon is definitely less packed which means that you'll get to unwind in a super soothing and tranquil environment.
Getting around at night in Iceland is quite easy since most buses tend to run until midnight. Alternatively, you can always combine your evening visit with another tour – packages like the Blue Lagoon and Northern Lights Tour include free shuttles to and from your accommodation.
Bear in mind that the opening hours are seasonal, so night visits are only possible from June to mid-August when the Blue Lagoon is open until 11 pm.
Blue Lagoon Iceland Entrance Fee
The Blue Lagoon has various packages that you can book according to your budget and preferences. The Comfort Package costs $65 per person and includes the entry ticket, one drink of your choice, Silica mud mask, and a towel.
Or, try out the Premium Package ($85) that features the entry ticket, Silica Mud Mask, two additional masks of your choice, towel, bathrobe, drink, and a complimentary glass of sparkling wine for those dining at the on-site Lava Restaurant.
I booked the latter, and while it was a great experience, I would just go for the Comfort option next time – the extra 20 bucks weren't really worth it for me.
Now, if you can afford to splurge, consider their Luxury Retreat Spa experience which costs $458. This package features five hours at the Blue Lagoon Spa, a private changing suite as well as unlimited access to both the Retreat and Blue lagoons. What better way to cap off your stay in Iceland, right?
Temperature in the Blue Lagoon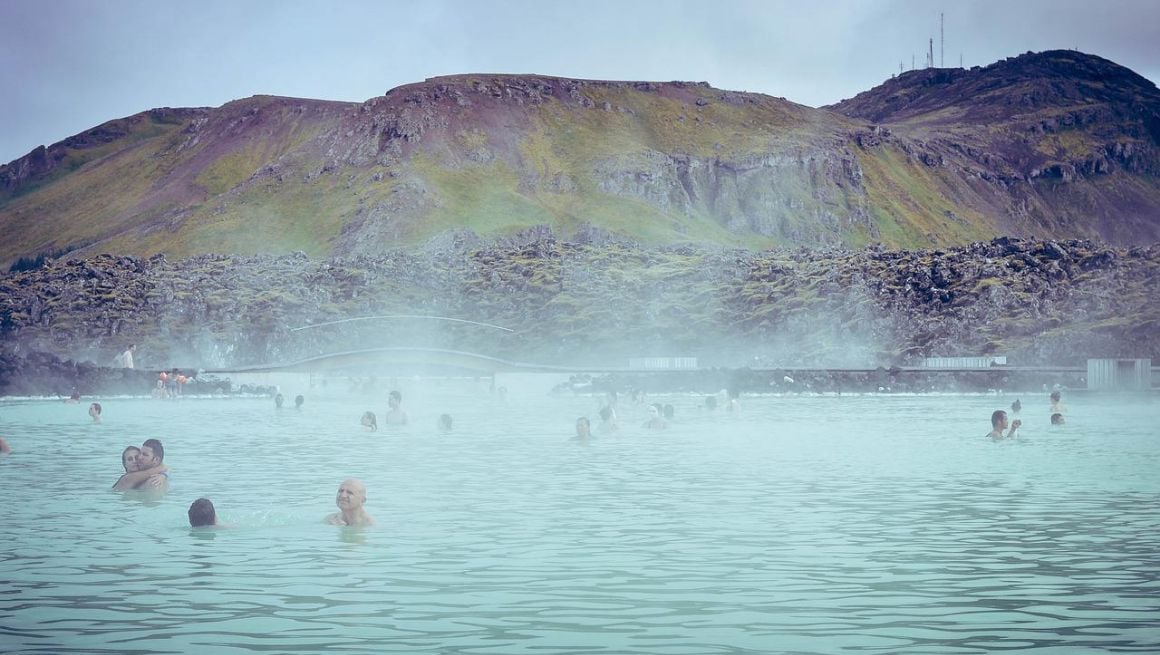 I was surprised to realize that the temperature in Blue Lagoon Iceland varied from one area to the other. Some spots may be quite hot while others are a tad cooler so you can always move around to find the most comfortable corner.
Generally speaking, you can expect to be submerged in gloriously warm water that ranges from 98 to 105 degrees F. If you're visiting the Blue Lagoon in winter, rest assured that while the water temperature may fluctuate a bit, it still remains relaxing and warm.
Blue Lagoon Iceland Opening Hours
January 1st to May 30: 8 am to 9 pm
May 31 to June 27: 7 am to 11 pm
June 28 to August 18: 7 am to 12 am
August 19 to December 31st: 8 am to 9 pm
Iceland Blue Lagoon Accommodation
When stopping by the Iceland Blue Lagoon, most travelers choose to stay in Grindavík or the capital city of Reykjavik, which lies just a short drive away. The Blue Lagoon has two on-site hotels, but these tend to be crazy expensive, with rooms costing as much as $600 per night.
It's pretty easy to find budget-friendly options in the vicinity! Airbnb makes it easy to quickly compare various rentals and narrow your list down according to the price, amenities, and location.
Personally, I can recommend KEX Hostel which is housed in an old biscuit factory. Sleeping options include mixed or female dormitories that run from $33 to $50 per night.
Travelers who would be more comfortable at an bed and breakfast can consider Raven's Bed which features an outdoor hot tub and private terrace with gorgeous views of the Atlantic Ocean. If you're planning your trip around a Blue Lagoon visit you're in luck as this B&B is just 15 minutes away!
Forget boring accommodation… book yourself an EPIC STAY!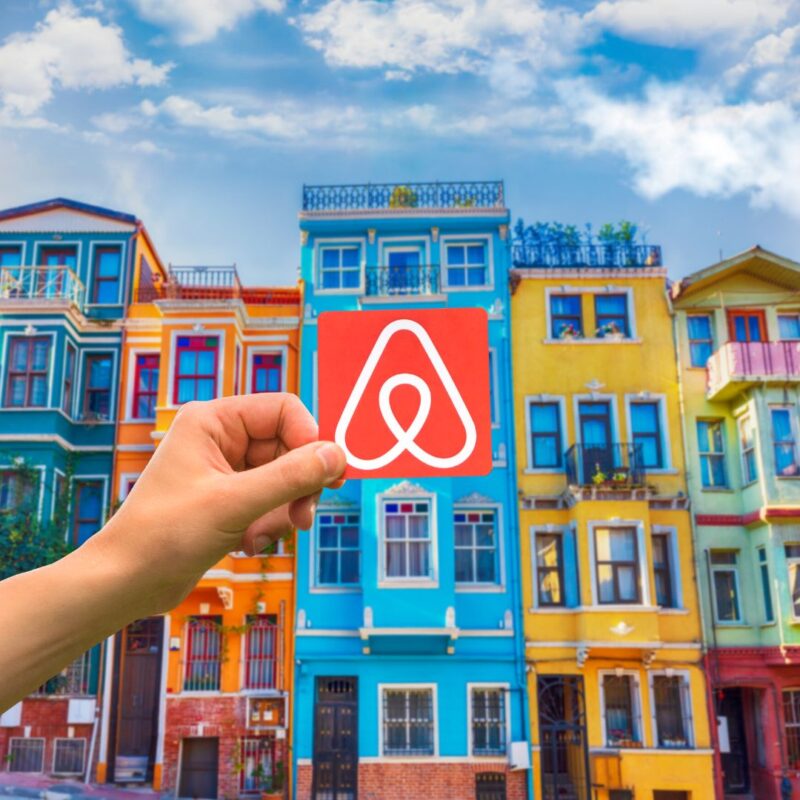 Why stay in a naff hotel when you can stay in a cosy, stylish local house instead? And for half the money too!
Stay somewhere EPIC and save your hard-earned dollars — from houses to barns to castles and caves, there is an Airbnb for every occasion!
Book an EPIC Stay
Things to do near Blue Lagoon Spa
Iceland is known for its abundance of mesmerizing sights, many of which lie just a short drive from the Blue Lagoon geothermal spa.
Here are some of my absolute favorite things to do in the area:
If you're short on time, you can book a Golden Circle expedition that packs plenty of adventures into the same day – and yes, that includes a stop at Iceland Blue Lagoon! These tours can cost around $129 and often feature trips to popular sites of interest such as the Gulfoss Waterfall, Thingvellir National Park, and the Kerid Crater.
It would be unfathomable to head to Iceland without touring its many craters and natural hot springs. At $322, this expedition may be a bit more expensive than most, but it does include a half-day private tour across craters, lava fields, hot springs, and the mesmerizing Reykjanes peninsula. You'll also be treated to a photo stop at the Blue Lagoon Iceland.
A little over an hour from Blue Lagoon is the Silfra Fissure at Þingvellir National Park where you can literally snorkel between North America's and Europe's tectonic plates. This package costs $133 per person, and souvenir pictures are included.
Okay, this one is admittedly four hours away from the Blue Lagoon Spa but if you ask me, it's completely worth the drive! Not only will you get to tour the iconic Skaftafell Park, but you'll also explore Vatnajökull, which just so happens to be Europe's largest glacier. This expedition costs around $113/per person.
Dining at Iceland Blue Lagoon
There's something about the Blue Lagoon geothermal water that really gets your appetite going. Luckily, there are three onsite restaurants where you can fuel up after your dip. Pre-booking is a must, I guarantee you won't be the only ravenous person there.
This was the least crowded restaurant at the Blue Lagoon. A vegetarian-friendly spot that specializes in light and healthy meals, it has an extensive selection of fresh juices and smoothies. If you ask me, this place is perfect for those who want to get away from all the hustle and bustle.
Lava Restaurant is more high-end, with an extensive selection of dishes, including classic Icelandic meals. It is a highly Instagrammable spot since it's perched on an ancient lava cliff overlooking the shore.
This one is the most refined (and yes, the most expensive) of the three. Surrounded by the Blue Lagoon's iconic vistas, this upscale restaurant is featured on the Iceland's Michelin Guide and offers tasting menus of five or seven courses. It's only open for dinner!
Blue Lagoon Do's and Don'ts
Do:
Stay hydrated! The lagoon's water is always warm so you can get dehydrated pretty quickly, especially in the summer.
Get a waterproof case for your phone! There are tons of stunning photo opportunities at the Blue Lagoon, and the last thing you want is for the steam or water to wreck your phone.
Head there early! The best time to visit the Iceland Blue Lagoon is right after it opens as there's hardly anyone else around, you'll have the whole pool to yourself!
Don't:
Don't wear contacts in the Blue Lagoon geothermal spa. The silica can get into your eyes and cause pain or infections.
Don't lose your magnetic bracelet. Trust me, this is the last thing you want to do. Not only will it make it super hard to get your stuff back, you'll also be fined.
Don't leave the kids unattended. The Blue Lagoon has a maximum depth of 4.7 feet, so children should always have a guardian present when they're in the water.
An Exceptional Experience
There's no denying that the Iceland Blue Lagoon is a once-in-a-lifetime experience. Whether you want to take advantage of the Silica Mud's restorative properties or simply soak away the stress of the day, this truly enchanting place has you covered!
Before zipping up your suitcase, you may wish to consider getting travel insurance. Iceland is undeniably one of the safest places in the world, but every trip comes with risks and proper coverage can easily save you thousands of dollars if something goes wrong. Personally, I never go anywhere without getting travel insurance from reputed companies like Safety Wing.
---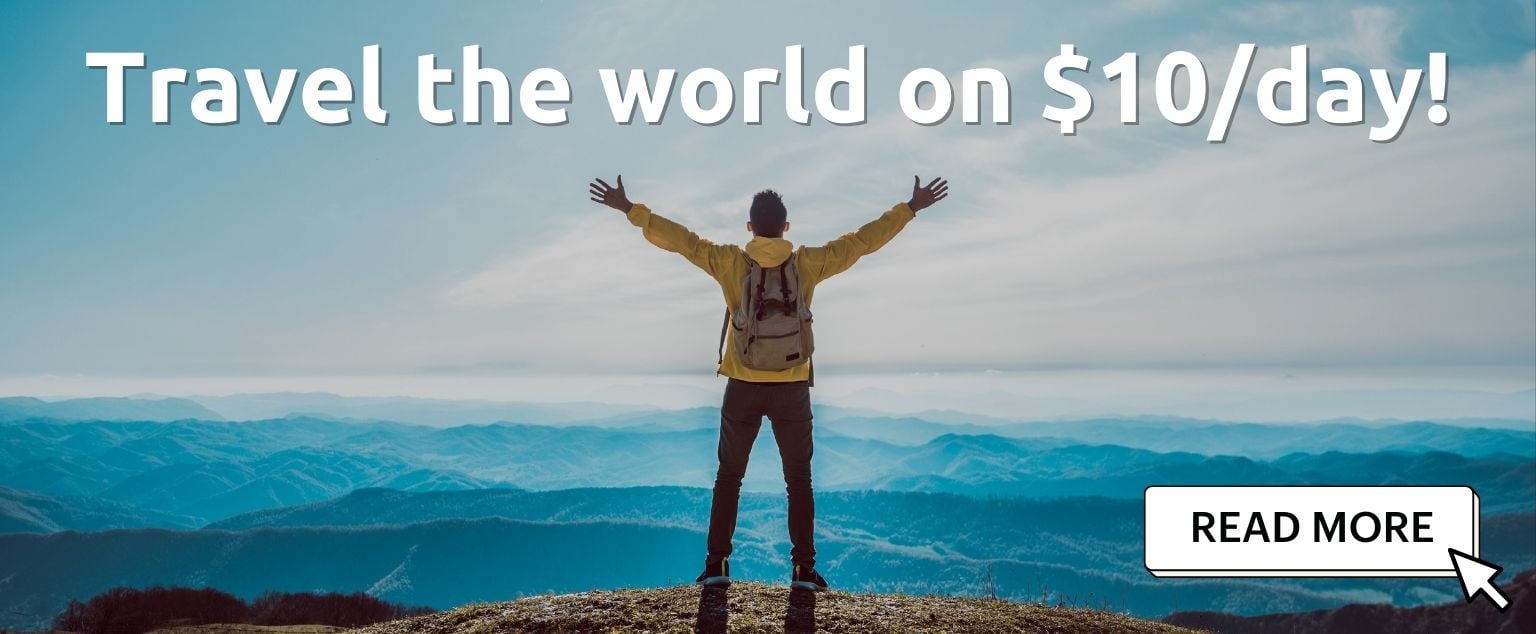 And for transparency's sake, please know that some of the links in our content are affiliate links. That means that if you book your accommodation, buy your gear, or sort your insurance through our link, we earn a small commission (at no extra cost to you). That said, we only link to the gear we trust and never recommend services we don't believe are up to scratch. Again, thank you!