The Nordic island of Iceland that sits in the North Atlantic Ocean should be on every travellers must-visit list! Known as the "Land of Fire and Ice," Iceland is where some of the largest glaciers in Europe can be found.
Okay, they've gotten the ice-covered. But what about the fire part of their nickname? Turns out that Iceland is also home to the world's most active volcanoes! Who knew!
Many people come here to do the famous golden circle, where many of the countries main landmarks can be seen. But with it having a reputation for being on the more expensive side, you're going to want to plan out your Iceland accommodation options before you go.
Something to keep in mind is that accommodation in Iceland can be sparse, and very spread out between settlements. If you're not staying in the bigger cities, you might have to travel hours between settlements. That means that you definitely want to have an understanding of Iceland's accommodation options and of where exactly you're planning to stay!
Yes, that means that deciding where to stay in Iceland can be a headache. We're here to smooth a salve on your worries and help you figure out where to stay in Iceland. Pre-planning is the way to go, folks!
Let's dive into the top places to stay in Iceland and what you should do and see while you're there. Ready to rumble? Let's go!
Iceland is home to many beautiful places, as well as many cool spaces! We positively love the creativity that goes into crafting the Iceland accommodation scene. Backpackers in Iceland are not short of great options.
There certainly is a lot of love and care that goes into renovating or constructing hotels, hostels, and Airbnbs— we're happy to share our absolute favourites with you here. From luxurious hotels to hostels and budget hotels, there's a wide range available.
So, whether you're doing the Golden Circle, going glacier hiking, traversing Thingvellir National Park or just hitting up the capital city when you visit Iceland. You're gonna wanna plan you're Iceland itinerary out in order to keep costs down.
What is cooler than scrambling some eggs and toasting some bread while looking out the window and basking in the view of the most active volcano in Europe? That's right, this Airbnb is more than just a comfy villa— it's a private viewing spot for Hekla the volcano. You surely won't forget this Icelandic treasure of an Airbnb set near the south coast of the country.
The Farmhotel Efstidalur is where memories are made! With rustic, wooden cabins that offer serene pastoral views of farmlands, cows, and the surrounding mountains, you're sure to feel right at home in this slice of Icelandic farm paradise. This mid-range hotel in East Iceland offers the perfect base from which to explore the country.
Best Hostel in Iceland – Galaxy Pod Hostel – Reykjavik
Oh what fabulous level of ingenuity went into building the intergalactic Galaxy Pod Hostel in Reykjavik city centre. These space-pod dorm beds take the boring bunk beds of the past and take hostels far into the future! It's also centrally located so it's easy to explore from this budget base.
The land of ice and fire is a must-visit. With incredible volcanos, waterfalls, glaciers and fascinating nordic culture, there's plenty to do in Iceland. However, it's got a bit of a reputation as an expensive destination and most of the sites are pretty spread out despite it being a relatively small country. So picking where to stay in Iceland is essential to making or breaking your trip.
If you're wondering where to stay in Iceland, as well as the best areas to stay in Iceland we have got you covered! As a sparsely populated country, Iceland has plenty of space and room to breathe. That means that lodging in Iceland can be truly special!
Hotels in Iceland are certainly unique— from farmhouses to schoolhouses to hostels sitting above bus stations, there is something for everyone in Iceland! Thankfully there are a few hostels alongside plenty of budget hotels, especially along the golden circle route where most of the things to do in Iceland are located.
Reykjavik: The capital city of Iceland is a great spot for those looking for budget accommodation, Reykjavik hotels offer the best value for money across the whole country. For us also rates as the best place to stay in the whole of the country. Its transport links, access to tours and rentals as well as thriving cafe scene make it an awesome base for exploring further, especially if you're a backpacker.
Husavik: This small coastal settlement in North Iceland rates as the best place to stay for families in Iceland. The whole country is super safe so that's nothing to worry about, but as the whale watching capital of Europe, you'll be sure to keep the kids entertained here! There are also some of the best Iceland hotels for families too with heaps of awesome facilities.
Laugarvatn: This charming tiny town is home to just 200 people and its laid back vibe is just perfect for couples looking to get away from it all. It's still only a short drive from the capital too if you fancy a bit more action but the beautiful lake, mountain views and thermal springs make it a romantic spot.
Akureyri: If you're a bit of a hipster looking for the coolest place to base yourself in Iceland then you can't beat Akureyri. Its colourful wooden houses, understated bars and the opportunity to partake in some epic extreme sports make it a super cool spot. This North Iceland town is also one of the larger settlements in the country too so it's a pretty happening place.
Hvolsvollur: This teeny-tiny town is one of the most unique places to stay in Iceland. It's got funky rock formations, mountains, caves, waterfalls, and natural hot springs and it's pretty off the beaten track too and not far from Iceland's south coast if you want some seaside vibes.
Snaefellsbaer: If you've come here for adventure then Snaefellsbaer is the place for you. This small town (yeah, another!) has some awesome hiking opportunities and is close to some of the most impressive waterfalls on the island. From here you can also explore the black sand beaches and go caving too!
Reykjanesbaer: If seeing the Northern Lights is your main priority when it comes to visiting Iceland, then you've got to base yourself in Reykjanesbaer. You'll still need to get away from the city lights but this area allows the easiest and quickest access to the areas known for the lights.
Reykjavik – Overall Best Place to Stay in Iceland
The capital of Iceland is Reykjavik which is the most densely populated area in all of Iceland. Of course, that means that it's the city that has the most hostels, hotels, and Airbnbs and you'll find some pretty awesome bed and breakfasts in Reykjavik as well.
You can find everything from beautiful hotels that overlook the harbour to quaint Airbnbs with cosy kitchens alongside plenty of budget hotels too. There are also quite a few luxury hotels just outside the city centre too if you're feeling a bit extra. The capital is a great place to start and end your golden circle trip from.
If you're looking to stay in Reykjavik, then you'll want to stay in the heart of the capital city in the popular Midborg neighbourhood. You'll keep your pulse on the city and get a real feel for the city's vibe! Plus, you really don't want to miss out on any of the action, do you?
In the small, compact downtown neighbourhood of Midborg, you'll get to discover some of the best shops, cafes, and restaurants Iceland has to offer. It's the best place to stay for nightlife, as it's the capital's dedicated entertainment zone! While there are other great neighbourhoods worthy of exploring, staying in Midborg ensures a lively stay!
This private room in an apartment will certainly make you feel like you're right at home. It's one of Reykjavik's best Airbnbs. You'll be centrally located just 600 meters away from the harbour, which has recently evolved into a hip restaurant scene. Walk along the waters, marvel at the boats, and nibble on some of Iceland's most innovative dishes! Moreover, the hosts of this Airbnb allow full access to the kitchen and dining room. And free public parking across the street is an added perk.
Choosing to stay at a hotel in Reykjavik can mean spending quite a lot of dough. Avoid the buyer's remorse and go with Guesthouse Galtafell. This downtown family-run guesthouse is positively delightful. Plus, you'll be just a one-minute walk away from the popular Laugavegur shopping street which is wonderful to walk around and window-shop. It's one of the best Reykjavik hotels for the money.
Best Hostel in Reykjavik – Galaxy Pod Hostel
Galaxy Pod Hostel sure does live up to its name! Designed to emulate actual space pods, these are no regular dorm bunk beds! They also have a self-service kitchen, a movie room, and a social lounge. Enjoy a trip to infinity and beyond in this hostel. Yes, you're practically guaranteed a memorable experience in your own "pod." Leave the days of dorm beds behind!
Things to See and Do in Reykjavik
Tour the towering cathedral of Hallgrimskirkja
Taking in a show at the Harpa Concert Hall
Meander around all the curious museums, including the Arbaer Open Air Museum to the more risque Icelandic Phallological Museum
Visit one of Reykjavik's local heated pools
Husavik – Best Place to Stay in Iceland For Families
Boasting exceptionally low-crime rates Iceland is a very safe country. It's a great place to travel with the family. When looking for the best city to stay in Iceland with kids, we have to recommend Husavik— lovingly referred to as the whale-watching capital of Europe!
In fact, during the summer, there is usually a 100% chance of seeing a whale each day in this area of North Iceland! Now that's a statistic we can get behind… Nothing is worse than going whale watching with the kids and leaving with nothing but disappointment.
As Husavik is a tiny settlement in North Iceland, you definitely want to get your accommodation secured well in advance. There aren't a ton of options out there! But we dug deep and found the best ones for you and your family.
This two-bedroom/ one-bathroom apartment has a total of three beds. That means that sleeping up to four people is easy. There's also a porch area with epic views of the mountains from this cute cabin. Perfect for families and small groups! Expect a short walking distance to all local attractions. And enjoy whipping up family meals in the fully equipped kitchen!
This historic house in the centre of Husavik offers simple and clean rooms. However, you'll love the nearby scenery! You'll be situated just a short walk from the harbour, close to a wonderful spa. In fact, the Husavik Whale Museum is just 1,650 feet from the guesthouse. You won't be complaining about sore feet when staying at the Arbol Guesthouse.
Best Hotel in Husavik – Husavik Cape Hotel
Husavik Cape Hotel is a recently renovated 1950s hotel that overlooks the Skjalfandi Bay. Enjoy 24/7 free cookies and coffee and a complimentary, delicious breakfast buffet each morning. What keeps the kids happier than free cookies? Probably skip out on giving them the coffee though. Furthermore, we love the hiking trails that wind around this mid-range hotel. You and your family are sure to have a pleasant stay at this charming hotel.
Things to See and Do in Husavik
The whole family will be dazzled watching the humpback whales swim through the frigid waters of Skjalfandi Bay
You can always add a puffin-watching tour to your trip too. Those quirky little birds sure are entertaining!
There's also the Exploration Museum that focuses on space missions
Laugarvatn – Where to Stay in Iceland for Couples
As a positively tiny town, of only around 200 people, Laugarvatn drips charm. Situated in South Iceland, just about 56 miles from Reykjavik, Laugarvatn is actually very close to a lot of Iceland's top sites such as the Gullfoss waterfall and Geysir.
What makes Laugarvatn where to stay in Iceland for couples is the romantic environment. Of course, there is plenty of privacy in this isolated settlement. However, it's the natural surroundings that truly shine. Surrounded by hills, forests, fertile countryside, and even lava fields, Laugarvatn is a natural paradise and some of the most wonderful Iceland hotels are located here.
When comparing this geothermal pool to the more popular Blue Lagoon, you'll find that Laugarvatn's Fontana Spa is smaller, more intimate, and much more affordable. You and your loved one will be swept off your feet, and plopped down into geothermal bliss, in Laugarvatn.
As we've already mentioned, Laugarvatn is a tiny settlement. That means that it is clearly the smart call to book in advance to secure your spot at your favourite Iceland hotels listed below!
You and your loved one can enjoy this spacious apartment all to yourselves. While there are quite a few rooms to rent in Laugarvatn, soak up some privacy in this dreamy Airbnb. As an added bonus, you're just a one-minute walk to the rejuvenating waters of the Fontana Geothermal baths, but if you want something more private you've got your own hot tub.
Ok, so it's not a hostel but there aren't many so budget hotels are gonna cover this gap in Laugarvatn! The Héradsskolinn Guesthouse is actually built into a 1920s school building and is one of Iceland's iconic hostels.
You'll love the stylish, brightly decorated rooms. And the lake and mountain views are to die for! There also is a bistro, cafe, and bar located inside the hotel itself, which makes everything oh-so-very convenient. You and your significant other are sure to remember your stay here at the memorable Héradsskolinn Guesthouse.
This hotel is set on a farm in the Golden Circle. Expect a very nice and unique stay on this farm! You'll love the rustic, wooden cabins and the views of the cows out in the barn. When you're not distracted by the cute cows, you'll be dazzled by the views of the surrounding mountain! Our favourite part about the Farmhotel Efstidalur is that during the summer, this hotel offers horseback riding and traditional cooking classes! Talk about memorable!
Things to See and Do in Laugarvatn
Lake Laugarvatn is great for romantic strolls or a spot of fishing
There is even a spa at Lake Laugarvatn where you can relax in the rejuvenating geothermal baths
Hunt out the off-the-beaten-track Bruarfoss Waterfall, it's well worth the effort!
Akureyri – Coolest Place to Stay in Iceland
Akureyri is a small city in Iceland that is filled with brightly painted wooden houses and plenty of cosy bars. Little known fun fact, the stoplights are shaped like red hearts! How darling is that?
The population of Akureyri sits at around 18,000, so it is larger than other settlements, but a bit smaller than the capital. Given its middle size, it's easy to explore on foot. You'll definitely be charmed by the traditional houses on Hafnarstræti Street! Of course, a trip to Akureyri wouldn't be complete without taking a dip in the Akureyri geothermal pools. We could sure use a dip in those relaxing waters ourselves right about now…
What we really adore about Akureyri, and what massively adds to it being the best city to stay in Iceland for the cool factor, is the opportunity to do some extreme sports!
It's hard to go wrong with the darling hotels in Iceland's treasure-of-a-town Akureyri. Things are pretty tightly placed together too, so you won't have to stress about being too far from where you want to be. You'll pretty much always be right in the middle of the city! Very convenient for those of us who are bad with maps…
In this highly functional, and ever-so cosy backpacker hostel, you're sure to enjoy a great atmosphere and budget-friendly rates. There is a small bar inside the hostel which encourages socialization and making friends fast. Also, there is a washer and dryer that guests can use for an additional charge.
Best Hotel in Akureyri – Hotel Kea
This 4-star hotel is located right in the heart of Akureyri. It has bright and airy rooms with traditional wooden floors. It's a beautiful hotel that offers stunning views of the mountains in the distance. There is even a nearby spa and gym that will give guests of the Hotel Kea discounts. If you're looking for luxury hotels on a budget then this is the perfect place.
Best Airbnb in Akureyri – Welcoming bed and breakfast with a hot tub and view
This private room in a guesthouse is the perfect Airbnb right in the heart of the city. The room is cosy and comfortable and situated so close to delicious bakeries and delicious restaurants. If you were hoping to cook a meal yourself, the guesthouse has a shared kitchen that guests are invited to use! If you're feeling it, there's a hot tub too!
Things to See and Do in Akureyri
A trip to Akureyri wouldn't be complete without taking a dip in the Akureyri geothermal pools
Be charmed by the traditional houses on Hafnarstræti Street
In the winter, you can take snowmobiling tours around the mountain, or you can even go skiing down Hlidarfjall
Reykjavik – Where to Stay in Iceland on a Budget
If you're looking for the best city to stay in Iceland for the overall health and happiness of your wallet, Reykjavik is the way to go. Let's be real. Iceland is expensive. When wondering where should I stay in Iceland on a budget, yessiree, the answer is Reykjavik.
Not only will you be close to the airport and to great public transportation options, but you'll also have the cheapest choices for lodging in Iceland available to you. Plus, there are a lot of free things you can do in Reykjavik too!
While Iceland isn't exactly known for having lots of great budget options, staying in Reykjavik means you don't have to break the bank. There are plentiful hostels and affordable accommodation options. Don't worry, we chose the best of the best for you!
Ok, so you might end up paying the same price for a hostel here as you would for most luxury hotels in Thailand, but hey, we're working with what's available!
While there certainly are more fancy Airbnbs out there, this one is perfect for budget travellers. It's for a one-bedroom rental inside an apartment with a shared bathroom. However, this central located Airbnb will save you lots of transportation woes and worries all while saving you some dough!
This budget-conscious hostel promises guests a low-key, no-frills environment. It actually is situated right about the Reykjavik Terminal bus station, which means that you can get dropped off straight from the airport to your hostel's doors! Talk about a time and money saver! Plus, this hostel has some awesome amenities like an outdoor terrace with a BBQ and an onsite bar.
With free parking and kitchens in each room, the Old Charm Reykjavik Apartment has thought of all the ways it can save guests some money, all while making them feel right at home. Plus, there is complimentary tea, coffee, and wifi! Located just 1,300 feet from the popular Laugavegur shopping street, you'll be close to all you need.
Things to See and Do in Reykjavik On a Budget
Take the free walking tour around the capital city
Hike up the nearby Mount Esja, one of the closest trails to the city
Wanna hit the beach, head to Nautholsvik… just maybe pack a wetsuit!
Hvolsvollur – One of the Most Unique Places to Stay in Iceland
Now let's talk about tiny… Hvolsvollur is an absolutely teeny-tiny town located in South Iceland. It only has a population of 950 people! What makes staying in Hvolsvollur so unique is not just the sheer novelty of staying in such a tiny town, but also the number of wonderful hiking routes in the area. One of our favourite hikes involves seeing the strange rock Drangurinn that sits by the farm Drangshlíð, which is under the towering Eyjafjöll mountains.
Hvolsvollur is also just a hop, skip, and a jump away from some of Iceland's other beautiful sites like natural caves and lovely waterfalls as well as being on the south coast of the country. If you're looking to take some epic photos in Iceland, then this is a great base.
So choosing to stay in the tiny town of Hvolsvollur will bring you even closer to your travel companions, and to some of Iceland's most beautiful landmarks. Stay off the beaten path in Hvolsvollur, and cosy up with all that is, well, incredible!
Surprise, surprise. Hvolsvollur is a tiny town with very few places to stay. Obviously, you won't find a Marriott or a Hilton in sight! That being said, these special accommodation options are where true memories are made. We love the unique factor and the charm!
This two-bedroom villa sits on the outskirts of Hvolsvollur near the volcano itself. From outside your kitchen window, you can bask in the views of Hekla, the most active volcano in all of Europe! Plus, there is a hot tub where you can cosy up and watch the Northern Lights. It's also not far if you want to explore Iceland's south coast as well. Talk about special!
Midgard Base Camp is more than just a hostel— it's an experience! With everything from a rooftop hot tub and sauna, to views of the grazing horses and volcanoes, Midgard is where the magic happens. A shared kitchen is available, and laundry facilities are available for an additional fee.
Hotel Hvolsvollur sits in the ideal location, near the Seljalandsfoss Waterfall and the Helka Volcano. The rooms are nice and spacious, and the hotel is within walking distance of a restaurant and supermarket. Breakfast is included!
Things to See and Do in Hvolsvollur
Spend the day relaxing at Seljavallalaug, Iceland's oldest swimming geothermal pool.
One of the country's most famous waterfalls, Skogafoss is just a short drive away
Another well-known waterfall nearby is the 200ft Seljalandsfoss.
Head out to the coast and marvel at the mysterious volcanic sea stacks and basalt columns of Reynisdrangar.
Snaefellsbaer – Where to Stay in Iceland for Adventure
Snaefellsbaer is a small town located in Western Iceland. It's packed with incredible adventures waiting for you to get your adrenaline rush in! You sure won't be bored in Snaefellsbaer.
Snaefellsbaer is a tiny municipality that has a population of just under 1,700. Accommodation is sparse, so make sure to book well in advance so you don't throw a wrench in your adventure plans!
Best Hostel in Snaefellsbaer – The Freezer
The Freezer Hostel is actually an award-winning hostel that is known for its huge lounge and tiki bar! With room for 22 people spread across four dorms, it's a happy hostel that hosts regular programs and activities from karaoke to live music to pub quizzes! The Freezer is the perfect hostel for those who are looking for an adventure buddy or to team up with other people for hikes or adventures.
The Gotuhus Sea View Apartment sits just outside of Snaefellsbaer, technically in the tiny village of Hellissandur. Since, Snaefellsbaer is so tiny, sliding over into the neighbouring settlement is to be expected to find the best places to stay. This sea view apartment is set right on the beachfront. We love that it also features free bicycle rentals for guests!
Best Hotel in Snaefellsbaer – Gamla Rif
Gamla Rif is a guesthouse sitting in a 120-year-old farmhouse. It is simple, rustic, and charming. There is also a shared kitchen and lounge for guests to take advantage of. So, the best part of Gamla Rif is the large sun terrace that has great views of the harbour along the glacier!
Things to See and Do in Snaefellsbaer
Make sure to hike out to the Svodufoss waterfall on the Snaefellsnes Peninsula. It's a fairly powerful 10m high waterfall that cascades down from a cliff of basalt columns.
Take a tour of Vatnshellir Cave and travel down into the East to explore an ancient lava tube!
Visiting the black-sand beach of Djupalonssandur complete with its own shipwreck.
Reykjanesbaer – Best Place to Stay in Iceland for Seeing the Northern Lights
Reykjanesbaer is a municipality right on the Southern Peninsula of Iceland that includes the towns of towns Keflavík, Hafnir, and Njarðvík. Situated close to Reykjavik, Reykjanesbaer has great public transportation and has some awesome museums too!
Staying in Reykjanesbaer means you have easy access to seeing the Northern Lights if you rent a car. Keep in mind you'll need to get away from the city lights and park and wait to see the infamous and oh-so-glorious Northern Lights! Just find a spot between Keflavik and the Blue Lagoon and just sit and wait.
On the other hand, if you'd rather head someplace special, you can always drive up to the Thingvellir National Park and hope for a great show! Expect about a little more than a one hour drive.
Reykjanesbaer is a fairly big municipality in Iceland, relatively speaking. So accommodation is abundant. We selected the crème de la crème to ensure a pleasant stay for all you Northern Light hunters out there!
Rent an entire apartment all to yourself in Reykjanesbaer. This two-bedroom apartment has a total of three beds, so sleeping four people is a breeze. Also, you'll be just ten minutes from the Keflavik airport, and just a twenty minutes drive from the marvellous Blue Lagoon!
Best Hostel in Reykjanesbaer – Start Hostel
Start Hostel is a new airport hotel located close to the Keflavik airport. It's a modern hostel that has spacious facilities that are known for comfort! You can expect a peaceful and quiet stay at this hostel. Perfect for stocking up on rest after staying up late at night looking at the glimmering Northern Lights.
Best Hotel in Reykjanesbaer – Hotel Duus
Hotel Duus is a beautiful 3-star Iceland hotel that has a bar and a spacious terrace. At Hotel Duus, you get great value for your money! We love that it's situated close to the small harbour too so you can enjoy a nice stroll along the water. Also, you can't beat a hotel that offers a free shuttle drop-off service to the airport.
Things to See and Do in Reykjanesbaer
Check out the Icelandic Museum of Rock n' Roll and the Viking World Museum, great if you want to get out of the cold!
Go Northern Lights spotting of course! Good places include Thingvellir National Park and the area between Keflavik and the Blue Lagoon.
Visit Stekkjarkot, a century-old fisherman's cottage
Cross the bridge between where the North American and European tectonic plates meet.
It might be the last thing on your mind when you're planning an epic adventure around Iceland, but you've got to be prepared for anything, especially if you're heading out into the wild! Be sure to get your insurance sorted before you head off.
World Nomads' mission is to support and encourage travellers to explore their boundaries. They offer simple & flexible travel insurance, and safety advice to help you travel confidently.
They've been doing it since 2002 – protecting, connecting, and inspiring independent travellers just like you.
Get a quote below or read our in-depth review!
World Nomads provides travel insurance for travelers in over 100 countries. As an affiliate, we receive a fee when you get a quote from World Nomads using this link. We do not represent World Nomads. This is information only and not a recommendation to buy travel insurance.
The "Land of Fire and Ice" sure is filled with wonders that far surpass the word "nice." Iceland is brimming with natural wonders, from geothermal pools to glaciers, to waterfalls that are sure to take even the most humdrum of travellers' breaths away.
While staying in Reykjavik is perfect, especially for budget travellers, there are so many other beautiful spots in Iceland waiting for you to explore! From the adventures that await you in Snaefellsbaer, to the charming 1920s schoolhouse Héradsskolinn Guesthouse that is ready to welcome you in Laugarvatn, there are so many beautiful places to go and wondrous things to do in Iceland!
---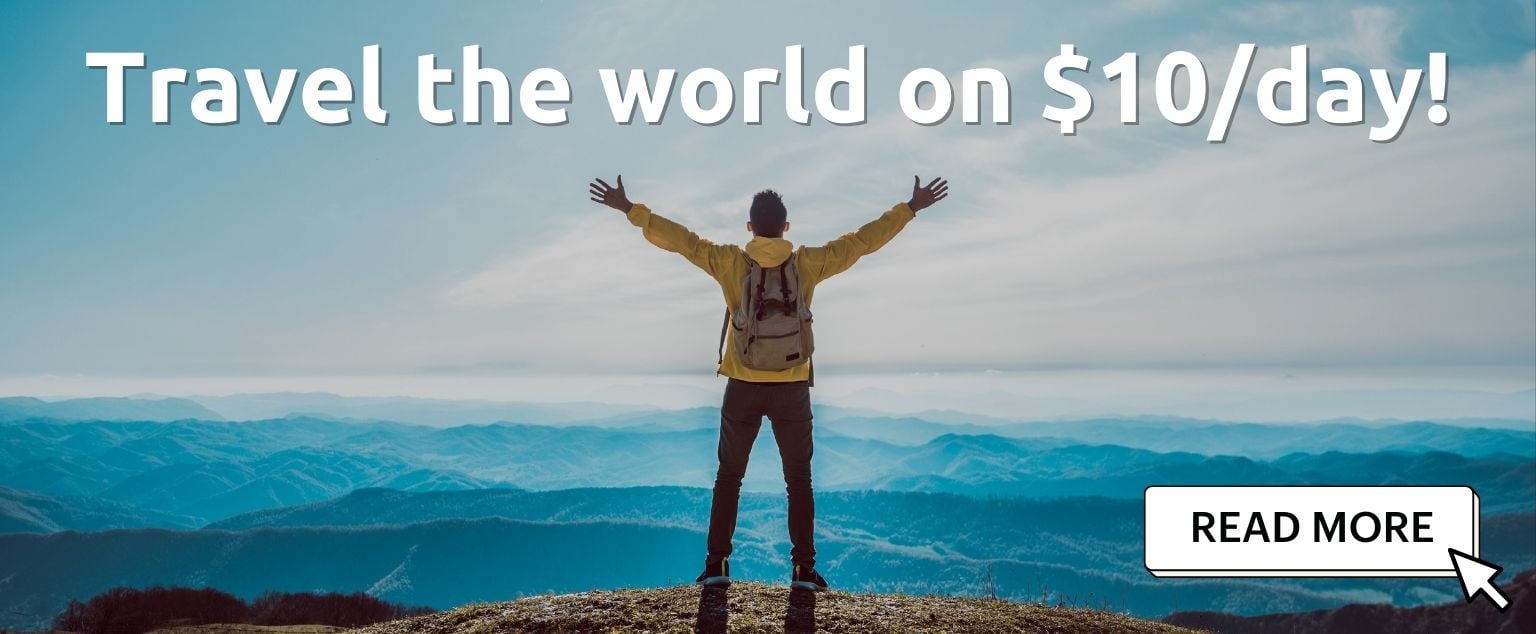 And for transparency's sake, please know that some of the links in our content are affiliate links. That means that if you book your accommodation, buy your gear, or sort your insurance through our link, we earn a small commission (at no extra cost to you). That said, we only link to the gear we trust and never recommend services we don't believe are up to scratch. Again, thank you!