Iceland is a natural wonder. This beautiful North Atlantic island is awash with lava fields, mountains, volcanoes, and glaciers. All that water and rock, as well as an ideal climate, creates an unusually prime locale for waterfalls too.
There are some incredible falls to behold in Iceland. Many are large and impressively powerful, some are idyllic and surrounded by greenery in summer. There are popular waterfalls, and there are waterfalls in the middle of nowhere.
There's adventure to be had and some seriously crazy cascades to be seen if you plot a route to find some of the best waterfalls in Iceland. Here's a list to fire up your inspiration.
The 25 Best Waterfalls in Iceland
It's no secret that some of the most beautiful waterfalls in the world are in Iceland. Time to chase them!
The Tallest Waterfall in Iceland – Morsárfoss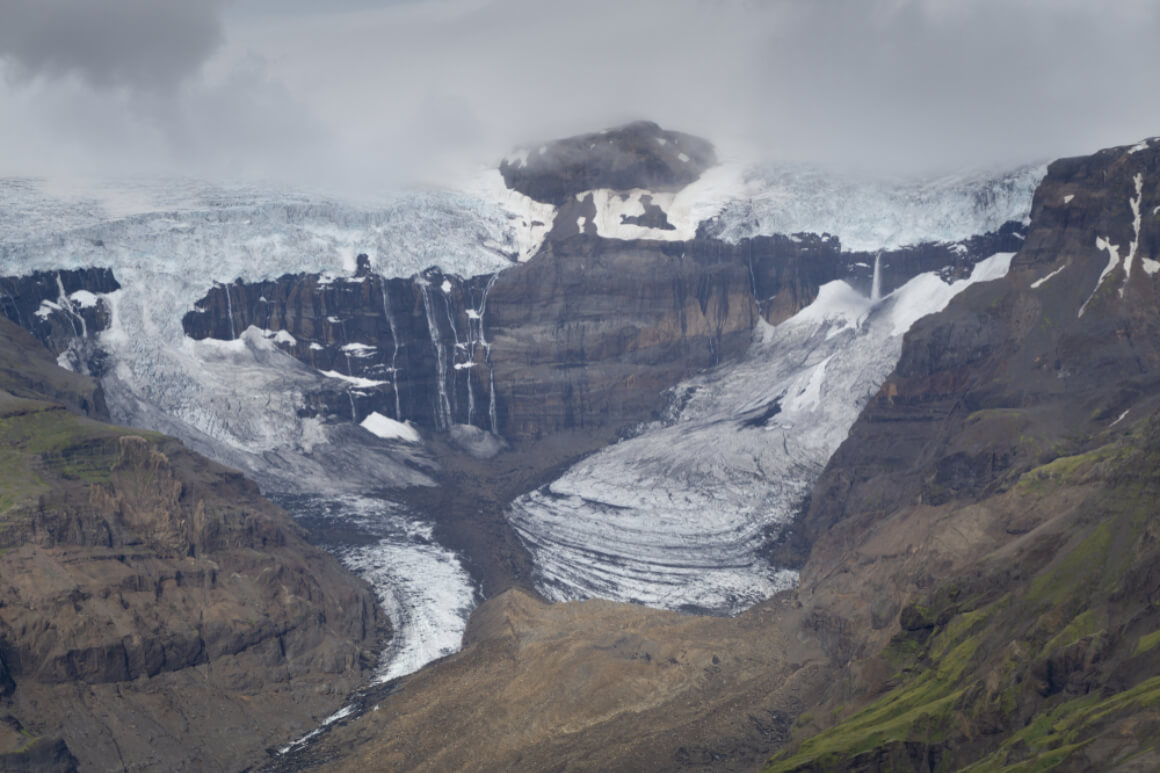 Up until 2007, Morsárfoss wasn't even a waterfall. It wasn't until the Vatnajökull glacier started melting that Morsárfoss became visible. For many years, Glymur was considered the tallest, but today, it's the impressive single drop of Morsárfoss that is actually counted as the highest waterfall in Iceland at 240 meters in height.
Its location, in Vatnajökull National Park, makes it popular with hikers and outdoors enthusiasts who trek to get a glimpse of this newfound force of nature. Note that it can be difficult to reach, as getting there means hiking there over a glacier – you'll need equipment and (probably) a guide.
One of the Biggest Waterfalls in Iceland – Dynjandi
Also known as Fjallfoss, Dynjandi (aptly meaning "thunderous" or "resounding" in Icelandic) is an impressive sight to behold. Situated in Arnarfjörður, this waterfall is the largest in the Westfjords area and one of the biggest waterfalls in Iceland. With its multiple drops falling over 100 meters across rounded terraces, Dynjandi looks like a bridal veil trickling over the rock face.
Below the main waterfall are six other falls, making for a beautiful hiking route up to see the main falls themselves. The hike itself is fairly easy as it's signposted and follows a well-maintained path.
The Best Waterfall in Iceland for Hiking – Glymur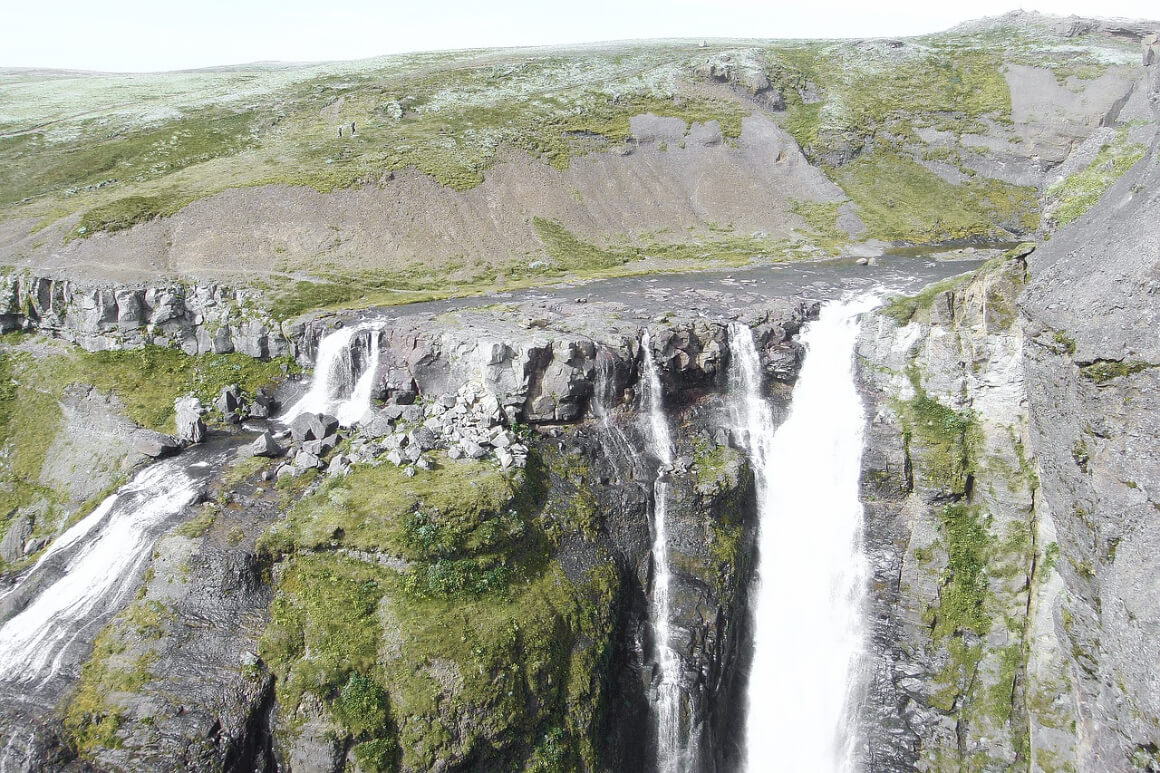 The second highest waterfall in Iceland, the 198-meter cascade of Glymur is one of the best for hikers in the island nation. The opportunities for hiking around this stunning waterfall make it perfect for those who want to lace up their walking boots and hit the trail.
You'll find this single-drop waterfall at Hvalfjordurfjord in West Iceland (that's around a one-hour drive from the capital, Reykjavík). The hike is very much worth it to see Glymur cascading into the mossy gorge and out of sight. Every step along the way affords a different, and always stunning, view. You'll even cross over the river itself to reach it.

Unlock Our GREATEST Travel Secrets!
Sign up for our newsletter and get the best travel tips delivered right to your inbox.
The Best Waterfall in Iceland for Pictures – Kirkjufellsfoss
Set your gaze to stunned– Kirkjufellsfoss is one of the most picturesque places you can find in Iceland, let alone being one of the best waterfalls in Iceland for photographers. A lot of that has to do with the scenery which consists of the 463-meter tall Mt. Kirkjufell rising in the background.
Located near the fishing village of Grundarfjörður, it may not be the biggest waterfall in Iceland, but it has quite understandably become one of (if not the most) sought-after spot for a photo-op in the country. You'll find photographers here setting up tripods and casual passers-by staying to snap pics. Come at sunset or, if you're lucky, you may even have the Northern Lights appearing in your shot. A classic photo spot.
The Most Atmospheric Waterfall in Iceland – Seljalandsfoss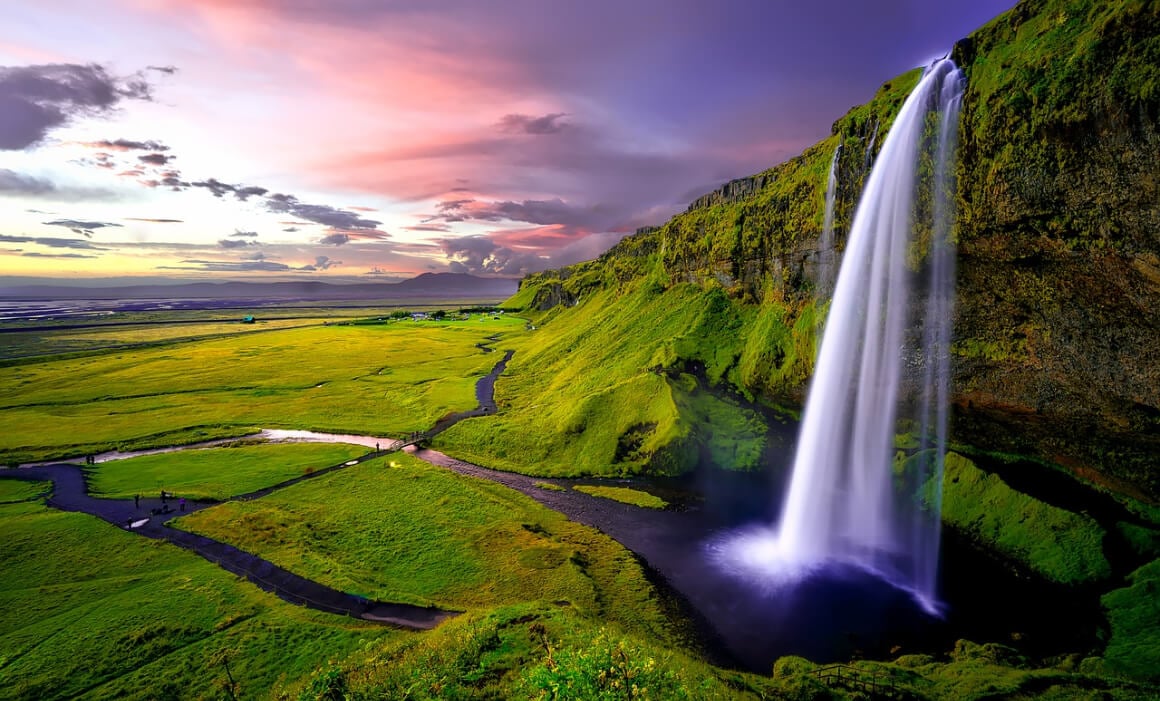 Sometimes, how beautiful a view is all depends on where you're looking from. That's definitely the case with Seljalandsfoss. Situated just off Route 1 on the south coast, this Iceland waterfall is a popular spot with those taking a road trip around the Ring Road.
The waterfall is part of the Seljalandsá River. Take a look at it from outside, and it's an impressive cascade. But here you can actually enter into a cave behind the waterfall and take a look at the mesmerizing water from a different perspective. There are even lights to illuminate the falls at night time, further creating a special atmosphere.
The Best Waterfall in Iceland to Visit on a Road Trip – Gullfoss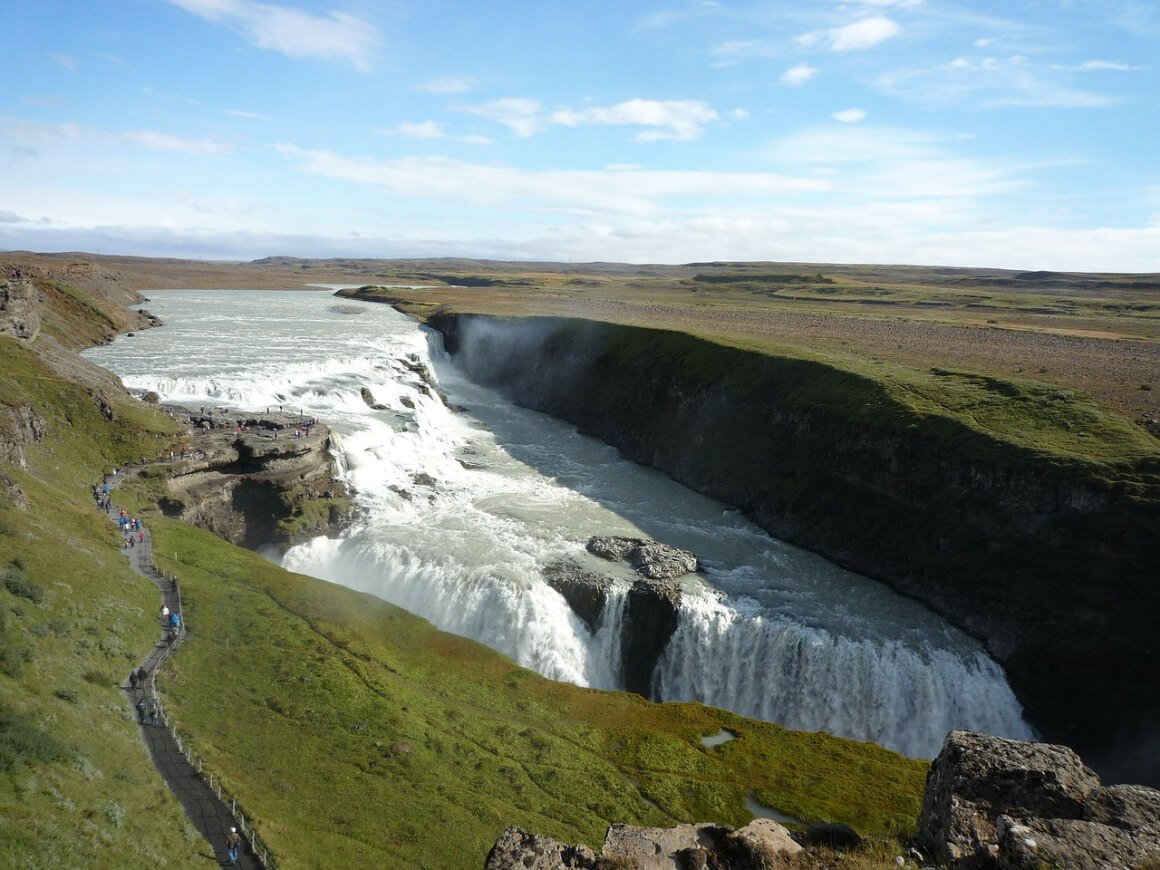 There are many waterfalls in Iceland to hit up if you're on a road trip around the country, but Gullfoss – which translates to "Golden Falls" – is one of the most iconic to visit if you have your own set of wheels.
Located in southwest Iceland on the canyon of the Hvítá River, it's easily reached by road from Reykjavik (within around two hours). There's parking nearby and a straightforward trail leading to the falls. The cafe makes for a good stop on your road trip – it boasts views of the falls as well as a menu of local food and a souvenir shop.
Iceland's Best Off-the-Beaten-Track Waterfall – Bruarfoss
From one of the easiest to reach by road, to one of the lesser-known cascades in Iceland, Bruarfoss may be off-the-beaten-track, but it's incredibly beautiful. It's definitely something of a hidden gem and has actually been given the epithet of Iceland's Bluest Waterfalls.
Translated to "Bridge Falls," Bruarfoss is located around an hour and a half (by car) from Reykjavik in the west of the country. It doesn't come with a nearby cafe, hotels, or comprehensive parking, which makes discovering this waterfall for yourself even more rewarding.
The Best Waterfall in Thingvellir National Park, Iceland – Öxarárfoss
Öxarárfoss is one of the main attractions of Iceland's well-known Thingvellir National Park – as such, it's a popular spot on the Golden Circle route, often combined with a stop-off at Gullfoss and the Geyser Geothermal Area.
The fall itself is just 13 meters – definitely not the biggest waterfall in Iceland – but that doesn't make this any less beautiful. Öxarárfoss cascades into a pool that's scattered with smooth rocks. Its small size means that it completely freezes in the winter which creates a stark, eerie scene.
The Easiest to Reach Waterfall in Iceland – Skogafoss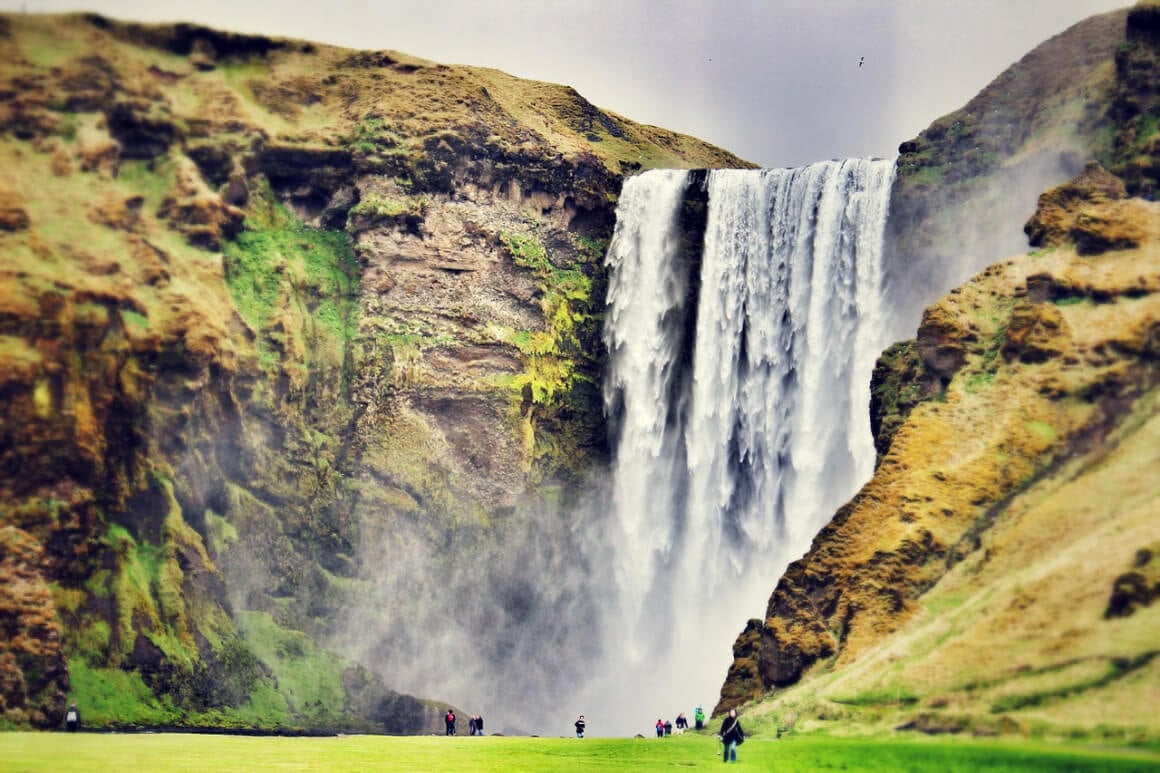 Skogafoss is what you think of when you think of a "waterfall." It's a classic cascade. Not only is it probably the easiest to reach waterfall in Iceland, but you can also get right up close and personal to falls and be drenched by the spray as it creates rainbows in the air.
The nearby village of Skogar has hotels and guesthouses, restaurants, and cafes, with the waterfall pretty much on the doorstep. Stay overnight and see the falls all you like, or take a super easy day trip from Reykjavik. There's an easy path up to the viewing point at the top if you don't want to get drenched.
A Lesser-Known Waterfall in Iceland – Fagrifoss
Situated in southeast Iceland (specifically, the Lakagígar volcanic region), Fagrifoss is definitely way less famous than Skogafoss, but that doesn't make it any less cool. Part of its coolness is the getting there – especially for intrepid travelers in Iceland.
You'll need a four-wheeled drive just to get there, being situated in a remote region which will enable you to follow the off-road tracks and cross multiple river crossings. The end goal – an incredible sight of two cascades that plummet over the jagged rocks into the waterway below – makes for an alluring adventure.
Is This the Best Travel Pack EVER???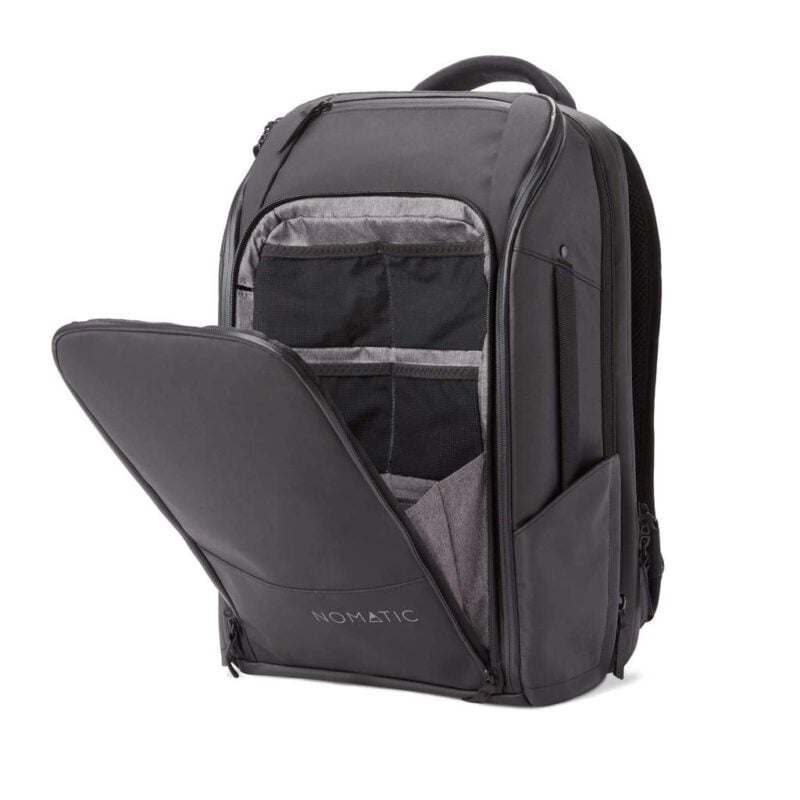 The Widest Waterfall in Iceland – Goðafoss
Set along the main road in northern Iceland, and part of the Diamond Circle sightseeing route is Goðafoss. With only a 12-meter height, the width here is the most impressive thing, as the Skjálfandafljót tumbles over the rock face for 30 meters, making it one of the biggest waterfalls in Iceland.
The name means "Waterfall of the Gods" which alludes to a legend about a local chief who threw his pagan idols into the gushing falls and accepted Christianity instead. Other sights nearby include the charming town of Husavik – known for whale watching – as well as Lake Myvatn and another waterfall: Dettifoss.
The Most Unusual Waterfall in Iceland – Denmark Strait cataract
A curveball cascade, but a cascade nonetheless, the Denmark Strait cataract is the world's largest waterfall – try 3,505 meters. The catch? It's located underwater, namely in the body of water that separates the north coast of Iceland from the south coast of Greenland.
How the heck does an underwater waterfall work? Well, it's formed when warm water cools, sinks, and then cascades over a ridge called the Denmark Cataract. Unfortunately, you won't be able to see it, but it's a further testament to just how awesome nature is in this part of the world (e.g. it's 12 times more voluminous than Victoria Falls).
The Most Beautiful Waterfall in Iceland – Gjáin
Gjáin might not be the most powerful or the highest waterfall in Iceland, but it definitely scores big when it comes to being utterly picturesque. The greenery mixing with the multiple falls that cascade into the gorge of Gjáin, as well as the basalt cliffs, really makes this place look like something out of a Tolkien-written landscape.
Well, not Tolkien, it was actually featured in Game of Thrones, so some might say close enough. It's lush, it's beautiful, and you'll find it tucked away in the natural oasis of Þjórsárdalur valley, in southern Iceland.
The Most Powerful Waterfall in Iceland – Dettifoss
Set in north Iceland, Dettifoss isn't just the most powerful waterfall in Iceland, but also one of the most powerful in Europe – second only to the Rhine Falls. The surging water of these falls starts life in the Vatnajökull glacier which feeds the Jökulsá á Fjöllum river.
What sort of power are we talking about? Dettifoss plummets 100 meters into the canyon, with an average water flow of 193m3 per second pouring across the rock face. The result is a thundering waterfall whose roaring sound is a testament to all that water. Its location on the Ring Road makes it a popular stop-off for those on the Diamond Circle.
The Best Waterfall in Iceland for Camping – Hraunfossar
Hraunfossar isn't just one single cascade but a series of waterfalls that runs out of the Hallmundarhraun lava field. Volcanic eruptions beneath the enormous Langjökull glacier give the appearance that the water comes seemingly from nowhere, zig-zagging between craggy rocks and trees.
The area around here is particularly beautiful since it's been shaped by lava flows throughout the ages, with many caves and rocky outcrops to explore. There are a number of campsites scattered around the lava fields, so you can enjoy the scenic beauty of this remote area day and night – particularly when you can see the Northern Lights.
Coolest Waterfall in Iceland – Svartifoss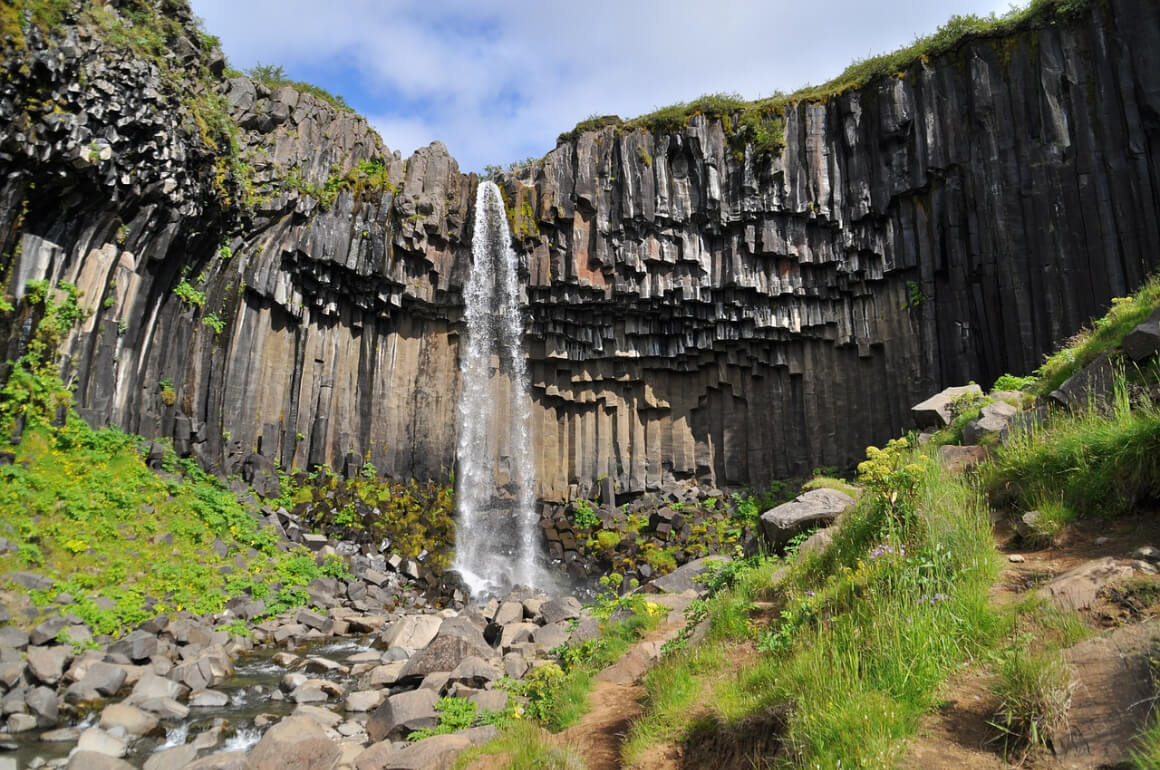 This waterfall looks like it was built rather than made naturally over thousands of years – basalt columns erupt on either side of the rushing water giving it the appearance of a crazy piece of ancient architecture. It's situated in Vatnajökull National Park, one of Iceland's National Parks, and is one of the park's most popular attractions.
The sight of the dark, hexagonal columns flanking the single 20-meter cascade has inspired both legends and modern Icelandic architecture. In particular, the landmark Hallgrímskirkja church (designed by State Architect Guðjón Samúelsson) was directly influenced by this incredible cascade. Easily one of the best, of the best, waterfalls in Iceland.
A Mythical Waterfall in Iceland – Barnafossar
While many waterfalls in this island nation have inspired tales, Barnafossar (translating to "Children's Waterfall") can boast an in-depth legend attached. It is said that two children disappeared while their parents were at church for mass at Christmas – it was found that their tracks led to the waterfall where there was a natural stone bridge, and the children's tracks disappeared.
A spell was put on the bridge by the mother – anyone who tried to cross it would fall to their death in the falls. The curse didn't last long, however, as the bridge was later destroyed in an earthquake. Regardless of the legend, it's a beautiful spot with a series of rapids cutting their way through the jagged rocks.
The Most Spectacular Waterfall in Iceland – Háifoss
This Iceland waterfall is definitely a sight to behold. Consisting of one single, powerful cascade, Háifoss is situated in the south of the country, close to the volcano Hekla. It's here that the river Fossá drops from a height of 122 meters into the gorge below making it the fourth highest waterfall in Iceland.
Hikers take note – the area around Háifoss is also a great spot for hitting the trail. There are a number of spots to trek around here, with parking also available in the area, and easily combined with visits to other nearby natural wonders.

Our GREATEST Travel Secrets…
Pop your email here & get the original Broke Backpacker Bible for FREE.
One of the Best Waterfalls in Iceland for Views – Granni
Granni is one of those nearby wonders. The neighbor of Háifoss, the name of this nearby waterfall actually comes from the word "nágranni," the Icelandic for "neighbor." Basically, if you come to see Granni, you'll see Háifoss; if you come to Háifoss, you'll see Granni.
It's a two-for-one waterfall extravaganza. Needless to say, the views out across from the opposite side of the gorge of both Granni (and Háifoss) are picture-perfect.
An Otherworldly Waterfall in Iceland – Litlanesfoss
Much like Svartifoss, Litlanesfoss is partly so amazing because of the geological structures that can be seen on either side of the powerful two-tier cascade. In fact, it's also called Stuðlabergsfoss which translates to "Basalt Column Falls." The hexagonal rock columns here are actually some of the tallest in the country and make for an almost unreal scene.
The waterfall gushes 30 meters down over these almost impossibly sculpted rocks. There's a circular hiking route that leads to Hengifoss further upstream which is also very beautiful and actually one of the highest waterfalls in Iceland.
Best Waterfall for Families in Iceland – Hjálparfoss
Situated in the same area as Háifoss and Granni, Hjálparfoss is an easy-to-access waterfall in a stunningly beautiful natural setting. This means that it is a particularly good Icelandic waterfall to check out if you're exploring the country with your children.
It's not the tallest or the widest, but with its symmetrical cascade plunging into a serene, circular pool, and the stark scenery of the surrounding lava field, you'll be glad you came. The ability to rock up and park nearby is an added bonus.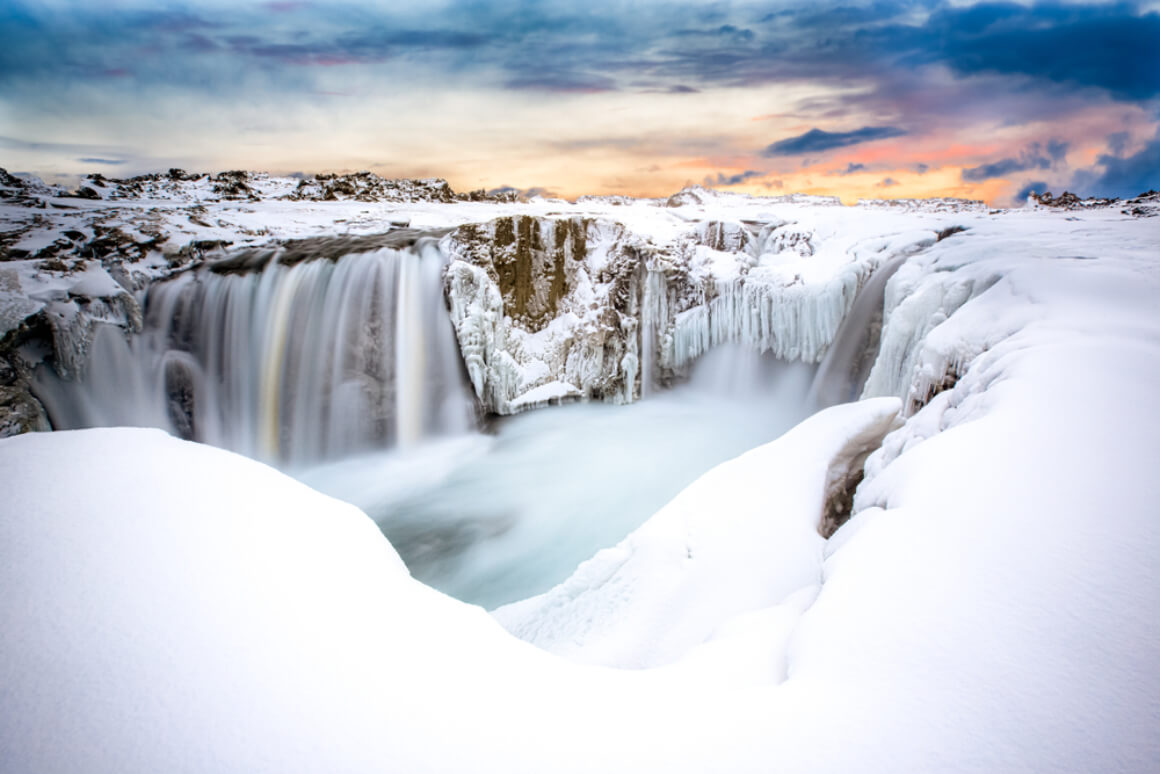 Looking for the best waterfall in Iceland but don't want to go to the most popular spots? Then you should try to reach Hrafnabjargafoss. Located in the north of the island nation, it can only be accessed via a highland road that's only open in the summer months.
The waterfall itself forms part of the Skjálfandafljót river (also home to Goðafoss, several miles away). Even when the road is open in summer, you'll still need a four-wheeled drive to get to Hrafnabjargafoss – it's that remote. However, your hard work will be paid off – think stunning scenery minus the crowds.
One of the Most Remote Waterfalls in Iceland – Aldeyjarfoss
If you are planning to make the trip to Hrafnabjargafoss, you'll pass by Aldeyjarfoss first. Like its neighbor, it's located along the Sprengisandur Highland Road but is very different in terms of looks. Here you'll see 20 meters of raging water tumbling through basalt columns into a horseshoe-shaped pool below.
As well as being one of the best waterfalls in Iceland, Aldeyjarfoss is also one of the more remote. So if you want to see a strikingly beautiful waterfall, with some incredible rock formations, but don't fancy the crowds of some of the more popular cascades, put this on your itinerary.
Best Waterfall for Game of Throne Fans in Iceland – Þórufoss
Any GoT fan will know that there are numerous filming locations for the fantasy series scattered throughout Iceland, many of which include waterfalls. None are quite as charming as Þórufoss, which is the home of the Children of the Forest (for those who don't know) from the show.
Unlike some of the other GoT locations in Iceland, Þórufoss is a little more off the beaten track. It is one of the best waterfalls in Iceland for those who want to see something more than the Golden or Diamond Circle highlights. Expect no people, which makes it like a private waterfall all to yourself. Enjoy.
Most Charming Waterfall in Iceland – Systrafoss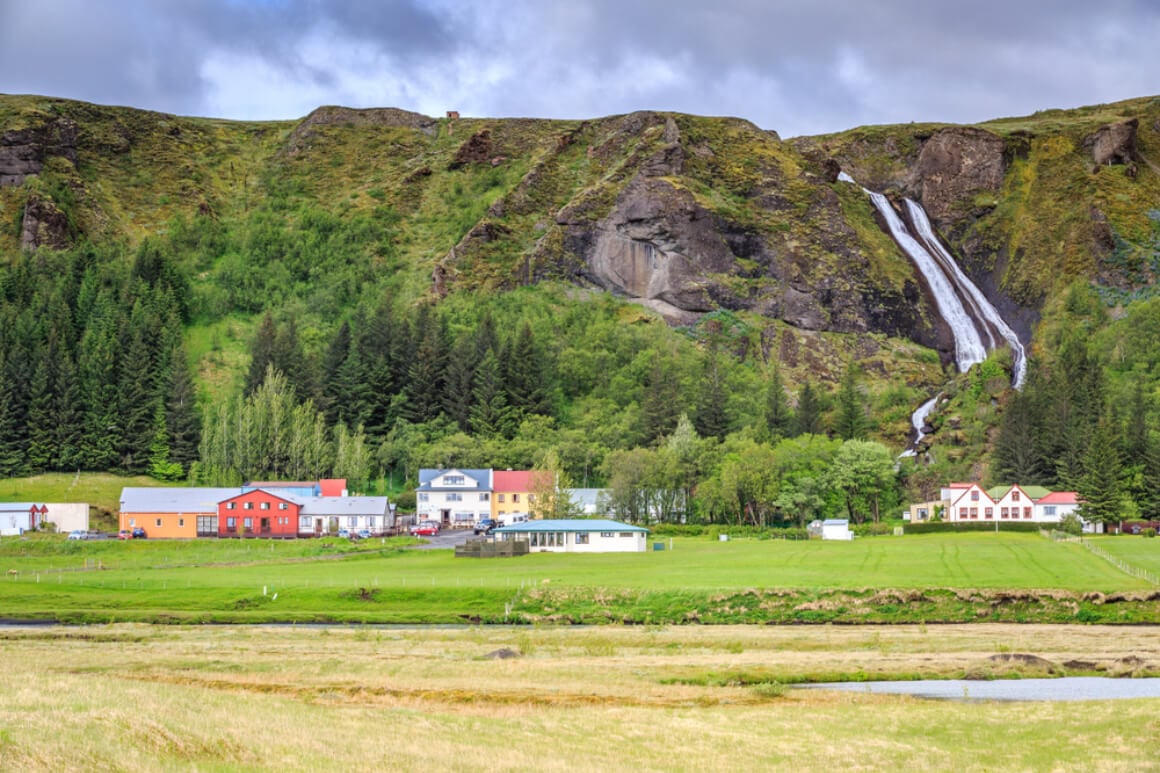 Systrafoss doesn't charge its way down basalt columns, nor does it have any title of being the most powerful or highest waterfall in Iceland, but it sure is beautiful. Set in the Suðurland region, Systrafoss ("Sister's Waterfall") takes its name from the monastery that was located nearby during the medieval period.
Today, the waterfall serves as the ever-present backdrop for the village of Kirkjubæjarklaustur, with two streams cutting diagonally across a lush hilly backdrop. It freezes in the winter, so it's strikingly different from the summer when it's an idyllic sight. There's good hiking in the vicinity, particularly around the equally bucolic Systravatn lake.
Final Thoughts
Iceland has some of the best breathtaking scenery you could imagine, and anybody who decides to take a trip to explore what this island nation has to offer is going to have one unforgettable time. It's truly a place for anybody who likes mountains and dramatic scenery.
No matter if you're on tour, or exploring by yourself in a hire car, no doubt you'll be hitting up some of these amazing waterfalls. If you want to hike, camp, take photos of them, or simply stand for a while in awe of their roaring power, Iceland's waterfalls won't disappoint.
Don't forget to sort your travel insurance! We've put together a roundup of Travel Insurance for backpackers – check it out here, or if you're low on time, get a quote from World Nomads, our favorite travel insurance provider.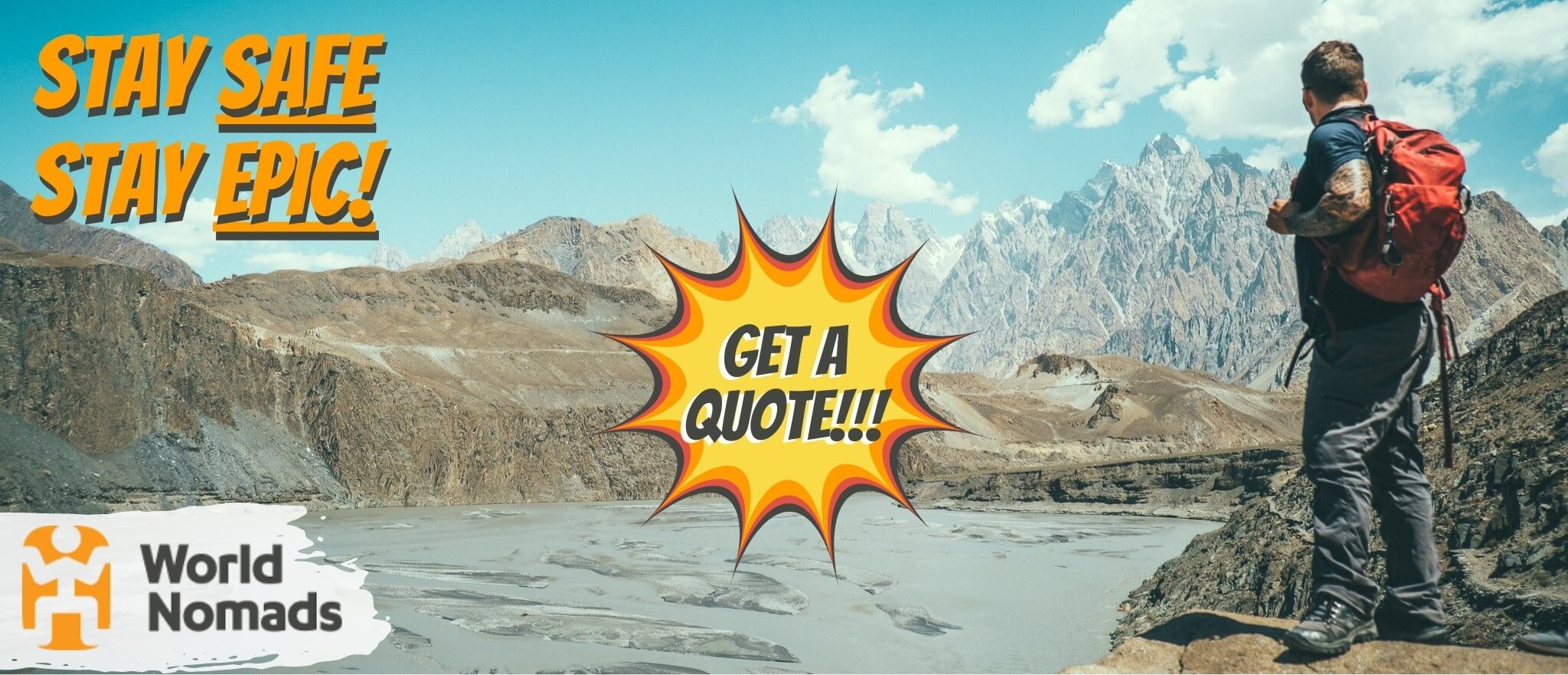 World Nomads' mission is to support and encourage travellers to explore their boundaries. They offer simple & flexible travel insurance, and safety advice to help you travel confidently.
They've been doing it since 2002 – protecting, connecting, and inspiring independent travellers just like you.
Get a quote below or read our in-depth review!
World Nomads provides travel insurance for travelers in over 100 countries. As an affiliate, we receive a fee when you get a quote from World Nomads using this link. We do not represent World Nomads. This is information only and not a recommendation to buy travel insurance.
---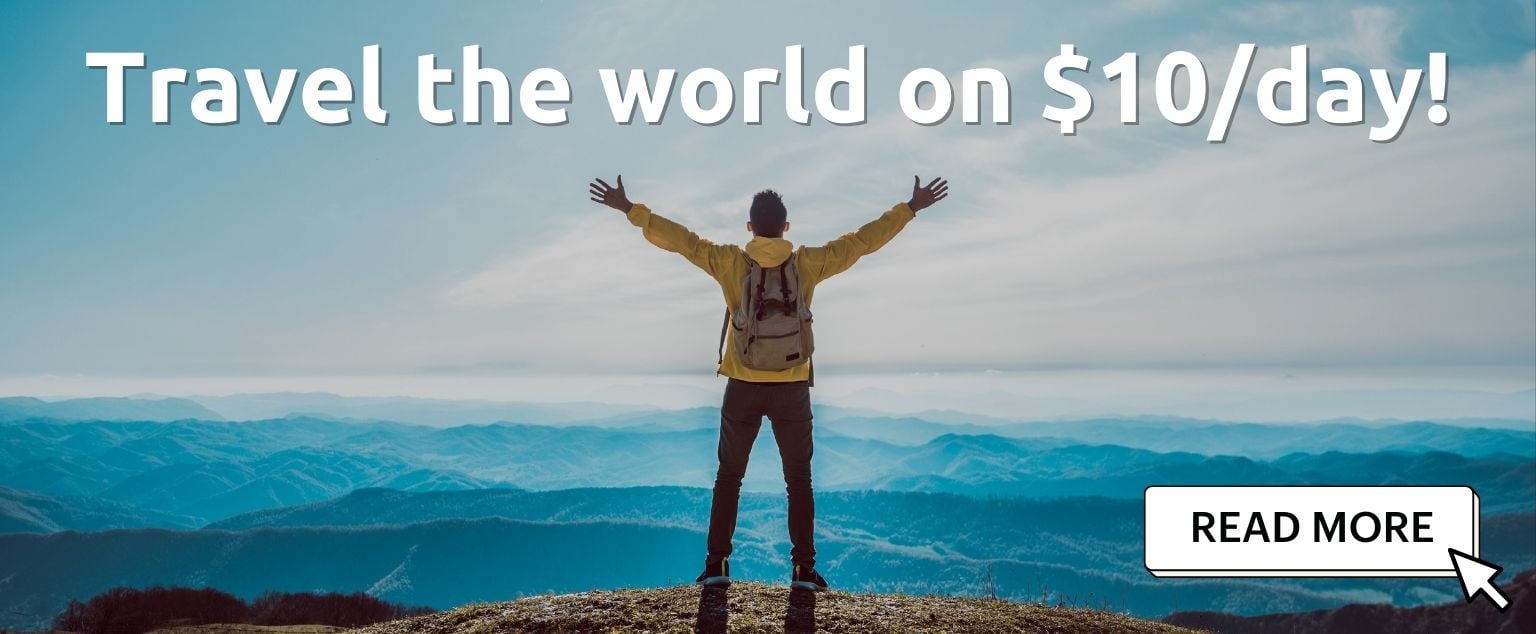 And for transparency's sake, please know that some of the links in our content are affiliate links. That means that if you book your accommodation, buy your gear, or sort your insurance through our link, we earn a small commission (at no extra cost to you). That said, we only link to the gear we trust and never recommend services we don't believe are up to scratch. Again, thank you!