Ah, waterfalls.
For me, there's no natural wonder that can top them. Never-ending cascades of water pouring down cliffs, often landing in swimmable pools. The thundering roar, the incredible scenery that always seems to surround them…basically: if a trip involves a waterfall adventure, you can definitely count me in.
The tens of thousands of falls on this globe are not created equal! 
There are waterfalls, and the then there are the most beautiful waterfalls in the world, an exclusive list reserved for the best of the best.
Famous waterfalls are found on almost every corner of the Earth. BUT: you need to know where to find them. Don't waste your time with trickles and streams when plenty of awe-inspiring cascades are just waiting to be enjoyed.
From the tallest, to the widest, to uniquely shaped wonders featuring hues that can't be found anywhere else, I've got you covered with the absolute best waterfalls in the world.
So let's go chasing waterfalls!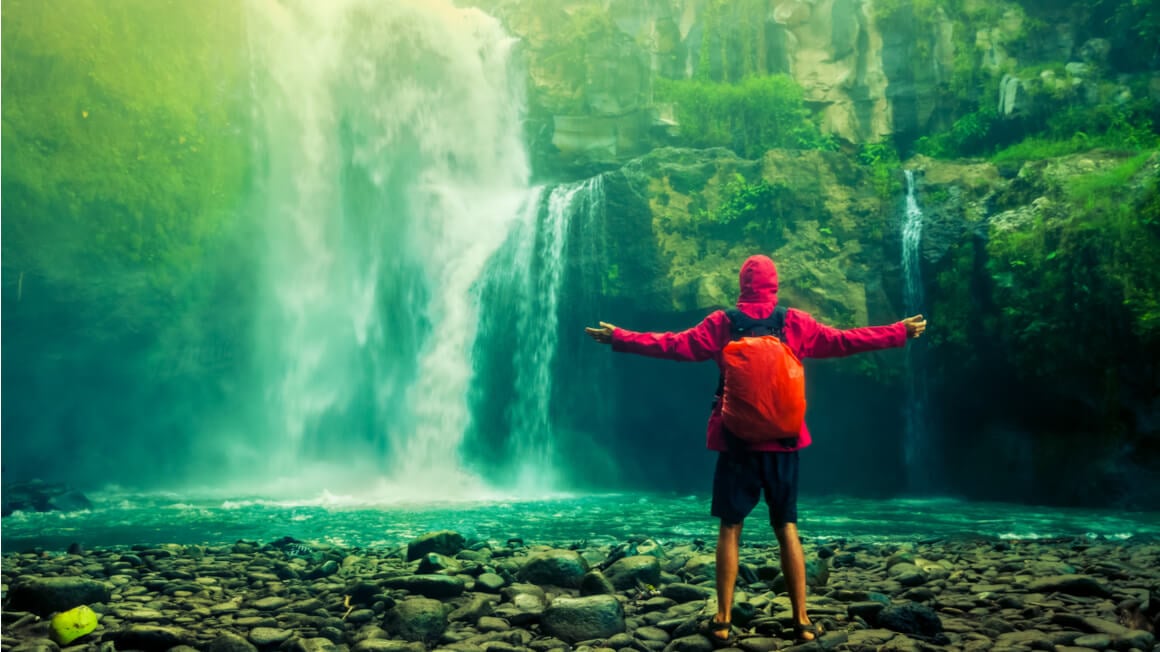 Unlock Our GREATEST Travel Secrets!
Sign up for our newsletter and get the best travel tips delivered right to your inbox.
15 Amazing Waterfalls to Visit
These are the absolute best waterfalls in the world that you HAVE to visit:
1. Victoria Falls, Zimbabwe & Zambia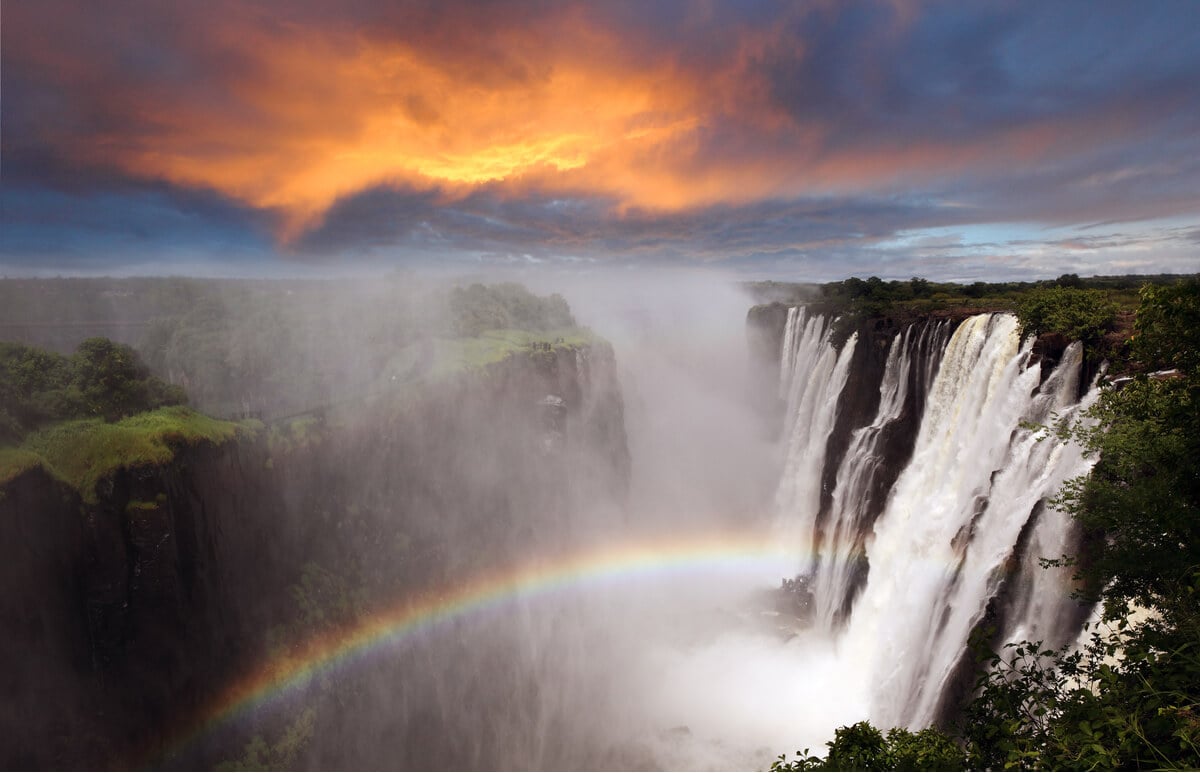 No doubt one of the most famous waterfalls in the world, Victoria Falls in Africa is a jaw-dropping natural wonder and UNESCO World Heritage Site that's shared between Zimbabwe and Zambia.
The massive falls are more than 1.7 km wide and 100 meters deep. Though far from the tallest on the planet, Victoria makes for one of the best waterfall vacations thanks to an iconic attraction located on the Zambian side.
The Devil's Pool is your chance to swim right at the edge of the falls, which is definitely one of the best adventures in the world!
2. Yosemite Falls, USA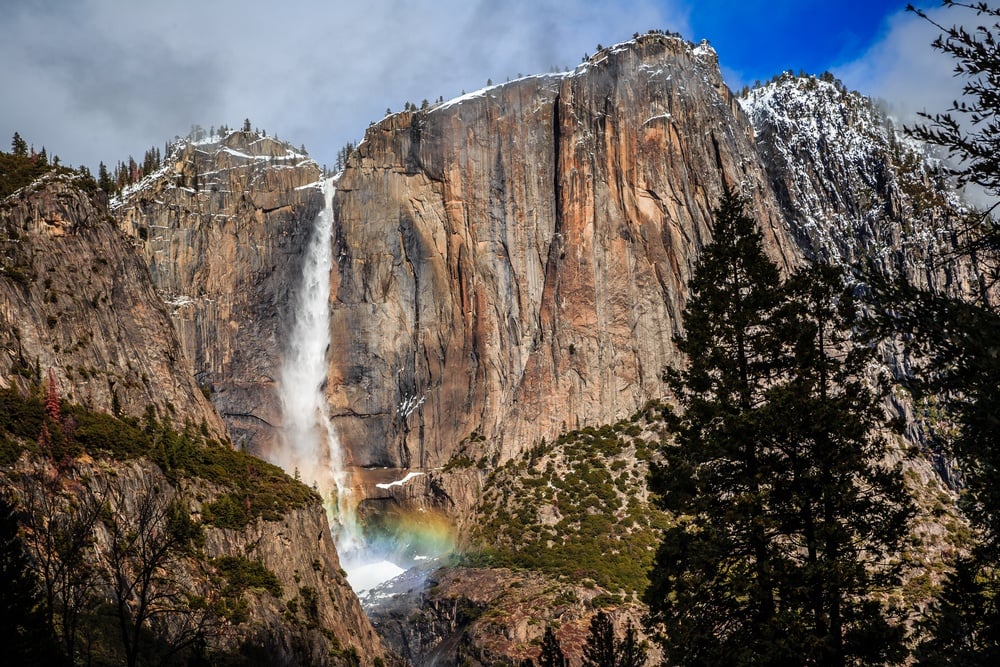 Yosemite is one of the best national parks in the US, and one of the can't-miss attractions within it just so happens to be one of the world's must see waterfalls. The soaring falls reach an impressive height of 2,425 feet and are split up into three stages that give the illusion of one giant waterfall.
Keep in mind that unlike some of the other famous waterfalls, there is in fact a "best time" to visit Yosemite: late spring/early summer! This is when it will be at its most powerful–the echoing cascade can be heard all over the park.
3. Iguazu Falls, Argentina & Brazil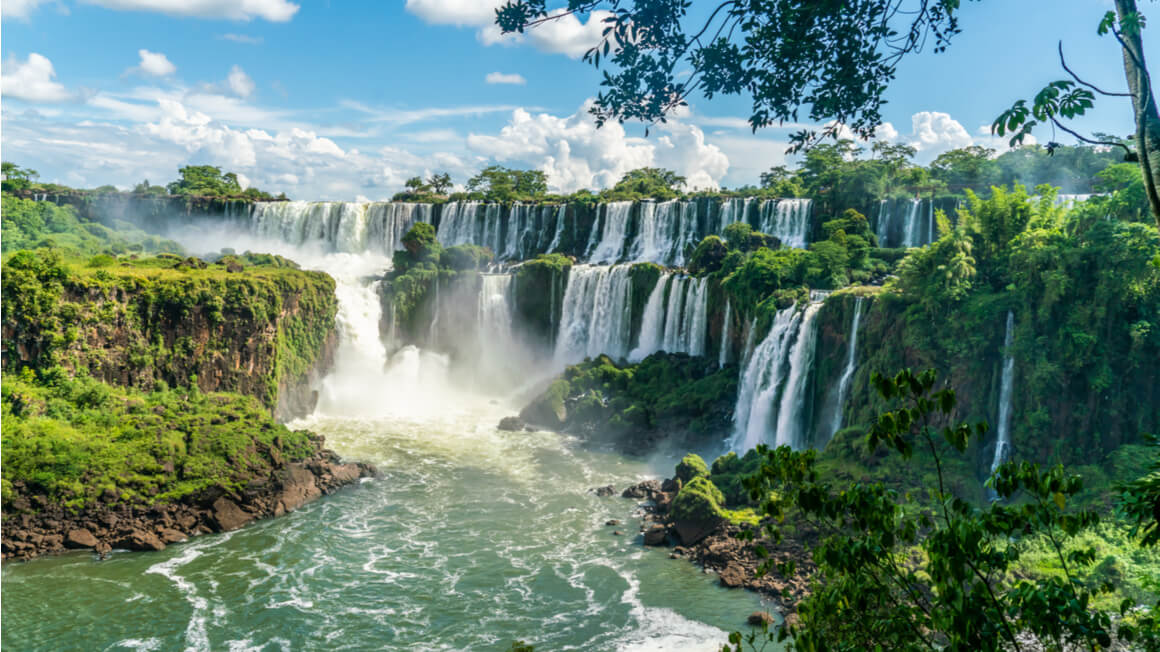 The best waterfalls in the world rarely get better than this! Straddling the border shared by Argentina and Brazil, Iguazu Falls is a massive chain of waterfalls that just so happens to be the world's largest at 5,249 feet wide.
Set in a lush rainforest, visiting the falls is a once-in-a-lifetime adventure that no South America trip can be truly complete without. The deafening sound of millions of tons of water is somehow calming, and if you get lucky, you might even be able to catch an epic rainbow.
The winter months are when you'll find Iguazu to be at its most powerful, though that does happen to coincide with the rainy season.
4. Niagara Falls, USA & Canada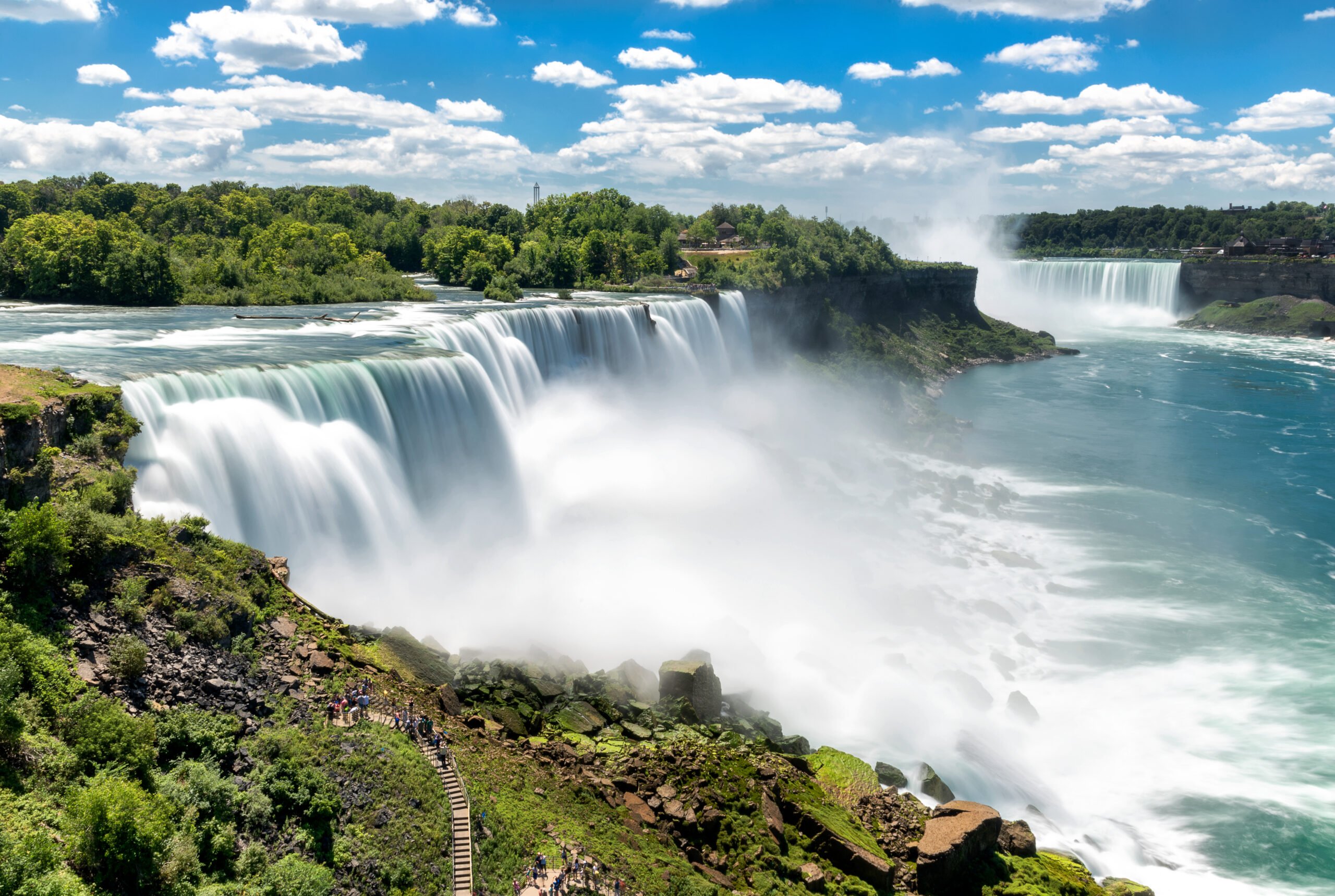 Another two-country waterfall and a household name, Niagara Falls is one of the most beautiful waterfalls in the US, though they can also be visited from neighboring Canada.
This iconic waterfall straddles the border, and actually consists of three distinct waterfalls. Of these, Horseshoe Falls is the most photographed, but that doesn't mean you should skip out on the others! The insane amount of naturally gushing water cascades down a drop of over 600 feet into the Niagara Gorge.
One reason why it's one of the planet's best waterfalls is that Niagara is a truly interactive experience. Do try to plan your trip during North America's summer season, and accept a rain jacket, because the sheer force often leaves travelers looking like they jumped right in!
5. Gullfoss Falls, Iceland
We all know that Iceland is one of the most awe-inspiring countries on Earth, so it shouldn't be a surprise that an epic Icelandic waterfall is up next.
Perhaps the most uniquely shaped out of the best waterfalls to visit, Golfoss' flow not only changes directions, but it's also multi-tiered. This natural wonder looks like a screensaver–but I promise you it's 100% real.
The name translates to "Golden Falls," which speaks to the shimmering light that often becomes visible under the right conditions. Due to heavy mist, Gullfoss is also known for its rainbows, which make for quite the heavenly sight.
Is This the Best Daypack EVER???
6. Angel Falls, Venezuela
At 979 meters or 3,212 feet tall, the incredible Angel Falls is the highest waterfall on Earth. The falls–which originate from the Charun River–flow down a distinct rocky mountain before they meet the rapids below.
What makes this amazing waterfall extra special is that it's the definition of an offbeat destination. Traveling to Venezuela requires some effort no matter where you go, but a trip to Angel Falls will push you even further into offbeat territory.
You'll have to take a flight into the remote town of Canaima, and then hop into a boat. But it's absolutely worth it–there's no doubt this is one of the most beautiful waterfalls in the world, and you'll likely find it pretty empty at that.
7. Plitvice Falls, Croatia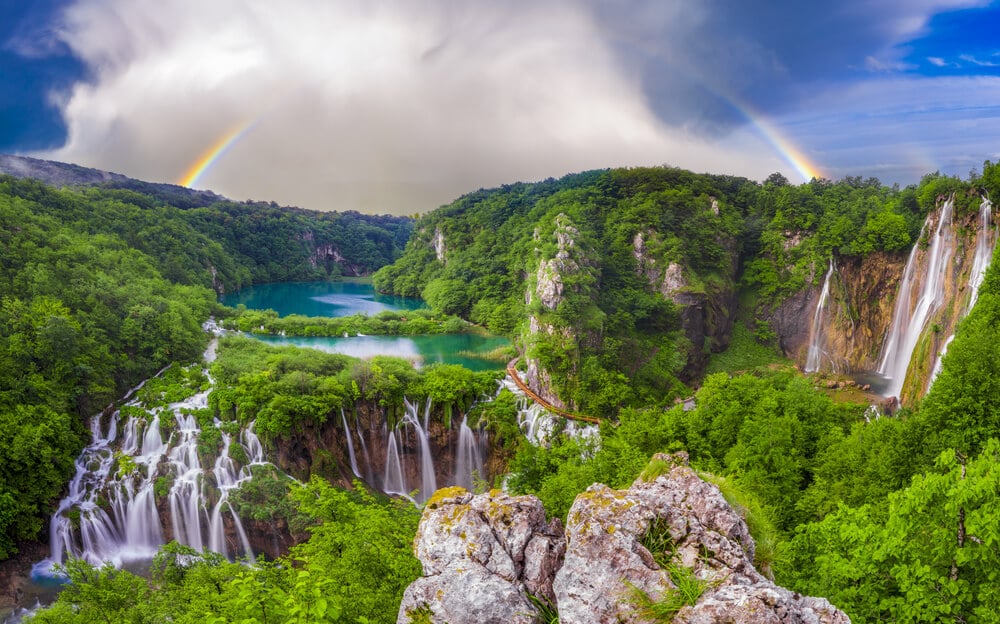 If you could just see one waterfall on your Europe trip, I'd have to recommend this one–the cascades in Plitvice National Park (one of the most beautiful Croatian national parks) are among the prettiest waterfalls in the world.
Located deep in the wilderness of Central Croatia, the falls are actually made up of 16 lakes, all shining in unique shades of blue and green. Interestingly, the largest "waterfall" is actually a river that flows into varying cascades.
Meanwhile, Plitvice is surrounded by lush greenery that contrasts perfectly with the various pools–as you continue to hike through the park, the views only get better and better.
As Plitvice is one of the most popular places to visit in Croatia, don't expect to have the place to yourself. But visiting outside of summer high season (fall is particularly grand) is an easy way to beat the crowds.
8. Tugela Falls, South Africa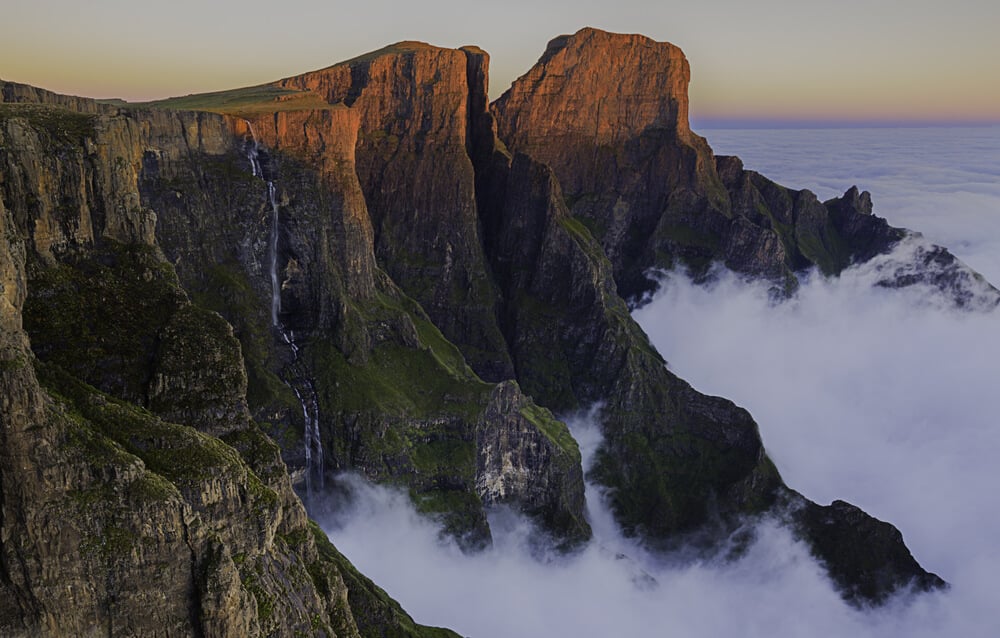 Planning to travel to South Africa?
Then don't miss the second-tallest waterfall in the world! Tugela Falls is nestled within the Drakensberg Mountains in the country's Royal Natal National Park.
Easily one of the world's best waterfalls, Tugela cascades down the greenish-red mountain range from a staggering height of 948 meters. This isn't exactly a continuous cascade though–the official height counts 5 separate falls that otherwise appear to be connected.
Fed from the Tugela River, this epic waterfall is best visited in March and April after summer rainfall.
9. Sutherland Falls, New Zealand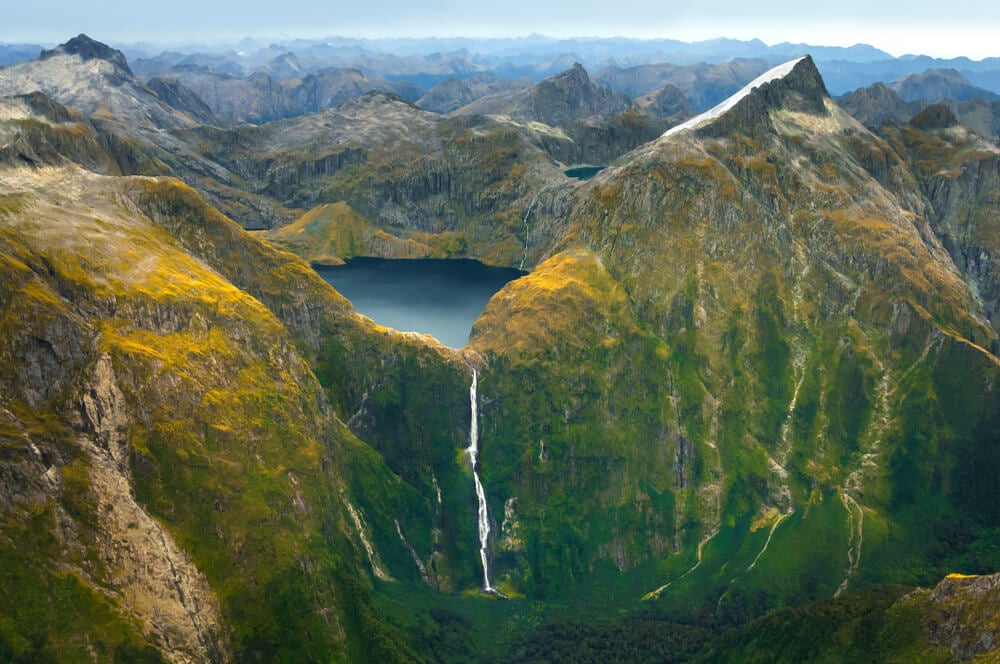 Traveling New Zealand will give you that constant "is this a screensaver or real life?" feeling. Every aspect of the country is simply extraordinary, and its amazing Sutherland Waterfall is no different.
Sourced from the epic Lake Quill, which sits snugly within some extra-planetary mountains, the falls are actually three separate cascades.
Towering 580 meters tall, reaching Sutherland Falls is no easy feat. Unlike other South Island locales, you'll have to work to see this marvel of nature.
Sometimes called "The Greatest Walk in the World," the multi-day trek is best done during New Zealand's summer months, though winter will make for a more offbeat adventure.
10. Kuang Si Waterfalls, Laos
For me, the amazing waterfalls around the world don't get better than this. Why? Because Kuang Si Falls actually permits swimming!
Located about an hour from Luang Prabang, Kuang Si is essential to any Laos trip. The unique shape and color of the falls is truly even more magical in person, and there are numerous swimming holes to choose from.
While certainly not the tallest waterfall on this list, the magic of Kuang Si is in its multi-tiered pools that don't even look real thanks to the emerald water and limestone rocks.
Save $$$ • Save the Planet • Save Your Stomach!
Drink water from ANYWHERE. The Grayl Geopress is the worlds leading filtered water bottle protecting you from all manner of waterborne nasties.
Single-use plastic bottles are a MASSIVE threat to marine life. Be a part of the solution and travel with a filter water bottle. Save money and the environment!
We've tested the Geopress rigorously from the icy heights of Pakistan to the tropical jungles of Bali, and can confirm: it's the best water bottle you'll ever buy!
View on REI
Read the Review
11. Havasu Falls, Arizona, USA
One of the best places to visit in the USA, Havasu Falls almost looks too good to be true. But rest assured that it's 100% real, though it's far from being the easiest waterfall to access.
Located on the Havasupai Indian Reservation just outside of the Grand Canyon, Havasu is the tallest of five stunning waterfalls. Only accessible via a strenuous 10-mile hike, the distance isn't the only aspect that makes it difficult to reach.
You'll have to make a paid reservation in advance, and it's certainly not cheap. But the experience of seeing a waterfall that can only be described as Gatorade Blue along with getting to experience Native American culture is worth every penny.
12. Kaieteur Falls, Guyana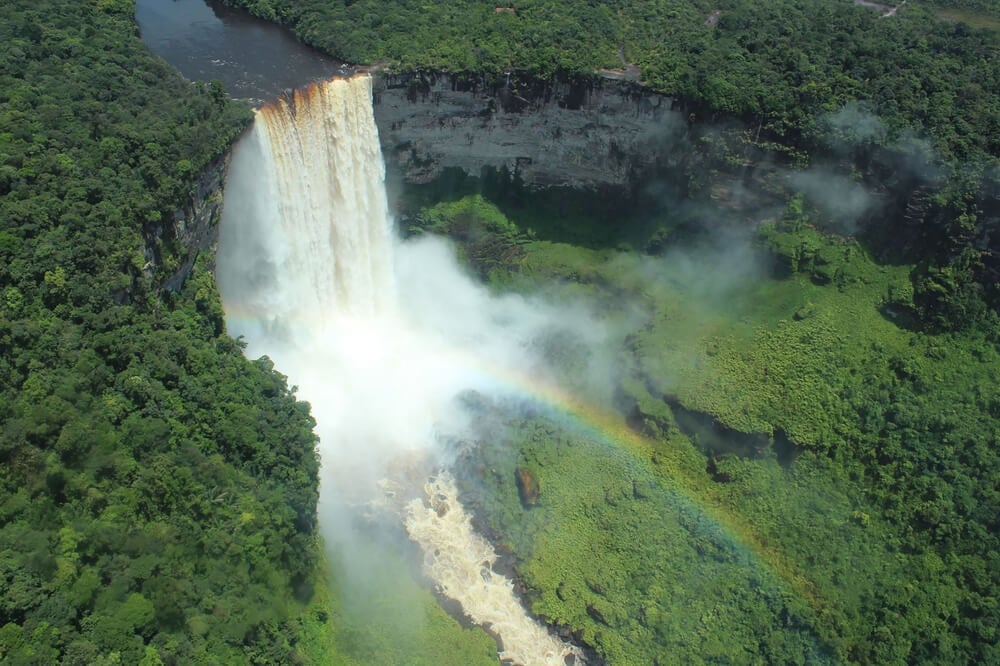 Want to see the world's tallest single-drop waterfall?
Then head to Guyana for what just be the most remote pick on the list. Set in Kaieteur National Park in Guyana's portion of the Amazon Rainforest, this is one of the most powerful falls on Earth.
At 741 feet high, Kaieteur Falls is fed by the Potaro River and looks like something out of a movie. Surrounded by lush green jungle as far as the eye can see.
To make it to this wondrous waterfall, you'll have to jump on a local sightseeing plane, followed by a 15-minute hike. The best views are definitely from the air though, so have those cameras ready!
13. Weeping Wall, Kauai, USA
The unbelievable Weeping Wall on Mount Waialeale is no doubt one of the most beautiful waterfalls in the world. Cascading down the insanely green walls of this 5,066-foot high mountain, the Weeping Wall is considered to be one of the wettest places on the planet based on rainfall.
Located on Kauai AKA the "Garden Isle," these famous falls will truly complete any Hawaii trip. Numerous falls cascade down the greenery, in a scene that looks like it's straight out of a fairytale.
The falls are best accessed via a strenuous hike, and seeing them is no doubt one of the very best things to do while staying on Kauai.
14. Ban Gioc Waterfalls, Vietnam & China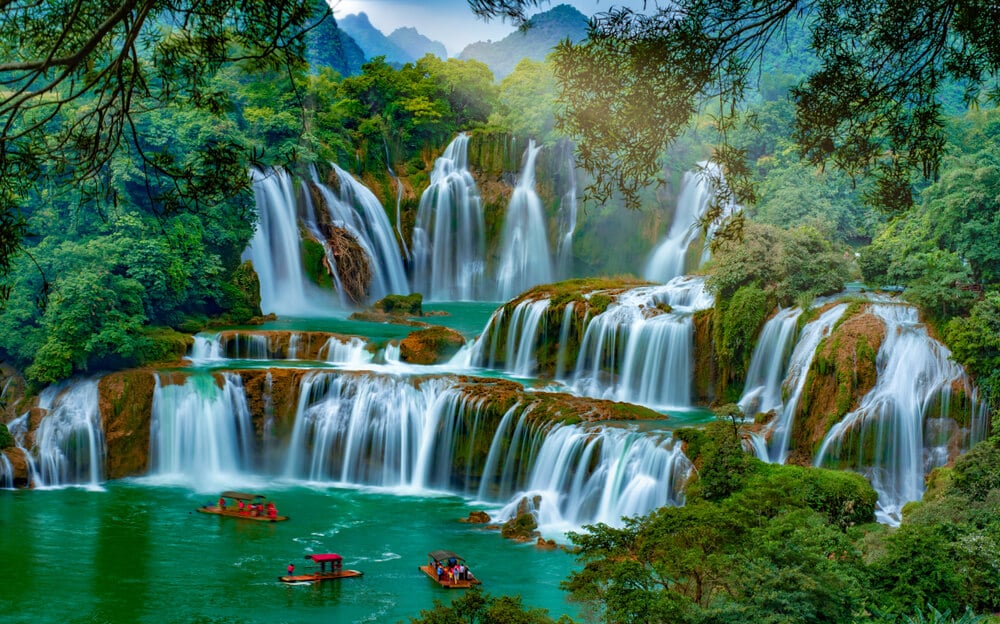 One of the most incredible waterfalls in the world is also Asia's largest, and to be quite honest, it looks like something straight out of a fairy tale!
The perfect stop on any Vietnam trip, Ban Gioc Waterfall sits along the country's northern border with China, where it's called Detian Falls. Fed by the Quay Son River, the three-tiered waterfall is no doubt at its most beautiful toward the end of the rainy season, which lasts from Mid-May to Mid-September.
The emerald-green waters combined with lush vegetation as far as the eye can see make this one of the prettiest waterfalls on Earth–photographers are absolutely going to want to pack a quality travel camera.
For the absolute best views of the falls, you can take a ride on a raft for as little as $2 to see their glory up close.
15. Langfoss, Norway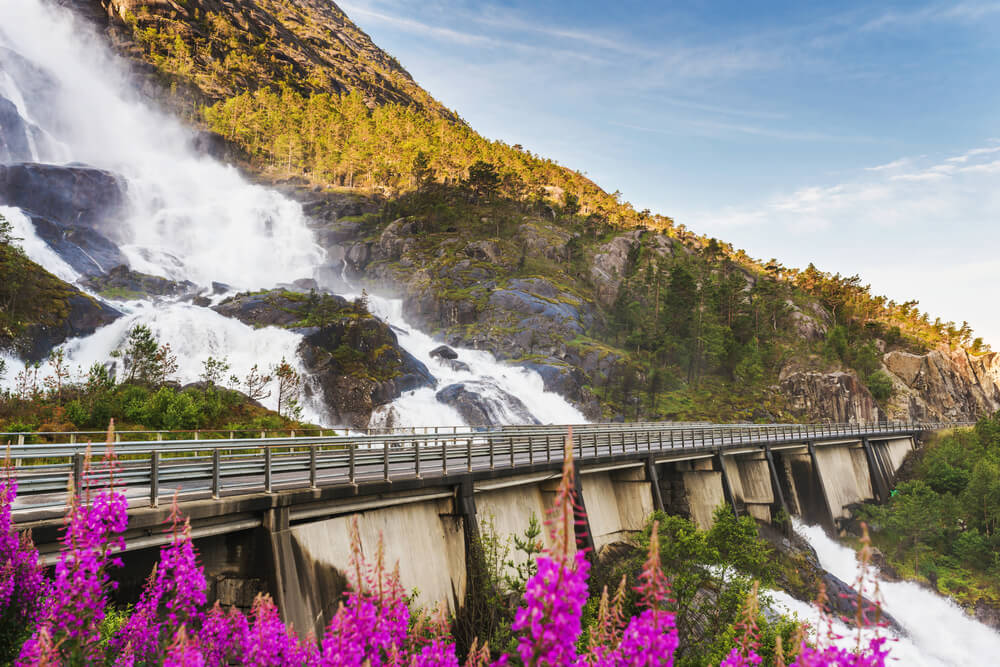 A trip to Norway is a bucket list item for many–otherworldly scenery does tend to do that, after all. So while you're exploring one of the world's most stunning countries, why not check out an iconic waterfall?
At 612 meters, Langfoss is the 5th tallest waterfall in Norway and is known for its particularly unique shape. The falls violent cascade down a mountain into the calm fjord down below.
Though easily viewed from the main road, you can get up close and personal with Langfoss thanks to a relatively easy hiking trail. The best part about this epic fall is that it's relatively off the beaten path and free from the mass tourism often seen elsewhere in Norway.
Stay Safe While Chasing Waterfalls
ALWAYS sort out your backpacker insurance before your trip. There's plenty to choose from in that department, but a good place to start is Safety Wing.
They offer month-to-month payments, no lock-in contracts, and require absolutely no itineraries: that's the exact kind of insurance long-term travellers and digital nomads need.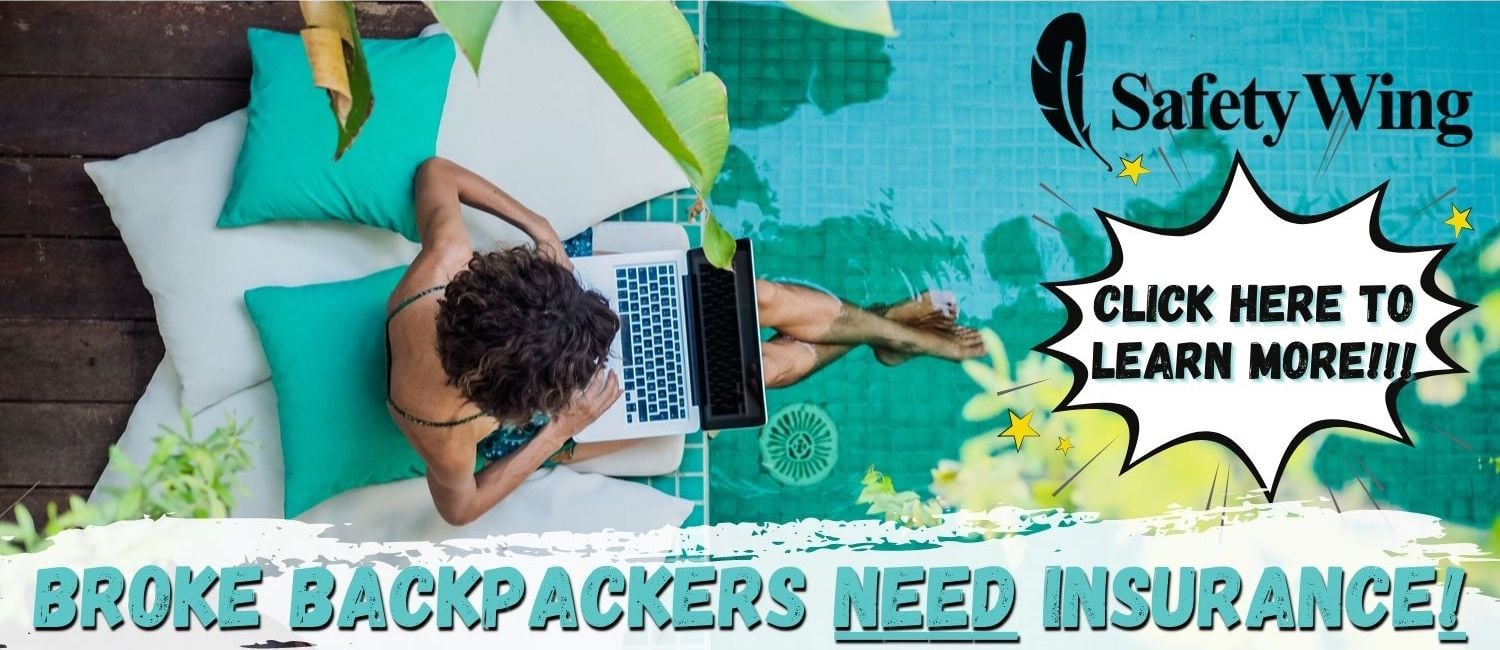 SafetyWing is cheap, easy, and admin-free: just sign up lickety-split so you can get back to it!
Click the button below to learn more about SafetyWing's setup or read our insider review for the full tasty scoop.
FAQs About the Most Amazing Waterfalls in The World
A few commonly asked questions about the best waterfalls to visit…
Wrap-Up: The World's Most Beautiful Waterfalls
Inspired to see some of the most amazing waterfalls in the world now? I can only hope so!
Each one of these famous falls has something unique to offer, and you'd for sure have a fantastic time at each and every one of them.
If I could only recommend one–though that's definitely not easy–I think I'd have to go with Victoria Falls in Zambia and Zimbabwe. The experience of swimming in what's essentially a natural infinity pool just can't be beaten if you ask me 😉
Now all that's left to do is secure your bookings and go chase some waterfalls!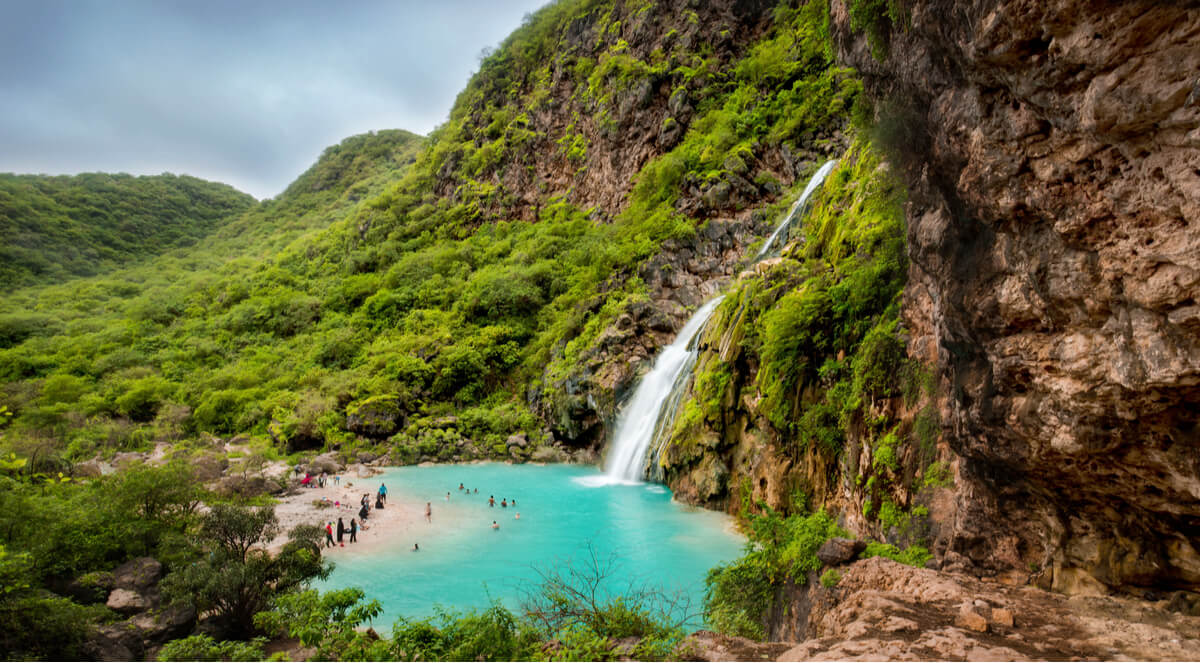 ---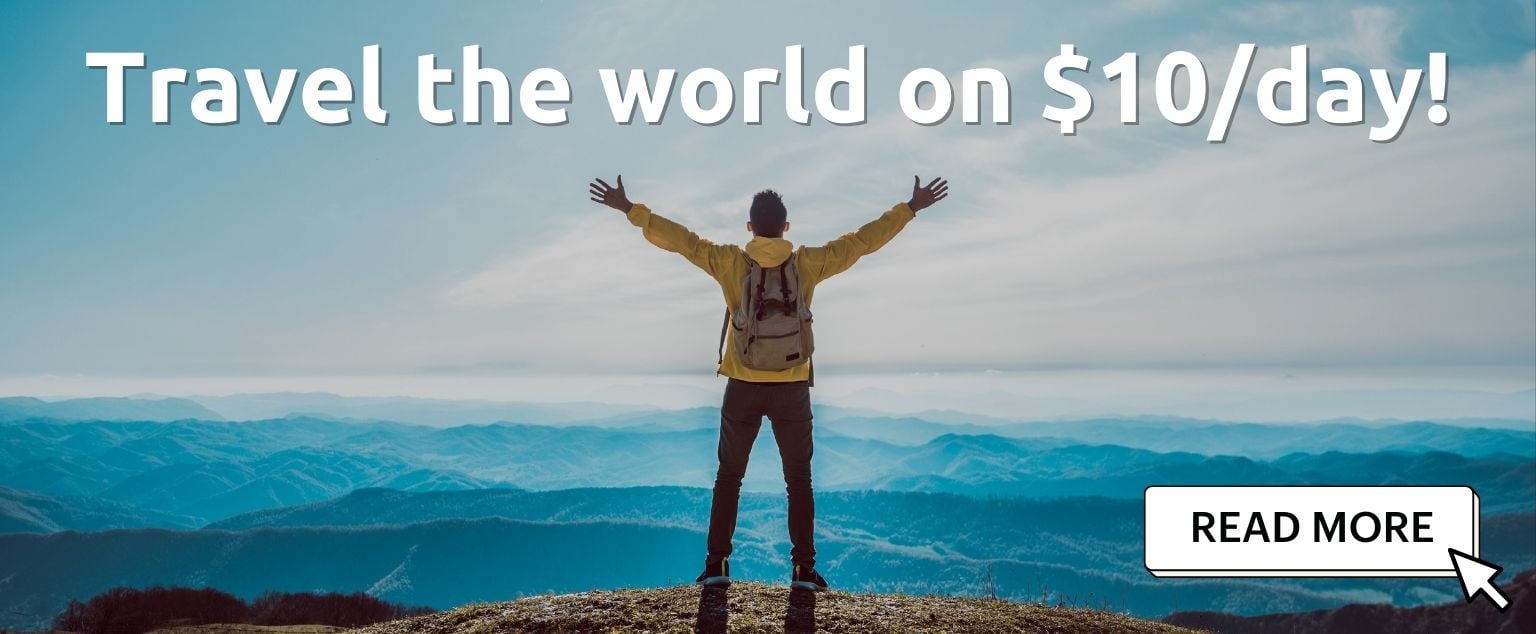 And for transparency's sake, please know that some of the links in our content are affiliate links. That means that if you book your accommodation, buy your gear, or sort your insurance through our link, we earn a small commission (at no extra cost to you). That said, we only link to the gear we trust and never recommend services we don't believe are up to scratch. Again, thank you!