I just spent over a month backpacking South Africa and had an absolute blast road tripping through South Africa's diverse regions. In a month I surfed, scuba dived, hiked, kayaked, and rock climbed my way through South Africa's dramatic topography and endless coastline. I found South Africans to be extremely welcoming and outgoing and truly fell in love with this country.
Many travellers call South Africa "Africa light" because it feels tamer than the rest of Africa, and many Western creature comforts are easily accessible. The infrastructure is modern, and most of South Africa's roads are paved and drivable with 2WD sedans. While I agree with this sentiment, I also think it's easy to visit South Africa and have a real African adventure at the same time!
If you want a rugged backpacking trip, venture away from the Western Cape and explore South Africa's wilder side. If you are looking for meaningful cultural exchanges with communities far different from your own, check out some of South Africa's remote areas, and visit communities like the Xhosa people along the Wild Coast, or the Zulu people in the KwaZulu-Natal (KZN) region.
South Africa appeals to every kind of traveller and this is a great country for backpackers. Travellers who seek adventure can trek through the Drakensberg Mountains, surf some of the world's best breaks, or bungee jump from the world's highest commercial bridge. Travellers who crave a holiday retreat can lounge on one of South Africa's many beaches, or go wine tasting throughout the Western Cape.
There are countless parks and reserves to view wildlife and spot Africa's Big 5 (lions, leopards, elephants, rhinos, and buffalo). South Africa even boasts the "Big 7" because it's possible to see great white sharks and southern white whales.
There is so much to do and see in South Africa, so I highly recommend allocating at least a month to a backpacking trip in South Africa.
Why Go Backpacking in South Africa
South Africa is a huge country divided into several diverse regions. The well-trodden backpacker route consists of the Garden Route coastline across Western Cape and Eastern Cape. Cape Town and the Western Cape are generally developed and touristy, sometimes overly so.
If you just have two weeks in South Africa and want to see South Africa's highlights, I would recommend spending a few days in Cape Town, driving through the Garden Route, and then dashing up to Kruger National Park for a few days to get a taste of one of Africa's most popular and diverse parks. If you don't want to get an internal flight or do the long drive to Kruger, there's always Addo Elephant Park along the Garden Route. It's not the most impressive, however, when you compare it to Kruger or Hluhluwe Reserve.
Another option for a two week South Africa itinerary is to skip the developed Garden Route altogether and spend your two weeks exploring South Africa's Wild Coast in the Eastern Cape, and South Africa's KZN region, home to wildlife parks, crocodile and hippo filled estuaries, mountains, and awesome scuba diving.
Deciding where to stay in South Africa can be a real struggle. To make it a bit easier for you, we've created a couple of itineraries, explaining each stop in detail, so you know what to expect.
Plus, now you won't be buying overpriced bottles of water from the supermarkets either! Travel with a filtered water bottle instead and never waste a cent nor a turtle's life again.
South Africa is a huge country, and it would truly take months to explore it. I honestly suggest a month minimum if you want to explore multiple regions, although you can tackle the famous Garden Route in two weeks.
My favorite regions of South Africa were a bit off the beaten path though, and you're going to want to allocate some time to the amazing parks to the east and north. Plus, once you get out of Western Cape, travel times can be slower.
Backpacking South Africa 3 Week Itinerary: The Garden Route
2-4 weeks: The Garden Route
The Garden Route is an iconic road tripping route that sometimes reminded me of California's coastline. This is South Africa's most popular area, and many of the Garden Route towns get overcrowded during high season (December/January).
The N2 is the highway that parallels the coastline. Most people start in Cape Town and make their way east on the N2. Along the N2, you can hit Betty's Bay, Hermanus to see whales from land. Then drive to Wilderness – a beautiful beach town, and Plettenberg Bay, which is famous for surfing dolphin spotting. Knysna is a popular, developed beach town. As you go east of Knysna on the N2, you'll hit a few more epic towns along the Garden Route, like Nature's Valley and Storm's River.
Another option is to loop around back to Cape Town via the N62. There are some awesome towns off the N62, which I found to be more scenic than the N2. You can turn at George on the coast towards Oudtshoorn, and join the R62 via Montagu and onto the Winelands.
The Garden Route is famous for some of South Africa's most iconic activities. South Africa's shark cage diving takes place around Gansbaai and Hermanus. If you want to see the Cape's wild penguins, I suggest stopping in Betty's Bay 90 minutes East of Cape Town because it's less crowded than the more famous Boulder Beach, but Boulder Beach is prettier.
You can ride ostriches in Oudtshoorn, and visit wineries throughout the N62. Bungee Jump off the highest commercial bridge near Storm's River/Nature's Valley.
If I had to choose "must-see" towns along the Garden Route, I would pick Wilderness, Storm's River, Hermanus (for the whale viewing from land!), one of the surf towns if you're a surfer (Victoria Bay or Jefferey Bay), and Montagu and the Winelands.
Backpacking South Africa 2 Week Itinerary #2: Wild Coast, Animals, and Mountains
2-3 Weeks: Wild Coast, Mountains, and Animals
There's no doubt the Garden Route is beautiful, but this itinerary is much more wild. Starting in Port Elizabeth make your way east to the Wild Coast. Coffee Bay is most popular with backpackers with some great hiking, chilled out hostels, and cheap surf.
I highly suggest hiking the wild coast in the Eastern Cape region because much of it is inaccessible by car, or requires you to drive inland to reach a nearby town (the coast is too wild to build a road near it). You can also head inland to the Southern Drakensberg Mountains for some amazing trekking.
Next head to South Africa's third largest city, Durban. To be honest, I didn't spent much time here, but you can continue east to KZN's best wildlife parks near Mozambique.
Head to iSimangaliso Wetland Park and Hluhluwe, as well as South Africa's wildest beaches and tropical coral reef, which I think are both worth visiting while backpacking in South Africa.
Hluhluwe-iMfolozi Park is home to a large concentration of rhinos, as well as all of the big cats. With an extra week, you can make the long trek up north to Kruger National Park, and fly out of Johannesburg.
Below are dozens of my favorite destinations in South Africa with some helpful information on what to do, where to stay, and how to get around!
Backpacking Cape Town
Most travellers will start or end their South Africa's travels in Cape Town, Africa's most Southern city. It's an incredible city full of culture, good food, and a fun bar scene (check out Long Street). Despite all of that, I think Cape Town's nature and outdoor opportunities are what set it apart from other cities because the city itself sits at the base of the iconic Table Mountain National Park as well as other peaks like Lion's Head. There are dozens of beaches within 15 minutes of the city center that cater to different vibes (young people, families, relaxing, surf, etc.)
It's a great city to explore for a few days. Some of Cape Town's must-do attractions are visiting Robben Island, hiking one of Cape Town's famous peaks, and chilling out at one of Cape Town's many beaches. Most people recommend checking out the V&A Waterfront, but in my opinion, it's not really worth it, especially if you're short on time. It's just a very generic, touristy marina area with overpriced food. It kind of reminds me of Pier 39 in San Francisco. Instead, photographers should check out Bo Kaap and its brightly colored homes for a more unique experience. Check out this post for info on whale watching tours from Cape Town.
I highly recommend staying in Cape Town's hip Woodside or Observatory neighborhoods. We found an affordable Airbnb cheaper than 2 dorm beds would be elsewhere.
Tip: Make sure you hike up Lion's Head for sunrise or sunset because it offers 360 degree views of Cape Town with Table Mountain in the backdrop! To find accommodation near Table Mountain, our guide of where to stay in Cape Town has plenty of amazing options.
Need help deciding between Johannesburg or Cape Town? Check out our helpful guide.
Backpacking Hermanus
Hermanus is touristy, but I really enjoyed my time here because of cliffside coastal trail. From this trail it's possible, and highly likely, you'll spot whales in season (July-November)! I think it's worth spending at least one night in Hermanus for the whale sightings alone.
Backpacking Wilderness
Wilderness was my favorite town along the N2. Sure, it's developed and affluent, but it was a great place to spend a few days. Plus it never felt crowded despite its popularity. Wilderness boasts a beautiful coastline as well as estuaries and lagoons, making this a great place for hiking and kayaking, as well as surfing.
I recommend renting a stand up paddle board, and paddling up the rivers, where the Kingfisher hiking trail parallels the river. You can also follow the abandoned railroad tracks through a creepy tunnel to a strangely cool house built into a cave. Here, an artist lives on-site devoting years to creating this multi-room art installation with seashells and knick knacks.
I recommend staying at Wilderness Beach House Backpackers for their ocean views, really nice owners, and bar area (fire oven made pizzas, included).
Backpacking South Africa's Eastern Cape
As you head into Eastern Cape towards Jefferey's Bay, a popular town known for its surf, you can also stop in Nature's Valley, Storm's River, and Coffee Bay. The farther East you go, the more rugged and wild the coastline becomes.
Nature's Valley is a laid back town near the beach. Even if you just pass through, Nature's Way Farm Stall is a must stop for morning coffee, breakfast, amazing homemade pies and pastries, and local produce.
Storms River is a great stop along the N2 between Nature's Valley and the Wild Coast due to its close proximity to Tsitsikamma National Park and Bloukrans Bridge (the famous bungee jumping bridge). There are kayaking tours up Storms River that start from the ocean at Tsitsikamma National Park. Unfortunately, you're not allowed to kayak this area by yourself, and must go on the tour.
Backpacking the Wild Coast and Coffee Bay
The Wild Coast gets its name from, well, its wild coast. Keep in mind that the N2 isn't as close to the ocean as it appears, so driving to all of the beachside towns along the Wild Coast is a trek and it's best to ensure that you've packed properly for this part of your South Africa trip. You have to drive an out-and-back, windy single lane road to get to Coffee Bay, Dwesa Nature Reserve, Morgan Bay, etc.
A lot of backpackers love Coffee Bay. It's one of the cheapest places to learn how to surf ($6 lessons with wetsuit/board rental included), and the classic Hole-in-the-Wall beach hike is scenic. If you are interested in the South African Xhosa culture, check out Coffee Bay and the Wild Coast.
If you want to see more of the Wild Coast, you can hike from Port St. Johns to Coffee Bay, and stay at backpackers or traditional Xhosa huts along the way. This is the best way to see the coast since so much of it is off-road, and the highway is 40+KM inland. The Wild Coast hike takes about 5 days at a 12KM per day pace. There are tour companies that offer guides, shuttle services, and luggage transport; you don't have to carry camping equipment since you stay in huts/backpackers.
Backpacking Montagu off Route 62
Route 62 is inland, and often passed up for the N2 Garden Route, but don't miss it! There is spectacular scenery here, like Montagu's mountain passes, dry valleys, fertile wine country, and the Little Karoo desert.
Montagu was one of my favorite places along the garden route because of its hundreds of rock climbing routes. Justin Lawson is the local rock climbing expert, and Montagu's go-to rock climbing guide, teacher, or gear rental hook-up.
And if you're not a climber, Montagu has a lot of hiking opportunities throughout the canyon, like the Bloupunt Trail (16KM).
Montagu isn't on Hostel World, but there are a few farms that offer campsites and rooms for accommodation. I loved De Bos Farm, which is walking distance from most of the trailheads. Camping costs $6 per person, and the farm itself was beautiful! If you don't feel like cooking your own breakfast, The Barn on 62 has the best coffee and omelets.
Backpacking Kruger National Park
Kruger is one of Africa's most famous national parks, and South Africa's biggest. Here, you will find Africa's Big 5: lions, leopards, rhinos, elephants, and buffalo, along with countless more of the world's most beautiful animals throughout three different Game Reserves.
What makes Kruger National Park special is its vast network of roads that allow visitors to self-drive the national park. This definitely isn't possible in parks of this scale in East Africa, which is why those safaris can be so expensive.
On that note, I recommend looking into a one day guide in Kruger if you want to learn more about the animals and plants in the area. They also know the animals' patterns and the best places to view them, and they offer specialized safaris, like leopard tracking.
If you are backpacking Kruger, you're out in the bush. Accommodation is either super luxurious and expensive, or pretty basic bush camps. There are a couple options on Hostel World, but I recommend looking up campsites on Google for more options.
Backpacking the Drakensberg Mountains
The Drakensberg mountain range spreads throughout the Eastern Cape, KwaZulu-Natal, and the Free State. The Lower Bergs are near the Sani Pass, a road that leads into neighboring Lesotho's mountains, and requires a 4WD high clearance car. The central bergs are known for Cathedral Peak, Cathkin Peak, and Monk's Cowl. There are a ton of day hikes around these peaks. It's also possible to summit them if you are in extremely good shape, and trek around on multi-day hikes.
My favorite hike to the top of Sentinel peak is located in the far north in Free State, South Africa. It's about 12KM hike, out-and-back, and requires a climb up steep hills, and metal ladders. The views at the top of Sentinel Peak are absolutely spectacular.
Additional reading – Check out Drakensberg's best neighborhoods to stay in!
Backpacking the KwaZulu-Natal (KZN) Region
KZN is home to South Africa's third largest city, Durban. This region stretches from the Drakensberg Mountains to the area bordering Mozambique and Swaziland, and it's much less known than other areas in South Africa.
KZN hosts a few of South Africa's coolest parks: iSimangaliso Wetland Park and Hwlulwe, as well as South Africa's wildest beaches and tropical coral reef, which I think are both worth visiting while backpacking in South Africa.
iSimangaliso Wetland Park protects 5 ecosystems ranging from oceans to lakes to wetlands, and is home to hippos, crocodiles, turtles, and whales – all accessible through drives, river cruises, and kayak safaris.
Hluhluwe-iMfolozi Park is one of Africa's best parks to see rhinos and hippos, and it's possible to see the Big 5 here. The park is also known for its variety of landscapes, hills, and hiking trails. We saw plenty of giraffe, impala, and zebras as well as the biggest elephants I saw in Africa! Unfortunately, its high concentration of rhinos, mostly unprotected, make this park one of rhino poachers' most targeted reserves…
Like other remote areas in South Africa, there aren't many options on Hostel World. You will have better luck using Airbnb.
Here are my top 5 favorite things to do in KZN.
Backpacking Cederberg
Cederberg is home to some of Africa's clearest night skies and coolest rock formations. We could see the milky way clear as day just 2 hours after sunset! If you're backpacking South Africa, be sure to spend 3-4 days exploring Cederberg. Climbers will rejoice at the the hundreds of bouldering and bolted routes here, and I think the landscapes are so incredibly unique to South Africa.
One of the main campsites, Sanddrif, has a winery with a tasting room, and a brewery. Their astronomy tower is open on Saturday's. The campsites here are wonderful, but you have to bring all of your own equipment (sleeping, cooking, etc.).
If you're travelling without car camping equipment, like I was, there's a backpacker 20 minutes up the road called Cederberg Oasis with amazing staff that give the best local advise.
Be sure to hike Wolfberg Arch and Maltese Cross because the rock formations and landscapes are epic, and check out the Stadsaal Caves, where you can see ancient hunter-gatherer (bushmen) cave paintings. If you want to camp overnight along the hiking trails or park areas, you'll need to grab an overnight permit in town. We were the only campers on Maltese Cross, and it was totally worth it.
Backpacking the Winelands
The most famous Wineland towns in South Africa are Stellenbosch and Franschoek, just an hour's drive from Cape Town, and accessible from Cape Town by train. There are dozens and dozens of wine estates, wine tasting rooms, and great restaurants throughout Winelands. Some tastings are free, but the most expensive tastings are around R120 ($9ish USD) per person. (Most wineries waive the tasting fee if you buy a bottle of wine.)
For the best views, check out the wineries Uva Mira and Ernie Els in Stellenbosch. If you have a car, drive out to Fairview Farm for amazing cheese/wine pairings, and its locally produce farm stall and restaurant. For an Artisanal Salt and Wine pairing experience head to Die Bergkelder. On the way, you can stock up on high quality picnic goodies, like cheeses and jams, for a decent price.
Drive along Route 62 through Huguenot Tunnel for two hours to reach Robertson Wine Valley. For a unique experience head to South Africa's popular Brandy Distillery for a tasting of Klipdrift.
South Africa's Winelands are much more affordable than say, France, Italy, or California, yet the wine is world class and the scenery is just as beautiful. You can't beat free wine tastings or an average $4USD.
Backpacking Johannesburg
I didn't get around to exploring Johannesburg while backpacking South Africa because I was short on time, but to be honest, Jo'Burg doesn't have the best safety reputation. The wealth division is stark, and crime and car jacks are statistically high. Still, it's one of South Africa's most well known cities, and there are a lot of cool museums, restaurants, and areas to explore. There are also plenty of hostels in Johannesburg where you're bound to meet an awesome backpacker crowd.
The Apartheid Museum is an important museum, which will help travellers understand South Africa's era of segregation and oppression. Maboneng is a creative, innovative neighborhood with cool cafes and modern galleries.
Jo'Burg's safety just depends on the specific area you are in. There are some areas/neighborhoods that most South Africans avoid, and others that are fine. I think there could be a lot of cool, edgy aspects of this city. If you've been before, comment below with any suggestions!
Additional reading – Check out Johannesburg's 5 best neighborhoods to stay in!
Getting Off the Beaten Path in South Africa
Whilst there are so many places to stay in South Africa, it's pretty easy to get off the beaten path while backpacking South Africa, but it's going to require your own wheels. Basically, just get as far away from Cape Town and the Garden Route as possible. If you want to visit more remote areas of South Africa check out the KwaZulu-Natal (KZN) region, Northern Cape, Limpopo, or Mpumalanga. These are all lesser visited states in South Africa.
If you want wide open spaces and empty beaches, check out Kosi Bay close to the Mozambique border, and West Coast National Park west of Cape Town.
If you want total desolation, empty roads, wilderness, and the most impressive starry skies, head North. There are also some cool spots to visit in the NorthEast part of South Africa like Blyde River Canyon (the world's third largest canyon), or Mapungaubwe National Park, a park as much about history and archaeology as wildlife. Kgalagadi Transfrontier Park, alongside Namibia and Botswana, is known for its big cats, including cheetahs and black-maned lions.
If you are backpacking South Africa during spring, be sure to hike around Namakwa in the Northern Cape, known for its colorful wildflowers, and less crowded than the National Parks in Western Cape.
South Africa has a lot of "must try" experiences you're not going to find anywhere else in the world.
1. Go Whale Watching
While I was backpacking South Africa, we saw dozens of whales from the coastlines. There are several areas to go whale spotting, as I will highlight below.
2. Ride an Ostrich in Oudtshoorn off of Route 62.
Here you have plenty of options, from day hikes to week-long camping treks.
4. Bungee Jump off the 216 meter high Bloukrans Bridge near Storm's River
5. Spot African Wildlife
South Africa is one of the six countries in the world where you can find the big 5 (lion, leopard, rhinoceros, elephant, and cape buffalo). There are countless private reserves and parks in South Africa. The most famous national parks and reserves are: Kruger National Park has all of Africa's most famous animals, Kgalagadi Transfrontier Park has black-maned lions and cheetahs, Hluhluwe-iMfolozi boasts a high concentration of rhinos, and Addo Elephant National Park on the Garden Route has some of the world's best elephant viewing.
6. Hang Out with Wild African Penguins
Located just one hour from Cape Town City center, Boulders Beach is one of the few sites in the world where you can see wild African Penguins in a protected natural environment. The Beach is open throughout the year and it tops our list of the best places to visit in Cape Town! Entry is $11 for foreign nationals and $2 for South Africans. Visitors are not allowed to touch or swim with the Penguins.
7. Surf and Hit the beach
There are 2,500 KM of coastline from Cape Point upwards, and plenty of tropical like beaches in the KZN region. If you are after rugged cliff sides, check out the area between Nature's Valley and the Wild Coast. Cape Town has a ton of beach options, which can be a lot of fun during summer time.
8. Star Gaze under South Africa's vast Open Skies
9. Go on a Road Trip
Home to some of the most unique festivals in the world, South Africa has a bunch of epic events to choose from that will become stand-out moments in your trip.
South Africa has a great "backpackers" culture that caters to budget travellers. In South Africa, hostels are called backpackers. Most of these backpacker hostels have campsites, as well as dorm rooms and private rooms to cater to every budget. In particular, Cape Town has some of the best hostels in South Africa.
I found that most campsites cost about 90-120 Rand ($6.50-9 USD), and dorm beds were anywhere from $13-$20 USD. Private rooms were significantly more, often triple the cost of a dorm bed.
There is a Couchsurfing community here, but it's not as large or as active as in Europe. It's also not advisable, or legal, to camp in the wild (or on the side of the road). Late night crime is a problem in South Africa, and there are plenty of wild animals out in the bush. You're better off camping at the backpackers, where you get full-access to the backpackers' amenities (kitchen, events, etc.)
South Africa also offers little homes away from home in from of guesthouses. Especially perfect for the homesick traveler, it'll make you feel safe, welcome and like you're a part of the local community. Theere are plenty of great guesthouses in South Africa, but we've found the best and authentic ones to be in the smaller cities.
The Best Places To Stay in South Africa
I think budgeting $40 a day will make for a comfortable backpacking experience if you want to participate in some of South Africa's unique experiences, like wildlife viewing and hiking. You can budget less if you are willing to camp the entire time.
The easiest way to limit your budgeting costs is to focus on one or two regions in South Africa because this is a big country, and transportation/gas will be your biggest expense. The food costs here are quite reasonable, especially if you are cooking for yourself.
A Daily Budget in South Africa
If you're on a reaaalllly tight budget, it would be possible – though extremely difficult – to backpack South Africa on a budget of around $10 a day if you cook for yourself, and hitchhike with other travellers and volunteer. Other exchange programs offer a lot of opportunities in South Africa.
Check hostel boards and World Packers for work exchange opportunities.
Money in South Africa
South Africa uses their own currency called the South African Rand. As of December 2017, the current exchange rate is 13.75 South African Rand to 1 USD.
Bring USD cash for exchange if possible. Euros/Pounds are fine for money exchange in South Africa, but many other countries in Africa will only accept USD, and actually prefer it to their local currency (since many currencies in Africa are so unstable). If you plan to travel onwards, keep in mind that most countries in Africa will only accept USD for visa fees.
You can find ATMs pretty much anywhere while backpacking South Africa. You should always have some emergency cash hidden in multiple places. I like to spread my money out (daypack, backpack, hidden spots, etc.).
South Africa is unfortunately notorious for theft, so you should always have some emergency cash hidden on you, and Will has written an entire post linked below.
If you need to transfer money internationally, use Transferwise, it's the fastest and cheapest way to move money around when travelling.
Travel Tips – South Africa on a Budget
Bring a tent and sleeping bag: Camping is easily the best way to save money in South Africa. Check out this post for a breakdown of the best tents to take backpacking.
Cook your own food: This is kind of a no brainer for travelling in general, but all of the backpackers we stayed at had fully equipped kitchens.
Whale watch from land versus boat tours! We saw whales and dolphins from land multiple times. You can actually see whales better from a higher perspective along the cliffs of Hermanus, De Hoop Nature Reserve, and stops along the coastal routes near Cape Town than from boats and kayaks
Ride Share: Split the cost of gas/car rental fees. Purchase the rental insurance with RentalCover.com and save even more money!
Pack a travel water bottle and save money every day! For more filtered water bottle options, check out this article.
Why Should You Travel to South Africa with a Water Bottle?
Plastic washes up on even the most pristine beaches… so do your part and keep the Big Blue beautiful!
You aren't going to save the world overnight, but you might as well be part of the solution and not the problem. When you travel to some of the world's most remote places, you come to realise the full extent of the plastic problem. And I hope you become more inspired to continue being a responsible traveller.
STOP USING SINGLE-USE PLASTIC! If you'd like some more tips on how to save the world.
Plus, now you won't be buying overpriced bottles of water from the supermarkets either! Travel with a filtered water bottle instead and never waste a cent nor a turtle's life again.
There isn't a bad time to visit South Africa because every season offers something unique and wonderful.
Winter: Winter takes place from June to August. The waters are coldest during this time, especially on the Atlantic side. Inland and Northern Cape temperatures are comfortable for hiking. Many wildlife parks are in their cooler, dry season. This is the best time to visit if you want to see whales (June-November)! August also marks the beginning of South Africa's short-lived wildflower season.
Spring: Shoulder season in South Africa takes place from September-November. This is a great time to visit because you can catch the end of wildflower and whale watching season without the crowds, and the weather and water start to warm up towards the end. Many of the parks are at their driest, making it easier to spot wildlife.
Summer: December/January is high season in South Africa. It's going to be more expensive and crowded during this time, but if you're a surfer, want to sun bathe, or like to party, this is the best time to backpack South Africa. This is the best time to visit Cape Town and other areas in Western Cape if you're after the sun! On the other hand, the desert, Cederberg, KZN, and Durban are uncomfortably hot.
Fall: March through May is the best time to go hiking in the Drakensberg Mountains, where temperatures are comfortable and the hills are at their greenest. April is also when AfrikaBurn takes place (like Nevada, USA's Burning Man).
What To Pack For South Africa
Car jacks and armed robberies are somewhat common in South Africa, especially in the cities, so it's important to use common sense while backpacking South Africa. Check out Backpacker Safety 101 for tips and tricks to stay safe whilst backpacking, and pick yourself up a backpacker security belt to keep your cash safe on the road.
Keep your windows rolled up and car locked at intersections, and try to park your car near a security guard (they are usually wearing bright yellow vests, and tip $1-2).
Enjoy South Africa's nightlife, but never walk alone at night. Make sure to stay in a group, and honestly just avoid the streets after 2am. I met quite a few travellers who were mugged after this time.
Understand that the cities, especially Jo'Burg, have neighborhoods notorious for being extremely dangerous. Just avoid walking in these areas altogether, and use Uber instead. Ask your hostel management and locals which neighborhoods are less safe to visit.
Tip: Never let anyone assist you at ATMs. This is a well used scam, where someone steals your PIN and card. We met a couple travellers this happened to along the Garden Route.
Our Is South Africa Safe? post is well worth 15 minutes of your time.
Sex, Drugs and Rock 'n' Roll in South Africa
South Africans love their beer, and it's easy to find a party anywhere. Castle and Black Label are the most popular beers in South Africa, but the microbrew trend is becoming more popular throughout the country. You can find craft brews and ciders pretty much anywhere.
Wine is also extremely popular, and affordable here since South Africa makes amazing wine! Dry whites are especially good in South Africa, so try the signature Pinotage (a grape that only grows in South Africa).
Party drugs are prevalent in cities like Johannesburg and Cape Town. It is not a criminal offence for an adult citizens to use, possess or grow cannabis in private for personal consumption. You can find nightclubs open until sunrise in Cape Town, Durban, Jo'burg, Port Elizabeth, etc.
All of the cities cater to all the night life varieties: Raves, pubs, jazz clubs, wine bars, and breweries; you name it.
Travel Insurance for South Africa
ALWAYS sort out your backpacker insurance before your trip. There's plenty to choose from in that department, but a good place to start is Safety Wing.
They offer month-to-month payments, no lock-in contracts, and require absolutely no itineraries: that's the exact kind of insurance long-term travellers and digital nomads need.
SafetyWing is cheap, easy, and admin-free: just sign up lickety-split so you can get back to it!
Click the button below to learn more about SafetyWing's setup or read our insider review for the full tasty scoop.
You can fly into South Africa via its two international airports: OR Tambo International Airport (Jo'Berg) and Cape Town International Airport.
If you are backpacking South Africa overland as I was, there are several land border crossings from South Africa's neighboring countries: Namibia, Botswana, Zimbabwe, and Mozambique, which I cover in the Onwards travels from South Africa section at the bottom.
Entry Requirements for South Africa
Travellers from most Western countries can enter South Africa with a free 90 day visa on arrival. This applies to most European countries, USA, Australia, New Zealand, Canada, Japan, and the UK.
As always, make sure you check your passport for the right stamp and dates, especially at land crossings! I was given a 30 day visa at the Zimbabwe border by mistake, which almost led to a dicey detainment at the airport, but that's another story.
When backpacking South Africa, you may be asked to show your yellow fever vaccine certificate if you have recently travelled in a yellow-fever area, so make sure to have it on hand!
This country is built for road tripping, and the easiest way to get around is with your own wheels. Having your own car will give you the freedom and flexibility to explore South Africa as it was meant to be explored. There are a lot of remote areas and parks worth visiting in South Africa that are hard to get around via public transportation. You can rent a 2wd manual transmission for as little as $10/day. Split between a couple or more, renting a car in South Africa is quite affordable.
If you plan to drive around Africa for more than a couple months, you should look into buying a car. Jo'burg is going to be one of the cheapest places to buy a car.
Traveling in South Africa by Public Transport
Intercape and Greyhound are the most comfortable bus companies for long distance travel between South Africa's major cities and towns. As for local transport, there are bus services in all of South Africa's cities, and minibus taxis that run almost everywhere (stopping in the middle of the highways to pick people up).
Backpackers in the Western Cape, Eastern Cape, and Drakensberg Area can use Baz Bus, which offers hop-on, hop-off fares specifically to travellers backpacking South Africa. I heard mixed reviews about Baz Bus. You can meet a lot of cool travellers, but it's not as flexible as having your own transport.
If you decide to hitchhike in South Africa, be careful, and try to hitch rides from hostels. There are a lot of ride share/carpool apps in South Africa, like Find a Lift, and Car Pool that are safer.
Campervan Hire in South Africa
Want to experience South Africa from the comfort of your very own campervan? Campervan hire in South Africa is easy and straightforward. Renting a self-contained campervan is your key to the ultimate African road trip! There might not be a better way to experience this epic country…
Motorcycling South Africa
South Africa is a great country for a road trip, which makes it a great country for motorcycling. The roads are generally well maintained. Whether you're driving a car or motorcycle, I highly recommend taking the Oceanside Route 44 from Cape Town to Hermanus for beautiful ocean views. We saw several breaching whales from this highway!
The only drawback about renting a motorcycle in South Africa are the expensive rental prices. The cheapest price I've seen is $60 USD a day, but $100+ is more common, but the price per day decreases the longer you rent a car or motorcycle.
Onwards Travel from South Africa
Many backpackers travel onwards to Namibia, Botswana, Mozambique or Zimbabwe. I've listed the border crossings by country:
Namibia: To South Africa's West you can cross into South Africa from Namibia. Visas should be hassle free and if you're looking for an adventure, I highly recommned you backpack through Namibia.
Alexancer Bay – Along the Atlantic coast, you can enter by ferry (2017)
Nakop – This border is open 24 hours a day.
Rietfontien – Just South of Kgalagadi Transfrontier Park, near Botswana.
Botswana: Botswana has 15 different border posts. Some require 4WD high clearance cars. Most can get a visa on arrival. Main border crossings include:
Kopfontein Gate/Tlokweng Gate – Next to Madikwe Game Reserve
Skilpadshek Gate – Northwest of Zeerust
Twee Rivieren – At the entrance to Kgalagadi Transfrontier Park in the NorthWest.
Mozambique: If you plan to go backpacking in Mozambique, be sure to sort out your visa needs beforehand, as I've heard it can be difficult (and expensive).
Giriyondo – Between Kruger National Park and Massingir.
Pafuri – Kruger National Park's northeastern corner.
Kosi Bay – Entrance near the Elephant Coast, one of my favorite areas.
Zimbabwe: You can get a visa at the border of this one border crossing.
Beitbridge: Open 24 hours a day, this is the only border crossing at Zimbabwe. This is the most thorough land crossing I've ever been through. They check everyone's individual luggage by X-Ray, and lines get very long. Bring snacks/water, as there weren't any vendors while I was there!
South Africa isn't exactly enjoying a state of prosperity at the moment and is not a prime destination for expat workers. However, there are plenty of English language speaking roles available for those who are determined to make a life in South Africa.
Work Visa's in South Africa
South African' work visa's are reserved for jobs that cannot be filled by natives – so basically, you need some kind of speciality to work in South Africa. That being said, moving to South Africa is becoming an increasingly popular option for remote workers. Just make sure it's all legal.
Volunteering in South Africa
Volunteering abroad is an amazing way to experience a culture whilst giving something back. There are loads of different volunteer projects in South Africa ranging from teaching, to animal care, to agriculture to pretty much everything!
There's a high demand for volunteers throughout South Africa to help out in a variety of fields. Social work, hospitality, and agriculture are the most common, while more unique opportunities include construction, administration, and teaching sports. Basically whatever your skillset – South Africa is a great place to lend a helping hand – usually in return for some food and accommodation. A tourist visa is all you need to volunteer in South Africa for up to three months, but you'll need to apply for a volunteer visa if you plan to stay longer.
Worldpackers
Want to find some awesome volunteering opportunities in South Africa? Then signup for Worldpackers, a platform that connects local hosts with volunteer travelers. As a Broke Backpacker reader, you'll also get a special discount of $10. Just use the discount code BROKEBACKPACKER and your membership is discounted from $49 a year to only $39.
Programs run through reputable work exchange programs, like Worldpackers, are generally very well-managed and highly reputable. However, whenever you are volunteering do stay vigilant, especially when working with animals or children.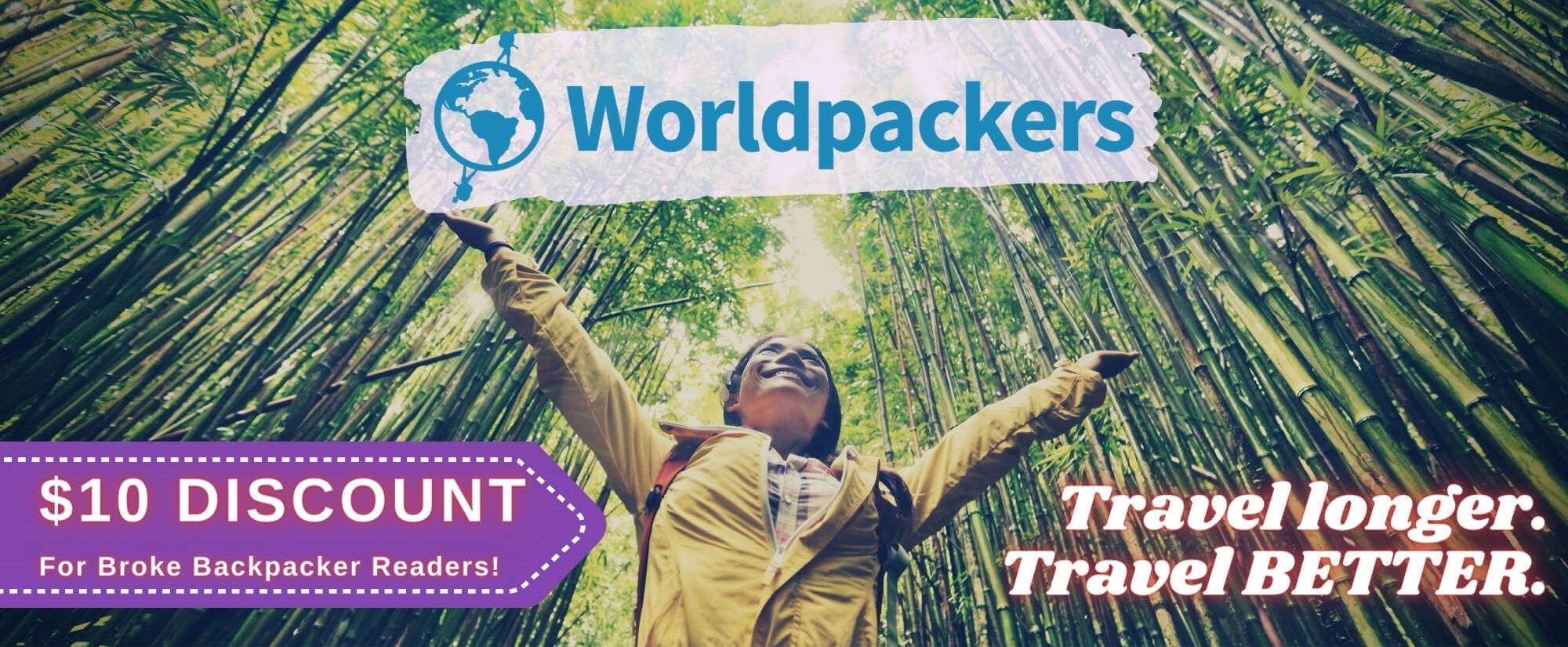 Worldpackers: connecting travellers with meaningful travel experiences.
Global Work and Travel
Global Work and Travel is another viable option for finding volunteer opportunities in South Africa. What sets Global Work and Travel apart from other volunteering platforms is the amount of assistance they give, from a 24/7 global help-line, help with VISA processing to airport transfers and continued support once you are in South Africa.
From Monkey Rehabilitation to a Cape Town Community Center, there are a variety of projects for volunteers wanting to stay anywhere from 2 to 12 weeks. As with all volunteer abroad programs, there's a cost, but you'll be able to pay it off in interest-free instalments. Don't forget to bring your camera and make sure you are between the ages of 18-85 to qualify!
Below I have listed South Africa's most popular foods and dishes:
Braais and Meat: South Africans love their braais (barbecues), and their meat. Every Sunday is basically national braai day. Carnivore is also really popular among tourists, and has restaurants in Jo'berg and Nairobi, Kenya. While I can't attest to Carnivore as a vegetarian, many tourists say it's a must because they serve game meat, like warthog burgers and crocodile.
Biltong: Dried out Biltong (like beef jerky) is very popular throughout South Africa.
Bunny Chow: In the Durban area, Bunny chow, Durban style curry served in a hollow bread, is quite popular. Contrary to its name, there are no bunnies in the chow. In Durban Indian and Asian flavours are quite common in general.
Farm Stalls: Like the name suggests, these are farm-fresh markets and stalls selling produce and goodies. They are especially popular in Cape Town and around the Western Cape, but we saw them all over the country. They can be anything from small stalls on the side of the road to full blown bakeries/restaurants using their farm's products. My favorite farm stall was definitely Nature's Way in Nature's Valley on the Garden Route.
South Africans are nice, welcoming people. We were invited to random braais (BBQs) and hang outs while backpacking South Africa. They're the kind of people where their friends are your friends, and they don't mind doing a favor for a stranger. That said, there is still a large issue pertaining to racism and the apartheid in South Africa.
Although it is assumed that South Africa is more "Western" than other African countries, it's possible to have completely unique cultural experiences far from the Westernised bubble of South Africa's tourist industry. Along the Wild Coast, there are community ran activities and immersions with the Xhosa people, and you can visit villages in Zululand, home to South Africa's largest ethnic group.
I am personally fascinated with nomadic hunter-gatherer communities, the oldest continuous culture in the world. There are still communities who live as their ancient ancestors did: hunting, gathering, and tracking with impressive skill. If you are interested in learning more about the hunter-gatherers, there are locally ran camps that offer cultural immersions, hunting/gathering trips, etc. They are more common in Namibia and Botswana, but there are a few ran by the Khomani San in the Northern Cape, South Africa that you can visit while backpacking South Africa.
Do not expect any of these traditional communities to be completely isolated from modern conveniences and farming practices. They live in our modern world too, and many tribal communities use cell phones, wear western clothes, farm, etc. I hope that responsible tourism helps provide an income, and encourage these communities to keep their cultures and traditions alive.
Afrikaan Travel Phrases
South Africa is a diverse nation with 11 official languages: Afrikaans, English, Ndebele, Northern Sotho, Sotho, Swazi, Tsonga, Tswana, Venda, Xhosa and Zulu.
Most locals are multilingual as the school curriculum requires students to learn at least three languages. During the Apartheid regime, schools mostly taught in Afrikaans hence its one of the most spoken languages, followed by English and Zulu.
Books to Read While Travelling South Africa
These are the top books you should read before backpacking South Africa:
Long Walk to Freedom, by Nelson Mandela and Richard Stengel: Mandela's famous prison diaries that were smuggled off Robben Island.
Disgrace (1999), by J.M. Coetzee: Set in post-apartheid South Africa, the story is about a middle-aged white professor at a Cape Town university, who is dismissed for having a relationship with a student.
Cry, The Beloved Country (1948), by Alan Paton: A story about a Zulu pastor and his son before the apartheid was legalized.
Lonely Planet: South Africa, Lesotho, and Swaziland Edition: A detailed guide to all things South Africa.
A Brief History of South Africa
South Africa has a turbulent history, and still struggles with issues or racism and classism today. To really understand South Africa, it's important to have a grasp of the country's history. I've given a brief overview below.
The Beginning: There is evidence of nomadic San hunter-gatherers living in South Africa as early as 40,000+ years ago. From AD 500, South Africa was home to a group of people called Bantu, who migrated to South Africa as farmers. The Bantu speakers are from whom most modern-day South Africans are descended.
European Colonialism: The Dutch took an interest in South Africa. As they colonized South Africa with imported slaves, they ended up occupying much of the hunter-gatherer land, and driving them out with disease and destruction. The Dutch settlers and their descendants, who permanently settled in South Africa became known as Boers. Boers believed they were God's chosen people and racially superior to black people.
As the 18th century drew to a close, and the Dutch power faded, and the British empire took over. Even as the British took over, there was always a border dispute between the Xhosa colonies (originally Bantu people) and Boers (Dutch descent). The British didn't do anything to ease the tension between these fighting groups. If anything they created more tension with the Boers, who were farmers because English speakers were highly urbanized, and dominated politics, manufacturing, and finance. The English also abolished slavery, which the Boers thought was their god given right.
20th Century Union: In 1910 the British unionized all of these different republics as the union of South Africa, but there was never a place in the new union for black people, even though they constituted 75% of the population. English and Dutch were made the official languages, and only whites could be elected to parliament. Black people were oppressed through legislation, denied skilled jobs, and barred from the military.
In the 1950s, the apartheid was institutionalised, which prohibited mixed marriages, limited property ownership, and segregated races. The ANC party resisted the apartheid by leading protests and strikes. The ANC movement was banned, and its members were arrested and tried for treason. Among them was the famous ANC leader, Nelson Mandela, who fought for equality and civil rights his entire life. He spent most of his life incarcerated, refusing to compromise his political beliefs for freedom. He was released in 1990, and elected president of the ANC shortly after. Mandela won the noble peace prize in 1993. From there South Africa drafted a new constitution.
South Africa Today
The major issues in South Africa are poverty, crime, unemployment, racism, xenophobia and land distribution. The government has taken steps to intervene by enforcing the first minimum wage of R20 ($1.40) per hour, stricter immigration policies, free education, criminalizing hate speech and old apartheid-era flag.
During Apartheid, people of color were forcefully moved to informal settlements due to the Group Areas Act. While campaigning for the 2019 elections, the ruling party announced the consideration of land expropriation without compensation which will allow residents to claim land that previously belonged to their families and this has led to panic especially from farmers who have built businesses and homes in these communities.
South Africa passed their new constitution in the 1990's. Since 1994 the country has elected four Presidents. Two of Mandela's predecessors have been forced to resign due to issues like money laundering and corruption charges. Today the country is still in debt due to Apartheid. South Africa has a population of 58 million and 29% is unemployed.
The political situation in neighboring countries has led to an influx of undocumented immigrants who come to South Africa for work opportunities.
Trekking in South Africa
There are so many trekking opportunities in South Africa, including several famous multi-day coastal and mountain hikes. Trekking is a must while backpacking South Africa because many regions in this country can only be explored by foot.
I've listed some of South Africa's other most popular and best multi-day treks below:
Otter Trail – This is a five day 45KM beautiful coastal trek. This hike requires a year- 18 month reservation! I've heard it's amazing, but you clearly need to plan ahead.
Rhebok Trail – Located in South Africa's Free State, the Rhebok Trail is a 2 day 31KM hike in Golden Gate Highlands National Park. This national park is home to zebra, eland, springbok, and other grazers.
Sentinnel/Amphitheater Hike – 12KM out-and-back, you can day hike this one. It's possible to overnight, and bring camping gear, but be prepared for strong winds!
Tsitsikamma Trail – This is a 60KM 6 day trail that spans from Tsitsikamma National Park to Nature's Valley. I visited the starting and end point of this hike, but would have loved to see everything in between. It is possible to tackle this trail as a 2,3, or 4 night hike because there are accessible entrances/exits at each hut.
The Rim of Africa – South Africa's most intense and longest hiking trail that spans over 8 weeks! The trail takes you throughout the Western Cape from Cederberg to the west to the Outeniqua foothills in the east.
Most of the multi-day hikes require that hikers stay in rustic huts along the trail. This type of hiking accommodation is unique to South Africa's hiking culture.
There are plenty of day hike opportunities throughout South Africa that do not require a reservation. Some of those include Kingfisher Trail in Wilderness, the coastal trails in De Hoop National Reserve for whale sighting, and trekking around the Drakensberg Mountains.
Scuba Diving in South Africa
There is quite a bit of world-class diving in South Africa, mostly within the KZN region. Some of the best scuba diving in South Africa is along the reef near Sodwana Bay in isimangaliso wetland park. This area shares reef with Mozambique, which is also known for world-class diving. While scuba diving along this coast, it's possible to see tons of colorful fish, and sea turtles among the colorful reef, as well as pelagic life, like manta rays and sharks. While it's a cool place to dive, the current is strong, and I don't recommend learning here.
South Africa's more famous dive site, Aliwal Shoal, is just South of Durban and worth visiting if you want to dive with sharks. This area is famous for its abundance of ragged tooth sharks, and hammerhead sharks can also be spotted in season.
Being a Responsible Backpacker in South Africa
Bear in mind, that many animal products in countries you travel through will not be ethically farmed and won't be of the highest quality. I'm a carnivore but when I'm on the road, I only eat chicken. Mass-farming of cows etc leads to the rainforest being cut down – which is obviously a huge problem.
Pack your trash out. There are so many beautiful places in South Africa, so let's keep it that way. Be environmentally conscious, and use your own water bottle, bring a reusable bag (I always travel with one), and reduce your plastic waste in general. As of 2017, the Western Cape is dealing with a detrimental drought, so conserve your water usage.
I'm not going to argue that all hunting is bad, as much of it plays a part into Africa's complicated conservation, but be wary of it. There are several canned hunting reserves in South Africa, which should be avoided at all costs. Canned hunting is when animals are raised in captivity simply to be hunted. This does nothing for the environment or the local people. Many tourists show up to these reserves to walk the lions, take care of the animals, etc. unknowingly participating in the canned hunting industry.
Be aware of South Africa's increasing poaching problem. Kruger National Park is the most effected because of its size and that it borders Mozambique where regulation is even less. The KwaZulu-Natal region has the highest density of rhinos in South Africa. Rhino poaching in Hluhluwe Game Reserve, and across the rest of South Africa is a major (and growing) issue. You can support these parks by visiting them, and donating to their causes.
While I did recommend shark cage diving as a unique experience, it's also important to consider the repercussion of feeding wild sharks, and how it may disrupt their natural behavior. There are some diving companies that use chum to bait them. This is a controversial topic and worth discussing.
If you are visiting Townships, don't just drive through and take photos, and try to participate in responsible tours that provide opportunities for South Africa's poorest people to generate an income. Buy from local craft stalls and food stands.
You'll notice much contrast between rich and poor while backpacking South Africa. In a few minutes you can pass both luxury shopping malls and outer-lying townships. Broadly speaking, the Western Cape is more affluent. As you reach South Africa's more remote areas, you will come across more diversity. I found that there was prevalent racism from both sides. South Africa is going through a tricky time: an inflated, unstable currency, increasing crime rates, all while an unpopular, corrupt president reigns.
I also found that South Africans are kind people, and most of them, young and old, hope their country can unite and move past their turbulent history.
Backpacking South Africa is an absolutely amazing experience. This country caters to every kind of traveller, unlike the tourism in other African countries, which tend to cater to rich vacationers over independent budget backpackers. I think South Africa is more affordable, or at least offers a better value for your money, than its neighboring countries because of its vast road network, cheap car rentals, and affordable backpacker/hostel culture.
South Africa truly has something for everyone: unique cultural experiences, beaches without crowds, and of course the continent's most epic wildlife can all be at your doorstep. If you're into dramatic scenery, South Africa is home to semi deserts, mountain ranges, and wild coastlines. You're an active traveller, like me, take advantage of South Africa's water sports and hiking opportunities.
I recommend checking out South Africa's highlights, like Cape Town and the Garden Route, without forgetting to visit some of South Africa's hidden gems.
---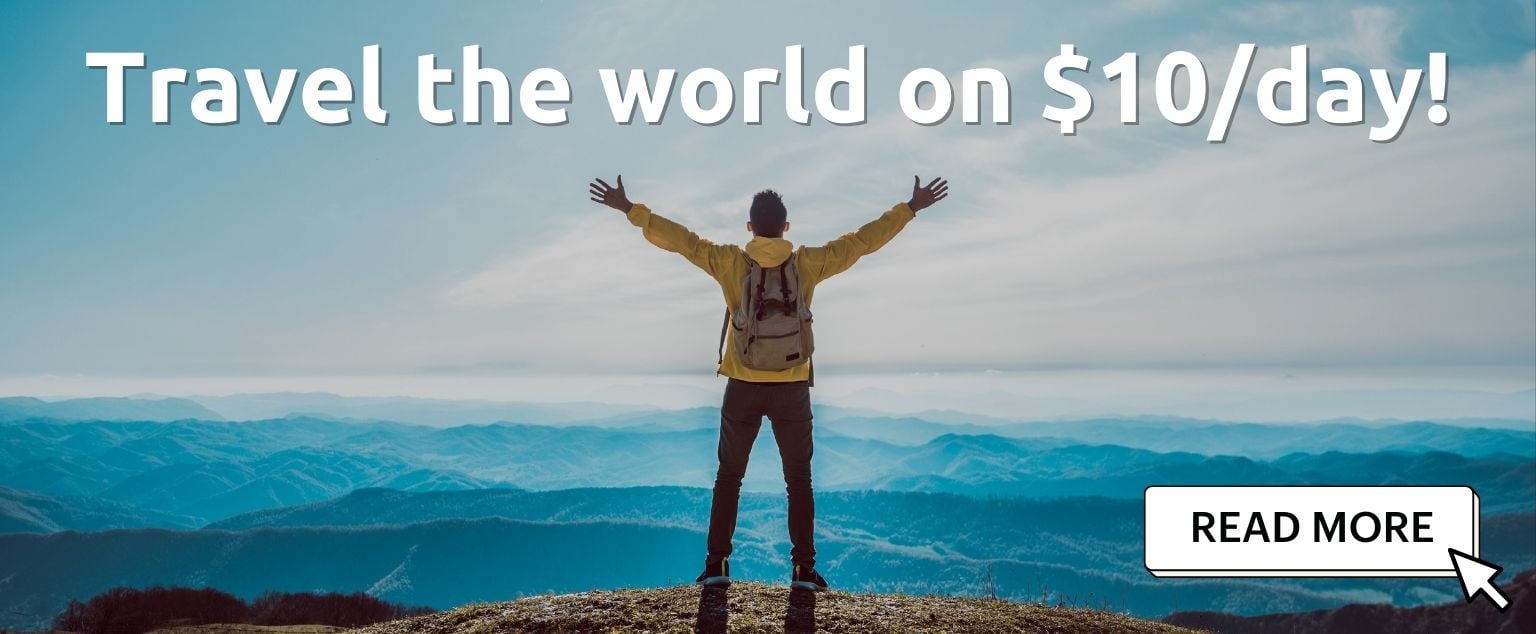 And for transparency's sake, please know that some of the links in our content are affiliate links. That means that if you book your accommodation, buy your gear, or sort your insurance through our link, we earn a small commission (at no extra cost to you). That said, we only link to the gear we trust and never recommend services we don't believe are up to scratch. Again, thank you!