Namibia is an awesome country for those traveling to Africa for the first time. Theres's amazing wildlife and scenery, yet still many European-style shops, services, and luxuries.
This beautiful country possesses some of the world's most spectacular desert ecosystems, vast plains, rugged mountains, and savannahs teeming with a large variety of African game.
The vast distances, limited public transport, and expensive accommodation can make Namibia a difficult country to travel on a budget in. Backpacking Namibia is definitely more of a challenge than Southeast Asia, but it's not impossible!
This budget travel guide for Namibia is going to cover as many activities and locations as possible, all with the budget-conscious traveler in mind. We'll go over costs, methods, and ways to save on travel in Namibia, without skipping any of the juicy bits.
So let's get to it and talk about how to have the time of your life in Namibia without breaking the bank!
Why Go Backpacking in Namibia?
Namibia is all about amazing nature. The landscape here is hauntingly unique: blood-red sand dunes, barren coastline, flooded plains, and strange mountains constitute the country. Spread out amongst these landscapes are fascinating tribes and wildlife, many of which are what you'd expect of Africa.
All in all: Namibia is a wonder and arguably one of the best countries to visit in Africa.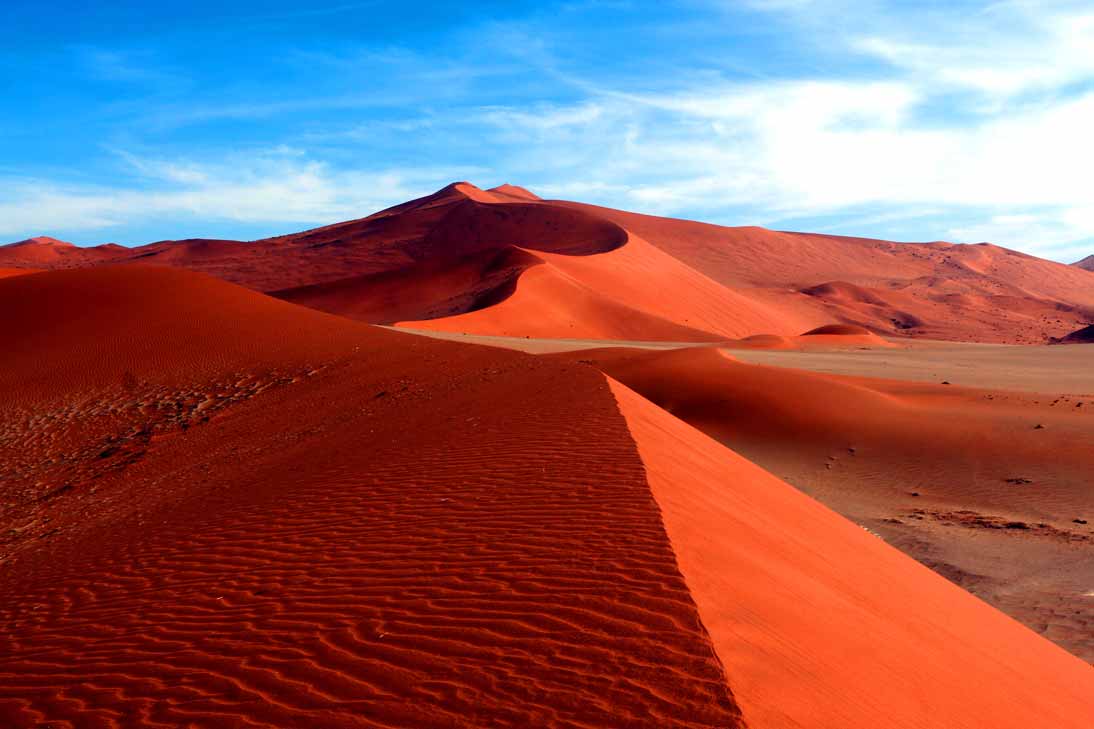 Namibia is also relatively accessible compared to other African nations. Though it is remote and sometimes hard to navigate, it's built up for tourism and doesn't suffer from a lot of the issues that make other African nations intimidating. With a bit of planning, some grit, and a good 4×4, anyone can visit Namibia.
It can also be affordable! Backpacking in Namibia is possible though it will certainly feel less like backpacking than other parts of the world. Finding a cheap place to stay in Nambia can be tough, but that's what camping is for!
Never backpacked with your own vehicle before? Never gone car camping? Now's the time to try.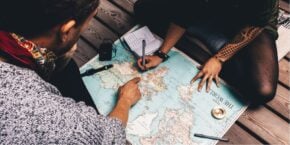 Heading Off-Grid? • Download This Guide as a PDF!
Sign up to The Broke Backpacker's EXCLUSIVE VIP AREA below and download our top backpacking guides as PDFs – go offline with peace of mind!
Best Backpacking Itineraries for Namibia
Below is an ideal 2-week itinerary for backpacking in Namibia. It is very practical and features many of the best places to visit in the country.
If you'd like to extend your trip and spend more than 2 weeks in the country, here is the ultimate 1-month Namibian road trip itinerary! Spending at least a month in Nambia will allow you to visit the Caprivi Strip, spend time with local tribesmen, and hike the Fish River Canyon.
Backpacking Namibia 2 Week Itinerary: Down and Dirty
This itinerary is arguably the gold standard for visiting Namibia. It is relatively straightforward and features most of the country's top attractions. There will be some long driving days, but they're worth it.
Start off by flying into Windhoek and picking up your rental car. After stocking up on supplies, head directly to Sossusvlei via Rehoboth and Sesriem. Drive time is about 5 hours; more if you drive carefully.
Spend at least two days in Sossusvlei exploring all of the local dunes. Three would be better but time is admittedly short on this trip.
After Sossusvlei, head north to Swakopmund (5 hours) and spend a day or two chilling on the beach.
When you're ready to leave, head next to the Bradenburg Mountains (2-3 hours). This will be a slight detour but worth the extra time. Base yourself near Spitzkoppe and spend a few days hiking.
Double-back towards Swakopmund and then turn north towards the Skeleton Coast. Spend a few more days driving along the ominous coast, before turning off at Torra Bay.
End your trip at one of the finest safari parks in Africa: Etosha National Parks. It's a 5-6 hour drive from either Torra Bay or Spitzkoppe. Spend your last days in search of elephants, hyenas, and lions before heading back to Windhoek for your departure flight (4 hours).
Places to Visit in Namibia
Backpacking Windhoek
Windhoek, which hosts the only international airport in the country, will probably be most backpacker's first experience in Namibia. Admittedly, it's not really a backpacker destination.
There's not a whole lot to do in Windhoek. There are some interesting colonial-style churches around and a funky display of meteorites at the Post St Mall but not much else. If you're looking for a bit of food and shopping, the Namibia Craft Centre is good for an aftenoon.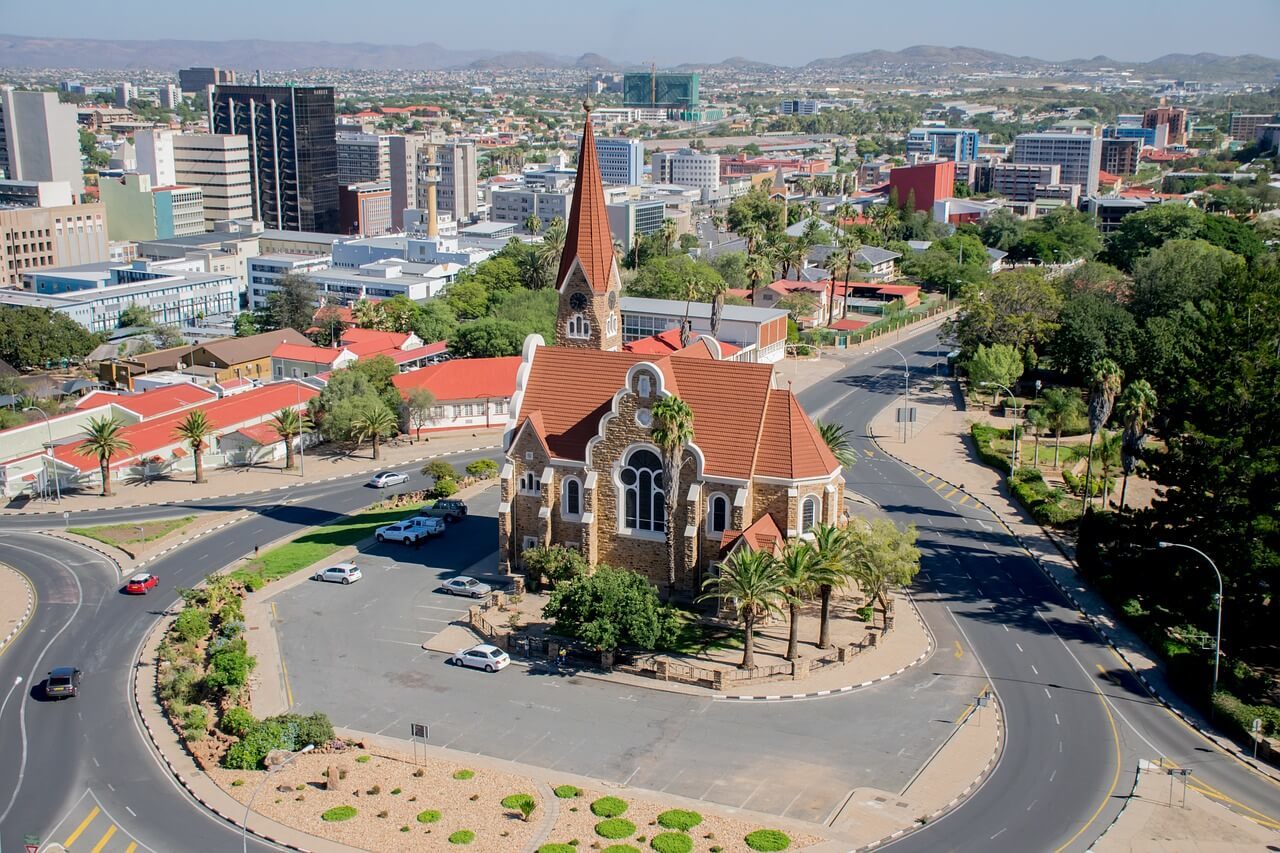 Most people use Windhoek solely as a means of organizing their backpacking trip in Namibia. They pick up their car, buy supplies, or look for fellow travelers at the handful of hostels.
If you're staying in a hostel in Windhoek and are trying to recruit others to throw in on a rental car, be sure to check the bulletin boards. Lots of people post fliers here looking to split costs.
Backpacking Sossusvlei
This is the highlight of most backpacking trips in Namibia and the biggest reason people visit.
Sossusvlei is a marvel. Aside from being the single oldest desert in the world, it is perhaps the reddest (in color). At dusk, this place looks like a dreamscape – a tapestry of color and a chorus of sand. It is hands-down one of the coolest places in Africa.
Getting to Sossusvlei is a relatively straightforward affair. It takes 4-6 hours to drive here from Windhoek on a relatively "decent" road. Part of it is unpaved but sedans can drive it. CAREFUL! Lighter cars can easily spin out of control on the dusty road.
Once you arrive in Sesriem, you'll need to overnight here. Sesriem is nothing more than a few camps and a gas station; the latter you'll definitely need to use by now. Though Sossusvlei proper is another 45-minute drive, it's closed during the night.
The gates to Sossusvlei open at dawn every day and I highly recommend you be there RIGHT when they open. Aside from the fact that dunes look incredible in the morning light, the afternoons can be very hot.
There's a parking lot right after the entrance and beyond that an additional 5km of very rough road. If you don't have a 4×4, you'll need to take the local shuttle, which is actually kind of fun to ride. It'll stop at most of the major spots in Sossusvlei, including the ominous Deadvlei.
Once you're in Sossusvlei proper, just start walking around (not too far!!). You'll be surrounded by some of the highest and most impressive dunes in the world! You'll definitely want to climb Big Daddy (kinky) for epic views as well as visit the dried marsh of Deadvlei.
Return to camp whenever you're ready. Sleep and then repeat the same routine the next day.
Backpacking Swakopmund and Walvis Bay
If there was a "touristy" beach town in Namibia, it would probably be Swakopmund. This town, complete with a pier, upscale restaurants, and tour offices is arguably the tamest place you'll visit in Namibia.
That being said, Swakopmund's lack of excitement might be a good thing.
Swakopmund is a great place to chill, be it at the beach or in a local German beerhouse. The beach, though a bit cold and not the prettiest in Africa, is still nice to lay on. Just don't try jumping in the water because the Atlantic is FREEZING cold.
If you need a little action, you can easily organize some activities at a local tour operator. Taking a buggy into the nearby sand dunes is extremely satisfying and great for living out those Mad Max fantasies.
There are lots of airborne activities as well. Airplane tours, helicopter tours, hot air balloons, and skydiving can all be arranged, albeit at a steeper price than backpackers may be prepared for. Seeing the Namib Desert from the sky though is a totally worthwhile experience though.
Nearby Walvis Bay is a bit more urban than Swakopmund. This is a port city rather than a beach town, thus it has a grittier feel to it. There's a giant flamingo colony nearby, which you should absolutely check out, plus Dune 7. Dune 7 is the largest sand dune in Namibia and is a great place to watch the sunset.
Backpacking Skeleton Coast
The Skeleton Coast, which runs roughly 500 km from the Ugab River north to the Angolan border, is a very appropriate name. This a barren land that supports very little in the way of life.
The name "Skeleton Coast" comes from the numerous shipwrecks that dot the beaches. Due to a particular climate, which causes a lot of heavy mist, visibility is extremely poor. Many sailors who navigated this coast met an untimely end when they entered the mist and then suddenly crashed into the earth. It was so bad that the Portuguese mariners once called this place "The Gates of Hell."
Backpackers have a bit easier time these days. With a good 4×4, some camping gear, and a bit of spirit, many can experience the Skeleton Coast without much risk.
Start your trip up the coast by driving north from Swakopmund. Whilst the Skeleton Coast technically starts 200 km further north, many refer to this stretch also as the Skeleton Coast.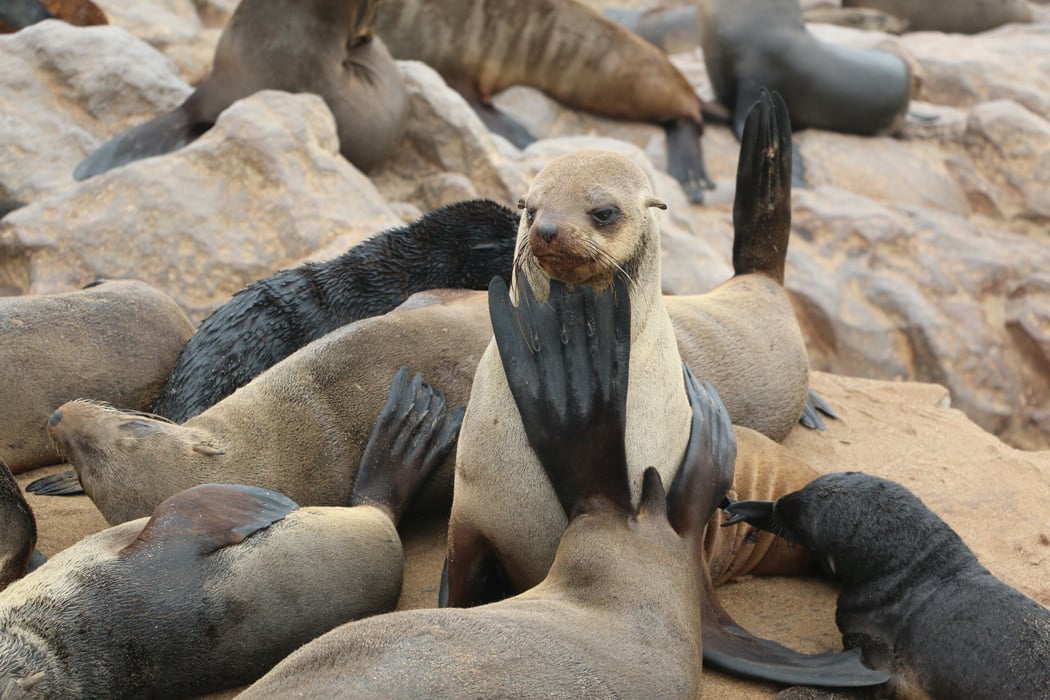 The first place you'll visit will most likely be Cape Cross, home to one of the largest seal colonies in the world. The colony is a strange and wonderful sight but fair warning: the smell is horrendous and the barks of the seals are deafening.
The next stop is the Ugab Gate, where the Skeleton Coast proper begins. You'll need to buy a permit at the gate to enter. There are a couple of shipwrecks near the gate as well: the Winston and SW Sea.
The next 100 km or so to Torra Bay is open to visitors. Here is where the coast gets its name: you won't find much on this stretch beside ruins, sand, and bones.
Torra Bay is the finish line for most who visit the Skeleton Coast. Anything beyond here requires an official tour operator to visit.
Travel CHEAP and Make a Difference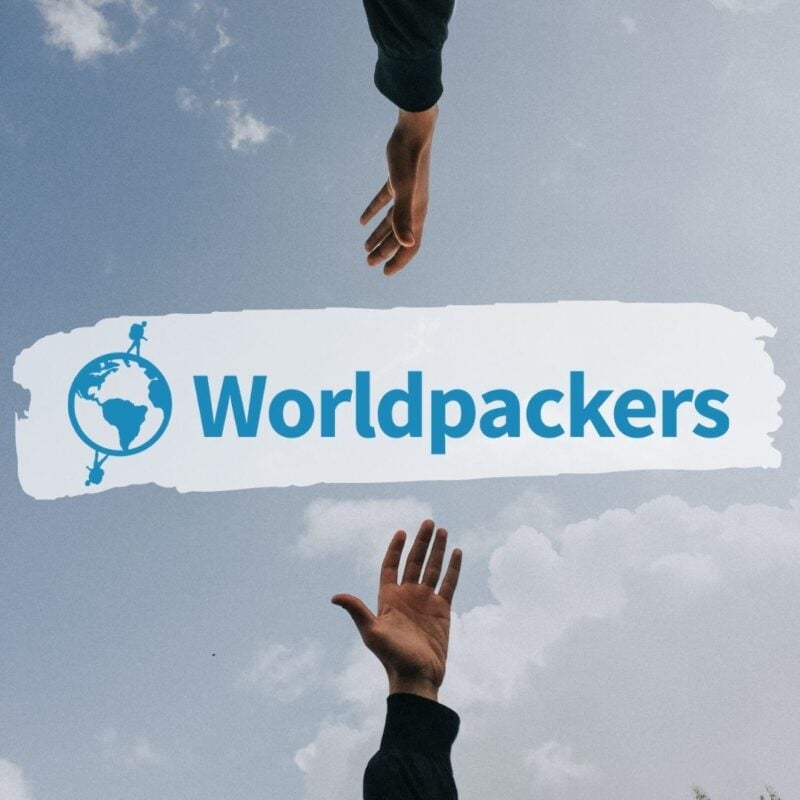 Worldpackers connects travellers with hostels, schools, NGO's and many more. Get free accommodation in exchange for volunteering a few hours a day. You won't just save serious $$$, you'll experience a different culture, cool projects, meet new people and integrate into the community in a different way.
Broke Backpacker readers get a $10 discount when you sign up. Use the discount code BROKEBACKPACKER. Plus, get 3 free months on your membership during their summer promo!
Travel well with Worldpackers
Backpacking Spitzkoppe
Spitzkoppe and the surrounding Brandenburg Mountains are some of the finest areas to go hiking in Namibia. Here you'll find surreal rock formations, a decent amount of climbing opportunities, and plenty of stars in the sky.
To reach the Brandenburg Mountains, you'll need to drive about an hour east of Swakopmund. You'll eventually see the Uiba Oas Crystals Market on the left-hand side – turn left onto the road (D1918). Be prepared for a VERY bumpy ride the rest of the way. The mountains are just head but the rest of the road is shit.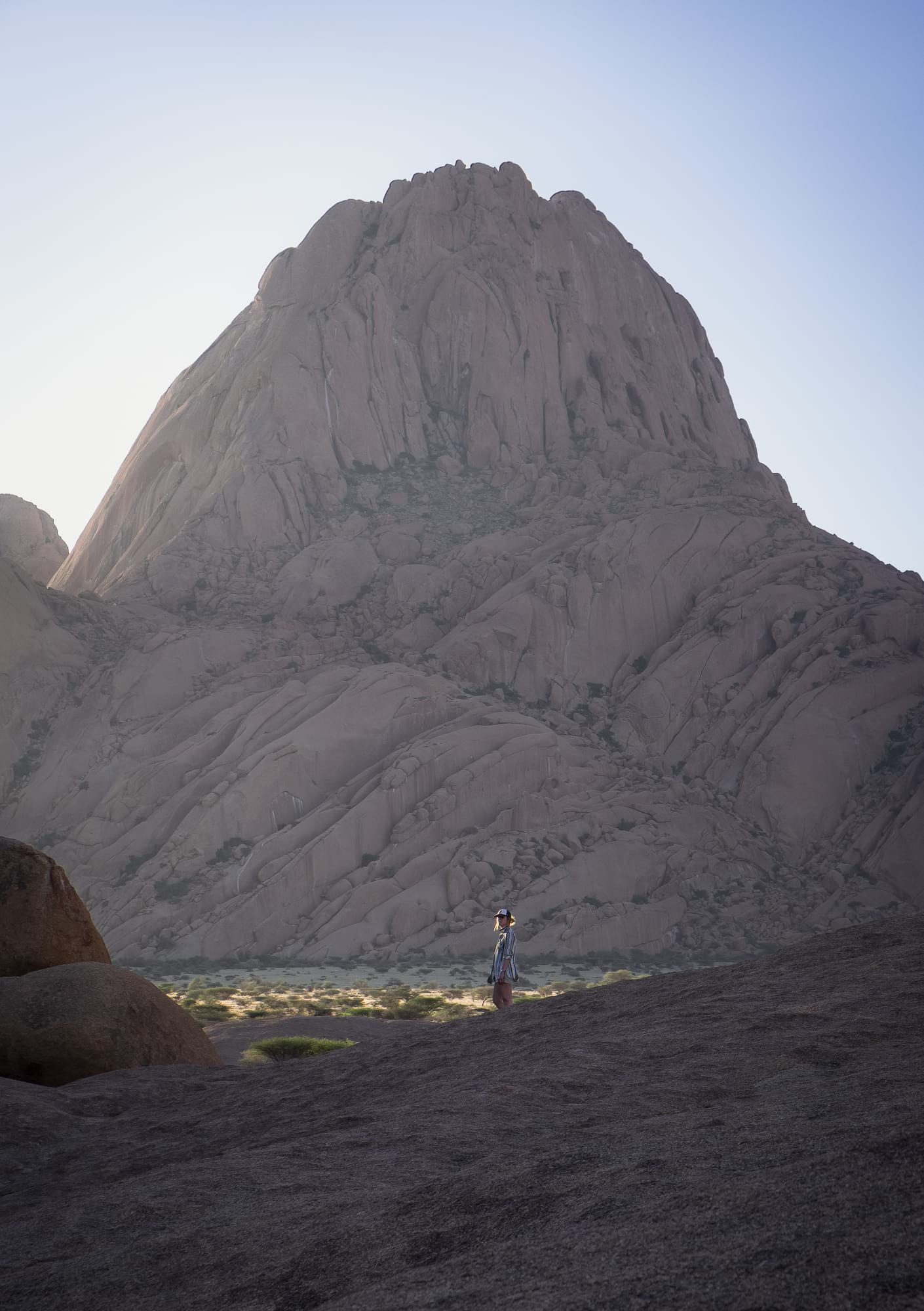 Once you arrive at your campground, set up shop, and start exploring. Spitzkoppe itself is pretty easy to spot – it's the giant rock sticking up in the middle of everything. It looks like what Pride Rock should've been based on (though that's actually located elsewhere in Kenya…)
Don't miss out on the Arch of Spitzkoppe, a natural feature that looks like something out of Utah. Also, be on the lookout for petroglyphs and rock art at Bushman's Paradise. Both require a bit of scrambling.
The best thing about visiting Spitzkoppe is the vast emptiness, both above and below. The stars are spectacular at Spitzkoppe! Granted, they're great just about everywhere in Namibia but here they feel especially bright.
If you want to splurge, there is a very, VERY nice lodge built right into the side of Spitzkoppe called the Spitzkoppen Lodge. It's a luxury campground built using environmentally-friendly practices, meaning the whole thing can be deconstructed with no visible impact on the landscape itself. There's even a rock pool (although cement appears to have been used a bit here).
Backpacking Etosha National Park
Etosha National Parks is a very unique opportunity. Not only does it feature the best game viewing in Namibia but it's also one of the few safari parks in Africa that allows self-driving! Yep, you can mob into here with a rental car no problem. Doesn't even have to be a 4×4.
Etosha is home to many of the most well-known animals in Africa. This includes elephants, hyenas, giraffes, cheetahs, lions, leopards, wildebeests, and zebra (SOOOO many Zebra). There's even the chance to spot the very rare white rhino, though such an event would probably attract hordes of people.
The road to Etosha is pretty easy and comfy. Once you arrive, you have a couple of lodging options. You can stay inside the park or on the perimeter in a local lodge. Staying outside the park might be best as many visitors complain that staying inside Etosha is noisy, lackluster, and overpriced. The biggest benefit of staying inside the park is that you can start a safari whenever you like; others will have to wait until the gates open (sunrise).
Once inside and all paid-for (80 Namibian/day), you are free to wander around the park using any of the established roads. Note that you are NOT allowed to leave the car except at designated areas. Please respect these rules.
Be sure to ask the local park guides where animals have been reportedly seen that day. They keep tabs on most of them and communicate with one another about who's frequenting which waterhole. You can book a private tour with a local guide and vehicle if you like, in which case he'll be on the radio and will take you to all the hotspots.
Note that Etosha is really only worth visiting during the dry season (May – October). During the rains, you're not going to see much besides springbok.
Backpacking Fish River Canyon
For most backpackers in Namibia, Fish River Canyon will be off the beaten path. It's located in the distant south of the country on the border of South Africa. For those who make the journey out here, this could be a grand ol' adventure though.
Fish River Canyon is the second largest canyon in the world, after the Grand Canyon. Hiking the entire 86km length of it is considered to be among the most difficult hikes in Africa as well.
I can hear your hearts racing already you dastardly daredevils, you!
You will need to be absolutely prepared to hike in the Fish River Canyon. For one thing, reservations ahead of time are mandatory as is providing a certificate of good health. The officials are quite adamant about making sure only people in good shape do this hike as the environment can be unforgiving.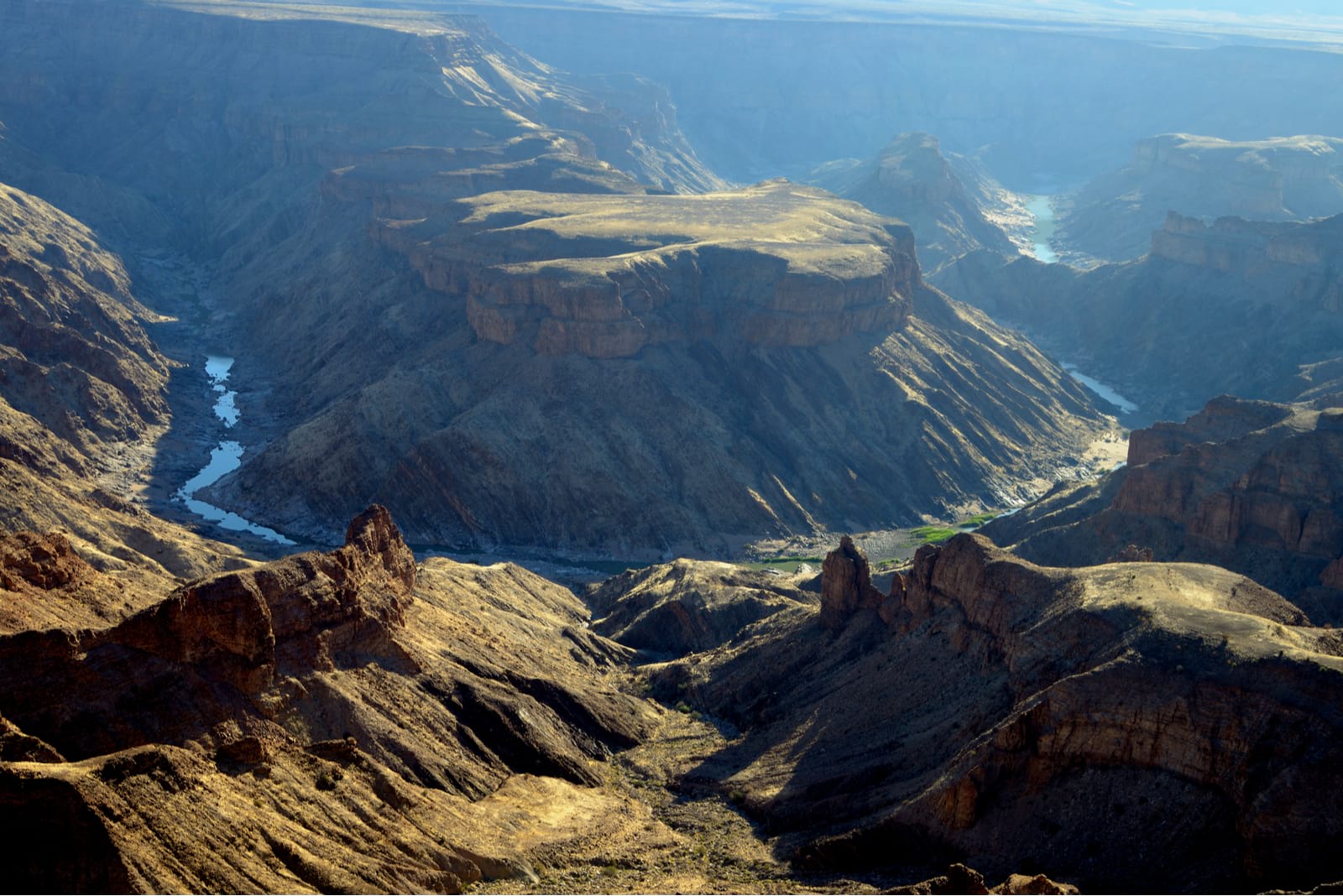 On that note, it is only possible to hike between May and September. The rest of the year is just too hot.
You can park your car either at Ais-Ais or Hobas. Hobas is technically where the trail starts but Ais-Ais is probably the better option. There are springs at Ais-Ais and they're a lifesaver, especially after the hike! There's a convenient shuttle that runs between Ais-Ais and Hobas.
Note that there is water in the canyon via the river but you should purify it before drinking. Take a filtered water bottle, like the GRAYL.
Be ready for a hell of a time! The canyon is justifiably epic and could be a highpoint of your time in Namibia. Just remember to be careful out there.
If you'd like to learn more, check out this in-depth guide on hiking the Fish River Canyon.
Getting Off the Beaten Path in Namibia
Got some extra time on your hands? Want to deviate from the usual itinerary in Namibia? Here are some extra places to visit that are worth the extra effort to get to!
The Caprivi Strip – It's the green part of Namibia! Sandwiched right between Zambia and Botswana, this is a very different place than the rest of the country. Thick vegetation, lazy rivers, and a whole new animal kingdom. Expect to see lots of hippos around here and elephants who like to stroll around the towns.
Koakoland – Home to the Himba people and Epupa Falls. The Himba are a very fascinating group who still live in traditional tribal ways. Epupa Falls is one of the most impressive waterfalls in Southern Africa, albeit it's no Victoria Falls. The region – tucked away into the northwestern corner of the country – is still relatively accessible. It's close to Etosha but requires a good 4×4 to explore since the roads are so shit.
Kolmanskop (Ludertz) – Kolmanskop refers to a ghost town, which has been slowly buried by the sands over the years. It's an eerie place that's worth the visit if "you're in the neighborhood." Luderitz is the nearest proper town and it's a pretty uninspiring place on its own. Good for a pitstop.
The Kalahari Desert – More deserts you say?! Sure, why not. If you want to see more red sand and wildlife while you're at it, this is a good place. If they're lucky, travelers can spot lions, giraffe, warthog, and meerkats around here. Be sure to also check out the Quiver Tree Forest while you're there.
Is This the Best Backpack EVER???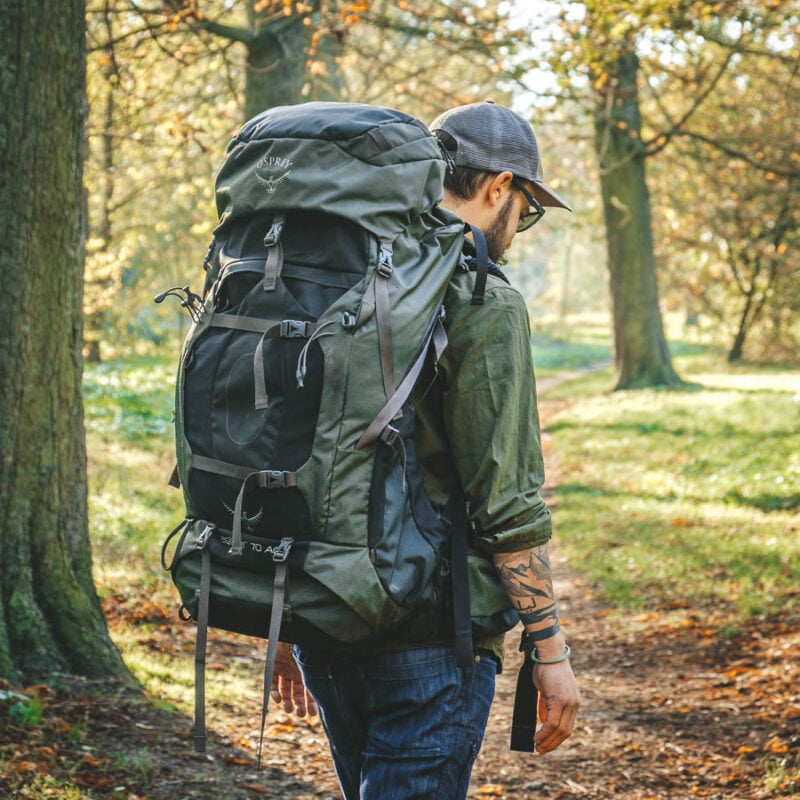 Top Things to Do in Namibia
1. Visit Sossusvlei
The red dunes are probably the most spectacular and famous sights in Namibia. See the sunrise from Dune 45, cross Deadvlei, and climb Big Daddy.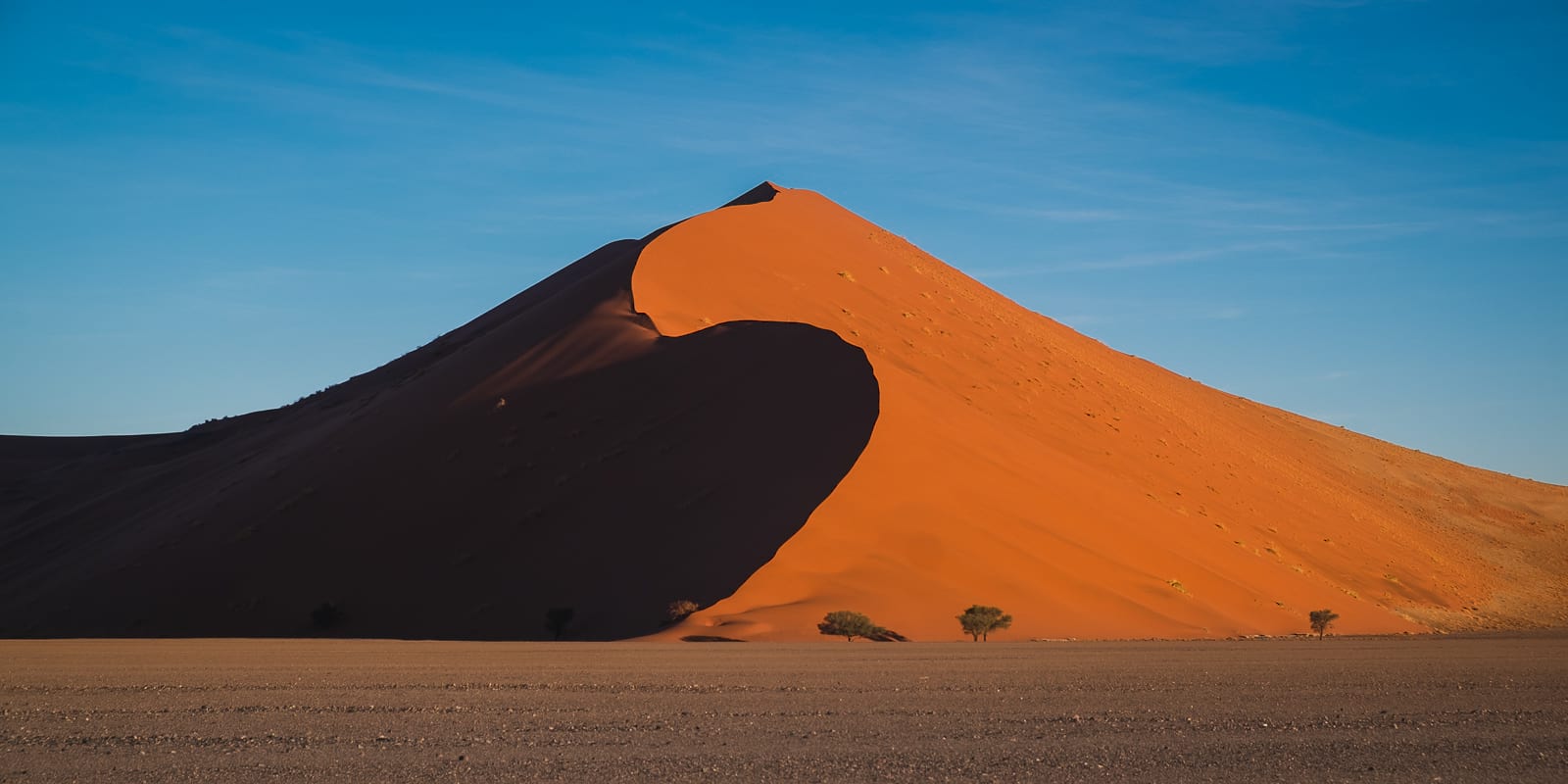 2. Hike around Spitzkoppe
Namibia's very own monolith! Here you'll find lots of cool places to hike and climb around, like arches and boulders. There's some ultra-chic glamping here too if you wanted to splurge a bit.
3. Explore the Skeleton Coast
Spot many shipwrecks driving up this amazing coast. Walk-in a colony of more than 20,000 seals – it is awesome but does not smell too awesome.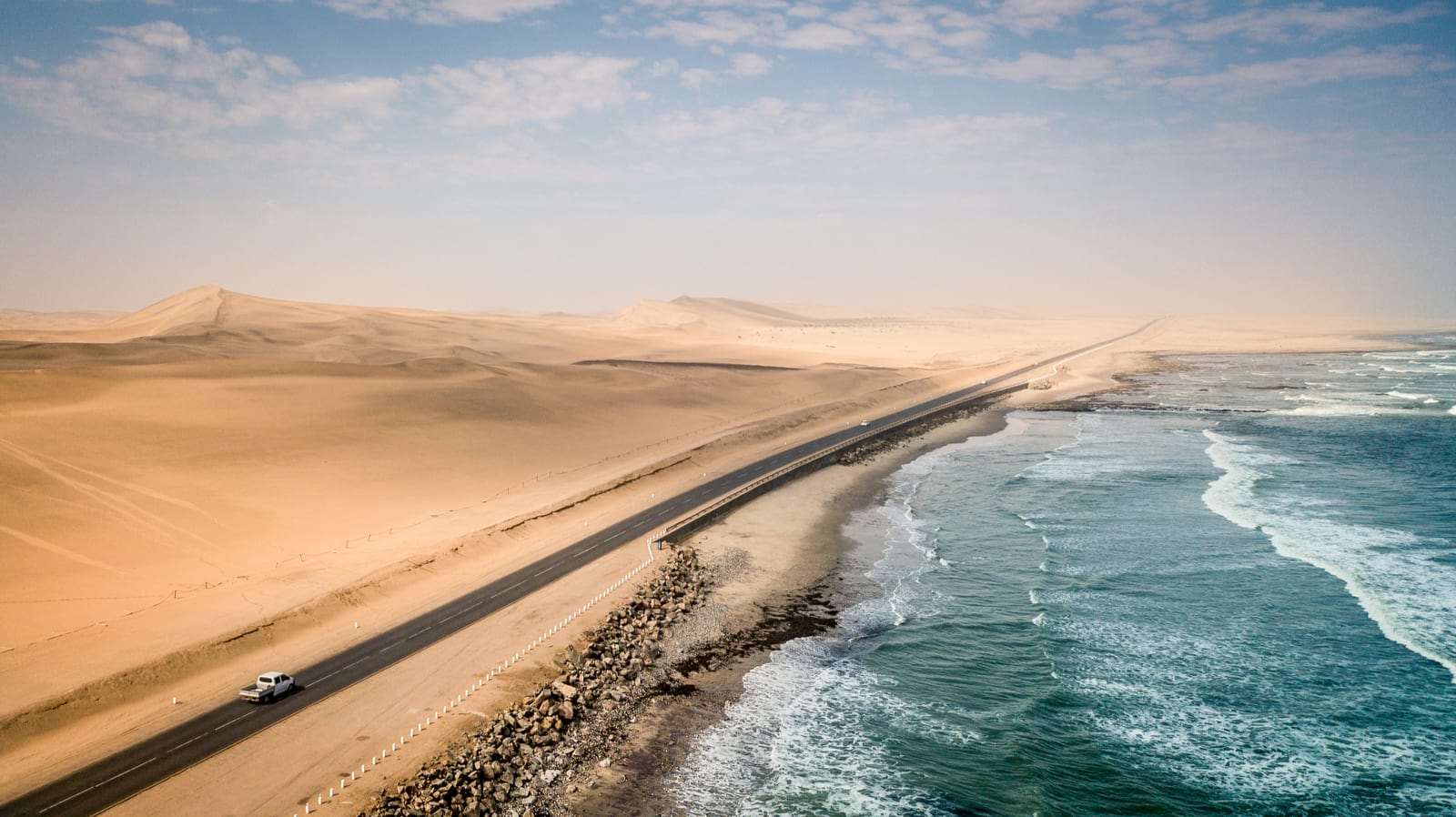 4. Tackle the Fish River Canyon
It's the second biggest canyon in the world and number one in Africa. Seeing it from the viewpoint is breathtaking, but to really experience it you must hike it! Sleeping under the stars hiking through the canyon for five days is amazing!
5. Go on a safari
Etosha National Park may be the greatest park in Namibia. Here, you'll have the chance to see lions, elephants, black rhinos, and giraffes that gather at waterholes.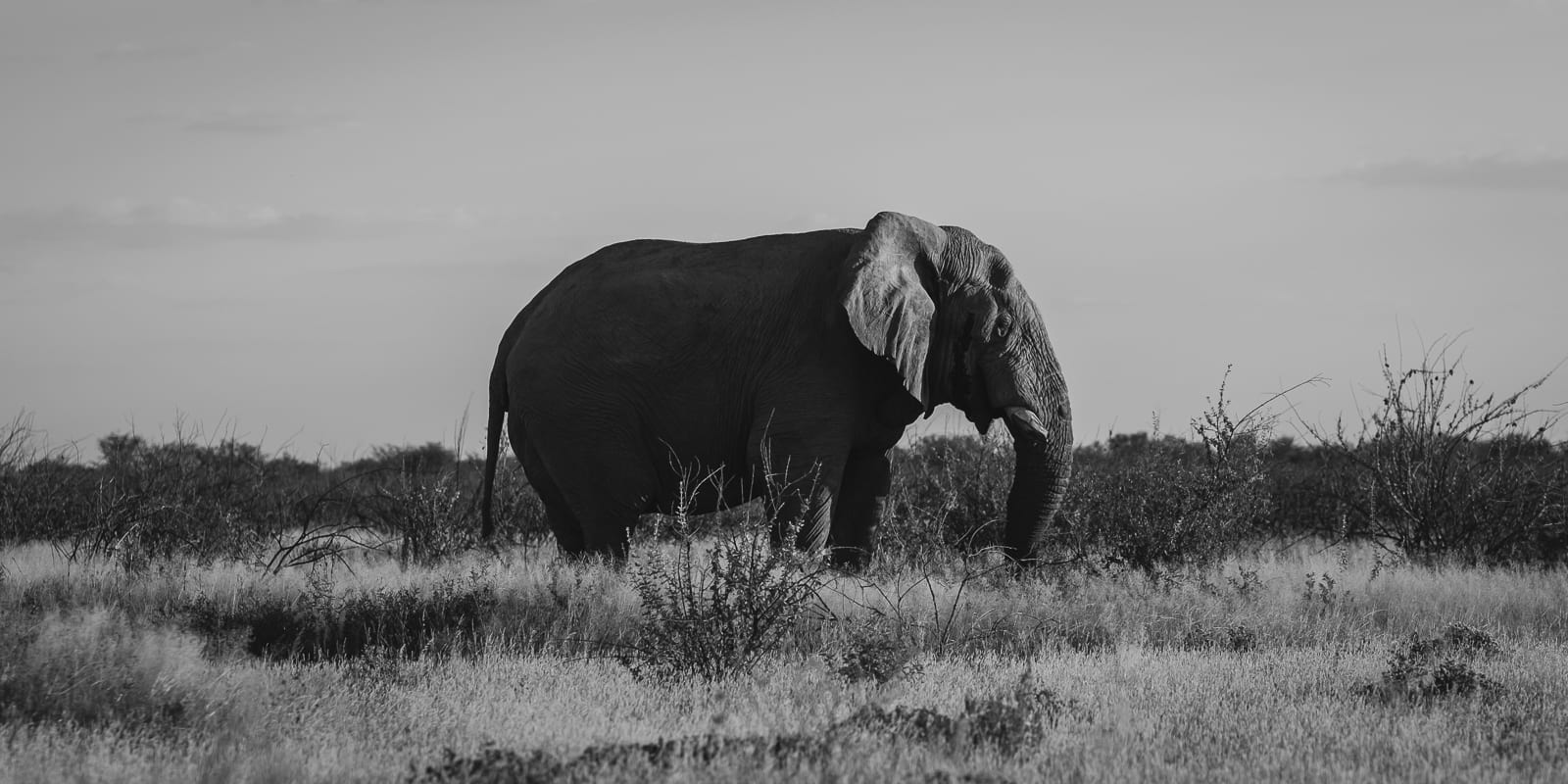 6. Visit the Caprivi Strip
Float down the Zambezi River on a local mokoro close to hippos and crocodiles.
7. Epupa Waterfalls
Camp right on the edge of these amazing waterfalls surrounded by massive baobab trees.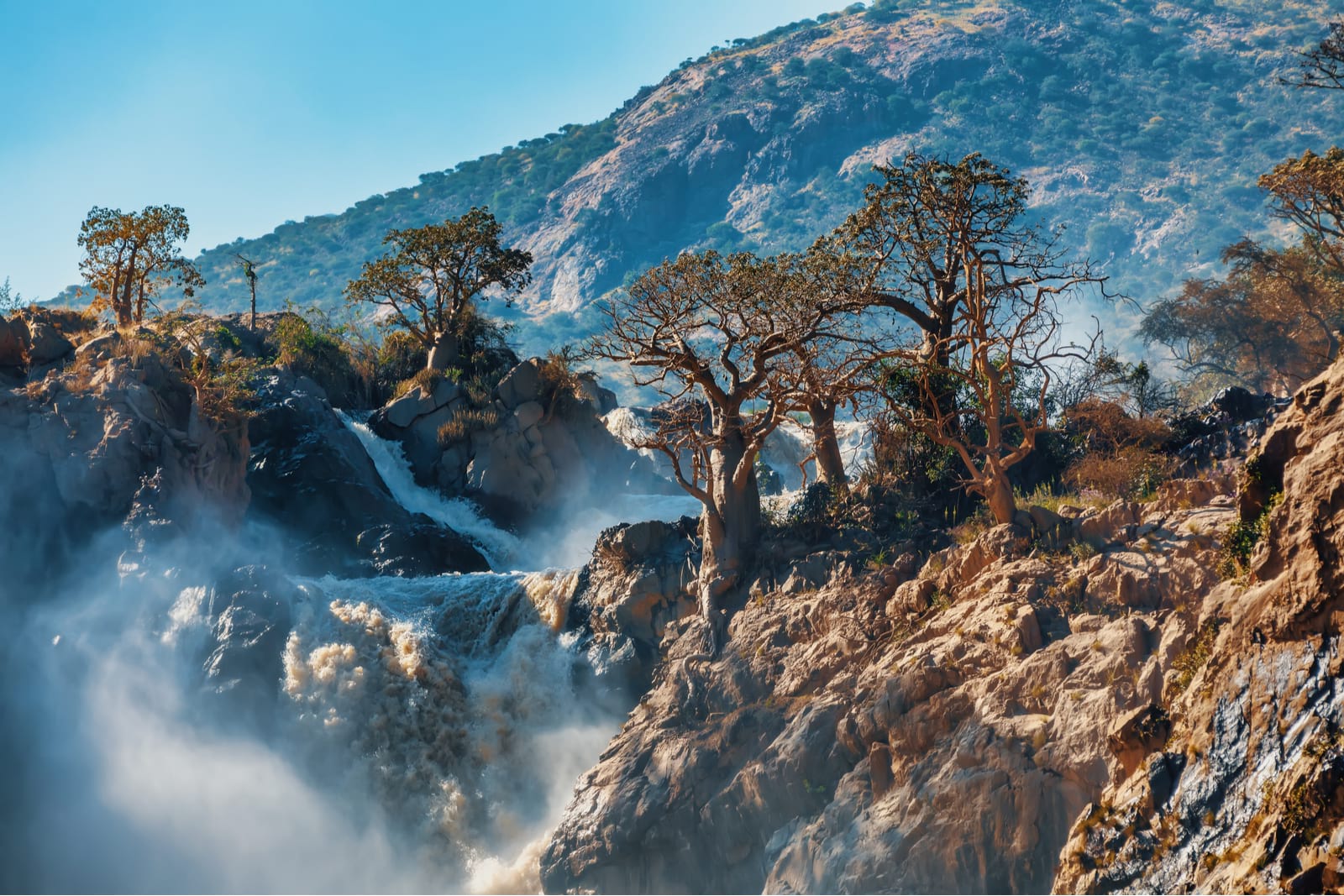 8. Catch the sunset from Dune 7 in Walvis Bay
It's the highest dune in the Namib! Don't miss the massive flamingo colony feeding close to the beach either.
Small Pack Problems? 😉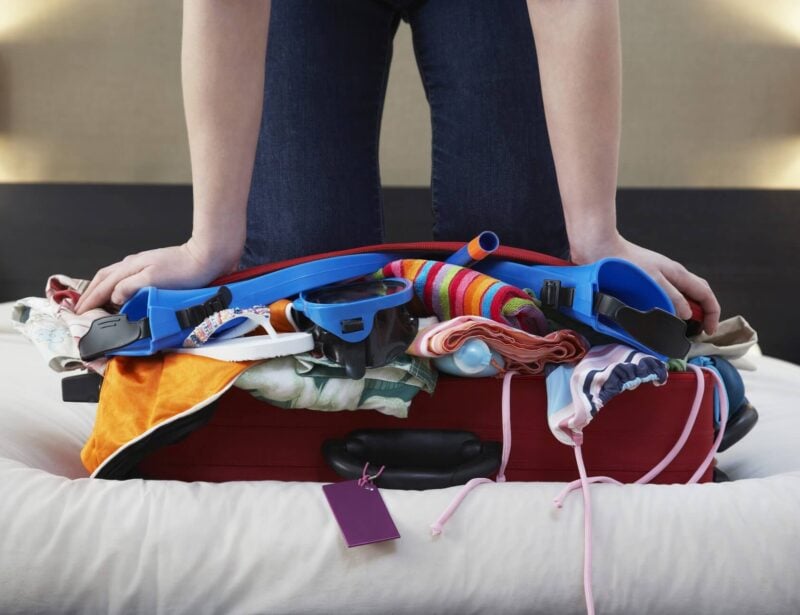 My missus travels with all her clothes in ziplock bags: don't be like my missus. UP YOUR PACKING GAME!
Packing cubes for the globetrotters and compression sacks for the real adventurers – these babies are a traveller's best kept secret. They organise yo' packing and minimise its volume too so you can pack MORE.
Or, y'know… you can stick to ziplock bags.
View Our Fave Cubes
Or Check Out the Sacks!
Backpacker Accommodation in Namibia
Backpacker hostels can only be found in Swakopmund, Luderitz, and Windhoek. As usual, the hostels have dormitories, a shared kitchen, wi-fi, and usually offered activities.
Private lodges and guest farms are the most common accommodation for tourists in Namibia. Double rooms vary between NAD650 ($50) and NAD2500 ($195) per night. Airbnbs in the cities/towns are a bit cheaper – daily rates start at about NAD300 ($23) for a room and NAD500 ($38) for an apartment.
Camping is really the only affordable way to travel through Namibia though. It's also the most enjoyable way of experiencing Namibia as there's nothing really like camping in the deserts of Africa with the stars above.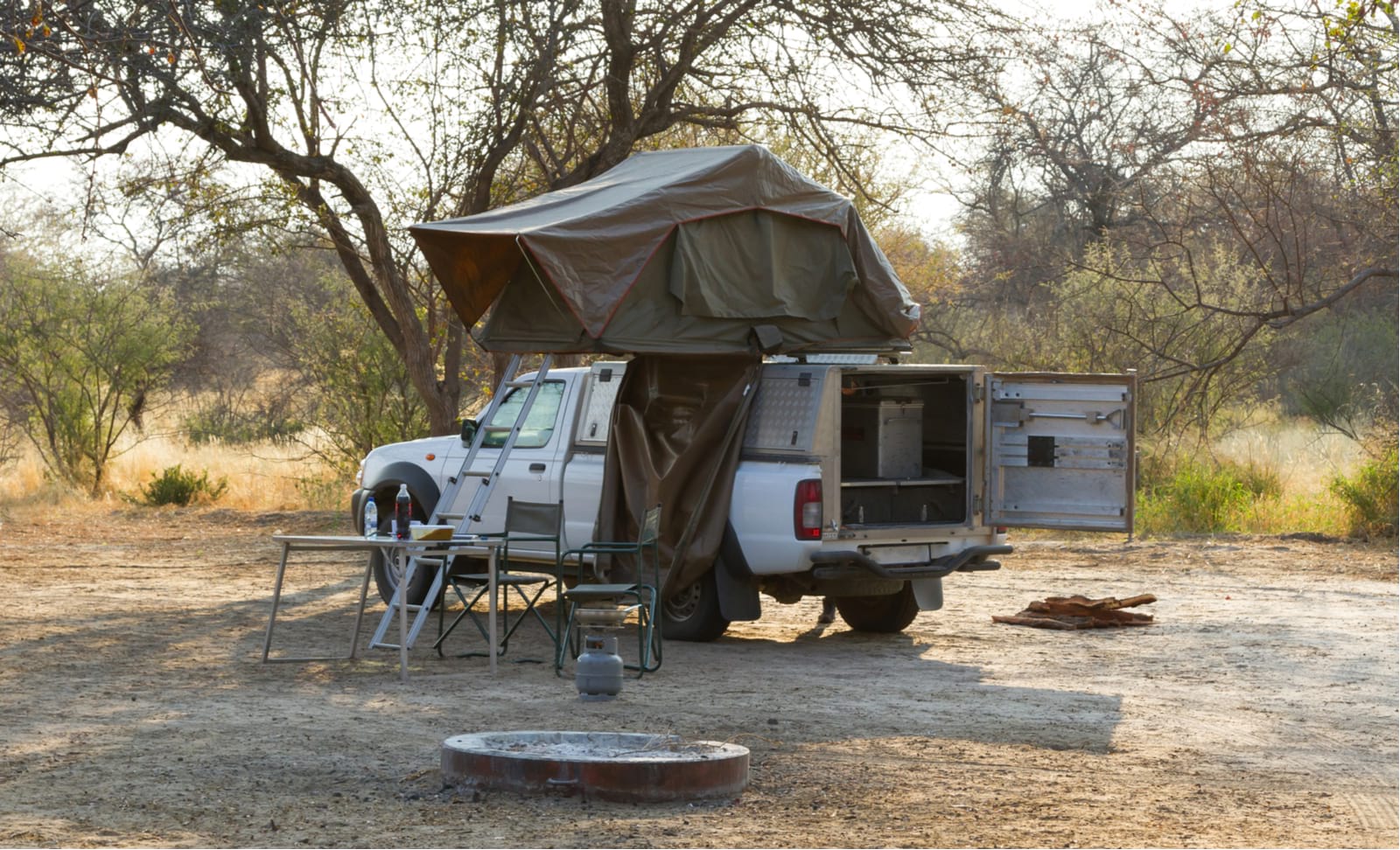 Government campsites (NWR) at most national parks start at about NAM$200/pp ($14) per night. Many of the private lodges and guest farms also have campsites – the facilities are good and they are mostly cheaper than the NWR campsites. Price varies between $NAM 100-150 ($7-10).
Be sure to pack a really well-sealed tent when you go backpacking in Namibia. Sand gets everywhere when you camp and if a dust-storm kicks up, your tent will be buried.
Wild camping is possible! We slept in the car a couple of nights, just parking it in the middle of nowhere sometimes.
The Best Places to Stay in Namibia
Costs of Backpacking Namibia
Transport and accommodation are the two things that can break your budget while backpacking Namibia. Travel times are long, transport is limited, and accommodation is scarce (unless you camp).
On a reasonable budget, you can probably get by on $50-$80 per day. This includes the price of a campground, food, gas, and a very cheap car rental. If you want to spend less, you'll have to hitchhike, eat rice every day, and rely upon the generosity of the locals.
Take a tent. Look for campgrounds but don't drive past the lodges either – they often have amazing campsites and are not too expensive. Check out some of these awesome campsites in Namibia and why we loved them!
Buy food at the local markets and cook at your campsite. You'll need a portable stove and a good bag of spices to go with it.
Your options are self-drive, travel by bus, or hitchhiking. Buses are relatively affordable but pretty limited in routes. Hitchhiking would be the cheapest option.
A car can be rented for as low as $30/day if you opt for a sedan or economy car. But a sedan will severely limit where you can go (you'll still be able to visit Sossusvlei if you drive slowly). Having a 4×4 is more convenient but also more expensive. Expect to pay at least $60/day or more if you want a rooftop tent.
These are far apart and roads are mostly gravel so make sure you get unlimited miles with your rental. There will be entry fees for many of Namibia's most popular attractions, like Sossusvlei and Etosha, but they are reasonable (less than $10 USD). Organizing a private safari in Etosha could be expensive, although it's one of the few parks in Southern Africa that allows self-driving. Take advantage of your rental car if you have it.
A Daily Budget for Namibia
Namibia Daily Budget

| Expense | Broke Backpacker | Frugal Traveler | Creature of Comfort |
| --- | --- | --- | --- |
| Accommodation | $5-$15 | $15-$30 | $60+ |
| Food | $5-$10 | $10-$15 | $50+ |
| Rental Car | $30-$40 | $50-$70 | $80+ |
| Activities | $5-$10 | $15-$25 | $50+ |
| Totals | $45-$75 | $90-$140 | $240+ |
Top Tips for Broke Backpackers in Namibia
To keep your spending to an absolute minimum whilst traveling in Namibia I recommend sticking to these basic rules of budget adventuring….
Why You Should Travel to Namibia with a Water Bottle?
Plastic washes up on even the most pristine beaches… so do your part and keep the Big Blue beautiful
You aren't going to save the world overnight, but you might as well be part of the solution and not the problem. When you travel to some of the world's most remote places, you come to realise the full extent of the plastic problem. And I hope you become more inspired to continue being a responsible traveller.
Plus, now you won't be buying overpriced bottles of water from the supermarkets either! Travel with a filtered water bottle instead and never waste a cent nor a turtle's life again.
Save $$$ • Save the Planet • Save Your Stomach!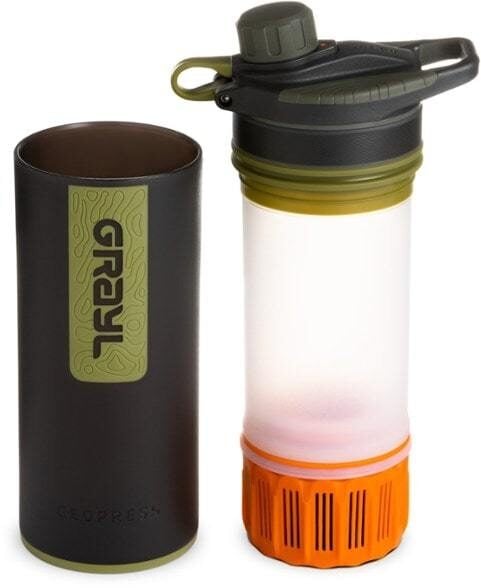 Drink water from ANYWHERE. The Grayl Geopress is the market's leading filtered water bottle protecting your tum from all the waterborne nasties. PLUS, you save money and the environment!
Single-use plastic bottles are a MASSIVE threat to marine life. Be a part of the solution and travel with a filter water bottle.
We've tested the Geopress rigorously from the icy heights of Pakistan to the tropical jungles of Cuba, and the results are in: it WORKS. Buy a Geopress: it's the last water bottle you'll ever buy.
Buy a Geopress!
Read the Review
Best Time to Travel to Namibia
It is possible to travel to Namibia all year round!
December to March is summer in Namibia and it gets ver hot during this time. It's also the rainy season, which means regular thunderstorms and flowers in the desert. When either of these are present in Sossussvlei, it's quite the show.
For game viewing, especially in Etosha, the dry season from June to October is best. In the dry season, the animals congregate around the waterholes. There is also less foliage to serve as a hiding place. We were in Etosha in February and it was raining a lot. We saw THOUSANDS of springboks, but not much else.
The peak tourist season in Namibia is between June and October. Namibian school holidays are in July so this time of the year you need to book accommodation well in advance.
June to September is winter. Temperatures are cooler at around 25-30 Celsius making travel more comfortable. Bring a jacket when you go to the desert as it can get a bit cold at night.
TL;DR – winter is the best time to visit Namibia, but also the most touristy.
What to Pack for Backpacking Namibia
On every adventure, there are six things I never go traveling without:
Somewhere to hide your cash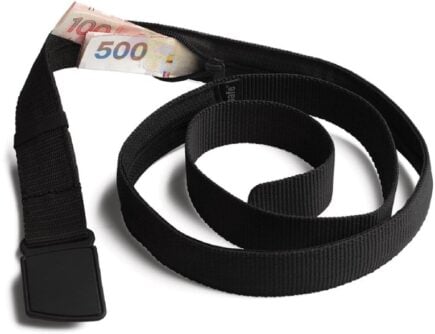 Somewhere to hide your cash
Travel Security Belt
This is a regular looking belt with a concealed pocket on the inside – you can hide up to twenty notes inside and wear it through airport scanners without it setting them off.
A travel water bottle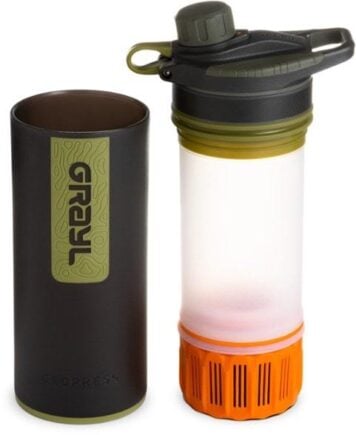 A travel water bottle
GRAYL Geopress Filtered Bottle
Having a filtered water bottle means you can drink from just about any source. The GRAYL Geopress is hands-down the most effective one we've ever used as well!
For those unexpected messes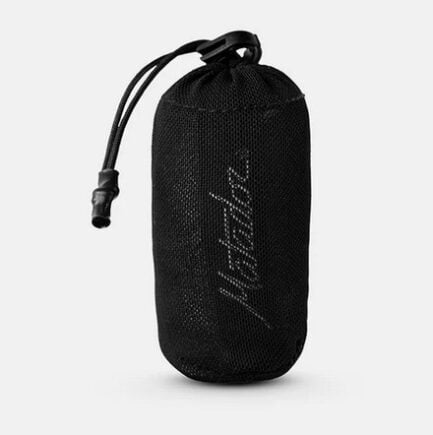 For those unexpected messes
Microfiber Towel
Hostel towels are scummy and take forever to dry. Microfibre towels dry quickly, are compact, lightweight, and can be used as a blanket or yoga mat if need be.
When the power goes out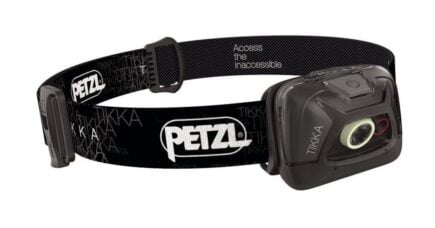 When the power goes out
Petzl Actik Core Headlamp
A decent head torch could save your life. If you want to explore caves, unlit temples, or simply find your way to the bathroom during a blackout, a headtorch is a must.
Sleep anywhere
Sleep anywhere
Camping Hammock
Taking a tent backpacking is not always practical but hammocks are lightweight, cheap, strong, sexy (chicks dig hammocks), and allow you to pitch up for the night pretty much anywhere.
To stay a clean backpacker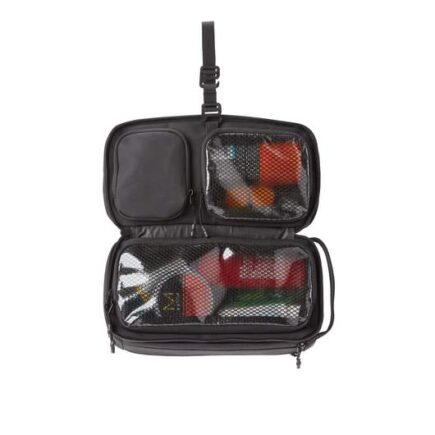 To stay a clean backpacker
Hanging Toiletry Bag
I always travel with a hanging toiletry bag as it's a super-efficient way to organize your bathroom stuff. Well worth having as it helps to have quick access to all your stuff.
Staying Safe in Namibia
Namibia is a very safe country to visit. Coming from somewhere like South Africa, which (let's be honest) can be a little TOO hectic, Namibia will feel like a lazy Sunday afternoon.
When there is crime, it usually happens in urban areas and townships. But most travelers are bound to spend almost zero time in these places. When someone arrives in Namibia, they usually head directly for the desert.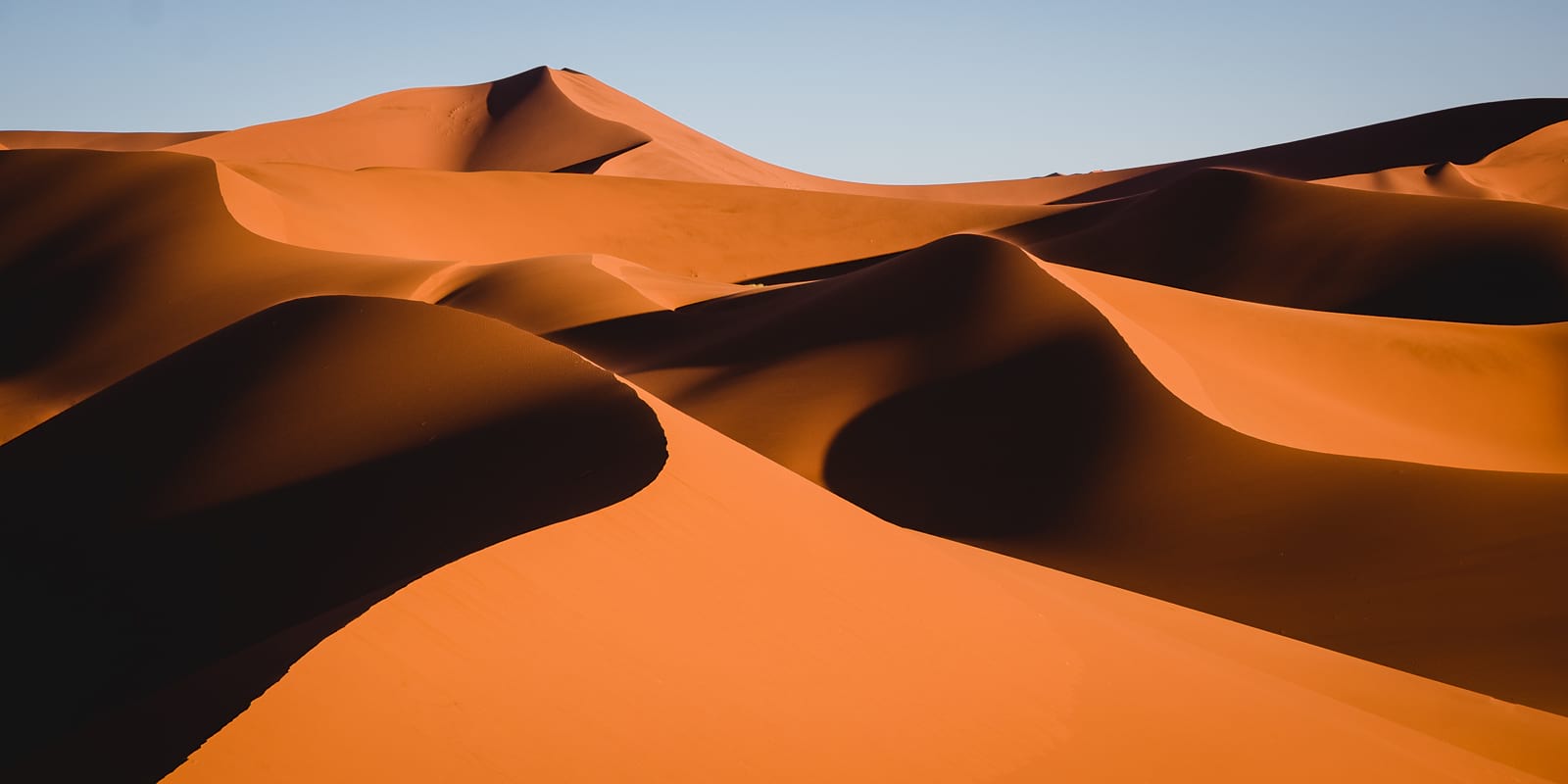 That being said, travelers should always be aware of their surroundings and practice the usual precautions when it comes to traveling. Just because somewhere seems "safe," doesn't mean it 100% is. Muggings can happen, even in Swakopmund and Walvis Bay.
Pick yourself up a backpacker security belt to keep your cash safe on the road. Check out this post for plenty of ideas on ingenious ways to hide your money when traveling.
Mostly, you'll need to wary of Mother Nature when backpacking in Namibia. Stay hydrated, protect yourself from the sun, and DON'T underestimate the wildlife. Lions, elephants, and hippos can fuck you up if they want, so listen to the guide when he says "stay in the car."
Travel Insurance for Namibia
Traveling without insurance would be risky so do consider getting good backpacker insurance sorted before you head off on an adventure.
I have been using World Nomads for some time now and made a few claims over the years. They're easy to use, professional, and relatively affordable. They may also let you buy or extend a policy once you've started your trip and are already abroad which is super handy.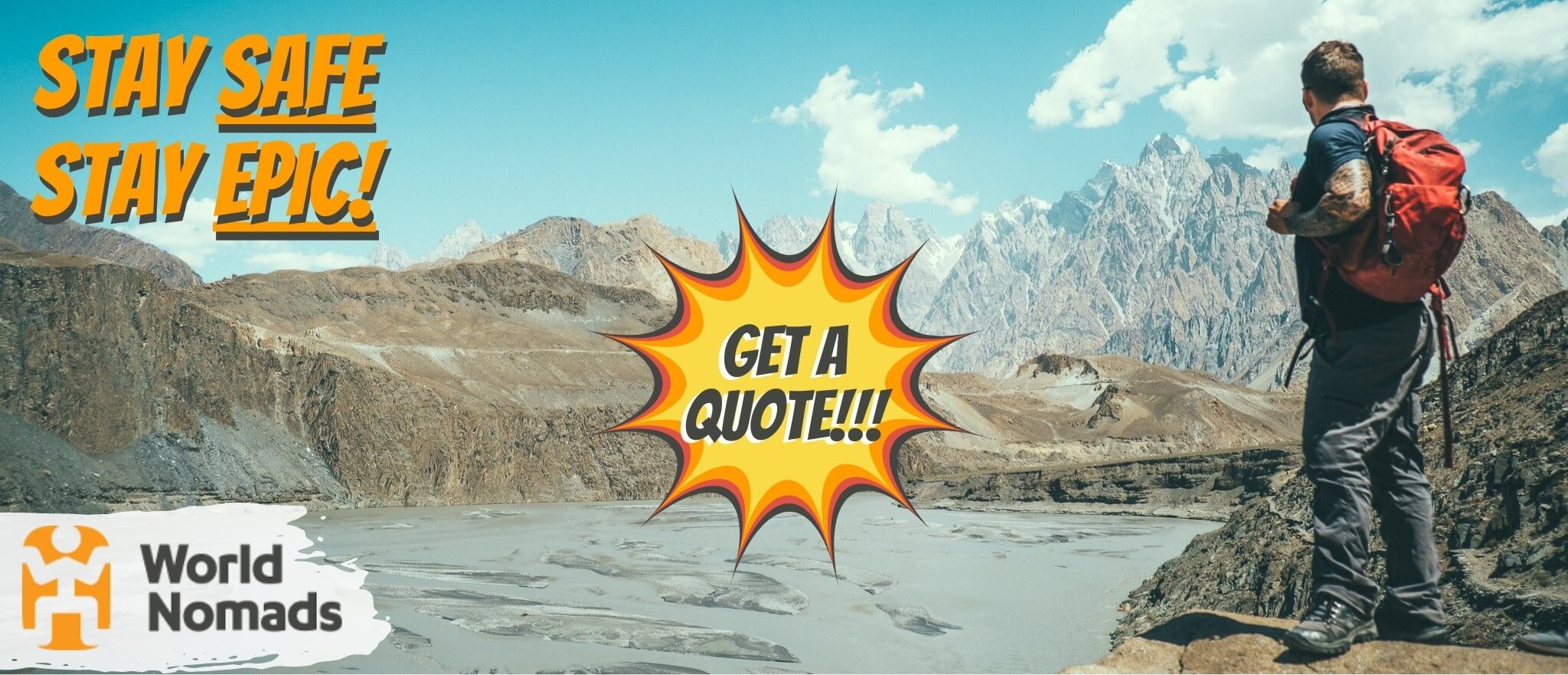 World Nomads' mission is to support and encourage travellers to explore their boundaries. They offer simple & flexible travel insurance, and safety advice to help you travel confidently.
They've been doing it since 2002 – protecting, connecting, and inspiring independent travellers just like you.
Get a quote below or read our in-depth review!
World Nomads provides travel insurance for travelers in over 100 countries. As an affiliate, we receive a fee when you get a quote from World Nomads using this link. We do not represent World Nomads. This is information only and not a recommendation to buy travel insurance.
Getting Into Namibia
It is easy to enter Namibia from and travel to many surrounding countries.
For one thing, Namibia allows most Western travelers to enter visa-free for up to 90 days. This includes citizens of the USA, UK, Australia, and Canada.
A lot of backpackers will combine both Namibia and South Africa into a single backpacking trip. Cape Town is the most common launching point from the latter. Traveling by a nice Intercape bus from Cape Town to Windhoek costs about R700 ($50).
If you're driving from South Africa, there are several border crossings, all in the Kunene region. If you take the B1 highway in Namibia, you'll be right next to Fish River Canyon!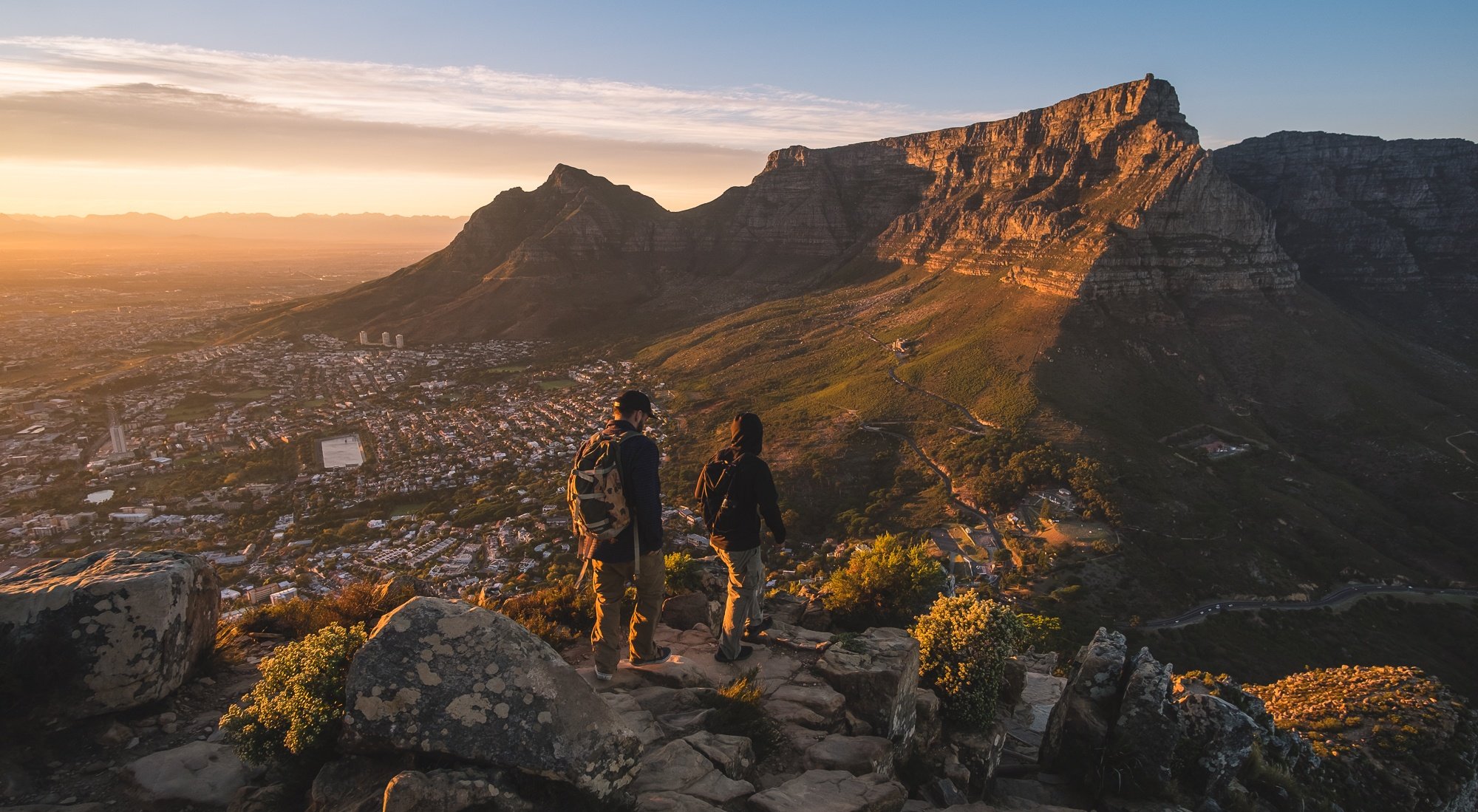 It is also possible to travel between Botswana and Namibia although there is no direct bus. Travelers will need to use a combination of local buses to arrive. Better to take your rental car if you have one.
Usually, there is also an Intercape bus connecting Windhoek and Victoria Falls. Normally, it takes 20-21 hours and costs R500 in total but it appears that the route is no longer bookable on the site. Confirmations welcome from fellow backpackers on the existence of this bus!
Finally, there are lots of cheap flights to found for Namibia. Most low-cost flights will depart from either Cape Town or Johannesburg.
Forget boring accommodation… book yourself an EPIC STAY!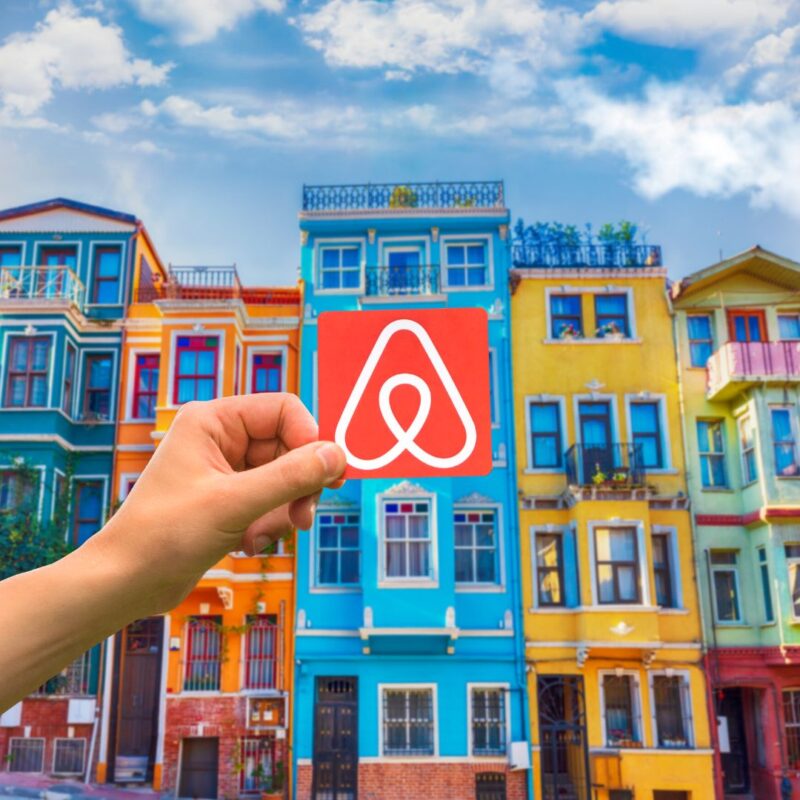 Why stay in a naff hotel when you can stay in a cosy, stylish local house instead? And for half the money too!
Stay somewhere EPIC and save your hard-earned dollars — from houses to barns to castles and caves, there is an Airbnb for every occasion!
Book an EPIC Stay
Getting Around Namibia
Make no mistake: Namibia is a big country. In fact, it is the 34th largest country in the world. This means you will have to seriously consider travel times whilst backpacking here.
It is possible to get around Namibia using the bus. The problem with this is that buses only drive on the single main tarred road running through the country. It thus won't get you to most of the remote areas, which is the main reason for visiting Namibia!
Backpackers are more likely to use the bus to reach the major tourist hubs and then try and organize some sort of shared car rental in one. Stay in a backpacker's here and try to hook up with other travellers. In Windhoek, we met a couple of backpackers and volunteers that rented a vehicle together for a couple of days. For this option, you cannot have limited time.
You can also travel to Swakopmund by bus or train and then organize some tours there. There are many tours running daily from here.
Self-drive Road Trip in Namibia
This is the ultimate way to travel Namibia! Just pull into a campsite, pop up your rooftop tent, light the fire, and open a beer!
To see most of the country a 4×4 is not essential, but it is nicer, safer, and more convenient. The main road going through Namibia is tar but only goes through the larger cities. If you want to see the parks, desert and other attractions you will drive hundreds of kilometres on gravel roads. To have some ground clearance for this is nice and you can drive a bit faster without feeling you are losing the chassis.
Another advantage is that you can use your own vehicle to go on safari in the game parks.
Granted, it is still possible to visit many of Namibia's must-see locations using only a sedan. One guy actually drove a Honda Civic through Sossusvlei and Etosha; and not only drove, but he also gunned it the entire way! Amazingly, he managed to deliver the car back in one piece and without incurring any additional fees. This is, obviously, not common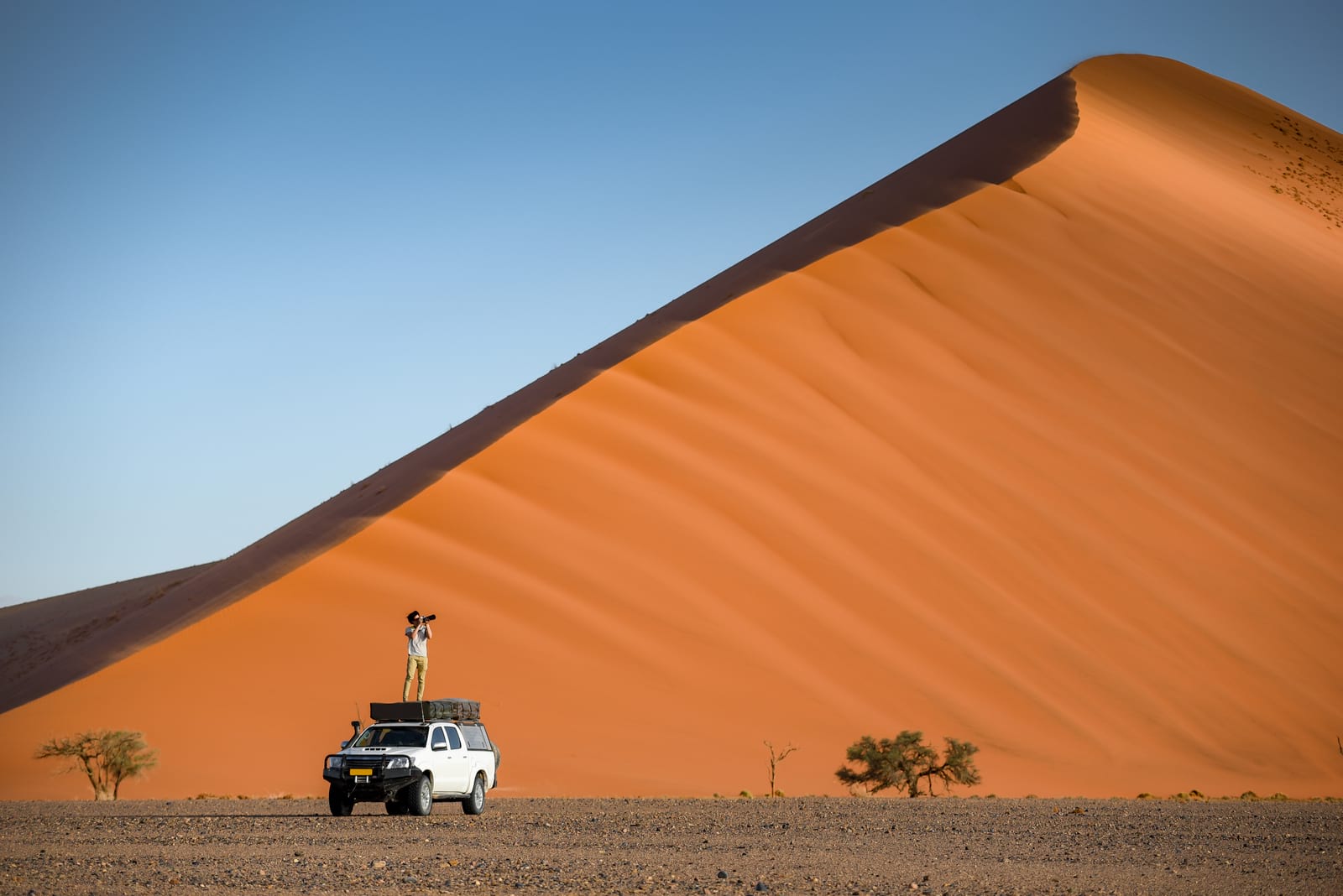 In some of the 'off the beaten track' parks lions and other wildlife are a real danger and sleeping in a rooftop tent on top of your car is the way to go! We camped in a little dome tent, I woke up in the Caprivi Strip one night; a hippo was so close to our tent I could hear it breathing!
We asked many travellers how much they paid for car rental. We found that NAM$ 700 -800 ($50-60) per day is a good deal for a single cab. This should include unlimited mileage, camp accessories including rooftop tent, pick up and drop off at the same place and minimum insurance in low season is a good deal.
We also suggest purchasing the rental insurance separately with RentalCover.com policy to cover your vehicle against any common damages such as tires, windscreens, theft, and more at a fraction of the price you would pay at the rental desk.
Some Tips for Self-Driving in Namibia
Things that will influence the rental price: single or double cab bakkie (truck), accessories, insurance package, limited/unlimited mileage, place of pick up and drop off, seasons (Low season=Jan – June, High Nov-Dec, peak=July-Oct)
Petrol consumption will be about 8 km per liter in an equipped 4×4.
Be prepared for more than one flat tire per day – have a good spare wheel and a tire repair kit.
You are going to drive for hours, organize music. There is no radio reception in many areas; we had a cheap FM modulator since CD's skip on the gravel road.
Take a small air compressor, so that you can deflate your tires for driving on sand.
If full camping gear is included it usually means a rooftop tent, table, camp chairs, cooler box, gas stove, sleeping bags, and everything else you might need for camping.
Hitchhiking in Namibia
Hitchhiking you will obviously have the freedom to get anywhere, but I am sure you can get stuck in some pretty remote areas in the desert. Even though traveling through Namibia is a lot safer than backpacking South Africa, seeing a hitchhiking tourist is not common.
Namibians are a friendly bunch and if you get a ride from a local farmer there is a good chance that he will offer you a place to stay or buy you lunch! Truck drivers also often pick up hitchhikers, but they drive mostly on main roads. There are many European tourists in rental vehicles going all over the place, unfortunately, most of the time they are quite full.
Staying Connected in Namibia
Airtime and data are cheap in Namibia, reception is unfortunately not great most of the time. It is handy to have internet access and to be able to phone campsites, lodges, etc.
The cheapest option for us was to buy an MTC sim card and use the Aweh Gig package.
Even if you have a local SIM card, you often don't have a phone signal. An off-line map is essential. The app maps.me works well enough although you should also take a paper map.
ioverlander is a very useful offline app that shows accommodation, campsites, reviews and more.
The Future of the SIM Card is HERE!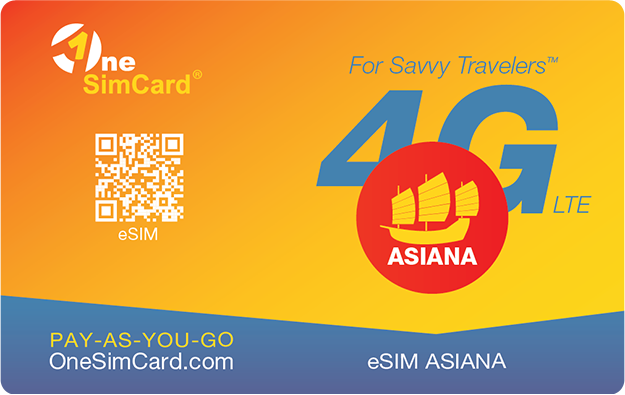 A new country, a new contract, a new piece of plastic – booooring. Instead, buy an eSIM!
An eSIM works just like an app: you buy it, you download it, and BOOM! You're connected. It's just that easy.
Is your phone eSIM ready? Read about how e-Sims work or click below to see one of the top eSIM providers on the market and ditch the plastic.
Buy an eSIM!
Volunteer in Namibia
Volunteering abroad is an amazing way to experience a culture whilst helping your host community. There are plenty of different volunteer projects in Namibia including teaching, construction, agriculture and pretty much anything.
Namibia is currently a developing country, so it's easy to find opportunities to volunteer. Language exchanges are common, and you'll also find opportunities to help out in hospitality and with sustainability projects. Short-term volunteers will need to apply for a work visa and a temporary residence permit.
Worldpackers
Our go-to platform for finding volunteering gigs is Worldpackers, an online company that connects travelers with volunteer hosts who then work in exchange for housing. It offers a plethora of additional resources, a great support network, a blogging platform for collaboration, and a whole lot more. All you have to do is sign-up, log in, create a profile and look for potential hosts and projects that interest you. Have a look at the Worldpackers site and see if they have any exciting opportunities in Namibia before signing up.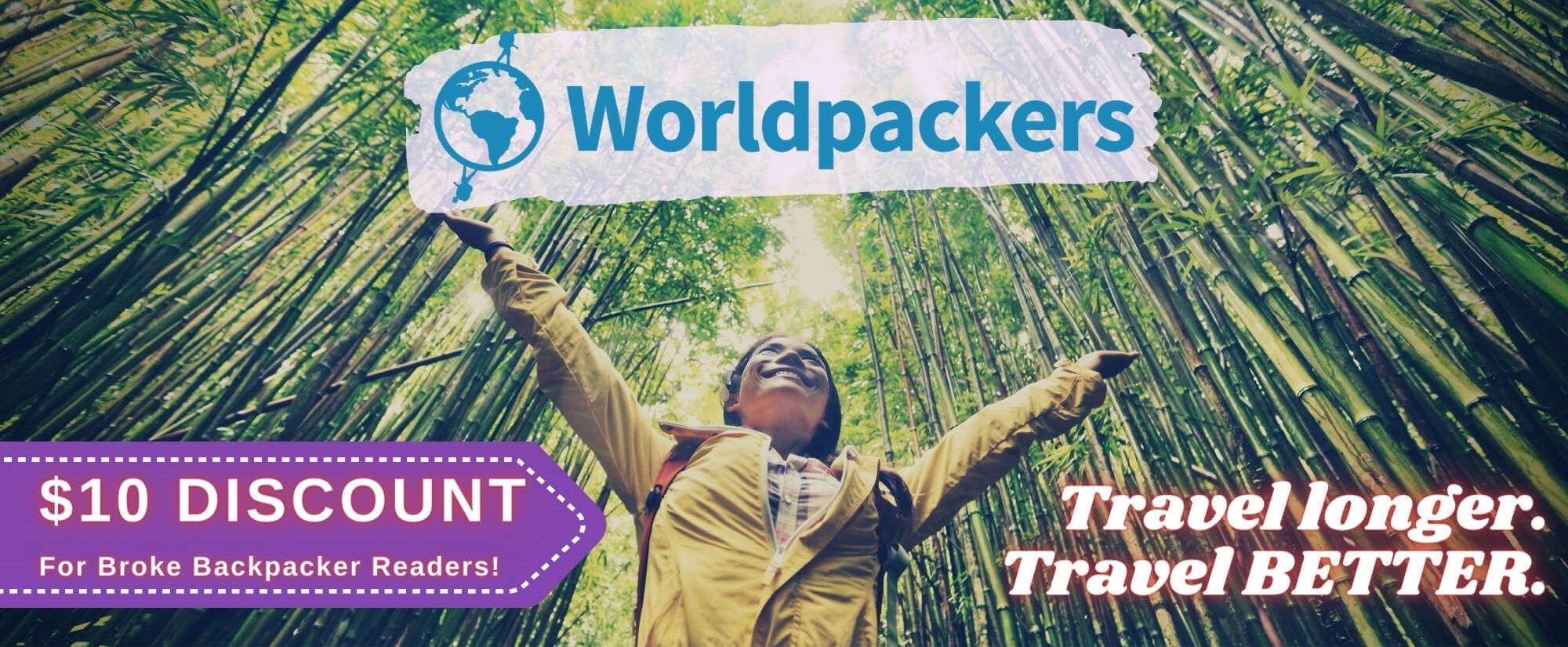 Worldpackers: connecting travellers with meaningful travel experiences.
Workaway
Alternatively, Workaway is another excellent common platform used by travellers searching for volunteering opportunities. Workaway is pretty massive, with over 40,000 hosts registered (that's 40,000 opportunities) and over 350,000 reviews on the site. With a database base that big, odds are you'll be able to find something that strikes your fancy. You can read our review of Workaway for more info on using this terrific platform.
Volunteer programs run through reputable work exchange programs like Worldpackers and platforms like Workaway are usually very well-managed. However, whenever you are volunteering do stay vigilant, especially when working with animals or children.
Global Work and Travel
Last, but certainly not least, Global Work and Travel is another viable option for finding volunteer opportunities in Namibia. What sets Global Work and Travel apart from other volunteering platforms is the amount of assistance they give, from a 24/7 global help-line, help with VISA processing to airport transfers and continued support once you are in Namibia. It may be a smaller platform, but the projects you'll find are high quality and immaculately organised. There are new programs and opportunities listed constantly as Global Work and Travel continues to grow its reach.
For those interested in volunteer work in Namibia, Global Work and Travel offer an Elephant Conservation & Helping Local Farmers project with the option to stay anywhere from 2 to 12 weeks. As with all volunteer abroad programs, there's a cost, but you'll be able to pay it off in interest-free instalments. Don't forget to bring your camera and make sure you are between the ages of 18-85 to qualify!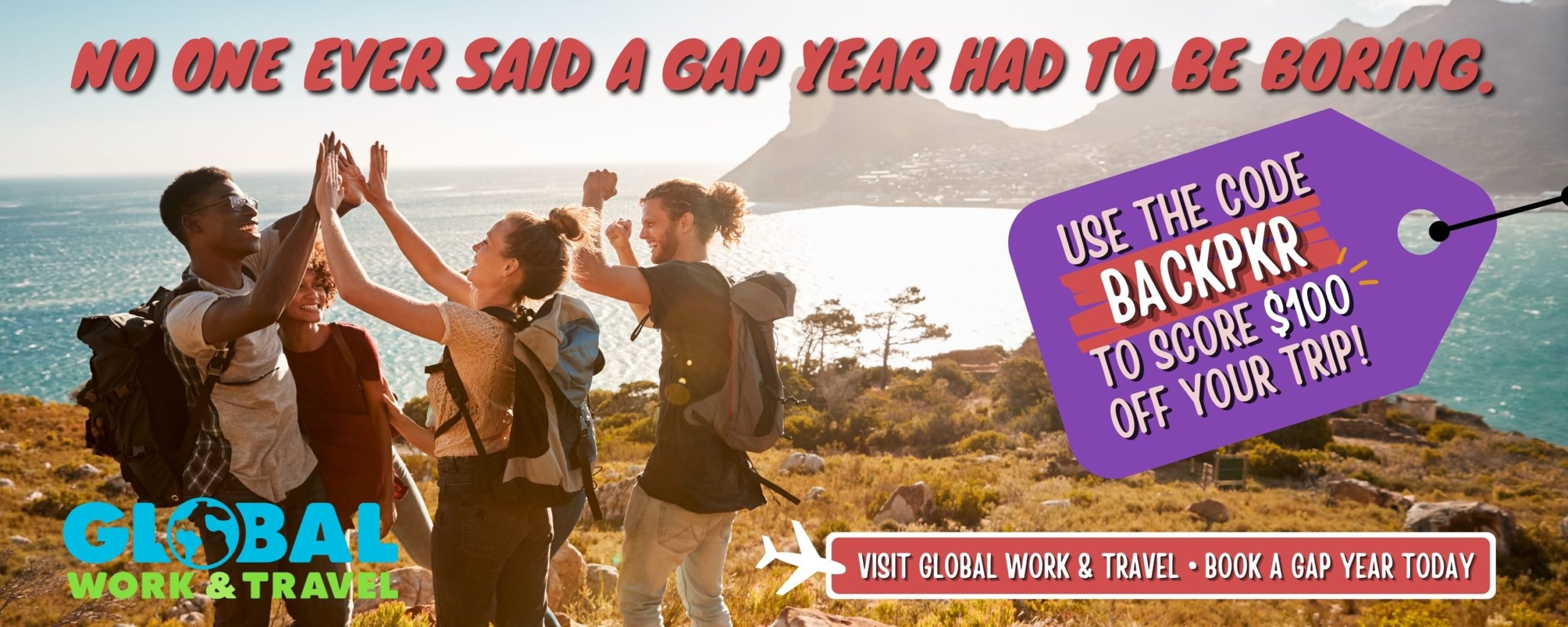 What to Eat in Namibia
Namibian food is very similar to South African food: meat is the main course, starch is the filler, and vegetables are usually an afterthought.
There is some German food to be found in Namibia, mostly at the beer halls around the tourist towns. Swakopmund actually has a couple of good restaurants to visit, like Swakopmund Brauhaus and Altstadt.
Mostly though, backpackers will be cooking on their own. Stock up on supplies at the local markets and hit the road. Try and buy canned foods or non-perishables: in the African heat, fruits and dairy will go bad very, very quickly.
Those who've spent a bit of time in South Africa will be happy to hear that biltong is also common in Namibia! Biltong is a popular and delicious snack, almost like jerky, made from game meats. It's generally more juicy and rich than the dried stuff you find in the USA or Europe too.
If you're presented with the opportunity, you should absolutely BBQ yourself. Buy some wood, blitz (firelighters), and some meat – which is great quality in Namibia – for a real African barbecue or braai (pronounced 'bry' like dry).
Namibian Culture
Like, its southern neighbor, Namibia is an extremely diverse nation that is relatively attuned with Western civilization. It was "discovered" by the Portuguese, has been colonized by the Germans and British, and was once a part of South Africa.
Due to it once being a part of South Africa, Apartheid was in effect in Namibia. It, in addition to many other African nations affected by the heavy hand of Apartheid, sought to liberate themselves. Ultimately in 1990, Namibia, formally known as South West Africa, broke off from South Africa after various border wars.
Namibia is now a democratic nation, responsible for representing at least eleven different ethnic groups. The Himba, Owambo, and Damara are a couple of well-known instances. White Namibians, deriving from Germans, English, and Afrikaans, are also a significant demographic that still and live in relative harmony with the others.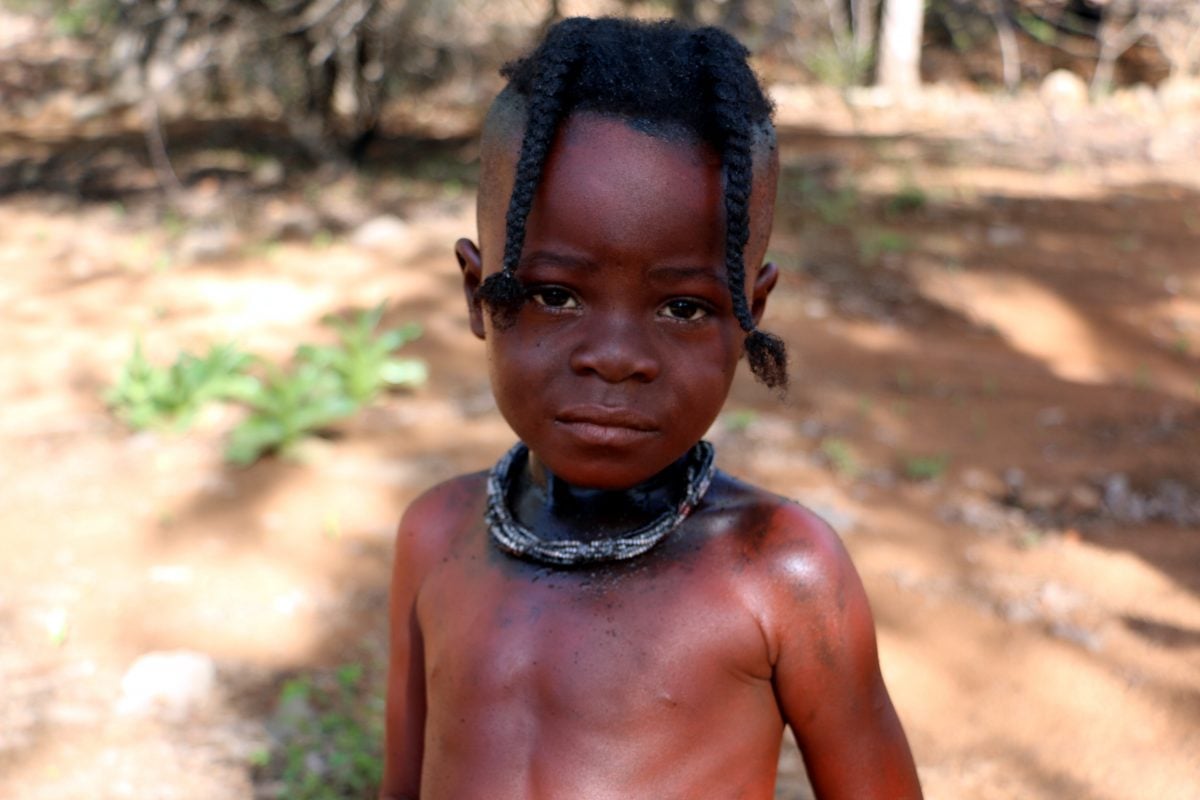 Namibians as a whole are generally open-minded people. They're cordial with most and are used to foreigners visiting by now.
That being said, you should always be respectful when visiting a new country. Racism is still a very real issue in Namibia so avoid the topic if possible.
For that matter, travelers should also think carefully about putting in their two cents. Namibia and Southern Africa as a whole is an extremely complex place, culturally, socially, and economically, and certain opinions may come off as ignorant, despite positive intentions.
Useful Travel Phrases for Namibia
Aside from the indigenous languages, of which there are many in Namibia, English, German, and Afrikaans are all commonly spoken in Namibia.
English is widely understood, at least on the main tourist trail. That means there should be plenty of English speakers around Sossussvlei, Etosha, Windhoek, and Swakopmund.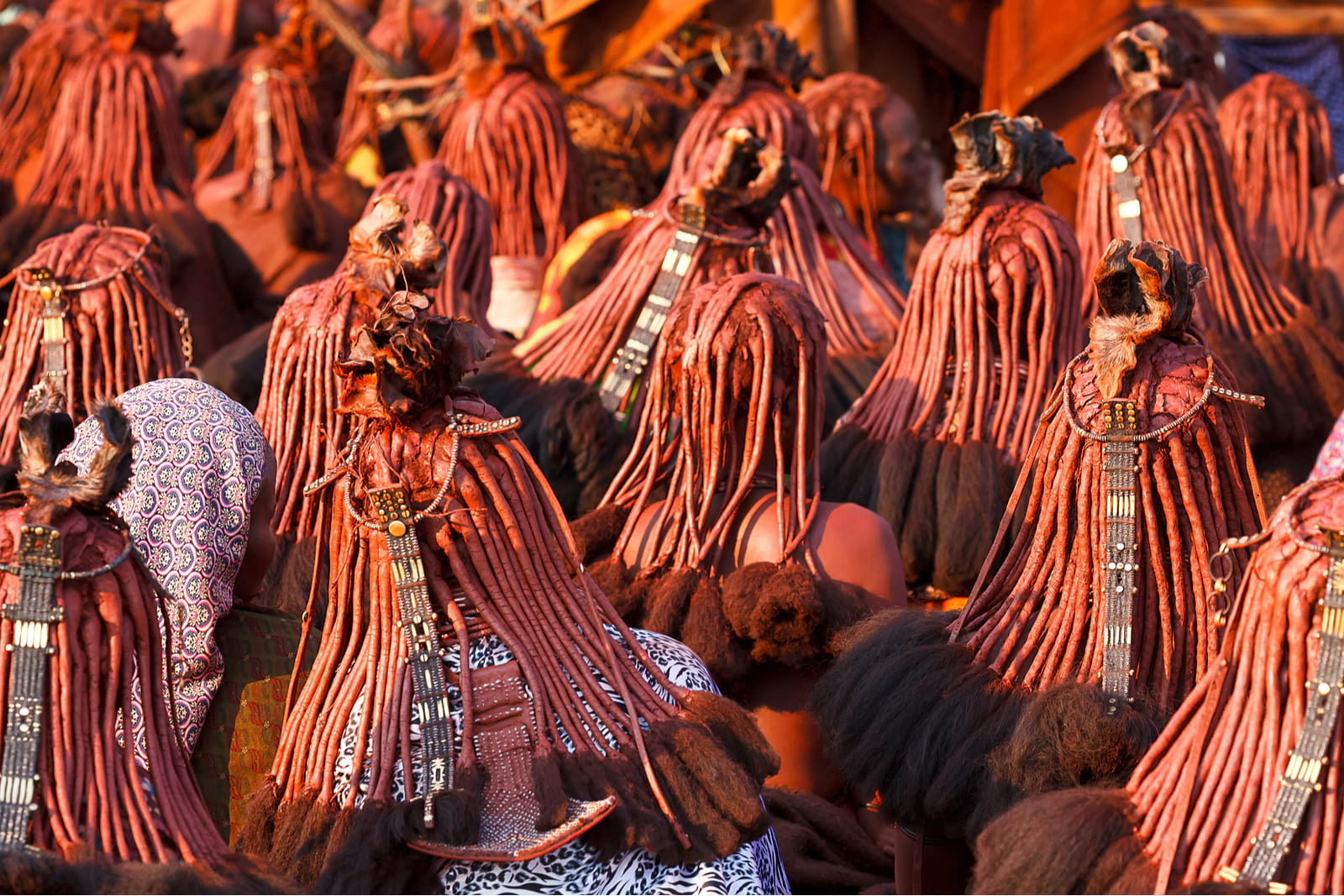 German is also quite common and you'll see lots of restaurant menus and hotel pamphlets written in it. This adds to this sometimes strange "out-of-place" sensation that Namibia evokes: there's nothing quite like being served by a German barmaid in the middle of the desert.
Afrikaans is the most widely understood language in Namibia. You aren't required but knowing a little Afrikaans would make the locals a bit more receptive to you. Here are some useful phrases:
Welcome – Welkom
Hello – Hallo
Yes – Ja
No – Nee
Sorry – Jammer
Please – Asseblief
I don't know – Ek weet nie
How are you? – Hoe gaan dit met jou?
Cool – lekker
No plastic bag – Geen plastiek sak
No straw please – Geen strooi asseblief
No plastic cutlery please – Geen plastiek eetgerei asseblief
Where are you from? – Waarvandaan kom jy?
Excuse me – Verskoon my!
How much is this? – Hoeveel kos dit?
How much is a beer? – Hoeveel is 'n bier?
Travelers should also try to learn a bit of the local African languages, like Oshiwambo. They're difficult to speak and understand but very fascinating to learn!
Books to Read about Namibia
Namibia is a surreal, beautiful country, but it really helps to do some reading on this country before visiting it. Below are some of my favorite books set in Namibia (and books set in Africa, in general).
Final Advice Before Visiting Namibia
Backpacking Namibia can be one hell of a trip at times given the right circumstance. Take it from me, it can be easy to get carried away. It is important to keep in mind that you are an ambassador for your country, which is awesome. We can make a positive impact on people when we travel and get rid of any ugly stereotypes that may be associated with your country.
If you visit indigenous villages or small communities in the rural areas always ask before taking photos. The people who live in these villages are not exhibits in a museum. They are normal folks just living their lives. Always show them the complete respect that they deserve.
When buying a local craft, do not haggle so low that the price is unfair to the person who spent countless hours crafting it. Pay people what they are worth and contribute to the local economies as much as possible.
Backpacking Namibia or any region for that matter often illuminates some of the great socio-economic inequalities of the world. Never take it for granted that you are healthy and financially able to go traveling. Show the world around you some gratitude and help to make a positive impact on it. Most of all have the time of your life and spread the love!
---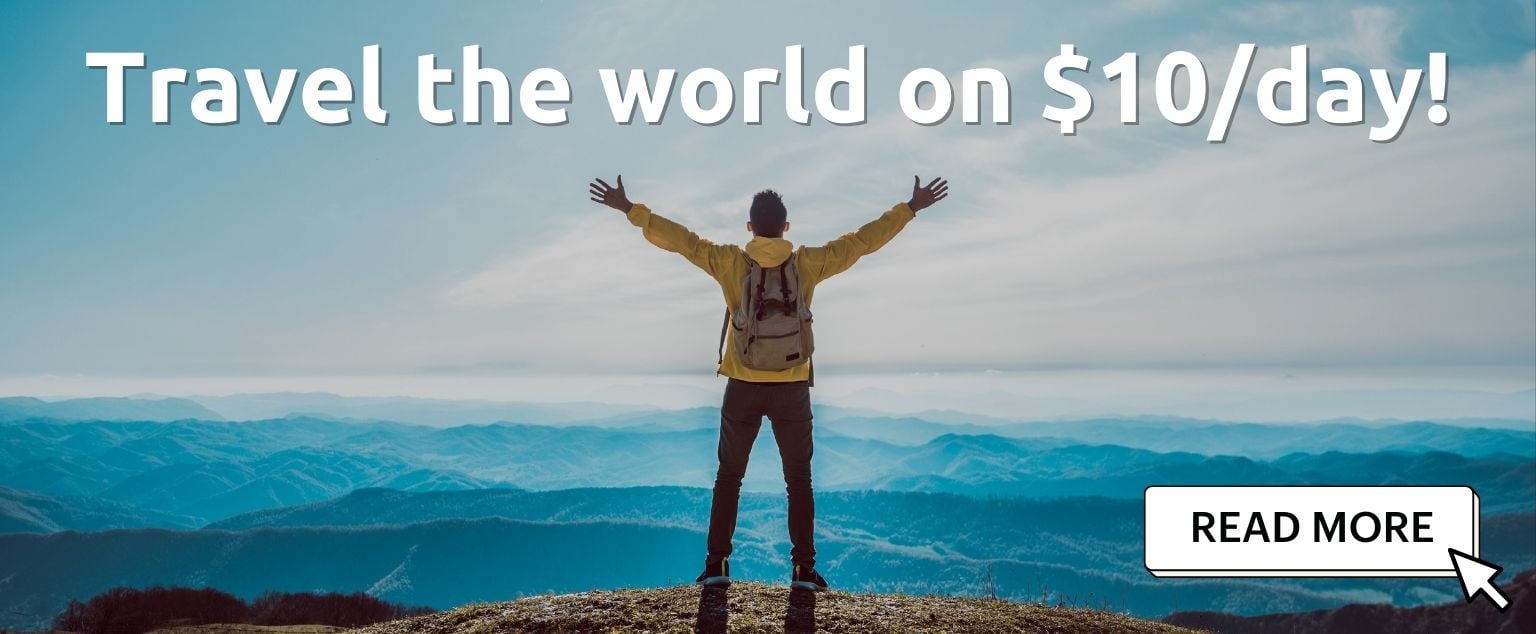 And for transparency's sake, please know that some of the links in our content are affiliate links. That means that if you book your accommodation, buy your gear, or sort your insurance through our link, we earn a small commission (at no extra cost to you). That said, we only link to the gear we trust and never recommend services we don't believe are up to scratch. Again, thank you!