Though Namibia hasn't typically been a top bucket list location for many travellers, it is starting to grow as a major tourist destination in Sub-Saharan Africa. The Namib Desert lines the coast, and is famed for its lunar landscapes and outstanding scenery! The interior is also home to some great safari adventures, cultural highlights and signs of their unique history.
As a relatively new destination, finding information on where to stay in Namibia can be difficult. Whilst the capital is a great starting point, many of the best attractions are dotted around the country. Hitting multiple destinations during your trip is a great idea – but where should you even be considering?
Well, thankfully we have the answers for you! We've figured out the eight best places to stay in Namibia, and categorised them based on what they are best for. We've also included our top hotel picks and a rundown of the main reason to visit each place.
So let's just jump right into it!

Unlock Our GREATEST Travel Secrets!
Sign up for our newsletter and get the best travel tips delivered right to your inbox.
Quick Answers: Where is the Best Place to Stay in Namibia?
Map of Where to Stay in Namibia
Windhoek – Overall Best Place to Stay in Namibia
Windhoek is the capital city of Namibia – and with the largest airport, chances are it's where you will arrive! With a population of around 250,000, it is actually quite a small city by international standards. This gives it a deceptively calm atmosphere, leaving you with plenty of space to unwind and soak up the laid back vibes.
Namibia has a pretty turbulent history as a former German colony, and then later part of the Union of South Africa during Apartheid. Namibians struggled for decades to gain independence, and therefore have a lot of national pride. This can be seen most clearly in Windhoek, which contains the best historical attractions in the country.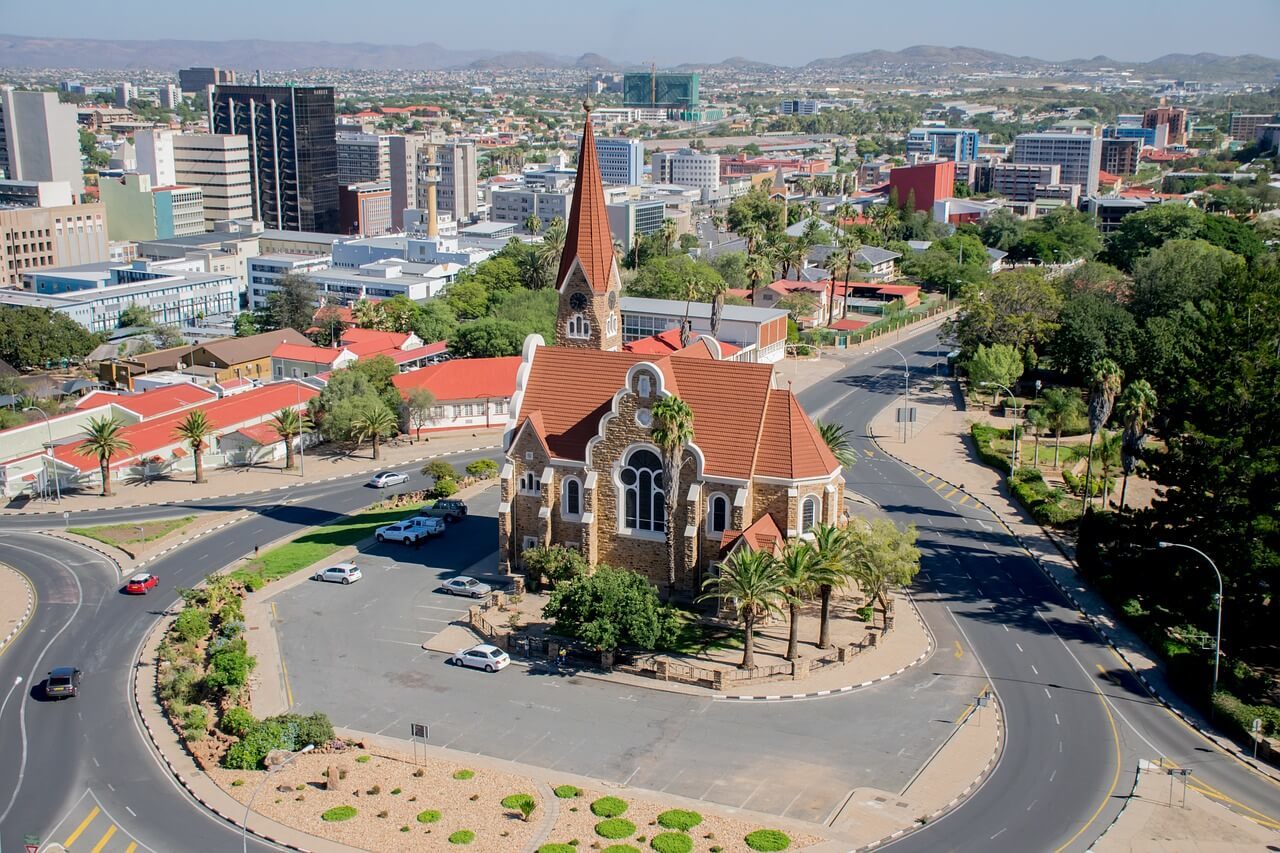 Beyond the history, Windhoek is also the place to be if you are planning multiple guided tours of the country. It is located right in the middle of the country, so many safaris and desert excursions depart from Windhoek. Even if you are going self-guided, we recommend taking a few days to take in the capital before continuing on your backpacking trip of Namibia!
Best Places to Stay in Windhoek
Public transport is pretty much non-existent across Namibia, so we recommend always aiming for the centre of town – especially in Windhoek. All of the hotels will likely be based here anyway. But, if you've hired a car, you can get away with opting for the cheaper accommodation options in the outskirts of the city.
Right in the heart of Windhoek, this apartment is only a short walk away from the National Museum of Namibia. This building is relatively new, with apartments updated often to ensure the latest standards of comfort. The building is managed by a property company, with plenty of fantastic reviews and superhost status. There is also a doorman to ensure you stay secure.
This small hotel is locally owned, with hosts that know everything there is to know about the city! It comes with an environmentally-friendly ethos, making it a great pick for eco-conscious travellers. They offer social events, as well as casual tours of Windhoek and local markets. It also comes with a gorgeous swimming pool and sunbathing area.
If you want a typical, European style hotel then your best bet is to stay in Windhoek. This five-star gem is a great example – and our top pick for luxury hotels! Not only does it come with a pool and spa, there is also a large garden area with an artificial waterfall where you can soak up the peaceful atmosphere. There is a lounge area on the top floor with views across the city.
Etosha National Park – Best Place to Stay in Namibia for Families
Etosha National Park is the second-largest game reserve in Namibia – and one of the best destinations for families! It is easier to get around, and has more guided options than the larger game reserve. If you are travelling with kids, there are plenty of fantastic tours that will take you around the area.
The large body of water in the centre of Etosha National Park is a magnet for wildlife. You are almost guaranteed to spot the Big 5 nearby! If you are staying in Namibia during the dry season, this is a great spot to take the camera and try snap some of your favourite animals.
Etosha National Park can easily be reached from Windhoek but you will need a car to visit the park. Alternatively, you could use one of the many awesome tour operators in the region. If you want to get there from the airport and you don't have a car, you won't struggle to find a tour company who will take care of all the logistics and will drop you off at your accommodation after the tour.
Best Places to Stay In Etosha National Park
You can't actually stay in the national park itself, but there are plenty of towns surrounding the area that have great options! Many of the hotels will also be able to link you with tour guides and transport companies.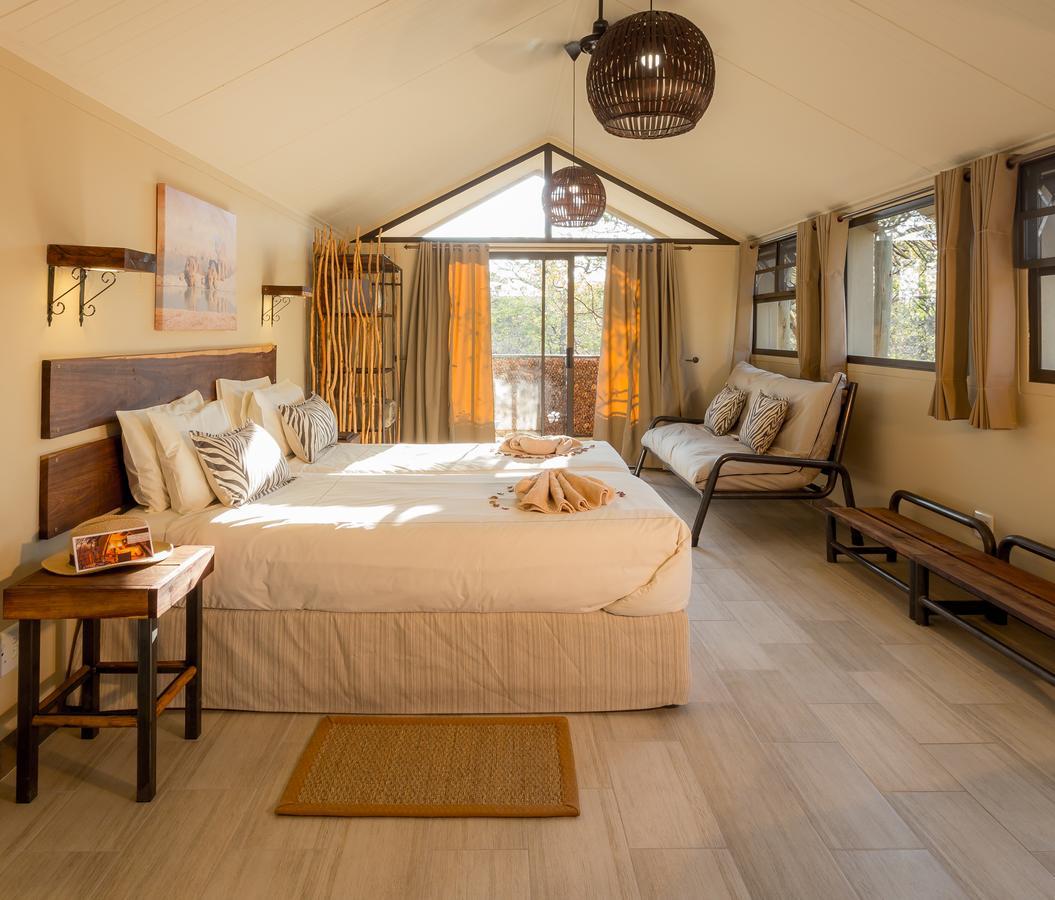 Best Airbnb in Etosha National Park: Villa Cacao
This stunning villa is the perfect pick for an authentic African bush experience! Right in the heart of Etosha National Park, there are plenty of safari providers nearby. It can sleep up to six people across four bedrooms, making it an excellent choice for larger families. There are also three bathrooms, giving the adults some extra privacy.
Best Hotel in Etosha National Park: Etosha Village
This hotel is just outside Etosha National Park – but if you've got a car, it's a great option for staying close to the park. Their standard rooms can sleep up to two adults and two children, so most families will be easily accommodated. They have two gorgeous pool areas with views of the scenery, plus a kiddie pool for the little ones. Breakfast is included.
Best Hostel in Etosha National Park: Tsumeb Backpackers & Safaris
Tsumeb is on the outskirts of Etosha National Park, but this hostel is a great choice for those on a strict budget! Facilities are basic, but adequate for a comfortable stay in the area. There is a small splash pool where you can cool off during the warmer months. Parking is also available, and we recommend hiring a car if staying here.
Tsumeb Backpackers & Safaris is one of our favourites in Namibia but they're not taking guests right now. We're not sure if they're closed for good but we hope they'll come back soon.
Swakopmund – Most Romantic Place to Stay in Namibia for Couples
Namibia in general is quite an unusual destination for couples – but it can be an excellent choice if you are both quite adventurous! Swakopmund is located right on the coast and is very popular with Namibians looking for a short break in the country. It's quick to get to from Windhoek and is also a major gateway to the Namib Desert.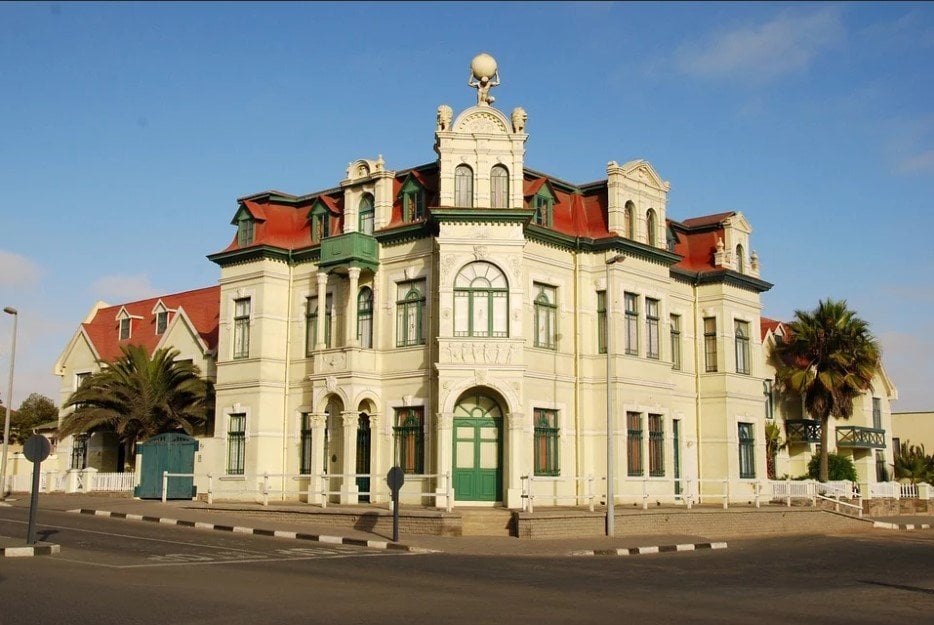 Swakopmund is home to some of the best examples of German colonial architecture. This can make it quite a jarring experience, as the desert location is also quite apparent, but also creates a unique atmosphere that is perfect for a romantic break in the country.
There are a few minibuses that operate to Windhoek, making Swakopmund one of the easiest destinations to reach outside of the capital! It's also only a short trip from Walvis Bay, so both can easily be reached from each other.
Best Places to Stay in Swakopmund
Swakopmund is pretty small, so anywhere you stay in the city will be easy to reach on foot. There is no public transport, but we don't think it's needed anyway.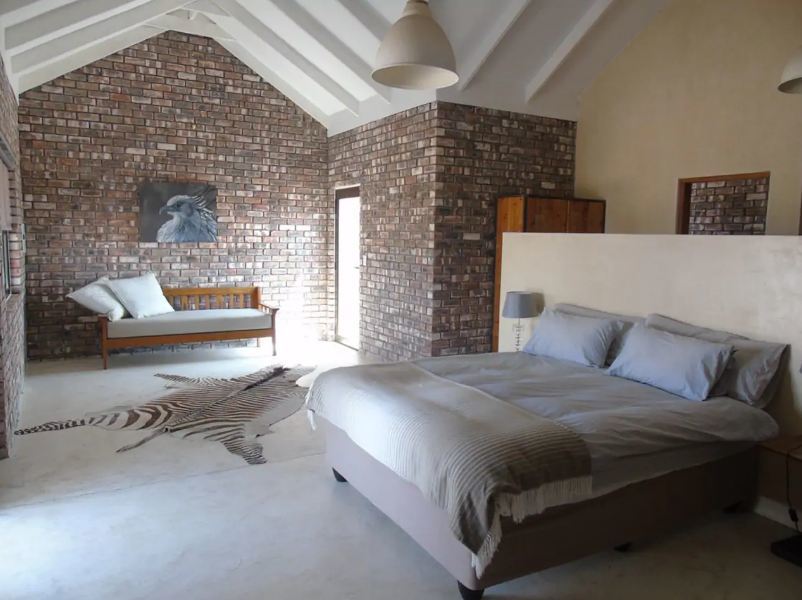 Just outside Swakopmund, Gare de la Lune provides a peaceful getaway for groups that want to stay near the coast. Two of the three bedrooms have en-suite bathrooms, and the entire apartment is kitted out with modern comforts. It is surrounded by the Namib Desert, giving you unique landscapes to admire every morning! With no neighbours, this is the ultimate choice for those that want some seclusion.
Right in the heart of Swakopmund, this hostel is located on the beach – giving you immediate access to sunbathing and watersports! It comes with a spacious barbecue area where you can cook up your meals in the sunshine and mingle with other guests. There is also an indoor kitchen with modern equipment, and a complimentary breakfast is provided every morning.
$$
Sustainable living focus
Great beach location
Safe surfboard storage
This hostel was too good to leave it out of the list. Salta Jackal stands for sustainable living and great hospitality – exactly what backpackers are looking for! There's a beautiful garden, a hostel dog and a cat for great company, super nice and helpful staff and incredible surf options all around you. The beach is in walking distance as well!
Salty Jackal was built in the 1960s, renovated in 2009, and blends together old-world style and quality with modern, comfortable and simple living. It's decorated to inspire surfing and quality food while also showcasing the breathtakingly beautiful Namibia.
For couples that want a romantic experience on the coast, this stunning hotel comes with a beautiful roof terrace. You can enjoy watching the sunset over the Atlantic every morning whilst sipping on a glass of wine or two. It is only a short walk from the beach, as well as plenty of city centre attractions. You can also request a room with a private balcony.
Is This the Best Travel Pack EVER???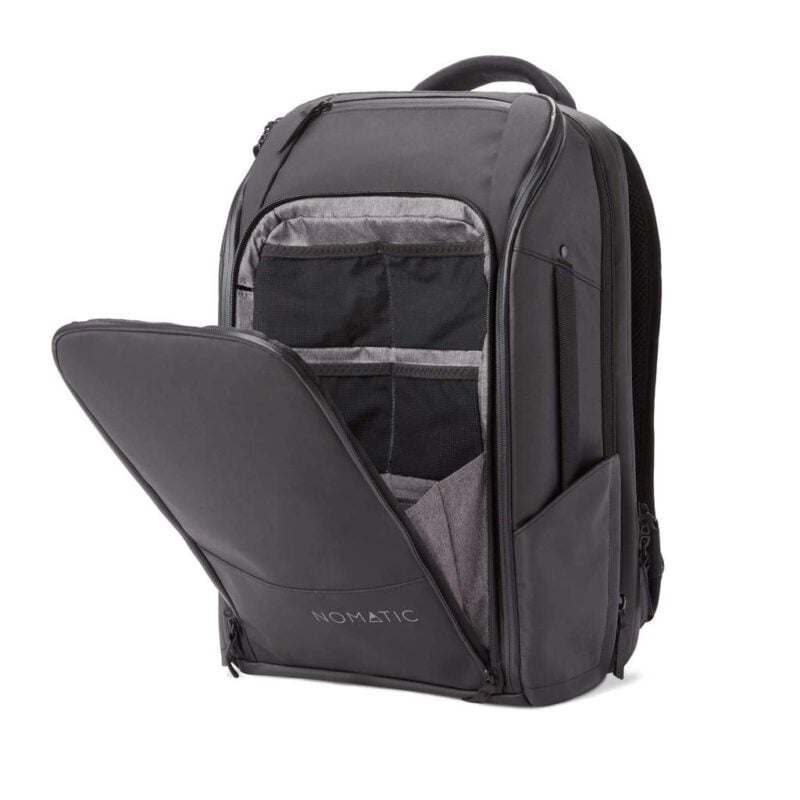 Lüderitz – Coolest Place to Stay in Namibia
Whilst there are plenty of great examples of German architecture along the Namibian coast, Lüderitz is easily the most German feeling city in the country. The town reflects the art nouveau style that was popular in Europe at the time of its construction. It is now growing as a major destination in the country, so the waterfront is much more modernised.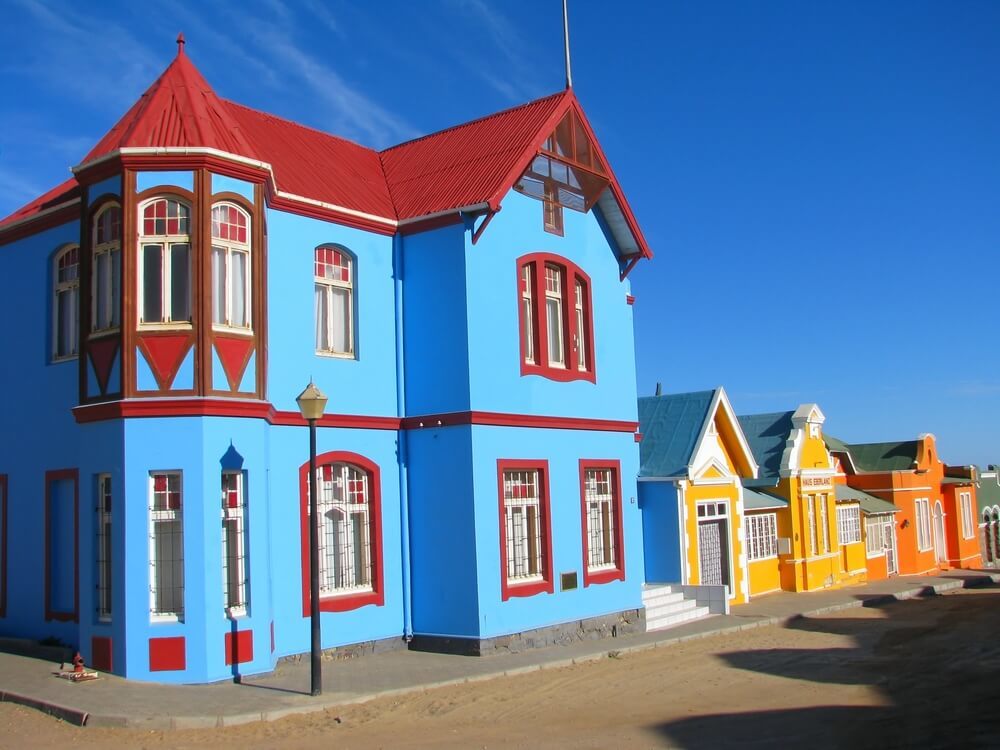 Lüderitz has a few attractions related to the German occupation of the country. Whilst this was considerably more peaceful than the subsequent South African rule, it still left some scars on the country so do remember to be respectful of this. Nevertheless, it can be a rewarding experience for learning about one of the most unique colonies on the continent.
Best Places to Stay in Lüderitz
As with all of the other towns in Namibia, getting around on foot isn't a huge undertaking. If possible, try to stay close to the waterfront as this is where most of the necessary facilities and tourist attractions are located.
Whilst this property hosts a number of different groups, you will have your own self contained unit within the complex. It comes with gorgeous views across the ocean, and is only a short walk away from central Lüderitz. The outdoor areas come with large decked spaces where you can enjoy dinner with a view. They also have plenty of parking spaces – perfect if you're planning a few road trips.
Whilst the dormitories are spacious and comfortable, if you're looking for a private room this is one of the best hostels in the country! Privates are affordable, and the large communal areas mean you get to enjoy the social benefits of hostel living. The hostel can also arrange quick airport transfers at a discount to guests, as well as the occasional tour.
This quaint bed and breakfast is locally owned and enjoys an intimate atmosphere. Close to the coast, many of the rooms come with ocean views – and these can be requested in advance. The Lüderitz Museum is only a short walk away, and the friendly owners are more than happy to give suggestions on local attractions and restaurants.
Walvis Bay – Where to Stay in Namibia on a Budget
In all seriousness, Namibia as a whole is an inexpensive country by Western standards (and, indeed, by the standards of most neighbouring countries). Walvis Bay is the only major port in the country, which helps keep costs even lower as this is where consumer goods arrive. It is also home to some great desert sports activities offered at cheaper rates than the tours departing from Windhoek.
Walvis Bay is also known for its flamingo colonies! You can see these year-round along the waterfront, so make sure to pay them a visit. Swakopmund is only a 20-minute drive away. If you're looking for the ultimate adventure, this is the cheapest place to take the week-long boat trip to St Helena.
If you're happy to stick to the Namibian coast but still want to take a boat trip, there are plenty of fantastic dolphin spotting adventures that depart from Walvis Bay! A few local companies offer deals when you combine these tours with safari trips, letting you see the best wildlife in Africa for less.
Best Places to Stay in Walvis Bay
The town is small in population but does sprawl out quite considerably. Stay close to the port for access to essential services – though there are also some great accommodation options near the flamingos.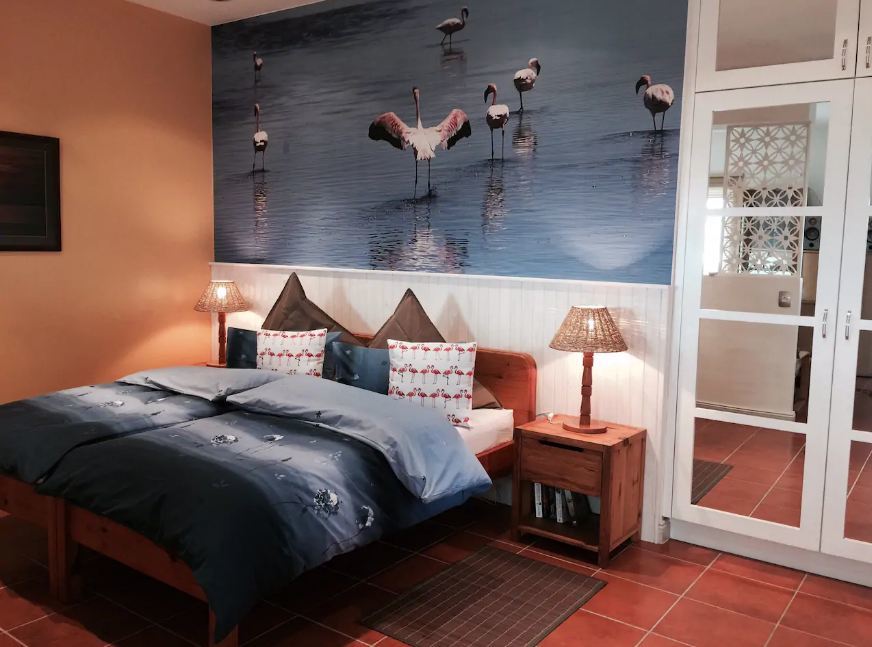 Best Airbnb in Walvis Bay: Birdwatching
Watching the flamingos is one of the main attractions in Walvis Bay – and this apartment lets you see them from your window! The interior design is modern, drawing upon modern European styles and the colours of the Walvis Bay horizon. It is located in one of the safest neighborhoods in the area, and there are some great watersports equipment hire shops nearby.
This small bed and breakfast also provides dorms – with some of the cheapest rates in Namibia! They also have a small apartment if you want some additional privacy. If you aren't able to travel with a car, they can arrange transport to the airport and the beach. They also have regular social events throughout the week, and offer discounts on local activities like windsurfing.
Just like the Birdwatching apartment, Flamingo Villas Boutique Hotel comes with great views over the flamingo colony! Many of their rooms are surrounded by windows and look directly towards the coastline, so you are guaranteed to wake up to gorgeous views every morning. There's also a huge terrace where you can mingle with other guests and enjoy drinks from the on-site bar.
The Future of the SIM Card is HERE!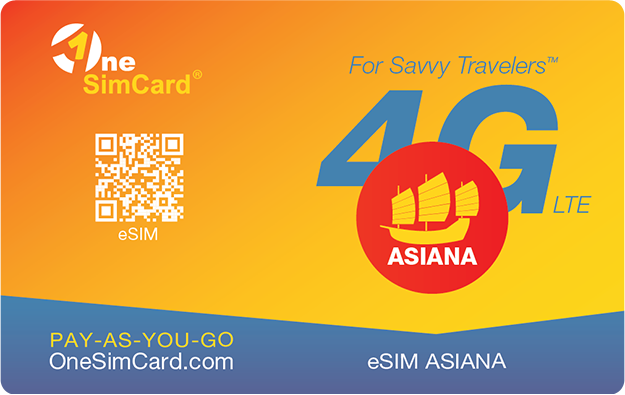 A new country, a new contract, a new piece of plastic – booooring. Instead, buy an eSIM!
An eSIM works just like an app: you buy it, you download it, and BOOM! You're connected. It's just that easy.
Is your phone eSIM ready? Read about how e-Sims work or click below to see one of the top eSIM providers on the market and ditch the plastic.
Buy an eSIM!
Keetmanshoop – One of the Most Unique Places to Stay in Namibia
Located on the side of the road connecting Windhoek with South Africa, Keetmanshoop has long been considered nothing more than a stopover point when commuting elsewhere. It is also, however, an interesting place to visit in its own right with stunning landscapes and a preserved German culture.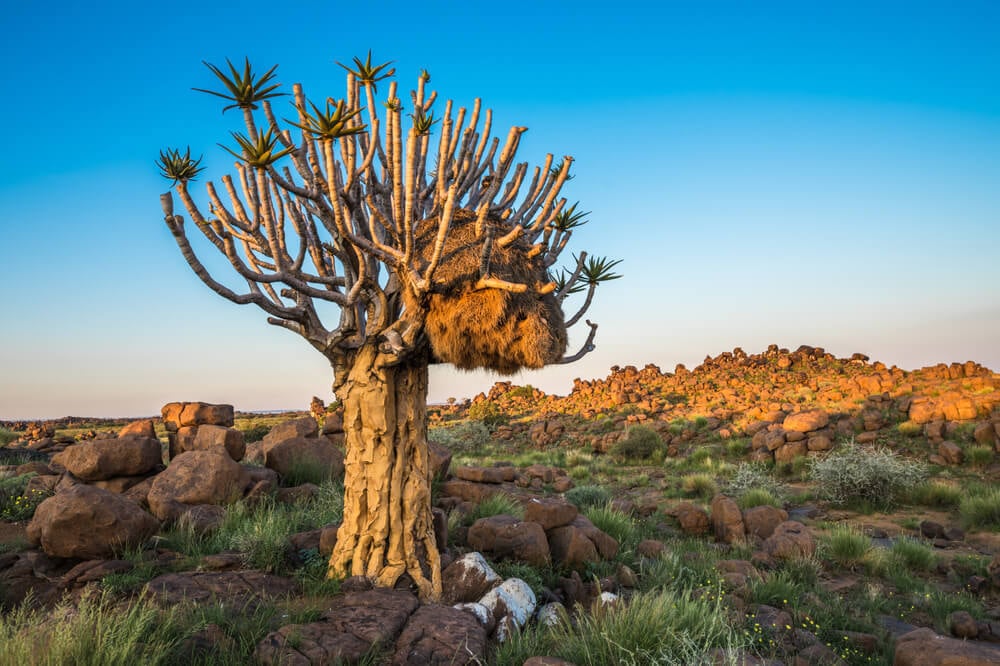 Keetmanshoop is a great place for hiking – especially if you want to visit Fish River Canyon Park. This is home to one of the largest canyons in the world, and can be easily trekked to from the town. There aren't any guided tours yet, but your hotel can advise you on the best route and there is a small tourism office in the town.
Best Places to Stay in Keetmanshoop
Keetmanshoop is tiny, so you don't need to worry about which neighborhood to go for. It has a distinctively European culture that can be comforting if you miss home. There are also some great rural retreats just outside the town.
Whilst this is quite a basic offering from Airbnb, it comes with five single beds making it a great choice for large groups! The apartment has its own private barbecue area where you can enjoy dinner under the sun – as well as a small kitchen. There is also a separate communal barbecue area within the building where you can mingle with guests from other apartments.
There aren't any hostels in Keetmanshoop, but Schuetzenhaus Guest House offers extremely well-priced rooms and an exciting communal atmosphere. It's a short walk from the main mall in Keetmanshoop, making getting supplies quick and easy. They offer single rooms as well which is a popular choice with solo travellers. A complimentary full English breakfast is provided every morning as part of the rate.
If you want a bit of an upgrade, this guesthouse has a cosier atmosphere and modern furnishings. They have a large barbecue area where you can prepare meals and chat with other guests. Most of the rooms also have their own private kitchenette area where you can enjoy some food in peace if you just need some time alone.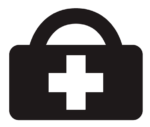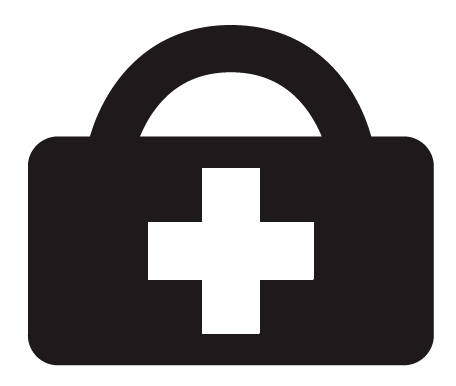 Namibia is a very fun place and one could easily get carried away while visiting. It's important to remember that no country is perfect though.
Read our safety guide for Namibia before planning your trip so you will be extra prepared when you arrive.
Save $$$ • Save the Planet • Save Your Stomach!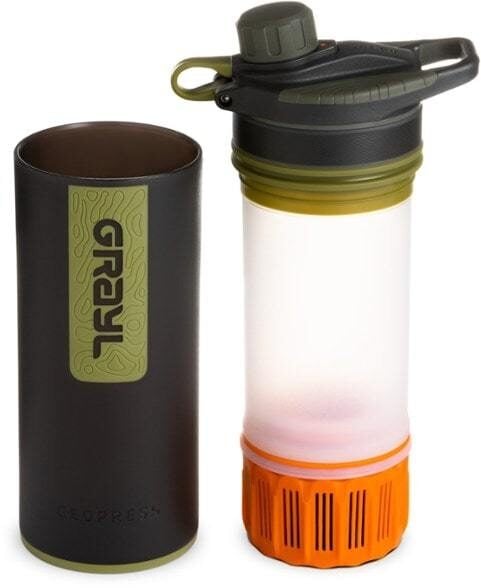 Drink water from ANYWHERE. The Grayl Geopress is the market's leading filtered water bottle protecting your tum from all the waterborne nasties. PLUS, you save money and the environment!
Single-use plastic bottles are a MASSIVE threat to marine life. Be a part of the solution and travel with a filter water bottle.
We've tested the Geopress rigorously from the icy heights of Pakistan to the tropical jungles of Cuba, and the results are in: it WORKS. Buy a Geopress: it's the last water bottle you'll ever buy.
Buy a Geopress!
Read the Review
Kaokoland – Where to Stay in Namibia for Adventure
Koakoland is in the northwestern corner of Namibia and is easily the most remote location in the country! There are only a few villages dotted across the region, most of which have very low populations. For the adventurous traveller, Kaokoland offers some rewarding nature activities and allows you to connect with nature.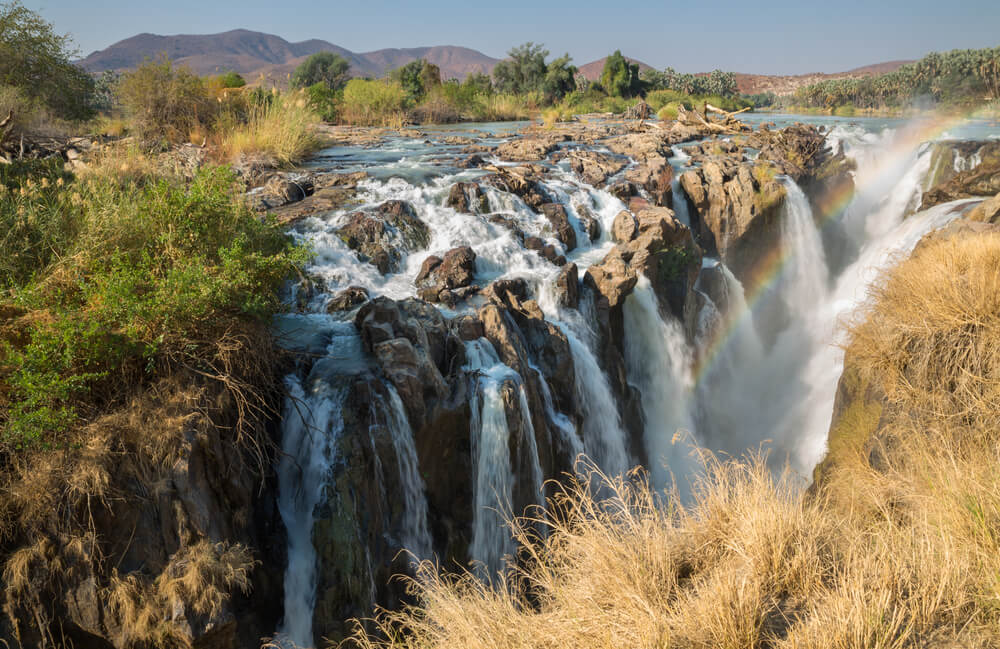 Kaokoland is a surprisingly diverse region – with the desert stretching along the coast and some great game reserves in the east! Kaokoland is the most untouched part of the country – both in terms of tourism and colonialism. Here you can visit traditional villages that date back centuries to before the German occupation of the country.
If you are visiting Kaokoland, make sure you hire the right kind of car. A lot of the region can only be accessed by 4×4, so you need to be a skilled driver to get around. We also recommend taking a map and camping equipment. It has a very low crime rate, but getting lost is still a major risk.
Best Places To Stay in Kaokoland
If you're concerned about getting lost, staying in the towns between Kaokoland and Etosha National Park gives you easy access to both areas. If you're experienced with travel in rural Africa, Kaokoland is easier than some other parts of the continent. Consult the tourism offices in Windhoek before taking the trip.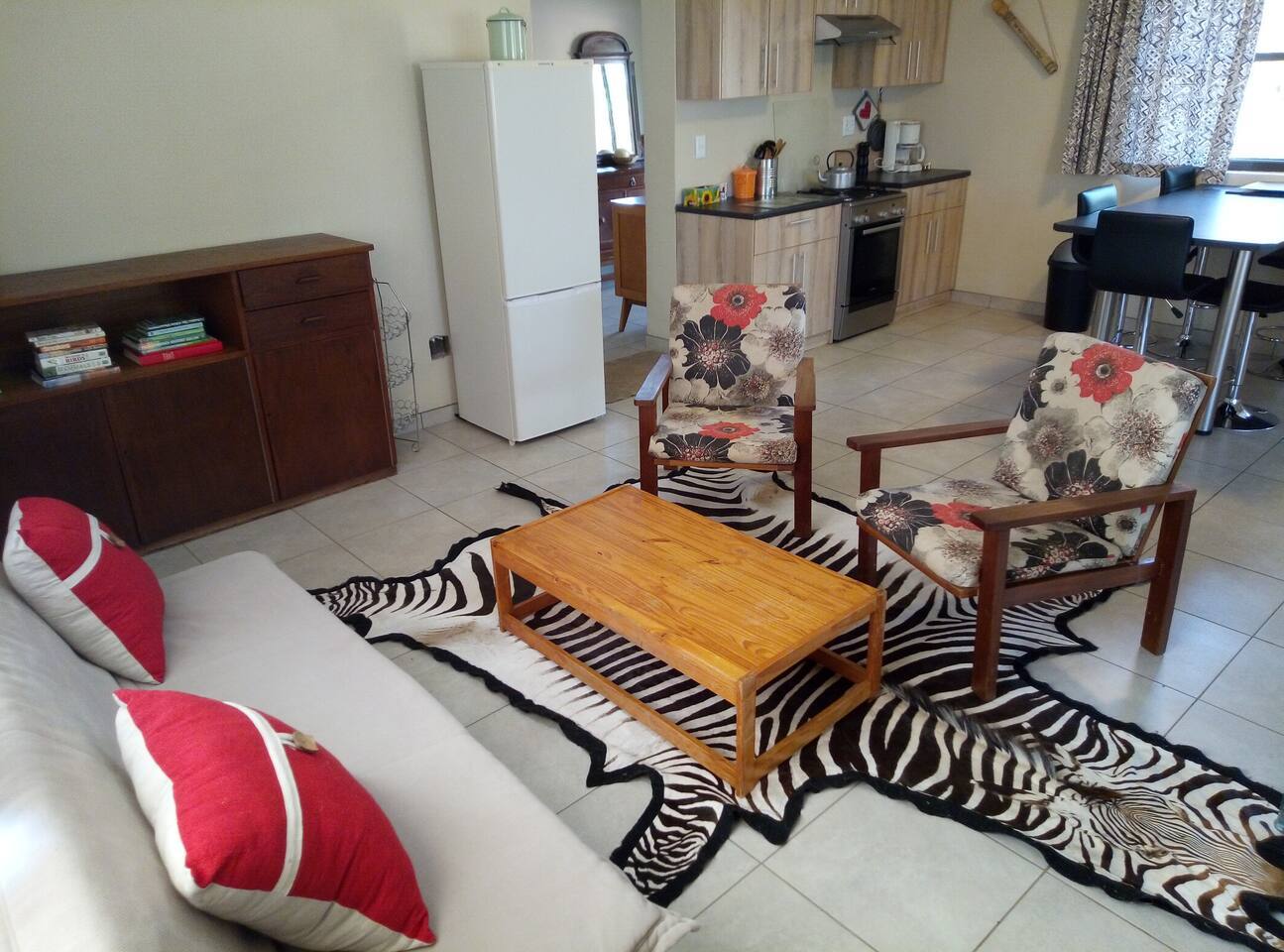 One of the most unique Airbnbs in the country, this farmstead is perfect for those wanting to experience the ultimate adventure in Namibia! It is located just outside Kaokoland, but with plenty of parking spaces it is easy to get to. There are a number of fantastic hiking trails nearby where you can really take in the North Namibian scenery and a barbecue where you can enjoy dining under the stars.
Best Hotel for Backpackers in Kaokoland: Khowarib Lodge
This secluded lodge is perfect for backpackers that want to head away from civilization and admire the beautiful scenery of Kaokoland! It comes with a restaurant and swimming pool, so you still get to enjoy some home comforts in the heart of one of the least populated areas in the world. It also has an expansive communal terrace, so you can also benefit from socialising with other guests.
This is another excellent lodge – but with luxurious rooms, this is certainly an upgrade! It also comes with a spacious pool – and there is a large sunbathing area where you can unwind on your day off from exploring the region. It benefits from interesting design that blends modern minimalism with traditional African materials. The on-site restaurant offers both Namibian and Italian cuisine, alongside an enviable wine selection.
Sossusvlei – Best Place in Namibia for Visiting the Desert
Sossusvlei is the ultimate rural destination in southern Africa. Whilst most of the coastal towns provide easy access to the desert, Sossusvlei takes you right into the heart of the moonlike landscapes and towering sand dunes. If the Namib Desert is the main reason for your visit, you can't go wrong with heading to Sossusvlei.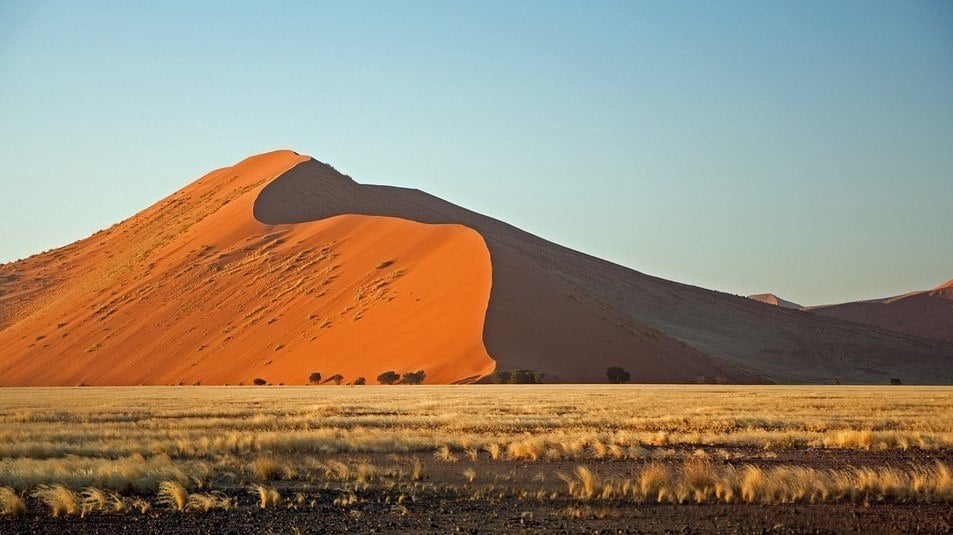 Sossusvlei is the name of the valley between two of the biggest dunes, and actually has a surprisingly marshy landscape! This makes it the ideal place to stay whilst taking day trips further into the desert. The area surrounding Sossusvlei is the most popular destination with desert adventurers, so there are a few guided tours available and the tourism office in Windhoek has plenty of information about getting around.
Best Places To Stay in Sossusvlei
Sossusvlei itself doesn't have much accommodation wise, but the surrounding region is great for finding secluded hotels and lodges! This is a great place to try camping, though we do suggest going with an established campsite. As the accommodations are secluded, bring plenty of supplies with you – as well as cash for on-site facilities.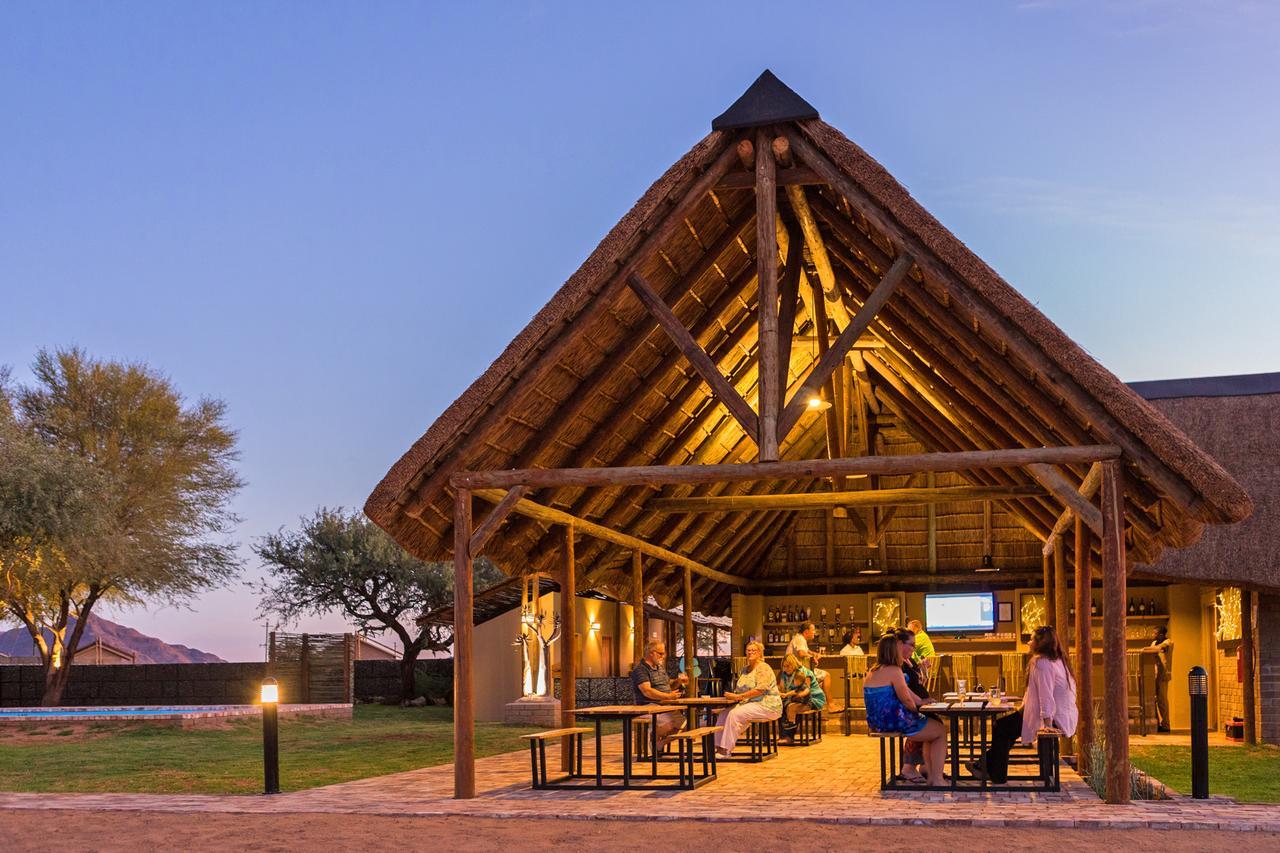 Sossusvlei is so secluded that there aren't any Airbnbs in the area – but this peaceful lodge is a great alternative! Each guest stays in a self-contained chalet with a traditional thatched roof and private terrace area. There is a great restaurant within the complex, offering both African and European cuisine. Breakfast is free, saving you some cash and a trip to the nearest town.
Best Camping in Sossusvlei: Desert Camp
As one of the most sparsely populated countries in Africa, Namibia is becoming an increasingly popular camping destination! Pitching a tent is a fantastic way to discover the desert, but for your own safety, we recommend doing this at an official campsite. This campsite provides luxury camping, with breakfast included every morning and self-contained units. Each unit can sleep up to two adults and two kids.
Right in the middle of the desert, this is the perfect accommodation to escape civilization without giving up on your home comforts! There is a restaurant on the complex offering typical Namibian cuisine and a complimentary breakfast. It is also one of the few resorts in the area that offers a swimming pool – perfect for cooling off in the desert sun. Most units face the sunset, making this a great option for a romantic stay.
Top Places To Stay in Namibia
Whilst Windhoek and Swakopmund are the best options if you want European style accommodation, there are some great alternatives elsewhere in the country. Namibia is, however, still growing as a tourist destination – so a lot of the accommodation is more basic than elsewhere in the world. If you're concerned about your safety, our Namibia safety guide should ease your worries.
Best Airbnb in Namibia – Gare de la Lune – Swakopmund
This is one of the most modern Airbnb offerings in Namibia – ensuring you get to enjoy the same level of comfort you are used to at home. It is secluded, meaning you get to enjoy the desert atmosphere – but the town of Swakopmund is only a short drive away, so you don't have to avoid civilisation entirely.
Hostels are generally pretty basic in Namibia, but this environmentally conscious hostel offers some great extras to make you feel right at home! Located right in the capital, this is our top pick for backpackers for their first few nights in the country before exploring further afield. With great social spaces, you might just meet some new friends to discover this gorgeous country with.
With views over the famous Walvis Bay Flamingo Colony, this hotel provides true value for money along the Namibian coast! Rooms are well equipped with modern furnishings, and the floor to ceiling windows give you unbeatable views of the Atlantic Ocean. Walvis Bay is not only our top budget pick, but it is also only a short drive from Swakopmund, one of our favourite coastal destinations.
Books to Read While Visiting Namibia
Namibia is a surreal, beautiful country, but it really helps to do some reading on this country before visiting it. Below are some of my favorite books set in Namibia (and books set in Africa, in general).
Mama Namibia – It's 1904, and Germany has come to claim Southwest Africa. Surviving on her own in the desert, 12-year-old Jahohora searches for her family while hiding from the German soldiers.
Sands of Silence: On Safari in Namibia – The writer journeyed on safari through Namibia with the Bushmen's tribal territories in the African spring of 1989. This was a nation on the eve on independence, a land scorched by sun and years of bitter war.
We Need New Names – At just ten years old, Darling escapes paramilitary controlled Zimbabwe to live with her aunt in America.
Half of a Yellow Sun – Told through the voices of five vivid characters, this graceful novel is a humorous, heartbreaking, and honest account of the futile struggle to establish an independent republic in southeastern Nigeria in the late 1960s.
Disgrace – Set in post-apartheid South Africa, this book is about a professor whose affair with a student leaves him jobless and friendless. His dramatic downfall symbolizes the chaotic aftermath of the overthrow of apartheid.

Our GREATEST Travel Secrets…
Pop your email here & get the original Broke Backpacker Bible for FREE.
Don't Forget Travel Insurance for Namibia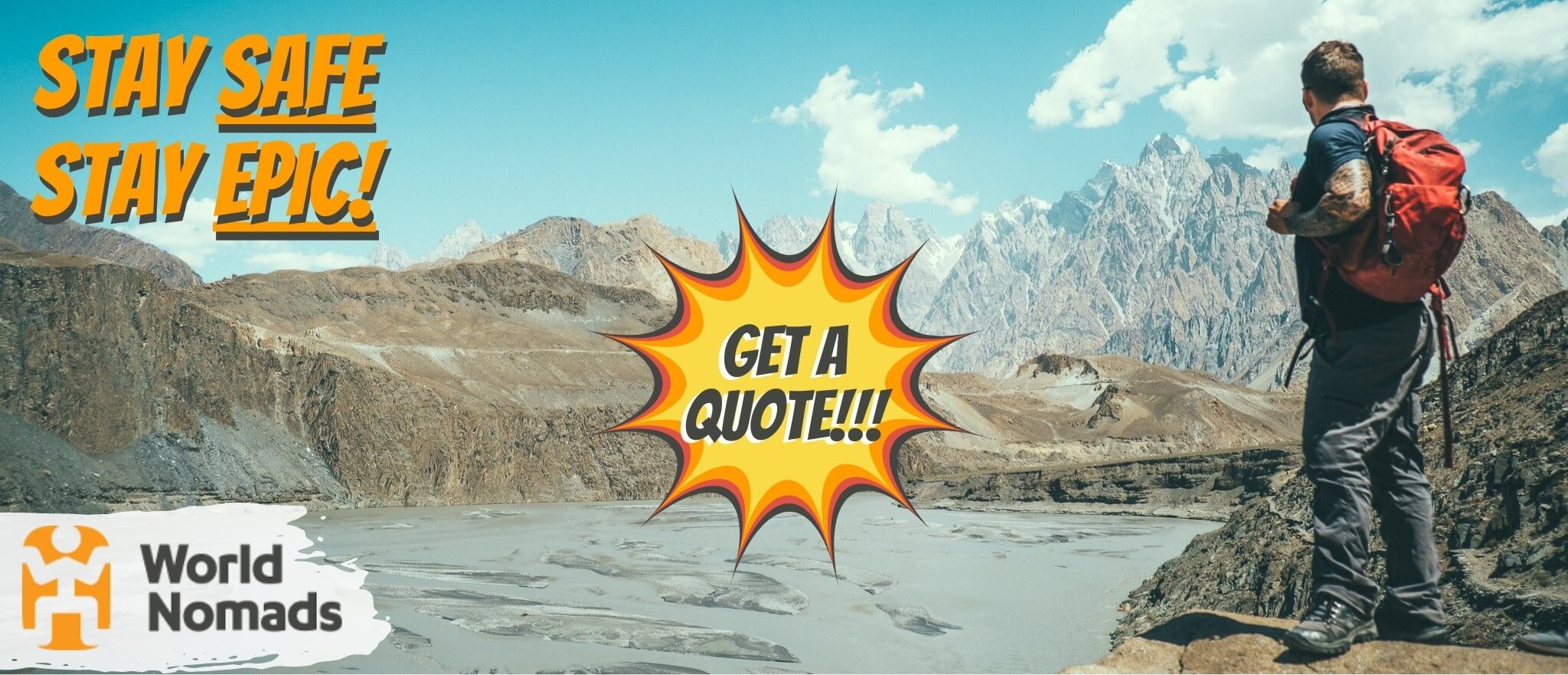 World Nomads' mission is to support and encourage travellers to explore their boundaries. They offer simple & flexible travel insurance, and safety advice to help you travel confidently.
They've been doing it since 2002 – protecting, connecting, and inspiring independent travellers just like you.
Get a quote below or read our in-depth review!
World Nomads provides travel insurance for travelers in over 100 countries. As an affiliate, we receive a fee when you get a quote from World Nomads using this link. We do not represent World Nomads. This is information only and not a recommendation to buy travel insurance.
Final Thoughts on Where To Stay in Namibia
Namibia is a vast and diverse country that has a lot more to offer than you might have expected! Alongside the gorgeous desert, it has unique historical attractions and beautiful seaside resorts. The cuisine has taken influences from German, South African and indigenous cuisines, creating some of the most unique dishes in the world.
In terms of the best places to stay, we're going to award that title to two towns – Swakopmund and Walvis Bay! These neighborhoods are pretty close to each other, and both offer great seaside views and interesting local attractions. They are also placed right in the centre of the coast, giving you easy access to the desert and Windhoek.
That being said, each place mentioned in this guide has something different to offer. Whether you want beautiful nature, sweeping landscapes or a little bit of seclusion, there's something for everyone in Namibia.
Did we miss anything? Let us know in the comments!
Do you own or run a kick-ass hostel? Want to be featured on this list? Get in touch at [email protected]
---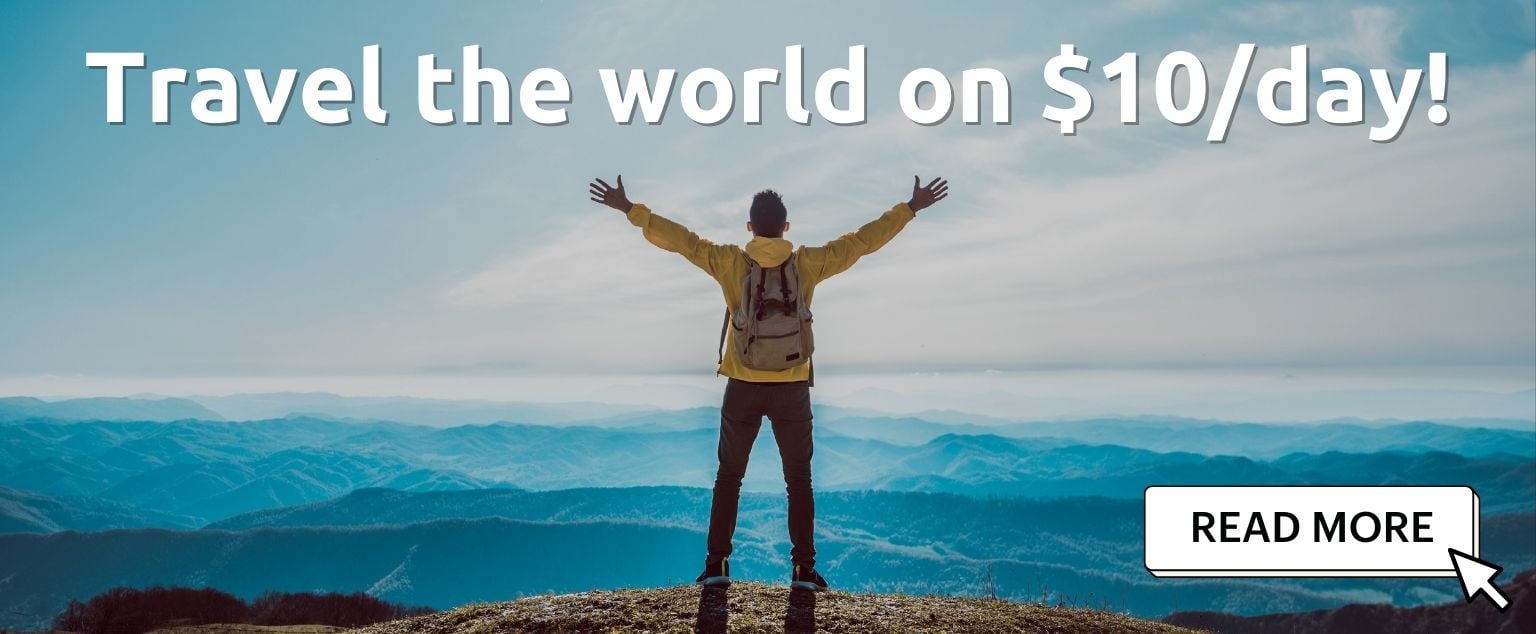 And for transparency's sake, please know that some of the links in our content are affiliate links. That means that if you book your accommodation, buy your gear, or sort your insurance through our link, we earn a small commission (at no extra cost to you). That said, we only link to the gear we trust and never recommend services we don't believe are up to scratch. Again, thank you!